Posted by Gavin Quinney on 9th Dec 2020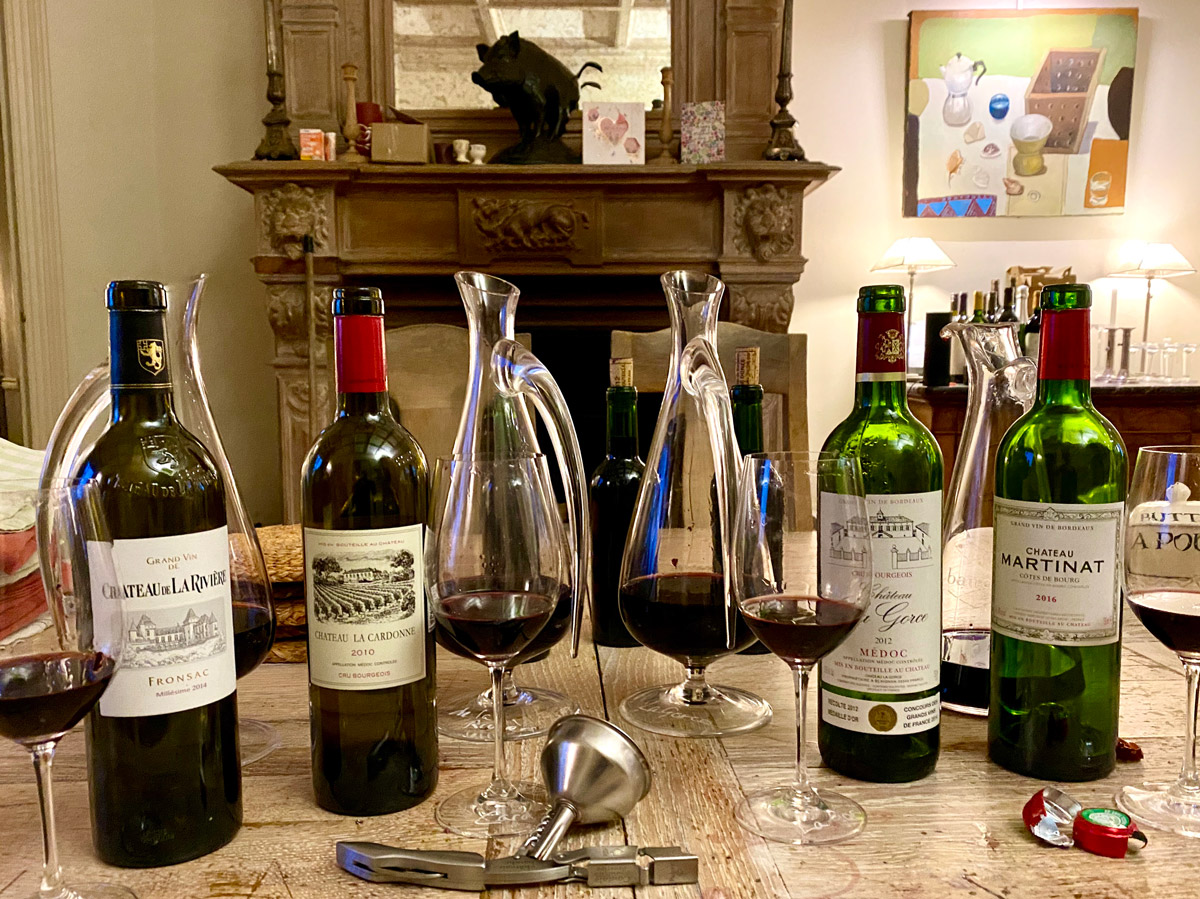 The offer for the wines of Château La Cardonne a fortnight ago went down so well we're extending the deal to include other delicious wines in time for Christmas.
There's a 5% discount if you buy any four 6-packs or more from our Specials list, until 16 December.
Below are our favourite reds which go well with our dry whites. Along with our Sauvignon Blanc – now down to the last few – do try the excellent Les Trois Hectares blanc 2019 and our scrumptious Sauvignon Sémillon 2019.
Delivery is free for 12 or 24+ bottles, £10 for 6, or £8 for 18 (free in Greater London).
As ever, there's a photo journal below of recent visits to these châteaux.
All the best
Gavin & Angela Quinney
PS All the images are from 2020 Selected Wines.
---
The winter warmer list
All cases of 6, and unmixed cases in Specials
Les Trois Hectares red 2017
All bar one of the red wines in this list were aged in French oak barrels, as is Les Trois Hectares red. This is highly recommended for drinking this Christmas, as it's rich and savoury, so it would be a shame to leave it out of the lineup.
If we'd had more visitors this year, this would have sold out by now as it always performs well in tastings. It sells for €14 at the cellar door, so at these UK prices it's a snip. 75% Merlot, 25% Cabernet Sauvignon.
Per bottle – £14.75
---
Château de la Rivière 2014
Fronsac
A lovely, classy and elegant red. 84% Merlot, 9% Cabernet Franc, 5% Cabernet Sauvignon and 2% Malbec, aged in French oak. See the 'Expert opinion' on our site: "… but the balance is excellent. Long and vigorous. Drink 2017-2025" wrote Jancis Robinson.
There isn't too much left after we introduced this to our friend and Swiss importer, the Master of Wine Philipp Schwander. His private customers have bought over 30k bottles of this vintage this year.
Per bottle – £16.50
Also available:
Per bottle – £16.95
---
Château Martinat 2016
Côtes de Bourg
Stéphane Donze is the Président of the Côtes de Bourg appellation and he and his wife Lucie make this finely crafted red at their charming domaine. We loved the 2015, of which there's still some available, and we often now reach for the 2016.
A blend of 80% Merlot and 20% Malbec, aged in French oak, both are excellent wines from tiptop vintages for Bordeaux's right bank. Do decant these if you can. Sadly there are no more after this, courtesy of 5,000 6-packs to Zürich in 2020.
Per bottle – £14.95
---
Château La Gorce 2012
Médoc
A Cru Bourgeois under new ownership now with Emmanuel Martin and destined to be fully organic in the near future. The previous owner, Denis Fabre, did a sterling job over many years with this 43-hectare vineyard before selling up in 2018.
The 2012 is a proper mature Médoc, savoury and soft, made from 55% Cabernet Sauvignon and 45% Merlot, and aged in French oak. We took the last couple of pallets before the dastardly Swiss nabbed all the rest – some 3,000 6-packs.
Per bottle – £14.95
---
Château Cardus 2012
Médoc
The second wine of Château La Cardonne, the Cru Bourgeois Supérieur. An easy, mature Médoc that slips down all too easily, which is fine as it doesn't cost a fortune. That's because this Merlot-Cabernet Sauvignon blend was aged in tank rather than oak.
This 2012 is for drinking now as it's right at the plateau of maturity. We decant as we do out of habit for all Bordeaux red, though this is fine straight from the bottle.
Per bottle – £13.50
---
Château La Cardonne 2012
Médoc
The La Cardonne 2010 has flown out the door of late but after dutifully tasting the two vintages side by side, purely in the name of research and customer service you understand, the 2012 has just a bit more going for it right now.
It's a fleshy, really attractive oak-aged claret for the money. On a quiet night, I'm all for a half bottle of the 2012 instead and it's rare to find such fine, mature red in halves at this price. (£8.50, £7.65 and £7.27 respectively.)
Per bottle – £16.50
Also available:
Per bottle – £16.95
PLUS half bottles of La Cardonne 2010 and 2012
---
4+ cases: 5% volume discount if you buy any four 6-packs or more from our Specials list, until 16 December.
If you want to try a selection of these wines, there's a Bordeaux Châteaux Collection mixed case here, though there's no 5% volume discount as we made these up ourselves by hand and there aren't many left.
---
Gavin's photo journal
Nelly in the barrel cellar at Bauduc. This year we're buying 26 new barrels from two coopers at an average of €660 ex VAT a pop.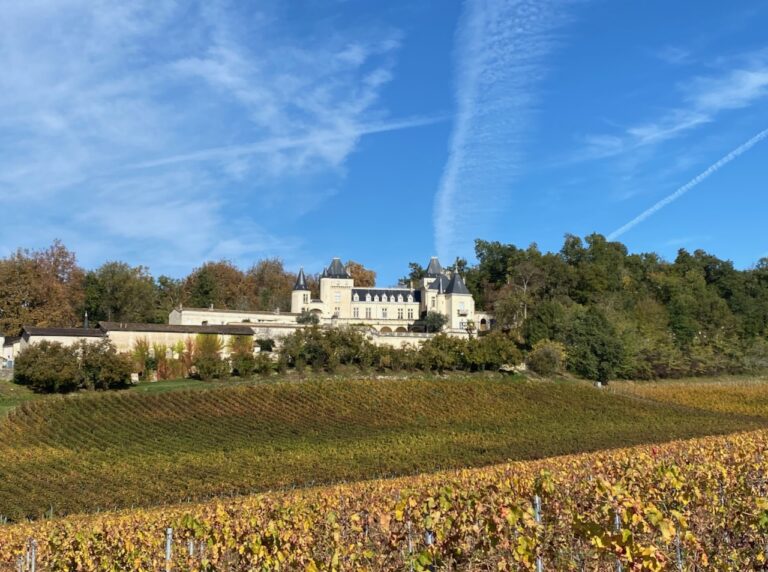 Château de la Rivière a month ago.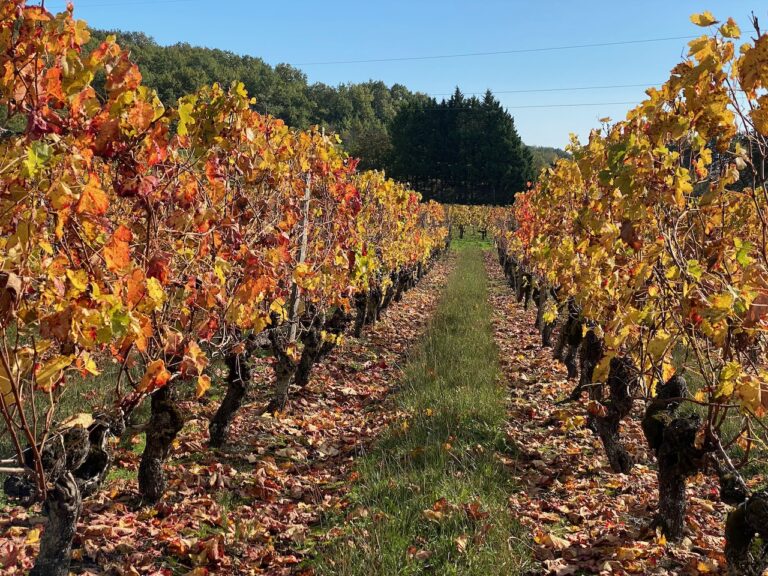 Older vines at Château de la Rivière.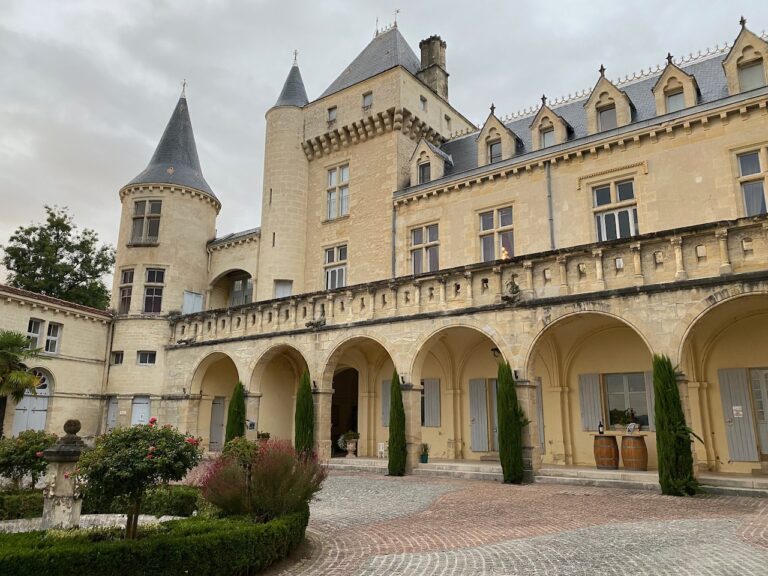 We also visited one Sunday at the end of September this year. It's an imposing château.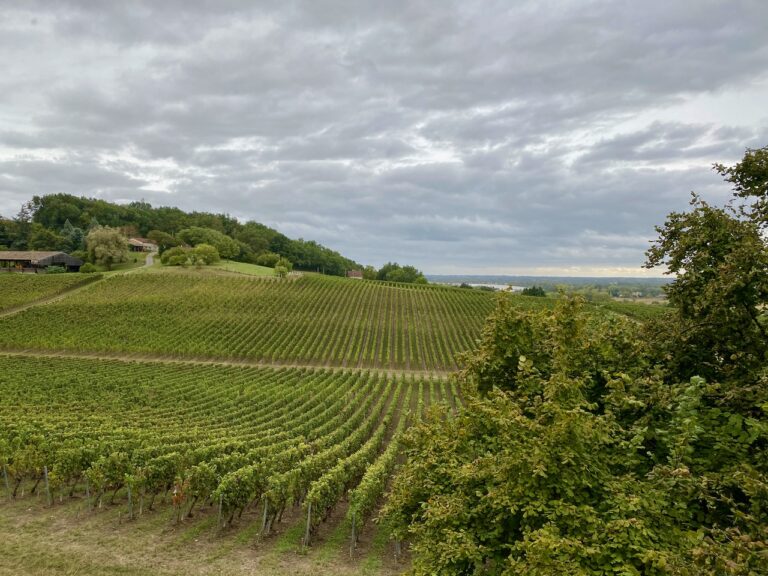 View of the vines from the winery window. Fronsac is often underrated and used to be much better known, like its neighbours Pomerol and Saint-Èmilion.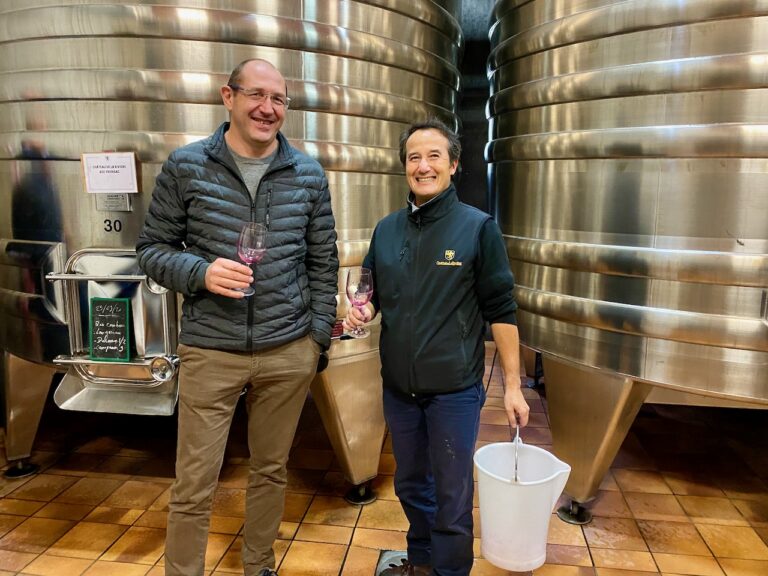 Xavier Buffo has been the Président, or MD, of La Rivière for many years, and Thomas Dô Chi Nam the technical director. Xavier consulted on the vineyard at Bauduc in the early noughties, while Thomas was technical director at Château Pichon Lalande back then.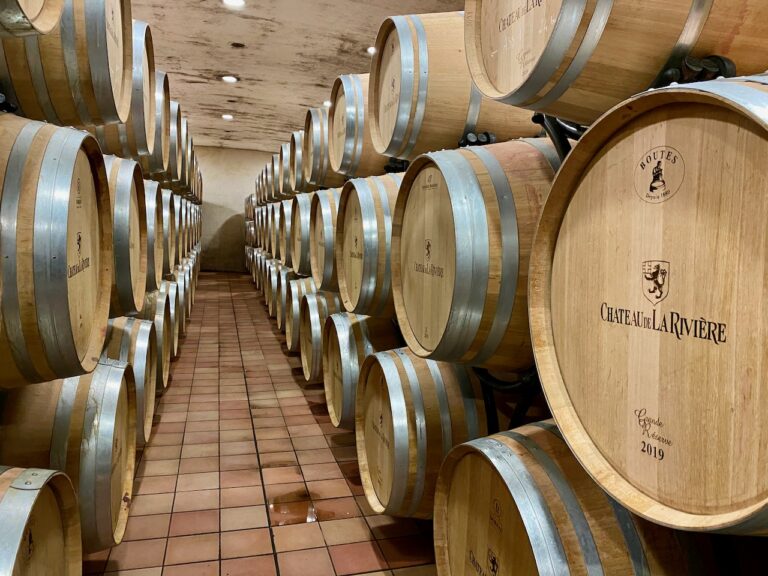 The red is aged in 40% new French oak barrels and 60% used French barrels.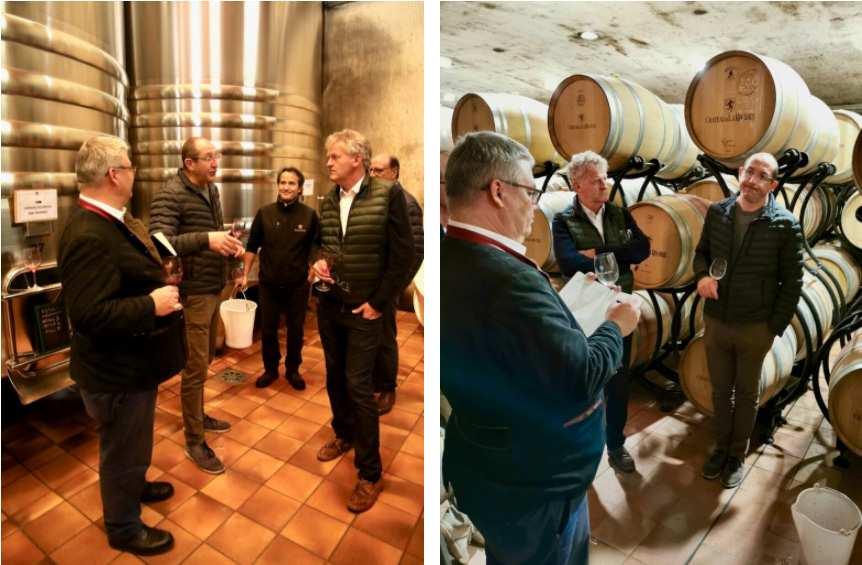 The visit in late September was organised with Philipp Schwander MW, our Swiss importer for Bauduc and who also now buys Château de la Rivière.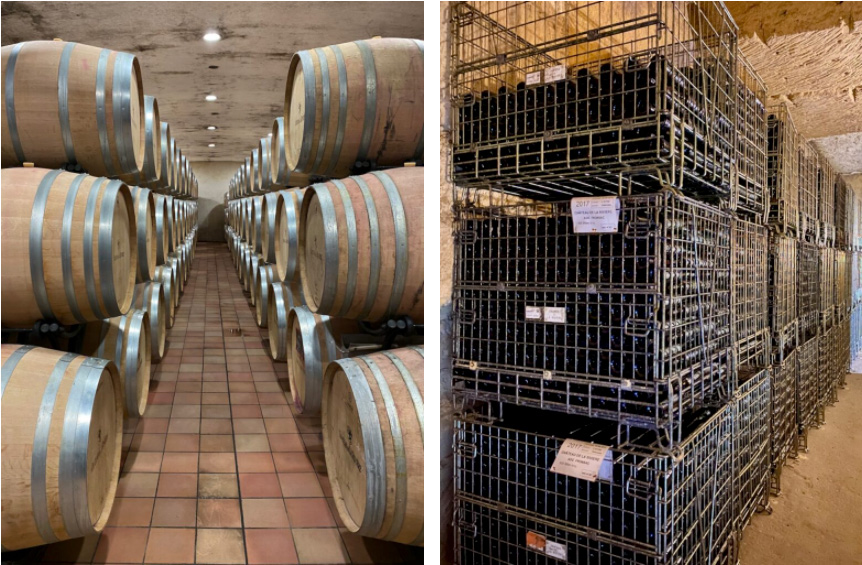 It's a well run operation with an impressive winery. The underground limestone cellars are pretty extraordinary.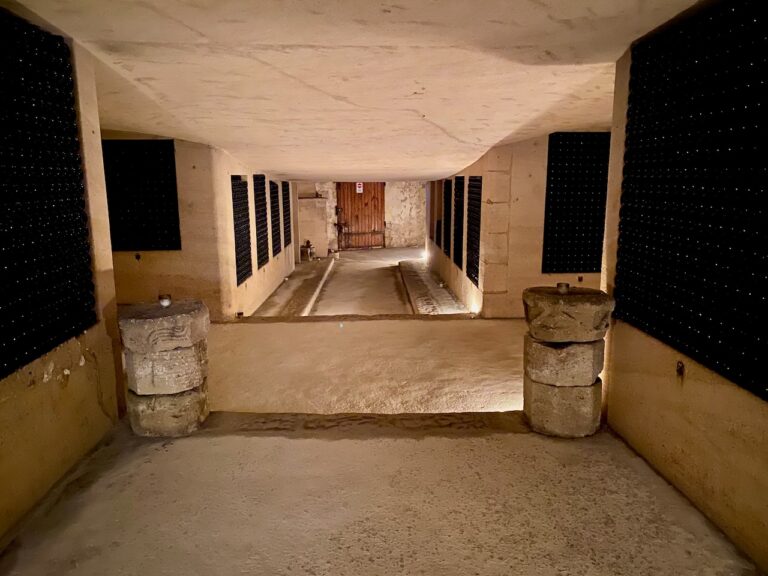 The cellars, which go deep into the rock, house many thousands of bottles at a perfect temperature.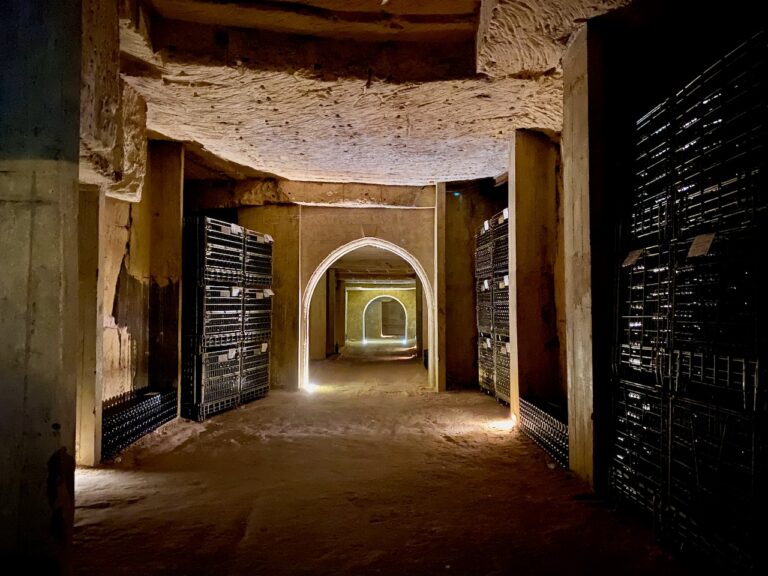 Underground cellars aren't that common across Bordeaux, and certainly not on this scale. Some top Saint-Èmilion estates have them, such as Canon and Beauséjour Bécot.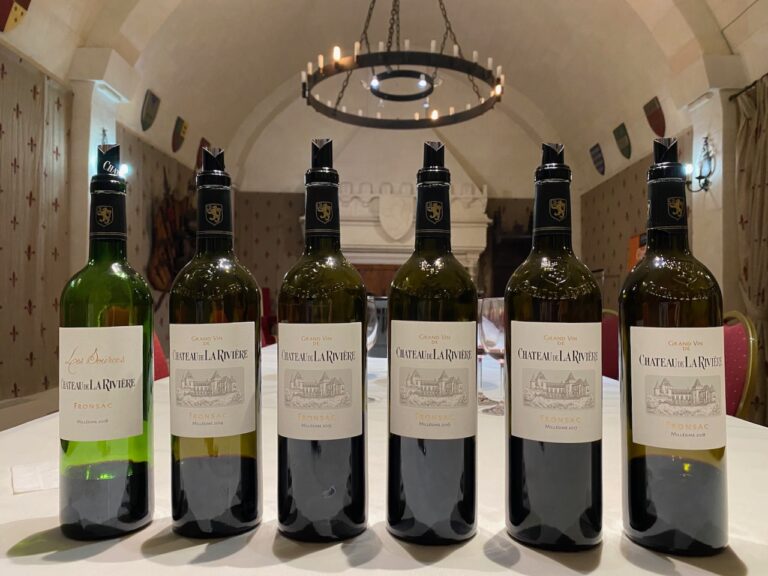 Naturally, we taste the latest vintages again. We still have a few cases left of the mature and underrated 2012, the 2014 is very good now, the full-on 2015 just opening up, the 2016 great but a way off being ready, the 2017 very good and to drink earlier than the 2016 I think, and the 2018 excellent but 'hold'.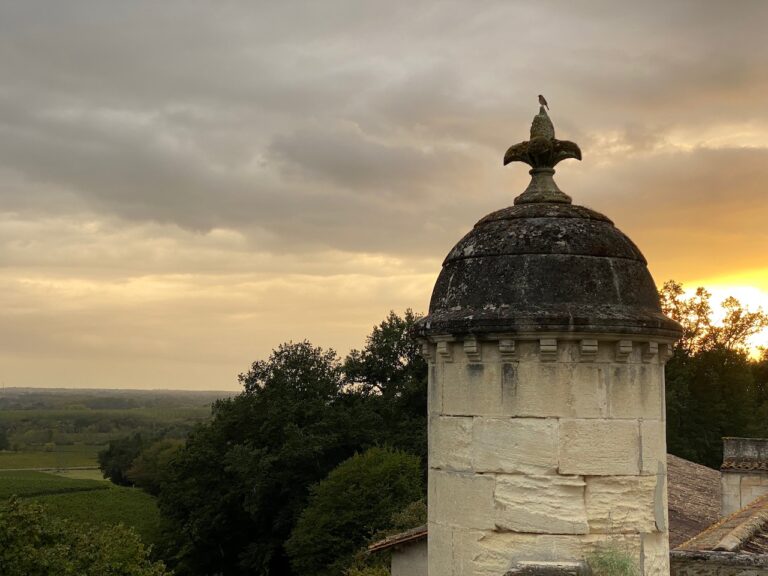 From the château, overlooking the Dordogne river in the valley below.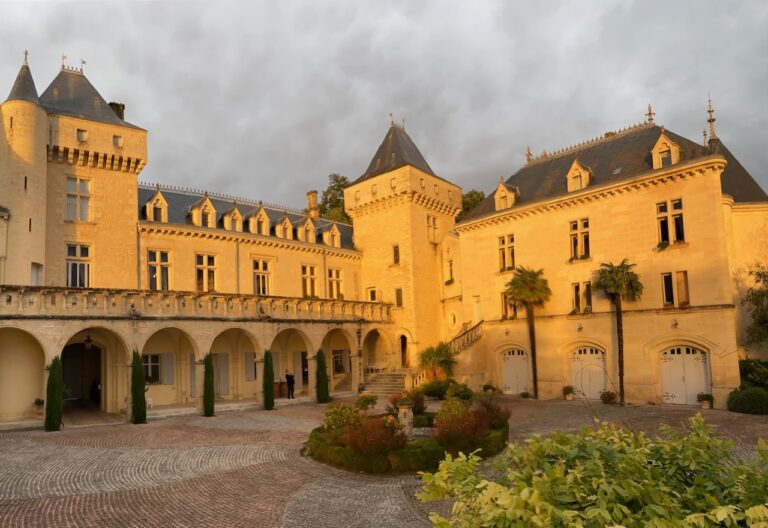 Château de la Rivière. It's one of the most visited châteaux in Bordeaux, in a normal year. While it's been quiet on that front, we've helped to relieve them of some stock at trade prices.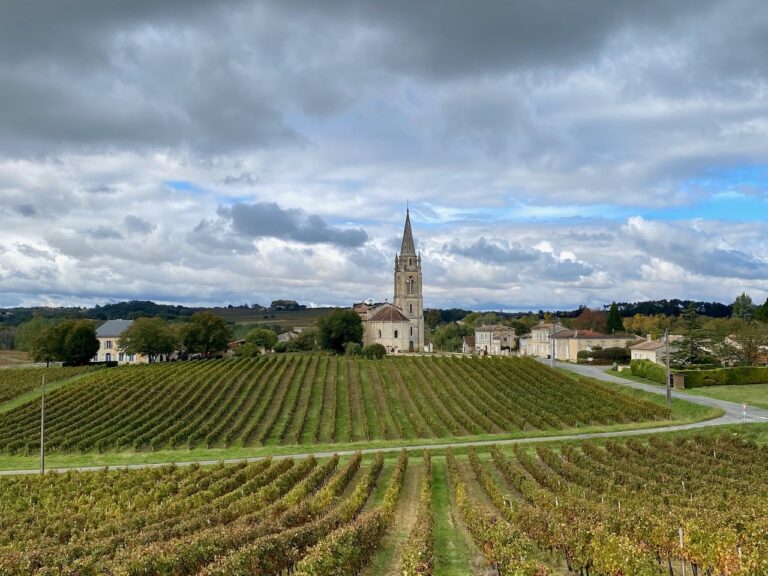 Just up the road from Fronsac is the Côtes de Bourg and Château Martinat is just outside Lansac.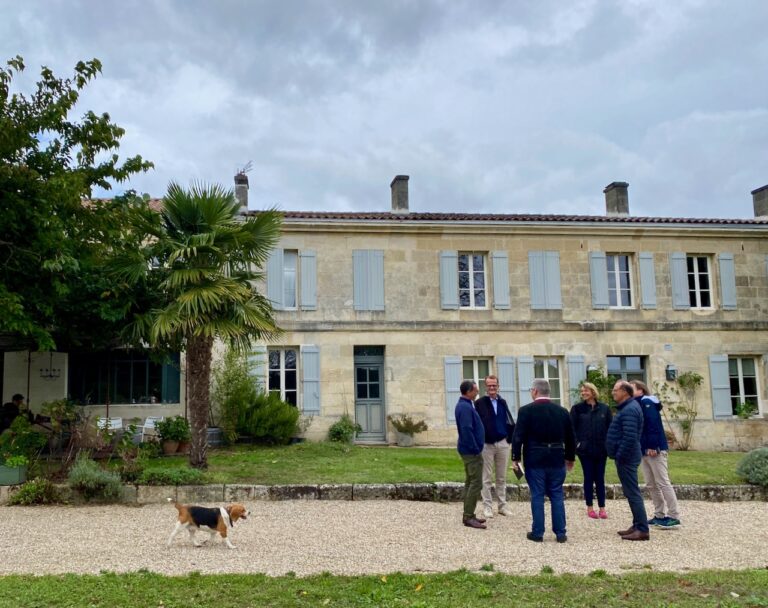 Château Martinat, with obligatory vineyard dog to welcome the guests.
A vineyard dog's role is also to show us the vines. Merlot and Malbec here, on gently rolling slopes.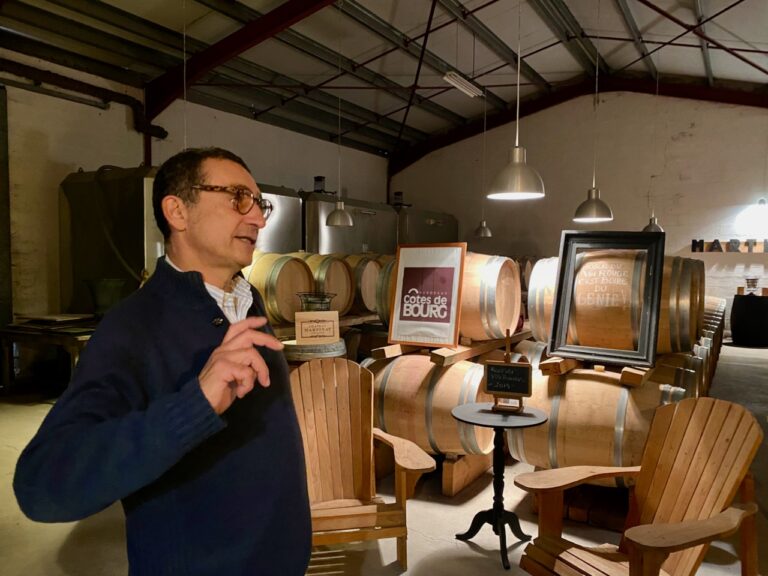 Stéphane Donze is the Président of the Côtes de Bourg syndicat and a passionate supporter of the terroir and the wines. It's a tough and often thankless gig, I imagine.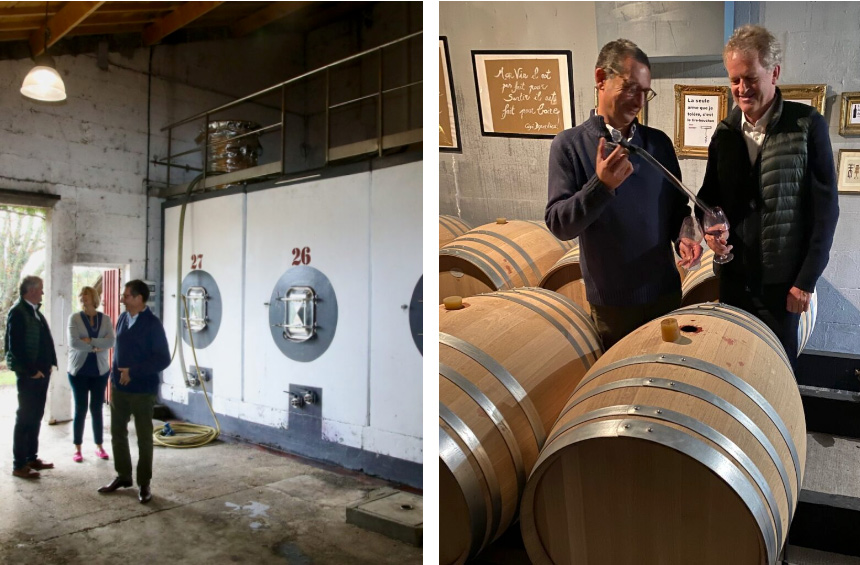 With Lucie and Stéphane, tasting from their concrete fermentation cuves and from barrel.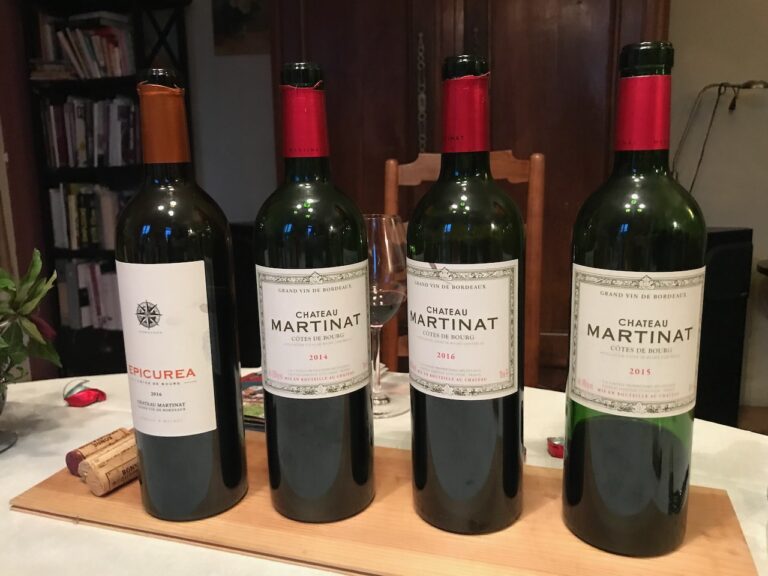 The 2015, 2016 and 2017 are all excellent. We're happy to have helped clear them out of stock. The fine 2018 awaits.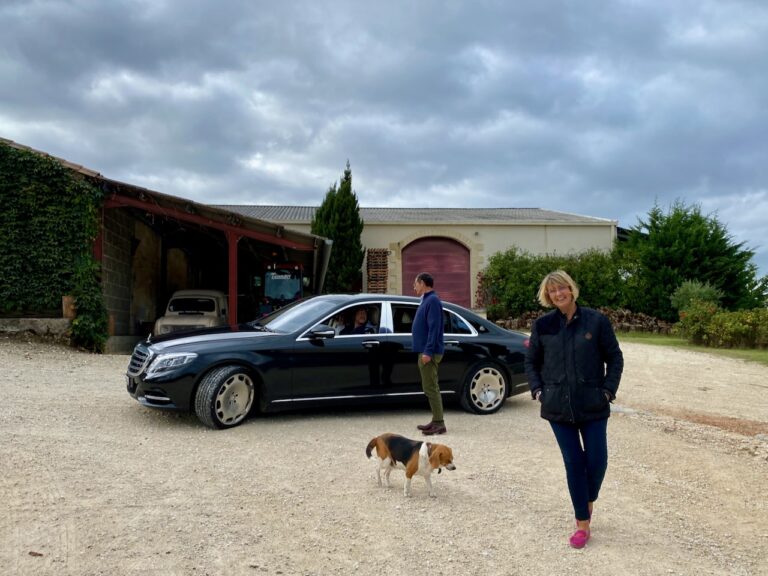 The way to visit vineyards is in a large Merc with a driver. They'd driven all the way from Switzerland, which was a smart move in the circumstances. Unfortunately there wasn't enough room in it for all of us.
It was then off to the Médoc on the Monday, to see Emmanuel Martin of Château La Gorce.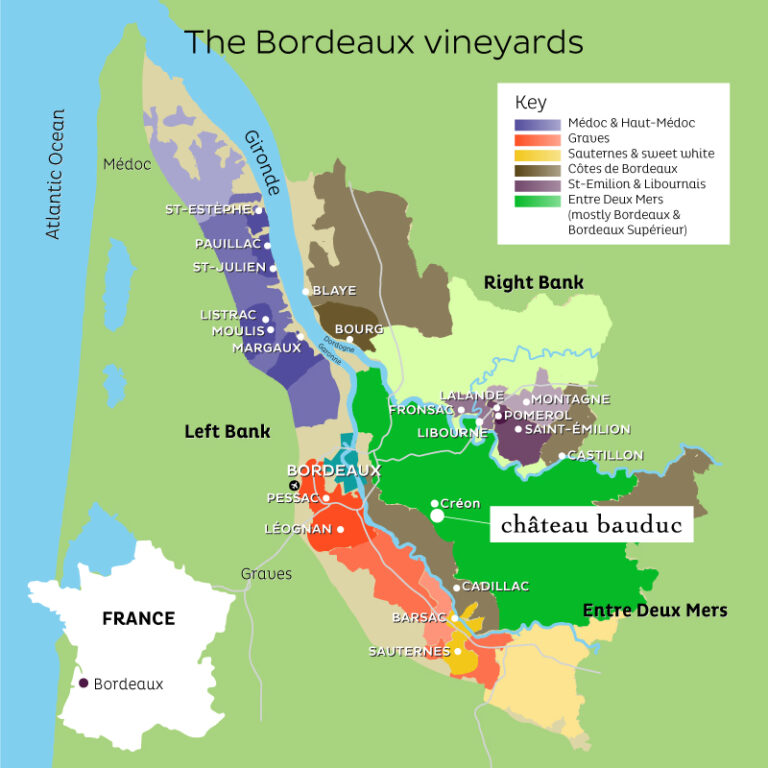 Here's our map, showing the right bank, with both Fronsac and Bourg marked, and the left bank. La Gorce and La Cardonne are north of Saint-Estèphe, quite close to the estuary.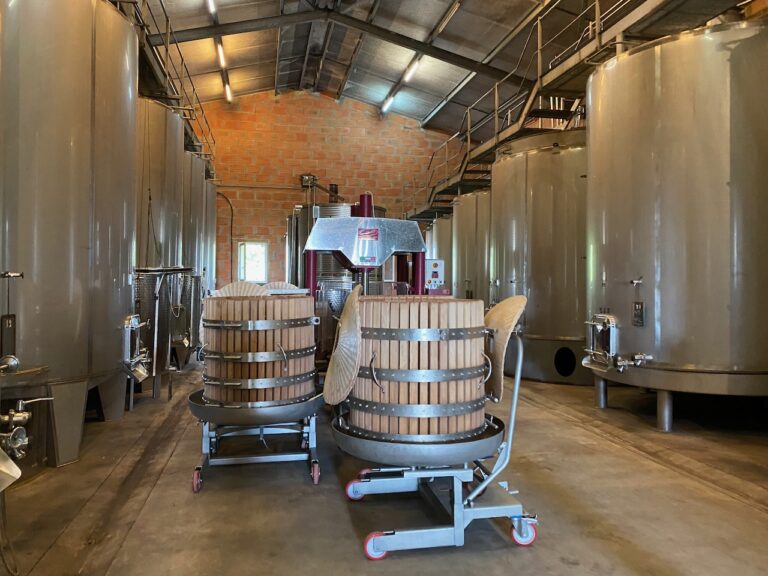 The winery at Château La Gorce, with two new presses.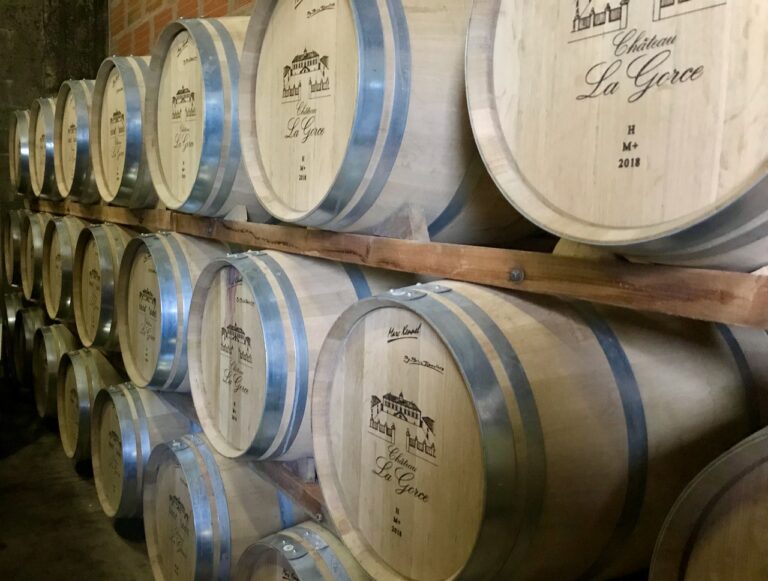 Apparently, the previous owner didn't really make a thing of his barrel cellar, which was a shame. It demonstrated to us where some of the quality came from.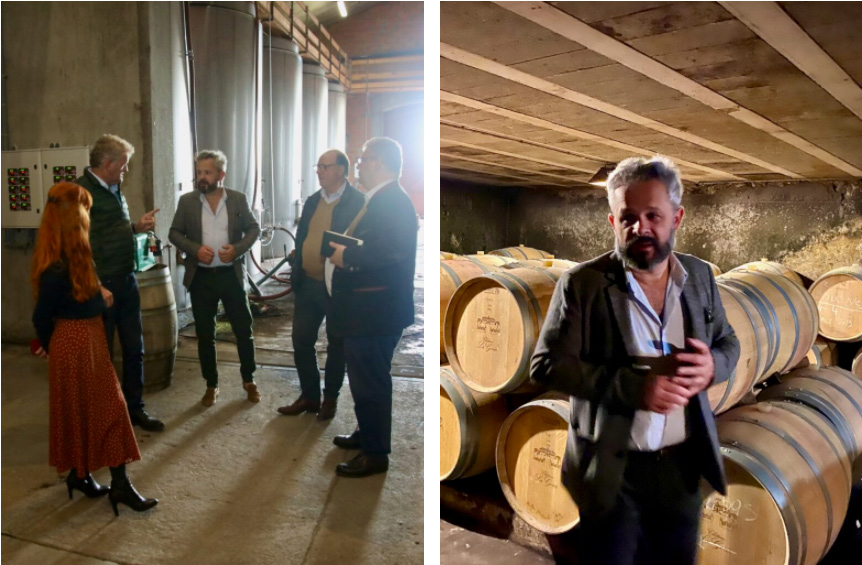 Philipp (holding his notebook) only sells wines, incidentally, from vineyards that he's visited. This is his second trip to Bordeaux this year – one before, and the other in-between lockdowns. As well as being a Master of Wine, it's one reason his customers trust his recommendations.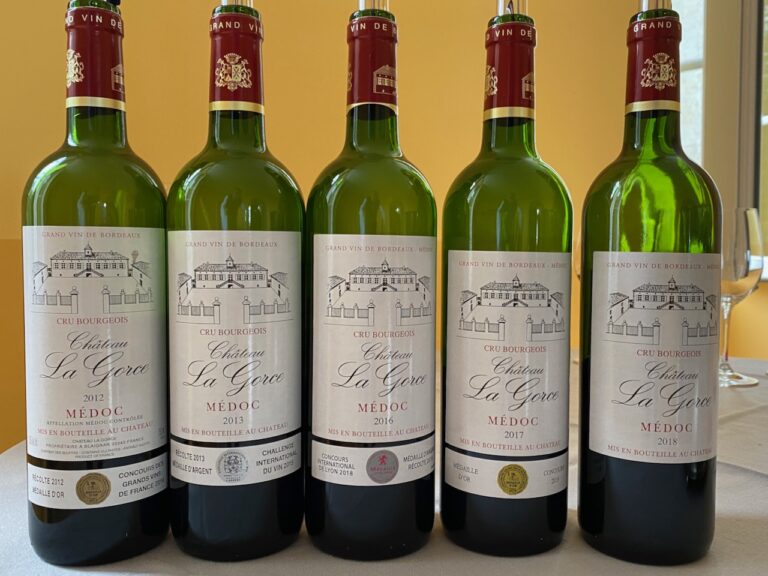 It's useful to know how subsequent vintages taste. Buying a one-off, job lot – thanks to, say, a Gold medal like in 2012 – might suit some merchants but it can be fairly pointless for the long term.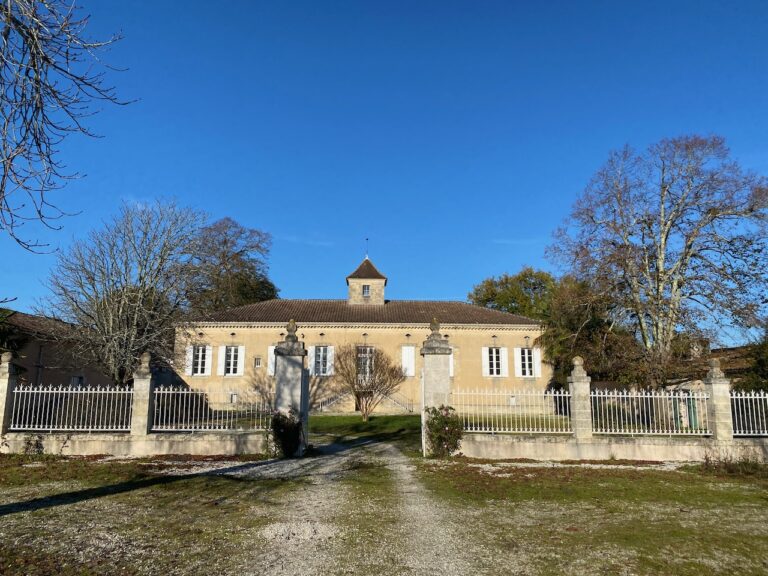 I popped back to Château La Gorce the other day during a trip on the left bank. I also picked up some bottles of the 2012 for our mixed case.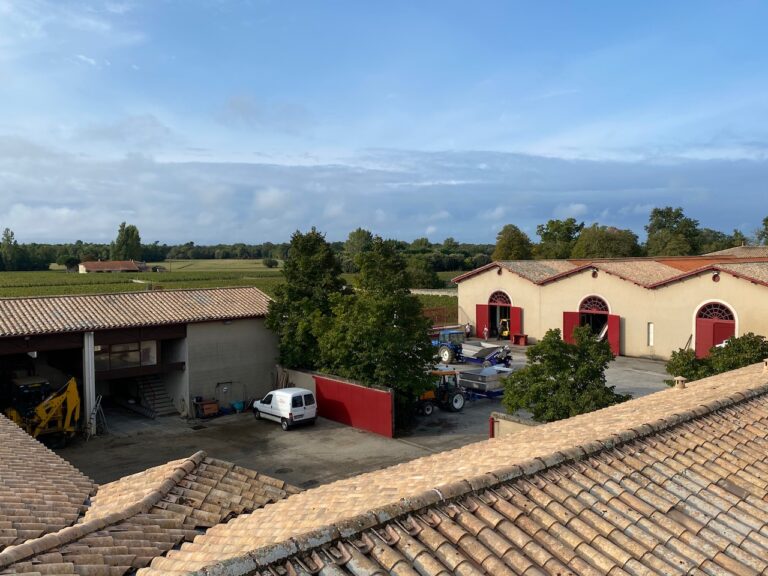 The rest of my boot was filled with cases of Château La Cardonne.
These are views from the tasting area on the roof terrace during our September trip.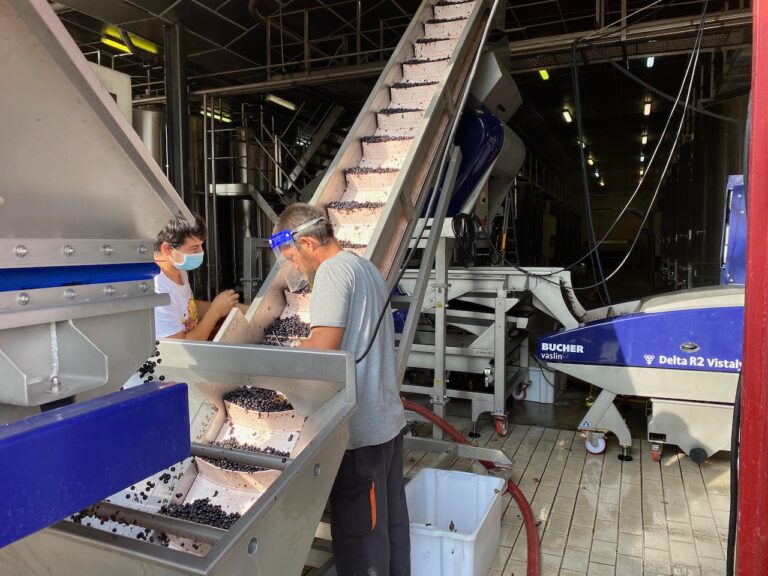 The harvest was in full swing then. It's not hard to spot which vintage we're talking about here. Hopefully the only one like this?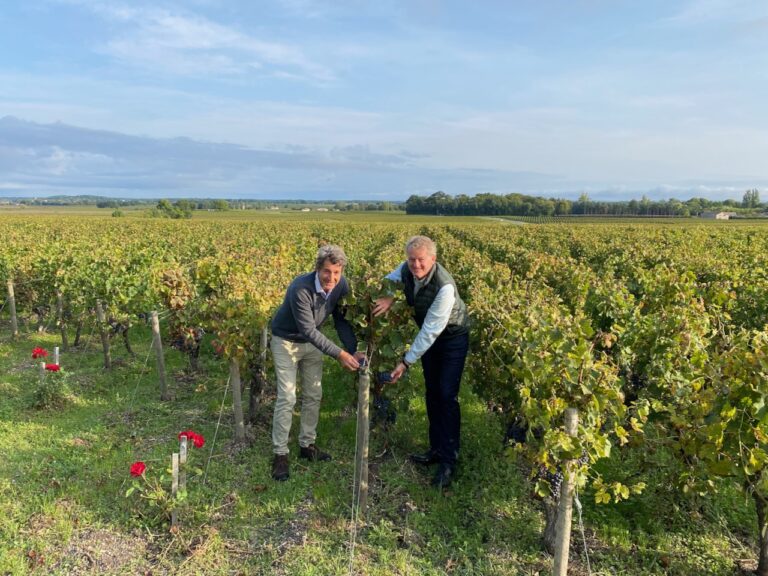 We showed this image of Andrew McInnes and me in a recent missive.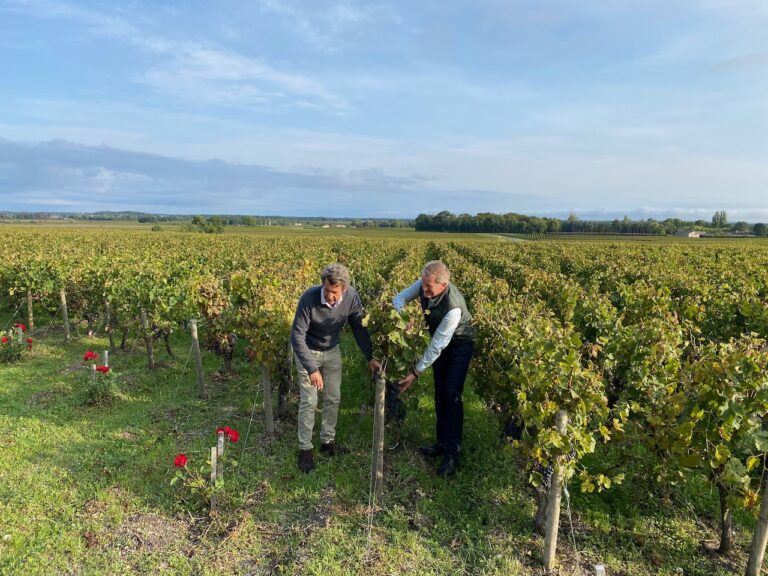 Andrew likes going out into the vineyard as it gives him a chance to have a quick smoke.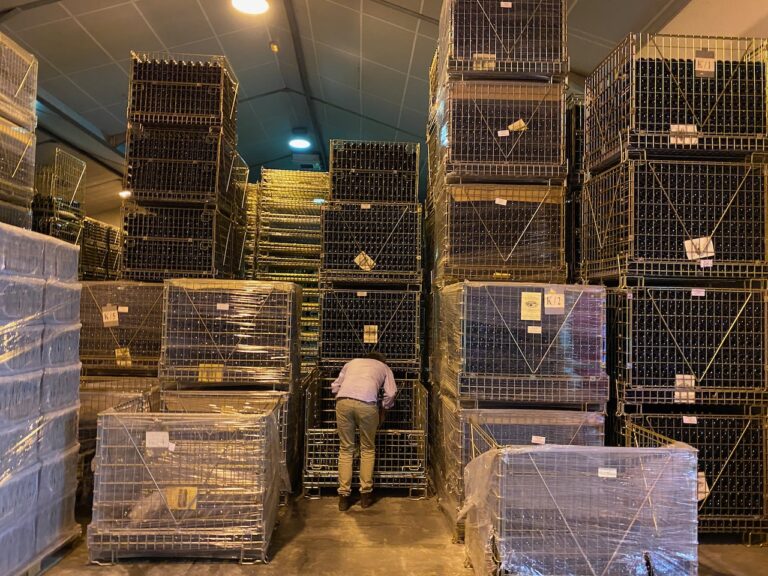 The sensible policy of storing allocations for different importers around the world. To be fair, we've nicked a few bottles off others whose circumstances have changed.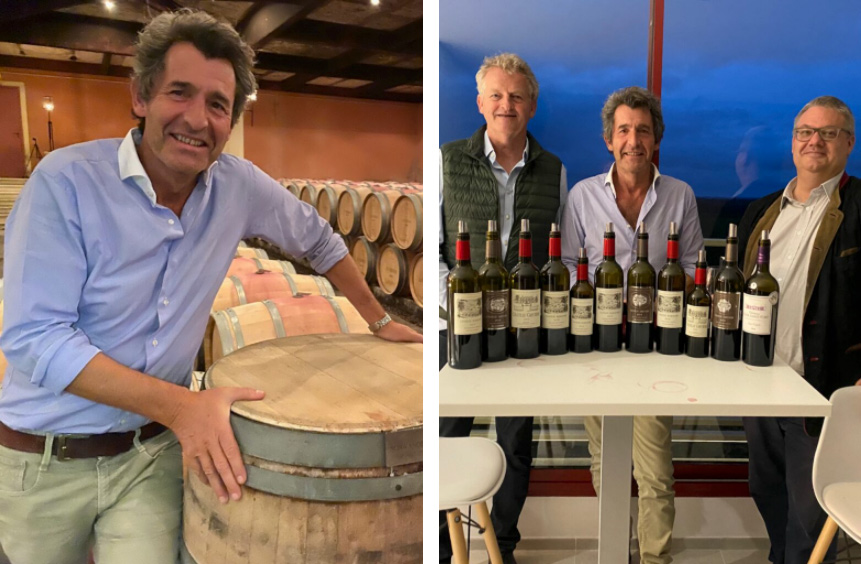 As well as being an exceptional host (and our La Cardonne buyers might like to visit at some point in the future), Andrew makes very good wine.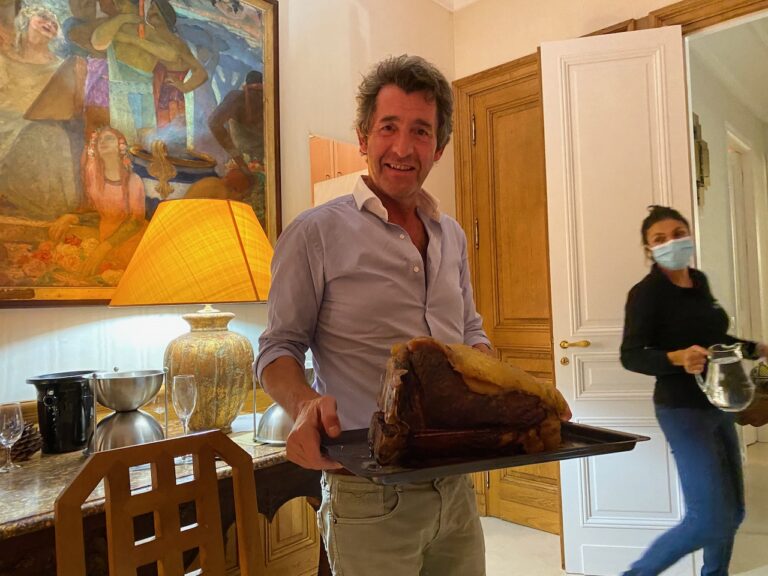 After tasting the wines on their own, the best way to check that the wines 'go well with beef' is try a small piece.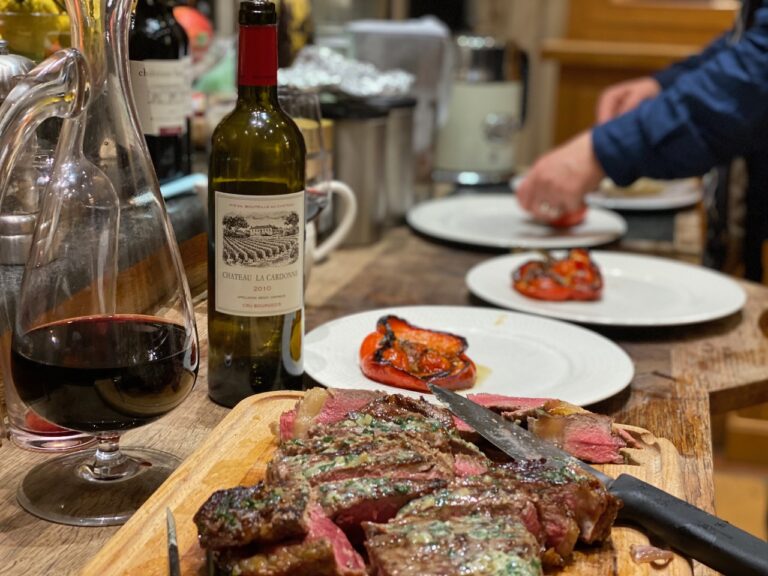 This is the same type of research we undertake every week at home.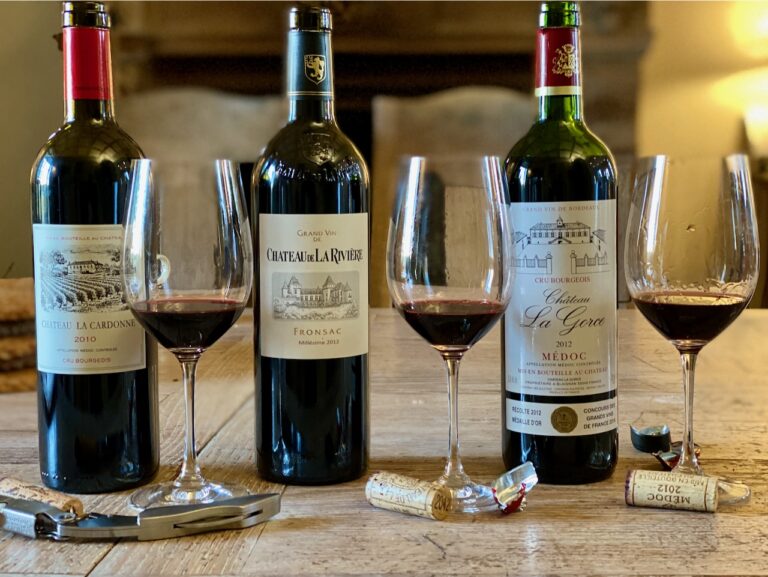 With umpteen different wines. Just to check.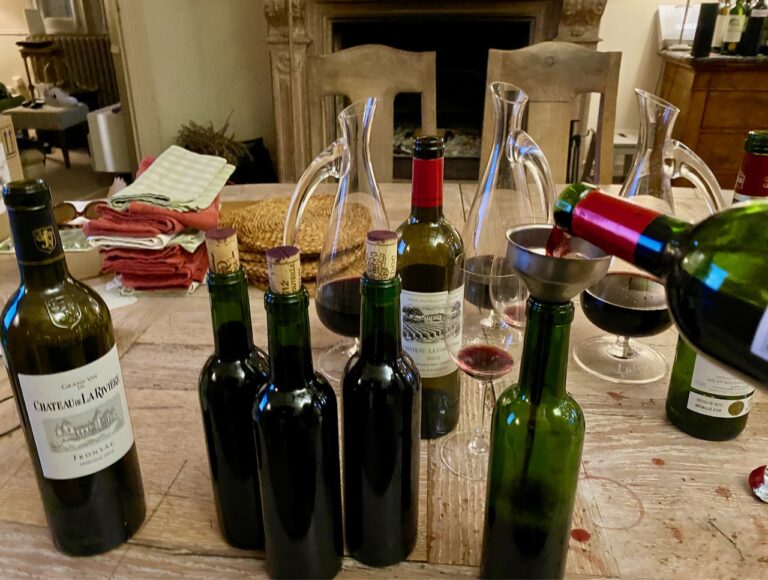 Oh, and a final tip. Don't let the wines go to waste if you've opened too many, or if a bottle anyway is too much. The best thing to do is to buy a case of la Cardonne half bottles and keep the empties. (Bauduc halves will be available in the new year.) Then use the halves to store excess red in the fridge, preferably filled to the top and use the right cork to show you what's inside. Don't forget to take the bottles out an hour or two in advance of using them but they'll stay fresh for days that way.
If pouring into halves is too much of a fiddle, keep the opened bottle, with a cork back in, in the cold. At this time of year, and with a full fridge, keep any leftover, opened reds outside - though away from the neighbours.
---
All our harvest updates and newsletters are on Gavin's blog.
You can see pics of this harvest and more in our Bauduc photo albums.