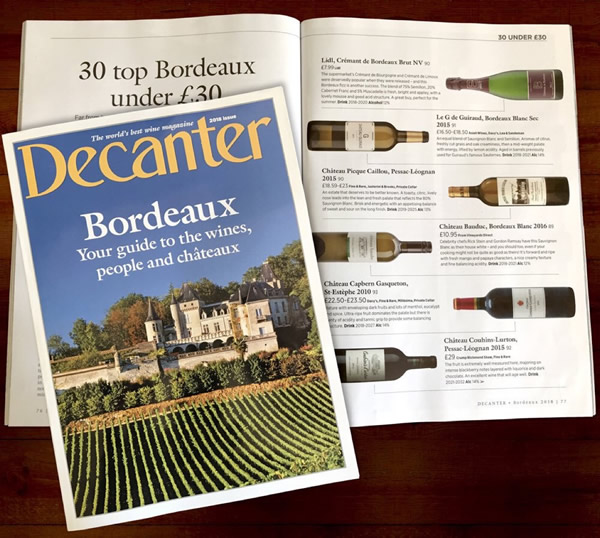 Decanter magazine - 30 top Bordeaux under £30
Decanter's editor, John Stimpfig, included our Bordeaux Blanc as one of the 30 best values in Bordeaux - out of many thousands of wines - in the July 2018 issue. "Celebrity chefs Rick Stein and Gordon Ramsay have this Sauvignon Blanc as their House white - and you should too, even if your cooking might not be quite as good as theirs! It's forward and ripe with fresh mango and papaya characters, a nice creamy texture and fine balancing acidity. Drink 2018-2021 Alc 12%."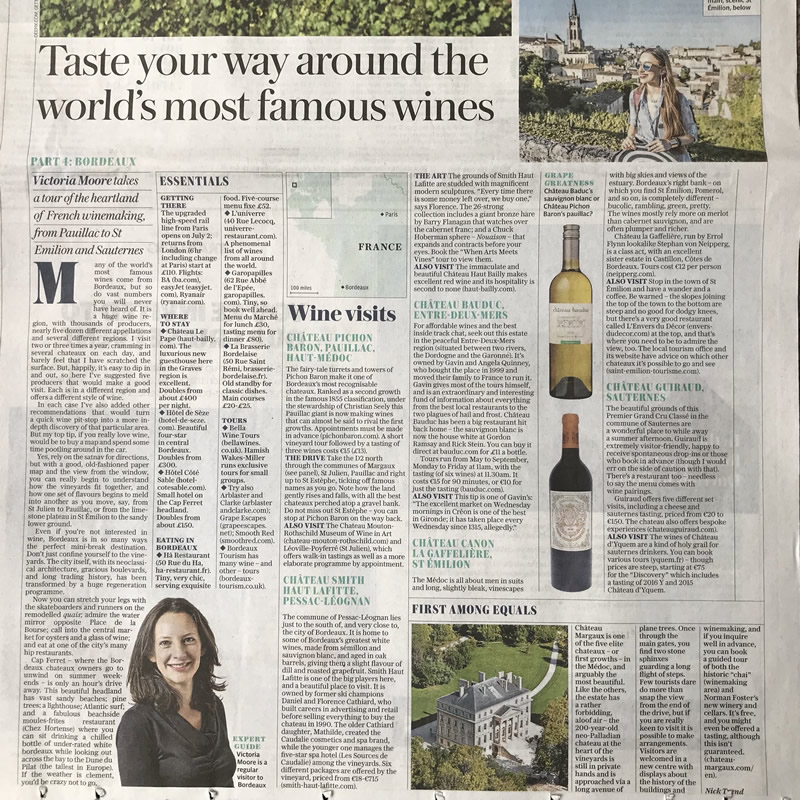 Victoria Moore, The Telegraph - Taste your way around the world's most famous wines
The Telegraph's wine critic, Victoria Moore, recommended Bauduc as a Château to visit if travelling to Bordeaux (2 June issue). "For affordable wines and the best inside chat, seek out this estate in the peaceful Entre Deux Mers region (situated between two rivers, the Dordogne and the Garonne). It's owned by Gavin and Angela Quinney, who bought the place in 1999 and moved their family to France to run it. Gavin gives most of the tours himself, and is an extraordinary and interesting find of information about everything from the best local restaurants to the two plagues of hail and frost. Château Bauduc has been a big restaurant hit back home - the sauvignon blanc is now the house white at Gordon Ramsay and Rick Stein. You can buy it direct at Bauduc.com for £11 a bottle. Tours run from May to September, Monday to Friday at 11am, with the tasting (of six wines) at 11.30am. It costs €15 for 90 minutes, or €10 just for the tasting (Bauduc.com).
Also visit: this tip is one of Gavin's. The excellent market on Wednesday mornings is one of the best in the Gironde; it has taken place every Wednesday since 1315, allegedly."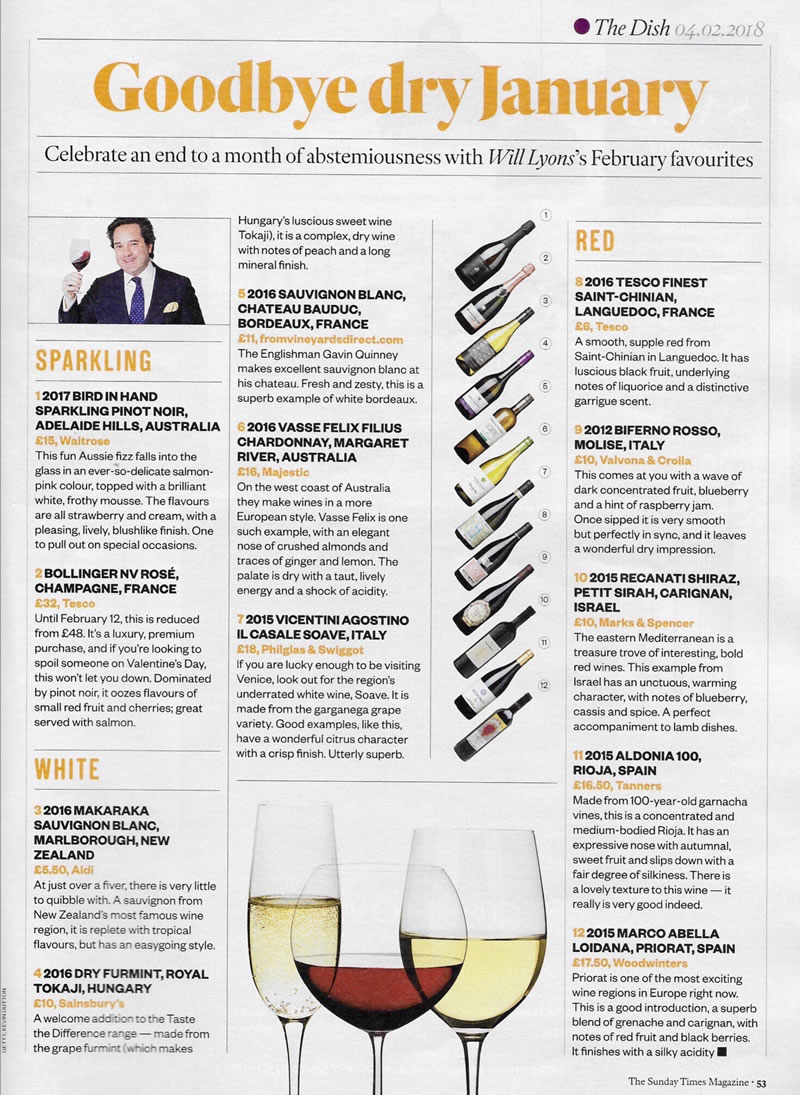 Will Lyons in The Sunday Times
Will Lyons, The Sunday Times wine critic, included Bauduc in his selection of favourites for beating the dry January blues.
"The Englishman Gavin Quinney makes excellent sauvignon blanc at his chateau. Fresh and zesty, this is a superb example of white Bordeaux."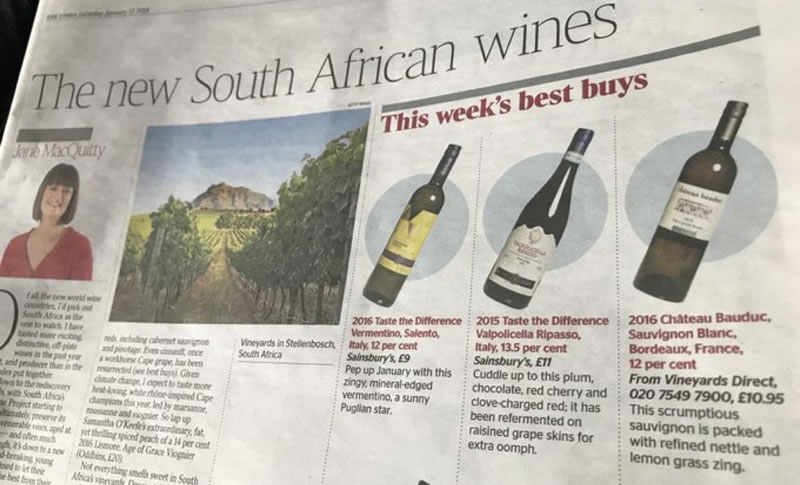 Jane MacQuitty's 'Best Buy' in The Times
Chateau Bauduc Sauvignon Blanc was included in Jane MacQuitty's Best Buys in The Times, on 13 January 2018.
"This scrumptious Sauvignon is packed with refined nettle and lemon grass zing", she wrote.
60 Best Wines for Christmas - The Telegraph
Victoria Moore, the Telegraph Wine critic, chose our Sauvignon Blanc 2016 as one of her 60 best wines for Christmas in the competitive 'Whites over £10' category.
'A crisp, unoaked white. Unlike the wines of Marlborough, Bordeaux sauvignon blanc has gentlemanly understatement. Think unripe nectarines.'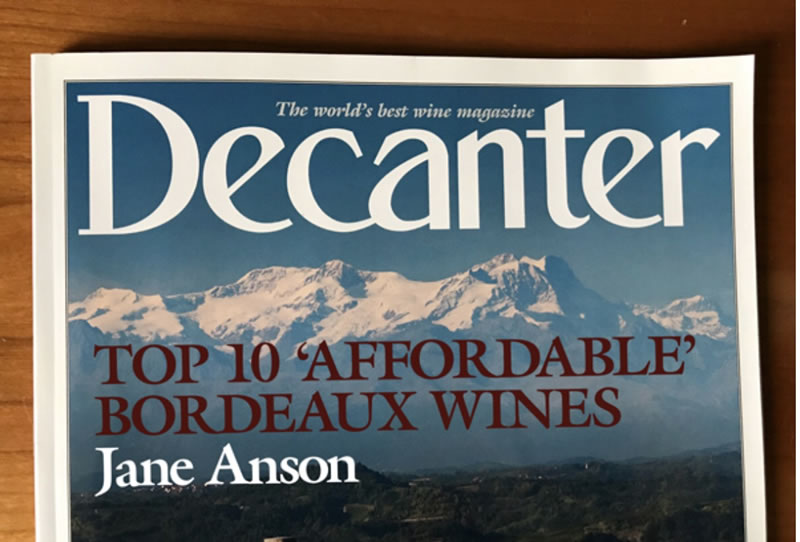 Decanter - Jane Anson's top 10 'affordable' Bordeaux wines
"The question I get pretty much more than any other is how to find reliable value in Bordeaux," writes Jane Anson, Decanter's Bordeaux critic. "This is a region with 110,000 hectares, with 6,568 producers declaring a harvest in 2016.
"The sheer bewildering choice is one of the reasons for paying a little bit more for a bottle of wine when looking for assurance over quality, but there are plenty of producers who manage to deliver it at lower price points.
"I taste through thousands of wines each year… and there are certain names that surface again and again – and cost no more than £30 a bottle and often under half that.
"This is a selection of the wines that make it into my fridge or on to the table regularly.
Chateau Bauduc, Bordeaux Blanc: "The classic unoaked Bordeaux white. Always difficult to suggest bottles from people that you know well, but the British Quinney family has lived in the Créon region of Entre deux Mers since 1999, and make a fresh, understated and extremely juicy white wine that matches well with food.
"This is a classic Sauvignon Blanc that has been the house wine for the Hotel du Vin, Gordon Ramsay and Rick Stein for many years.
"A quick walk through the vineyards here also tells you these steep slopes are perfectly exposed for maximizing the ripening sun."
Jancis Robinson MW JancisRobinson.com
'Gavin and Angela Quinney have been running this property… since Gavin went mad and bought it after a rush of blood to the head. They sell much of their wine direct - a wise alternative to being entangled in the middle-man-heavy conventional Bordeaux trade.

'What I liked about this wine was its crystal clear, particularly precise, piercing nose followed by attractive smokiness and good palate weight. In fact this has so much extract (no excessive yields here) that there is just a tiniest hint of the oiliness of some white Graves, but it rises above this to be a thoroughly fine dry white bordeaux (and it's much cheaper than most white Graves). I would chill this quite heavily for aperitif drinking but, served at room temperature, it would make a lovely wine at the table. Excellent value.'
Victoria Moore The Telegraph
'Another Englishman who has been successful at building a network of supporters is Gavin Quinney, who makes wine in the Entre-Deux-Mers region of Bordeaux. His beautifully crisp white is proudly on the menu at both Gordon Ramsay and Rick Stein – restaurant listings have become an important kudos and authority marker for the producer managing his own sales.
'Quinney's lively newsletter goes out to 4,600 people – "I prune it because I'm vain," he says (I think he means he only wants to write it for those who want to read it). "Also the charge for more than 5,000 is a few more bob." He sells 80 per cent of his wine directly in the UK, three-quarters of it in private sales and the remainder straight to restaurants.
'The other 20 per cent is sold through agents overseas – plus a couple of hundred bondholders effectively pre-purchase eight cases every year for four years (Quinney is opening a new bond offer in the autumn – I recommend it). In other words, sales come from a broad base but the control is good for the producer and the sense of being involved in a thriving small agricultural business is rewarding for all.'
Richard Hemming MW jancisrobinson.com
Ch Bauduc Bordeaux Rouge 2012
Wonderful plummy fruit and liquorice and leather scent. Soft, feathery tannins and just the right amount of mid weight. Not hugely complex, but presses all the right buttons for this level of Bordeaux. Very pleasurable claret. Drink 2013-2015, 16.5/20
Ch Bauduc Clos des Quinze 2010
85% Merlot, 15% Cabernet Sauvignon. Subtle meatiness on the nose, firm and dense on the palate. Really tasty and savoury. Deserves proper ageing - has the purity and substance to last. Drink 2016-2023, 17/20.
Ch Bauduc, Les Trois Hectares Sémillon 2014
Broad, just as Sémillon should be – textural and waxy – not very grassy, but there are a few bits of herb in there. Then quite a dense, viscous finish. This shares a lot of the qualities of young Hunter Valley Smillon – I wonder if it would develop those same toasty aromas? 12%
Drink 2015-2020, 16.5/20.
Ch Bauduc Sauvignon Blanc 2014 Bordeaux
Lovely viscosity and mouthfeel – there's so much texture to enjoy here. Flavours are as expected but well controlled, more like yellow citrus than green herbs. Drink 2015-2017, 16.5/20.

Ch Bauduc Sauvignon Blanc 2013 Bordeaux
Hail-affected vintage. Certainly greener than the 2014, but there is good balance – bright acid, fresh balance and no dilution. The flavour profile illustrates how hail impacts on ripeness. Drink 2014-2016, 16/20.
Ch Bauduc, Les Trois Hectares Sémillon 2007 Bordeaux
Toasty and caramelised, buttery and creamy – still intact, not oxidative. Spiced, fragrant. Really creditable and interesting. (RH)
Drink 2009-2014, 16.5/20.
Ch Bauduc Sauvignon Blanc/Sémillon 2002 Bordeaux
83% Sauvignon Blanc, 17% Smillon.
Toasty, expressive, plenty of fresh citric attack still in force then there's a lovely range of grapefruit and honeycomb flavour on the palate. Long finish. This is really super stuff, and vindicates a good vintage that has aged well under screwcap. Drink 2005-2018, 17/20.
Matthew Jukes The Week and Money Week
'Bauduc Blanc is the Holy Grail for those of you who can't get the pot pourri and fruit salad notes out of your olfactory system left behind by chemistry set, bulk-bottled Sauvignon. It is classy, elegant, nerve-tingling and, dare I say it, what we should all taste to remind us what Sauvignon Blanc should be like!' Matthew Jukes, The Week and Money Week.
Oz Clarke 'Bordeaux', Anova books
'Well, it may have started off chaotically, but since the first vintage in 2000 the Quinneys have made Bauduc into a very smart operation, selling direct to consumers through mail order and the internet, and gaining regular listings with such star chefs as Gordon Ramsay and Rick Stein. The wine deserves it. Red, pink and white, they are utterly drinkable, each possessing a classic, mouthwatering Bordeaux texture and easy-going fruit. Special cuvées Les Trois Hectares… are serious oak-aged styles, but can remain affordable. [By the way, there's also a lovely farmhouse you can rent.]'
Oz Clarke's Wine Buying Guide
"This is a beautiful château run by London rat-race exiles Angela and Gavin Quinney. They make excellent red, white and rosé, all marked by their sheer drinkability and by their true sense of Bordeaux style. Affordable, approachable, Bordeaux needs another 100 Bauducs – and fast."
Stephen Brook "The Complete Bordeaux: The Wines, The Chateaux, The People", Mitchell Beazley
'Gavin Quinney enjoyed a high-flying career in London before deciding he wanted to make wine as well as drink it. In 1999 he bought this handsome property just outside Créon, and moved here with his family. They have become familiar to British newspaper readers, as whenever an editor wants to run a story on the joys/miseries of being British residents in France, a photograph of the Quinneys duly accompanies the article.
'The vineyards surround the château in a single block, and although the wines qualify as Entre-Deux-Mers, the Bordeaux appellations are preferred for both white and red. The soils are varied, with lots of slopes of gravelly clay over an outcrop of limestone. On the plateau, sandy clay sits alongside a large gravel mound. No sooner had Quinney arrived at Bauduc than he replanted half the vineyard to a density of up to 6,600 vines per hectare to improve quality. He makes a range of wines under numerous appellations. The Bordeaux Sec is nearly all Sauvignon Blanc and vinified in tanks after skin contact. In contrast a barrel-fermented wine called Les Trois Hectares is sourced from a three-hectare parcel of mostly Sémillon planted from 1947 onwards. A rosé is made in a dry style from Merlot and Cabernet Sauvignon.
'The Bordeaux Supérieur is essentially Merlot, made from machine-picked fruit and partly aged in barrels. A more serious red is the barrique-aged Clos des Quinze and the hand-picked red cuvée Les Trois Hectares, which is only made in exceptional years. These are very consistent wines, with Trois Hectares and Clos des Quinze showing more complexity than the other bottling. They are not wines intended for long aging - though the top cuvées will keep perfectly well for a few years - but they give immediate pleasure, which is why they have been the firm favourites as house wine in top British restaurants. The Quinneys' marketing skills (their newsletter is a model of wit and information) and sensible pricing ensure the loyalty of a large private clientele.'
Chris Kissack, thewinedoctor.com
'Gavin's start at Château Bauduc may have had a somewhat chaotic air to it, but there is no doubt in my mind that he and wife Angela have made a great success of Gavin's surprise purchase. Today this is a model estate for Bordeaux, the white wines clean cut and vibrant, the reds increasingly good. And yet they remain affordable, prices no doubt dampened by the absence of a grand appellation; we are in generic Bordeaux and Entre-Deux-Mers territory here.
'It is no surprise that they have garnered a loyal following, the wines listed by famous restaurateurs, and those not snapped up by Gordon Ramsay and the like sell out via Gavin's online direct mail-order business, largely to a UK clientele but also much further afield.
'There is pleasure to be had here whatever the colour. The whites remain particularly impressive, sufficiently so for the wines to be listed as the house white by Gordon Ramsay, and they have held this position on the wine list there for many years now. The rosé and red wines are also listed. Another to fall under the spell of Château Bauduc is Rick Stein, who again lists all three colours, again as the house wines. Surely two celebrity chefs can't be wrong?
'The Bauduc Rosé is something of a revelation; to be honest I rarely find Bordeaux rosé to be worth the effort… But in adopting some more Provencal techniques, minimising skin contact, Gavin has cast aside the deep-pink hue of Bordeaux clairet and come up with a barely pink, peach- and tangerine-tinged cuvée which is certainly worth the time, effort and money. It's a delightful wine.'