Posted by Gavin Quinney on 30th Nov 2022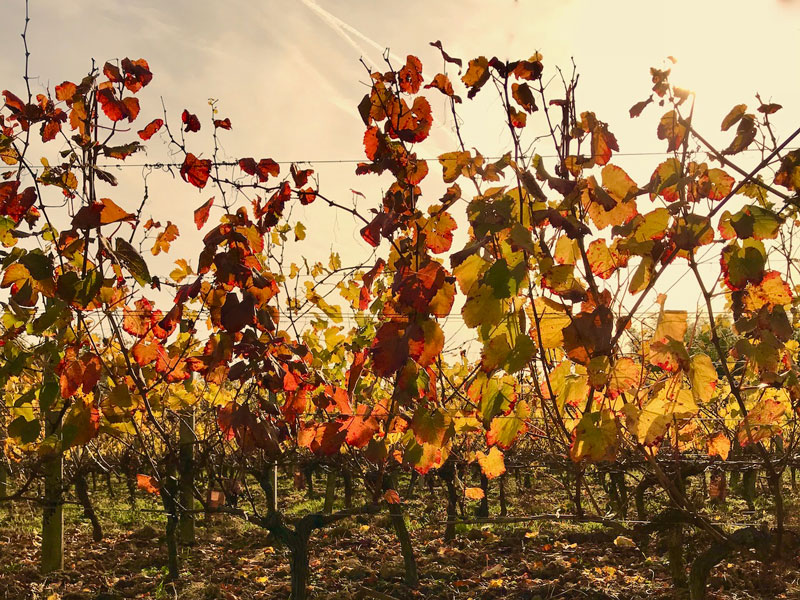 Another last-day-of-the-month missive and a photo journal for November.
Before that, well done England and the USA, commiserations to Wales, and the days of four games a day of World Cup football on BBC and ITV, one after another, have come to an end. England's opponents in the quarter final on Saturday 10 December, if they prevail over Senegal – if – this Sunday in the last 16, will more than likely be France or the runners-up of Group C (currently Argentina, but we'll know tonight). Crikey.
It just so happens we have a special offer running until 10 December, with a 5% volume discount on 24 bottles, on top of the temporary loyalty code December10. Delivery in England or Wales is free for 12 or 24+ bottles, or £11 for six and £8 for 18 (though 18 go free in Greater London). Click here if you missed that seasonal offer from a week ago or head straight to the wines on bauduc.com if you know your onions.
Our classic Château Bauduc wines work out to £10.69 a bottle for 24, which can be mixed, or there's a lovely dry white from 2020, a tasty 2017 red or a year-round rosé 2021 which all work out to just £9.36 a bottle for 24, or £9.86 for a dozen.
Whatever happens, may the doors of your advent calendar open to reveal memories of goodness and hope for the days to come. Or a decent, bite-sized chocolate at least.
All the best
Gavin & Angela Quinney
---
November 2022 photo journal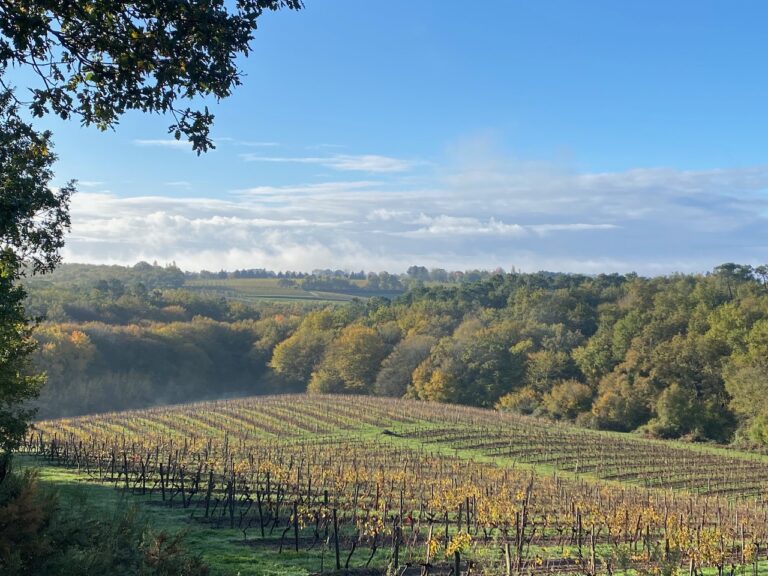 This image of our vineyard was taken on the weekend of the start of the World Cup. But before more thrilling shots of the vines, a quick word on Wales and England, and our trip to Padstow.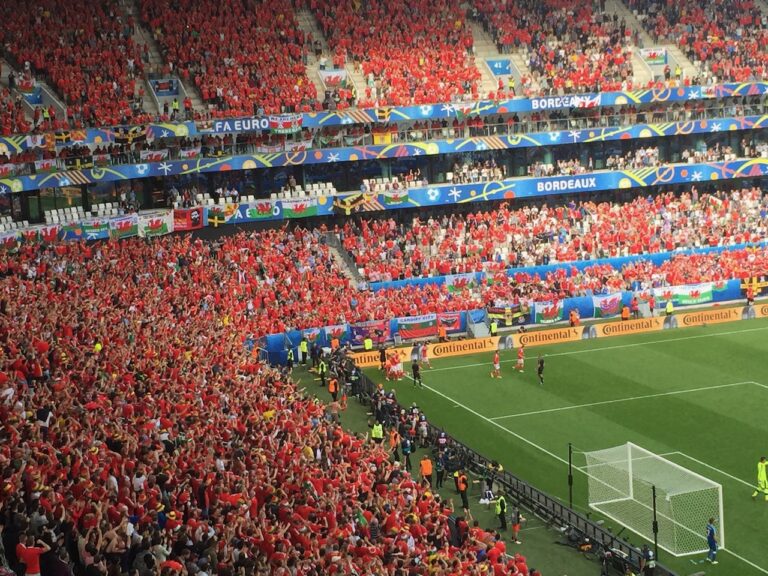 We have fond memories of Wales playing in Bordeaux in the Euros in June 2016.
Ange's mum Val was Welsh and she'd have been proud of Tom (left), Bugs and Sophie supporting the lads at the new stadium here. Then as now many of the fans wore Bale shirts.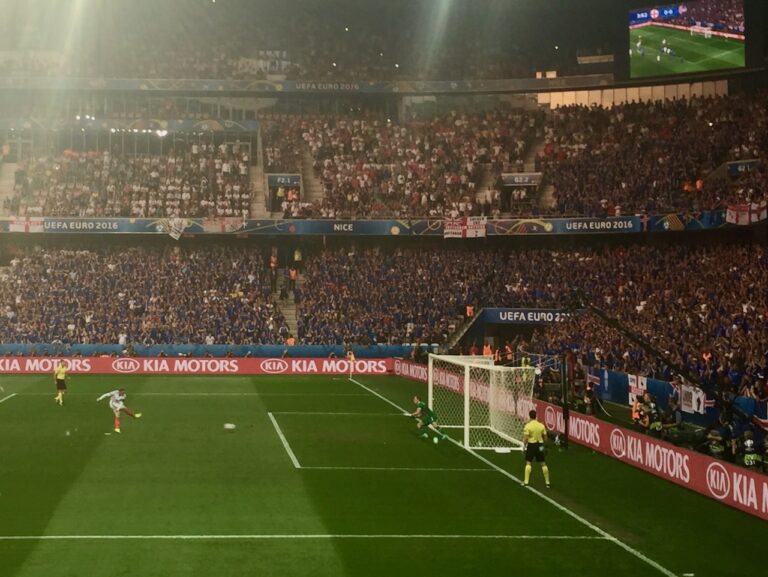 England in Nice in the next round, not so much. Though the Iceland fans were fun. (We didn't all go. Just me.)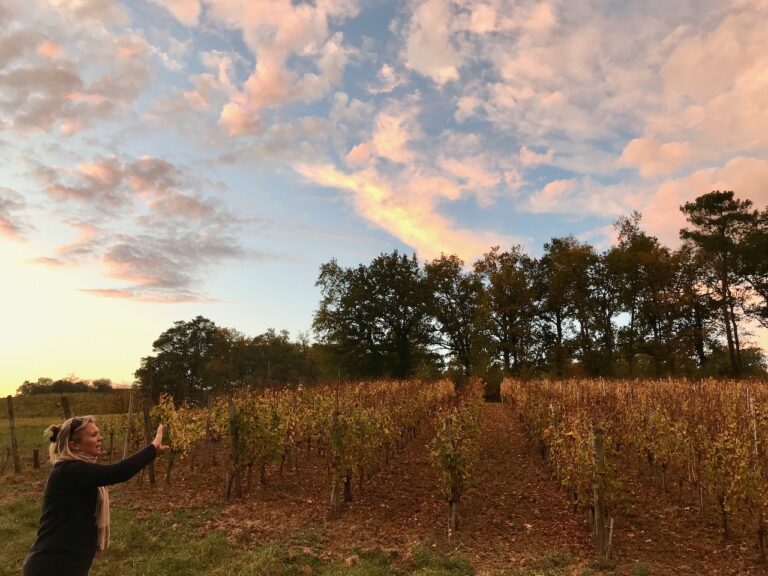 We are normally at home at the start of November.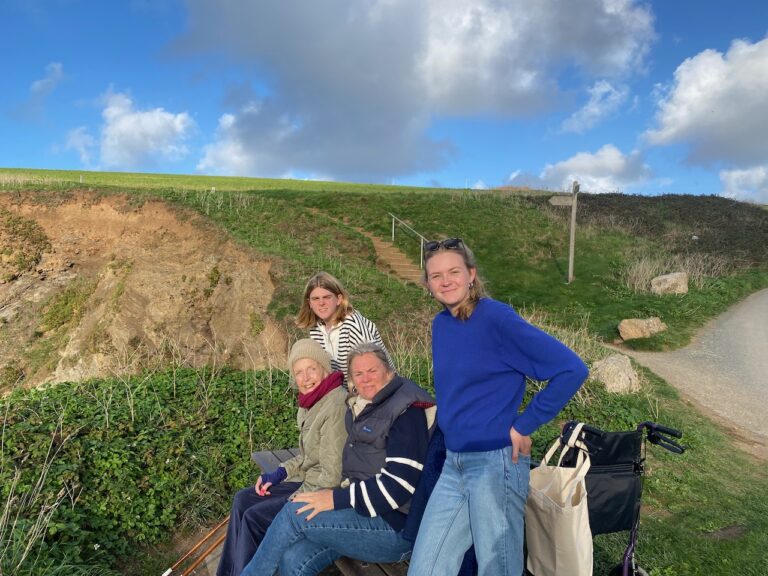 This year we took DQ to Cornwall for a week from the end of October. The weather was Cornish-like and mixed, though Georgie was able to join us for the best few days.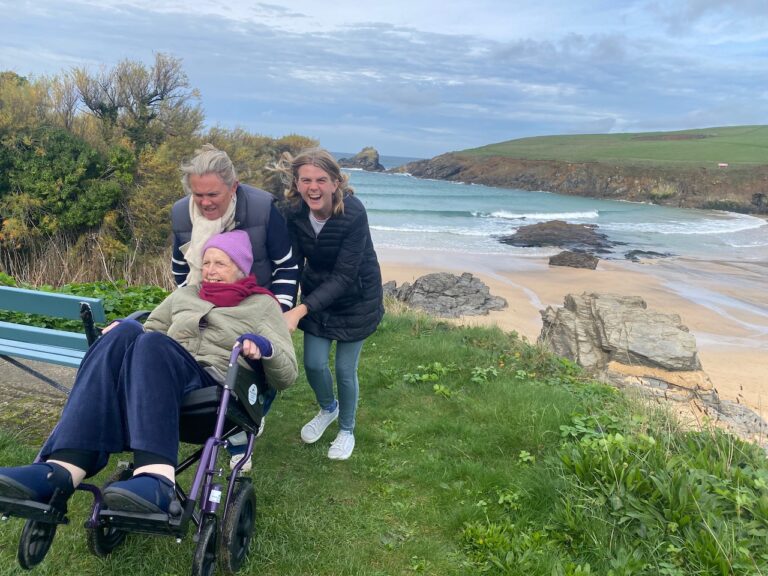 We had a great time staying in Trevone on the north coast, negotiating the coastal paths with ease.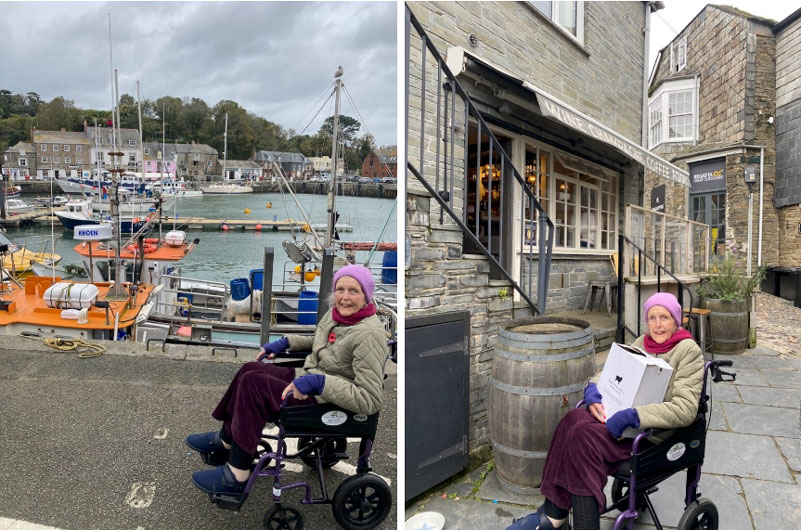 Trevone is a lovely spot, around the corner from Padstow. Now you can't come away from a wine shop (and bar) like Bin Two without a takeaway. In our case some Camel Valley sparkling Pinot Noir rosé from our friends the Lindo family down the road. If you're pushing a wheelchair, by the way, my advice is to ask for carrier bags, though mum just about managed.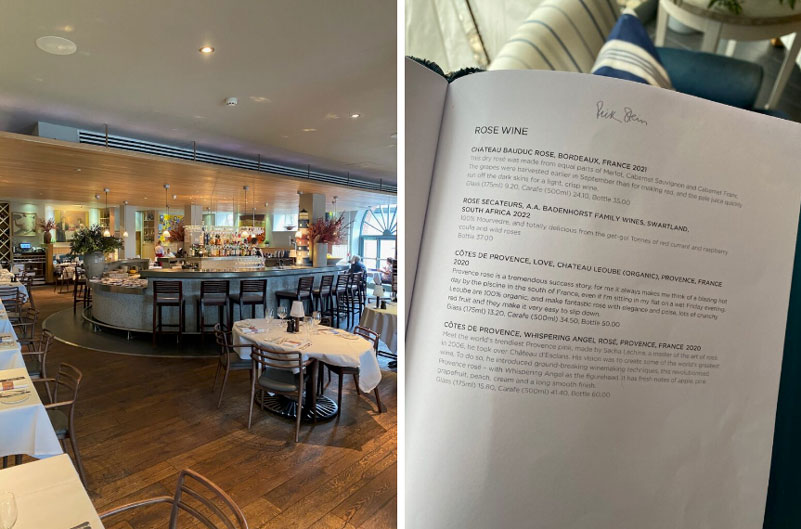 We actually drank that pink fizz with Jill Stein and her sister Roni, who is just retiring from serving wine to guests at The Seafood Restaurant, including us, since way before we came to Bordeaux in 1999. Our Château Bauduc rosé is available by the glass, carafe or bottle.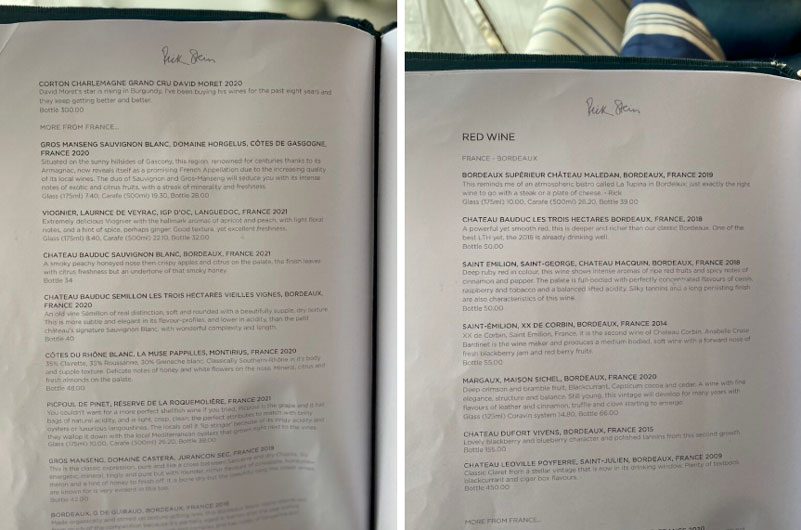 You can also find our two dry whites on the list – Sauvignon Blanc 2021 and Les Trois Hectares blanc 2021 – as well as Les Trois Hectares red.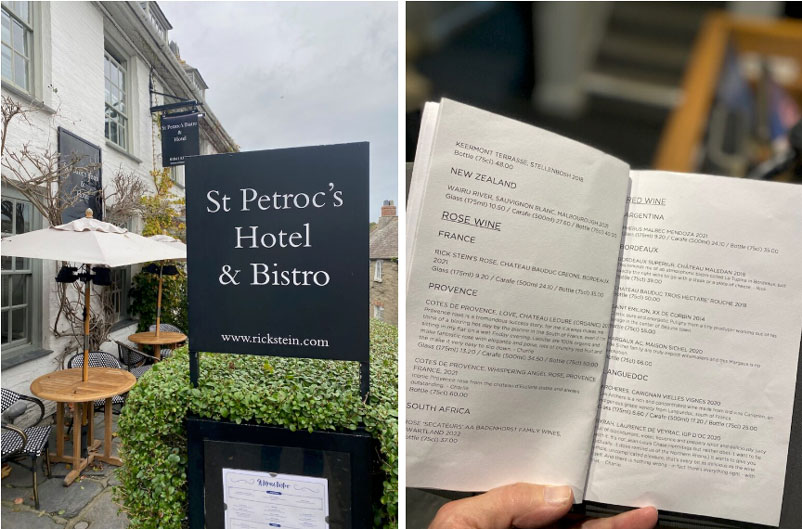 The Rosé and Red page of the shorter list at St Petroc's bistro around the corner.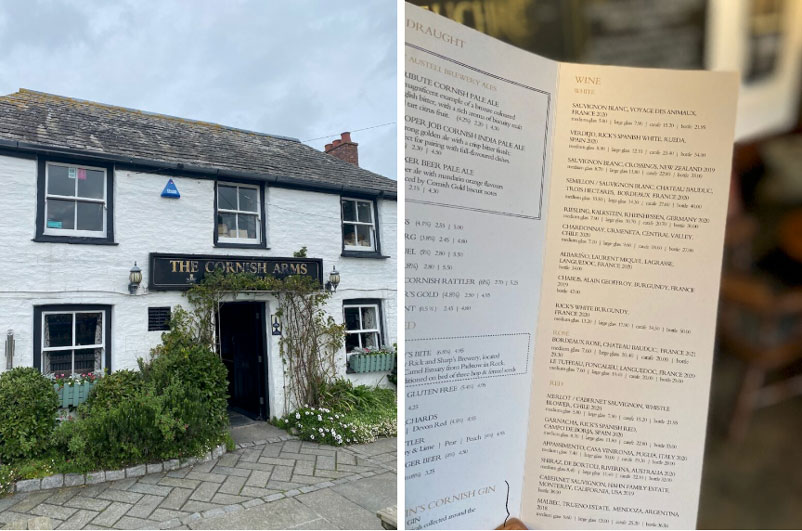 The Cornish Arms, also run by Rick Stein's team, is much larger than my photo implies. The Rosé and Les Trois Hectares blanc 2021 are listed (and we ourselves are running very low on stock of that white, with a max order of 12 bottles now).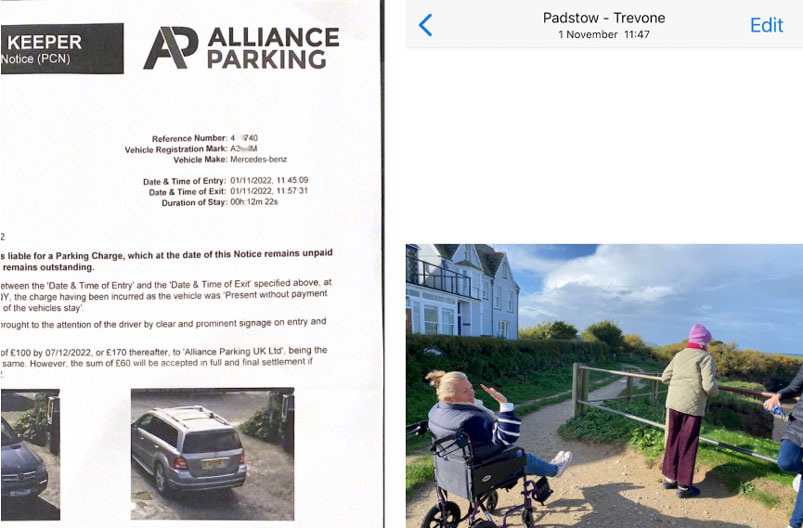 As a mildly amusing postscript to our fabulous week in Trevone, a word of warning if you ever use a car park like the one by the beach, the café and the coastal path. My sister Anabelle and brother-in-law Chris had been kind enough to lend us their Merc estate so we could fit everyone and our luggage in, and most days the plan was to collect mum and her wheelchair from the car park as the walk back up the hill was quite hard work. Whenever we stayed a little longer we bought a ticket but for the brief wheelchair pick-ups we didn't. Several parking fines duly plopped through Chris and Anabelle's letterbox in Warwickshire…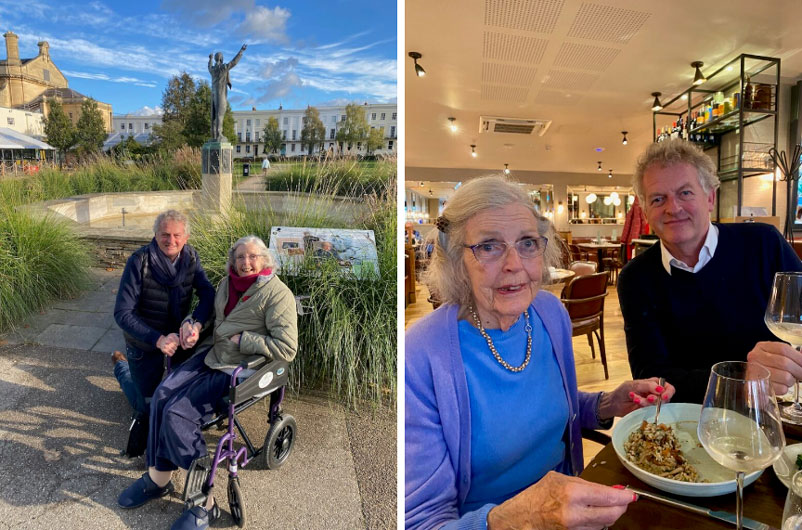 After Cornwall, I spent a few days with DQ, and we ventured out to Cheltenham and Worcester. The picture on the left was taken by a kind fellow in the park and, on the right, by brother-in-law Dominic.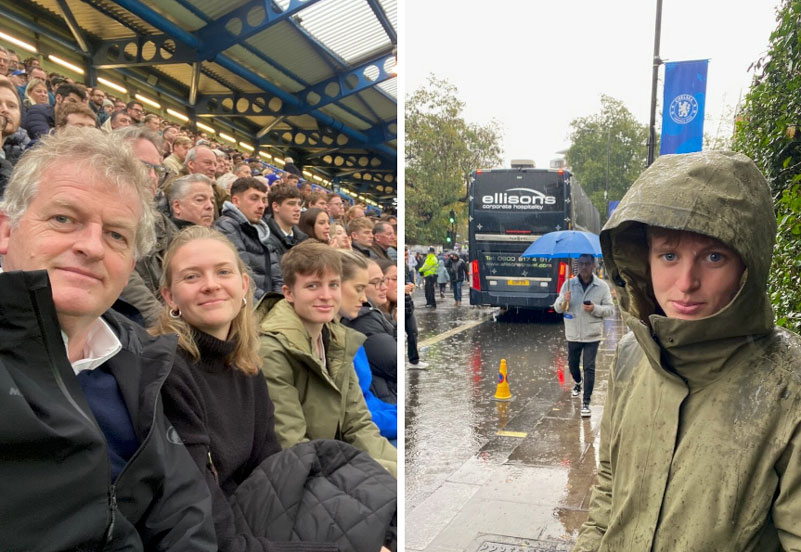 A final Sunday was spent dodging the train strike to go to Stamford Bridge with Georgie and Bugs to watch Chelsea lose to Arsenal. Good that there was just one old bloke in our row of six seats together that we have with friends. (Me.)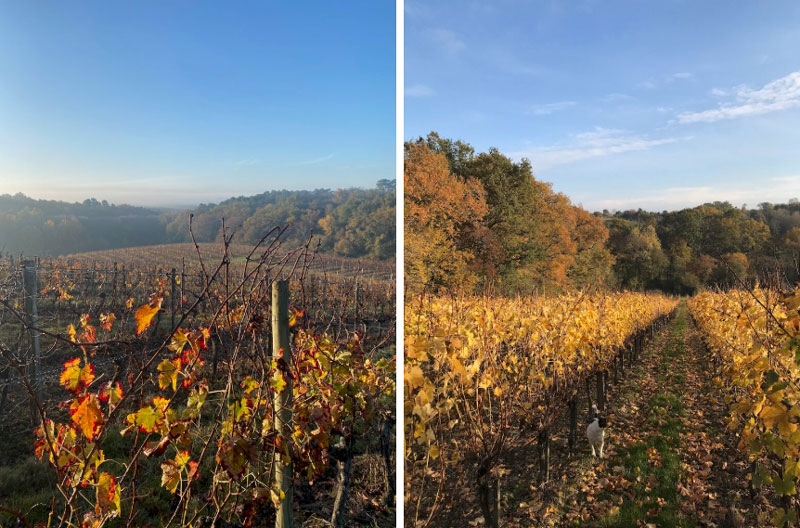 Back to Bauduc and the changing colours of autumn. That's Merlot on the left and Sauvignon Blanc on the right, for what it's worth.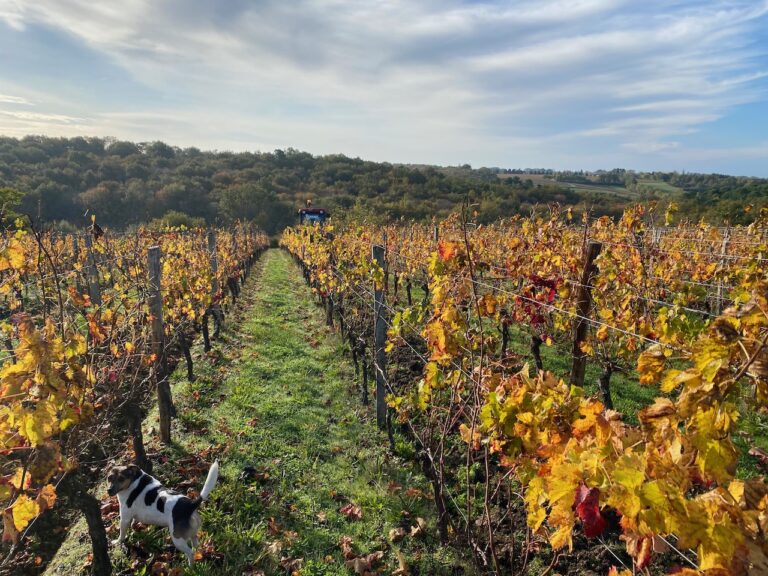 With Pavie in the Merlot.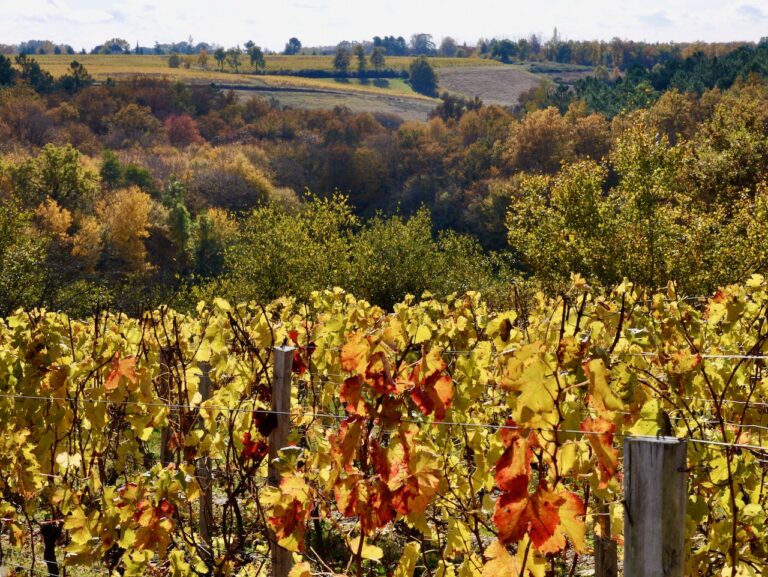 Late October and November can be a great time of year.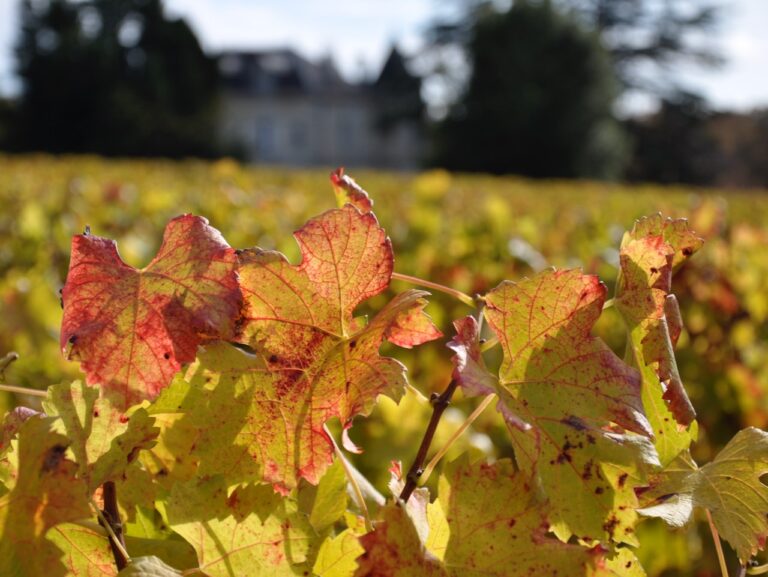 Spectacular colours.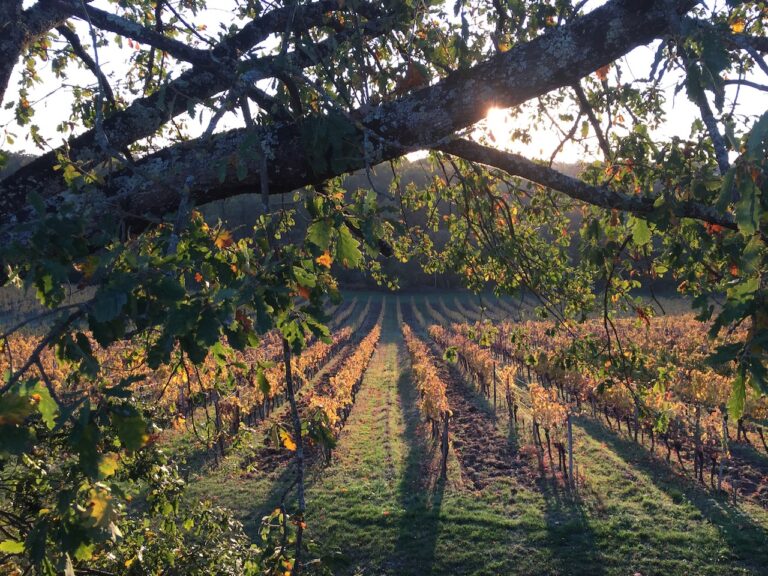 The Merlot on a block we call Montuard.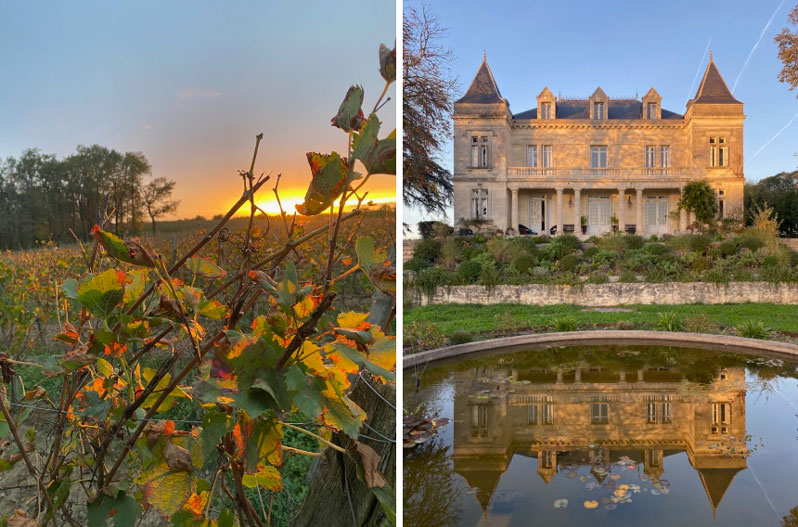 8 November and 13 November.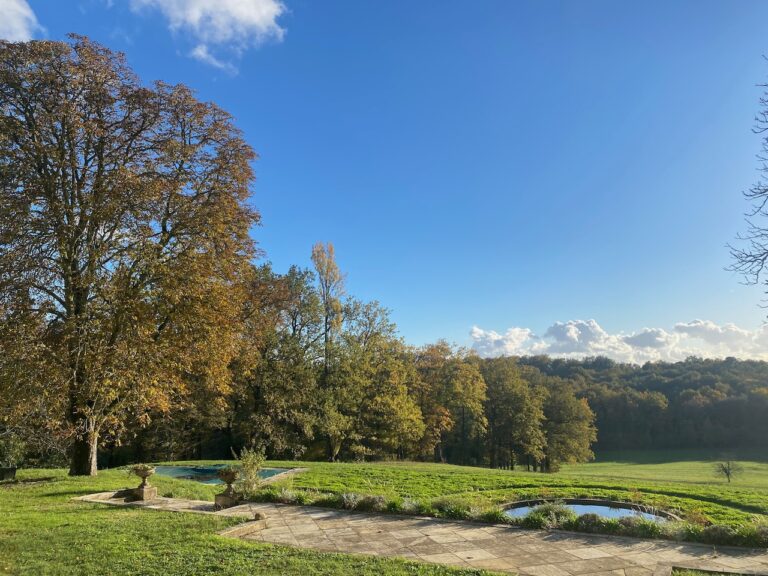 We could have had our tasting table on the terrace out for a while longer, but we'd stored it away by the 19 November.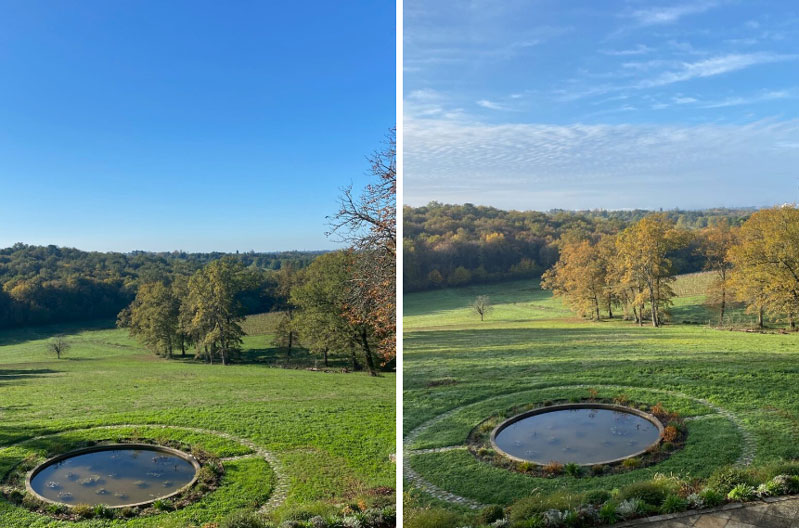 The view from the château on 11 November – Armistice Day, which is a holiday here in France – and again two weeks later.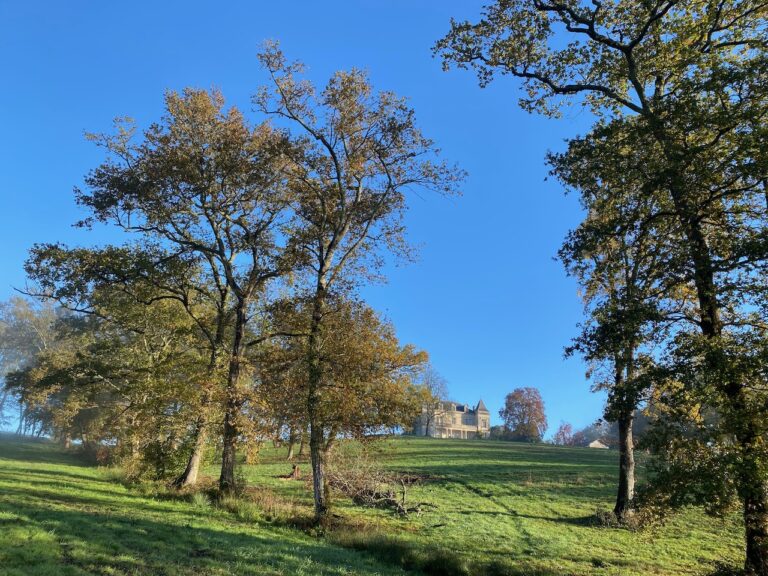 And looking back up the hill, on the 19th.
Autumnal colours around the Farmhouse. Two weeks have become available in October next year, having previously been reserved by a customer. See the Price and Availability page on our website.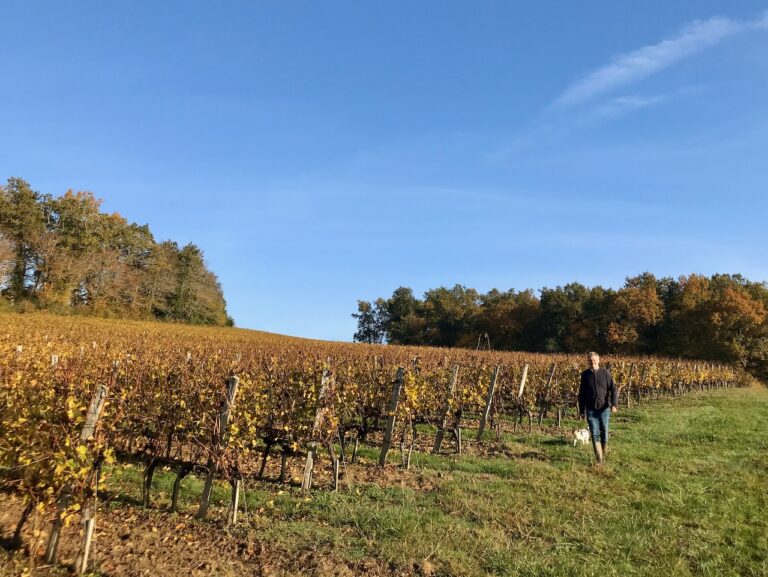 Walking the hound along the Sauvignon Blanc in the parcel we call 'Château'. If you don't name or rename your vineyard blocks early on, your vineyard team will do it for you and won't pay any heed to your creative genius.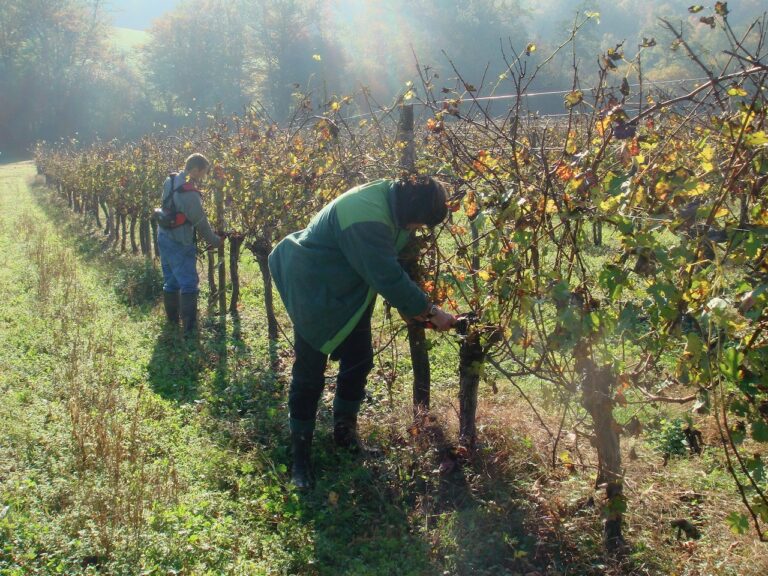 In fact, Sauvignon Château used to be Cabernet Sauvignon Château. When we arrived there were wide-spaced Cabernet Sauvignon vines here on vigorous rootstocks on this cooler east-facing slope. The Cabernet, a later-ripening variety, never really ripened properly here, and the whole shebang (otherwise known as terroir) was better suited to Sauvignon Blanc. Or so we hoped. This pic is from November 2005 with Daniel pruning the vines fully prior to their uprooting.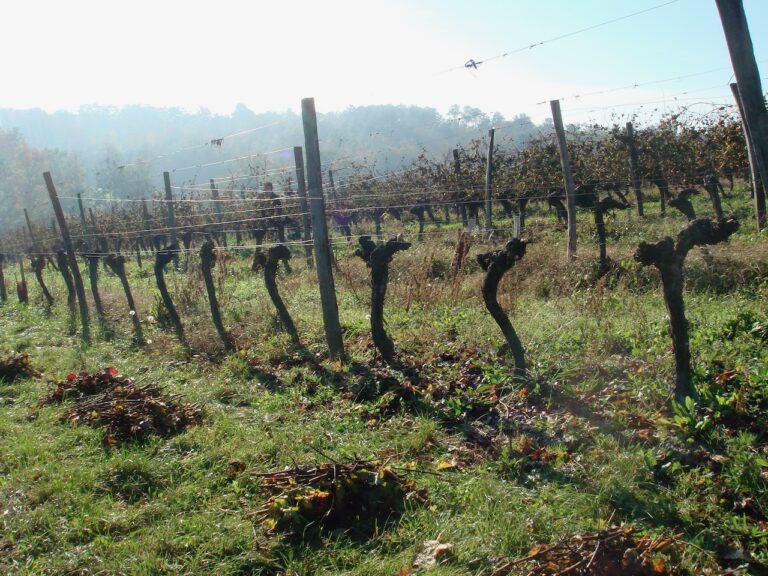 This is not the method you use if you're looking for a crop in the following year or anytime soon. It's a tough call and one you need to have confidence in.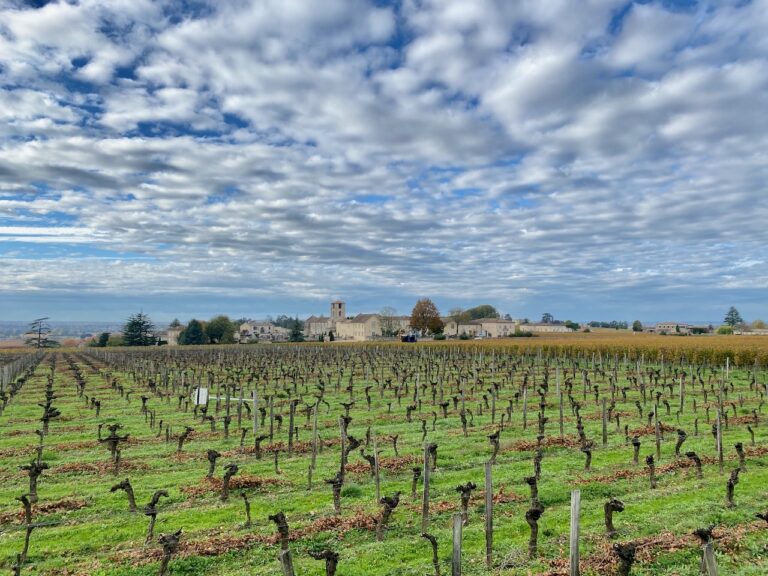 These tough decisions – to completely uproot and replant a vineyard – once made are often seen through in November. This was Château Canon in November 2020, with the vines pruned prior to uprooting.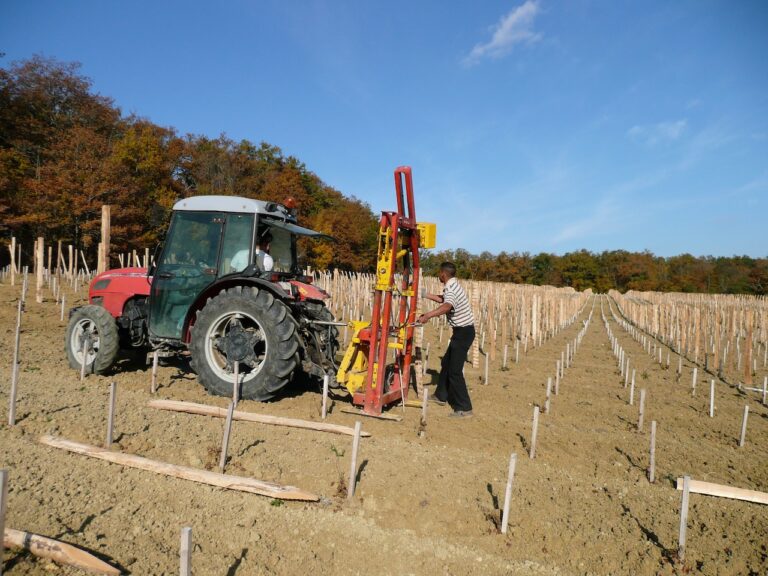 Back to November 15 years ago, with Hafid and Daniel putting the new posts in the newly planted Sauvignon Blanc parcel.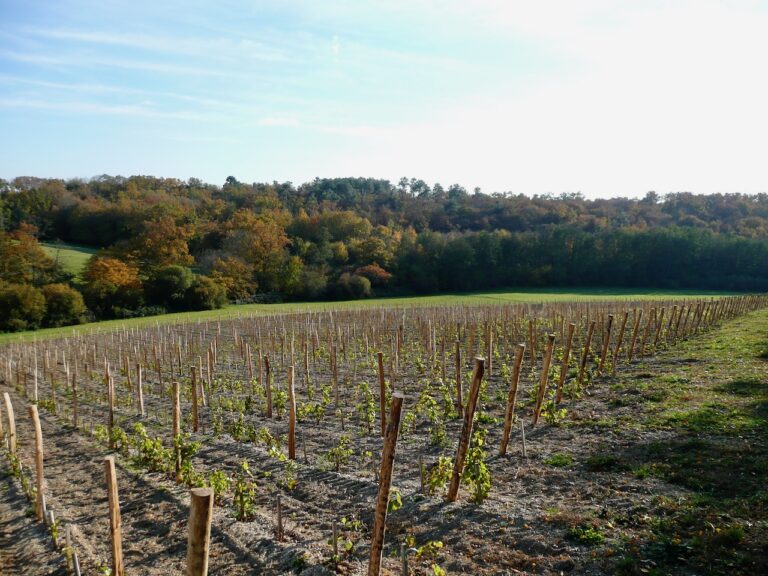 November 2007 and new young vines. They would come into production in 2009. (We then had hail in May 2009 so it was a very tiny crop.)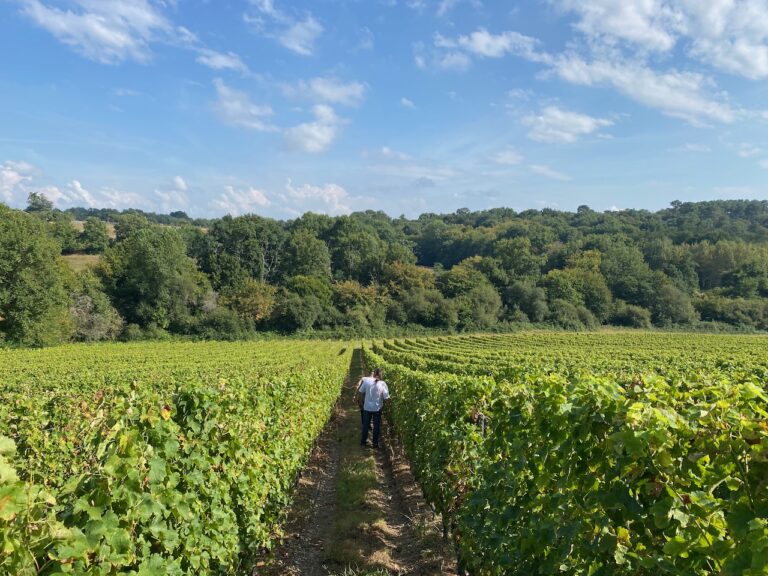 All good things come to those who wait. Or so they say. Tasting grapes from those same vines before the harvest in 2021.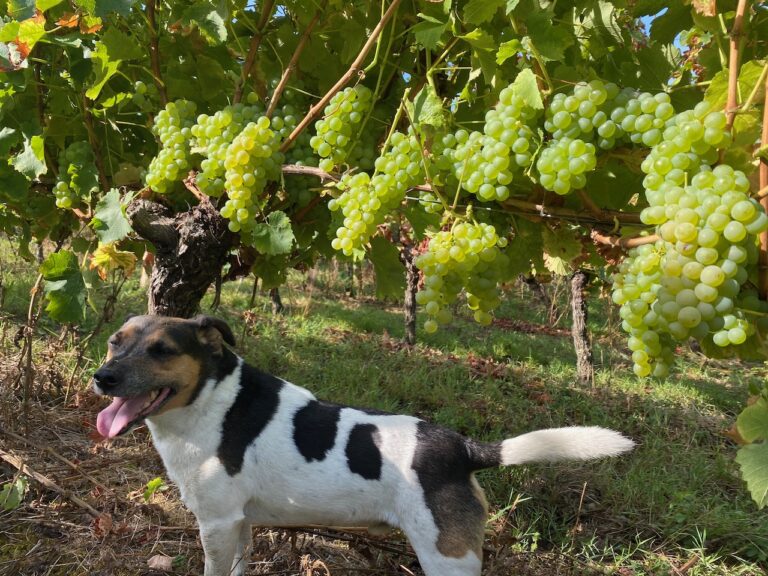 These are Sauvignon Blanc in the 2021 that we're currently selling. 'Harvested late in slow-ripening vintage, but still fresh and light (with only 12% alcohol). There's a whiff of exoticism to the aromas, with lychee and mango nuances to the limey-fresh fruit. In the mouth, masses of peach juice and mango again, little in the way of the 'cat's pee' thiols here, just a juicy mouthful of fruit streaked through with vibrant, food-friendly acidity.' Tom Cannavan on wine-pages.com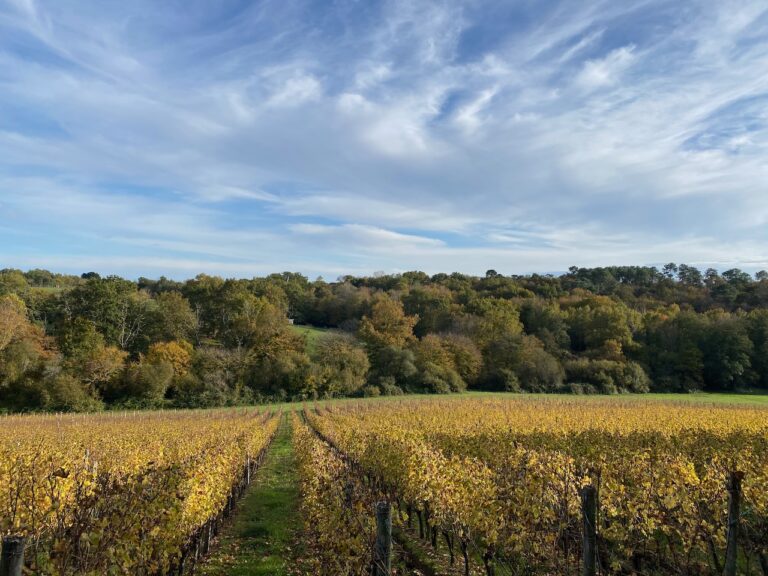 The November look before the wind sweeps the leaves away.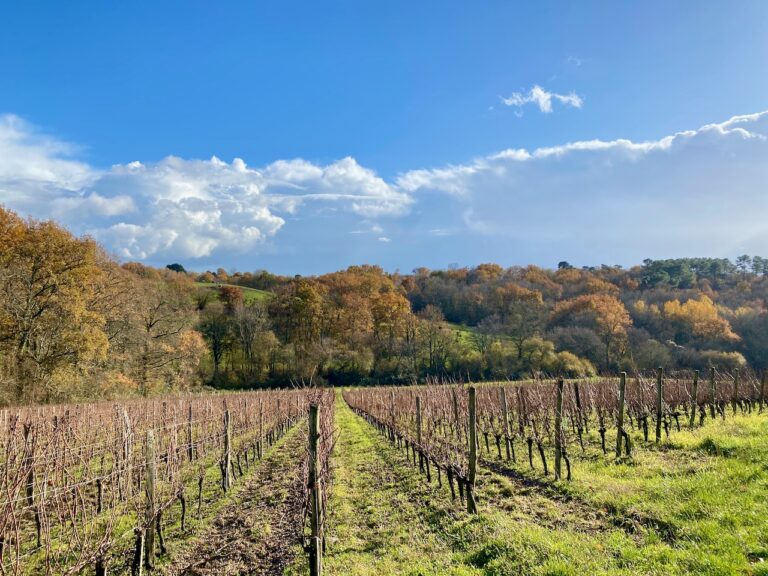 A more wintry November feel.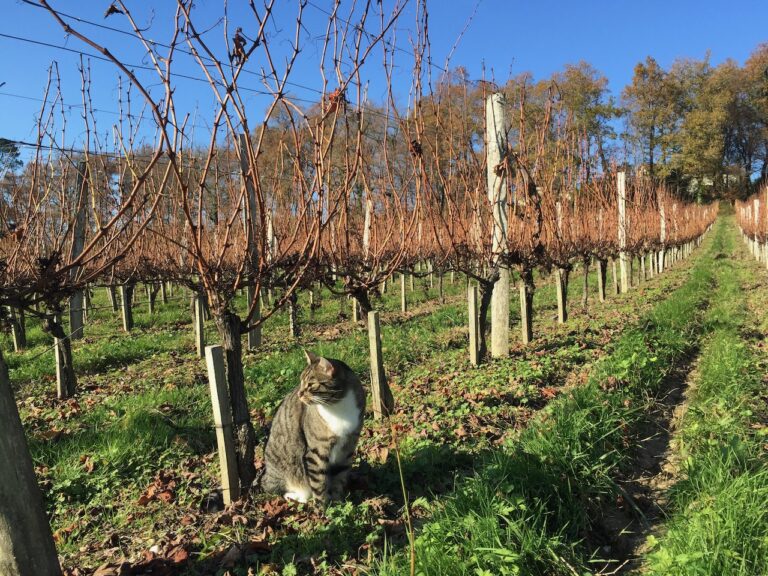 No leaves left but still a good spot for a cat on the prowl. #goosebauduc on Insta/Twitter/Facebook.
You'll find many mentions of #sauvignonblanc on social media. #yearinthevineyard #paviethedog are less common.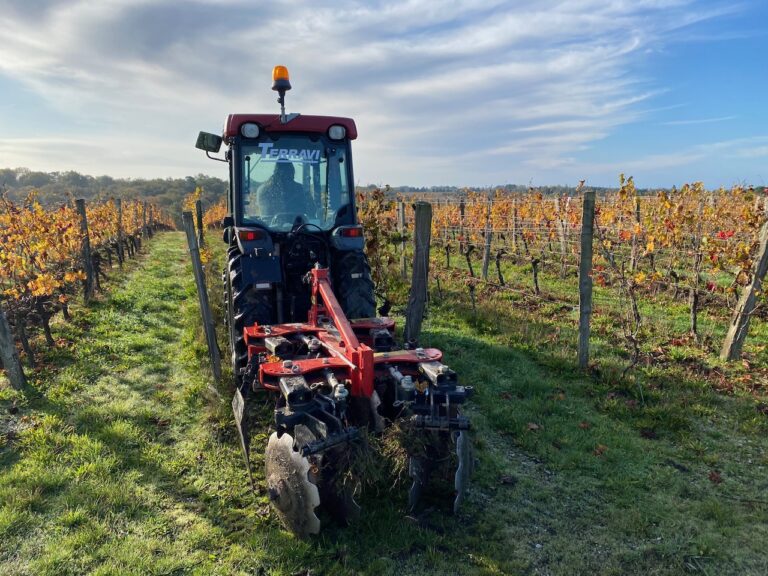 Other than major changes in the vineyard there are the usual work routines, such as discing the soil.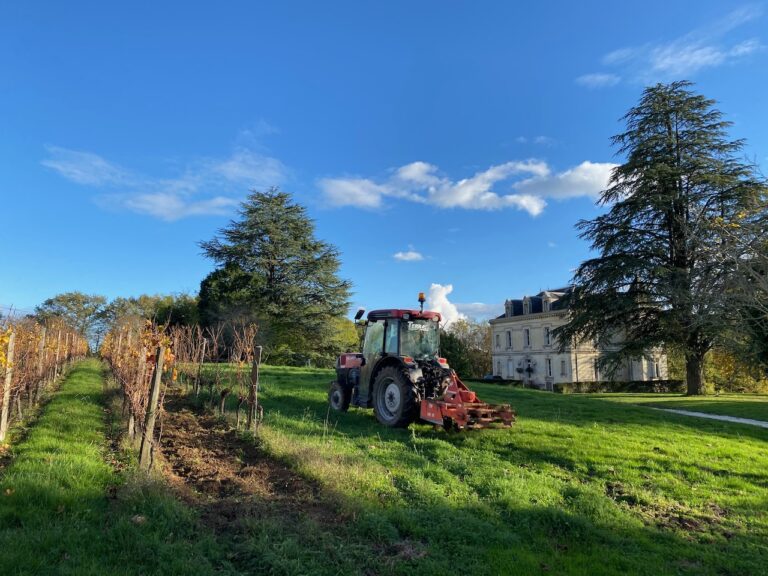 Daniel turning the soil over in the Merlot by the château.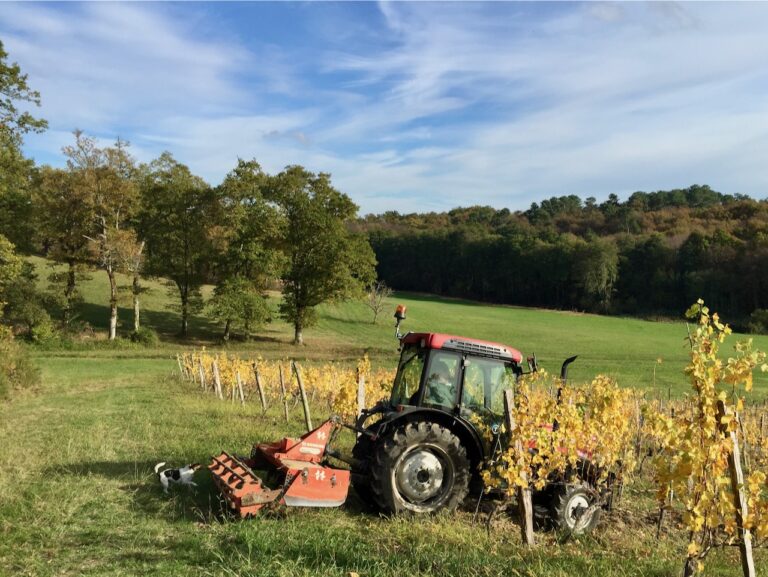 Pavie taking on the tractor, which is a battle he's unlikely to win.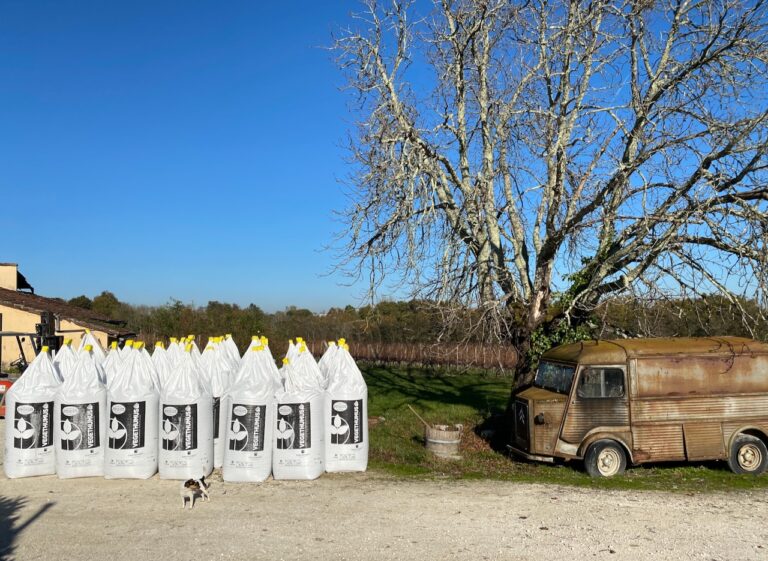 Organic fertiliser for the vineyard.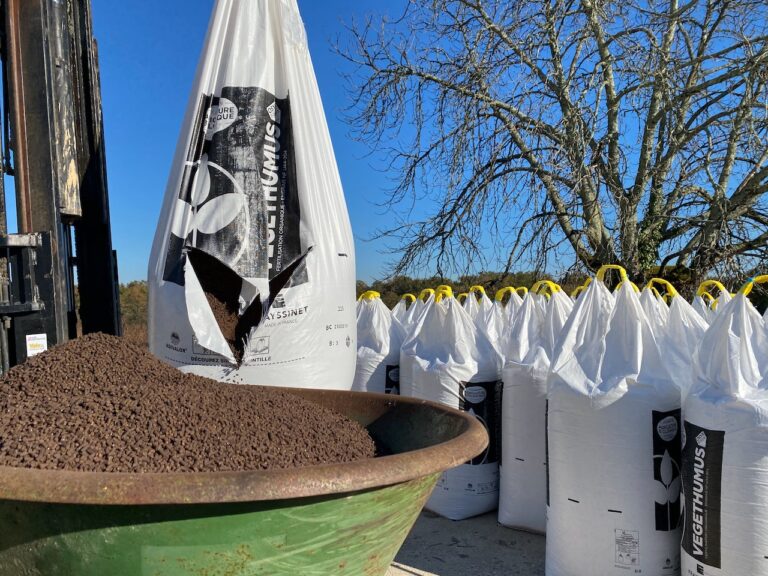 Bags of the stuff. On average, about 1,000 kg per hectare. Some parcels get more, some less. The richer soils get less and the more barren, or less fertile, a little more.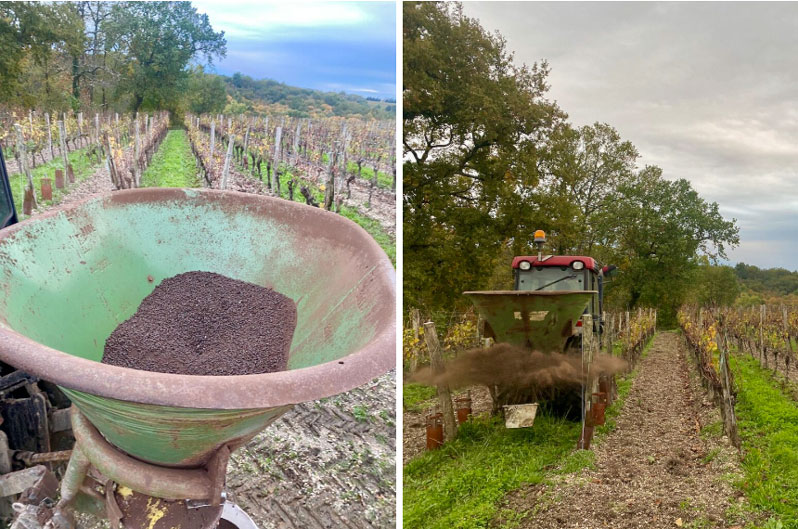 We hope it's as effective as the glorious aromatics would have us believe.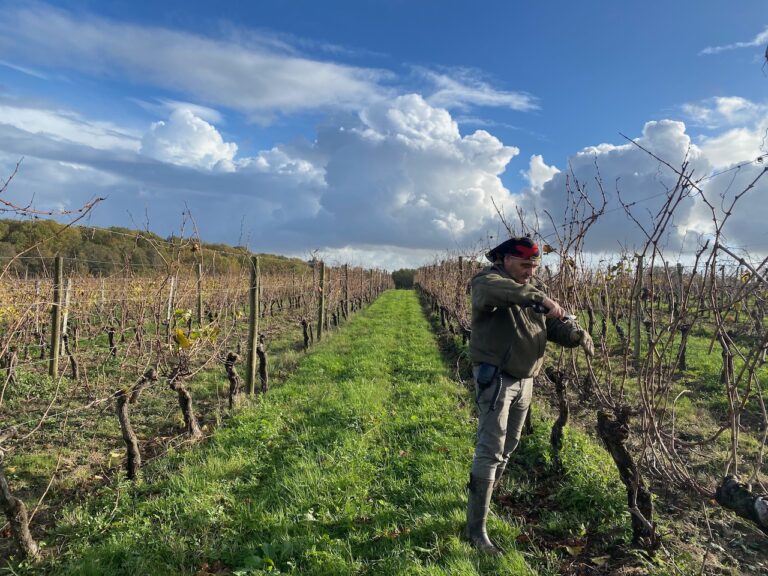 Daniel at the start of the winter pruning, the day before yesterday. These are the wide spaced Merlot vines we use for the rosé.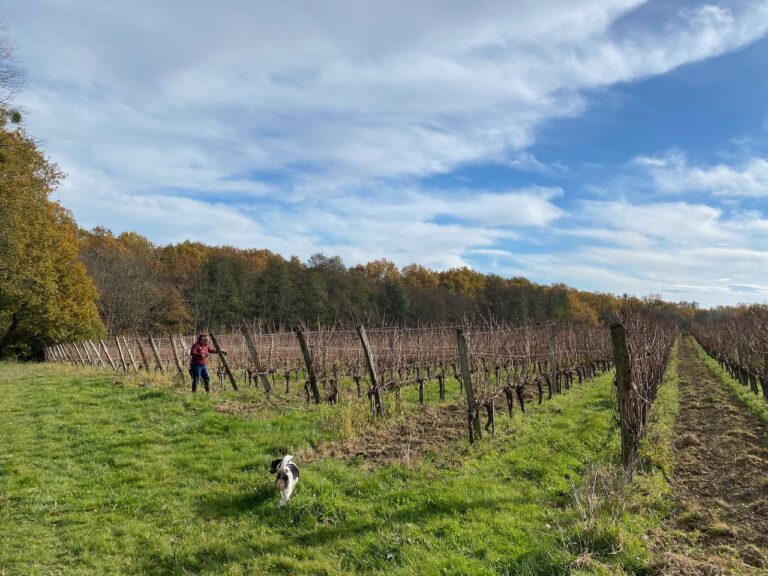 Nelly in the same block.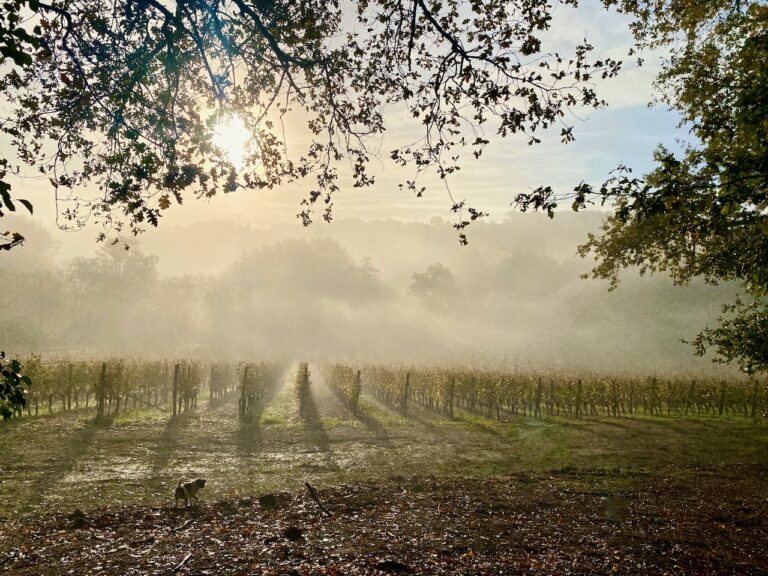 A misty November morning. 19 November.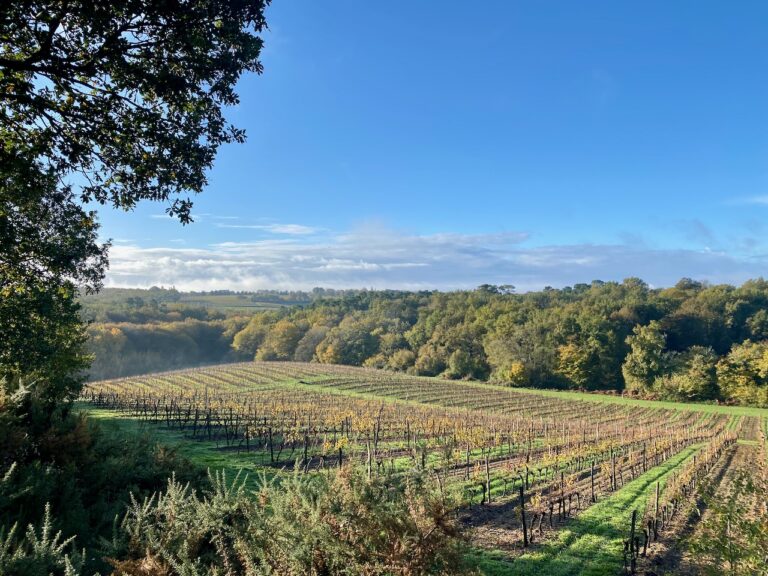 A few hours later and it's a glorious day.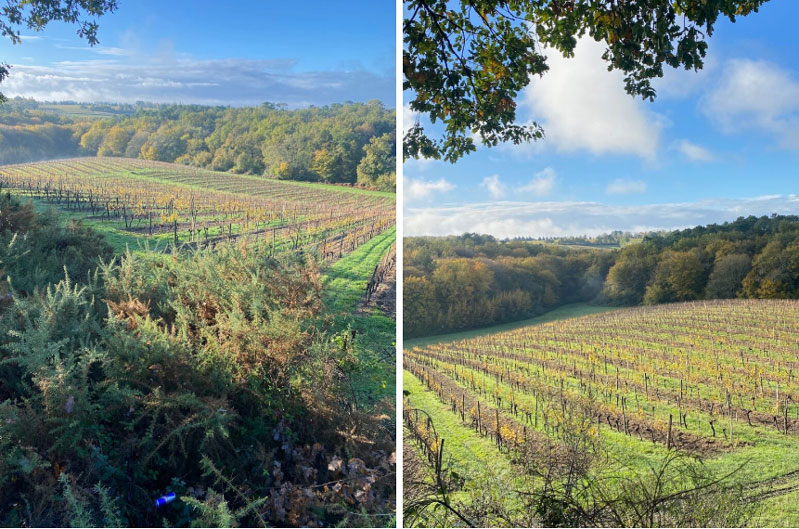 We don't have many visitors at this time of year. Most locals who walk around the vines, often with a dog of course, are impeccably behaved. There is though a special place in hell reserved for anyone who throws an empty can of Red Bull into the brambles.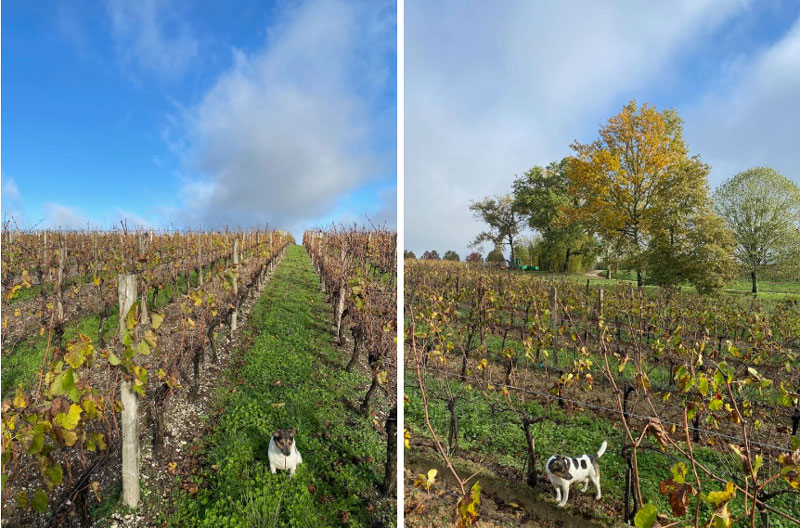 Pavie in the Merlot.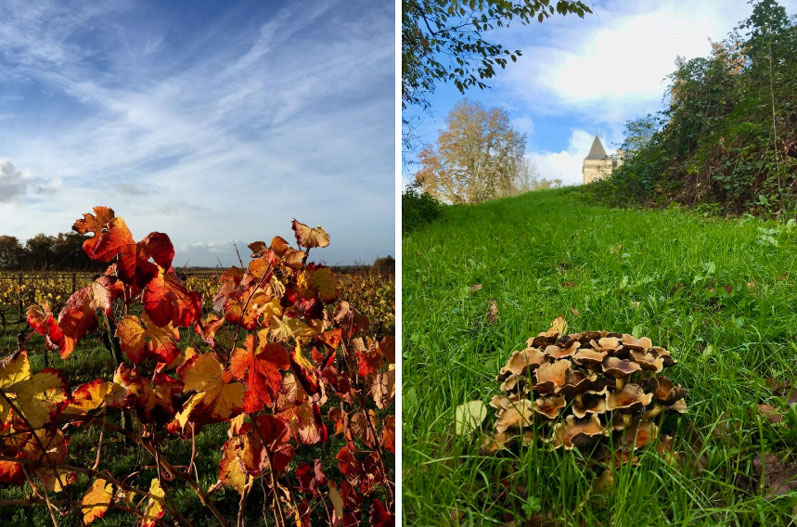 As well as the autumnal array of colours, there are exciting specimens of fungi to be discovered. And no, we don't eat them – except those certified by Nelly our resident expert.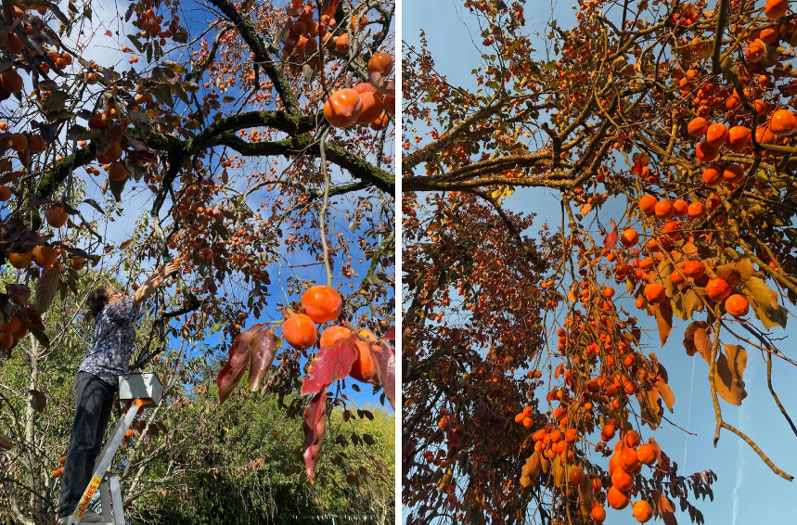 More colour. Christiane was our femme de menage for many years, and her retirement happily coincided with the children growing up. She still likes to help out with harvesting the kaki, among other things.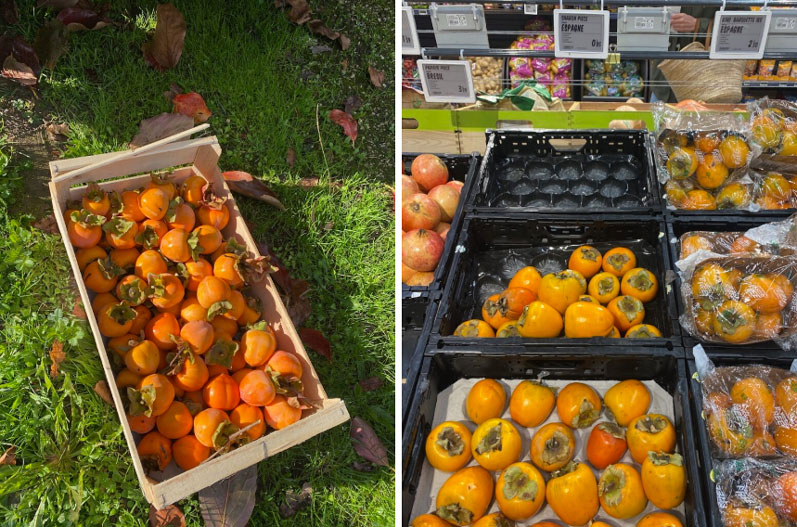 Persimmon is perhaps a more attractive word than kaki. Either way, we have no interest in making this a more commercial activity.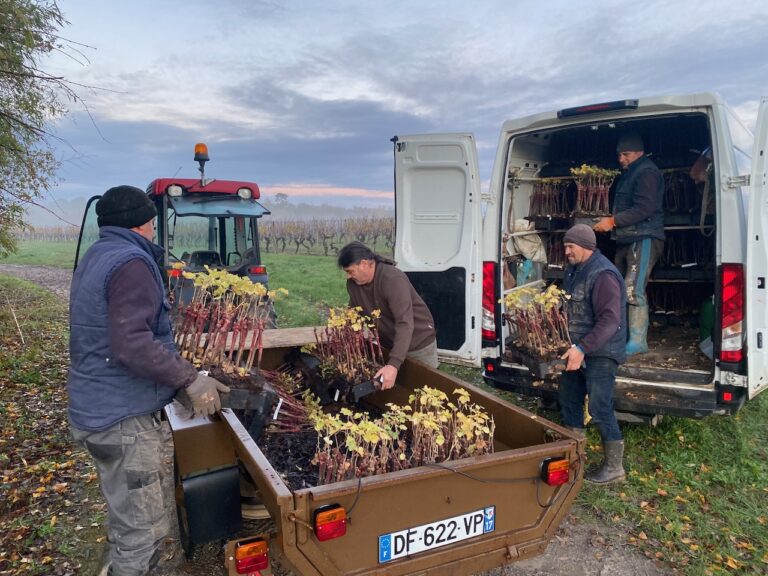 Back to business and we've been replacing Sauvignon vines that have been lost. Well, we haven't lost them exactly but they've mostly succumbed to a nasty wood disease called Esca. By the way, the chap on the left is Romanian, Daniel is French of course, and the guy on the right is Portuguese.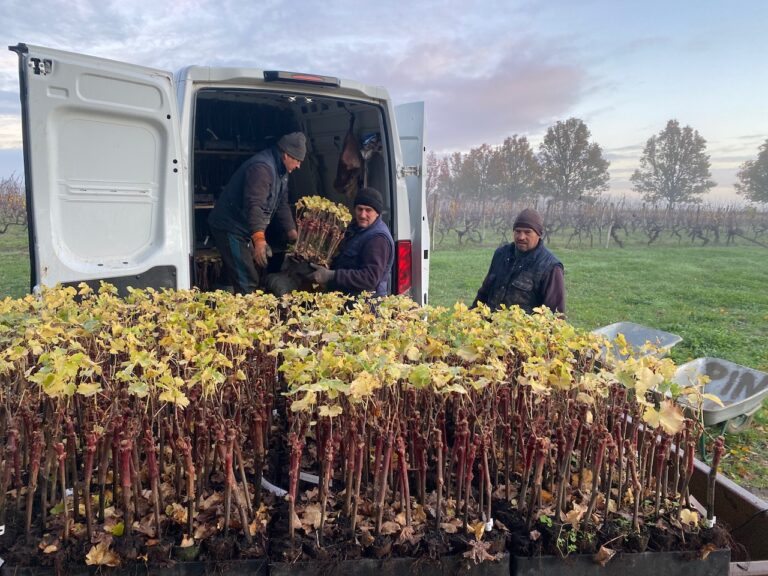 All the vines are grafted, with one type of vine above ground and a different one as the rootstock. More on why this is the case another time.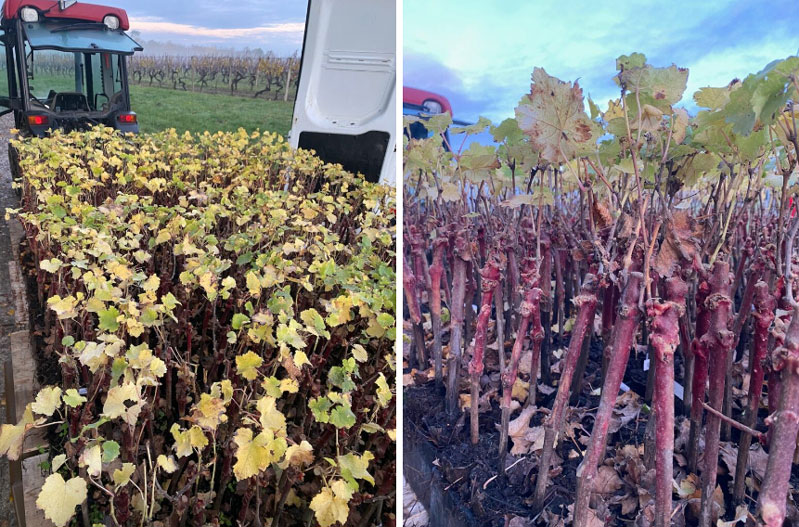 Three and a half thousand of the things overall, and it's an expensive exercise.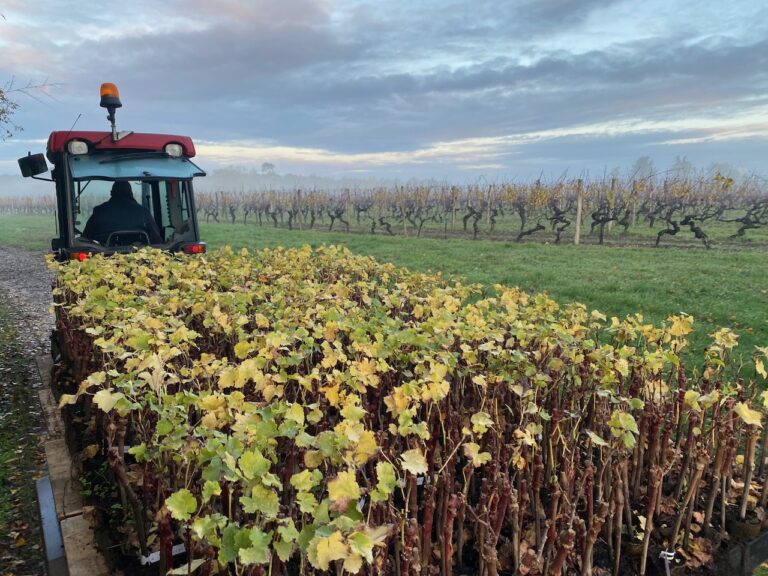 Off to the vineyards. Funnily enough in the background are old Sémillon, which have a longer life expectancy.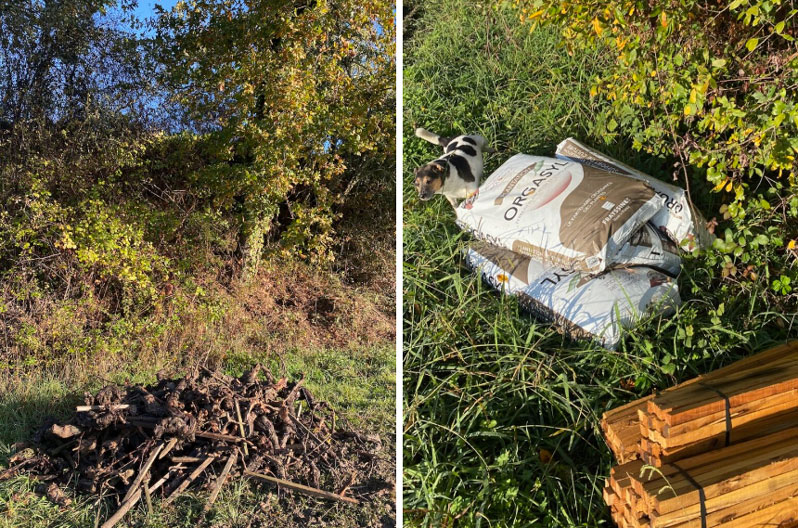 Following the removal of the old vines, the replacements are treated to an exciting dose of something organic to help bed them in.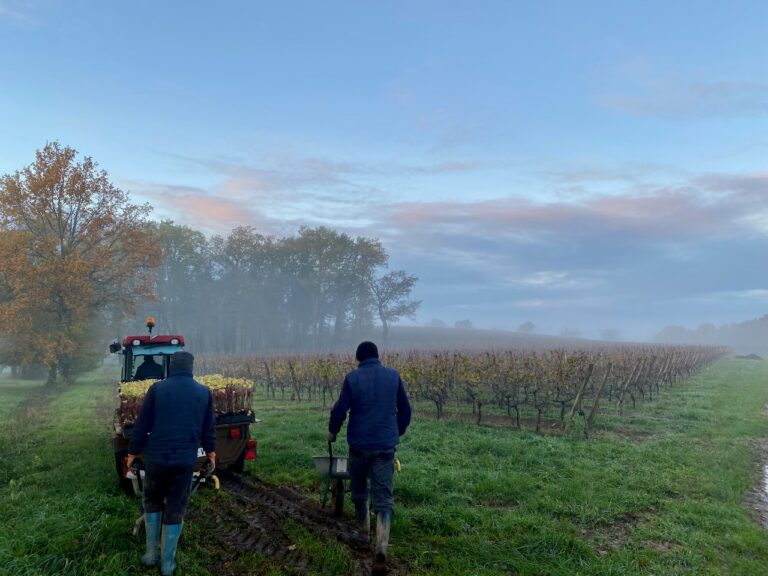 An early, murky start.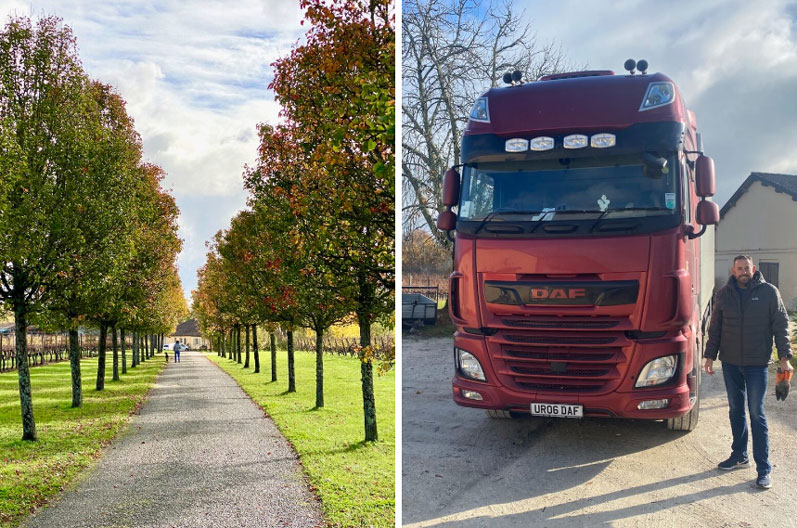 The same day, two days ago, and it's brightened up (left). Our drive is a road less travelled at this time of year, of course, except by our erstwhile colleagues who collect the wine for export. We also need Dom, right, to bring us our Christmas goodies from England, like crackers and other non-essentials.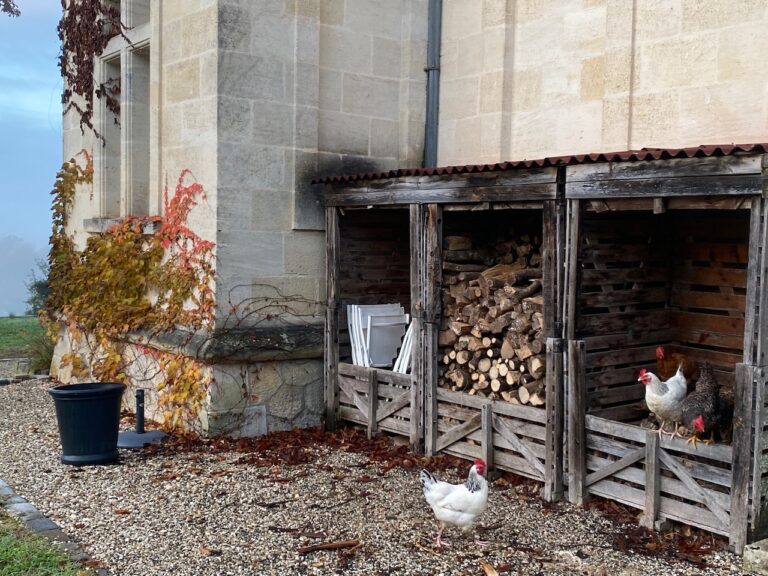 Stocking up the log piles for the cold weather.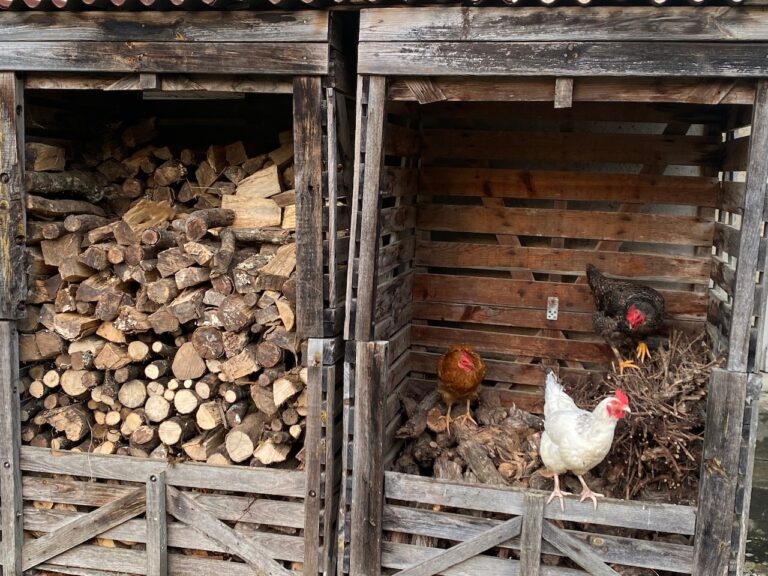 The chickens have taken over the crate we use for keeping the vines we use for cooking on.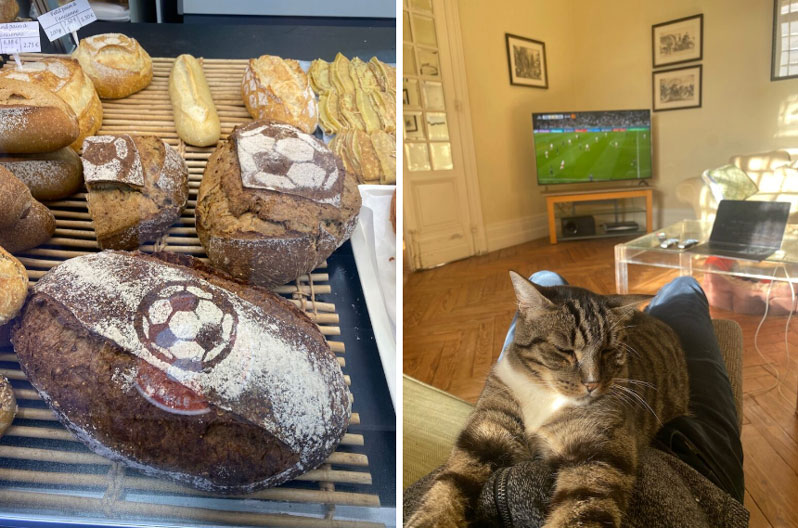 Back to the World Cup. It was comforting to hear Alastair Campbell say on the Rest is Politics podcast, which he hosts with Rory Stewart, that he worked very hard with his laptop while watching almost every minute of the group games.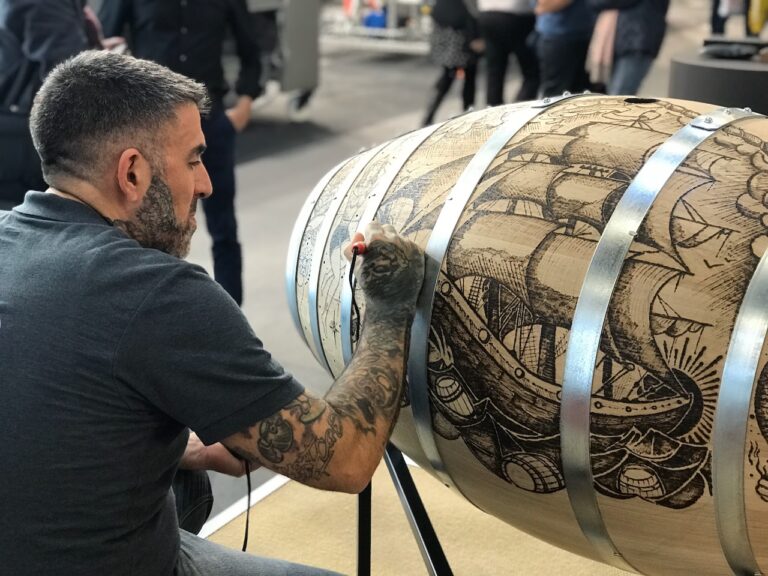 It's off to Vinitech for me tomorrow morning, a substantial show this week at the Bordeaux exhibition centre for winemaking and vineyard geekery. The important thing is not to spend too much time watching the tattoo artists at work on their barrels.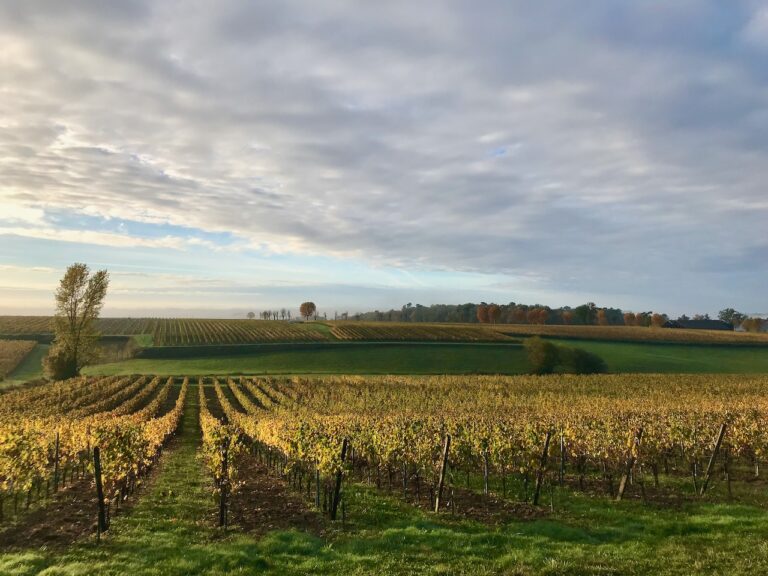 I'll leave you with some November images of Bordeaux vineyards, all within half an hour of us.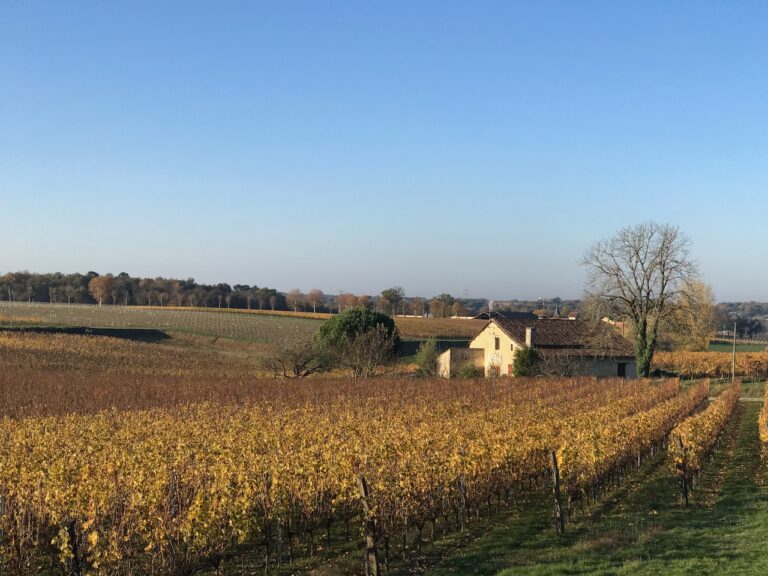 On the way to Lignan nearby.
A favourite corner of Saint-Émilion.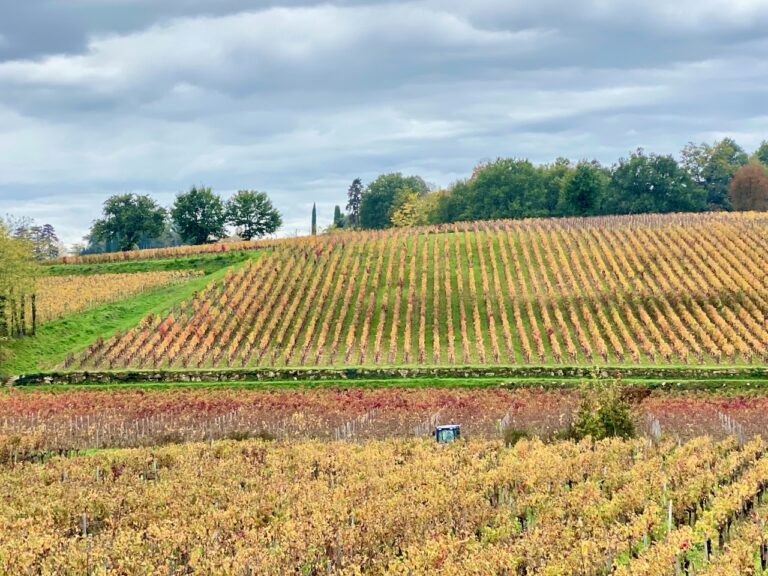 A patchwork of colour.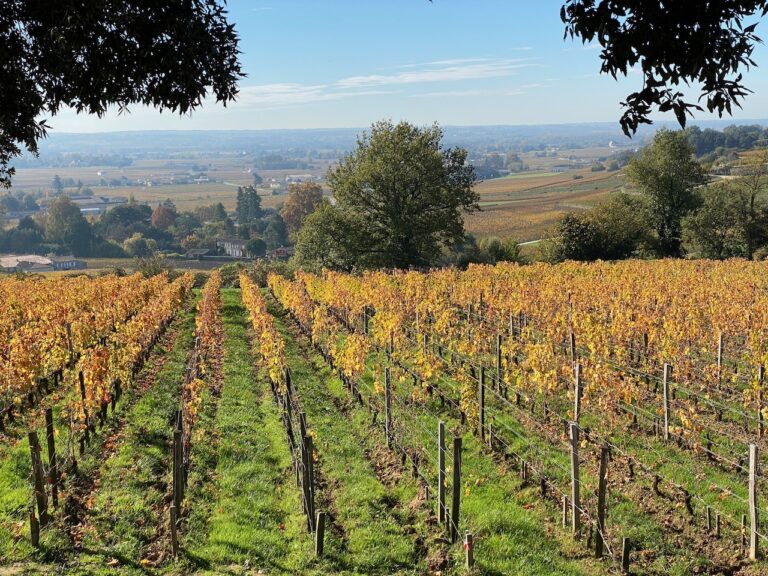 Leave it too late in November and there won't be leaves anymore. Winter: onwards and upwards.
Postscript. If you'd like to see more images of Bordeaux vineyards in the autumn, here are links to three photo journals from 2020:
Saint-Émilion vineyards in autumn