Posted by Gavin Quinney on 12th Nov 2020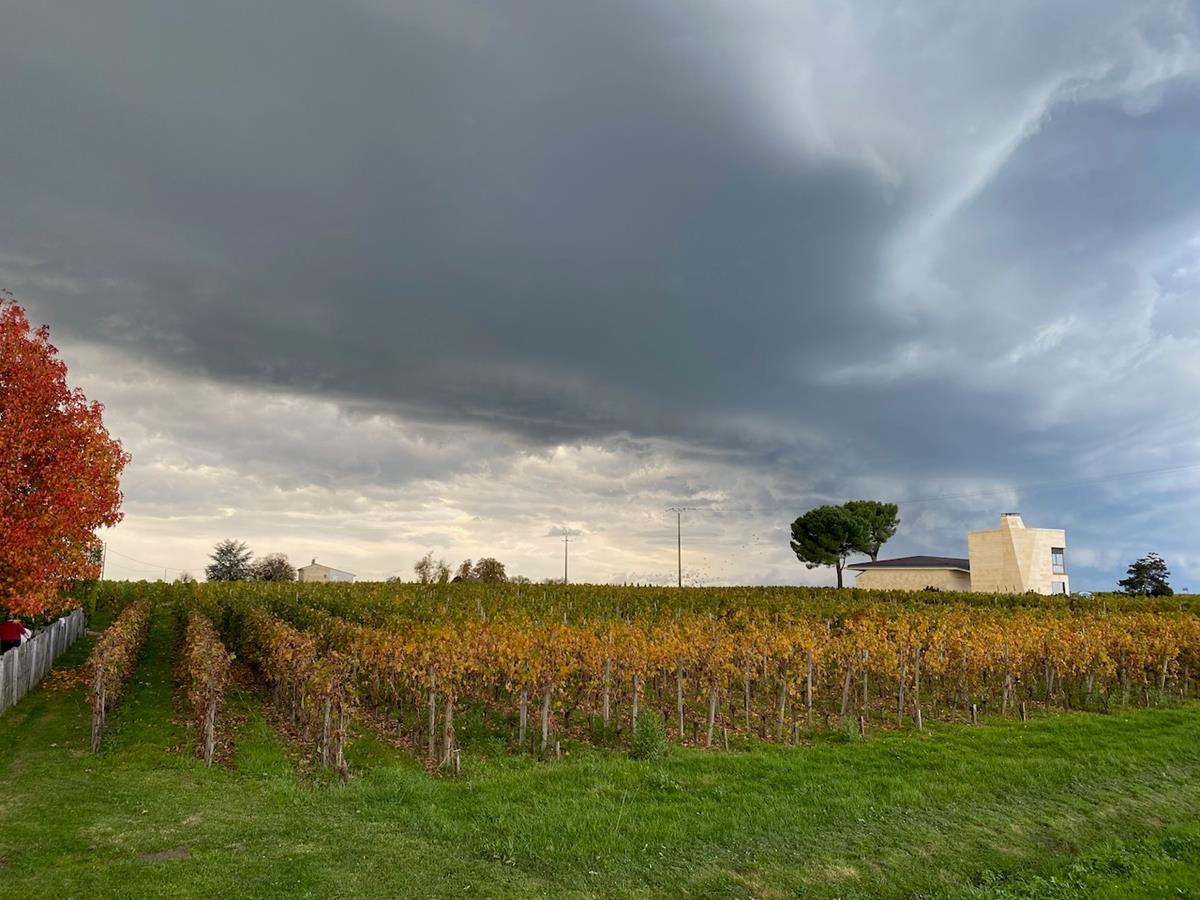 In last week's photo journal, there were so many images of the châteaux and landscapes of Saint-Émilion there was no room for the neighbouring vineyards of Pomerol.
Yesterday was a national holiday in France so I put this album together for our regular weekly missive. It took a little longer than planned.
Pomerol is a fascinating appellation in so many ways, if only because – as far as the average wine drinker might be concerned – the price of the wines from the vineyards below varies between £30 and £3,000 ex-tax a bottle for the same vintage.
We do not sell any of the wines mentioned here but if you're tempted by a mixed case of Bordeaux reds, this 6-pack is certainly worth a try for under £15 a bottle.
All the best
Gavin & Angela Quinney
PS There's a photo album of just the pics Here
---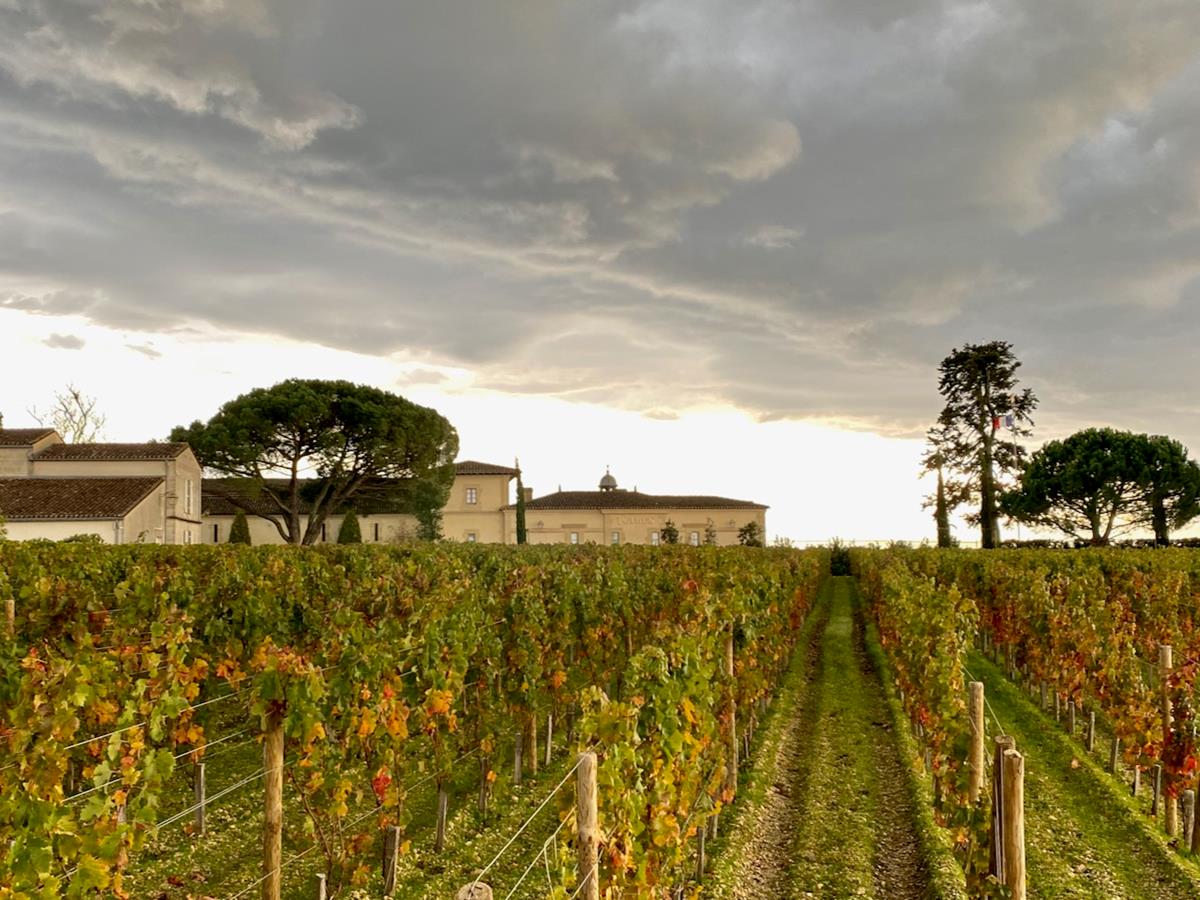 This was Petrus ten days ago. It's less than half an hour from us.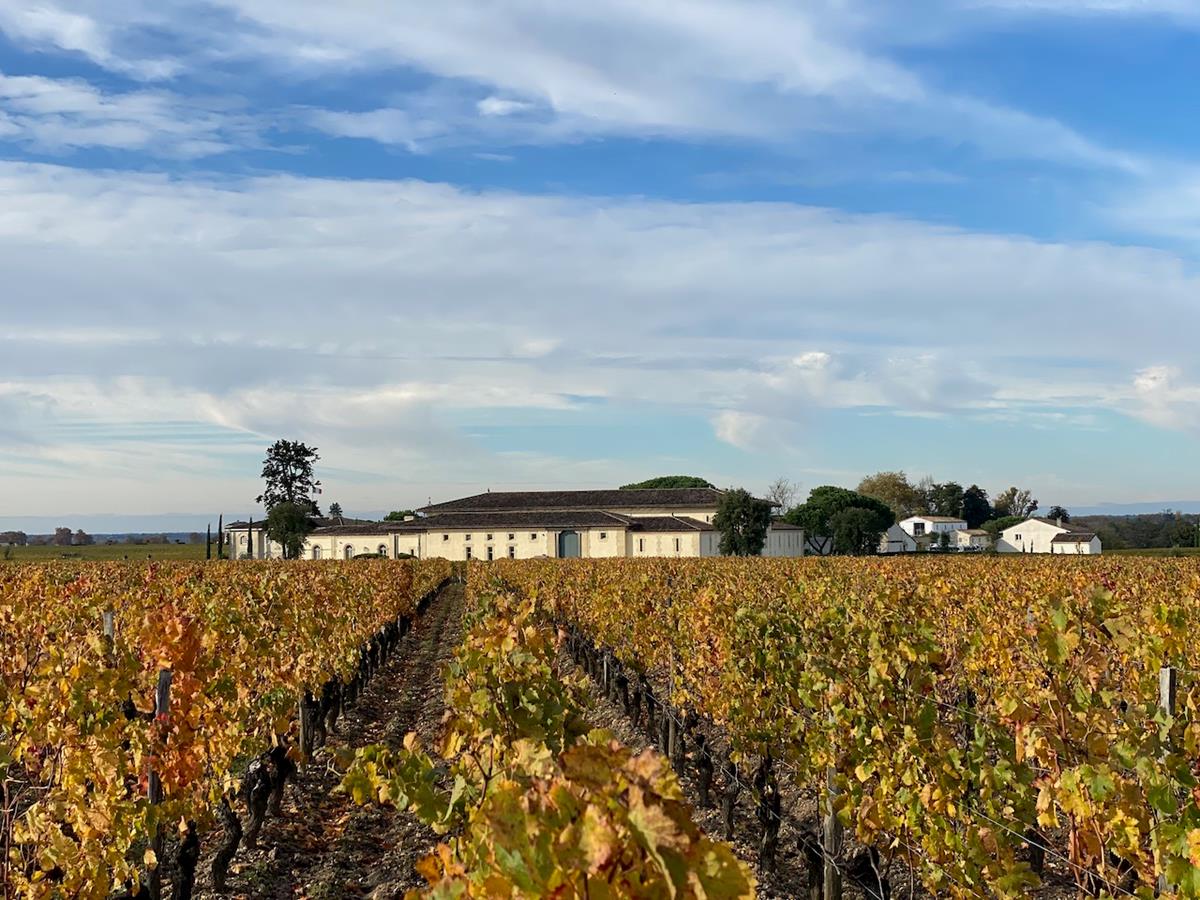 And seen from the other side, in the vineyard between Petrus and Château Gazin.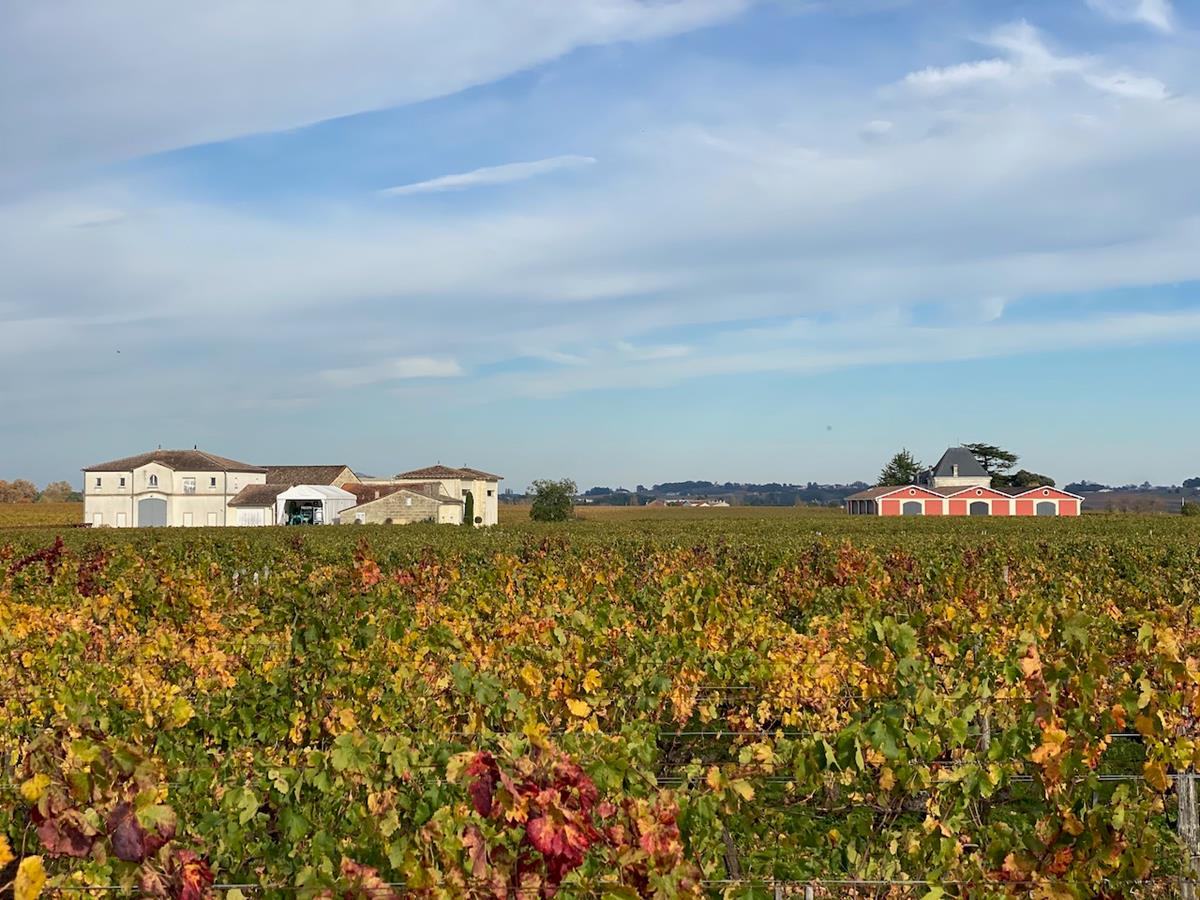 Across the way are Château La Conseillante and Château L'Evangile.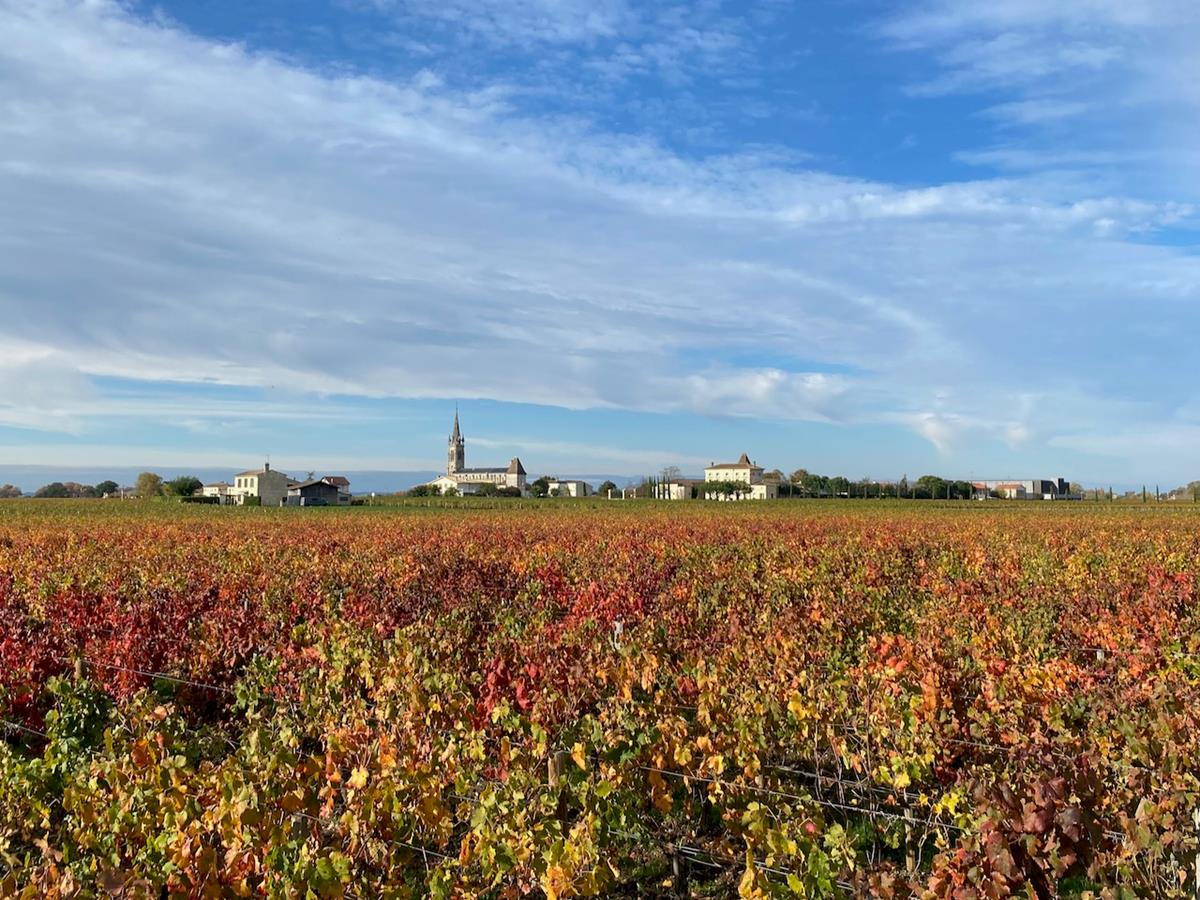 The church in the tiny village of Pomerol and Château La Fleur Pétrus. (Accent on La Fleur Pétrus but not Petrus.)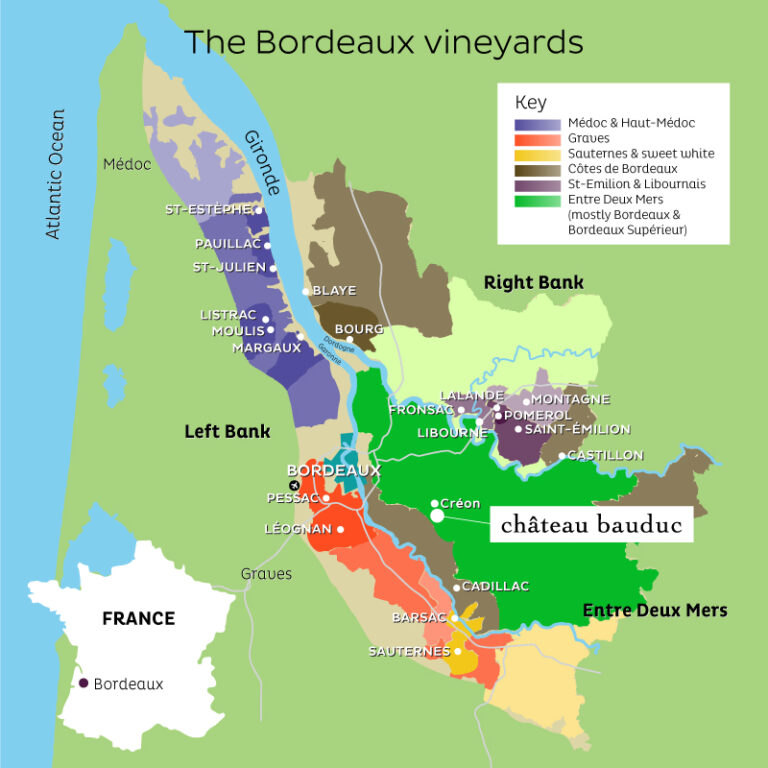 Now, time for a quick map. Pomerol is on the edge of Libourne on the 'right bank', next to Saint-Émilion, though it's a much smaller appellation.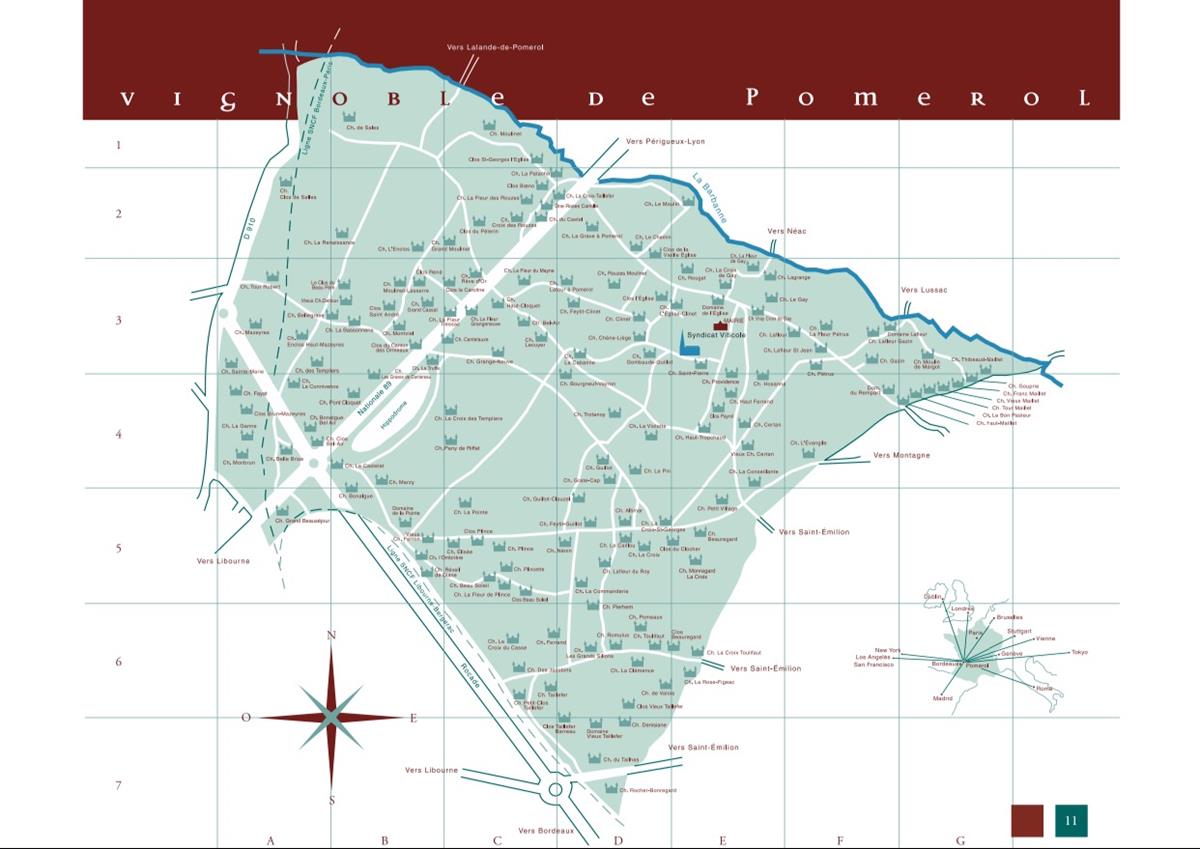 Here's the map of Pomerol from the official Pomerol syndicate. There are 138 growers for just 782 hectares of Pomerol, as of 2019, so the average holding is less than 6 hectares. A total production of under 4.5 million bottles – in 2019, a 'normal' year volume wise – may sound a lot but it works out to fewer than 33,000 bottles per property. And most have their own wineries and bottling will be 'at the château'. The 'plateau' – the best and most expensive part – is the large north east corner of the appellation, not far from the church.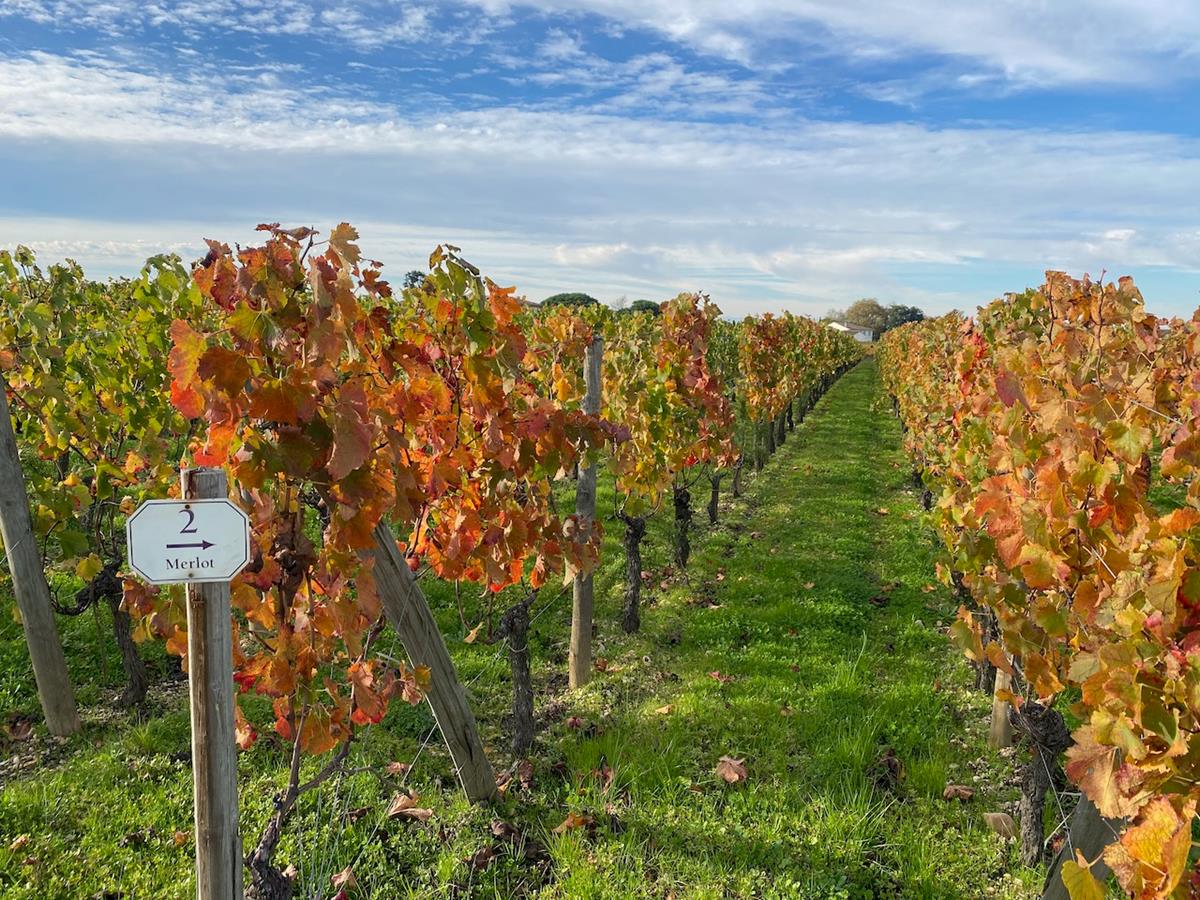 The vast majority of the vines in Pomerol are Merlot, with a little Cabernet Franc and a tiny amount of Cabernet Sauvignon. And an even smaller amount of Petit Verdot.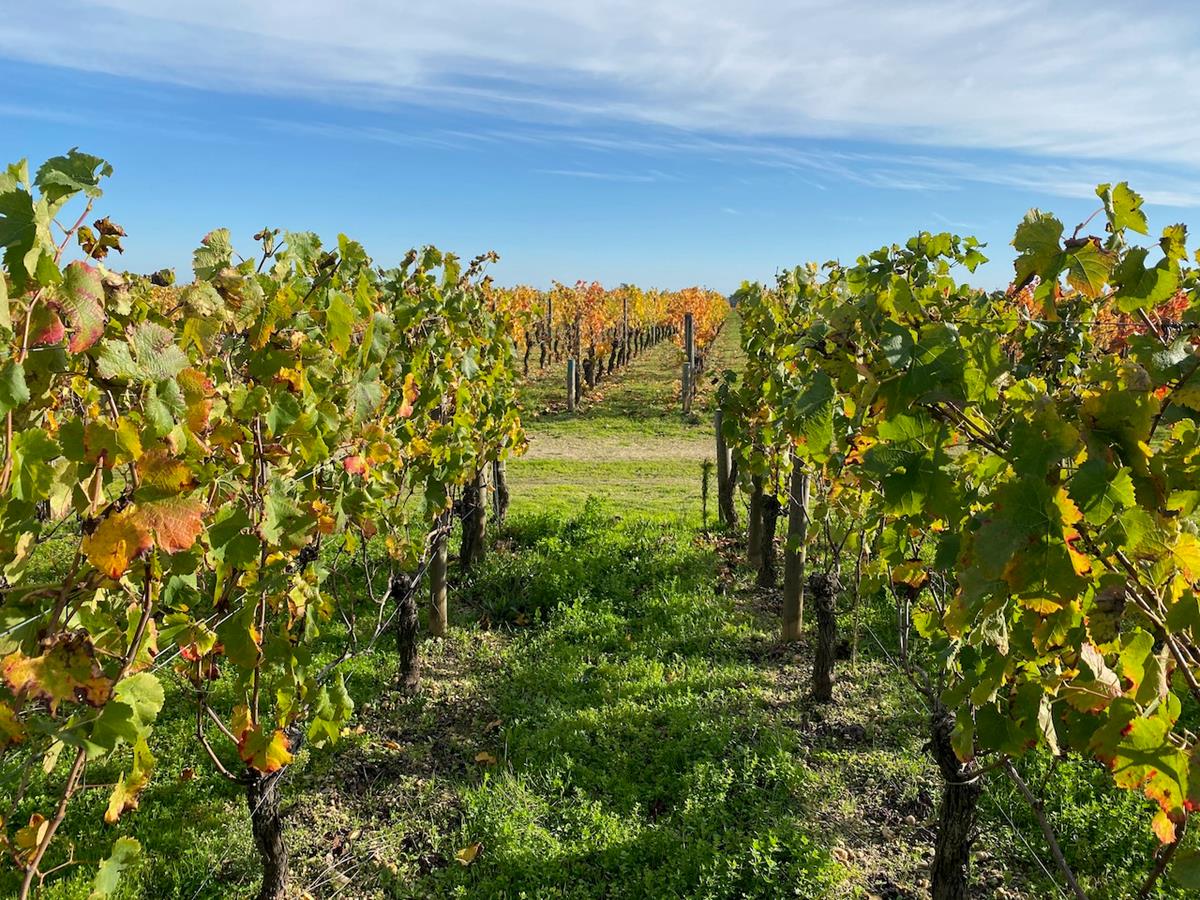 The colours at the end of October and early November are fabulous.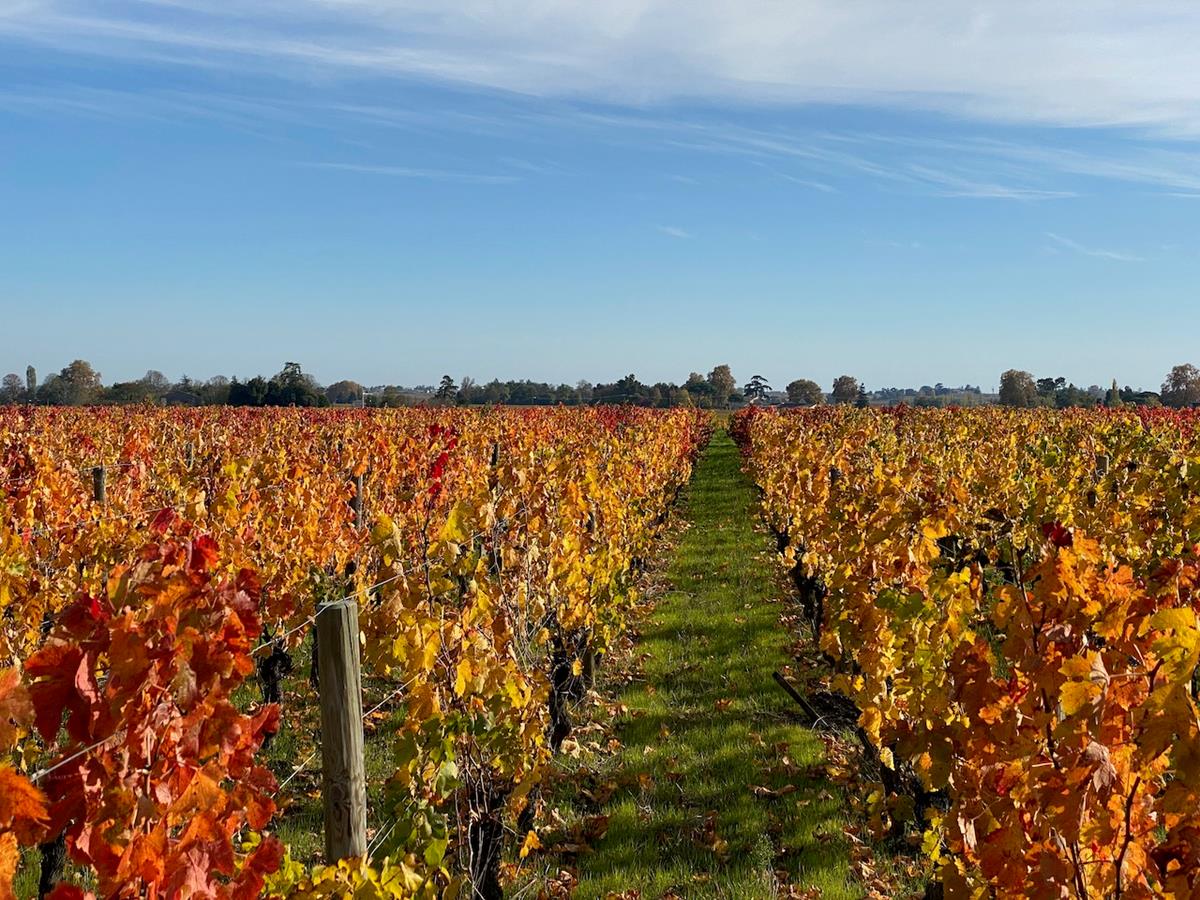 The 'plateau' of Pomerol – for that is what I'm focusing on here – isn't what you'd call hilly.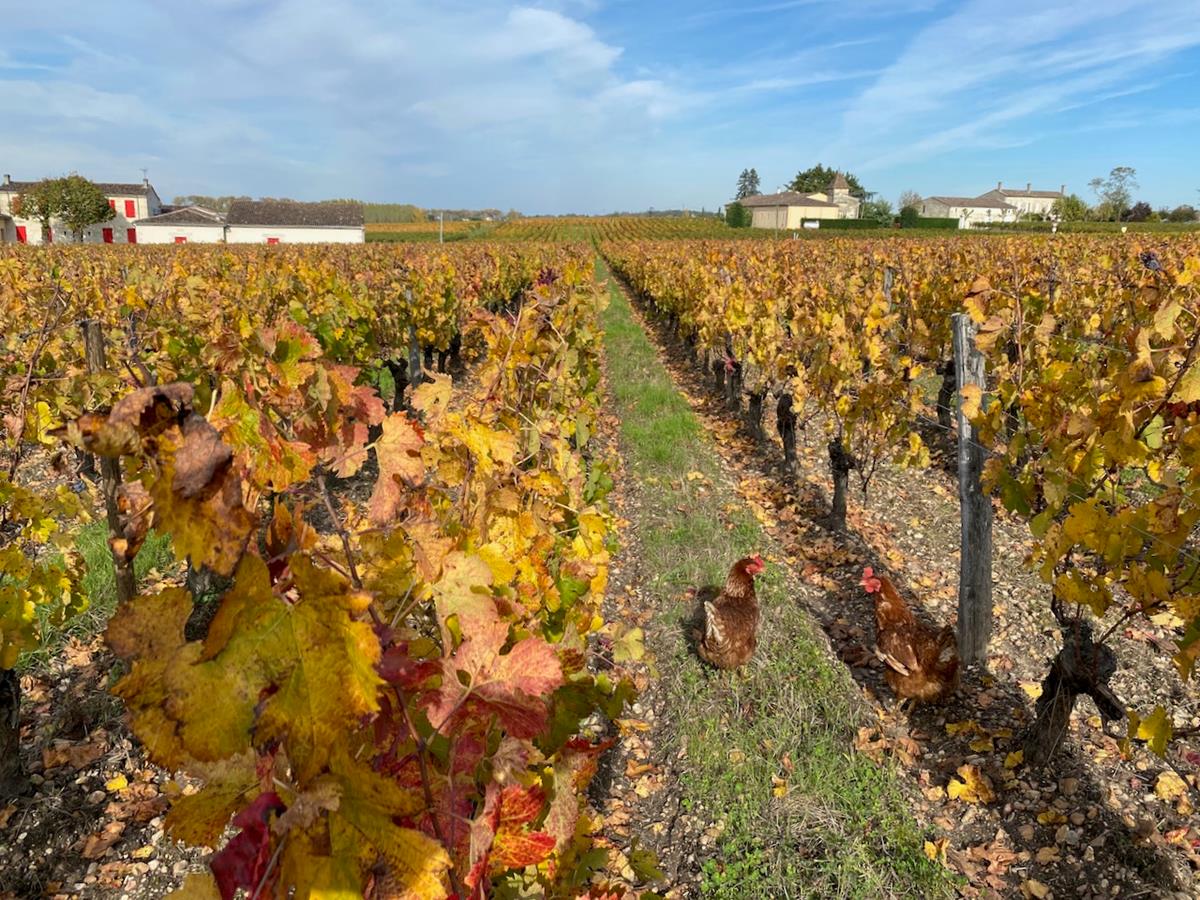 Chickens pecking away in the vines is about the only thing happening on Saturday, 31 October. On the left is Château Clinet, with Clos l'Eglise ahead and Château l'Eglise Clinet on the far right.
I was back in the area a few days later, when Clos l'Eglise had more of a Halloween feel to it.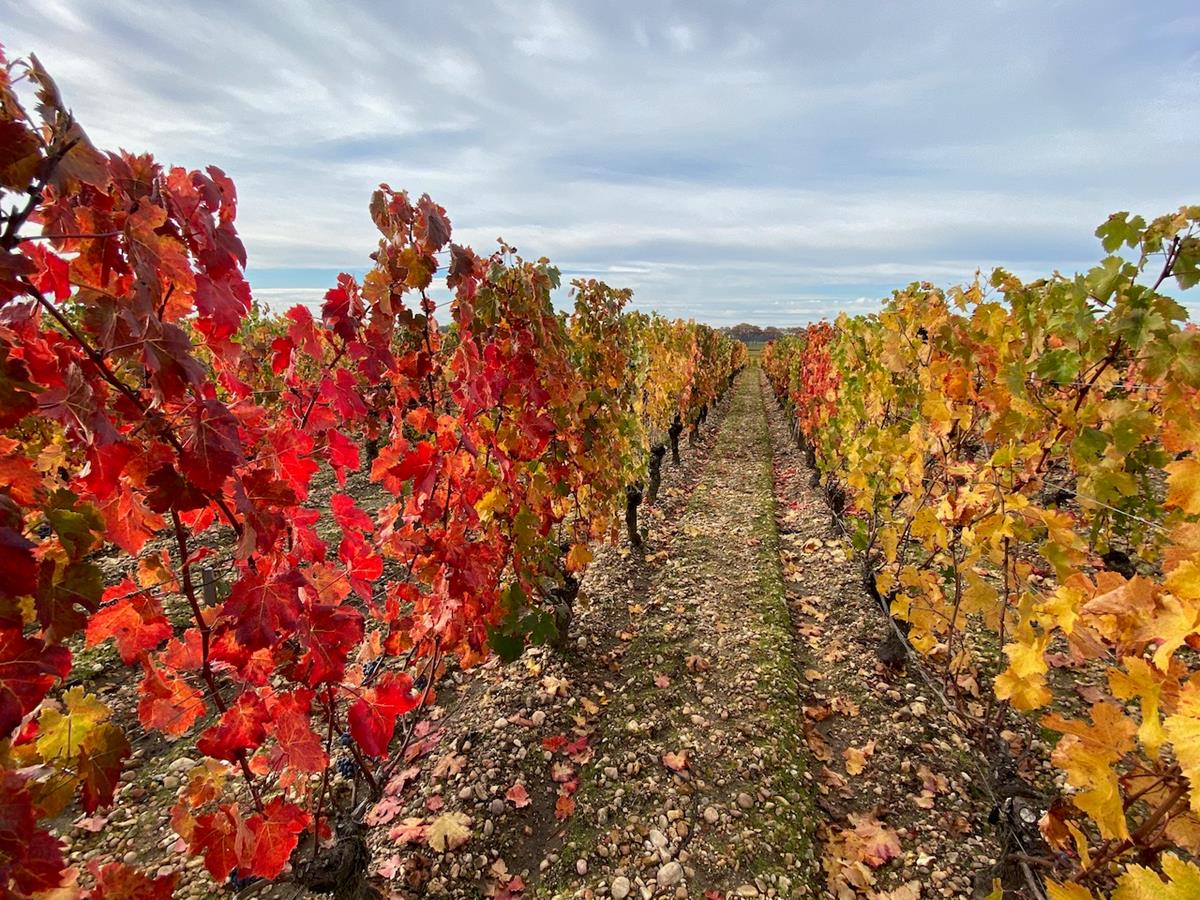 Pomerol has an array of different soil types, such as these gravels at Clos l'Eglise.
And then there's the famous clay, below the surface, at Petrus.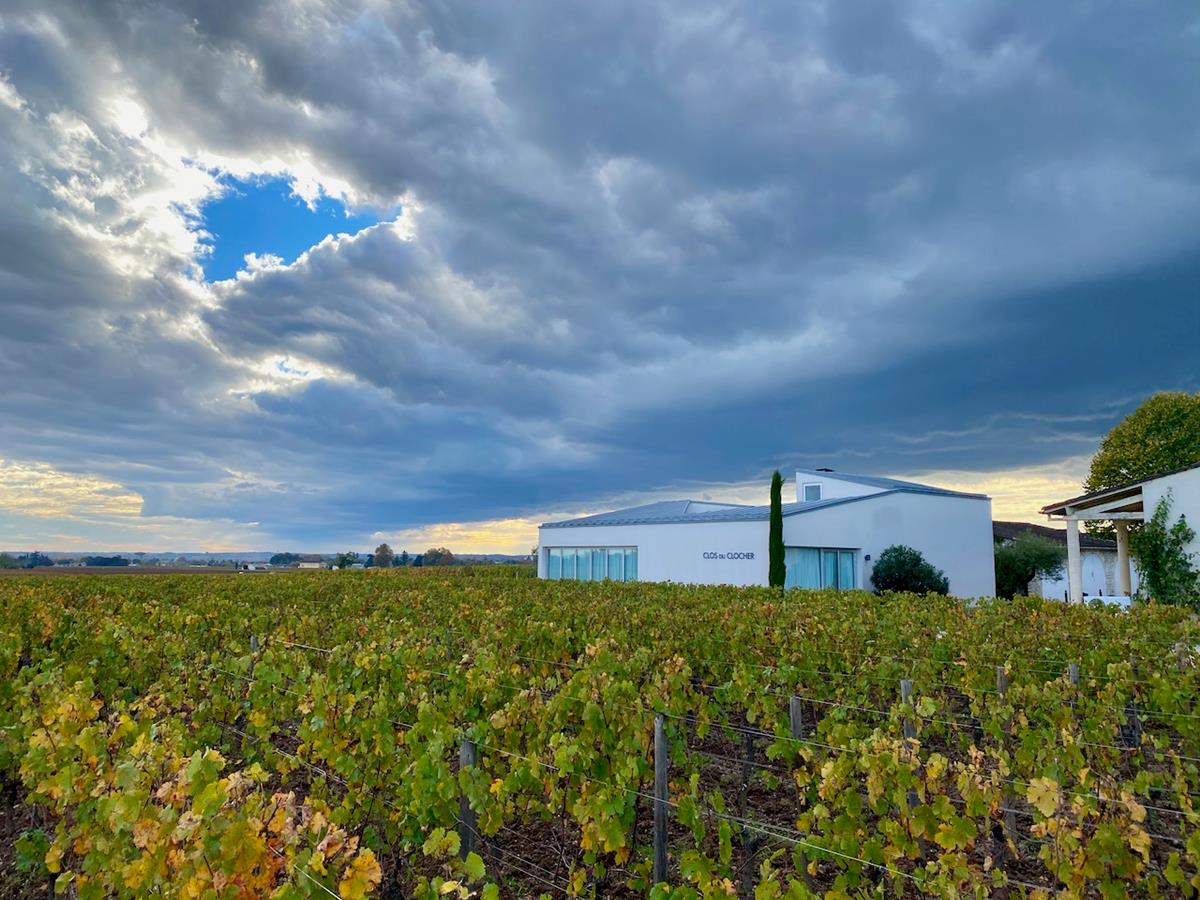 There are few proper 'estates' here. Clos du Clocher is less than five hectares. (For such a small property, the wine's pretty fair value, by the way.)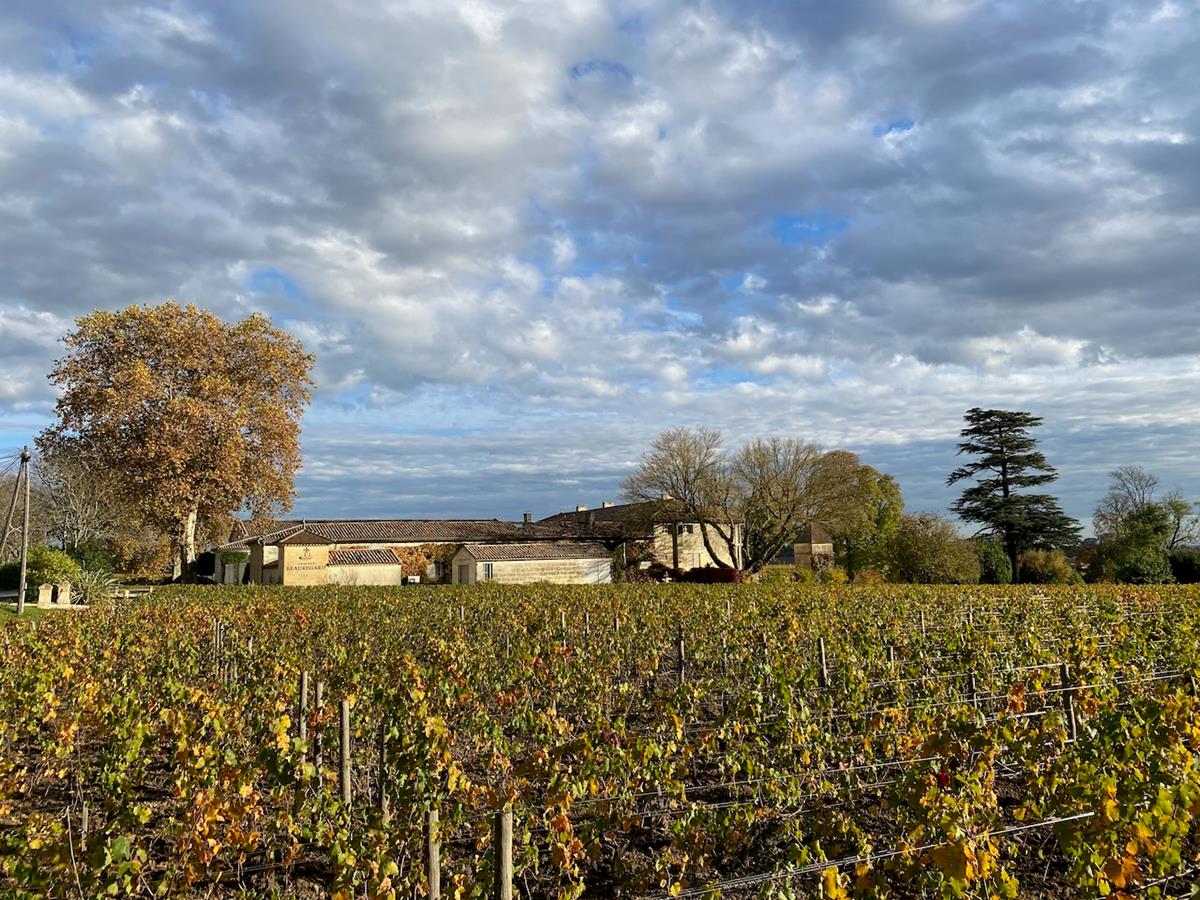 Every vineyard has a story. Château Beauregard is now farmed organically and is under relatively new, private ownership.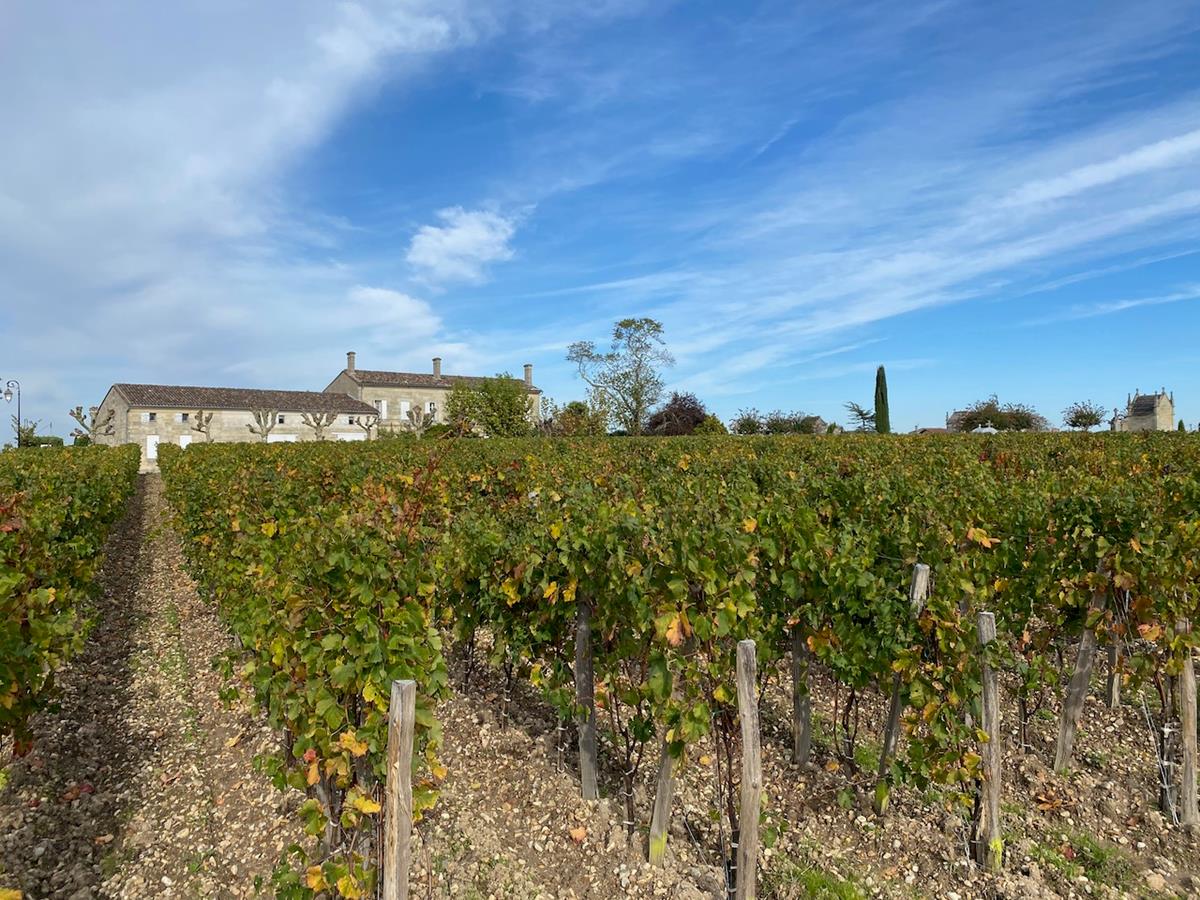 There are not, however, the same sweeping views here as you'll find around Saint-Émilion, for example, so I'm going to include one or two of the personalities of Pomerol. And in 2020 we'd start with Château l'Eglise Clinet.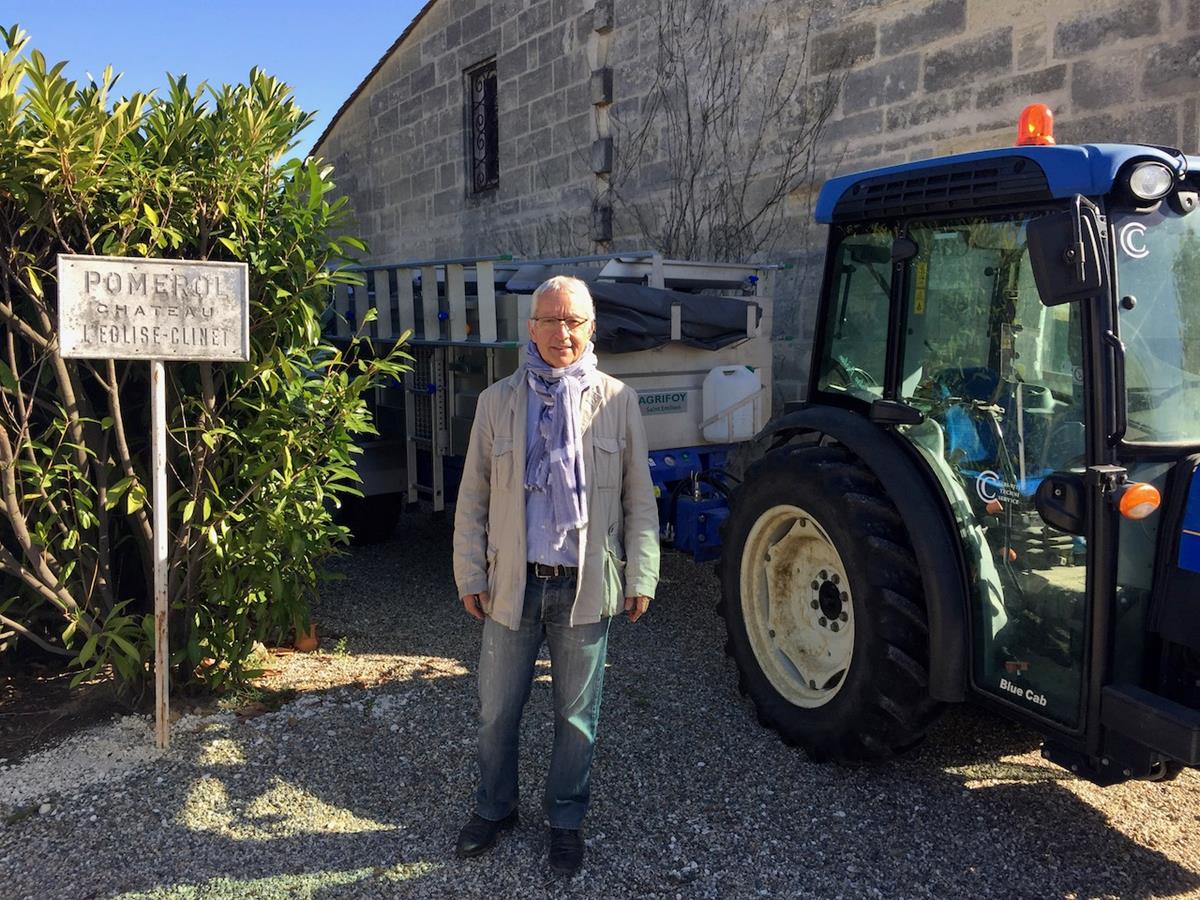 In May, we lost the great Denis Durantou after a long illness. He was just 62, and is survived by his wife Marie and their three daughters. If ever there was a case of 'the smaller the sign, the better the wine', this is it. I was lucky enough to taste his wines 'en primeur' each spring.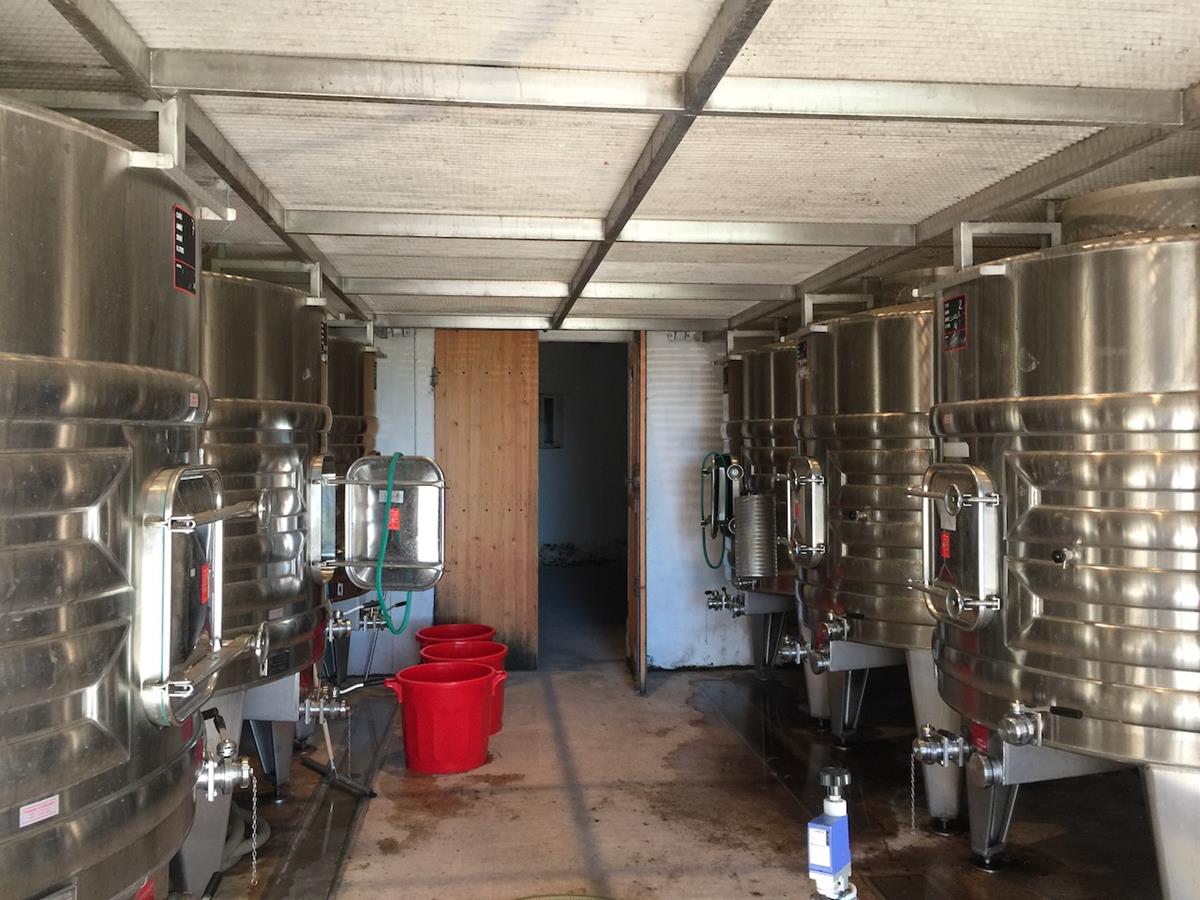 As there are only 4.5 hectares, there isn't enough l'Eglise Clinet to go round. Denis did make other wines which offer good value, and there's a fine article on their relative qualities by the excellent writer Andrew Jefford in Decanter, here, from 2015. My attention was drawn to this piece by wine importer Stephen Browett's touching tribute in his Farr Vintners' blog.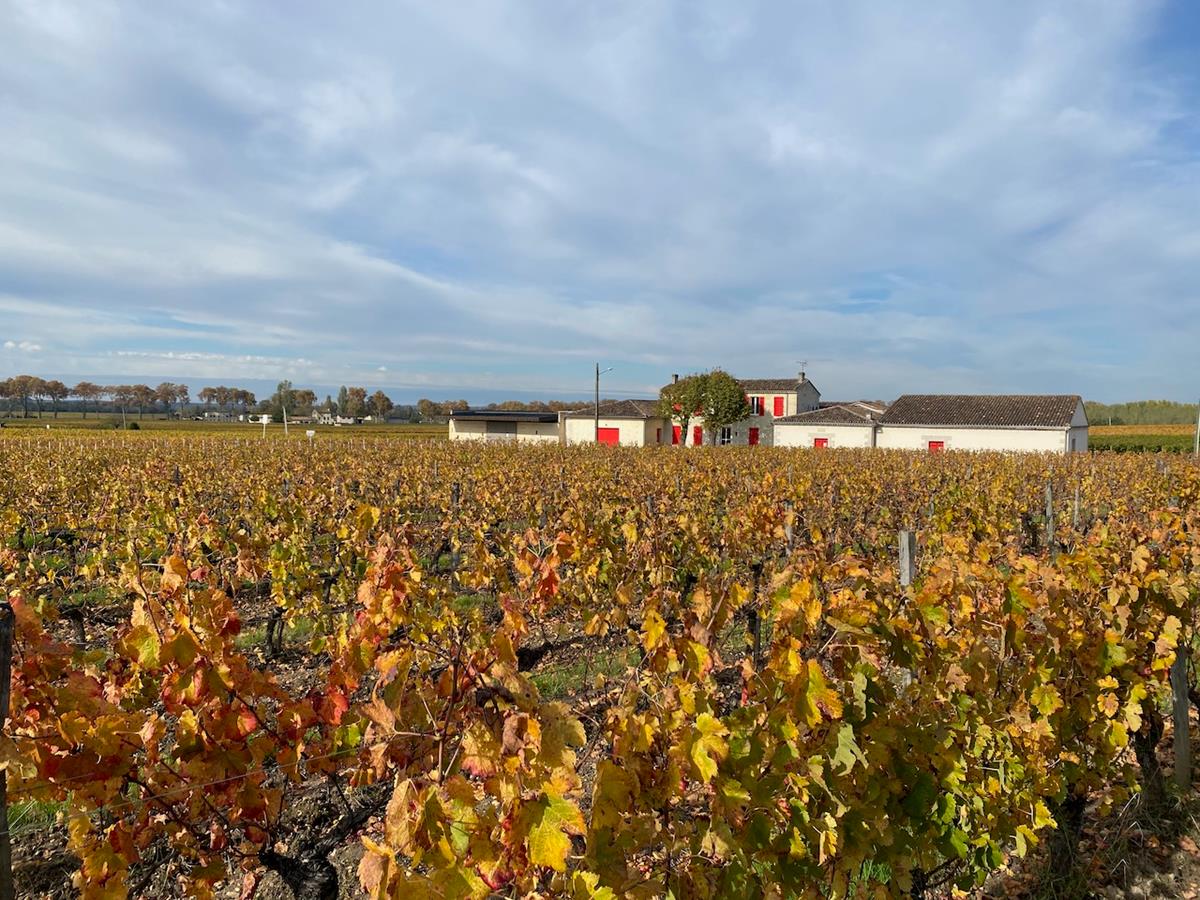 A reminder of many happy times and this is Denis Durantou's neighbour, Château Clinet.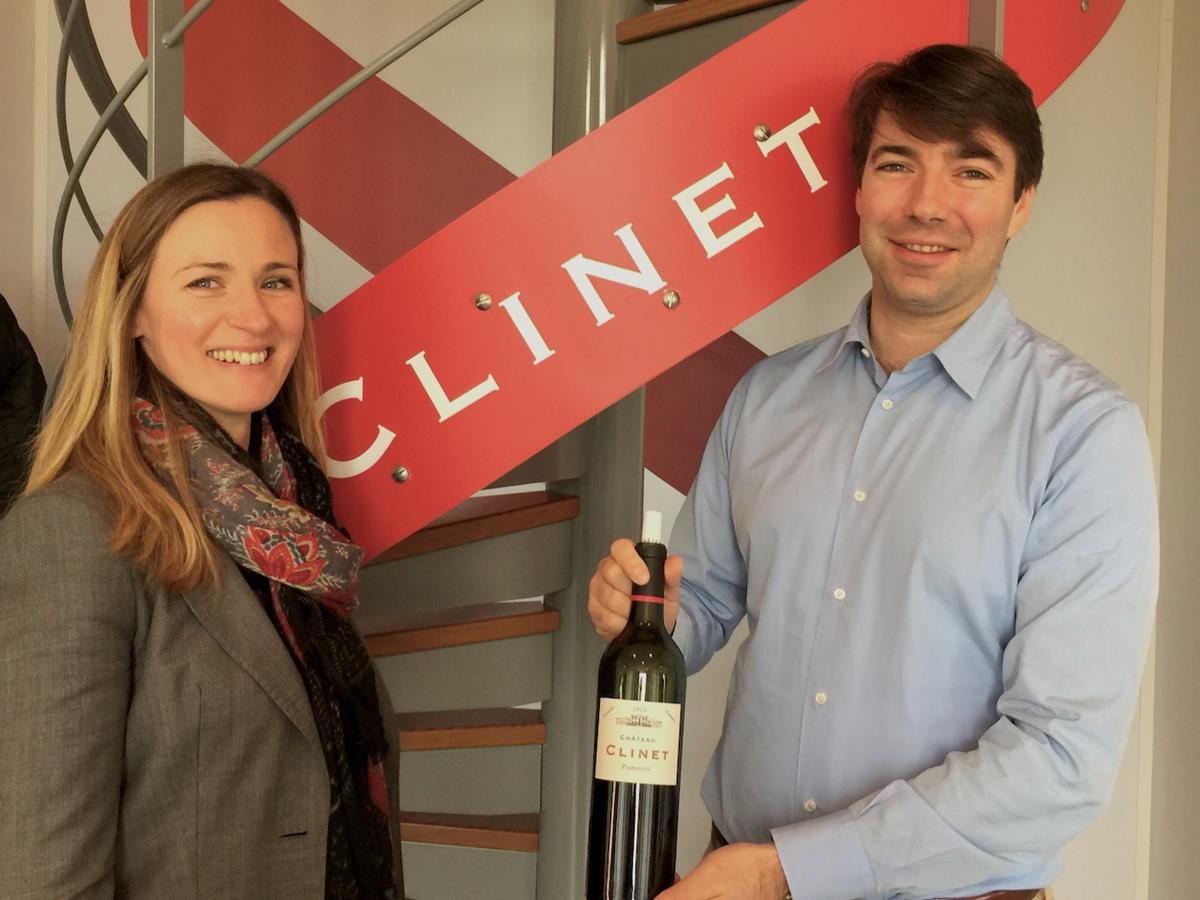 Owner Ronan Laborde and his partner Monique a few years ago. He still looks young today, despite taking on the responsibility of becoming the President of the Union de Grands Crus de Bordeaux last year. Monique has always looked young – we can safely say this as she was our assistant for six years in the second half of the noughties, and we're all still friends. (Monique was always sharp at marketing, as you can see.)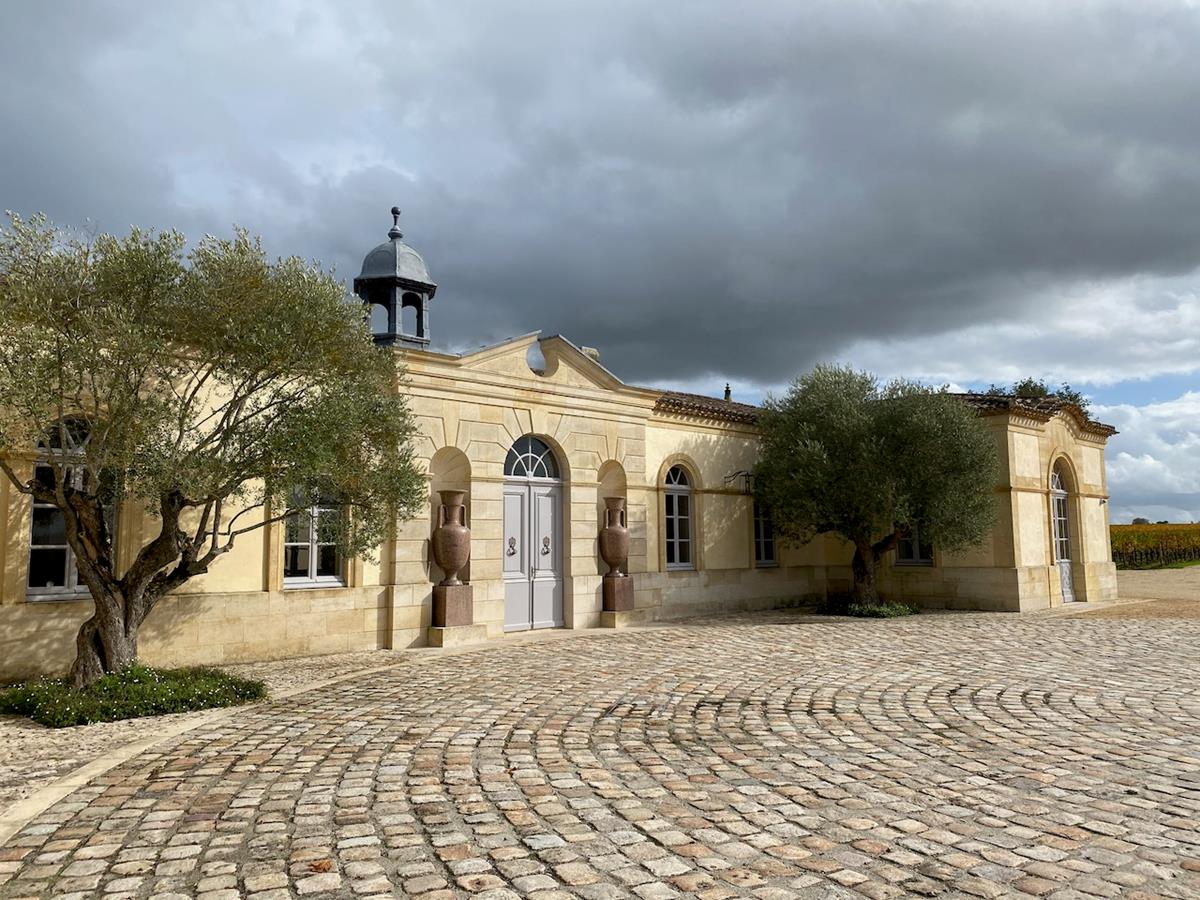 As with any profile of Pomerol, Petrus will often take centre stage.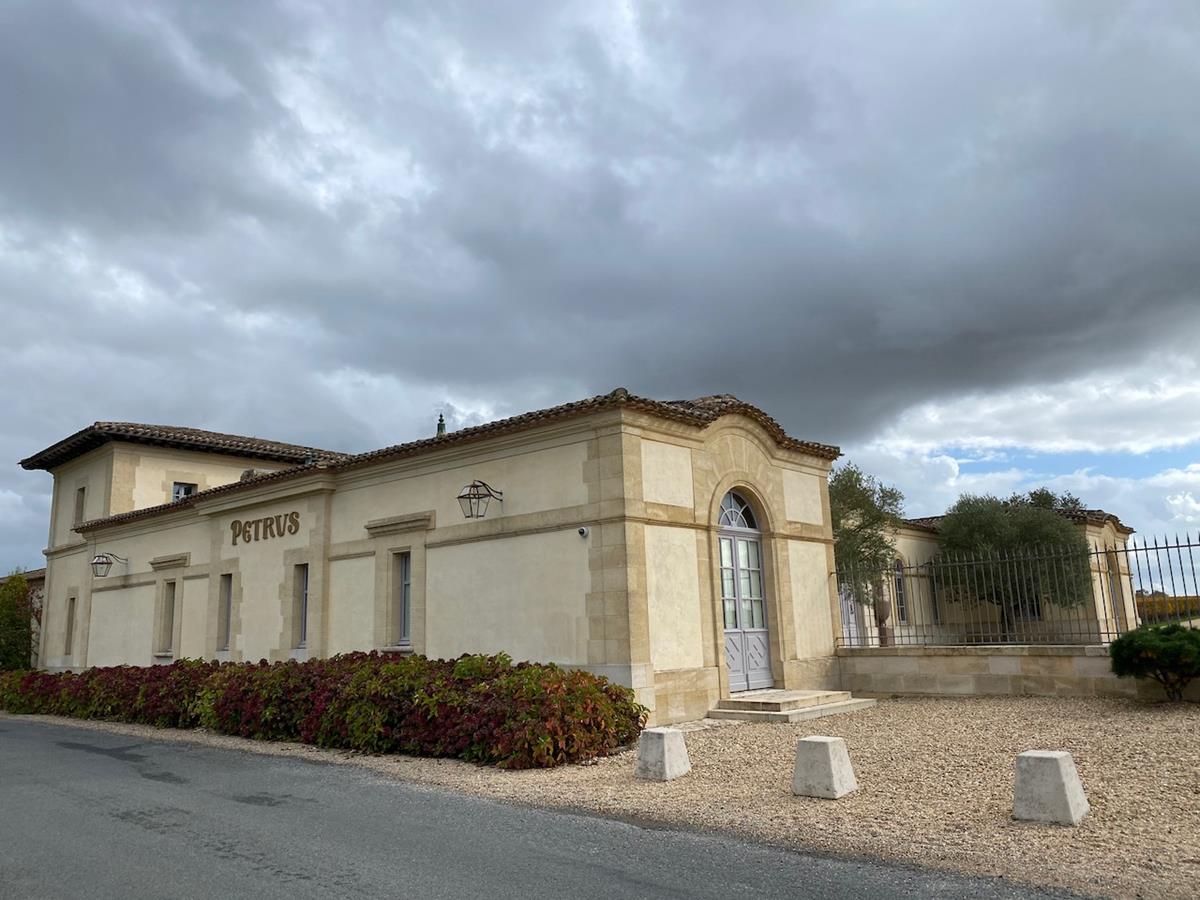 The name on the side of the building faces quite a busy but small road. This corner is one of the more dangerous ones in the Bordeaux wine region, as tourists often slam on the brakes when they see the sign.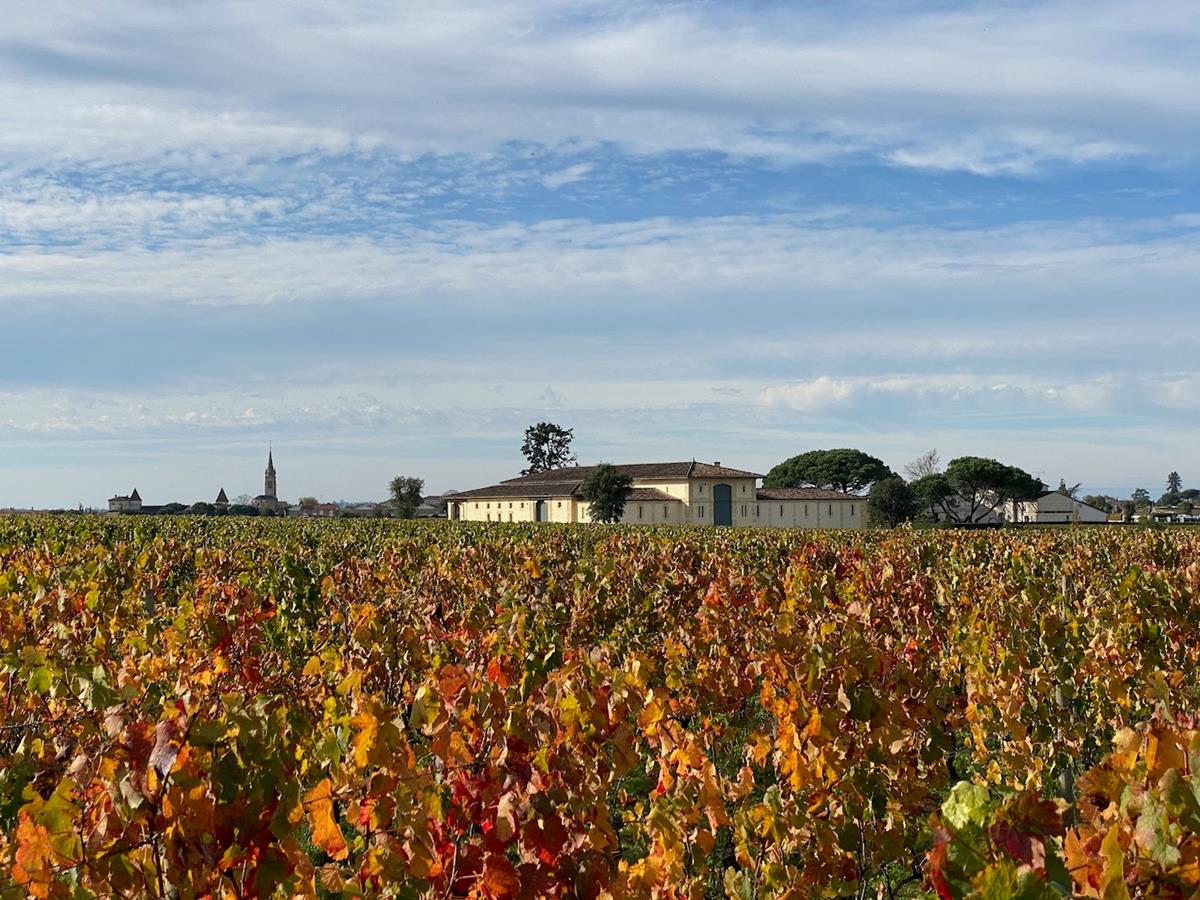 Far more relaxed in the vines. The church of Pomerol is beyond.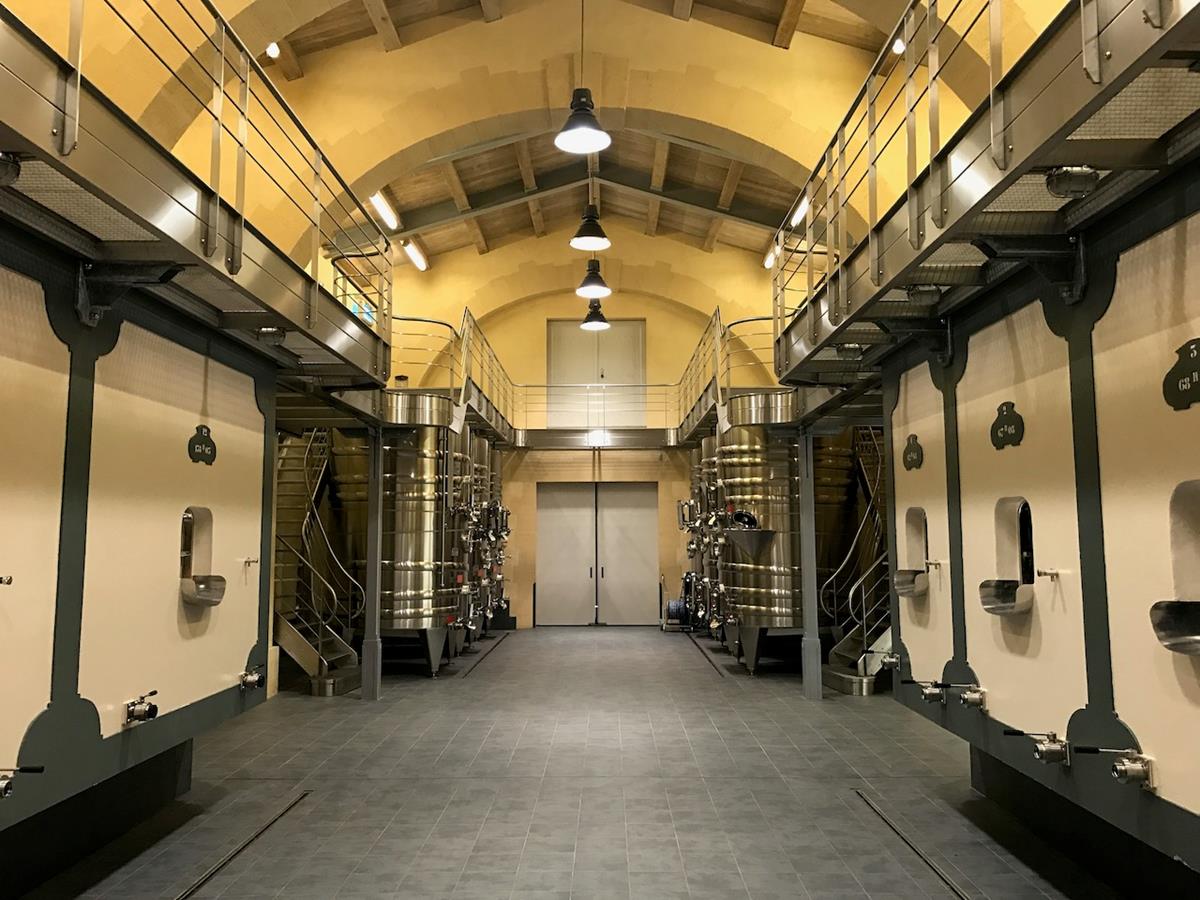 Here's what Petrus looks like inside. The buildings and winery were completely renovated five years ago or so.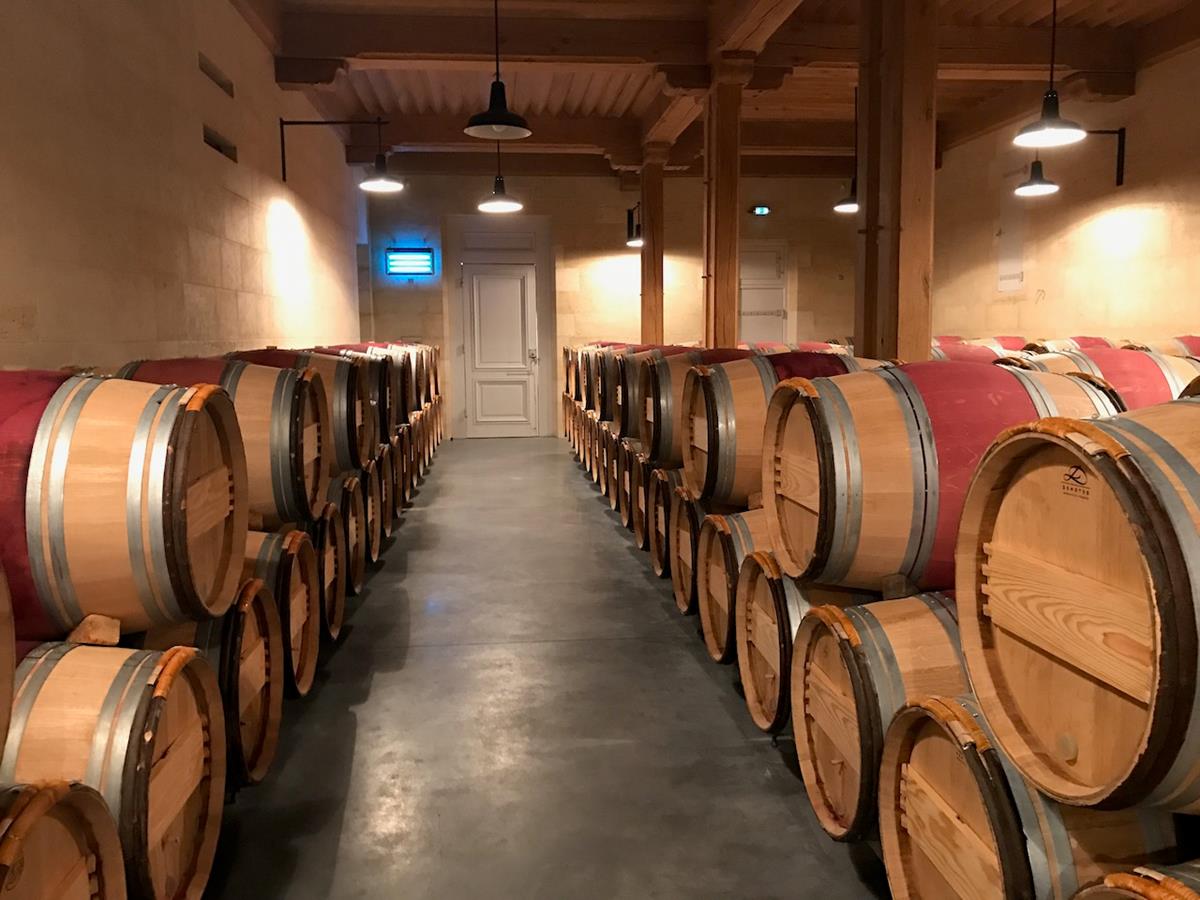 The barrel cellar at Petrus. Liquid gold.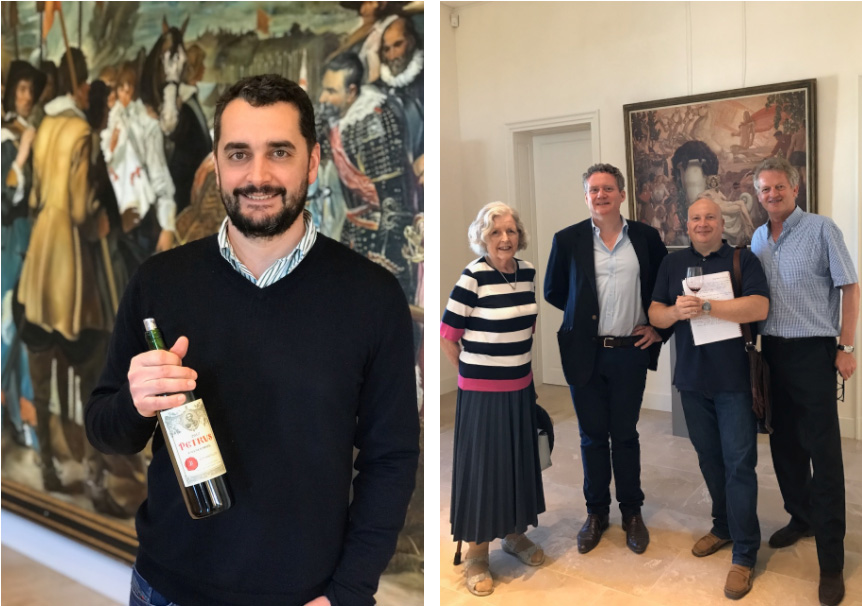 It's hard to believe that when I took this picture of Olivier Berrouet at Petrus two years ago, he'd already clocked up more than ten years as the head winemaker.
In the summer of 2018, I and two other old codgers, Grant Ashton and Ronan Sayburn of 67 Pall Mall, were joined by my sprightly mum, Diana, for a visit and tasting at Petrus.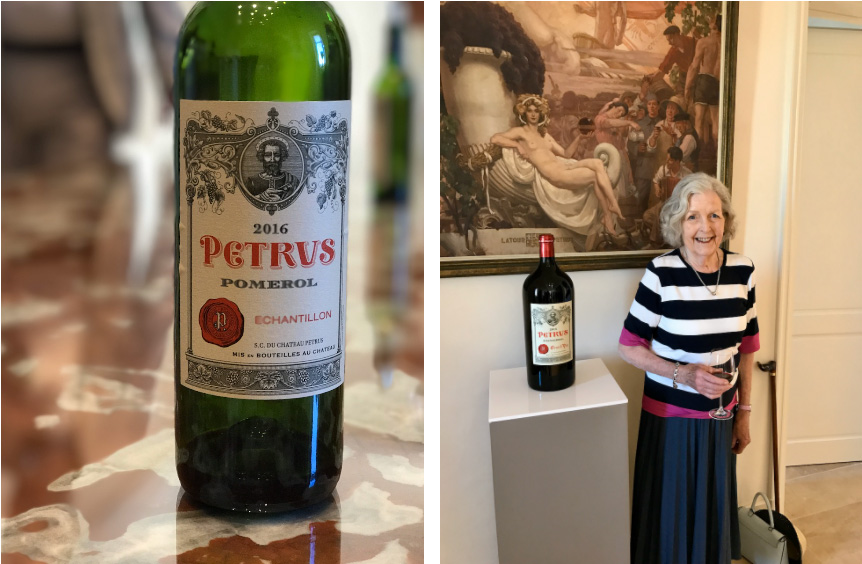 We tasted the 2016, which is delicious. (It's currently available via wine-searcher for around £3,000 per bottle plus VAT.) Ronan tried to slip the double magnum into mum's handbag but she was having none of it.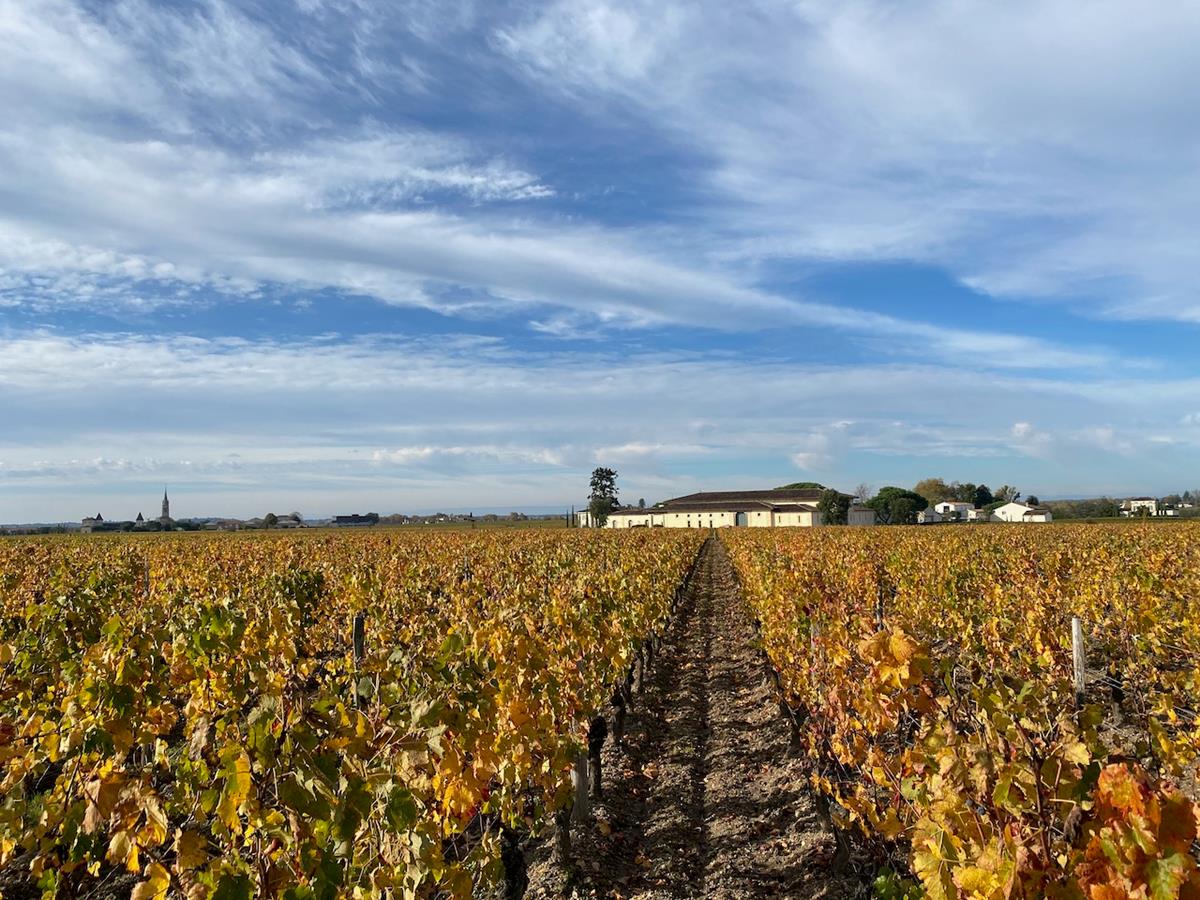 Now, here's an image for Pomerol fans. In the centre is Petrus, once again, and on the far right is the original Château La Fleur Pétrus. On the far left, near the church, is the new La Fleur Pétrus.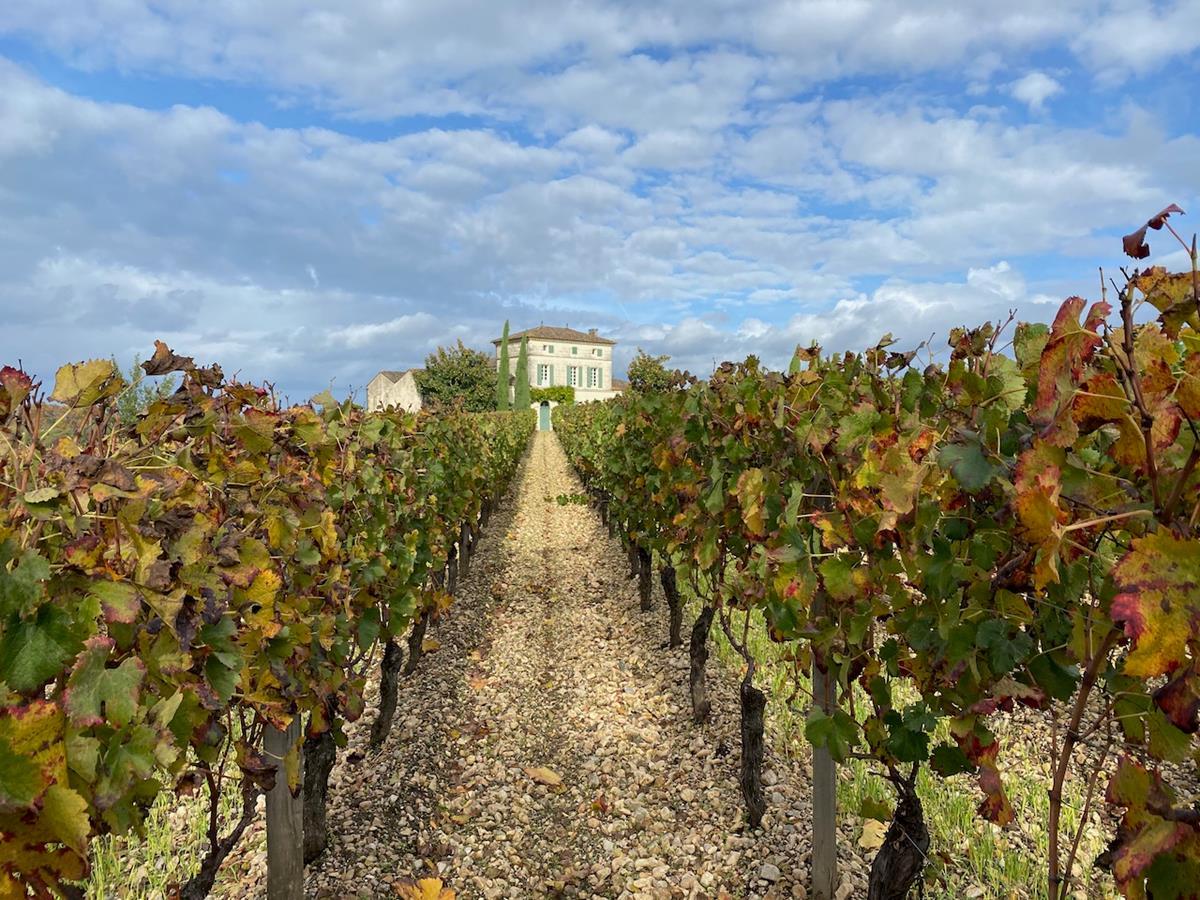 This is the original La Fleur Pétrus, and some exciting gravel.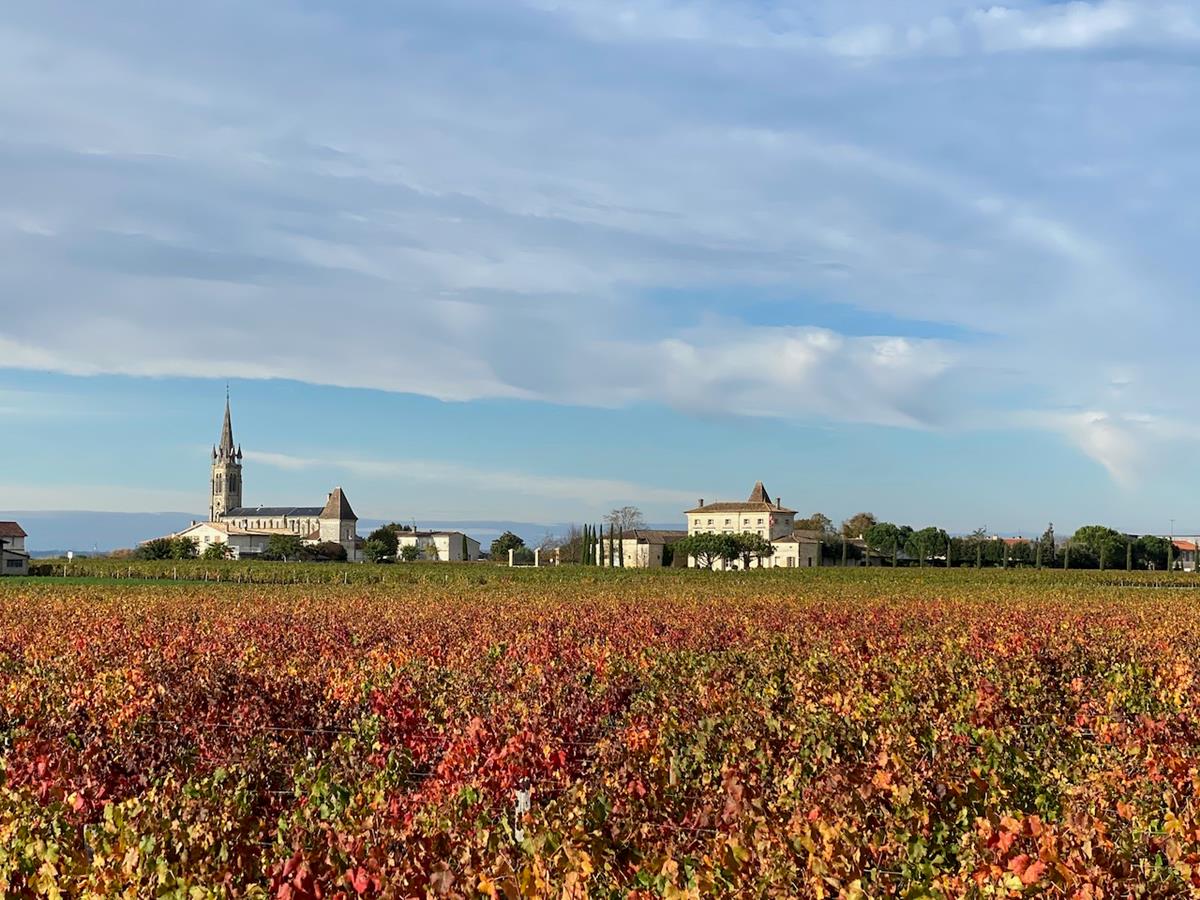 This is the new Château La Fleur Pétrus and the church of Pomerol.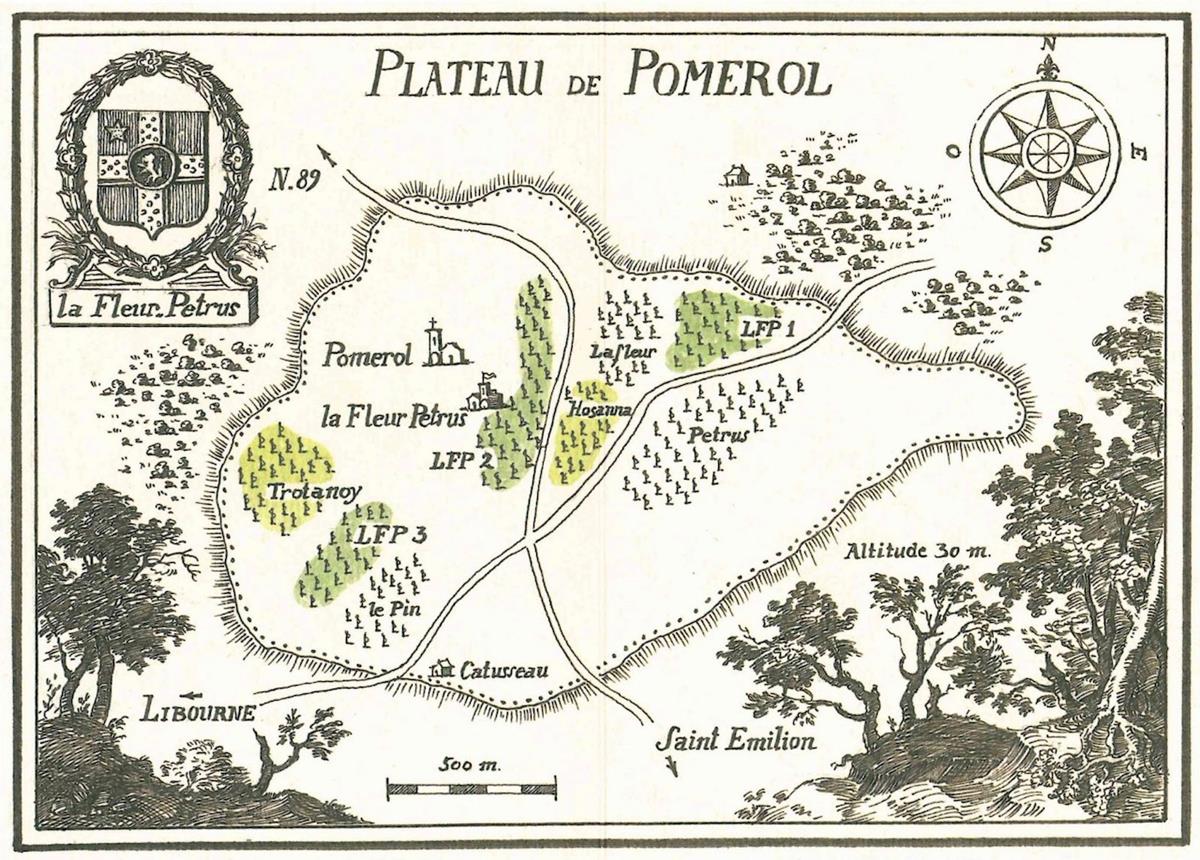 Here's a handy map from the Moueix family, showing the new layout of la Fleur Pétrus in relation to other leading domaines.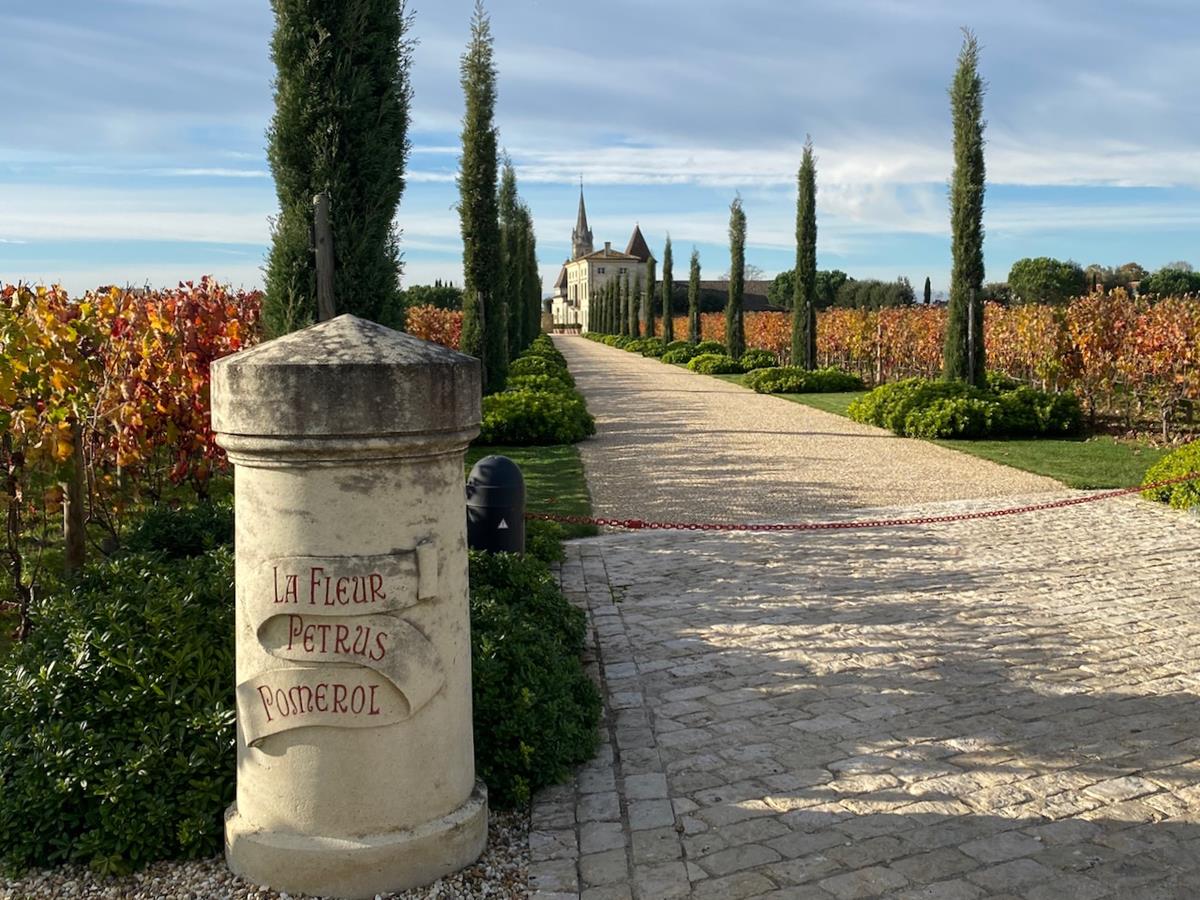 The smart new entrance to La Fleur Pétrus.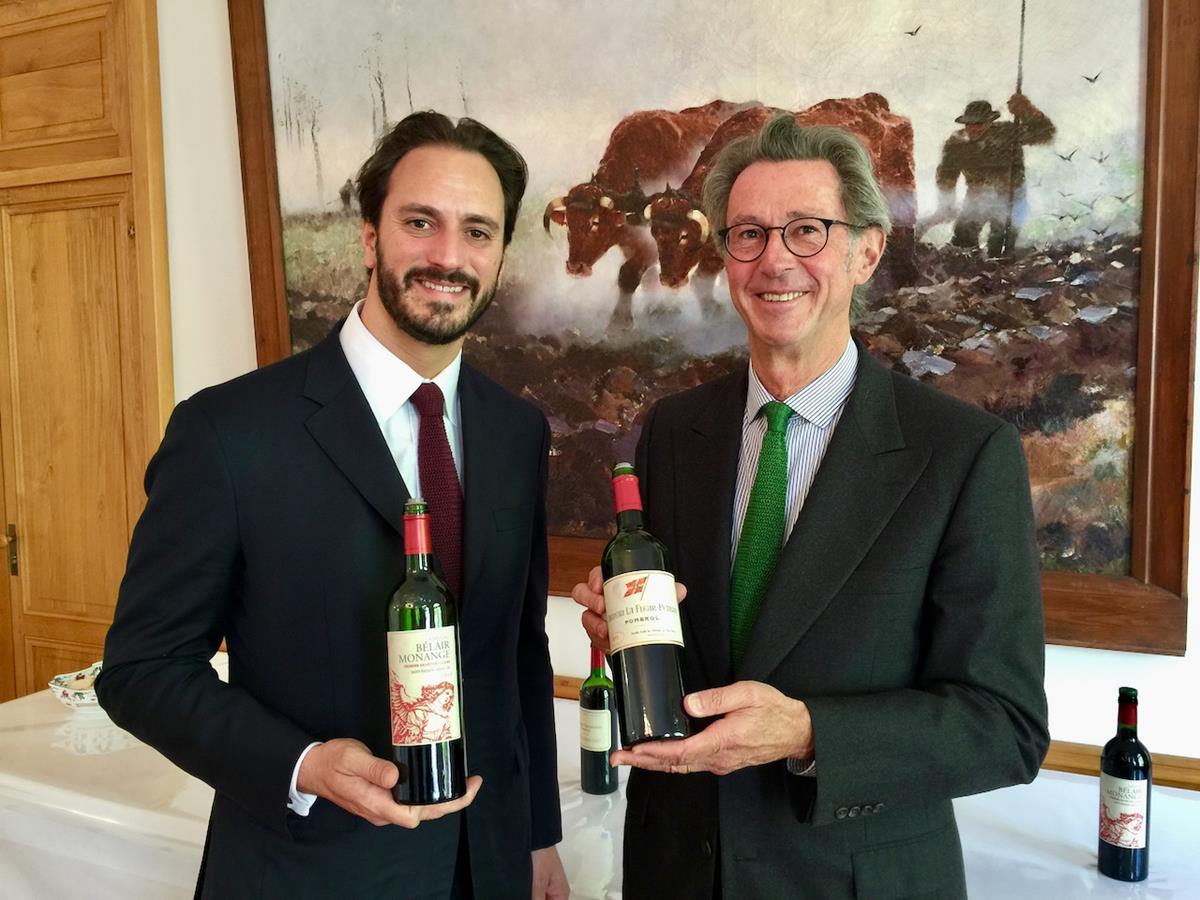 Taken four years ago, Edouard Moueix and his father Christian Moueix of Ets Jean-Pierre Moueix, owners of La Fleur Pétrus, Trotanoy, Hosanna and a number of other vineyards in Pomerol. I don't know Edouard that well but I'm a huge fan of Christian Moueix, one of the most charming people in Bordeaux. He has always been incredibly kind to me. Christian ran Petrus for some forty years, though his older brother, Jean-Francois, was the actual owner. (Do listen to an nterview with Christian Moueix on the podcast 'I'll drink to that' from four years ago – the link is here. Great stories and anecdotes.)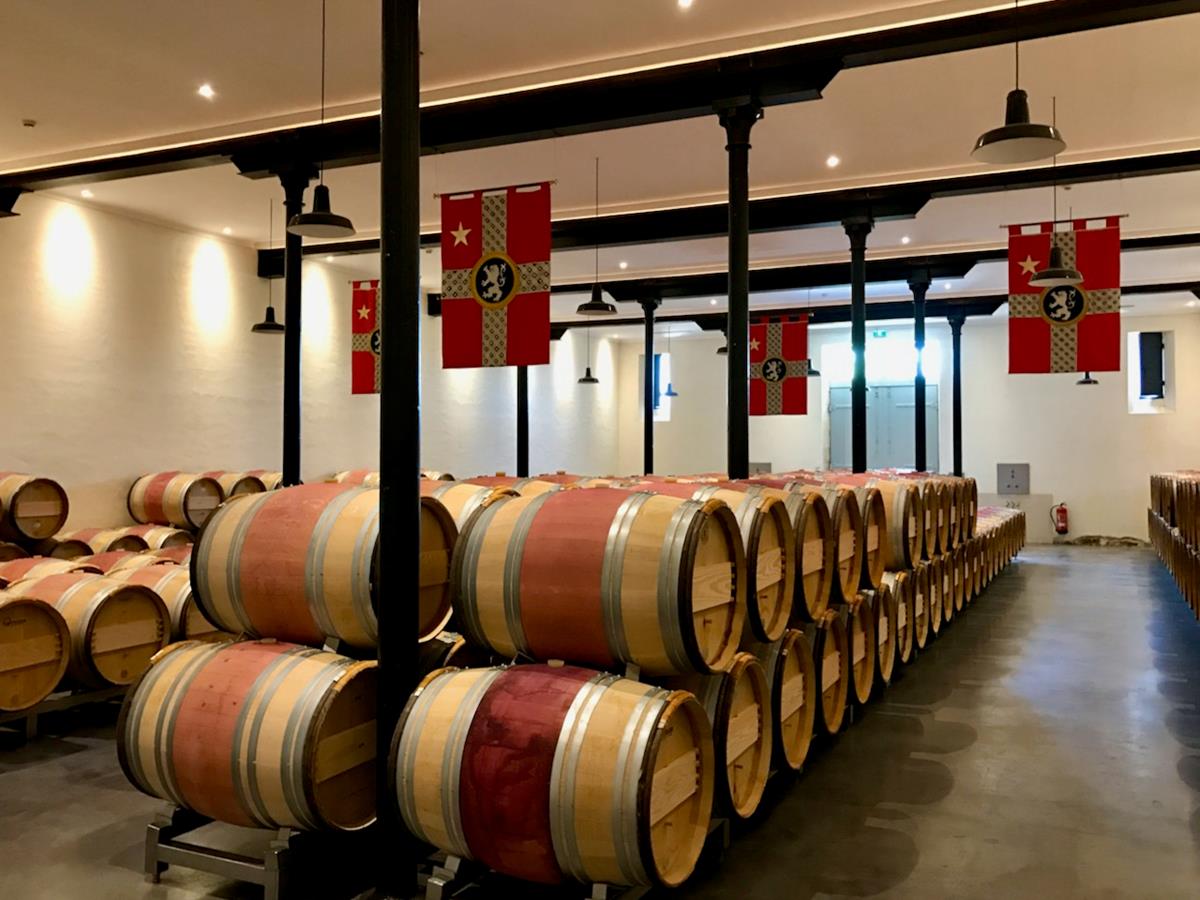 The flag from the label is now part of the furniture. Such as in the barrel cellar. As a comparative guide, la Fleur Pétrus is around £150 plus tax for the 2016 vintage.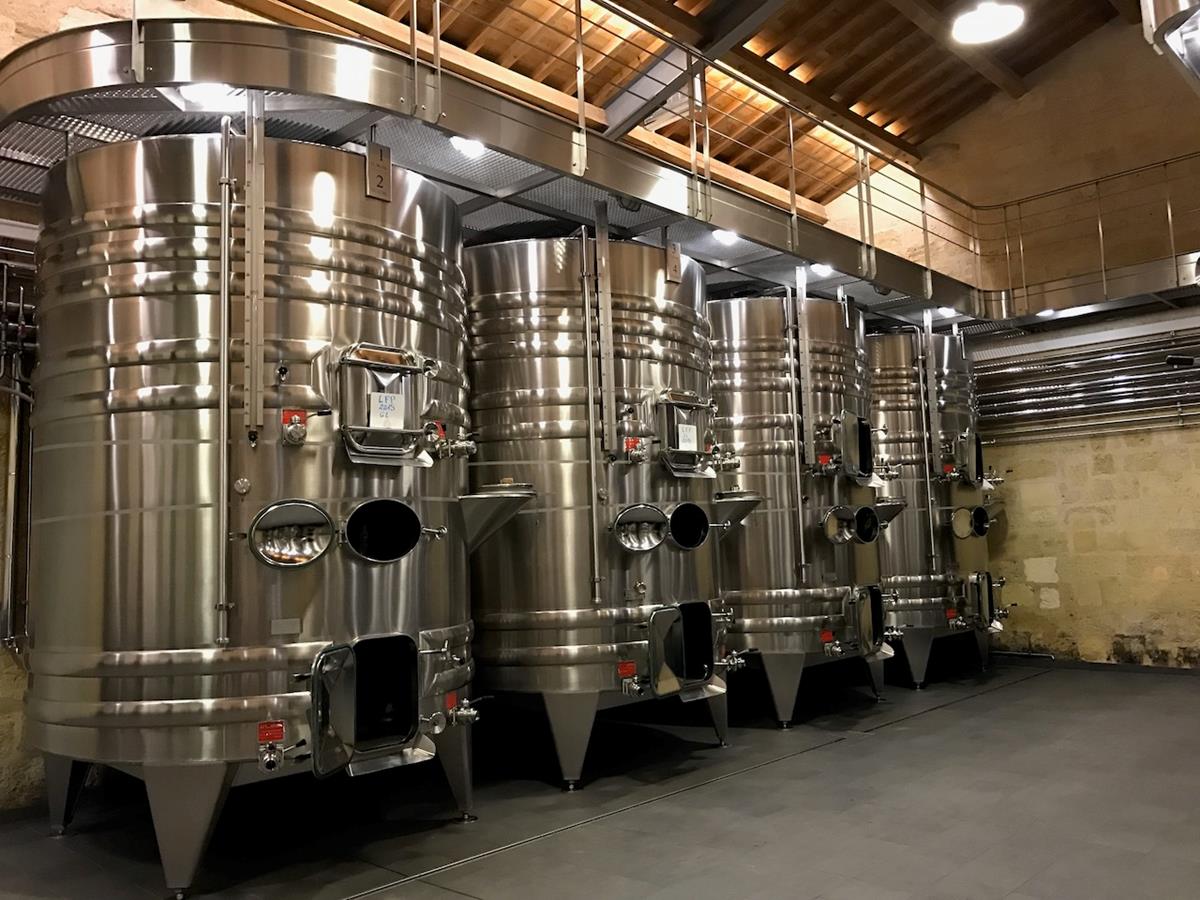 The winery at La Fleur Pétrus. It's close to 19 hectares, which is roughly three times the size of the average vineyard in Pomerol.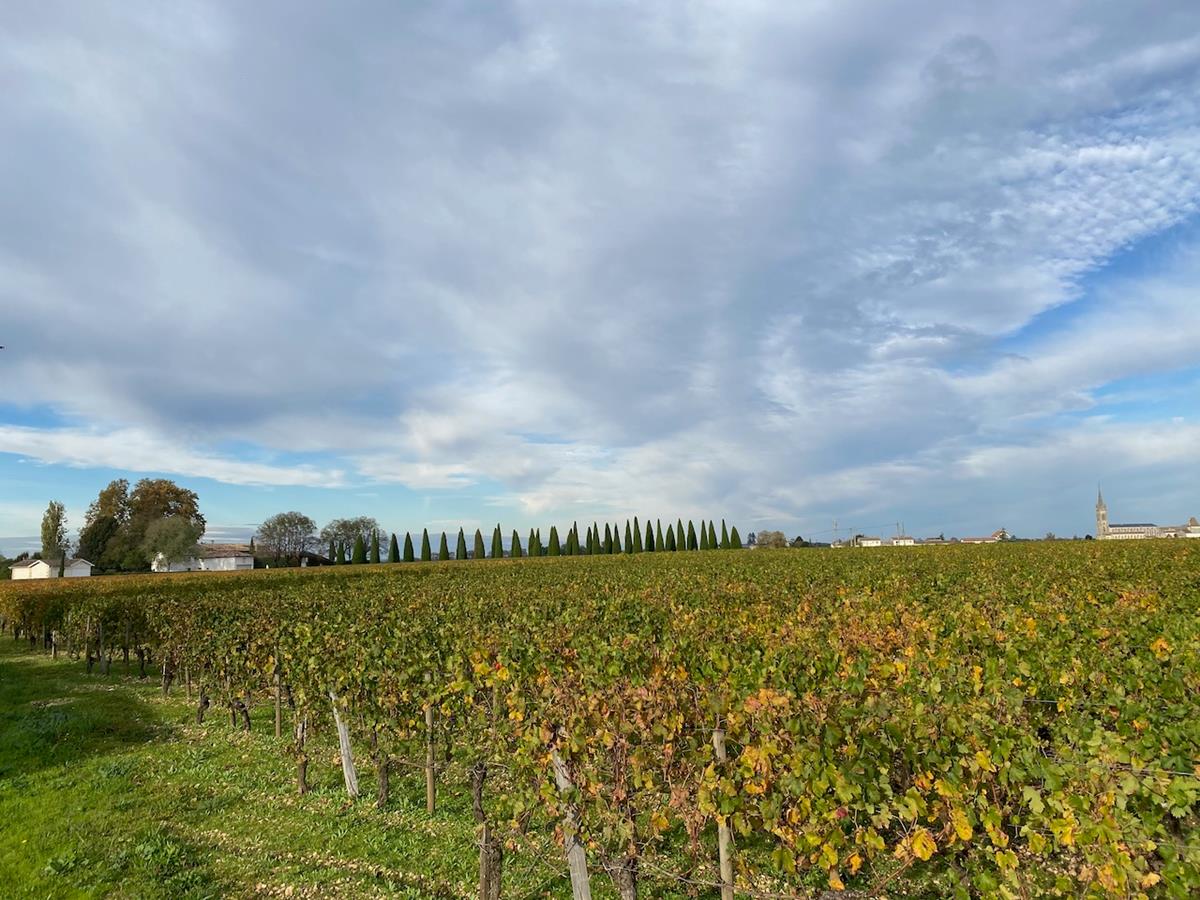 The tree-lined drive at Château Trotanoy.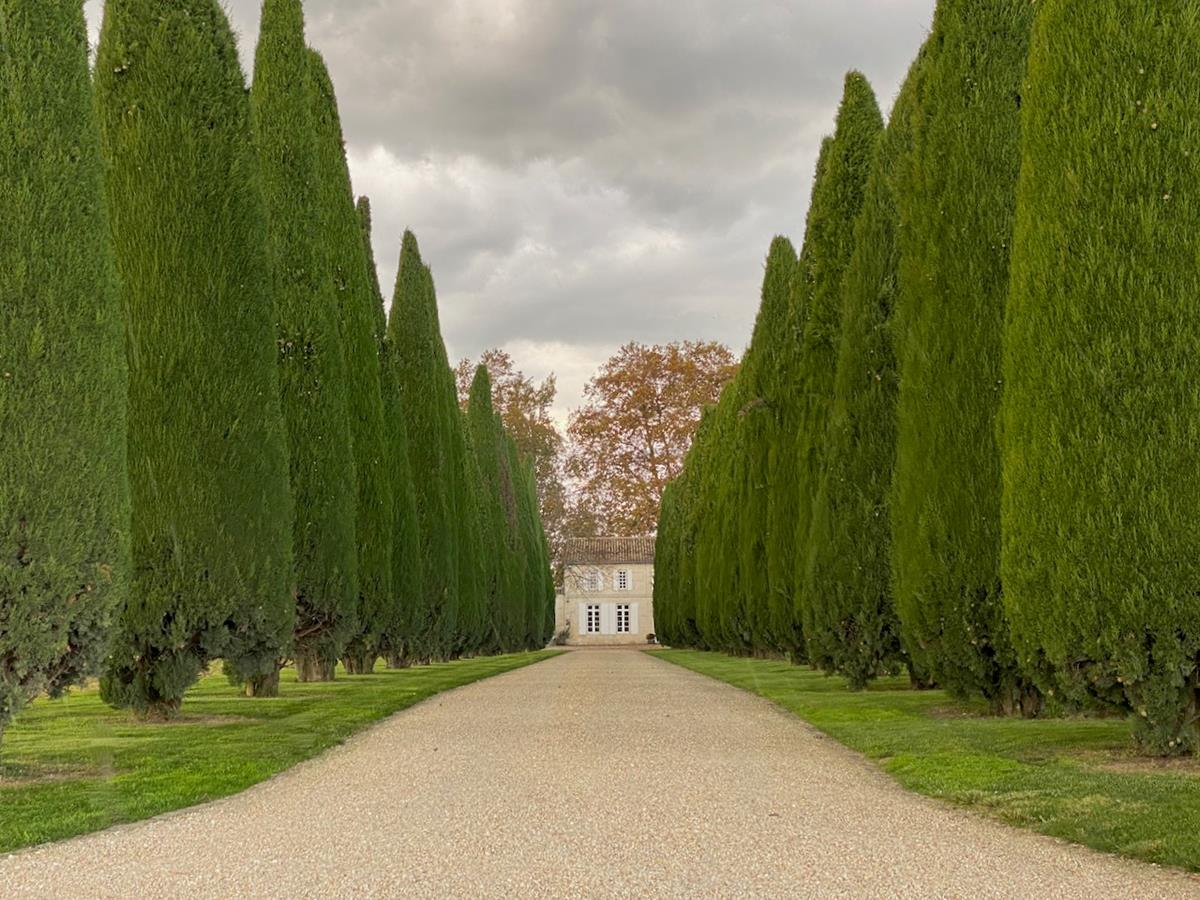 Serious wines here. The trees though seem a bit scary.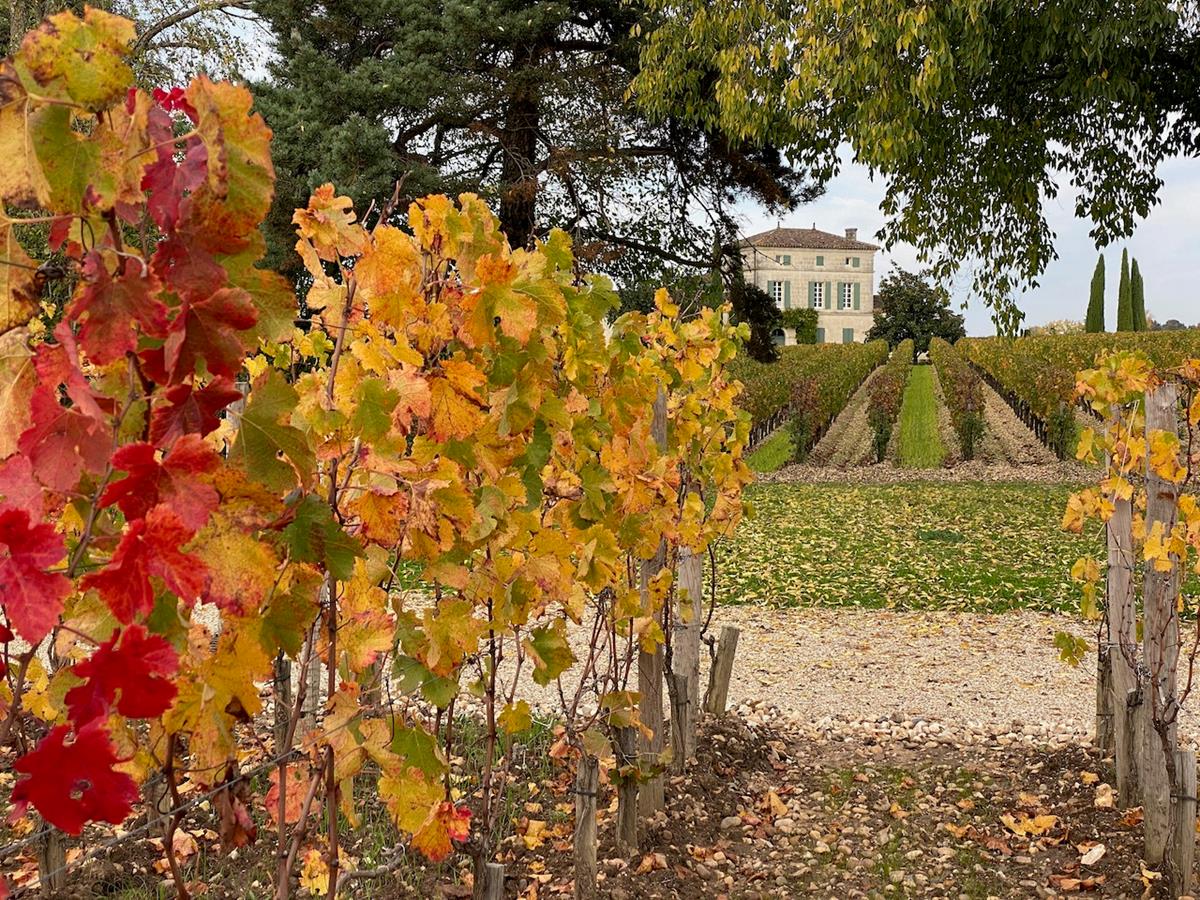 Back to La Fleur Pétrus and here's a view from the neighbour, Lafleur. This is also shown on the 'plateau' map above.
In fact, La Fleur Pétrus and Lafleur were once identical buildings, set not far apart.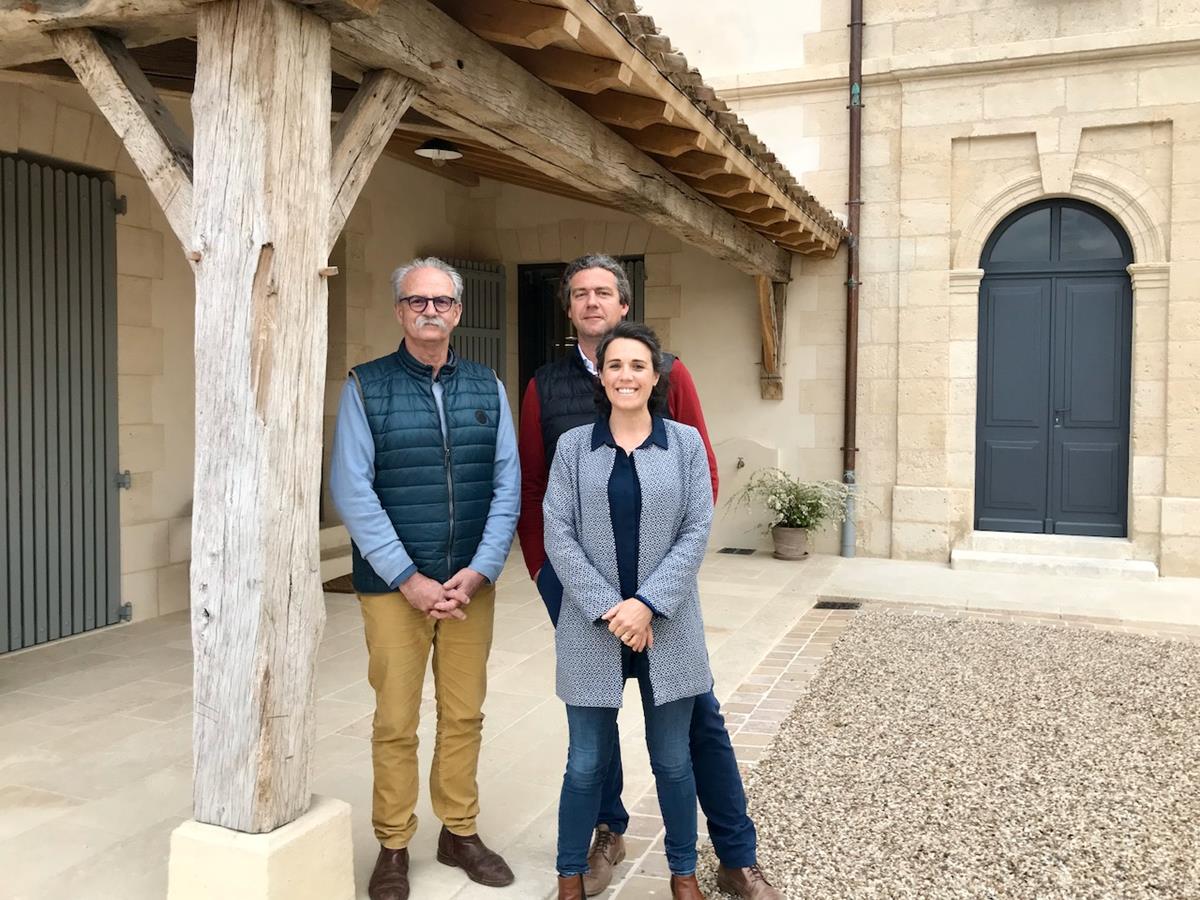 Jacques (and Sylvie) Guinadeau, and their son Baptiste and daughter-in-law Julie, own and run Château Lafleur with acute, hands-on attention to detail. This was from a visit last year.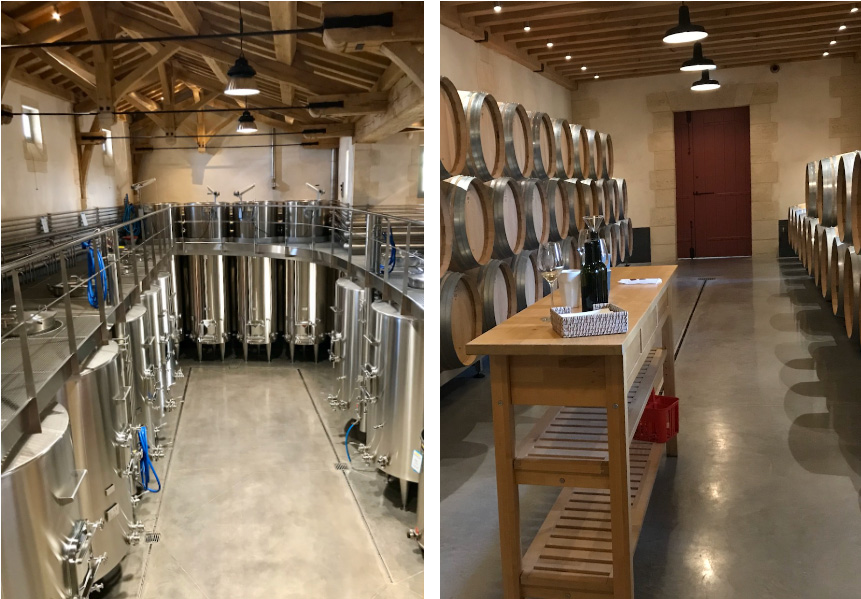 Lafleur is less than 5 hectares and the winery was rebuilt just a few years ago. It is consistently one of my favourite wines during the spring tastings each year. Mind you, the 2016 would set you back a £1,000 a bottle plus VAT. By contrast, they also have a Bordeaux Supérieur property called Château Grand Village, and the red and white are available for a fraction of this price (a little over £10 plus tax).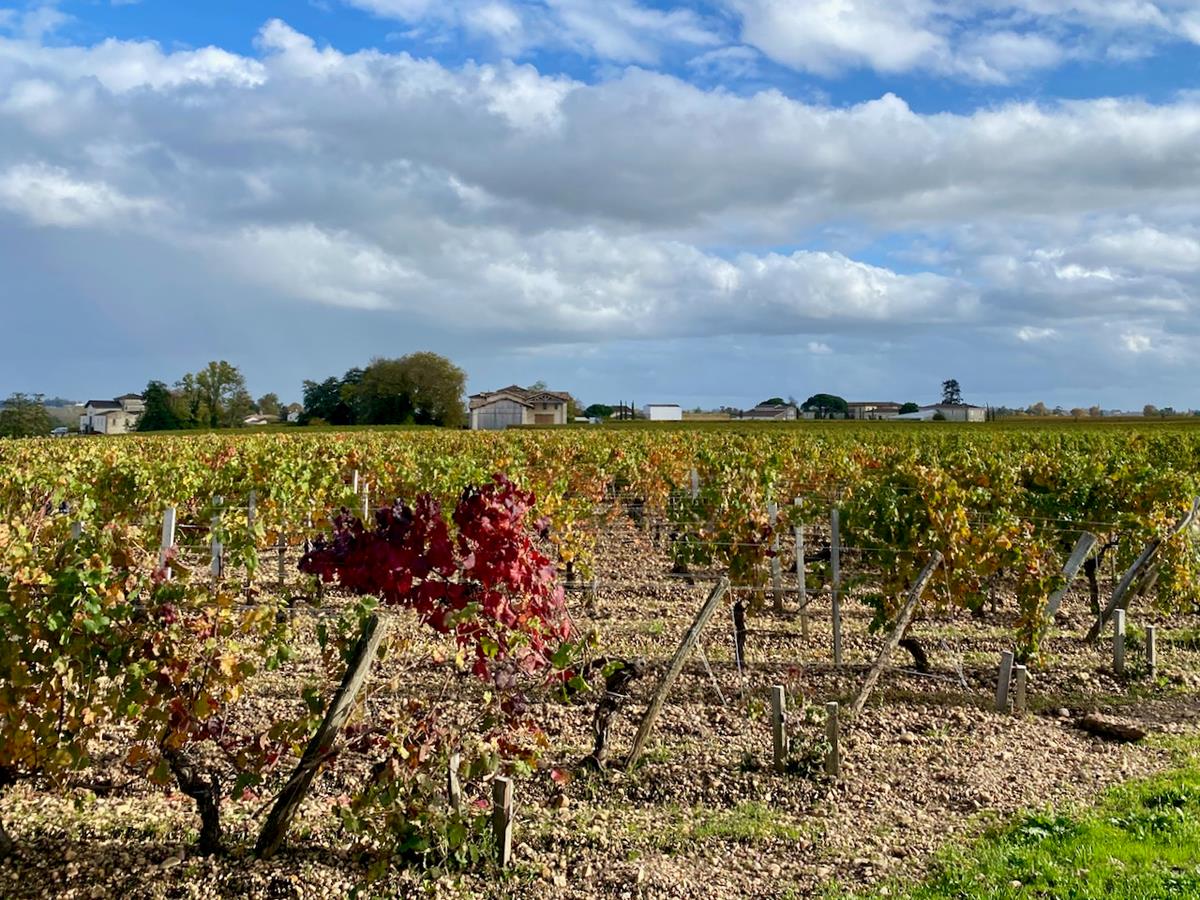 Close to Lafleur – shown in the middle of the photo – is Château Le Gay, with its impressive gravels.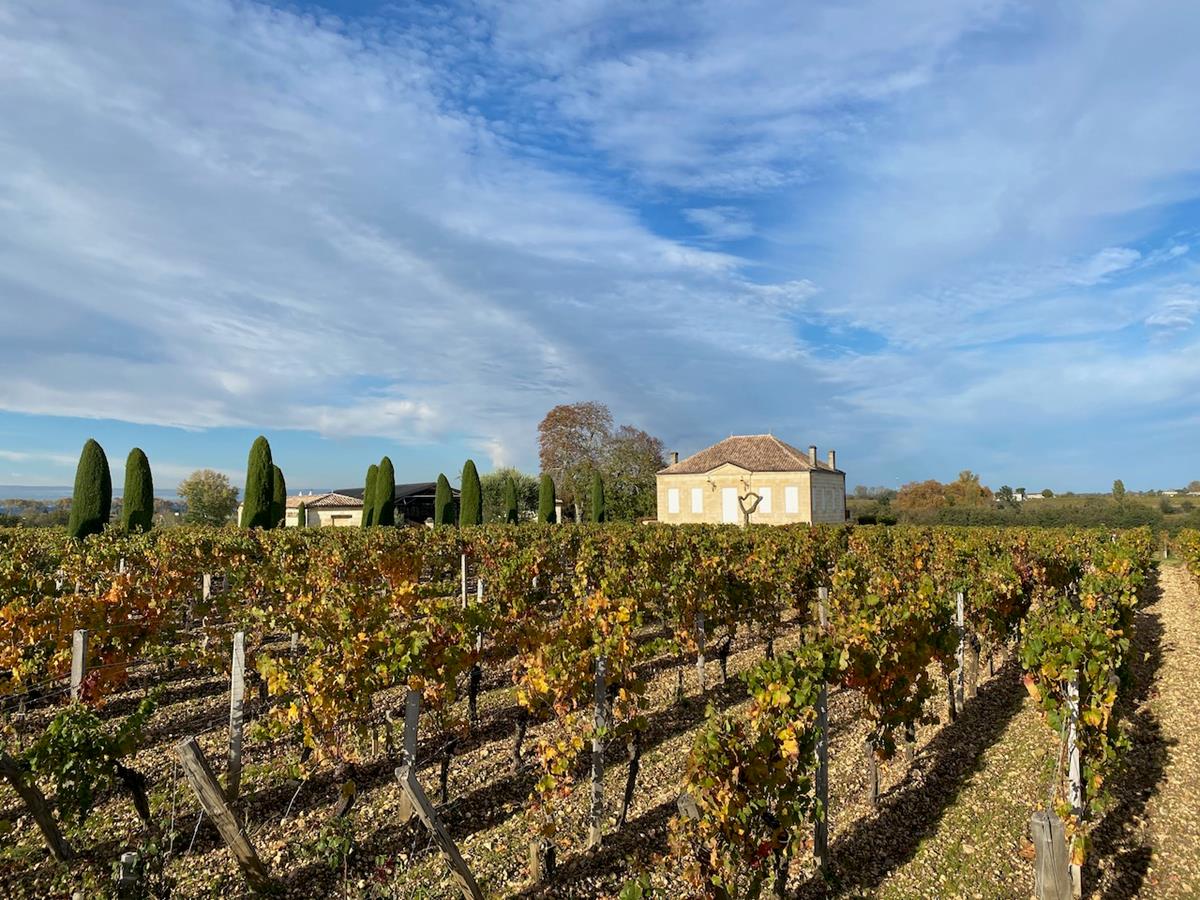 The Château was all closed up but I'd heard they were active in the winery so I made an appointment with the winemaker.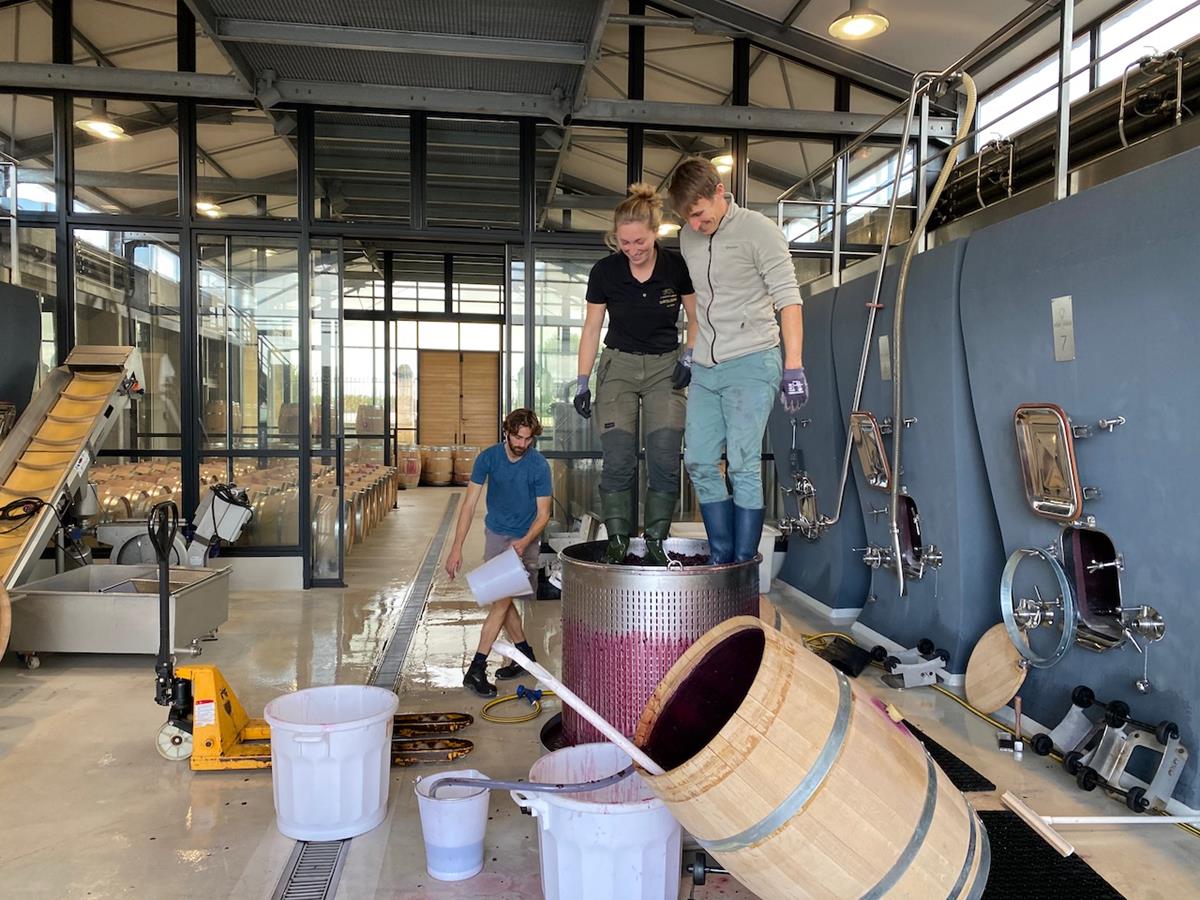 Here they were pressing the skins and pulp of the grapes after the wine had been fermented and made in barrel. (Barrels are more commonly used just for ageing the wine, once the wine has been made in the fermentation tanks, like the concrete ones here.)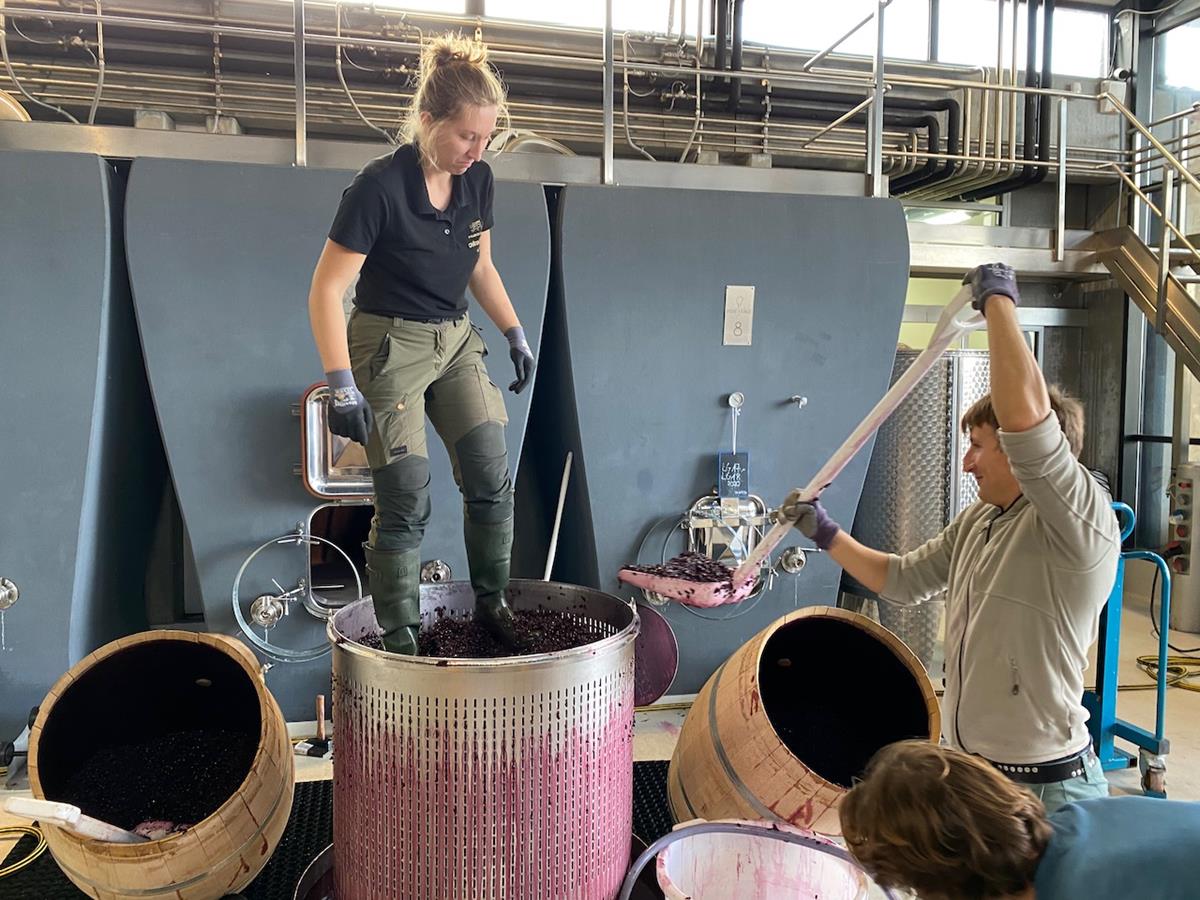 In fact, here they're pressing down the grapes to fill the basket before it goes into the press. Château Le Gay 2016 comes in at a little under £100 a bottle, ex tax.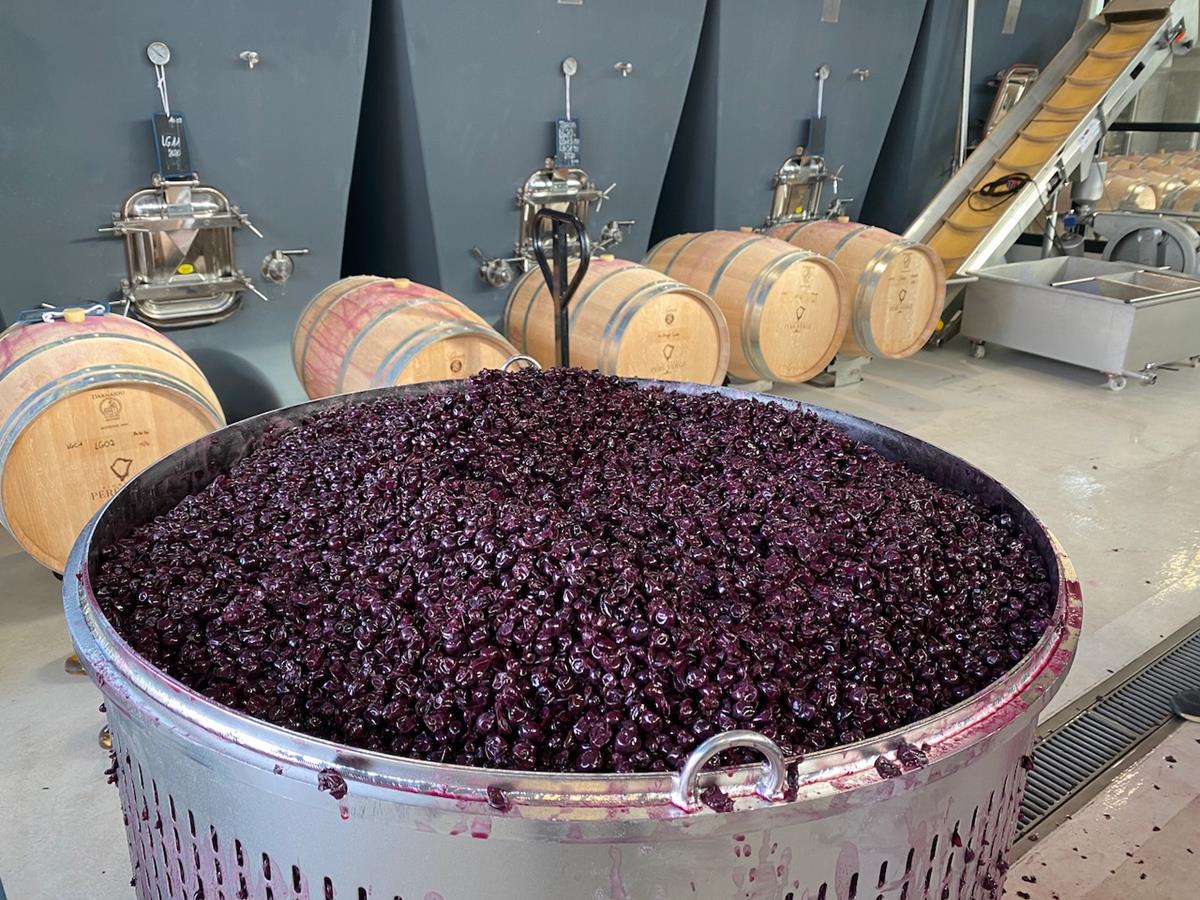 It might look like jam but doesn't taste anything like it.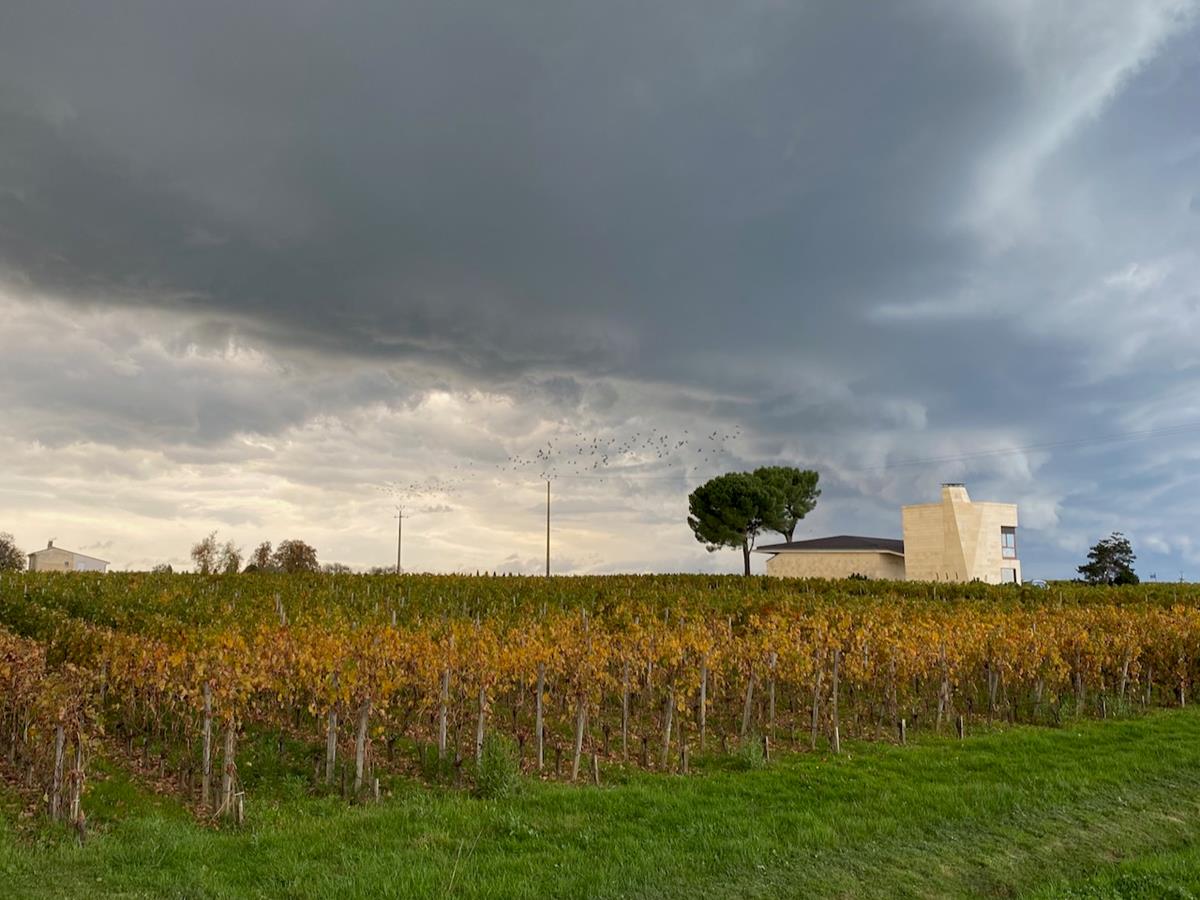 The starlings here have good taste. This is Le Pin.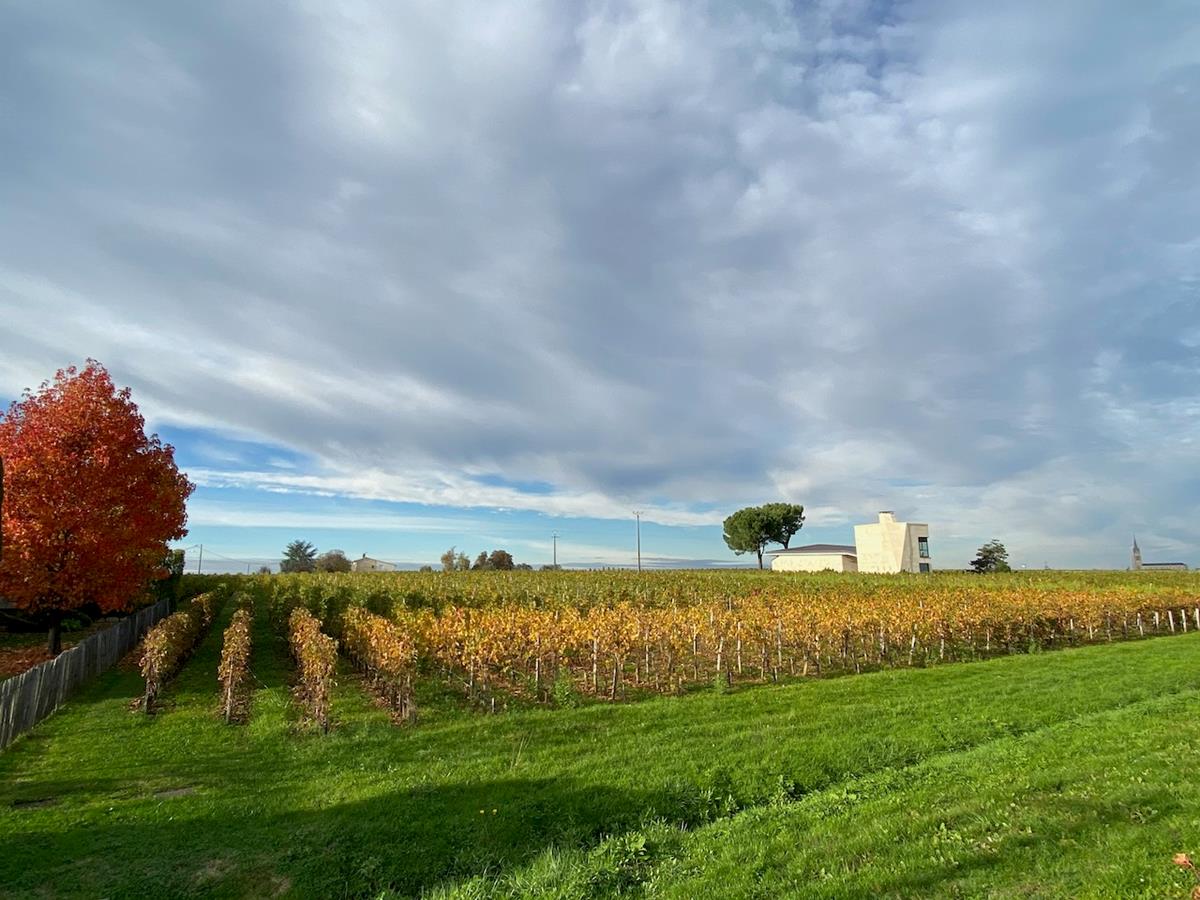 The church in Pomerol is in the distance. Le Pin is a tiny vineyard that's a little over 2 hectares, making around 500 cases of wine a year. The 2016 is about the same price as Petrus, at £3,000 a bottle.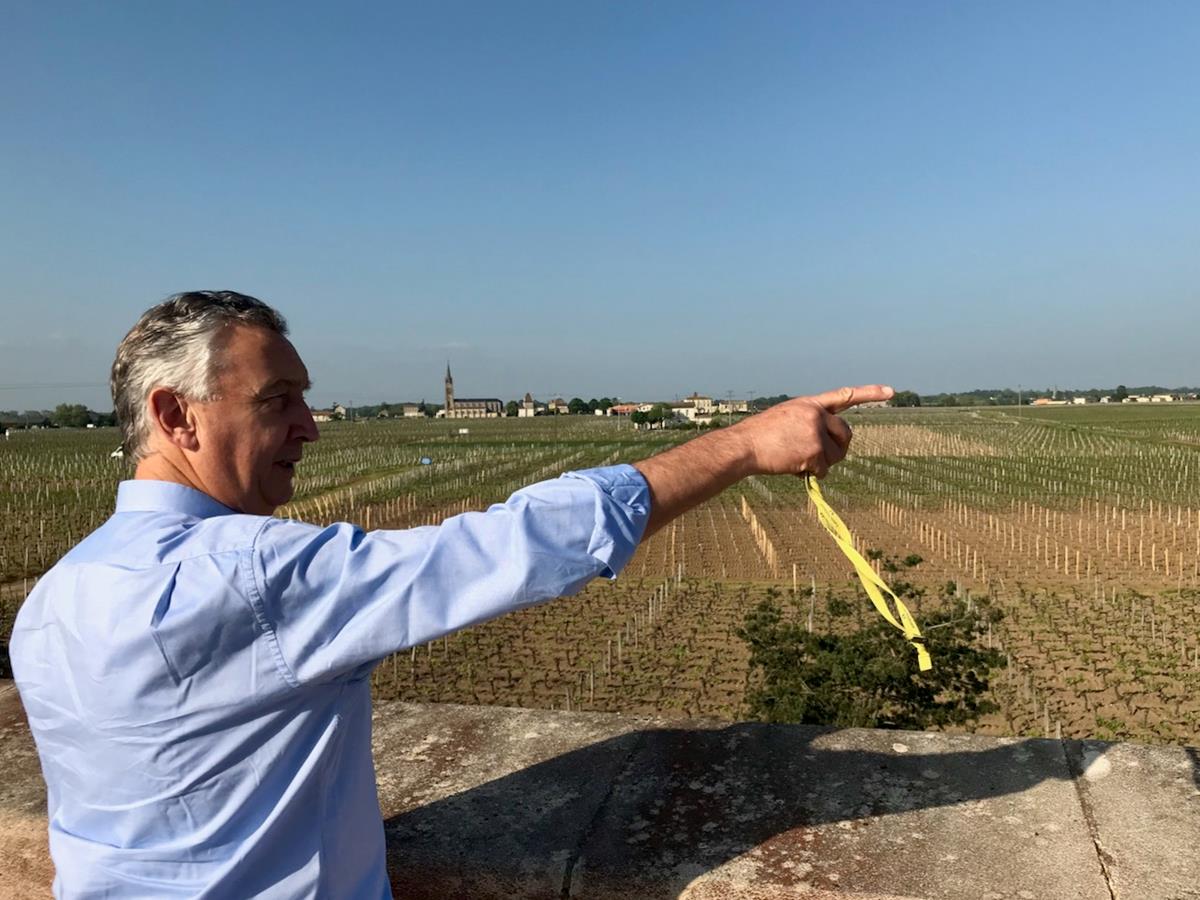 Owner Jacques Thienpont explaining the lie of the land to me from the roof, two years ago.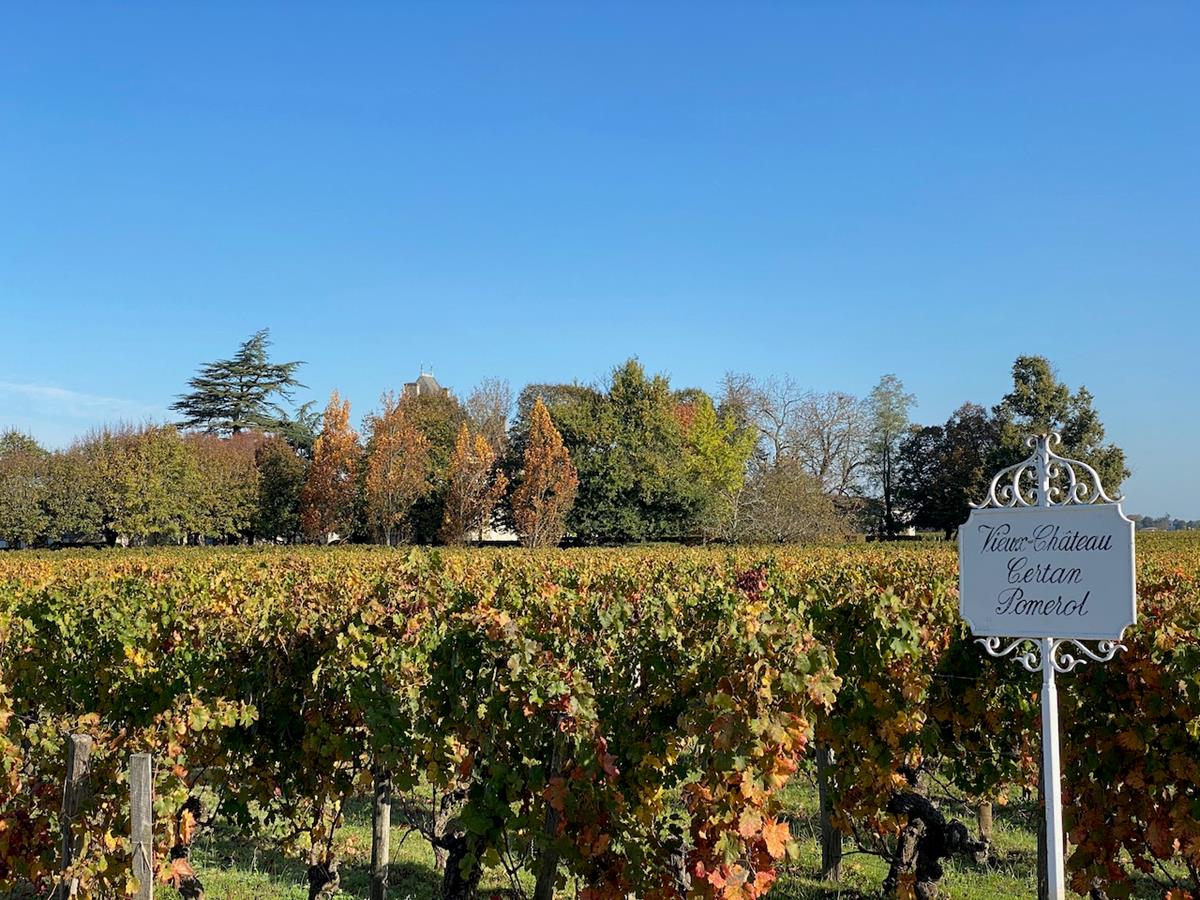 Vieux Château Certan on 31 October.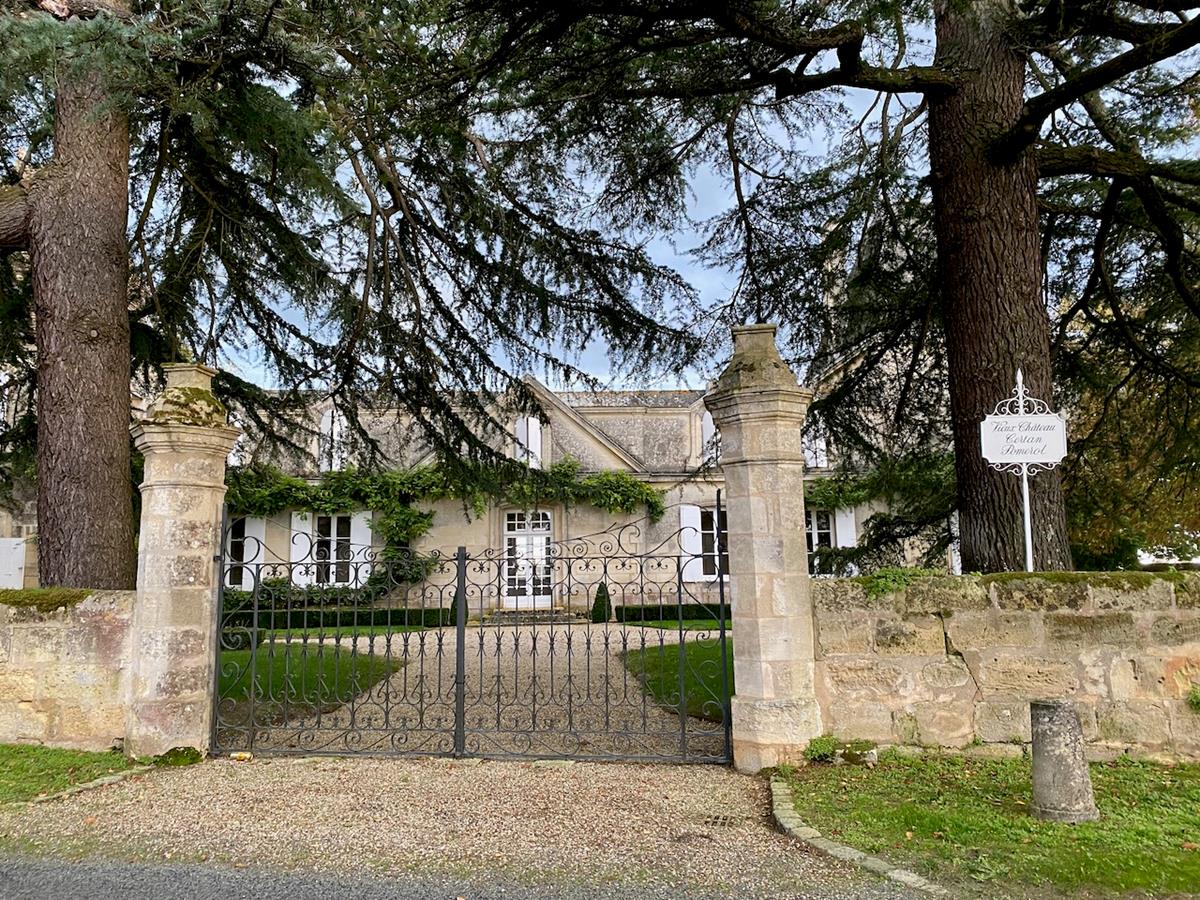 Vieux Château Certan last week. Alexandre Thienpont and his son Guillaume run VCC and look after the vineyard at Le Pin. The estate made a wonderful 2016, which costs around £300 today.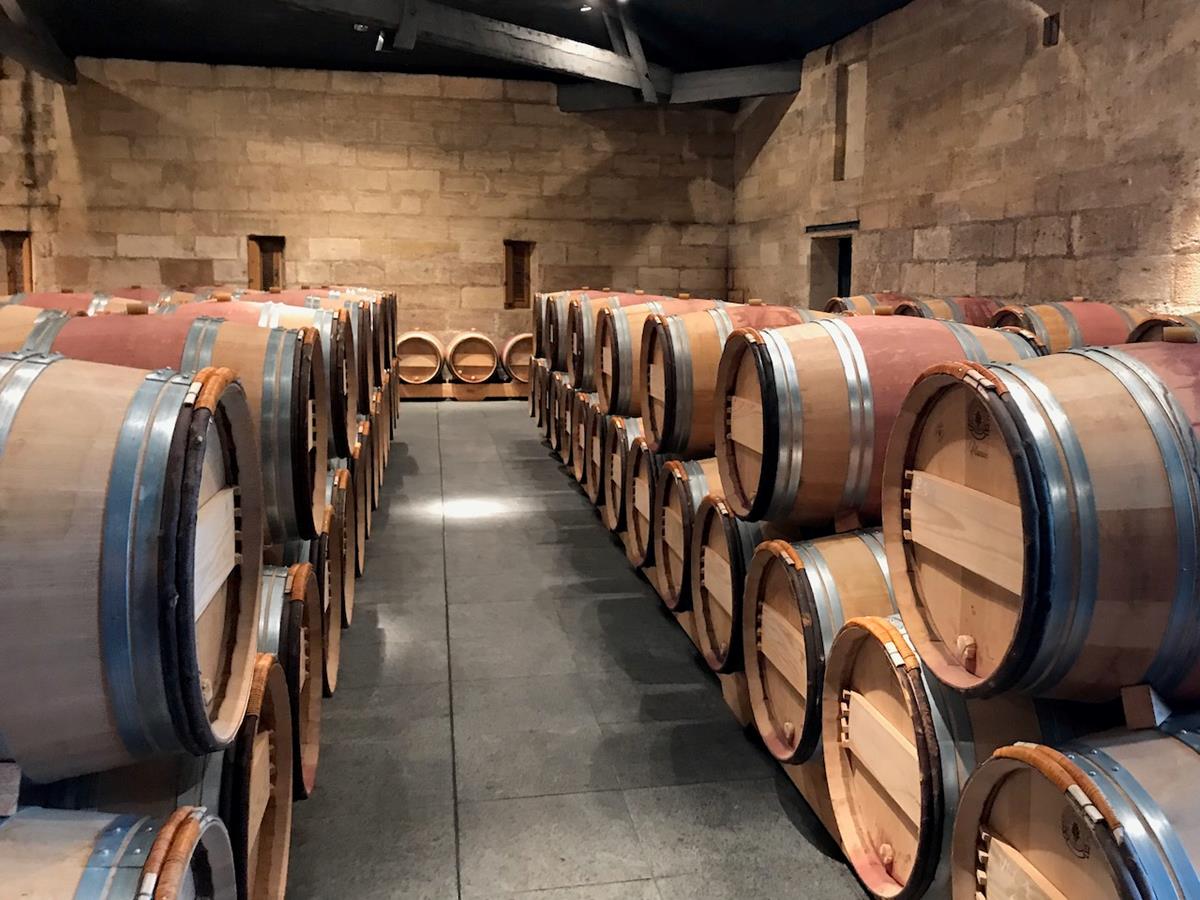 The barrel cellar at Vieux Château Certan.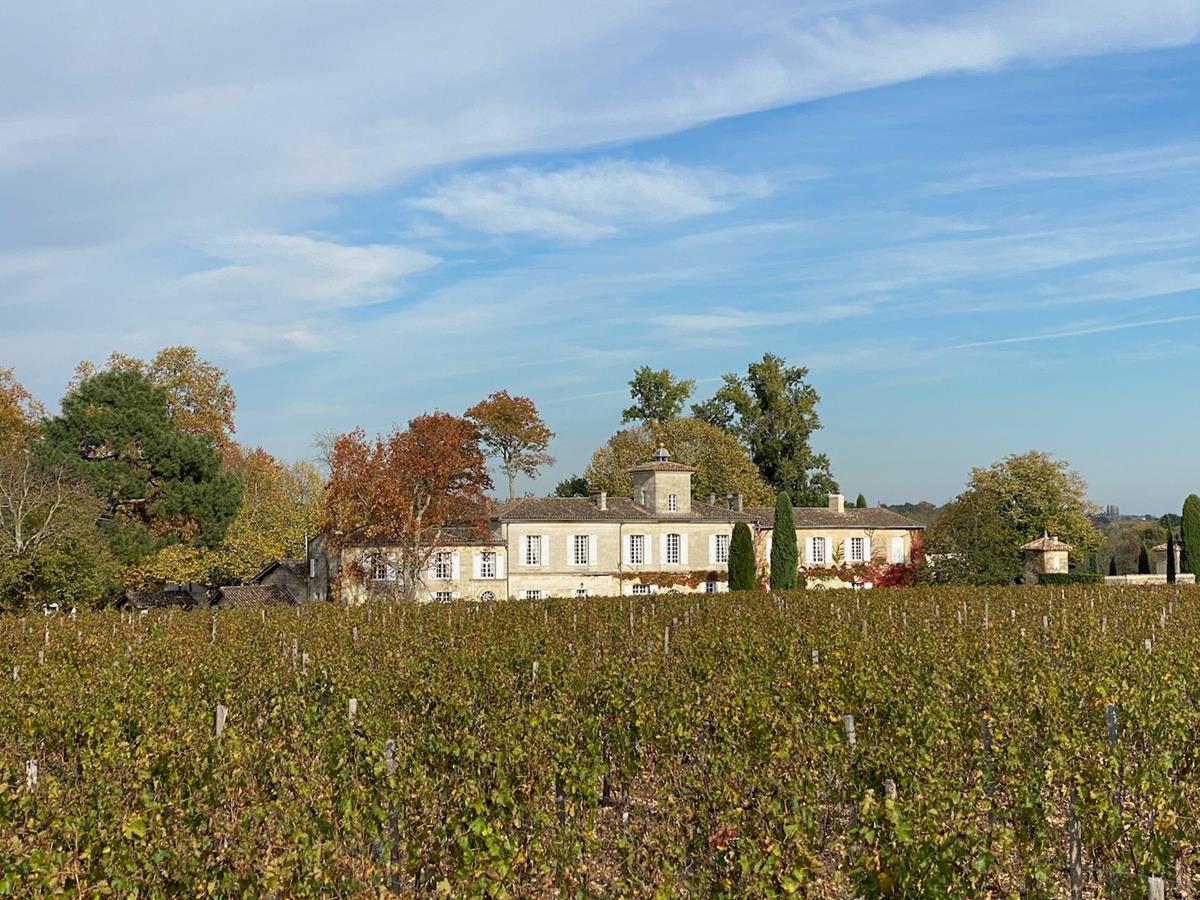 Another traditionally-run estate with a château to match is Château Gazin.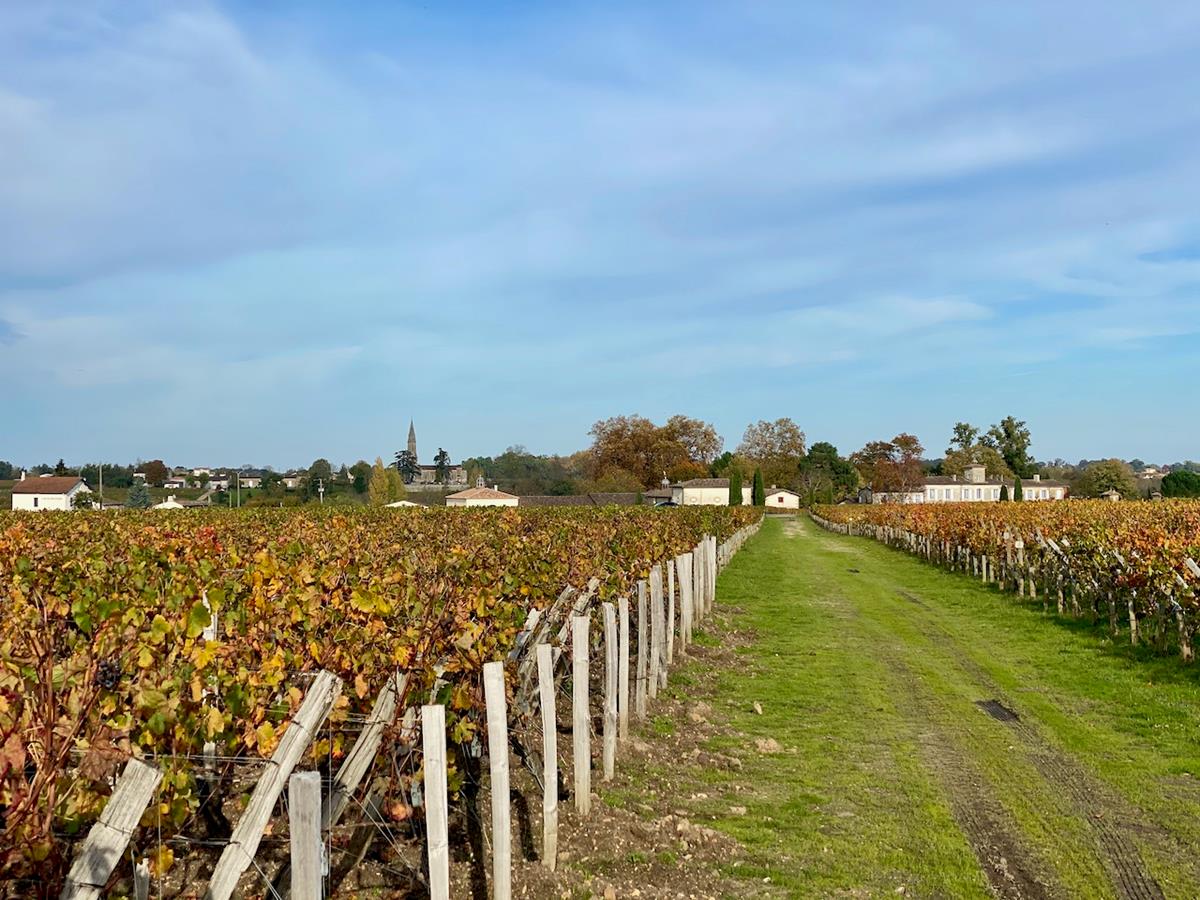 The vines of Gazin on the right and Petrus on the left.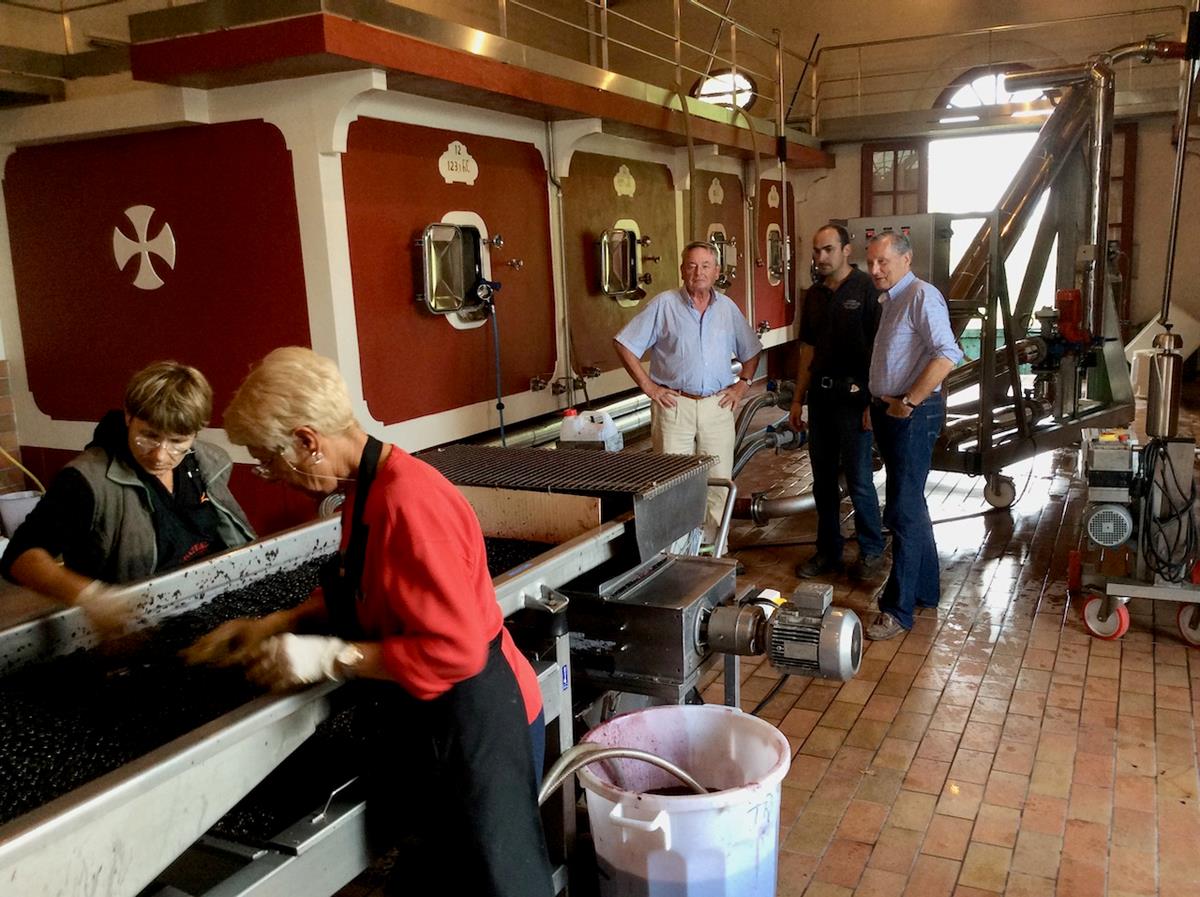 The 24 hectare vineyard is owned and run by the de Bailliencourt family – brothers Nicholas and Christophe, seen here a few harvests ago, and sister Inès.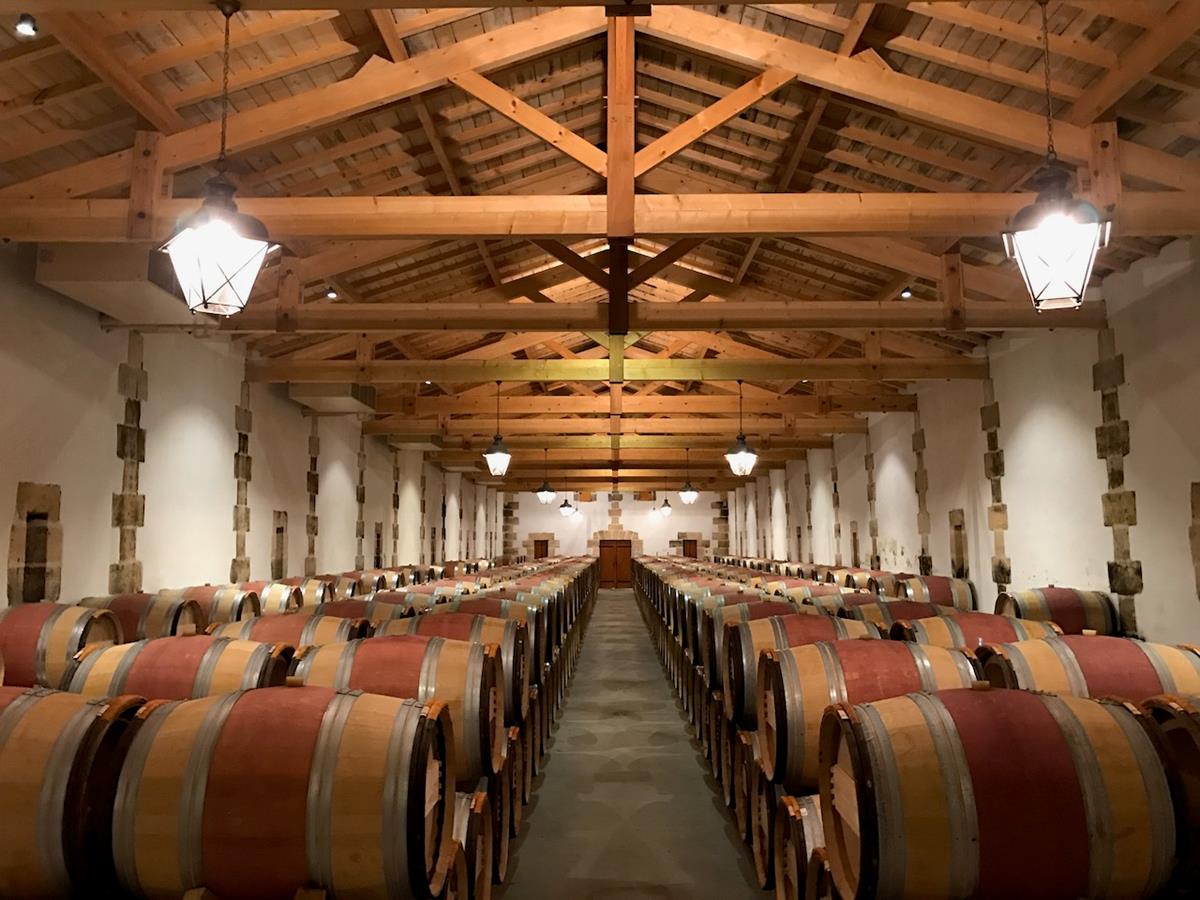 The barrel cellar at Gazin. The excellent 2016 costs around £60 per bottle plus taxes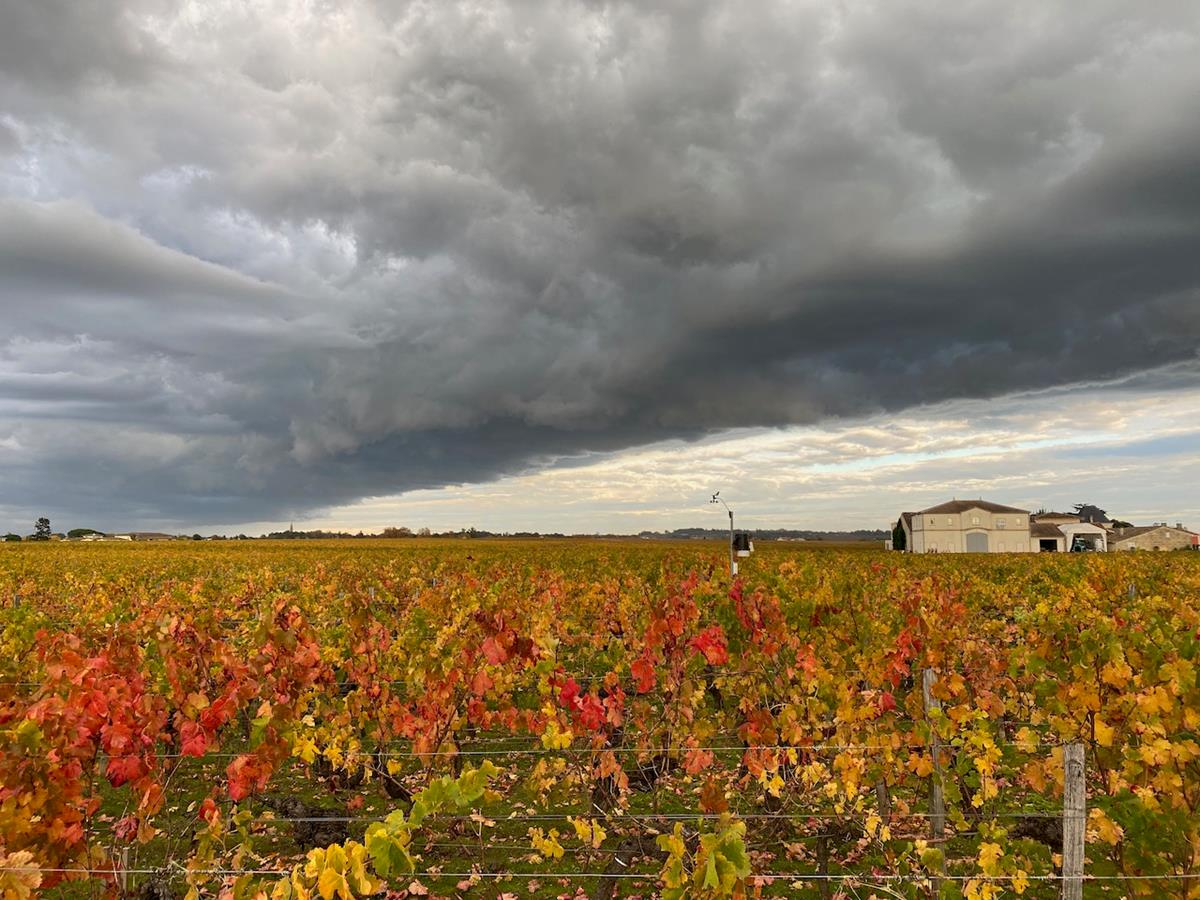 A stormy front moving in over Château La Conseillante last week, with Petrus on the far left.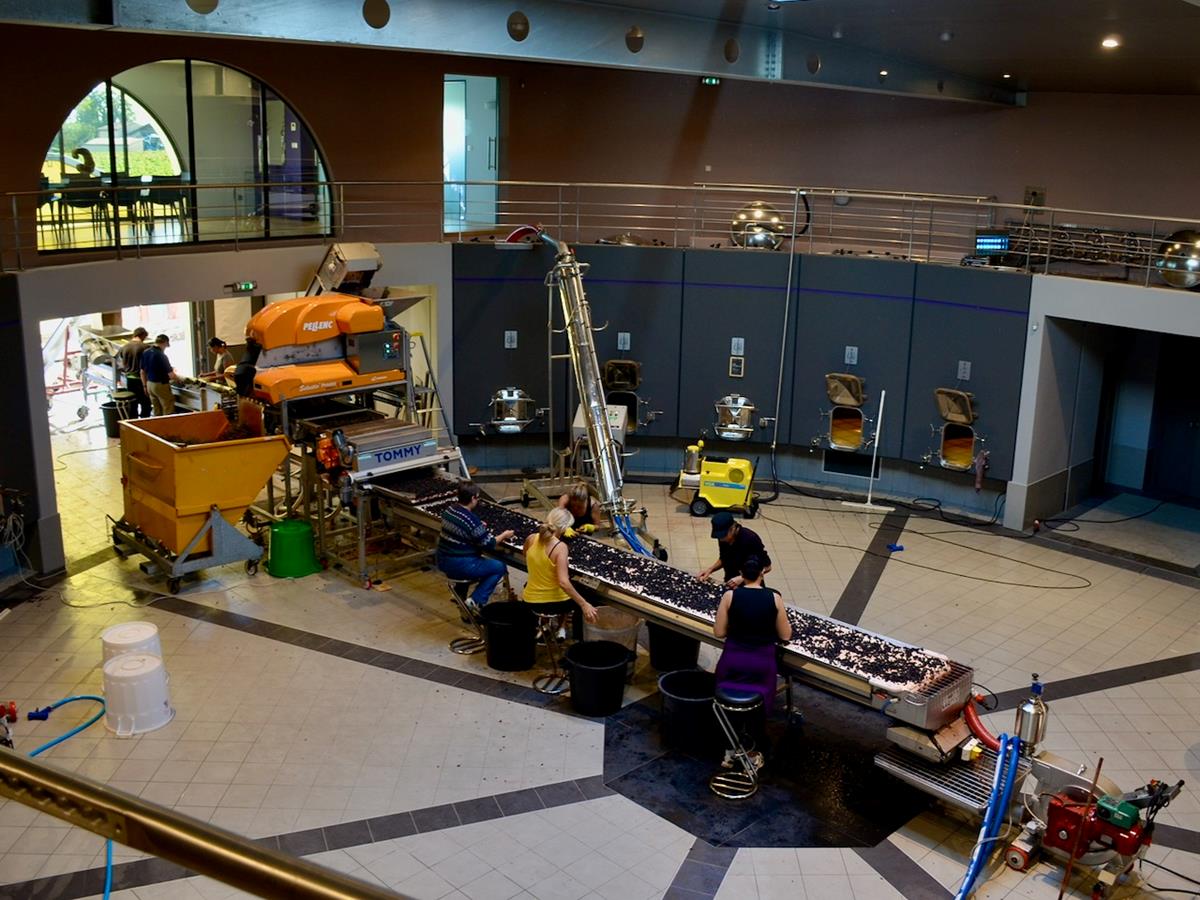 Under the direction of Marielle Cazaux, La Conseillante has been making delicious – and sought after – wines for a few years now. The 2016 costs about £150 a bottle.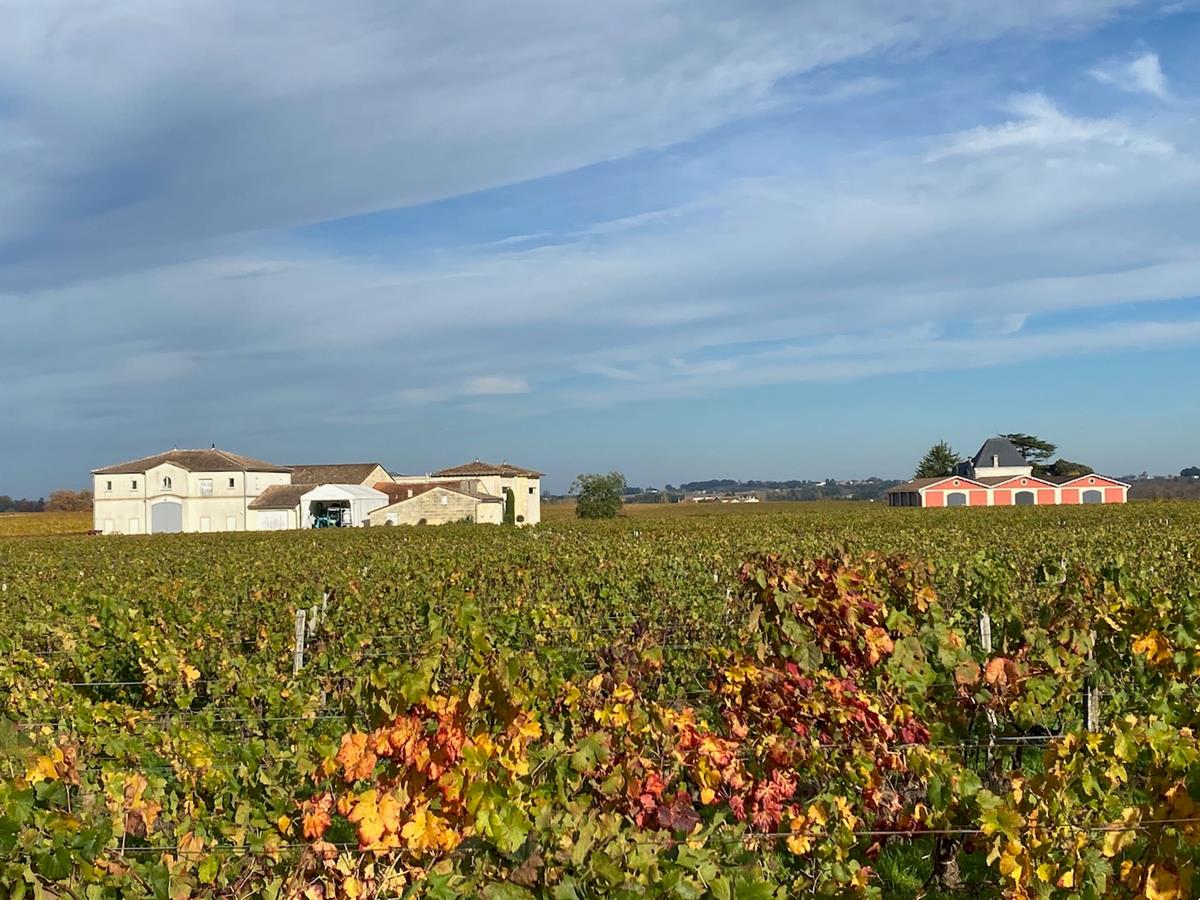 Next door is Château L'Evangile, owned by the Rothschilds of Lafite, with its pink winery. It's not hard to spot.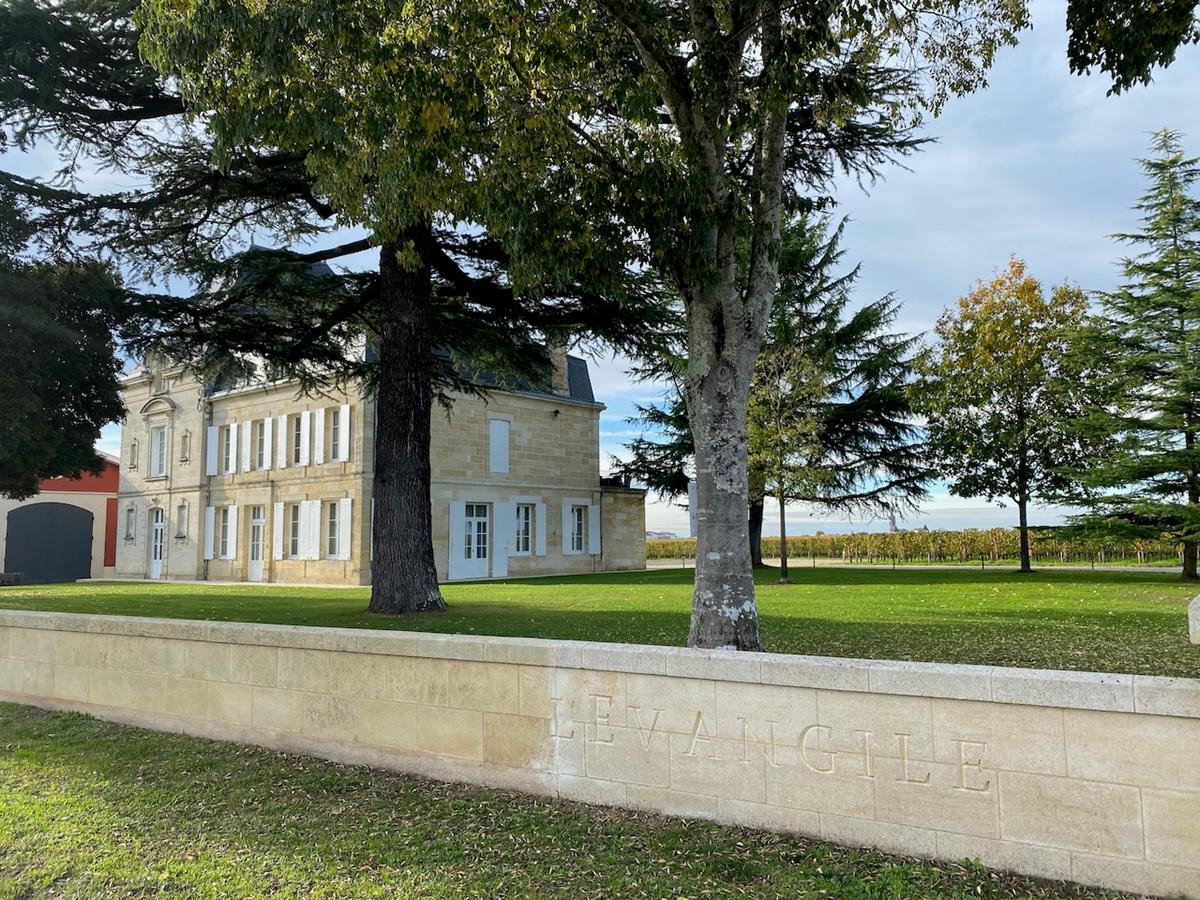 This is the Château from the opposite side, last week.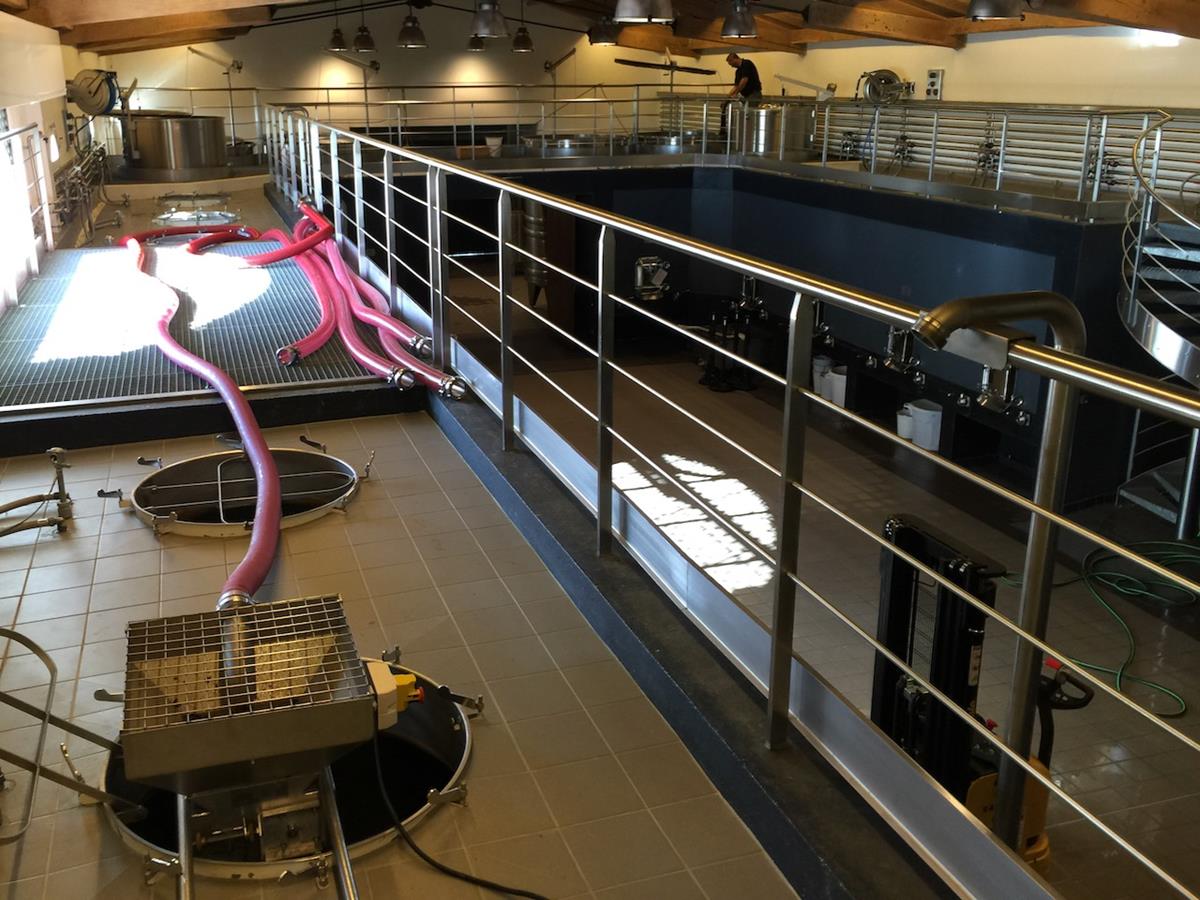 This was October 2016 and the vintage that year – the wine today costs just a little more than its neighbour's, at £170 plus tax.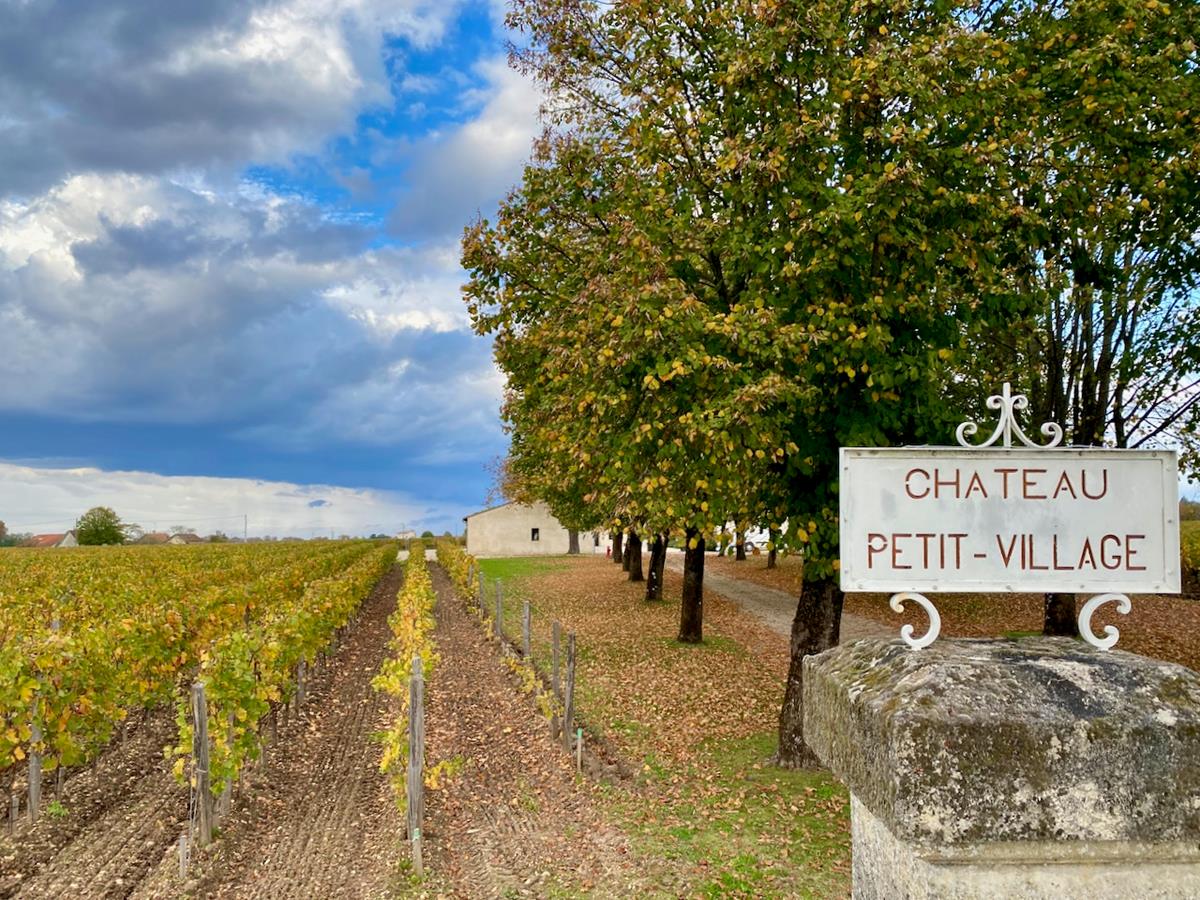 Château Petit-Village last week. It's recently changed hands. The owners of Château Beauregard, pictured up above, have acquired this neighbouring estate from Axa Millésimes (owners of Pichon Baron).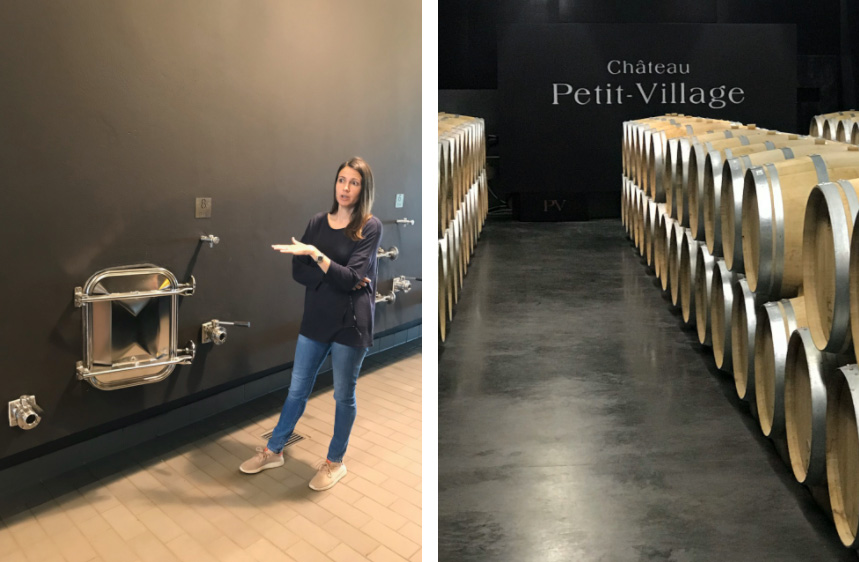 Like at her neighbour La Conseillante, director Diana Berrouet-Garcia has been making lovely wines at Petit-Village in the last few years.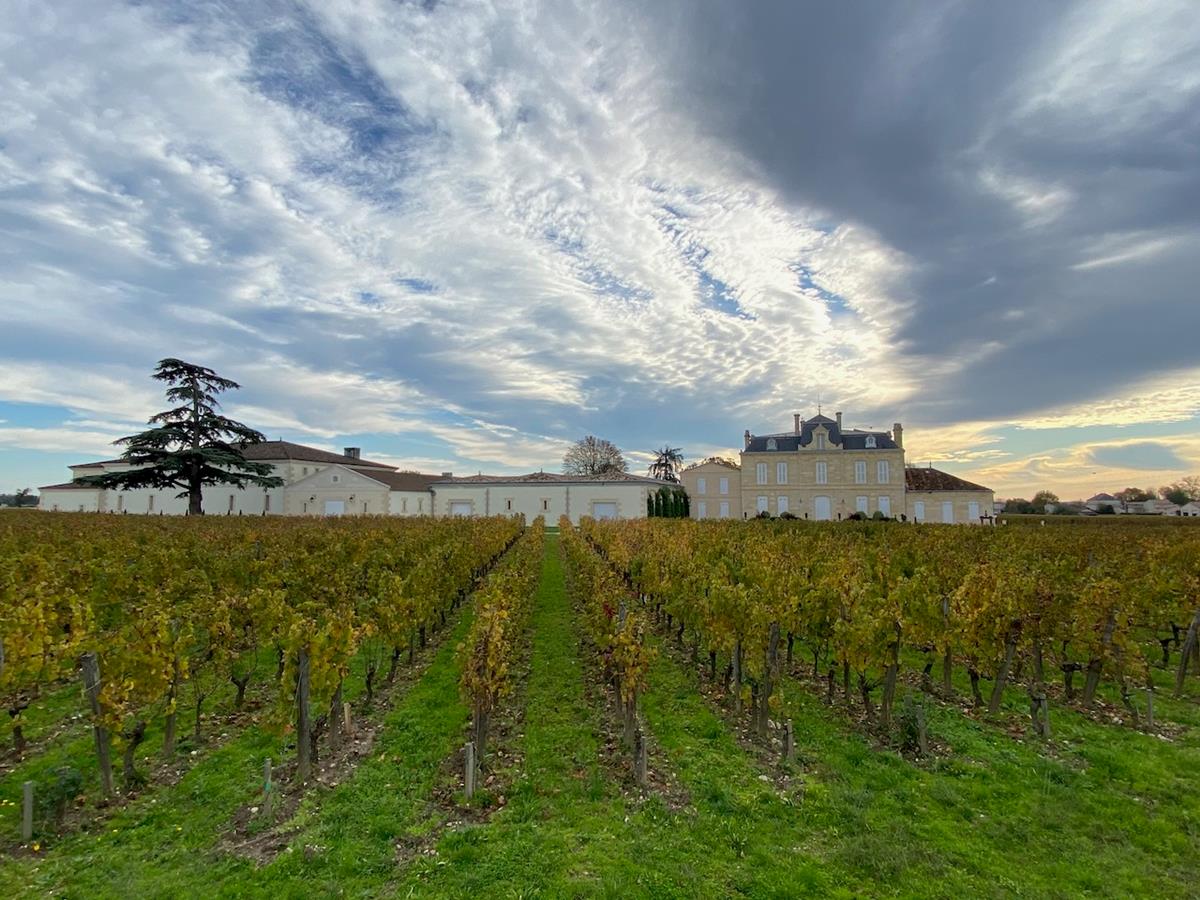 Château Nenin looking rather closed, but impressive.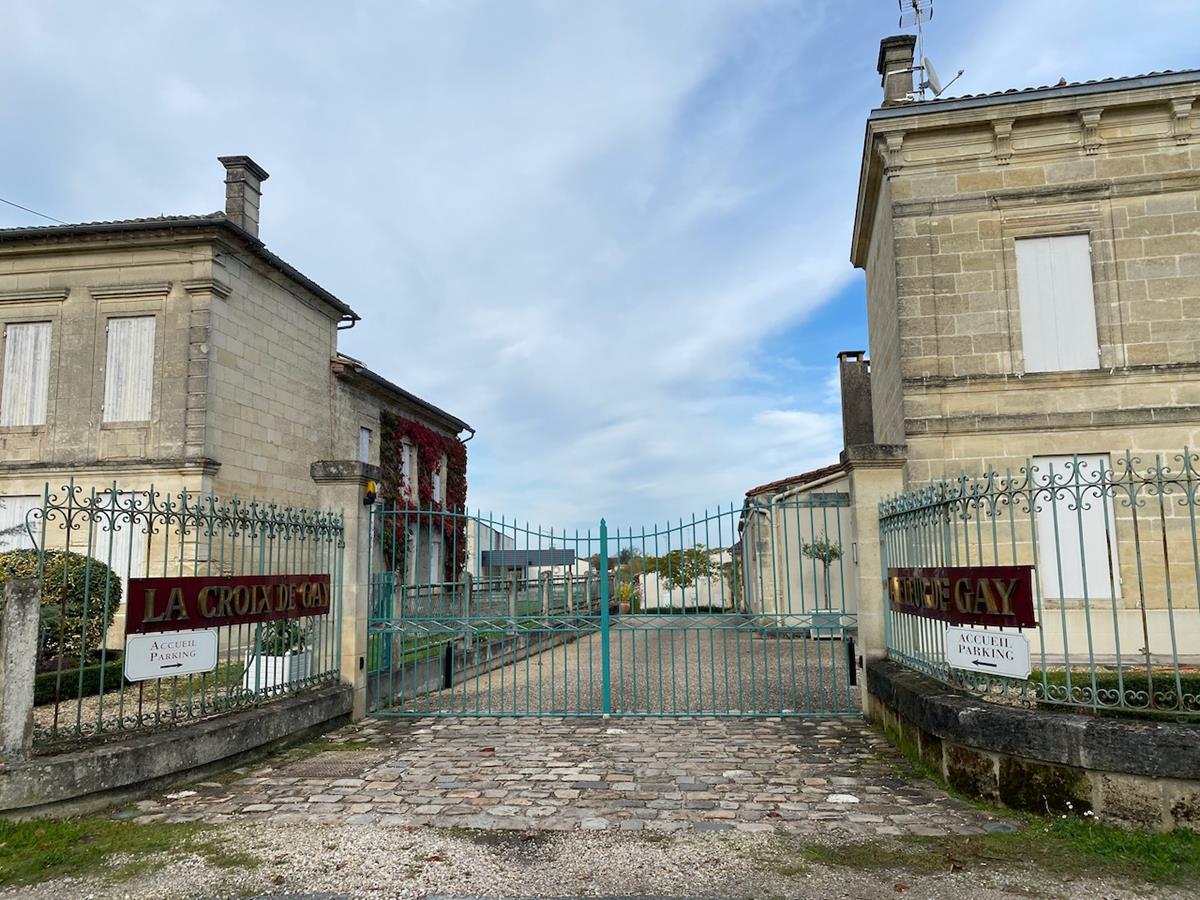 There are several vineyards on the plateau that I didn't photograph this time, such as Château Certan de May. Nor Vray Croix de Gay, which is made at Château Siaurac nearby in Lalande de Pomerol. This meanwhile is the entrance to La Croix de Gay. As you can see, the names can be a little confusing.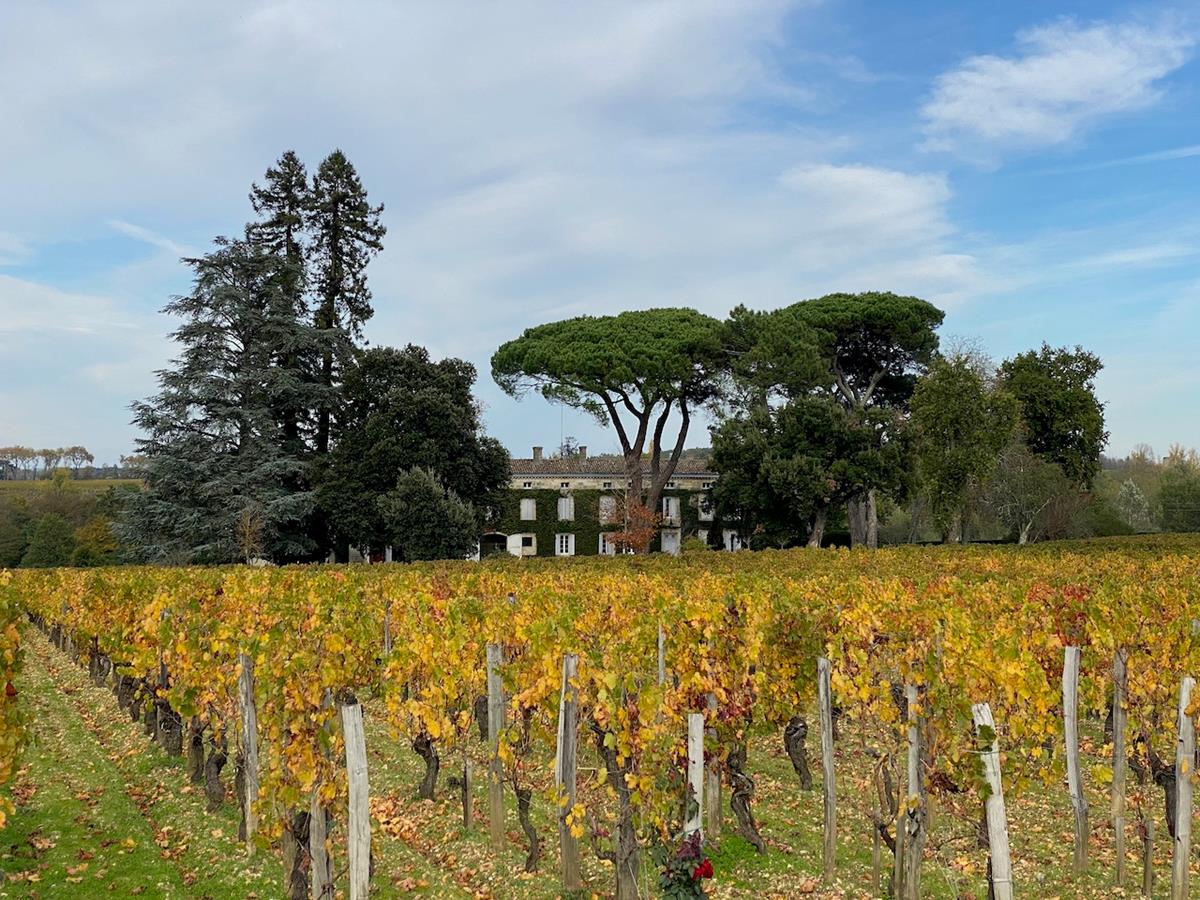 And finally, Château Rouget is at the edge of the plateau. The 2019 will be delicious and relatively inexpensive at £30. (Let's hope so, because we bought some.)
---
All our harvest updates and newsletters are on Gavin's blog.
You can see pics of this harvest and more in our Bauduc photo albums.