Posted by Gavin Quinney on 4th Nov 2020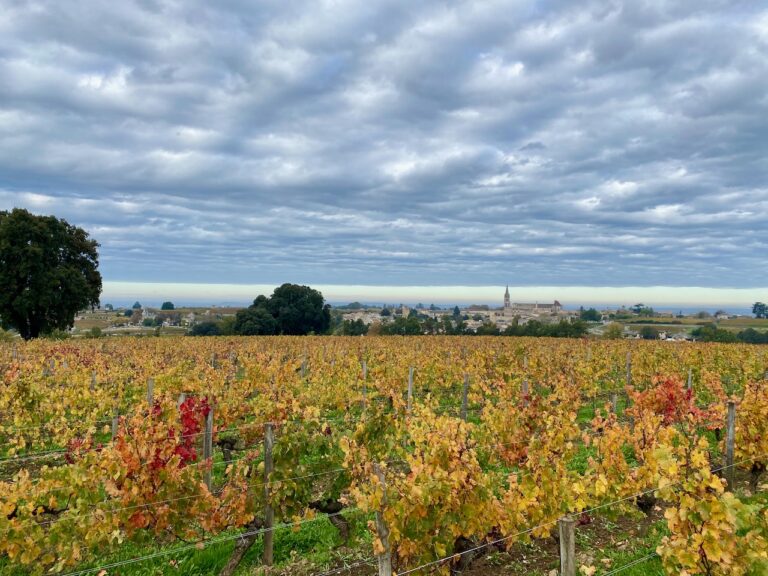 We had so many kind comments about our photo journal of the famous châteaux of the Médoc last week, we thought it only fair to continue the story closer to home, in Saint-Émilion.
You may recall that a good friend in London is writing a book on Bordeaux and had despatched his photographer colleague Joakim to take some pictures of the vineyards.
We don't sell the wines of any of the châteaux mentioned, but do head to bauduc.com for our delicious stuff.
All the best
Gavin & Angela Quinney
PS There's a photo album of just the pics Here
---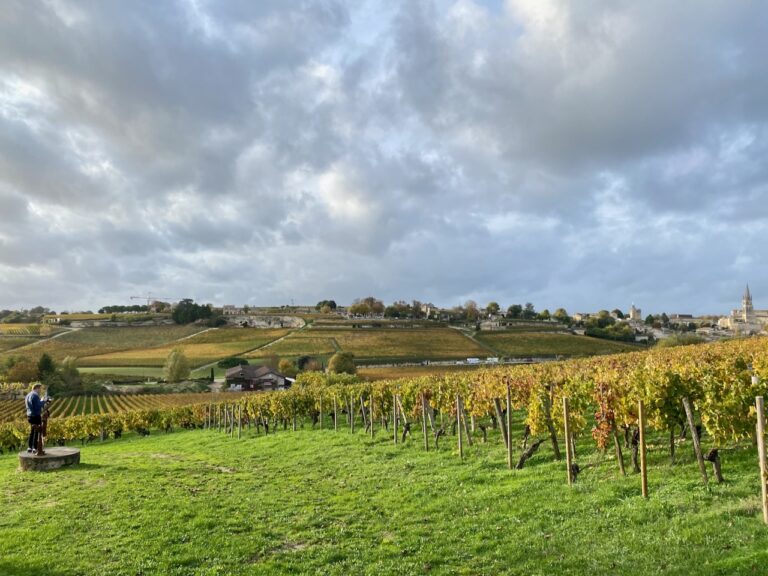 Joakim wasn't blessed with ideal weather for his trip but we did have just enough light last Wednesday afternoon after our visit to our local market in Créon. And Saint-Émilion is a beautiful place out of season. Helpfully one of the most famous vineyards, Château Ausone, is on the top of the hill near the town, in the middle of the picture. One box ticked.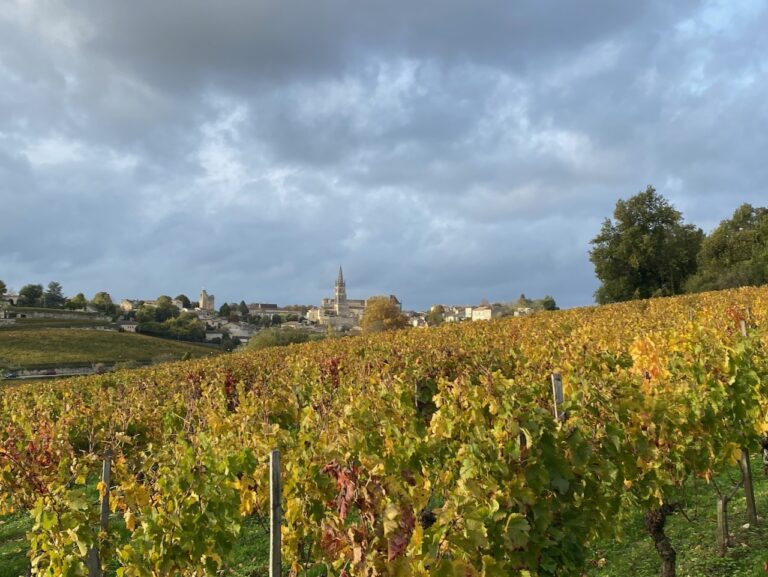 The harvest had ended a couple of weeks or so before but even without bunches of red grapes, the vines present themselves rather well.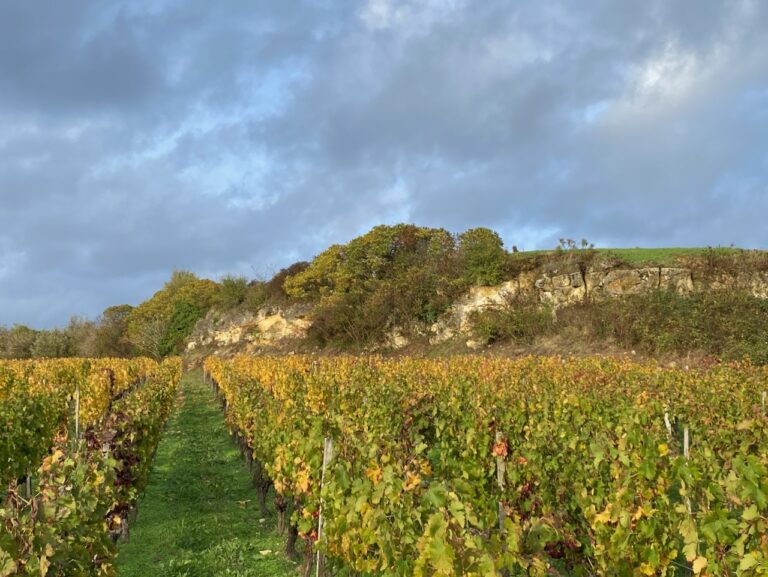 The overall impression here is completely at odds with the gently undulating, gravel banks of the Médoc. And then there's the terroir and the limestone sitting just below the surface in so many of the best vineyards surrounding the town.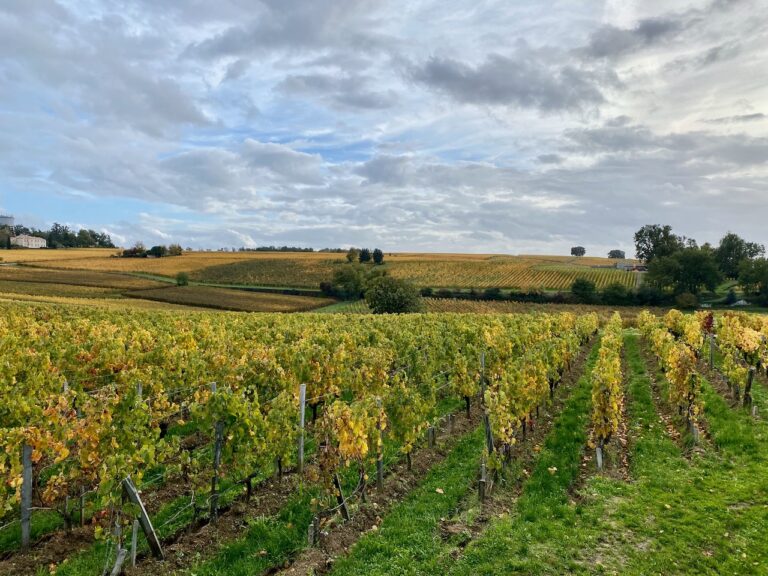 If you want picturesque shots of famous vineyards, you've come to the right spot. That's Château Troplong Mondot on the left.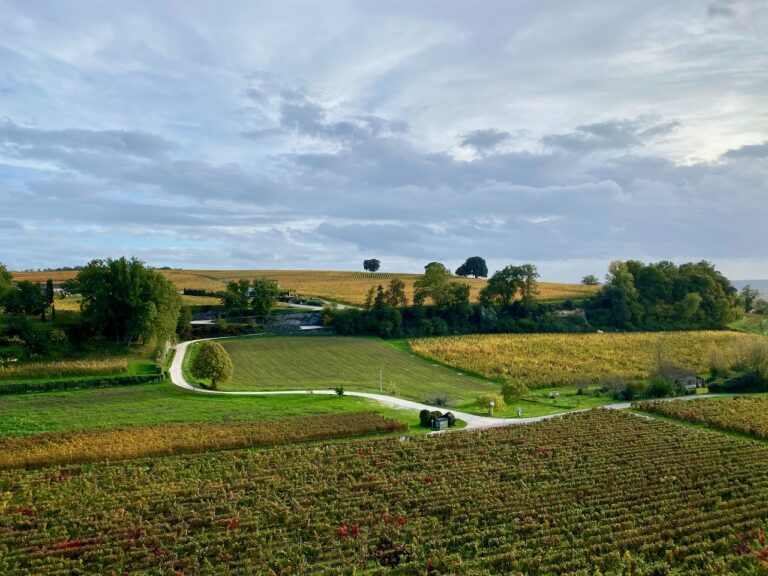 A hundred metres away, this is looking across from Château La Serre towards Château Pavie Macquin.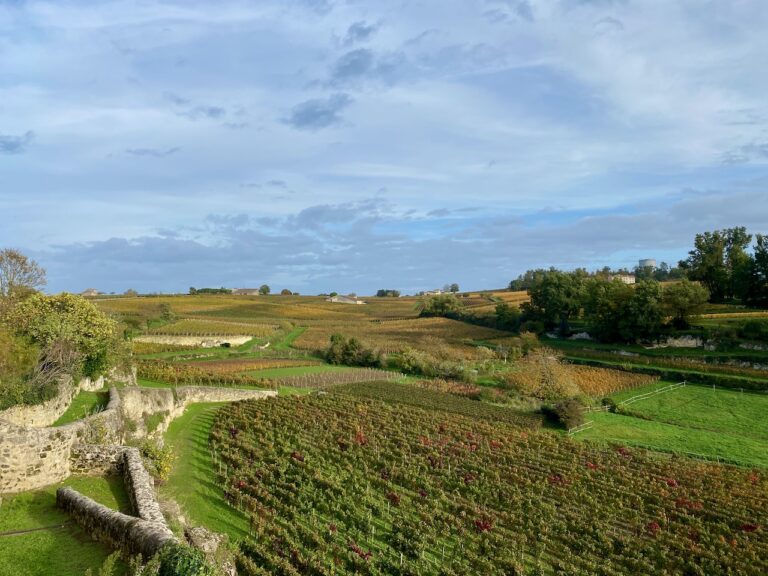 Again, Château Troplong Mondot can be seen in the top right hand corner with Château Le Prieuré straight ahead. Not to forget the lovely old stone walls, of course.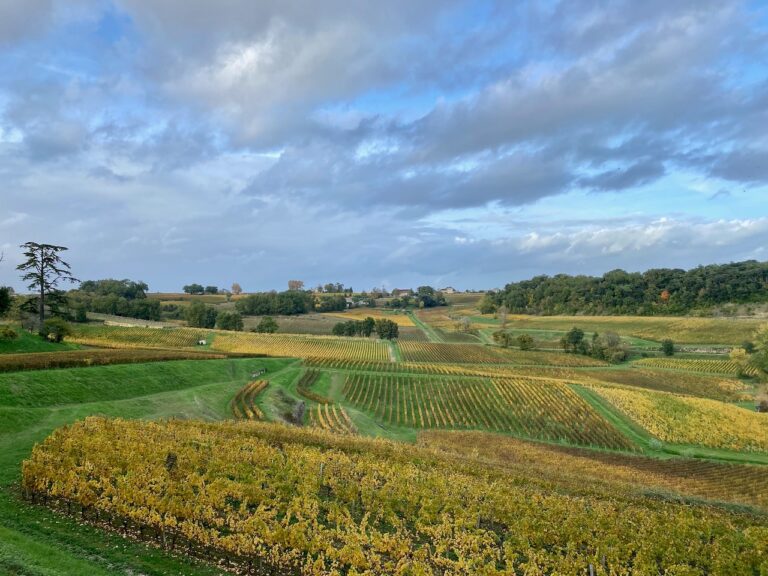 A couple of kilometres away there's this gorgeous vinescape, around the corner from Château Tertre Rôteboeuf, looking towards Château Barde Haut and others.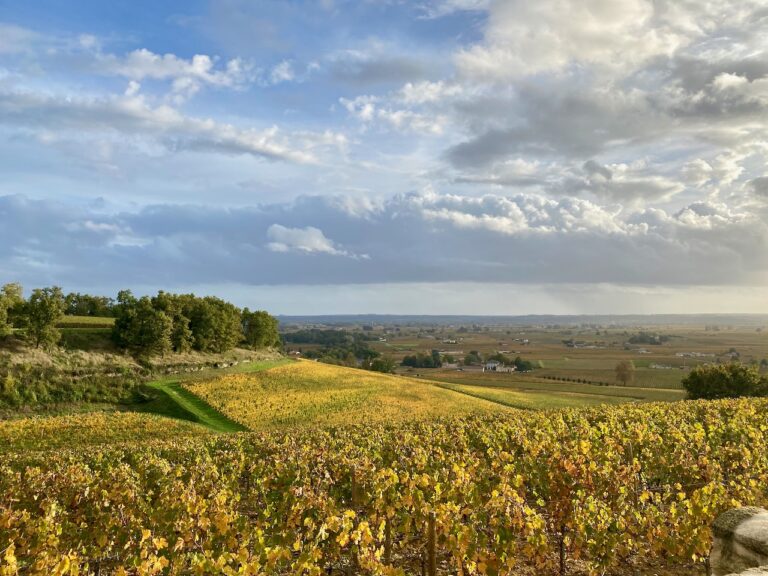 This is taken from a private road at Pavie Nord with views of the valley heading down towards the Dordogne river beyond. No cars are allowed along here but walkers are permitted.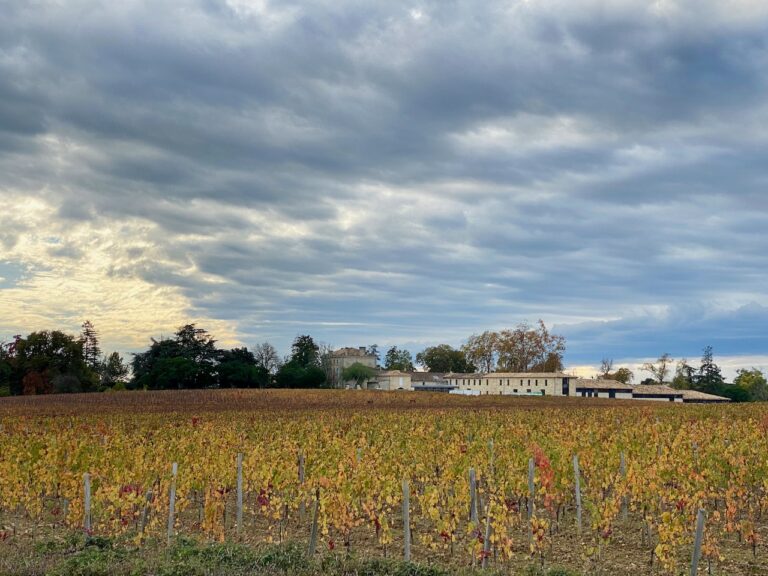 With enough landscapes under our belt, it's off to a quite different corner of Saint-Émilion, heading towards Pomerol. A new winery is being built at Château Figeac.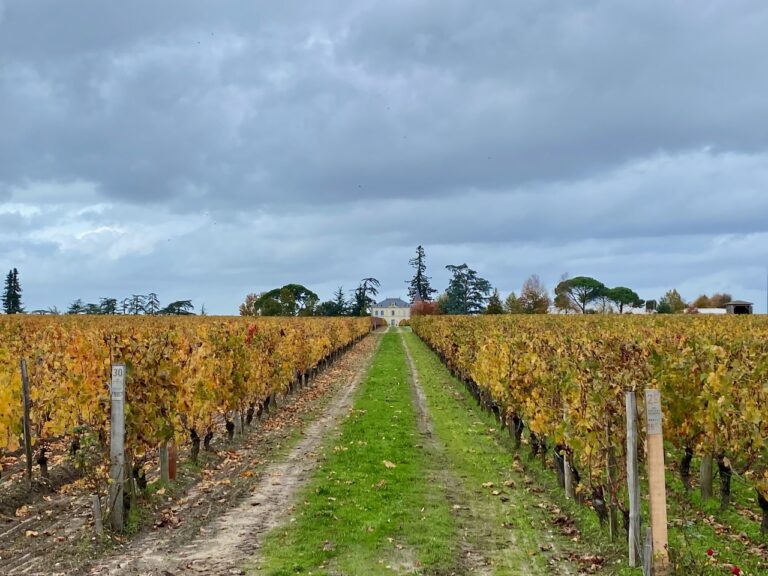 Almost opposite is Château Cheval Blanc, one of the most famous vineyards in the world. This is a view from the back of the house, with two blocks of Merlot planted either side of this row. One from 1987, the other 1951, according to the little metal plaque on each post. The estate is known for having a high proportion of Cabernet Franc, with roughly a 50/50 blend in the wine, depending on the vintage.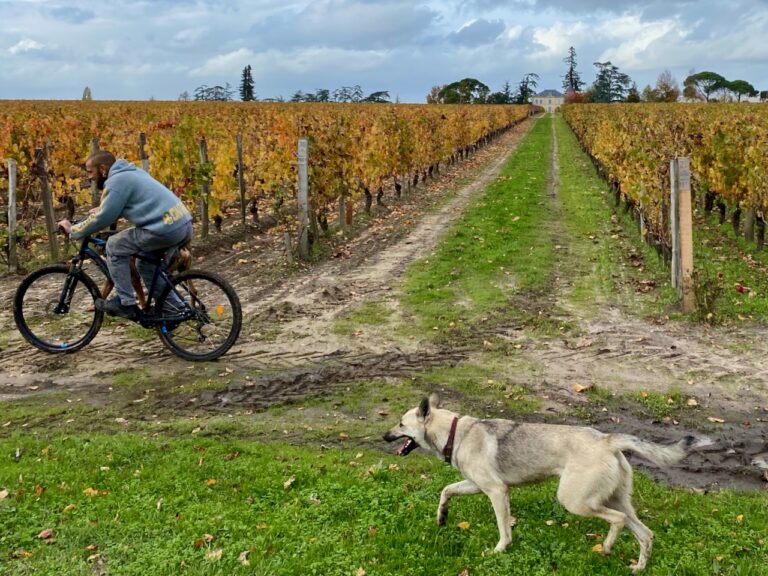 It's rare for someone to come cycling past with a dog in a vineyard, so I thought I'd record the moment. No other reason.
Cheval Blanc is a relatively large vineyard for Saint-Emilion with over 40 hectares.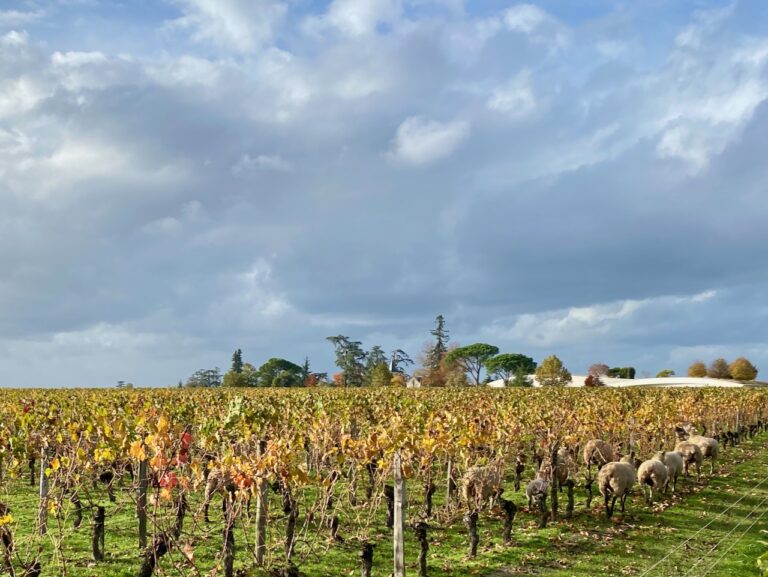 It also has an extraordinary, modern winery which you can't miss.
Joakim the photographer was keen to take as many pictures of animals as possible for the Bordeaux book, as it's about food as well as wine. It should be noted that the sheep here are providing helpful maintenance work in the vines by eating the grass. I have no idea what becomes of them. (Though Cheval Blanc is pretty good, by all accounts, with roast lamb.)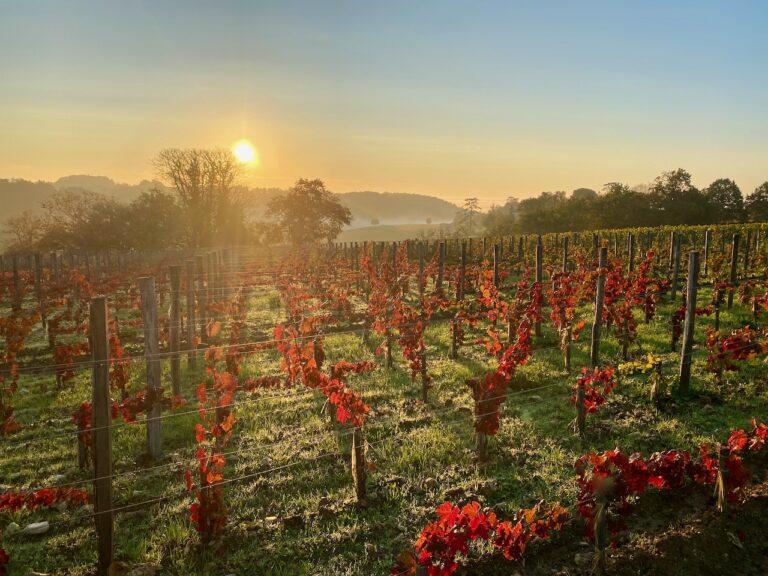 It was off to Pomerol next for the two of us, but Petrus and Le Pin et al are for another time. Joakim left on Thursday and with sunshine forecast for last Saturday, I thought I'd pop back to Saint-Émilion as I hadn't covered as much of the ground as I'd have liked.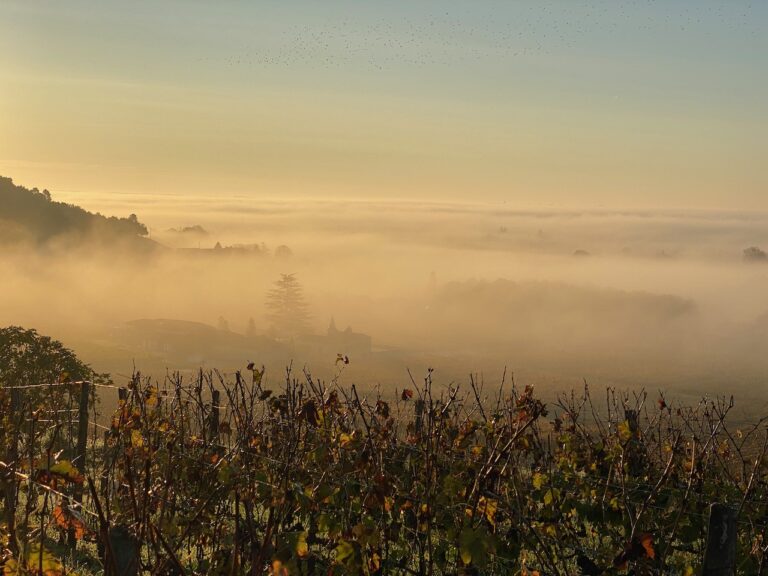 The views from the limestone hillsides can be fairly spectacular when the morning mists lift up from the valley floor. This is half an hour from home.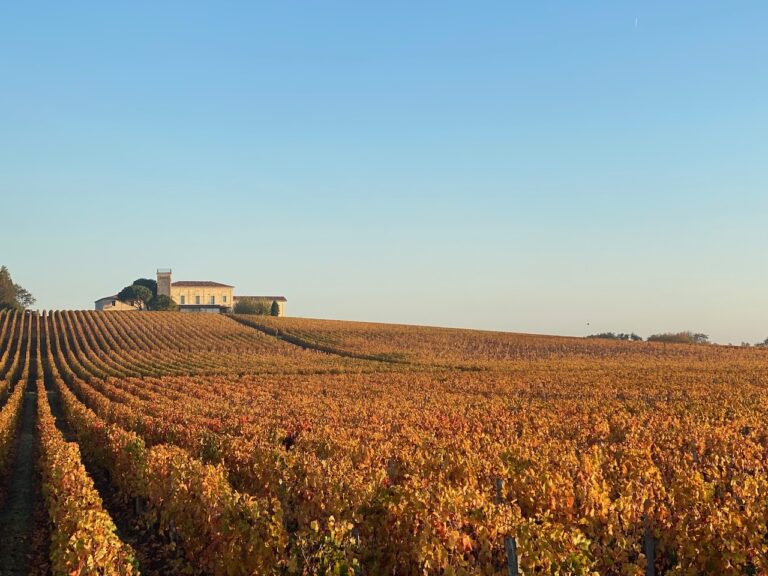 Higher up, these are the vines on the other side of Troplong Mondot that we saw earlier – the old chai and restaurant part.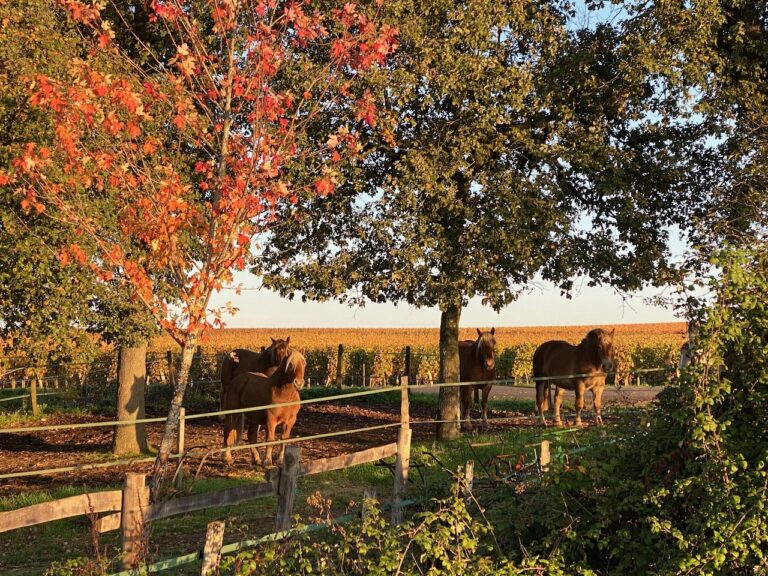 And it's where the horses that work in the vineyards are kept.
A view from the Pavie and Mondot sectors towards Châteaux Ausone and Belair Monange.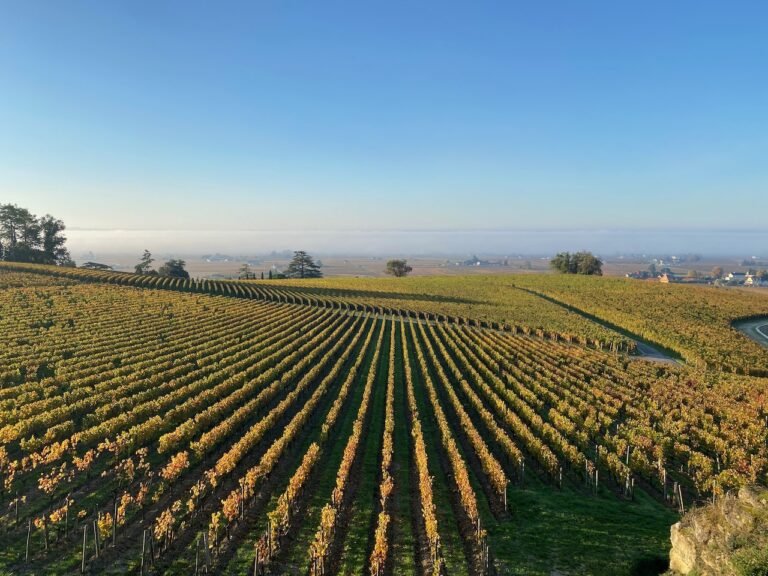 Not a bad walk on a Saturday morning.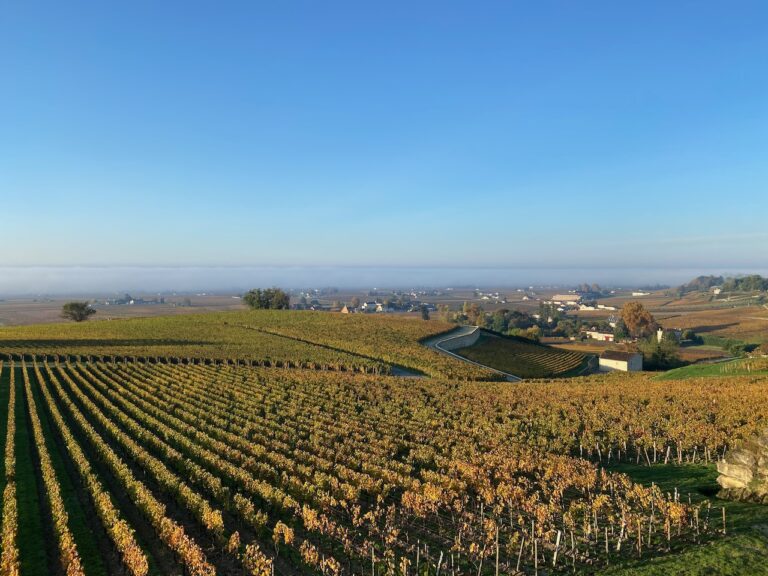 Now really one should just enjoy the view but if you're a wine geek you can't help but try and identify all the buildings and vineyards.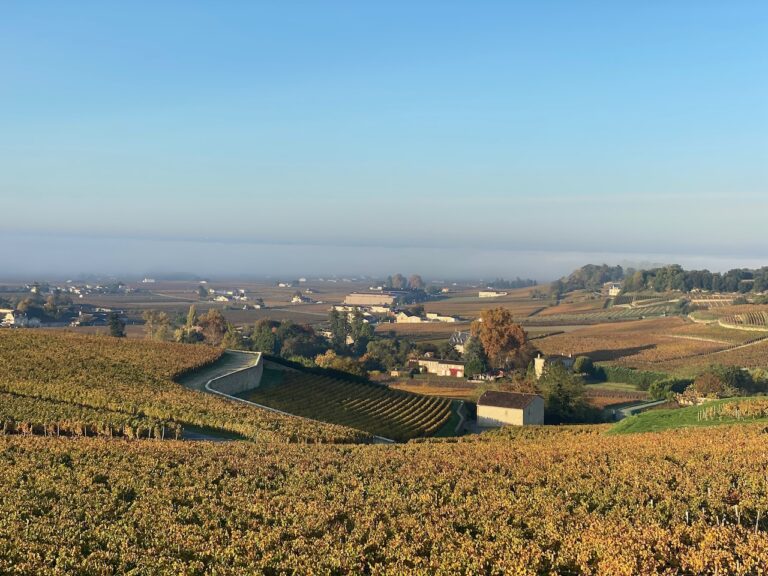 Actually, it's not that difficult because much of what you see here can be spotted quite easily from the road that runs up from the main Libourne-Bergerac route a few miles away, past the railway station, to the town of Saint-Émilion.
The large, pinky building in the middle is the cave co-opérative of Saint-Émilion, which makes wine from growers who look after about 700 hectares. The house near the centre, with windows in the roof and next to the large autumnal tree, is Château La Gaffelière. It's a Saint-Émilion Premier Grand Cru Classé. In the distance, set on the hillside on the far right, is Château Fonplégade, a Grand Cru Classé. I'll explain the classification further down.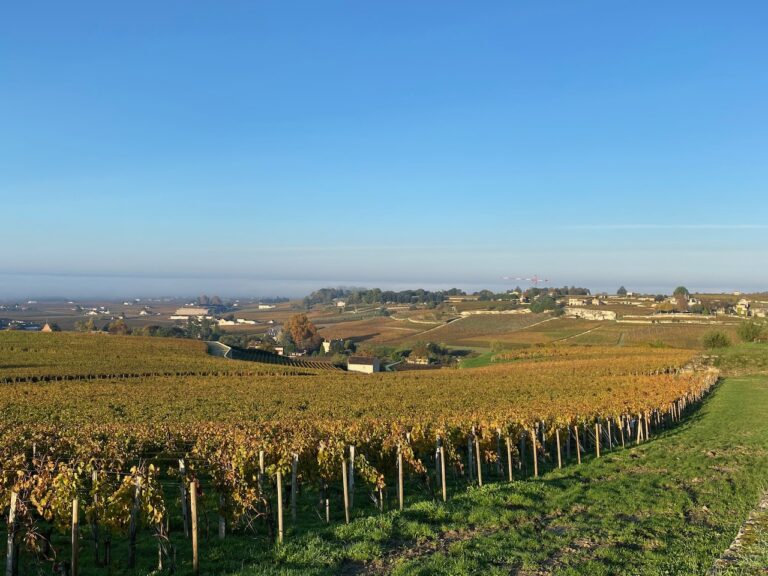 This more distant image shows the Premier Grand Cru Classé, Château Belair Monange (where the crane is in operation for the new winery), and on the right is Château Ausone, Premier Grand Cru Classé 'A'.
This little corner of the appellation of Saint-Émilion is quite interesting as it shows just how much wine can vary in price. From the Cave Co-op, you'd typically pay around €12 plus VAT for a top recent vintage, such as 2016. (Many of the independent, unclassified Grand Cru châteaux nearby might charge more.) You'd find Château Fonplégade 2016 for around €36 and Château La Gaffelière 2016 for about €60, both ex tax. Château Belair Monange 2016 costs around €120, while Château Ausone 2016 is about €600 plus tax. These châteaux all make very good to outstanding wines, so it's all about relative values.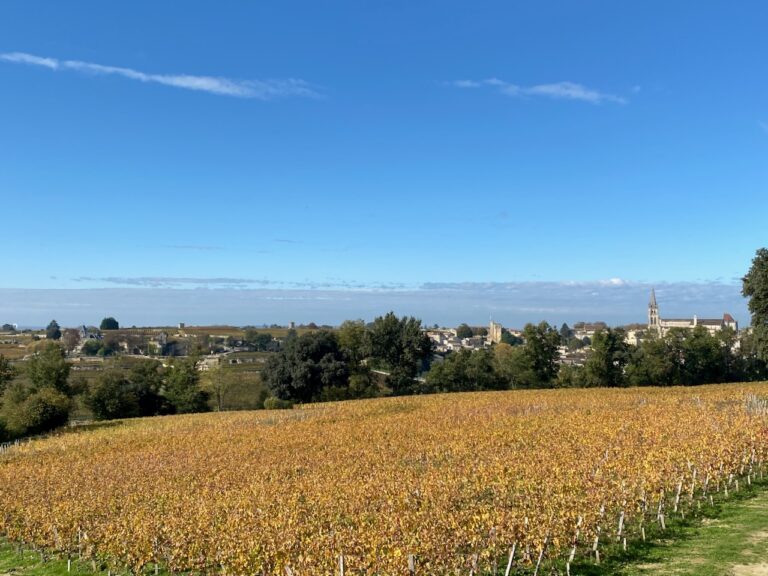 Château Ausone on the left, with Saint-Émilion on the right. There are just seven hectares of vines at Ausone, split between Cabernet Franc and Merlot.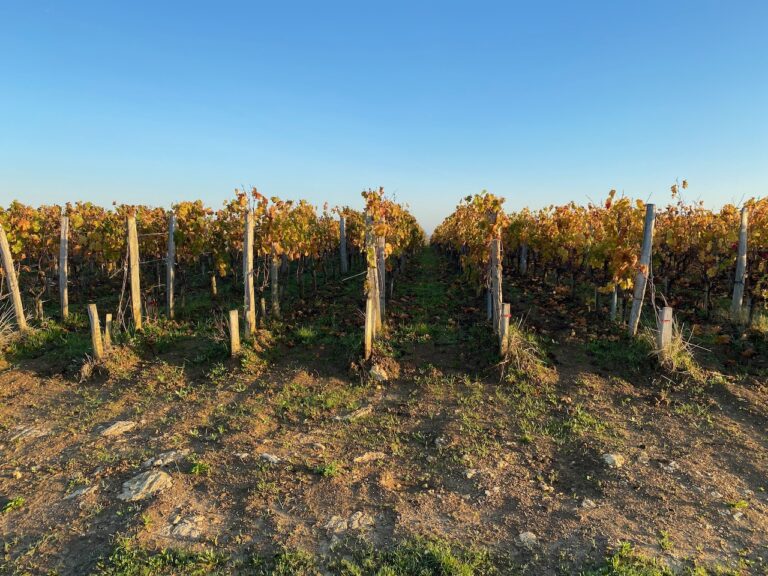 For many vineyards here, the limestone is just below the surface.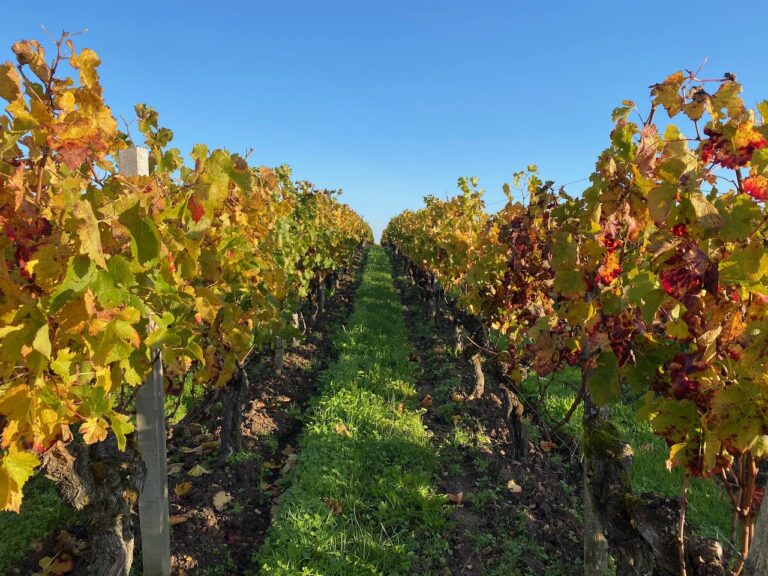 The vines – mostly Merlot – thrive on well maintained ground with just enough sustenance coming from the limestone below.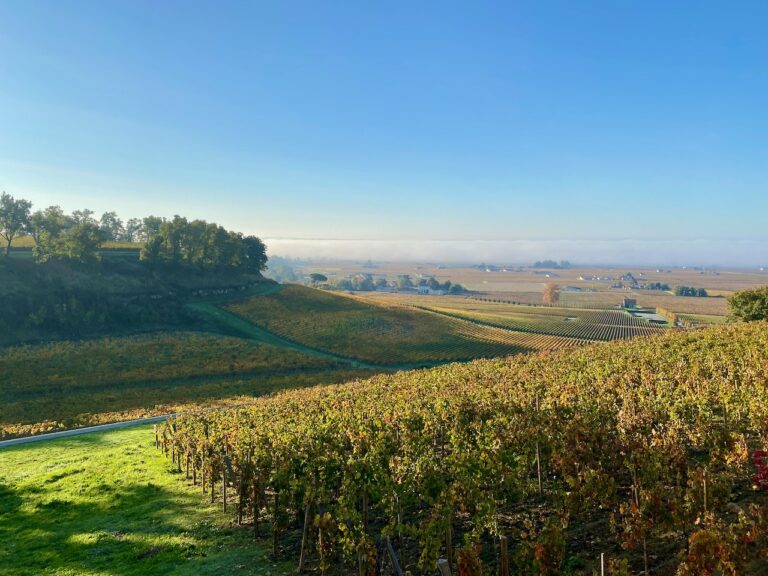 Time to take in more views. Pavie Nord in the morning light.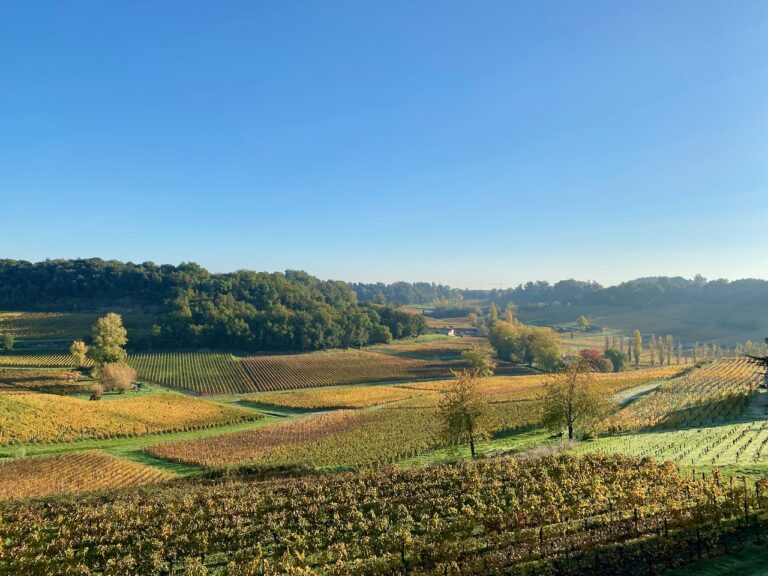 Down on the right of this wonderful landscape is Château Godeau. There's a punchline waiting there somewhere but it escapes me.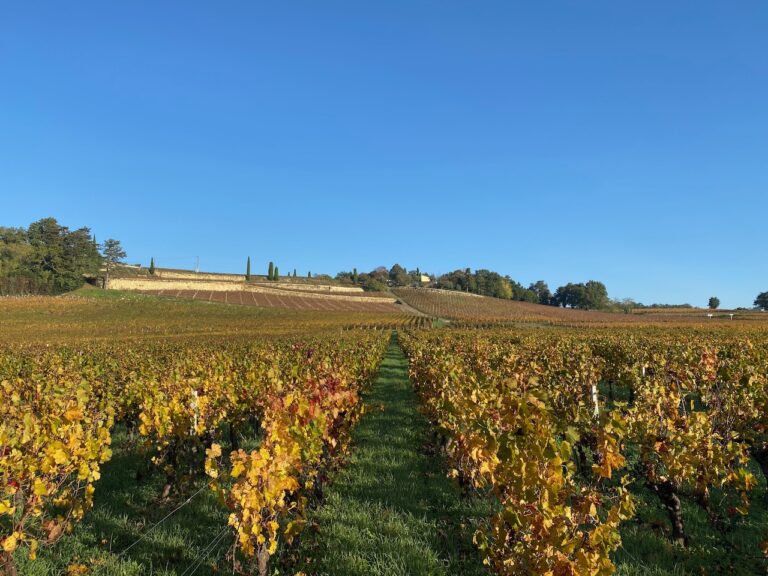 Looking back up the slope towards Château Tertre Rôteboeuf, hidden in the trees. It translates as hill of the belching beef, allegedly.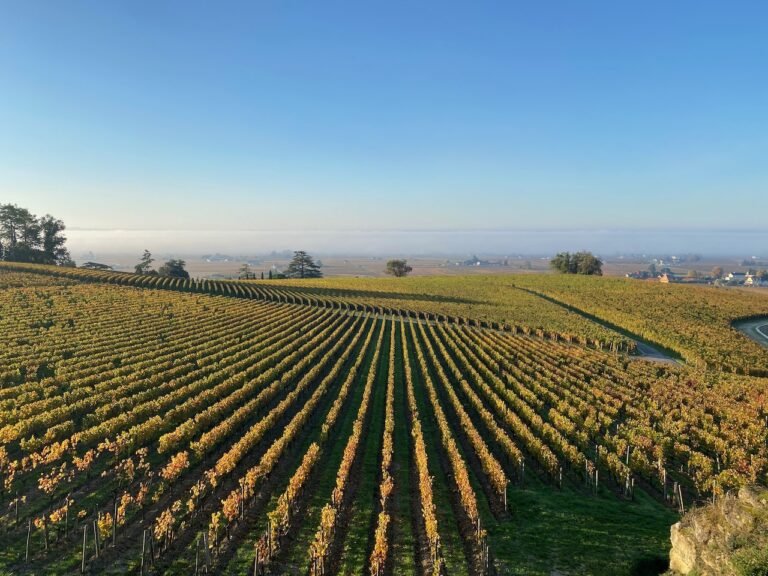 A kilometre along the same road, there's Château Pavie. It has been completely transformed since the Perse family took over in the late 90s.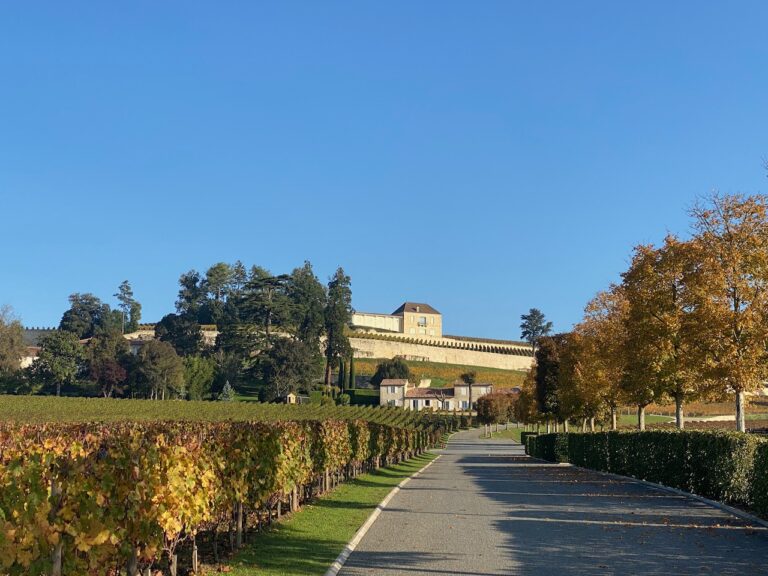 Looking up the drive towards Pavie Decesse and Pavie Nord.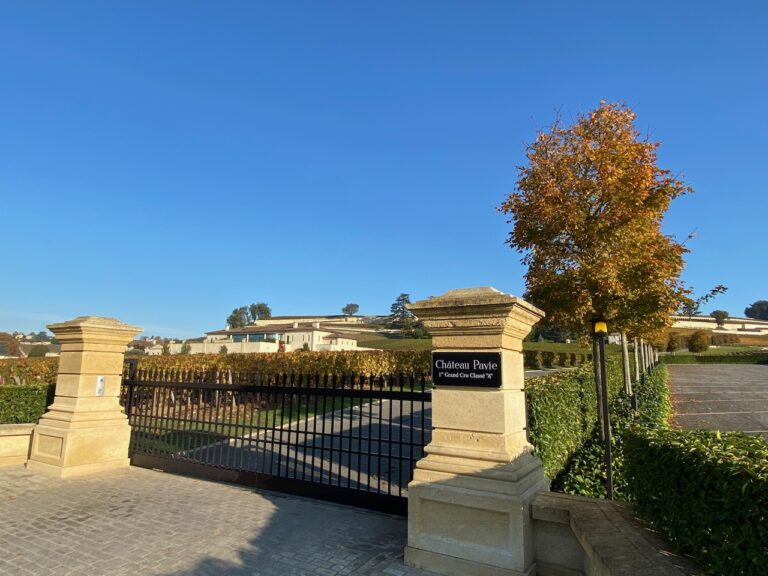 Pavie was upgraded to Premier Grand Cru Classé 'A' in the 2012 classification of Saint-Émilion.
A quick explanation, if there can be such a thing, of the Saint-Émilion classification. Firstly, 'Saint-Émilion Grand Cru' doesn't mean a lot, to me at least. Compared to the other famous areas of Bordeaux, Saint-Émilion covers a large area and at over 5,200 hectares it's bigger than the four famous appellations of the Médoc – Margaux, Saint-Julien, Pauillac and Saint-Estèphe – put together. Likewise Pomerol, next door to Saint-Émilion, is just 780 hectares. As 80% of the Saint-Émilion appellation qualifies for the label 'Grand Cru' it's not of great importance.
The Saint-Émilion Classification, on the other hand, covers relatively few estates. There are 18 châteaux ranked as Premiers Grands Crus Classés (1er GCC) and 64 Grands Crus Classés (GCC). Four châteaux in the 18 - Ausone, Cheval Blanc, Pavie and Angelus - are classed as Premiers Grands Crus Classés 'A'. Pavie and Angelus were promoted and joined the other two in the 2012 classification.
The classification is revised every 10 years, with potential promotions and demotions.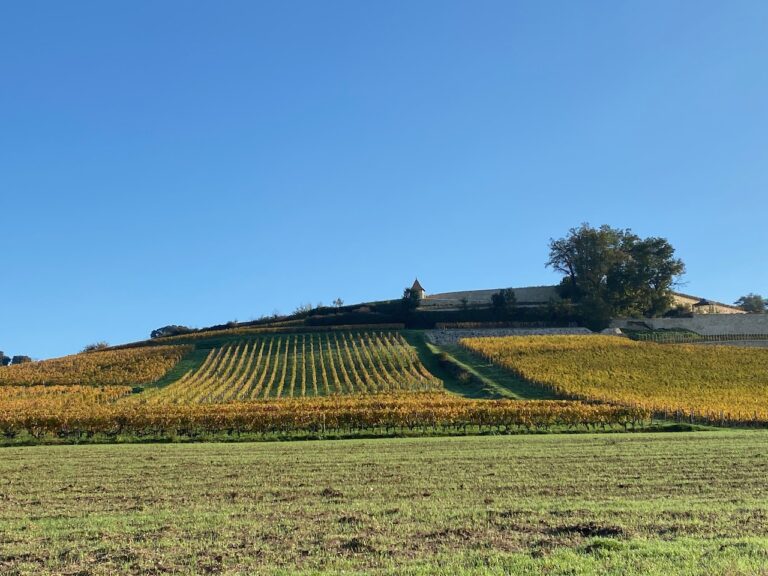 Prime vineyard land at Pavie that's lying fallow for the ground to recover before replanting.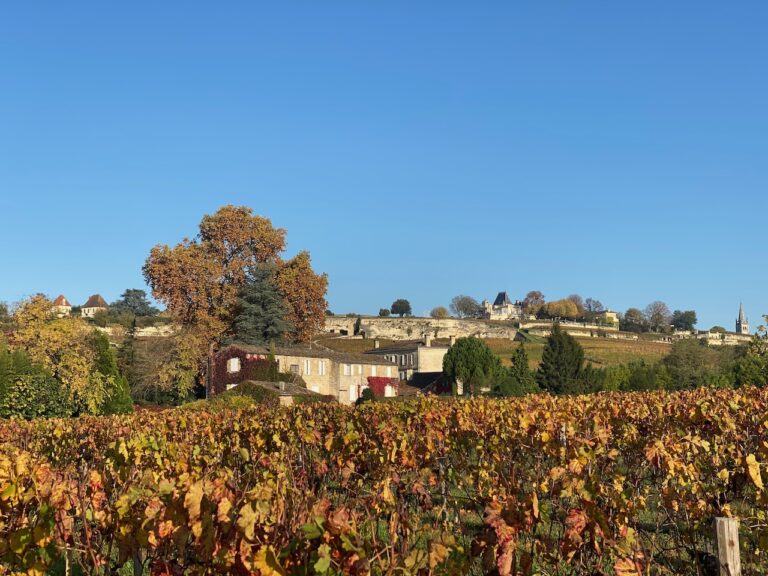 Vines at La Gaffelière, looking up towards Belair Monange on the left and Ausone centre, on the hilltop.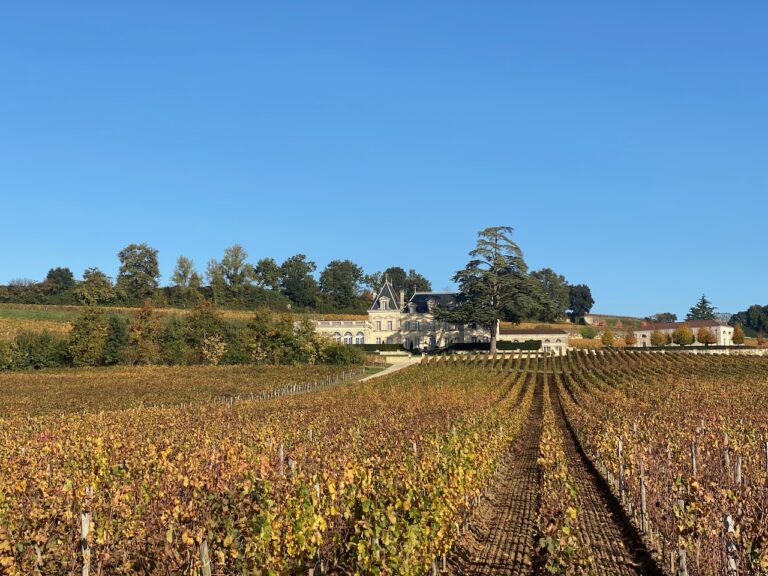 Château Fonplégade, as mentioned earlier. The vineyard is organically farmed.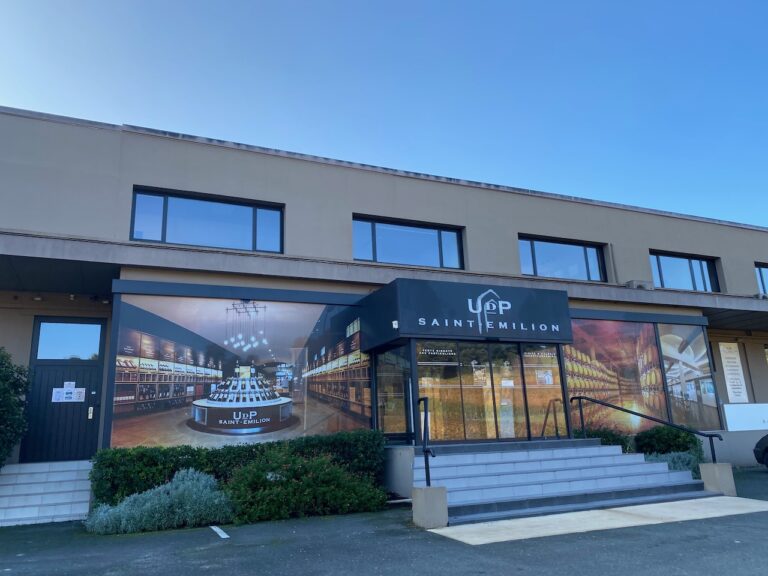 The cave co-operative, opposite.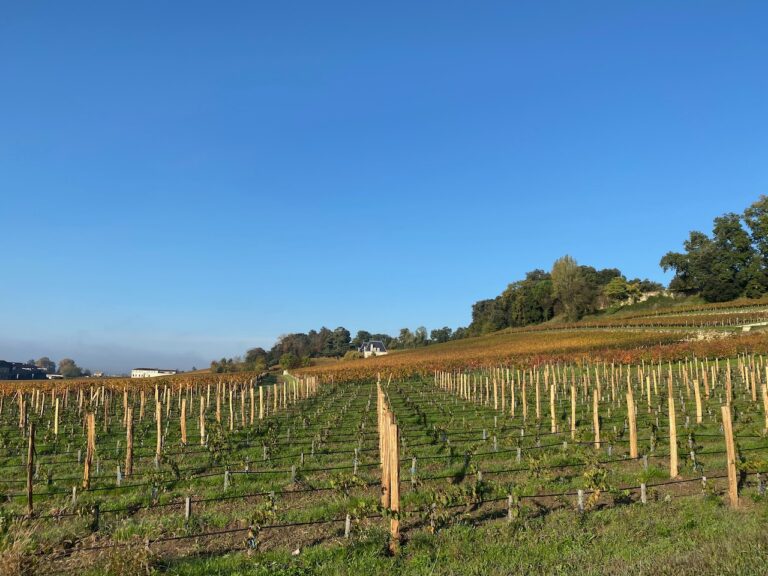 Young vines with temporary irrigation pipes. Only vines that are not yet in production – usually up to three years old – can be irrigated.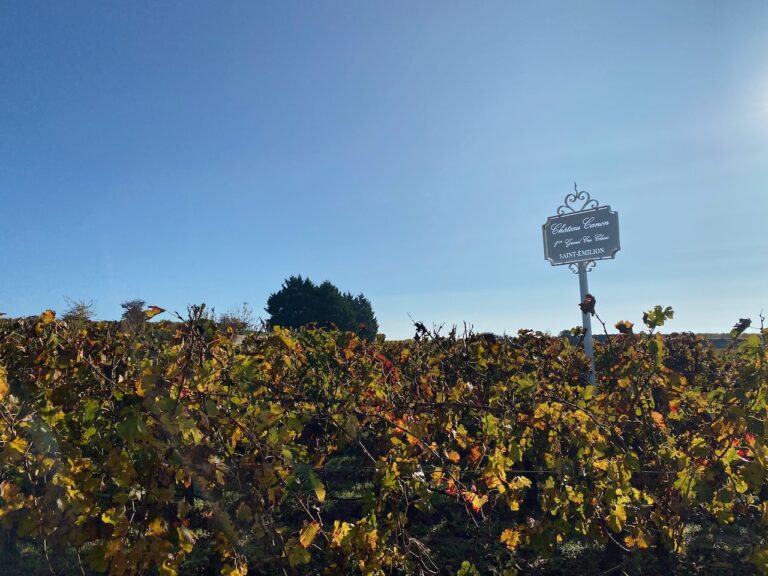 Past the vines at Château Canon, 1er GCC.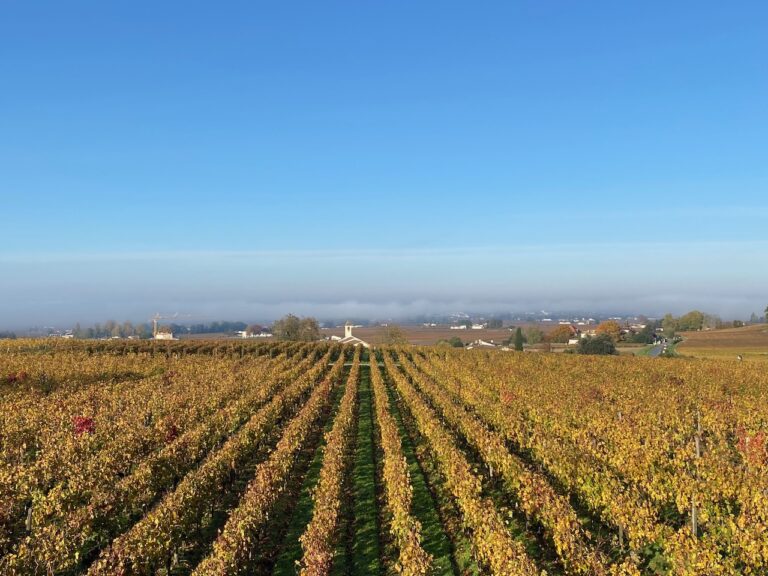 Vines of Château Canon overlooking the valley towards Libourne. The yellow crane you see is for another winery construction.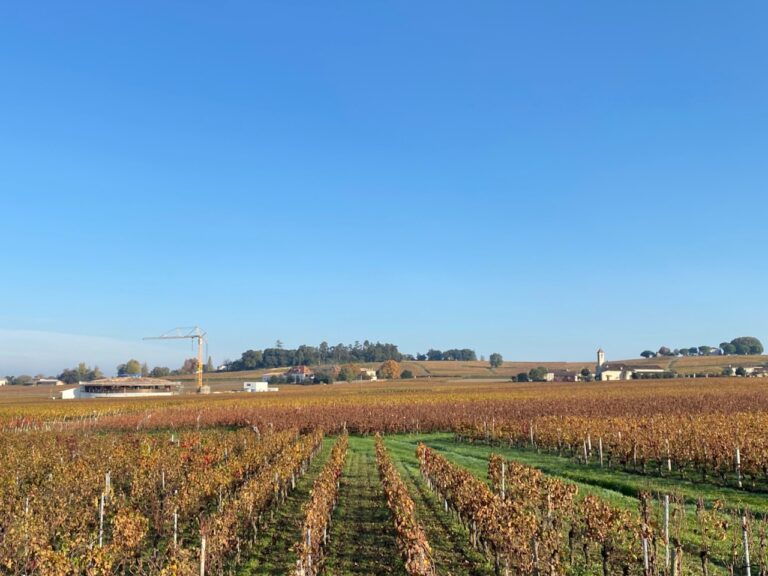 The new winery, designed by Sir Norman Foster, is being built for Le Dôme. Our friend Jonathan Maltus, who created the wine Le Dôme from a small plot nearby, hasn't been at all well but is thankfully on the mend. In the centre, beyond, is Château Angelus.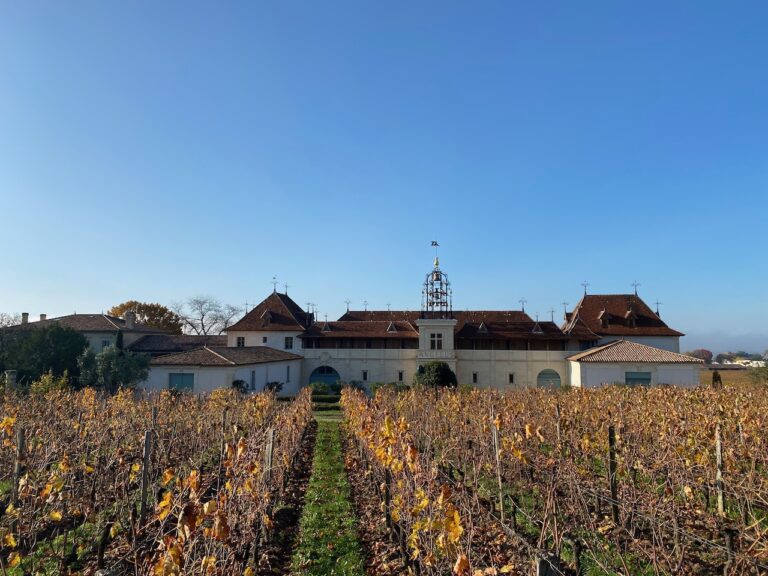 From the vineyard above Angelus.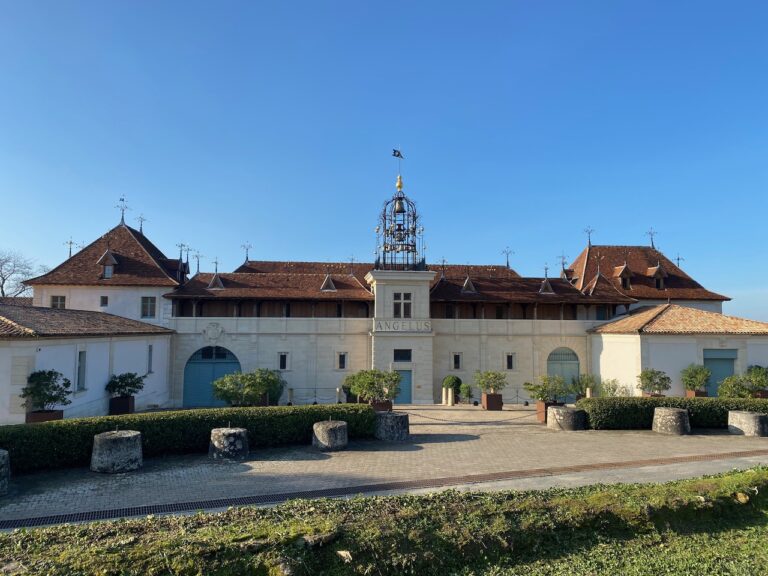 Angelus was promoted to Premier Grand Cru Classé 'A' in 2012 and parts of the winery and buildings have been completely restored and upgraded.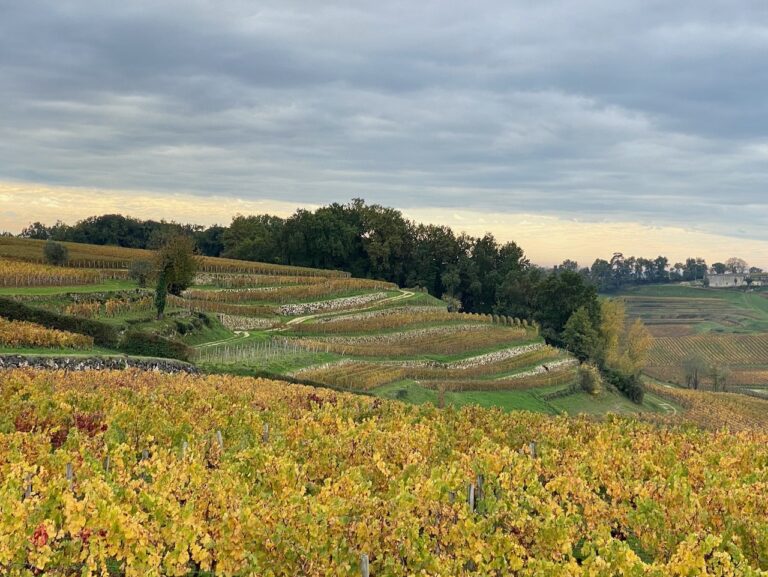 The Angelus logo is a bell. No longer just any old bell tower, this.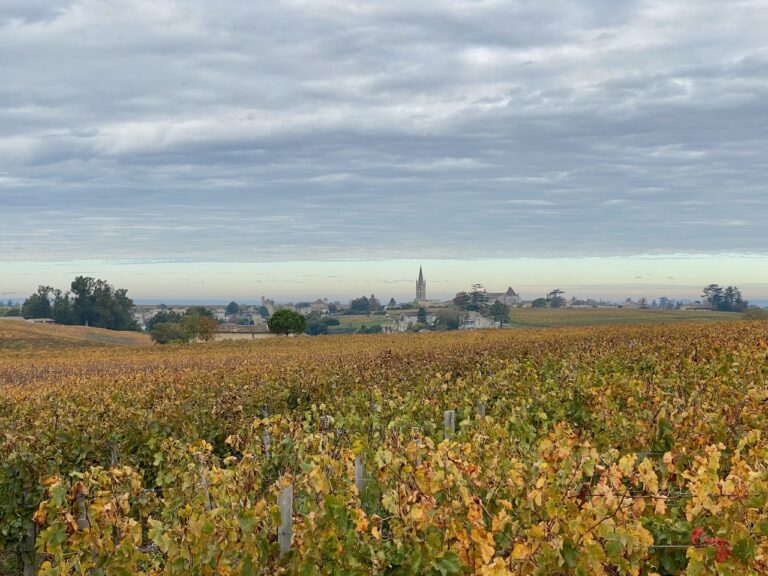 Funnily enough, on Monday I had to see someone about some wine and had to pop back to the other side of Saint-Émilion.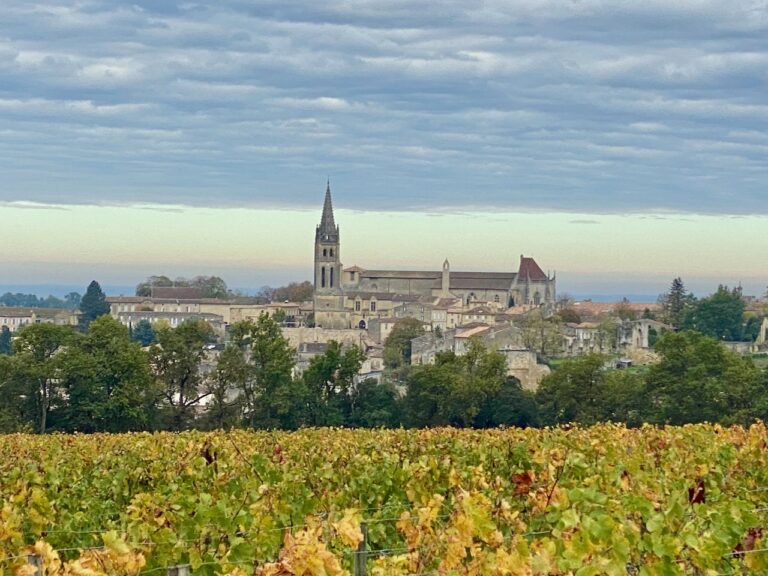 It was an overcast morning. This is the view from the small road near Château Trotte Vieille.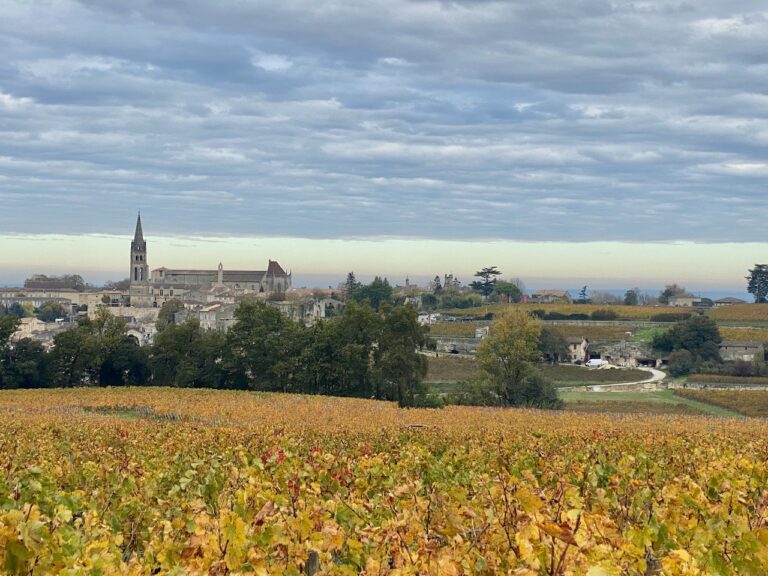 A view of the town from the vines.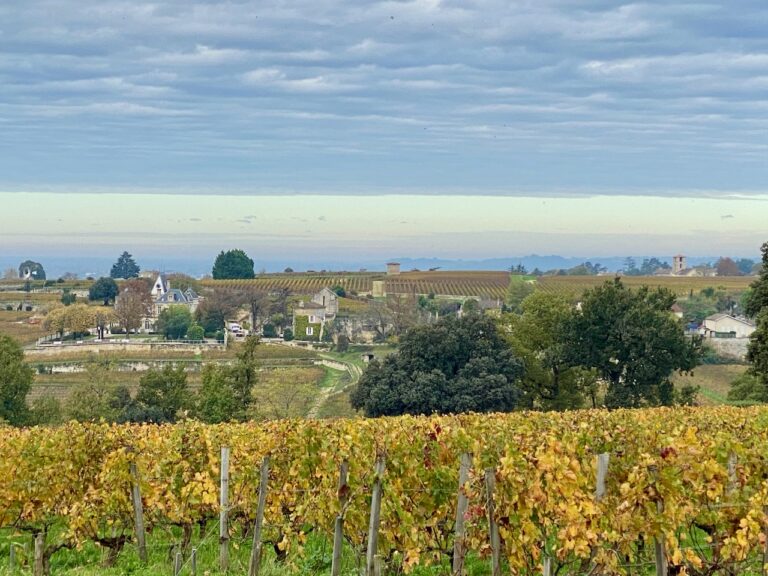 Plenty of opportunities for my 'Châteaux with vans blancs' photo album.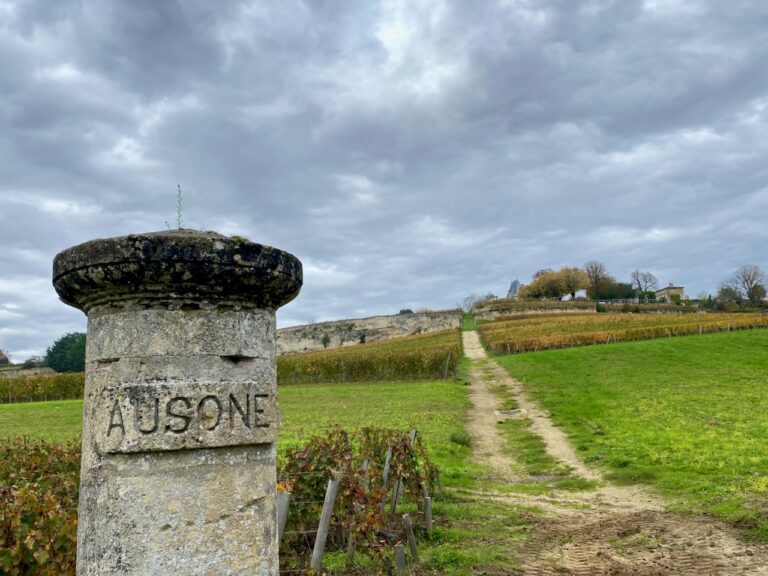 Château Ausone on the left, and in the distance on the right, the church next to Château Canon.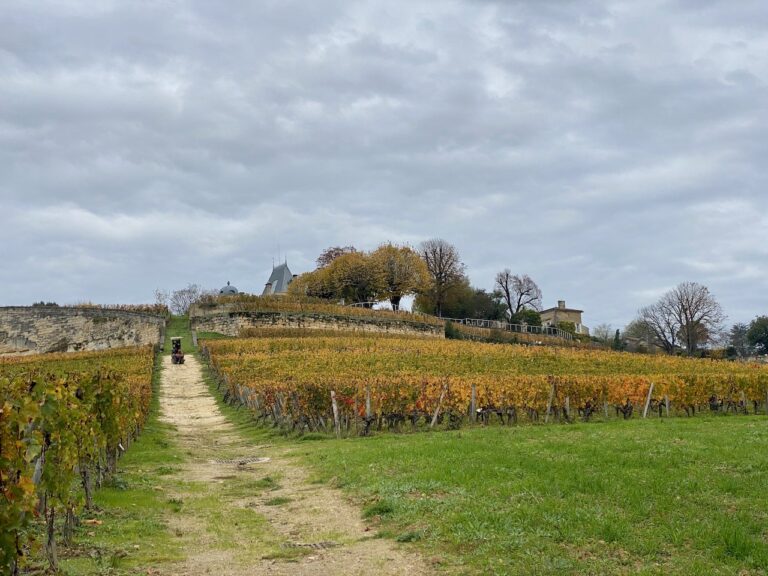 I could see that they were working in the vineyards so I popped down to take a look.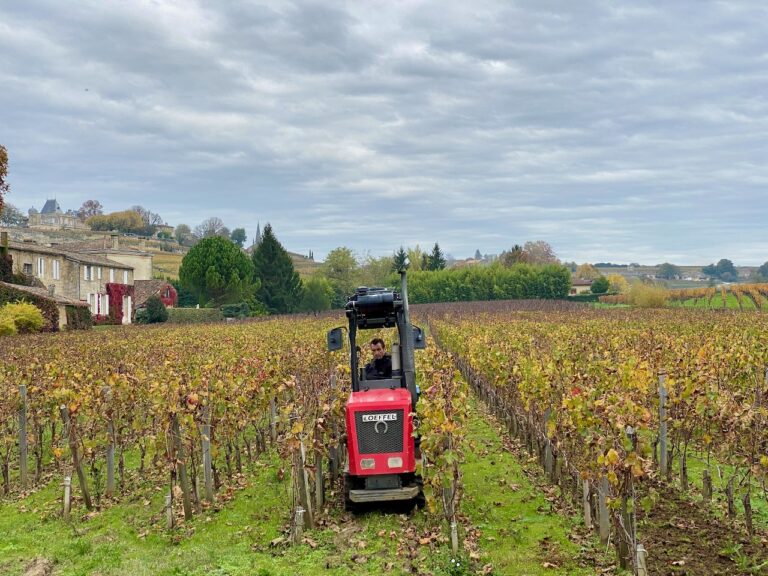 Diddy little machines for turning the soil in such narrow rows.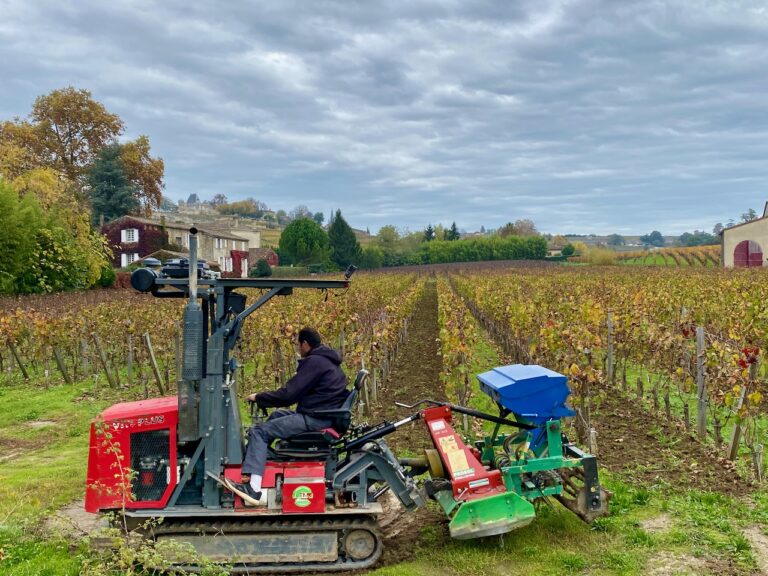 This is Château La Gaffelière next door.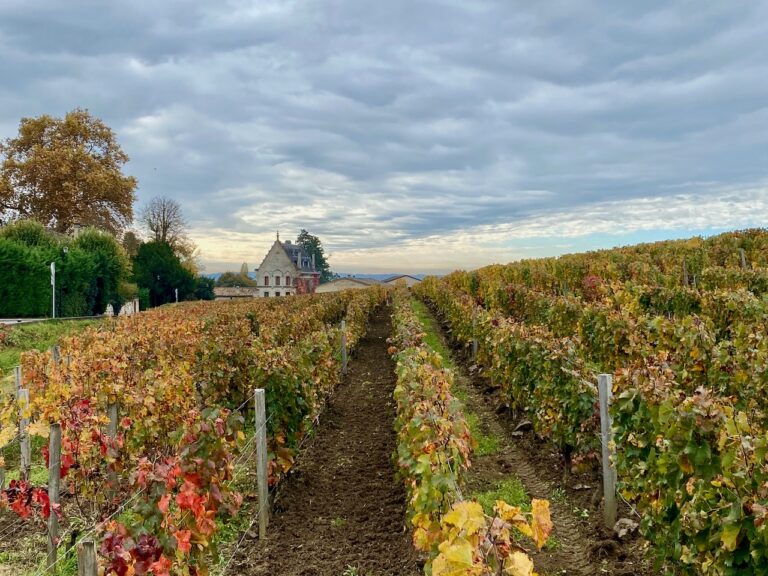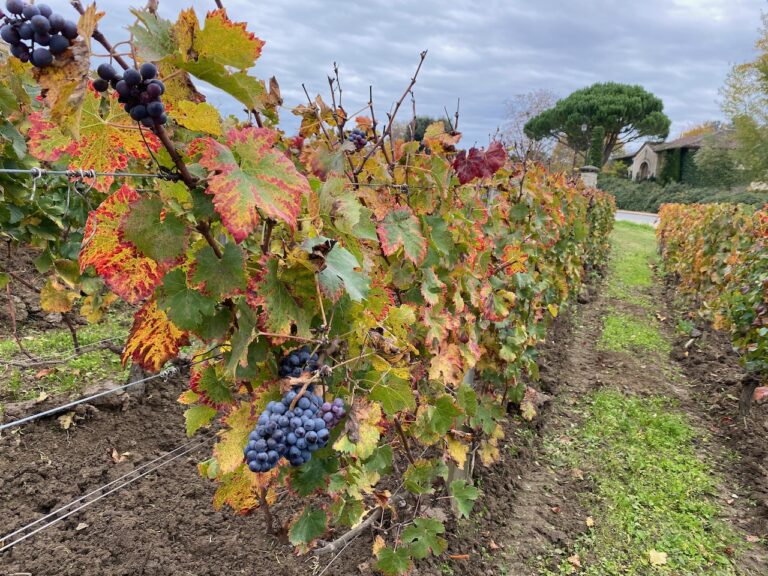 Château La Gaffelière.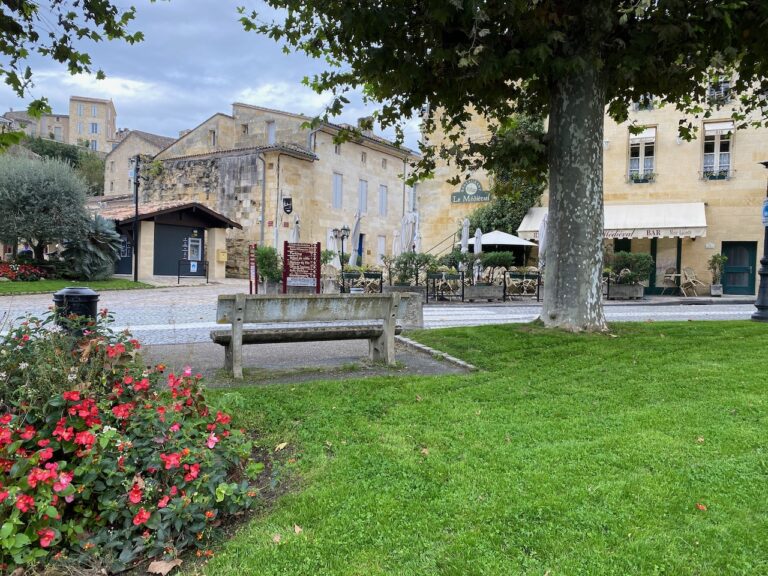 Some of the lesser, unripe and unused bunches are still on the vines.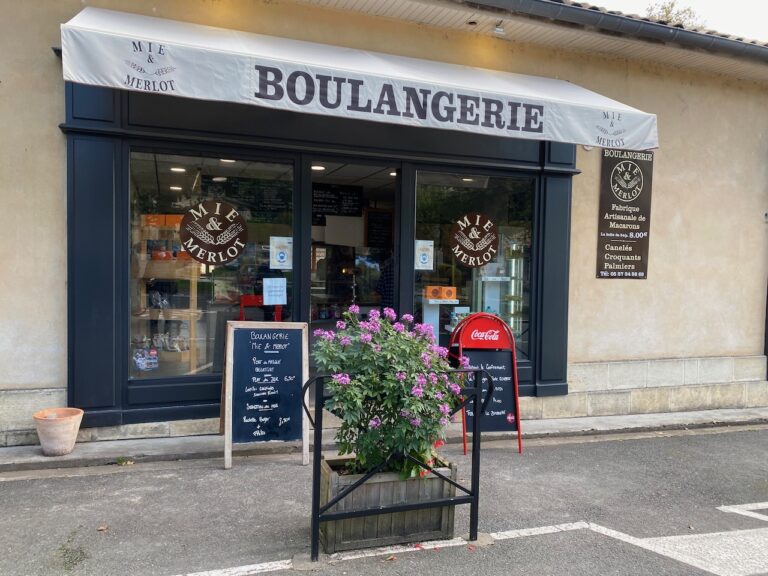 The car park at the foot of Saint-Émilion is a few hundred metres away.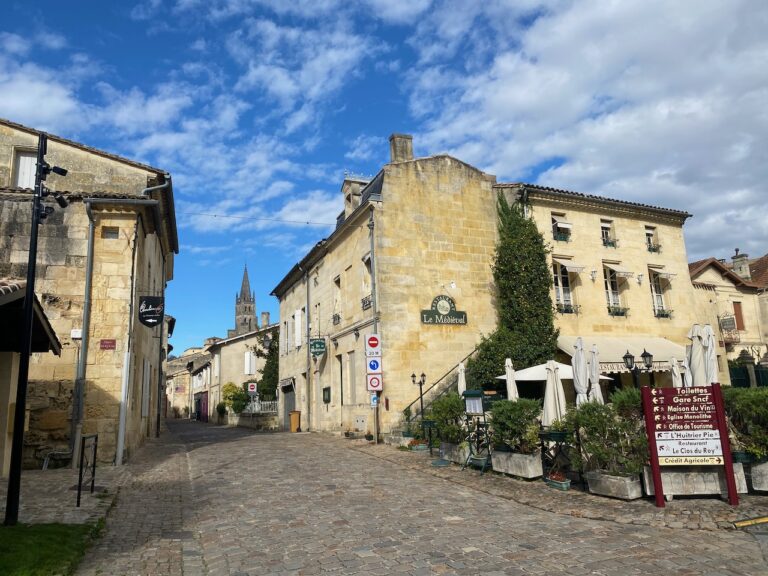 The local Boulangerie, called Mie & Merlot, is doing some brisk takeaway business until 2pm, six days a week. The Plat du Jour is a classic – sausage, lentils and frites for €6.50. Something for everyone, though mine's a simple baguette sandwich.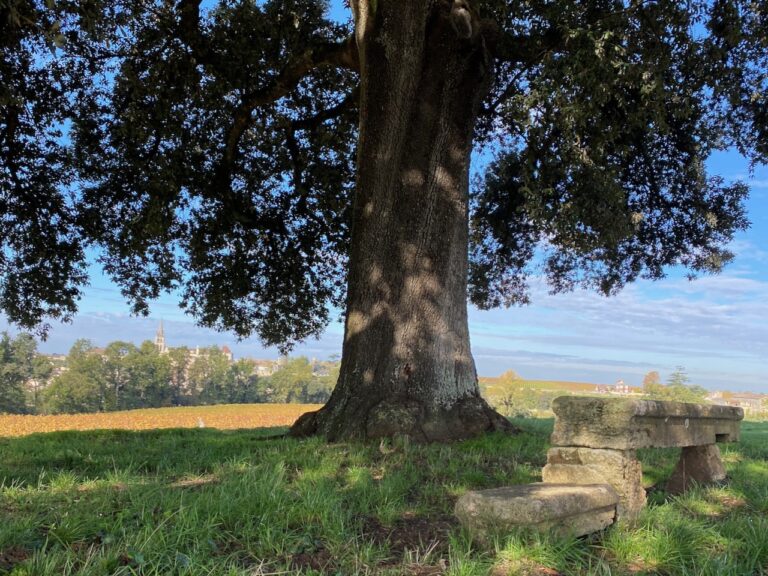 A tourist-free zone. While I was in the boulangerie, the weather cleared.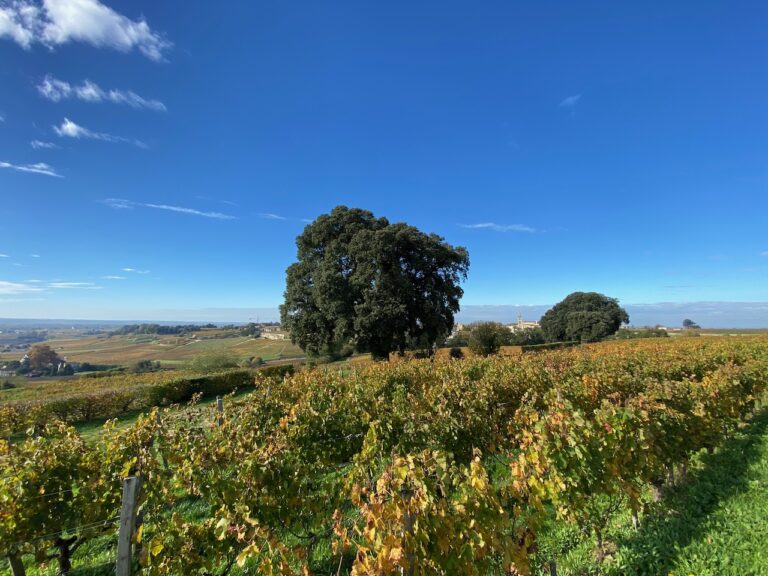 These days it's possible to find a quiet spot.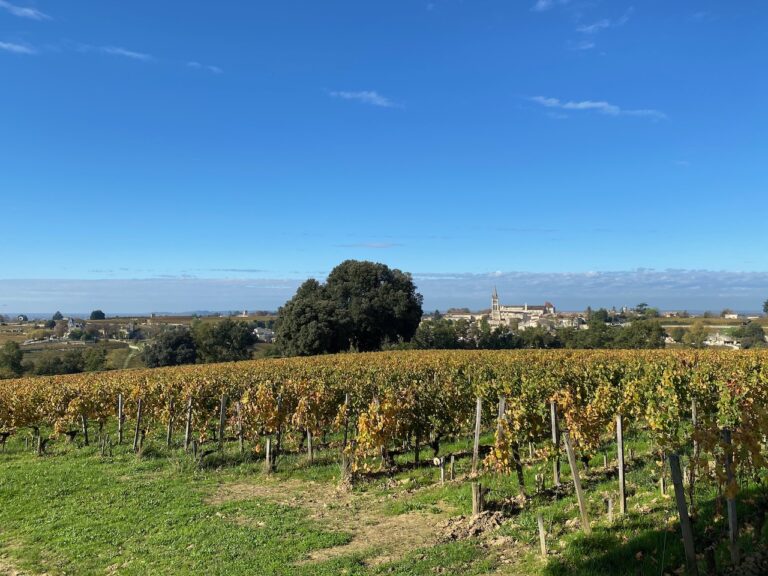 Saint-Émilion vineyards on a lovely autumn afternoon.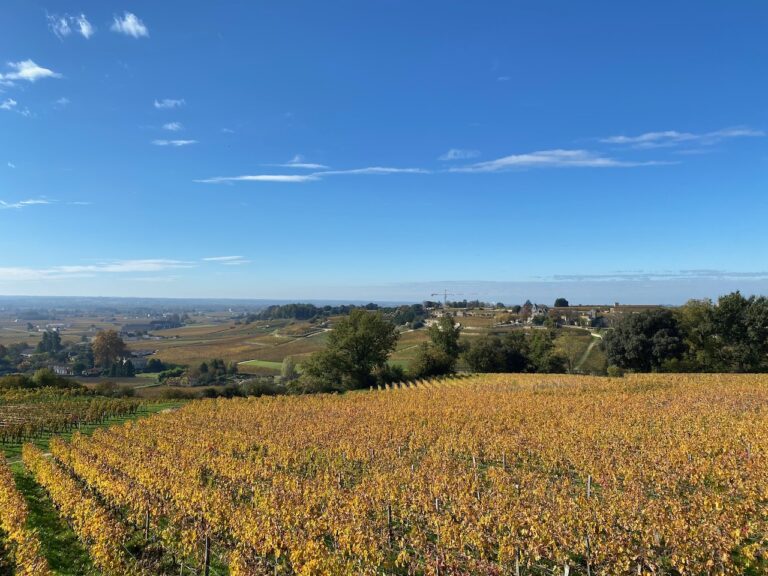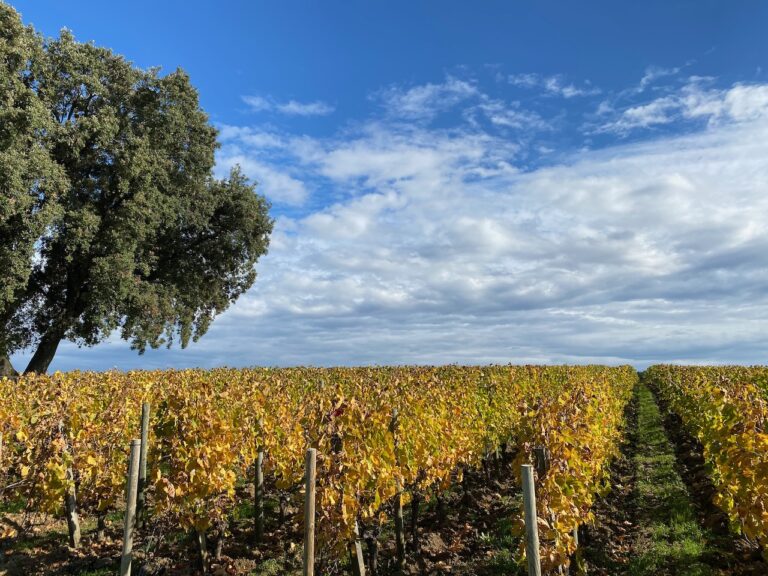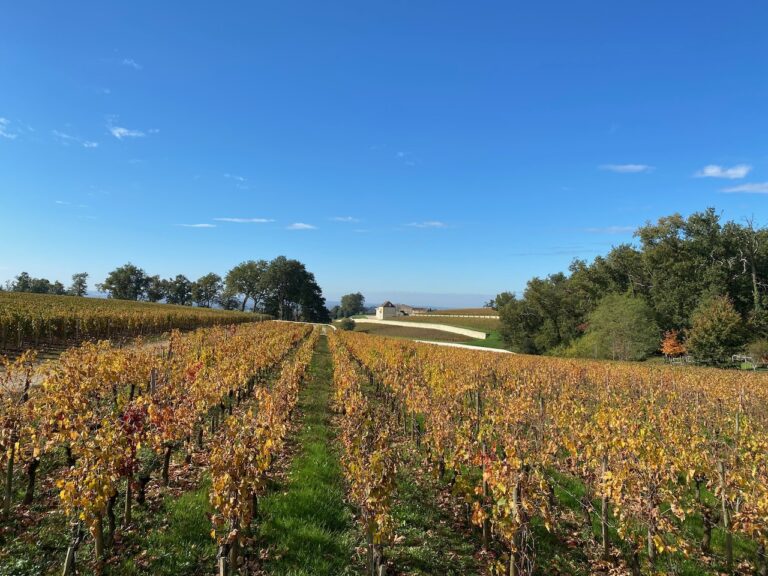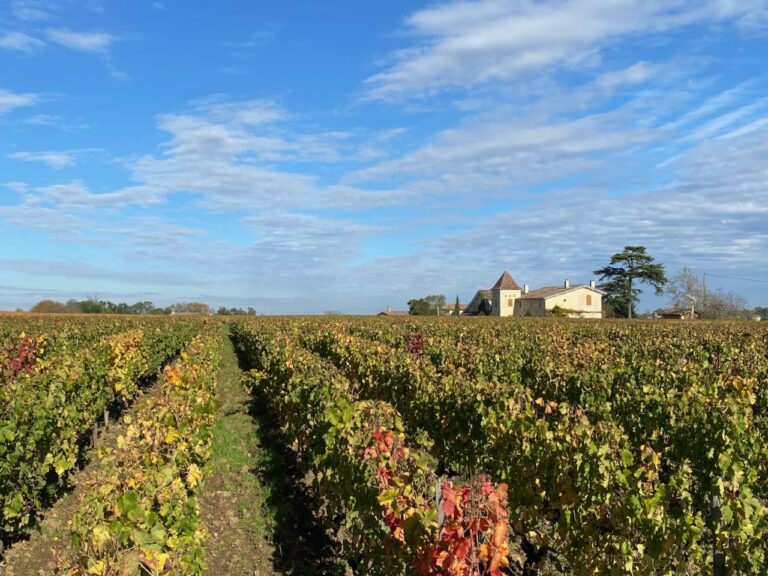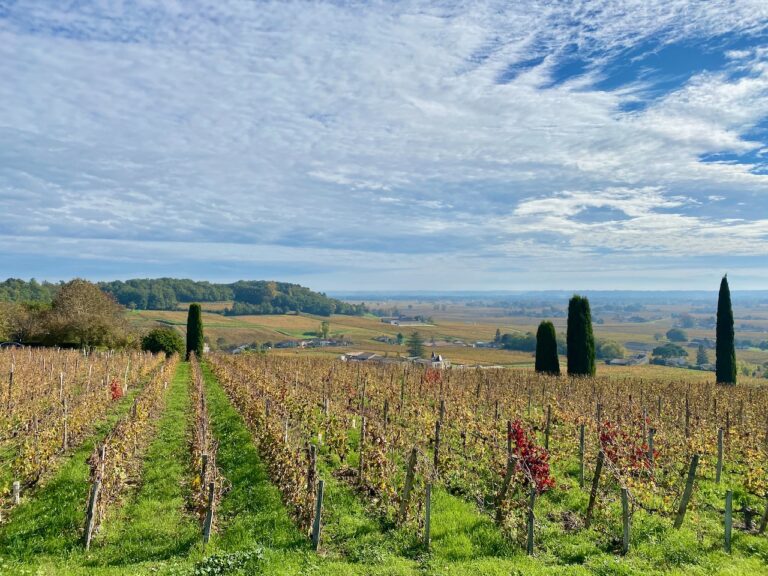 Not many people know this building. La Mondotte, a Premier Grand Cru Classé.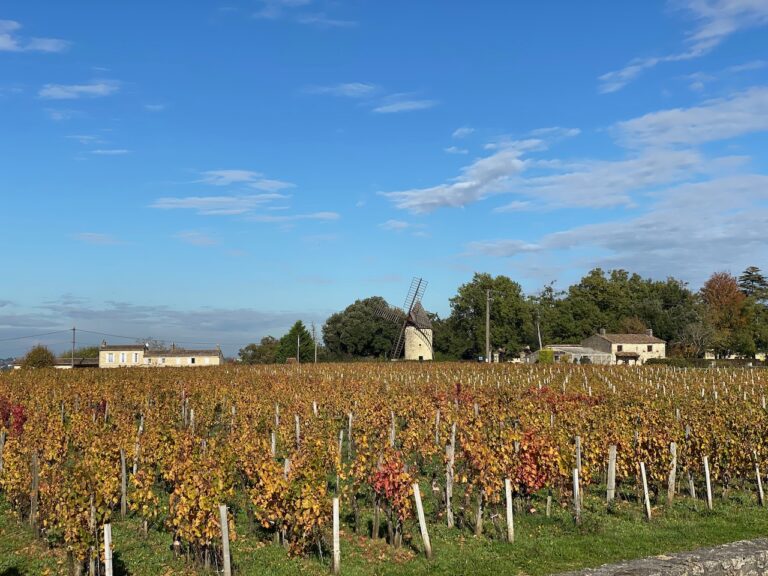 View from Château Tertre-Rôteboeuf. One small estate that shows you don't need to be classified to make great and much sought-after wine.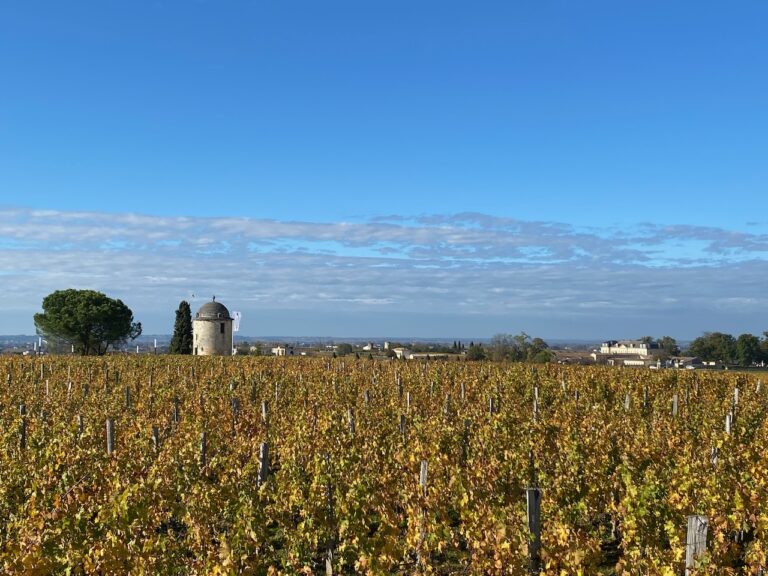 The windmill at Château Haut Sarpe, a Grand Cru Classé.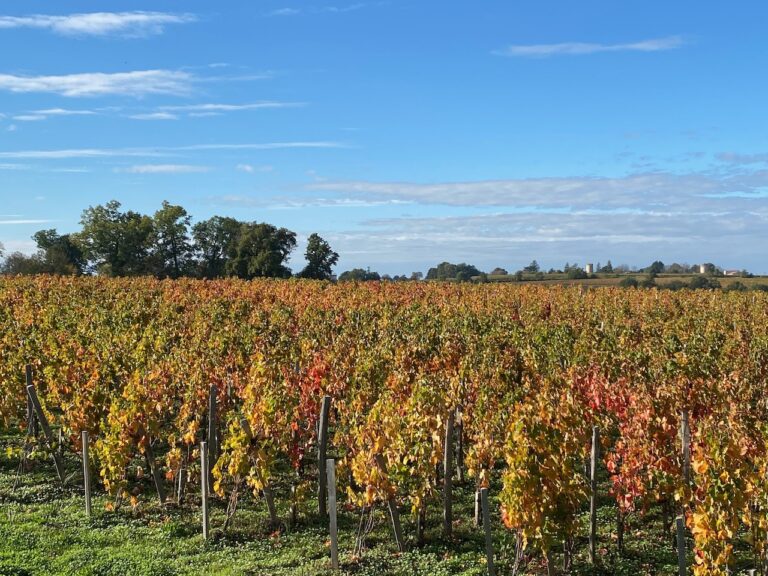 View from Château Balestard la Tonnelle towards the imposing Château Soutard. (Both GCCs.)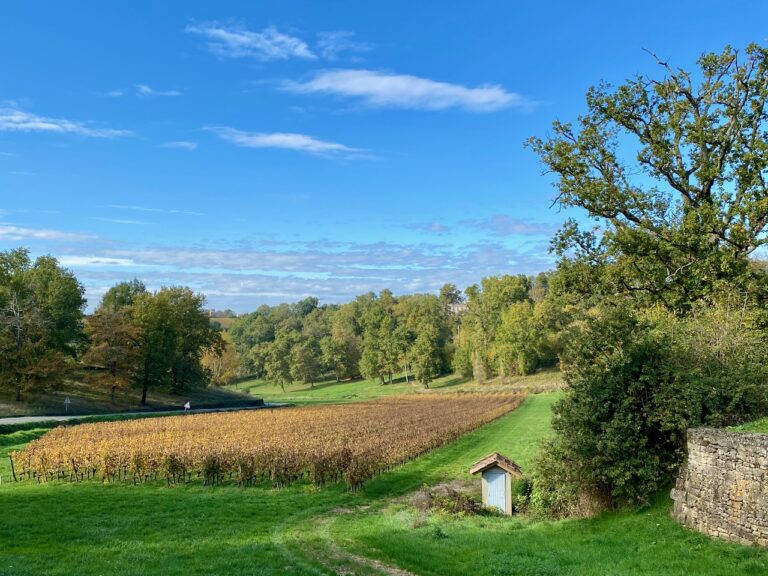 Autumn colours at the entrance of Château de Ferrand, Grand Cru Classé.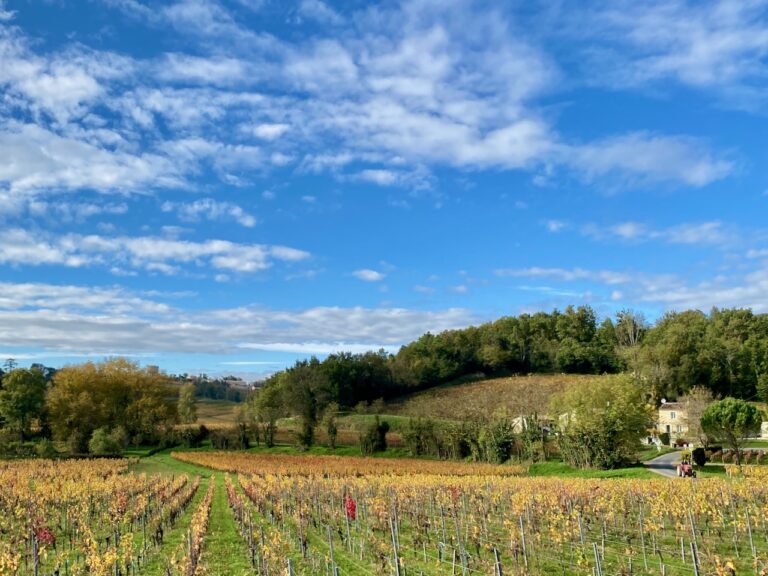 You can just see Château Laroque, GCC, through the trees.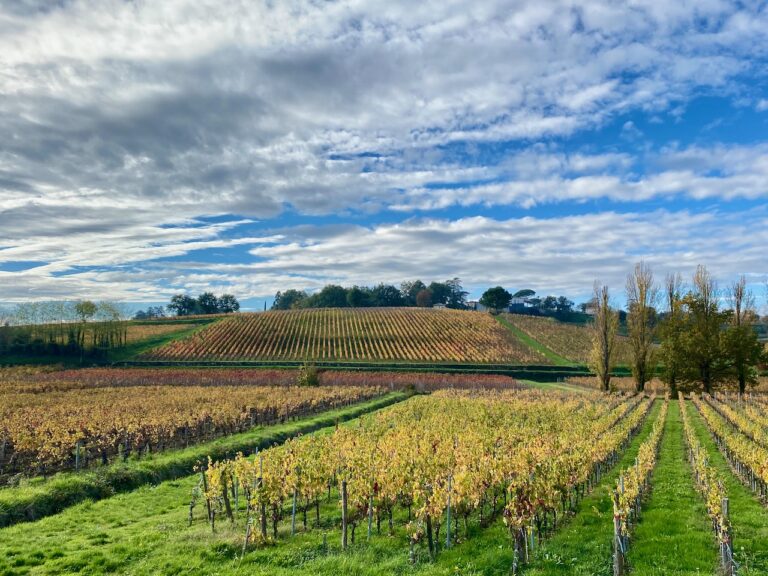 I was quite pleased with this as I managed to get the tractor in before he sped off.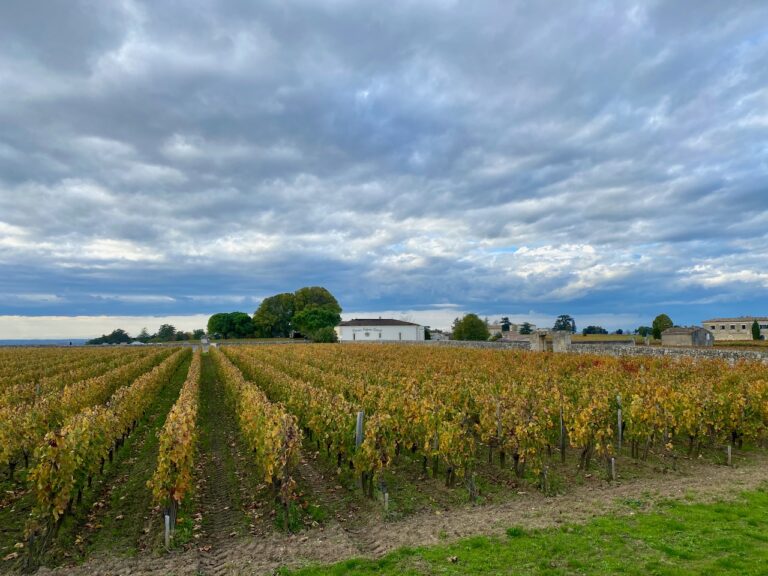 Gorgeous colours in the vines before 'fall' is over.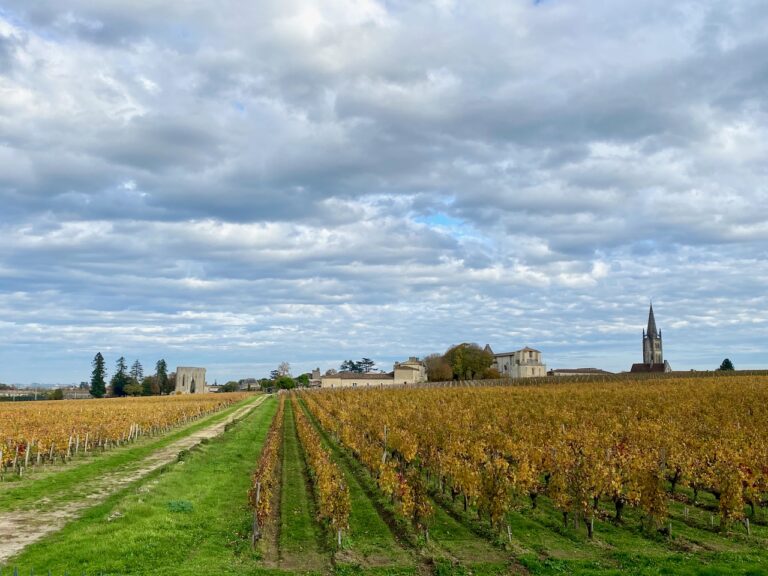 To the other side of town and Château Beau-Séjour Becot, a Premier Grand Cru Classé.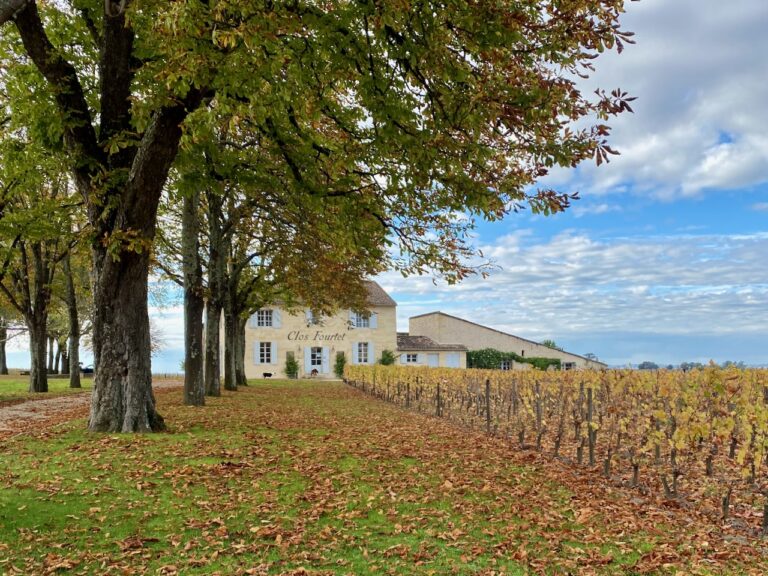 From here we can see the back of Clos Fourtet. And the famous landmark Les Grandes Murailles, a remnant of a 12th century monastery, on the left.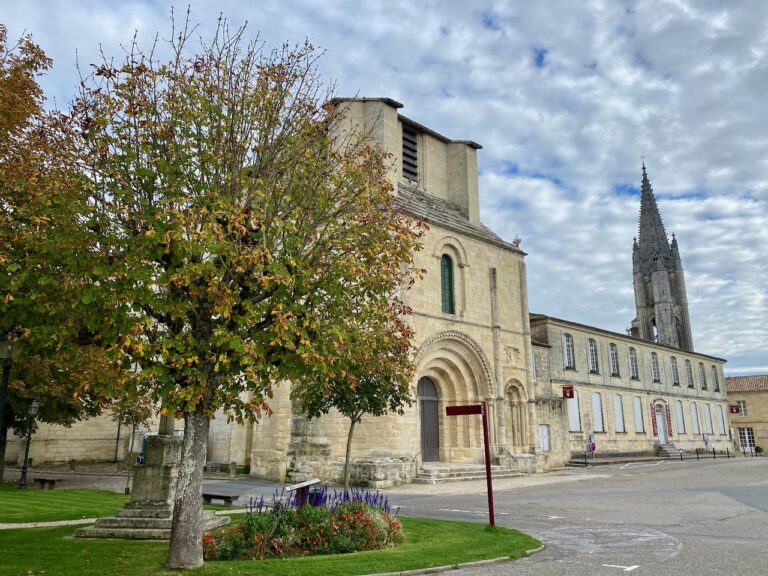 The dogs at Clos Fourtet, a Premier Grand Cru Classé.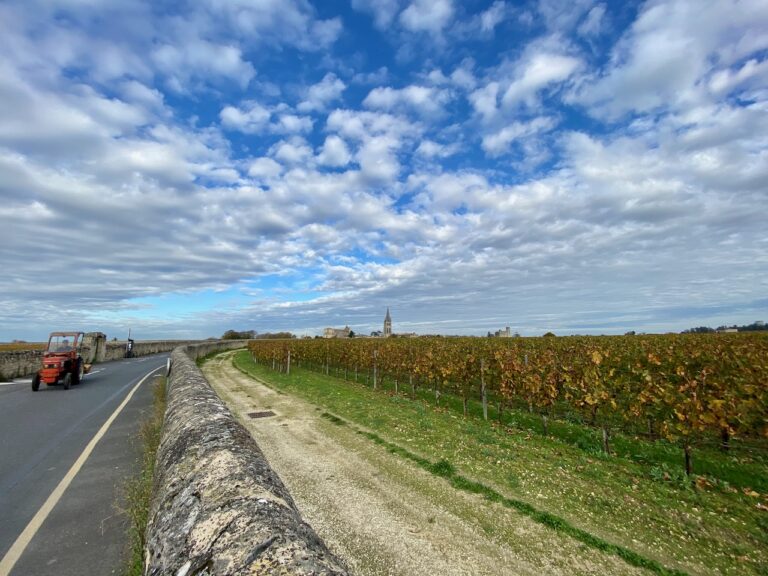 Saint-Émilion like I've never seen it. Almost nobody around. I'll have to have a good business reason to have a proper look around.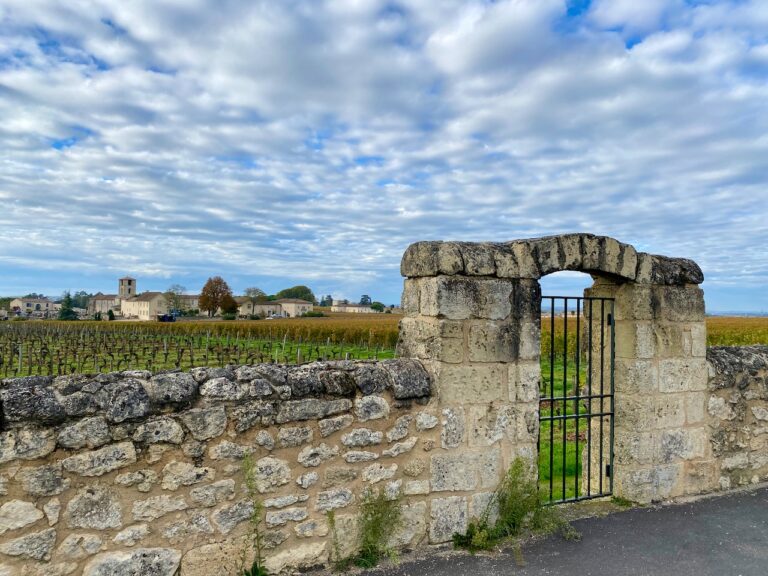 Few cars on the roads, just tractors and the like.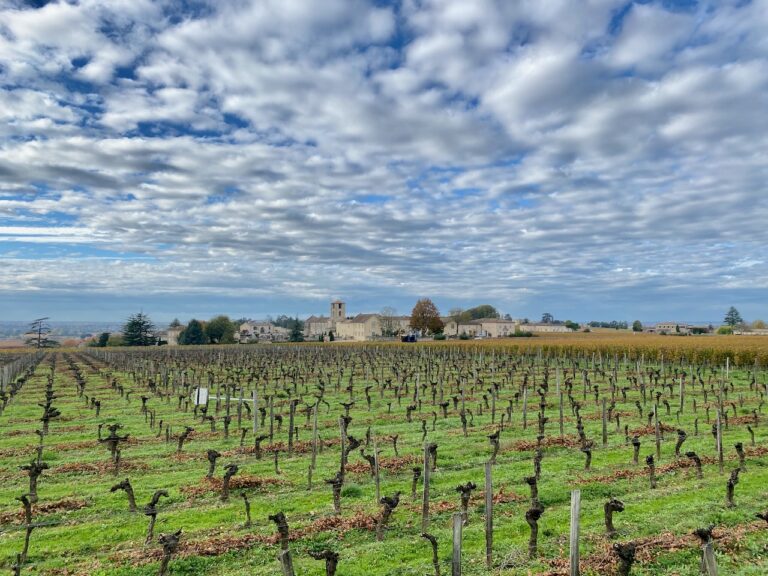 The gate to some of Château Canon's vines.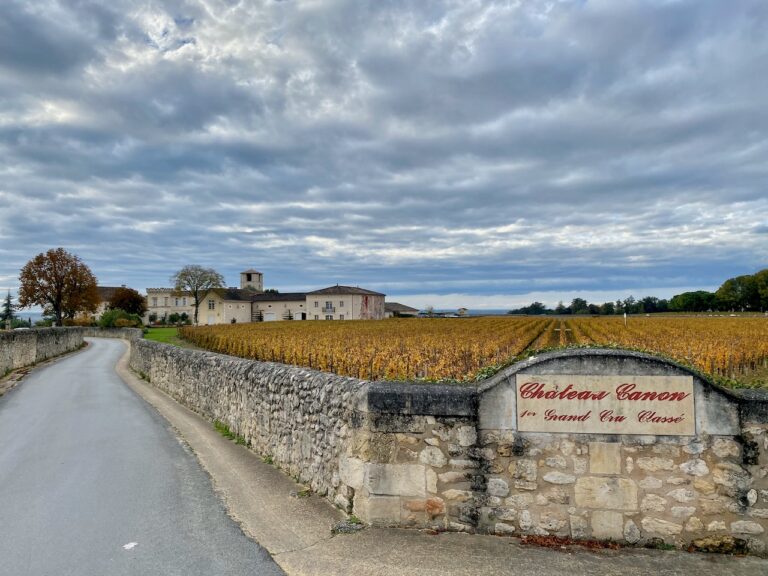 I see they're about to rip up some old vines. Always sad to see these go but there comes a time when it's for the best. I think these were old Cabernet Franc vines in a block called Pierre, or maybe Henriette. Every block in every château has a name.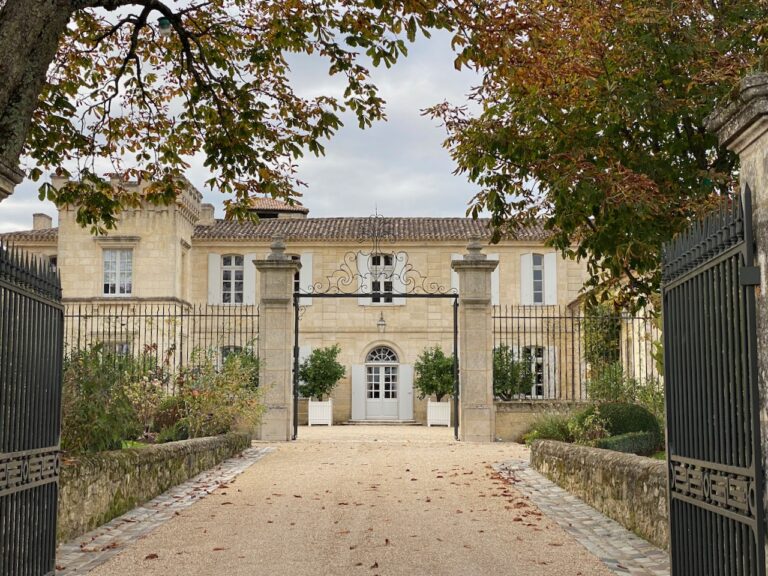 A Premier Grand Cru Classé.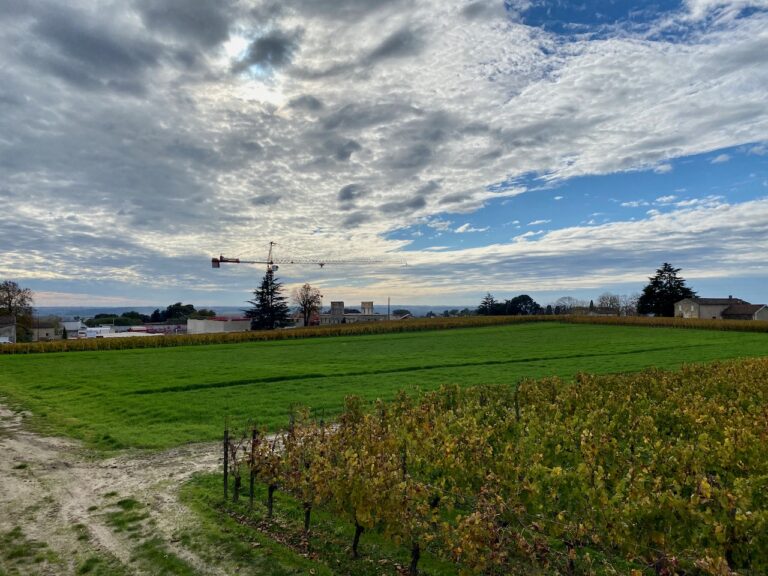 Château Canon.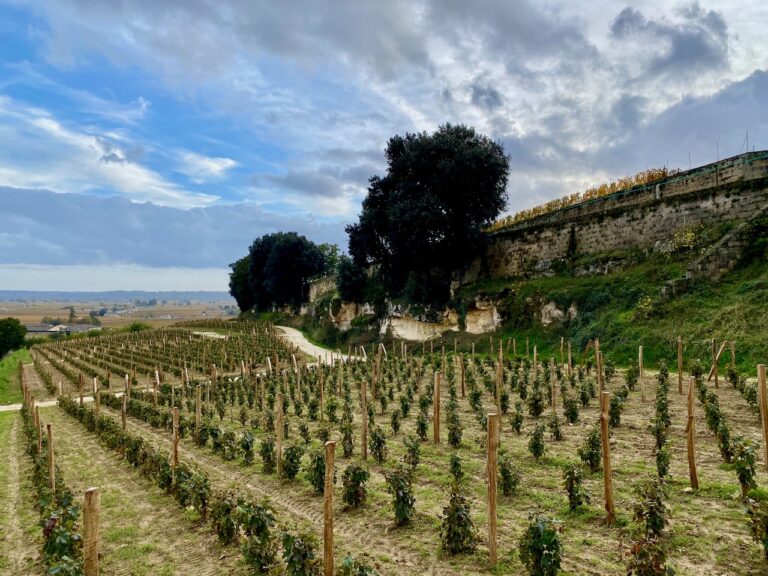 A new winery is being built at Château Belair Monange next door.
Old vines being pulled up, new ones going in. All part of life's rich tapestry.
Time to head home.
---
All our harvest updates and newsletters are on Gavin's blog.
You can see pics of this harvest and more in our Bauduc photo albums.