Posted by Gavin Quinney on 28th Oct 2020
This week's photo journal comes from a Saturday afternoon in the Médoc and a trip down the famous Route des Châteaux.
The weekend before, a good friend in the London wine trade had written to say that he was writing a book on Bordeaux and did I have time to show his photographer around the famous vineyards. (Yep, one of those emails.)
We don't sell the wonderful wines from the châteaux pictured but if you need supplies of the excellent stuff from the petit château we call home, buy wine here at bauduc.com.
All the best
Gavin & Angela Quinney
PS There's a photo album of just the pics Here
---
Now, ideally, if you're writing a book about a wine region it's best to take the photos before the end of the harvest, not a few weeks after. Still, something can be done if you're quick.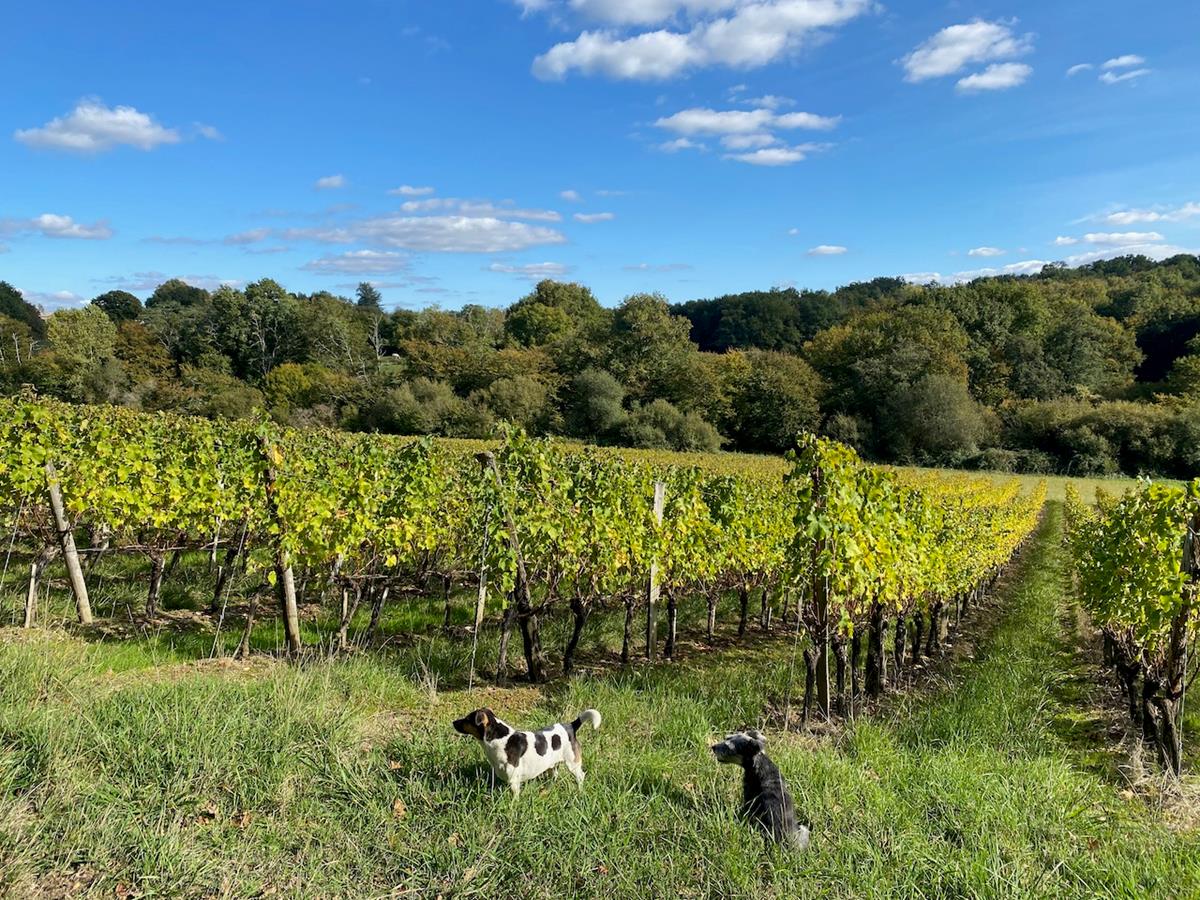 The autumn leaves change colour and can disappear all too quickly. This photo of Sauvignon Blanc at Bauduc was taken just as my friend was composing his email.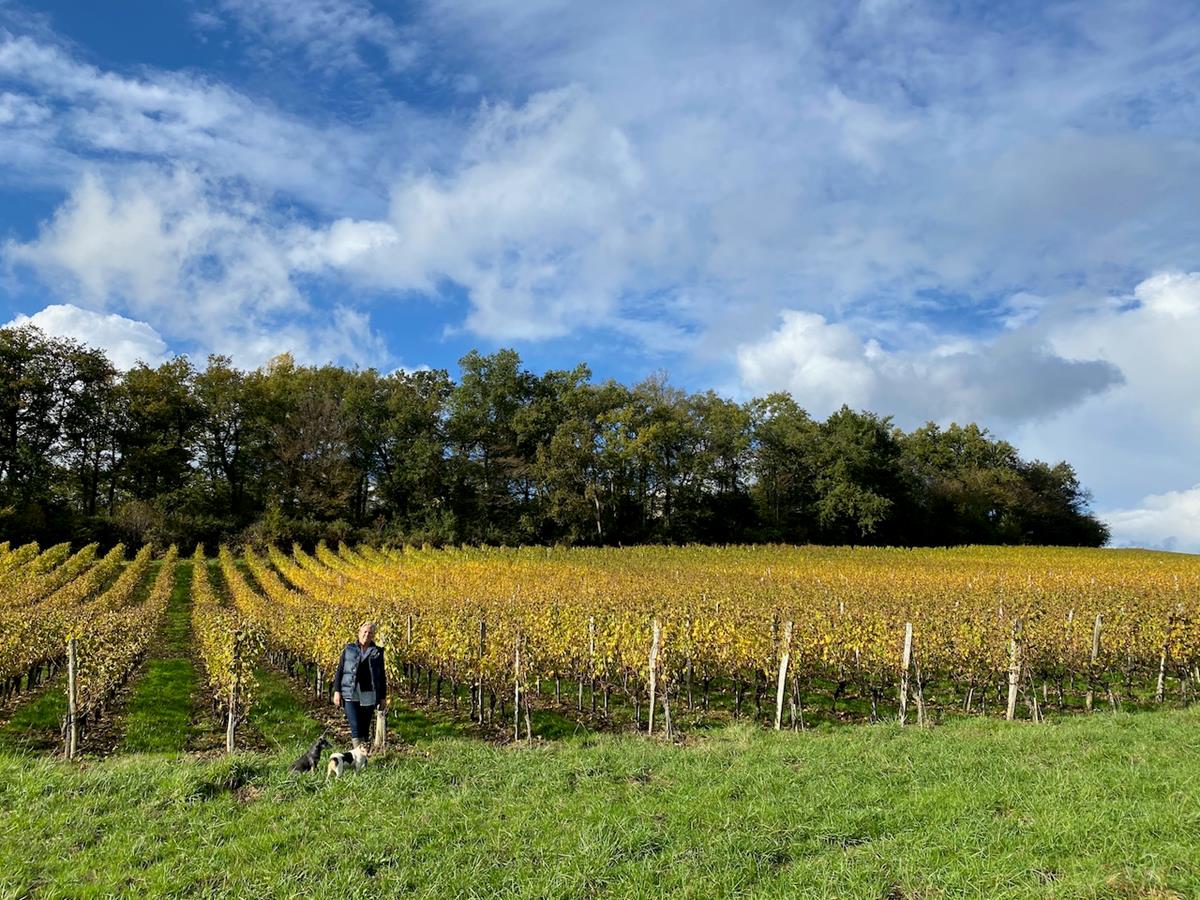 This was the same block of vines on 23 October, less than a week later, with Angela and the hounds on her birthday last Friday.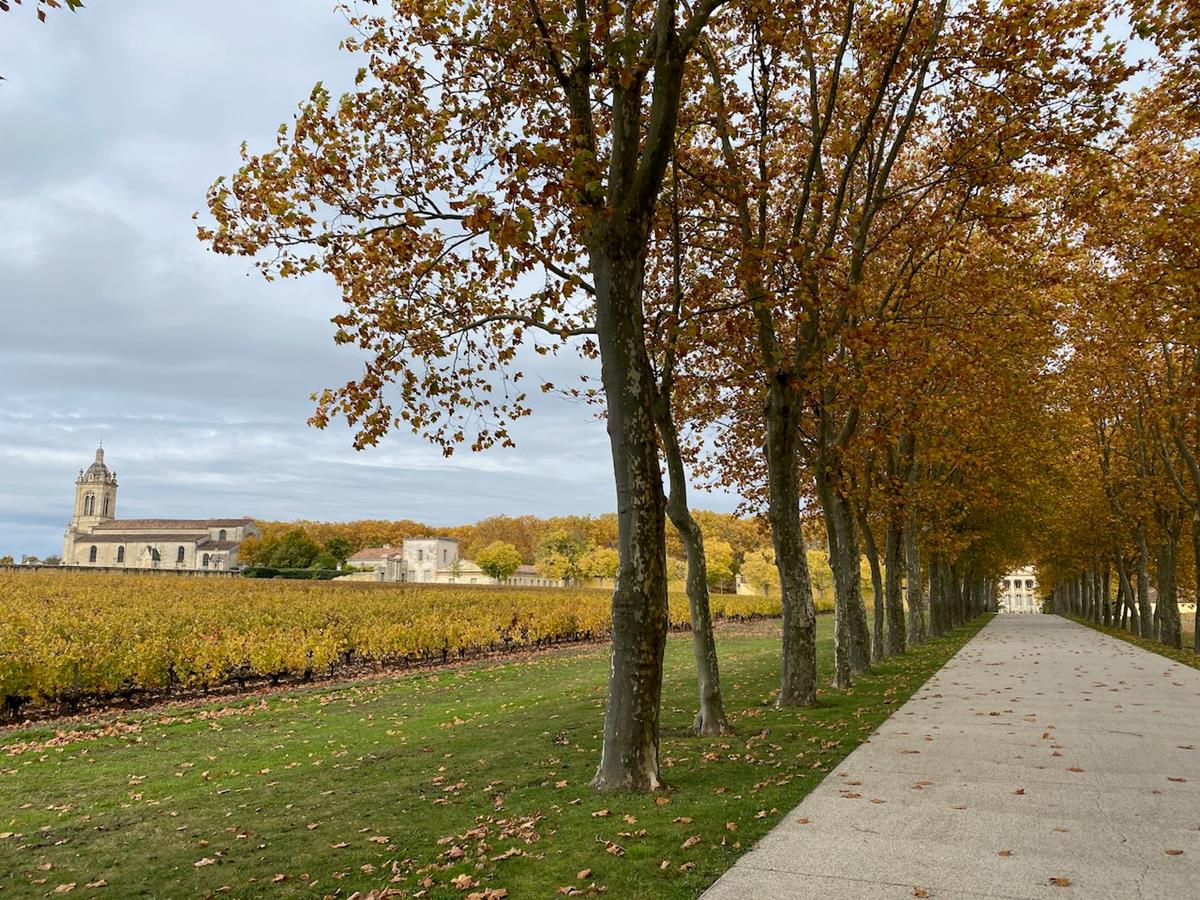 Joakim the photographer arrived on the train in Bordeaux that Friday afternoon and, after he'd spent Saturday morning in the city with our friend, the wine writer Jane Anson, we met up near Château Margaux on the D2. It's a spot where you don't mind waiting if anyone's running late.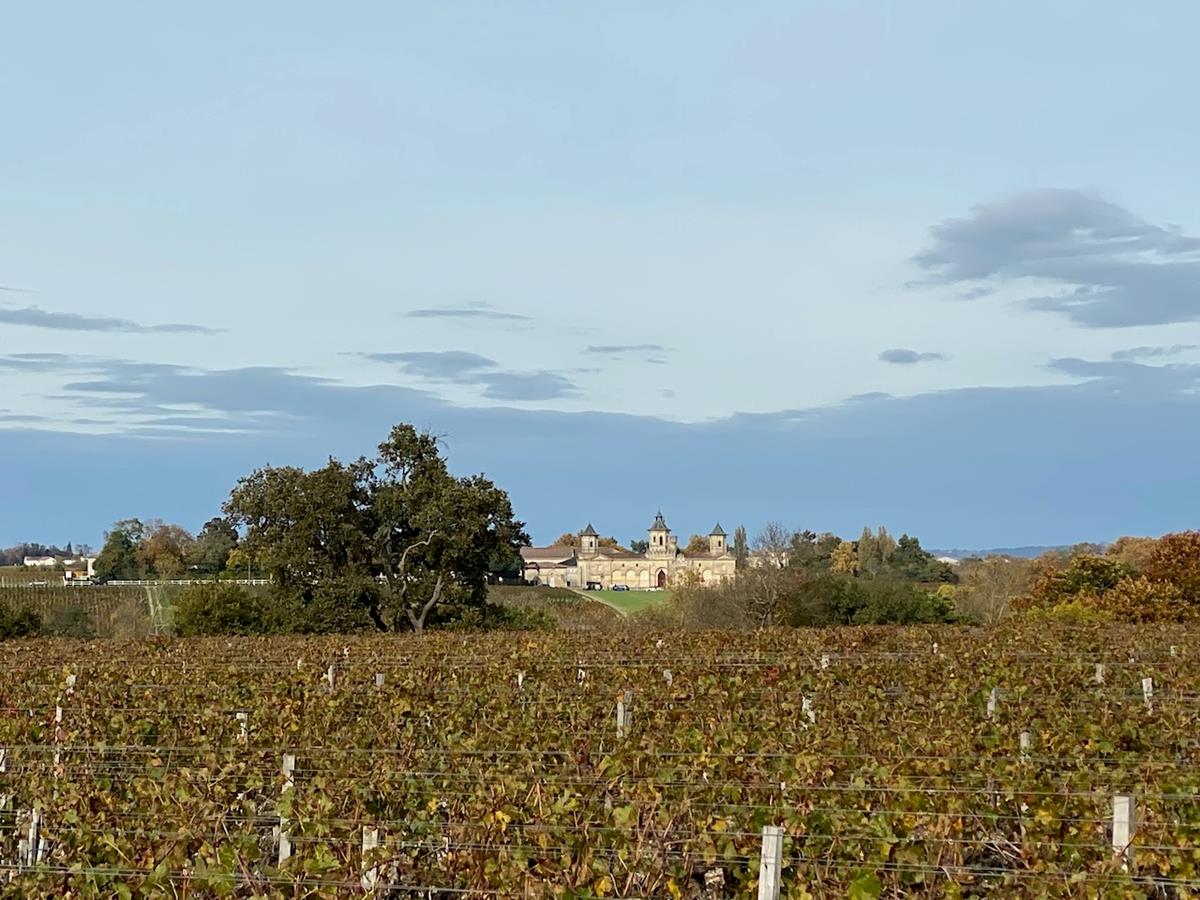 We had our shortlist of Médoc châteaux to be featured and, with an overcast sky but brighter weather forecast for later, we decided to drive up to the northernmost of 'famous' appellations, Saint-Estèphe. Joakim took some amazing pictures, while I got out my iPhone. This is Château Cos d'Estournel from just across the valley in Pauillac.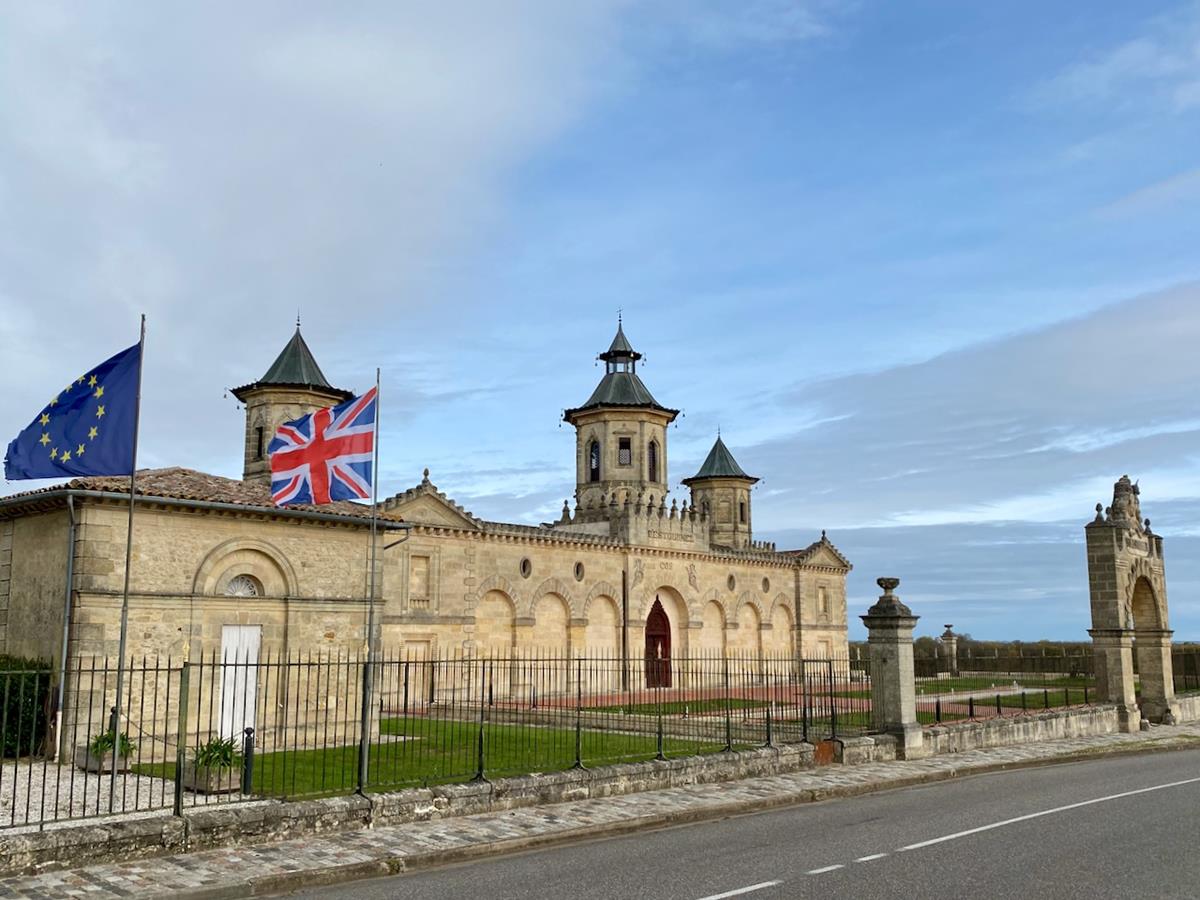 Château Cos d'Estournel is closed up at the weekend, unsurprisingly, so this was taken from one of the most used lay-bys in Bordeaux. I should point out that there is a French flag too, on the left, just out of view.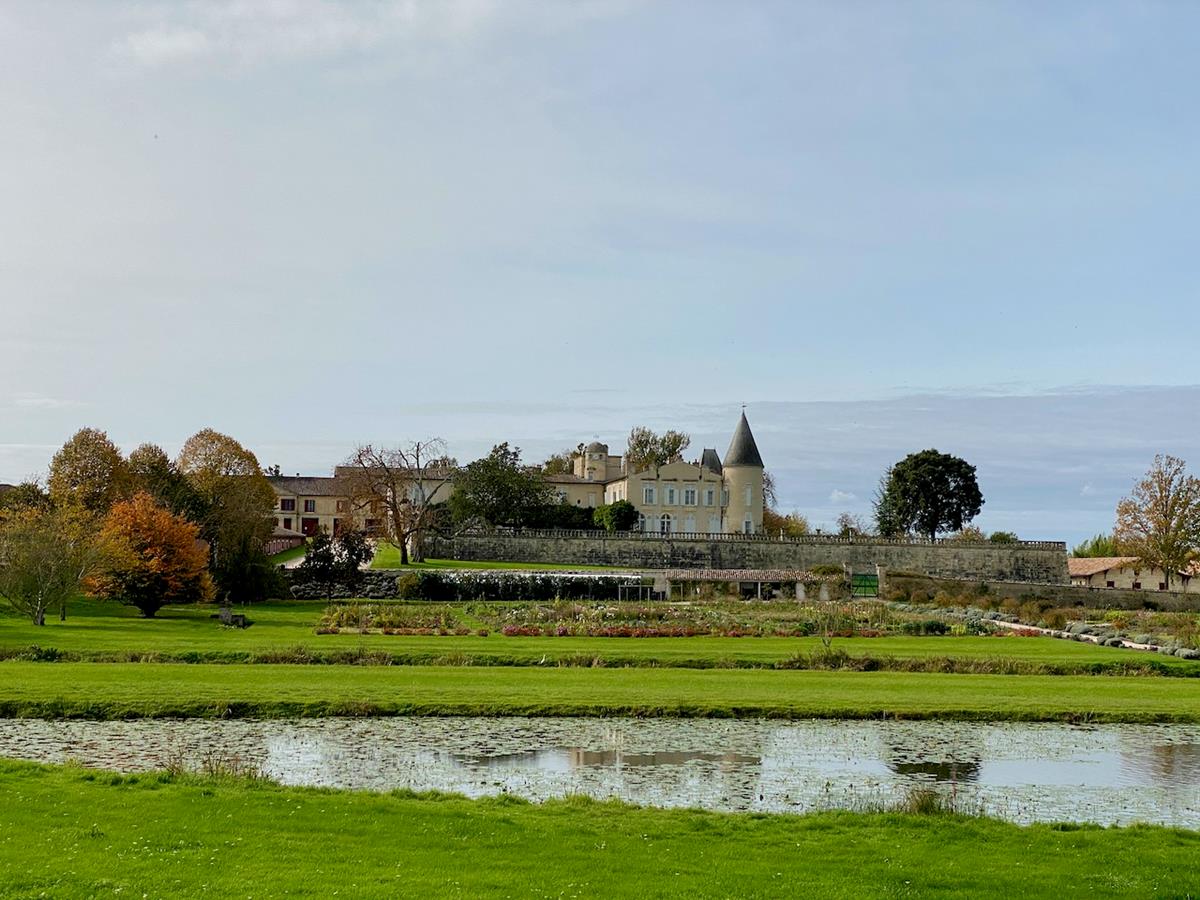 Just down the road from Cos is Château Lafite-Rothschild, one of Pauillac's three First Growths.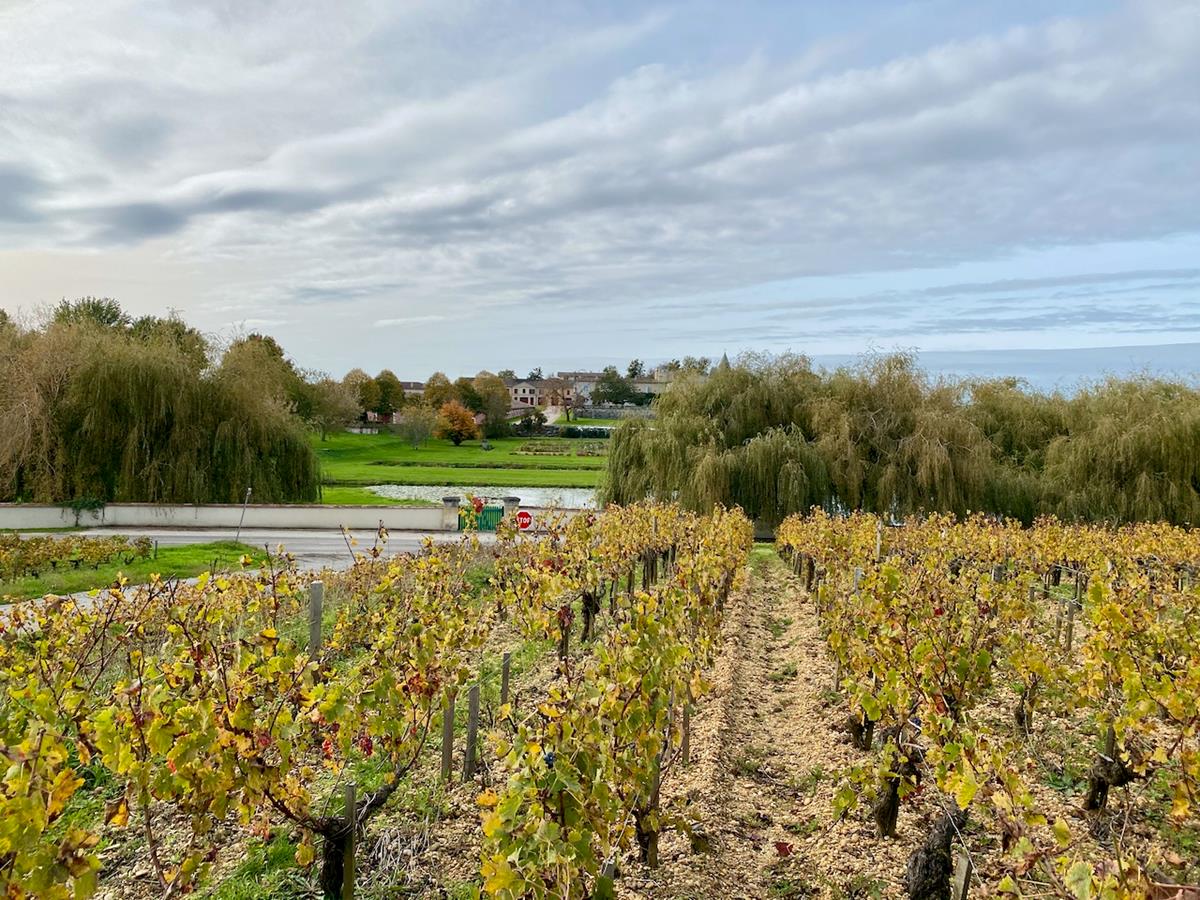 We tried to find good alternative photos of Lafite, other than the standard 'from the road between the willow trees'. This isn't one of them but it shows the gravels.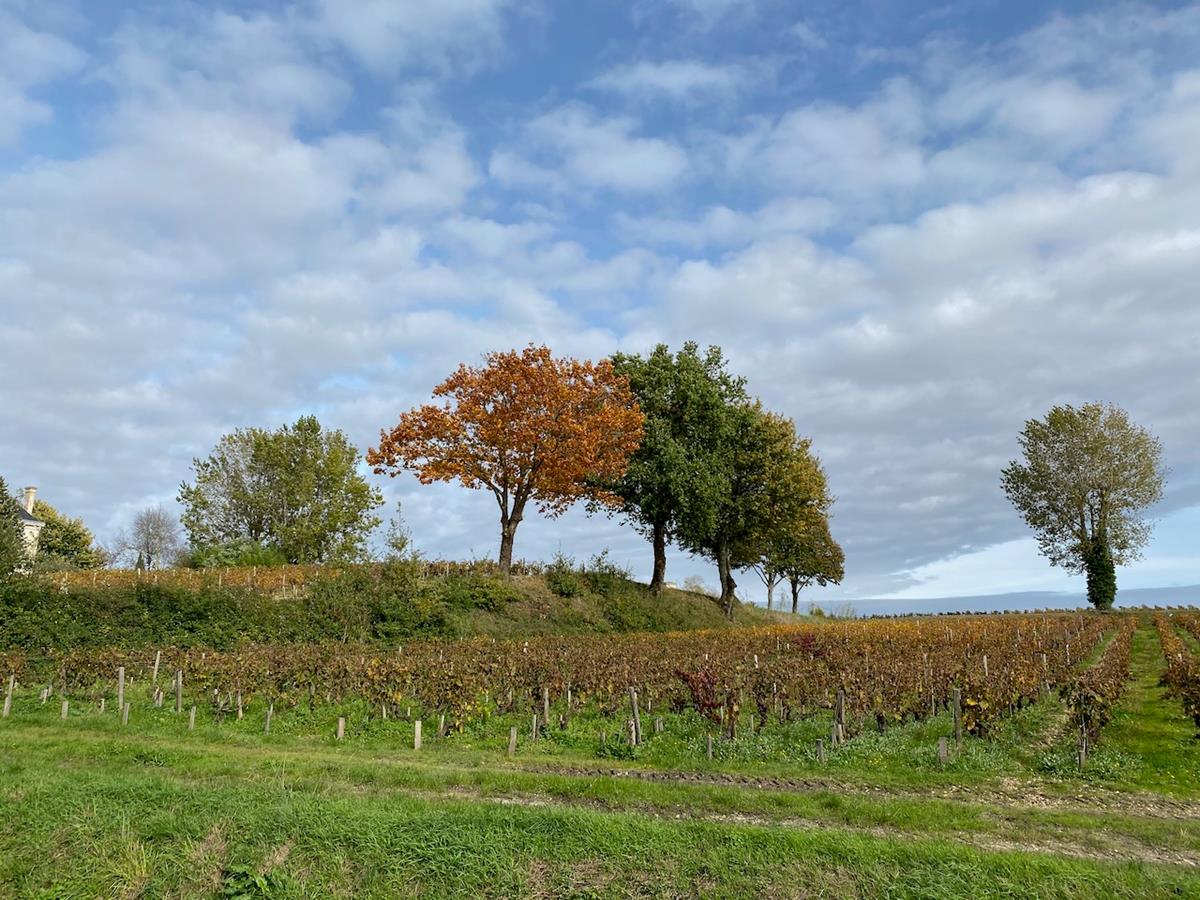 Some of the more satisfying views are actually looking away from the châteaux.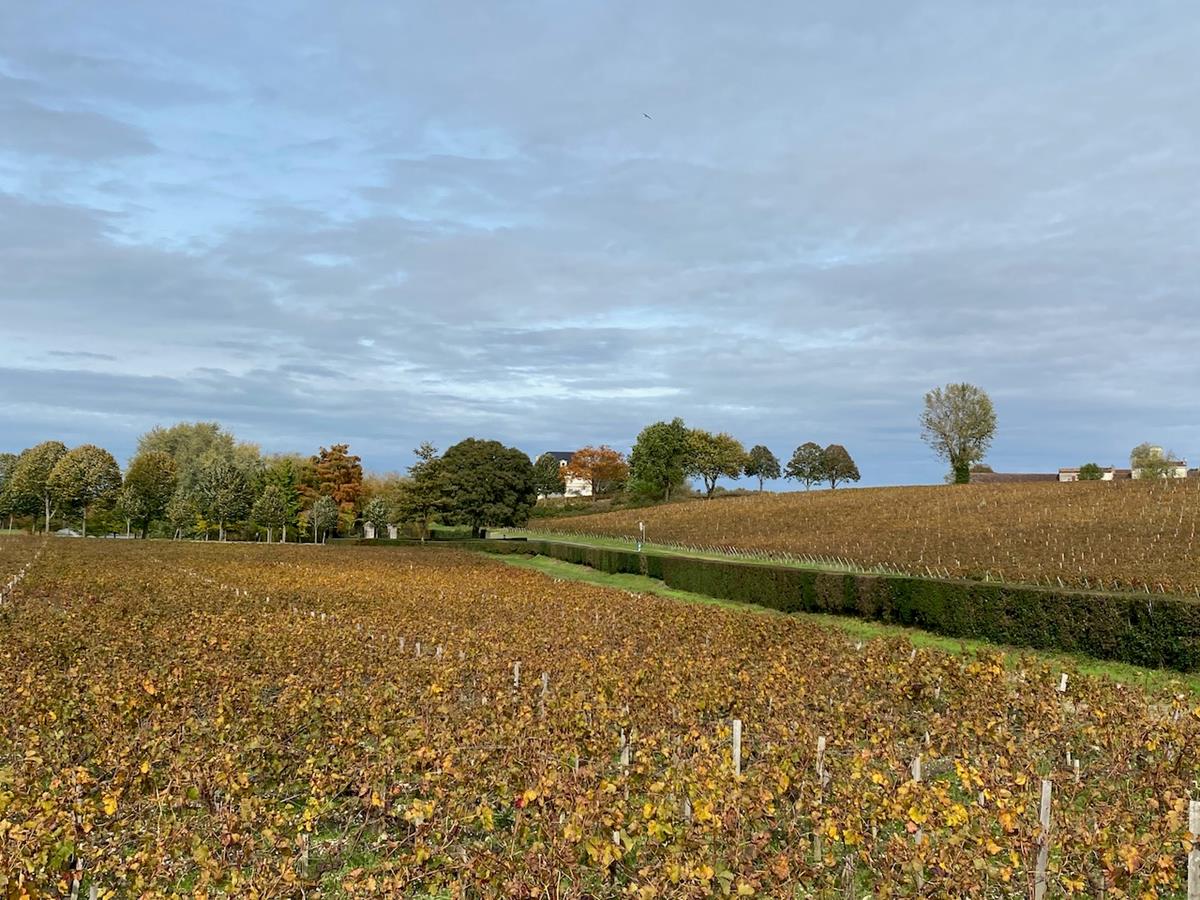 The vineyards of Lafite Rothschild. The First Growths of the Médoc are all famous for their Cabernet Sauvignon, though these vines are Merlot, as it happens.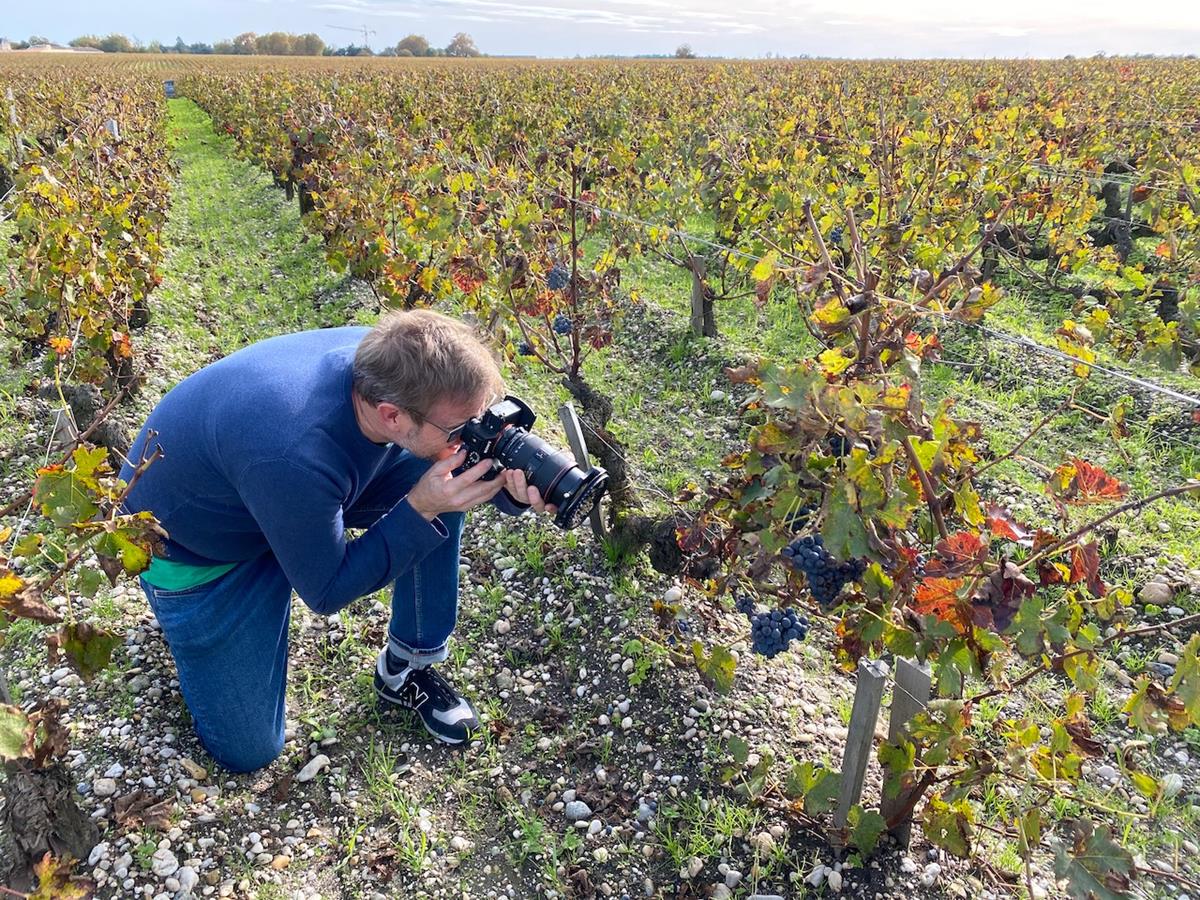 Joakim was a little late to the party for grapes, but we did find a few bunches that had been left untouched, presumably by mistake. (Not many, mind.) Grapes and gravel was the brief.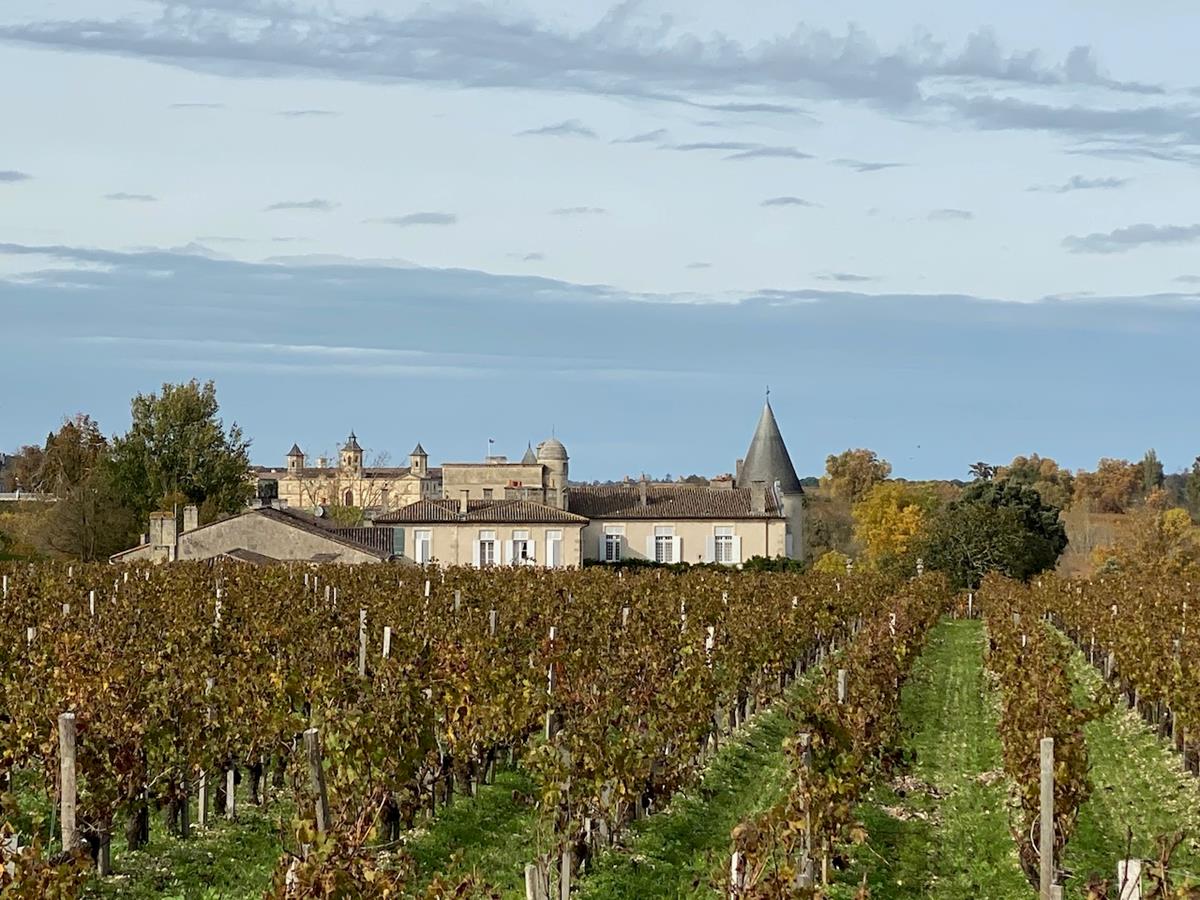 An uncommon image with Château Lafite in the foreground, in Pauillac, and Cos d'Estournel of Saint-Estèphe beyond.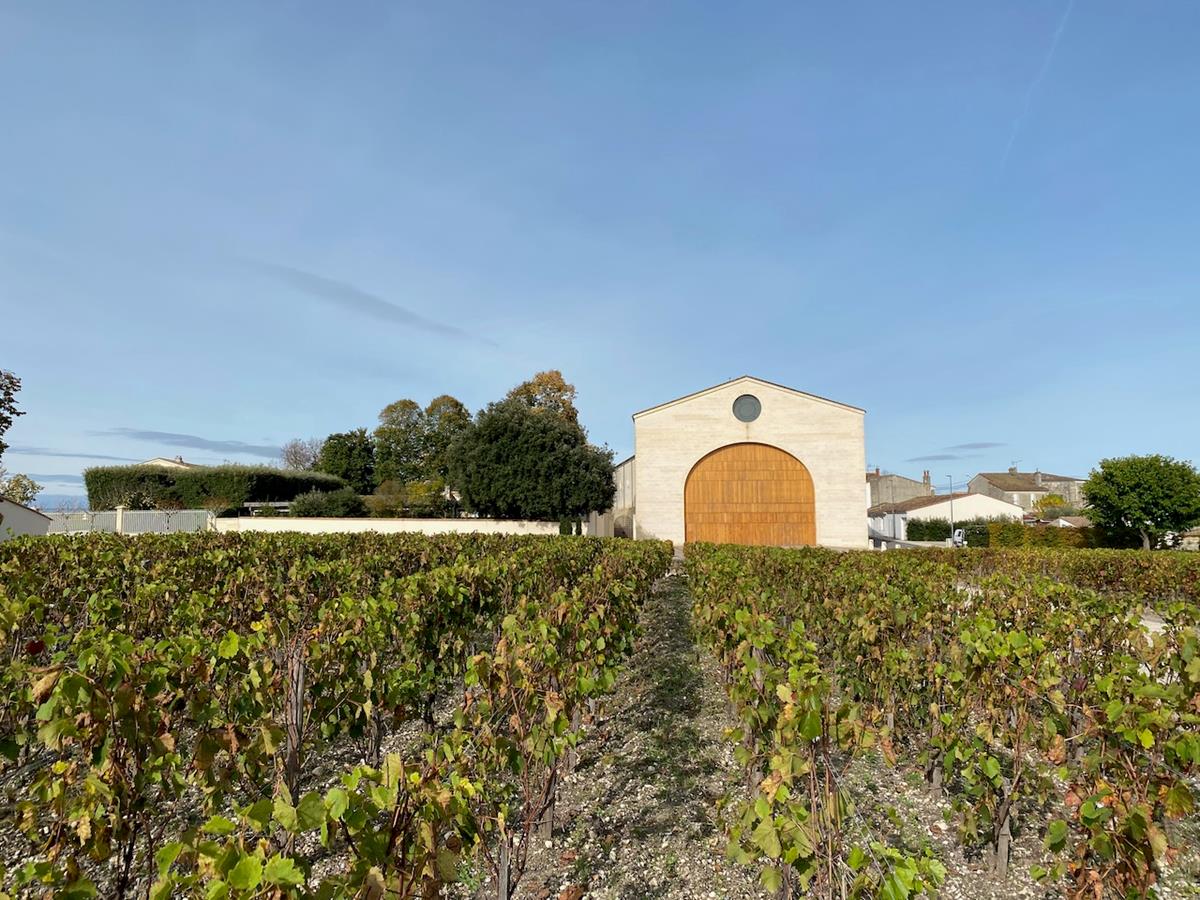 Just down the road is Château Mouton Rothschild, another First Growth, and the imposing doors to the new winery.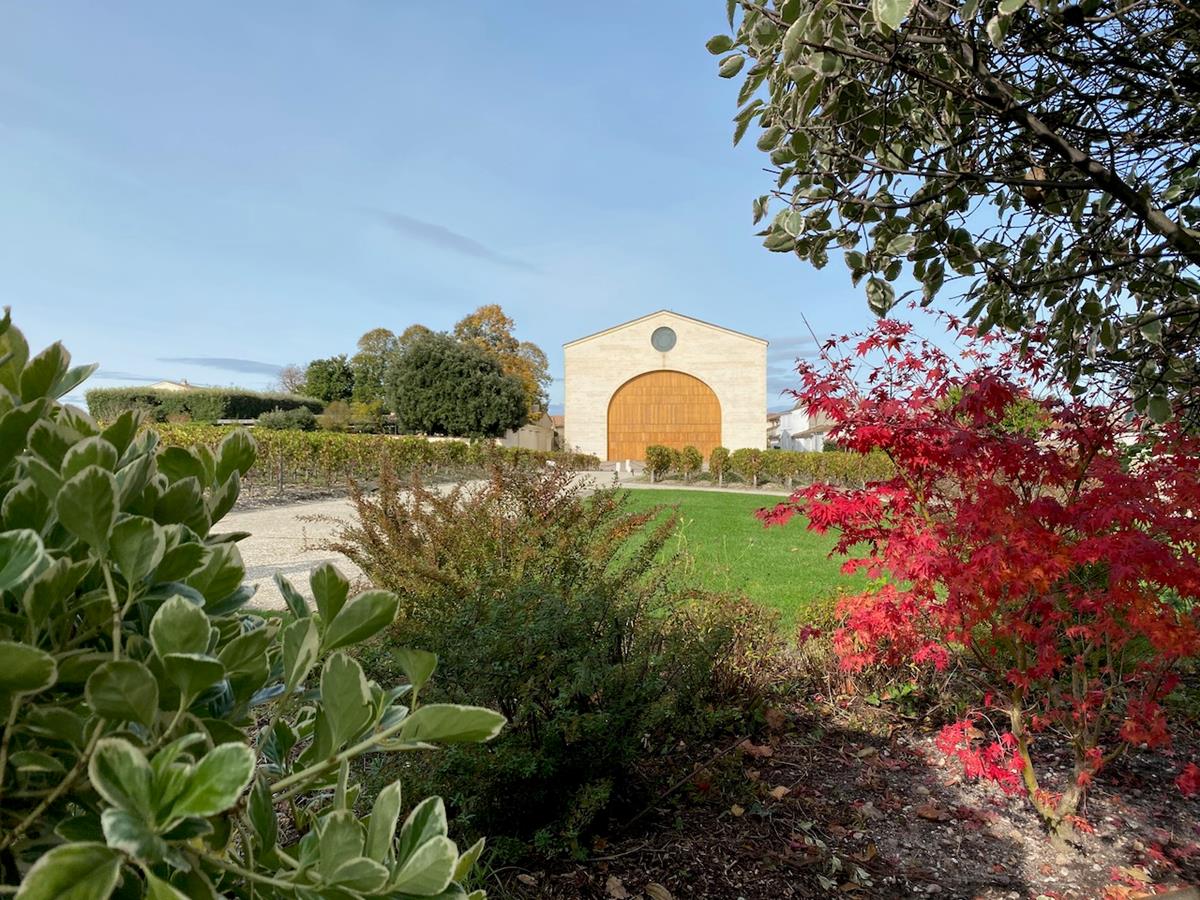 Joakim and I tried to find alternative, Monty Don-like angles.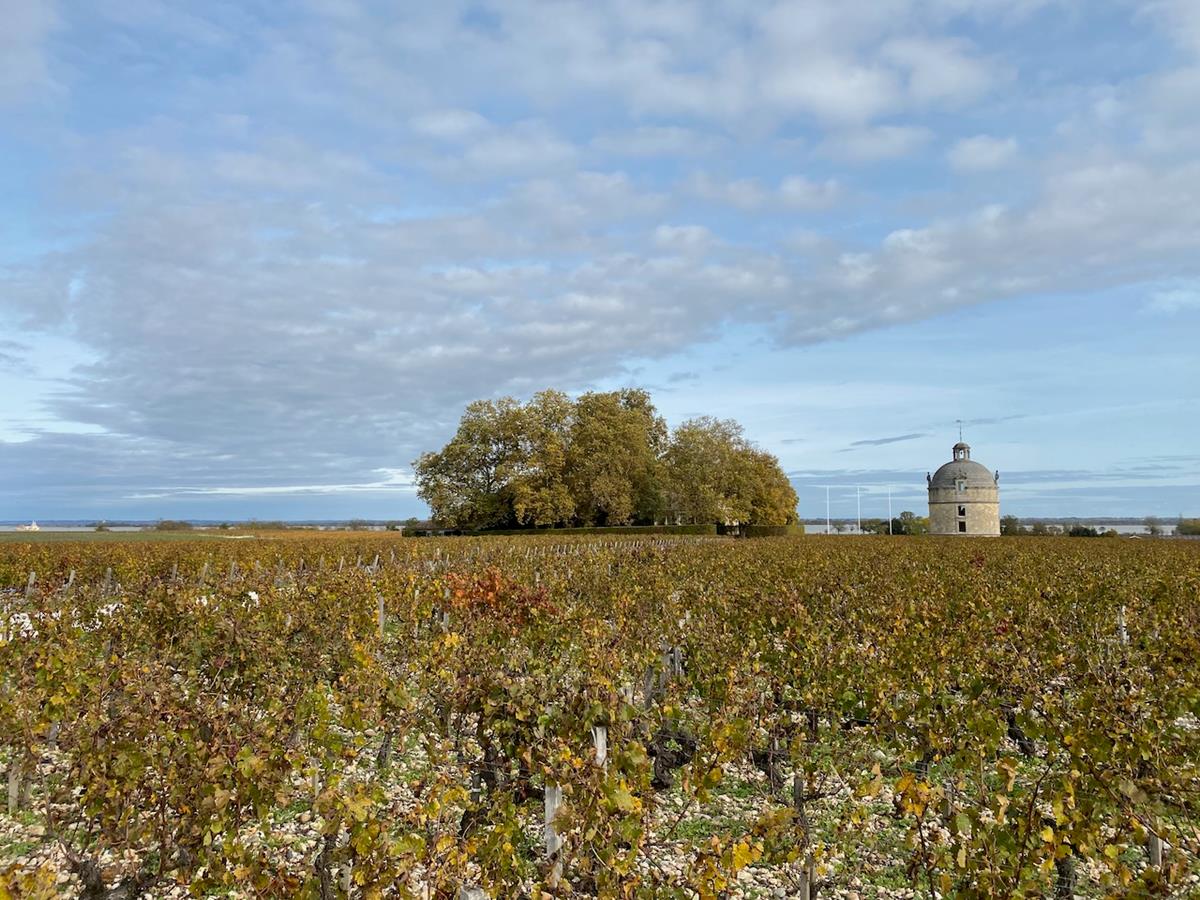 Château Latour and the third of the Pauillac First Growths. Just beyond is the Gironde Estuary.
The Château itself is tucked behind the trees, with the new cellars and winery on the right.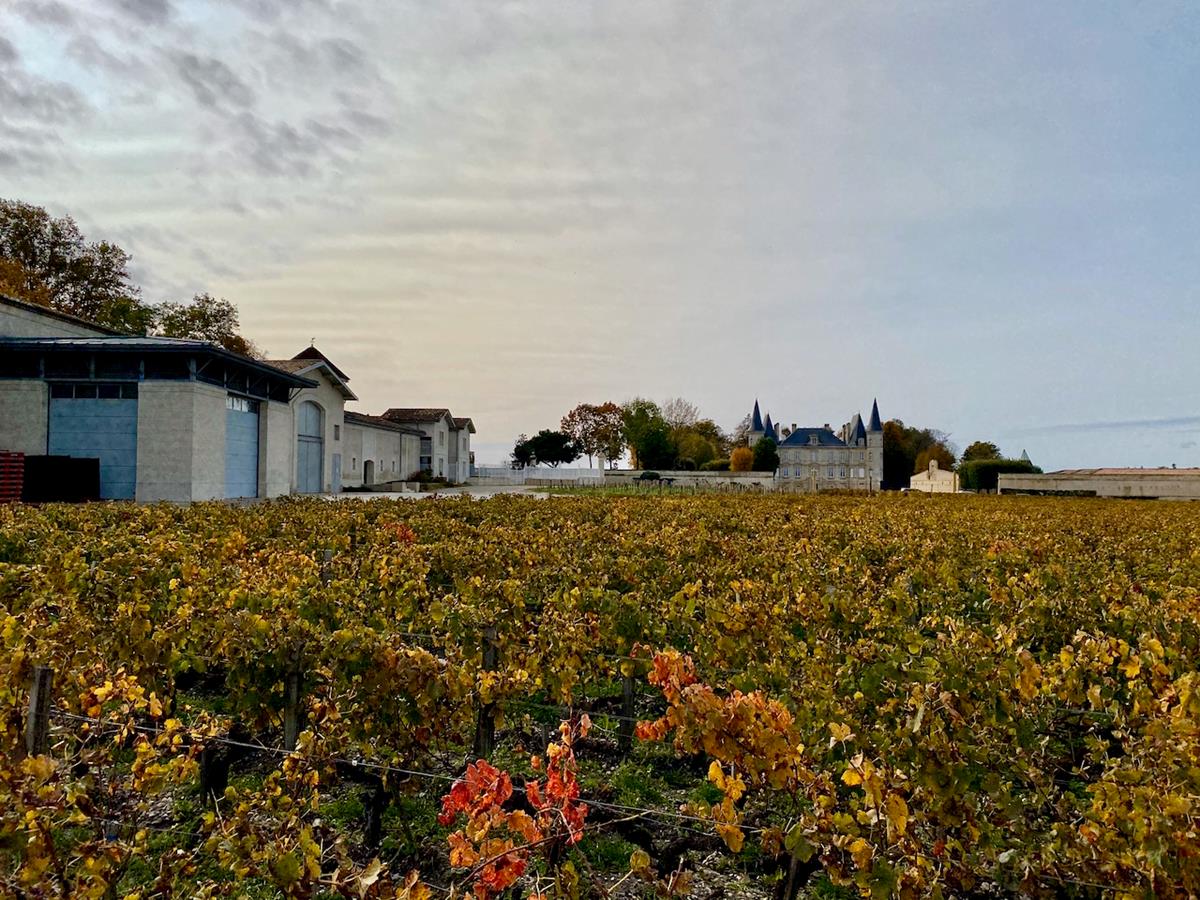 Opposite Latour are the two Pichons. The new winery of Pichon Lalande on the left, with Pichon Baron straight ahead.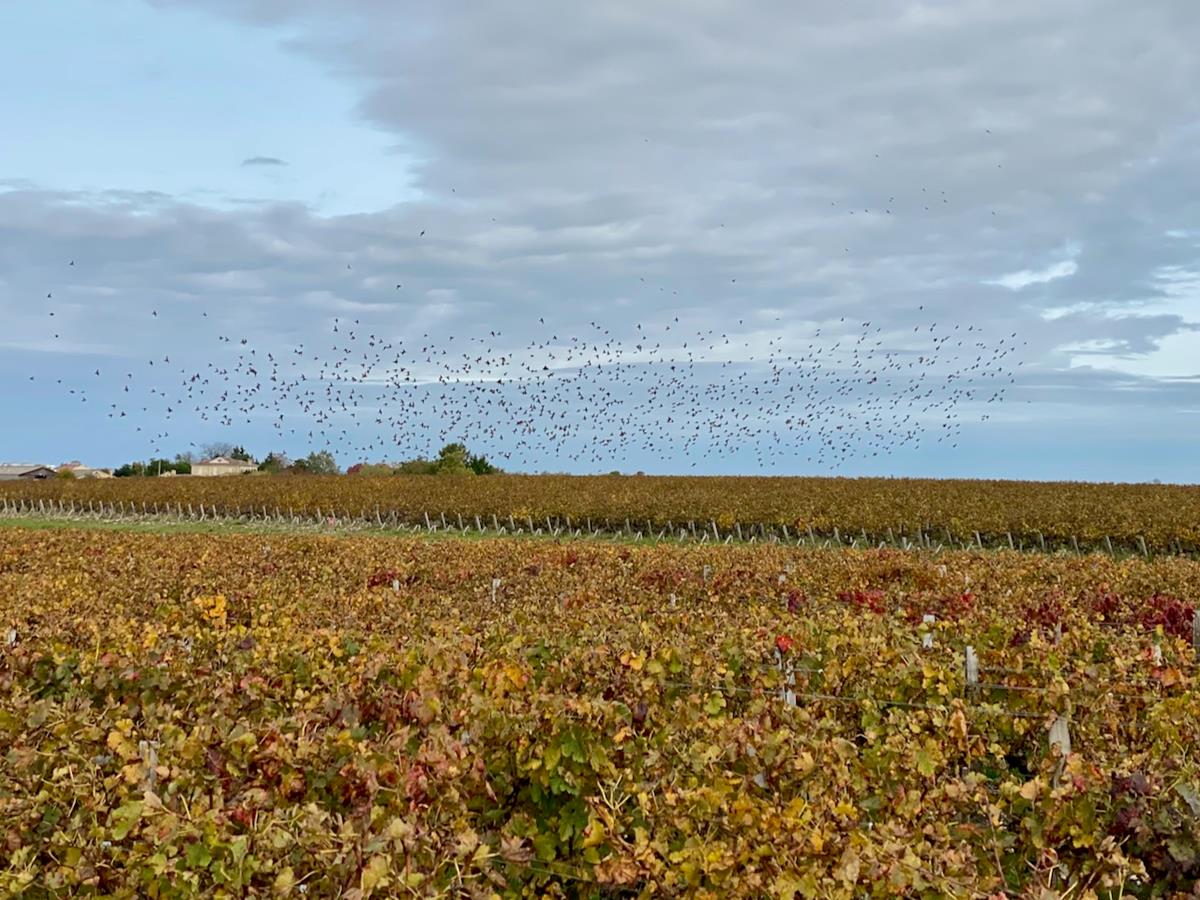 It's the season of les étourneaux. Millions of starlings flying above the autumn vineyards en masse.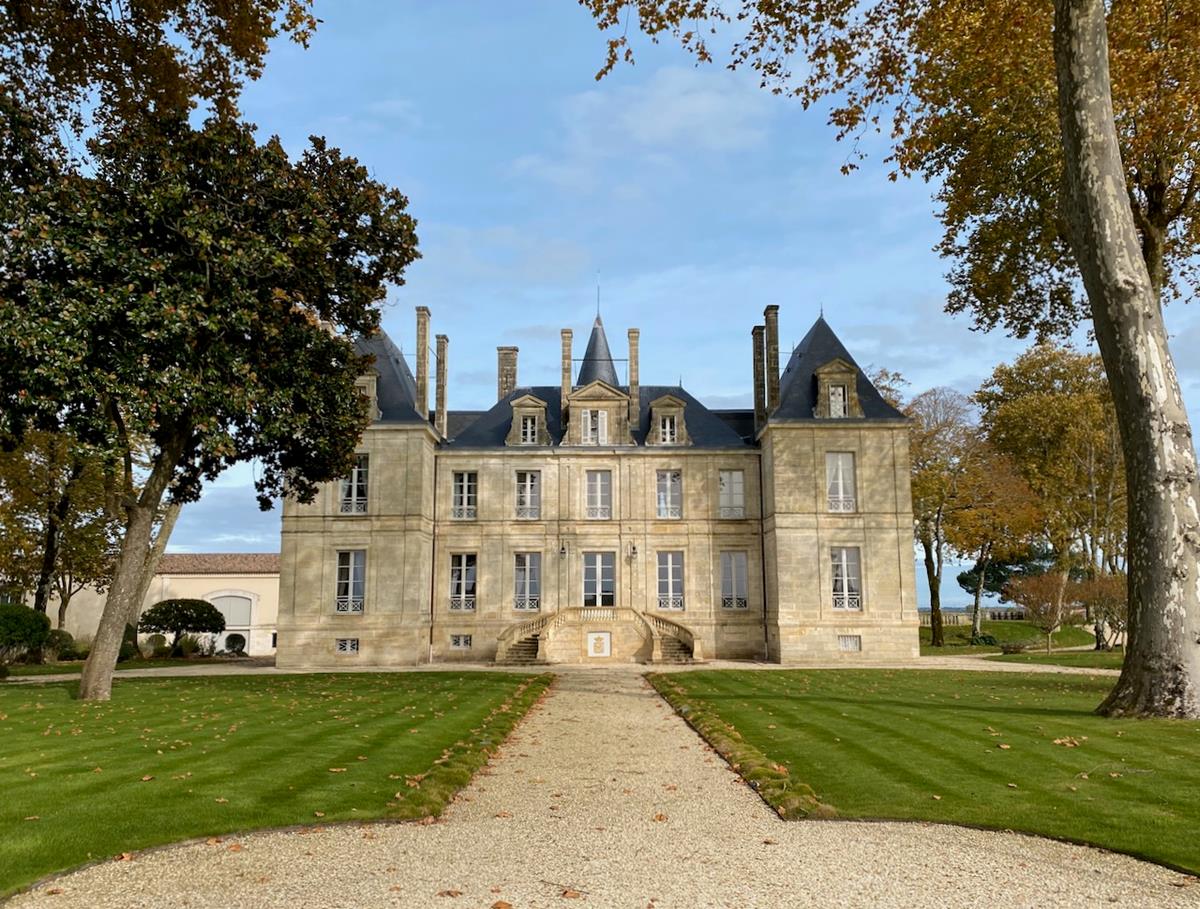 Château Pichon Longueville Comtesse le Lalande is right on the D2, south of Pauillac, next to Château Latour.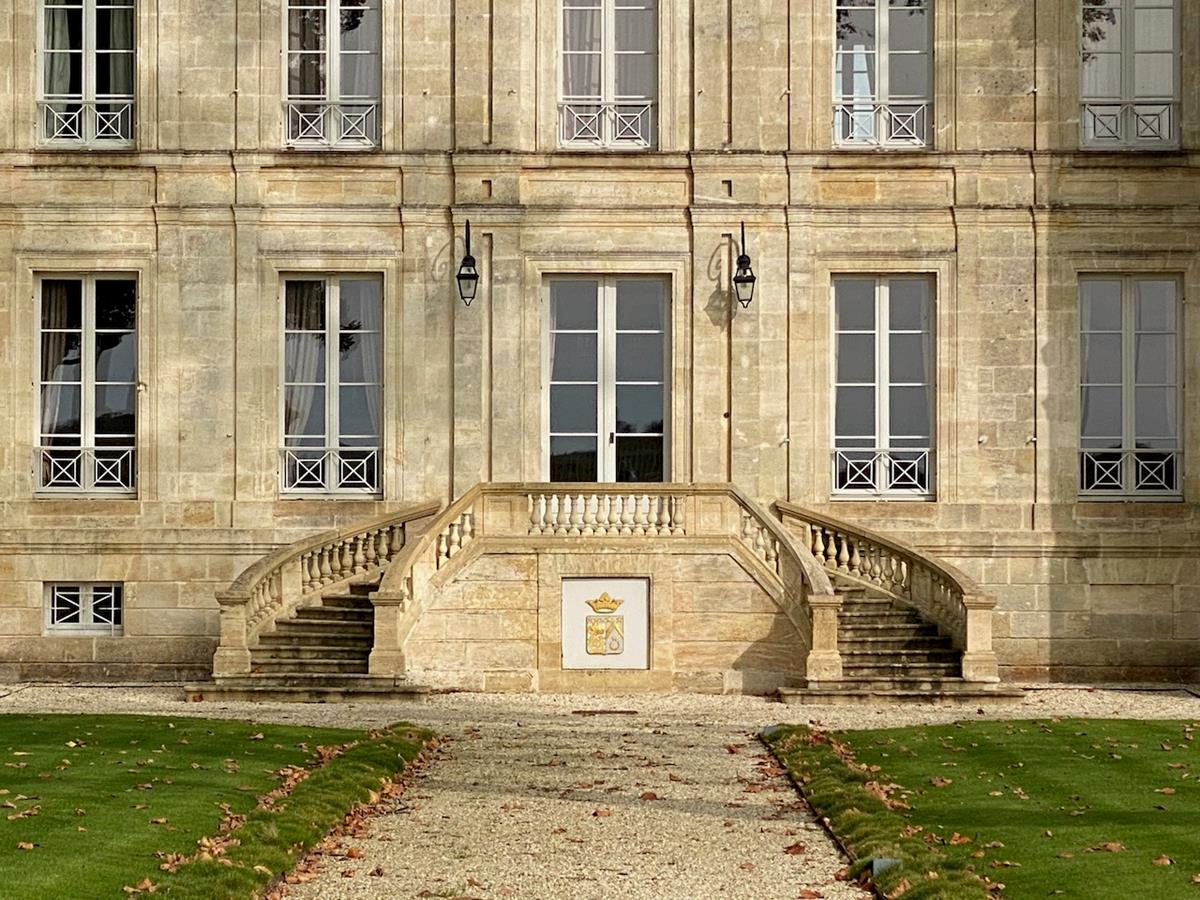 It's shortened to Pichon Lalande by some, and Pichon Comtesse by others.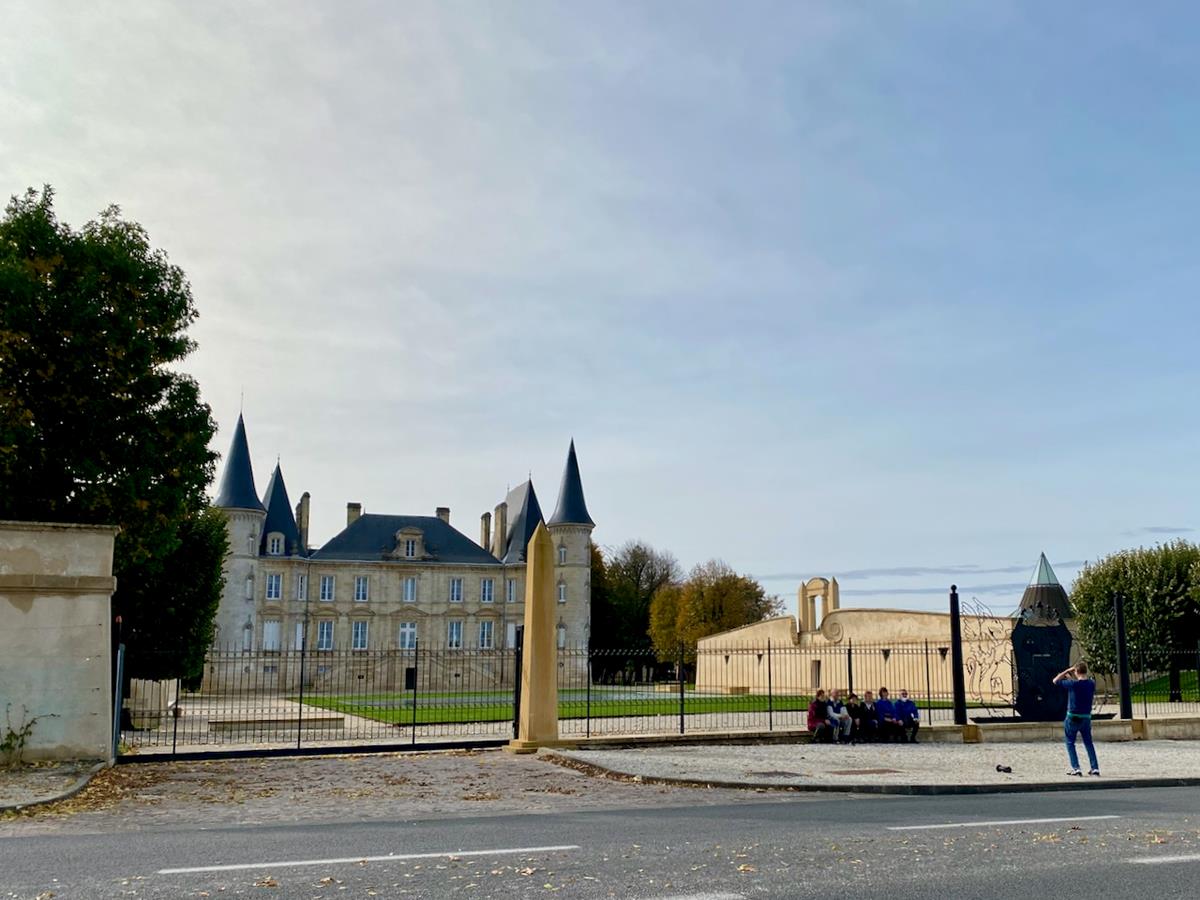 On the other side of the road is Pichon Baron, and one of the most snapped châteaux in the whole region.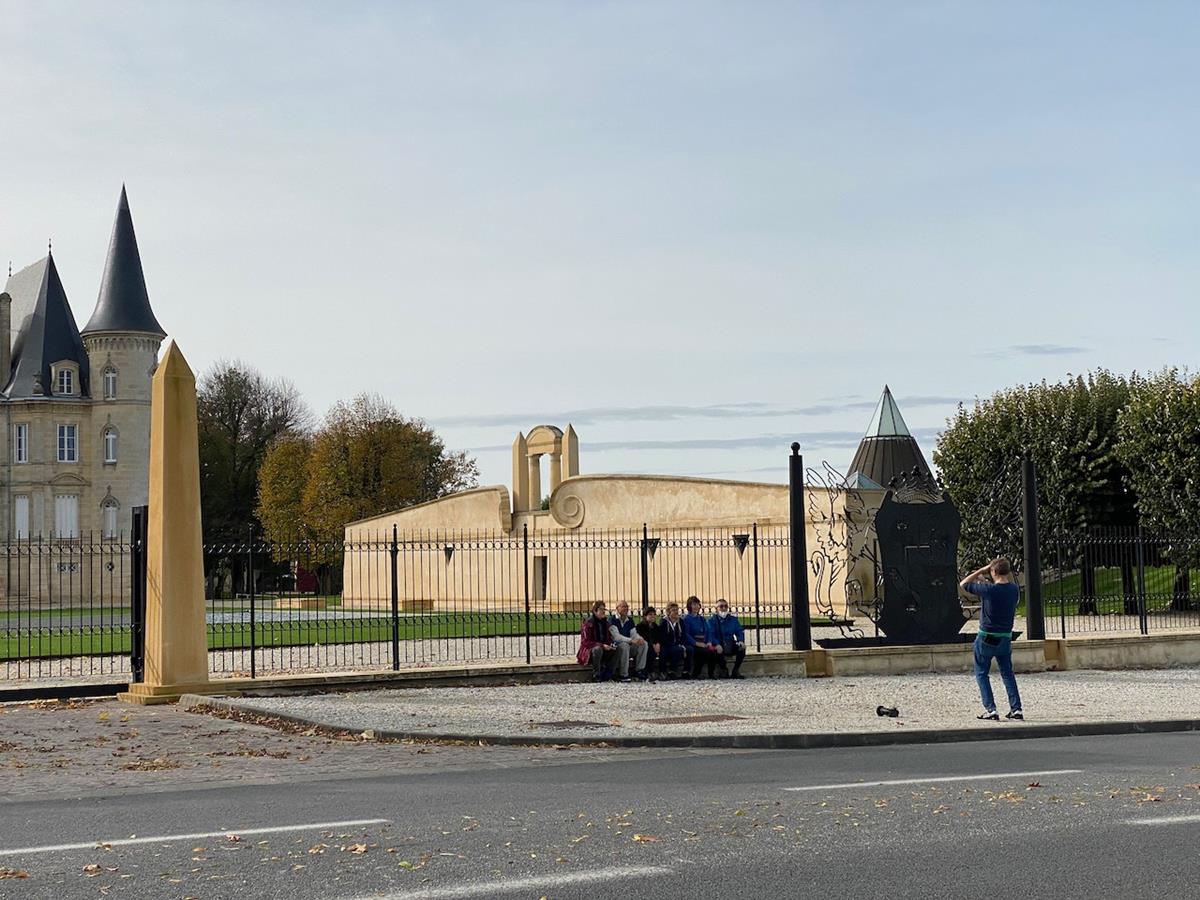 This family group were taking it in turns to photograph themselves, so Joakim and I thought they might like a professional to step in. (Him.)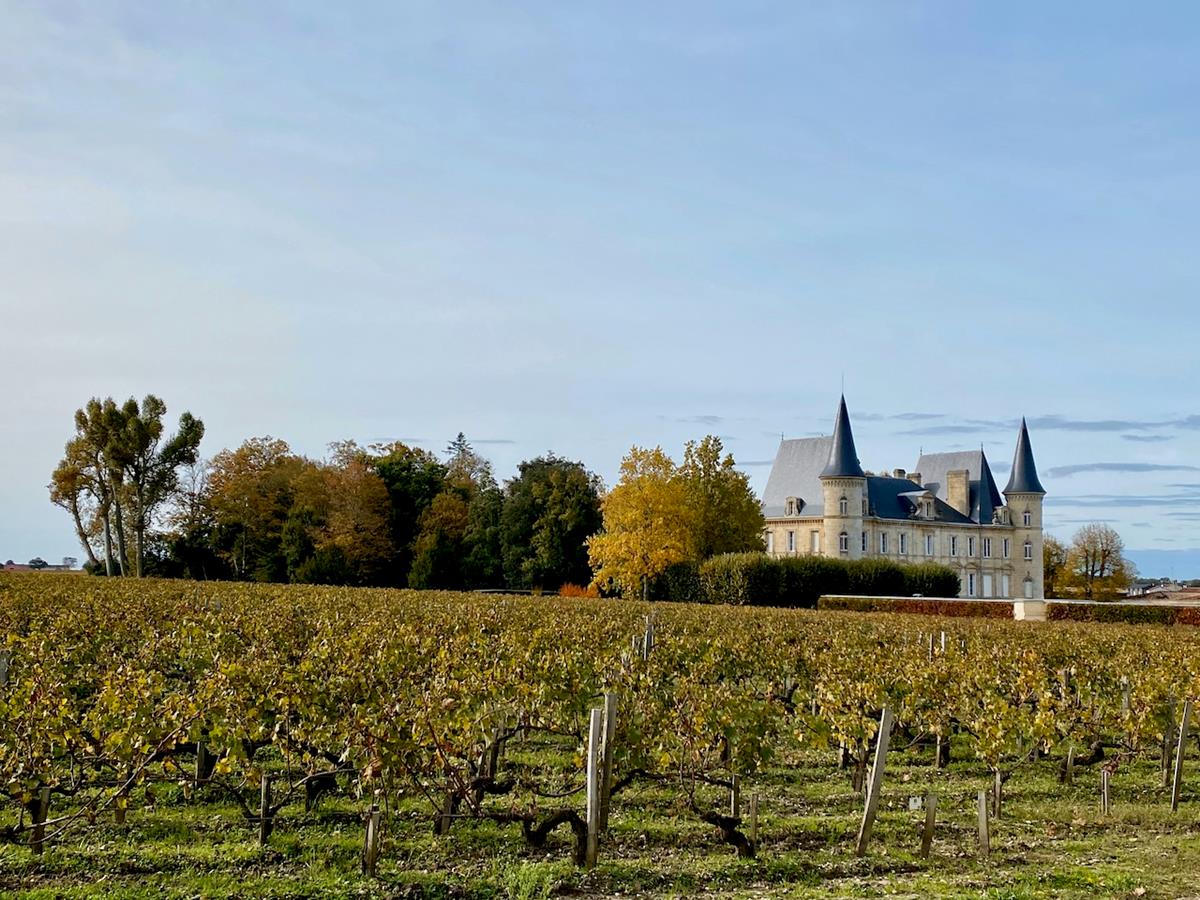 Château Pichon Baron, from the side.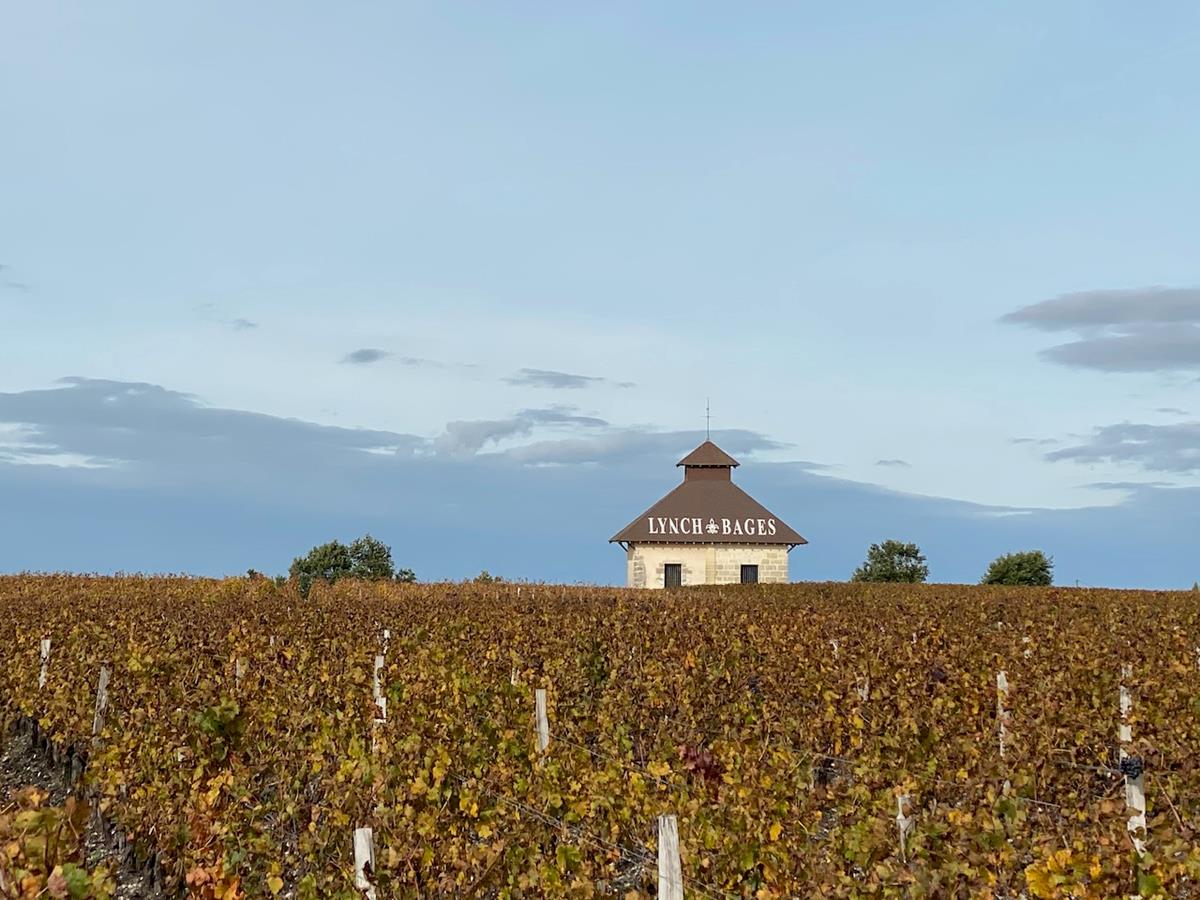 There are, of course, many famous names in Pauillac. The new winery at Château Lynch Bages should be opening soon, so in the meantime here's their vineyard cabin.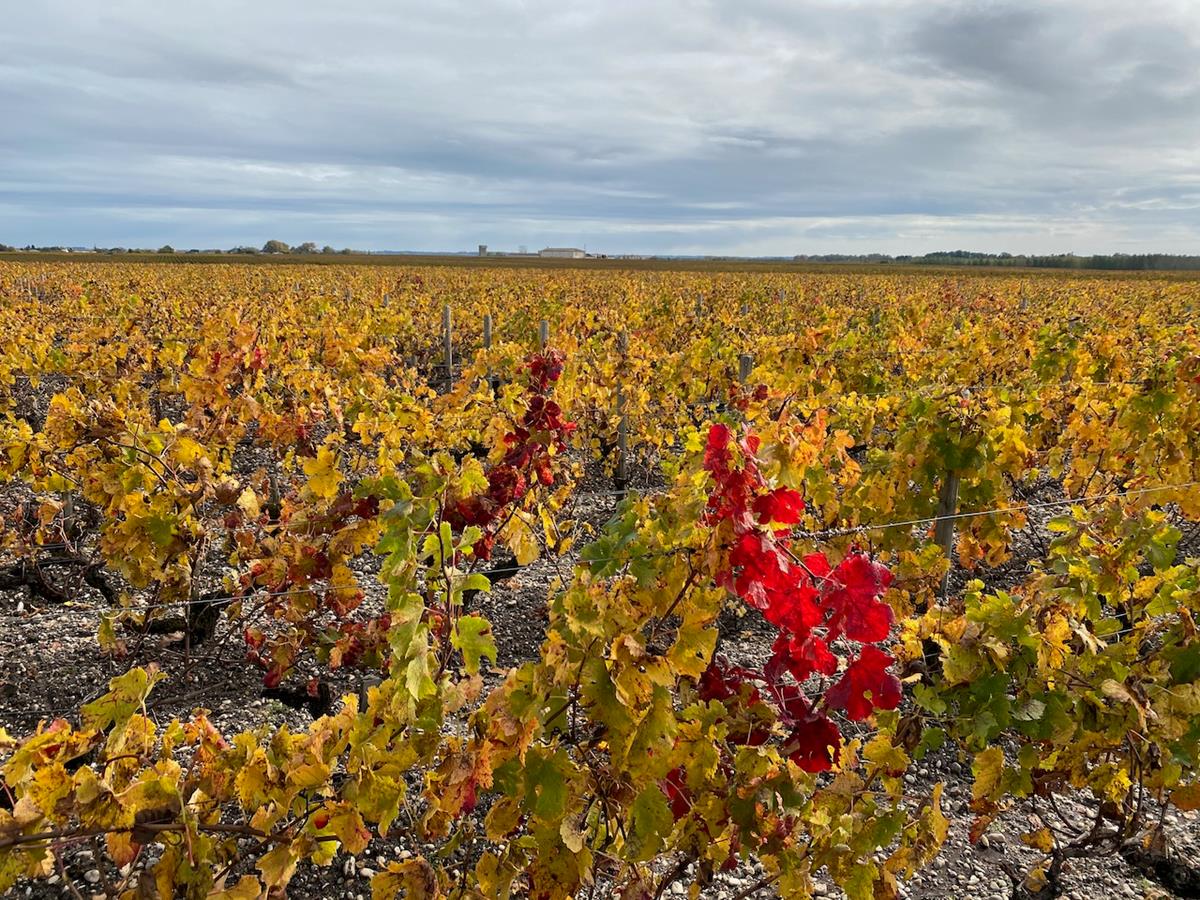 Autumn colours in Saint-Julien.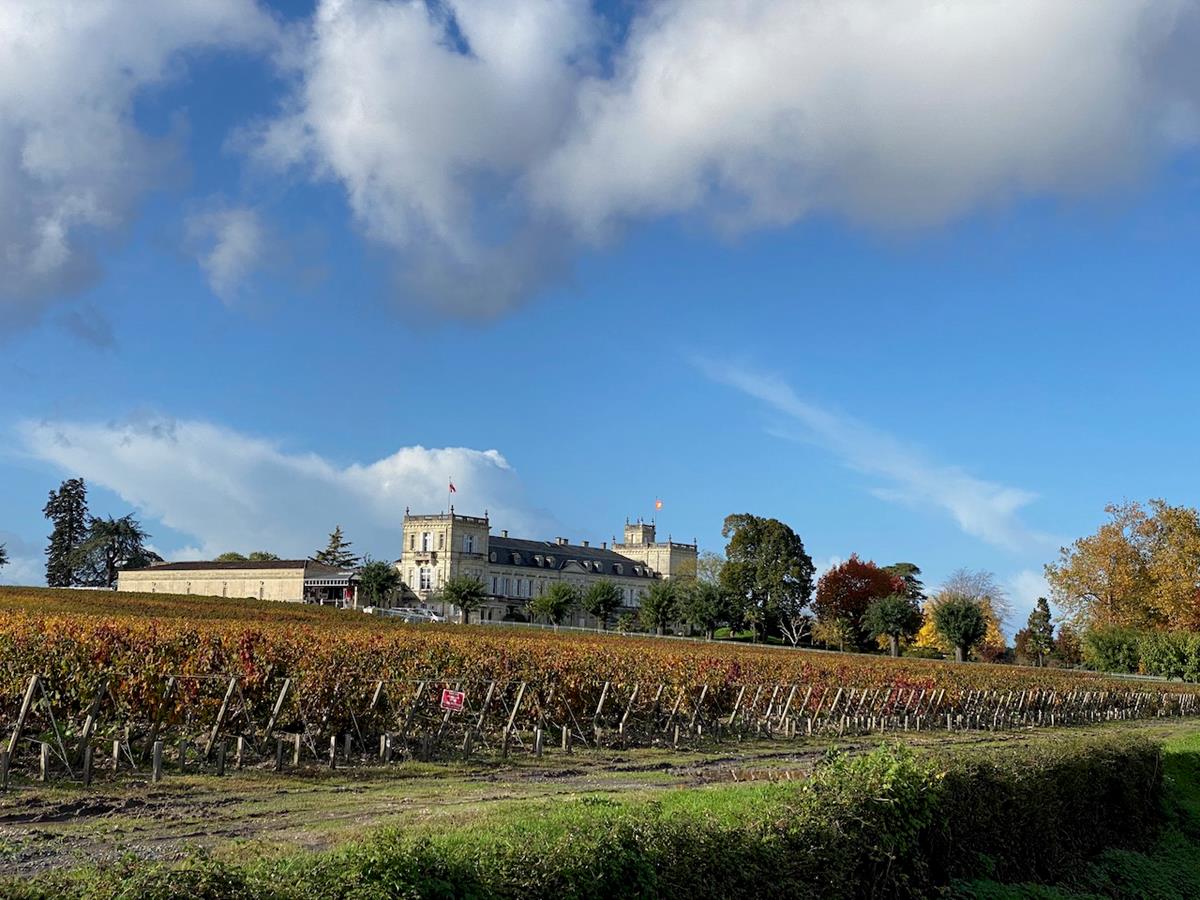 Château Ducru Beaucaillou in Saint-Julien.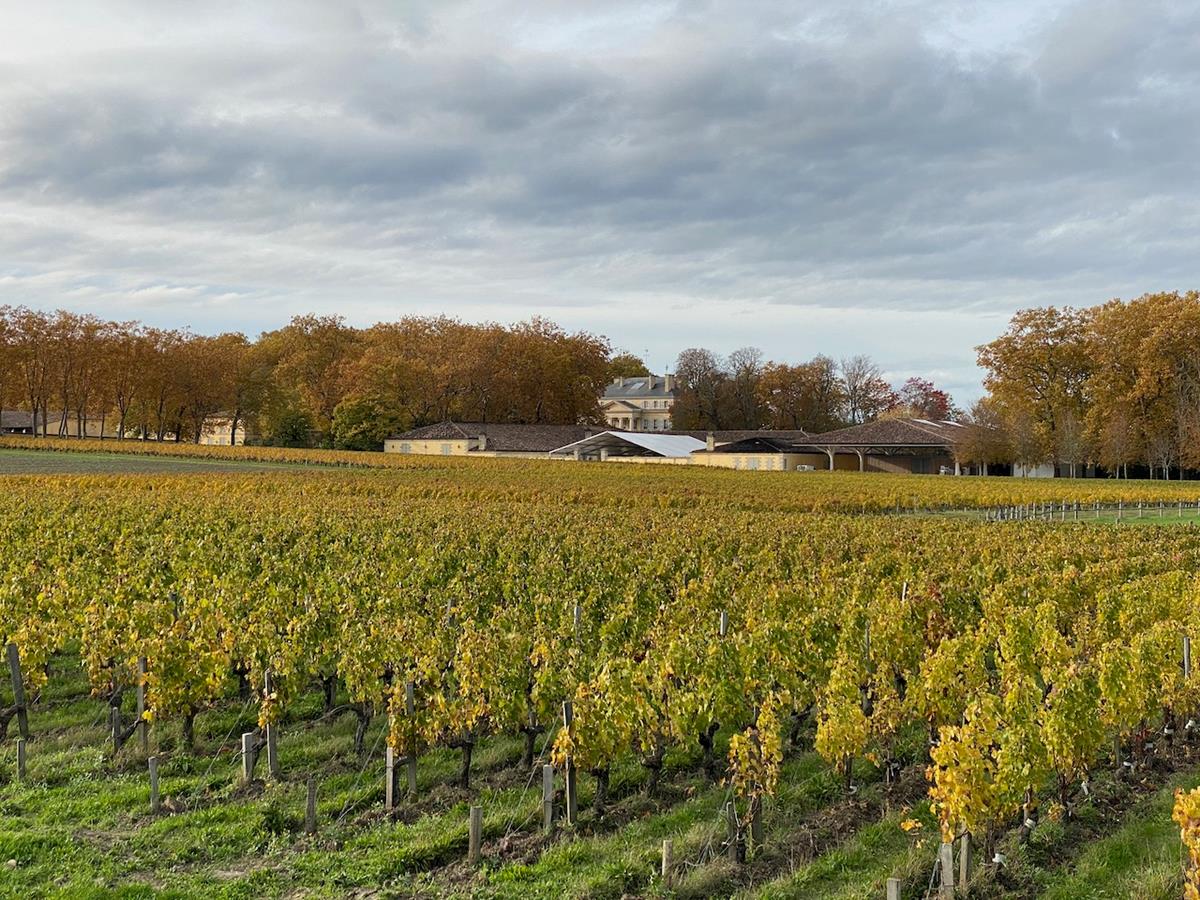 Back to Château Margaux. The tent-like structure was used during the reception of the grapes at harvest time.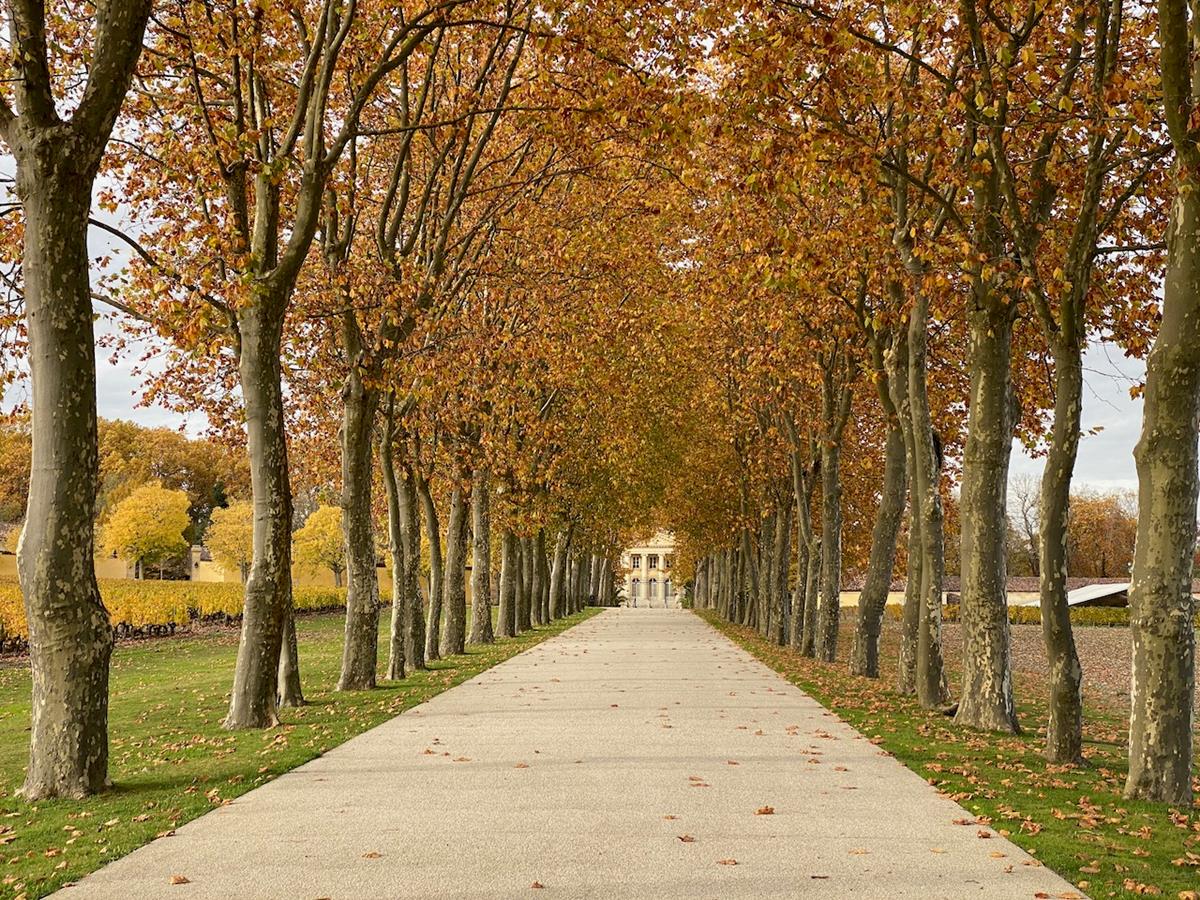 The famous avenue leading to Château Margaux.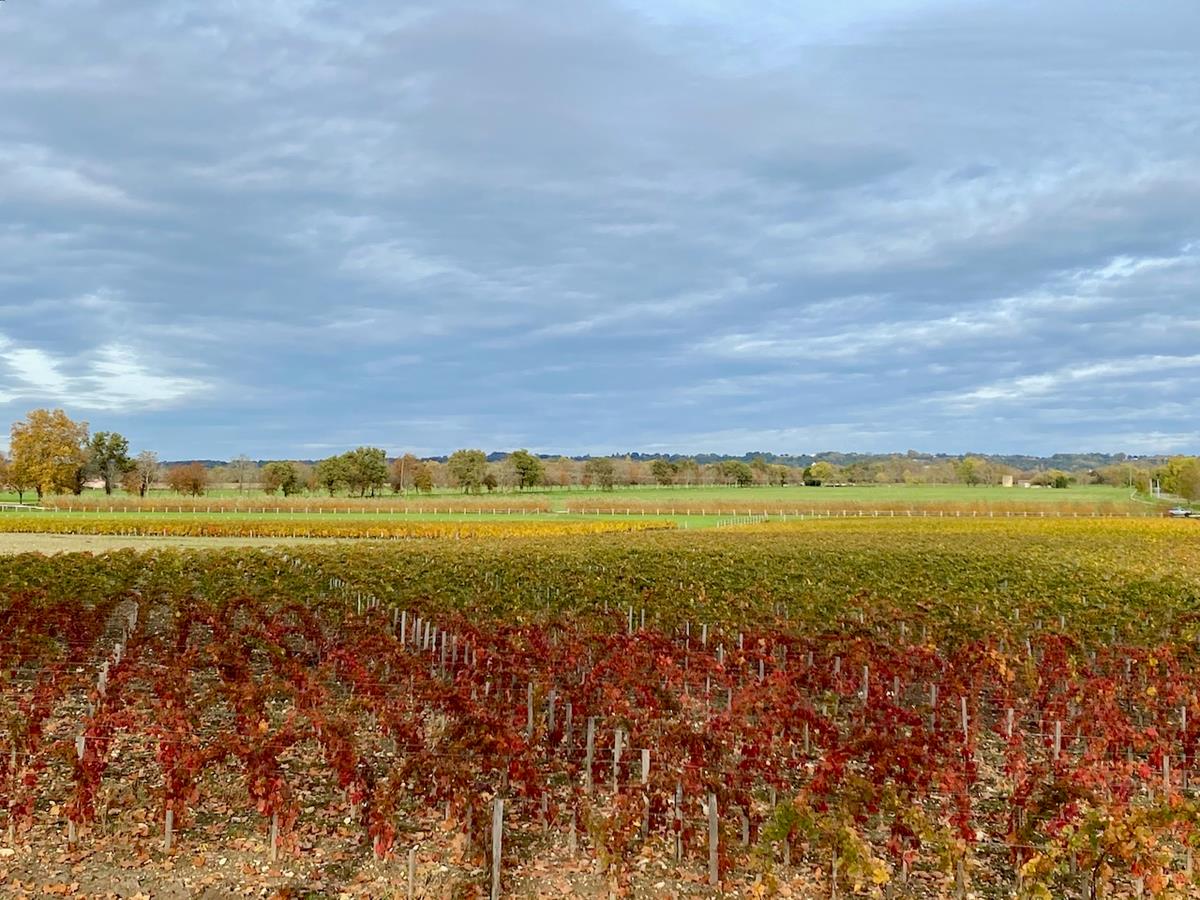 From the driveway, a gradient of colours from recently planted vines.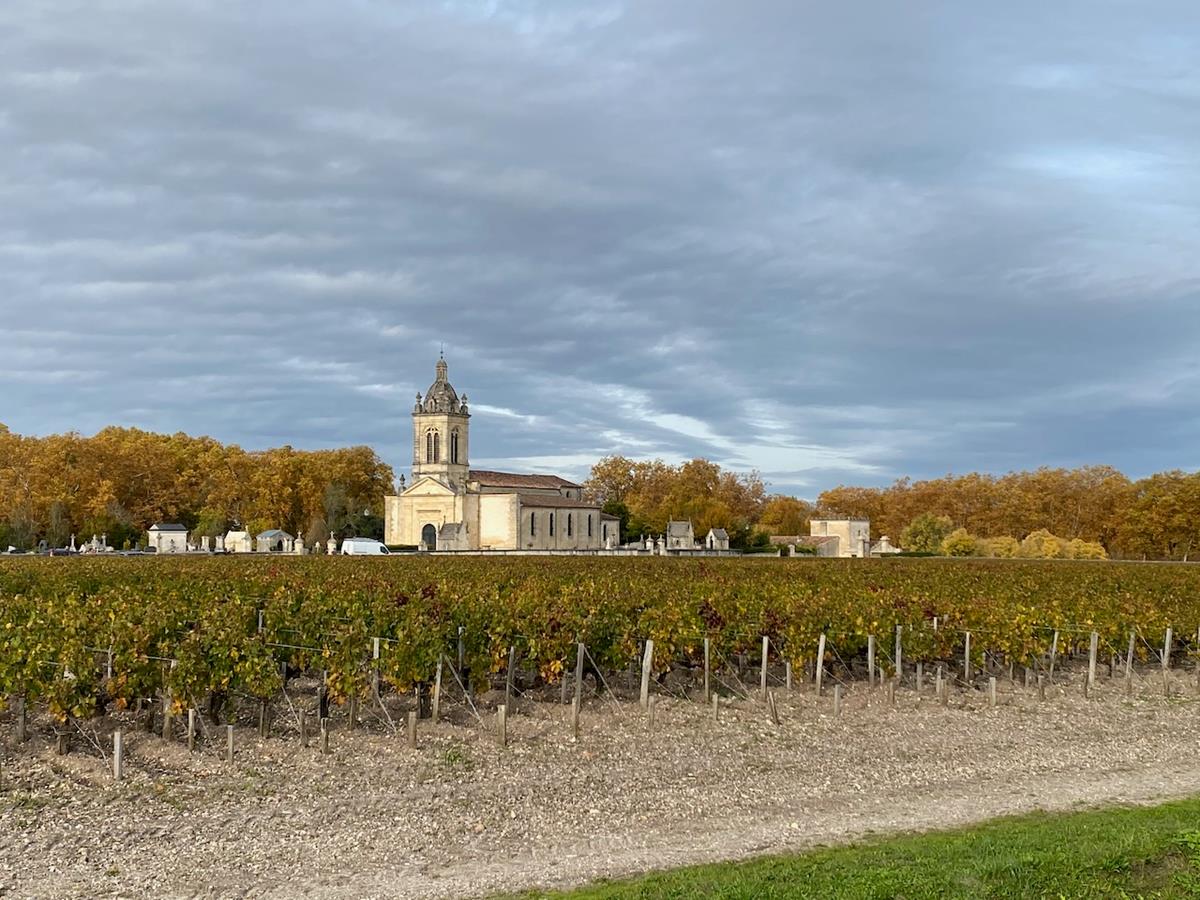 The gravels of Margaux, a well known landmark and that moment when a white transit van pulls up into shot. Joakim can edit it out with his pro version, he says. Meanwhile, I'm compiling a photo library of 'châteaux with vans blancs'.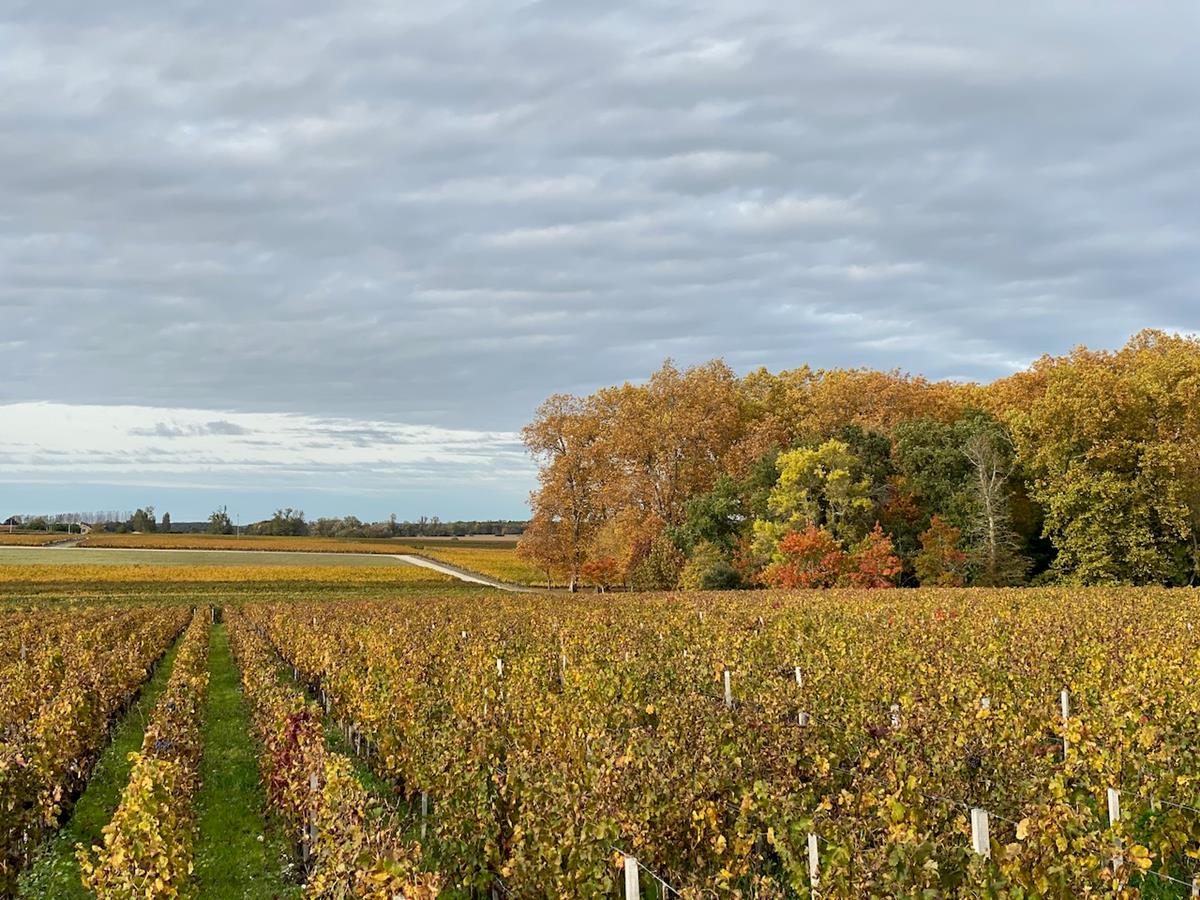 This parcel (of Cabernet Sauvignon) on the small road from the village of Margaux down to Château Margaux belongs to Château Rauzan Ségla nearby.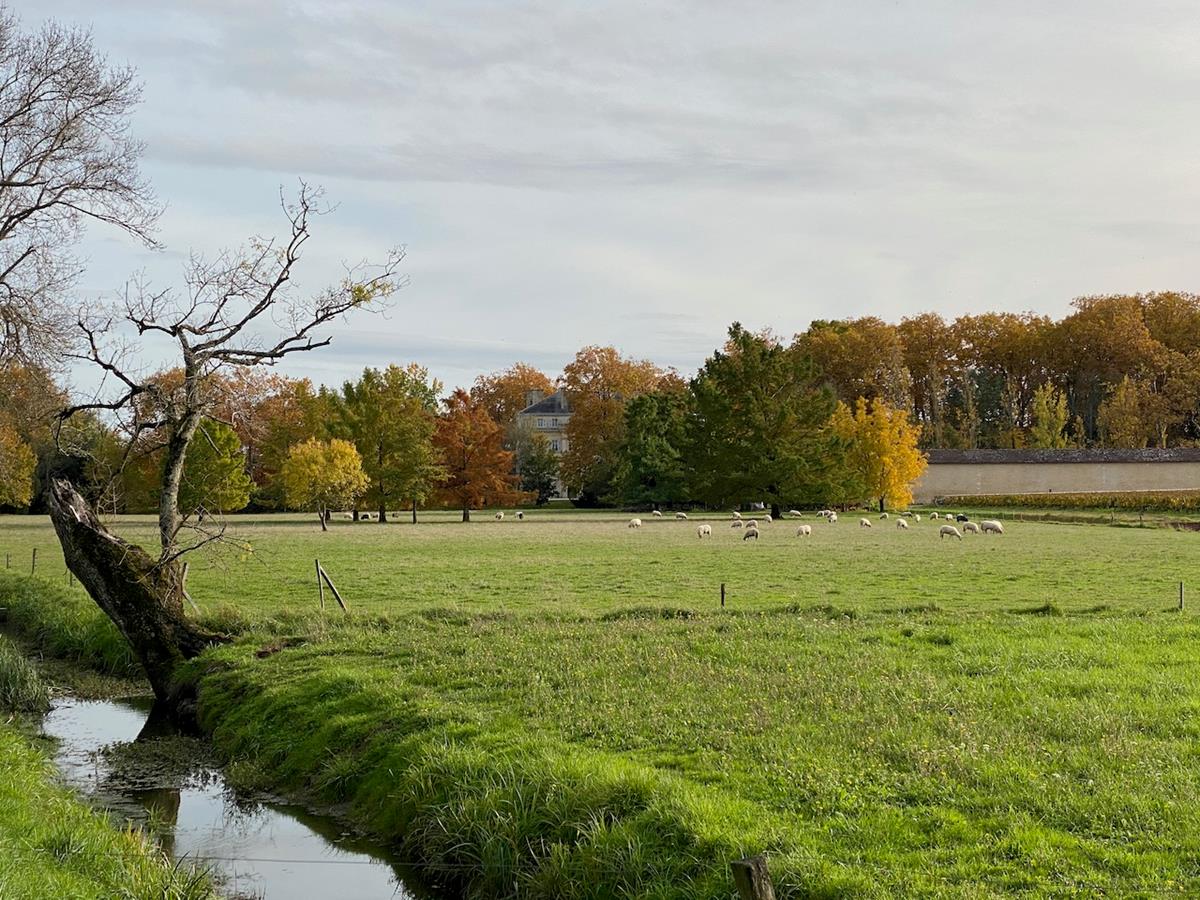 Few people ever drive behind Château Margaux but when Joakim said he needed some pictures of sheep… (it's a book on food as well as wine).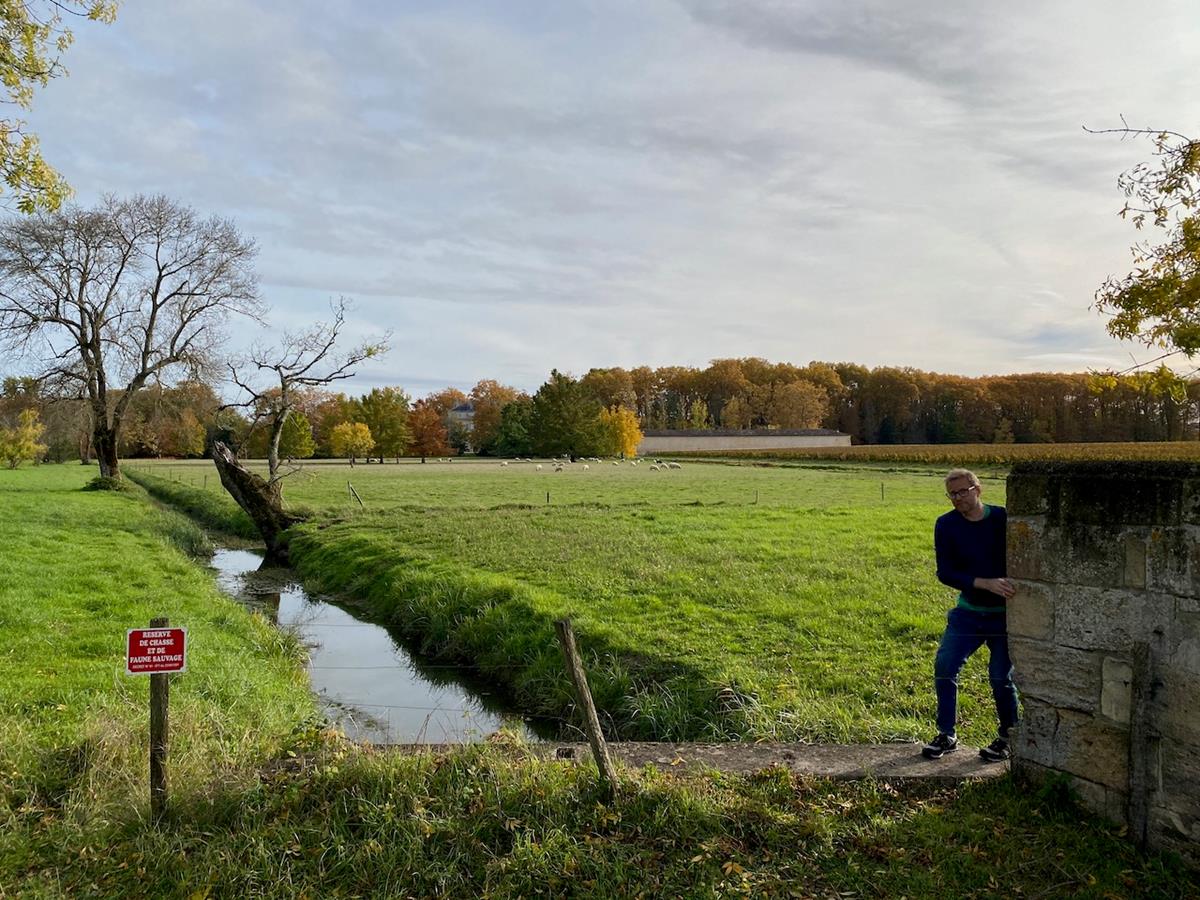 I'm sure they won't object.
And if it's cattle near vines you're after, no problem. Not quite Château Margaux, but still.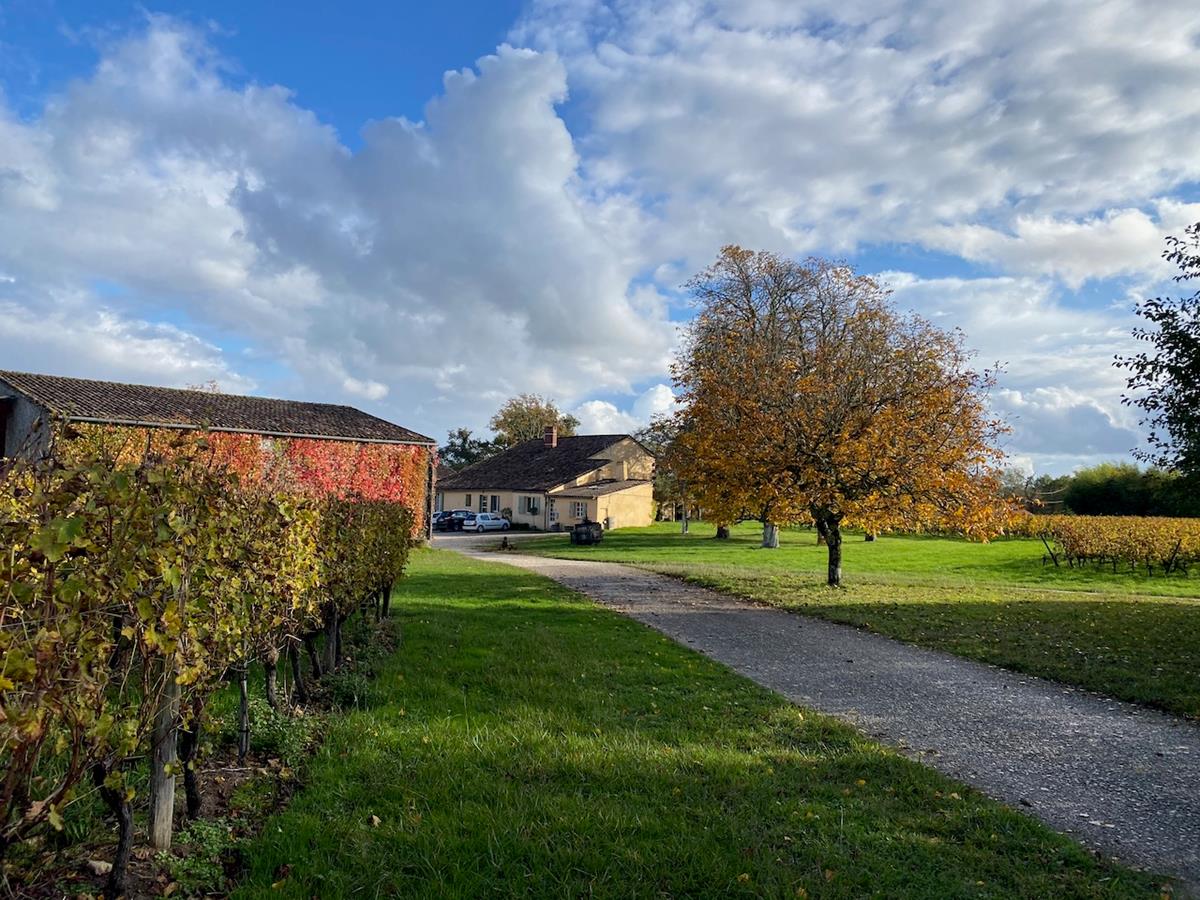 Back to the farmhouse at Château Bauduc.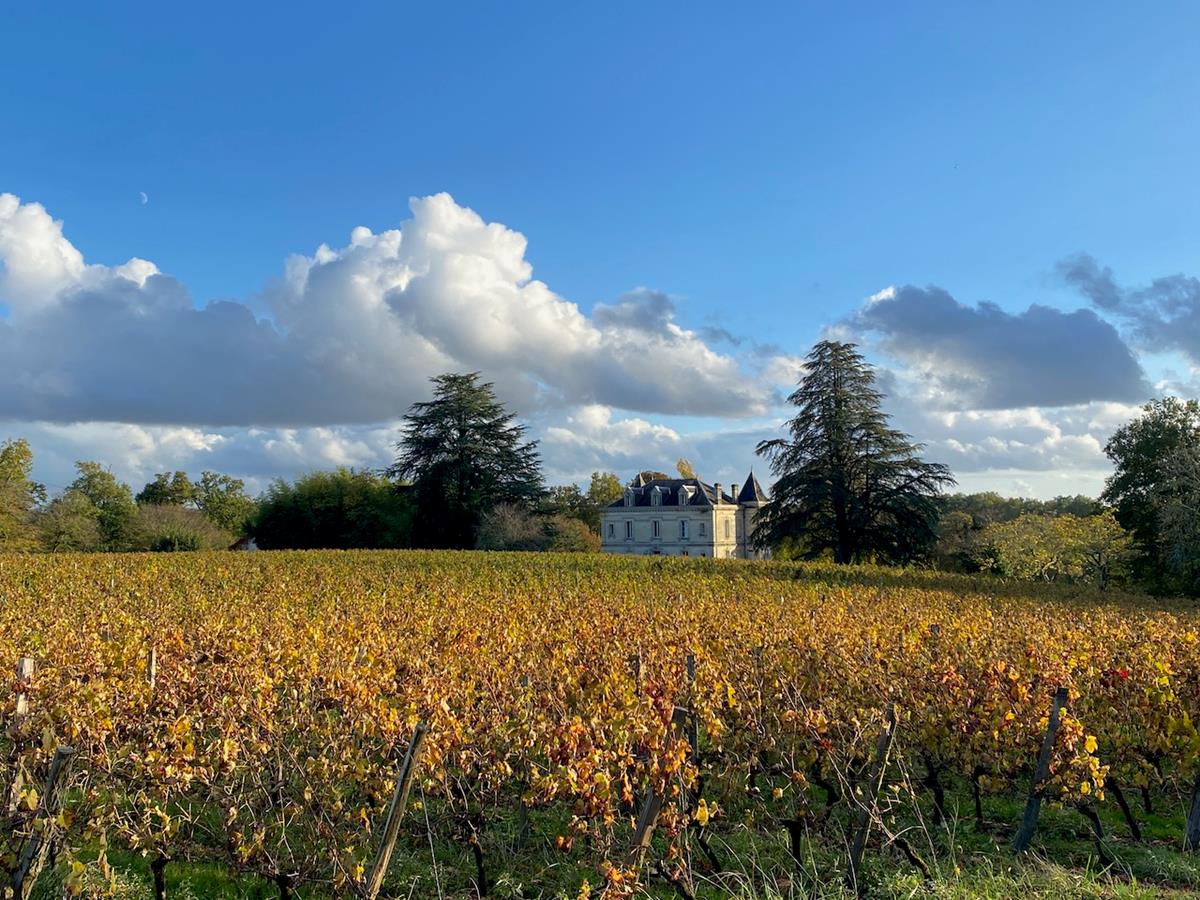 Château Bauduc. We're in Créon – 50 minutes from Margaux, by the way.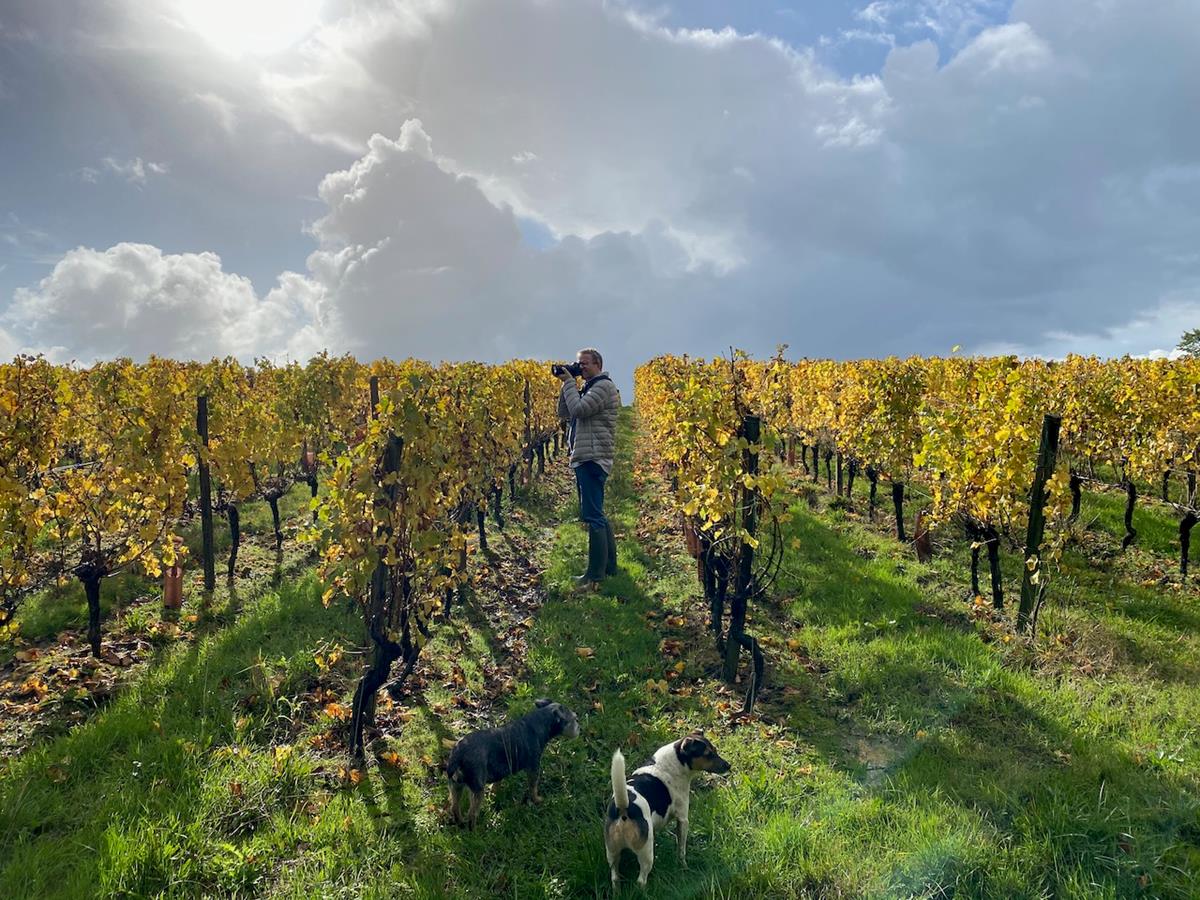 And, from last Sunday for Joakim, as good a basecamp as any.
---
All our harvest updates and newsletters are on Gavin's blog.
You can see pics of this harvest and more in our Bauduc photo albums.