Posted by Gavin Quinney on 30th May 2020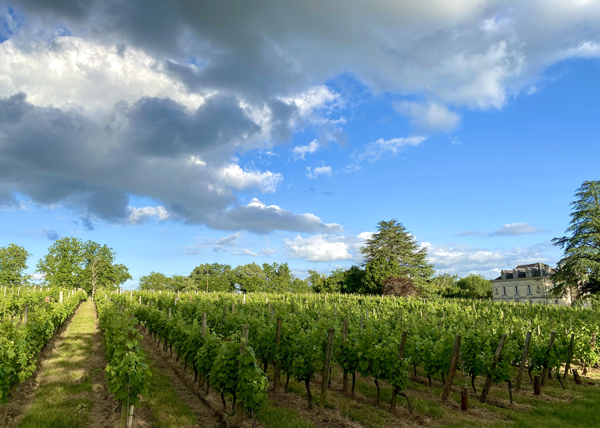 Another crazy month.
We are, though, extremely lucky to produce stuff from vines that we grow in conveniently distanced rows in wide open spaces, and for that stuff, thanks to a formidable team effort, to be enjoyed by people at home.
Stay safe, keep out of harm's way, and drink well.
All the best,
Gavin & Angela Quinney
Vines off to a flyer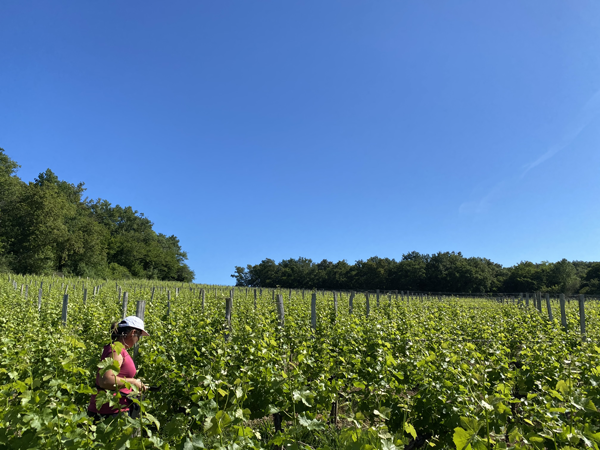 The world might have been in lockdown since mid-March but the vines have been quicker than ever out of the blocks since then. Well, not quite ever - since 2011 to be precise.
2020 is certainly all set up to be an early vintage, much like 2011 when we started picking the Sauvignon Blanc in late August (mid-September for dry whites would be the norm). There is a long way to go, of course, but the flowering has been breaking out here in lovely sunshine for the second half of May. We often bore readers in late May or June about how crucial the floraison is, but it does play a key part in the size and consistency of the crop, and can be an important factor in determining quality.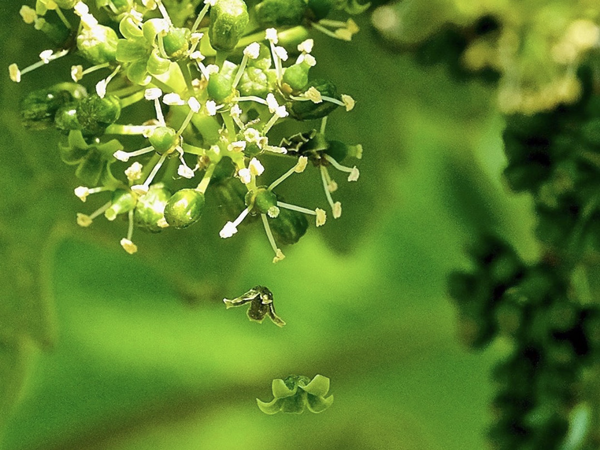 So here's a single photo lesson, above, in how the grapes are formed: a flower cap of tiny fused petals, called the calyptra, falls off the weeny grape flower, releasing the little male spikes called stamens, which produce pollen, and in turn the female part – a moist pistil with an ovary in the centre – is pollinated, leading to the creation of a berry, as we call it, or grape.
That picture was from Jean-Baptiste and Nathalie @chateau_anthonic's Instagram on 2 June last year, with their kind permission.
The trouble comes with rain and cold, when those little fused petals don't fall off as planned and everything can get clogged up. So hurray for the sunshine.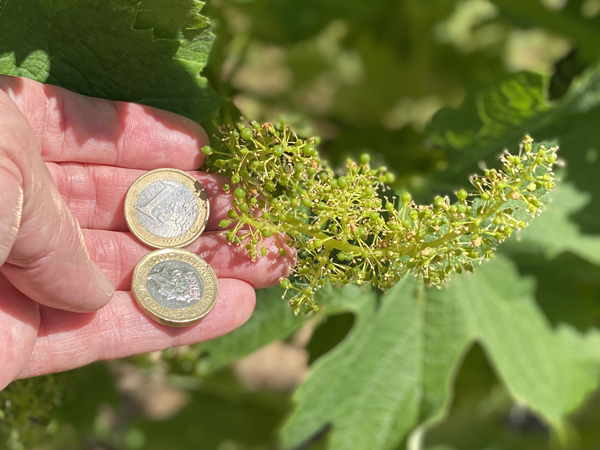 With the good weather, here are the baby grapes having just been born, ahh, with coins for scale.
Four from Bauduc in the Bordeaux Hot 50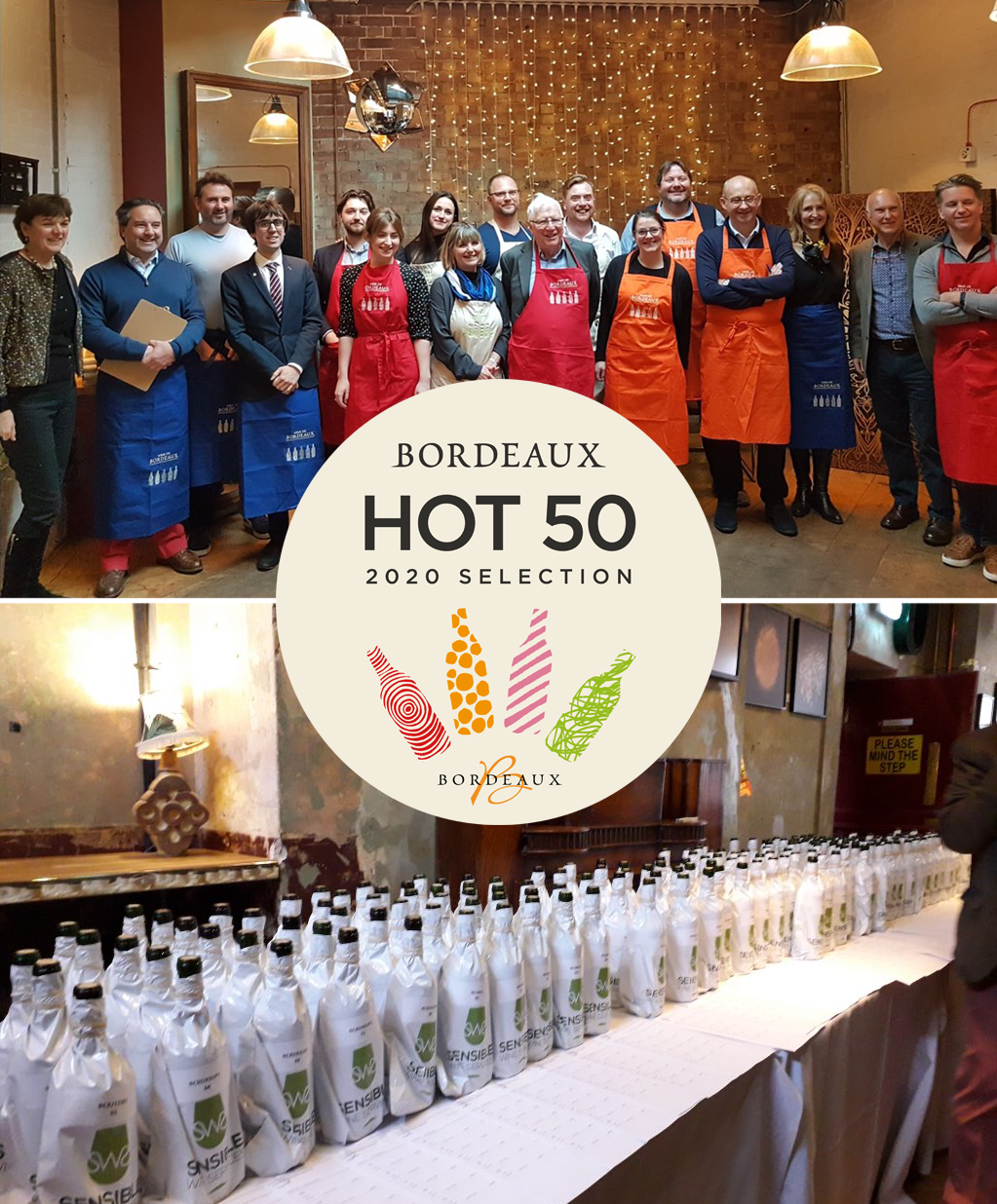 It has indeed been a scorcher of late. Speaking of which, we were fairly chuffed to have four wines chosen for the Bordeaux Hot 50, announced by the Bordeaux wine bureau earlier this month. "Highlighting some of the most exciting and interesting Bordeaux wines available in the UK retailing between £6-£25, the Hot 50 Bordeaux 2020 Selection is a carefully curated collection of wines chosen to appeal to modern consumers."
So, whatever your age, consider yourself a modern consumer if you've enjoyed our Sauvignon Blanc, our Rosé, our Crémant or our sparkling Blanc de Blancs.
At a London tasting earlier this year, Richard Bampfield MW and a panel of experts including wine buyers, sommeliers, educators and journalists tasted 250 Bordeaux wines before the judges whittled it down.
"The judging team and I were thrilled by the quality and extraordinary breadth of styles on show during the tasting process," said Richard. (We're quoting from the press release here - he doesn't actually speak like this.) "It proved a real challenge to select just 50, such was the quality of the wines submitted. However, I am delighted with the final selection, all of the wines capture the innovation and modernity of Bordeaux today."
Toot toot! The Sparkling Summer case, a six bottle pack including a bottle of the Blanc de Blancs, the Rosé and Sauvignon Blanc has just arrived in UK stock.
Salaried, pensioned or comfortably furloughed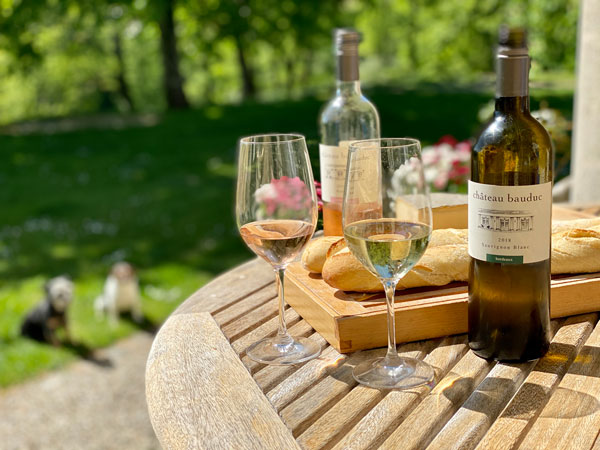 Several people contacted us about a piece by Martin Vander Weyer, the business editor, in the Spectator this month. Wine reviews are great, of course, but it's also fun to be mentioned as an aside. He wrote
"…the portion of the population that is either salaried, pensioned or comfortably furloughed is, in the absence of so many normal spending outlets, accumulating savings while still shopping avidly online - creating remarkable success stories. Brompton, the folding bike maker, reports a fivefold increase in sales since the start of April. Artfinder, a market-place for contemporary artwork, reports 'a 110 per cent increase in new customers'. British-owned Château Bauduc in Bordeaux reports more than 1,000 UK orders for its new-season whites and rosés. If the revolution's coming, you might as well fill the cellar, hang something pleasing on the wall and oil your bike for a quick getaway."
He was quoting from last month's news review, when we said we'd had 1,000 orders in a month. As an update, we've now had 2,000 online orders since 20 March, equalling the number of online orders we'd had in the entire two years prior to that.
Hopefully it's a sign that we're not just seeing what's been referred to as an Amazonification of the planet. People with a little time on their hands are turning to suppliers online that have a genuine and different proposition - in our case, affordable wines direct from a vineyard in Bordeaux, with UK duty and tax paid along the way.
We're always interested in learning about other small to medium-sized businesses that offer something different online.
A family affair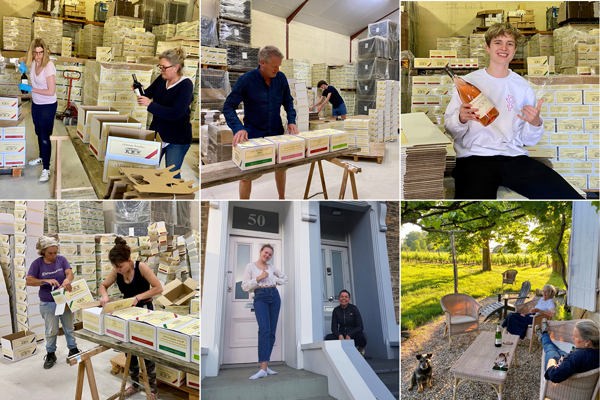 It's been all hands on deck here, as 24,000 cases of six (all Bauduc) have left the property in the last three months. One approach to social distancing in the warehouse - especially when making up mixed cases - is for Dad and Tom, Mum and Sophie and assistant winemaker Nelly and her daughter Lucie to work in pairs.
Now in case you think your order might get lost in the crowd, it is far more effective to order on our website these days than by phone or email to Angela or Gavin. That's because Georgie, our eldest and living in east London, has been steadfastly placing online orders with our warehouse and delivery partner, London City Bond, and they too have been terrific.
As a schoolteacher at a state school, Georgie (pictured with her neighbour Agatha, a customer) may have to go back to her real work soon, so Amelia, daughter number three (19, on leave here from McGill Uni) is on standby, posing with rosé.
Meanwhile, sales from our Calais warehouse are zero, cellar door sales are rare, sales to restaurants are zero of course, and most of our farmhouse bookings have been cancelled or been pushed on a year. More on that and our 'two weeks in self-isolation' sales pitch anon. (Mrs Diana Quinney is currently living it up at the farmhouse, above.)
PS Any feedback is gratefully received:
"I just thought I would drop you a note. I am a new customer of less than ten days. I ordered a case of your Sauvignon and my wife and I enjoyed a glass or two watching the sunset. I do not have to tell you how good your wine is. I ordered an additional two cases on Wednesday a Sauvignon and a Rose. I have yet to try the rose, that will be this evening.
The reason for writing is not only to thank you for excellent wine but compliment you on your administration.I have never experienced such outstanding delivery times. The drivers were polite and chatty whilst observing the current distancing measures.
Well done everyone.
Kind Regards
Gerry P"
Inside Bordeaux, by Jane Anson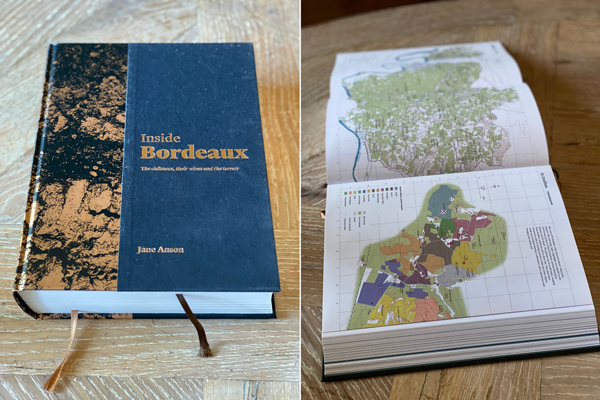 The release of Jane Anson's eagerly awaited tome - subtitled 'the châteaux, the wines and the terroir' - was put on hold for a few weeks but was perfectly timed as a birthday present the other day. For Ange to splash out £60 plus express delivery from the UK it would had to have been worth it, and it most certainly was.
Jane is Decanter magazine's contributing editor for Bordeaux, and lives in the city with her husband Francis and their two girls. She's also the magazine's sole taster for Bordeaux en primeur, a role previously undertaken by a team.
We heartily recommend this book, which is published by Berry Brothers. And that's not just because Jane has been kind enough to include Château Bauduc in her selection of 20 estates from the vast Bordeaux, Bordeaux Supérieur and Entre Deux Mers appellations. We'll cover Jane's detailed overview of Bauduc in the next news review, though we are naturally happy to share her conclusion: "These are excellent quality wines - reds as well as whites - consistent and easy to enjoy. One to follow."
Victoria Moore, the Telegraph's wine critic, was spot on with this review of Inside Bordeaux this month. "What comes across throughout is Anson's desire to share her insights and finds. She is very notably not a self-aggrandising writer: her prose does not smugly ooze, "Look at me! See what knowledge I have and what judgments I can make because I own this field!" Rather, she is someone whose eye is on her readers and the pleasure they might derive from her advice. This book is sprinkled with heartfelt recommendations. I happily browsed for hours, late into many nights."
Below is the link to purchase the book through Berry Bros, with whom we have no commercial affiliation.
Delivery is free in the UK, or in France from Mollat.
Bordeaux 2019 en primeur - press and price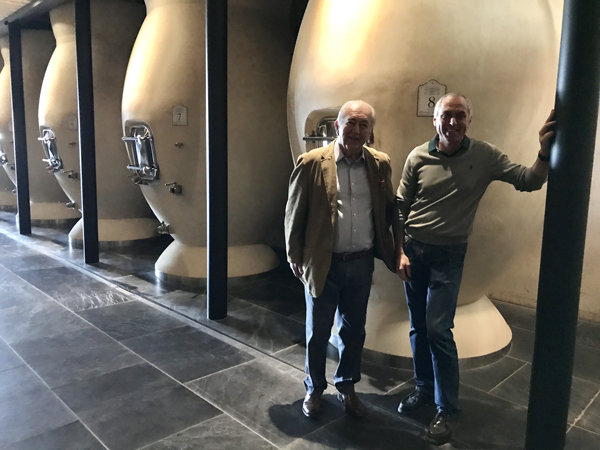 I'll be tasting barrel samples of many top 2019 Bordeaux wines next month. With the brand new release of the highly rated Château Pontet Canet 2019, above, at 30% less than the 2018 price, could things actually get quite interesting? There has been a lot of divided opinion about whether there should be an en primeur campaign in the current climate.
Just so you know, many of the top châteaux have been sending samples to leading critics like Neal Martin in Guildford, Lisa Perrotti-Brown in California and James Suckling in Hong Kong. Others like Jancis Robinson (London) and James Molesworth (USA) are not assessing the vintage, or at least not in this manner. (Neal has shown shrink-wrapped pallets of samples sitting on his driveway and endless boxes of 2019s on his Instagram account, polystyrene and all, which might be enough to put anyone off.)
At the same time, several top estates are not sending out samples for the time being. "I'll wait and see" one MD of a First Growth told me (2m apart).
I loved this extract from a London merchant's email to his customers (28 May), which may be a foretaste of things to come:
And there are people that have tasted Pontet-Canet… a few of the top journalists have had samples sent to them… though it remains that we like to offer our own opinion, rather than lean on that of some well-known journo! On this occasion, not possible. Actually, I'll name check our fave négociant, Gareth H.; he was tasting at the estate last week & I spoke with him 2 hours ago; he tells me this is the finest P-C for some years; it has a lightness and a finesse to the wine. Really beautiful.
"Can they send me a sample" I enquired. "No".
"Should we buy this?" … "oh, yes".
"Go on then, book me 20 dozen" …
"I can do you 72 bottles" …
Damn, this should be easier.
Fair play to Decorum Vintners, telling it like it is. I'll report back.
Our online tasting and chat with Ronan Sayburn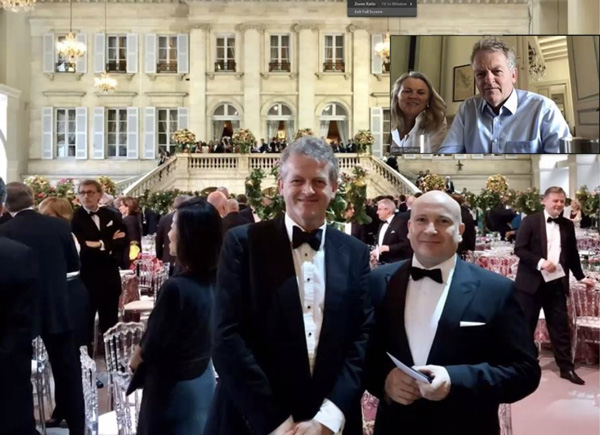 In case you missed it, here's a link to a YouTube recording of our 'virtual wine event' with Ronan Sayburn of 67 Pall Mall on Friday 15th May:
Ronan is a big cheese in the international wine scene, both as Wine Director of 67 Mall Pall and CEO of the Court of Master Sommeliers. 20 years ago he was Head Sommelier for Gordon Ramsay and we start the event off with how he came to select our white as the house wine for the group.
We then talk about how we ended up here and there are umpteen photos of the vineyard, the people and, unsurprisingly, the dogs. It's as much of a chat, potted history and explanation of what we're about as an online wine tasting.
We do of course talk about the wines, which are all included in our 6-bottle Collection case. There is absolutely no requirement to have all these open while viewing the video, or even to buy them, but we've sent more cases over as it's a thoroughly tasty package of wines.
Thanks to all those who posted pics of themselves with their tasting packs and glasses to hand, some of which are below.