Posted by Gavin Quinney on 18th Jun 2020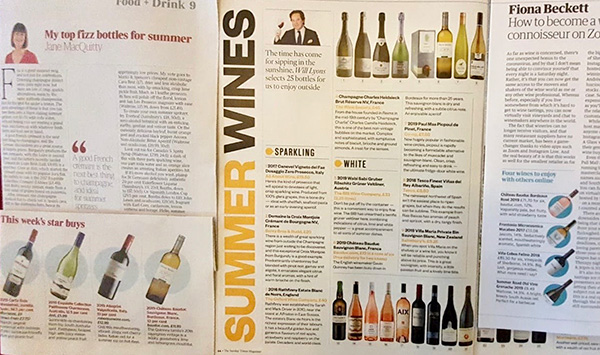 Pip pip. Our wines have been featured in The Times, The Sunday Times and The Guardian in the last fortnight so we thought we'd bring you up to date with our new summer list and, to be fair, show off a little. So this missive is more of a mid-month, end-of-lockdown newsletter than a quickie sales promotion.
Do use the temporary loyalty code QuarantineJune at the checkout or basket for 10% off, making any 'star buys' even better value. You can also pass this code on to friends and family to use.
There's still free delivery for 12 or 24+ bottles in England and Wales and, if you're in a sharing or stocking up mode, do make the most of the automatic volume discounts on unmixed cases of 5% for 36 or 7.5% for 72 bottles, valid until 14th July.
There are some cracking mixed cases and new wines from other châteaux, including an excellent rosé.
Our delivery charge for 6 bottles for England and Wales has gone up to £10 from £9.50, the first such increase in five years, while the cost for 18 bottles is down to £8 (we are charged the same for 18 as 24).
All wines are in cases of 6 and the equivalent bottle prices are shown below.
Stay safe still, and drink good wine.
All the best,
Gavin & Angela Quinney
Jane MacQuitty's Star Buy in The Times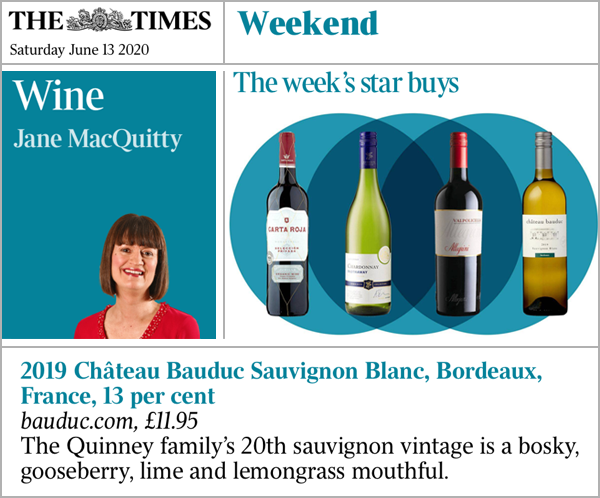 We were delighted that our 2019 Sauvignon Blanc was included as a Star Buy for £11.95 last Saturday by Jane MacQuitty, the wine critic for The Times since long before we came here. 'The Quinney family's 20th vintage sauvignon is a bosky, gooseberry, lime and lemongrass mouthful.'

------------------
Sauvignon Blanc 2019
£11.95 a bottle, £10.75 with code
36 bottles £10.22, 72 bottles £9.95
------------------
The 20th vintage of this wine is only available in the UK through us on bauduc.com. A blend of 95% Sauvignon Blanc and 5% Sémillon, our estate-grown dry white has been the house wine for Gordon Ramsay and Rick Stein for nearly two decades. Long may that continue.
Snap! Will Lyons in The Sunday Times
This followed on from the same wine being picked the weekend before by Will Lyons in The Sunday Times for his 'best summer wine to buy now', as the online edition put it. 'This sauvignon blanc is dry and refreshing, with a subtle citrus note.'
Will sampled the wine having bought one of our Collection cases before our 'virtual' tasting with Ronan Sayburn of 67 Pall Mall.
Fiona Beckett's rosé pick in The Guardian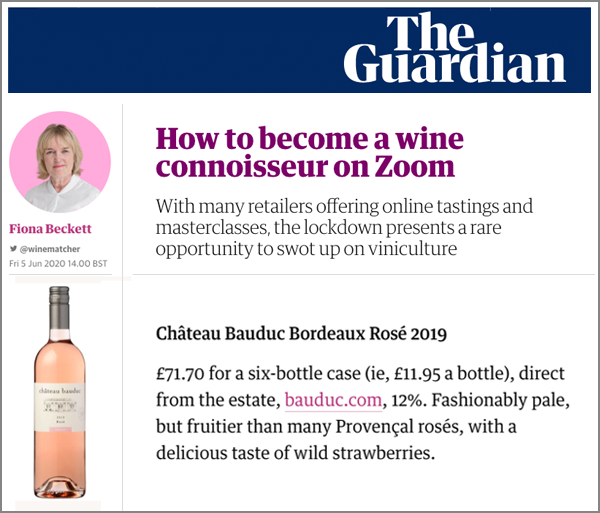 The Guardian's wine critic kindly purchased one of our Collection cases on our website and picked out our Rosé 2019. 'Fashionably pale, but fruitier than many Provençal rosés, with a delicious taste of wild strawberries' she wrote in the online version. The shorter print version made no comparison with our friends down towards the Med. Sub editors, eh?
Sadly, bottles of Rosé have now sold out except in some mixed cases. Something to do with good weather during lockdown, we reckon.

------------------
Rosé 2019 magnum
Rosé 2019 magnum - in a three-pack
£24.95 a Magnum, £22.46 with code
In a 36 bottle order £21.33
In a 72 bottle order £20.77
------------------
We still have some MAGNUMs left in cases of 3. The magnums (150cls) stay fresh in the fridge once opened for 4-5 days if you can keep your hands off one for that long. The contents, which we made from the juice of one third each of Merlot, Cabernet Sauvignon and Cabernet Franc, are extremely moreish. Perfect for a small group in the garden.
Introducing Château Vermont Rosé 2019

A dry and stylish pale pink
£11.50 a bottle, £10.35 with code In a 36 bottle order £9.83, 72 bottle order £9.57 (Introductory price and volume offer ends 14 July)
------------------
Once we realised our rosé was going to sell out, we searched for a wine of similar quality - and preferably from an actual vineyard, not a brand - to help see our customers through the summer. And, do you know what, it wasn't that easy.
This though is a really tasty, dry rosé from a château just a few miles from us. It's a very pale but pretty pink with a refreshing, mineral edge to it, with good texture, redcurrant fruit and a certain salinity that makes it work with food too. If you're looking for a peachy blush with a sweeter side, this isn't for you.
We actually found it because it won a coveted Gold medal at the Concours de Paris this year (one of the few wine competitions held before the lockdown) and this provided the basis of our shortlist after we'd tasted a lot of duds.
Within this ambitiously packaged, elegant bottle there is, in fact, an unusual blend of 40% Cabernet Franc, 40% Cabernet Sauvignon and 20% Petit Verdot. With much less alcohol from the juice of Cabernets than with many Merlots - the dominant variety in Bordeaux - in comes in at a respectable 12.5%. Also on the back label are the words Château Vermont, so the 'Vermont' on the front is not just a brand name.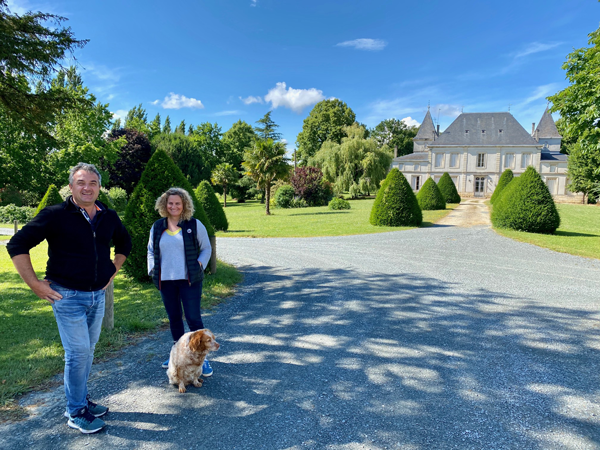 Elisabeth and David Labat took over the running of the vineyard from her father in 2010. There are close to 40 hectares of vines, mostly red, surrounding the impressive 19th century château, and they make this pale rosé from 7 hectares. It's an impressive operation, with a well equipped winery, and they're both working hard to establish Vermont as a serious player.
New: Bordeaux Summer Six
A lovely line-up of summer wines from us and others
£12.95 a bottle £11.66 with code
------------------
You don't have to take our word for it and order a 6-bottle case to try the Château Vermont, as we've managed to squeeze one bottle in our new Bordeaux Summer Six. This is a line-up of wines that we're drinking a little too much of ourselves.
Two of our 2019 dry whites (we're also drinking our Sauvignon Sémillon 2019 but there isn't room for them all) plus our Rosé and the Vermont Rosé, and two new reds.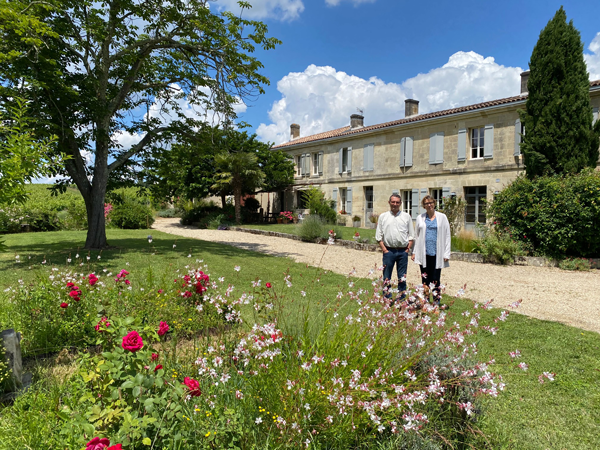 There are lots of Bauduc-only mixed cases to choose from so we thought we'd include the new Château Martinat 2016 from Stephane and Lucie Donze in the Côtes de Bourg. Much too easy to drink at the end of the day. Savoury and flavoursome.
And then there's a new find, which doesn't just hit the right in-vogue elements because it's organic (bio in French), young (2019) and without any added sulphites - it also slips down a dream. Again, we're drinking a little too much of the stock we bought. That's the Cuvée 7 Sans from Jean-Luc Soubie at Château de Lisennes. See below.
Château de Lisennes cuvée 7 Sans 2019 rouge

Delicious organic young red with no added sulphites
£12.50 per bottle, £11.25 with code
36 bottle order £10.69
72 bottle order £10.40
------------------
If you think all red Bordeaux has to be aged, think again. This is a lush, organically farmed red, with no added sulphites, for drinking now. It is delicious.
I went to Jean-Luc Soubie's family property near Tresses - some 20 minutes away - when I was on the hunt for rosé, as he too had won a Gold medal in Paris. I liked the rosé but not enough to persuade Angela that a fairly dark, toothsome rosé would sell well.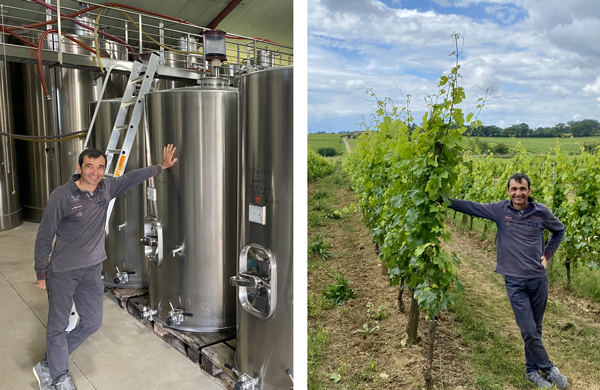 I did though take some other bottles away with me, and this wine stood out. 7 hectares of the estate are proudly being run as organic and this certified 100% Merlot has been bottled without any added sulphites. Hence the name 700, or Sept zero zero, or Sept Sans (Sept cent - geddit?). I returned for a further visit and Jean-Luc assures me the wine, bottled in the cleanest conditions, isn't about to go fizz-bang. (Sulphites not only act as an anti-oxidant, they can have the handy little knack of stopping any bacteria from turning the wine into vinegar.)
Bordeaux Red Collection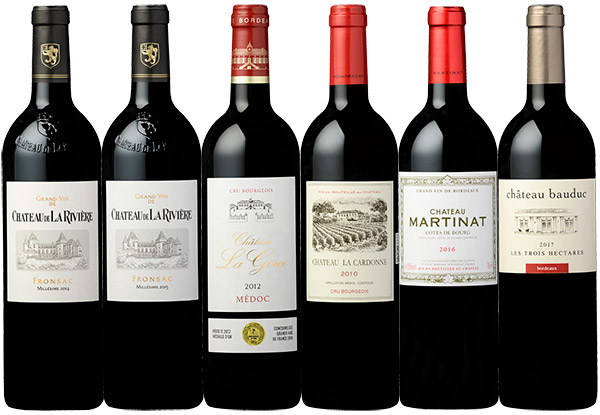 Lovely six-pack of vintage reds
£16 a bottle £14.40 with code
------------------
The lovely Bordeaux reds from other châteaux have proven to be very popular. As requested by many, here's a selection of wines so you can have a taste first before committing to buy the 6-packs.
There's one bottle each:
Château de la Riviere 2014, Fronsac
Château de la Riviere 2015, Fronsac
Château la Gorce 2012, Médoc
Château La Cardonne 2010, Médoc
Château Martinat 2016, Côtes de Bourg
Château Bauduc Les Trois Hectares 2017
All these wines are available in their own 6-bottle cases separately, along with a few cases that remain of>
Château de la Riviere 2012, Fronsac
Château Martinat 2015, Côtes de Bourg