Posted by Gavin Quinney on 30th Oct 2020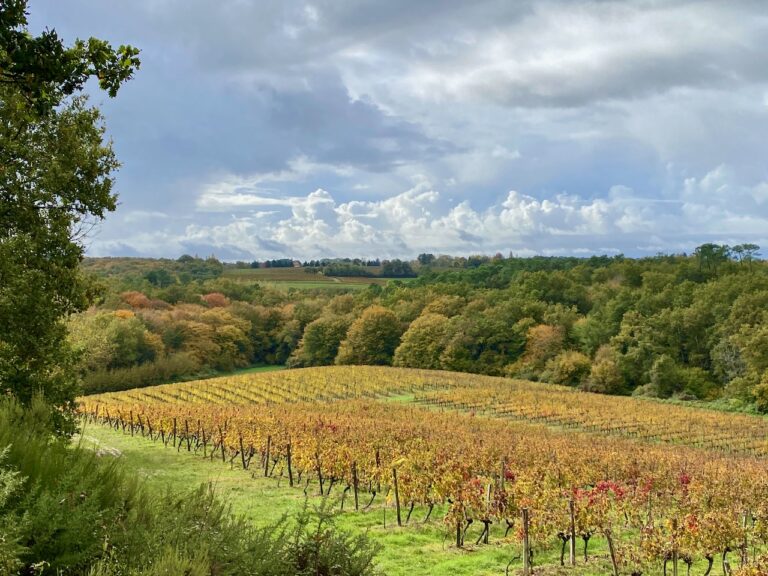 It's been a hectic month and although we've just gone back into lockdown in France today, this is no time to think about putting our feet up. We've got so much to do before the end of the year (no really).
Our photo journals every Wednesday seem to have gone down well, and here's a recap below if you missed any this month. Thanks to everyone who has pinged back a reply, even if it's short and sweet.
Let's hope any restrictions also end up being short and sweet, though it seems unlikely. In the meantime then, let's drink well and in moderation.
All the best
Gavin & Angela Quinney
---
Where to find our photo journals and albums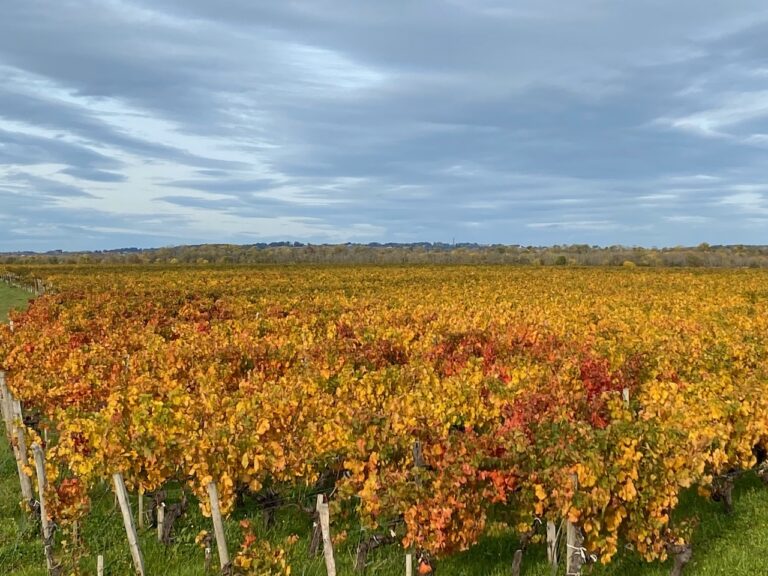 All our harvest updates, photos, Bordeaux reports and newsletters can be found on Gavin's site. (In fact - as some people have asked - he takes all the photos, puts them in a blog post and from there we create an email newsletter.) We're always happy for any feedback.
All the images from our photo journals are also saved in our super-quick Photo albums on the Bauduc website in 'About us':
All our 2020 photo albums on the Bauduc website are linked to the relevant story in Newsletters at the foot of the site, and vice versa.
All our monthly and weekly newsletters, including photo journals, are in News archives at the foot of our website.
Famous Châteaux in autumn – in pics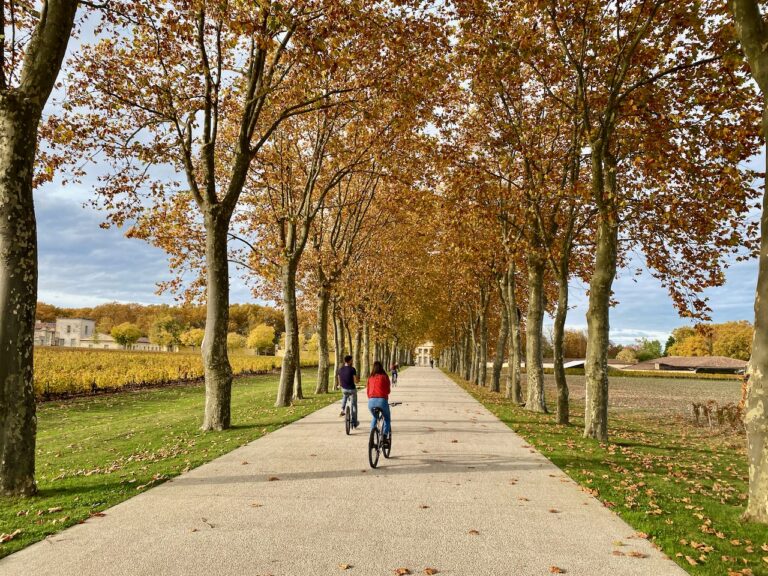 A Saturday afternoon in the Médoc and a trip down the famous Route des Châteaux.
Two weeks ago, a good friend in the London wine trade had written to say that he was writing a book on Bordeaux and did I have time to show his photographer around the famous vineyards. (Yep, one of those emails.)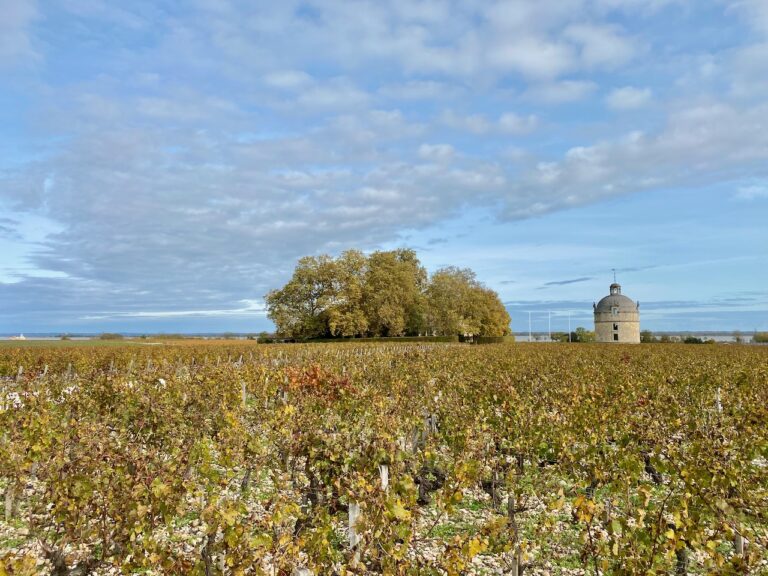 Now, ideally, if you're writing a book about a wine region it's best to take the photos before the end of the harvest, not a few weeks after. Still, something can be done if you're quick.
Fine selection of mixed cases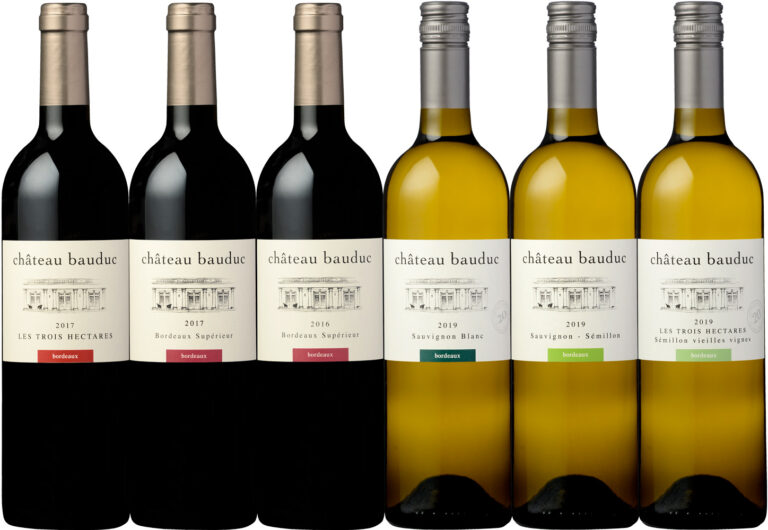 We've got a terrific selection of pre-mixed cases available for UK delivery, with eight different 6-bottle cases ranging from £11.50 to £13 per bottle and one at £16. Delivery in England and Wales is free for 12 or 24+ bottles, or £8 for 18 (except Greater London, where 18 go free). A 6-bottle case costs £10 for delivery. All cases are in original Château Bauduc boxes and, in the UK, are delivered by London City Bond.
The photo above is of the Bauduc Selection Box at £75. Sadly, no chocolate included.
Here's an unusual one for you. When we pack the mixed cases, the bottle on the top in the middle does not have the label facing upwards, so if you open the box with a sharp instrument, you won't damage the label. That was our theory anyway.
Grapes and autumnal bunches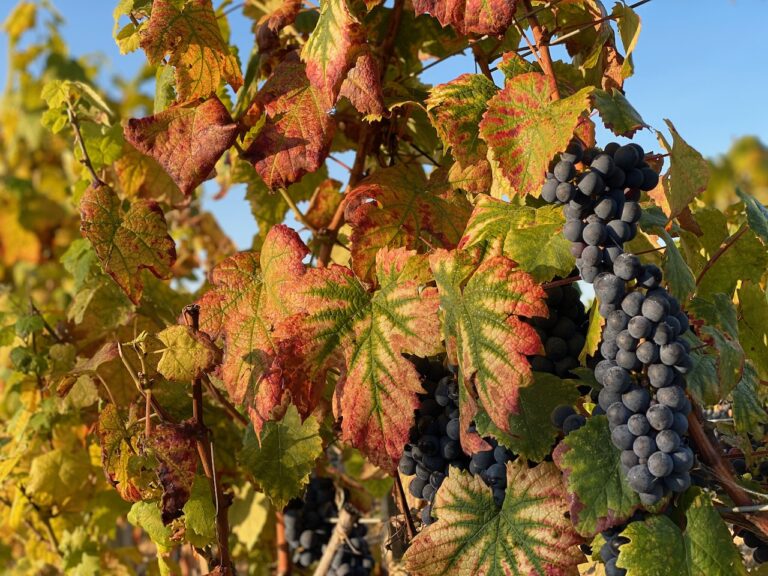 Here are some bunches of grapes that you don't often see: Bordeaux varieties bearing fruit and a splash of autumn colour. Atypical and rather attractive.
October and early November can, unsurprisingly, be a spectacular time of year in the vineyard, as the leaves turn red and gold a little while after the harvest.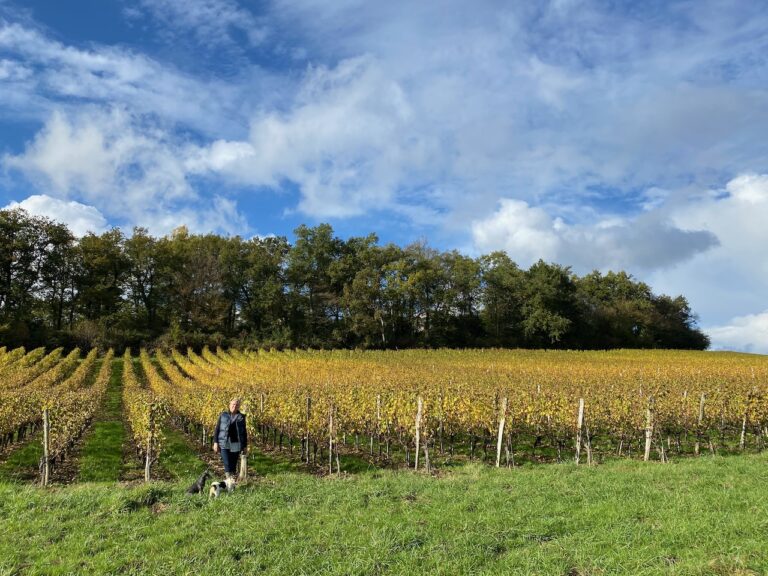 The white varieties tend to go more from green to golden yellow rather than red. The Sauvignon Blanc plots can be spectacular in late October if the autumn winds aren't too strong.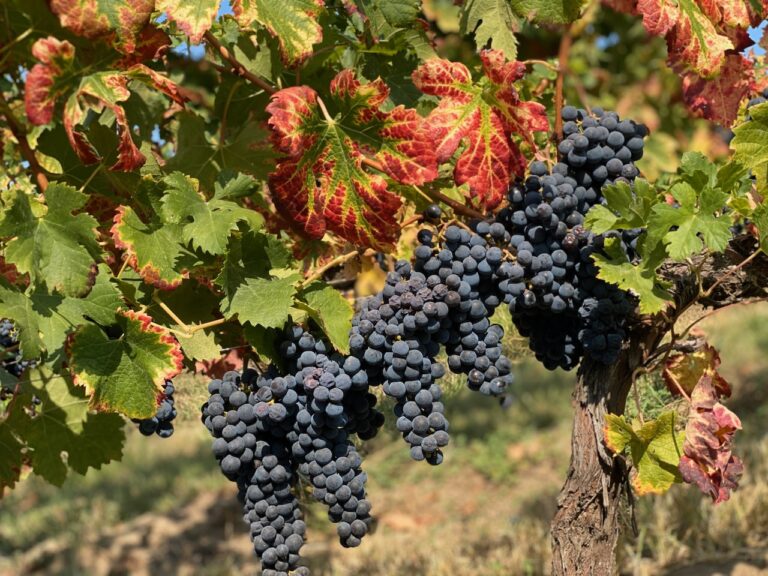 But this year, there was a chance to see red vines looking glorious with both ripe bunches and autumnal colours just before the harvest. This is Merlot.
Bordeaux 2020 weather and harvest report (and congratulations to Jancis)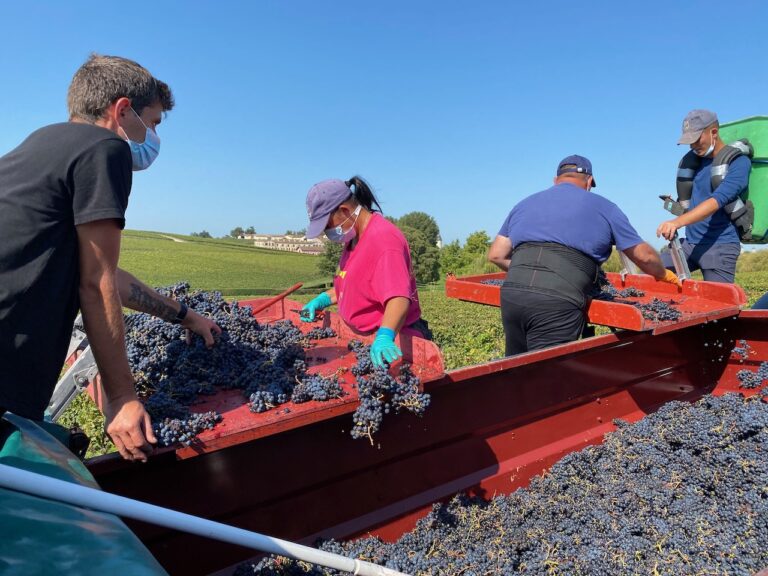 Another harvest safely landed and, like the timing of the crop, here was my weather report on the Bordeaux vintage a fortnight earlier than usual.
This was also published here on JancisRobinson.com and on Liv-ex – the London International Vintners' Exchange, the fine wine trading platform. Stop Press: Congratulations to Jancis on the 20th anniversary of her website. It's a great honour to have had my annual Bordeaux vintage reports published on JancisRobinson.com for the last decade.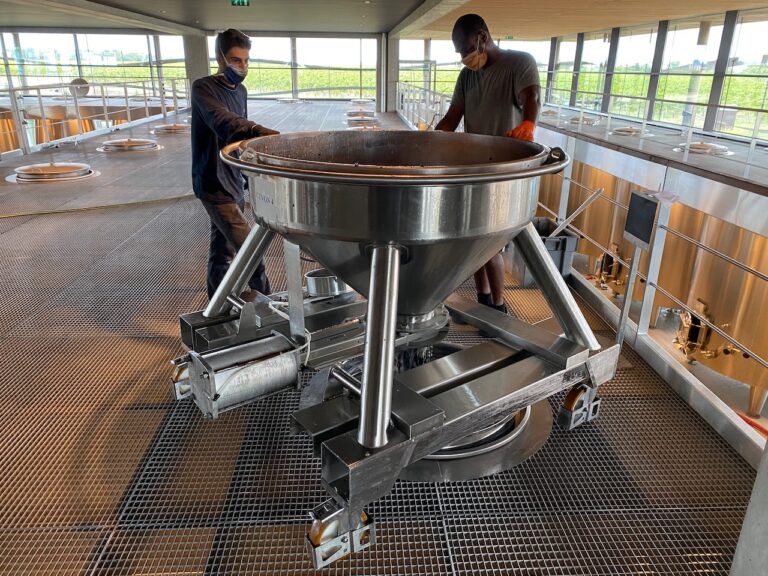 2020 has ended up being a really good but variable year with wines of outstanding potential for many Bordeaux estates. The growing season follows a similar pattern to 2016, 2018 and 2019, in that we had a wet spring followed by a dry, hot summer, topped off by a warm, dry harvest. Unlike 2016 and 2019, it was an early vintage – not unlike 2018, timing wise. I'll highlight the differences with recent years via an ever expanding series of unique tables and graphs.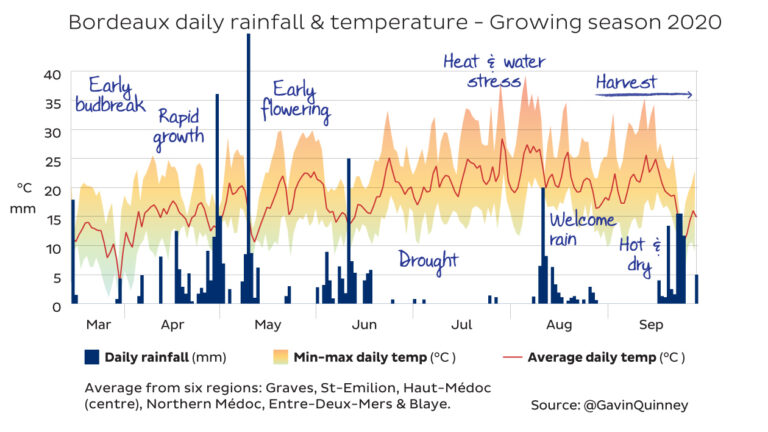 2020 Bordeaux red harvest in pics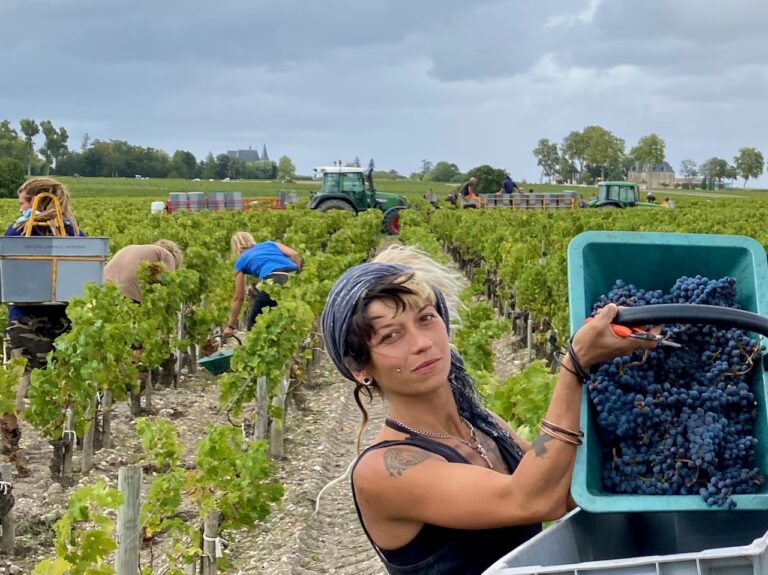 For the four weekly missives every Wednesday throughout September, I posted a photo journal of our harvest at Bauduc (bauduc.com/news) for crémant, dry white, rosé and red. Here's what was happening across Bordeaux, with a long stream of images and a few comments.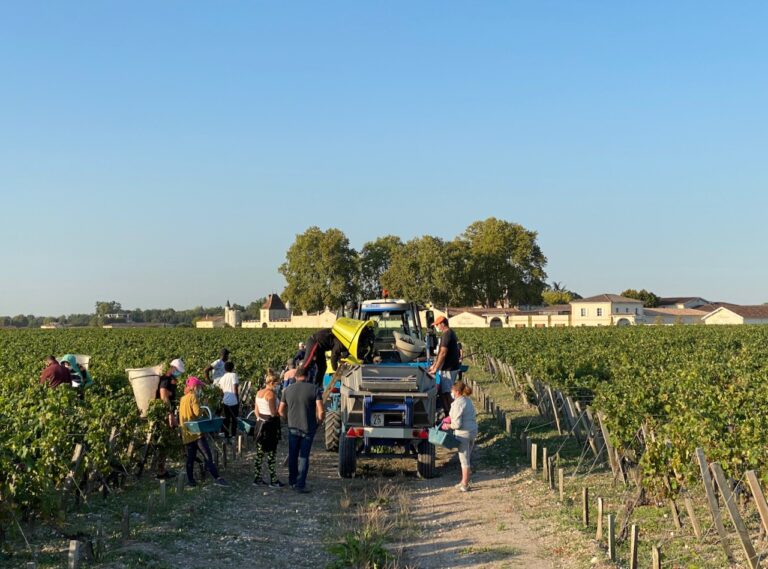 2020 saw an early season and harvest, with nearly all the red grapes being harvested in September.
And, finally, the crucial Château Bauduc Fantasy Premier League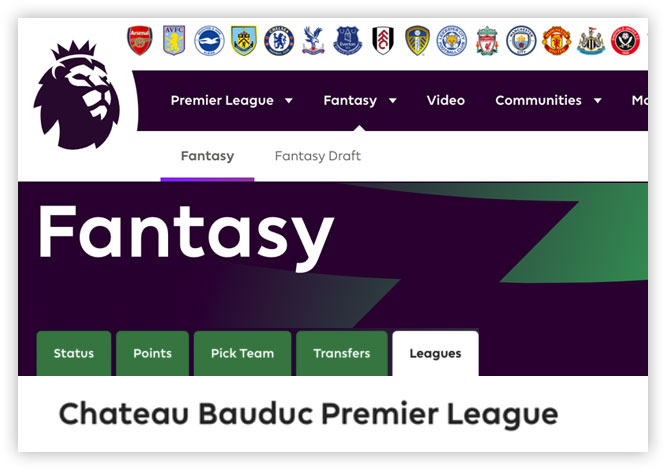 The invitation to join our Fantasy Premier mini league last month showed that Bauduc customers are pretty smart at picking winners. The top 5 players in the 'Chateau Bauduc Premier League' are currently in the top 5% of 7 million players of Fantasy Premier League worldwide.
Whoever is top of our Chateau Bauduc Premier League at the end of the season wins a free 12 bottle case of Bauduc wines (UK and EU only). Second place earns a 6-pack, and everyone in our mini-league who beats Gavin's team wins a free bottle, in the post (UK and France only).
Gavin's team, slipping down the league each week, was formally the 'Bauduc Blues' but is now called 'Tacos to the Chateau', courtesy of a sponsorship deal with Just Eat.
Our mini league is free to join and still open to members of Bauduc customer households and to our friends in the trade. Simply use the link below and you'll be added automatically after you've entered.
https://fantasy.premierleague.com/leagues/auto-join/l3ncox
League Code: l3ncox
PS. Don't forget the deadline for your team selection for this weekend's games is 6.30pm UK time.