Posted by Gavin Quinney on 21st Oct 2020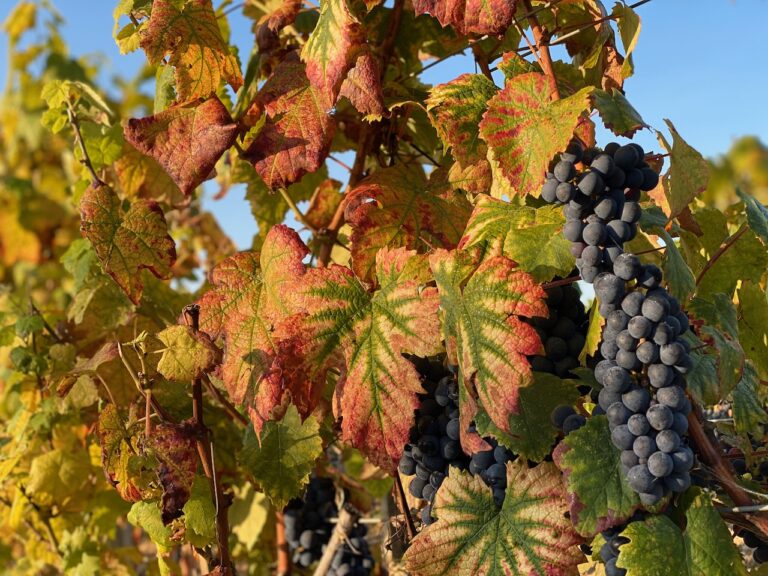 For this week's photo journal, here are some bunches of grapes that you don't often see: Bordeaux varieties bearing fruit and a splash of autumn colour. Atypical and rather attractive.
It's only appropriate, therefore, to introduce a new Bauduc Selection Box, with six different wines for trying at home. These 6-packs have literally just arrived in our UK warehouse, and all the wines can be bought individually in cases of six.
Delivery is free for 12 or 24+ bottles in England and Wales. For a 6-bottle case it costs £10, and £8 for 18 bottles (free in Greater London).
All the best
Gavin & Angela Quinney
PS There's a photo album of just the pics Here
---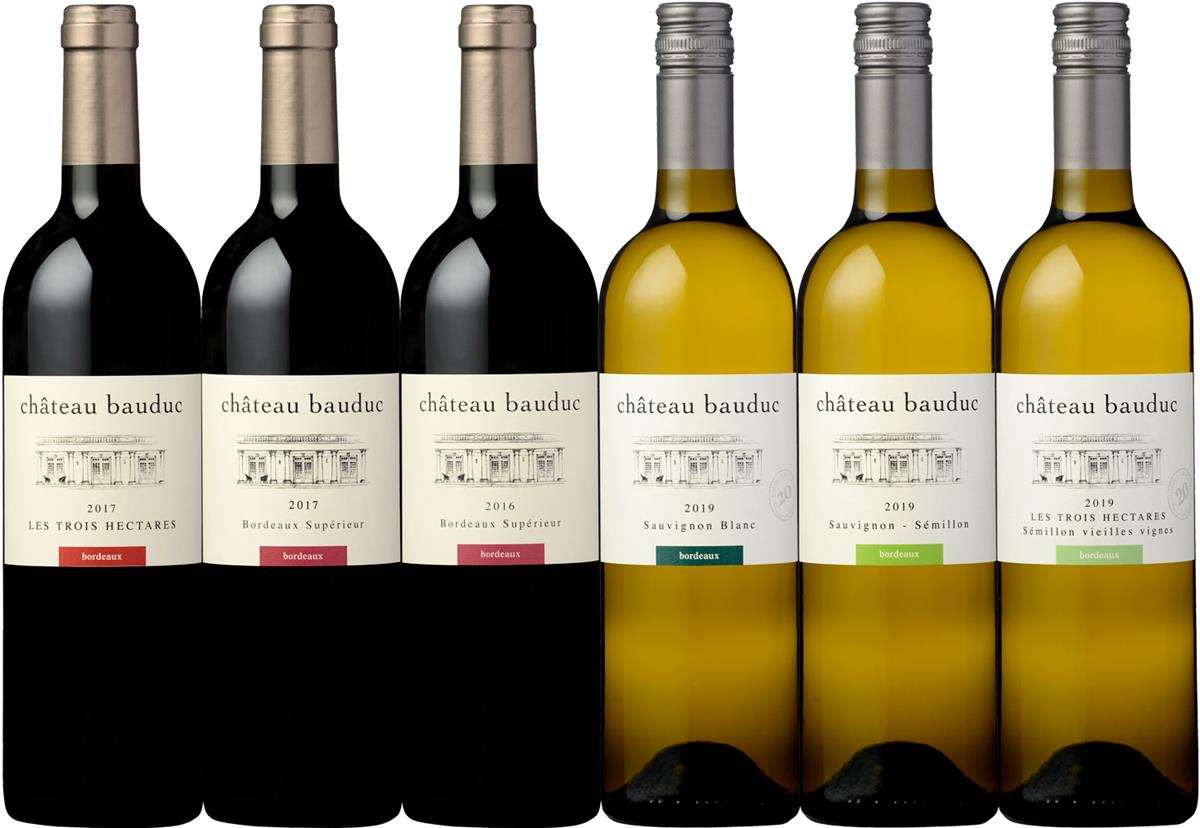 The Selection Box is made up of six different wines, all of which we drink at home. Les Trois Hectares rouge 2017 is drinking beautifully now, and deserves decanting into a simple carafe, and the classic 2017 Bordeaux Supérieur is perfect for a weeknight supper in front of the telly. The tasty 2016 red is just getting into its stride - again, decant if poss.
Customers tell us that they love our 2019 dry whites. We've turned down numerous trade sales opportunities to keep these delicious babies - from our 20th vintage - available on our website. We'll be sad when they've all gone.
Now for the vines
October and early November can, unsurprisingly, be a spectacular time of year in the vineyard, as the leaves turn red and gold a little while after the harvest.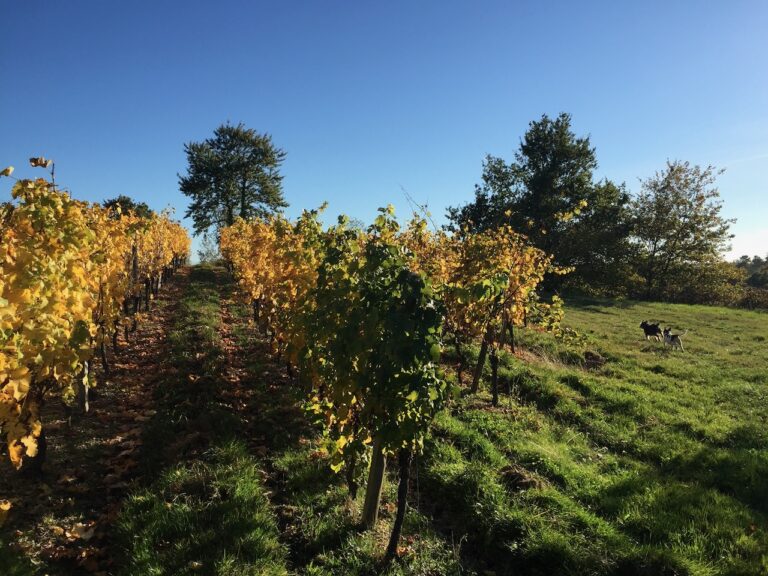 The white varieties tend to go more from green to golden yellow rather than red.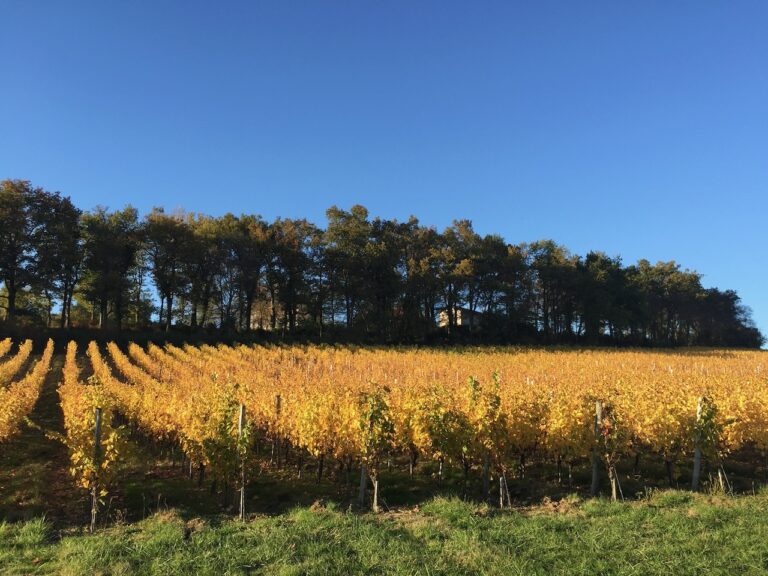 The Sauvignon Blanc plots can be spectacular in late October if the autumn winds aren't too strong.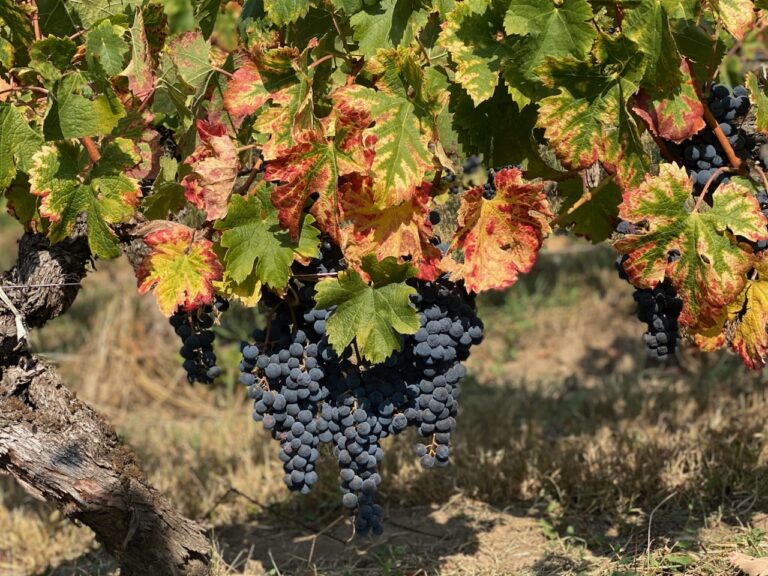 But this year, there was a chance to see red vines looking glorious with both ripe bunches and autumnal colours just before the harvest. This is Merlot.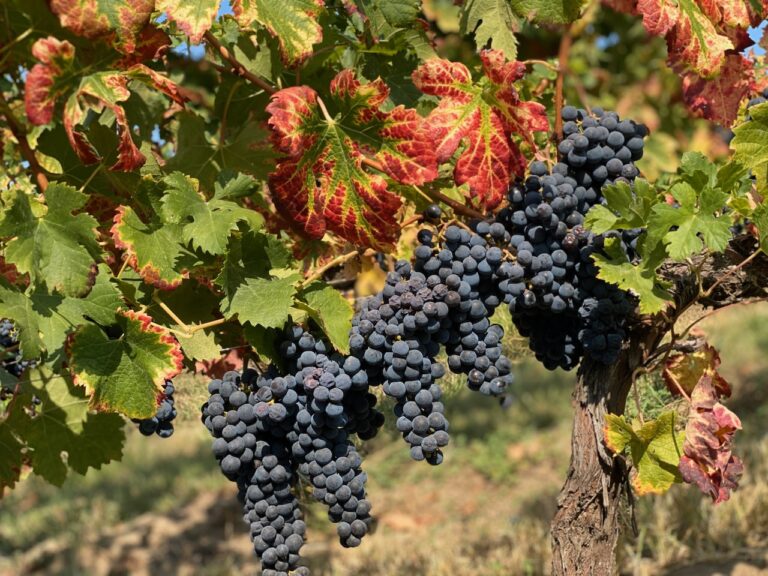 Merlot is by far the most widely planted grape variety in Bordeaux. Almost 90% of Bordeaux is red and two thirds of that red is Merlot. But you don't see pictures like this very often.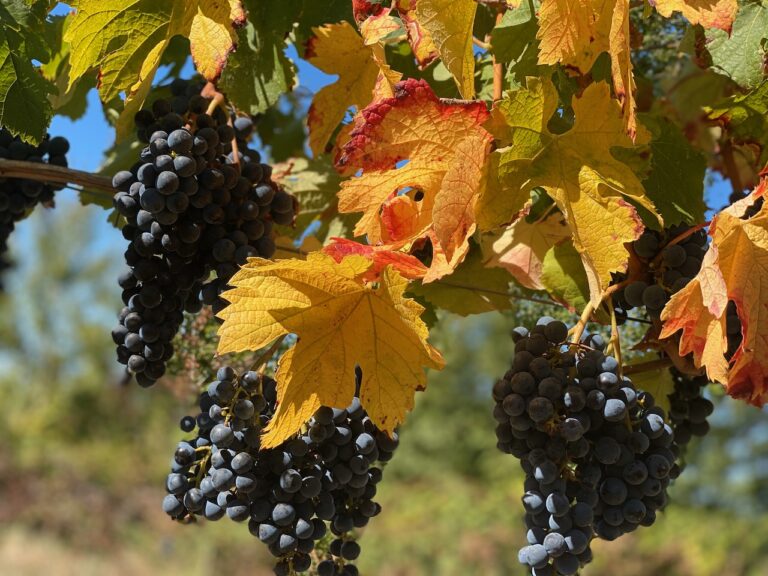 That's because of the drought in the summer and a final splurge of heat in mid-September just before the harvest.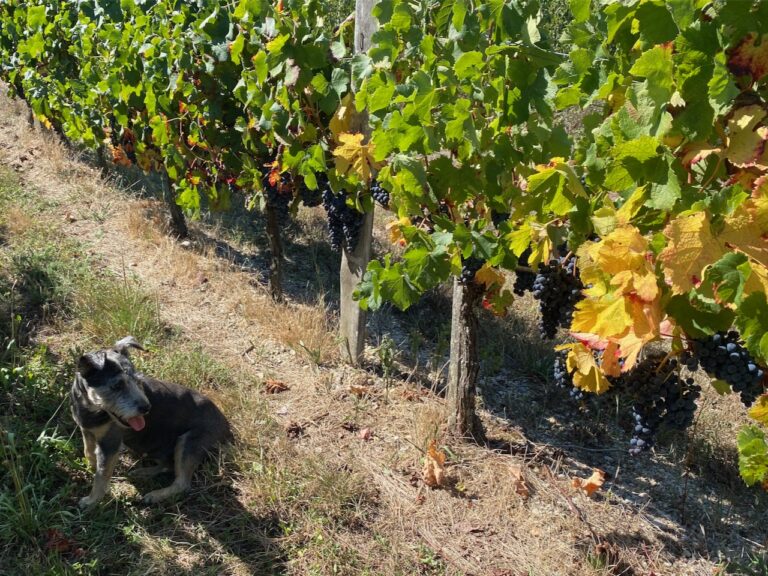 Only a handful of vines were affected like this but they stood out and you can't help being drawn to them. In some cases it was simply the drought, and in others a lack of nutrients.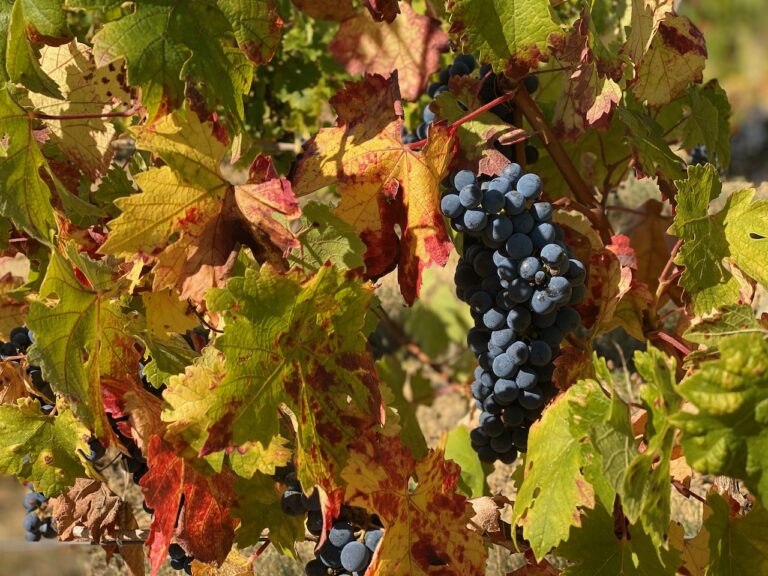 This is Cabernet Sauvignon, the second most popular variety in terms of plantings.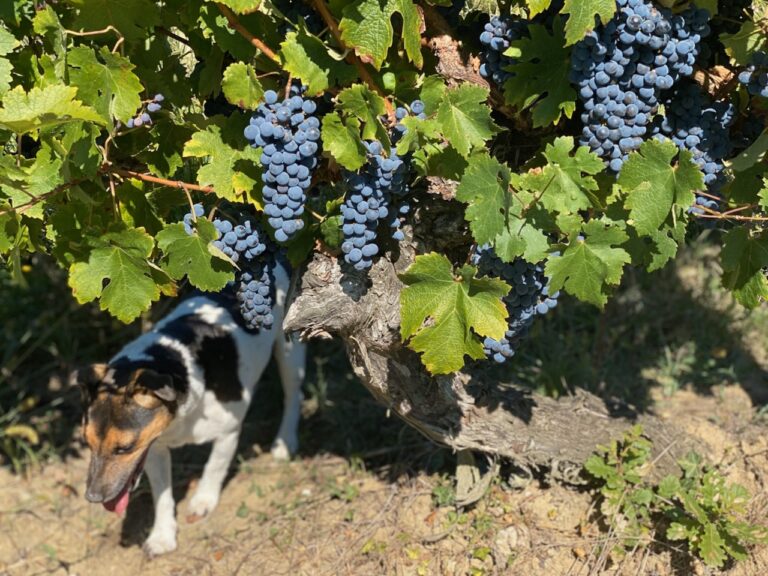 Of course, the leaves and bunches usually look more like this.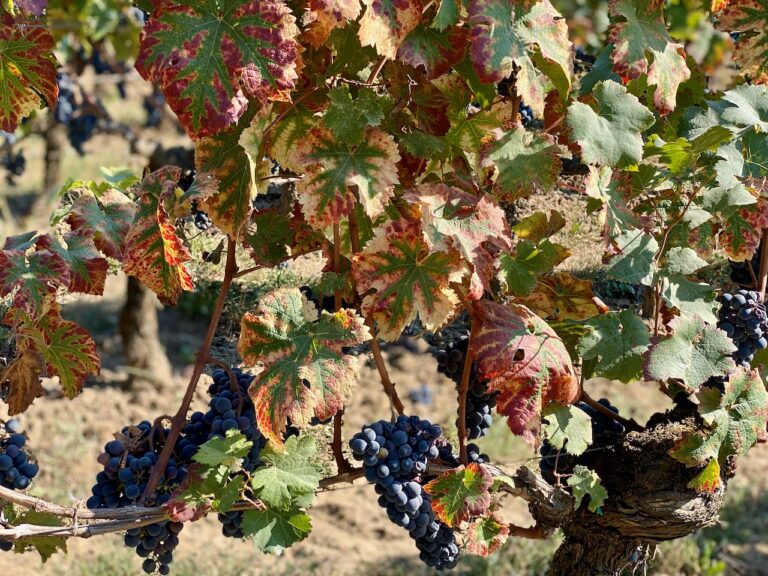 This is Cabernet Franc. It's popular on Bordeaux's right bank, notably in Saint-Emilion, and especially in the top estates there. There was broadly about a third of the normal rainfall in three months from 18 June to 18 September in 2020 on the right bank.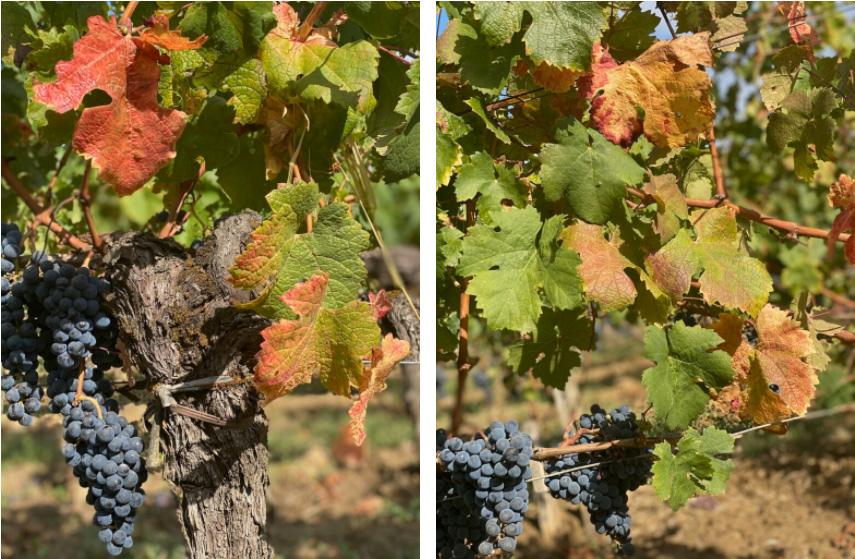 Again, only a few vines looked like this. Here's a different block of Cabernet Franc, with the green leaves being more representative and the autumnal ones more photogenic.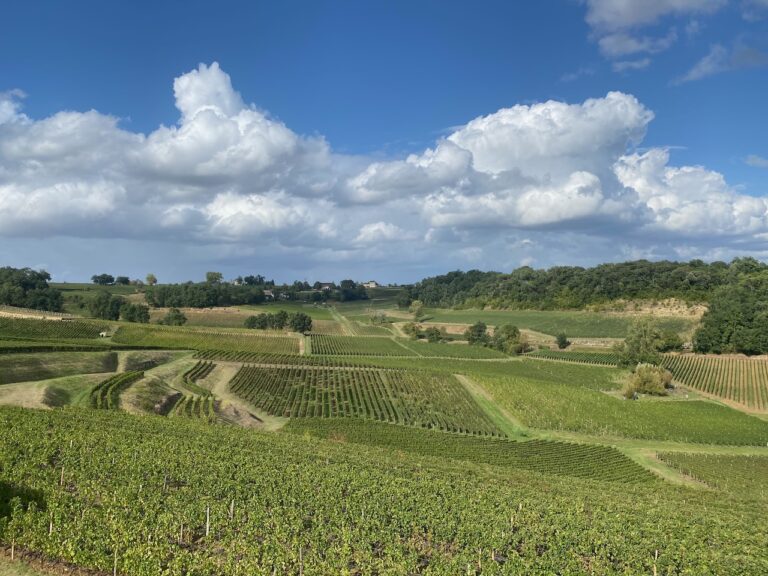 Mind you, many parts of Saint-Emilion are pretty photogenic when all the leaves are a healthy green. This was 24 September.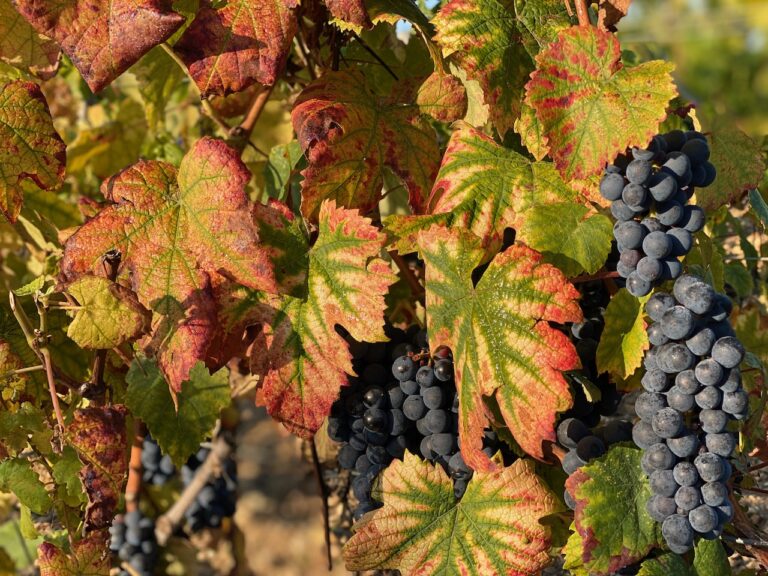 Now for the vine with the most attractively shaped leaves. This is Petit Verdot and although there isn't a lot of it (about 1% of red) it's popular with some chateaux, especially on the left bank in the Haut-Médoc.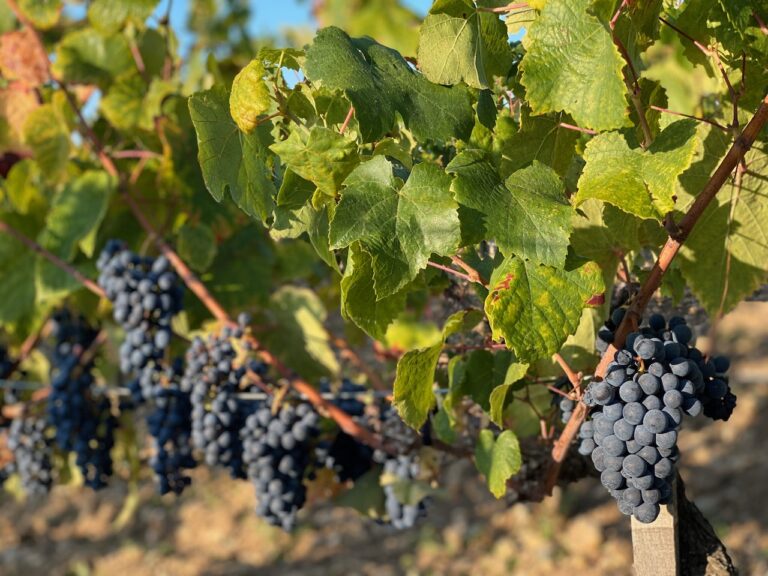 Just along from that vine, here's what Petit Verdot usually looks like. Still pretty…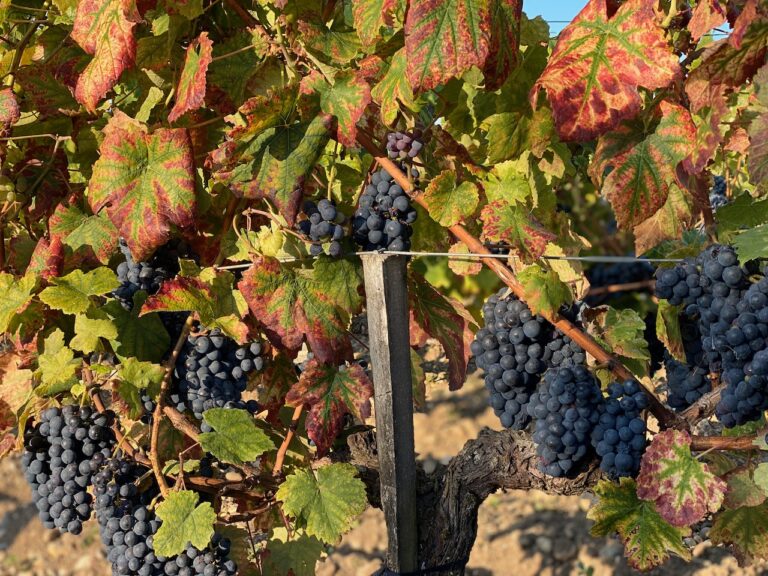 …if not as striking as when the leaves go all autumn on us.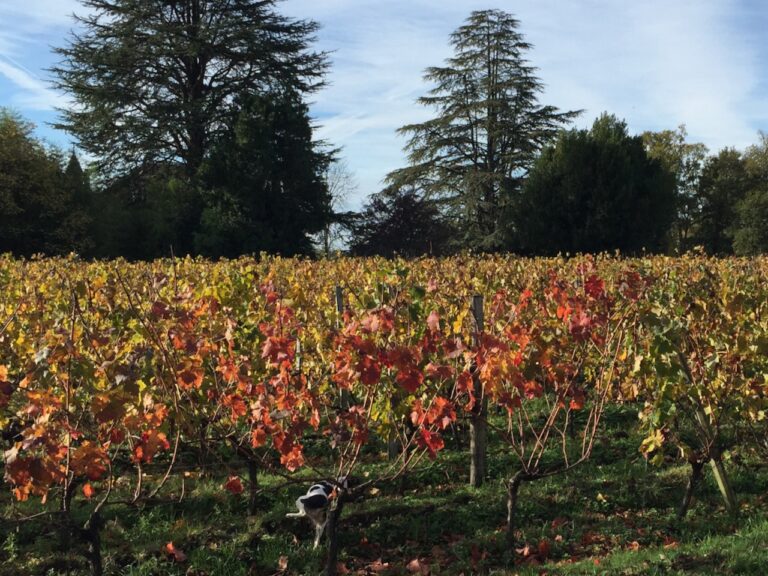 Another minor red variety that's allowed and grown in Bordeaux is Carmenère. It's better known for its relative success in Chile. Here, they have a tiny amount at Clerc Milon in Pauillac, Brane Cantenac in Margaux, Bauduc in Créon… (Though you can see what Pavie thinks of it, post harvest – just the vines in front with the red leaves are Carmenère.)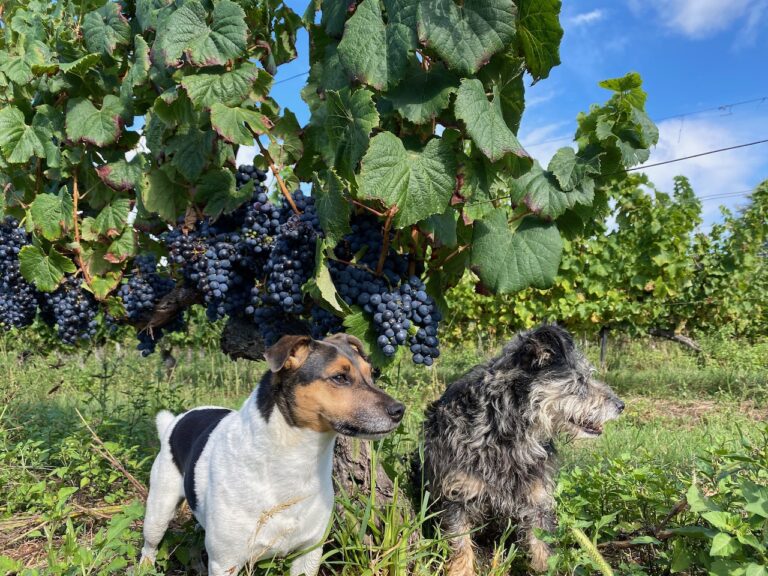 Thinking of South America, another red grape that's planted in tiny quantities in Bordeaux is Malbec. It grows better in Mendoza, Argentina, to be fair, than at Bauduc, though some highly respected growers in Bordeaux are keen on it (especially in Bourg and Blaye). I don't have any autumnal shots of Malbec but here's one from the end of August. With Pavie and Margaux, obviously.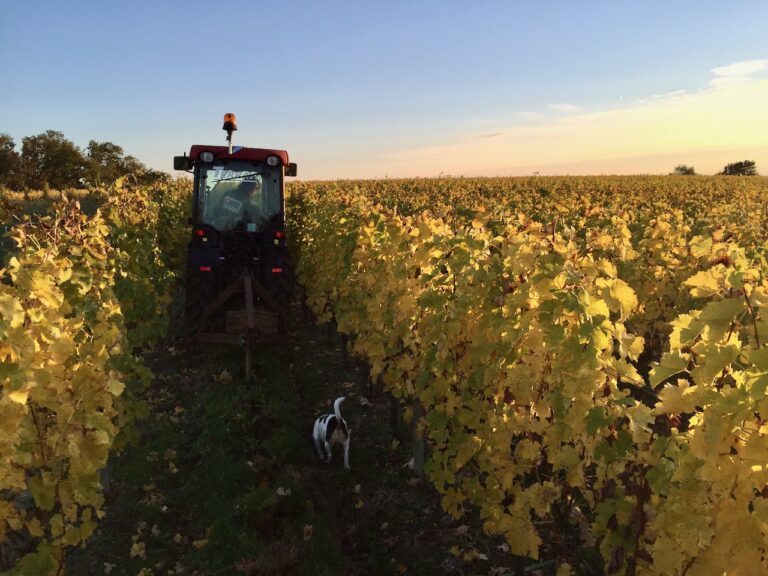 No such shots of white grapes with autumnal leaves. Here's Pavie following Daniel in the tractor in a block of Sauvignon Blanc.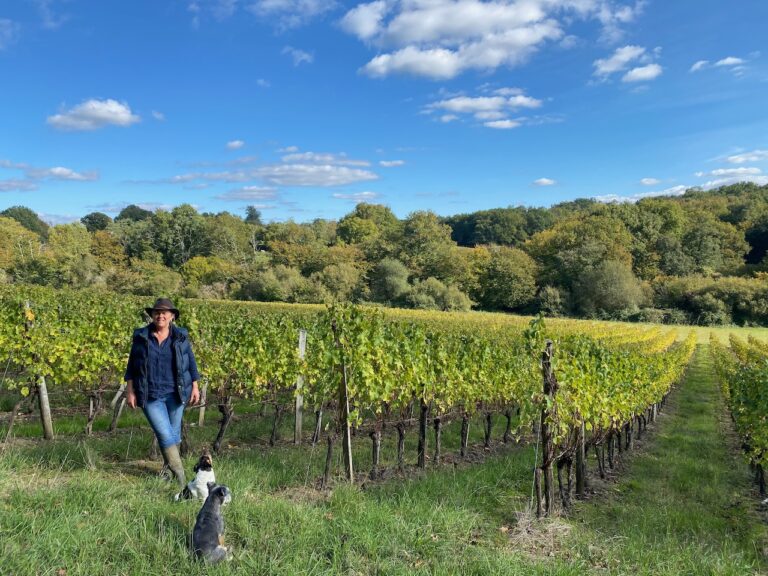 The Sauvignon Blanc can change from green to gold in a matter of days in October. Here's Ange just last Sunday, 18 October. We'll post a comparative pic at the end of the month.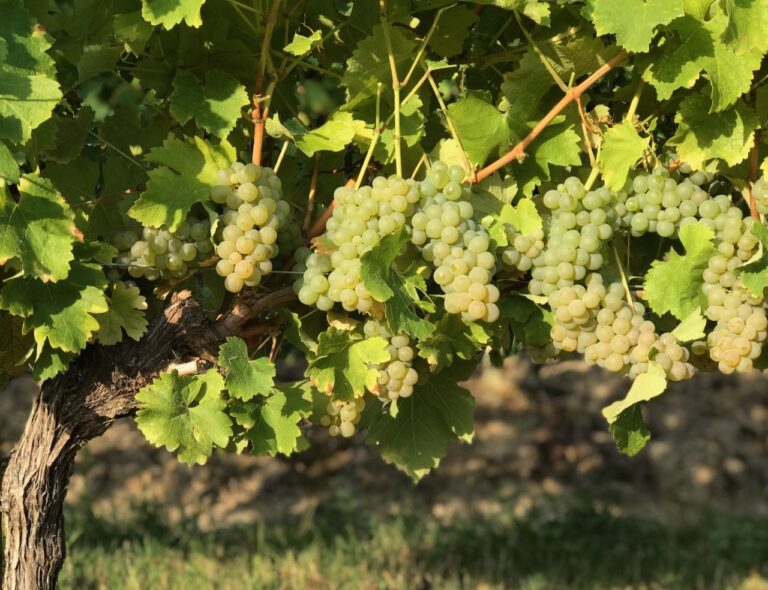 As for white grapes, here's some Sauvignon Blanc at harvest time in 2019. The resulting wines are as good as the grapes look. We promise.
---
All our harvest updates and newsletters are on Gavin's blog.
You can see pics of this harvest and more in our Bauduc photo albums.