Posted by Gavin Quinney on 2nd Sep 2020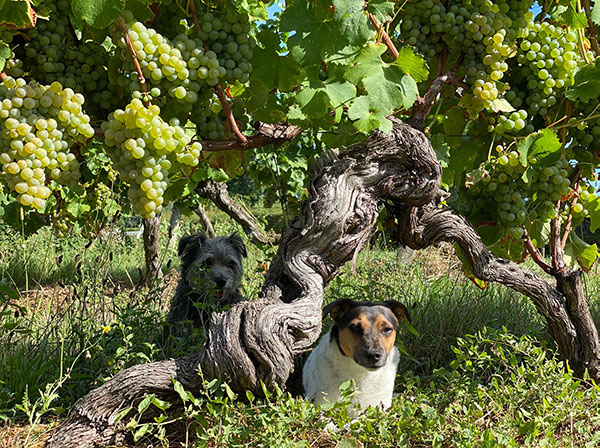 Some of the white grapes are in from the vineyard, and so too is more wine in our UK warehouse. The 2019s are back in stock there, though the last of the 2018 Sauvignon has now sold out, except in mixed cases.
The 2020 white grapes are coming in, right on cue, with reds for making rosé to follow very soon. Below are some photos to scroll through.
All the best
Gavin & Angela Quinney
PS There's a photo album of just the pics - click here.
The white harvest by hand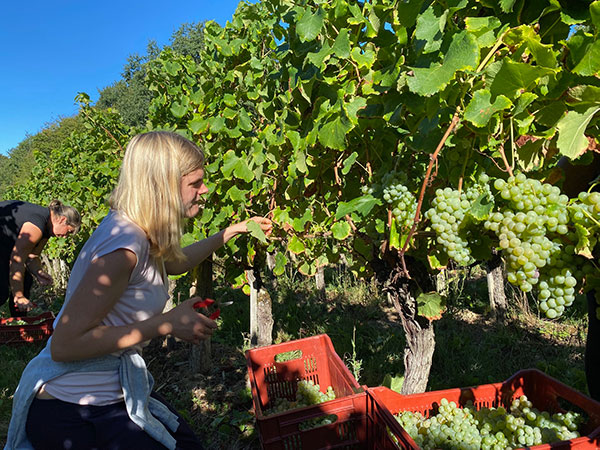 In our August review, we showed Sophie, daughter number two, hand picking our whites last week. Here are some of the other members of the team.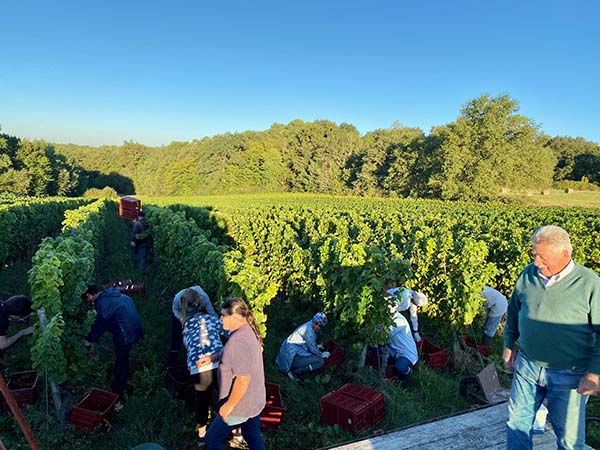 It was a bright start a week ago. Daniel our vineyard manager, centre, has been here forever and Michel, right, has been stacking the crates for as long as we can remember. Or rather, since we had crates.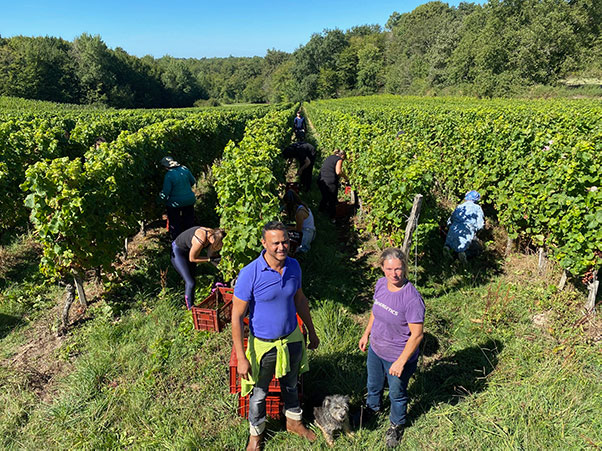 Nelly has worked with us in the vineyard and winery since our first harvest too. Hafid, left, used to work for us but runs his own vineyard staff agency now and provides us with seasonal workers during peak periods. Margaux's job is to appear in photos, which she does naturally, and look after farmhouse guests. (No, really.)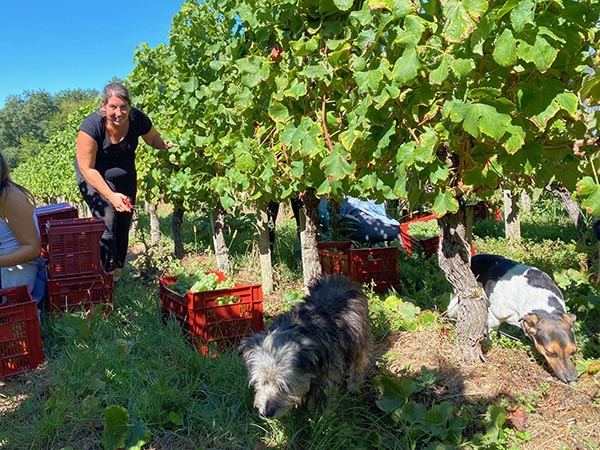 Sandra, who lives a short walk away, has worked for us in the vineyard all year round for a decade.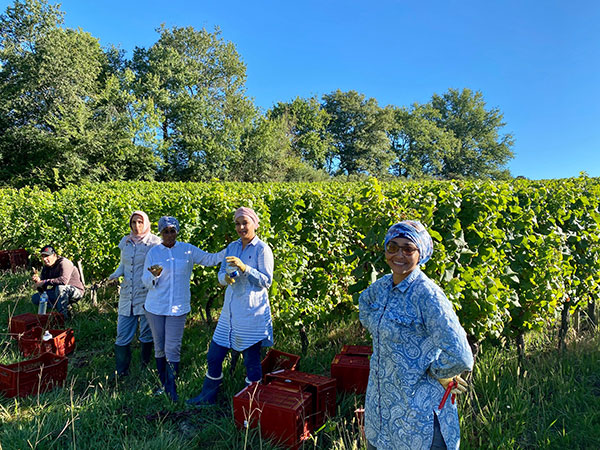 Some of Hafid's sisters and cousins have worked at Bauduc for many years, off and on. To be fair, it's quite hard for young students, for example, to keep up with their work rate.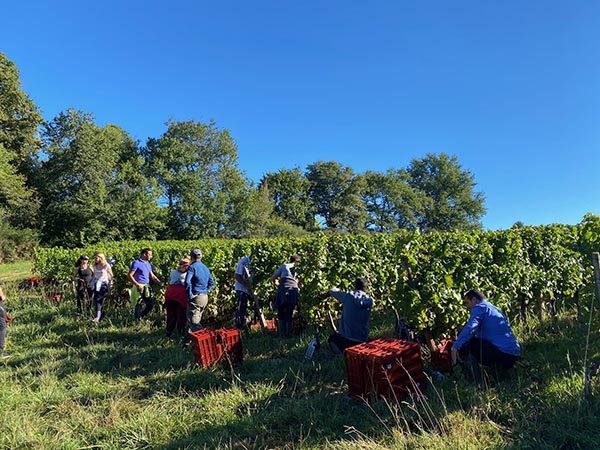 Hafid's extended family - who all come originally from Morocco - includes men too, and they pick as well but also make up the porters. Either role is hard work, though being a porter can be tough with long rows.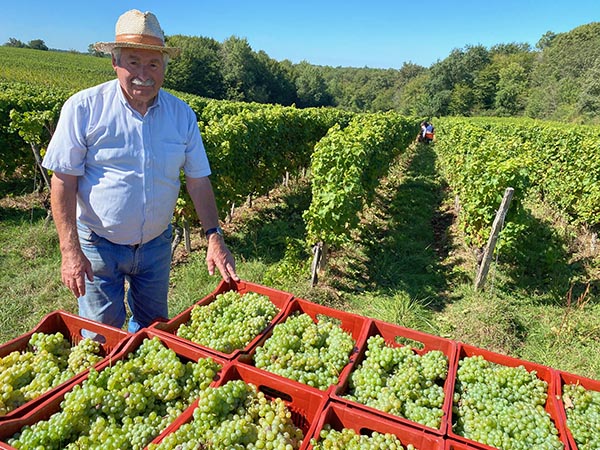 Michel, or Pappy as we know him, has stacked harvest crates, picked grapes or been on the sorting table for all our harvests. He's 87 this year, and each year he says it'll be his last one, but he's doing just fine.
Pavie has been trained to inspect the grapes. Any mouldy grapes are rejected - these are Sémillon.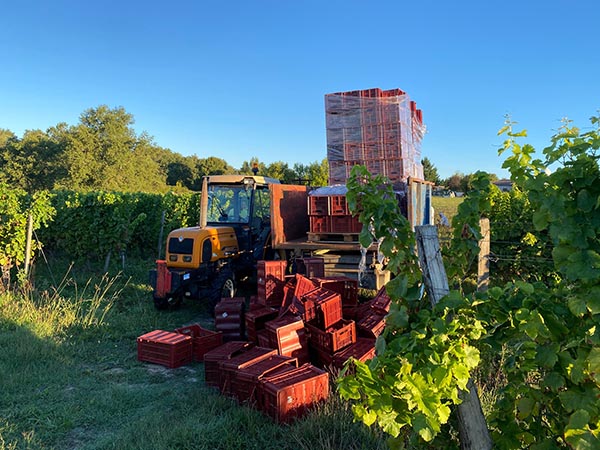 You need a lot of cagettes when picking by hand. Not cigarettes, mind, but harvest crates.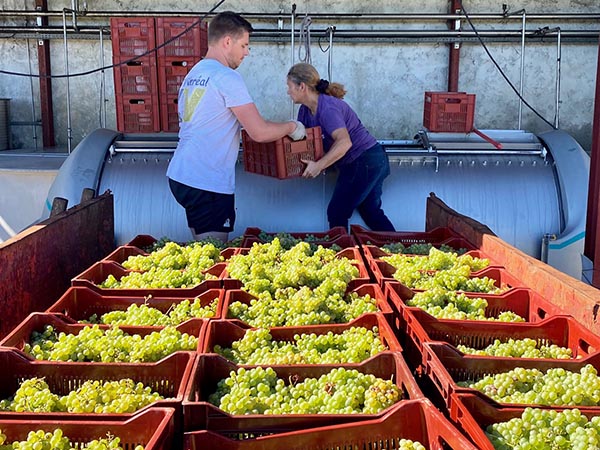 Nelly tipping the bunches of Sémillon into the press, assisted by trainee Henry. The press is a 5,000 litre drum with a sort of airbag inside it.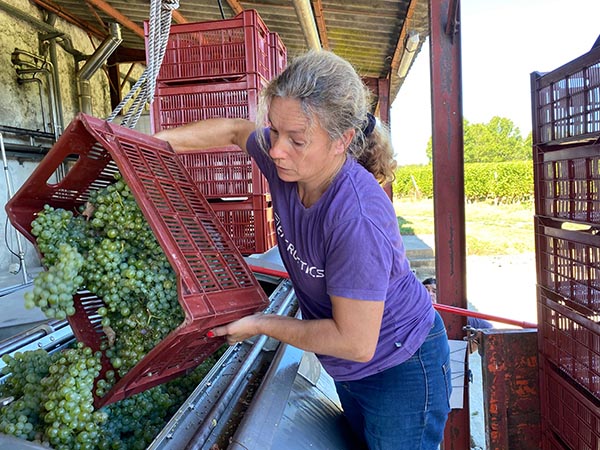 For making Crémant (including our Blanc de Blancs) - our sparkling - it's all part of the rules: hand picked into crates and whole bunch pressing. So there's no 'skin contact' between juice and skins, and minimal oxidation. Only the juice from the initial pressing can be used.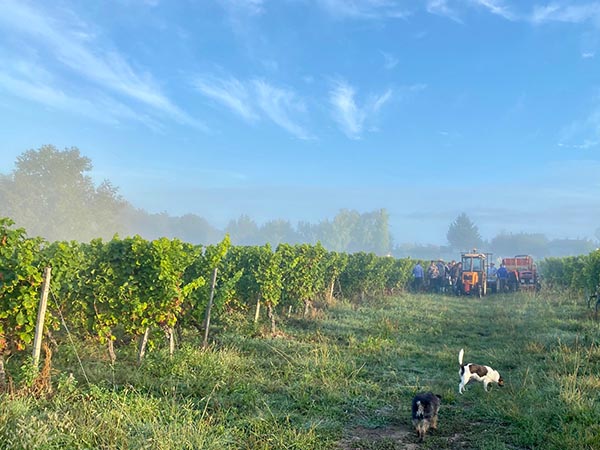 The second day with this parcel of Sémillon began with a misty morning.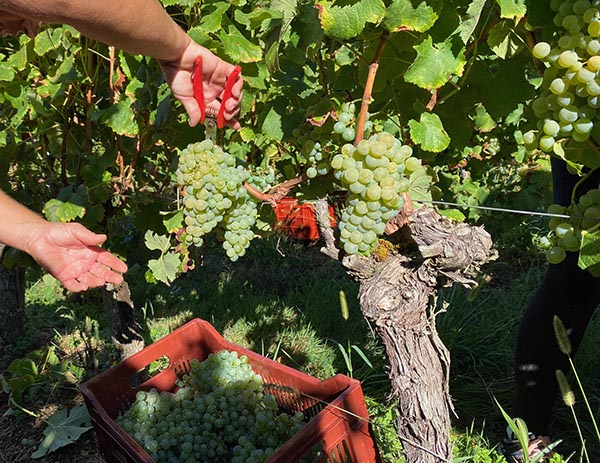 We planted this block of Sémillon in 2004. Being teenagers, the vines haven't really calmed down yet, and the yields are quite high.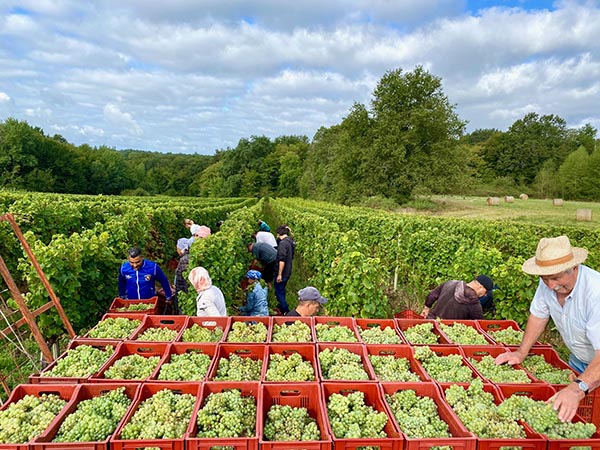 It's a good crop of healthy grapes. Not too high in sugar and a good level of acidity, which is what you want for a base wine for the traditional-method sparkling. That's because the second fermentation in bottle requires us to add more sugar and yeast to create the fizz.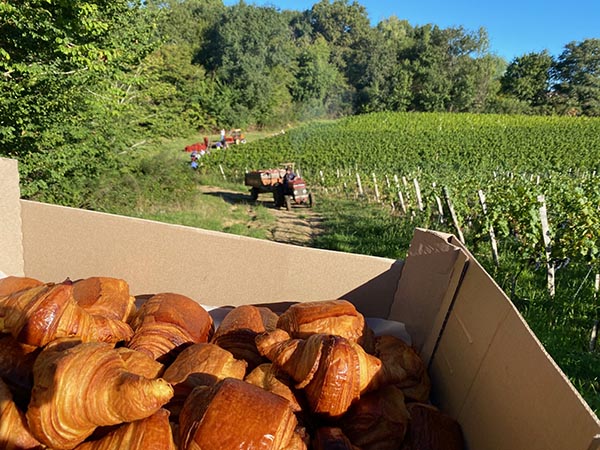 One of my more important jobs is to provide water and chocolatines, as they're called here, for the morning break. (Pains au chocolat.) A few prefer croissants.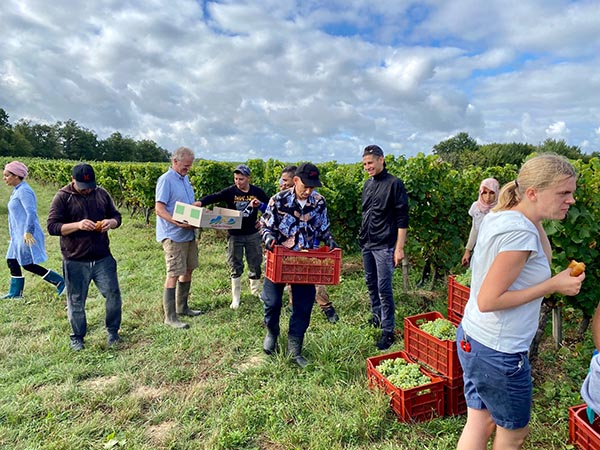 I'm not aware if other châteaux provide them or not but the mid-morning chocolatines have been a long-standing tradition here.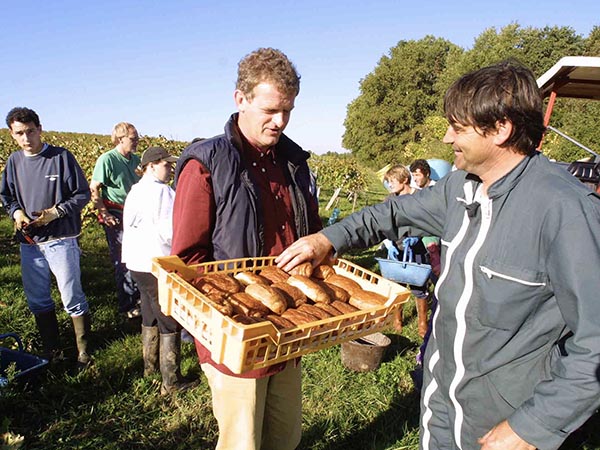 I came across this old pic of almost the same bloody pose of a much younger me with the chocolatines, with Daniel, from twenty years ago. No improvement in dress sense.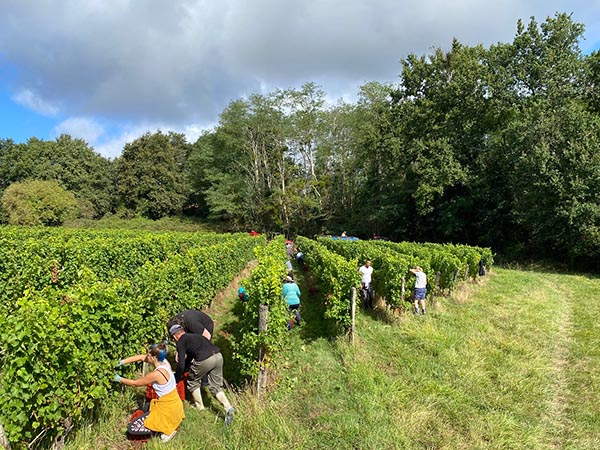 We then moved over to a block of Sauvignon blanc.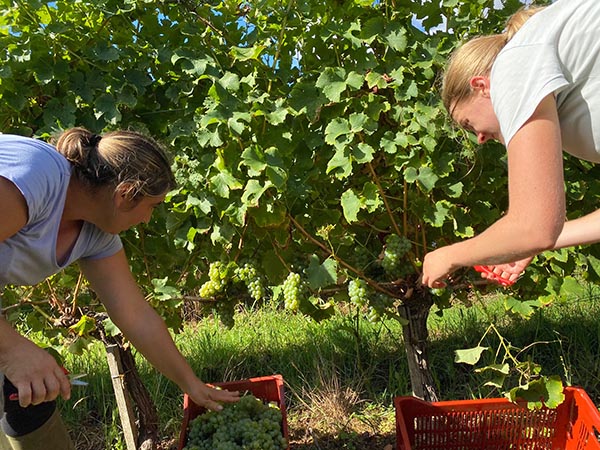 Sandra, Sophie and Sauvignon blanc.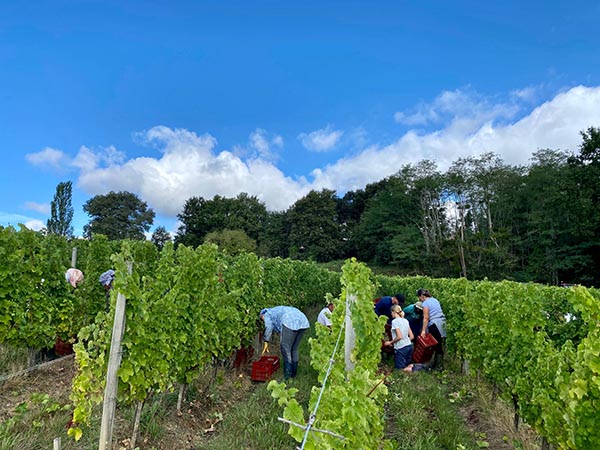 This is a block we planted in May 2008. About two days after a grim journey back from Moscow, as I recall, but that's another story.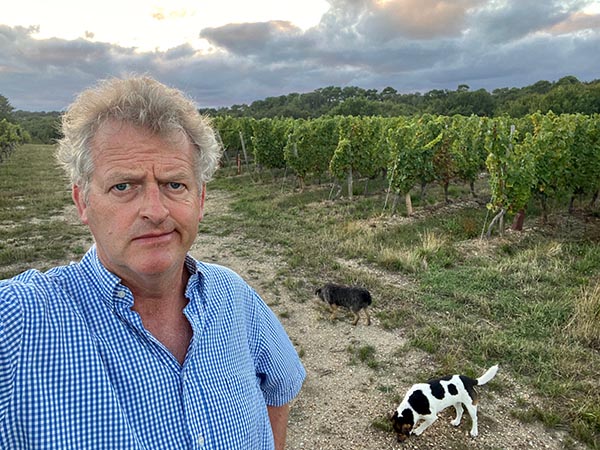 Apart from being responsible for staff refreshments, my other job is to decide what to pick and when. I go out with the dogs, and taste grapes a lot, but it can be quite stressful if you're a little indecisive by nature.
That was last Tuesday and I decided to harvest that block by machine a couple of days later, starting before the sun came up. All was well. More on this in the next instalment.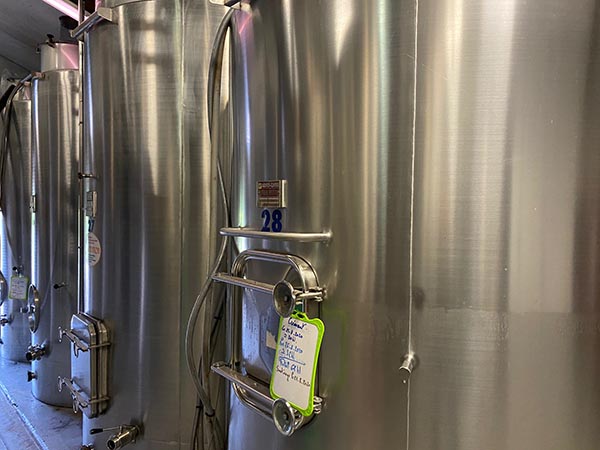 Meanwhile, the crémant is being cool-fermented in the chai (pronounced 'shay') in a stainless steel tank.
That's all for now. Thanks for scrolling through this far and see you soon for another thrilling 2020 harvest update. #margauxterrier #paviethedog #yearinthevineyard #bdx20
---