Posted by Gavin Quinney on 30th Nov 2021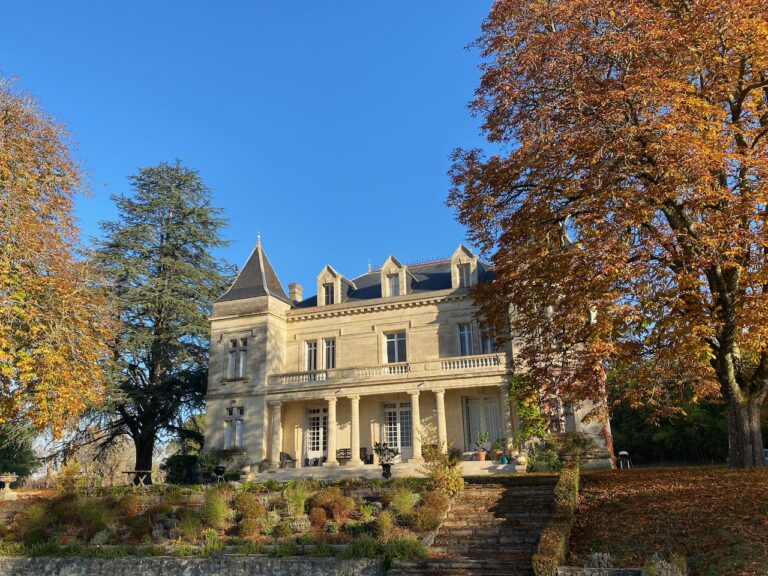 In our recent photo journals about the harvest this autumn, we included just a couple of pictures of other Bordeaux estates. We covered the 2021 white harvest at Bauduc, and separately the red and rosé harvest one here in case you missed them. As it's still no simple matter to travel, we thought we'd bring you some images of what went on in other vineyards. Even if you have little interest in wine production, at least it makes a change from the news in general.
Speaking of which, you may have read in the press that there's going to be a shortage of wine in the UK this Christmas. There are some serious obstacles, that's true, but for now rest assured that we do have stock in London, ready and waiting should you need it. Take a look at 'All wines' for our stuff, including mixed cases, and 'Other châteaux' for those from friends and colleagues.
All the best
Gavin & Angela Quinney
The red harvest in Bordeaux – a photo journal
A quick tour around some of the better known areas of Bordeaux.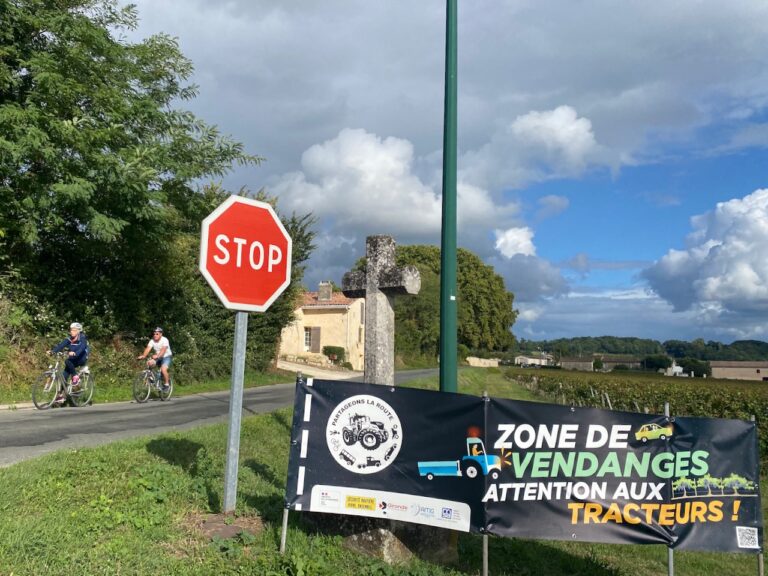 I like these 'zone de vendanges' posters – there are hundreds of them at harvest time. Watch out for the tractors.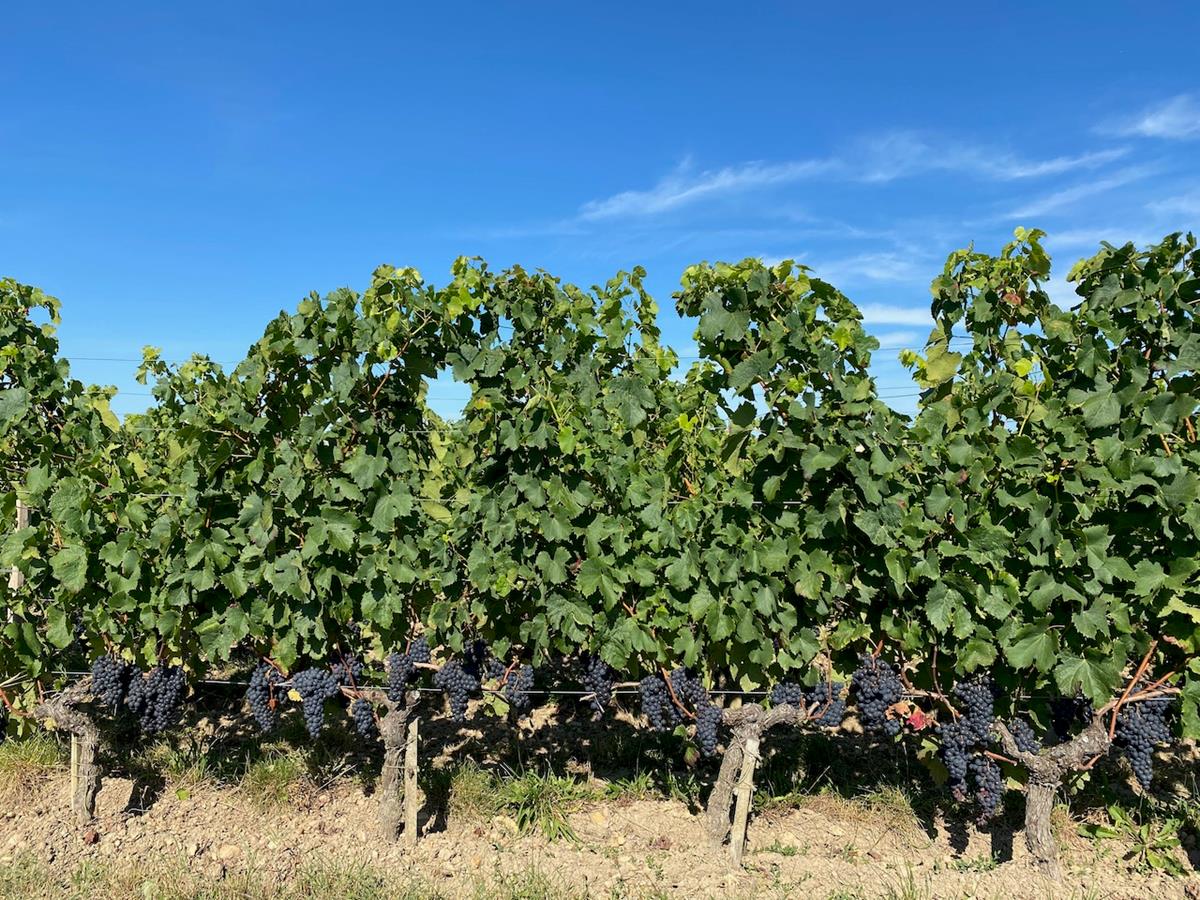 2021 has been widely reported as being a low crop across France. That may be true for some, but others didn't get the memo.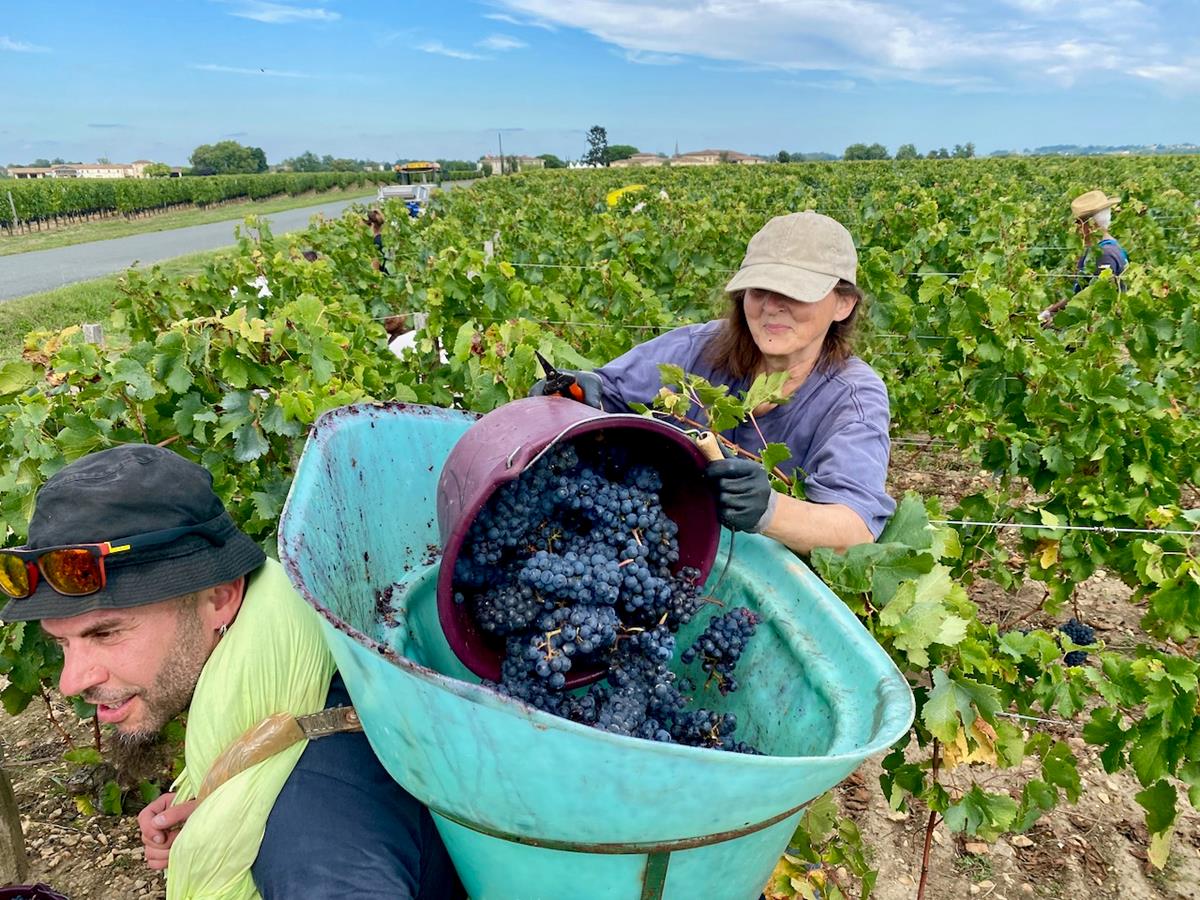 First stop Pomerol, and one of the great châteaux. This is Vieux Château Certan.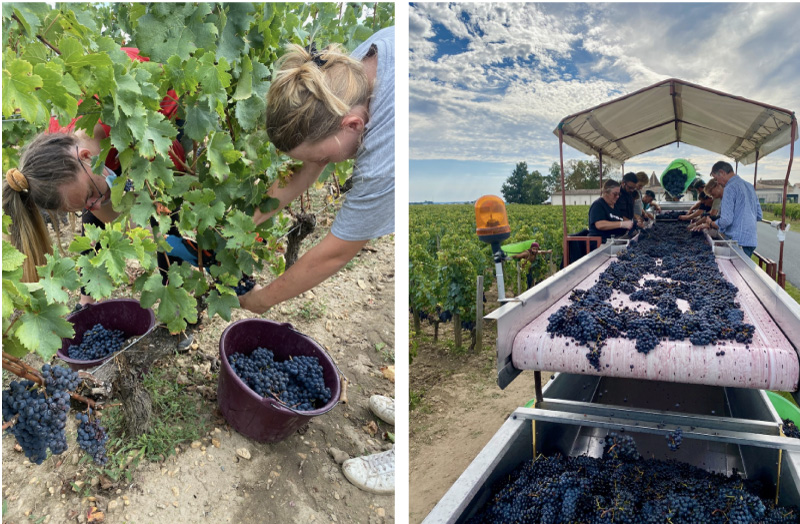 Merlot grapes being simply harvested and checked on a mobile sorting table – a sort of conveyor into the waiting trailer. Good to see the Thienpont family in action – as usual Alexandre is on sorting duty…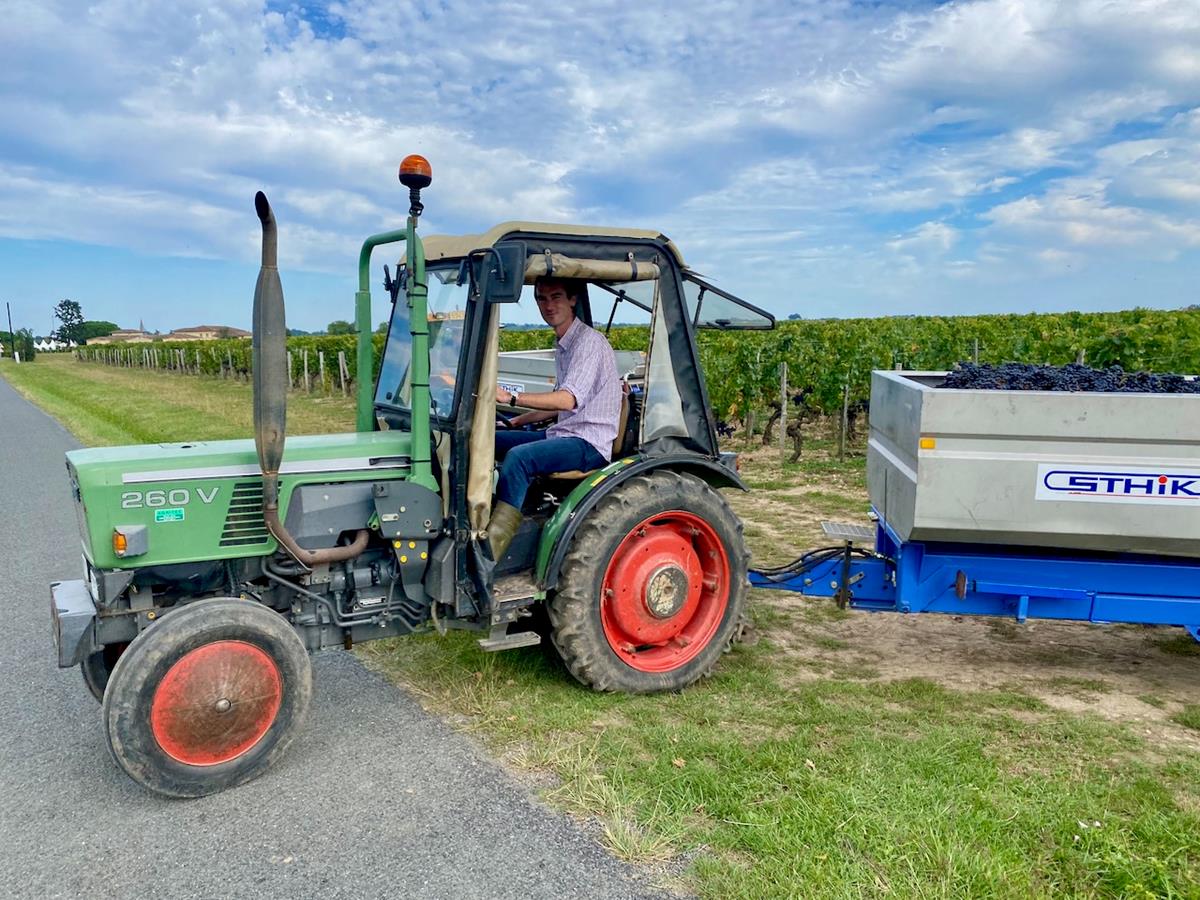 While his son Guillaume ferries the produce to the winery nearby. In the distance is the neighbour, Petrus. (No accent.)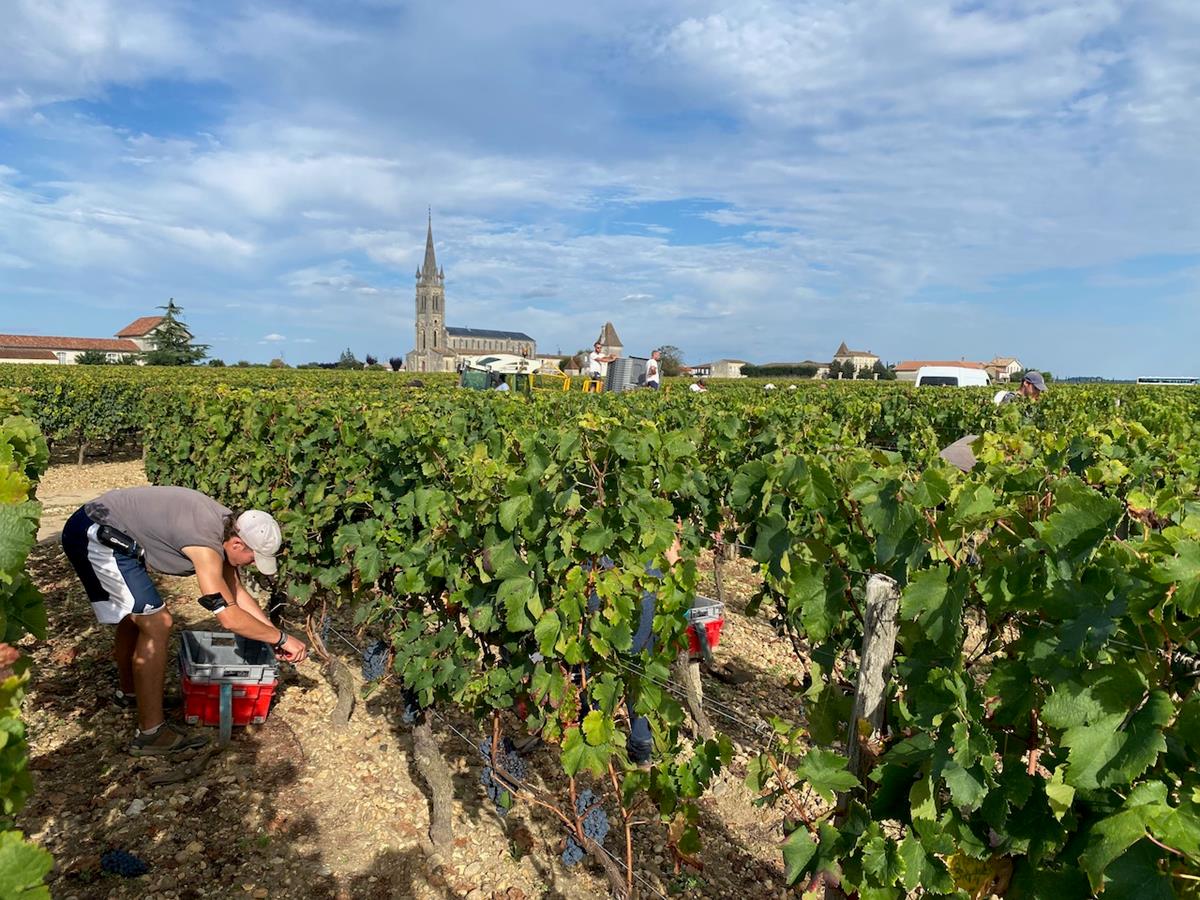 More Merlot being picked at Château La Fleur Pétrus, at this parcel near the church of Pomerol. (Acute accent.)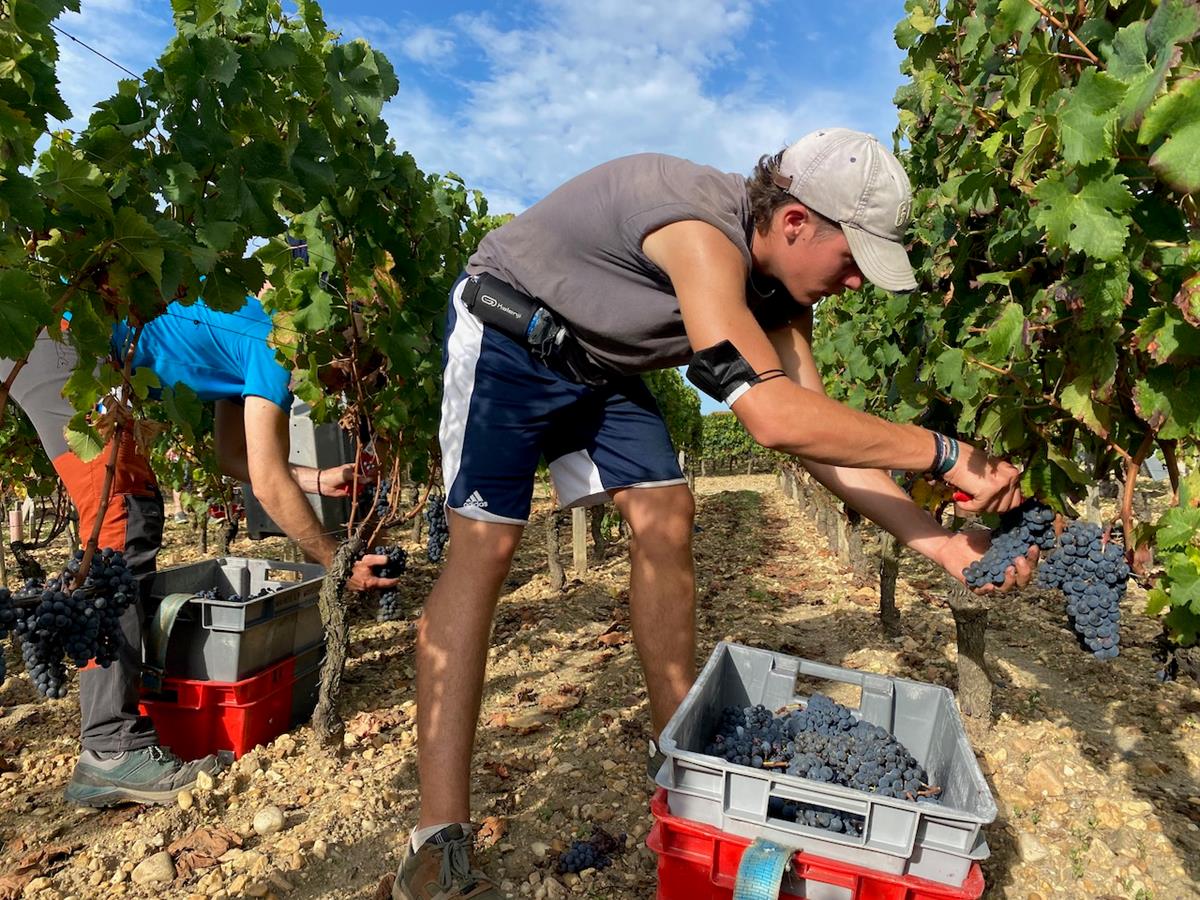 The Moueix family own several vineyards in Pomerol and Château Belair Monange in Saint-Émilion down the road.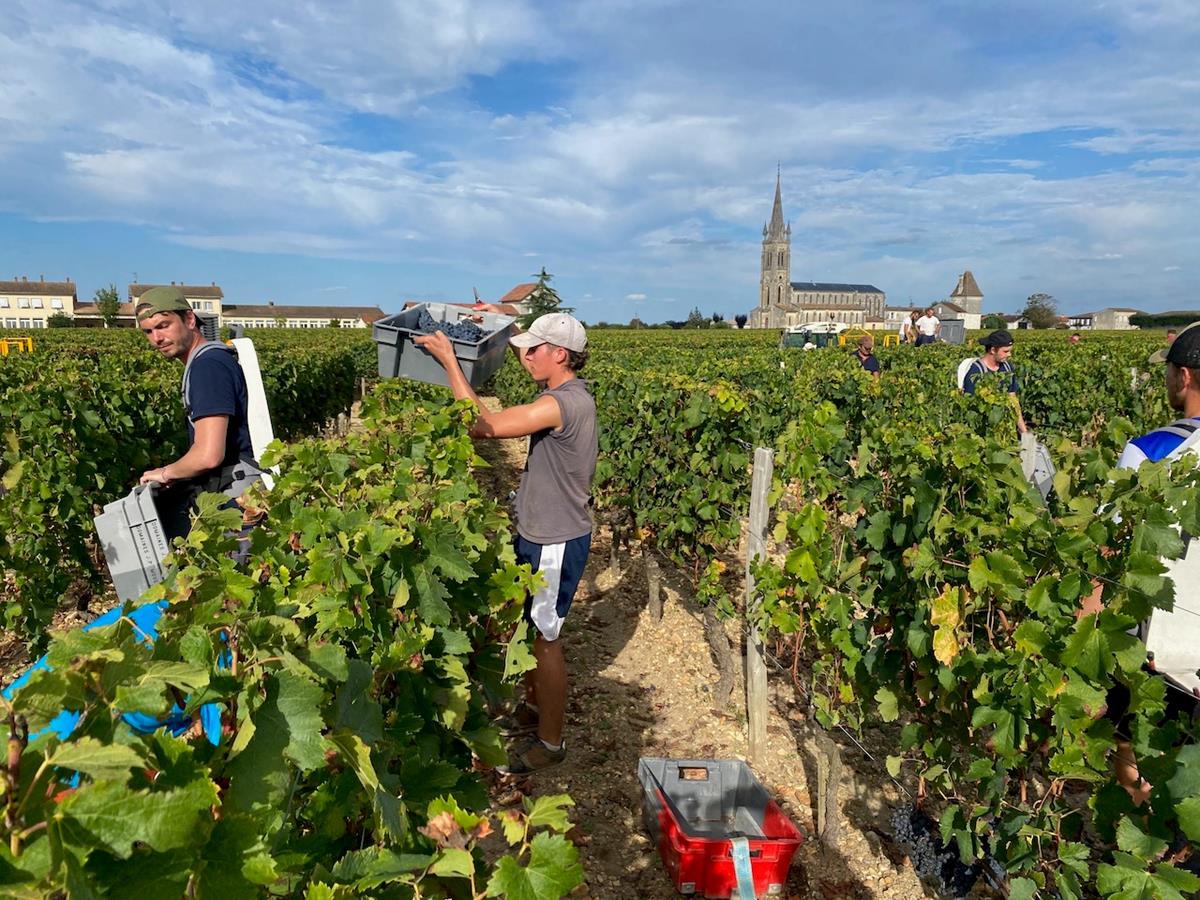 With a large team of pickers, they can keep a substantial group of people together ('from the region' they said) and bus them over to whichever plots need to be harvested.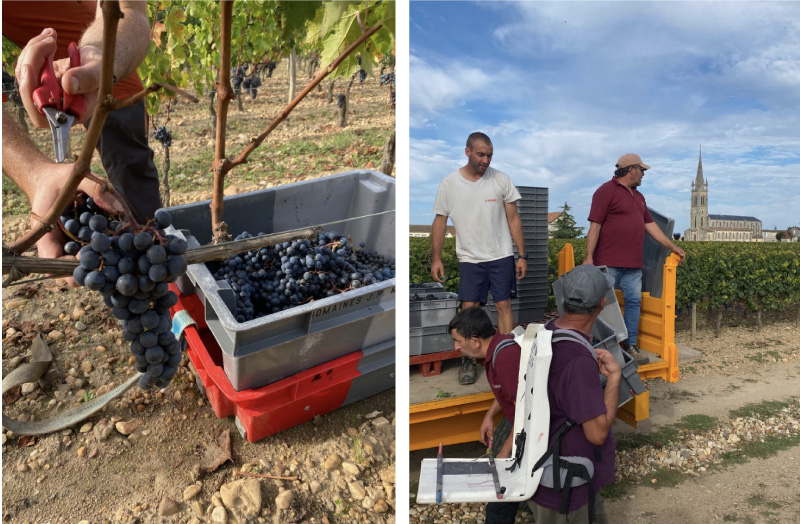 Clay with some gravel here, though the vineyards on the plateau of Pomerol vary.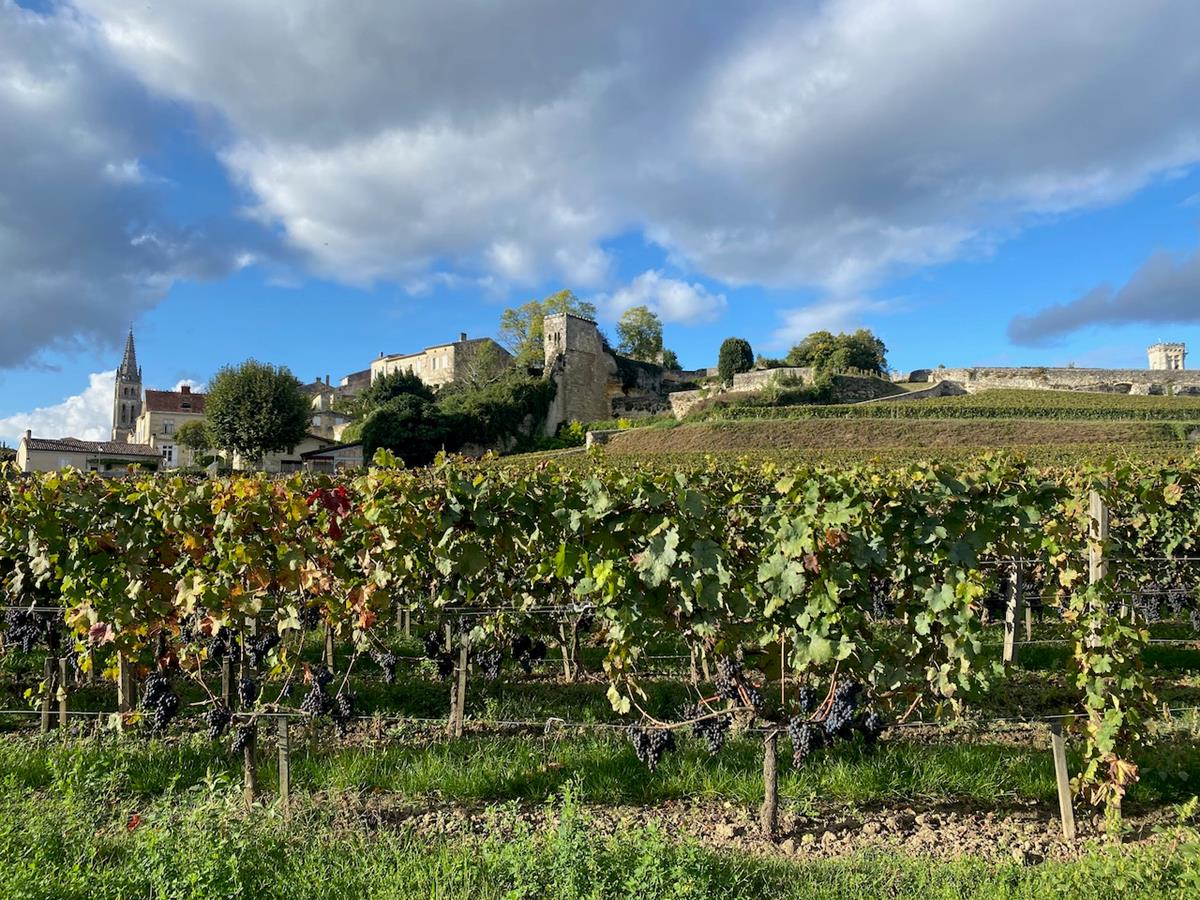 Picturesque Saint-Émilion is next to Pomerol yet in general the same grape varieties ripen a little later, all things being equal. Pandemic apart, when it's been gloriously quiet in the town at times, I have a preference for the vineyards to the charming but rather touristy, cobbled streets.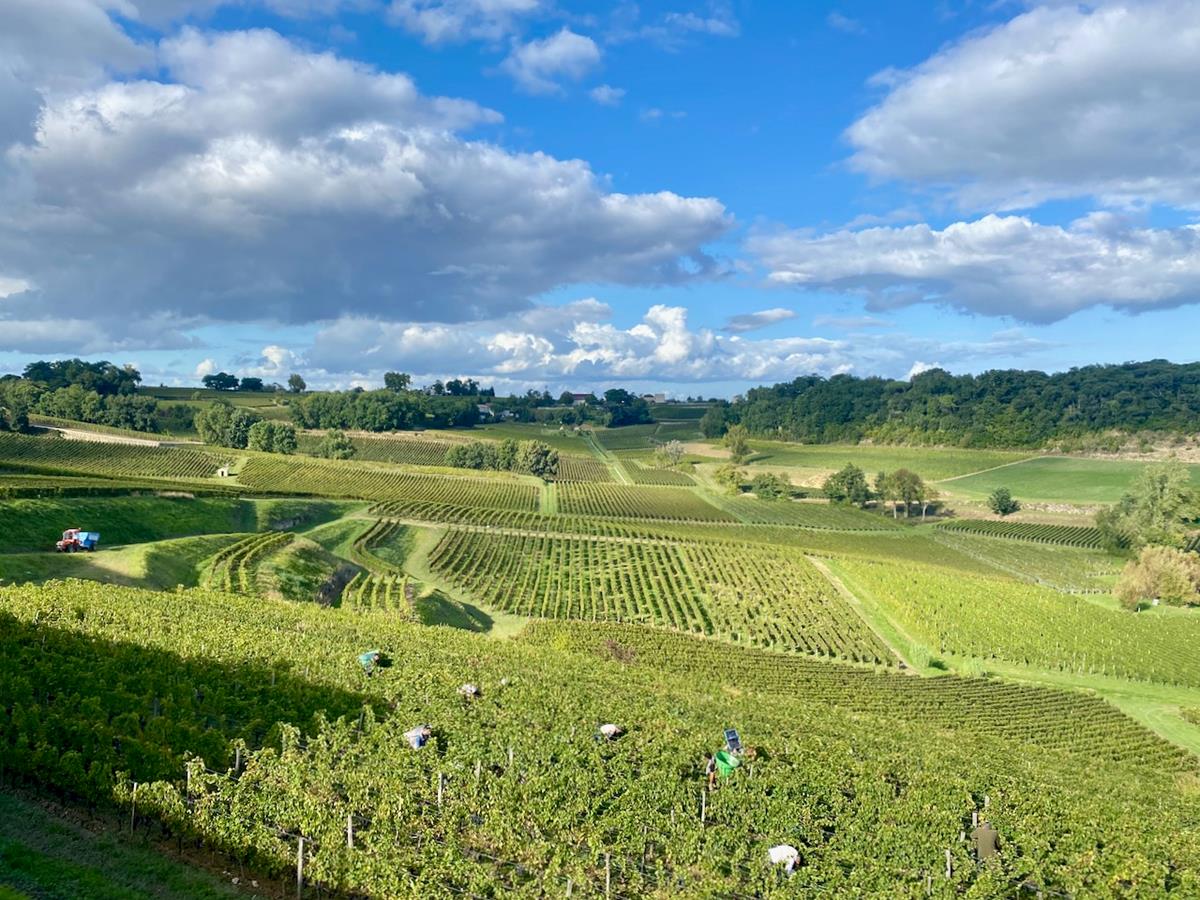 The Saint-Émilion appellation is a much larger and more diverse area than the other famous (and relatively expensive) names of Bordeaux, with 4,200 hectares of Saint-Émilion Grand Cru alone. Plus there's 'generic' Saint-Émilion, and then the 'satellites' like Montagne Saint-Émilion.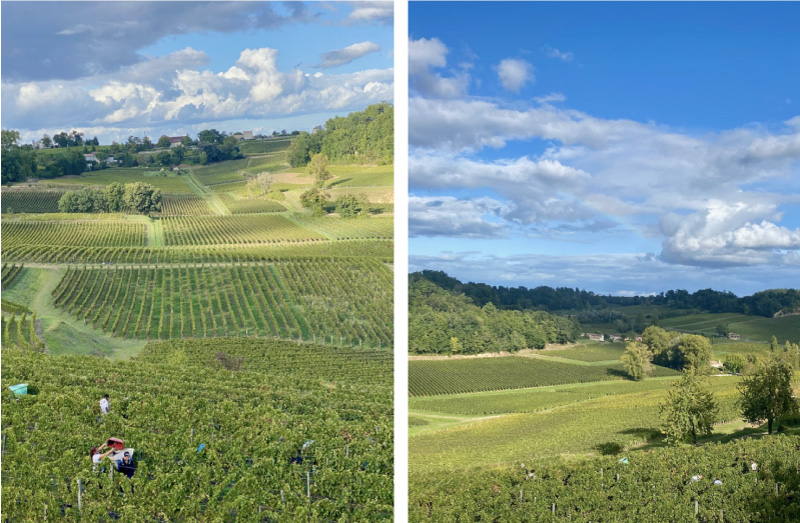 The harvest a few kilometres to the south east of the village of Saint-Émilion. There are scores of different parcels here, with multiple owners.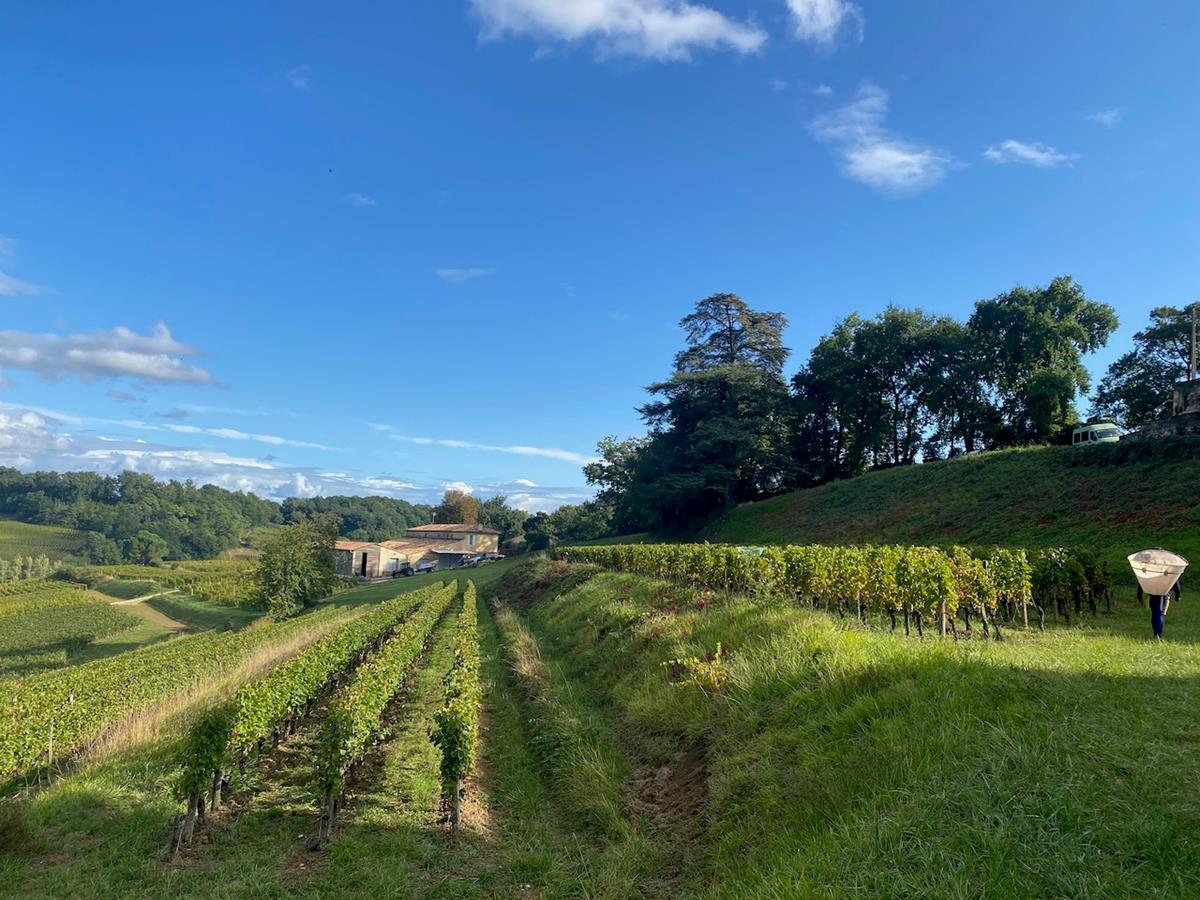 In the foreground are the vines of Château La Croizille, with Château Godeau beyond.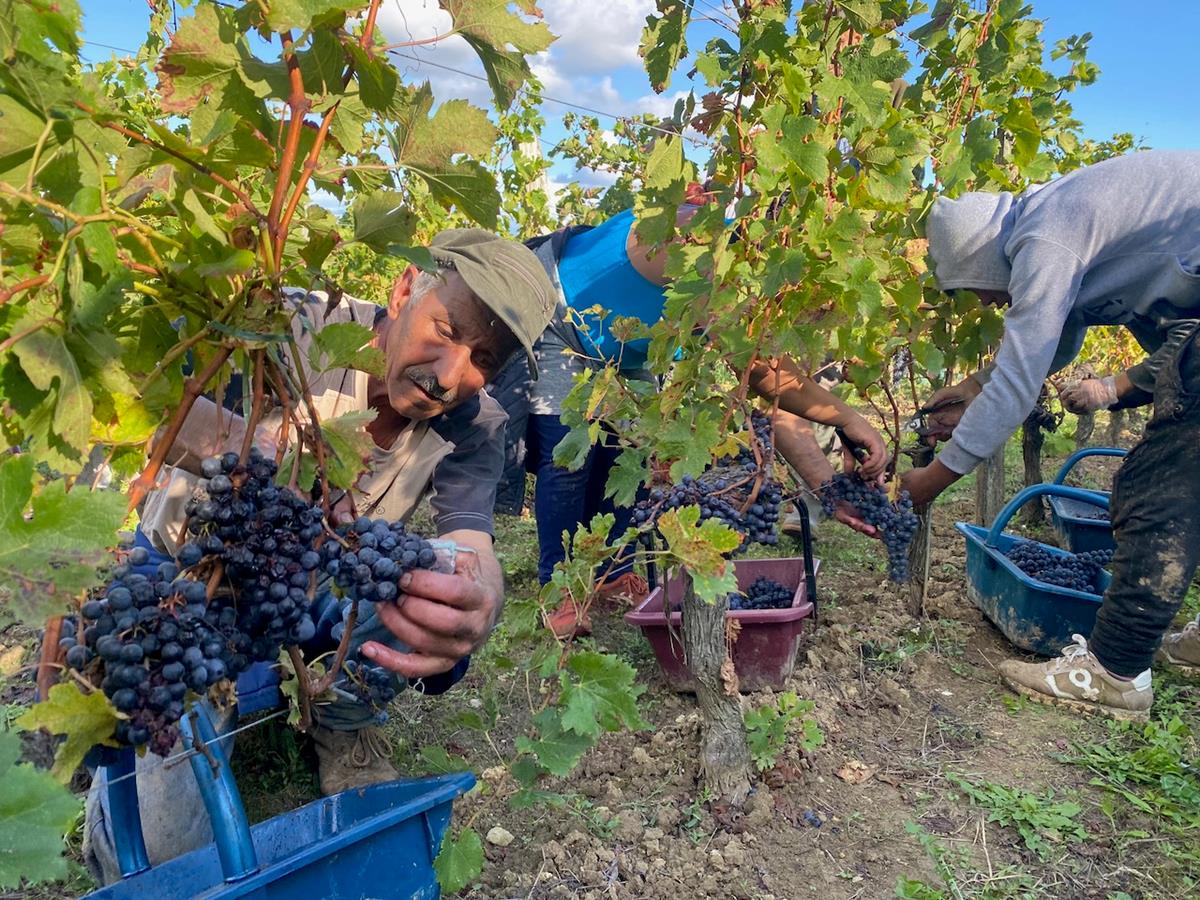 It's a straightforward business, but hard work for the pickers and porters from Romania.
The terrain is what they call argilo-calcaire – clay over limestone, and you can see the chalky lumps on or just below the surface.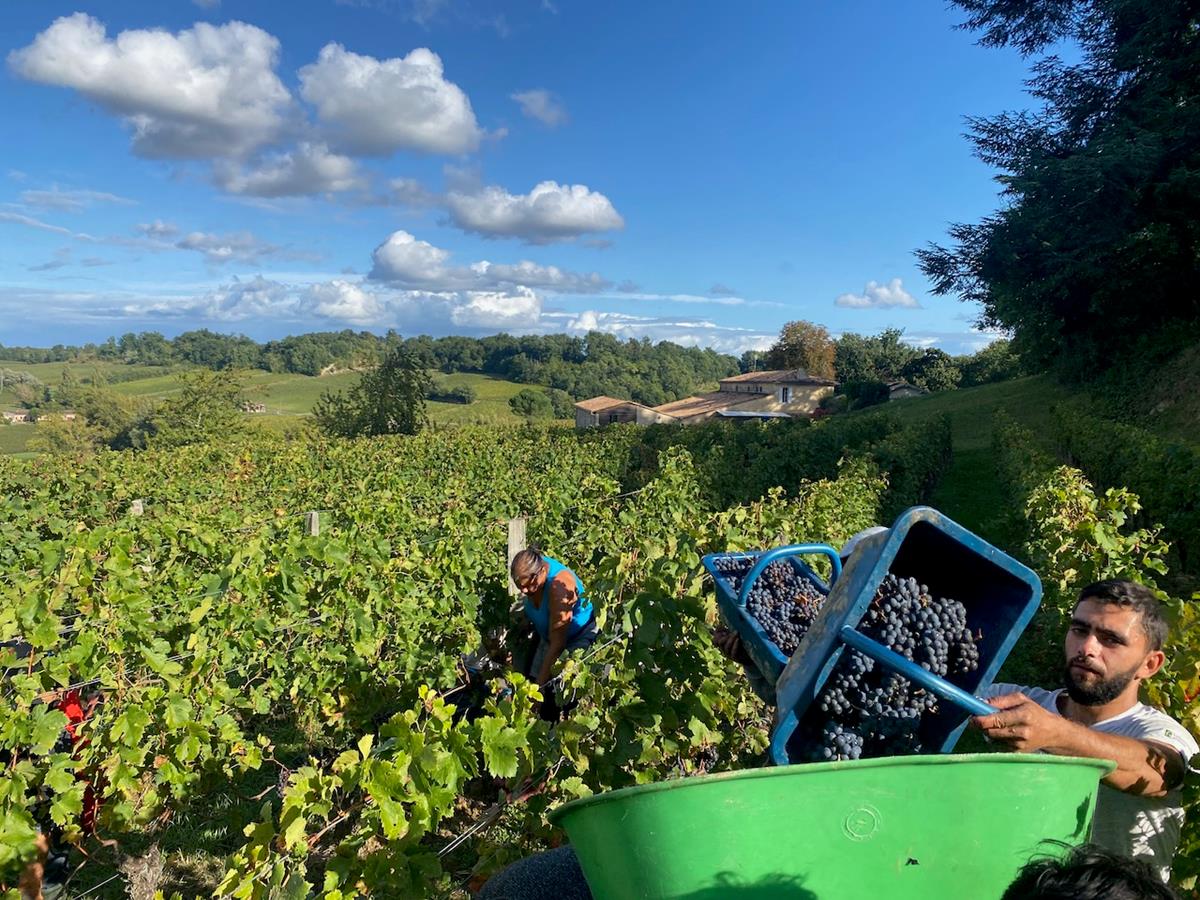 It's a simple enough process.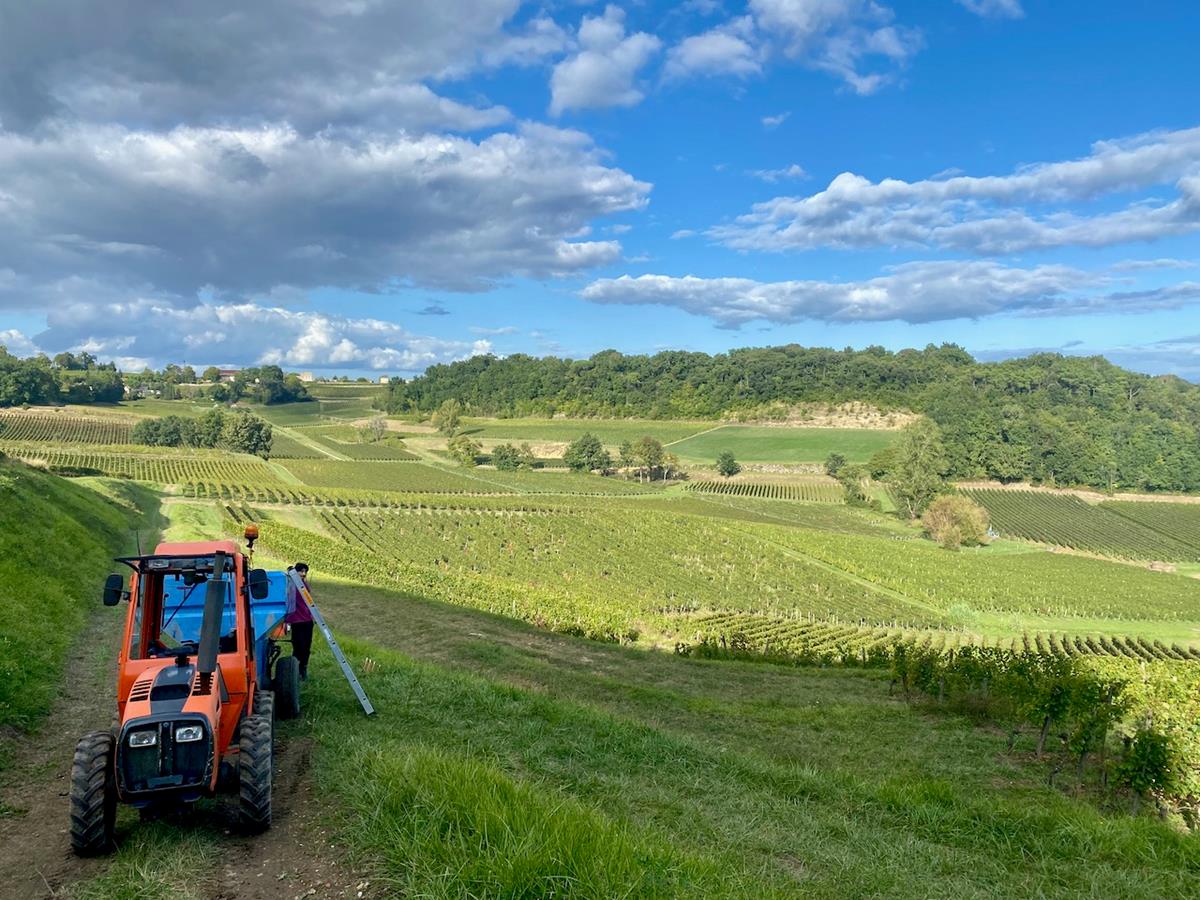 As well as pickers and porters, you need a tractor, trailer and a small ladder.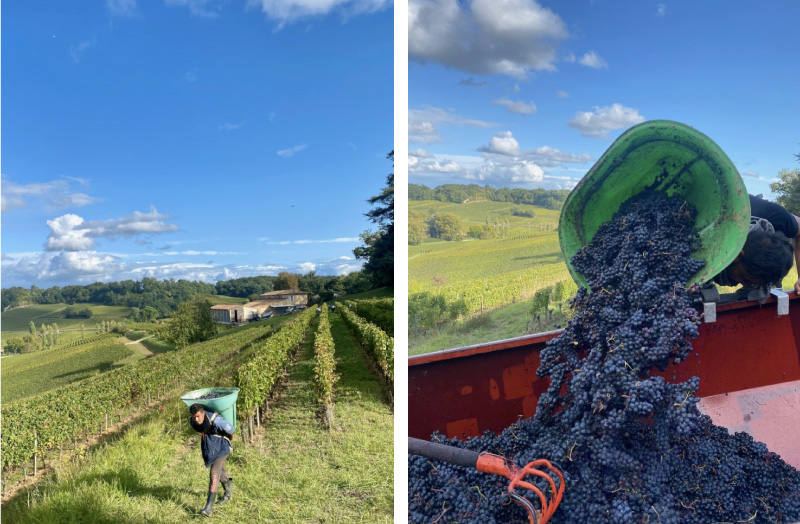 I can tell you that a full 'hotte' of grapes is a heavy load and tipping them into the trailer correctly is a knack.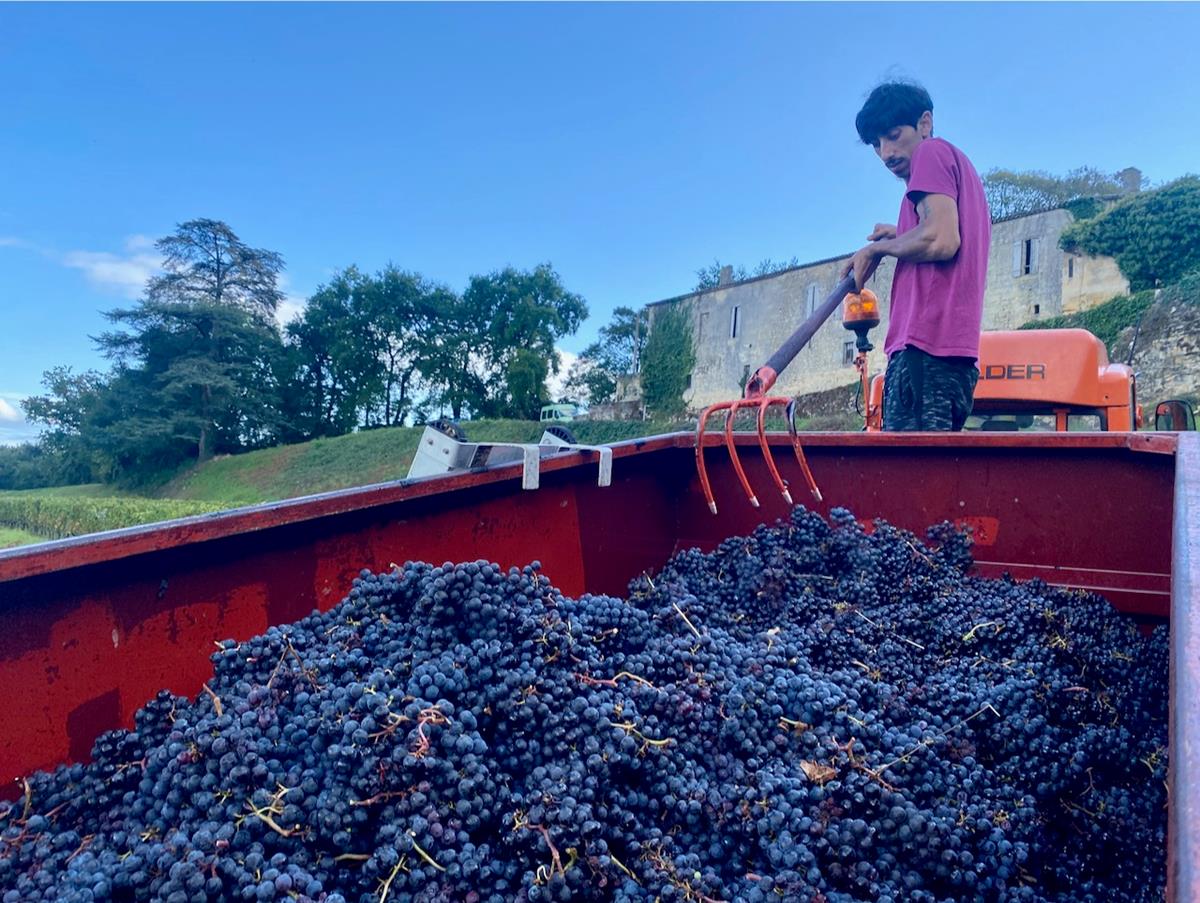 The best job, in this case performed by a lad from Spain, is gently raking out the bunches so they're evenly dispersed in the trailer.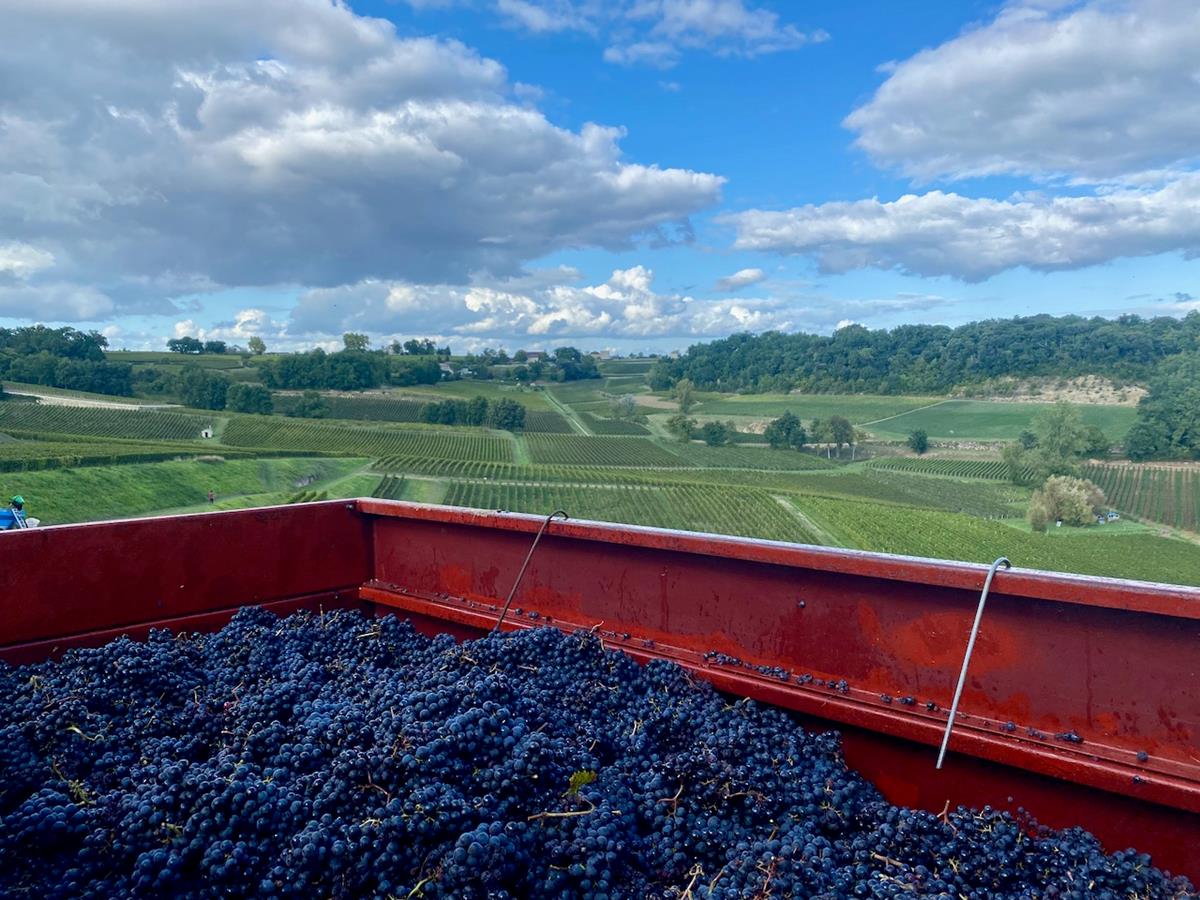 Quietly satisfying, and you can admire your handywork against a handsome backdrop.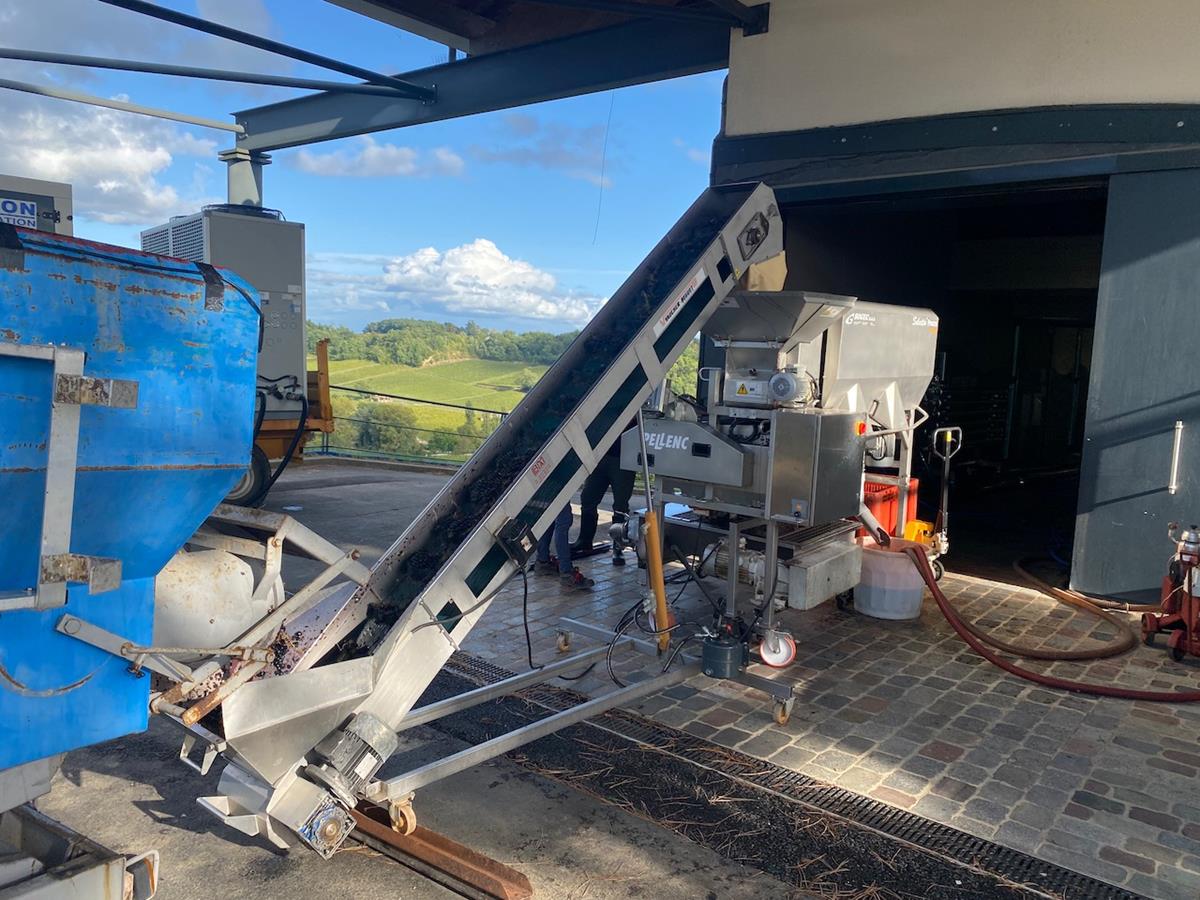 Someone needs to drive the tractor to the winery, which is handily next door in this case.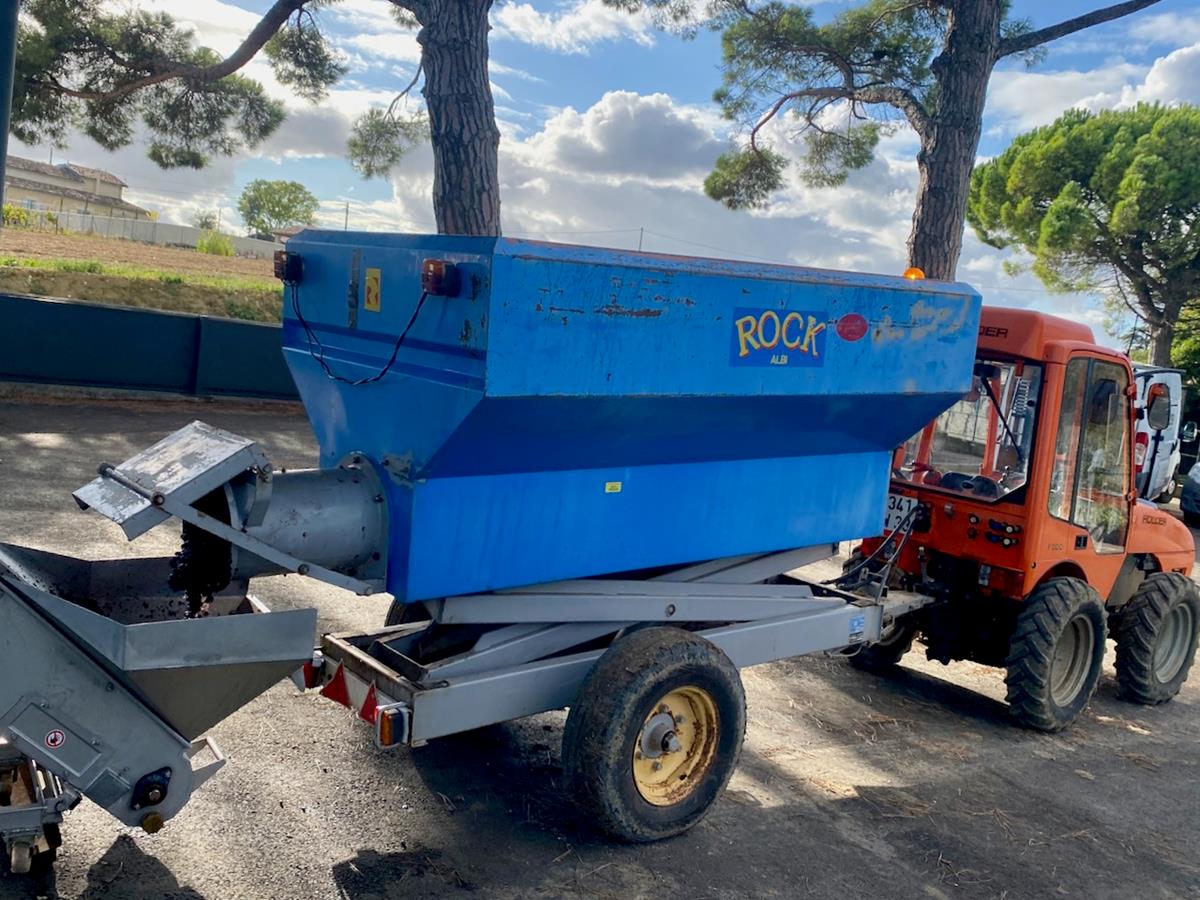 The trailer has to be carefully backed up to the de-stemmer.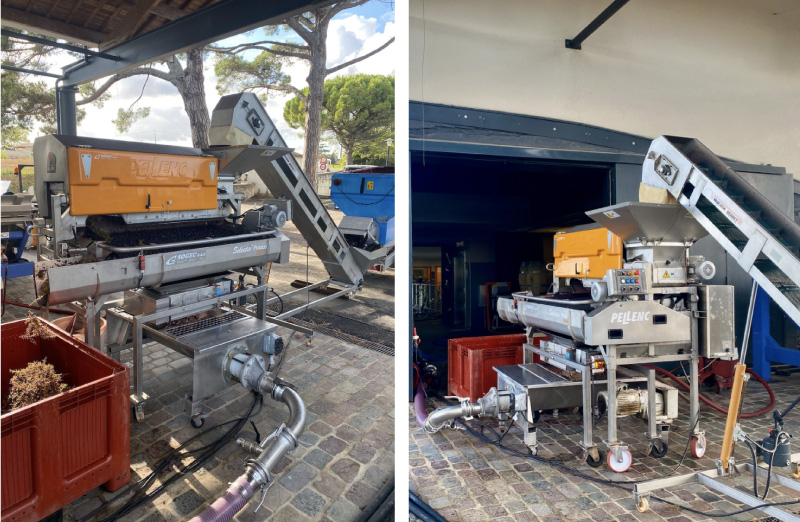 A simple but effective conveyor lifts the bunches into the rather clever de-stemming machine. The stems plop into a large, plastic container and are discarded.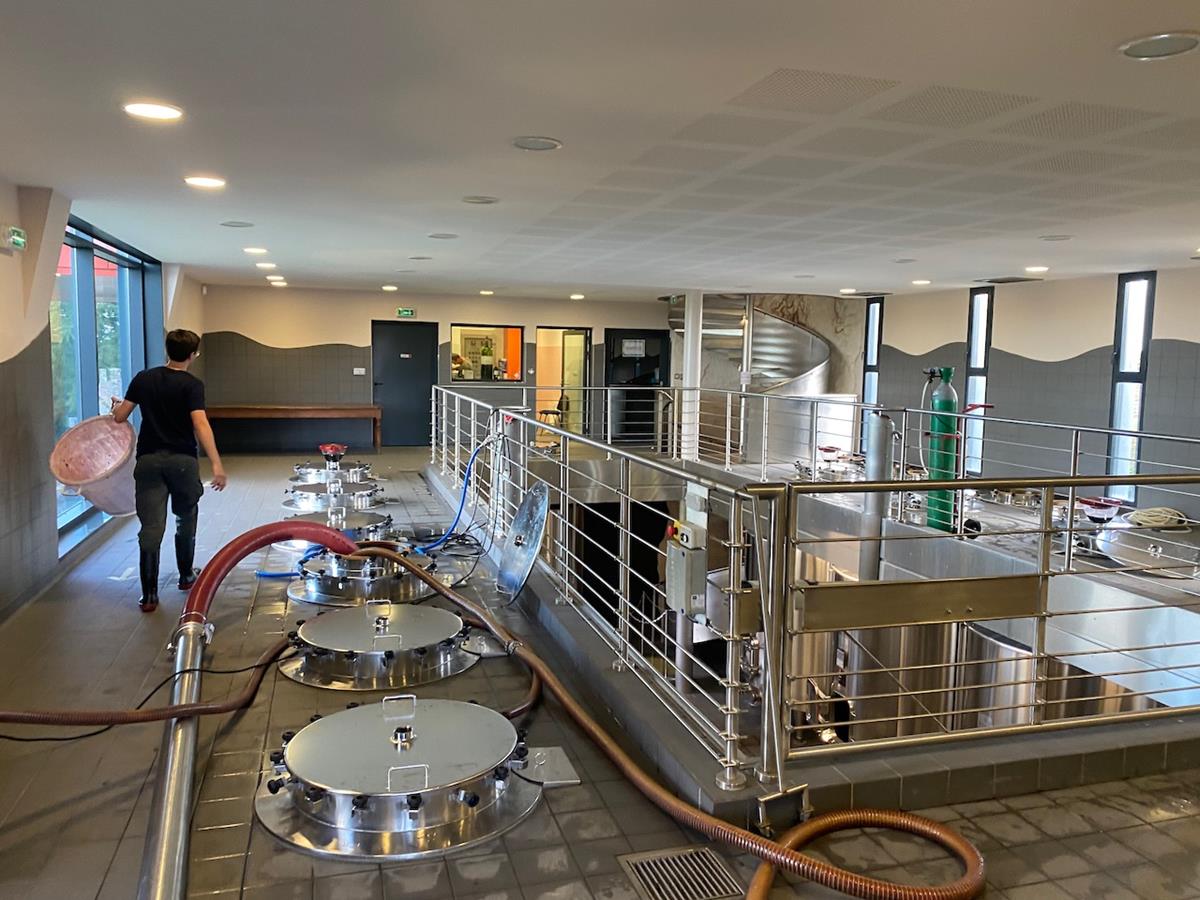 Wineries vary greatly from modern and sophisticated, to the fairly basic and rudimentary. This is pretty sharp, with the straightforward, gentle pumping of grapes into the fermentation tanks below.
On the subject of wineries, they can look quite different, and vast fortunes are often invested in them, yet the fundamentals are largely the same. Here's the comparatively small one at Le Pin in Pomerol, with owner Jacques Thienpont hosing things down after the day's harvest, with all the grapes now safely in the stainless steel cuves. It's probably worth noting that he was making great wine in the basement of a farmhouse here before it was knocked down, and replaced with the modern cellar a decade ago.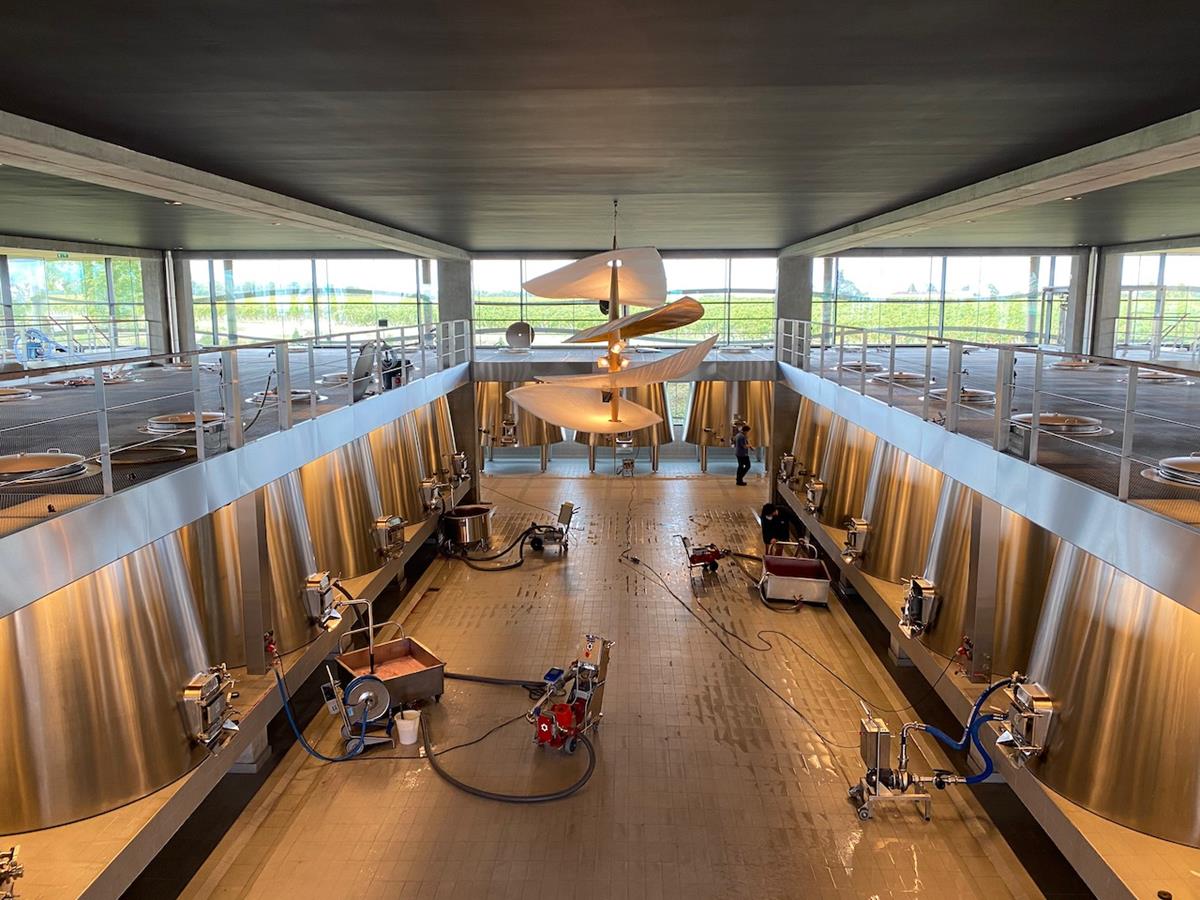 By comparison, these are fermentation tanks at the much larger Château Beychevelle in Saint-Julien. This is from inside the newish winery, though you can get a glimpse of it from just off the famous D2 wine-route that runs alongside.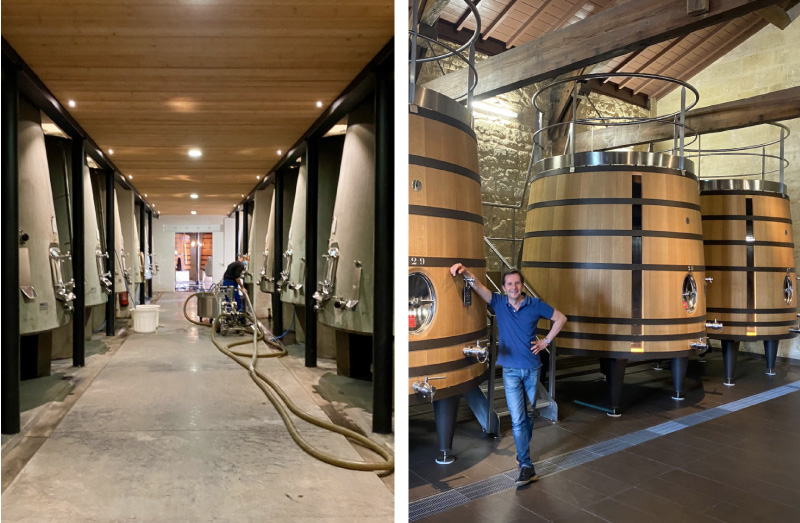 You don't have to have stainless steel tanks for fermenting your reds, by the way. (Bordeaux is roughly 85% red, 5% rosé and 10% white.) Concrete is popular, like at Château Pontet Canet in Pauillac, left, or many châteaux use wooden (oak) vats. That's Château Brane-Cantenac in Margaux – where director Christophe Capdeville uses all types.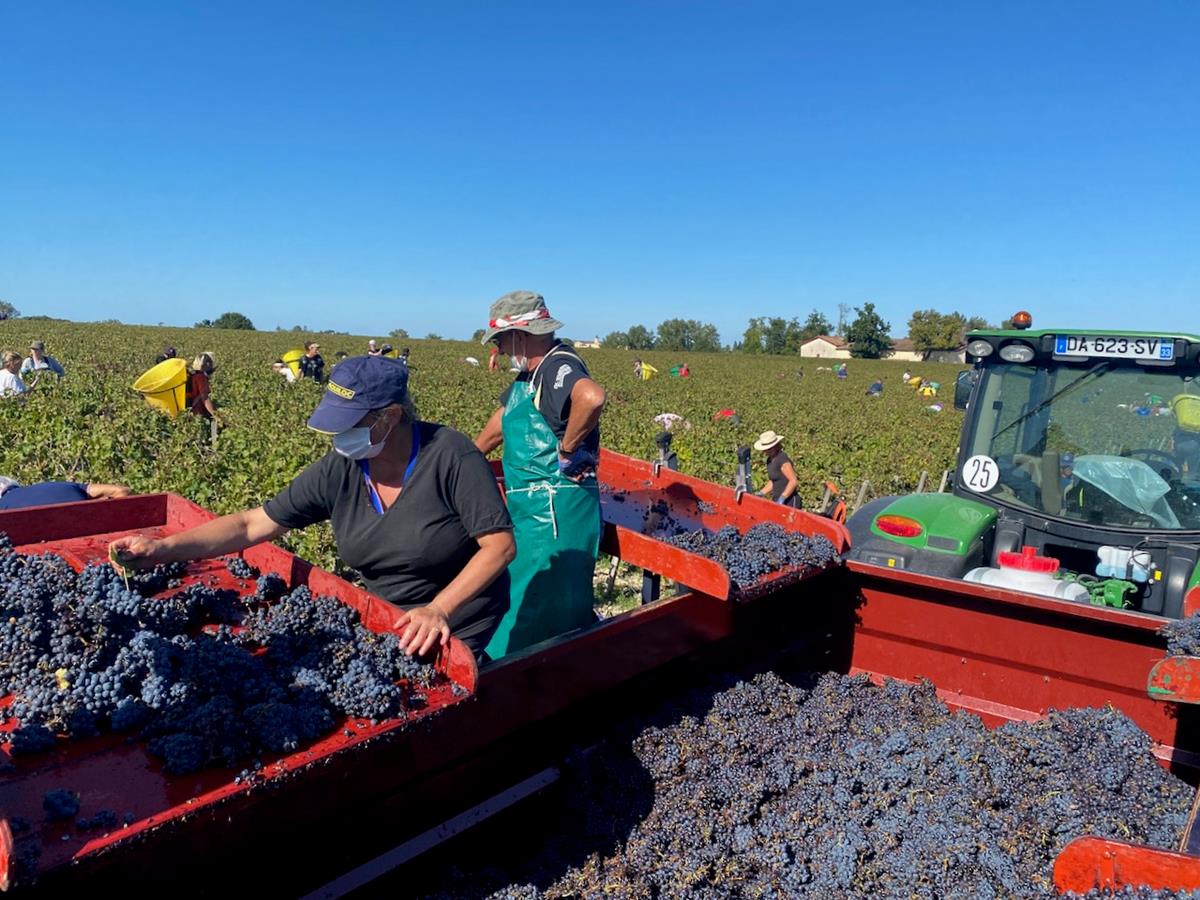 Pauillac is home to three First Growths – Châteaux Latour, Mouton Rothschild and, shown here, Lafite-Rothschild. They all bring in their grapes in slightly different ways, and Lafite is one of the few leading estates that haven't changed the way they harvest their crop in the 20-odd years that we've been here. It's rather reassuring, though it no doubt helps to have one of the greatest vineyards on the planet.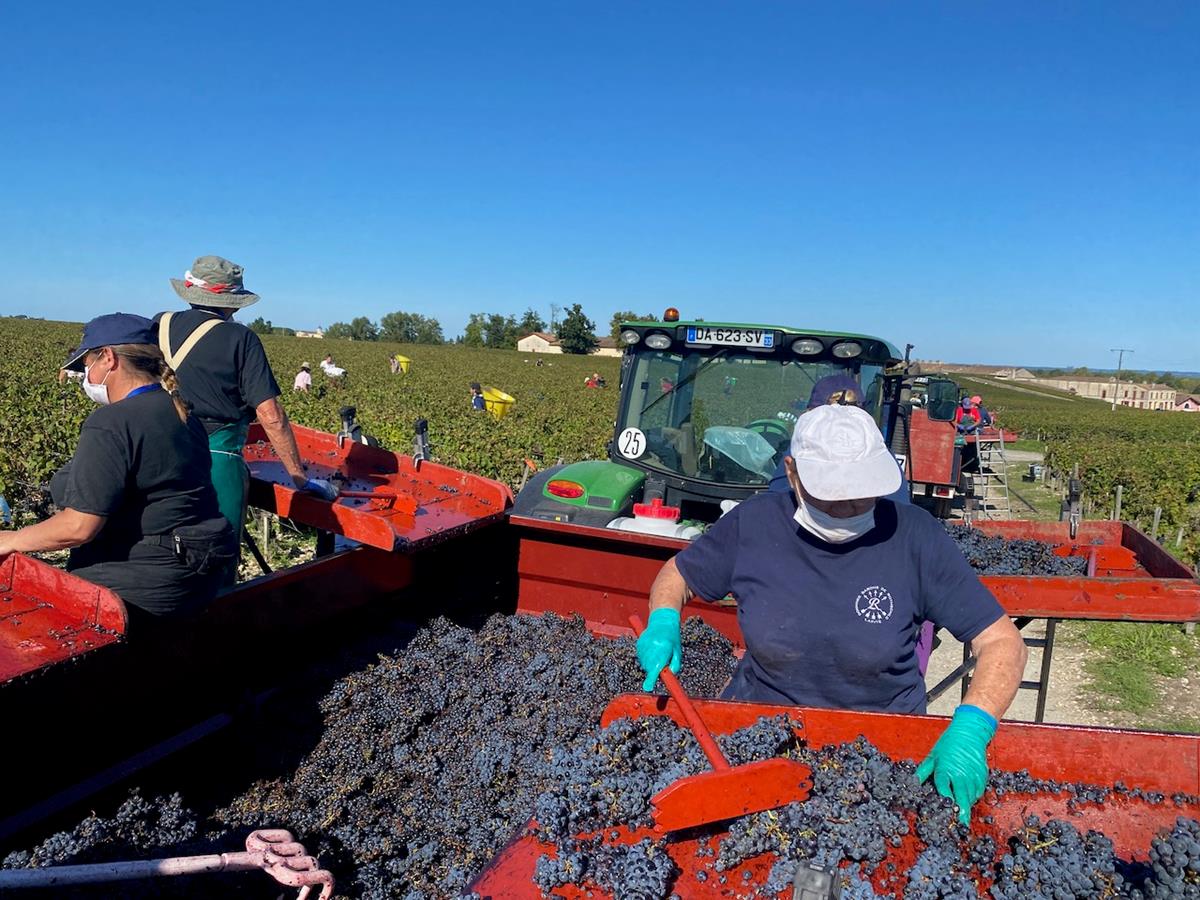 The Cabernet Sauvignon grapes are tipped onto sorting tables on the trailers and then handled by what I think of as croupiers (though I'm not aware that anyone else does), like in a casino. The lady on the right proudly told me she's in her 80s. Good for her.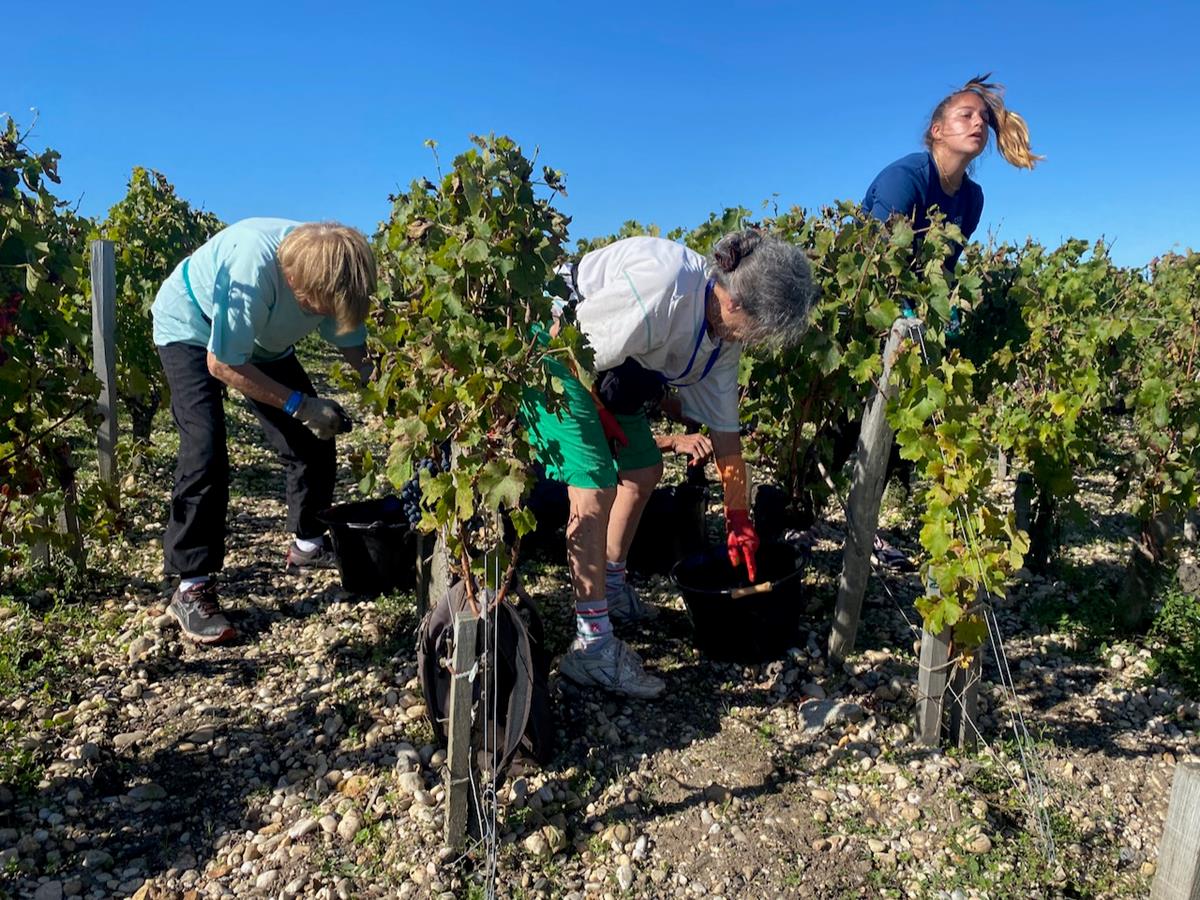 The famous Lafite gravels. Don't do this work if you suffer from back pain.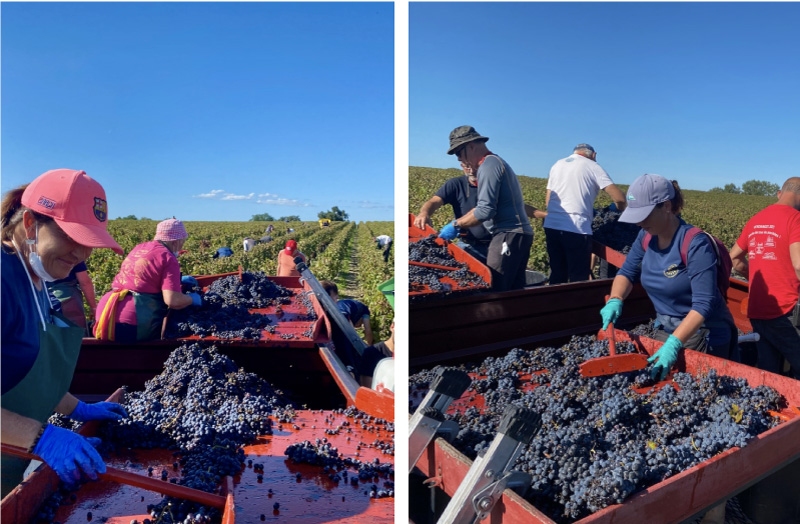 I'm sure they must have off-days but whenever I'm at Lafite during the harvest it's always a colourful and happy scene. Perhaps I only make the trip on sunnier days.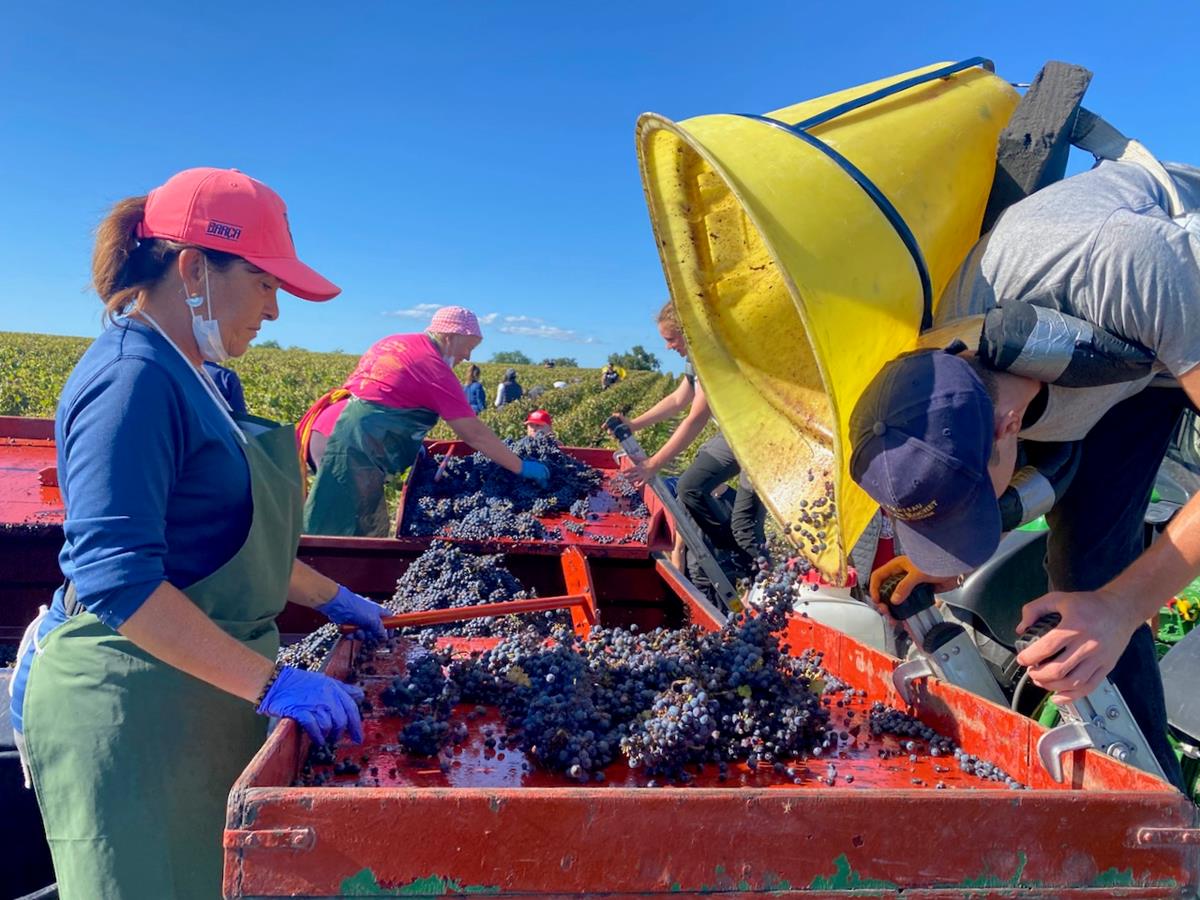 And the grapes aren't bad either.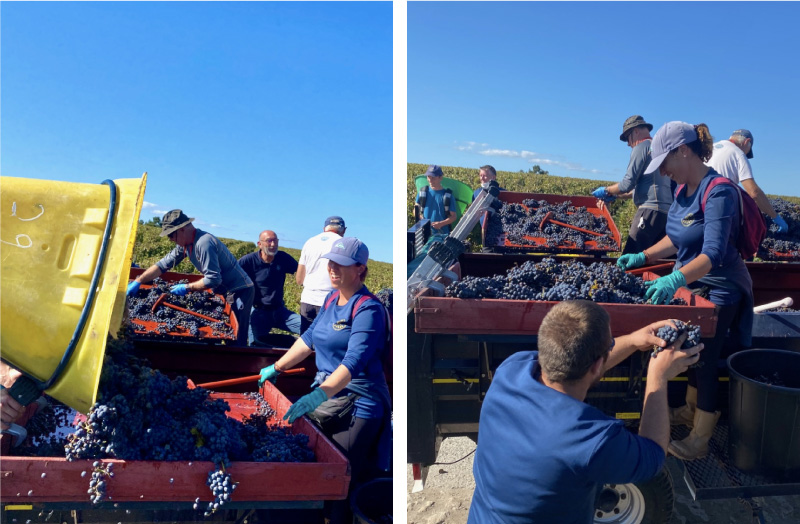 Sometimes a young porter gets carried away and, while trying to demonstrate his skill at tipping the bunches onto the sorting table in a cool way, he misses the target. No harm done.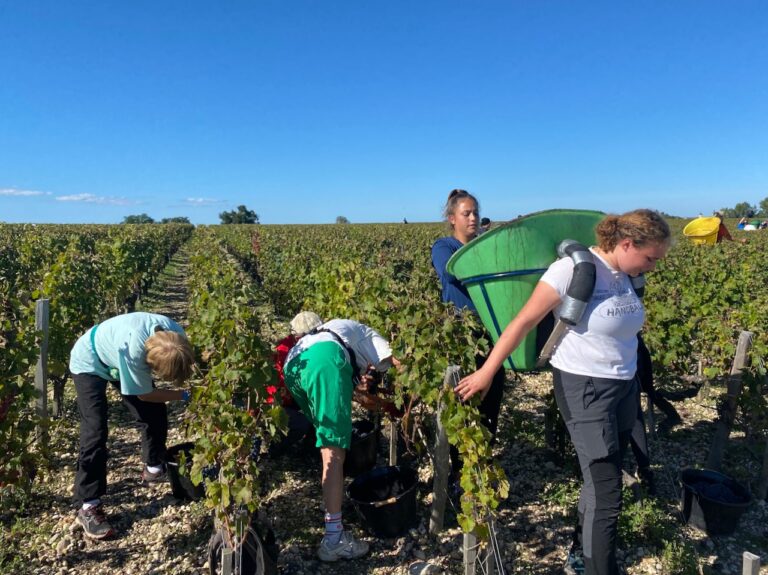 Girl power. Not all porters are blokes.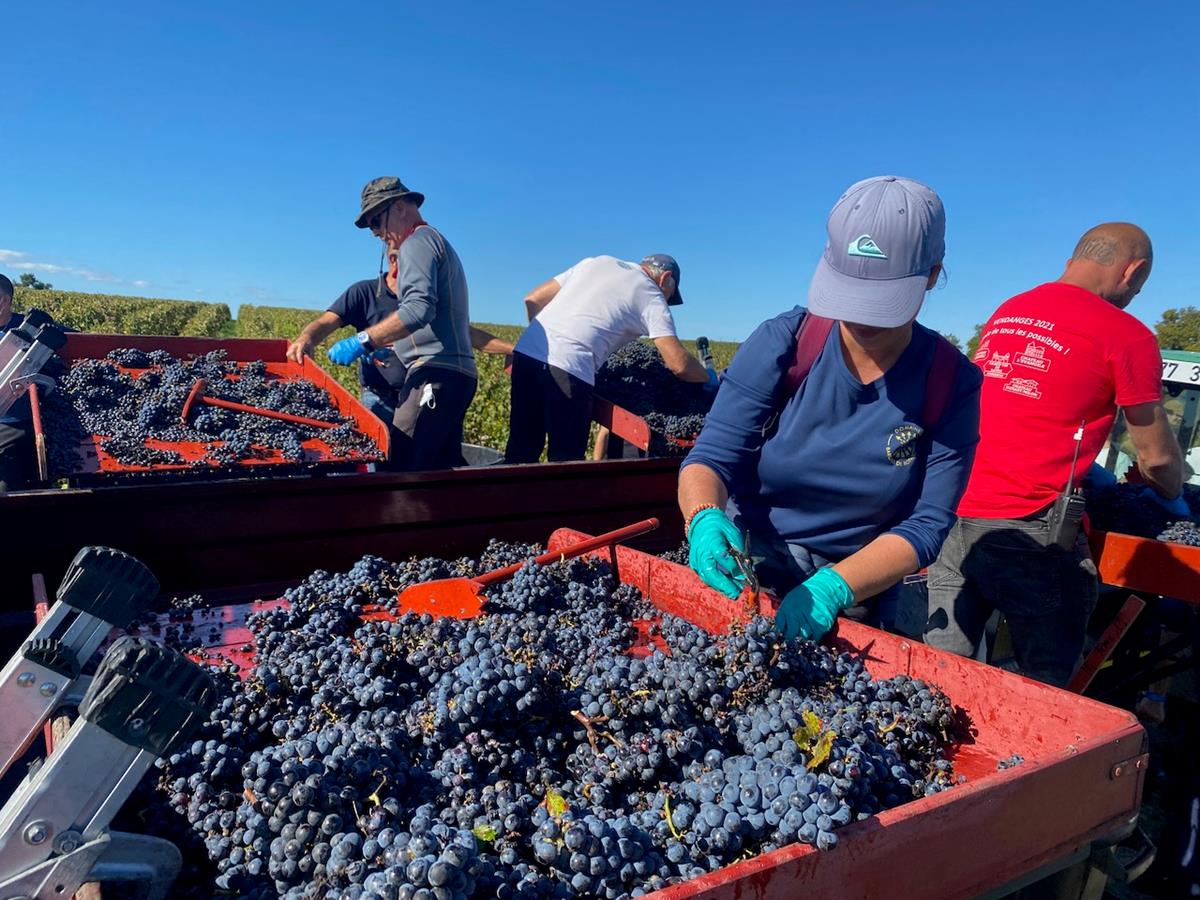 For wine, white grapes are in fact green, or sometimes vaguely yellow, while red grapes – especially Cabernet Sauvignon – are blue. Ok, maybe not blue blue but you see what I mean. Spot the t-shirts for a colour chart comparison.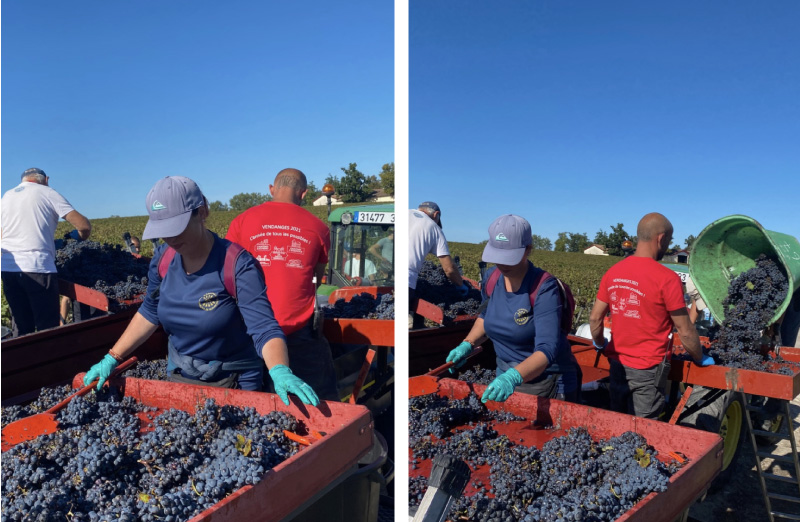 The red t-shirt has printed, on the back, 'vendanges 2021 – l'année de tous les possibles' -'harvest 2021- the year of all possibilities'. You could say that, and not just about the harvest. Below that are the names of the châteaux – Lafite, the jewel in the crown in the centre, Rieussec in Sauternes, L'Evangile in Pomerol (a personal favourite if we could afford it) and Duhart Milon in Pauillac, next door to Lafite. The last one is hardly known: Château Paradis Casseuil, a Bordeaux from the south of the Entre Deux Mers (some 40 minutes from us). Good to know they have an entry level Bordeaux, though I'm not sure why they do.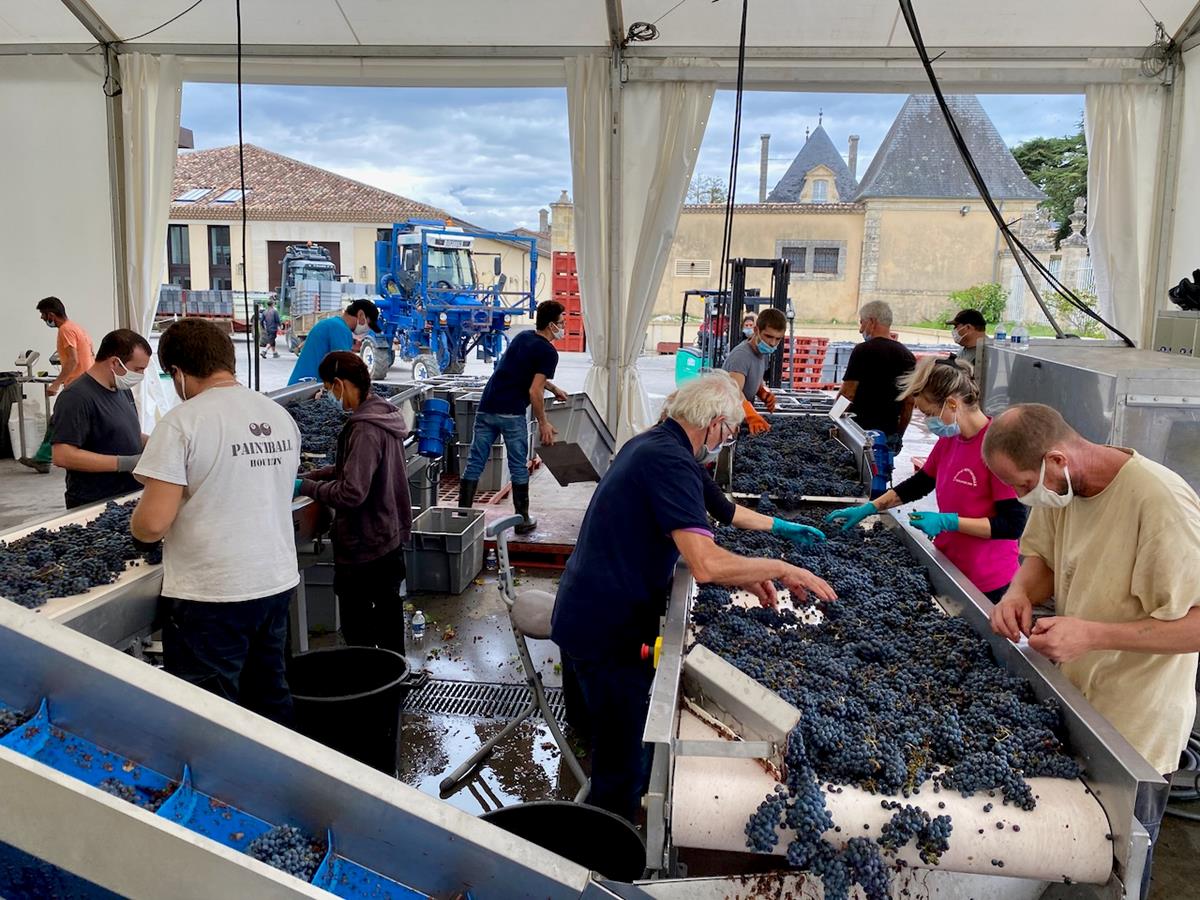 Now I've shown quite a few images of people checking grapes on sorting tables in the vineyard, but you should know (in as much as you need to know anything about all this) that there are thousands of sorting tables in the reception areas for the harvest at the wineries themselves. Most of them are conveyor-type affairs, like these at Château Beychevelle.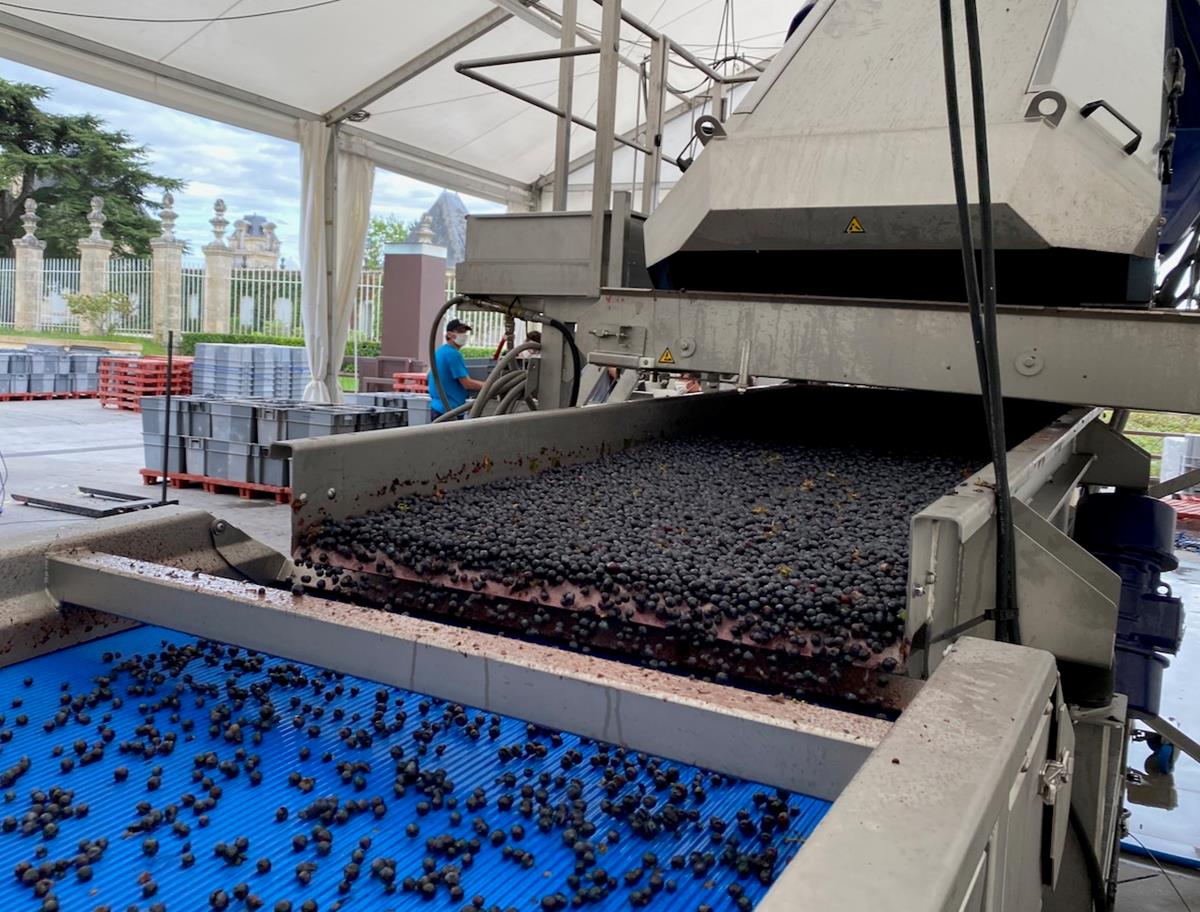 And that's not forgetting the huge investment in additional types of sorting systems, such as the optical sorter here at Château Beychevelle.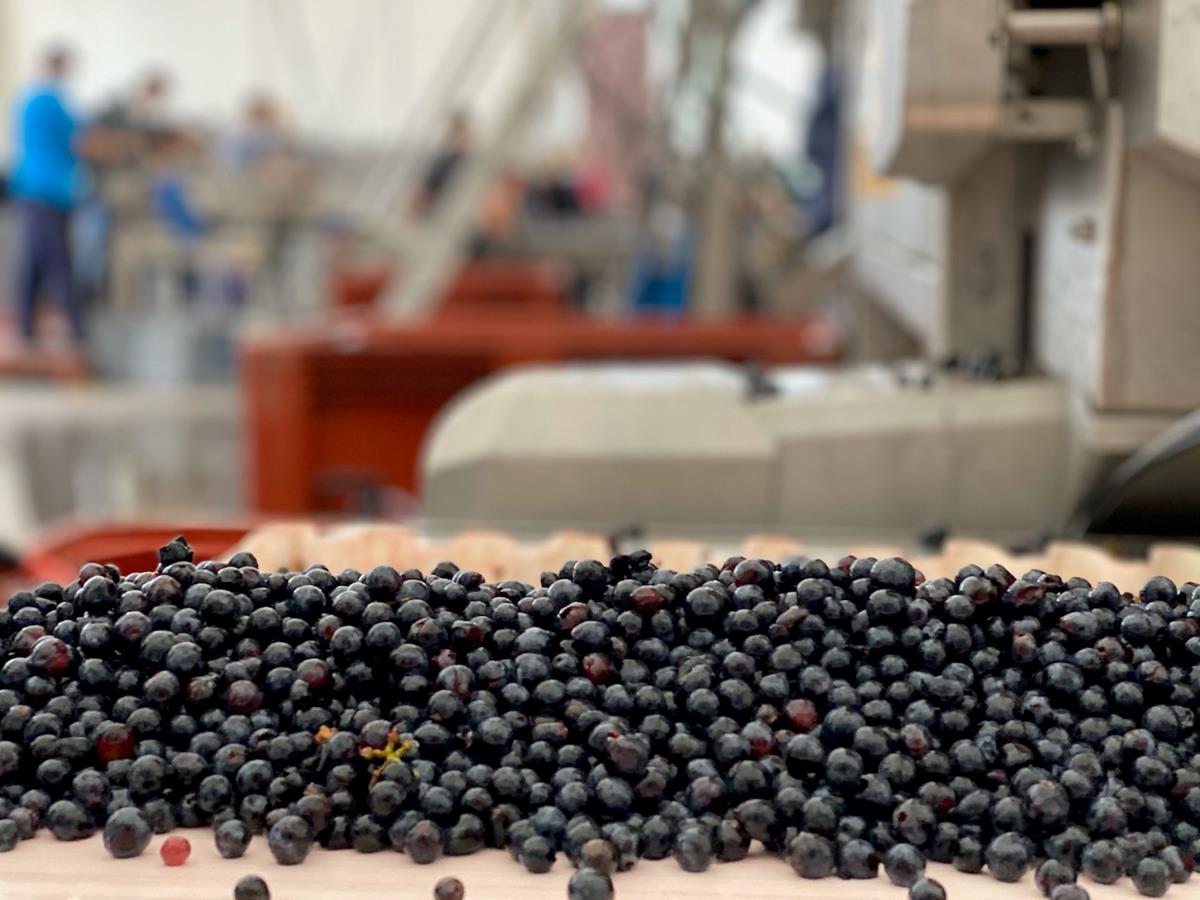 Only the best will pass through, though I've yet to be completely convinced. Especially when you have to turn up the speed dial at busier times.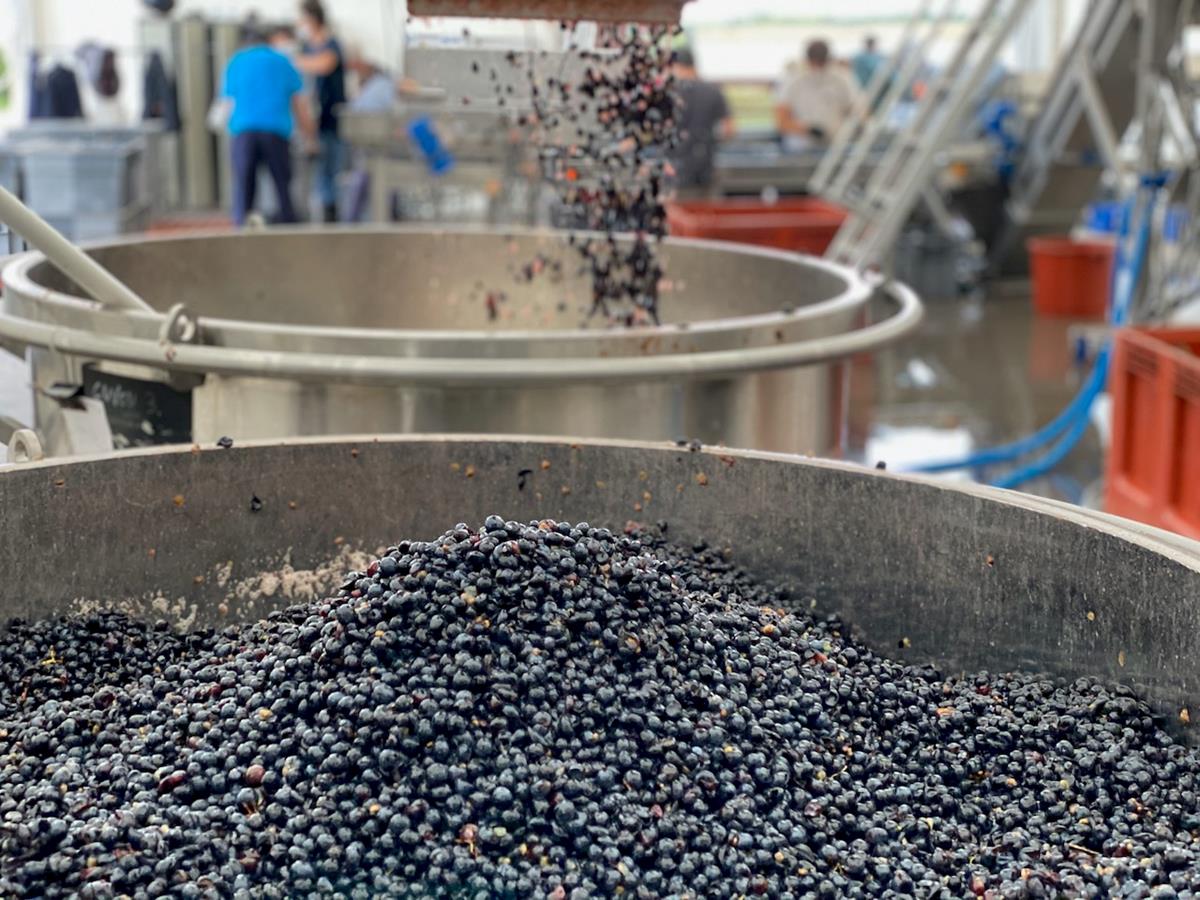 And most of the time, the grapes end up being crushed before fermentation.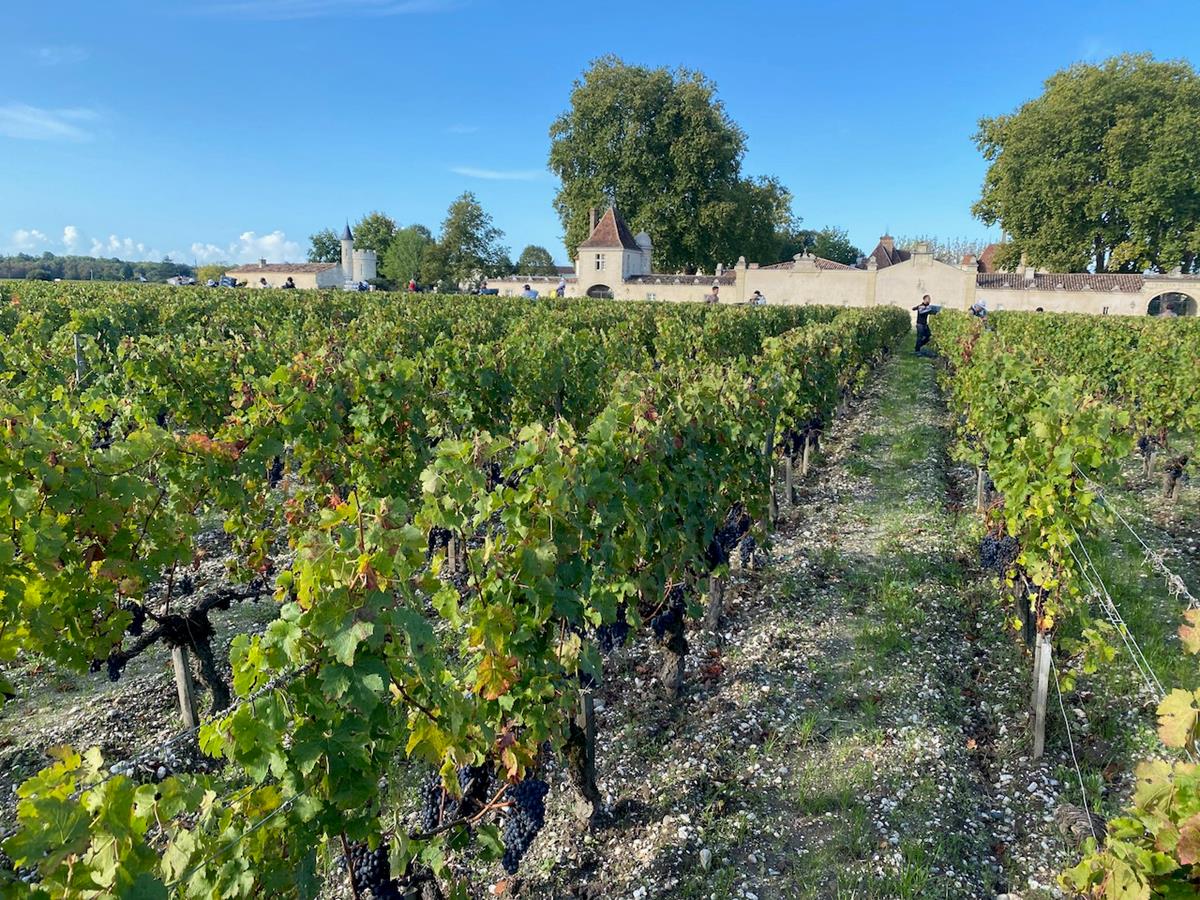 More stony soils in Margaux, about 30 minutes south of Château Lafite in Pauillac.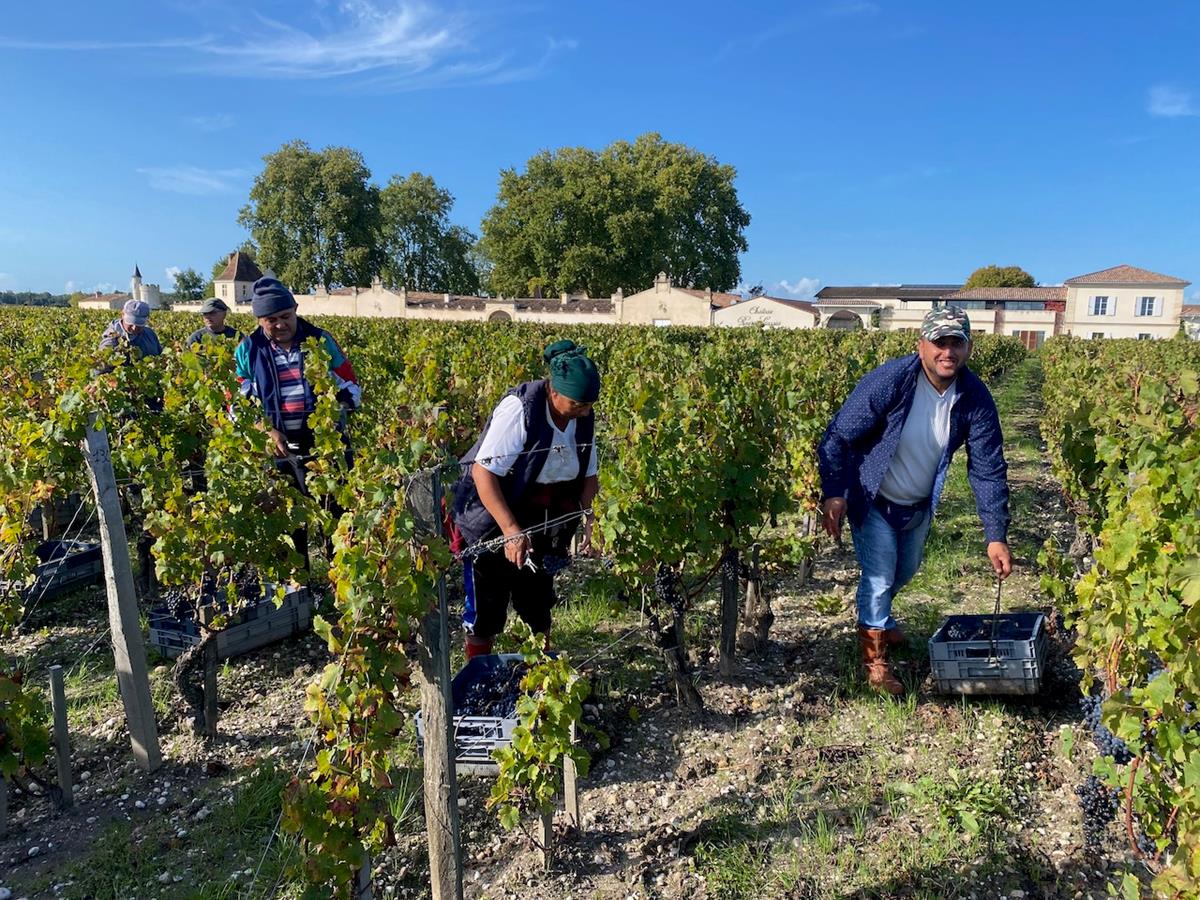 The harvest at Château Rauzan-Ségla, one of the leading estates. The Château is on the left in the distance, with its neighbour Château Rauzan-Gassies on the right.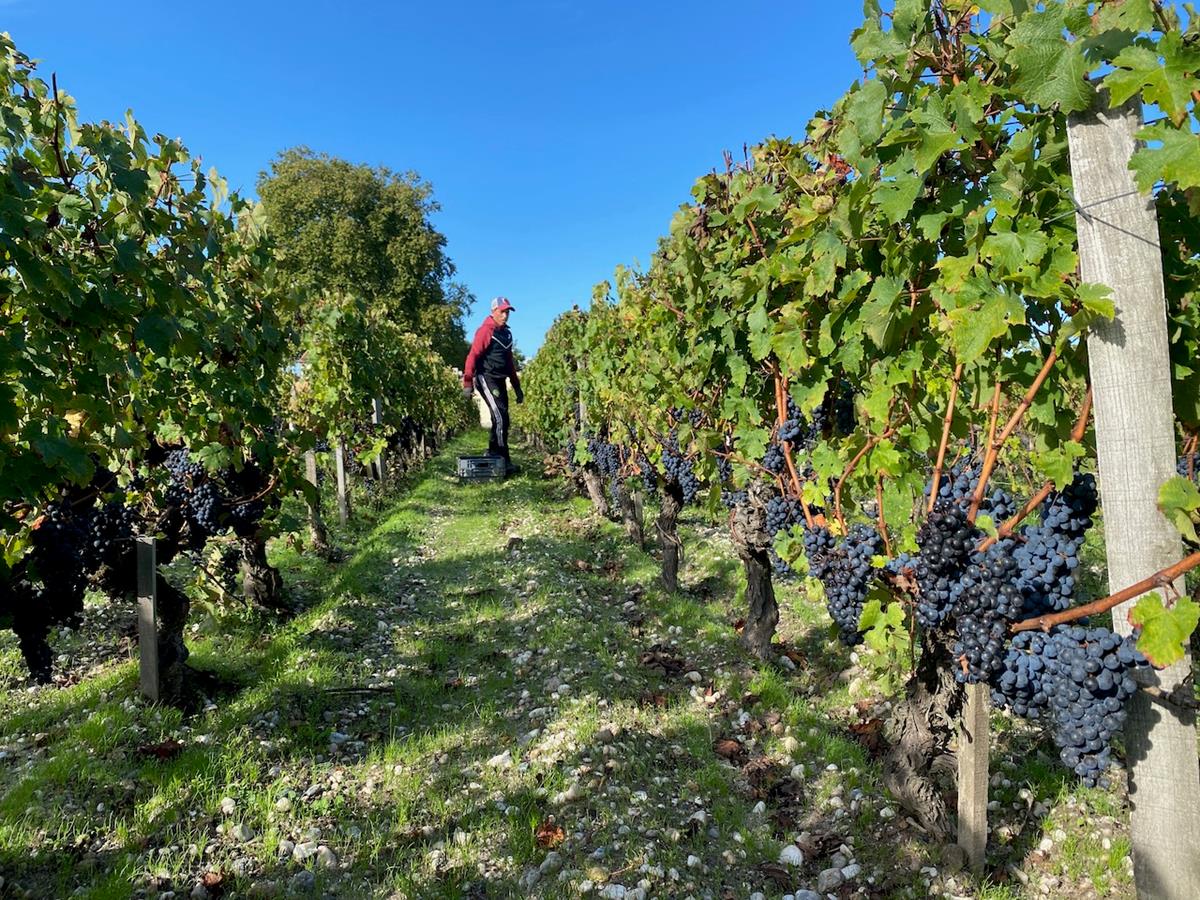 Again, a good crop considering 2021 will be thought of as a year with lower yields.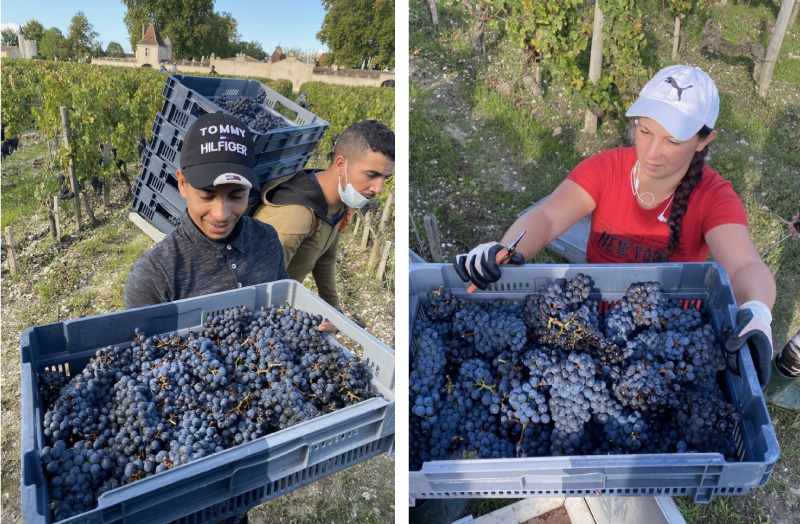 Cabernet Sauvignon being presented in stackable crates, called cagettes.
The grapes don't get squashed but there's no let off for the porters with this system. Still a fairly heavy load every time, though balanced.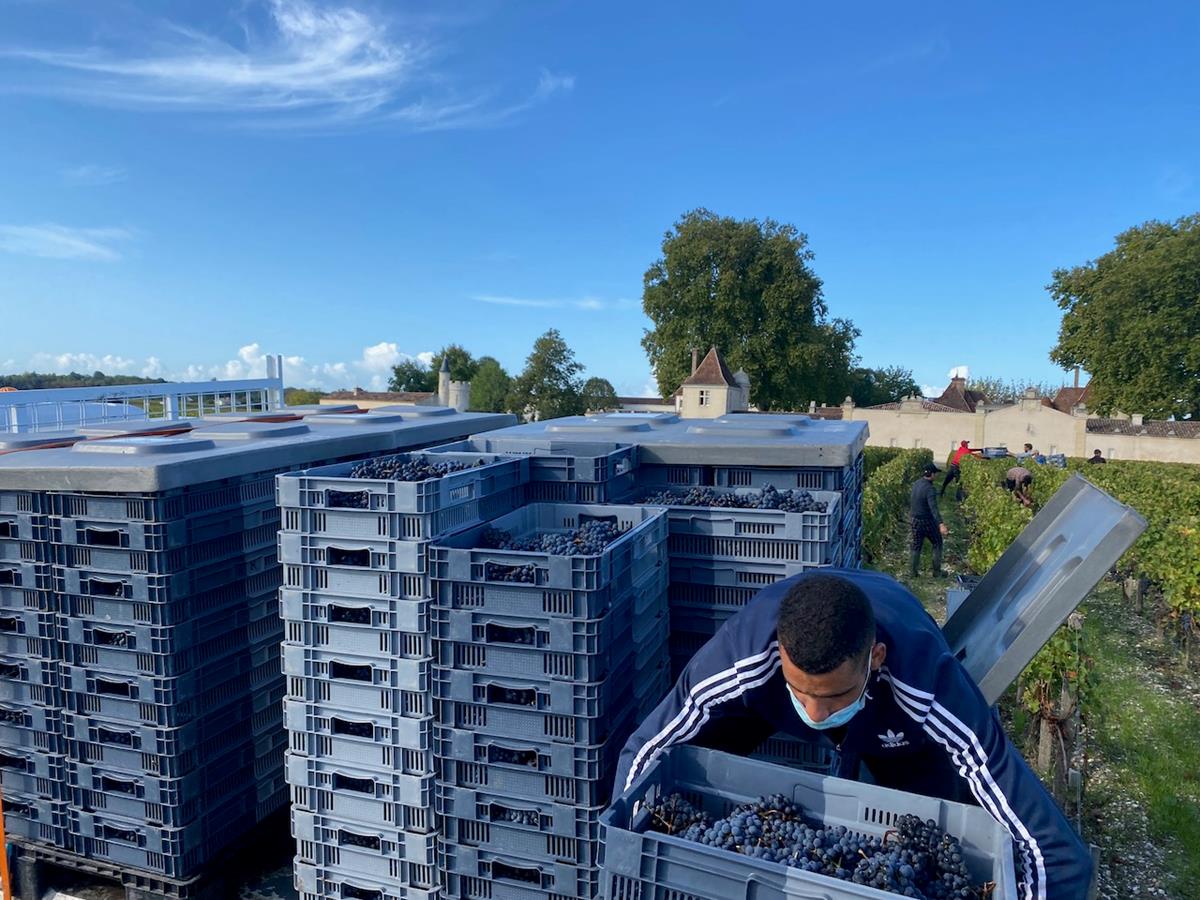 The stacker has a full workload.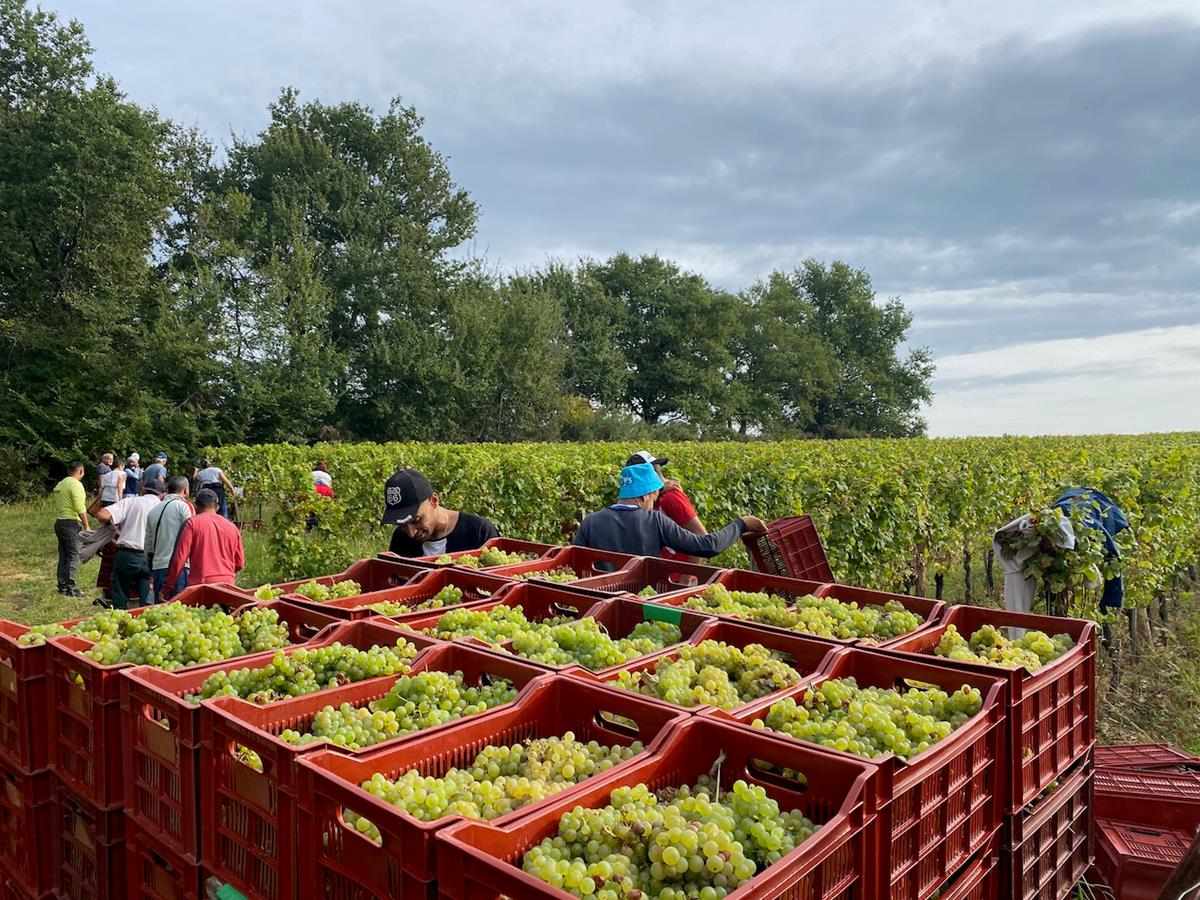 Incidentally, we use cagettes for the harvest of the Crémant, our traditional method sparkling wine. The rules for making Crémant stipulate that the bunches must be picked by hand into stackable crates. That's so the grapes can be pressed using whole bunches, with minimal oxidation while they're waiting in the trailer.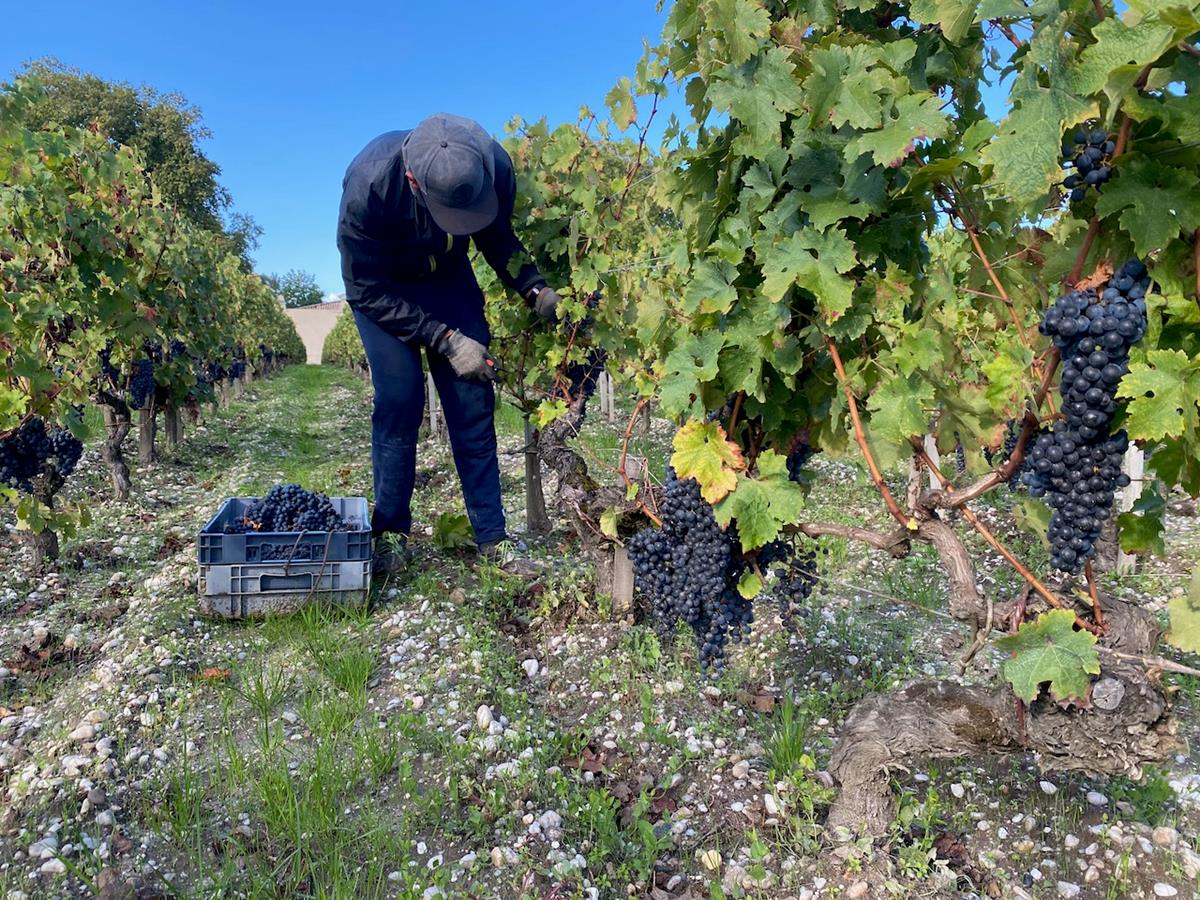 Back to Rauzan-Ségla – one of many favourites from Margaux – and you can tell these are Cabernet Sauvignon because the leaves are quite distinctive. Note, on the right, that the leaves have quite pronounced 'holes' in them.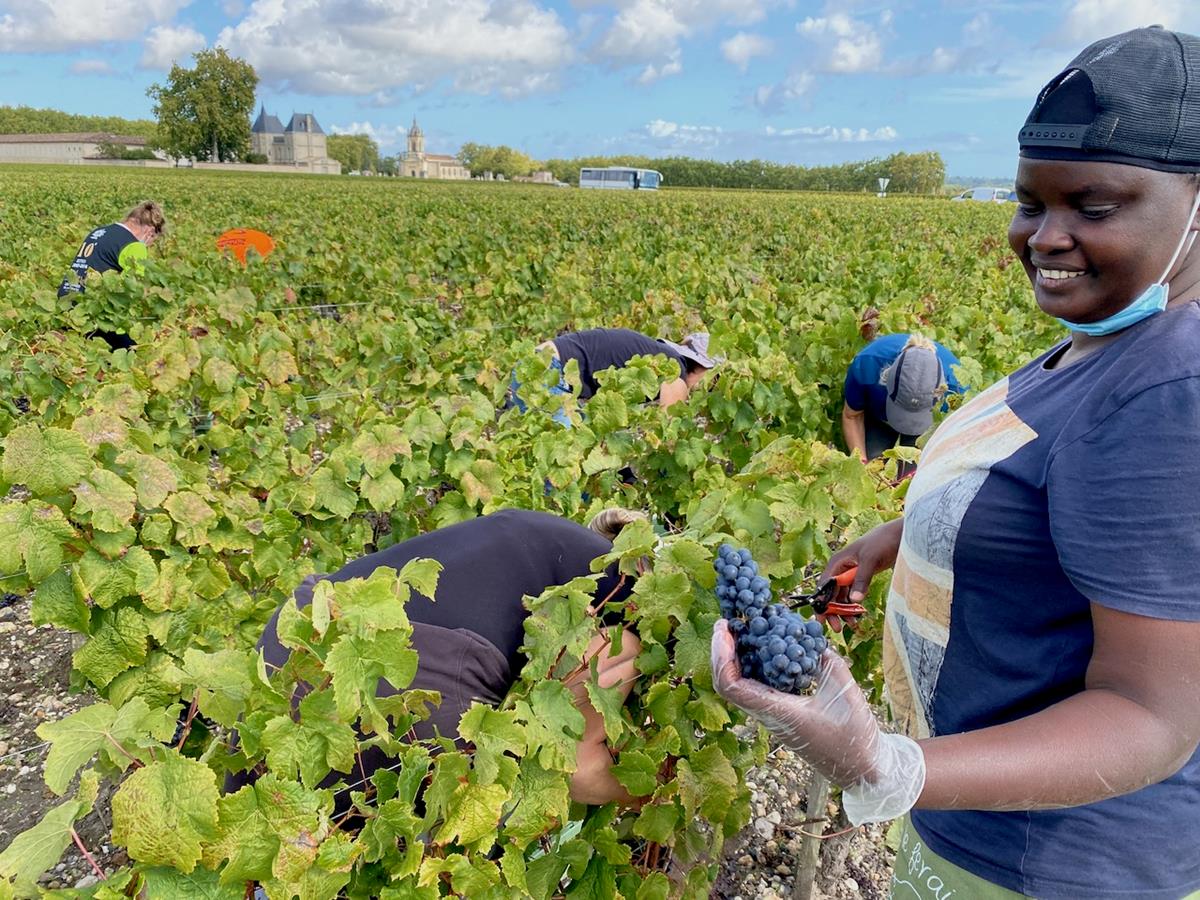 Just across the D2, the main route des châteaux heading up the Haut-Médoc, and this is Château Margaux, another First Growth and one of the most famous names in the wine world. These grapes are Petit Verdot, which is grown in small quantities here.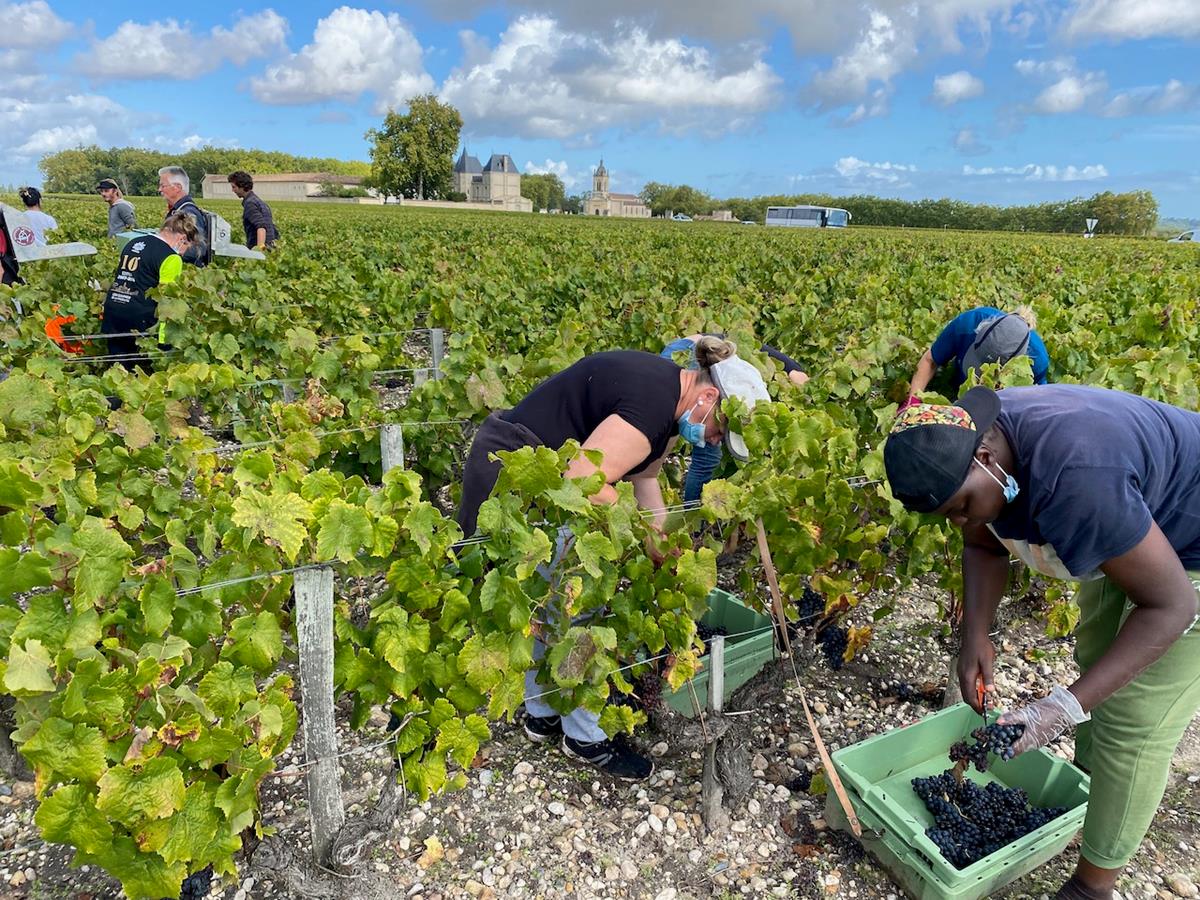 The leaves of Petit Verdot are quite easily identifiable, I feel. (After 20-odd years of vine-spotting.)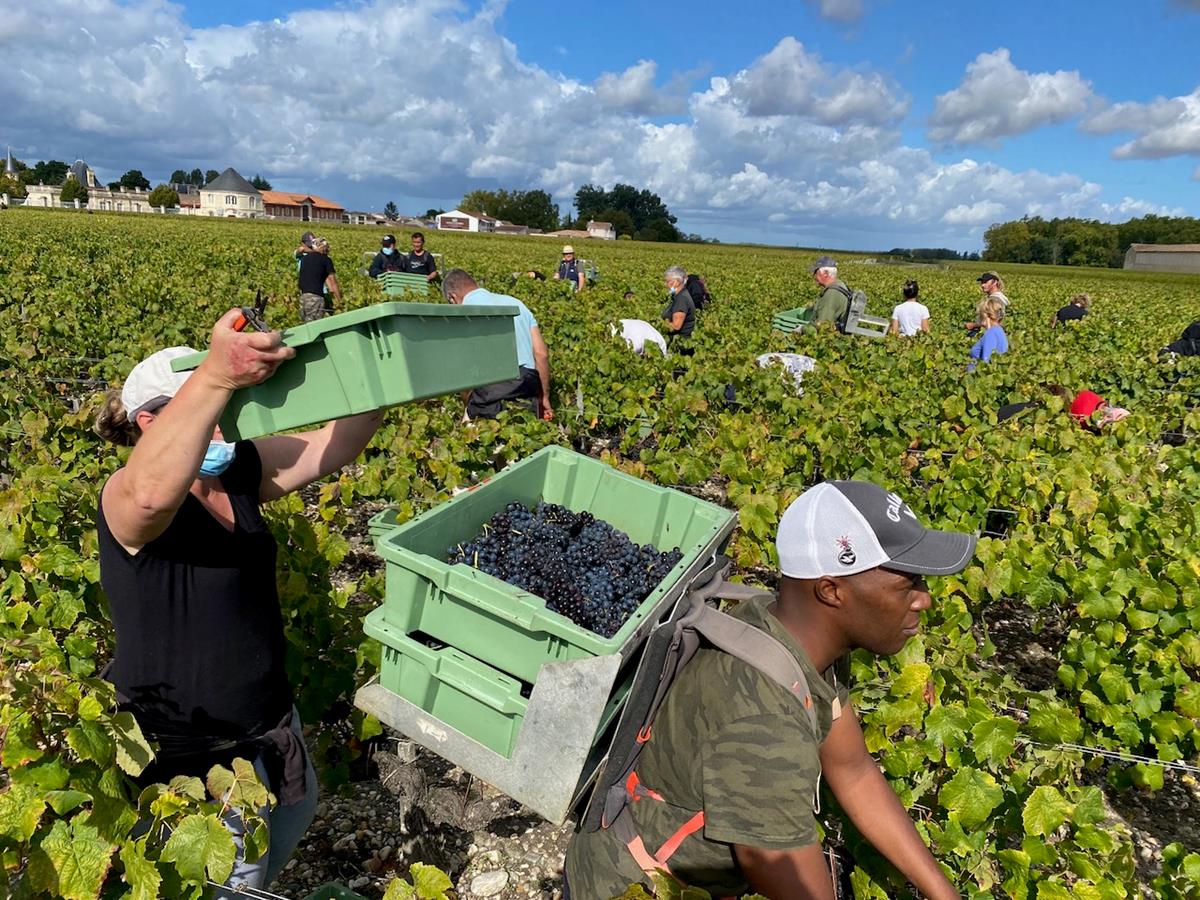 Again, stackable crates in use. I remember talking about the harvest to the late, great Paul Pontallier, the director of Château Margaux, when they used to tip their grapes into trailers, like most people did. They were planning on completely renovating their winery and bringing their processes up to date, and Paul achieved this in some style before he tragically died, from cancer, at the age of 59 in 2016. Much as he appreciated the new level of precision for bringing in the bunches, he said, wistfully, 'I don't really know why we treat the grapes like caviar when we crush them so soon after.'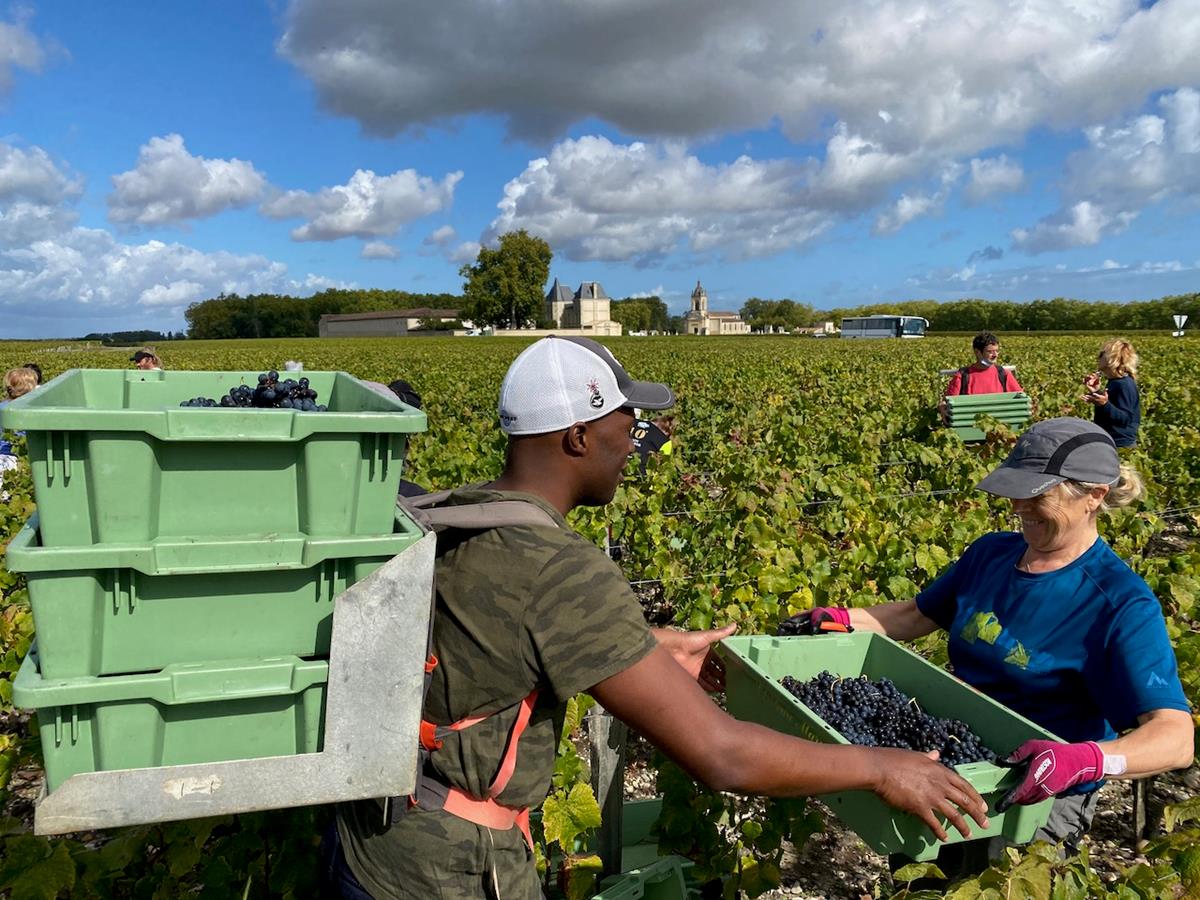 It's relatively easy to spot that this is Château Margaux, even if many of their parcels are interwoven with those of their neighbours. (Château Palmer is just alongside, for example.)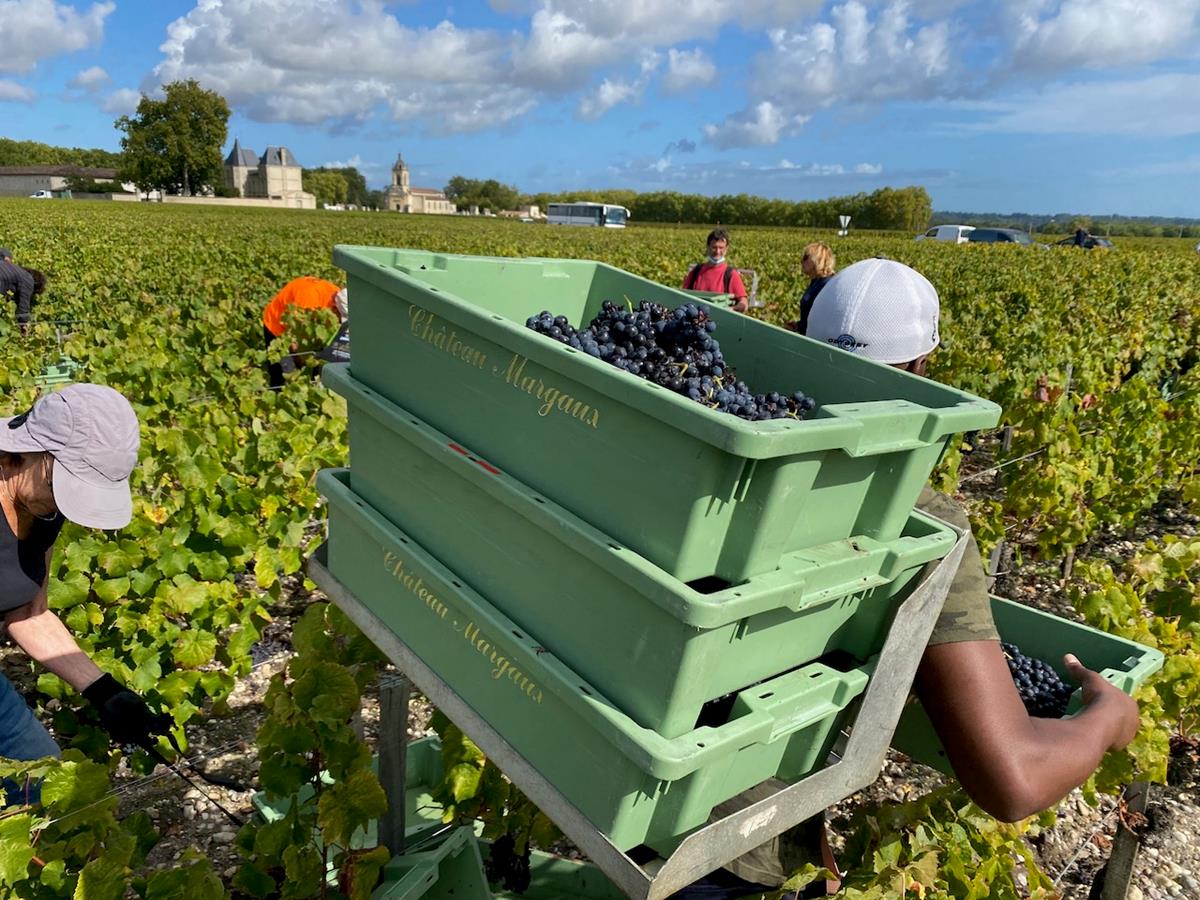 It helps that the words 'Château Margaux' are stamped in gold letters on each of the harvest crates.
Pickers do the sorting too. Again, note the gravels.
To be fair, this was, of course, October rather than November.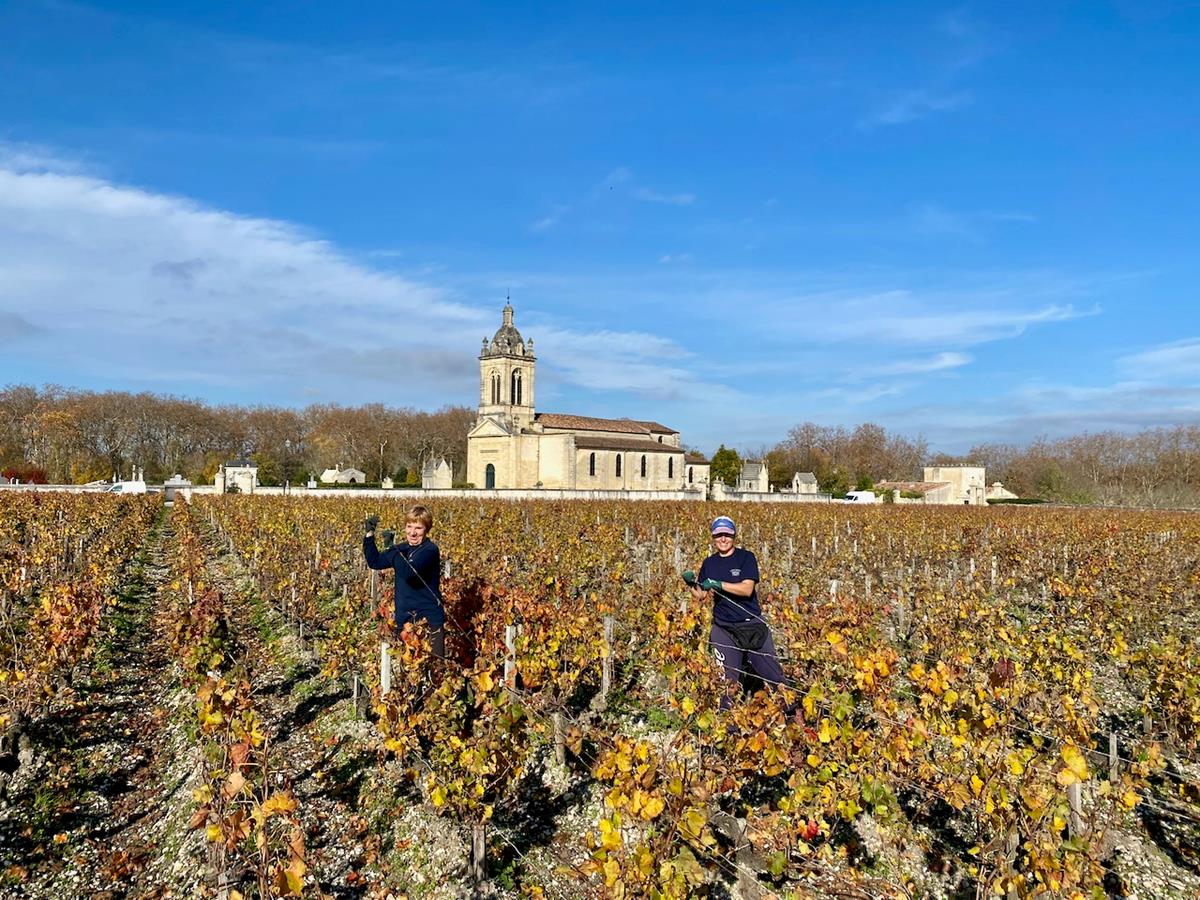 This is how the vineyards of Château Margaux look in November. Céline and Véronique have nearly 40 years of experience of working there between them.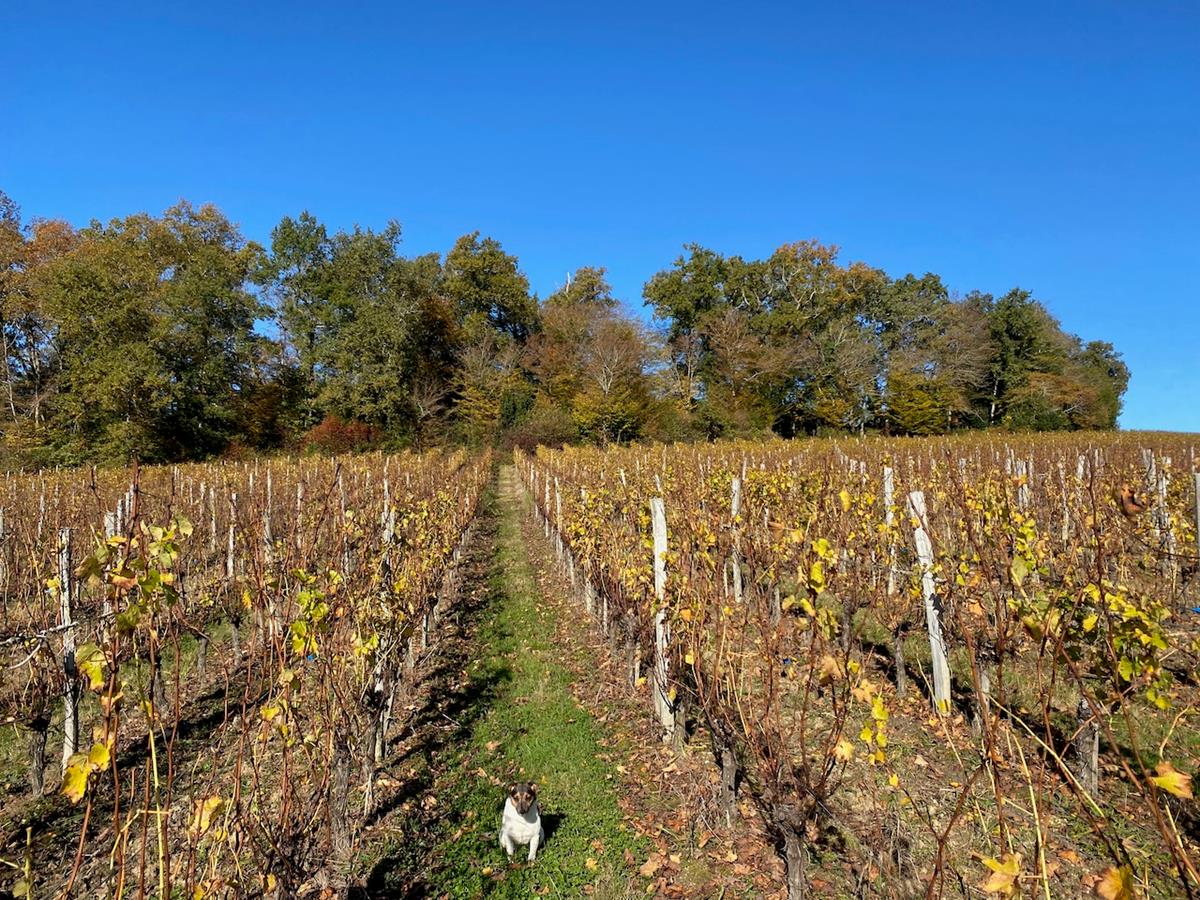 Back at Bauduc, with Pavie, in the Sauvignon Blanc.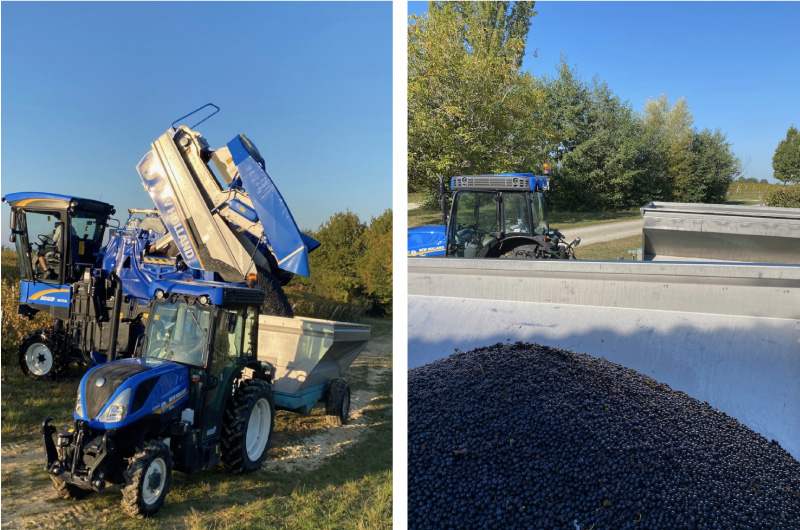 In closing, I should point out that something like 80% of Bordeaux is harvested by machine. The top machines have onboard de-stemmers and sorters, like the one we use obviously. It's just that the grapes are sorted immediately as soon as they come off the vine.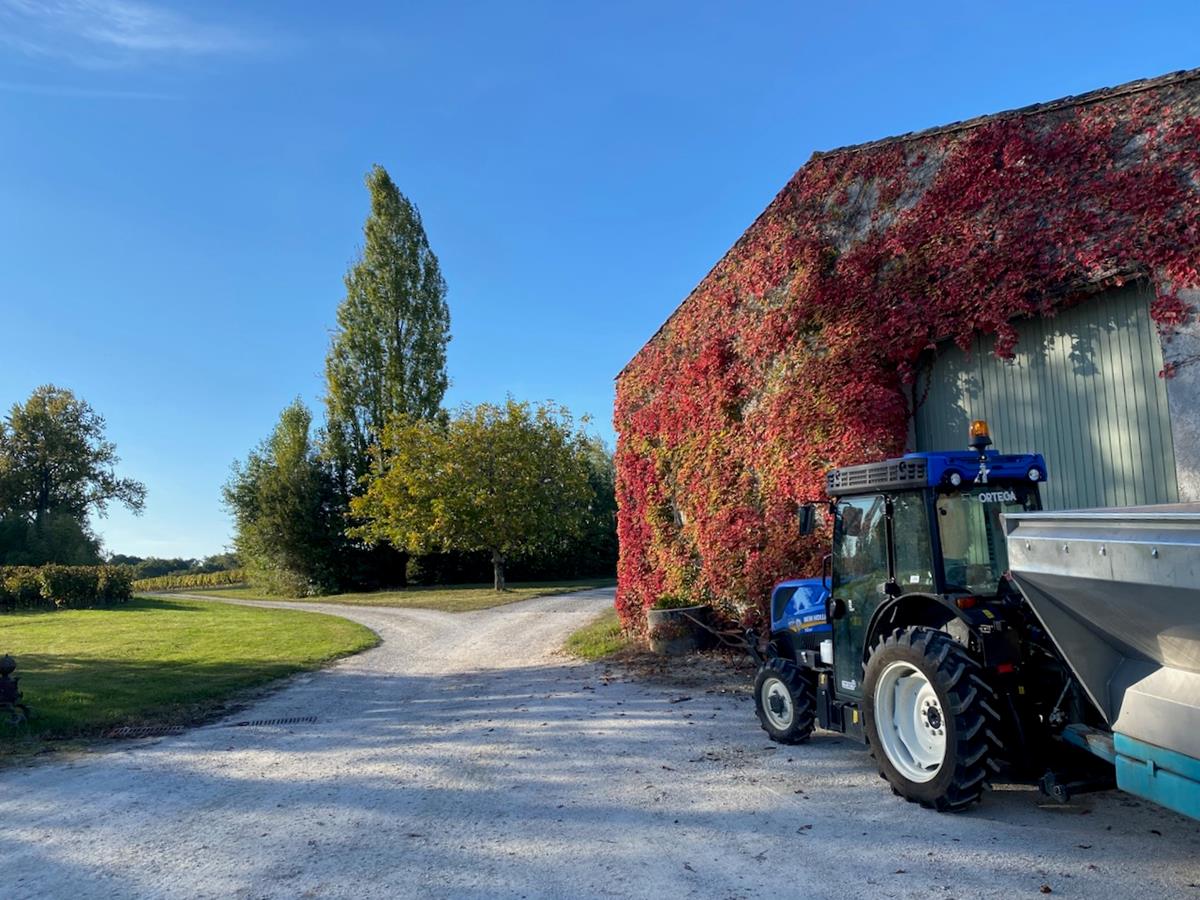 One of the tricks is that you need to be able to bring the grapes in quickly to the winery. But that's another story.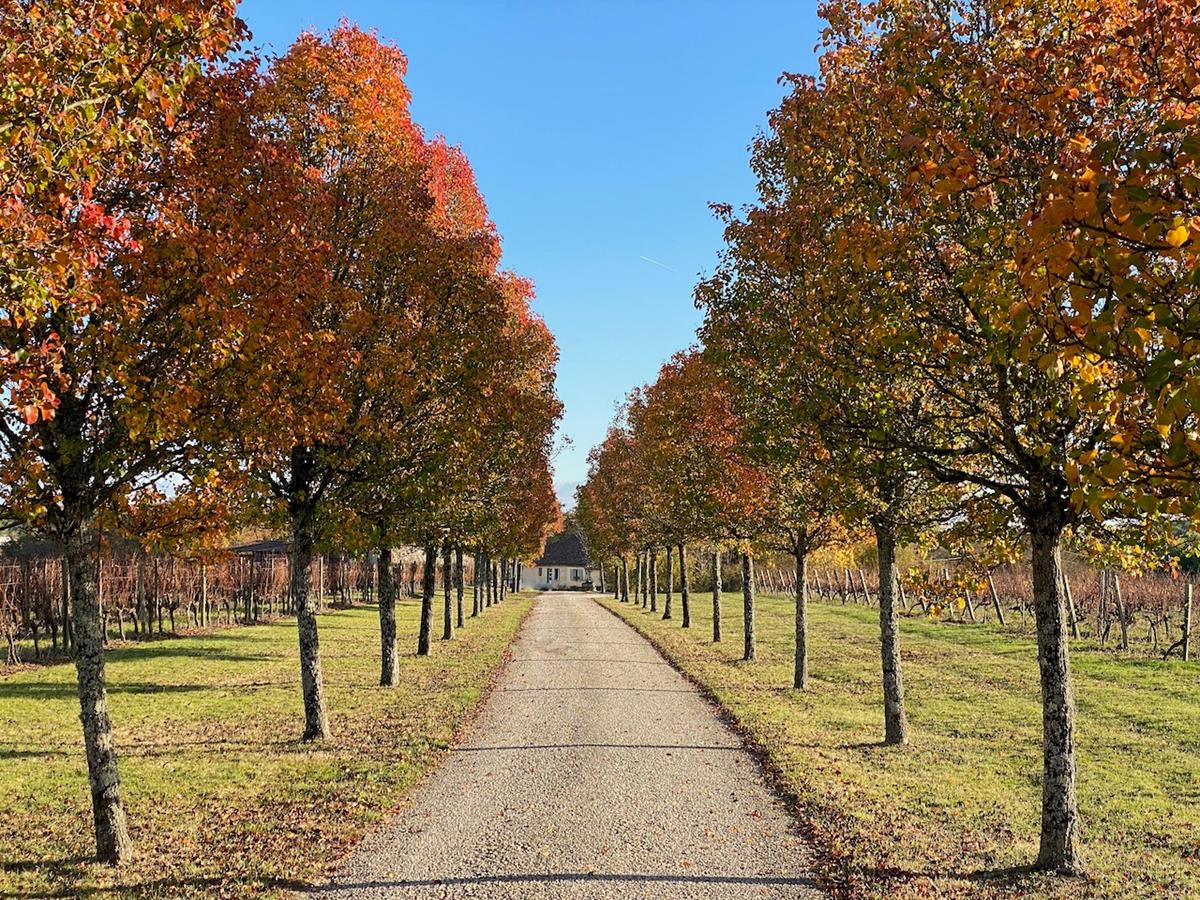 Thanks for taking the time to get to the end.
For what it's worth, here's a quick guideline price for the wines pictured above. I've used the recently bottled 2019 vintage as a yardstick - a very good vintage. Prices are per bottle and exclude duty and VAT.
Château Lafite £750
Le Pin £3,000
Château Margaux £550
Vieux Château Certan £250
Château La Fleur Pétrus £150
Château Beychevelle £80
Rauzan-Ségla £80
Châteaux Godeau and La Croizille, both Saint-Émilion Grands Crus, are harder to find but sell between £25 and £40.