Posted by Gavin Quinney on 8th Jun 2021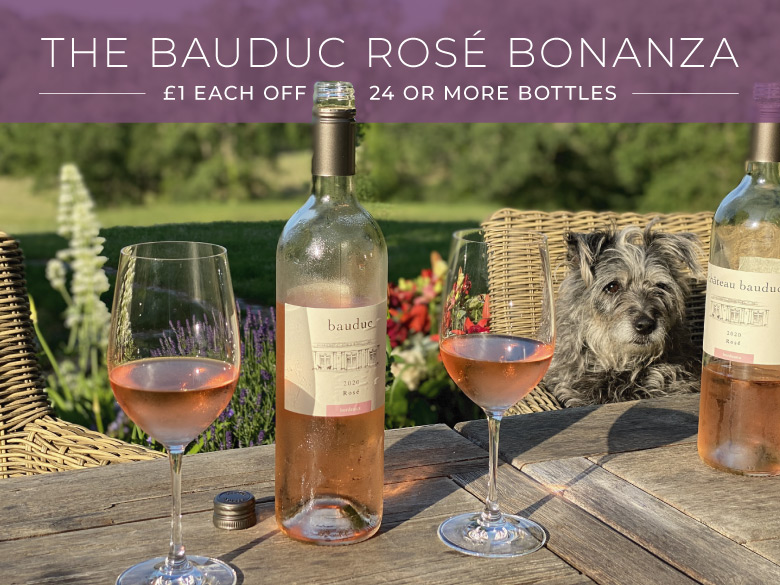 It's rosé time so we've put together a fabulous offer on our delicious Château Bauduc 2020 Rosé for 24 bottles, at around a tenner including delivery in England and Wales, and even keener prices if you're planning a large summer event.
We've also just shipped over a budget rosé, simply labelled Bauduc 2020. Made locally, it's a notch below our own rosé, quality wise, and just £6.95 a bottle for 24. (You can mix the two - eg 12 of each.)
The summer rosé offer has been extended until 12 September. Use the temporary loyalty code Rosebonanza for 10% off - and the prices below. The website works out the rest: the rosés are £1 a bottle off per bottle for 24+ (magnums £2 off) AND our volume discounts kick in for all wines. See the foot of the email for those.
Delivery is free in England and Wales for 12 or 24+ bottles. A 6-bottle delivery costs £11, and 18 bottles £8 (free in Greater London). Delivery charges to Scotland vary by area: see 'UK delivery' at the foot of the website.
If you need help placing an order online, see our contact details below.
All the best
Gavin & Angela Quinney
PS If you paid more for our Château Bauduc rosé for 24+ bottles from us in the last three months, we've put a credit for the difference in your Bauduc account.
---
Château Bauduc Rosé 2020
Our crisp, pale pink has been the house rosé for Rick Stein for many years and was selected for Gordon Ramsay's three Michelin star restaurant before last year's lockdown.
The back label: "This dry rosé was made from equal parts of Merlot, Cabernet Sauvignon and Cabernet Franc. The grapes were harvested earlier in September than for making red, and the pale juice quickly run off the dark skins for a light, crisp wine." 12% vol.
"Rose petal aromas, racy, delicately balanced strawberry fruit. Fresh, dry, lively and moreish." Bordeaux Hot 50 Selection.
"Fashionably pale, but fruitier than many Provençal rosés, with a delicious taste of wild strawberries" Fiona Beckett in The Guardian, June 2020.
List price - £12.50
With code - £11.25
Offer price 24+ bottles - £10.07
36+ £9.79
60+ £9.51
---
Bauduc Rosé 2020
A short story on this new release. Monsieur Rontein is an oenologue (qualified wine making consultant) who runs the wine laboratory that we use at the end of Rue Bauduc - we call him Mr Rontein because he's a bit like a schoolmaster. Anyway, he has his own vineyard nearby from which he made this rosé. It's good and fairly similar to ours.
He couldn't wait long enough for his restaurant customers to open up so he sold the wine to us at a knock down price - and we are doing the same. We bottled it using the Bauduc screwcap and Bauduc label (not our Château one as of course that wouldn't be right). Great value.
List price - £8.75
With loyalty code - £8.06
Offer price 24+ bottles - £6.95
36+ £6.75
60+ £6.55
---
Volume discounts and Rosé offer combined