Posted by Gavin Quinney on 30th Sep 2019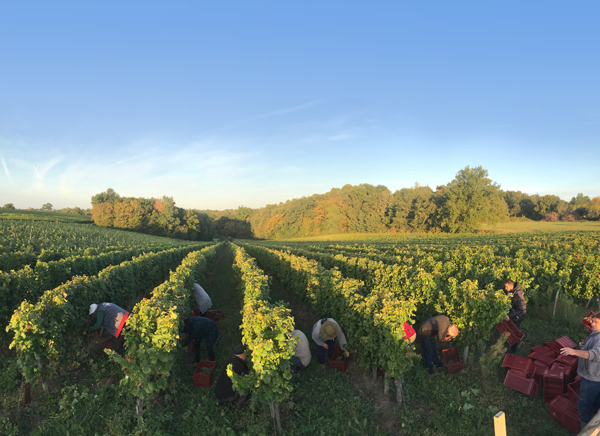 So much has been going on this month but for this missive we've focused on the harvest. Seems only fair. It's a long read - sorry - with lots of photos of the white harvest, with much of the red still to come.
We've also just made the Farmhouse 'Price and Availability' for 2020 page live on our website, so that's certainly worth a mention.
All the best
Gavin & Angela
Bauduc Farmhouse 2020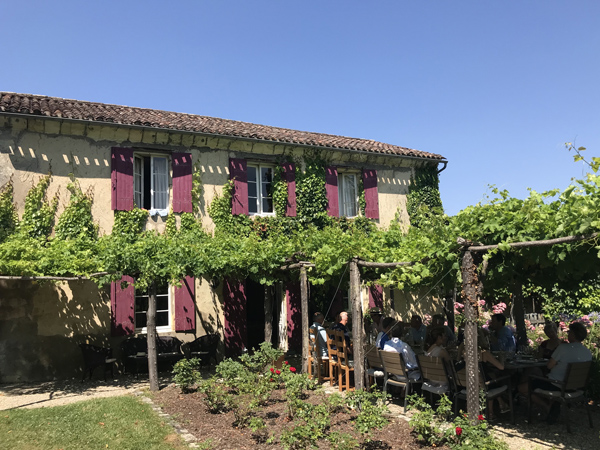 Weekly rates and availability for our delightful farmhouse for 2020 can now be viewed on our website. Every week this year from the beginning of May to the end of October has been taken up and, so far, everyone has had a lovely time. It's a special place where you can do absolutely nothing or explore this fascinating SW corner of France. Or both.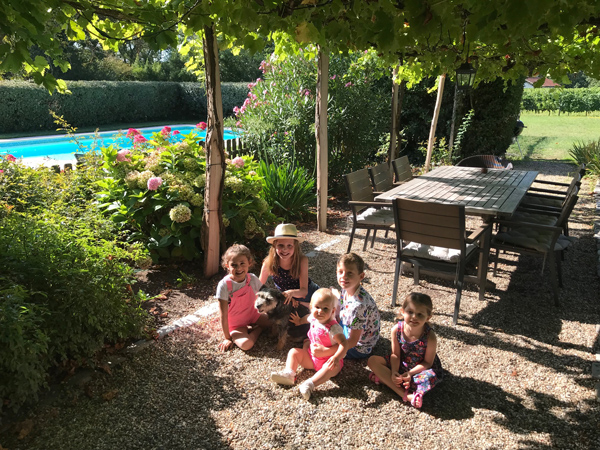 Four double bedrooms (two can be twins), cots, three bathrooms, lovely downstairs space, umpteen sofas and a large south facing garden with private, heated swimming pool. Gorgeous outdoor eating area under the vines and other relaxing spots. Large wine estate to safely wander around in, and a brilliant local butcher, fishmonger, fruit and veg stores, cheese shops and bakeries - and midweek market - all within a five minute drive, and more than decent wine. And now there's even a 35-minute express coach service to Bordeaux and back, every hour, from the end of Rue Bauduc (407 Créon-Bordeaux) to explore the city - or a dedicated cycle track nearby if that's more your style.
The 2019 Bauduc harvest so far
September is harvest time at Bauduc. More so because we have a little more white than red, which is unusual for Bordeaux, and the Sauvignon Blanc and Sémillon grapes (both below) ripen before the Merlot and the Cabernets. In later ripening years, the reds might not be ready until October, and Cabernet Sauvignon is picked more often than not in October here, regardless.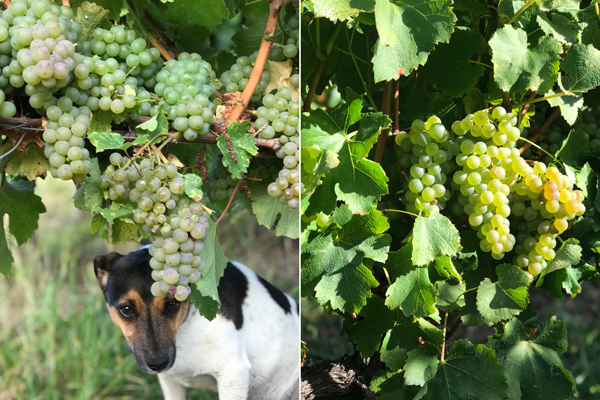 For the varieties to ripen at different times is no bad thing because we don't want to bring everything in at once, and we'd rather string it out a little given the workload - well, for about a month - if the weather and circumstances allow. As we have Sauvignon Blanc, Sémillon, Merlot (with Margaux, below), Cabernet Franc and Cabernet Sauvignon (being sniffed by Pavie), and multiple styles of wine, we have a protracted harvest. This year, it began on 10 September and it will go on well into October.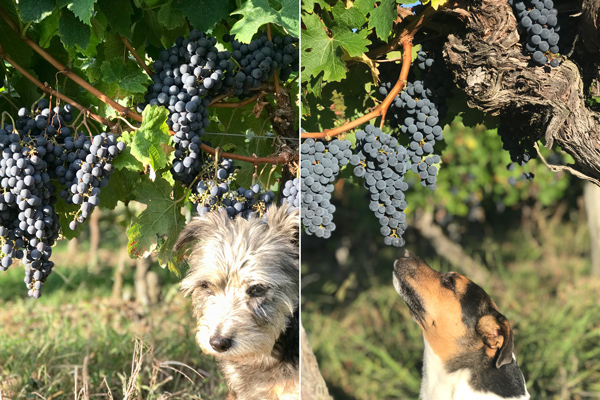 So far, we've brought in all the whites and picked a parcel each of Merlot and both Cabernets with which to make rosé, and some precocious Merlot for the red. The quality is excellent and, like 2016 and 2018, close to the maximum yield we are allowed to produce for the dry white and Crémant. There is less juice with the reds and so the 2019 yields for the rosé and reds will be lower. Added to which, fruit set from the flowering in June was variable so the volumes are more in line with average rather than bountiful. The rosé juice, now fermenting away, is excellent - just not sure we can charge top Provençal prices to cover our costs of the reduced yield. We will restart the slower ripening Merlot blocks for our red on Thursday and see how things are for the Cabernet after that.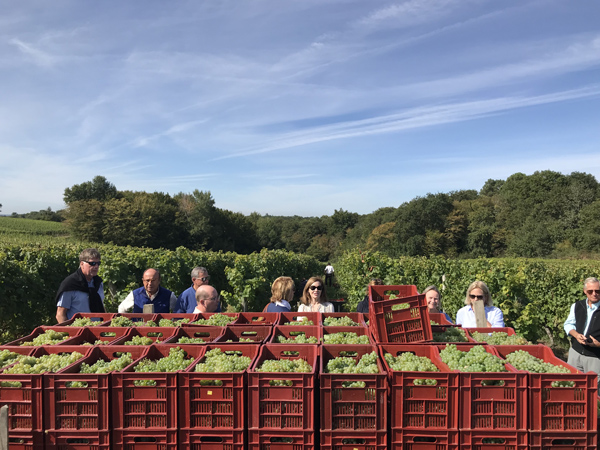 So much is down to the weather, as regular readers might have picked up by now, and 2019 has seen another dry summer with some serious heatwaves, notably in late June and late July, with lovely, sunny holidays on the whole. This carried on well into September and it was only in the last week that we've seen the switch to autumn, and some rain. Hardly a shock given the autumn equinox on 23 September but generous rain last Sunday was followed by a mixed week. The red grapes that are still on the vine are in a healthy state and we are still on for completing an excellent harvest overall, touch wood.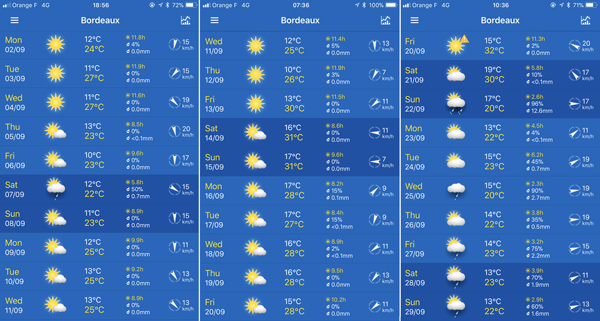 The daytime temperatures up until 20 September - in the high 20s and often over 30°C - were absurd for the time of year.
Back to the running order and it should be the white grapes for our Crémant that are picked first. That's because the base wine for our sparkling needs to be higher in acidity and lower in alcohol than for still wines, because there'll be a second fermentation in bottle (by adding more sugar and yeast later). That's true of all sparkling wine made by the traditional method.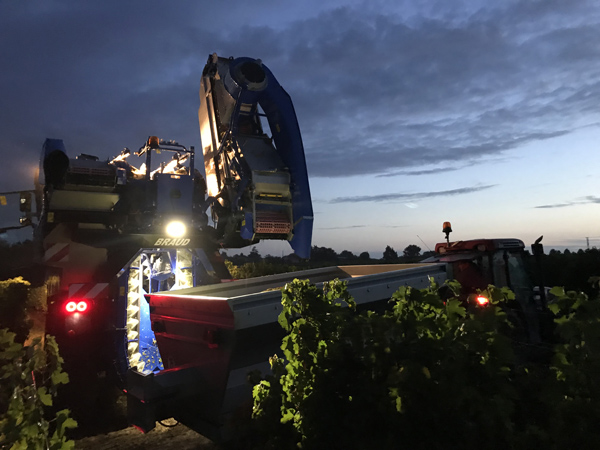 However, this year we cracked off with machine harvesting a parcel of Sauvignon Blanc that was ready to go: getting out before dawn, it looked like return of the alien. This was 10 September.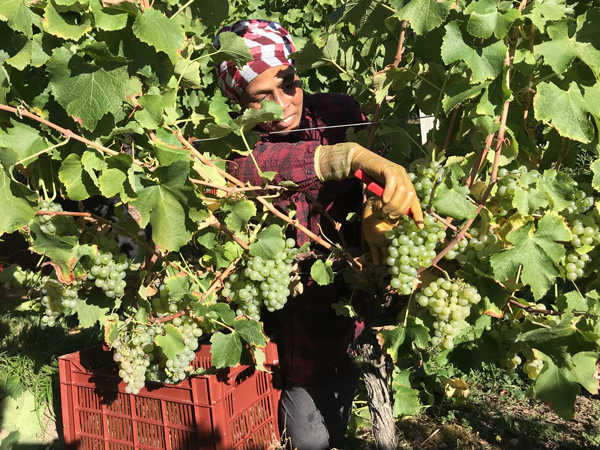 The following morning it was time to pick some Sémillon by hand. A team of 25 plus our Daniel and Nelly set to work, snipping off the bunches with secateurs and plopping them into crates, with the porters too, as ever, having their work cut out.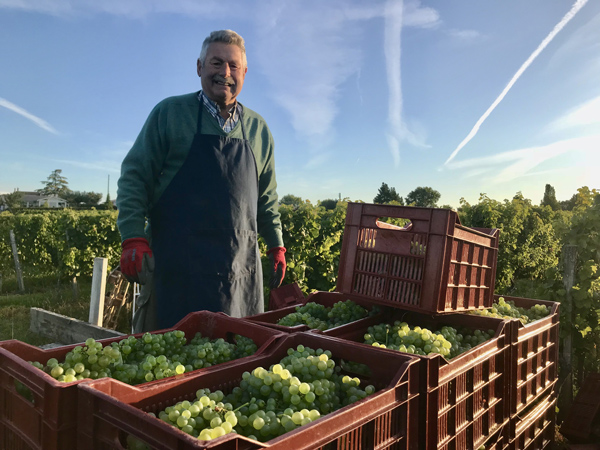 Michel, or Papi as we call him, has done the harvest with us for years. He's 85 now and he prefers to stack the crates on the trailer now, rather than lug them up or down the rows. He can also keep an eye on where the young porters need to be.
The grapes for making Crémant have to be picked by hand, according to the strict rules for making this méthode traditionnelle sparkling wine. We have to declare when we are going to harvest in advance, just in case the authorities want to come and check. It's also easy for them to spot if a vine has been hand-picked (no stem left) or machine picked (stems still on the vine, mostly).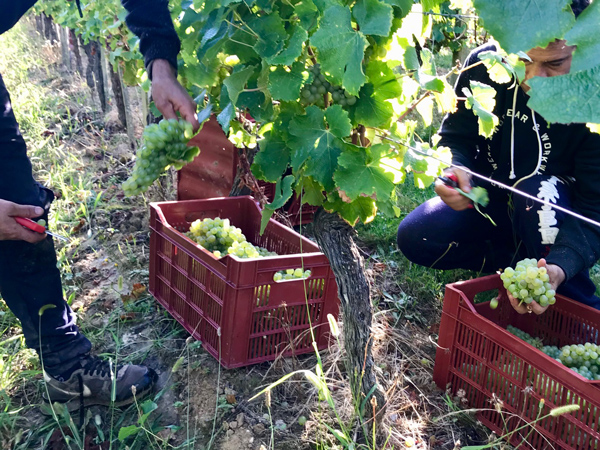 To understand this lesser known sparkling wine of France, if you think of Champagne as 'Crémant de Champagne', then it's easier to get an idea of what the Crémants from elsewhere are about - such as from Burgundy (Bourgogne), Alsace, the Loire, Limoux, Jura and Bordeaux. The grapes may be different varieties, depending on each region - again, all laid down by appellation laws - but the process is similar, with the main requirement being that the grapes have to be hand-harvested and, later, the second fermentation must be in bottle and not, for example, in a stainless steel tank. Plus there's a minimum time that the wine in the bottle has to be aged 'on the lees'.
Hand harvesting into stackable crates is also a necessity, so that each bunch goes into the press whole, without having being squashed en route. They are then squashed in the press, which for us is a 5,000 litre tube with an airbag inside it.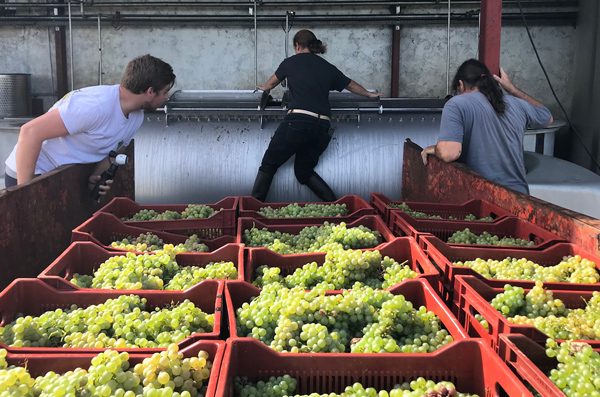 That way there's no risk of a trailer full of grapes fermenting away in the sunshine, apparently, and no maceration of the skins in the oxidising juice. (We haven't tested machine harvesting for the Crémant as it's illegal, so there seems little point. This is a French appellation rule, while there's no such 'manual harvest only' rule for Prosecco, say, or English sparkling wine - also hand picked for practical and quality reasons - but it would be interesting to try nonetheless.)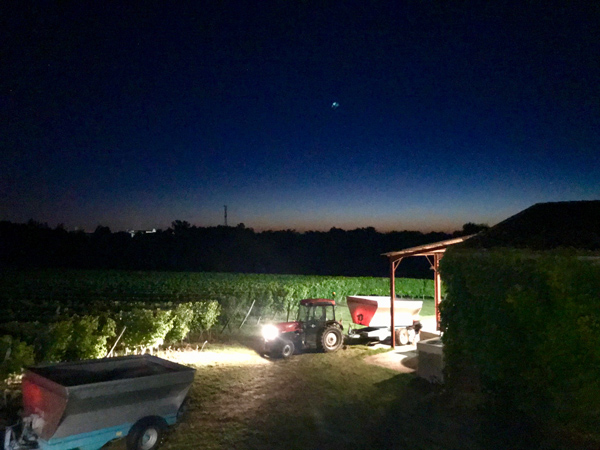 The next morning, the third day and the Thursday, we somehow contrived to do both machine and hand picking. Machine harvested Sauvignon Blanc under a full moon between 4 and 7am, followed by the pickers starting at 8 in a different part of the vineyard.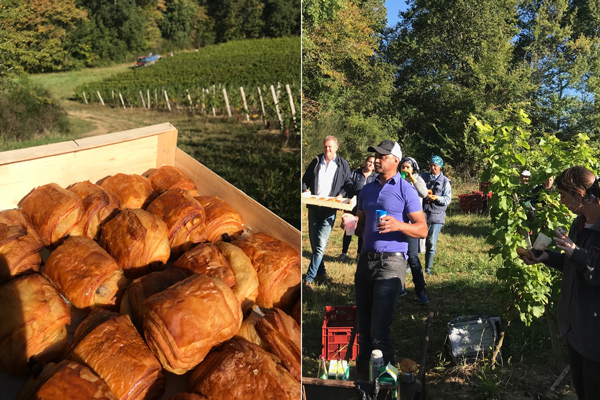 I have many important roles during the harvest - what blocks to pick and when, and so on - but the most important one is to buy and hand out the chocolatines (Parisians and foreigners call them pains au chocolat). This applies for all the pickers or for when it's just the smaller squad on the sorting table.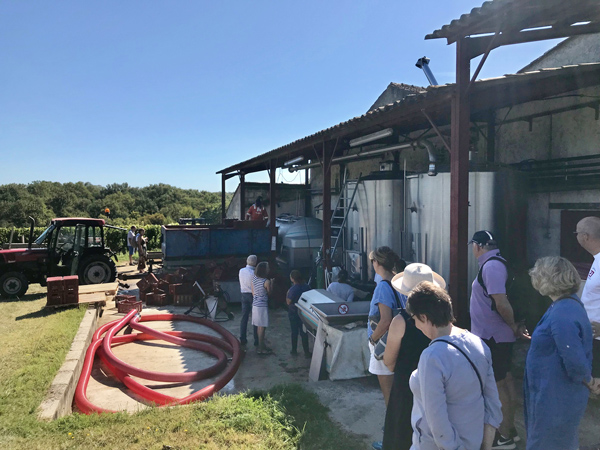 We had several groups of visitors booked in for that week for tours and tastings, and for our fabulous picnics. Paul in the party who came that Thursday kindly took this photo below during the tasting around lunchtime. It'll serve as a reminder of one of our longest days. Added to which, someone drove into the side of Ange's car that morning a few miles away. All go.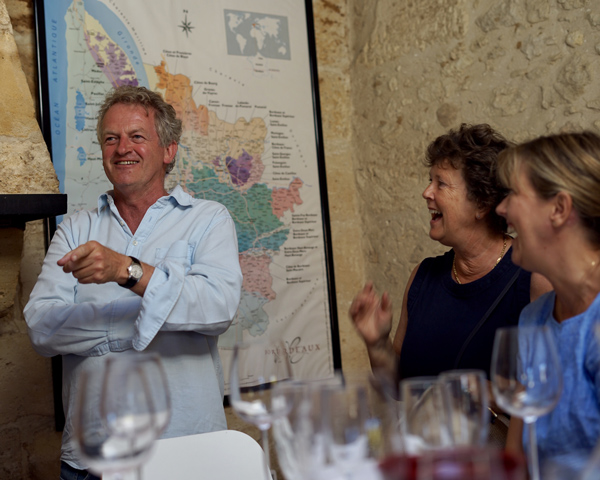 We carried on harvesting Sauvignon Blanc by machine for our dry white before dawn on the Friday and Saturday. There were several reasons for this. We harvested every day because we were worried about losing the lovely flavours in the grapes with the return of really warm weather, with daytime temperatures approaching 30°C in mid-September. Early picking also meant we could bring the grapes in relatively cold and fresh.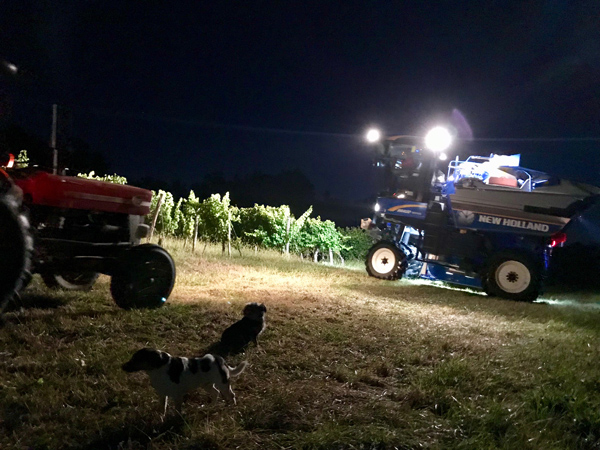 Personally, I'd rather we started at 6am but our contractors Guy and Nathan, and their machines, were getting booked out earlier and earlier as all their other customers - Châteaux like us - didn't want to harvest white grapes after midday.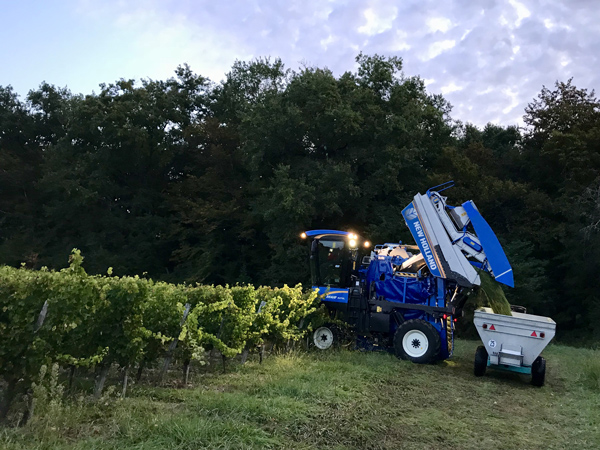 Obviously, the dogs keep an eye on proceedings. Nelly meanwhile keeps a record of the times, probable alcohol, and temperature of the grapes of the trailers of machine harvested fruit.
Here's the Sauvignon Blanc in the first days of the harvest. The times, on the left, are ungodly but the temperatures are far better than the high twenties during the day. The potential alcohol levels are about right too - around 12.5% for the blend.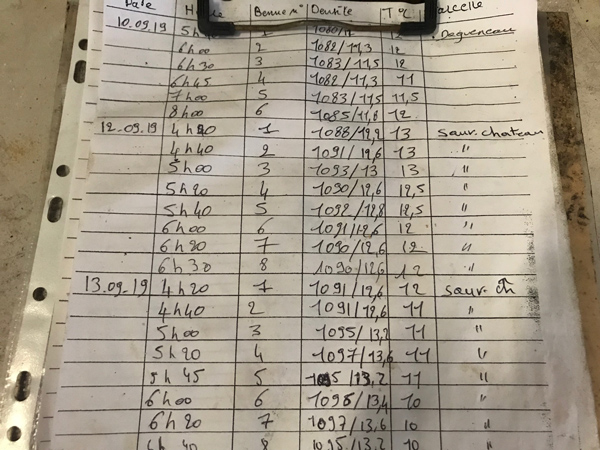 On Sunday we started at 5am and were able to harvest for longer, into daylight, thanks to Sunday being a less popular day for others to hire in the machines.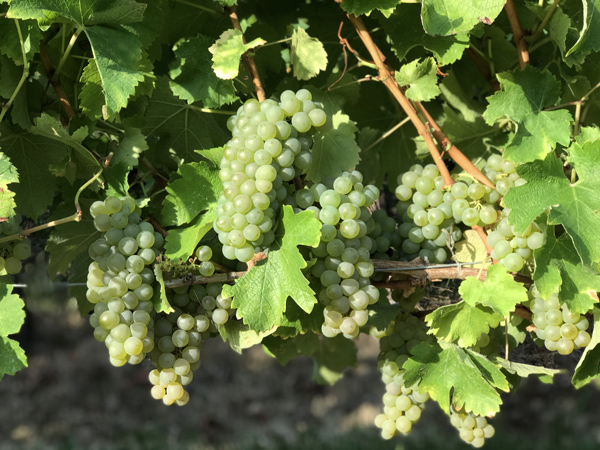 We keep the juice and crushed grapes together in the chilled tanks we use for macerating the juice and the skins, for just enough time to extract some flavours. We then run off the juice and press the skins at the end of the day, ready to go again the next morning.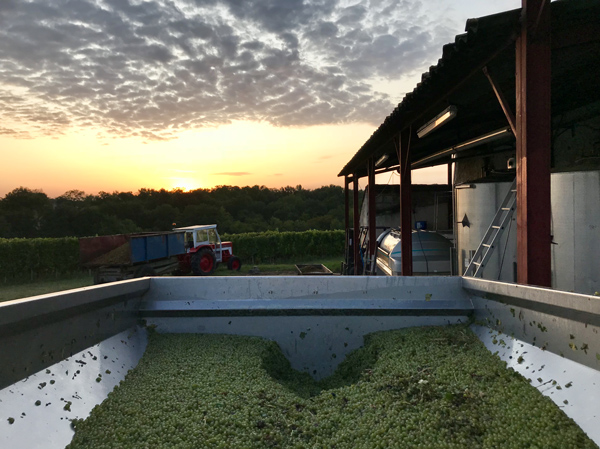 Although we use several of our 30 stainless steel tanks for the chilled fermentation of whites, the final blends go into those 20,000 litre babies. In 2018, the final blends of dry whites filled all five. In 2017, after the late spring frost, only three, and after the hail in August 2013, just one. (We lost a fair bit then but we also sold off a fair amount of less good stuff.) Funny old game.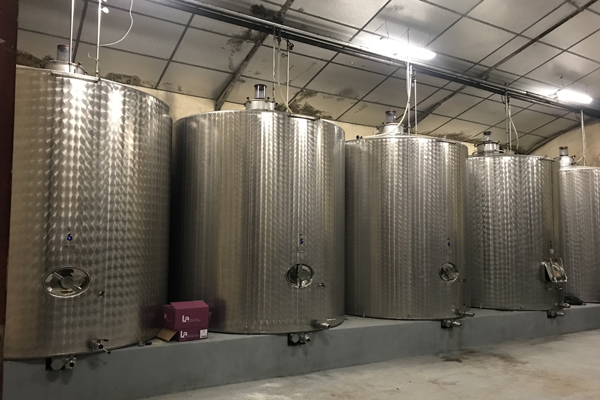 We will see how we do with 2019 but we don't want to tempt fate just yet as we could always mess things up in the winery.
We completed the Sauvignon Blanc and Sémillon the following Friday before bringing in reds for making rosé over the weekend of the 21 September.
And then, later, on to the reds… to be continued.