Posted by Gavin Quinney on 1st Apr 2021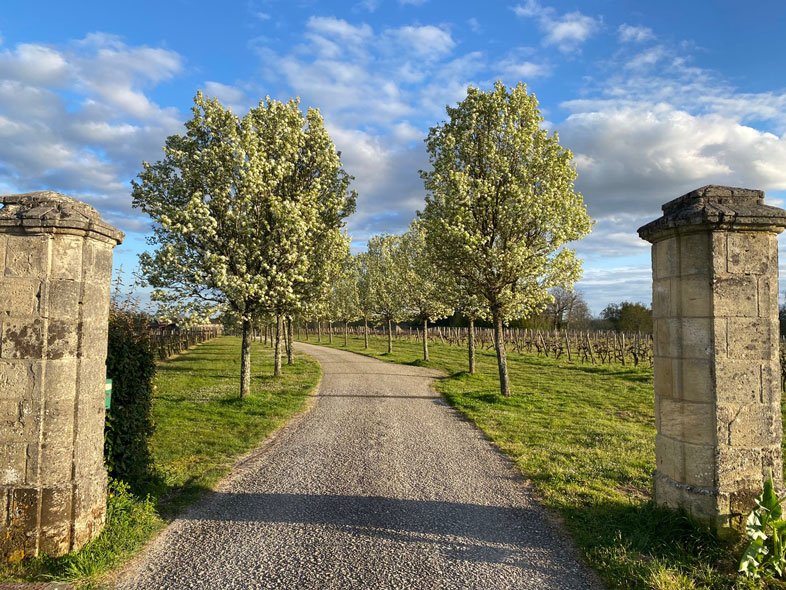 Phew, it's a scorcher here too, and it's only the end of March. Record temperatures were felt across France yesterday afternoon, including on the coast here at Cap Ferret apparently, which is a tempting thought. An average max of 23.6ºC across France is the highest since at least 1947. The previous record was 23.2ºC on 30 March 2017 – but within a month much of the Bordeaux vineyard was devastated by one morning's biting frost, so you never can tell. (And it looks to be pretty chilly one morning here next week.)
Spring has arrived with a bang, and the buds are breaking out from the branches of the vines. We're almost ready for another full-on growing season and as there won't be many visitors for a while just yet, we thought we'd bring the vineyard to you with a somewhat lengthy photo journal. We haven't posted one since February and our 'bottling of our 2020s'*, and one just before that of the vineyard at the end of January, so there's a fair bit to cover.
Have a very good Easter.
All the best
Gavin & Angela Quinney
PS If you would rather view this in the gallery it's here.
---
Preparing for Spring – a photo journal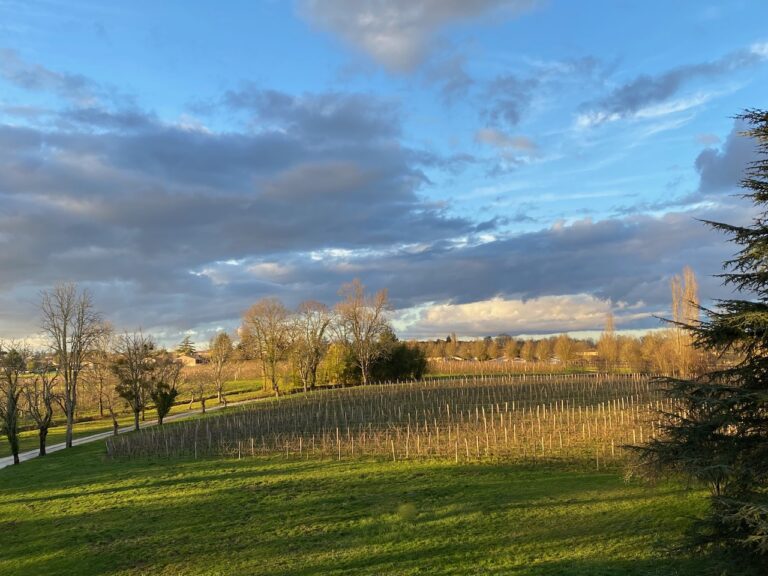 Only a month apart – mid-Feb to mid-March – yet the view can change quite dramatically.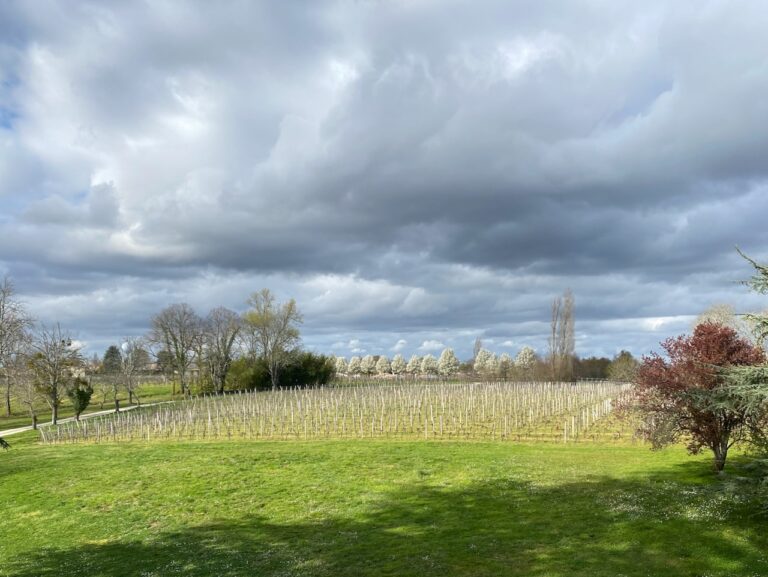 This is Merlot, next to the château. Last year, the grapes went into our rosé.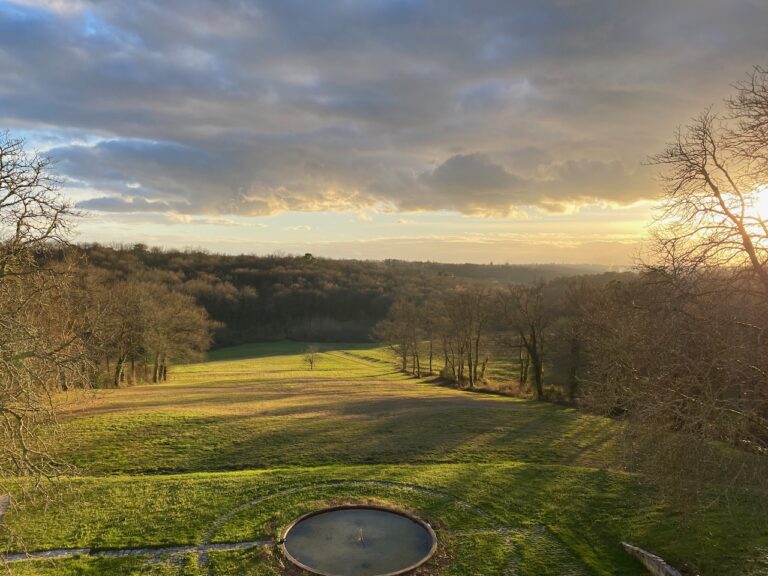 We're fortunate to have slopes facing east, south and west for when there's a lot of rain, so it drains away.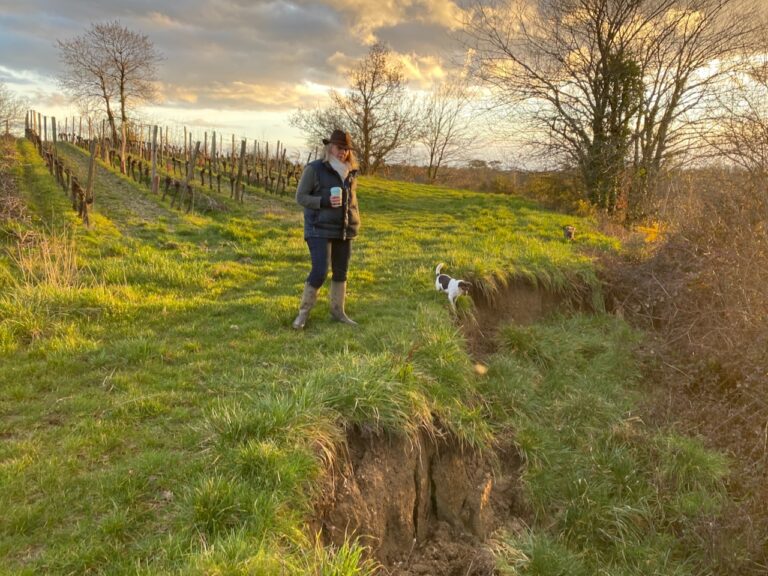 But persistent rain caused a little slippage on one exposed bank. We've not had one of those but it looks expensive. This was 10 February.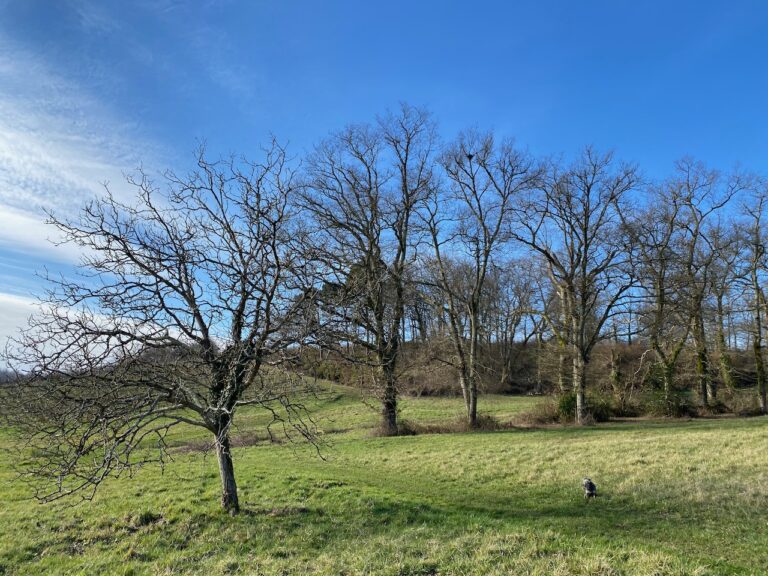 Little Margaux and big oaks. And a walnut tree, left.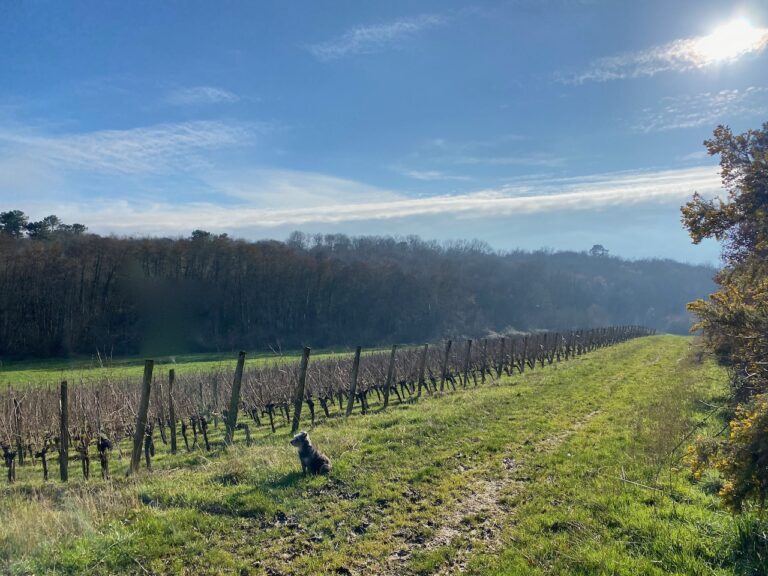 13 February and there's still a lot of winter work to be done.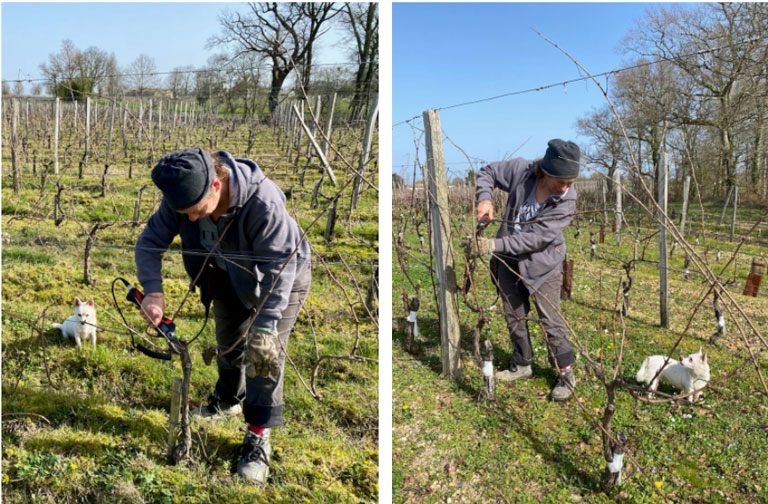 Nelly pruning a young Cabernet Sauvignon vine, on the left. On the right, that's Cabernet Sauvignon too but grafted onto Sauvignon Blanc. Hence the white sticking plaster on the stump. It's a long story but the Sauvignon we planted in 2004 didn't grow so well on such gravelly terrain, so we grafted Cabernet onto the young vines instead, a decade later.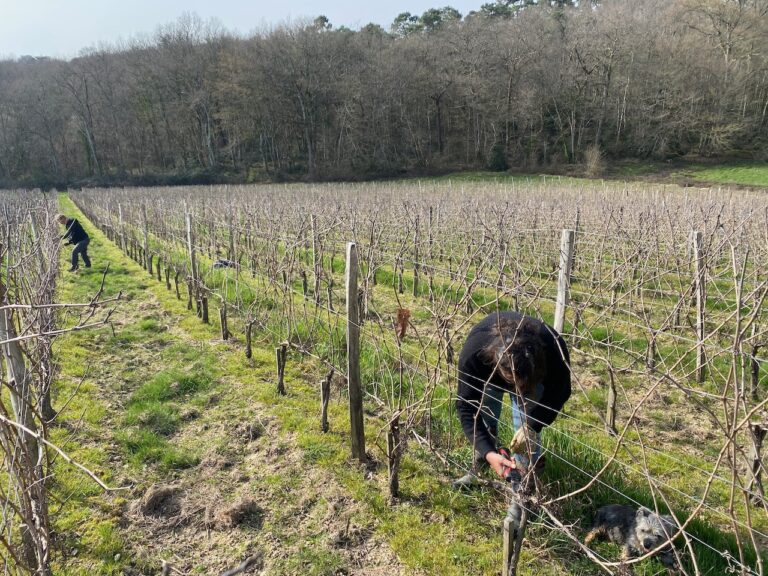 Pruning young Cabernet Franc that we planted in 2015. This goes into our Rosé.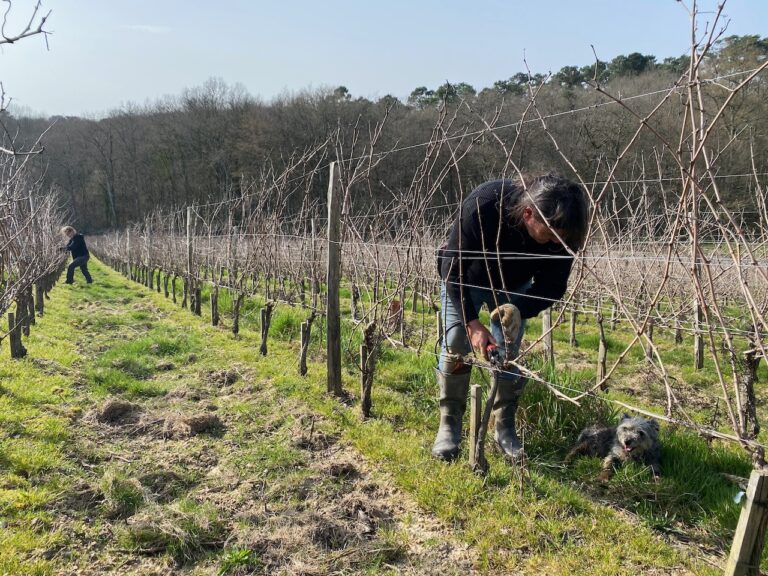 Margaux with vineyard manager Daniel.
We prune the younger vines last, usually, having started the winter pruning in late November.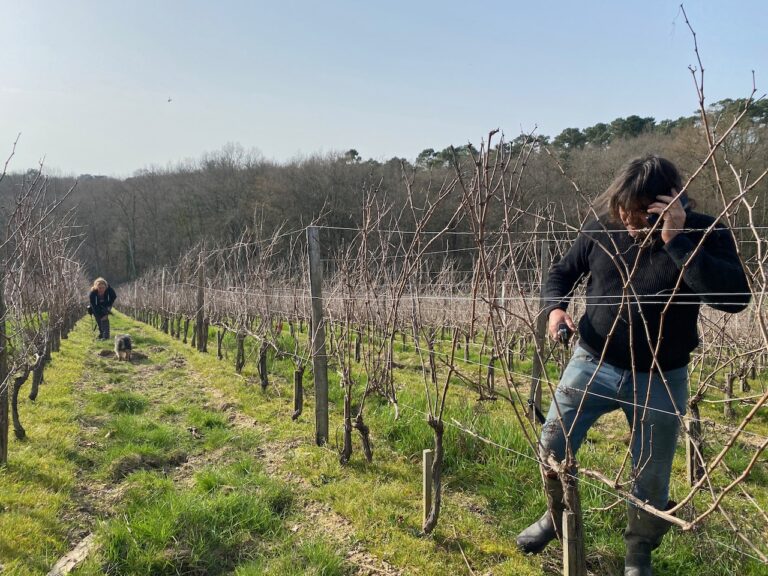 With Daniel on the phone, it's off to chat to Nelly.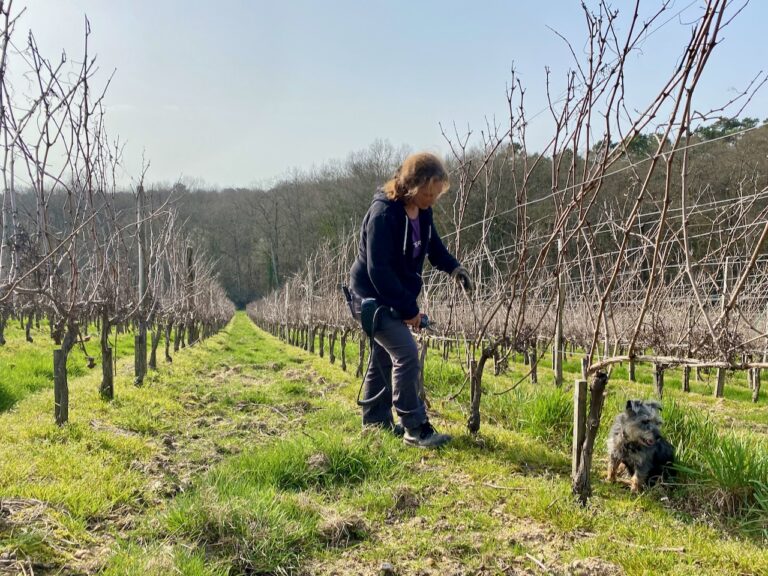 With modern, electric secateurs, with lighter rechargeable batteries, the work is more comfortable than it was. But you have to be careful to (a) cut the right part of the vine and (b) not to do yourself a serious injury.
Margaux posing with Sandra, who's pulling out the old wood from recently pruned Cabernet Sauvignon vines.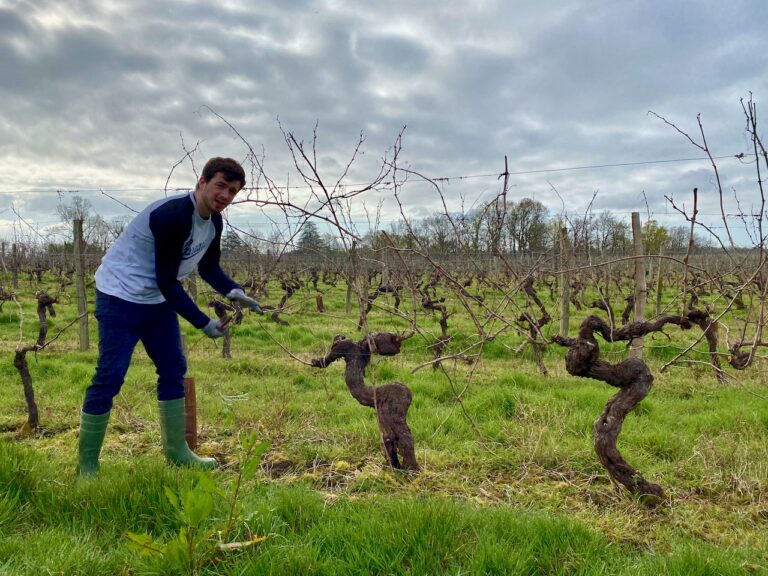 There are older vines too. This is Sémillon in Les Trois Hectares.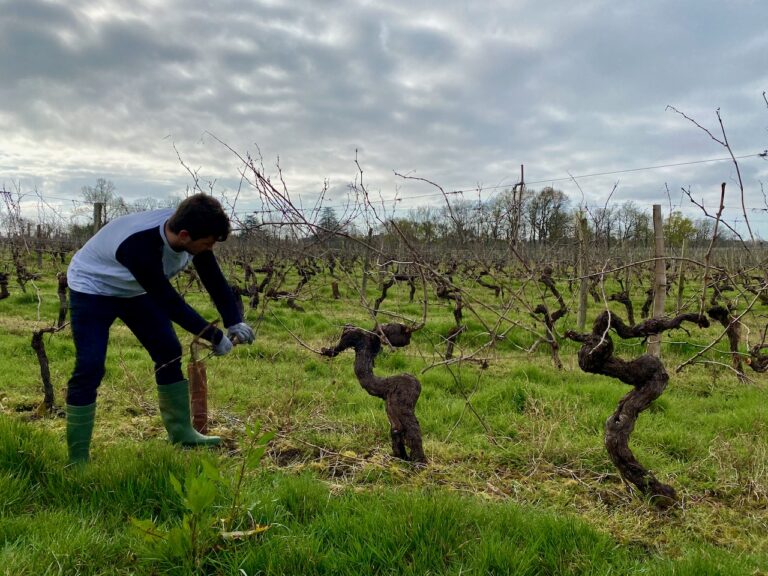 The tirage des bois is hard work. This is Matteo, who normally works in a Paris restaurant, but is getting some experience in the vineyards. Fully paid, that it. You wouldn't do this for laughs or a favour.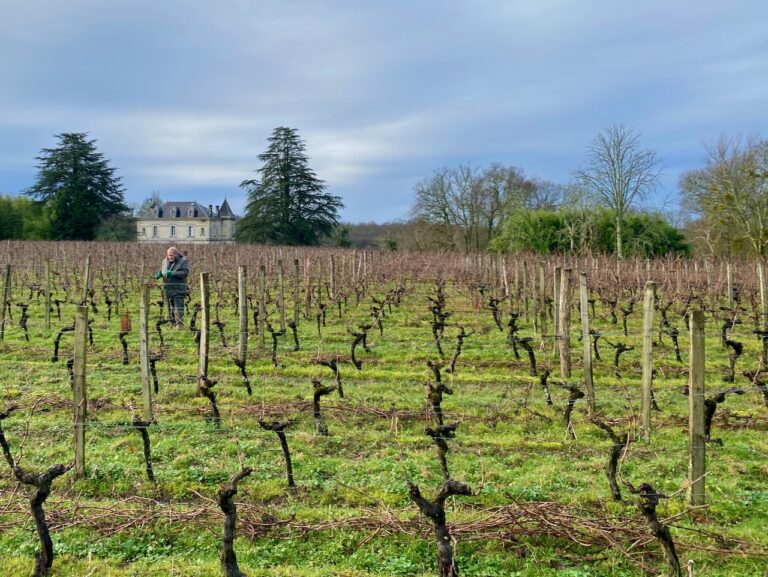 Patrick and the tirage des bois in the Merlot. Every parcel has a name (just like at every château). This block has the wonderfully evocative, original title of Merlot Château.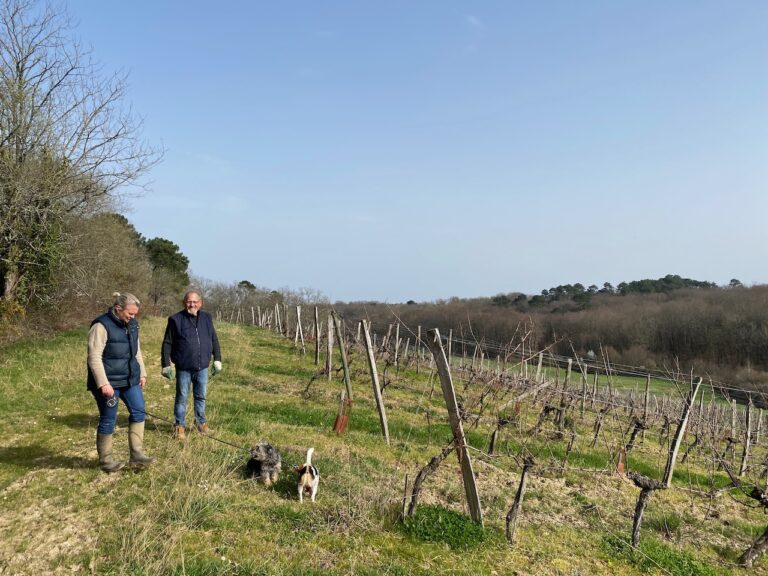 Angela, Patrick and the hounds in Sauvignon Montuard.
Paul on a less than clement day pulling away the old branches in the Sauvignon Blanc parcel we call Sauvignon Château.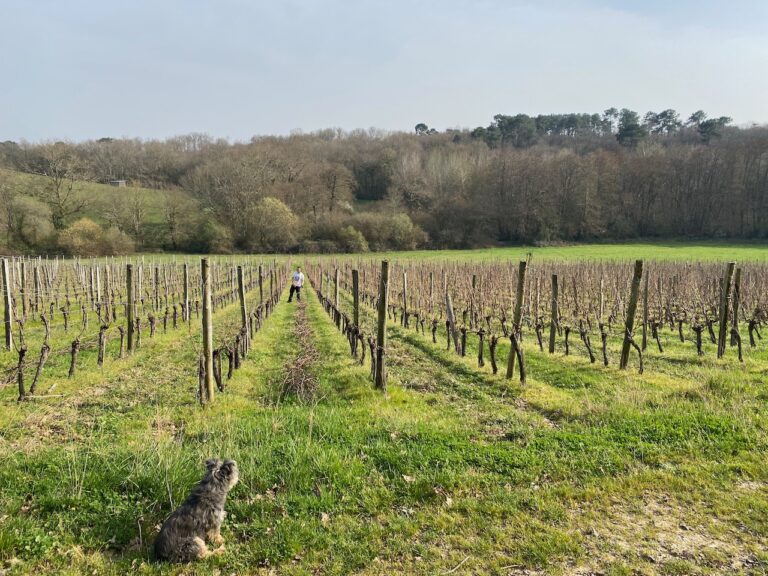 Paul again. We planted this Sauvignon in 2007, the year before Margaux was born.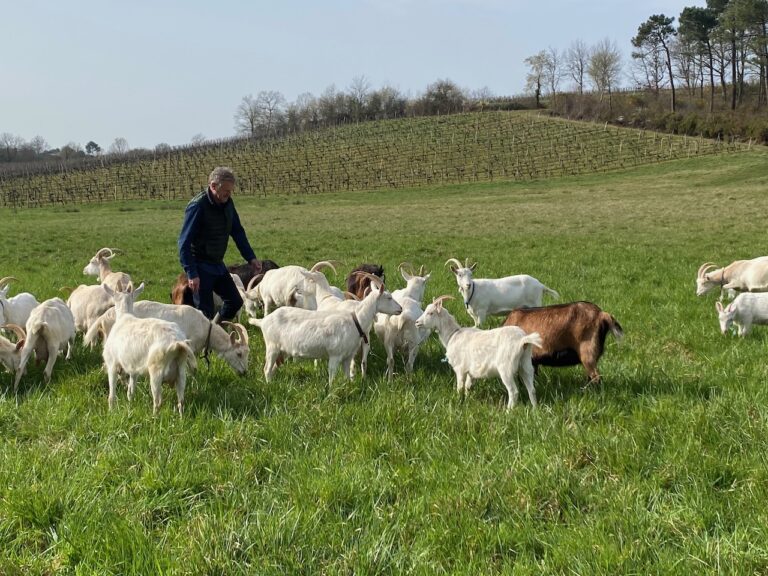 Thanks to some inspirational leadership and direction, the goats know exactly what they're here to do.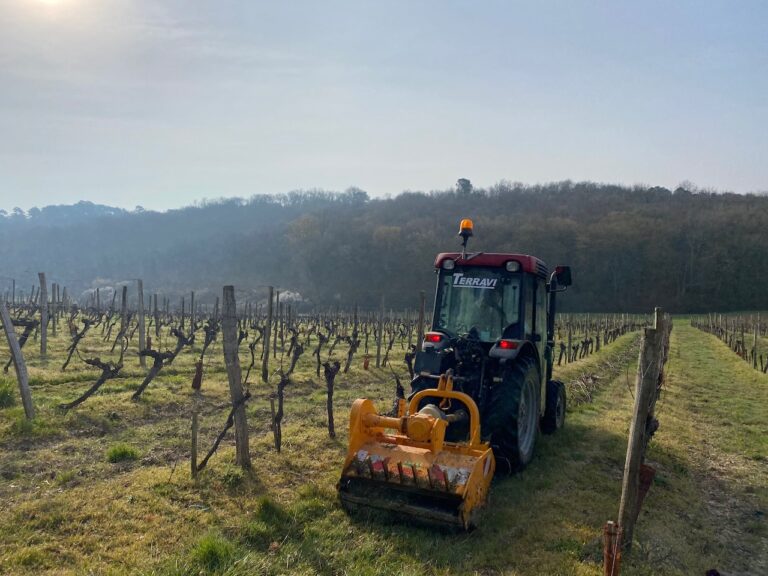 We can't use all of the vine trimmings as barbecue fuel. Some are mulched back into the vineyard.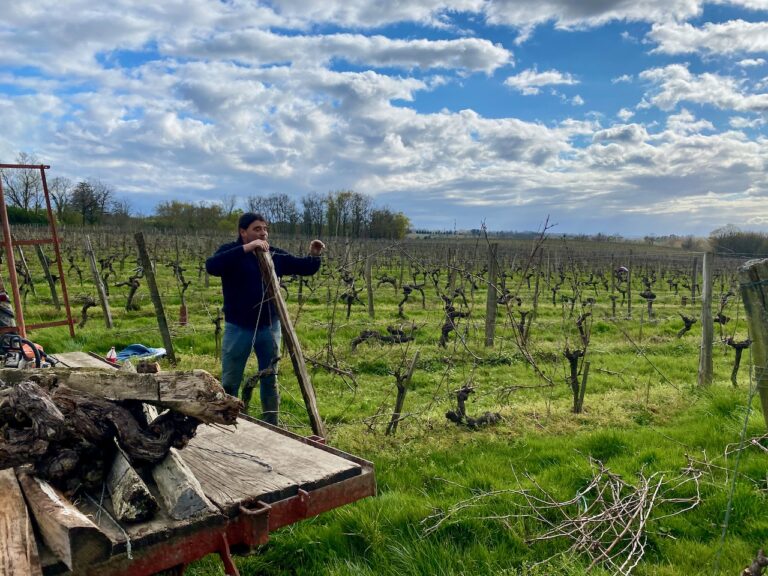 There's an inordinate amount of vineyard maintenance to be done.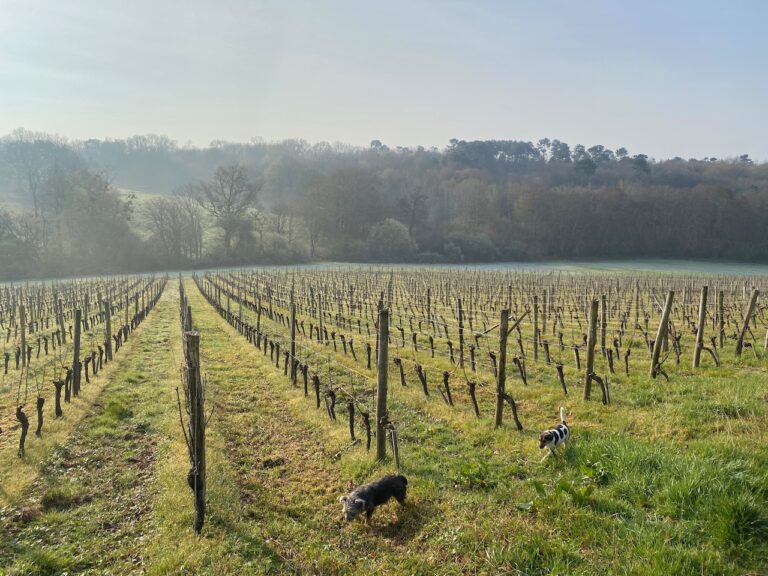 All becoming clearer now. Pruned and last year's wood pulled away.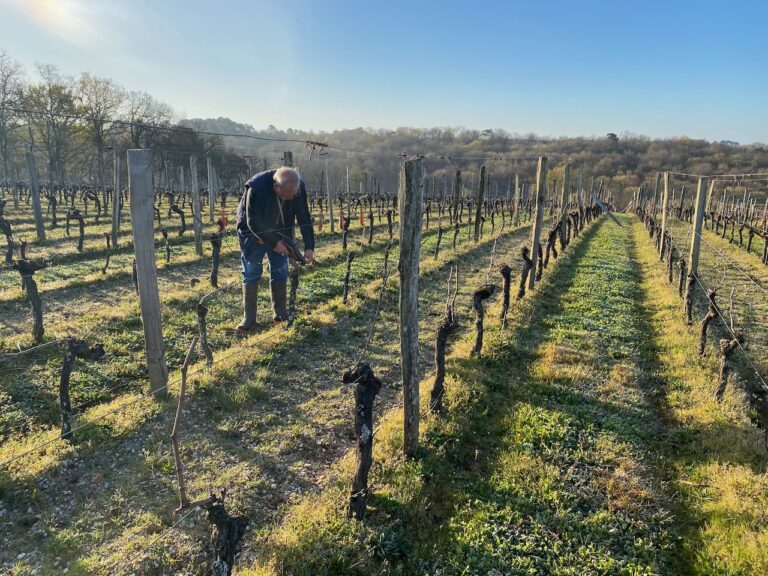 Patrick attaching the vines to the training wires. This is Merlot.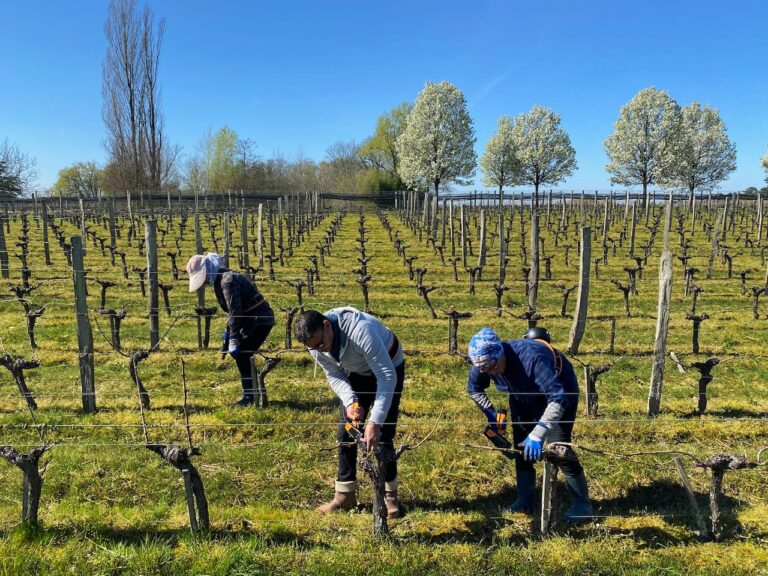 Bending the branches carefully, so they don't snap, and tying them to the training wires. Sauvignon Blanc we planted at the end of May 2008.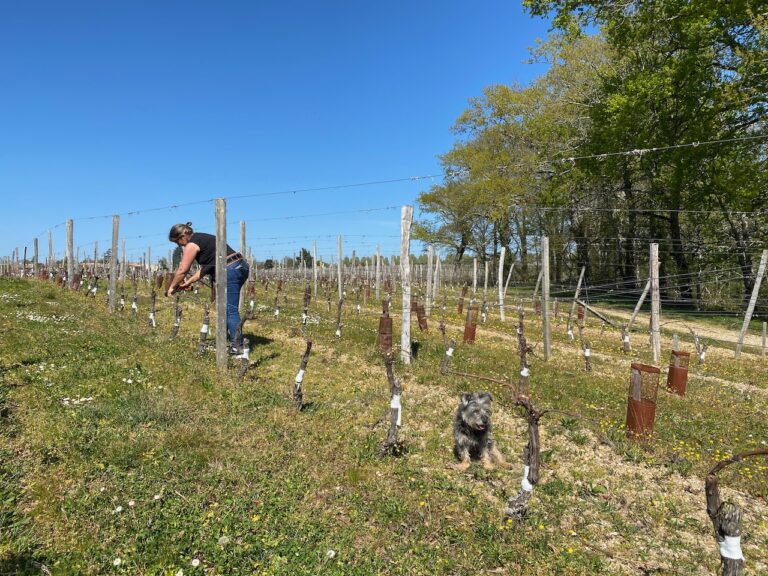 Sandra bending and attaching the Cabernet surgreffage that Nelly pruned earlier.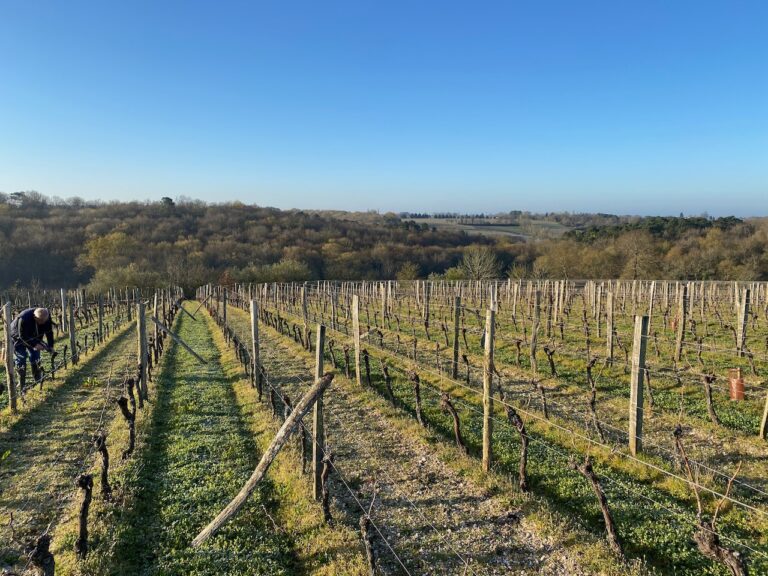 There are always jobs to be done. Patrick attaching the vines, and posts needing replacing…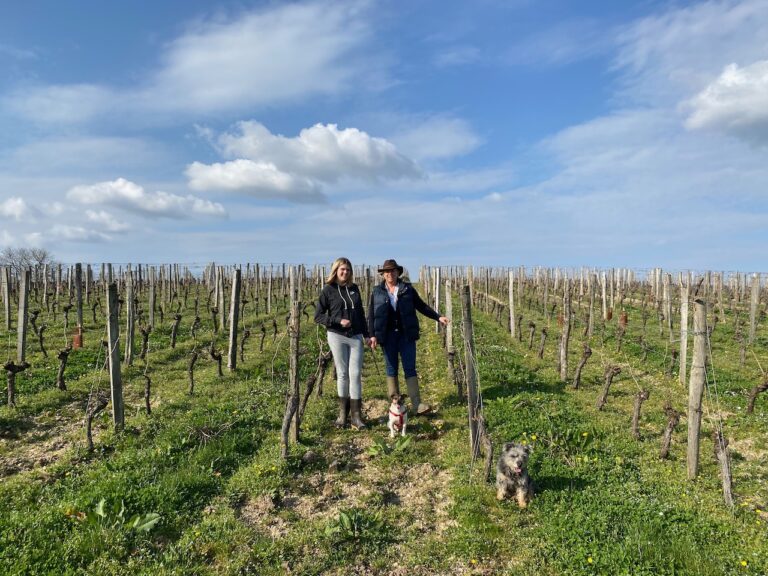 … though not by Ange and Sophie.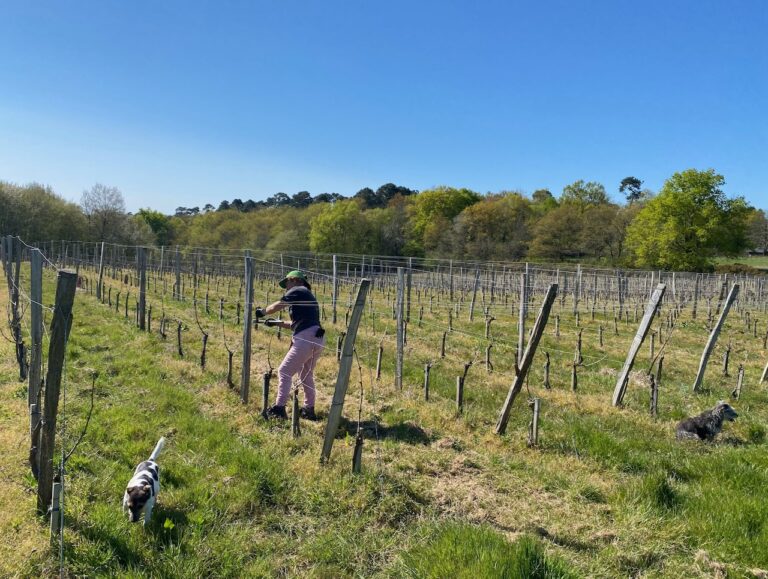 Nelly hammering nails into a wooden post for the training wires. We wouldn't need to do this if we had metal posts but we've always stuck with wood.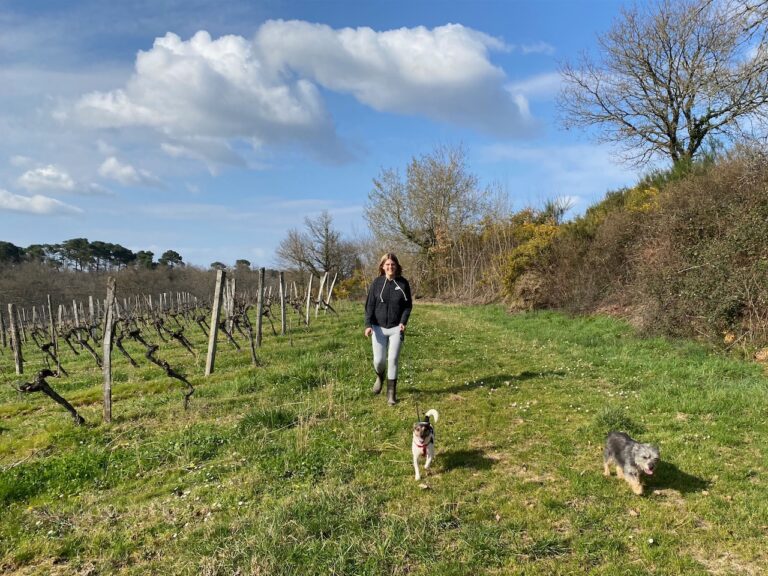 Sophie walking the hounds.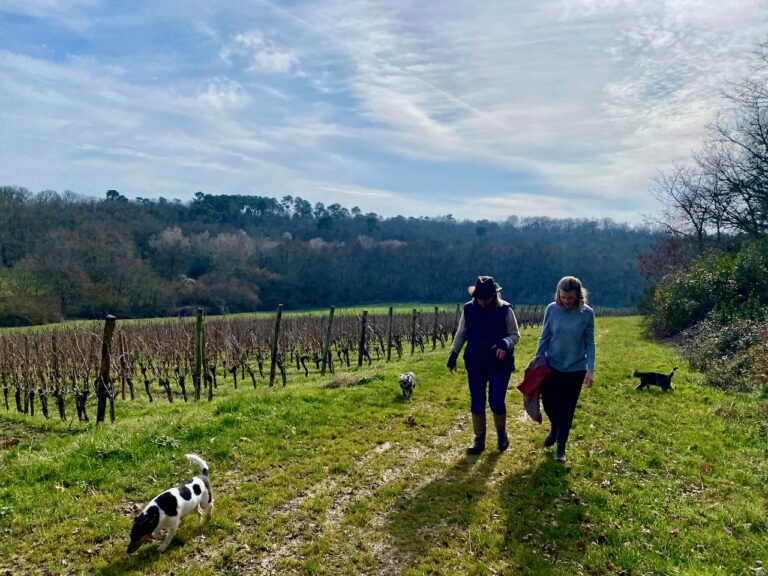 Goose the cat comes too. Some of the time.

The cat is a hunter, of course, and he probably fancies himself as a sort of tiger.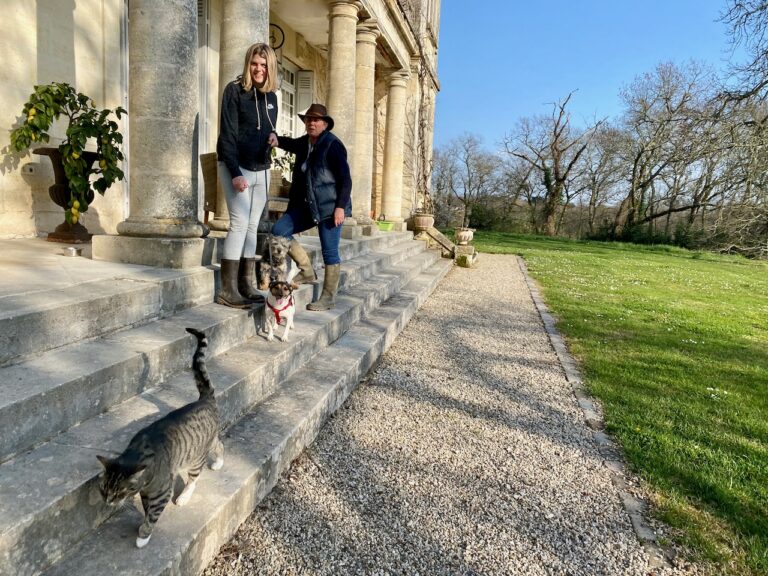 To digress from the vines, we do have some territorial issues with the cat.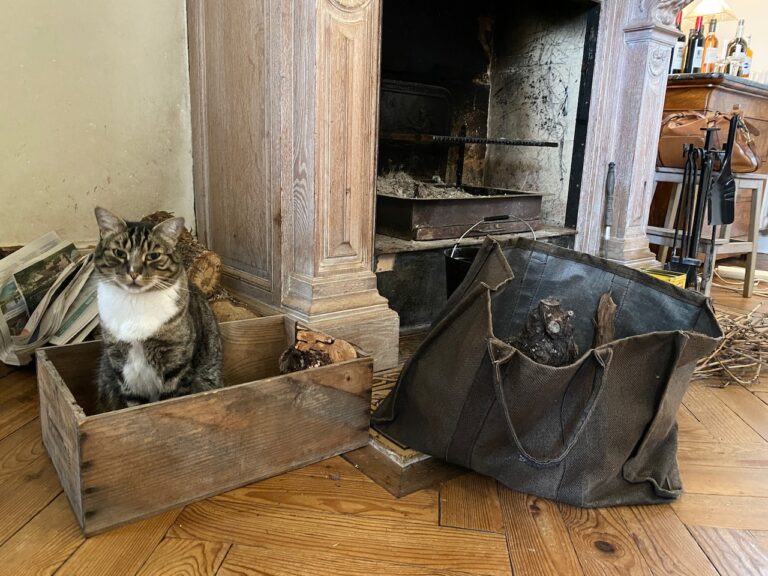 Like most cats, he's fond of sitting in boxes.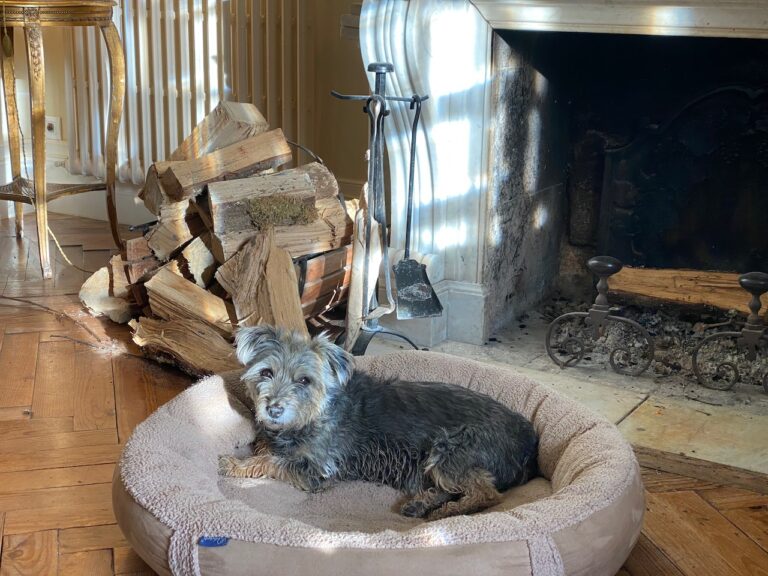 Margaux meanwhile is at home in a bed.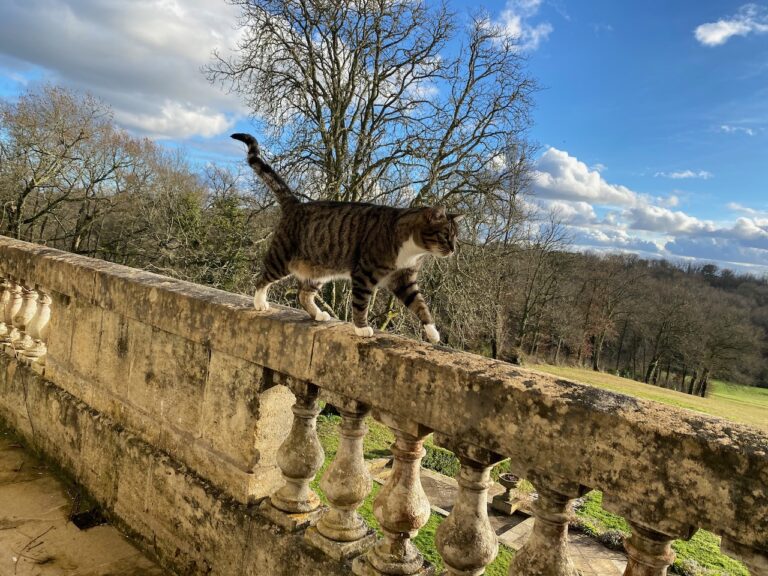 The cat likes to show off.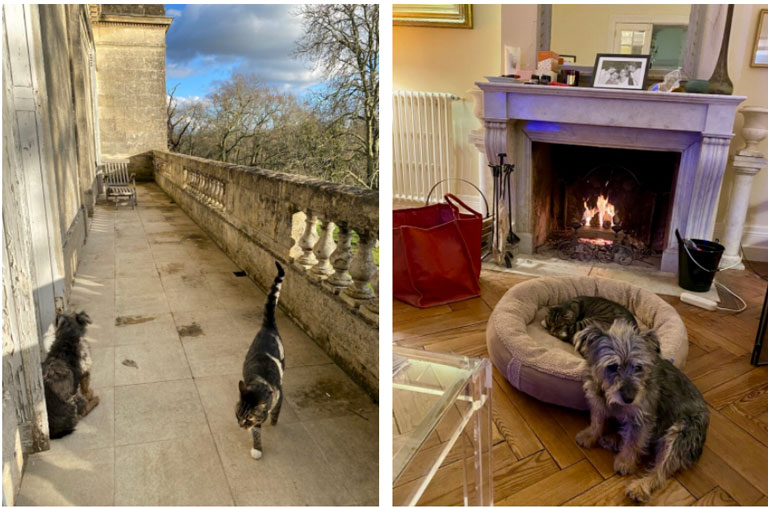 But lately, Goose has rather taken to Margaux's soft bed, especially when we move it in front of the fireplace.

Margaux is most put out. So Angela thought she'd treat Margaux to a new, fluffy bed.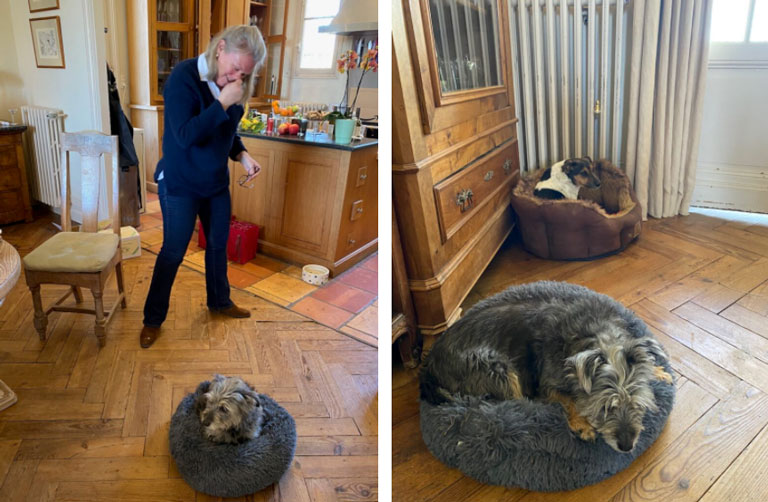 Only the definition online of what constitutes a small dog didn't quite match with our Margaux.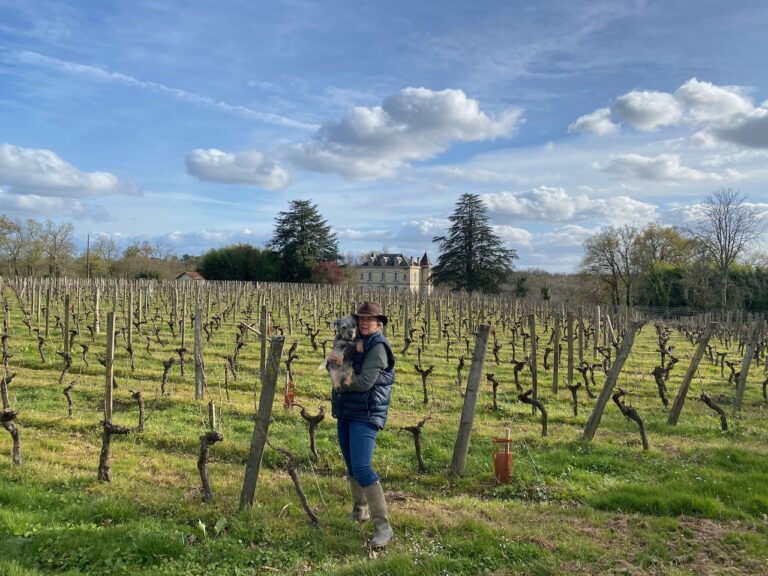 So we are now having to show Margaux extra love.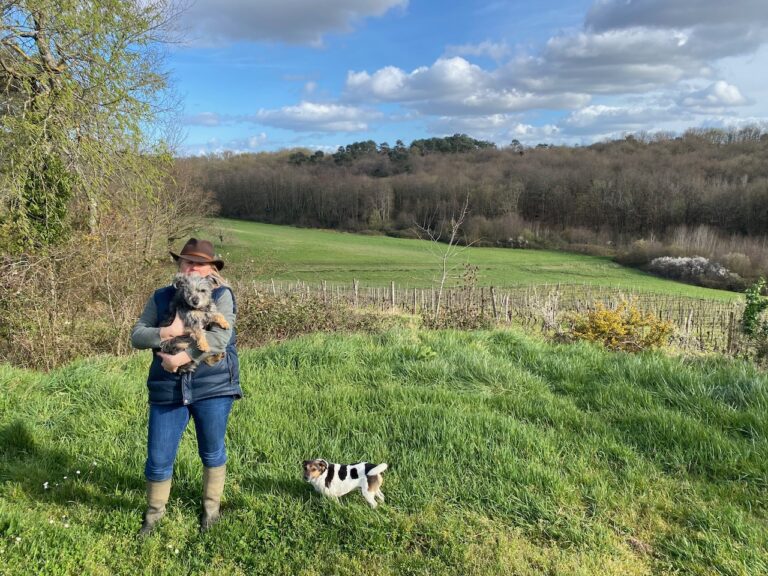 She's getting on a bit too and her little legs can't take her as far as she'd like.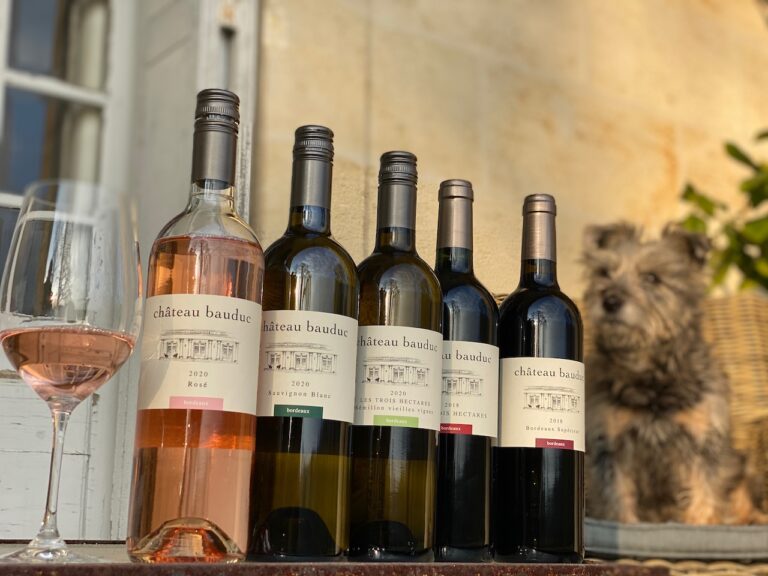 We need to take care of Margaux as our key marketing asset. She's not classed as an influencer but still.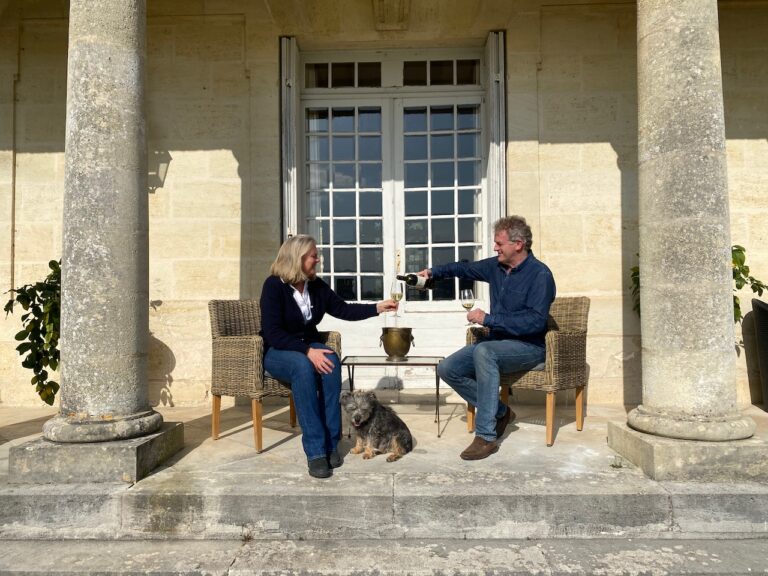 This was a staged photo this month for an importer of our wines. Margaux knew we all looked rubbish. He didn't use it, unsurprisingly.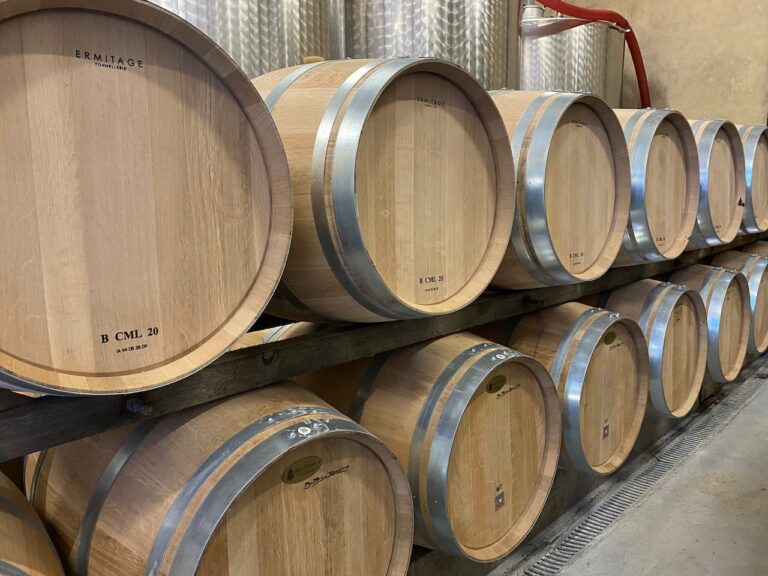 Meanwhile, the 2020 reds are maturing gently in the French oak barrels.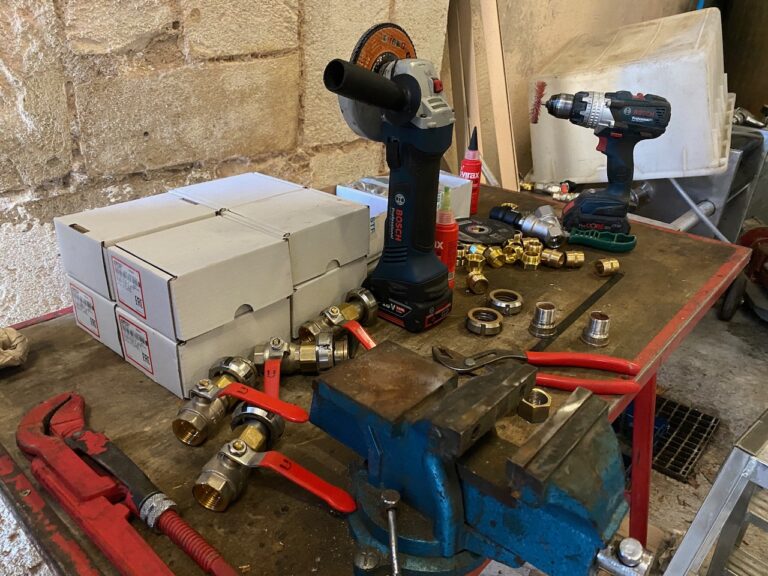 And there's maintenance work going on in the winery as we speak.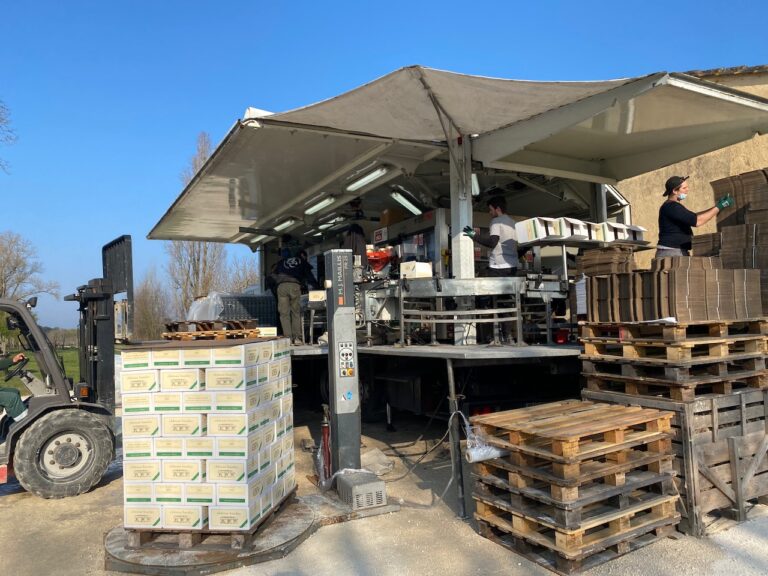 We had one large tank of Sauvignon Blanc and one of Rosé to bottle this month – exactly the same wines that we bottled in December. These cases will rest a good month or two before being shipped.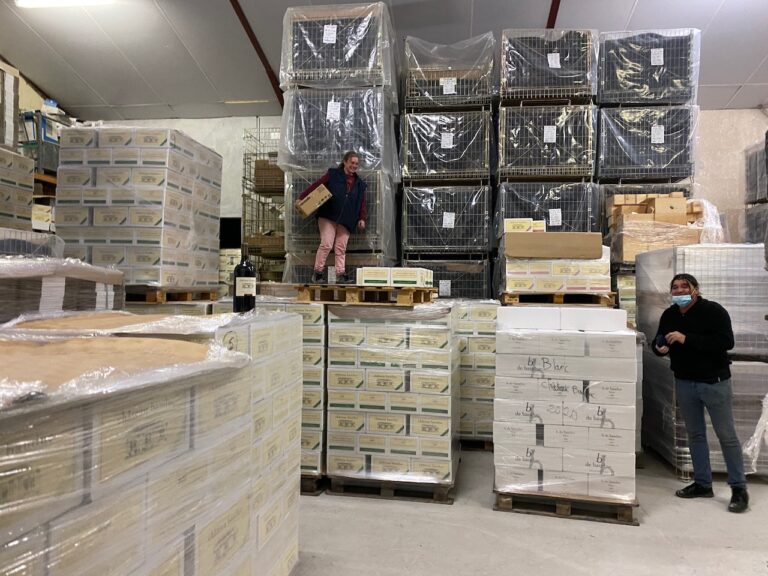 Nelly and Daniel in one of our storage rooms. We use old boxes, like those on the pallet by Daniel, for the labelled bottles we'll subsequently put into mixed cases.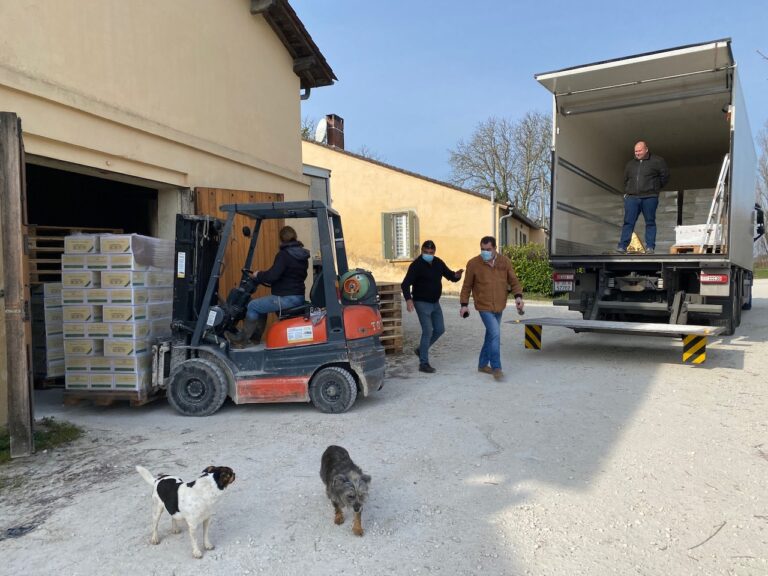 Few tourists and not many visitors, but plenty of suppliers around, and collections.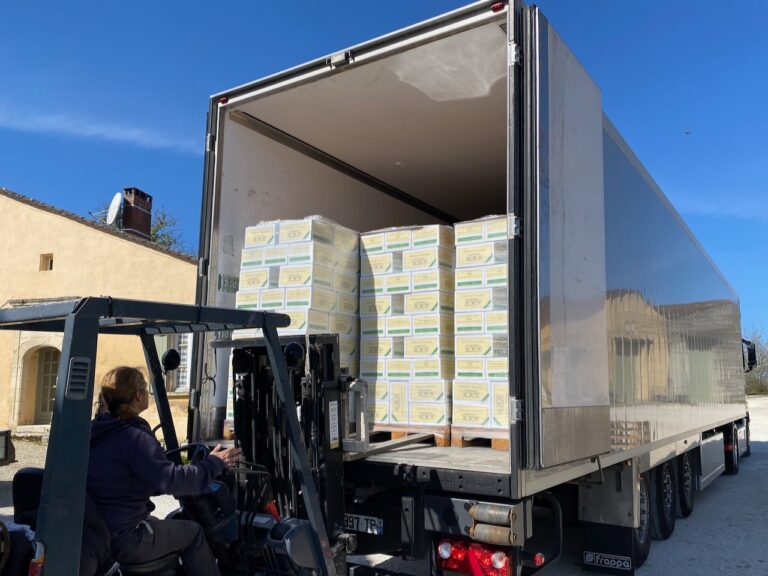 Nelly is a dab hand at squeezing the pallets into a truck. This one's so shiny the winery buildings are reflected.
The word truck doesn't do this justice. Not just pretty either – the empty pallets to be swapped are stored in lockers under the main container, like suitcases in a coach.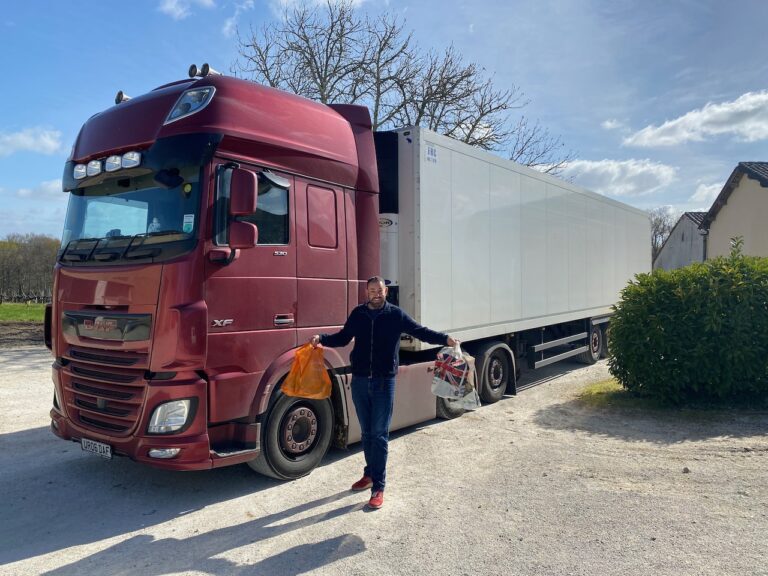 Here's Dominic, the man who brings most of our wine to England in his temperature controlled beast, to London City Bond.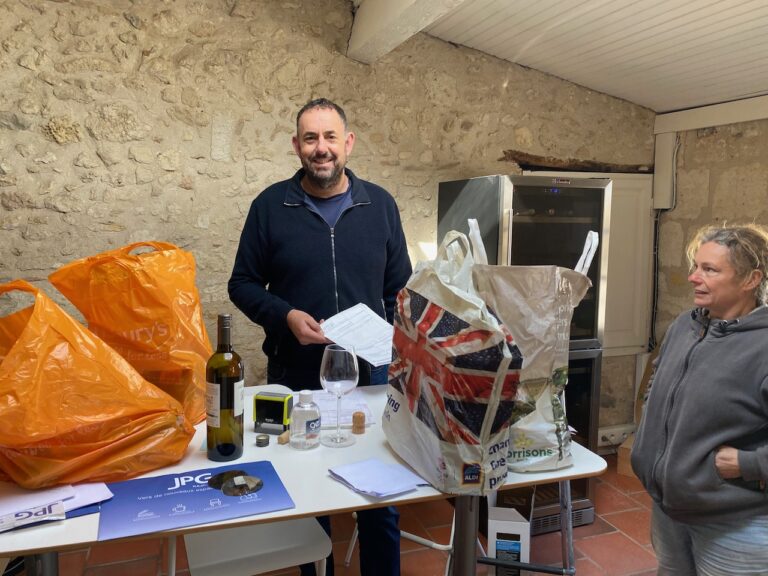 Nelly has got used by now to the stuff that we ask Dom to buy on our behalf.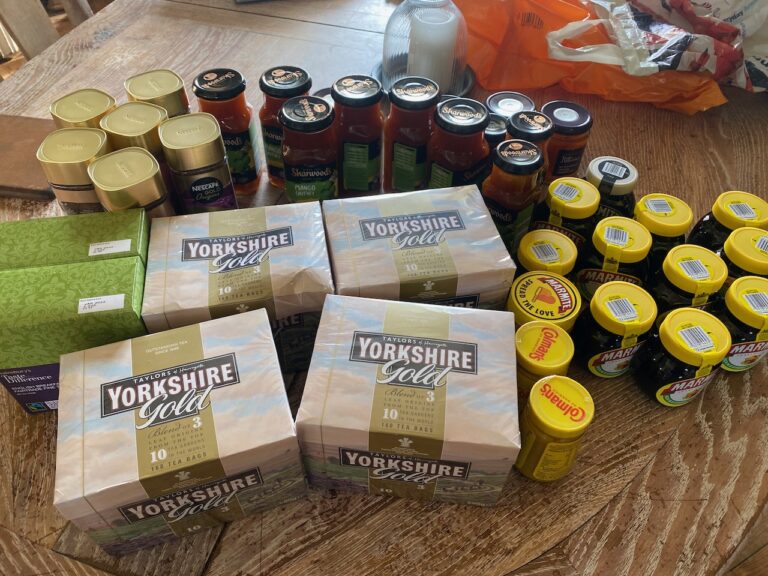 Tea and Marmite are regulars, and harder to get this year. Slight mango chutney overkill.
Back to the vines and we've been lucky with cold mornings keeping the start of the growing season in check. We don't want everything out of the blocks too quickly.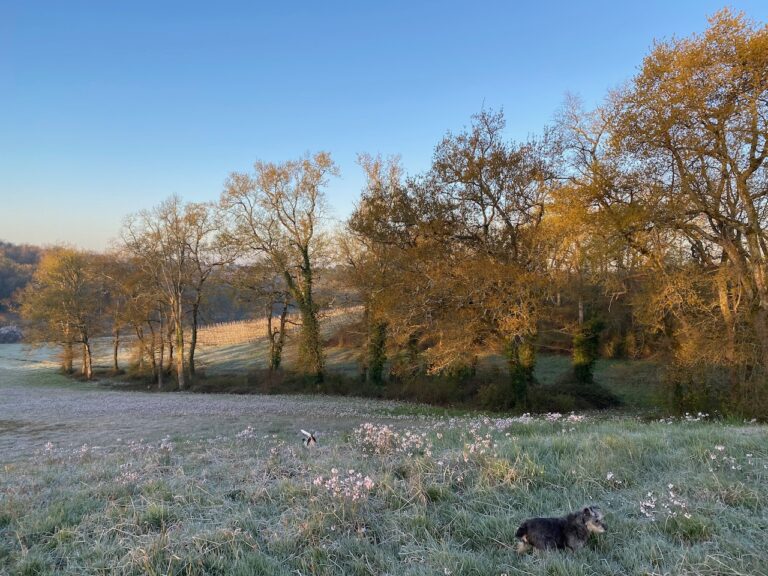 The sun coming up on the Sauvignon.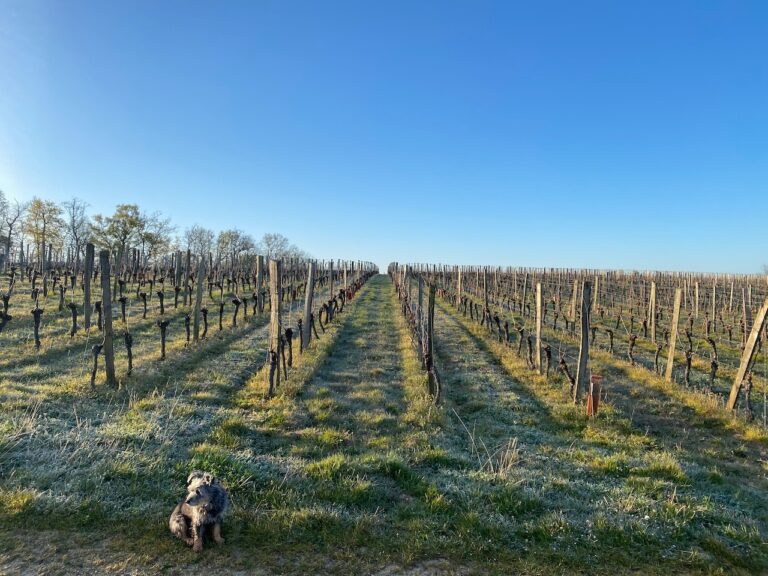 Margaux and the Sauvignon Blanc parcel called Dageneau. Planted in 2004.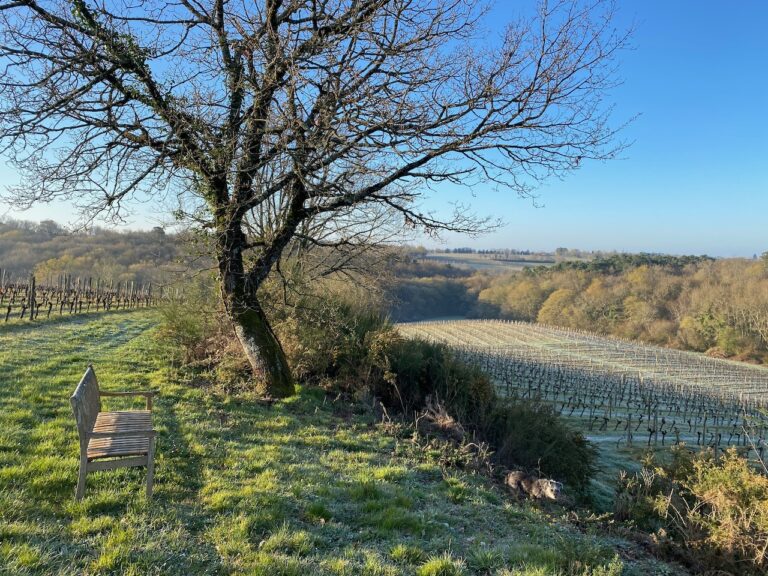 Bit chilly and no time to sit down. Merlot for red on the left, with Rosé from Cabernet and Merlot down below, and Sauvignon Blanc.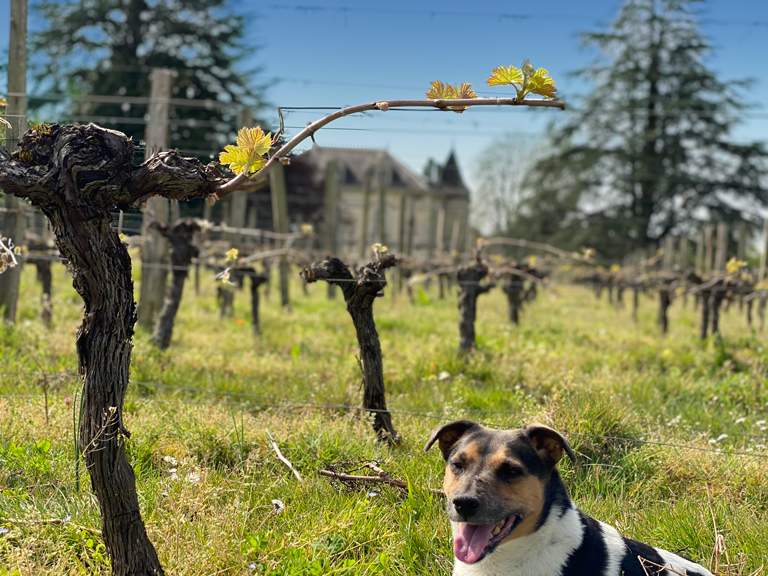 It's these little babies that we don't want frosted. (31 March.)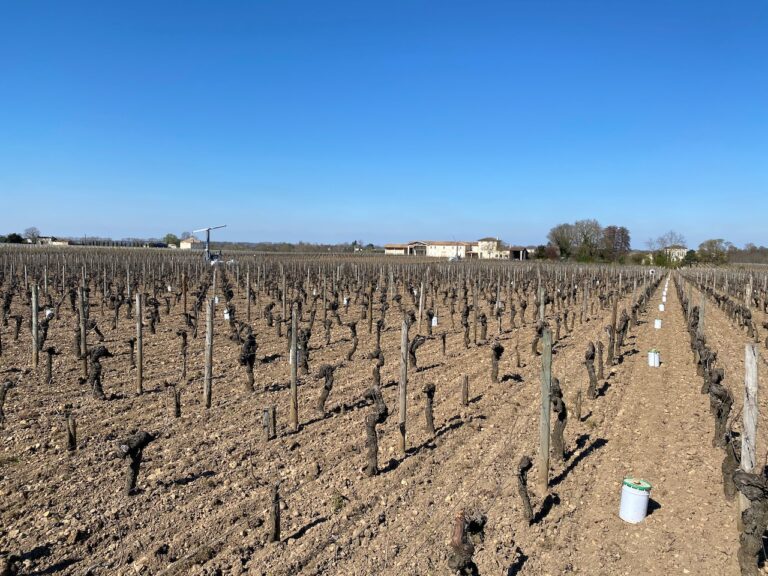 Anti-frost pots at Château Lafleur in Pomerol, 25 minutes up the road from us.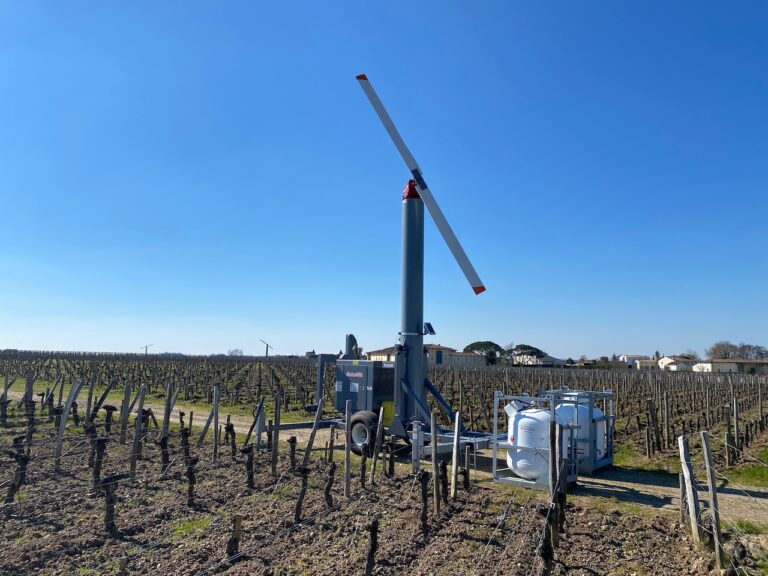 Also in Pomerol, in between the vines of Château Gazin and Petrus, a wind machine for displacing the cold air if required. Two more in the middle distance.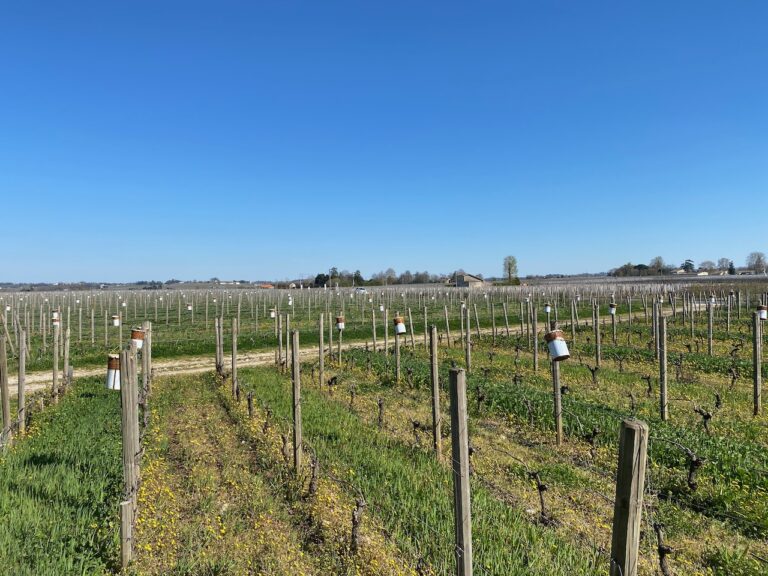 Anti-frost pots at Château l'Evangile in Pomerol.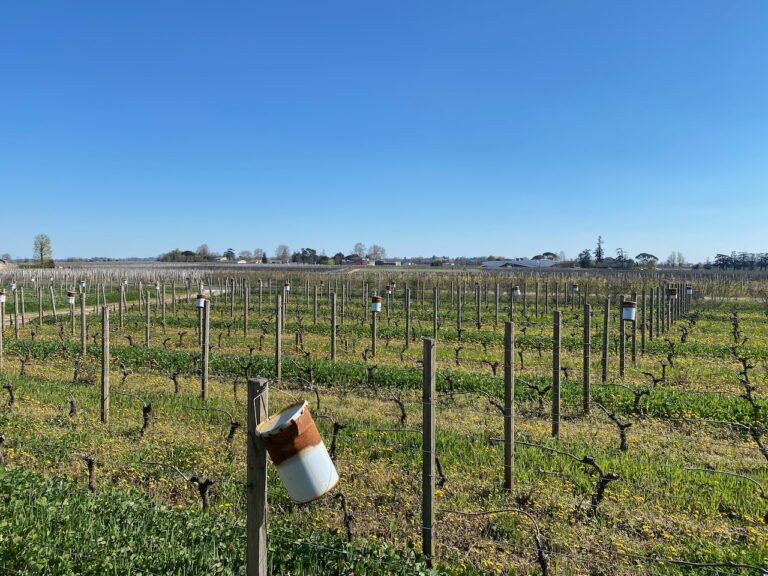 Frost pots in Pomerol looking towards Château Cheval Blanc in Saint-Emilion opposite.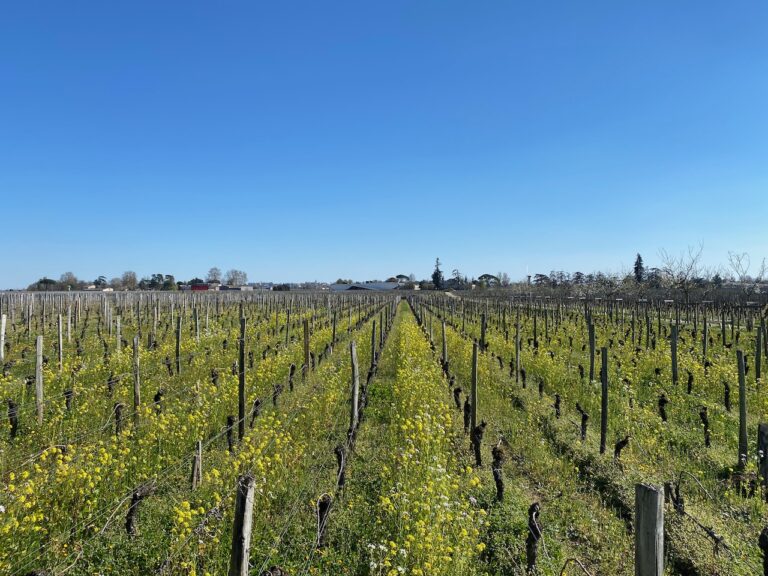 A Spring feel to the vines of Cheval Blanc.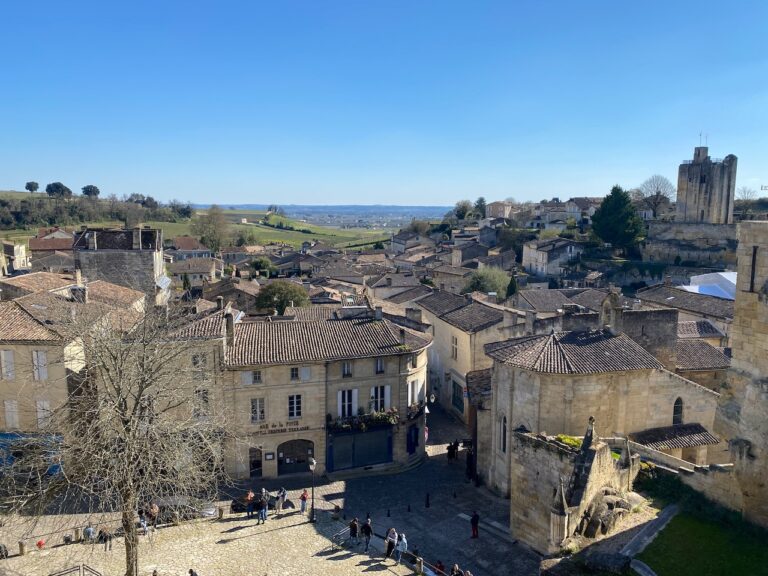 There are a few visitors to Saint-Emilion.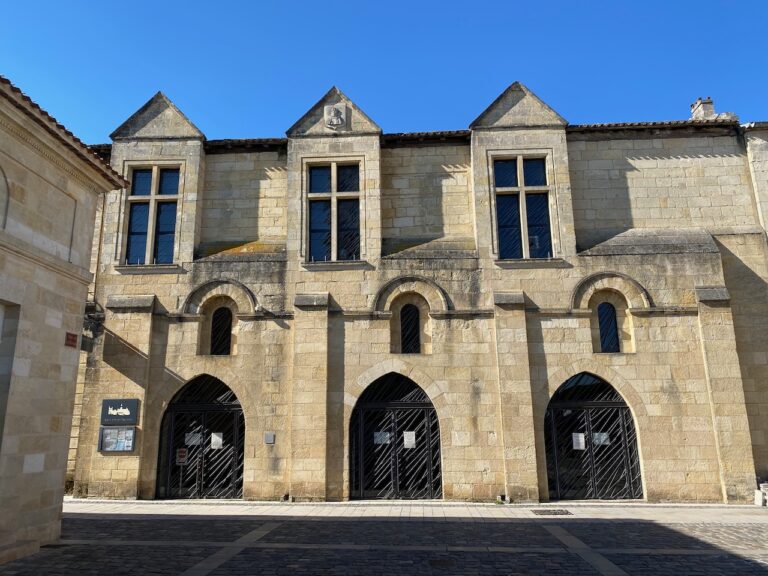 Though the tourist office is empty.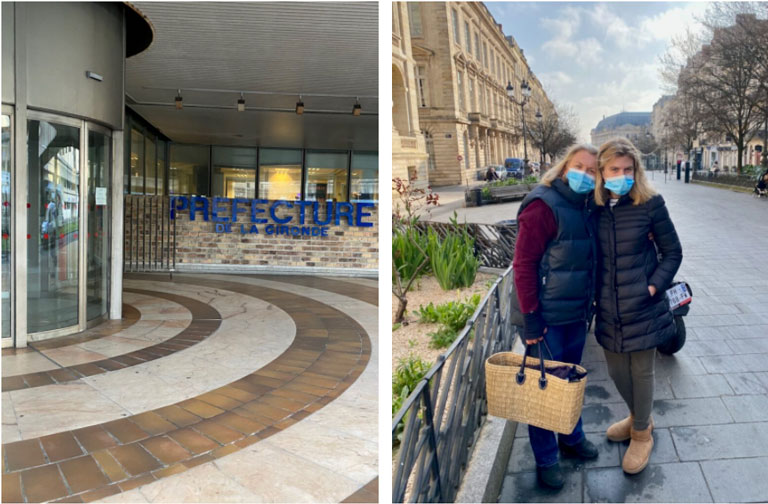 A trip into Bordeaux for an interview for our residency card, so we're allowed to stay. It was easy and well organised.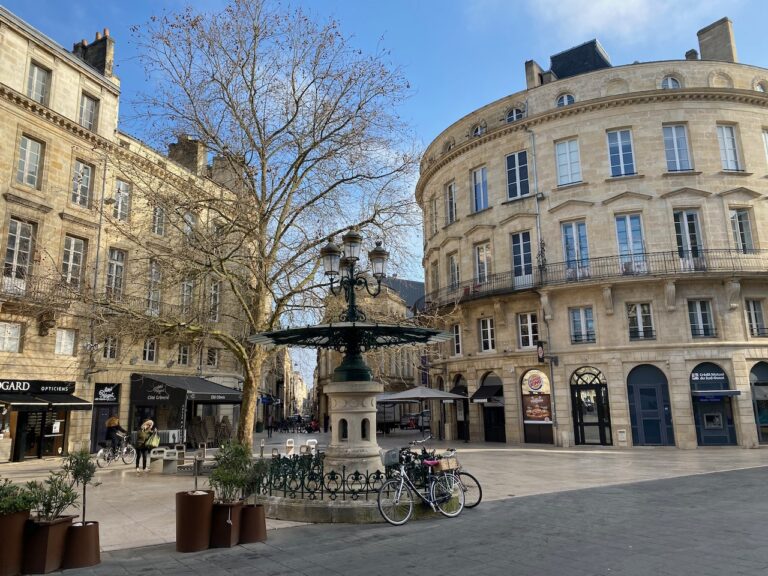 We should make the most of Bordeaux while it's quiet. A beautiful city and the express coach goes into the centre from the end of Rue Bauduc, on the hour and every hour, 7am to 10pm. A whopping €4.50 return.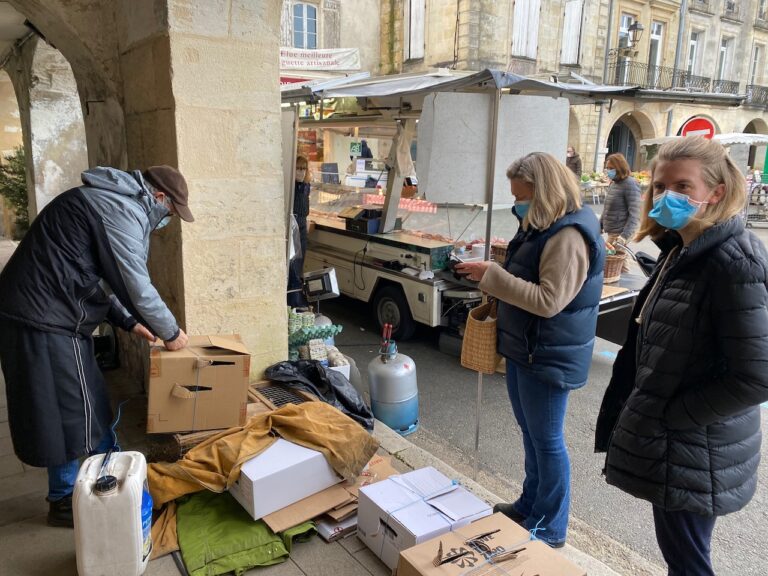 Closer to home and time to buy chickens at the Wednesday market in Créon.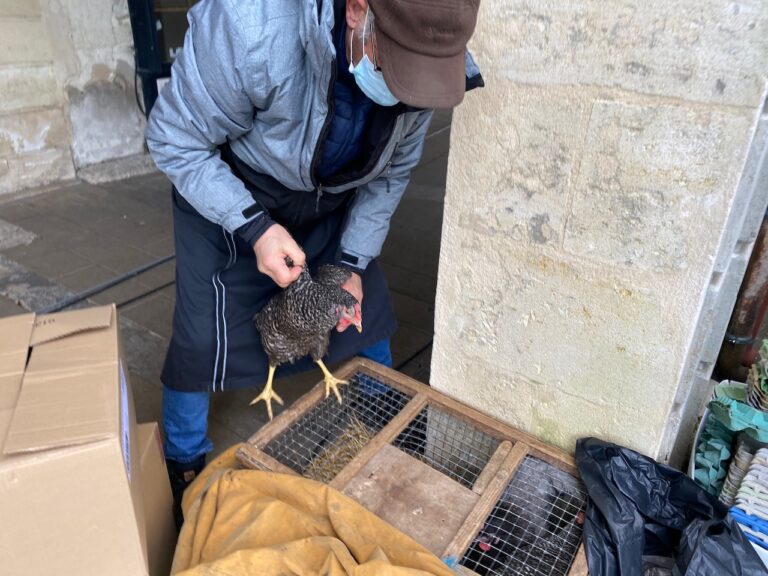 Five please.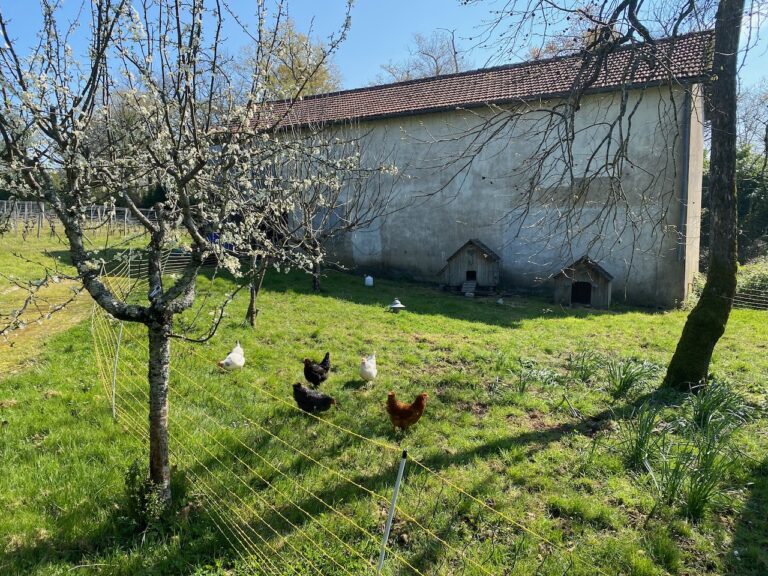 The last batch had the run of the place but were taken by the fox. A new electric fence seems a sensible investment and it's good to have fresh eggs again.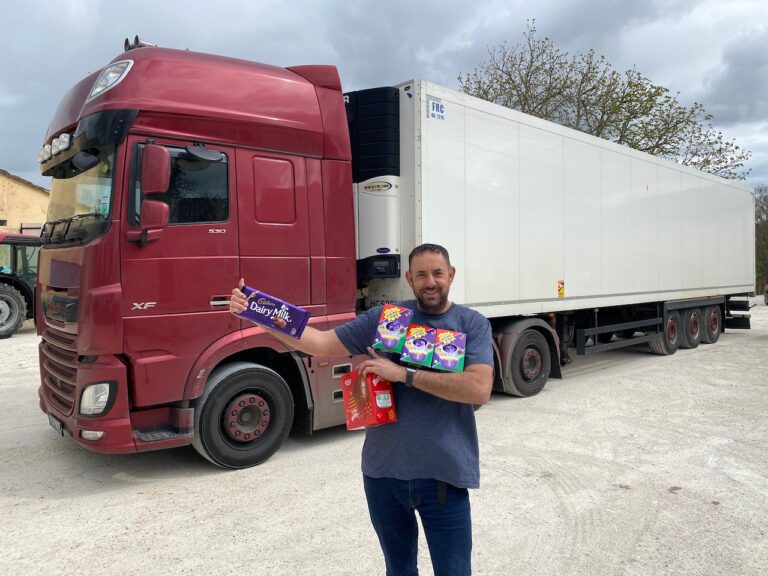 Talking of eggs. Dom brought us some from England. Two round trips within ten days with valuable cargo both ways.
Obviously, we have to share our driveway in blossom.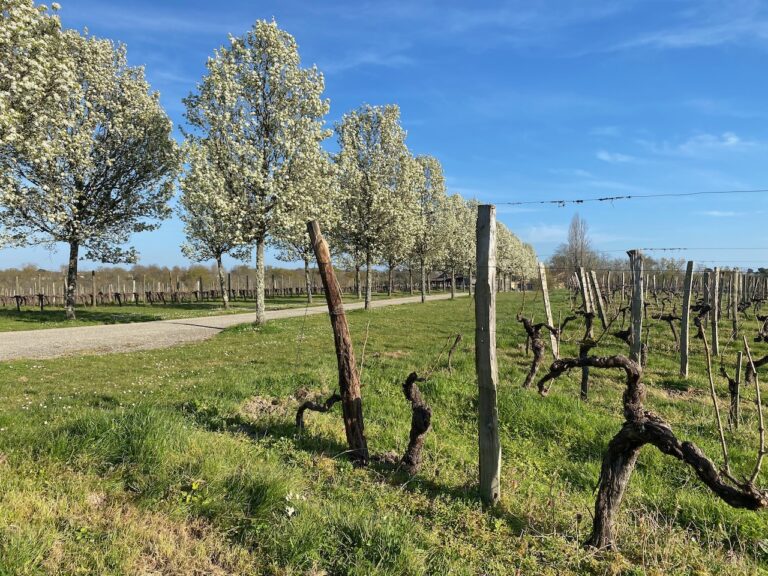 Les Trois Hectares alongside.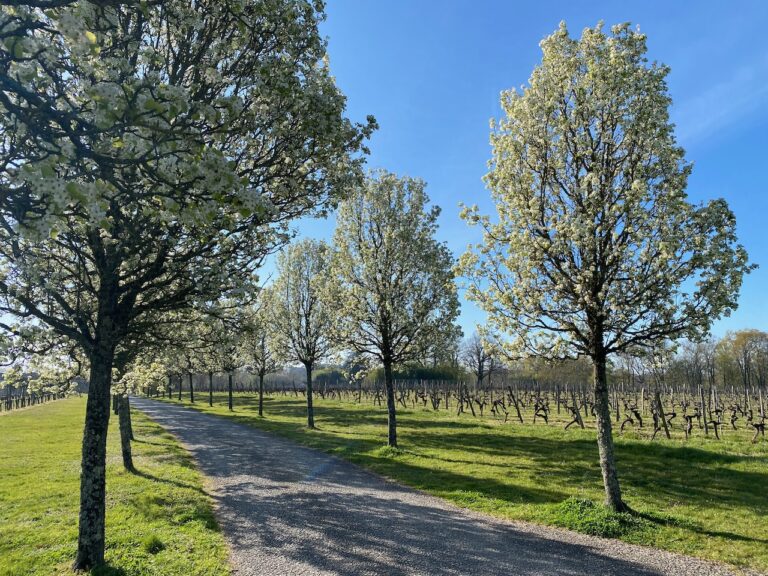 One of the best things about March and a shame it's only the locals out walking their dogs that see it, mostly.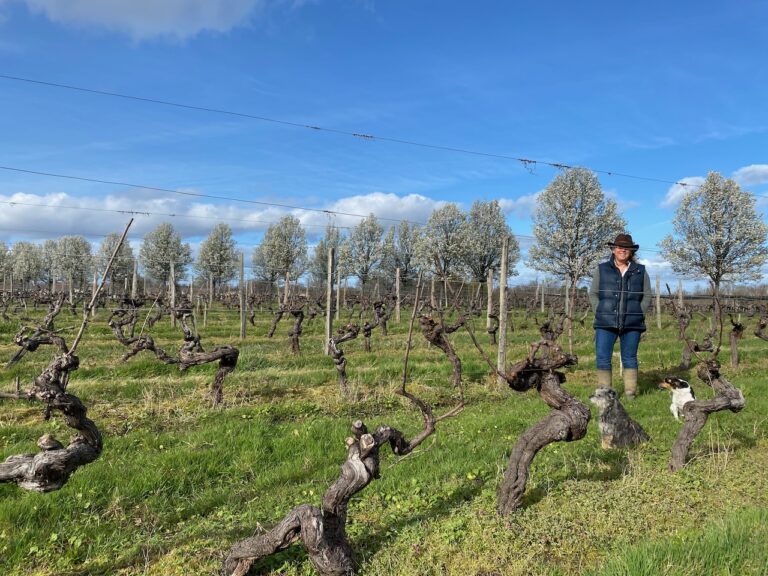 These were planted in 1947.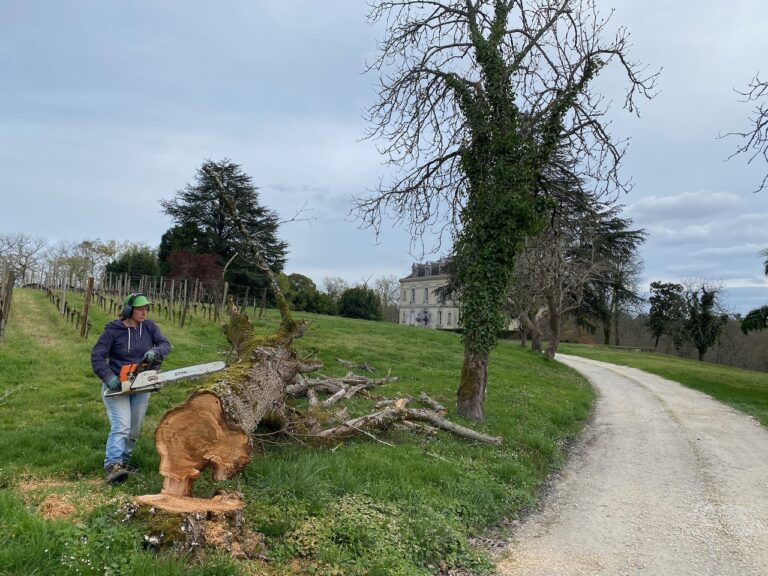 Some old things have had to go, sadly. Nelly can handle a chainsaw as well as a forklift.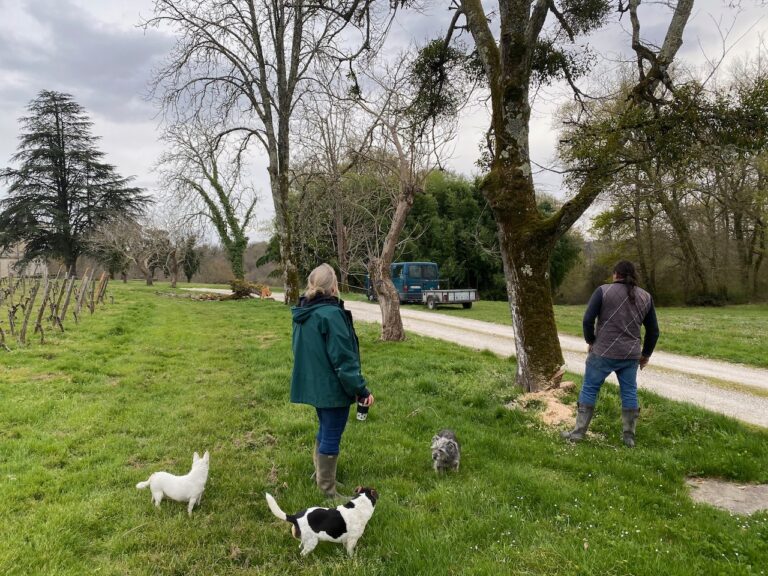 It's a Sunday afternoon in March and we're playing the game called 'where will this tree fall?'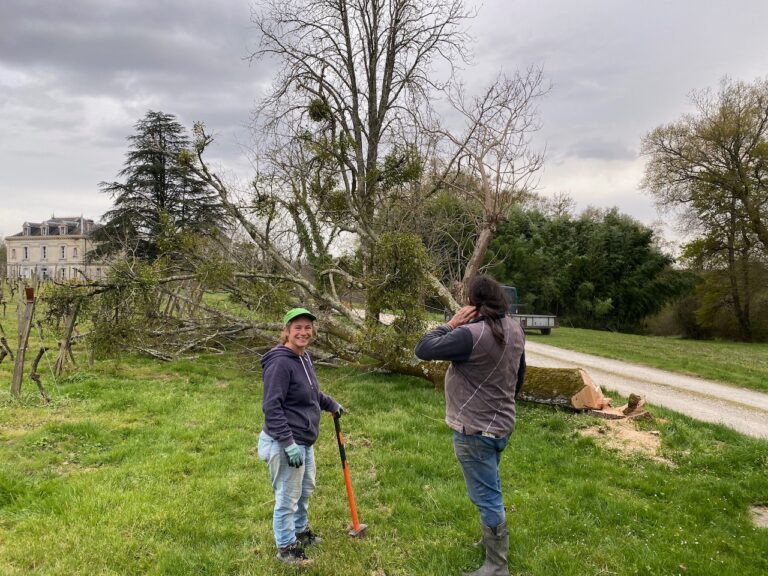 Very neatly just short of the vines, thankfully.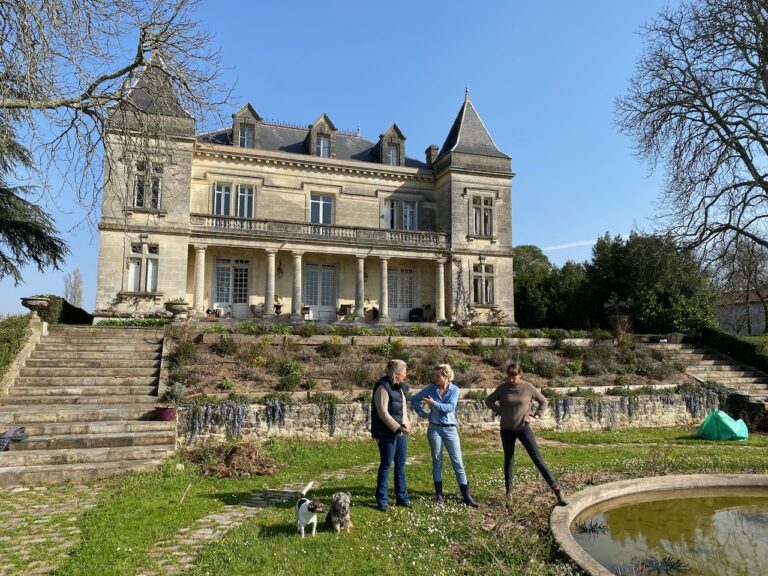 Ange getting advice from Dephine the gardener.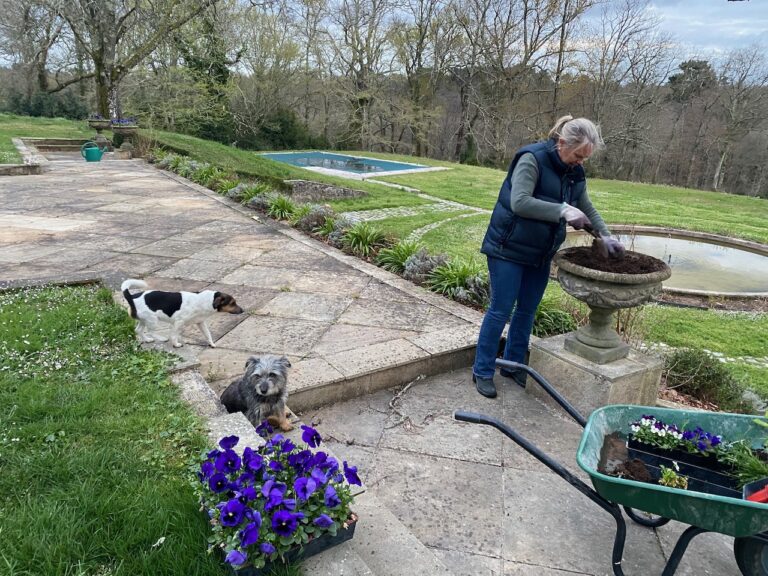 Ange planting.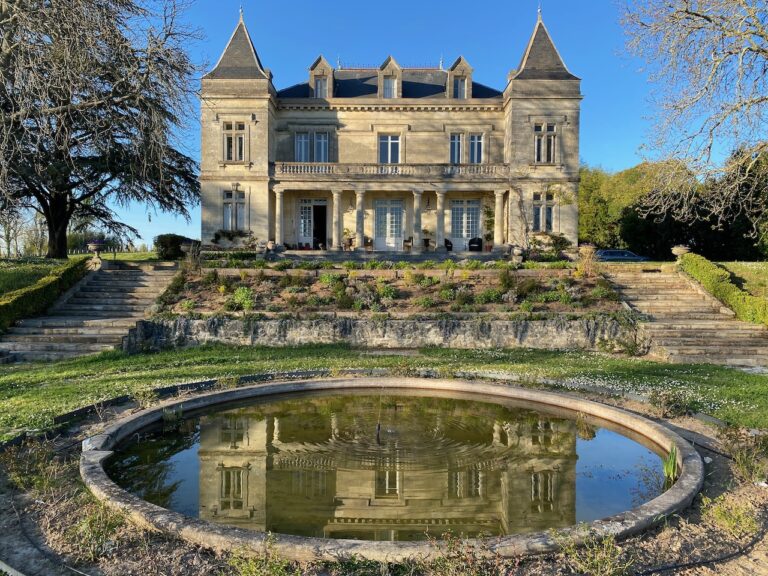 This image from last weekend deserves a better caption. My job, as instructed by Delphine, is to put human hair (courtesy of Nathalie, the lady who cuts Tom's and my hair at home) into little nets and tie them to the rose bushes. The whiff of the hair stops the deer eating the roses, allegedly.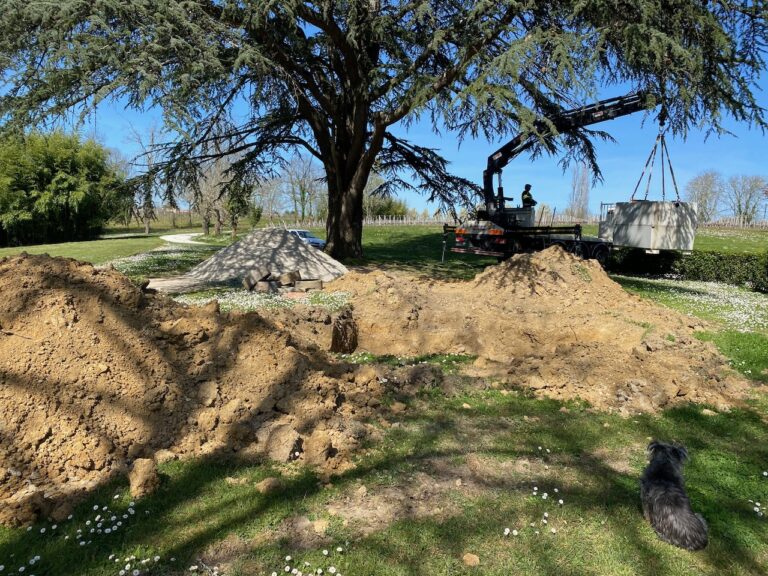 Margaux inspecting the arrival of a replacement septic tank.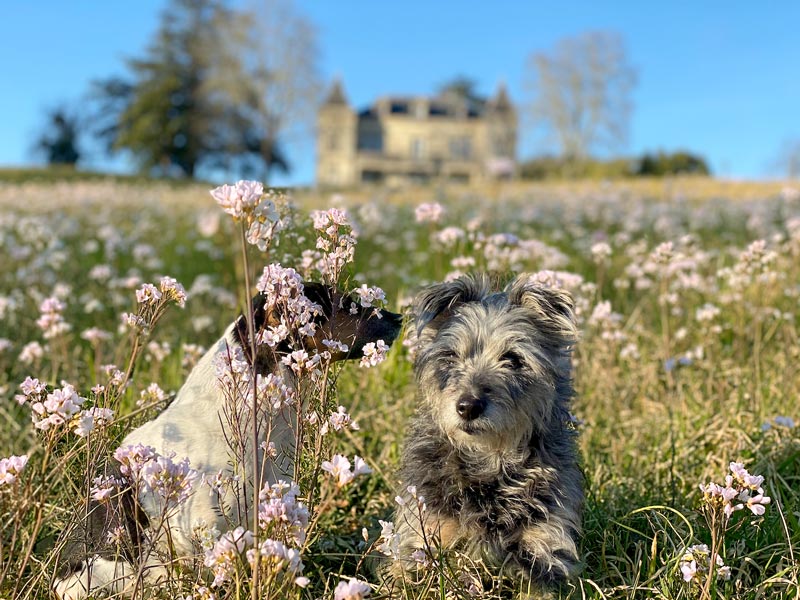 Pavie and Margaux.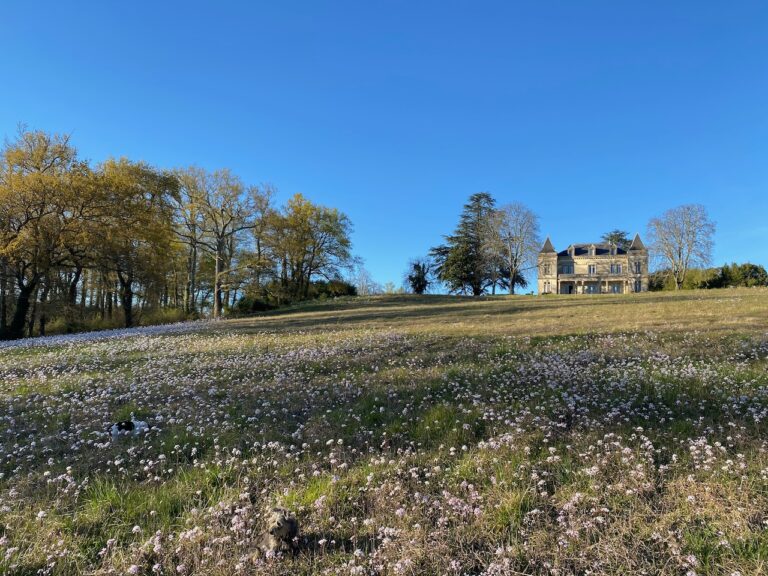 The dogs aren't so obvious from a distance.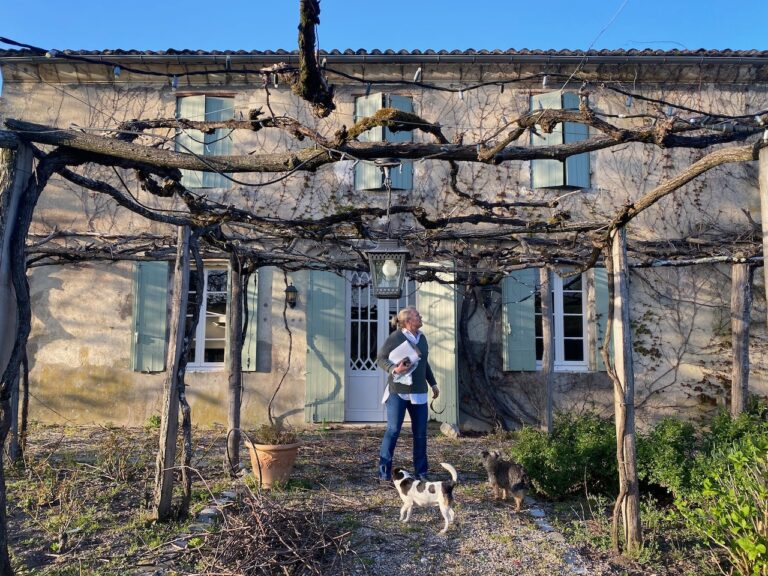 Inspecting the freshly pruned vines that adorn the trellis at the farmhouse. By June it'll be fully covered. (We're still not taking bookings just yet. More at Farmhouse Availability.)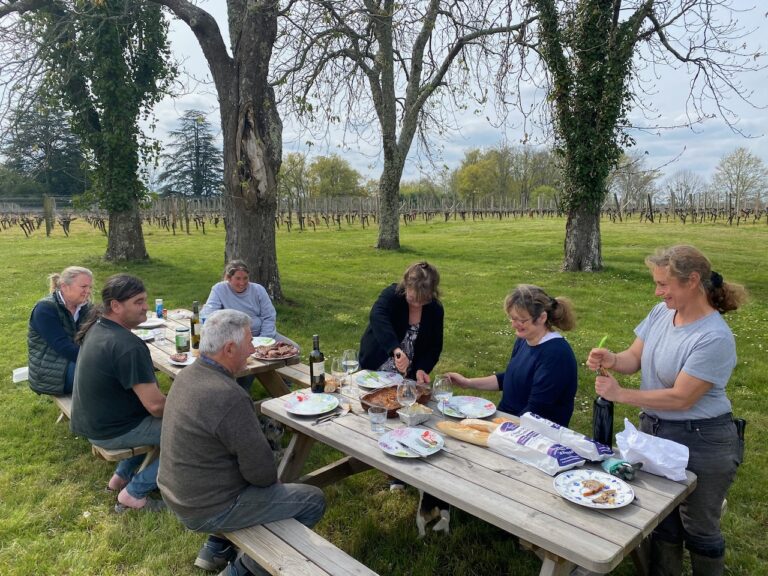 Friday lunch with most of the team.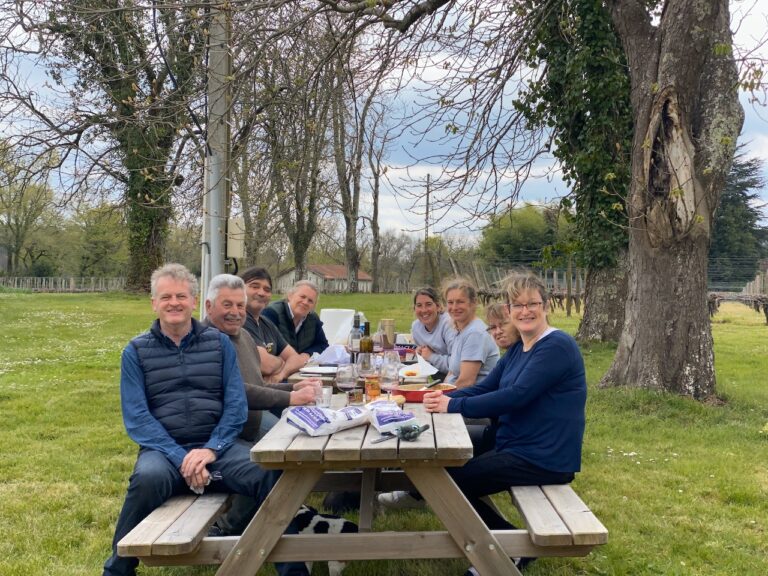 Might be breaking the numbers rules here. Need to watch out for any rule changes.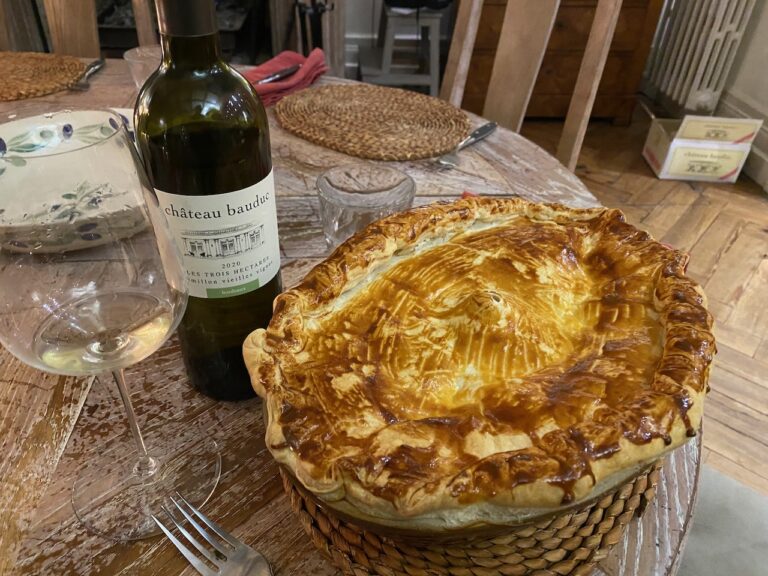 Spring favourites thus far: chicken and leek pie with Les Trois Hectares blanc 2020.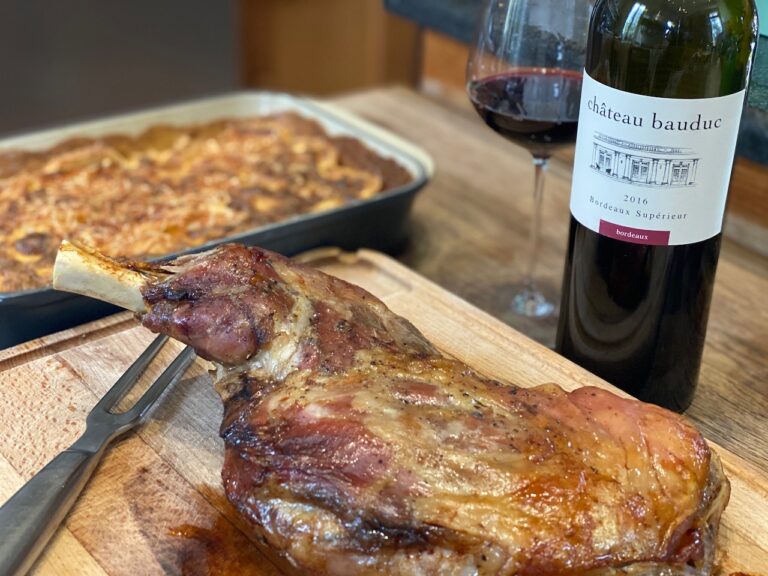 And Easter lamb with any Bauduc red.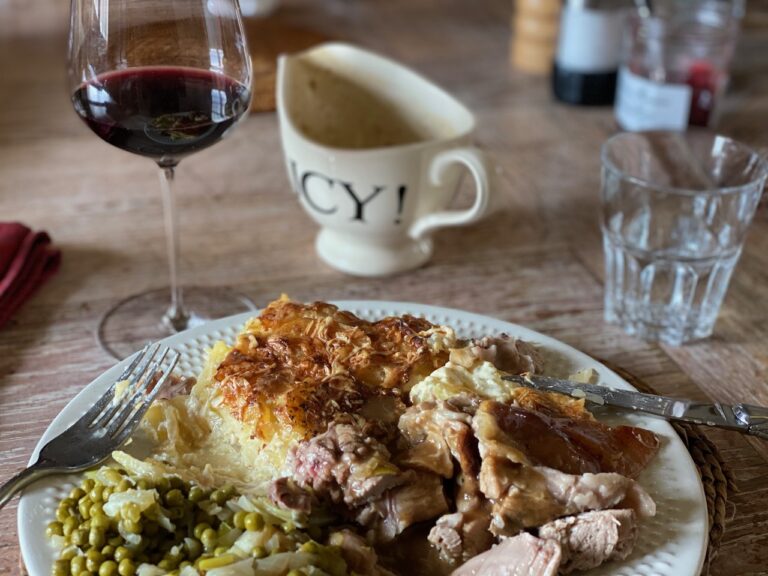 Works even if you like lamb a little overdone.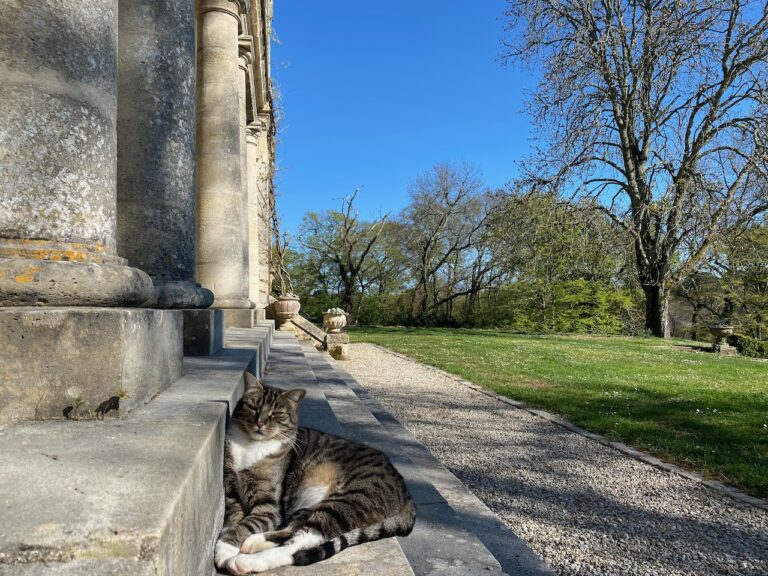 That's more than enough from us. Have a happy and relaxing Easter.