Posted by Gavin Quinney on 28th Feb 2019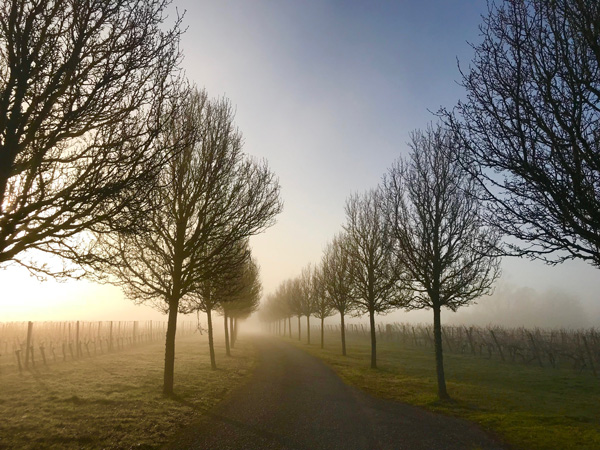 What a month. 23°C yesterday afternoon here and who'd have thought we'd need refrigerated trucks to transport our stock around in February.
Not really, but we have been busy with shifting the new vintages of our wines. The complete series is available for delivery in the UK.
As you may have seen, we also created a new website WineCollect.com, mainly for Brits who want to swerve UK duty and pile up stock from France, either from our Calais depot or le Château.
Whether this should be done before 29 March or any other date is still anybody's guess.
In this month's missive:
Thrilling new vintages released
WineCollect.com launch
No posing please
Posing with pallets
Rick Stein in Bordeaux, again
Springtime at the Farmhouse
A Long Weekend with David Pritchard
No peace for the wicked.
All the best
Gavin & Angela
Thrilling new vintages released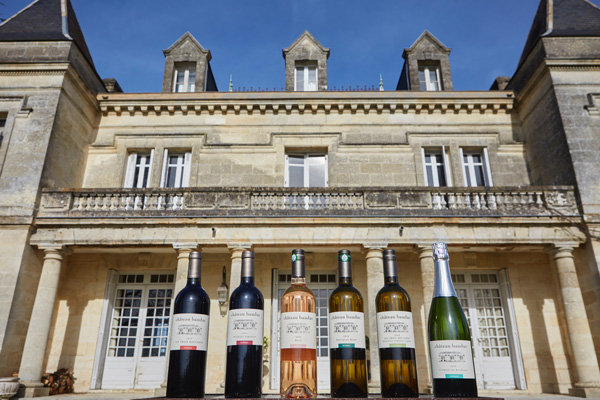 We sold out of 2017 Rosé yonks ago and are now down to our last few cases of 2017 Sauvignon Blanc, so the fabulous 2018 versions have blossomed into stock at just the right time. Also available is the old-vine Sémillon, Les Trois Hectares blanc - all three of these 2018s were bottled in January.
The classic Bordeaux Supérieur rouge from the outstanding 2016 vintage has also just been released, along with the 100% barrel-aged Les Trois Hectares red from the same year. Also from 2016 is our delicious Crémant de Bordeaux. This was our second vintage of our sparkling wine, made in the traditional method: bunches hand-picked into crates, whole bunch pressing, second fermentation in bottle and all the trimmings. Delightfully refreshing, stylish and fun.
The launch of WineCollect.com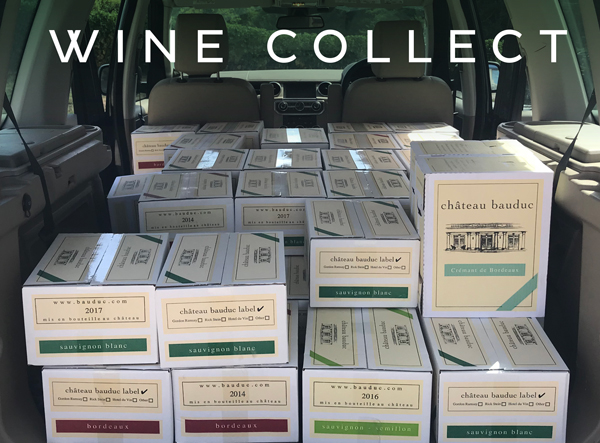 Last week we introduced WineCollect.com, our new website for pre-ordering our wine to collect from Calais or the Château. Many regular customers in the UK have collected their stash of Bauduc in this way for years and saved a fortune on UK duty. The most popular reason, of course, has been to stock up for weddings, parties and private events.
To make the trip worthwhile, our new site with its rather nifty online discount system means that the more you buy, the less you pay - per bottle. You are allowed to bring back as much as you like as long as you travel with the wine and that it is for your own use, or as gifts. As Brexit day looms, many people have booked their crossings and will save £3 to £4 a bottle in the process. A day or overnight return on Eurotunnel is good value this spring.
No posing for the photo please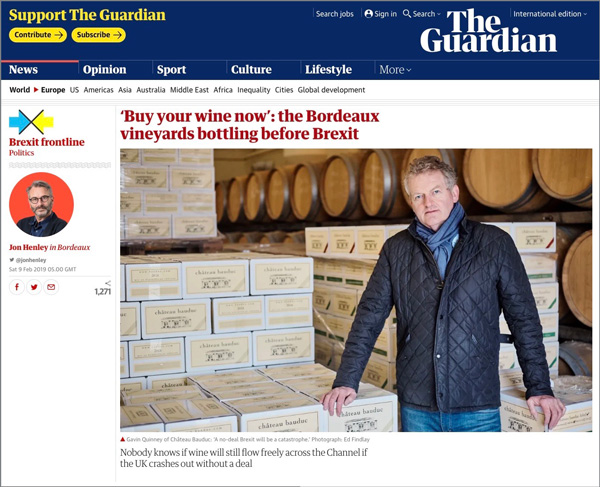 'We need a picture of you with the stock you're planning to sell' said Jon Henley, the Guardian's European correspondent, after he came to talk about Bordeaux wine and Brexit. We duly obliged and how smart the online version of his excellent piece looked. Then the picture editor of the print edition called. 'Not for us, thanks. We need a 'living the dream' shot asap - bringing in the harvest, but no posing please.' That proved more of a challenge than we thought but no doubt you'll agree that Ange, Georgie and Sophie, below, don't look like they're posing. Not one bit. The boss reduced to a miserly cameo role, top right.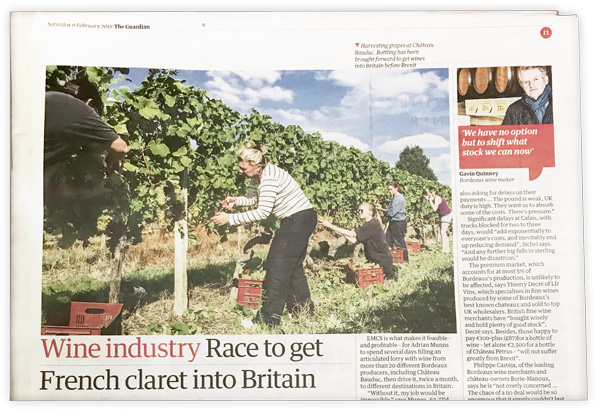 Posing with the pallets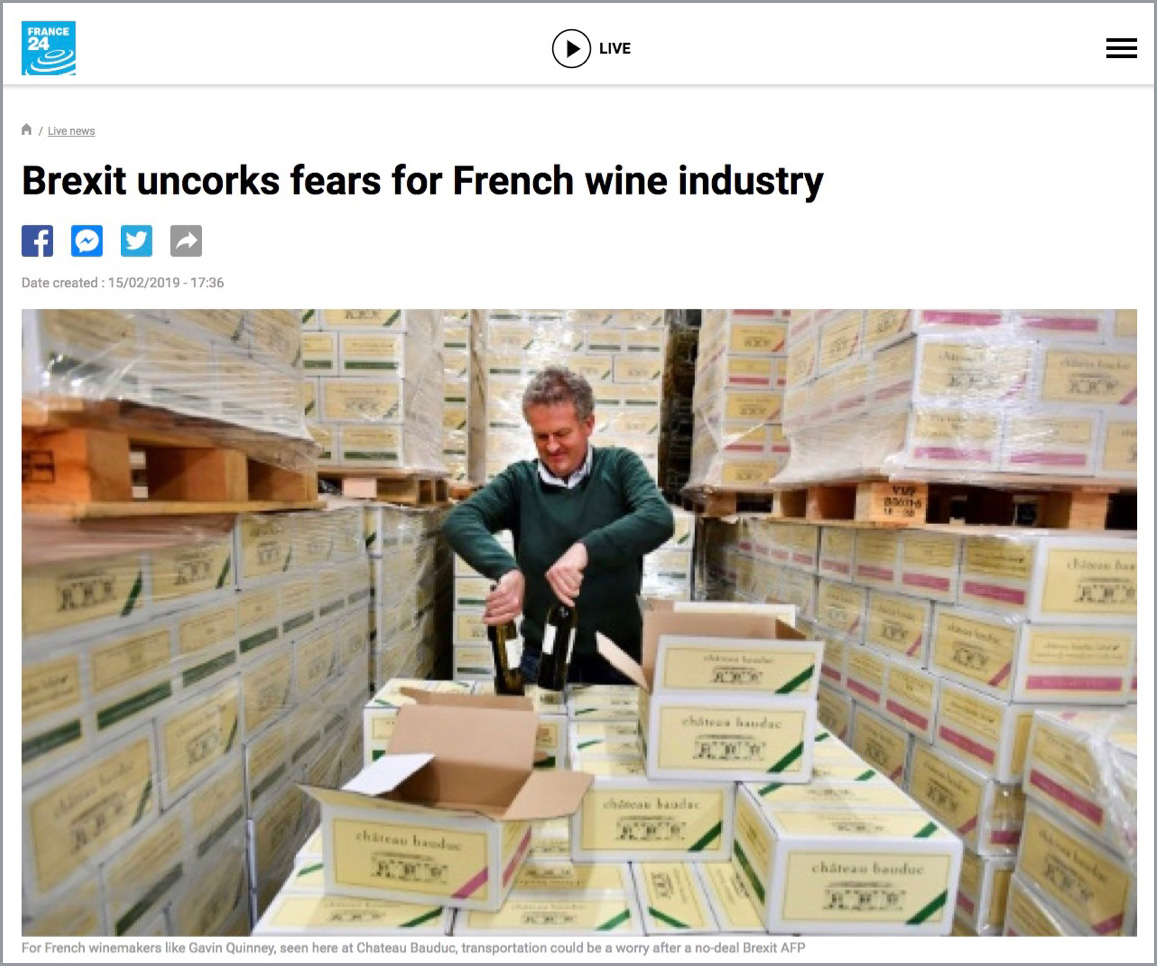 In a similar vein, here's the Beau Duc wedged in between pallets of our 2018 white and rosé, pretending to put bottles into boxes. Well, that's how the photographer from Agence France Presse wanted it. (Hopping over the pallet shortly afterwards resulted in a pulled muscle and a somewhat stilted interview, in French.) There's been a fair amount of interest in Brexit and wine from around the world and even this Tuesday a reporter and photographer from a Japanese newspaper called in.
Rick Stein in Bordeaux, again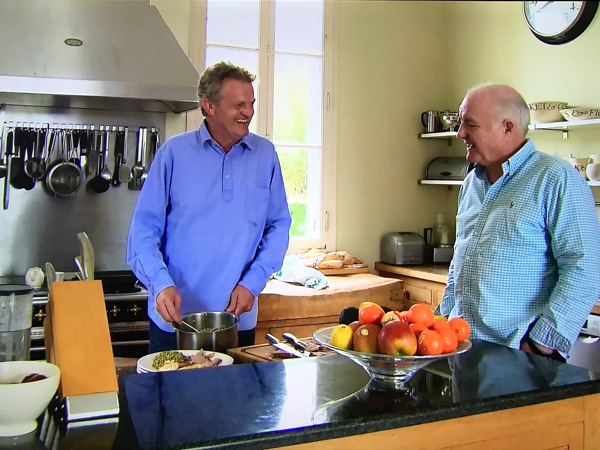 If only we'd known that Rick Stein's Long Weekends were going to be repeated on BBC2, every Saturday at midday from the start of February onwards. And of course the series began with his trip to Bordeaux, and to Bauduc. We could have given everyone more than the half an hour's notice on Twitter and the like: it was a terrific programme and advert for Bordeaux. Anyway, Rick's son Charlie (you may remember him from the marathon tasting competition at the end of the show) will be bringing a group of Seafood Restaurant customers for a long weekend and Bordeaux tour in June, based in our farmhouse.
Springtime at the Farmhouse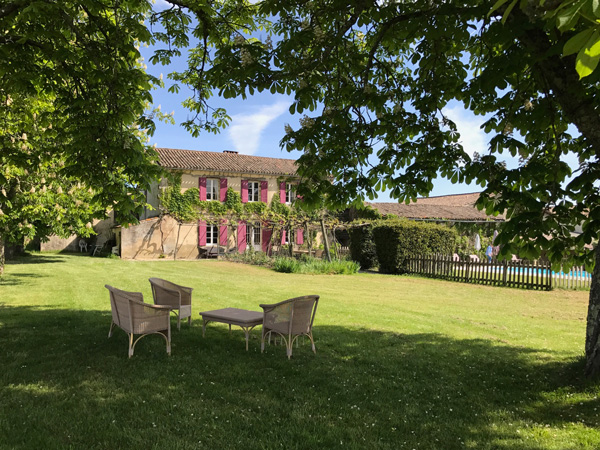 We've had tremendous uptake of the Farmhouse so far this year, though we do have good availability in April and in the first half of May. Of special interest to the wine trade, perhaps, the first week of April is still available - our four-bedroomed house is an excellent base for attending the 2018 Primeurs, when the world of fine wine descends on Bordeaux to taste barrel samples right across the region.
So too is the week of 10-17 May for this, the new, earlier date of Vinexpo - the huge trade fair that's held in Bordeaux every two years. For anyone 'in the trade' who wants to sample the Bordeaux 2018s before the opening prices, and perhaps can't make that first week of April, 125 châteaux of the Union des Grands Crus de Bordeaux will show their wares from 2018 at Vinexpo, and all under one roof.
We are fully booked from 17 May to 4 October 2019, with the exception of four nights from 10-14 June. (Staying from Monday to Friday - spot on, and a great time of year, for a full-on wine tour of Bordeaux.)
A Long Weekend with David Pritchard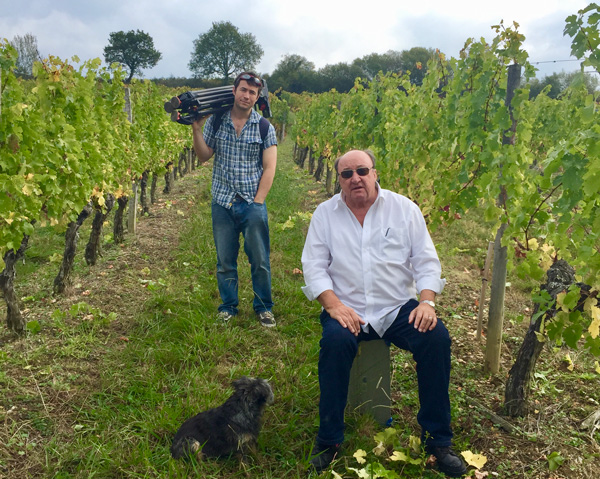 Watching Rick Stein's Long Weekend in Bordeaux for the umpteenth time when it was repeated earlier this month brought back many happy memories but, on this occasion, it was tinged with considerable sadness. The director and producer David Pritchard, who had worked with Rick for many years, died a few weeks before this showing, following a brave battle with cancer.
On the face of it, the visit by David, Rick and the production team to Château Bauduc on the last day of our harvest in 2015 had culminated in just a few minutes of TV - albeit primetime BBC. By then though, David and I had become good friends and our friendship would continue, from afar, long after the filming had ended. So here's a small tribute to the great man, with a gallery of pictures of his reconnaissance trip to Bordeaux, when he was accompanied by his wife and assistant Fiona, and of the filming of the Long Weekend itself with his crew.
David was an avid consumer of our newsletter - he would often call afterwards or drop us a line - so it seems only appropriate.
| | |
| --- | --- |
| This was sent to friends on our mailing list | |