Posted by Gavin Quinney on 31st Oct 2018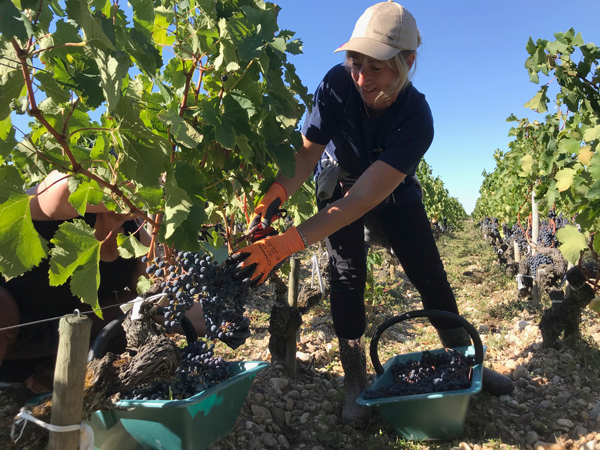 This month's exciting review covers the Bordeaux 2018 vintage and how the weather impacted on the harvest. Below is a cutdown version of a longer article that Gavin has just put together for Jancis Robinson's website and for Liv-ex (the London International Vintners' Exchange). You can also read the longer version on gavinquinney.com.
Also, as the wine trade's most notorious whingers about the level of UK duty on wine, there's no surprise that we've also included a small moan about the Chancellor putting duty up on wine from February 1st, while freezing duty on those altogether healthier categories of spirits, beer and cider in Monday's budget.
All the best
Gavin & Angela
UK wine duty up from 1 February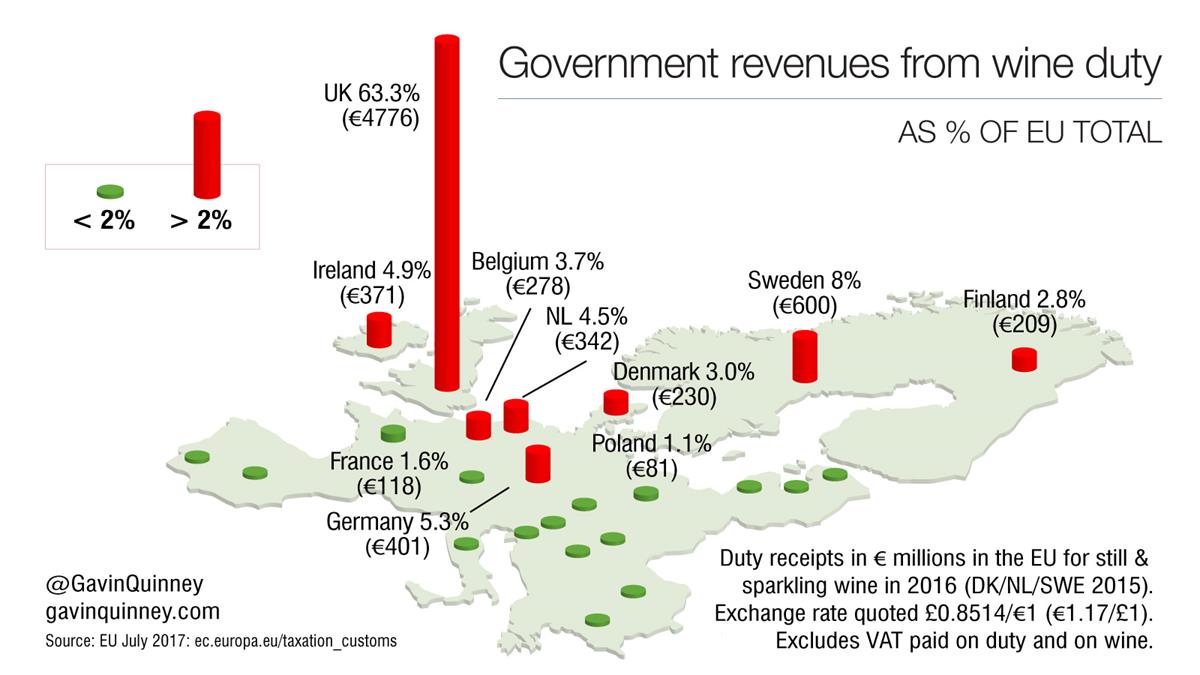 "UK duty on wine goes up. Because the Government isn't trousering enough already. #Budget2018" (@GavinQuinney on Twitter, in a huff, posting the image above.)
The Chancellor increased UK duty on wine from 1 February 2019 in the autumn budget, but chose to freeze duty on spirits, beer and cider. The new wine duty rate of £2.68 (£2.23 plus VAT) per bottle is an increase of 8p. Sparkling wine is up 11p to £3.43 a bottle (£2.86 plus VAT).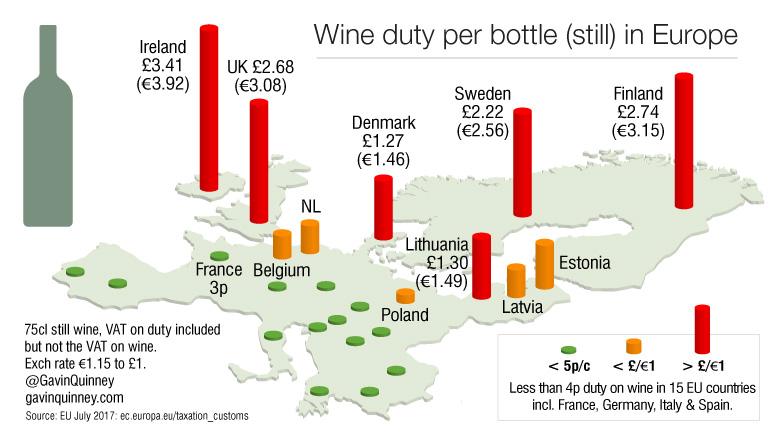 Bordeaux 2018 weather and harvest report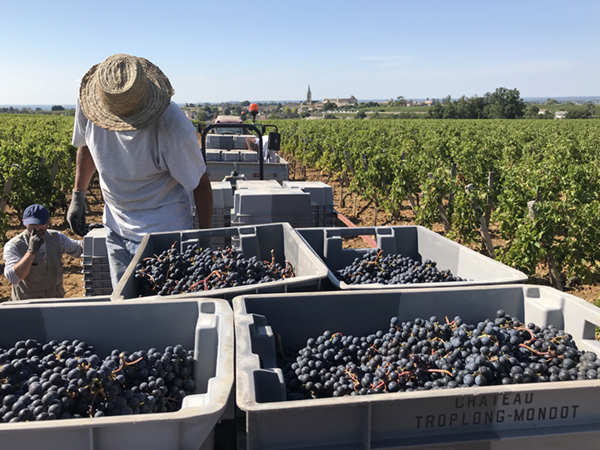 This is a scaled-down version of a longer article you can see on GavinQuinney.com
Bordeaux 2018 will be remembered as an exceptional year, with no shortage of outstanding wines from this extraordinary vintage. The weather too has been exceptional, with a glorious summer extending long into the September and early October harvest, but the vintage had begun with a bizarrely challenging first half of the growing season. It has ended up, not for the first time, as a year of mixed fortunes.
A dozen highlights of the out-of-the-ordinary 2018 vintage.
A wet winter, followed by a seriously soggy spring.
The threat of mildew, from spring onwards, was the strongest for decades.
Hailstorms in May and July caused damage in some unlucky areas.
The flowering in May and June was largely successful.
A glorious summer, preceded by just enough rain in late June and early July.
To have three complete months of sunny, dry weather from early July through to early October is rare.
Optimal harvest conditions, stress free, with no risk of rot.
A vintage of great potential, with outstanding reds and some very good whites.
Balance will be key as alcohol levels are generally quite high.
The fourth very good to excellent vintage in a row for 75% of the leading châteaux.
Plentiful yields for most growers but low for those hit by mildew or hail.
Overall Bordeaux volumes, at a guess, are close to the 10-year average.
The growing season
Here then is the story of the vintage, using daily statistics that I've compiled from six different weather stations around Bordeaux.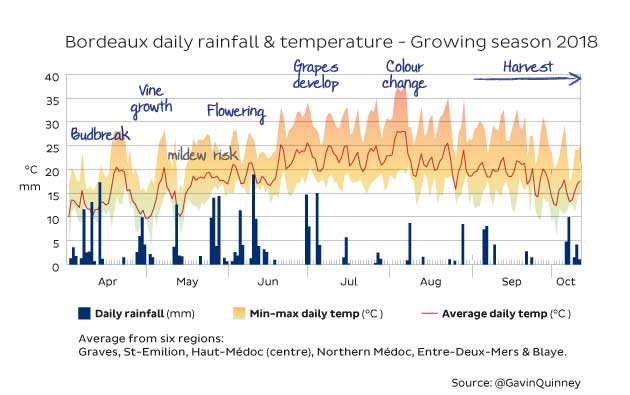 'A game of two halves'
At the end of July - the month in which France won the football World Cup - I wrote that Bordeaux 2018 was 'a game of two halves'. I have to admit I was taking a punt on the weather staying fine for August and September and even, as it happened, for early October, yet it's extraordinary how the weather stayed so sunny and dry after such a wet start.
The stark contrast in the amount of rain for the period from March to June, compared to July, August and September, and how this compares to other vintages, can also be seen in this grid showing rainfall each month over the last ten vintages.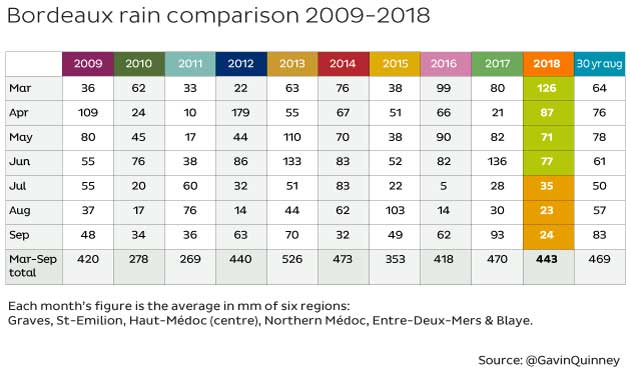 The flowering in late May and June went well and the weather picked up from mid-June, and after rain and storms at the end of the month and around the 4 July, the sun shone throughout July, August and September. In twenty harvests here, I cannot recall such a consistently sunny three-month period at the end of the season like this - 2010 came quite close - nor such a stress-free harvest time in Bordeaux.
Here are the monthly temperatures with the 2018 average of the six regions, followed by the 30-year Bordeaux average in brackets.
March 9°C (10.2°C), April 13.8°C (12.4°C), May 16.1°C (16.1°C), June 20.3° (19.3°C), July 22.5°C (21.3°C), August 22.1°C (21.4°C), September 19.2° (18.5°C).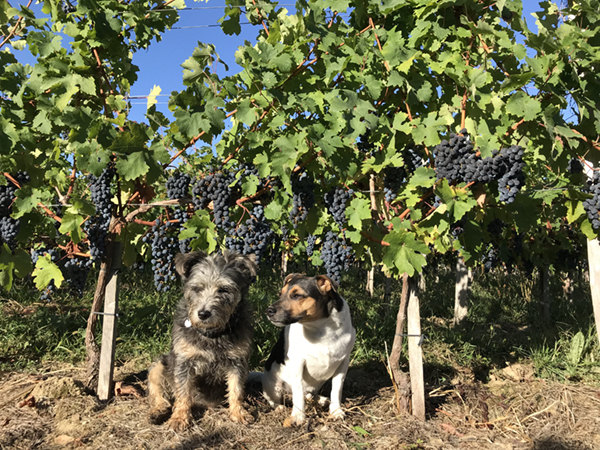 It is significant that June, July, August and September were all considerably warmer in 2018 than the average. The height of the summer was to be challenging for some vines, especially younger ones with shallower roots on dry ground. Five days on the trot in early August with maximum temperatures over 35°C proved too much for some vines. Between the two French national holidays in summer on the 14 July and 15 August, France Météo reported that the average temperature in France was 23.6°C, compared to the 30-year average of 21°C, with 19 days over 23°C average and none under 19°C. That's the second hottest 'high season' since 1947, after the ridiculously hot summer of 2003.
The harvest
With the warm summer it was little wonder that the harvest kicked off early for the whites, with several blocks of Sauvignon Blanc being picked as early as August 21st. The precocious vineyards of Pessac-Léognan began harvesting their whites in late August, with the Graves and the Entre Deux Mers starting, on the whole, in early September. It's strange to think that they're still picking for their sweet whites in Sauternes - as they hold out for botrytis of the noble kind - more than two months after their neighbours started picking for their dry whites.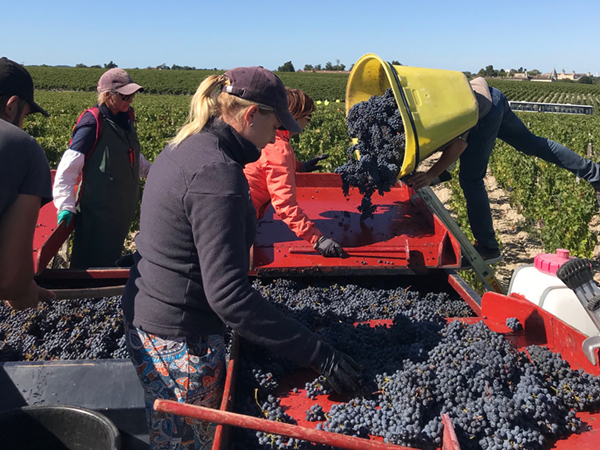 For the reds, if there's one vintage this century that growers can hand-on-heart say that they could pick and choose their harvest dates 'à la carte', it's 2018. I was at Château Troplong Mondot in Saint-Emilion as they harvested their Merlot on 10 September. Four miles down the road at Château Fleur Cardinale, they completed their red harvest on 24 October.
There are exceptions, naturally, but the busiest time for harvesting the Merlots and the Cabernets was during the second half of September and the start of October. The bunches were unsurprisingly as clean as a whistle, and I saw no rot whatsoever.
First impressions are that this is an excellent vintage and, for many, potentially right up there with the nines, tens and sixteens. For those on the wrong end of the mildew, not so much.
Volumes
All producers have to submit their harvest declarations by late November and we'll know the full results in February 2019. It's a difficult season to judge, as most growers had good yields, while others were hit by losses from mildew, and from isolated hailstorms.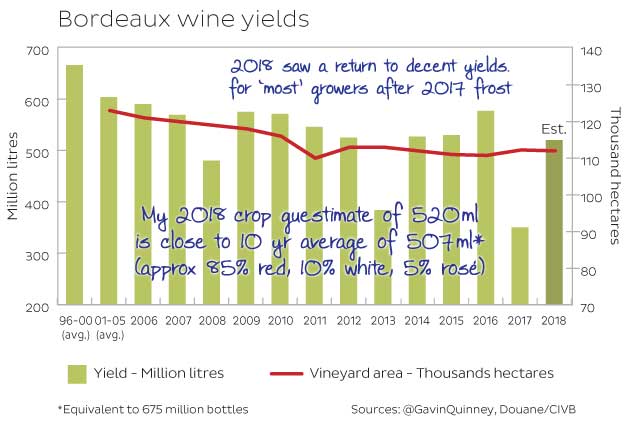 After the huge losses from the late spring frost in 2017, my impression is that Bordeaux 2018 will bounce back with production a little over the 10 year average of 507 million litres. The 10 year average has, of course, been lowered of late by the two small crops of 2013 and 2017.
I had reckoned we'd see a higher crop overall - we at Château Bauduc had a record production in 2018 as we've more hectares now in production than we had in 2016, another good crop. But friends have convinced me that the general losses to mildew (and to hail) are higher than I originally thought.
| | |
| --- | --- |
| This was sent to friends on our mailing list | |