Posted by Gavin Quinney on 31st May 2018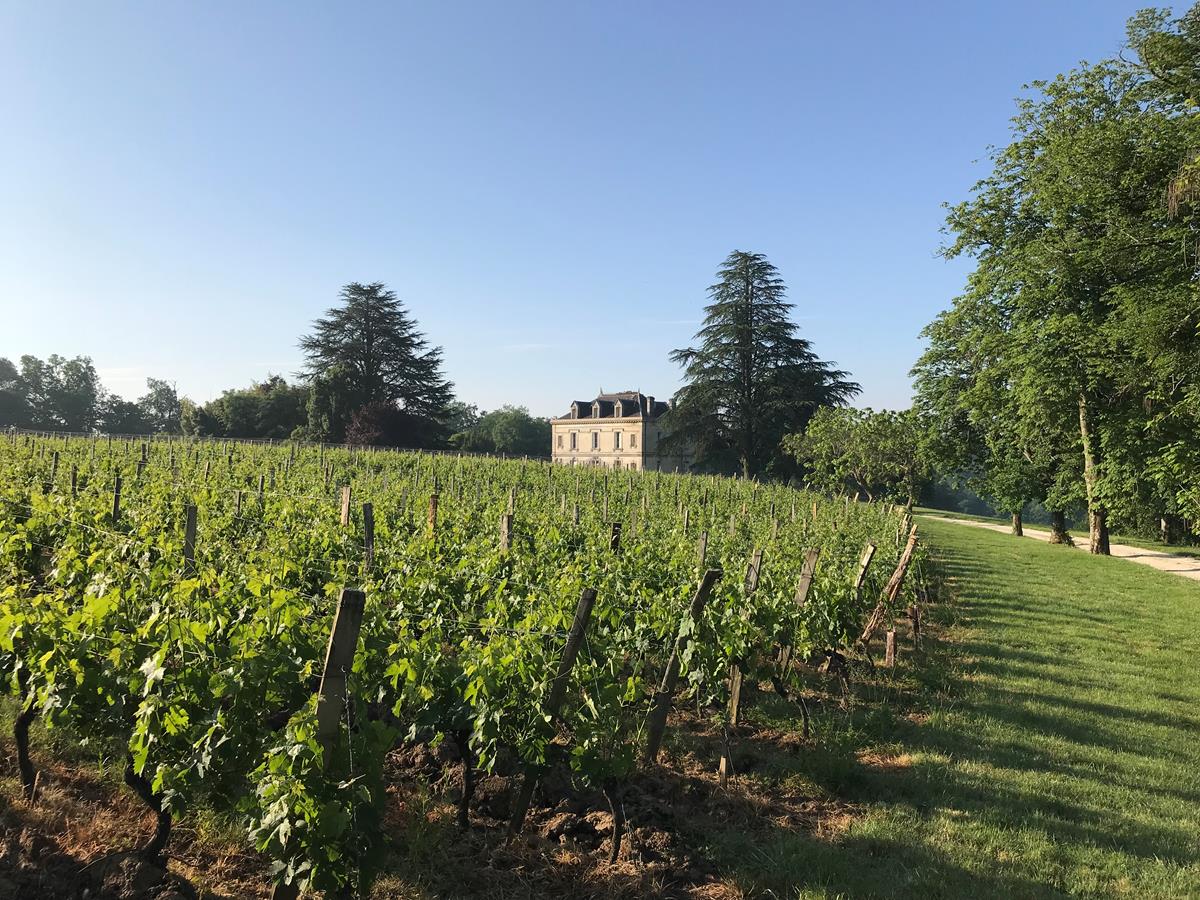 May can be such a great month. Some glorious weather, bank holidays, cup finals, the occasional wedding and the whole of the summer to look forward to.
It's also a lovely time in the vineyard with the shoots and leaves growing like crazy, and the flowering just around the corner. There's been 'une belle sortie' of a promising number of potential bunches, and it's fingers crossed for fine weather in June and for the all important (though somewhat unspectacular) floraison.
And then, last weekend, along comes a hailstorm that takes out many vineyards about 15 miles up the road and beyond. There but for the grace of God, and all that. More on this - there's been a lot of publicity about it - at the end of this missive.
All the best
Gavin & Angela
Bauduc Blanc and Rosé 2017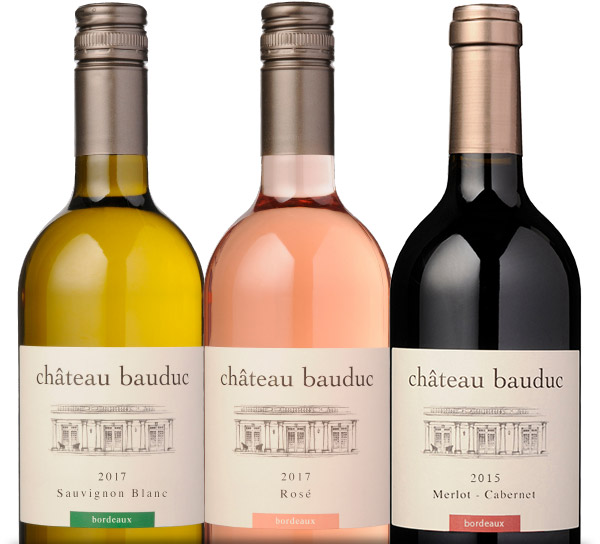 Our delicious, super pale rosé from the 2017 vintage is now available, along with our Sauvignon Blanc 2017. Both are £11.95 per bottle in the UK, and delivery is free for any 24 bottles in England and Wales (£9.50 for 6 or 12). We made half the amount of the previous vintage of both wines, thanks to the late Spring frost, so we've had to increase the price by 95p (9%) from the 2016 vintage. It won't recoup the losses but it's a start.
Both wines are included in the new Tricolore 6-pack, along with the 2015 Merlot Cabernet red (two of each).
(We have, though, reduced the cost of the last bottles of 2016 rosé from £11 and there's the 2014 Merlot Cabernet red and a 2016 Sauvignon-Sémillon white - all at the 'entry level' price of £9.95.)
Summer tours, tastings and tables in the vines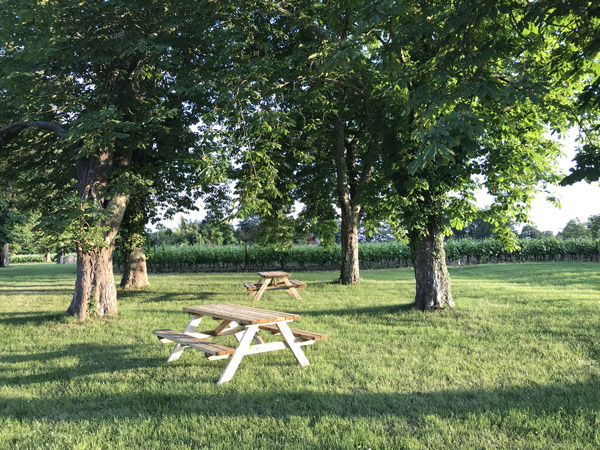 We are taking bookings for summer tours and tastings at the vineyard. We will host, by prior arrangement, a brief look around the vineyard and the winery at 11am, Monday to Friday, with a tasting at around 11.30am. The tour and tasting of six wines costs €15 per person, and €5 for well behaved children (er, no wine), or €10 for the tasting only.
There are good local restaurants nearby but if all you want is a snack, we have two excellent boulangeries within a mile of us and you can stop on the way and pick up a delicious sandwich or salad. Pop your purchases in our fridge when you arrive and, as we've put a couple of picnic tables on trial by the vines, you can enjoy them with a glass of vino after the tour and the tasting. Places are limited and you must book ahead - click the link below for more info.
If you'd simply like to buy or collect some wine at the château, just let us know when, Monday to Friday, weekends by arrangement.
A lovely week in our Farmhouse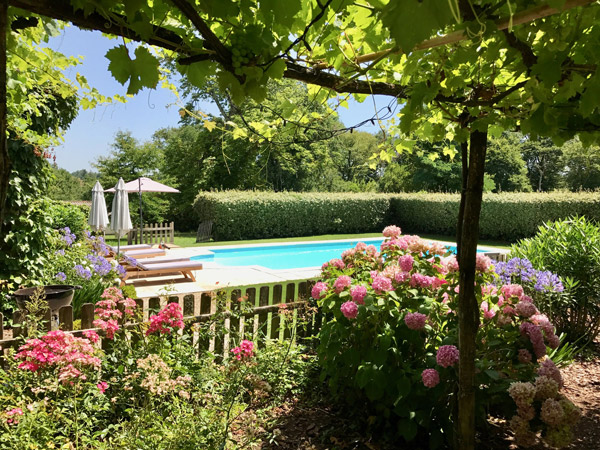 We have one summer week available in our delightful farmhouse from Friday 29 June to Friday 6 July. Four double bedrooms (two can be twins), sleeps 8, large family room downstairs with open plan kitchen, heated private swimming pool and gorgeous vine-covered trellis for outdoor eating. Loads of garden and pool furniture, and none of it plastic. Even if the weather's not perfect, though it will be, Créon is now a foodie heaven for shopping - top meat, fish, fruit and veg - and there's BBC and ITV for the World Cup and Wimbledon. Or escape for wine tastings or to the great city of Bordeaux, and even the traffic to the coast won't be bad then. Also available 12-19 Oct and 26 Oct - 2 Nov.
Food shopping and the local area
A critical, detailed look at Bordeaux 2017 en primeur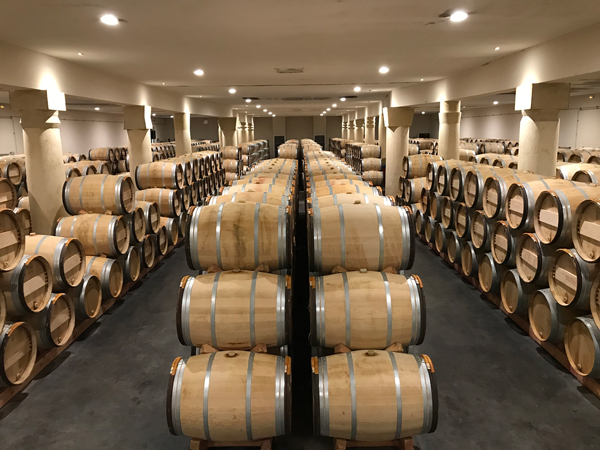 The Bordeaux 2017 en primeur wagon is trundling on, with prices from many of the leading châteaux still to be released.
It's a long and fairly tortuous journey, as ever, given that the tastings of the latest vintage from barrel for the trade and the press took place back in early April. Here I take a look at how the top wines stack up against the 2016s - a great but fairly expensive vintage - and the more reasonably priced 2014s.
For those vineyards that weren't hit by the April frost, 2017 is generally closer to 2014 in quality than to 2016 (even if different in style), so it's potentially a useful comparison. Both are good, sometimes very good vintages.
The list includes my 'en primeur' score out of 100 for all the leading wines in 2017, 2016 and 2014, plus the en primeur prices for all three years, and current market prices of the two earlier vintages. Simply compare the scores and the prices and you'll see if there's value to be had. (It's not as simple as that, in truth, because some names are worth so much more than others.)
Note that these are for the top 180 wines from Pauillac, St-Julien, St-Estèphe, Margaux, Pessac-Léognan, Pomerol, St-Emilion and Sauternes, which are sold by the châteaux to Bordeaux négociants now (a year before bottling) and then offered to wine merchants around the world, and on to consumers. Cheaper wines from less famous appellations are not included in my list: these are sometimes offered 'en primeur', of course, but for a vintage like 2017 the finished product, I'd suggest, can be re-tasted and purchased after bottling. You could argue that the same applies for the vast majority of the wines on the list - but that's the game.
Bordeaux 2017 - my top 20 wines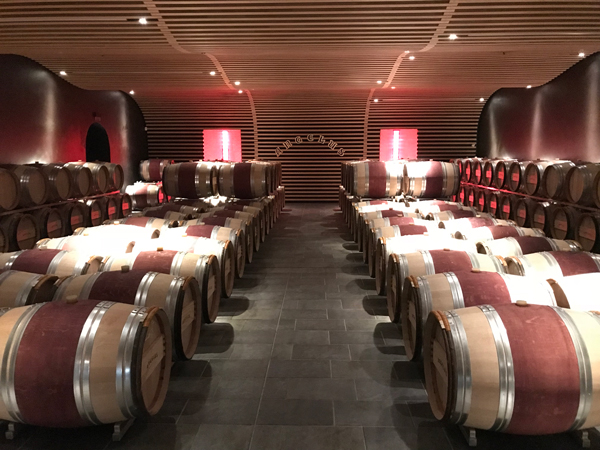 Bordeaux 2017 was all about location. Most of the top vineyards were hardly touched by the devastating April frost, including almost all those in Pauillac, St-Julien and St-Estèphe. For those that weren't impacted, it was a good and occasionally very good vintage, though not exceptional. How good was mostly down to how well placed.
All the First Growths on the left bank have made predictably fine wines, as did many of their neighbours, and there are some lovely, tiny-production Pomerols and classy, top flight St-Emilions. The same can be said for Pessac-Léognan and Margaux, and the whites meanwhile, both dry and sweet, can be excellent.
No one is claiming that 2017 is a great vintage. Yet it was a perfectly good one. Here are my top 20, featuring the outstanding wines.
Same vines in late May, different years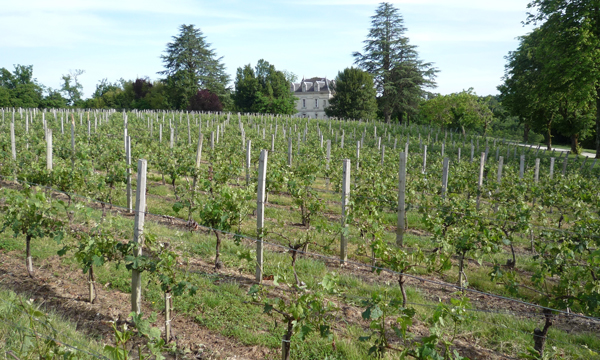 Every year on the 23rd May, I take a photo of the Merlot vines outside the château and each picture tells a story. From the hailstorm in May in 2009, to the early harvest in 2011 and 2017, the grotty start to the growing season in 2013 and the normal, good years like 2016. Here are some of those photos.
Hail in Bordeaux 2018 and the bigger picture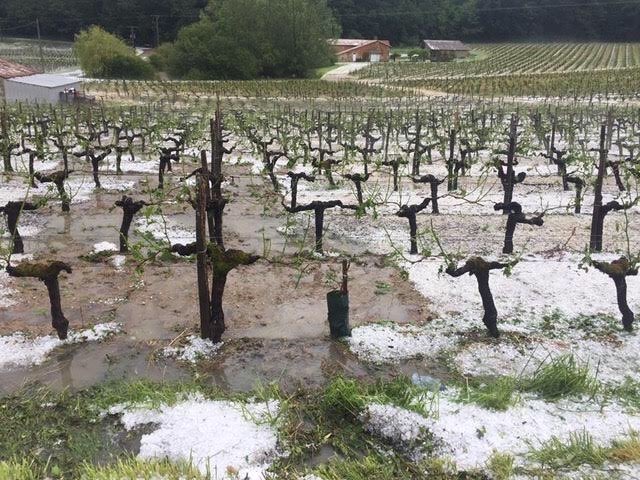 Many thanks for all the concerned messages. We're fine thanks, as on this occasion the hailstorms passed us by. To the north of us, primarily in Bourg and Blaye, and the southern Haut-Médoc, they were not so lucky, and we send our best wishes to our fellow viticulteurs whose vineyards have been damaged.
The hailstorm struck on Saturday morning, 26 May, and we had an early warning from friends in the city of Bordeaux with texts and tweets, mostly accompanied by images and videos of hailstones and flooded streets. The hailstorm then moved up towards the Gironde estuary, damaging vines on the left bank around Macau and at the southern end of the Haut-Médoc, before causing huge damage to vineyards on the other side of the river in the picturesque, hilly areas of Bourg and Blaye. The storm then shifted north to Cognac.
I can't remember such a forceful deluge of hail hitting the city of Bordeaux before, at least not this century, so the immediate flurry of videos on social media probably spurred the swift news coverage from traditional outlets. And, as ever, most headlines about hail carry all the usual hyperbole - 'destroy' (Mail), 'devastate' (Telegraph), 'ravage' (Reuters) and, my favourite from The Times, 'bankcruptcy'.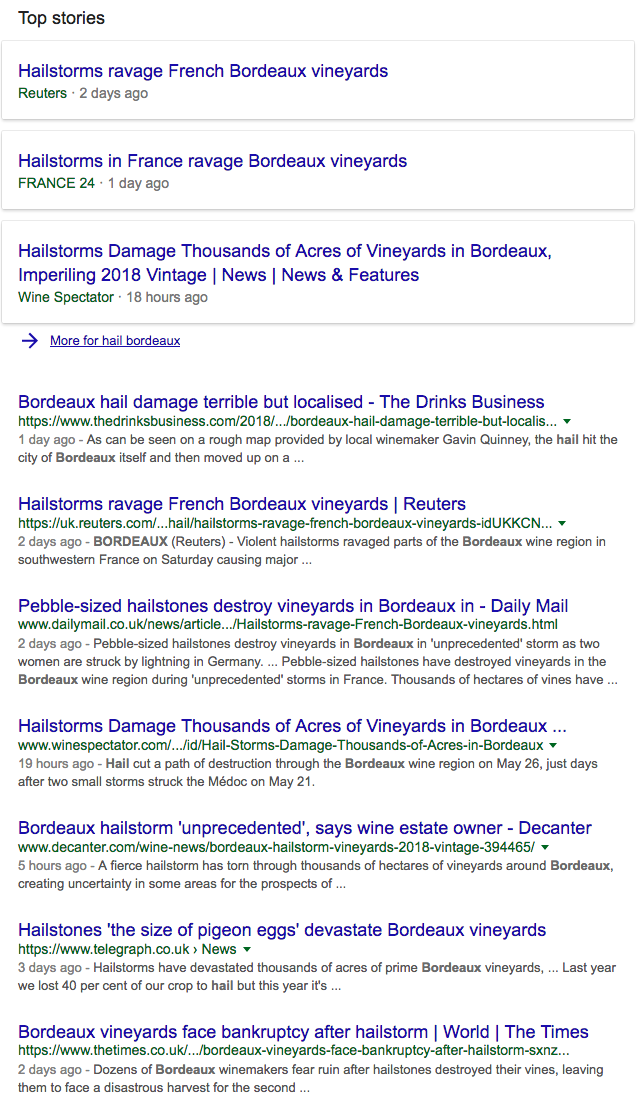 I'm afraid my chat with the journalist Rupert Millar resulted in the least exciting headline of the lot, in The Drinks Business: 'Bordeaux hail damage terrible but localised'. Dull, yet that's pretty much the truth of it.
Unlike the frost in April 2017, which was widespread across the whole region, hailstorms travel in what the locals call a 'couloir', or corridor. The damage is therefore localised, with terrible impact on some vineyards, while neighbouring vines can be untouched. It's a case of the unlucky few - and phew for everyone else.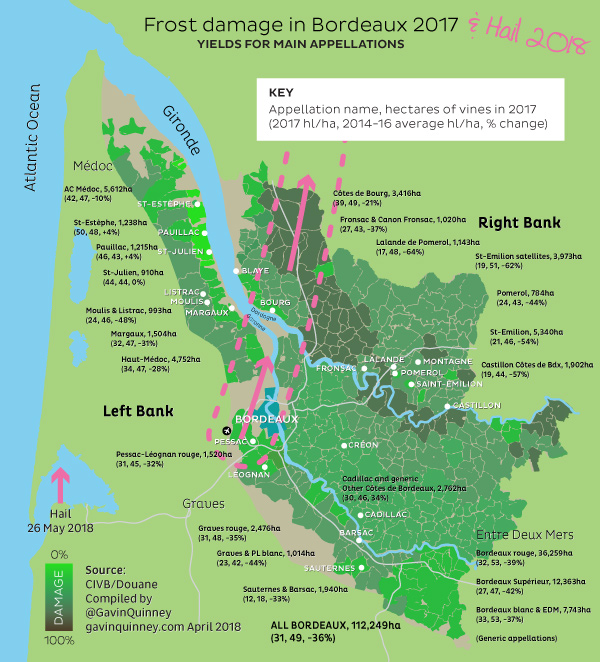 So let's put the numbers in context. There are around 9,000 hectares of vines in Bourg and Blaye, and about 60% were affected (5,500ha) with a third very badly so - 3000ha suffered over 80% loss. (To be frank, an 80% loss is likely to mean no crop at all.) That is, indeed, catastrophic.
The desperately unlucky growers, of course, are those who lost much of their crop to frost in 2017 and saw the new growth of 2018 trashed by hail. (I've been told of one family who were poised to sell a vineyard near Blaye in 2016, only for the prospective overseas buyer not to turn up at the notaire's office at the appointed hour. Since then, they have lost everything to frost in 2017, and this year's crop to hail.)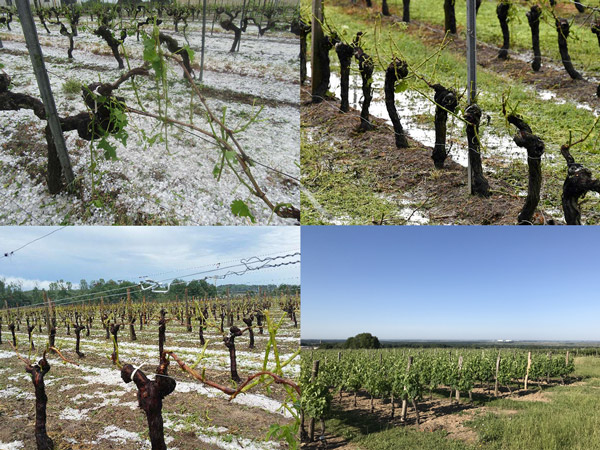 In the Haut-Médoc, 1,200 hectares were touched, with 400ha at over 80% loss. There are about 16,000 hectares in the Haut-Médoc and Médoc, so, fortunately, the losses were relatively small, however bad it might be for the unlucky growers. The Entre Deux Mers saw 400ha damaged, from an enormous total area of something over 35,000 hectares (mostly red Bordeaux).
In the bigger picture, there are 112,250 hectares of Bordeaux vineyards, so the 7,100ha of vines affected adds up to 6% of the total, with just 3% losing most of the crop (3,400ha).
Contrast that 3% with the 33% fall in production of Bordeaux 2017 from the 10 year average, and 40% down on 2016 - due to the late Spring frost. Frost might be less dramatic - it's hard to take a video of it at 5am - but it can have a far greater impact.
For the growers looking after the 94% of vineyards that haven't been affected by the hail, there's more concern now about the weather for the flowering which has started recently. If the rain continues, the potential yield could be seriously impacted, not least because Merlot, by far the most widely planted variety, is vulnerable to poor fruit set, and this can easily happen when it's wet during floraison.
On the bright side, few people remember the hailstorms of May 2009. Thousands of hectares were affected in the Entre Deux Mers, the Graves, St-Emilion and Margaux among others - and we ourselves lost well over half the crop - but 2009 went on to become one of Bordeaux's greatest vintages. For many, that is.
People always ask if you can ensure against hail. Yes, you can, though it's like a bet, and the odds are getting shorter if the premiums are anything to go by.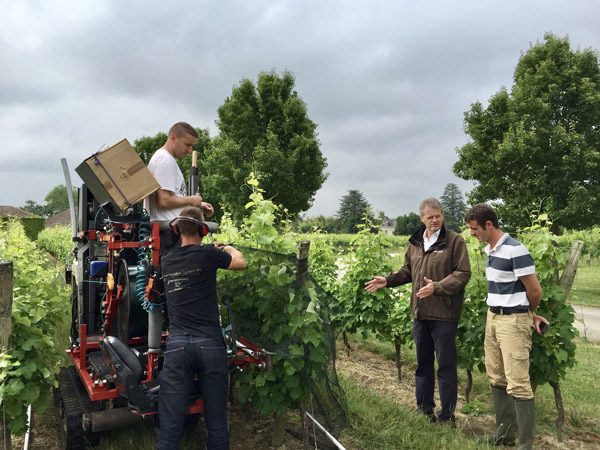 Also, can we not protect the vines? Again, yes, you can use anti-hail nets, but these are not permitted by the INAO and the bodies that control the Appellation system (and Bordeaux is 99% AOC or AOP). After losing much of the crop to hail in August 2013, we installed trial anti-hail nets in 2015, and they seem to work fine, though we haven't had hail to see the actual level of protection. The trial is really to see how manageable they are, and to check how long they last. With the cost spread over the 10 year lifespan, allegedly, they'd be cost effective, but much less, and it would be questionable. This, of course, depends on how much you sell the wine for, so I can't see why more prestigious appellations don't push for them (low, high density vines, such as in Pauillac, excluded).
Finally, are we seeing more extreme weather? It's hard to say with frost, as 2017 was the first really bad occurrence since 1991. As for hail, we're certainly receiving more storm warnings, with four or five hail alerts in May 2018 alone. Is that the Meteo office covering itself, just in case, or simply that the warnings are more easily distributed - notably on my iPhone? The actual occurrence of serious hailstorms are not more frequent, however. This century, Bordeaux has seen serious impact to vineyards from hailstorms in June 2003, July 2007, May 2009, September 2011 and August 2013. And now May 2018. Let's hope that's the end of it - for this year at least.
| | |
| --- | --- |
| This was sent to friends on our mailing list | |