Posted by Gavin Quinney on 31st May 2022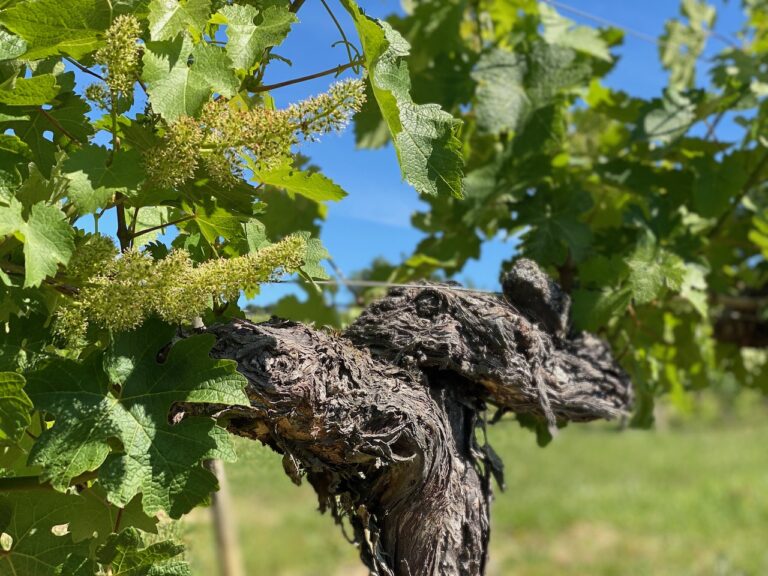 Wherever you are for the (long) weekend ahead, have a safe and enjoyable one. We're not planning on doing too much after a hectic May, and we'll certainly be raising a glass to her Majesty the Queen.
A successful, early flowering in the vineyard is almost a cause for celebration in itself. We've had lovely weather at Bauduc, with the only fly in the ointment being a potential drought. (As you know, farmers are rarely happy.)
All the best
Gavin & Angela Quinney
---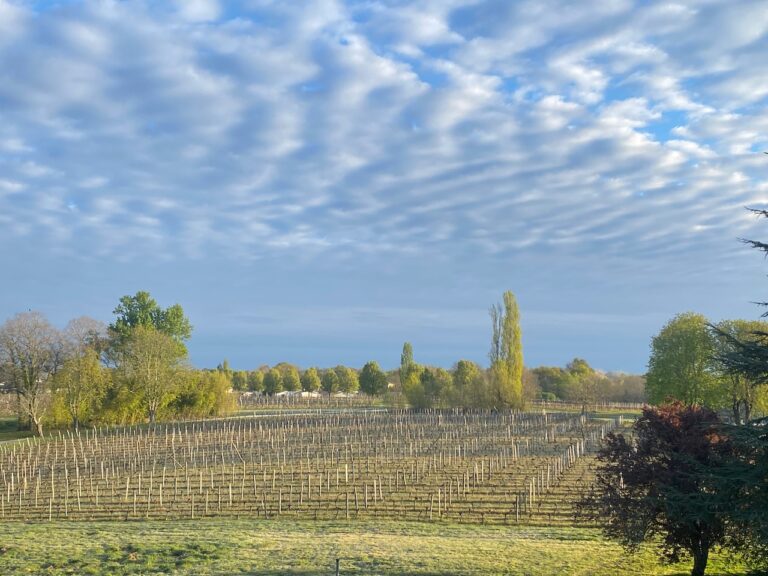 Time flies in the vines. It seems to have rushed by since the first week of April when this photo of the Merlot by the house was taken. And below is the 25th May.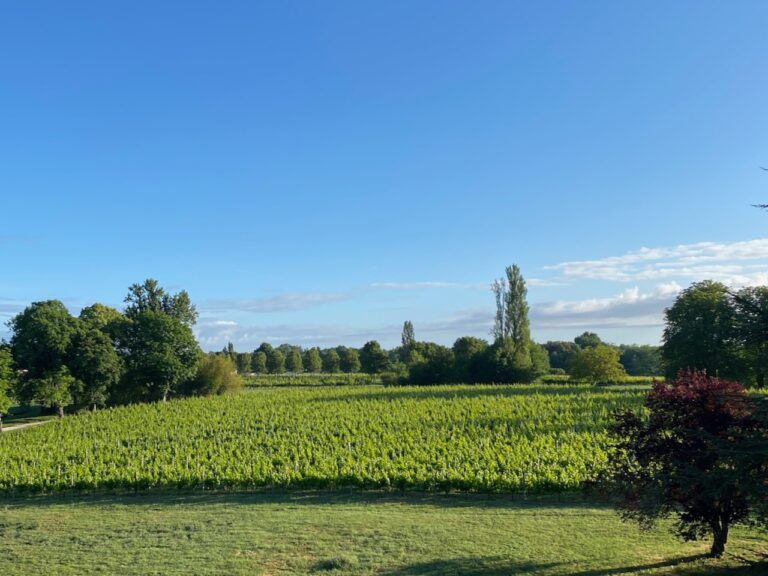 First, the important bit. The football season is over (at last, say some) and congratulations once again to Charlie Stein, winner of the Château Bauduc Premier League – our own Fantasy Premier League competition – for the second year running. Here are the final standings: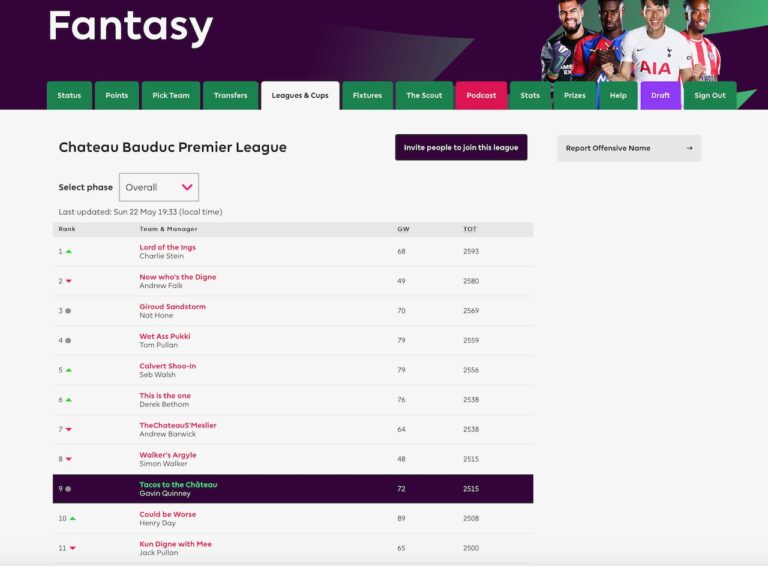 Well played Andrew Falk, Nat Hone, Tom Pullan, Seb Walsh and Derek Botham, who all finish in the Top Six and win a prize of wine. (It's that long ago since we kicked off the league last August that we'll have to check the details.) Special mention to Aib (Andrew) Barwick and Simon Walker who put in a thoroughly solid performance, as did Henry Day and Jack Pullan.
We have to say that the Château Bauduc mini-league is a properly competitive one. My team, Tacos to the Château, finished in the top 1% in the world (86.5k out of over 9 million players globally, toot toot), yet I ended up in just 9th place in the Bauduc FPL. There were 123 people who joined our league, and we'll no doubt kick off it off in August for next season. Stay tuned.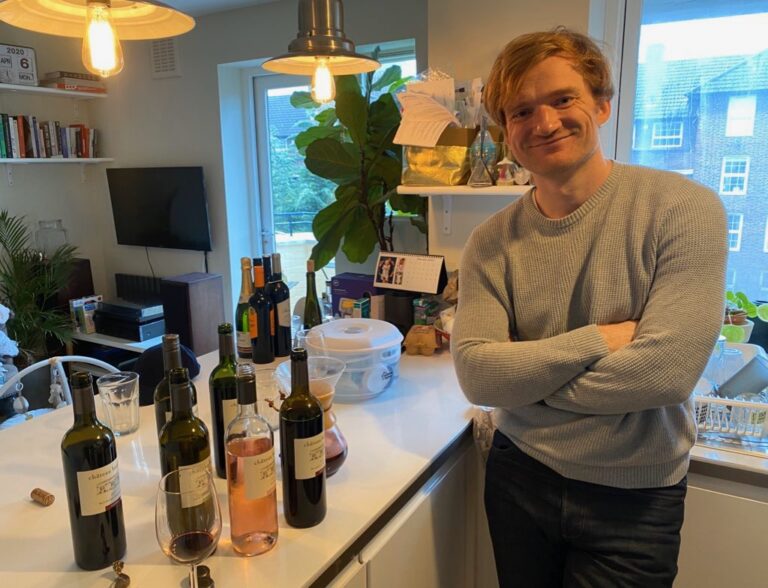 Charlie Stein this spring, looking reasonably confident. The bottles were not a premature prize but samples for the wine list at The Seafood Restaurant in Padstow and other Stein establishments. We're delighted that they passed the test. with our latest Sauvignon Blanc, Rosé and Les Trois Hectares white and red being shipped a few weeks ago, with another batch on the way.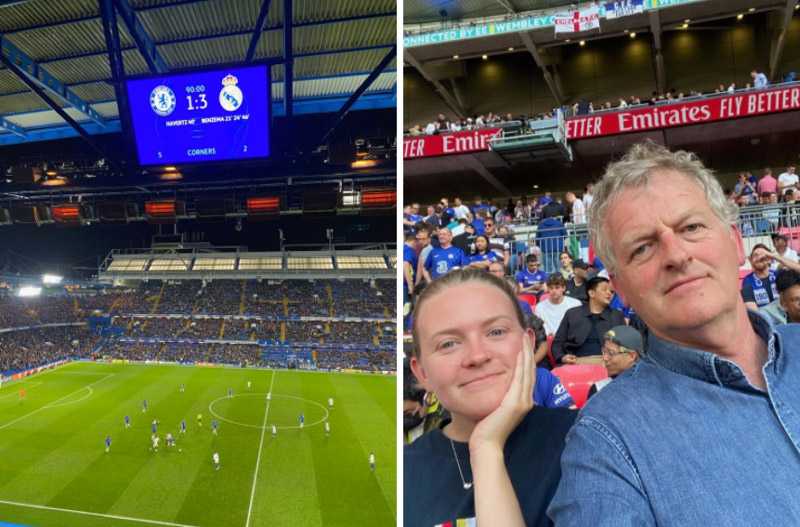 We can't leave the football there without congratulating Real Madrid and manager Carlo Ancelotti on winning the Champions League in Paris. Commiserations to Liverpool, Man City and fellow Chelsea fans who all saw their teams lose to this resilient bunch of players. Meanwhile, Georgie and I were at the FA Cup Final in mid-May to see us lose to Liverpool on penalties for the second time in a cup final there this year. (Pre-match photo.)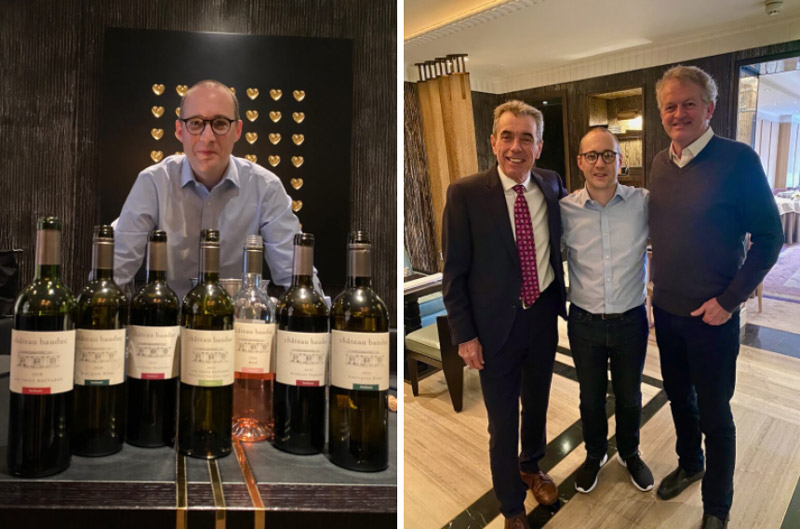 Naturally enough, a football trip is often combined with business or family duties, and it was an honour to meet up with Jean Claude Breton shortly before his retirement from Restaurant Gordon Ramsay in London. JC was there as Maître d' for 24 years and for four years before that at Aubergine, where Ramsay was head chef. James Lloyd is the head sommelier at Restaurant Gordon Ramsay, and of course has impeccable taste.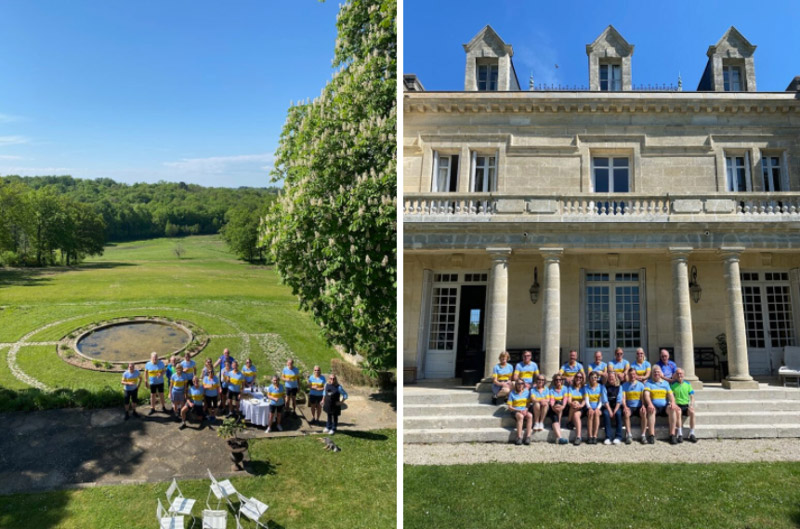 Back to Bauduc and a different sort of tasting, on the lawn in front of the Château for a thirsty group of cyclists from England.
The pitstop for this peleton was organised well in advance with Angela (centre) by some long standing customers.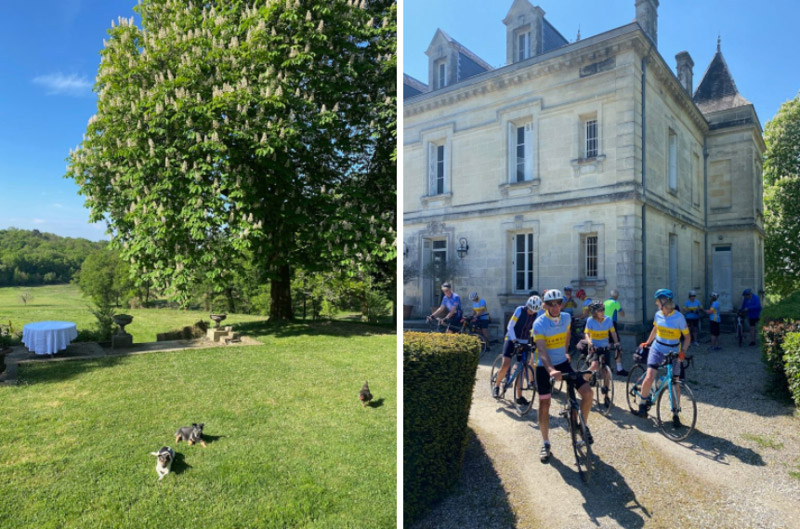 Many thanks to Charlie for getting everyone to Bauduc and to Jonathan for co-ordinating a massive, single order on their return.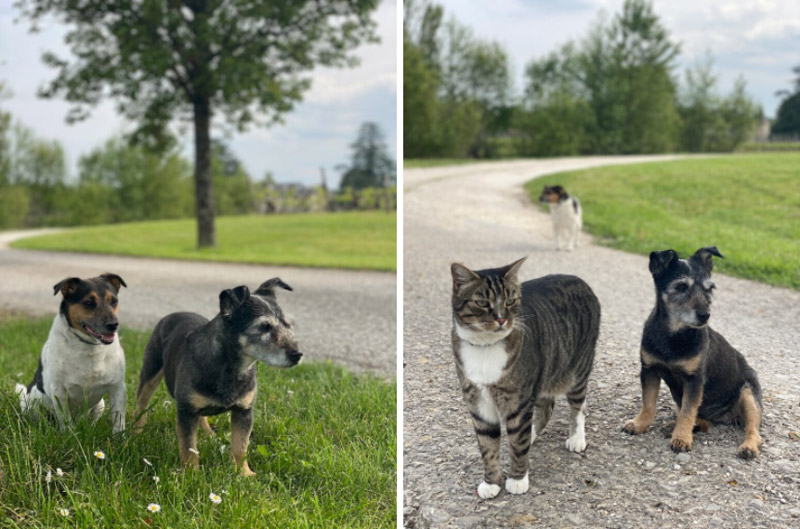 Sunday 1 May with the animals keeping an eye out for visitors.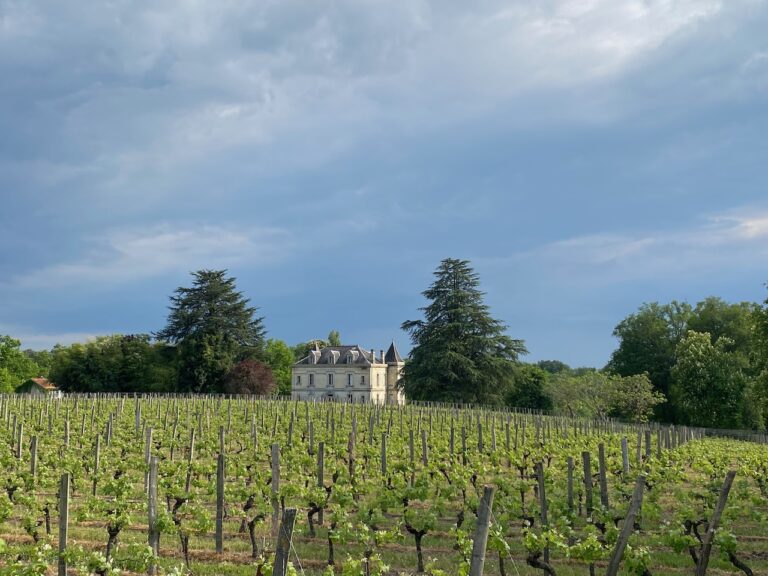 The before and after shot shows how much the vines grow in a few weeks – 3 May…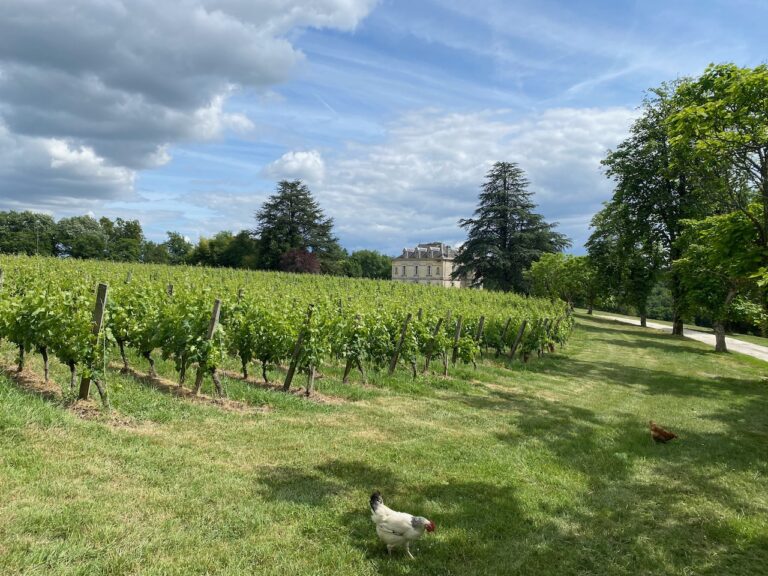 … 25 May. Not just cats and dogs but free range chickens.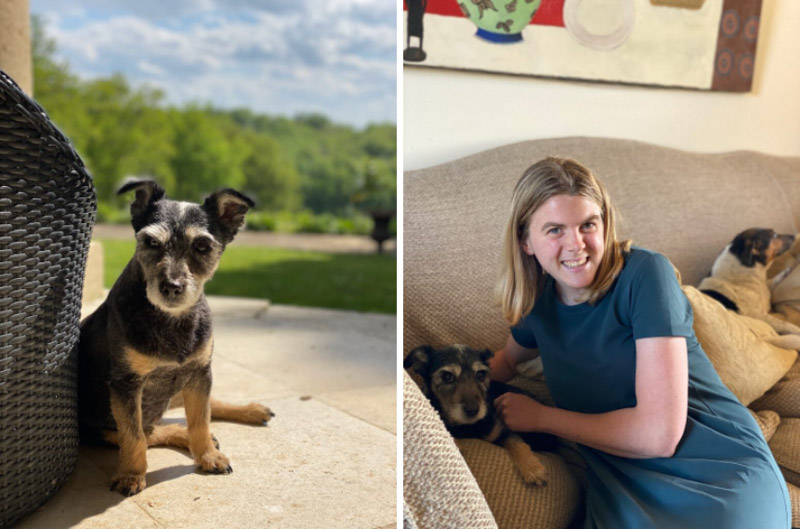 We're all having to keep Margaux from not exerting herself too much. She's 14 years old now, and quite frail.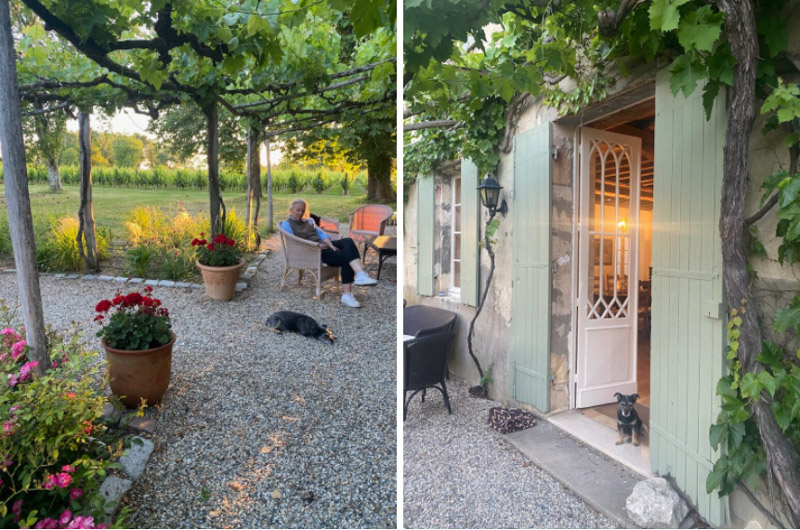 She's still a regular visitor to the farmhouse, and misses many old friends from years gone by.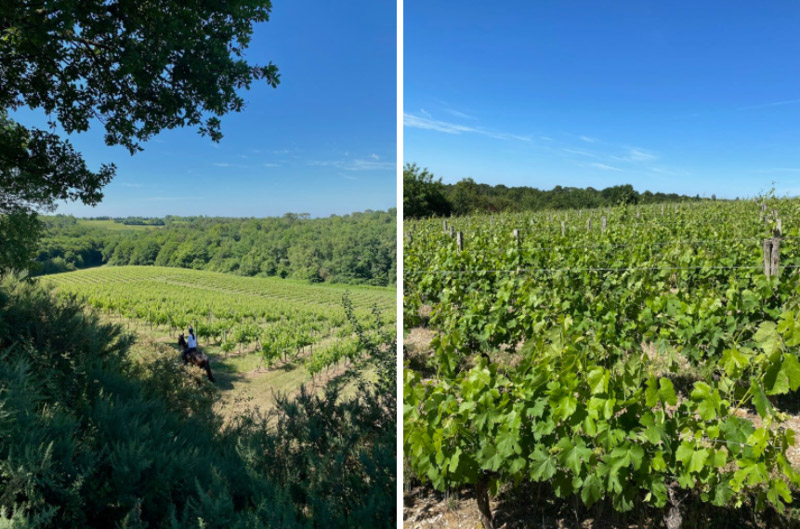 Meanwhile, in the vineyard yesterday and a fine spot for a canter.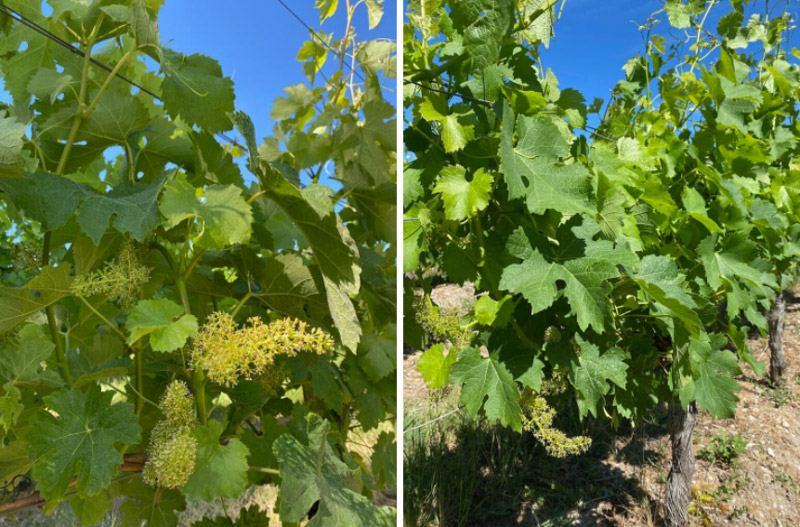 The floraison or flowering in full swing. Merlot in two plots.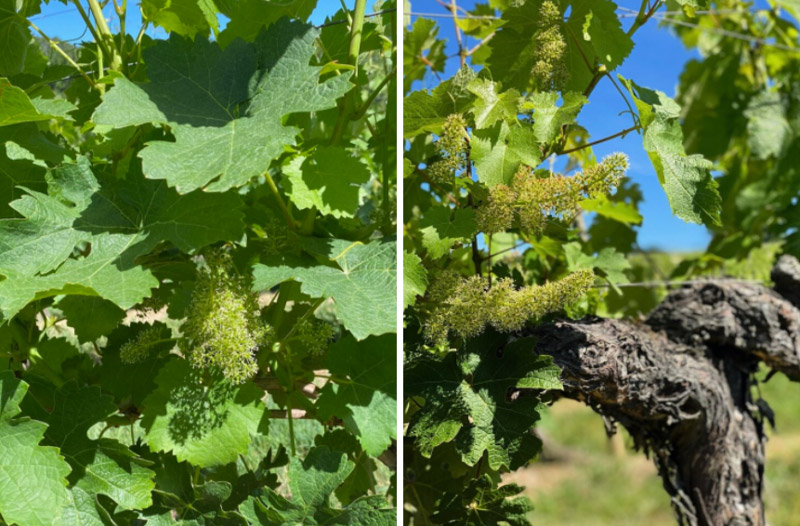 Cabernet Franc and Cabernet Sauvignon.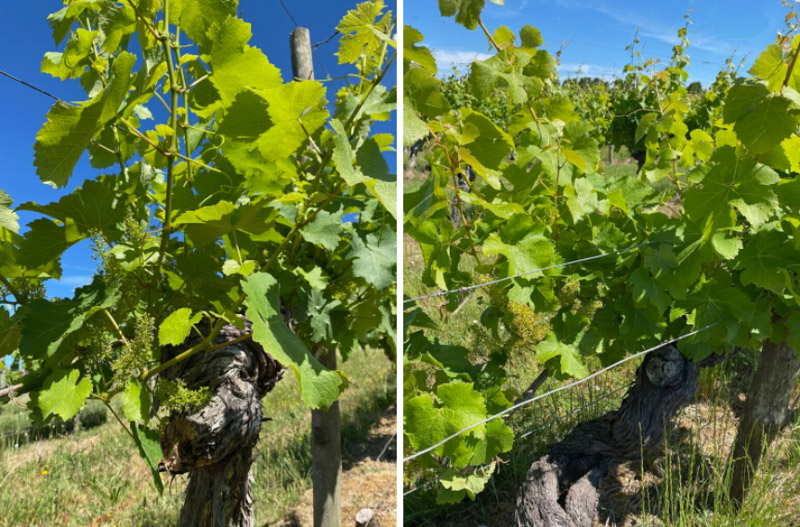 Sauvignon Blanc and Sémillon.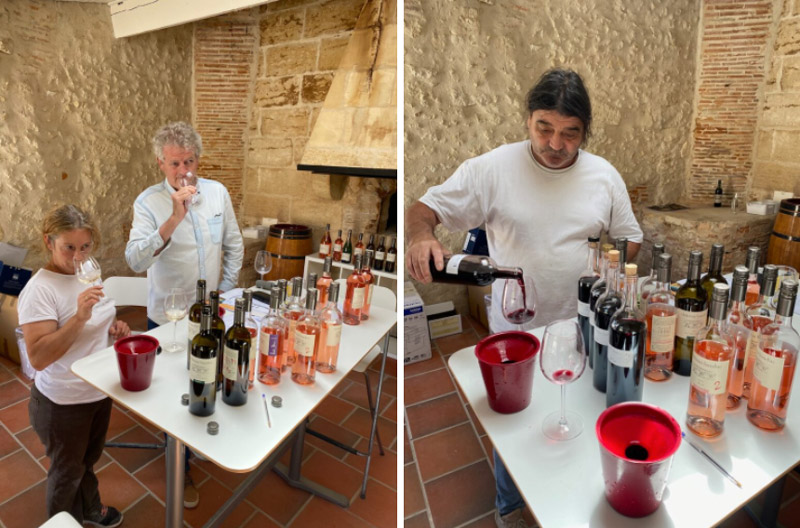 When they're not working in the vines or winery, Nelly and Daniel help with checking on the wines.
Scenes this month from around Bordeaux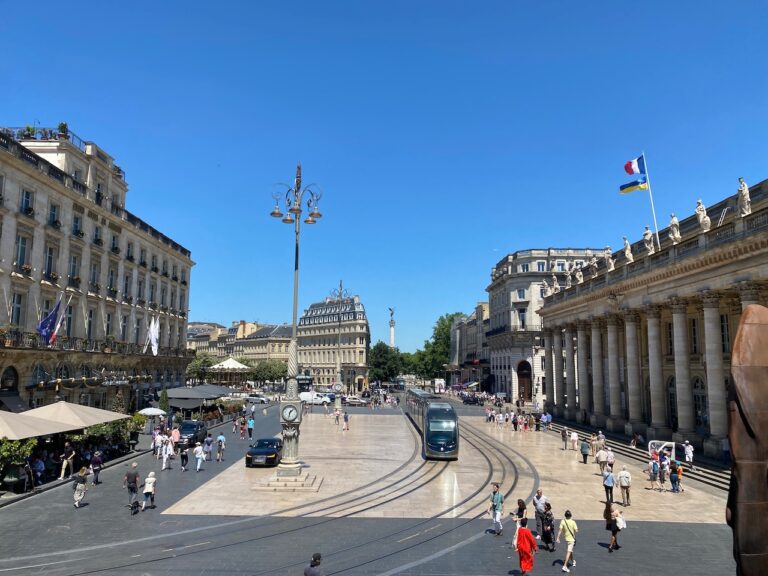 Blue skies, and flags, above the city. The Grand Théâtre is on the right.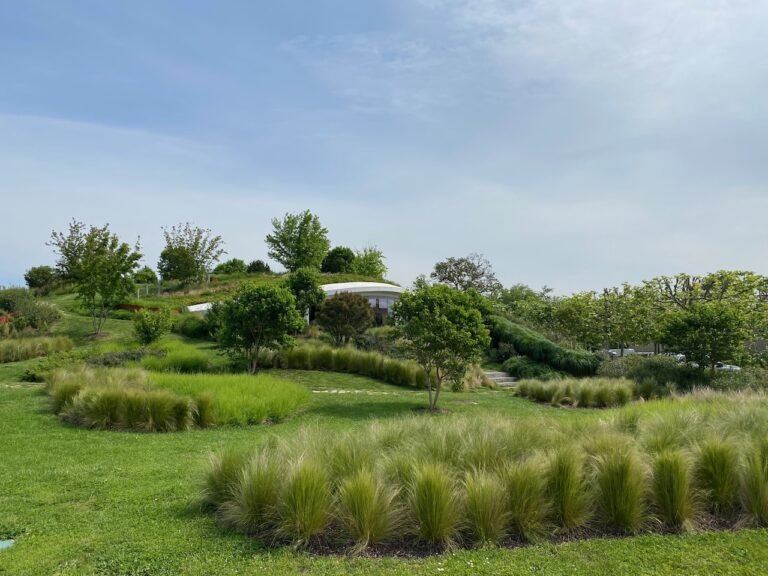 The new winery at Château Haut Bailly in Pessac-Léognan.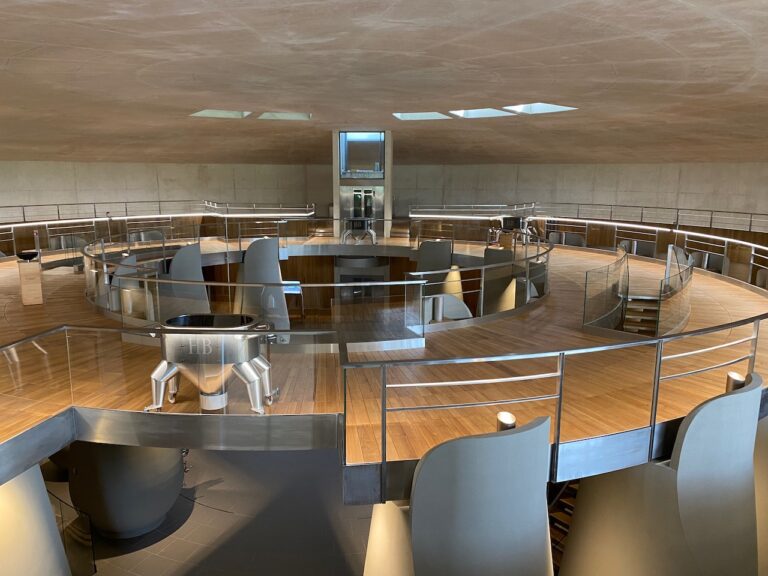 The part below ground is well concealed.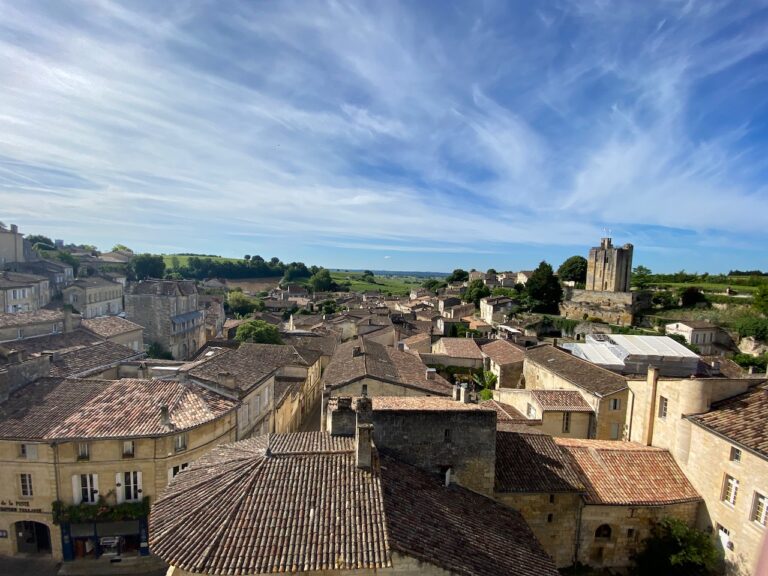 Saint-Émilion in May.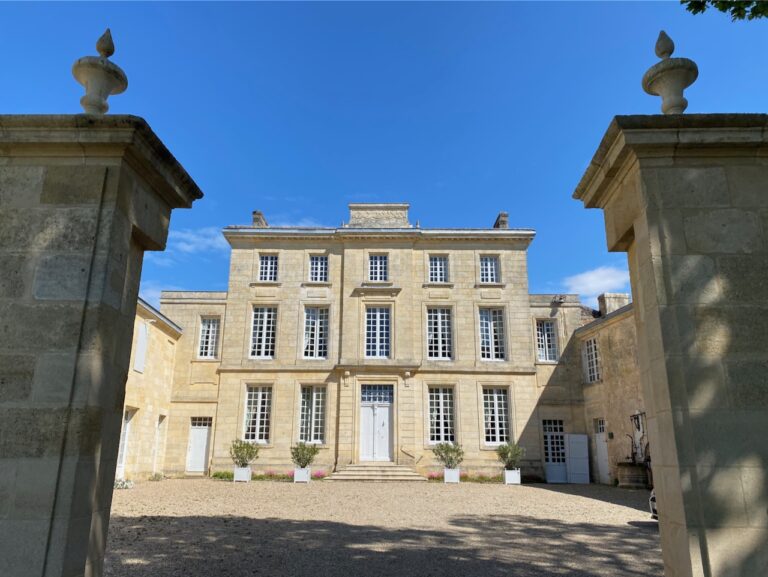 Château Figeac in Saint-Émilion.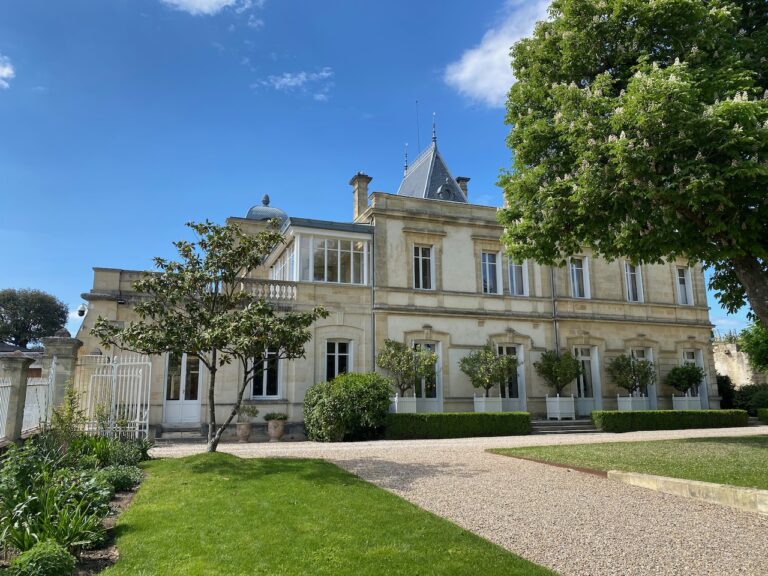 Château Ausone in Saint-Émilion.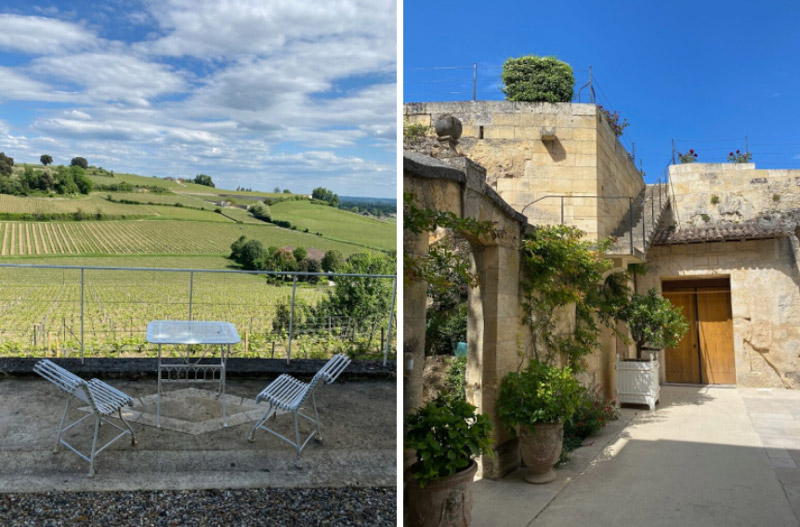 Château Ausone in Saint-Émilion.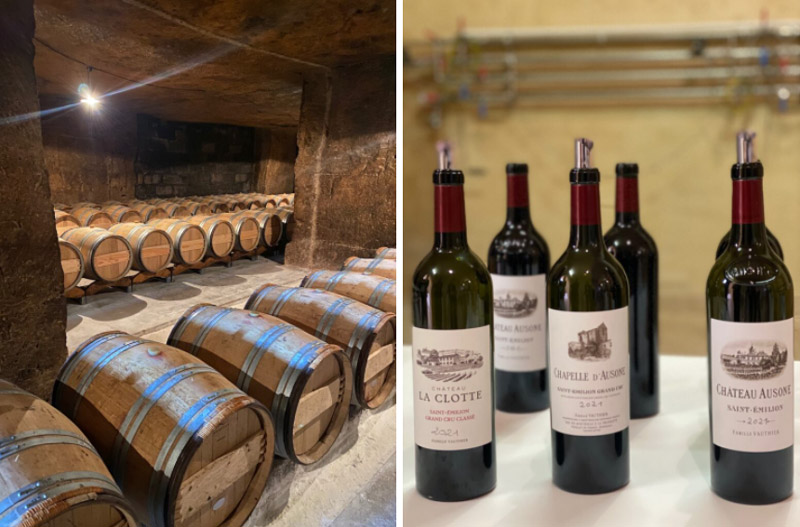 Château Ausone in Saint-Émilion.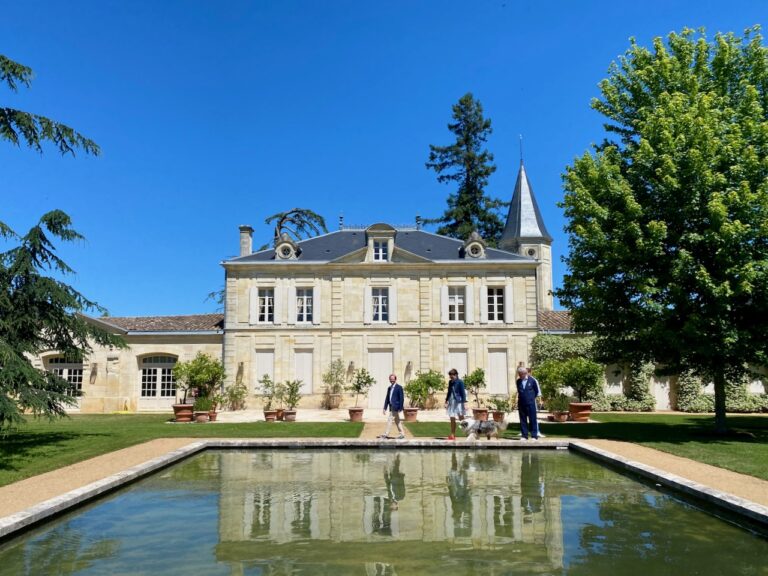 Château Cheval Blanc in Saint-Émilion.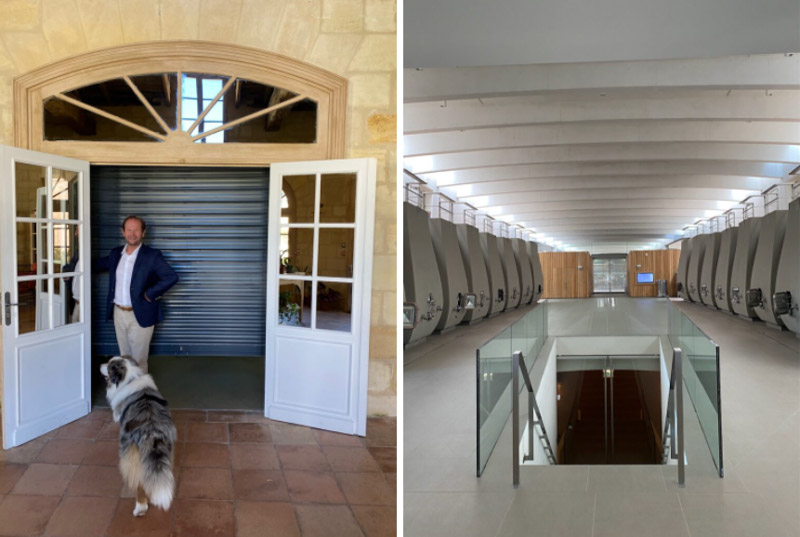 Pierre Lurton opening up the winery at Château Cheval Blanc in Saint-Émilion.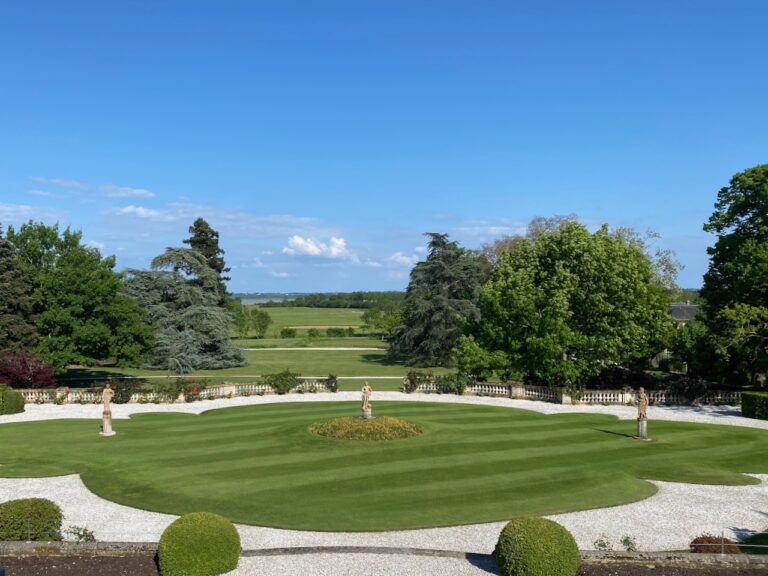 The park behind Château Ducru-Beaucaillou in Saint-Julien, looking towards the Gironde estuary.
The barrel cellar at Château Palmer, Margaux.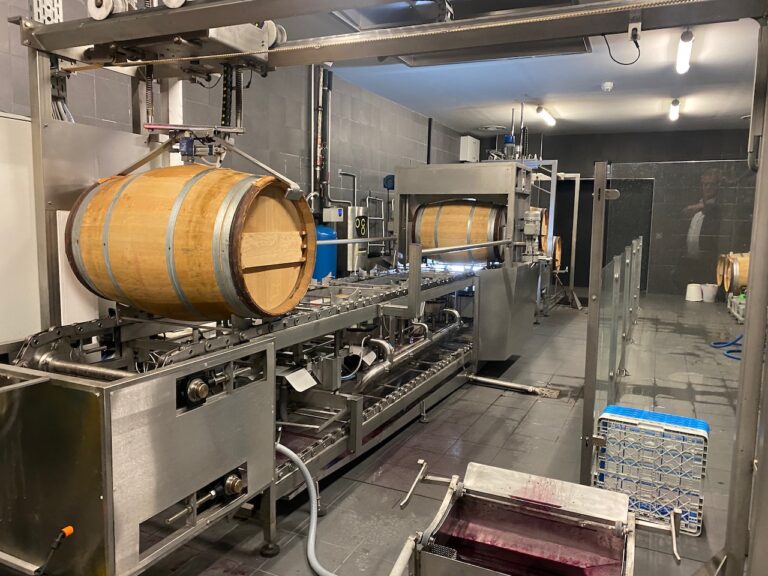 I'm probably one of the few visitors who are excited by how the barrels are cleaned.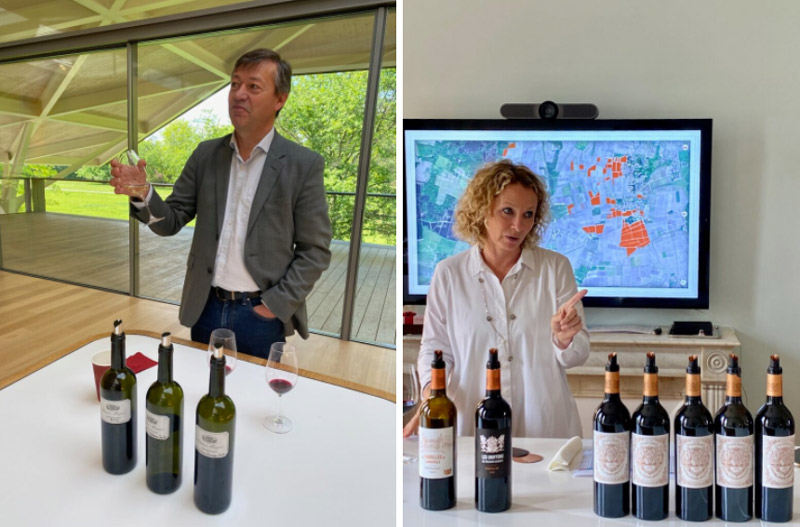 Philippe Bascaules of Château Margaux and Corinne Ilic of Château Pichon Baron.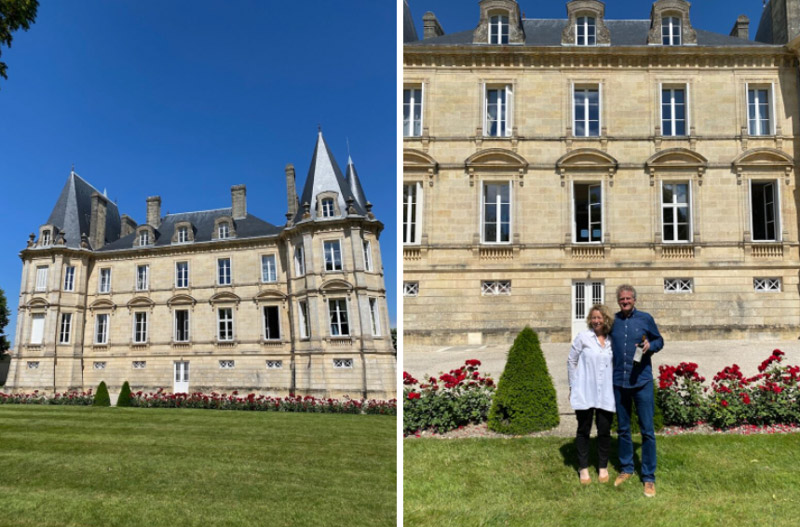 Château Pichon Baron, Pauillac, from the back. Impressive roses too.
Château Pontet Canet in Pauillac. That horse seems to have its work cut out.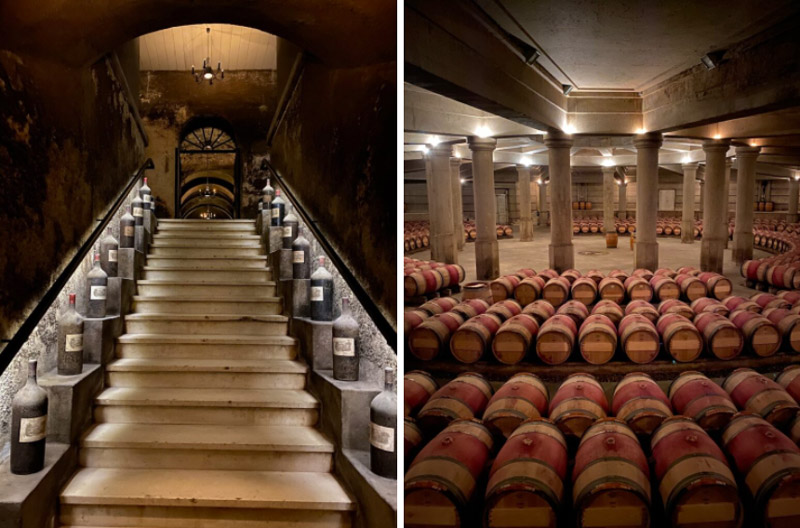 Château Lafite Rothschild in Pauillac.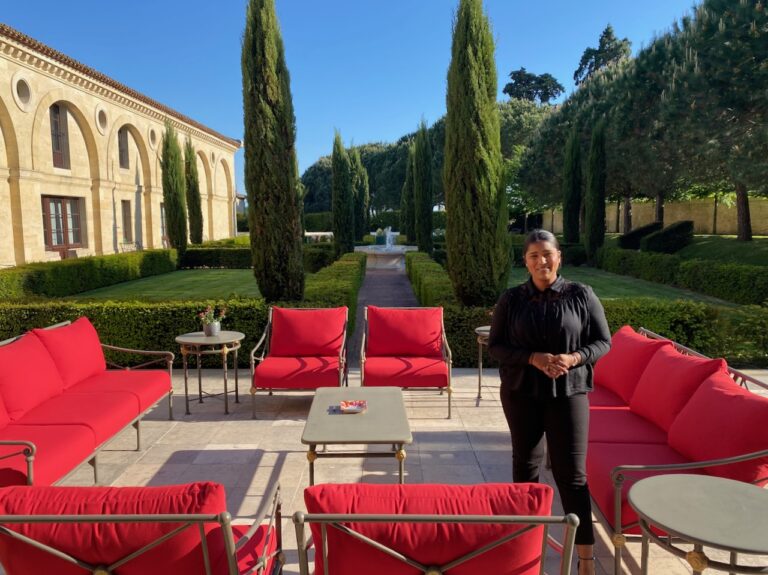 Anaïs of La Chartreuse de Cos d'Estournel in Saint-Estèphe.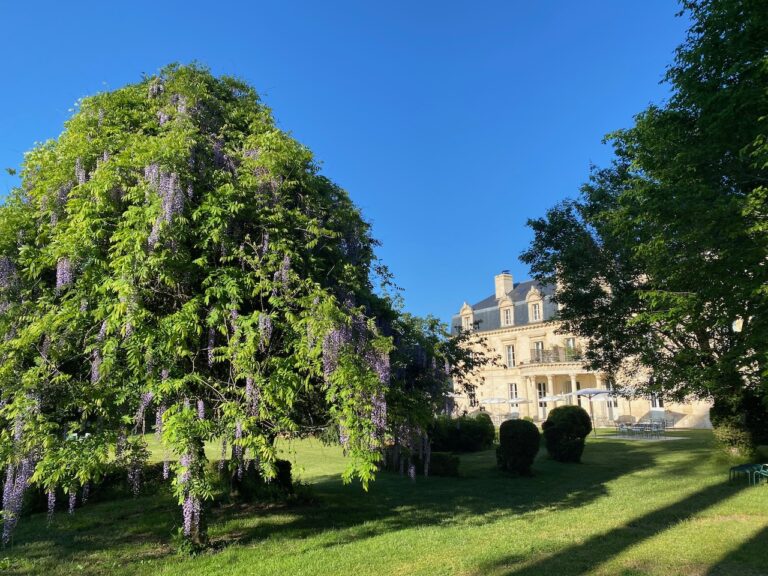 La Maison d'Estournel in Saint-Estèphe.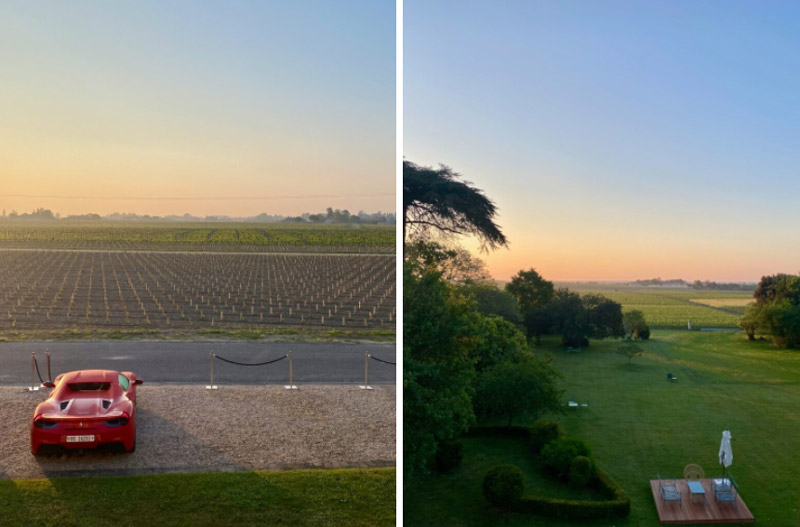 I was lucky enough to be treated to a night in Saint-Émilion, left, and then in Saint-Estèphe, by friends who I was showing around. The car at the Grand Barrail belonged to another guest.
A trip to England with DQ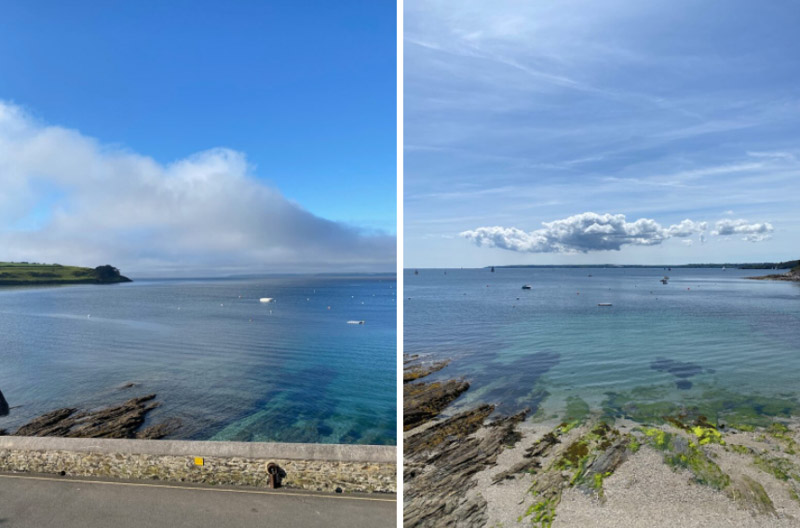 From waking up with a view over the vines in Bordeaux to a view over the sea in Cornwall. Luckily no issues with the flight on Easyjet from Bordeaux to Bristol.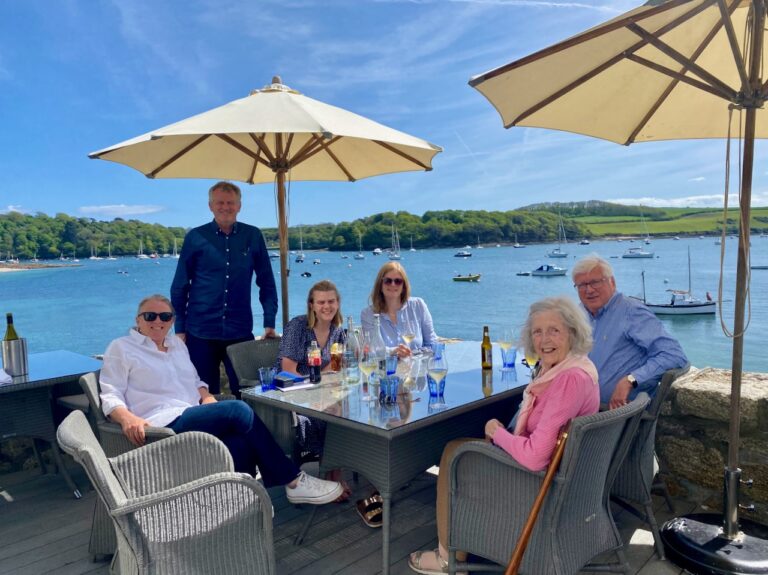 We'd promised to bring my mother, Diana, down to Cornwall for a week. With Ange, Soph, my sister Rosanagh and brother-in-law Dominic in St-Mawes.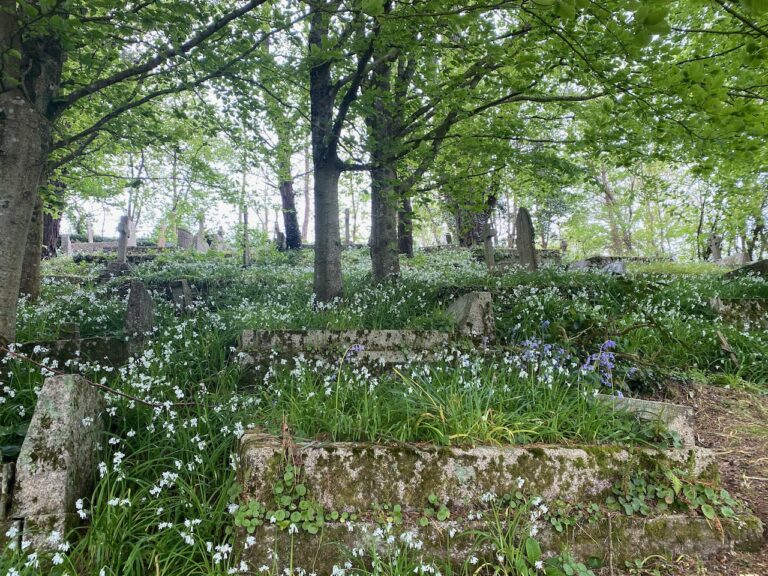 The graveyard at St Just in Roseland.
Porthcurnick Beach, near Portscatho.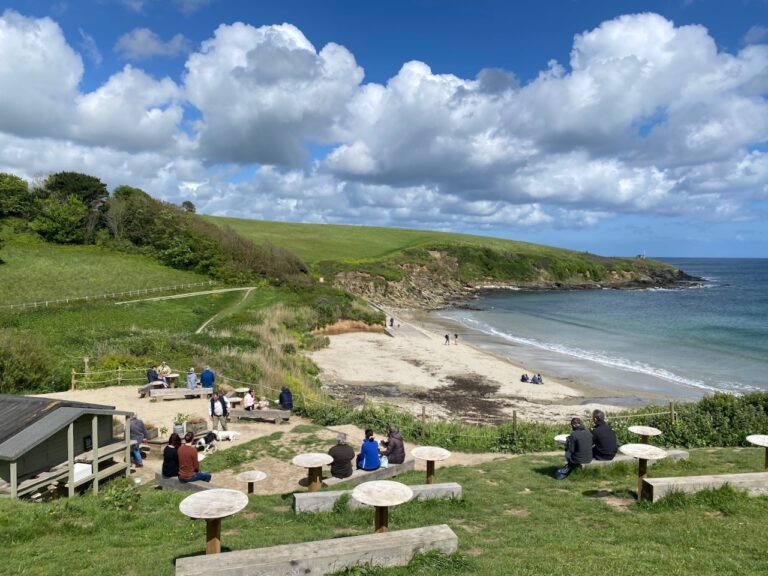 The Hidden Hut above Porthcurnick Beach.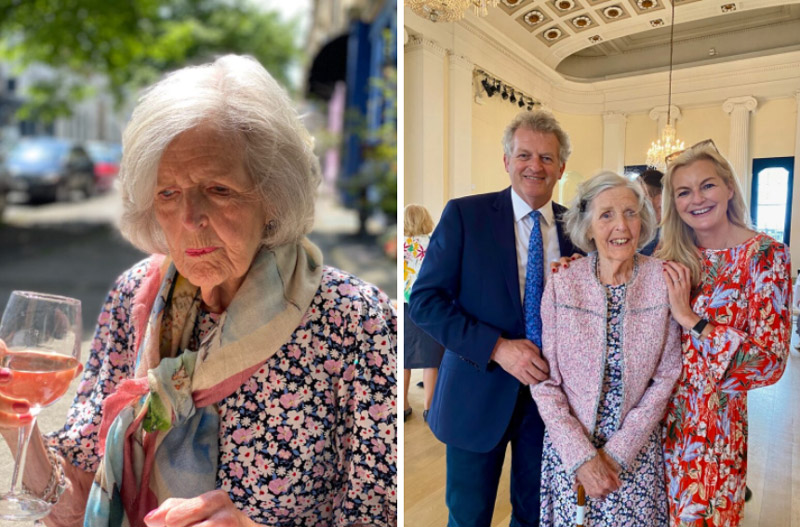 After our week away, which was lovely even with typically mixed, Cornish weather, mum and I went to a beautiful memorial service in Cheltenham for an old family friend, Bill Moyle. We prepared with a visit to the hairdressers and a nice glass of rosé over lunch. On the right is Jane and Bill's daughter, Emma – mum's Goddaughter.
Stop press
We're sorry to see our friend Luigi, odd-job man and gardener extraordinaire, call it a day. He's been coming every Friday for 14 years so he'll be sorely missed. His suggestion of a strapping young replacement called Tom has found favour with Angela so at least we'll be able to manage.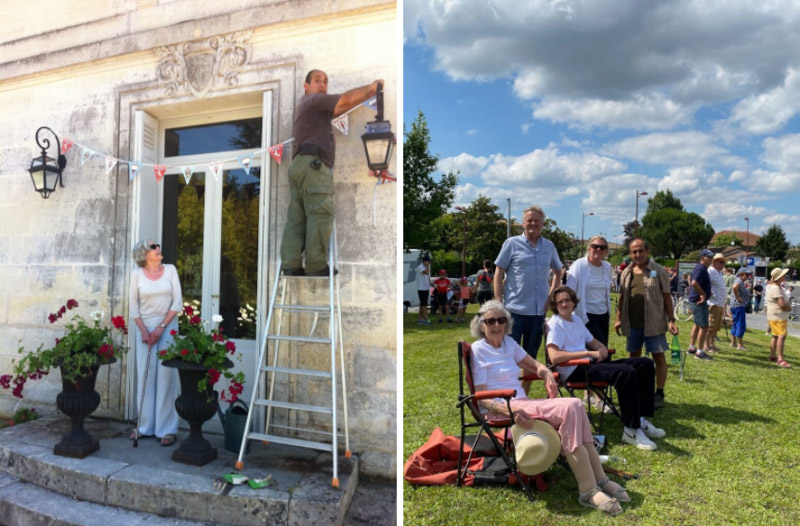 Not to be confused with our Tom, seated right, next to Luigi, while we waited for the Tour de France to pass by last July. We're much looking forward to seeing our Tom return from a solo, three-month trip to Thailand and Vietnam.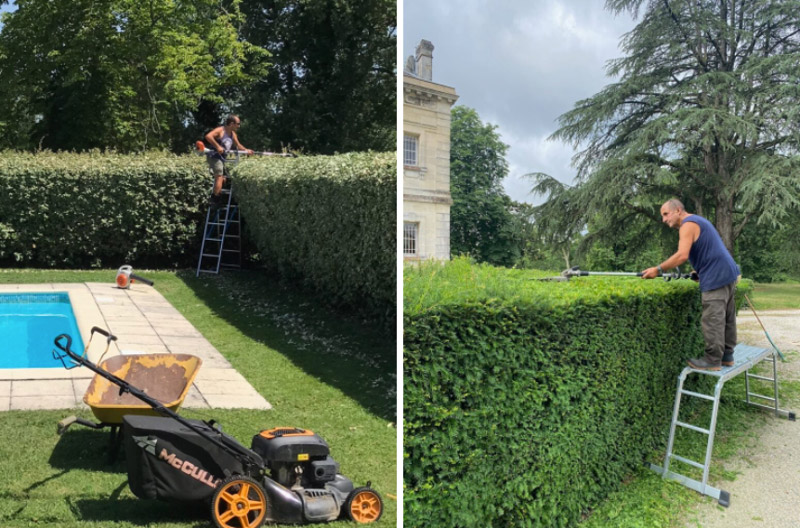 A famous sculptor of hedges at the farmhouse and the château.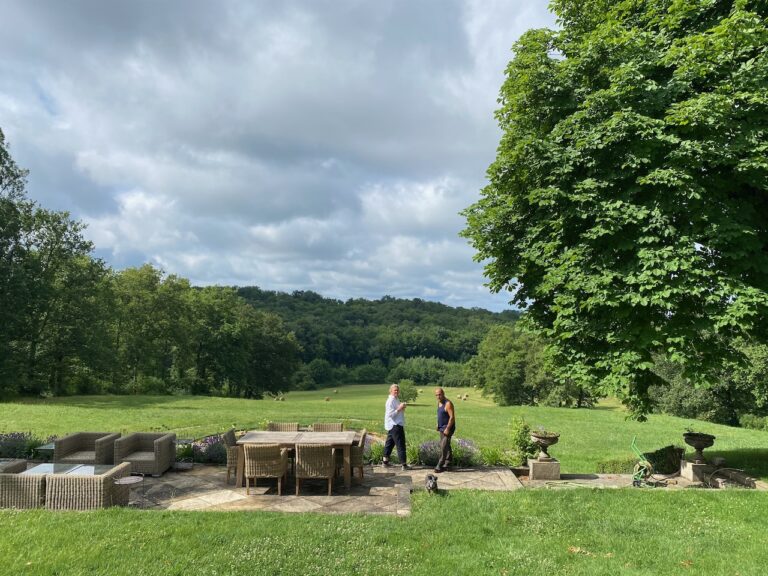 You're welcome to pop in for a cup of tea or coffee anytime, if you're passing. See you soon, we hope, and the best of British.