Posted by Gavin Quinney on 31st Aug 2022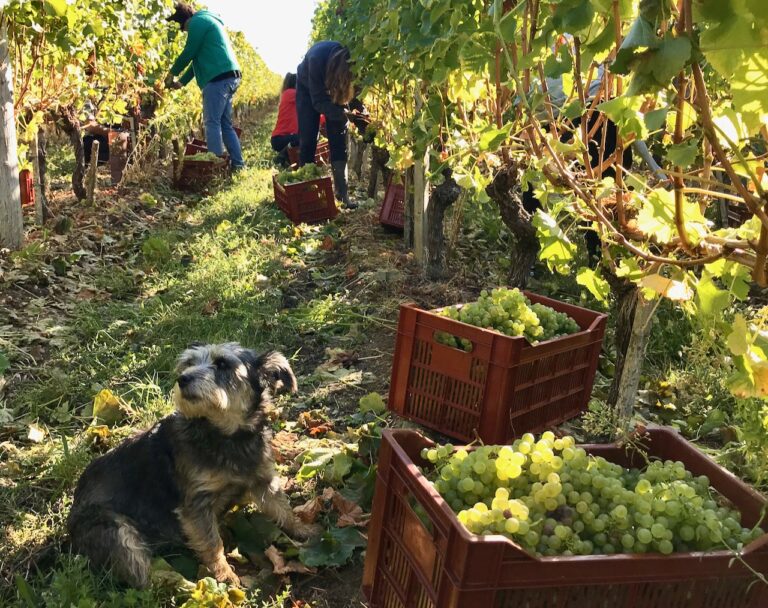 We started our harvest yesterday. It's obviously a fairly early one, what with all the heat and the drought for most of the summer, but more on that another time.
Instead, this end of August missive is dedicated to Margaux, our much-loved terrier, who sadly died just short of her fifteenth harvest. She died peacefully at home having braved a heart condition for many months. It is very sad, of course, but she had a really good life and we are blessed to have had her, and she didn't suffer at the end. She gave so much pleasure to so many people, and she was loved by so many in return.
We have thousands of photos of Margaux and even then, this long photo journal below doesn't really do her justice. We have considered changing the name of our vineyard to Château Margaux in her honour, but feel this may lead to litigation, and she wouldn't want that.
All the best
Gavin & Angela Quinney
---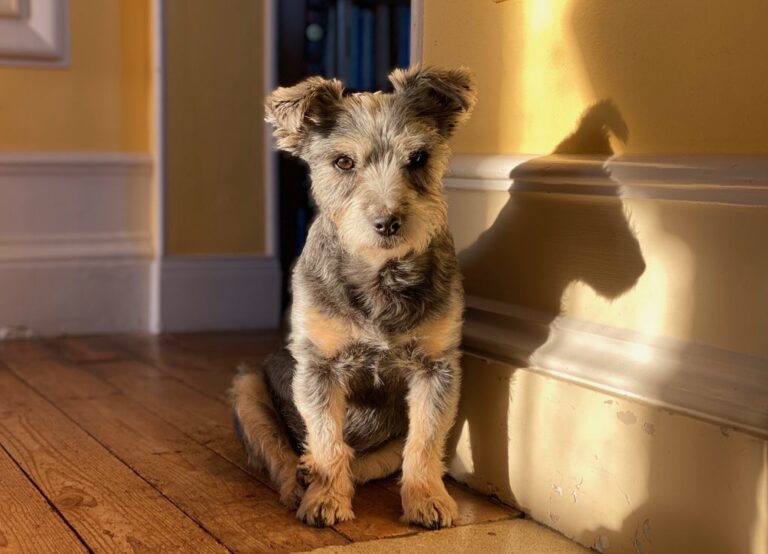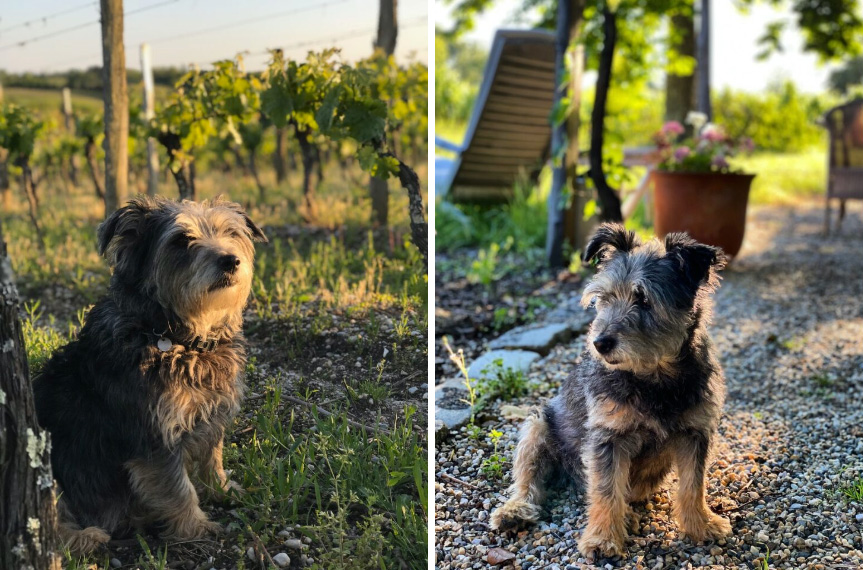 Margaux's appearance changed quite significantly, depending on whether she'd had a trim or not.
Margaux was, we think, the face of Bauduc.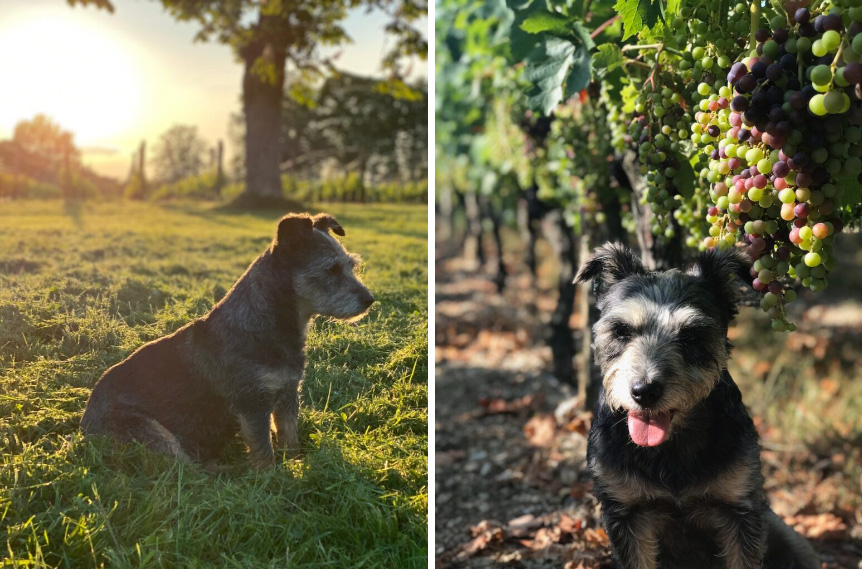 She was particularly adept at posing next to vines.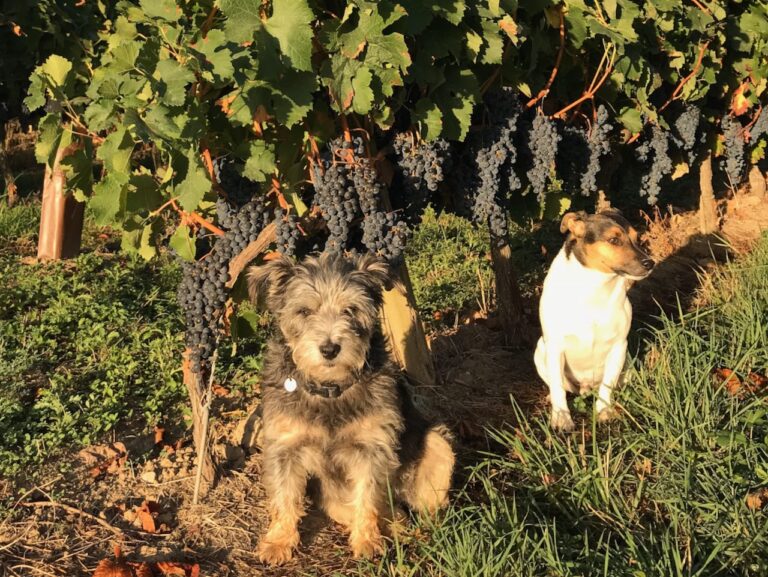 And decent grapes.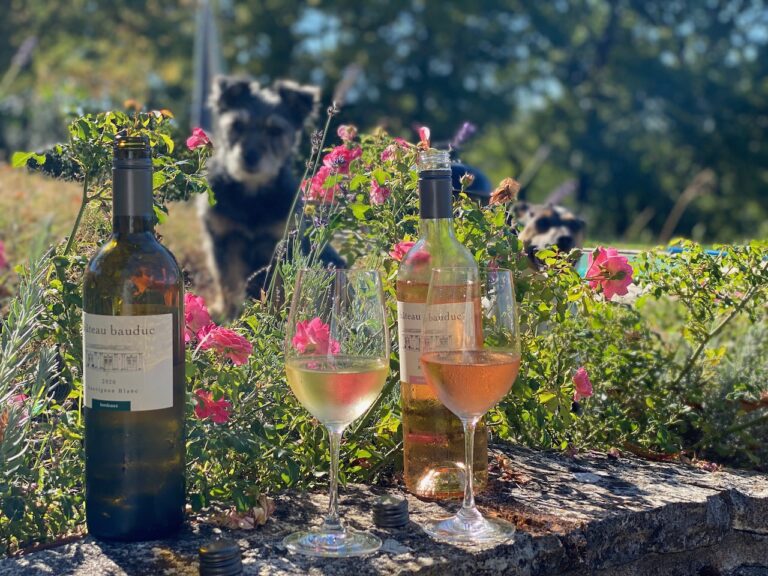 And she could be relied upon when next to bottles.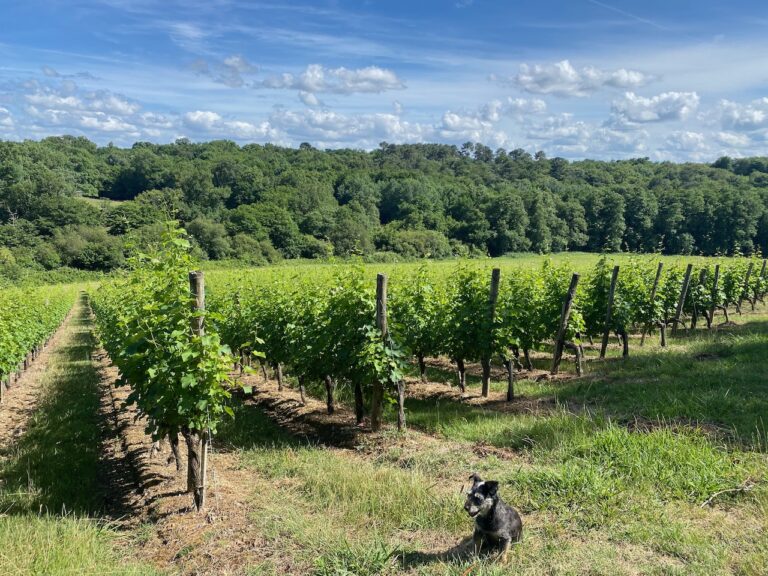 Margaux continued to make an effort to walk around the vines. This was in July.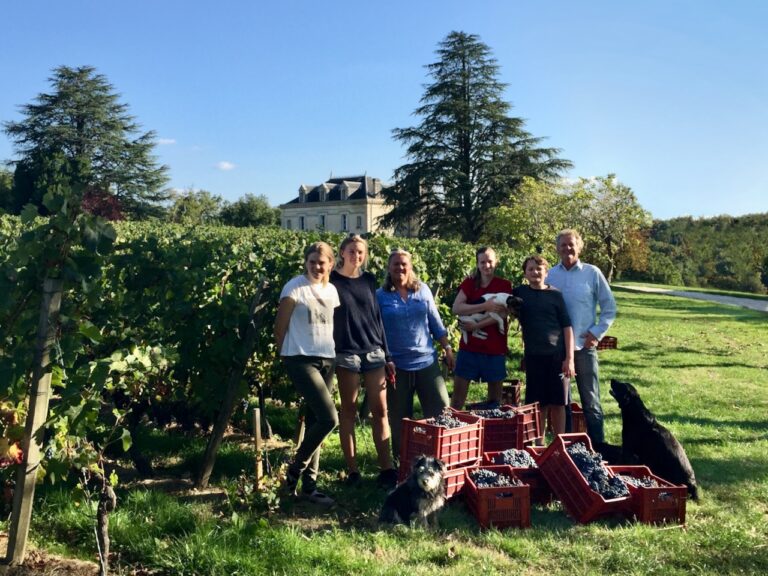 We are lucky to have had a few wonderful dogs while the children grew up.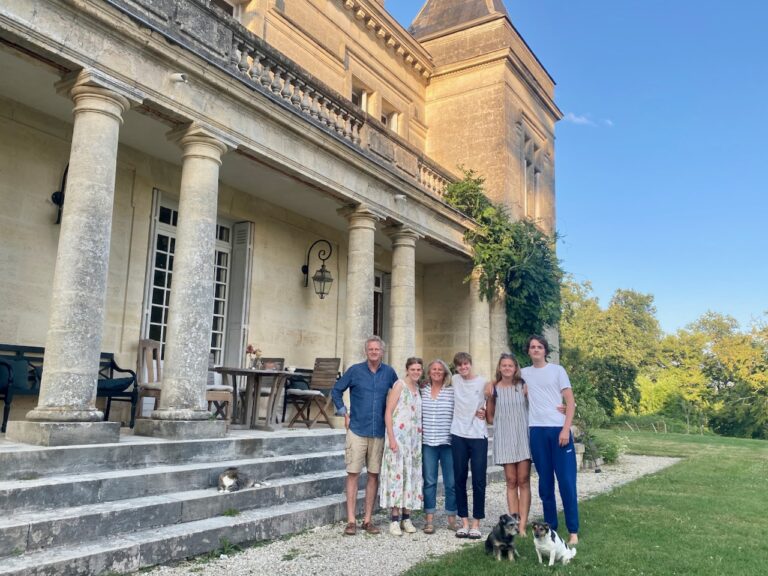 This was last summer, when all of us were at home, with Margaux, Pavie and Goose the cat.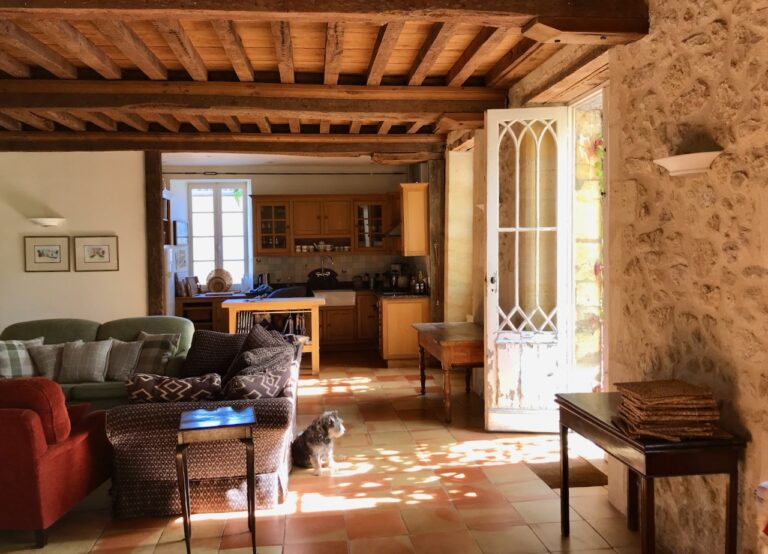 Margaux, as anyone who has stayed there will know, loved to be up at the farmhouse.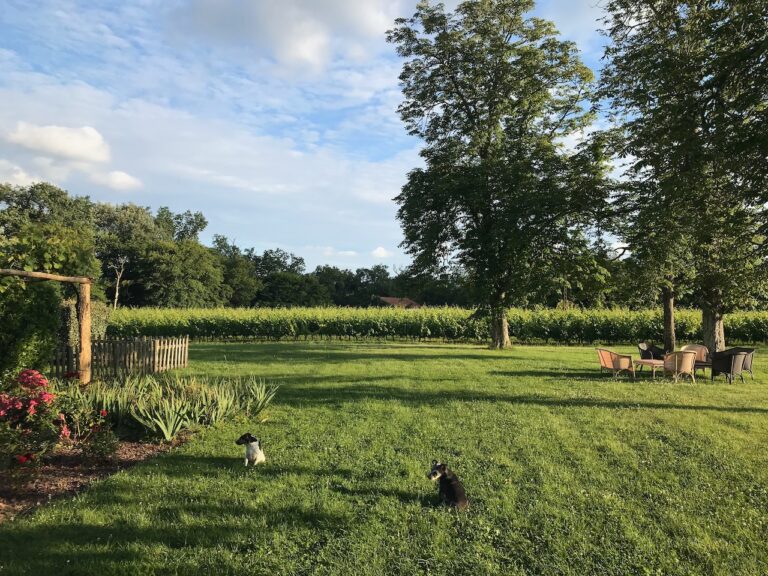 It was her manor. Thank you to everyone who stayed in the farmhouse and took such good care of her.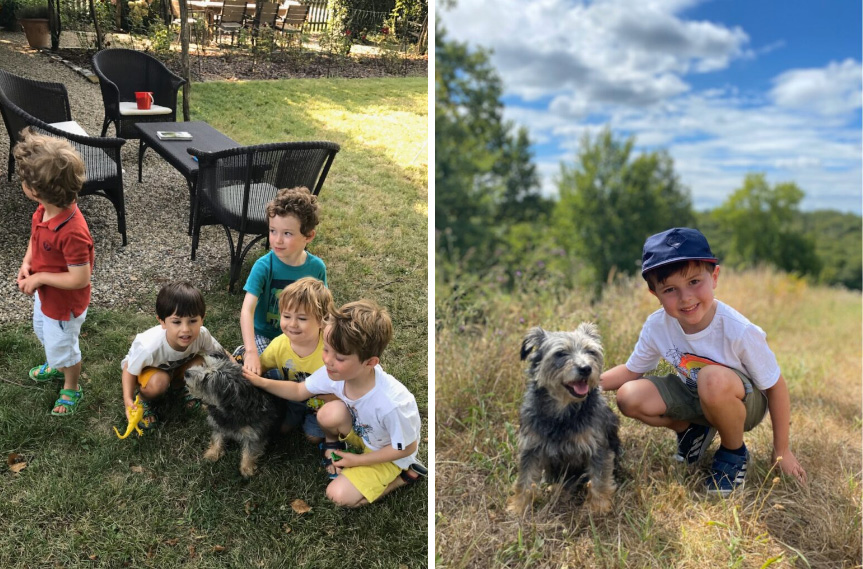 There are many children , some now grown up, who will be sad to hear about Margaux. Their mums and dads too.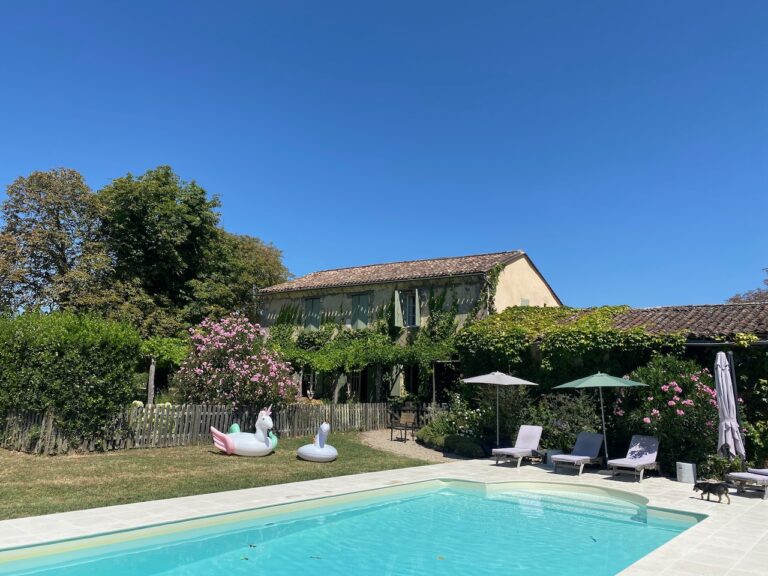 Margaux paid our farmhouse guests a visit even just a day or so before she passed away.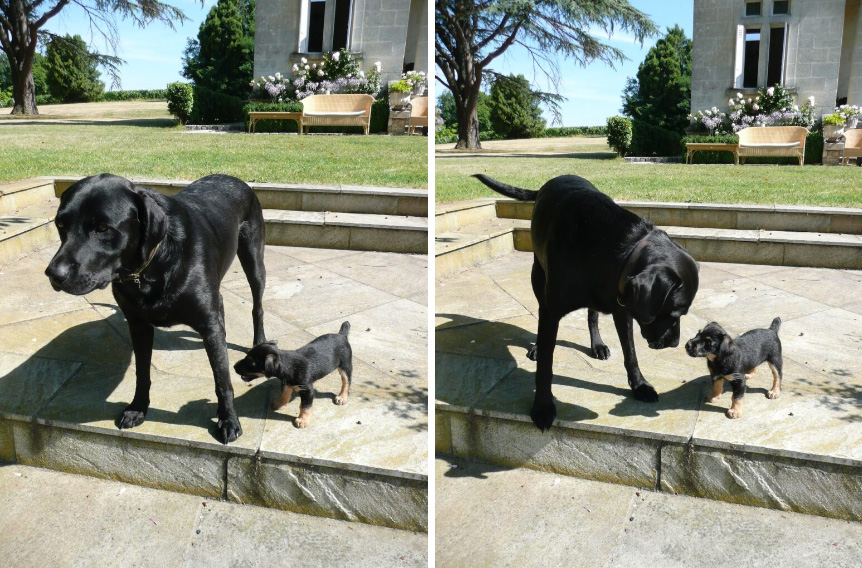 Back to July 2008 when Margaux had just arrived. Palmer our black labrador didn't quite know what to make of her.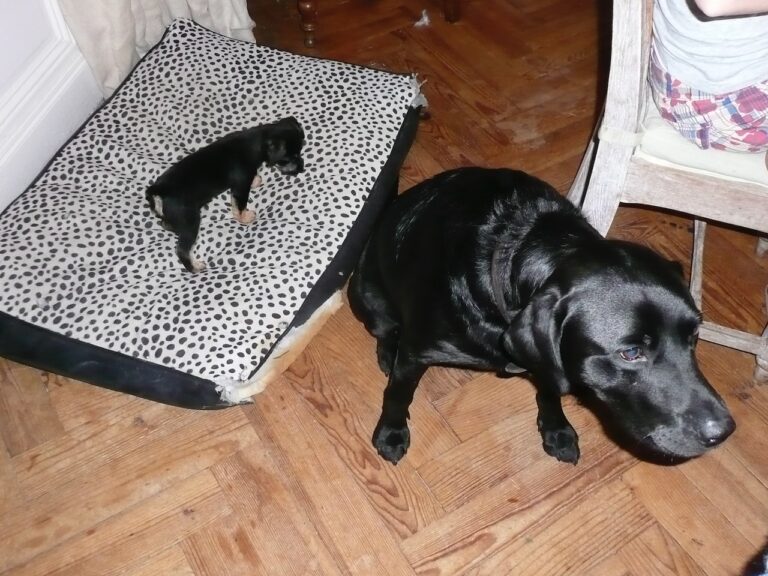 The tiny Margaux soon found Palmer's bed to her liking.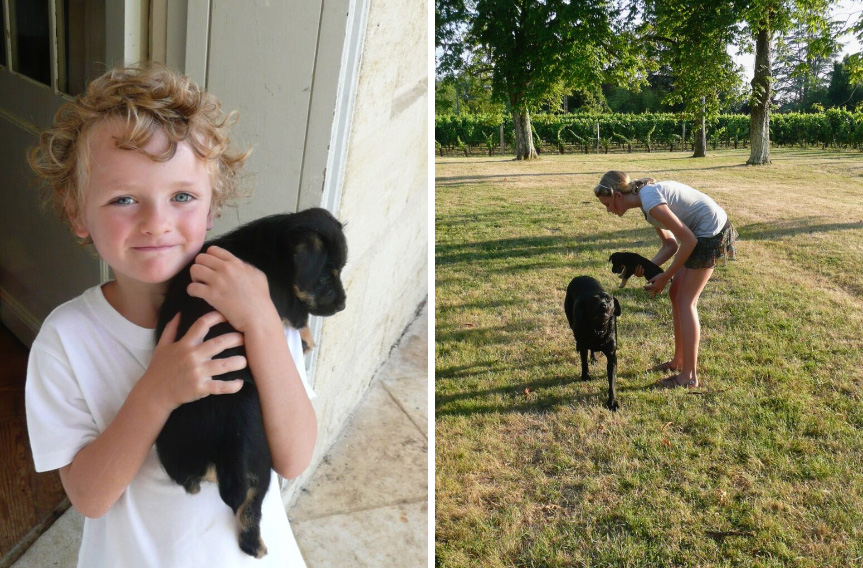 Not surprisingly, she was an instant hit with the children, including Tom aged four and his big sister Georgie, 13.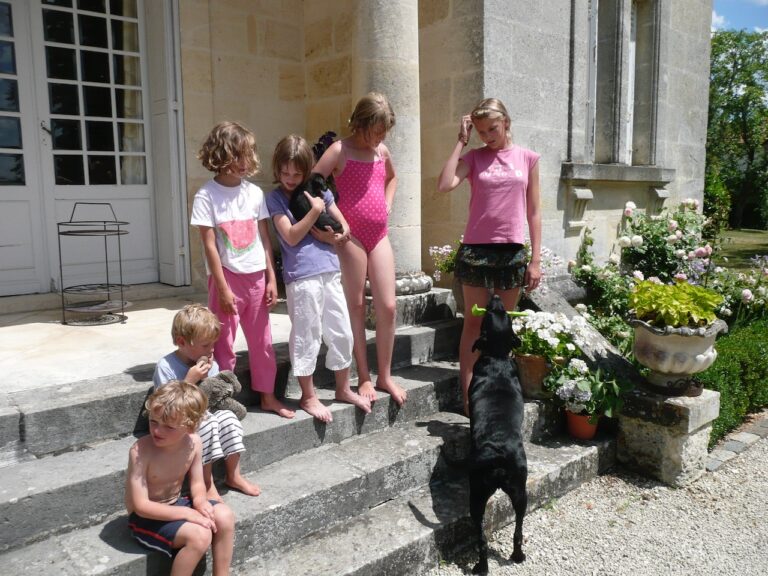 With their cousins Max and Bella Russell here too, Margaux was the centre of attention.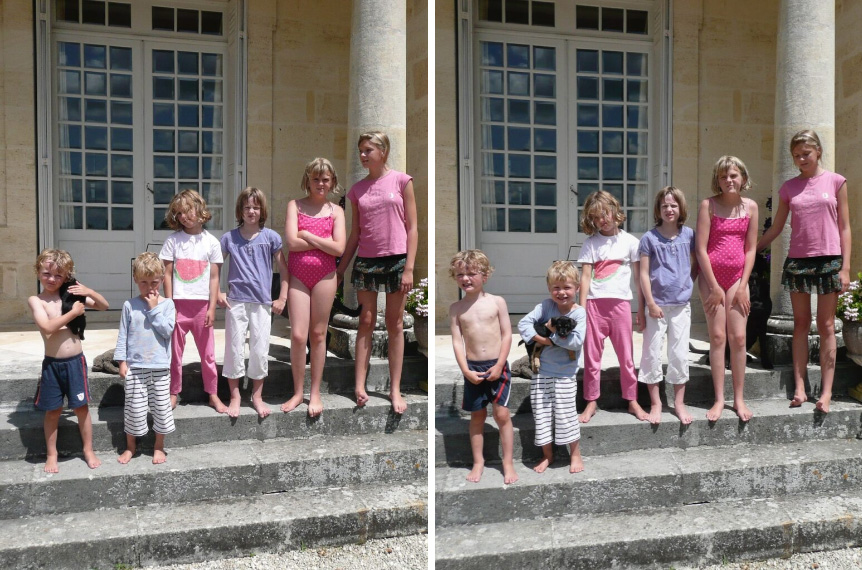 A child's mood was sometimes determined on whether they were holding the puppy.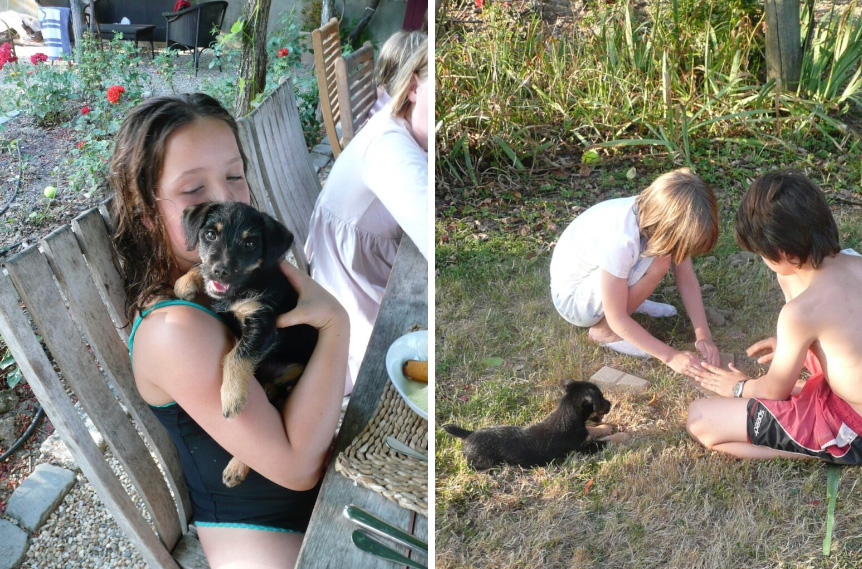 Our great friends the Gilbeys stayed at the farmhouse every summer when all the children were younger and Margaux was a firm favourite.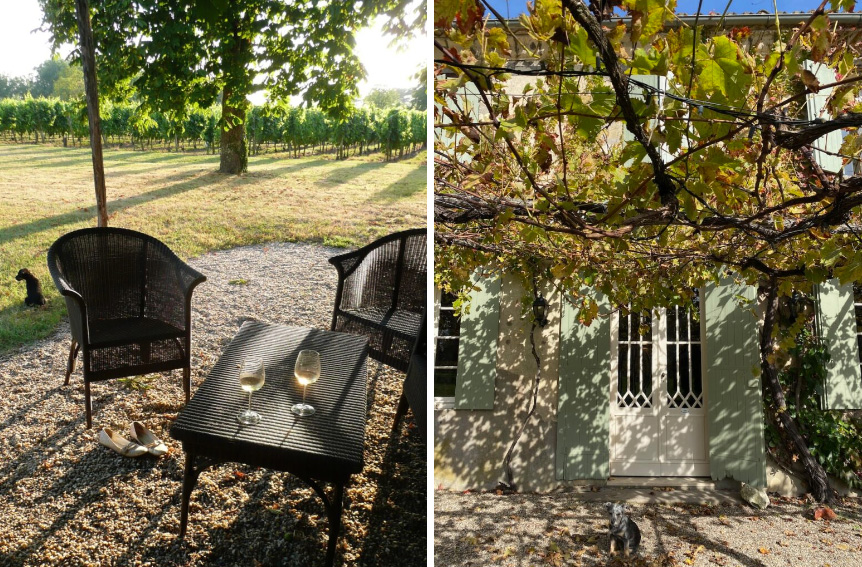 Perhaps as a result Margaux took to the farmhouse from an early age.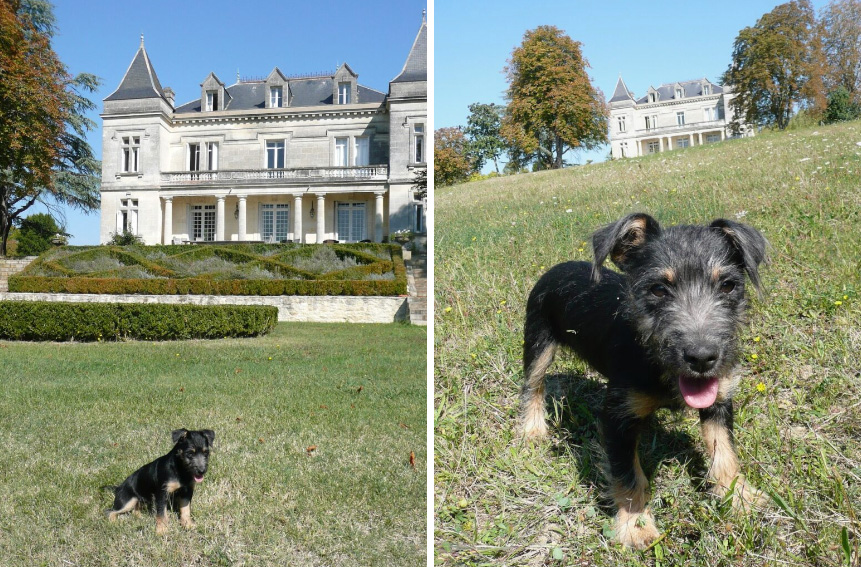 She was also at home at the château, mind.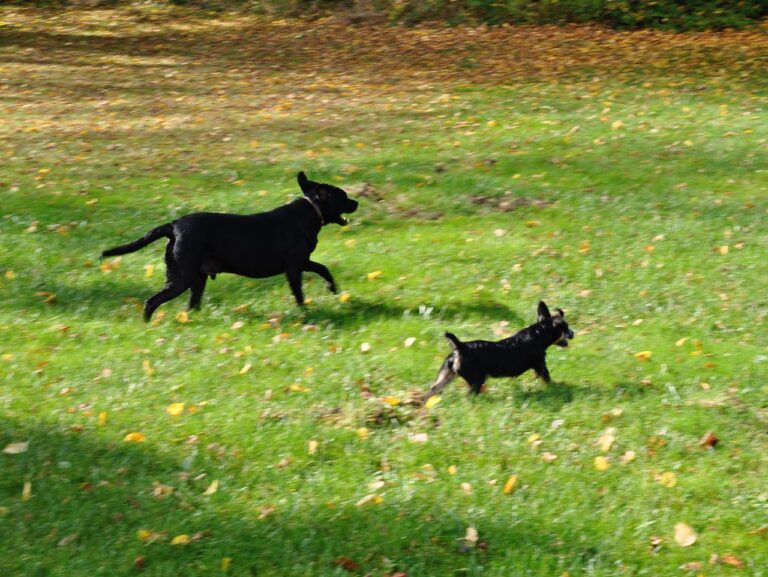 And Palmer and Margie soon got on just fine.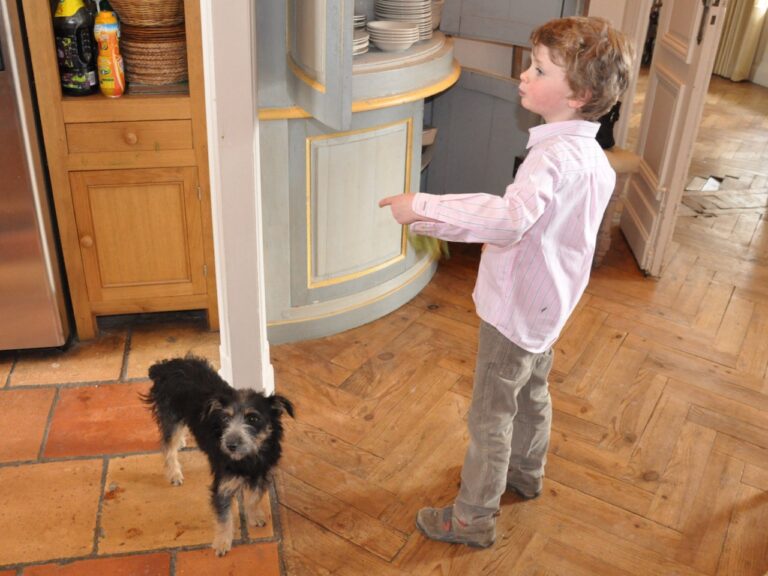 She was a joy around the house.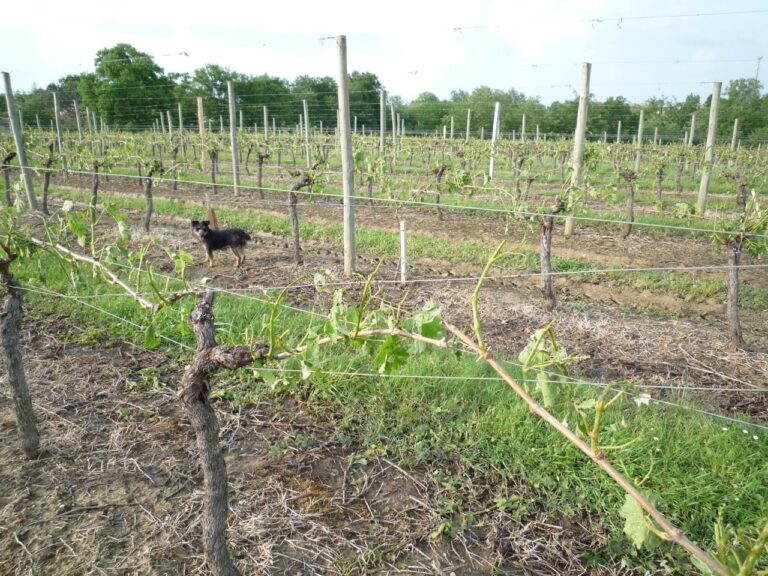 Margaux took to the vineyard too, especially for walks, and she was soon acquainted with climatic disasters thanks to the hailstorms here in May 2009.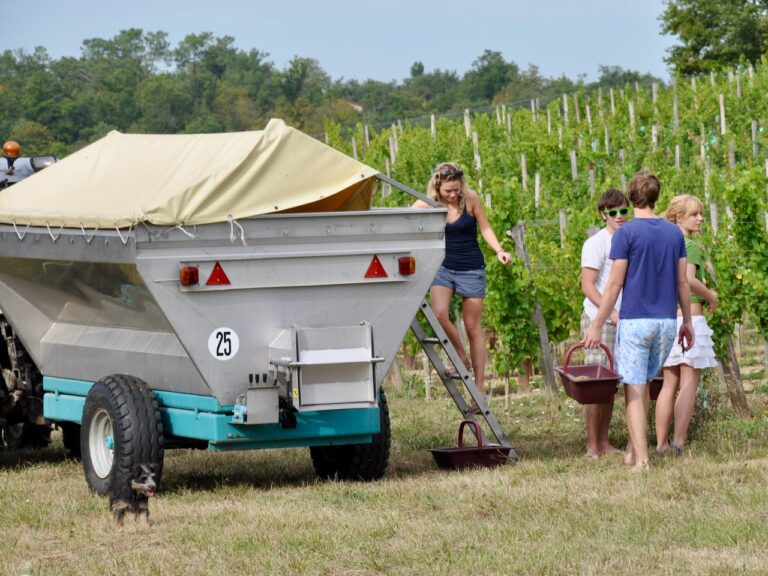 Harvesting young vines by hand in September 2009.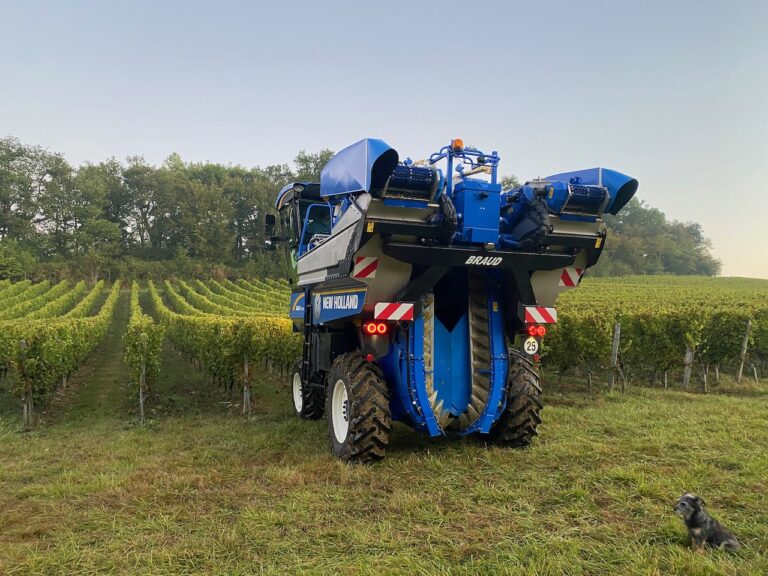 Whether a manual harvest or by machine, Margaux was always on hand.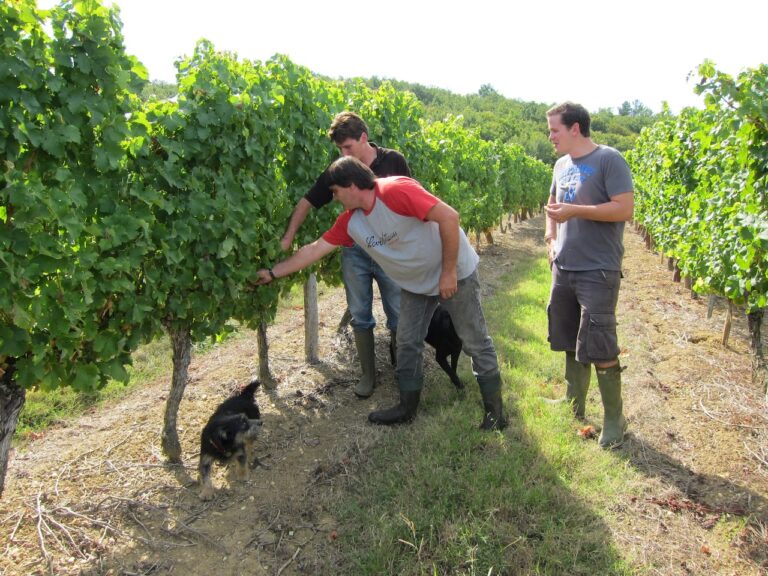 And assisting in the pre-harvest assessments. This was in 2010.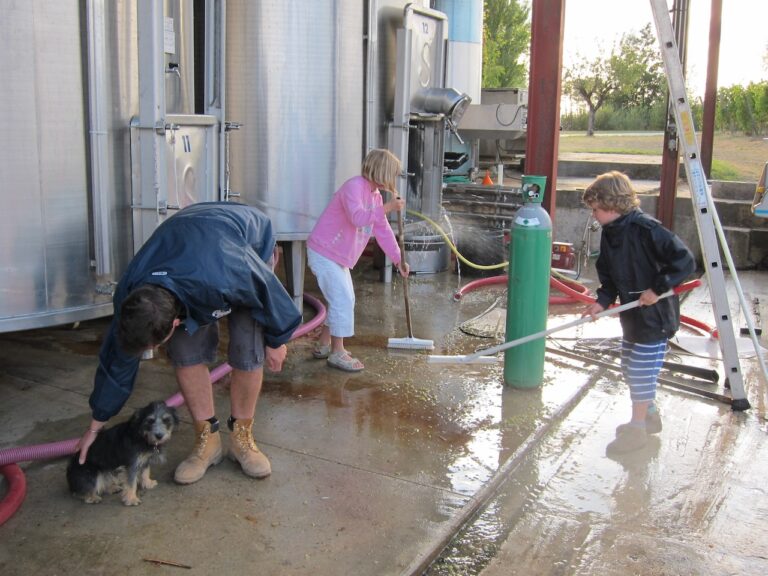 Clearing up in the winery, harvest 2010. This was long before we occasionally used the #margauxterrier hashtag on Insta and twitter.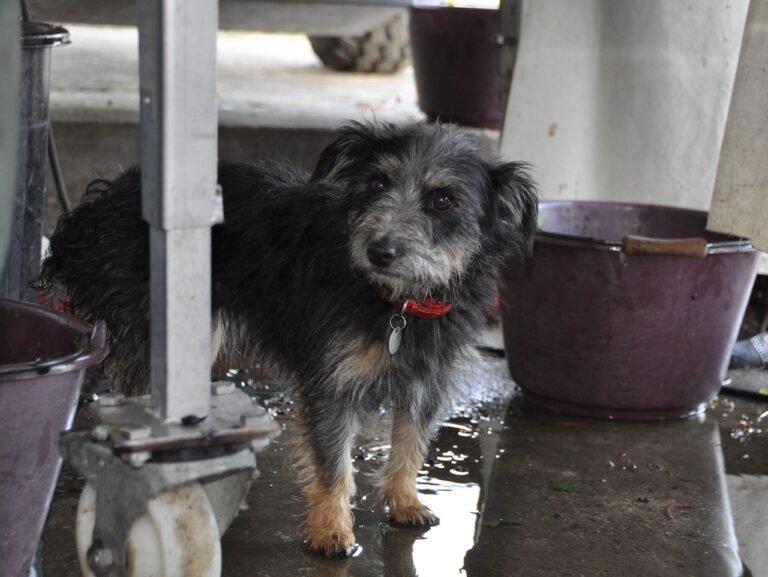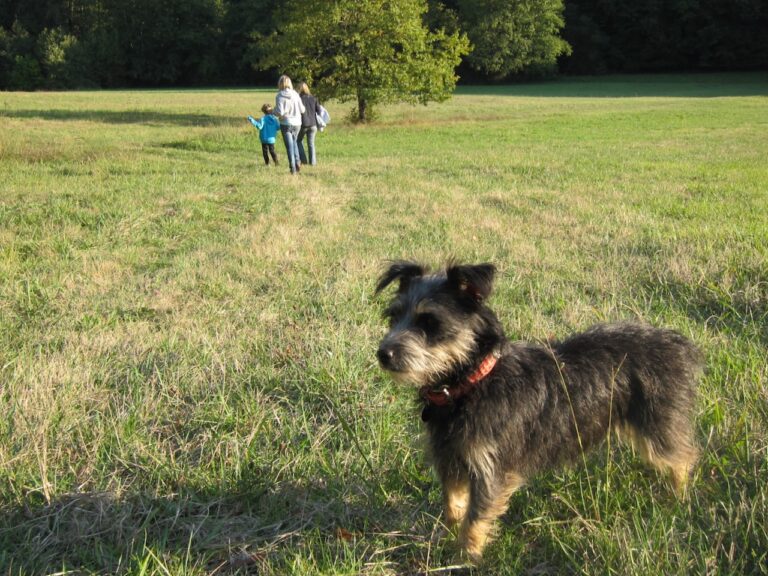 She loved her walks, unsurprisingly.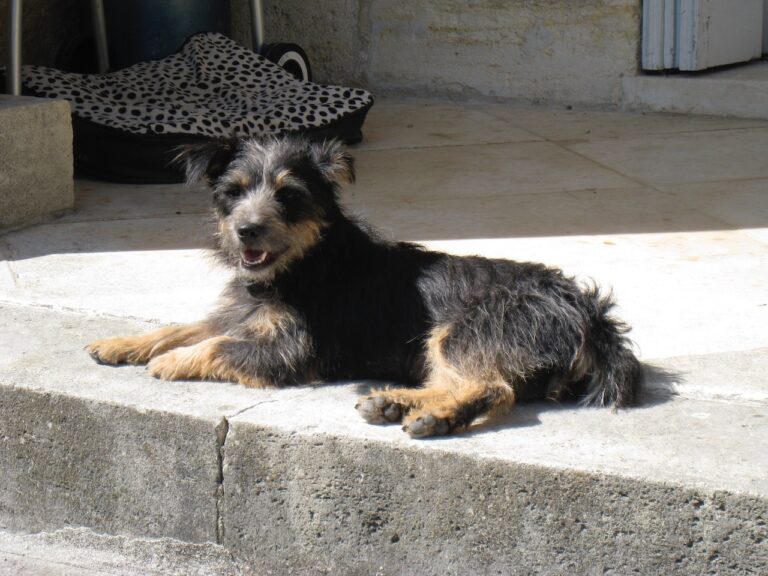 And relaxing.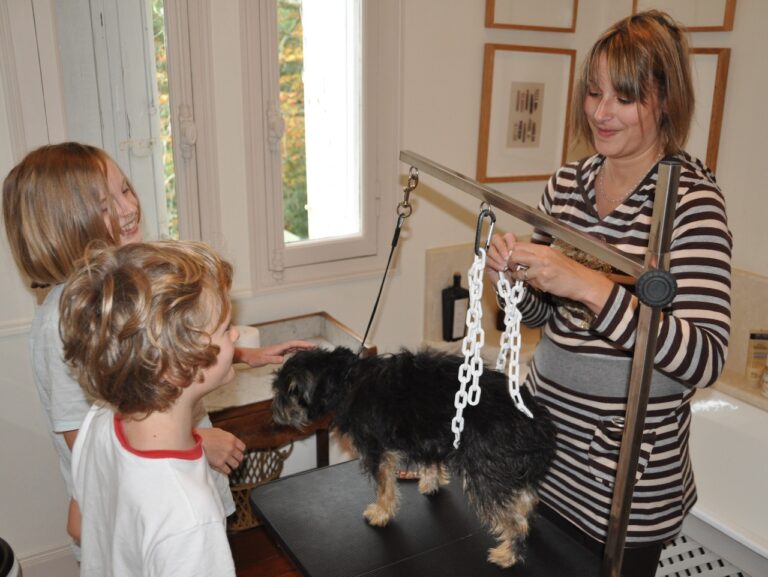 Margaux regularly needed a home trim.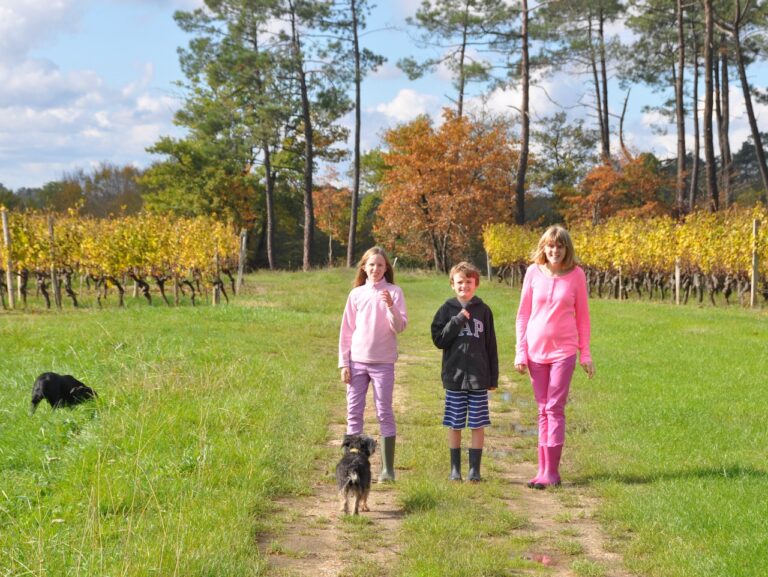 With Bugs, Tom and Sophie.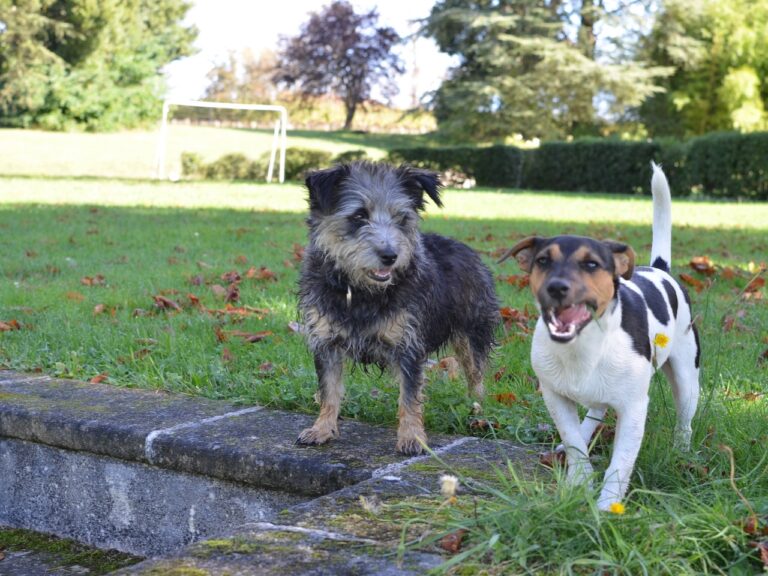 Pavie arrived in 2012, which came as a bit of a shock.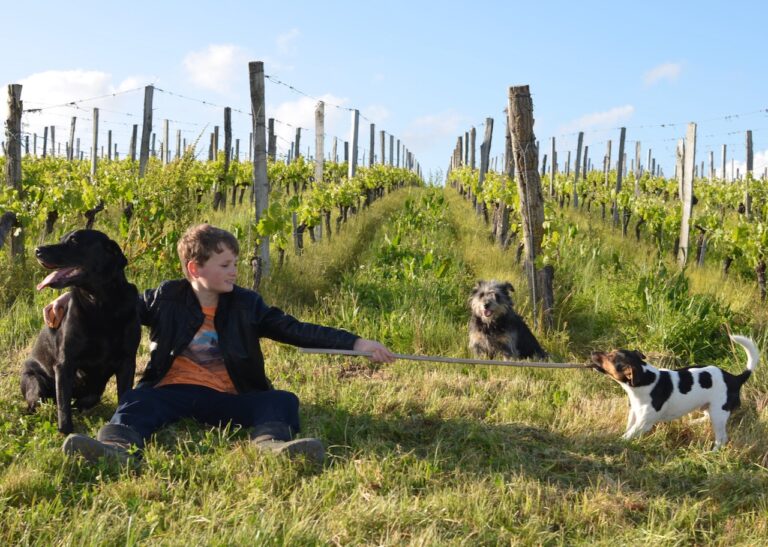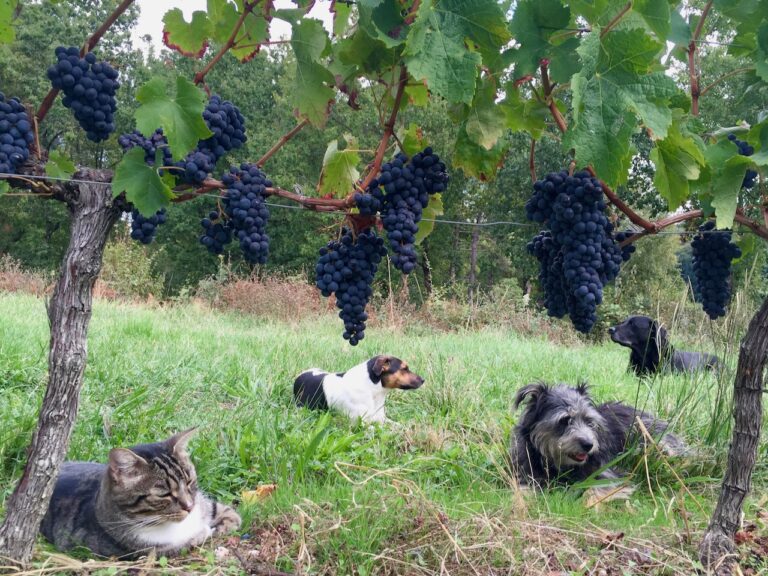 Goose the cat too.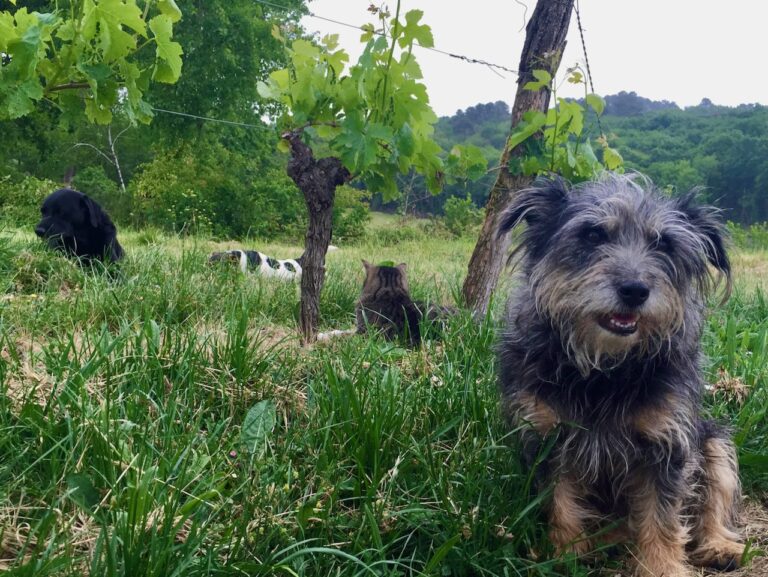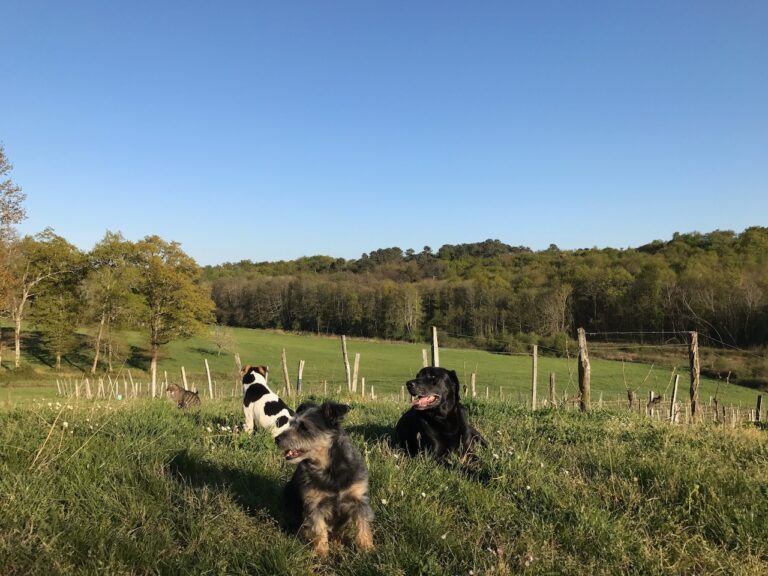 The three dogs and the cat all got on perfectly well.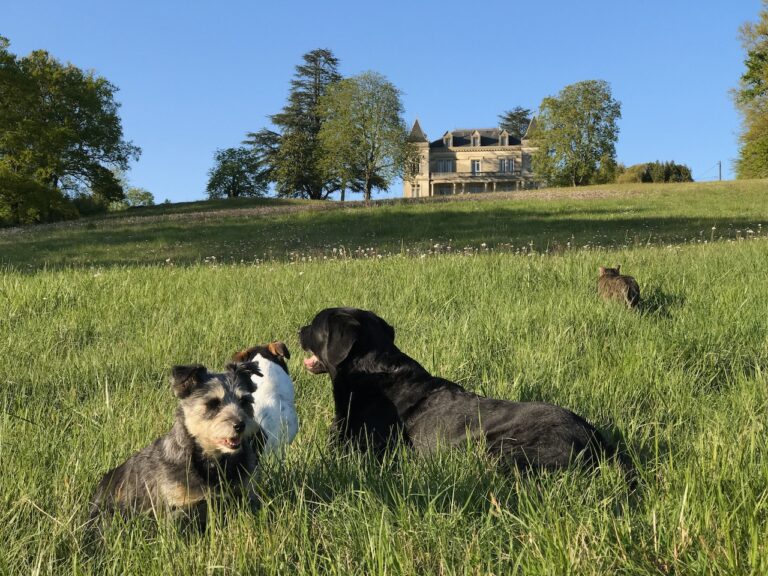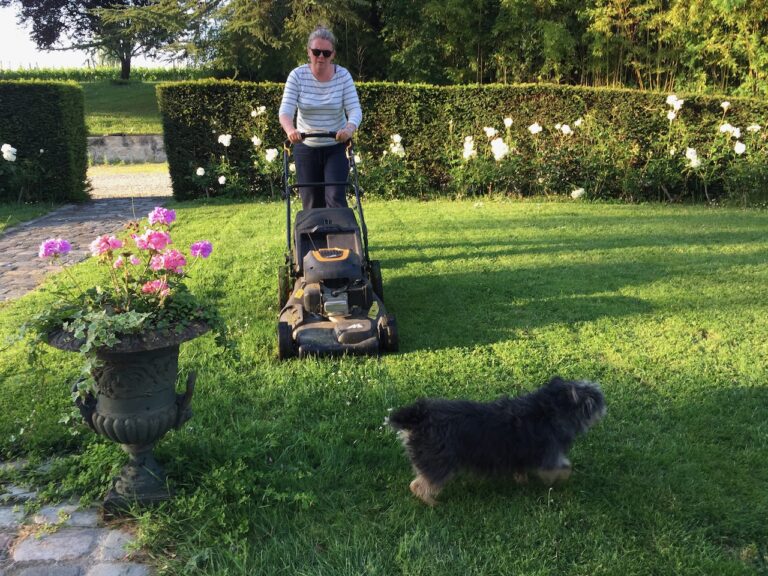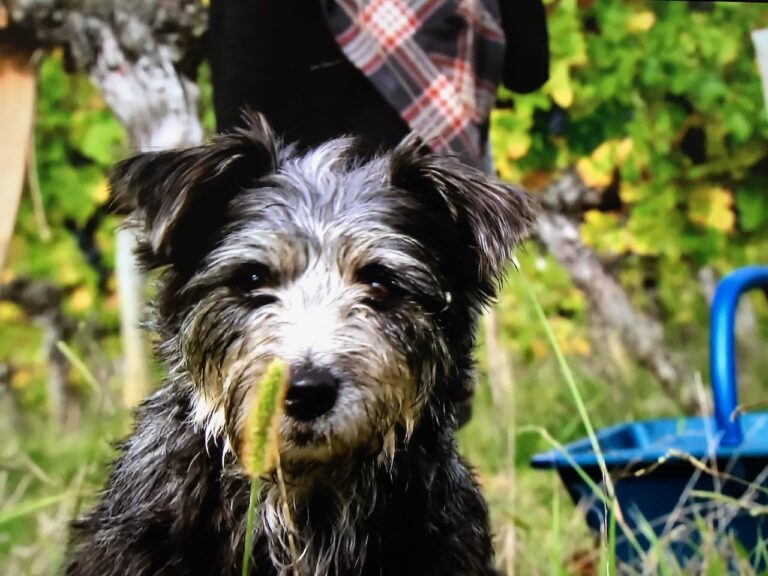 Margaux on the beeb, on Rick Stein's Long Weekend in Bordeaux.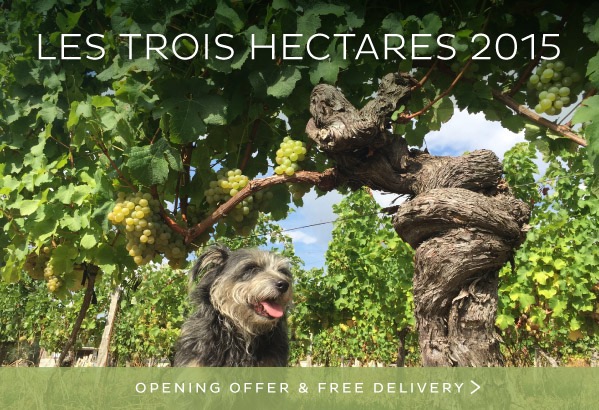 Margaux was also regularly appearing in our sales material.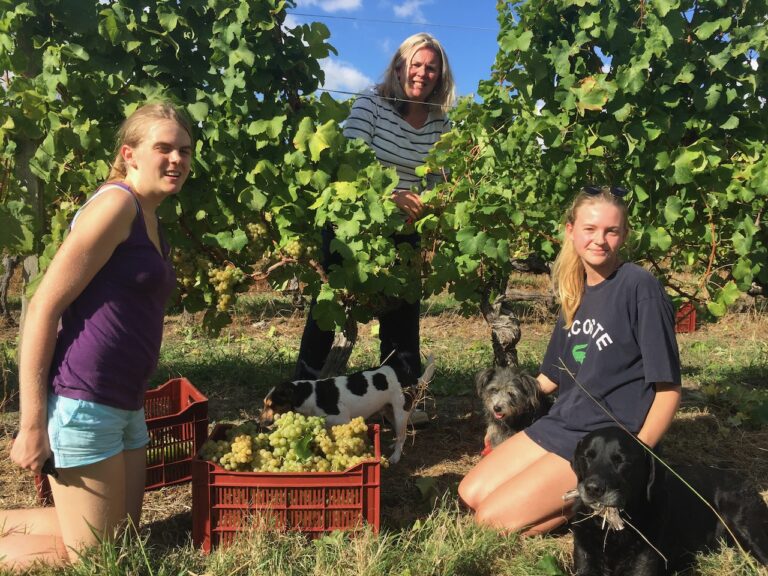 With Sophie, Ange and Georgie, along with Palmer and Pavie. White harvest 2016.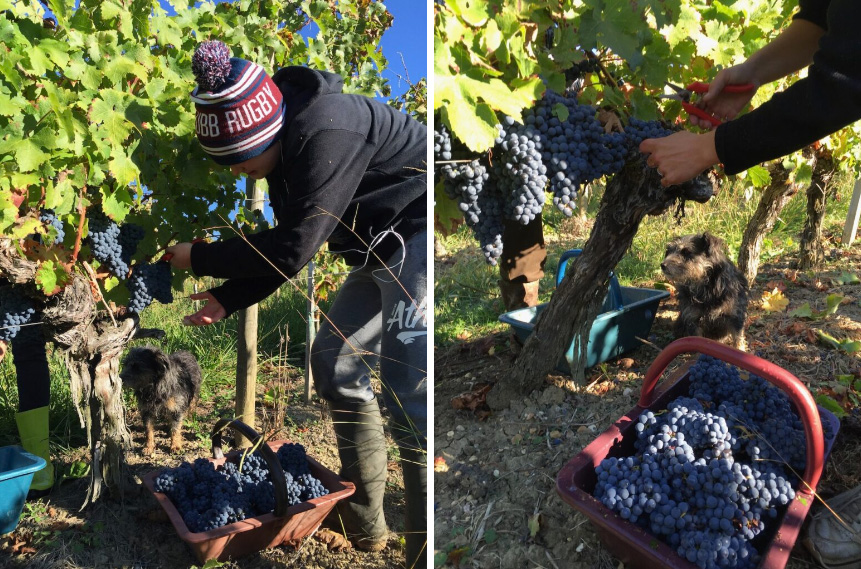 With Tom during the same harvest.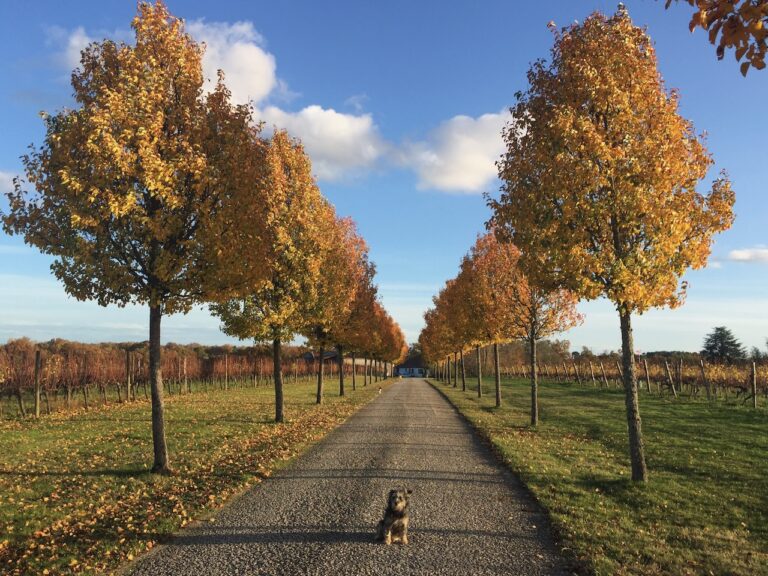 Margaux had an extraordinary sense of where to pose.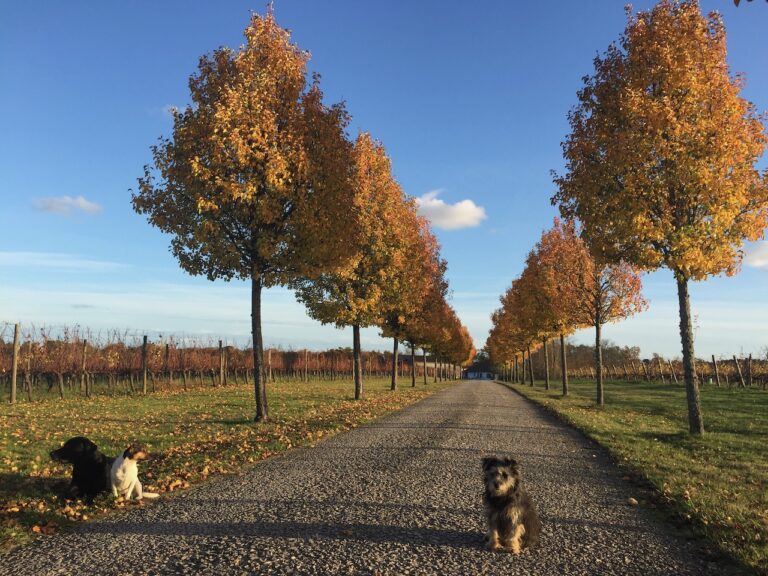 She rather liked hogging the limelight.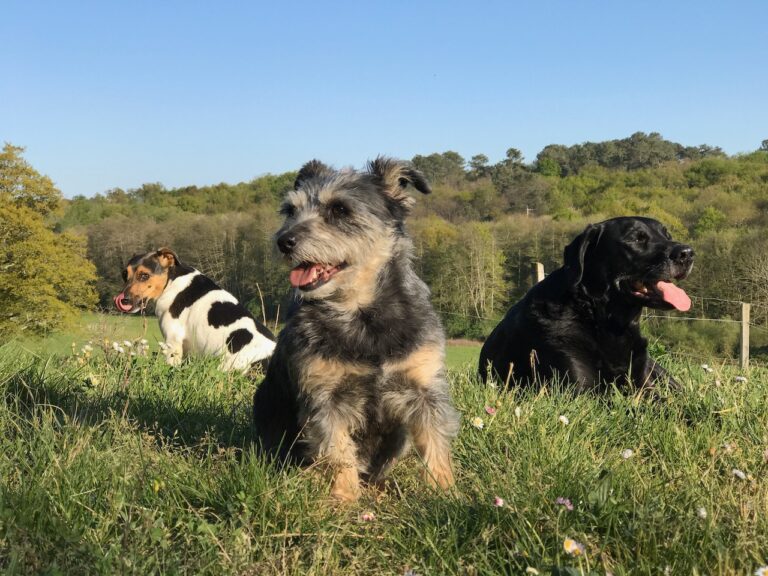 They all got on but Margaux and Palmer had a special bond.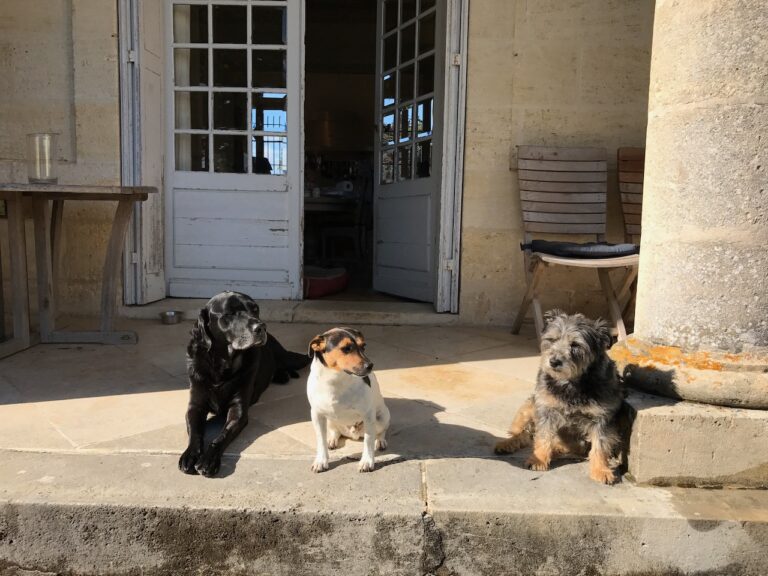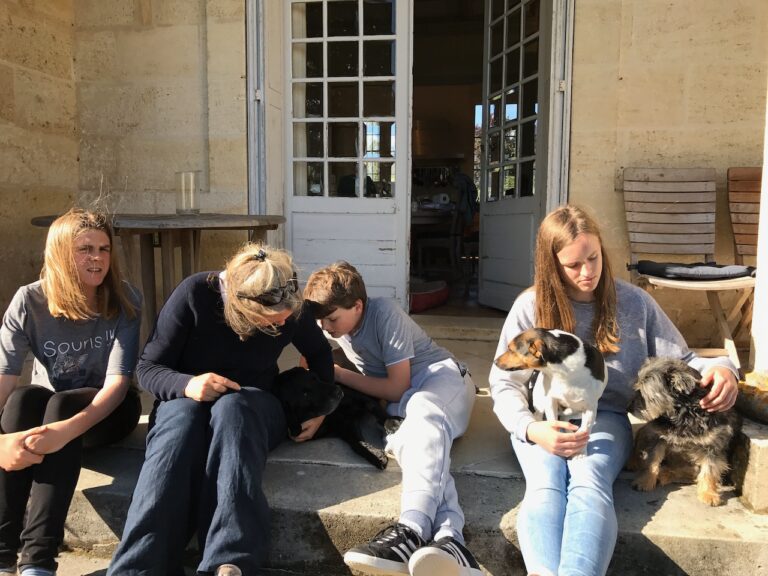 We were so very sad to lose Palmer to cancer in May 2017. Having a dog put to sleep at the vets can be really hard.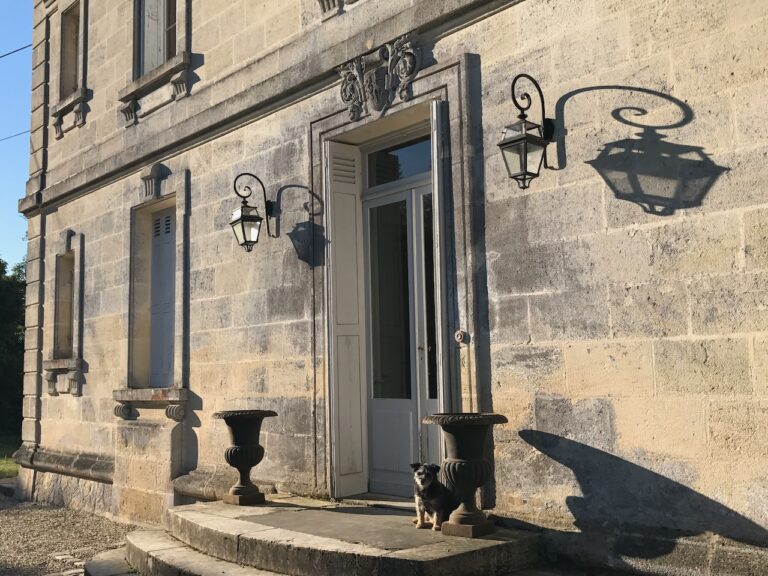 Margaux was a little lost for a while.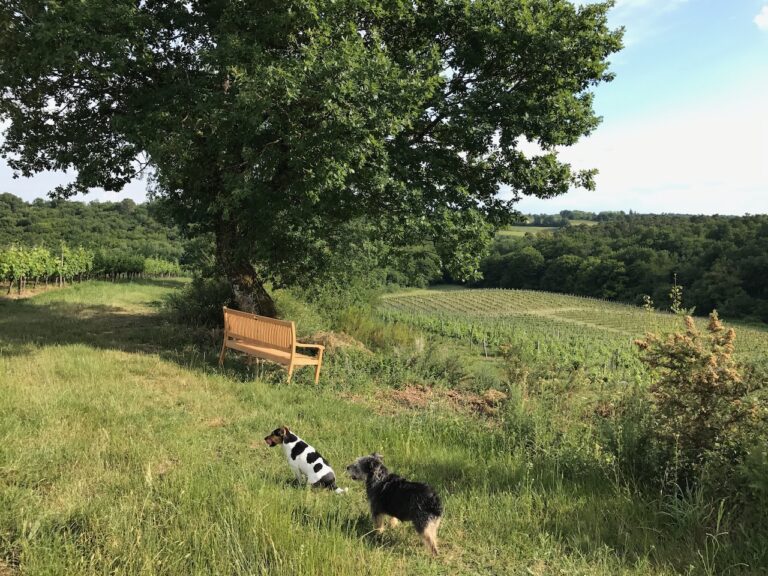 But she soon got her mojo back and Pavie was good company.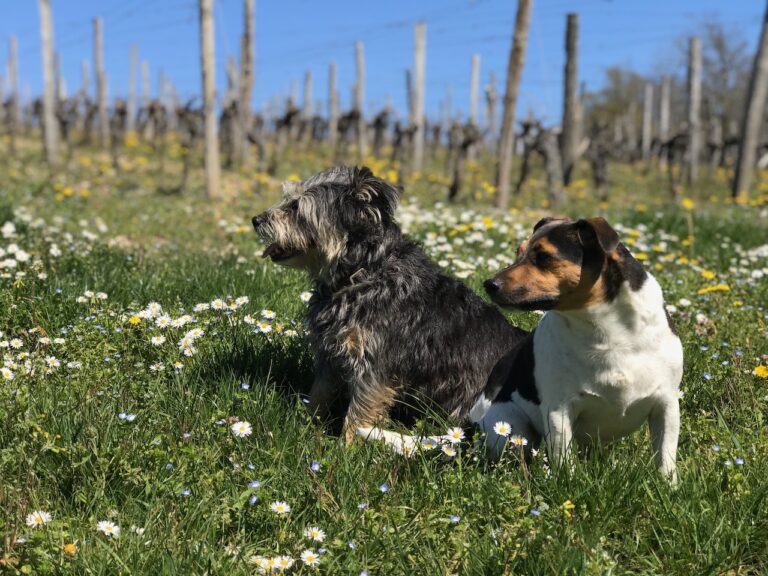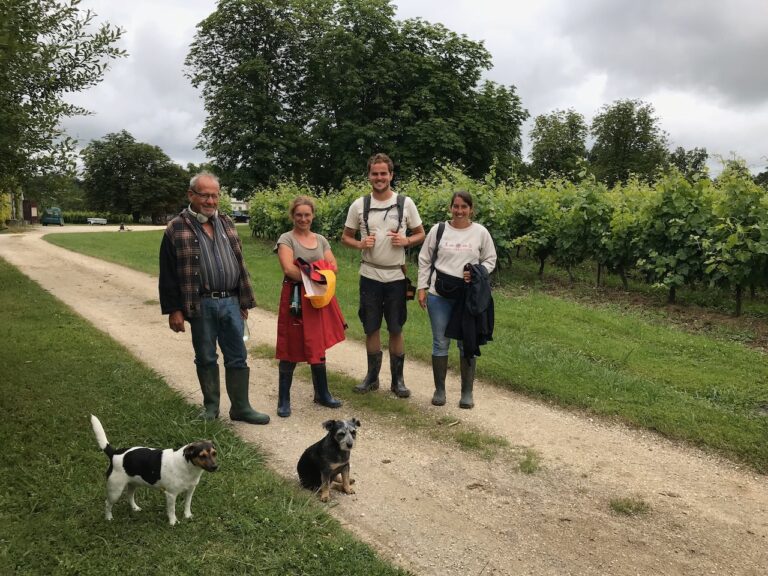 Margaux was loved by the team – Patrick, Nelly, Ed and Sandra.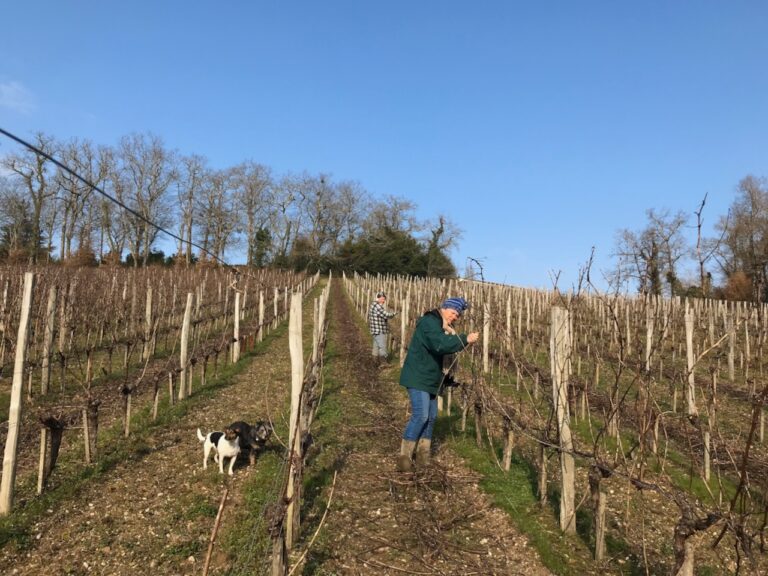 With Ange in the vines.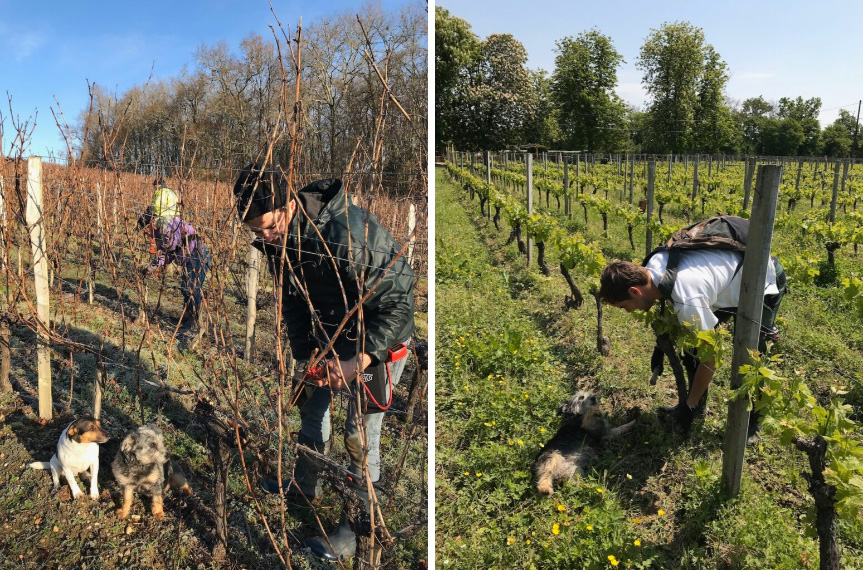 Ed, from England, worked here for a year and he was one of many who were charmed by Margaux.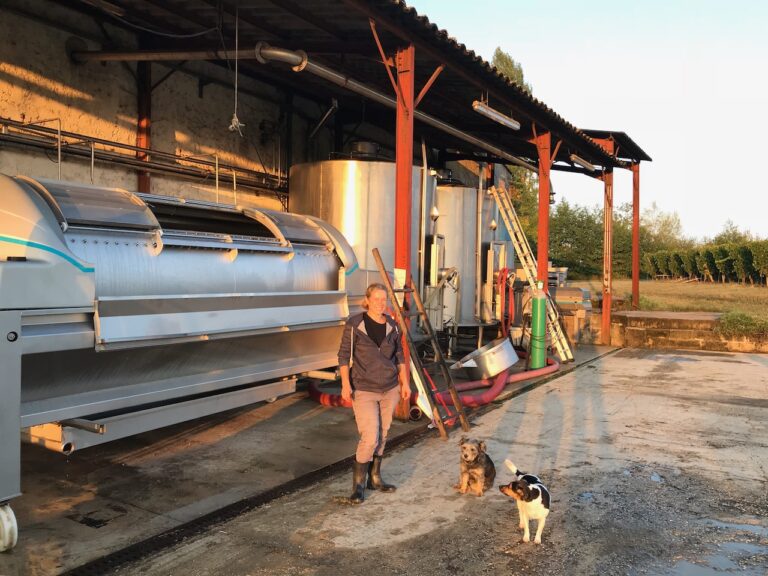 With Nelly before the start of the harvest.
Margaux was ever present at harvest time.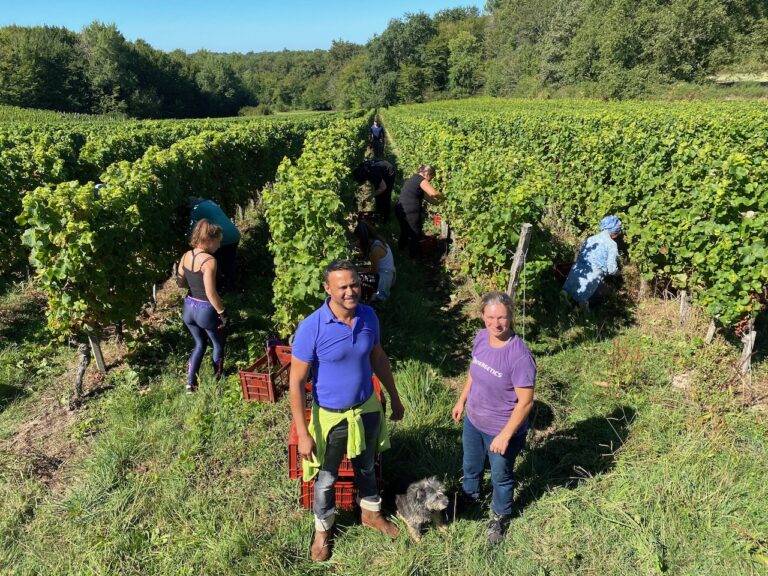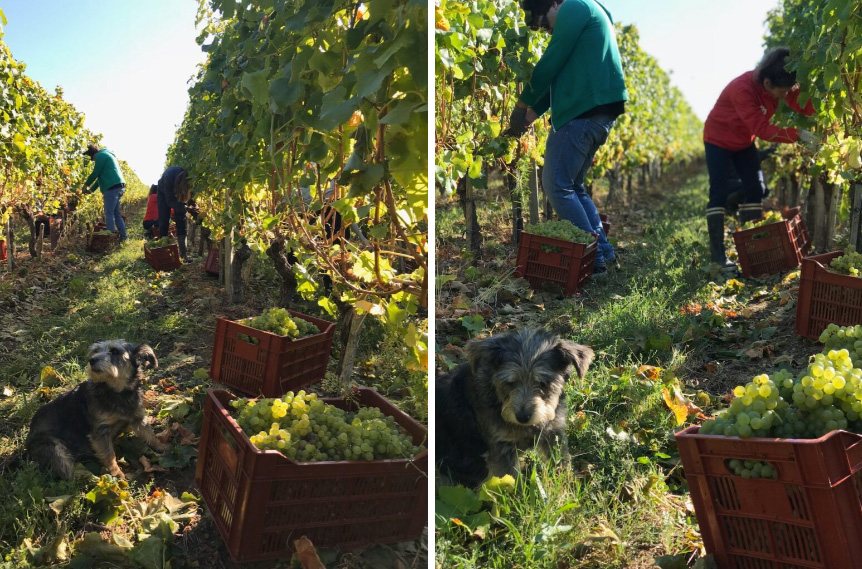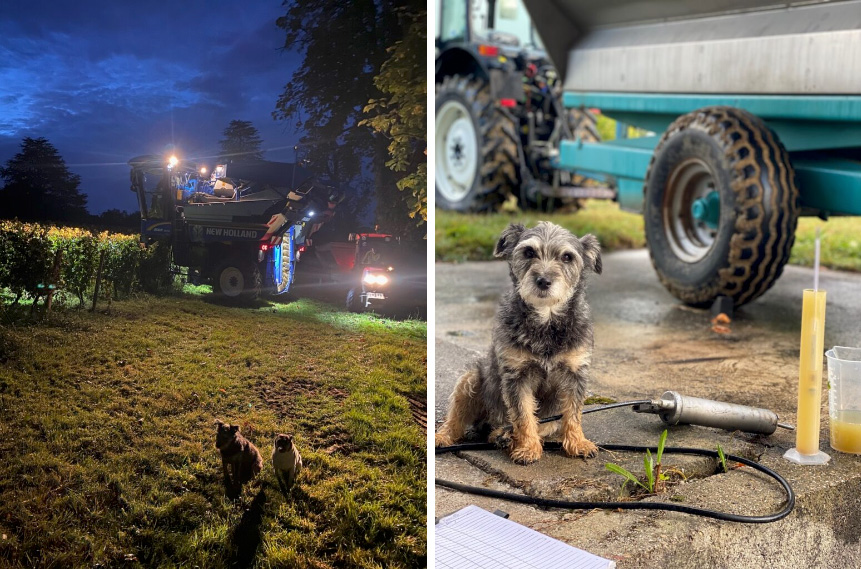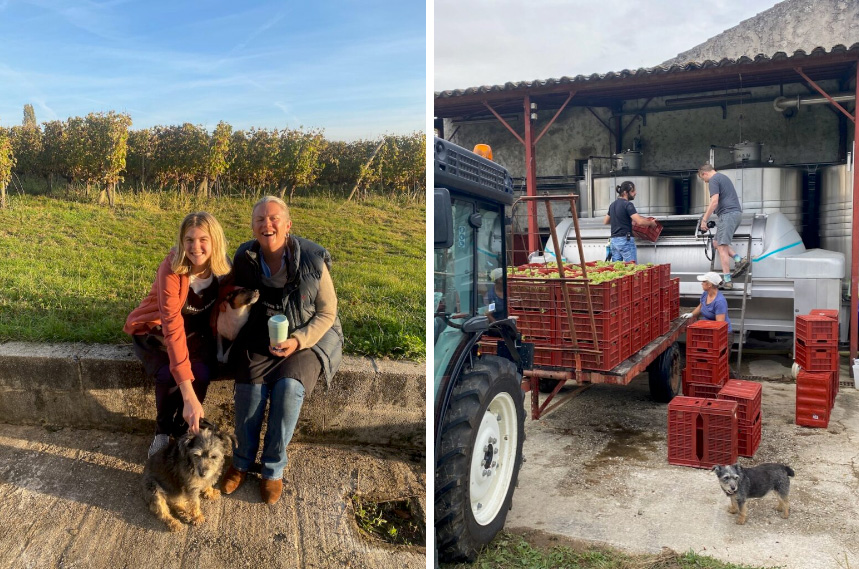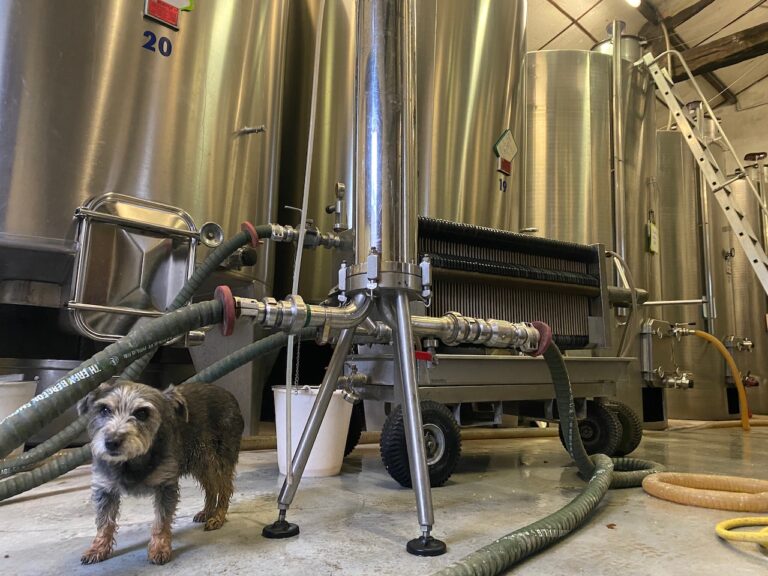 Margaux came with me 90% of the time. Not on the machines though.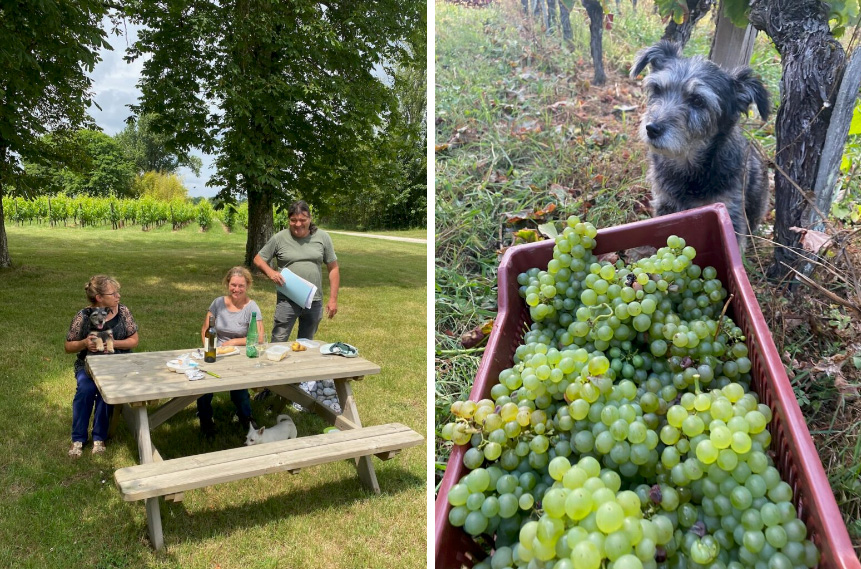 All the permanent team have known Margaux since she first came to Bauduc. Christiane, left, our former femme de manage and occasional babysitter, was especially fond of her.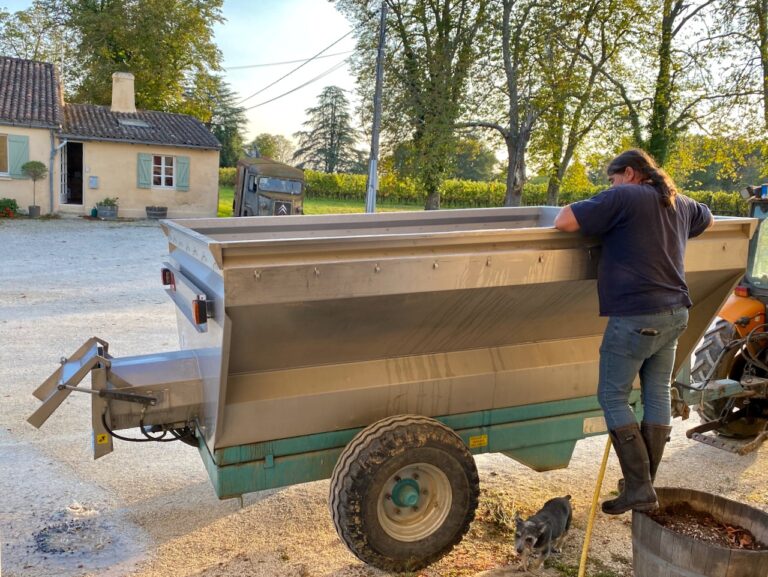 Margaux was never concerned about machinery.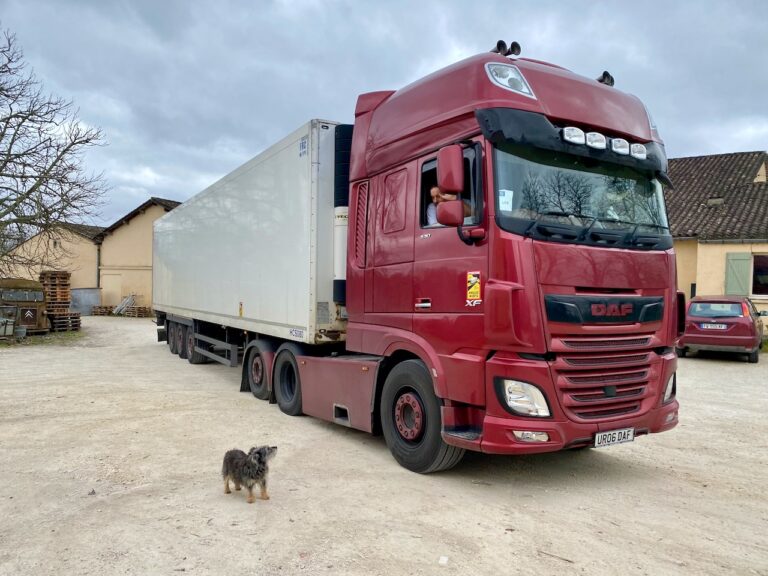 Nor intimidated by large vehicles of any sort. Our man Dom having a word.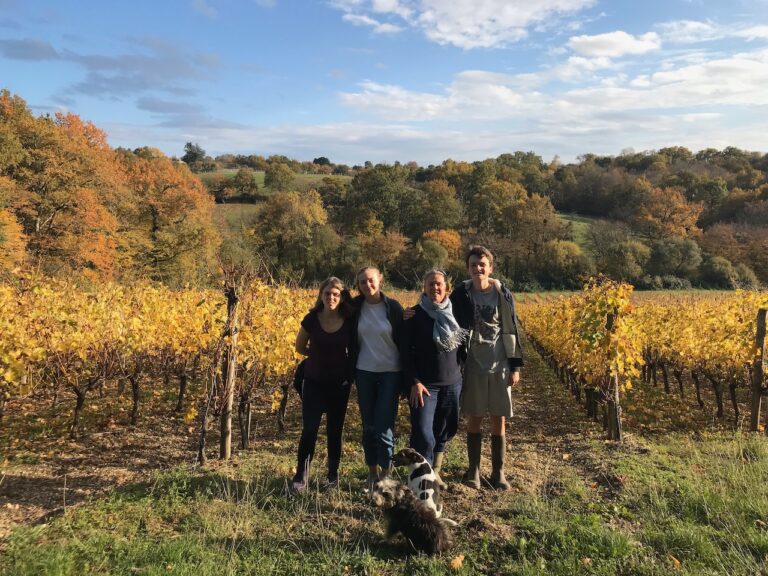 Aside from being the perfect hostess at the farmhouse, Margaux loved being with the family.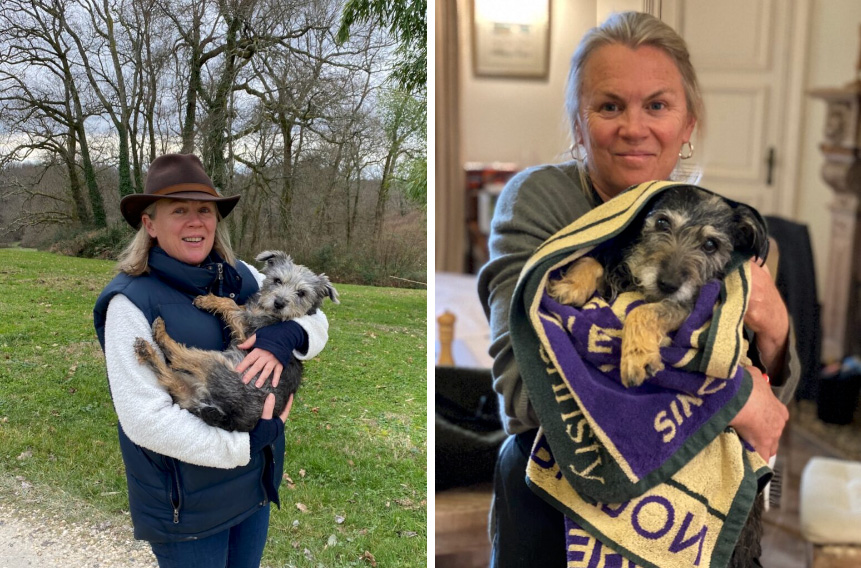 She was always partial to a cuddle or a wash and dry from Ange.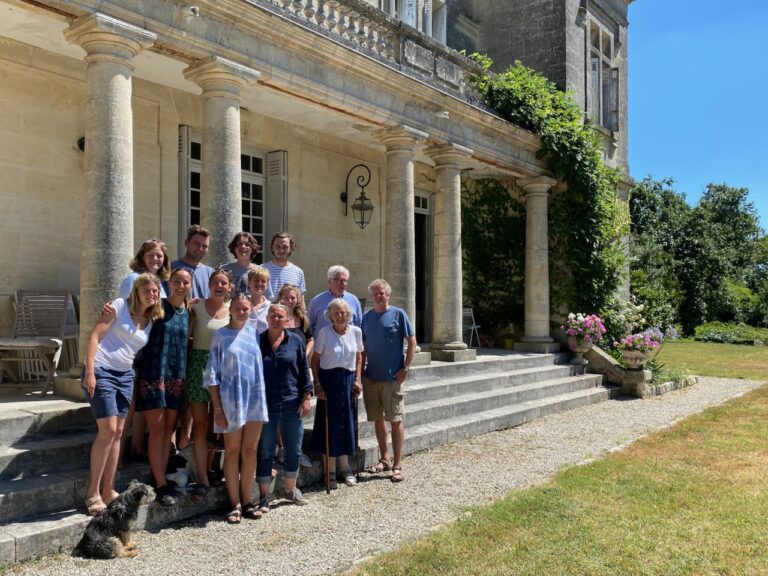 There are too many photos of Margaux with the cousins but here's one with the Wilsons, and DQ.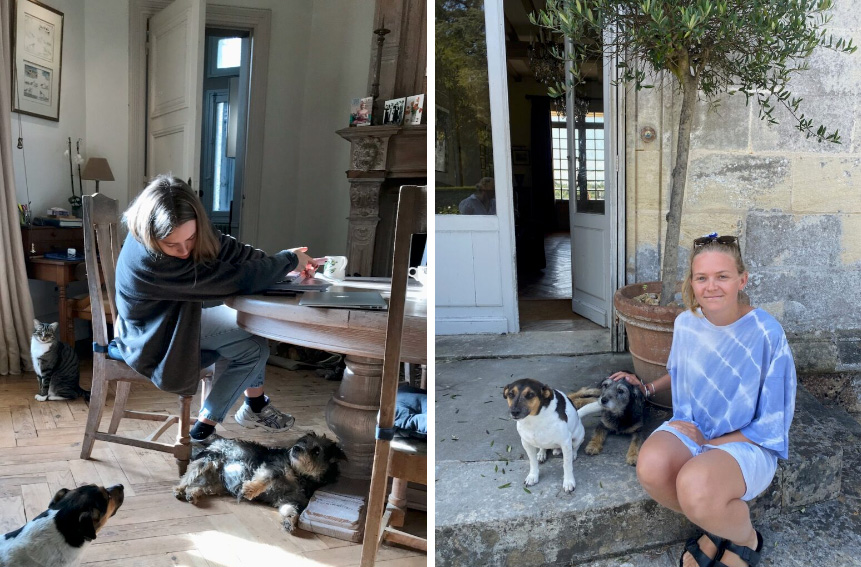 With Georgie.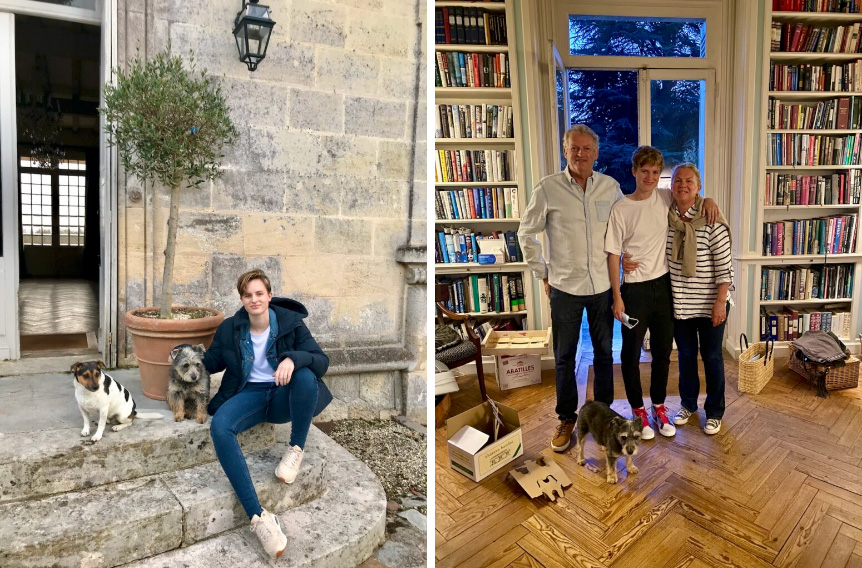 With Bugs.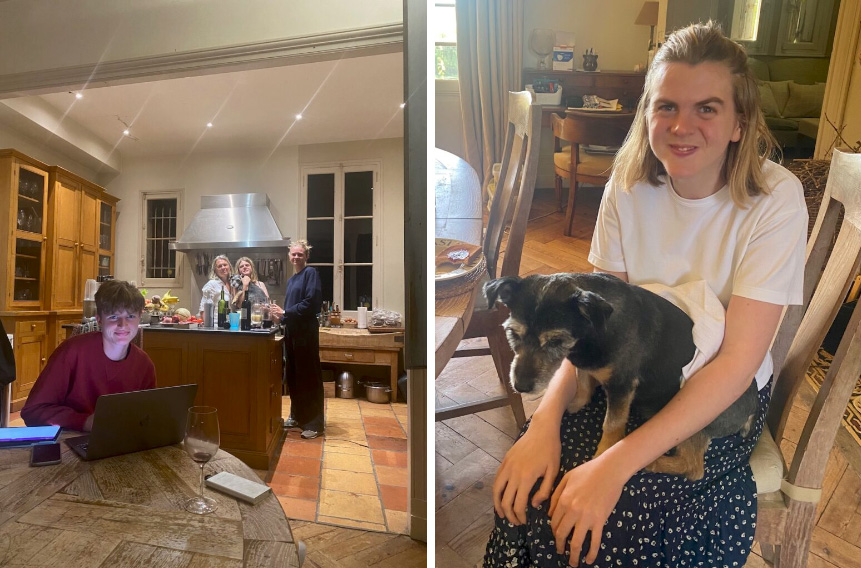 With all the girls, and Sophie.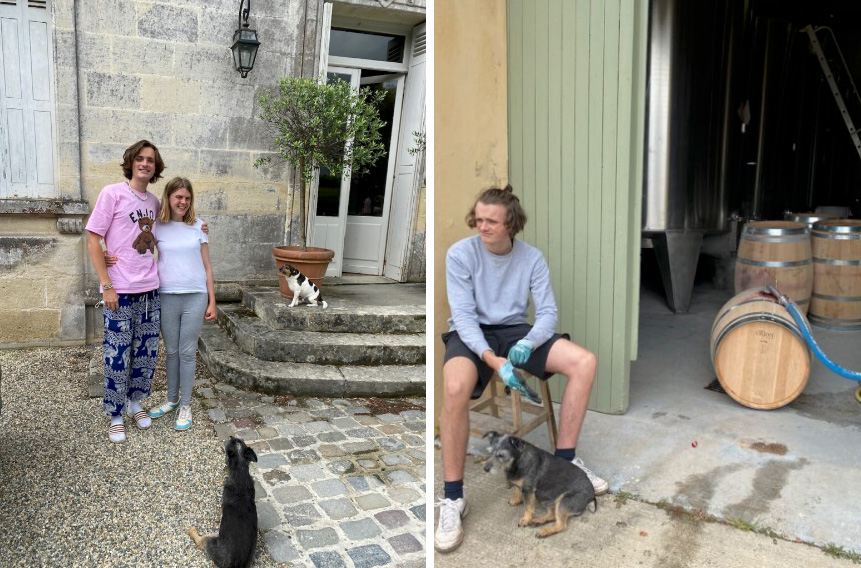 Tom, and Sophie.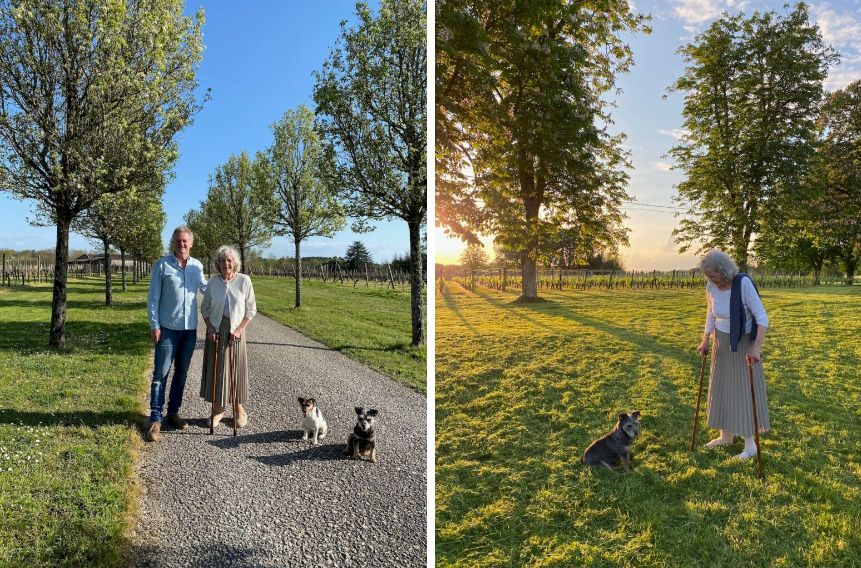 With GQ and DQ.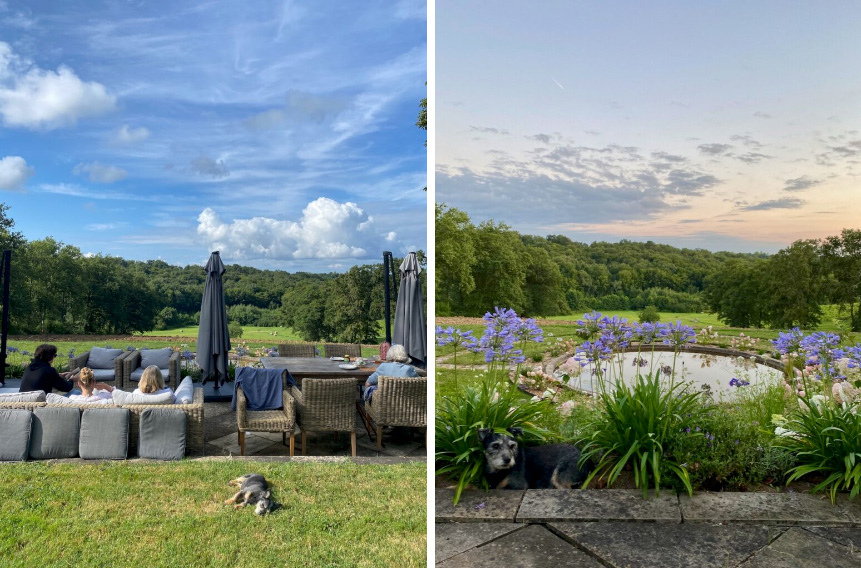 Relaxing en famille, and in the plants for some reason.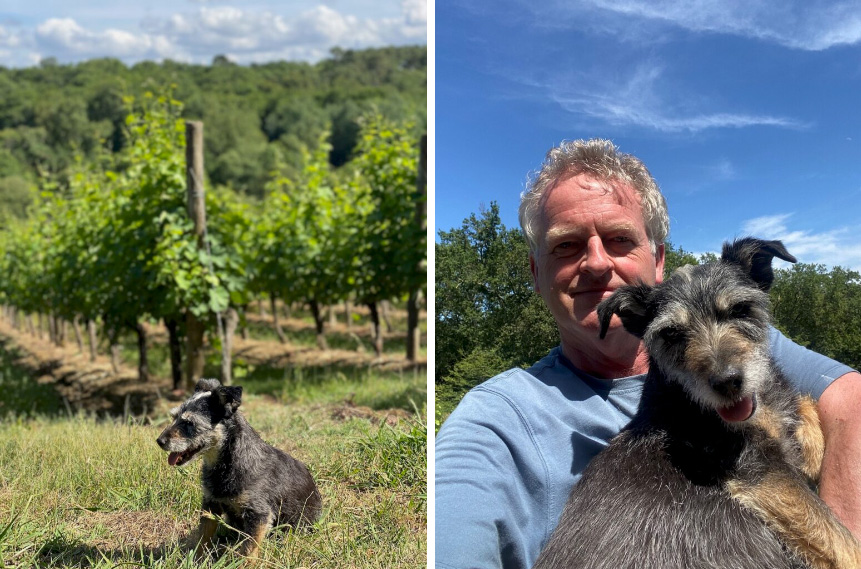 Margie wanted to walk in the vineyard but after a while she needed carrying this summer. Just a few weeks ago, and I'll miss her during the harvest.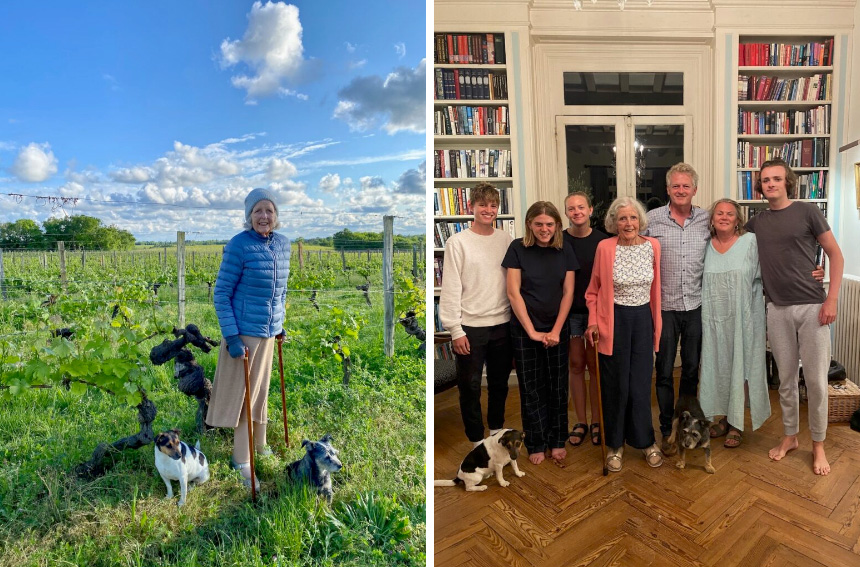 With DQ during lockdown, and later all the children last summer.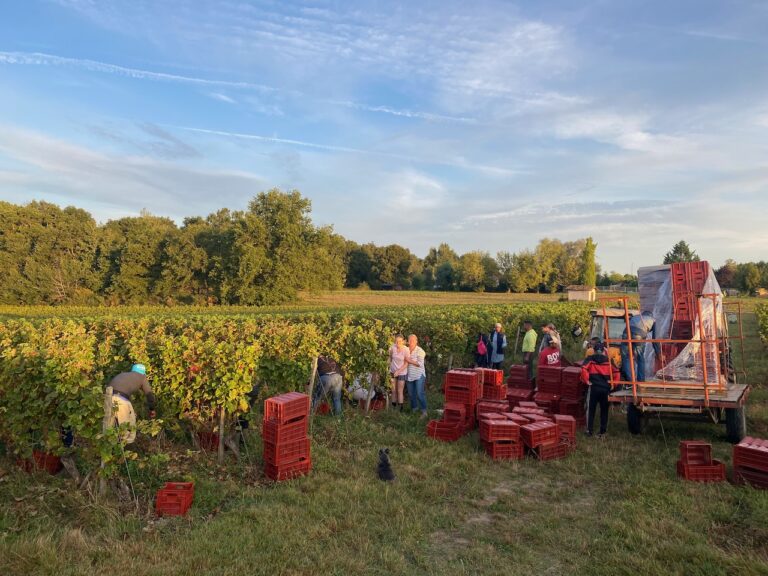 Margaux will be missed this harvest.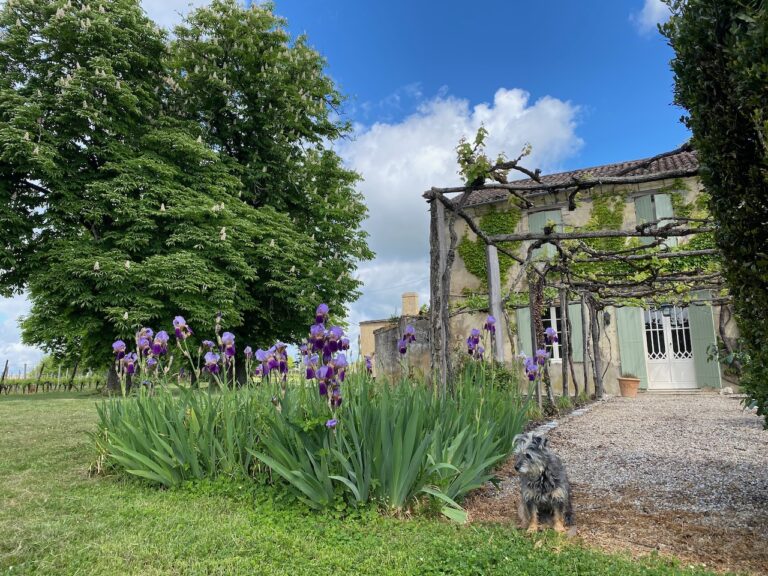 She'll long be remembered by so many at the farmhouse.
And by friends and family, including David, Ange's dad, on the right.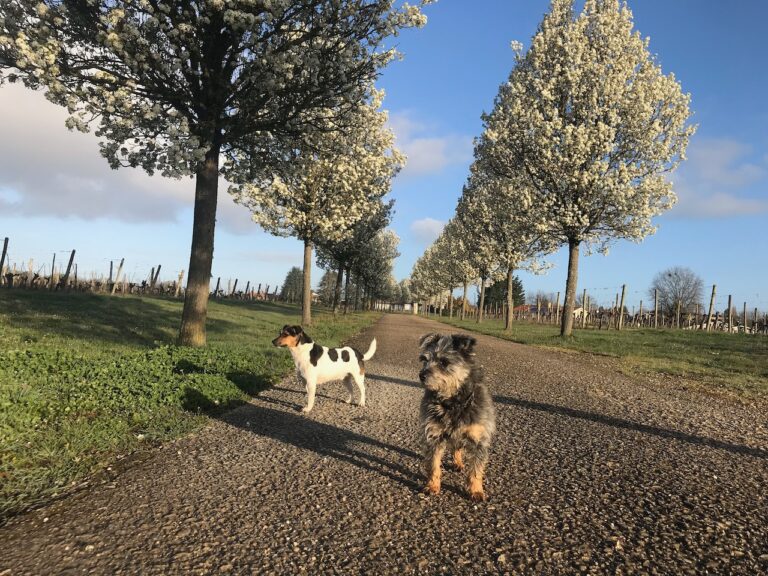 She's already missed by Pavie.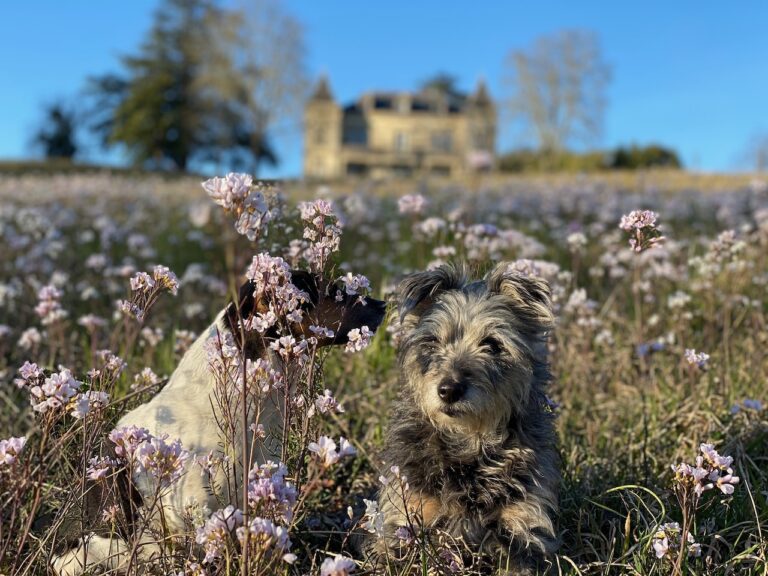 Never forgotten.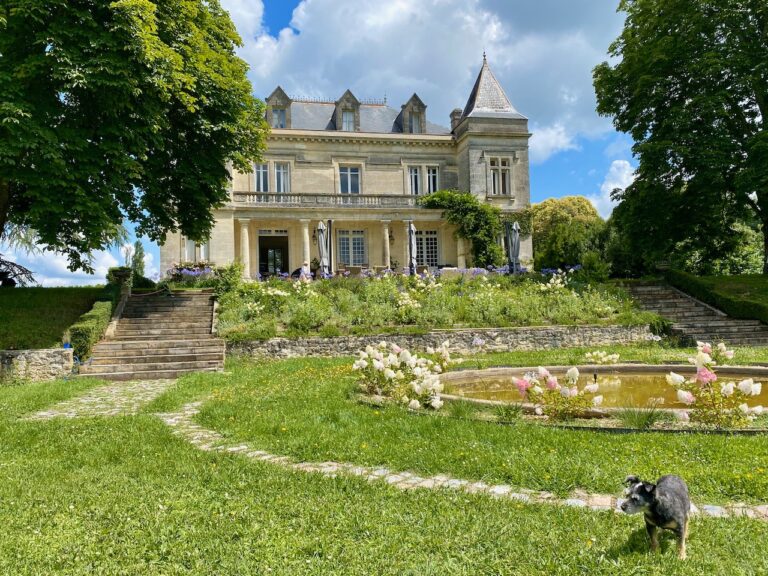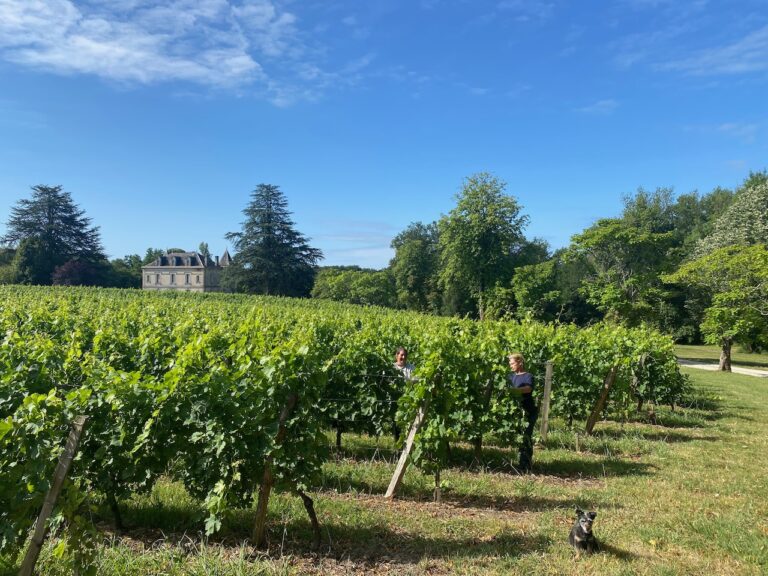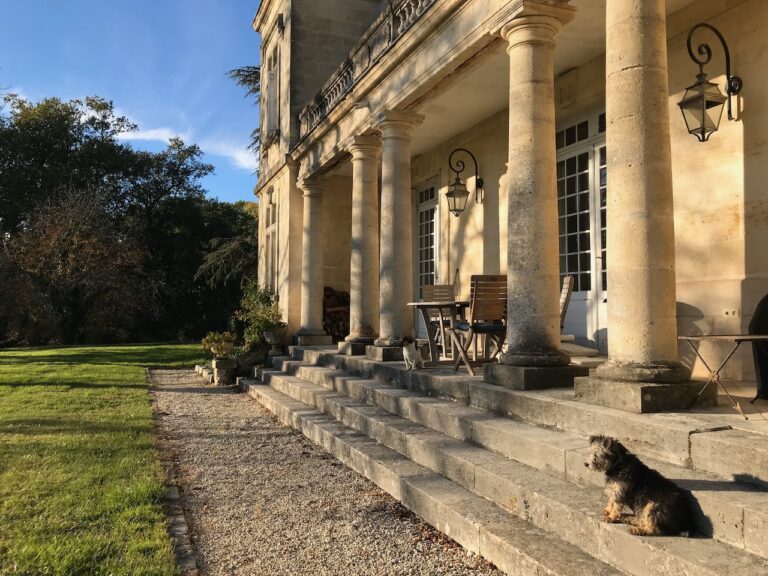 How very lucky we've been.
Onto the harvest.