Posted by Gavin Quinney on 26th Feb 2021
We're lucky to live here in so many ways but the sight and the sound this week of the migrating grues*, or cranes, flying up from the south is a glorious reminder that winter is almost behind us and that spring awaits.
It signals too that we need to crack on with the last of the pruning – as Nelly's doing, above, working beyond the 6pm curfew here – and the pulling out of last year's branches, in readiness for the growing season ahead.
In this missive:
New vintages in high demand
Bottling the 2020s – a photo journal
NThe end of the (Calais) wine cruise
NThe Bauduc wedding wine planner
NNever too early for Rosé
NBordeaux 2020 in numbers
NChâteau Bauduc Fantasy Premier League
All the best
Gavin & Angela Quinney
*PS Some very amateurish videos on @gavinquinney's Twitter and Instagram.
New vintages in high demand
Thank you to everyone who has supported us in the last year by buying or recommending our wines. Almost all the 2019s have sold out – only a few cases of Sauvignon Sémillon 2019 remain – and we've had a tremendous start with the 2020s. We launched them in the UK on 5 February, along with our new reds and crémant from 2018. (By the way, we're drinking Les Trois Hectares rouge 2018 and it's already seriously good.)
Whether direct from us or through a few selected merchants around Europe who also deliver to private individuals, we're grateful to have so many people topping up their stocks of Bauduc for home consumption. The winner of the February DIOTM (delivery instructions of the month) award is Mr Geordie Clarke in London, partly to cheer him up: "It's lockdown. I don't go anywhere, ever. But leave it with a neighbour if I disappear into a wormhole."
In case you missed it, the February 'opening offer' of wines in the UK ends at midnight on Monday, 1 March. Toot toot.
Bottling the 2020s – a photo journal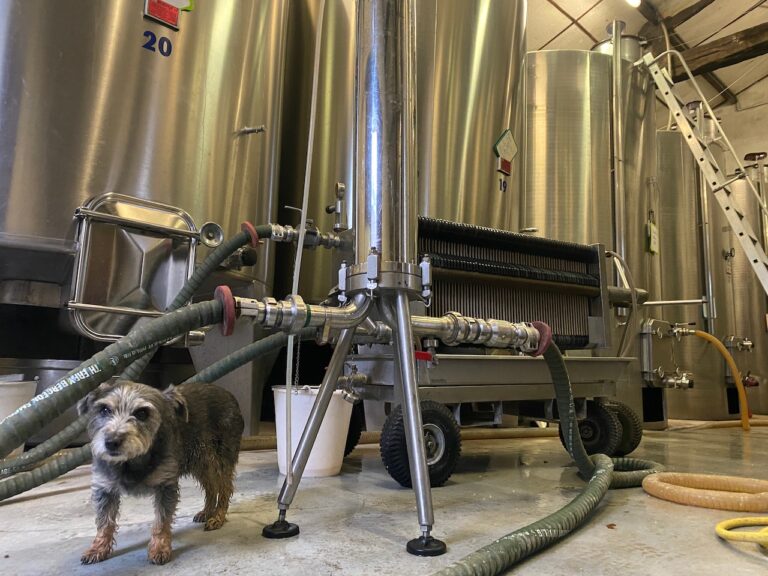 Earlier this month we emailed out a photo journal of the bottling of the 2020s. Thrilling stuff this 'Mis en bouteille au château', obviously. You can see that email here though we also save all the photo journals in the News section at the foot of Bauduc dot com – and for those who simply want the pics and not the drivel we also keep the photo albums under 'About us'. The clever thing with those photo albums is they're super quick to load and scroll through.
The end of the (Calais) wine cruise
A trip to France to fetch a stash of wine hasn't been high on anyone's agenda for a while, but as there are signs that the borders might open up – potentially from 17 May – we've had a few enquiries about our collection service from Calais. Notably for weddings.
For the best part of two decades, we've had scores of private customers pick up our wine in Calais each year, saving on UK duty of £2.68 today, including VAT on the duty for still wine, and £3.43 a bottle for sparkling (£2.86 plus VAT). In 2021, with the door slightly opening ajar to weddings taking place in the UK from 21 June, there's renewed interest.
Sadly, the UK Government has pulled up this particular drawbridge. The UK duty-free limit of wine that you can bring back, even if you travel with the goods, has been cut from 'unlimited' under EU rules to just 24 bottles. Plus 12 bottles of sparkling, or 4 litres of spirits. (Duty in France on wine is a few pence a bottle.)
The relevant page on the Government website is here.
https://www.gov.uk/duty-free-goods/arriving-in-Great-Britain
On it you'll see that the old 'unlimited' rule still applies for Northern Ireland, but not England, Scotland or Wales. Daft but true.
It's pretty poor ('exact same benefits'?) but there it is. Even last January, the Gov dot uk site said the current EU rule of bringing in unlimited wine would still apply from 1 January 2021.
It's a great shame for Adah in Calais as she's helped out a lot over the years, and provided a very good service. But we can't see that 24 bottles max per person as an allowance makes a trip or even a detour worthwhile.
The Bauduc wedding wine planner
All is not lost if you're planning on hosting a wedding in the UK and are looking to source the wine from us. Weddings have always played a big part in the Bauduc story – it's an important choice for the happy couple and, after all, what better way for people to come across our wine.
With so much uncertainty about dates, and probably numbers, here's our suggestion. If you take delivery of wine well ahead, it's not really feasible to get sale or return. (The last time we agreed to collect some wine from a house in volume, the driver waited while the customer retrieved the wine from the loft.) However, if you buy the wine from us and don't take delivery, we can keep it securely in London City Bond until the plans become more concrete. If there's a change in the plans or numbers, we can hold it for longer or resell some or all of the wine, subject to obvious conditions.
At the outset, you wouldn't pay the UK duty and delivery element of around £3 per bottle (eg if the wine costs £11 a bottle you'd pay £8 upfront) though that part would become payable on delivery. Storage charges are £1.20 for a box of 6 per quarter, or £4.80 per year.
A similar scheme is available if you're buying and storing wine at the château for a wedding in France, and of course UK duty doesn't apply.
Never too early for Rosé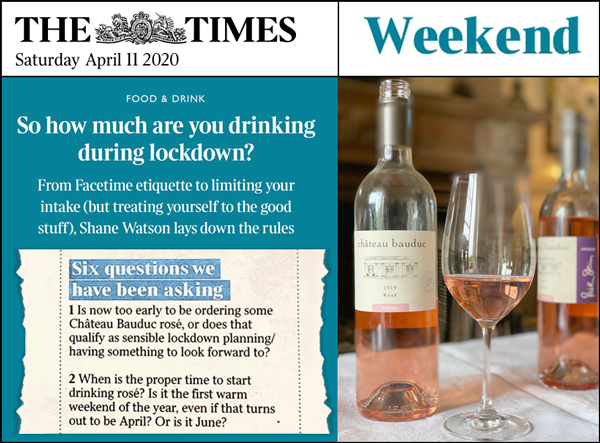 "Six questions we have been asking," wrote Shane Watson in The Times Weekend last Easter, in her rules for lockdown drinking (which were not to be taken too seriously).
"1. Is now too early to be ordering some Château Bauduc rosé, or does that qualify as sensible lockdown planning/having something to look forward to?"
"2. When is the proper time to start drinking rosé? Is it the first warm weekend of the year, even if that turns out to be April? Or is it June?"
Well, we think the answer to (1) is no, and for (2) that's up to you.
Perhaps it was all those canny people down in Provence who got the ball rolling a while back with pre-shipment, winter deals and Valentine's Day promotions, but the 'physical' demand for our pale, dry rosé seems fairly extraordinary for February. By the end of this month, we've loaded over 6,000 six-packs onto trucks, plus magnums, after we bottled it in December and let it rest a month. Tiny numbers in the great scheme of things but that's an awful lot for us.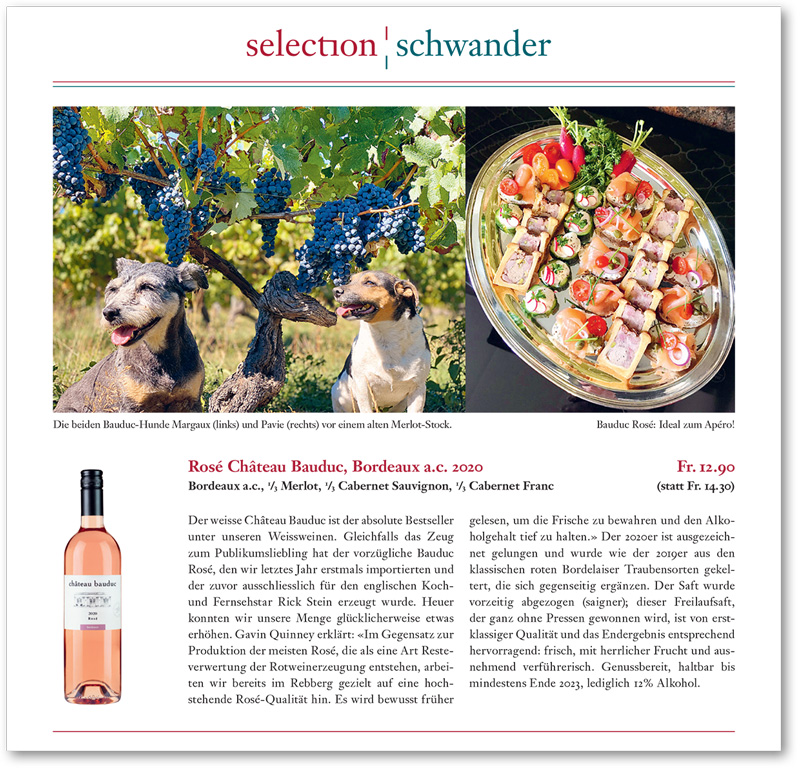 As well as in the UK and Ireland, it's been flying out the door in Switzerland, courtesy of our friends at Selection Schwander in Zürich. Out of all the photos we sent them of the brilliant wine making, naturally they chose the one of the dogs under the vines.
'The 2020 is a great success and, like the 2019, was made from the classic red Bordelais grape varieties that complement each other. The juice was drawn off prematurely; this free-run juice, which is obtained entirely without pressing, is of first class quality and the end result is accordingly excellent: fresh, with wonderful fruit and exceptionally seductive' wrote Philipp Schwander, Master of Wine. At least that's the Google translation.
Bordeaux 2020 in numbers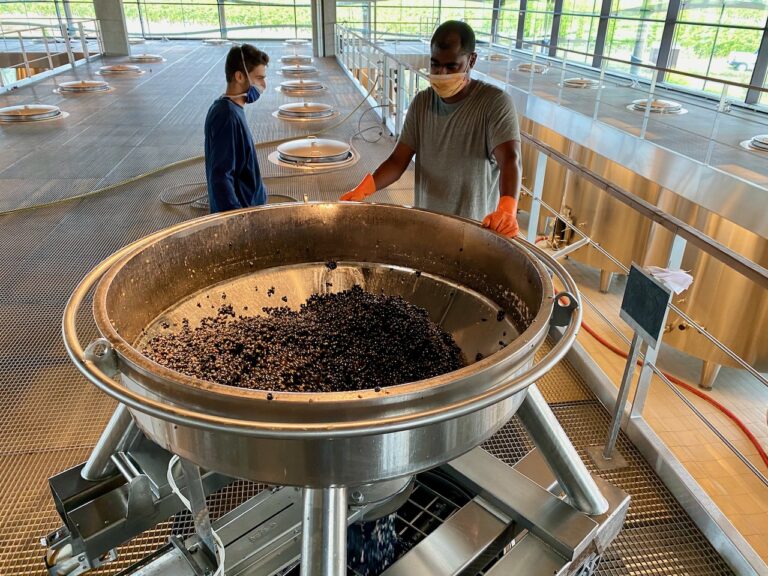 Earlier this week we emailed the famous Quinney Bordeaux annual production report, following its publication on Jancis Robinson's website on wine – the most authoritative in its field – and on Liv-ex, the global marketplace for the fine wine trade. (Liv-ex is an acronym for the London International Vintners' Exchange, which has a certain ring to it. Fine people, too.)
We thought we'd send it as an email as it makes for quite interesting viewing. Interesting to a few, admittedly.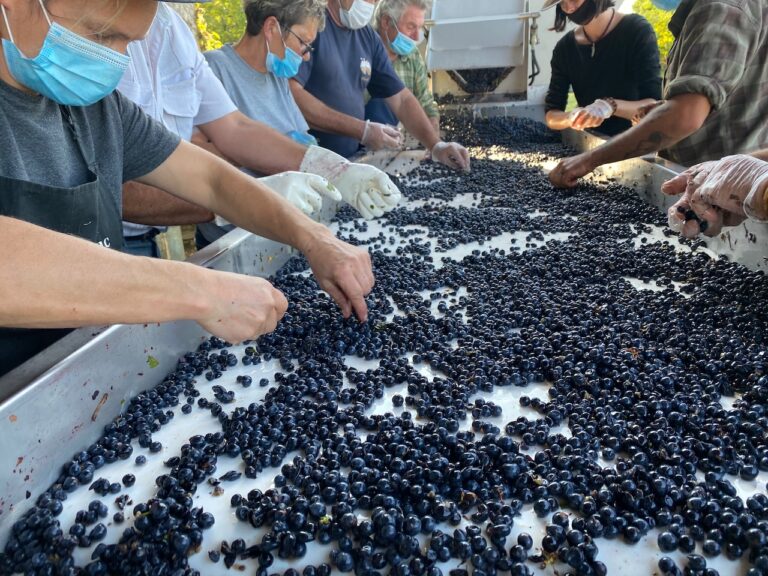 The report covers the whole region. At Bauduc, above, we were pleased to reach the maximum output that we're allowed to make under the French appellation rules. Under the heading 'yet more things you don't need to know about wine', that's 60 hl/ha for our dry whites in 2020 (6,000 litres a hectare, or 8,000 bottles, from an average of 4,000 vines p.h. – so two bottles per vine), 55 hl/ha for Rosé and 43hl/ha for Bordeaux Supérieur red.
That's three years on the trot that we've had maximum yields. Onwards and upwards.
Here's a link to the email and below is the article on GavinQuinney.com
And now for the important stuff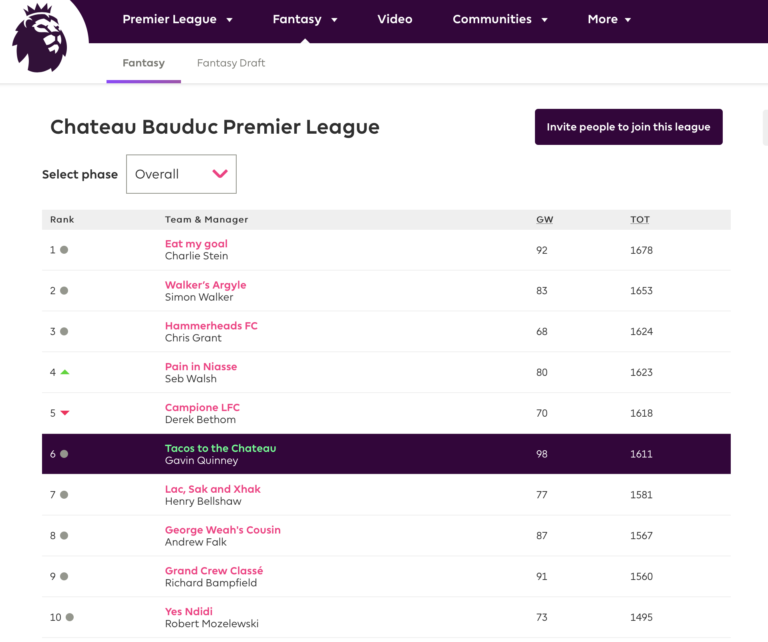 It turns out that competition for the top spots in the Château Bauduc Fantasy Premier League is pretty fierce. The five managers above Tacos to the Chateau are all ranked in the top 1% of 8 million players globally.
The sooner that Rick Stein's restaurants are allowed to open the better, as it might just distract his son Charlie, giving the rest of us a chance. Not so this weekend for the double gameweek (it's an FPL thing).
The league is still open to any Bauduc customer and members of their household: get in touch with gavin@bauduc.com or on Twitter @gavinquinney. Such is the effort going into this by all concerned that we've extended the prizes – from a case of 12 to the eventual winner, and a case of 6 to the runner-up, to a case of 12 to both the winner and runner-up, plus a six-pack to any customer finishing in the top five. A bottle of wine to anyone who finishes above Tacos to the Chateau, should Tacos slip below 6th. Richard Bampfield MW, please note. (UK and EU only for prizes.)