Posted by Gavin Quinney on 30th Jun 2020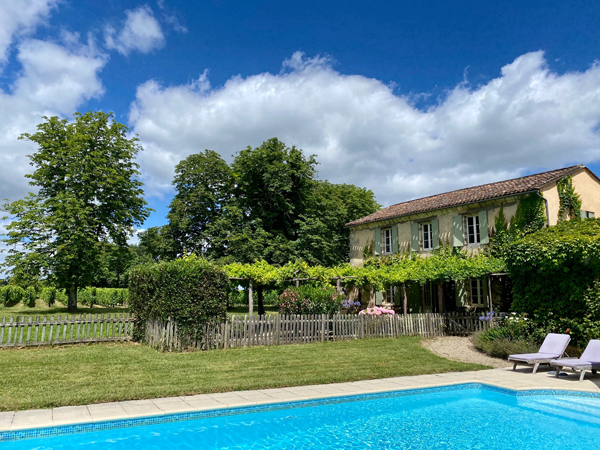 After the surge in home deliveries, it's all go now for summer holidays. On that note, we've got a week free in our fabulous farmhouse, above, from Friday week - a little short notice, granted, but it's a lovely spot for a change of scene. In September too, there's a fortnight available during the Bordeaux harvest.
Meanwhile, if you're staying at home, don't worry, we are still very much on call with some delicious wine.
All the best,
Gavin & Angela Quinney
A quick (or harvest) getaway in our farmhouse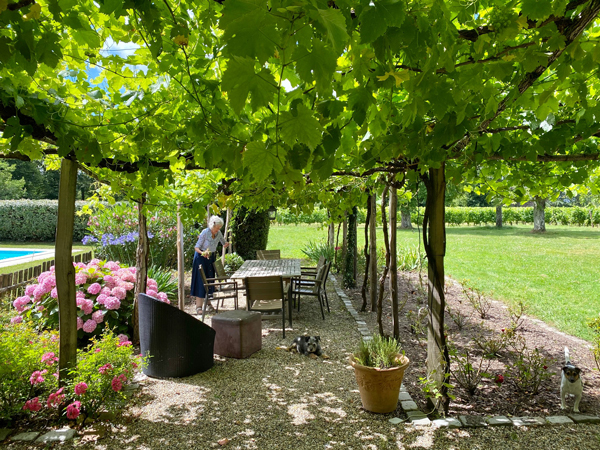 We have a week free in our lovely four-bedroomed farmhouse from next Friday, 10th July. As it's such short notice we've knocked 10 per cent off the normal rate, so it's now £2,650 for seven nights. That works out to less than 95 quid a double or twin room per night, though you don't have to fill every bed to get value from this super holiday home.
Two weeks at the end of September are also available, as is the first fortnight of October. The Bordeaux red wine harvest will be in full swing from mid-September as it's an early growing season. Or you can stay put here in peace.
The farmhouse has a lovely south facing garden next to the vines and a heated private pool, and a handsome eating area under a vine-covered trellis. Inside there's a spacious, open plan room with kitchen, sitting room, dining table and all mod cons. Upstairs there are four bedrooms, all of which have double beds - although two can be made into twins. There's also a cot. Oh, and three upstairs bathrooms, plus the downstairs loo. You can read much more about it here.
One of the best things, though, is that we have fantastic food shops within a five minute drive. Fruit and veg, meat and fish, bread, cheese, the lot - and second to none in the Gironde. To book, email team@bauduc.com with 'farmhouse' in the subject. (Best not to reply to this newsletter though as it can get lost amongst the auto-replies.)
Fixing our Rosé shortage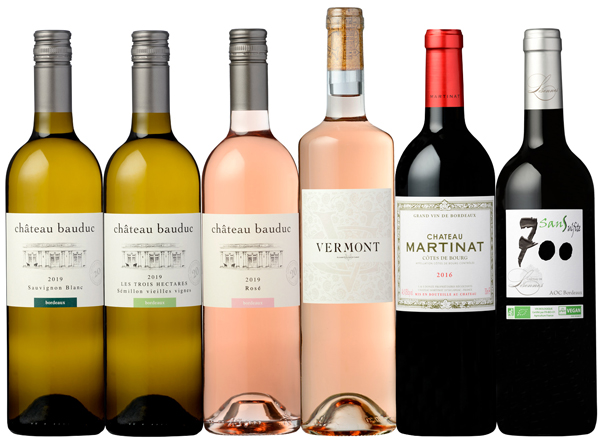 Every year we run out of Bauduc rosé before the Summer holidays - sorry. You may have read that we bought back the large shipment we delivered to Rick Stein's in Cornwall in early March, but even that lorry load didn't last long. Cleaned out by private customers, thanks to the good weather during lockdown. This vintage we'll certainly try and make more.
But we have found a delicious alternative with the stylishly-packaged Château Vermont. The award of a Gold medal in Paris helped to get this dry and refreshing wine onto our shortlist, which it then topped. Pale rosés may be fashionable but they have to have flavour and personality - this one does, so do give it a whirl.
Our 20th vintage a star buy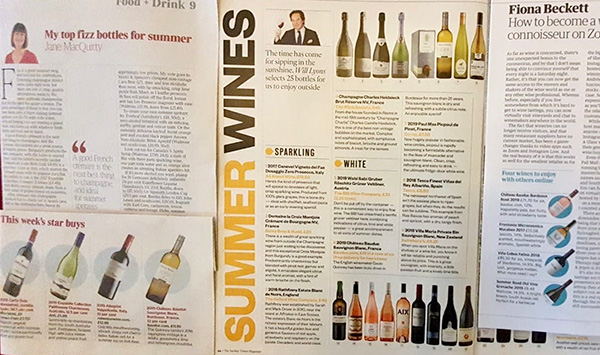 Did we mention that our Sauvignon Blanc 2019 was a star buy for Jane MacQuitty in The Times and for Will Lyons in The Sunday Times earlier this month? Apologies if we've laid it on with a shovel but we're rather chuffed that our little website for our little vineyard is occasionally quoted in the national press. Fiona Beckett also picked out our Rosé 2019 in The Guardian. Naturally enough, we've posted the following images onto the pages for the wines, respectively.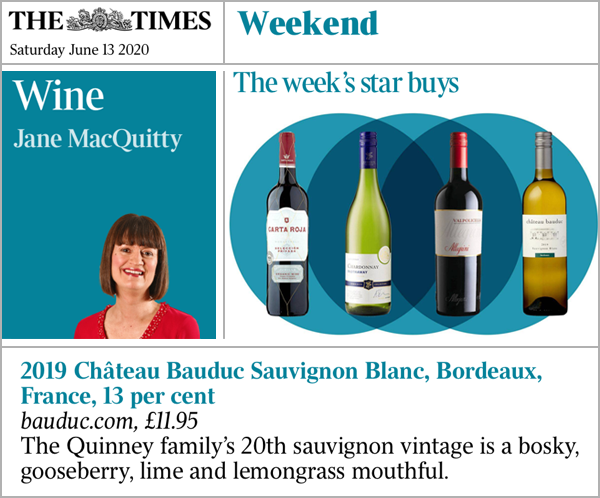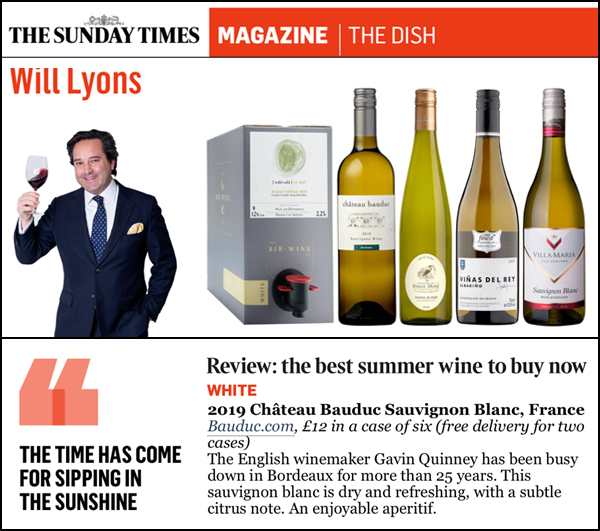 14th July and a date to remember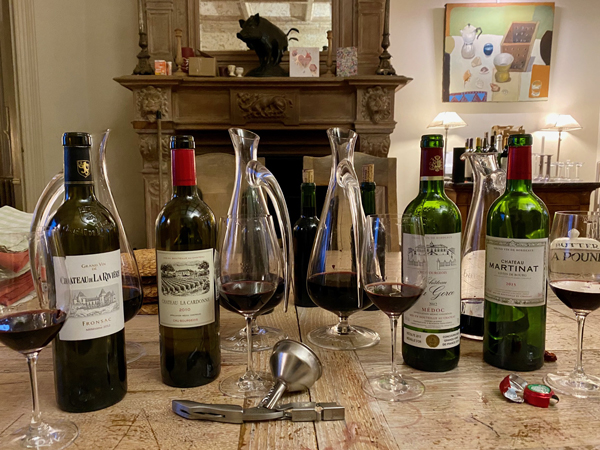 Yes, the 14th July is the date that the built-in volume discounts come to an end on our website. The 5% discount for 36 bottles and 7.5% for 72 bottles ends at midnight. Of course, 14th July is Bastille Day and a national holiday in France. This year it's also our 30th wedding anniversary - we got married a week after the final of Italia '90. Nessun dorma and all that; seems like yesterday. Perhaps it was, what with all these sporting re-runs on the telly.
These wines, and not just ours, in unmixed cases are subject to the volume discounts. (Admittedly, this is a tenuous commercial link.)
The vineyard at Bauduc and Inside Bordeaux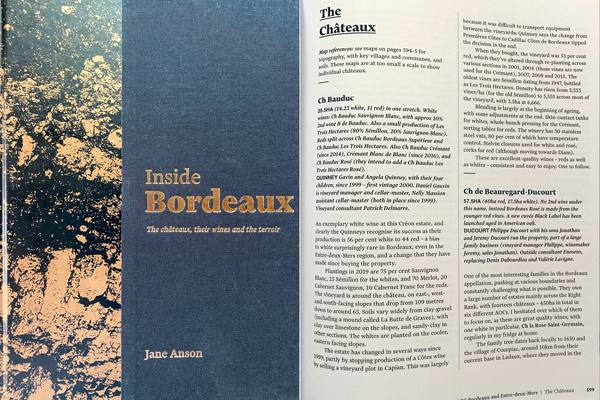 Last month we mentioned the excellent new book by Jane Anson, Inside Bordeaux. We highly recommend it as a brilliant reference book but also as an entertaining read. With Jane's kind permission, below is her entry for Bauduc.
25.5ha (14.23 white, 11 red) in one stretch. White wines: Ch Bauduc Sauvignon Blanc, with approx. 10% 2nd wine B de Bauduc. Also a small production of Les Trois Hectares (80% Sémillon, 20% Sauvignon Blanc). Reds split across Ch Bauduc Bordeaux Supérieur and Ch Bauduc Les Trois Hectares. Also Ch Bauduc Crémant (since 2014), Crémant Blac de Blancs (since 2016), and Ch Bauduc Rosé (they intend to add a Ch Bauduc Les Trois Hectares Rosé).
QUINNEY Gavin and Angela Quinney with their four children, since 1999 – first vintage 2000. Daniel Gauvin is vineyard manager and cellar-master, Nelly Massion assistant cellar-master (both in place since 1999). Vineyard consultant Patrick Delmarre.
An exemplary white wine at this Créon estate, and clearly the Quinneys recognise its success as their production is 56 per cent white to 44 red – a bias to white surprisingly rare in Bordeaux, even in the Entre-deux-Mers region, and a change that they have made since buying the property.
Plantings in 2019 are 75 per cent Sauvignon Blanc,25 Sémillon for the whites, and 70 Merlot, 20 Cabernet Sauvignon, 10 Cabernet Franc for the reds. The vineyard is around the château, on east-west and south facing slopes that drop from 109 metres, down to around 65. Soils vary widely from clay-gravel (including a mound called La Butte de Graves), with clay over limestone on the slopes, and sandy-clay in other sections. The whites are planted on the cooler, eastern-facing slopes.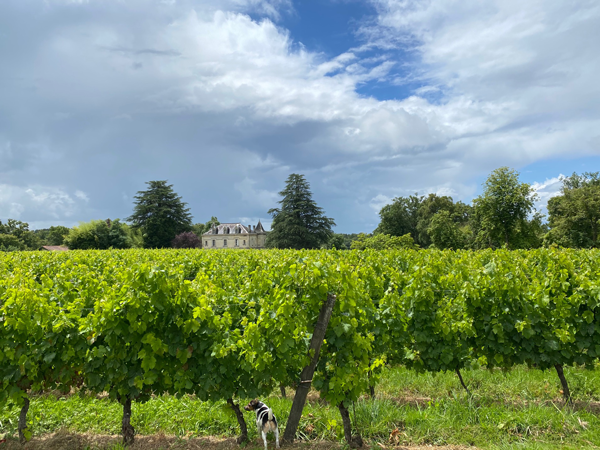 The estate has changed in several ways since 1999, partly by stopping production of a Côtes wine by selling a vineyard plot in Capian. This was largely because it was difficult to transport equipment between the vineyards; Quinney says the change from Premières Côtes to Cadillac Côtes de Bordeaux tipped the decision in the end.
When they bought, the vineyard was 55 per cent red, which they've altered through re-planting across various sections in 2001, 2004 (those vines are now used for the Crémant), 2007, 2008 and 2015. The oldest vines are Sémillon dating from 1947, bottled as Les Trois Hectares. Density has risen from 3,333 vines/ha (for the old Sémillon) to 5,555 across most of the vineyard, with 3.5ha at 6,666. Blending is largely at the beginning of ageing, with some adjustments at the end. Skin-contact tanks for whites, whole-bunch pressing for the Crémant, sorting tables for reds. The winery has 30 stainless steel vats, 80 per cent of which have temperature control. Stelvin closures used for white and rosé, corks for red (although moving towards Diam).
These are excellent-quality wines - reds as well as whites – consistent and easy to enjoy. One to follow.
The Bauduc Rosé cocktail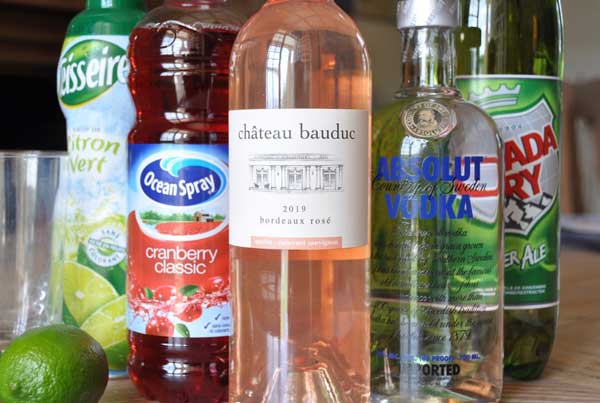 This is the Bauduc Rosé cocktail but in the circumstances you can use another, such as the Château Vermont above. Halve the quantities for 12 drinks, etc.
Makes 25 long drinks
150cl Rosé (a magnum, or two bottles)
25cl Vodka (1/3 of a bottle)
50cl Cranberry juice
4 Fresh limes
Lime cordial
Mint leaves for garnish
2 litres Canada Dry ginger ale
Use two limes for making fresh juice and slice the others longways into small wedges as a garnish.
For 25 long drinks, mix a magnum or two bottles of Château Bauduc Rosé, 50cl cranberry juice, a dash of lime cordial, good squeeze of fresh lime juice, and a slug of Vodka. Measures to taste, of course, but we'd go with a third of a bottle of vodka meaning that 10% of the cocktail pre-mix is vodka (and about 5% of the finished drink).
Test ahead for taste but not too much or you might get squiffy. When guests arrive, add ice into tall glasses (highballs or big wine glasses) and pour in the mix to half way; then fill with Canada Dry ginger ale.
Add a sprig of mint leaves for a garnish and squeeze in a lime wedge, before plopping it in, for a zippy first taste.
To top up, have a jug of the mix and the Canada Dry to hand and mix 50/50 as above. Plus ice.
The June skies above the vineyard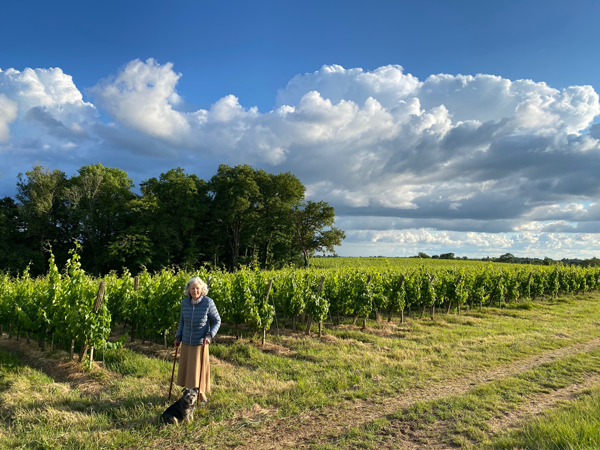 We will see how the growing season turns out but what a changeable month June has been. Sun, cloud and rain, though not too much. Much as we love the sun and clear blue sky it seems far more interesting when the elements are shifting overhead. Here's DQ, above, with the faithful Margaux.