Posted by Gavin Quinney on 29th Jul 2022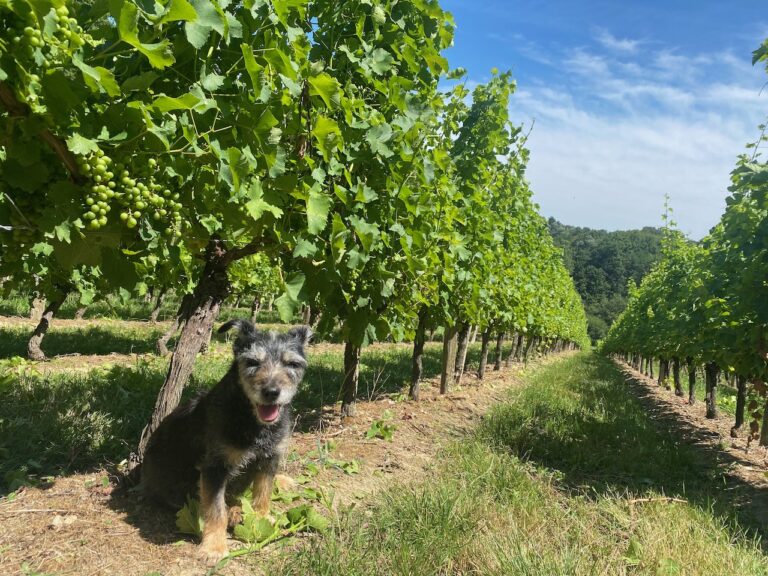 Well, we all know it's been hot in July.
Last month we wrote about the hail storms that ripped through vineyards not too far from us on 20 June, following on from the 40+˚C heatwave the weekend before. If you missed that thrilling email, part one of the June review was here, with the hail photo journal here.
This month we've seen some catastrophic forest fires just the other side of the river Garonne from us at Bauduc – all very grim.
More on that at the foot of this missive but we don't want to focus solely on these events in the middle of the holidays. There are plenty of far less important things to be getting on with.
Enjoy the rest of the summer.
All the best
Gavin & Angela Quinney
---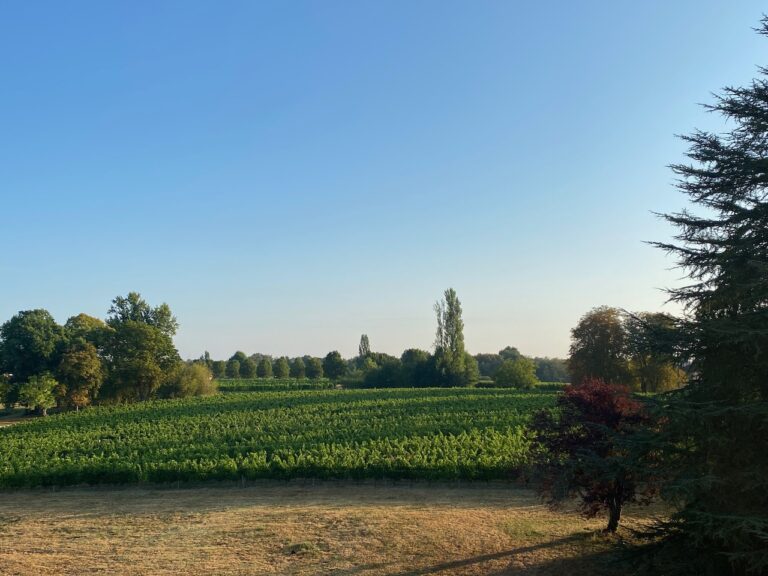 A quick update on the vines. They're doing fine for the mo, just about, but it's been dry, as you can see.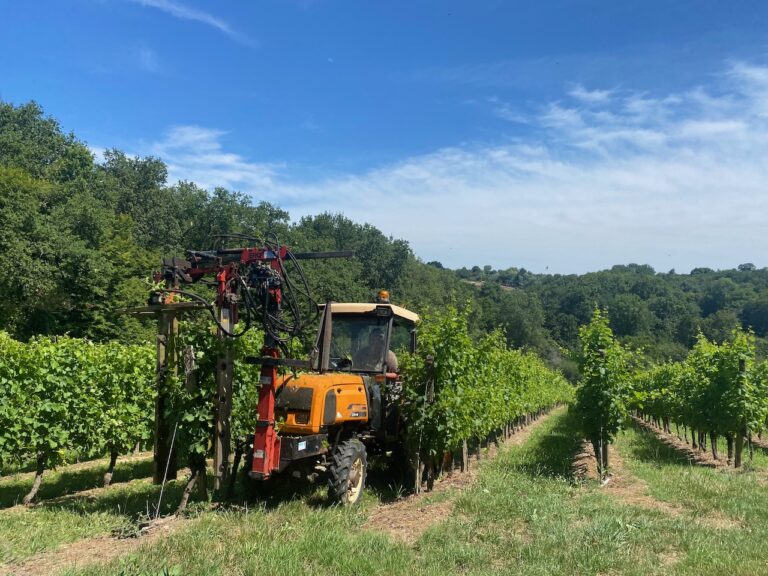 Daniel trimming and mowing in the Sauvignon blanc.
Heads up for Fantasy Château Bauduc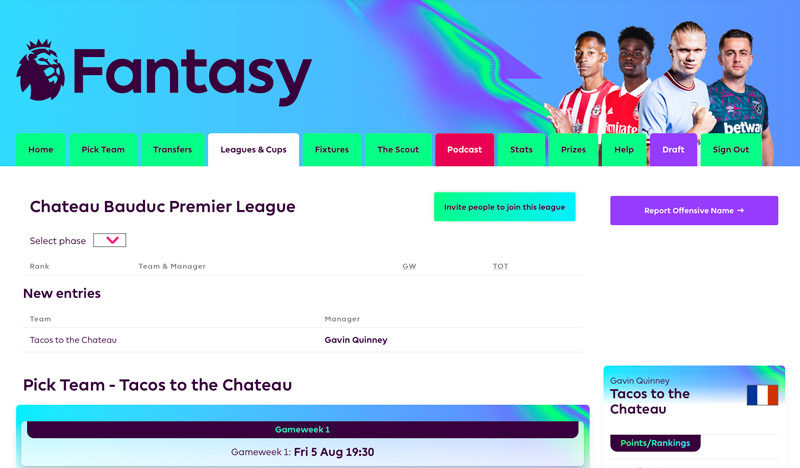 This sounds potentially more exciting than it is, along the lines of some unorthodox cellar club or a new angle on a bonded warehouse.
In fact, it's the return of Fantasy Premier League in early August, and the most competitive mini-league from any winery on the planet. All you need to do now is to sign up for Fantasy Premier League and select your team of misfits by teatime on Friday 5 August.
Just make sure your Fantasy team is ready for the first August weekend – we'll let you know how to be a part of our mini league shortly. Last year, 'Tacos to the Chateau' finished in the top 1% of 9 million players, yet only scraped into the top 9 of the Bauduc League. They're no fools, the Bauduc football massive.
Rosé refresh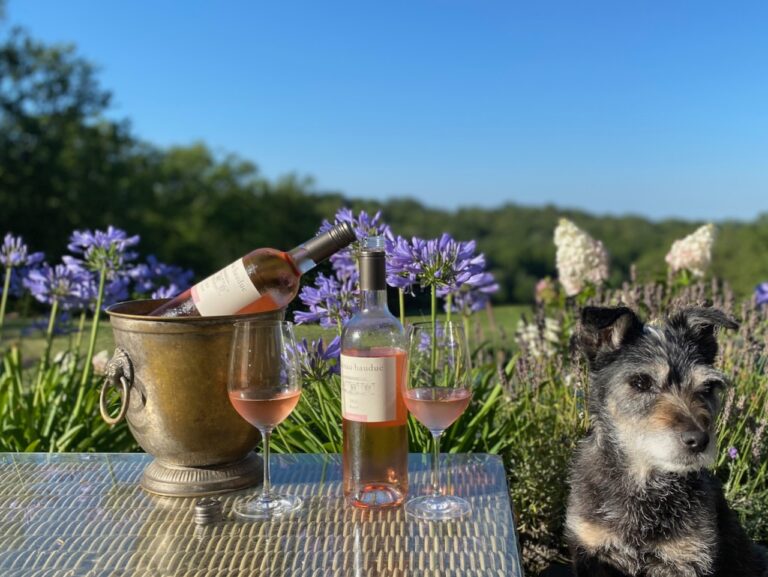 Our refreshing Château Bauduc Rosé 2021 has excited a lot of folk, although Margaux less so. Add two six-packs to your basket on bauduc.com and there's still a juicy discount on the second case.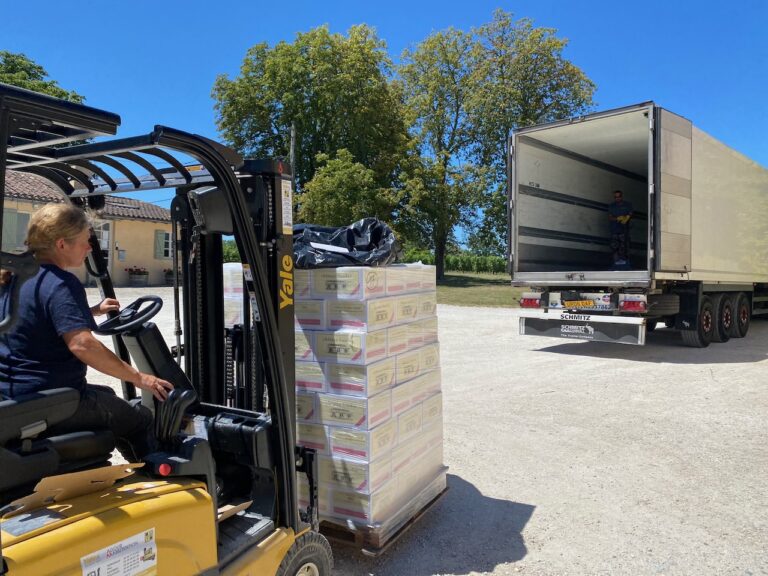 Nelly loading more Rosé 2021 for thirsty Brits, 13 July. But this isn't any old truck, given this heat.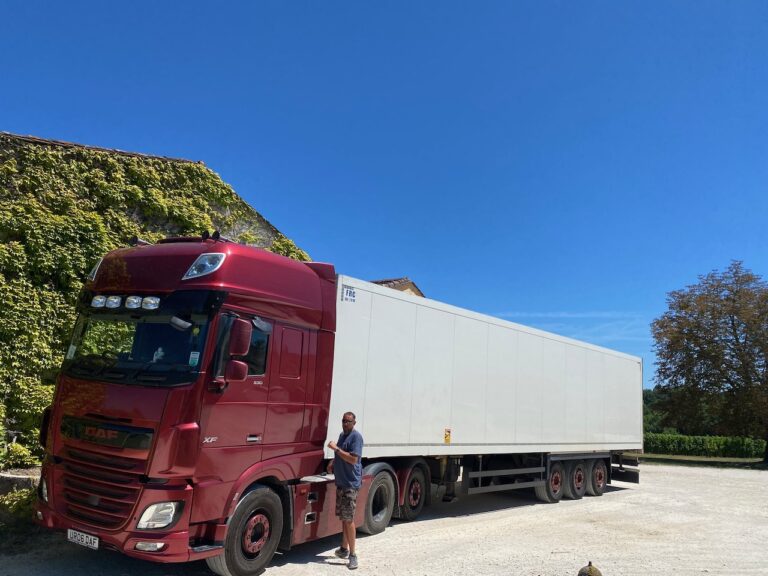 It is our Dom's refrigerated trailer, essential for shipping pallets over in these temperatures.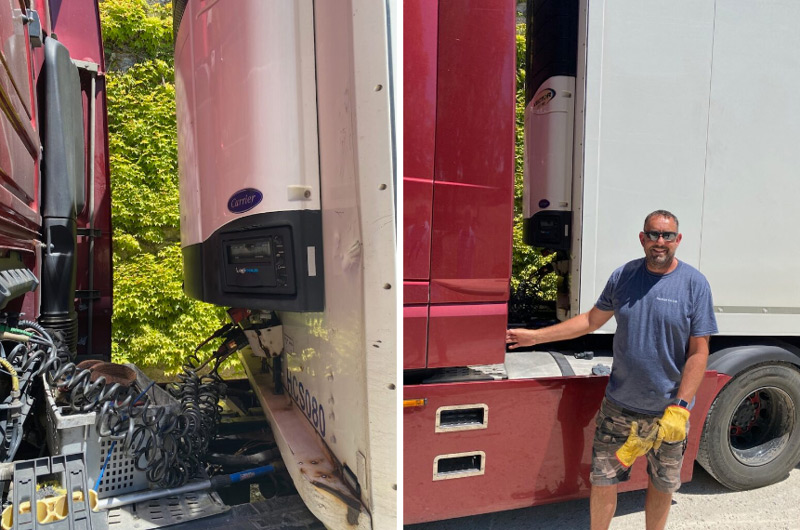 Setting the right level. Nice and cool for the journey. As is the wine.
The Bauduc Breeze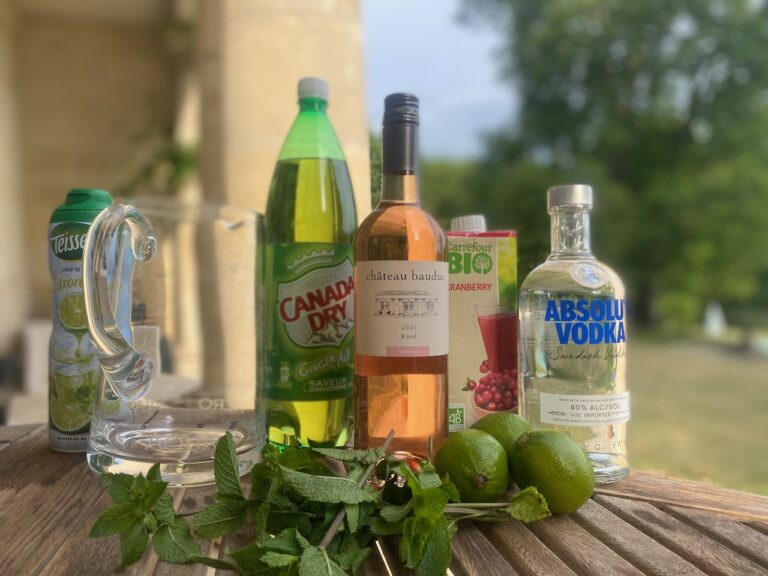 This is a lovely, refreshing cocktail that works well on warm summer days and evenings. It's good to try out the overall blend by sampling the finished article, to suit you and the occasion – eg with more or less alcohol.
For a dozen long drinks of about 200 ml each, mix this brew together in a jug, but without adding the Canada Dry as this goes in last just before serving:
The juice of two limes, freshly squeezed (about 80-100ml)
100 ml lime cordial
200 ml cranberry juice
100 ml vodka
500 ml Château Bauduc Rosé (two thirds of a bottle)
Mix the litre above in a jug, and leave in the fridge if you can.
Prepare and set aside some fresh lime wedges, and sprigs of mint if possible.
You'll need a 1.5 litre bottle of Canada Dry for this amount, and have the glasses ready – large wine glasses or high ball tumblers are fine.
(Halve, double or triple up etc depending on number of drinks needed.)
When guests arrive, add some ice and a sprig of mint into each large glass and pour in the mix to about half way. Fill up with Canada Dry ginger ale and squeeze in the juice from a lime wedge as you drop it into the glass. Serve!
For top ups, you can go round with the jug of the mix, and add the Canada Dry and more ice if required.
Our farmhouse pool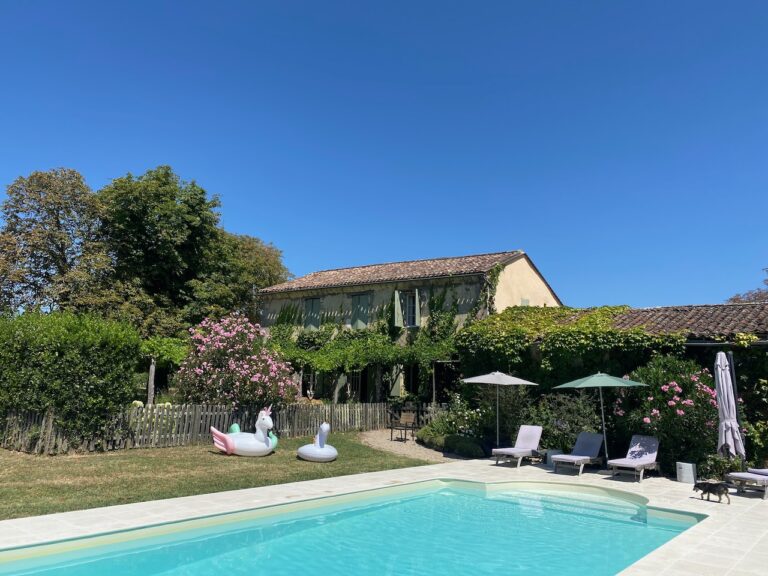 But we want to talk about our farmhouse, as we haven't mentioned it much over the last two years, except to say that it was off-limits due to Covid before this summer. This is how it looks now, as of 21 July. In fact, this is really a piece about our swimming pool, as a lot's happened of late. We're not trying to lure you into an immediate booking with those attractive inflatables – the farmhouse is booked up until mid-September. (Free though for one week then.)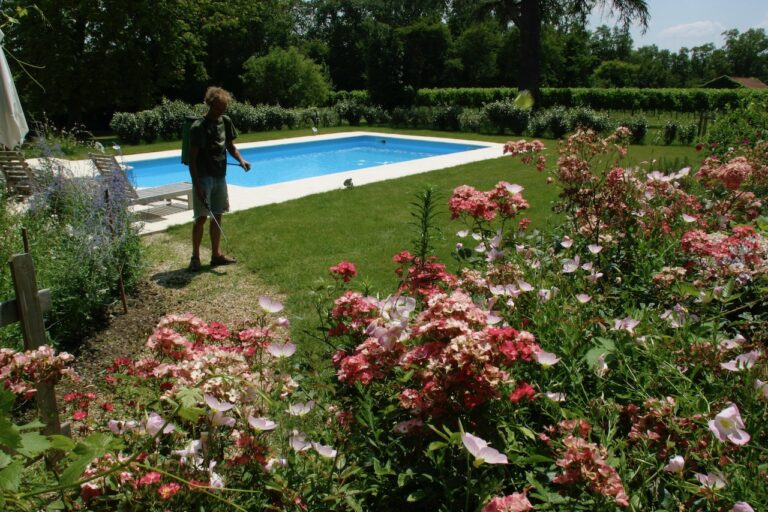 We first built a swimming pool at the farmhouse soon after we arrived. This is Franck the old gardener with the new pool, in 2002 – exactly 20 years ago.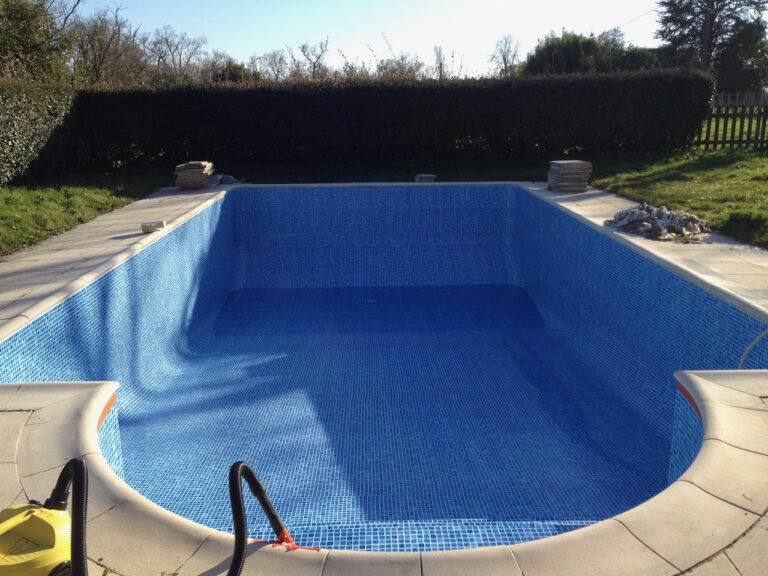 The original pool did well but we replaced the liner in 2014.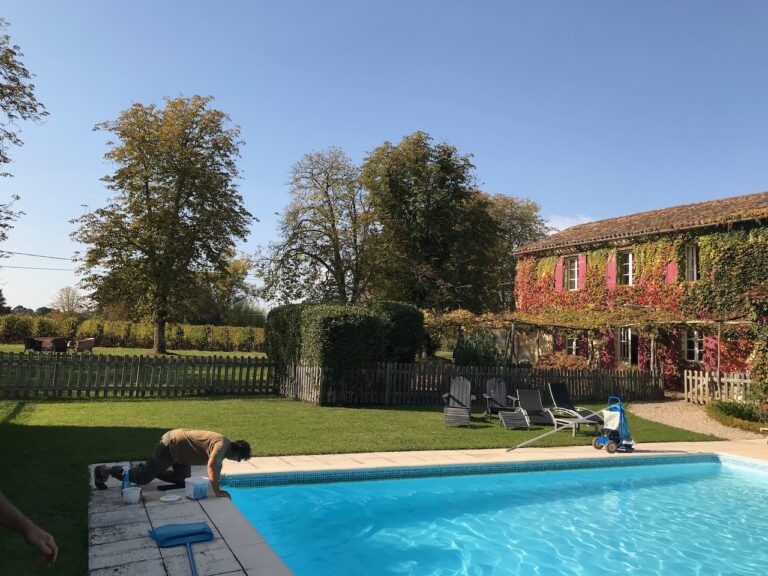 François, the pool maintenance man, has been every Friday afternoon for many years.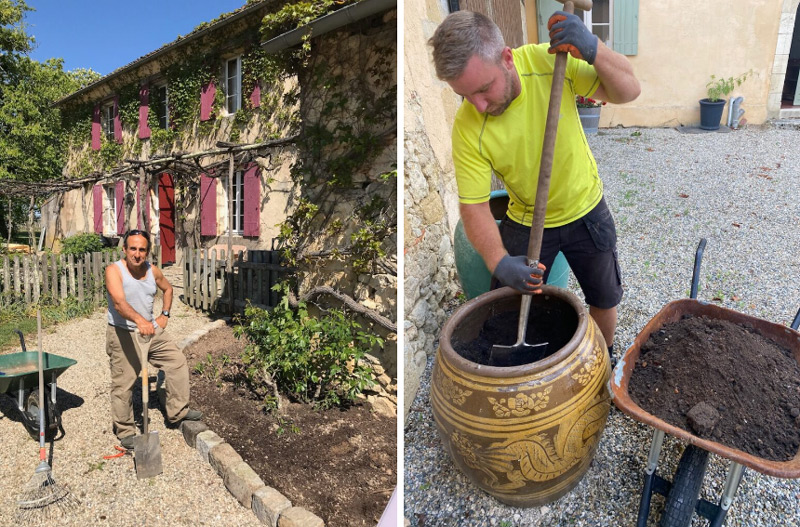 Luigi also used to come every Friday to help out with the garden and odd jobs – on changeover day – but he's recently hung up his shovel in favour of Tom.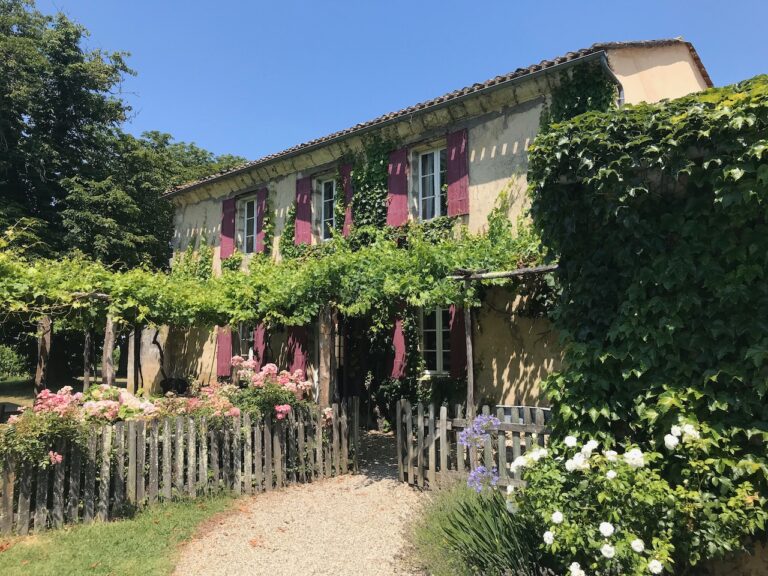 For many years, we'd gone with a sort of claret for the shutters.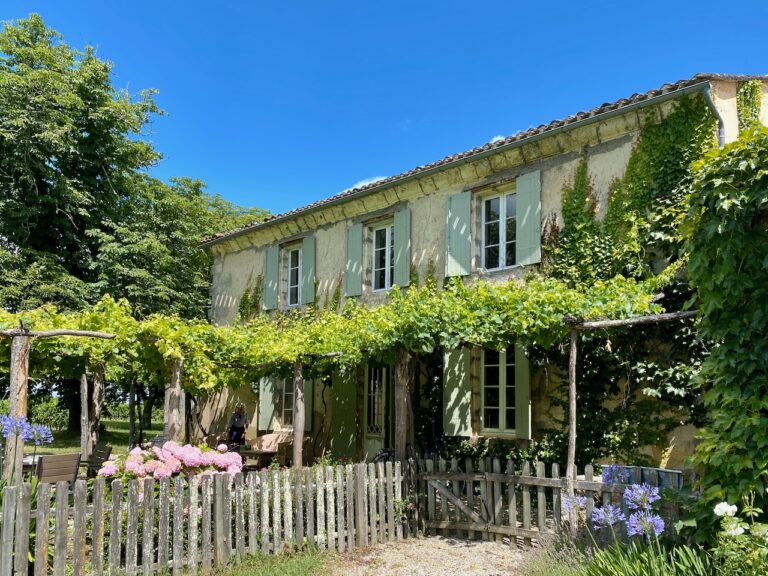 Then during the first lockdown we decided to change the colouring for a lighter, greener look.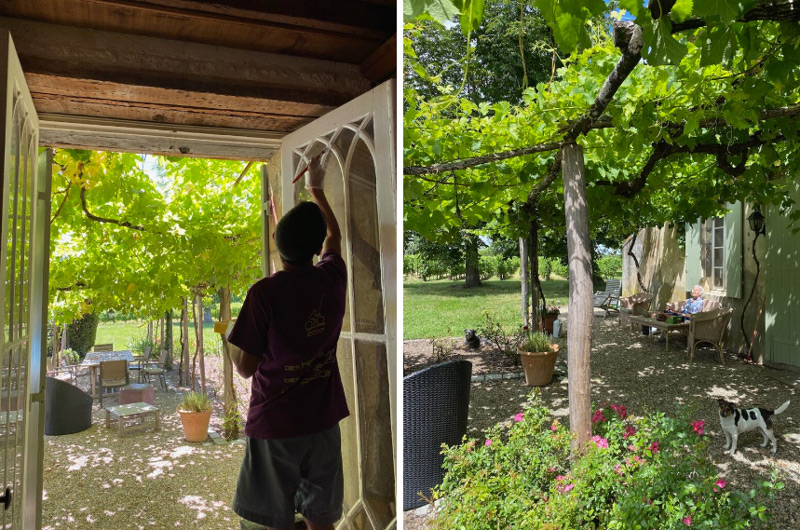 Kevin was our painter at this time, and repainted inside as well as out.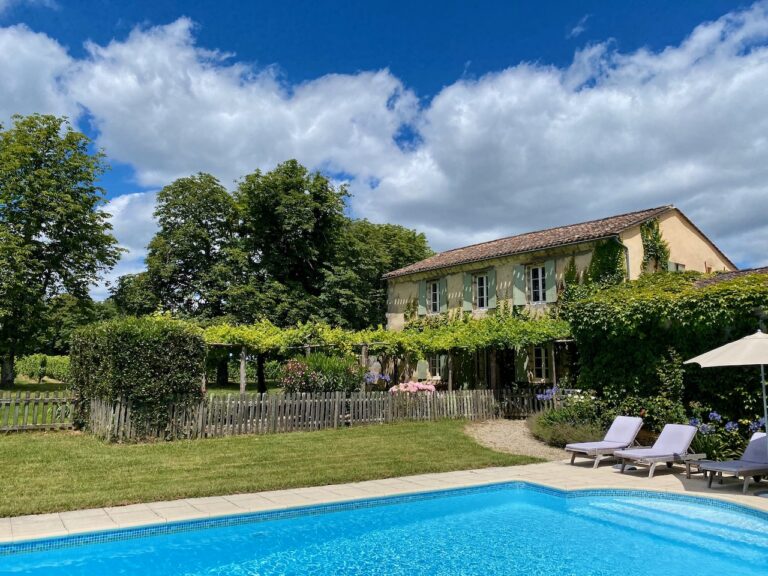 Meanwhile, the pool had developed a leak. It was ok but we had to keep topping it up.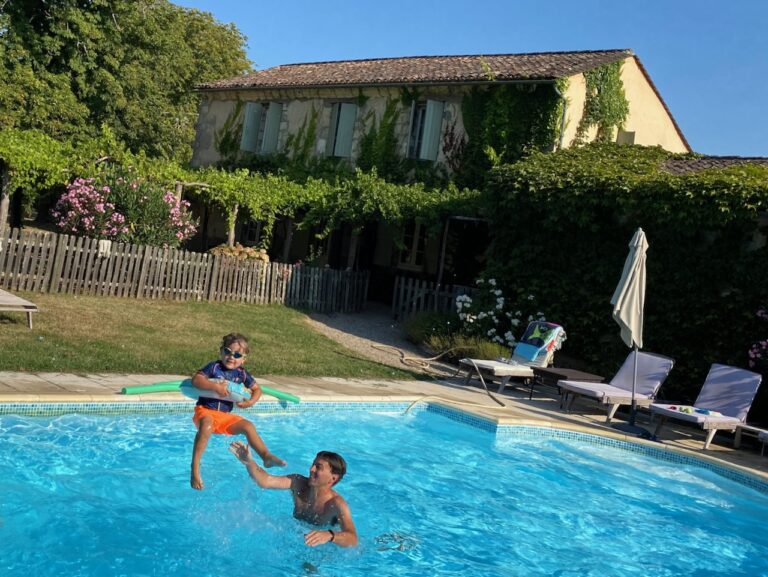 As did our customers, during that brief open travel spell in the summer of 2020. Turning on the hose at some point during the evening didn't detract from anyone's holiday.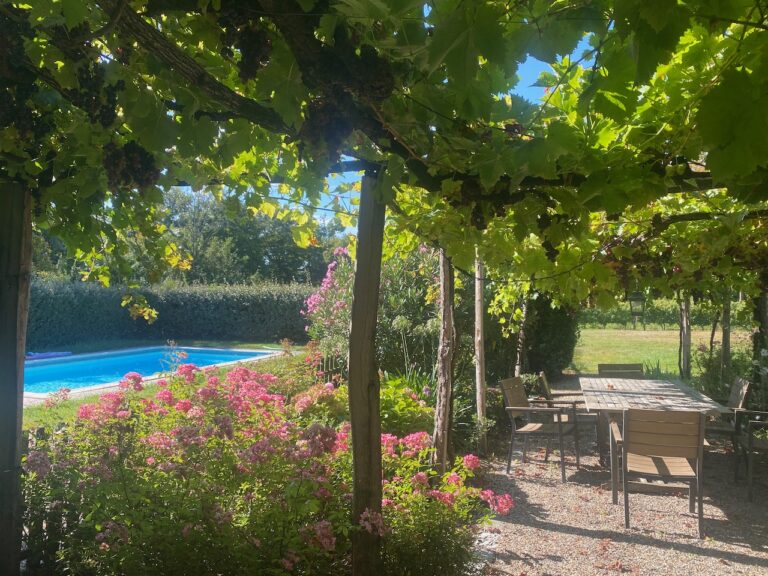 And with the farmhouse not in use throughout 2021 due to Covid – a hell of a waste really – we left things as they were.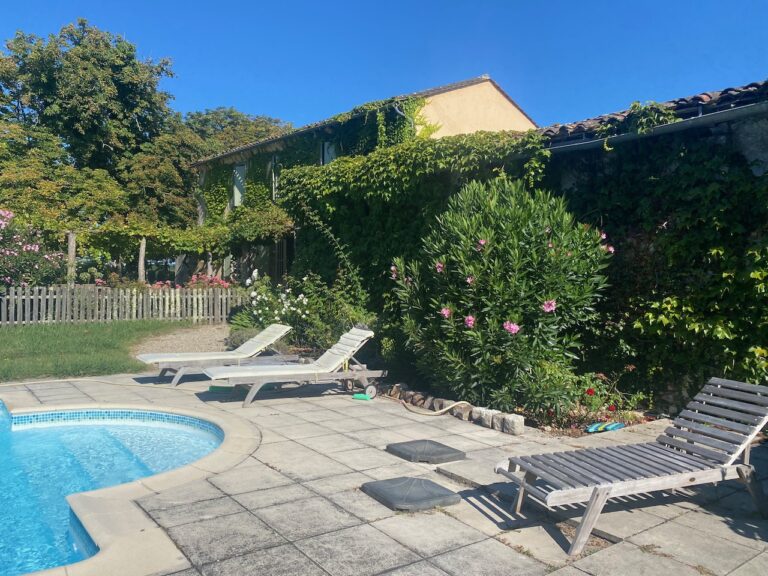 But the annoying leak was still there despite a lot of research and digging around. And the terrace had become uneven in one corner, many years before. This was the end of August 2021.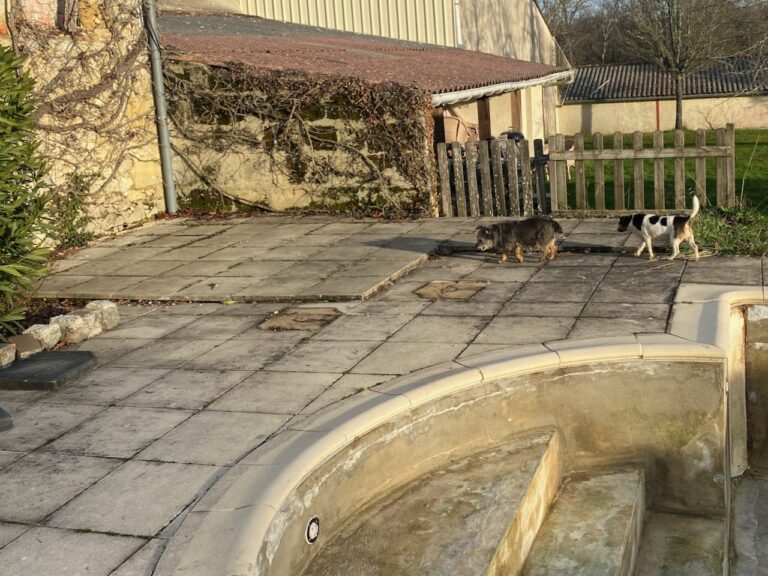 So the pool was emptied and the work began at the start of this year. (You can see the uneven level of the patio area.)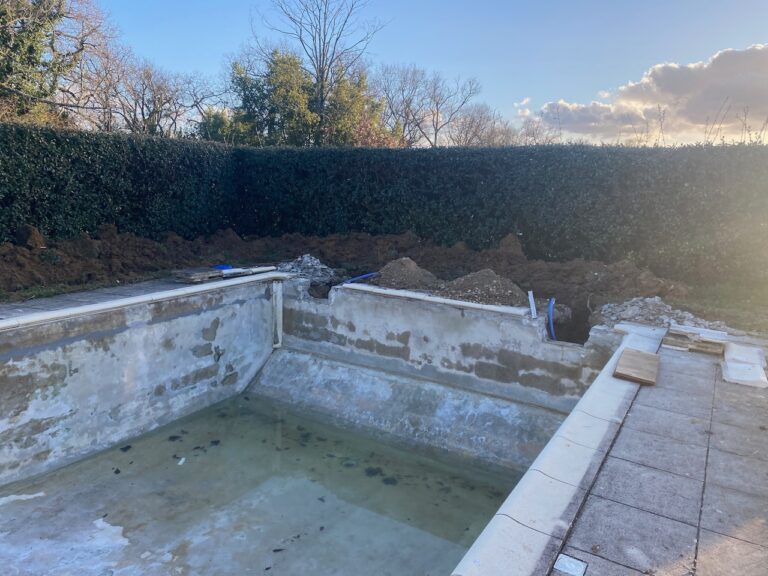 January 2022 and a right mess. But all for the greater good.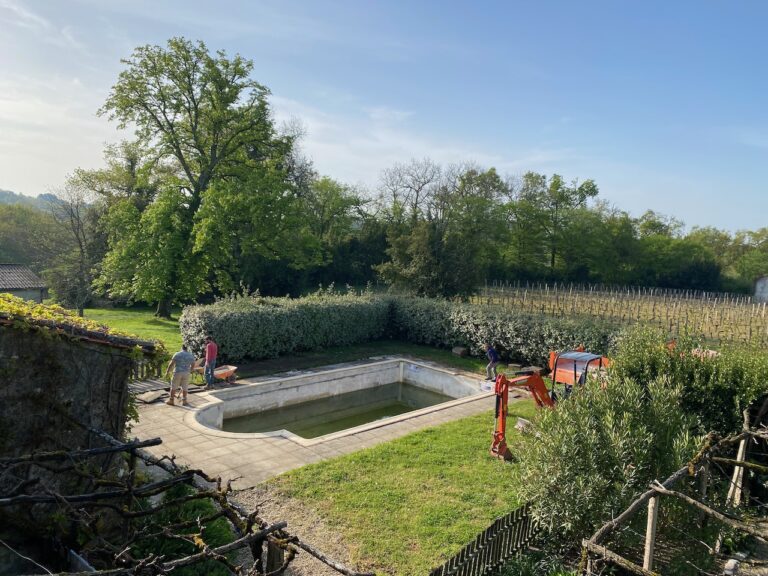 Having taken holiday bookings from late May onwards, based on assurances of when the work would be completed (plus a month), the old tiles were taken up in April. A little later than we were hoping for, but still.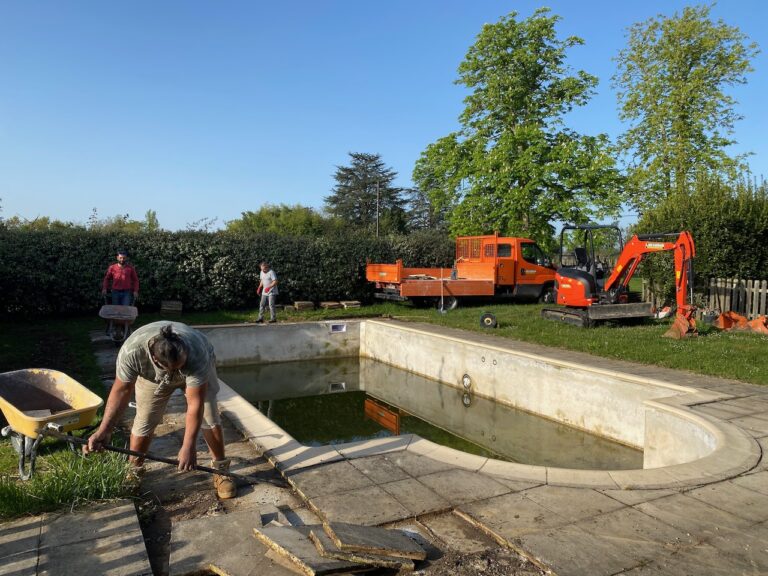 As the replacement tiles weren't yet in stock, seeing the old ones being broken up was mildly disconcerting.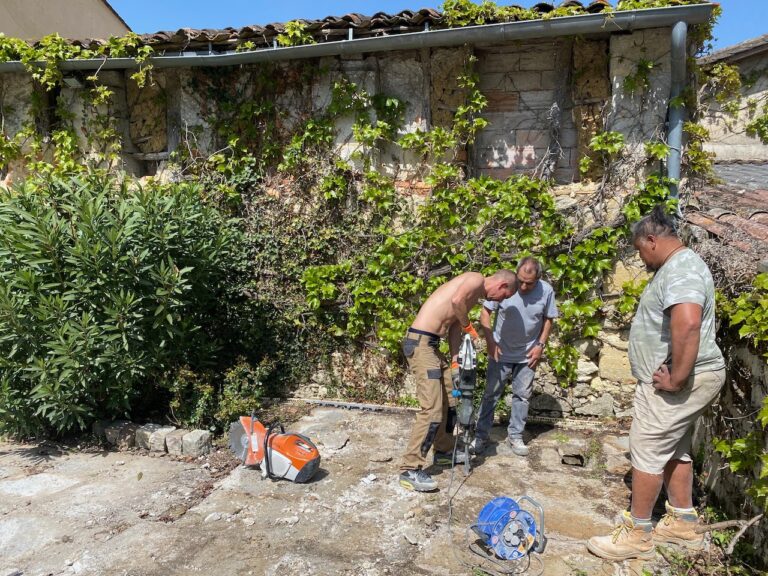 And the concrete base, deep underneath, proved to be tougher than we thought.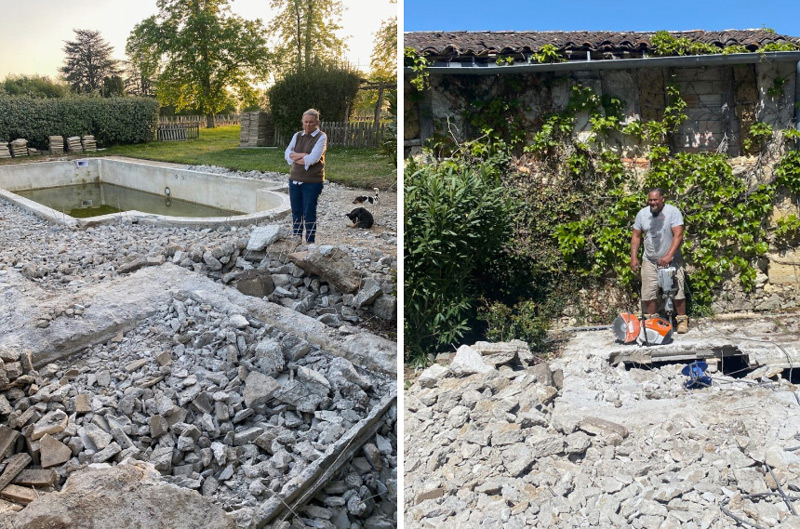 Then again, it is concrete, and the clue is in the name.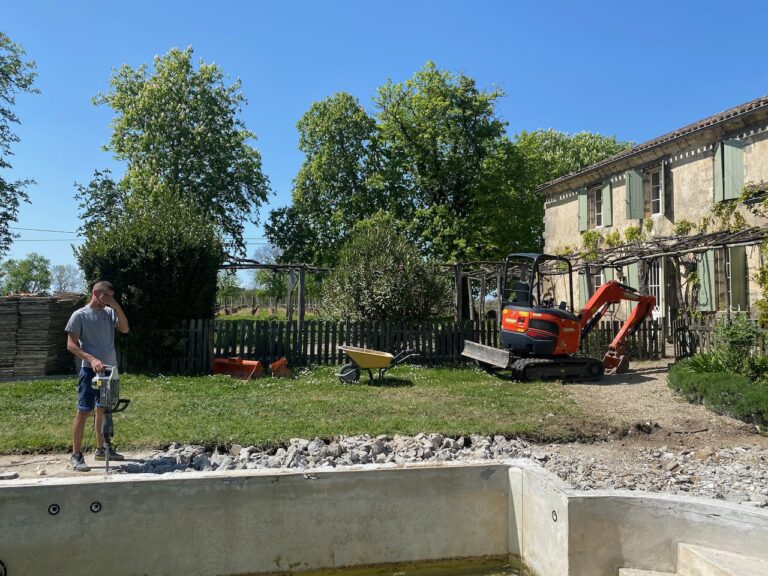 By mid-April, the concrete under the old tiles had all been cracked open.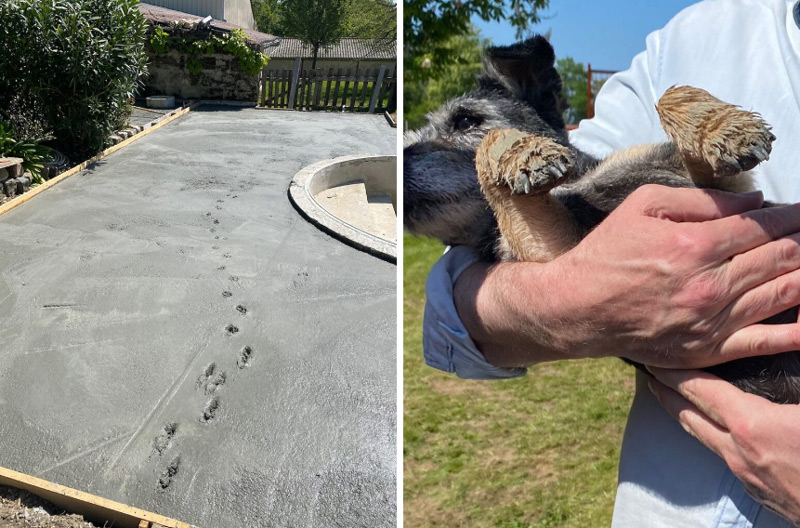 Then, at the end of April, new concrete laid in readiness for the new liner and tiles. Naturally, a small dog paid no attention to the dangers of fresh concrete, and it wasn't hard to spot the guilty party.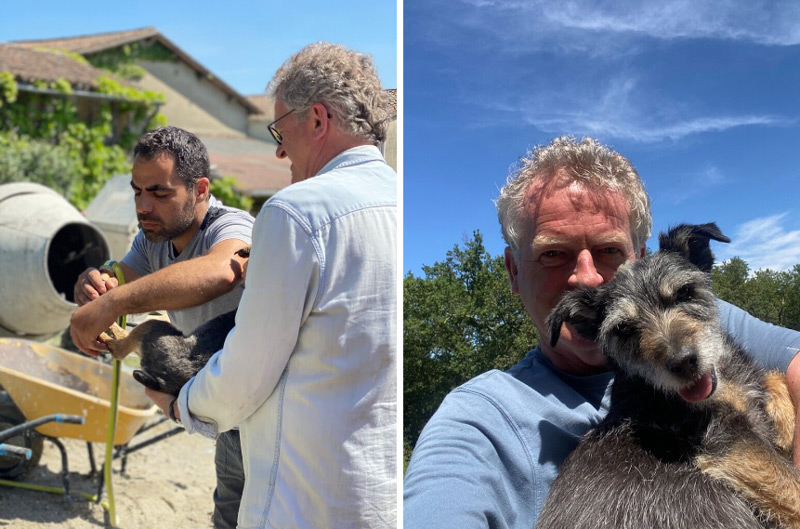 Paws soaked in fresh concrete isn't a recommended canine spa treatment, so Carlos the head builder made sure Margaux was properly cleaned up. From now on, Margaux wasn't allowed on foot near the site while dangerous work was in progress.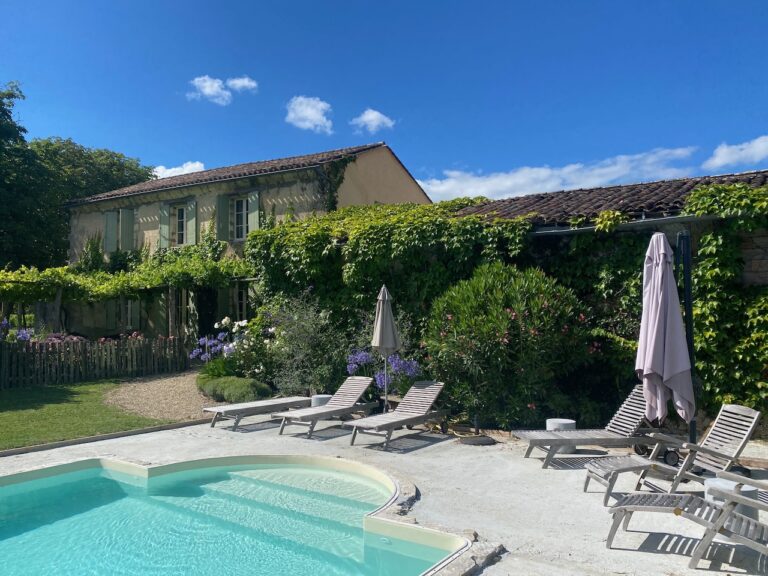 With Margaux's paw marks still in evidence, the liner was installed and we waited for the builders to return, once the tiles were delivered. To be honest, the correct sequence – and I now forget what that was – was now being supplanted by whatever showed up next. And what showed up next was another leak. We'd replaced the liner because there was a leak, and now there was still a leak with the new one.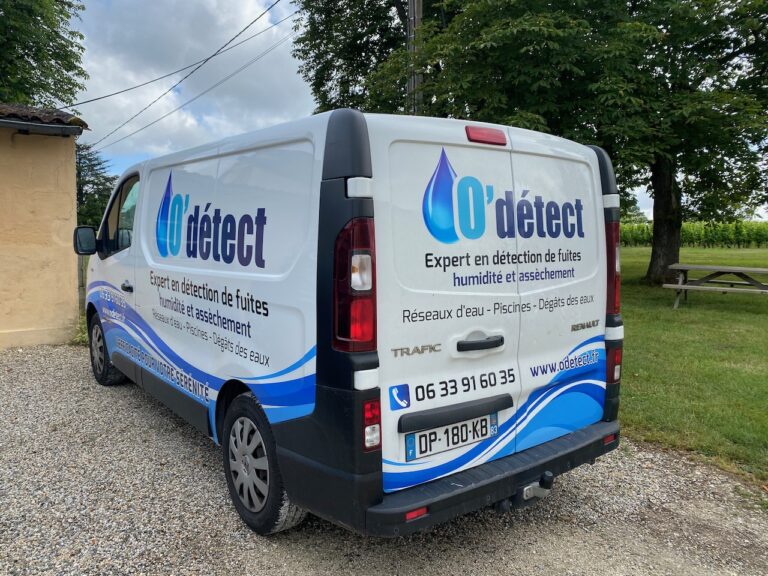 To the rescue came a chap from an Anglo-Irish company called O'détect. They detect water ('eau') where it's not wanted.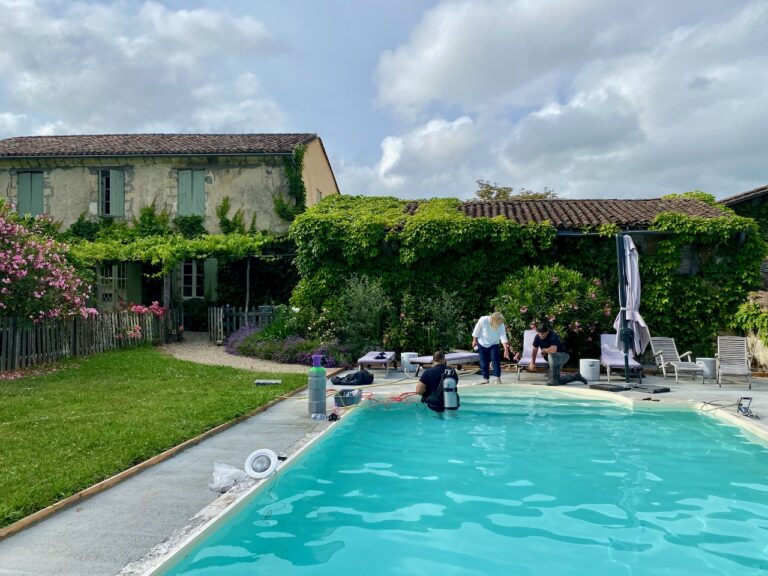 I'm only kidding about the Irish connection but it sounds plausible. 'O'? Anyway, the chap got in the pool in full scuba gear, and with various devices he tracked down the leak. Either that or Angela pointed out some bubbles.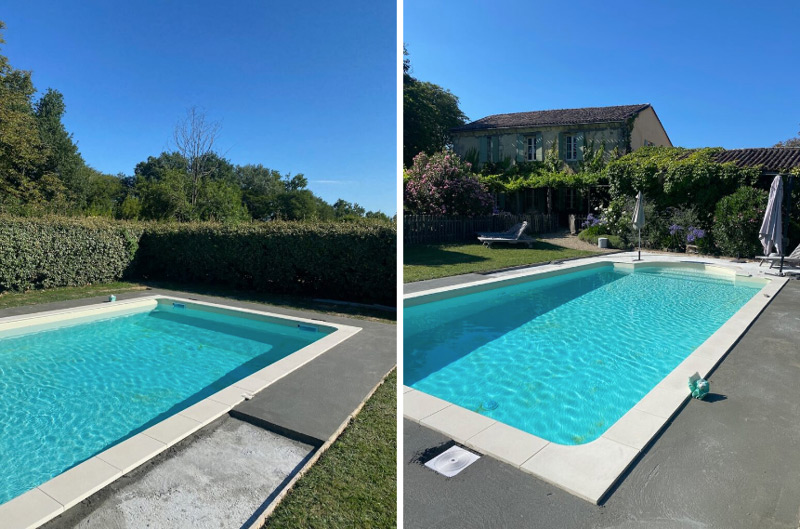 During this time all our lovely tenants, from late May onwards, couldn't have been more relaxed about having a concrete surround to the pool. Ange tried to pass it off as à la mode, which they weren't really buying but the pool itself was perfectly sound and inviting nonetheless. Thanks to Miranda and Ian, Sarah and Jeremy and the three other couples, David, Shaun, Ken and co, and various friends and family of them all.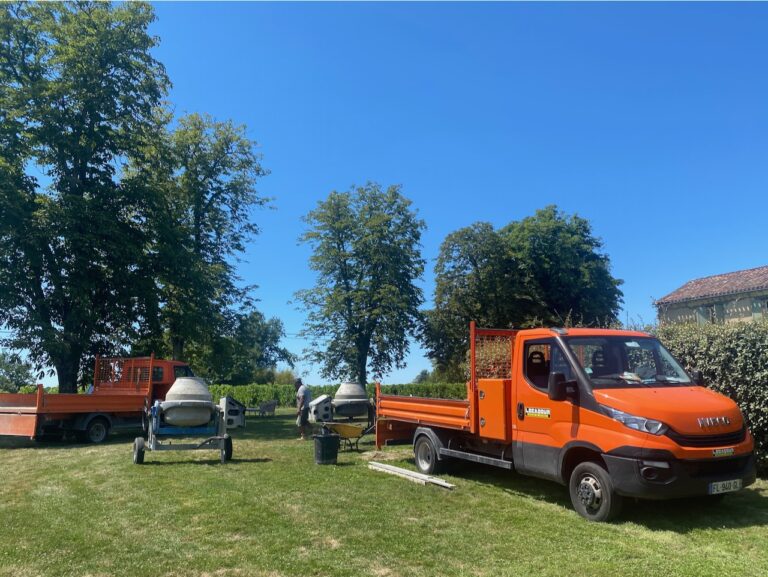 We had actually planned for a week in prime time July to be free, based on the availability of the builders and the delivery of the stone. We weren't really holding out too much hope of everything falling into line, finally. But it did, miraculously.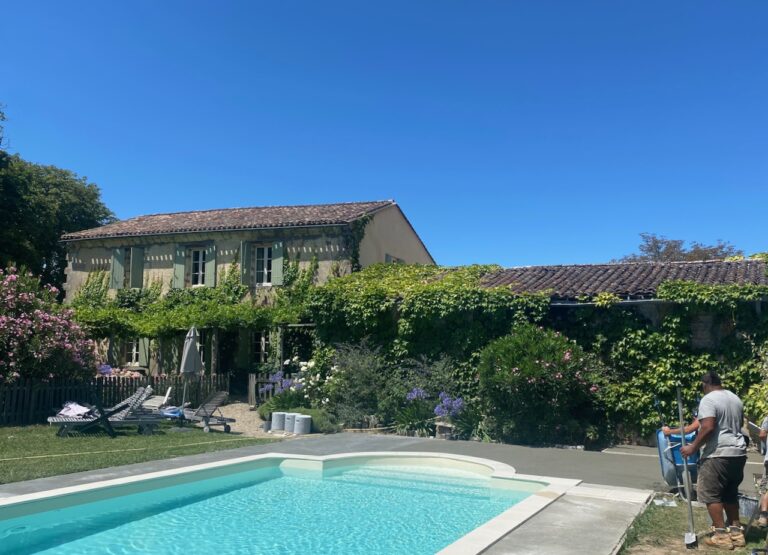 During that holidaymaker-free week Carlos and his dad, Francesco, came up trumps with their team. And all the stone was delivered in the nick of time (after the supplier had missed the original date by some months).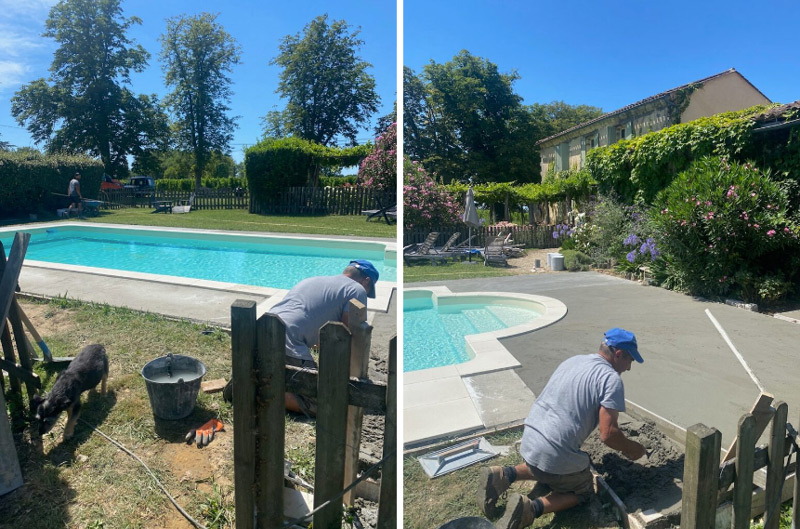 Margaux wasn't going to be denied access. It is her place, after all. Here's Francesco laying the last layer of concrete and then the tiles, having placed the margelles, or copings, around the pool edge.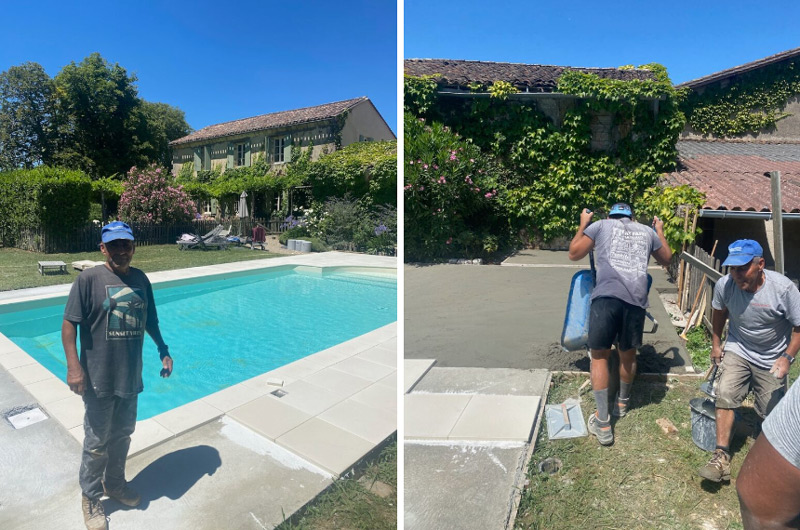 The master craftsmen at work. And it was hot.
The timing was exquisite. Everything was ready, after five days of solid effort under a burning sun, just before the next guests arrived on Friday afternoon.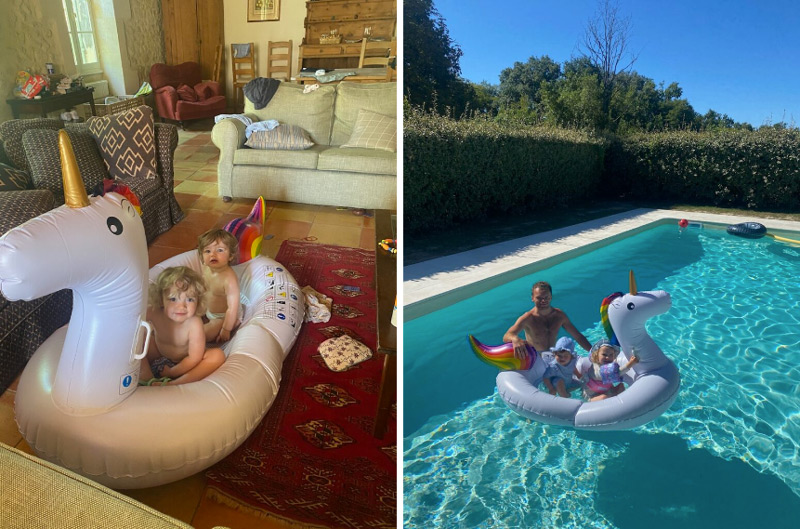 After a trial run in safer conditions inside, George was able to release the dragon.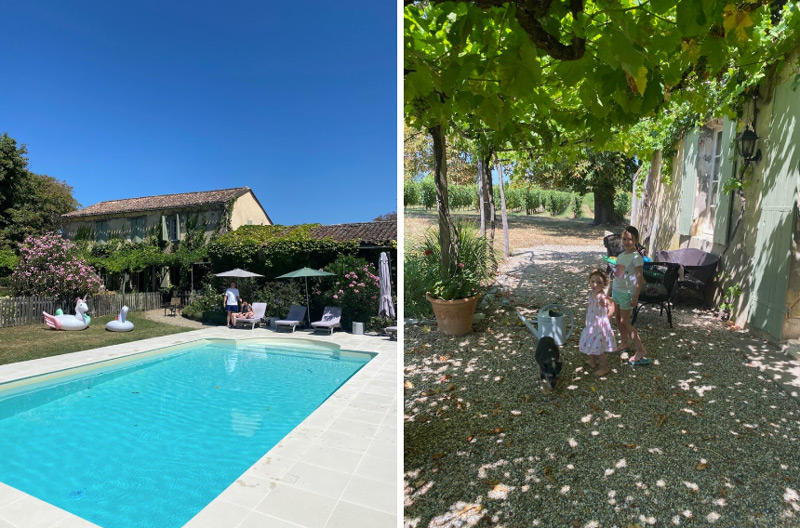 And for the last two weeks, the pool has served the McAllister family well.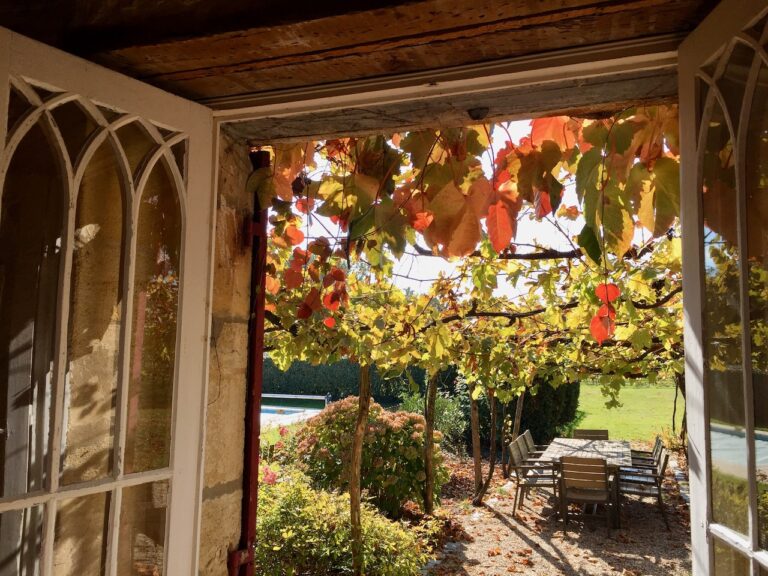 The farmhouse is available 16 – 23 September (warning – the harvest can be noisy) and for three weeks in October.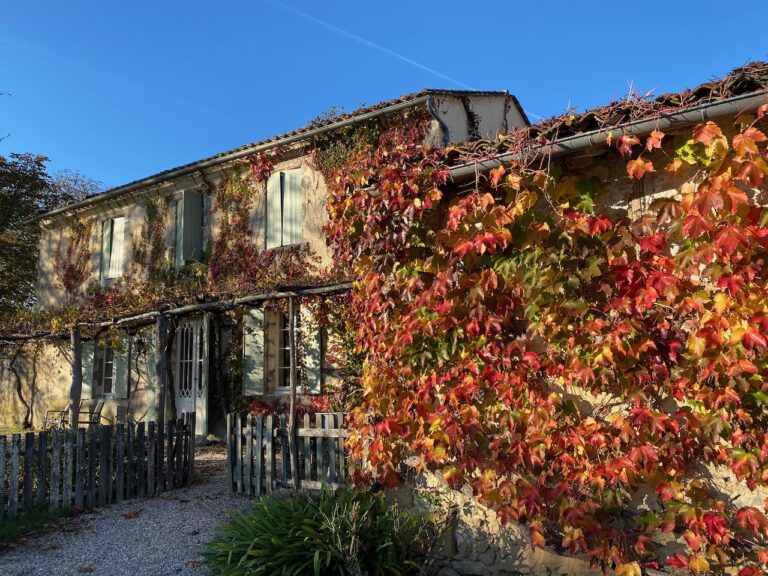 Don't rule out October – it can be a lovely time of year.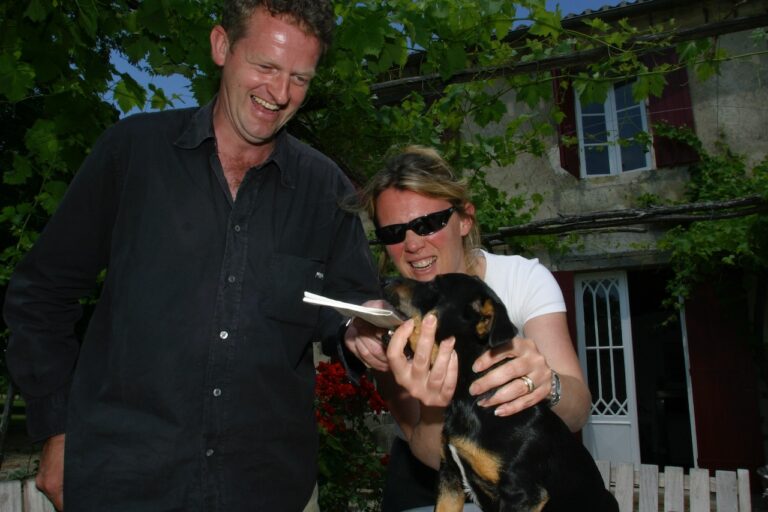 Here's a photo of us at the farmhouse with the wonderful Barton, our great little dog in the early years here, from exactly 20 years ago in July 2002. No rush then – we won't be taking bookings for the farmhouse for 2023 until after the end of September this year – i.e. after the harvest. If you'd like to register your interest, email team@bauduc.com on a separate email (not in reply to this newsletter please) and put Farmhouse 2023 in the subject line. 2022 prices are shown as a guide on our website under Farmhouse in Prices and availability.
Forest fires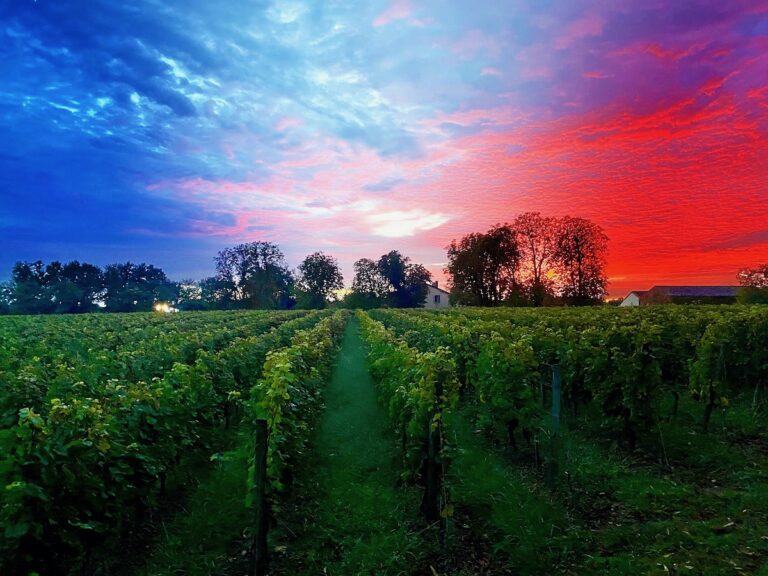 In mid-July we were just putting this image together for an offer on our 'Tricolore' case on 14 July, Bastille Day, when we spotted something unusual in the distance.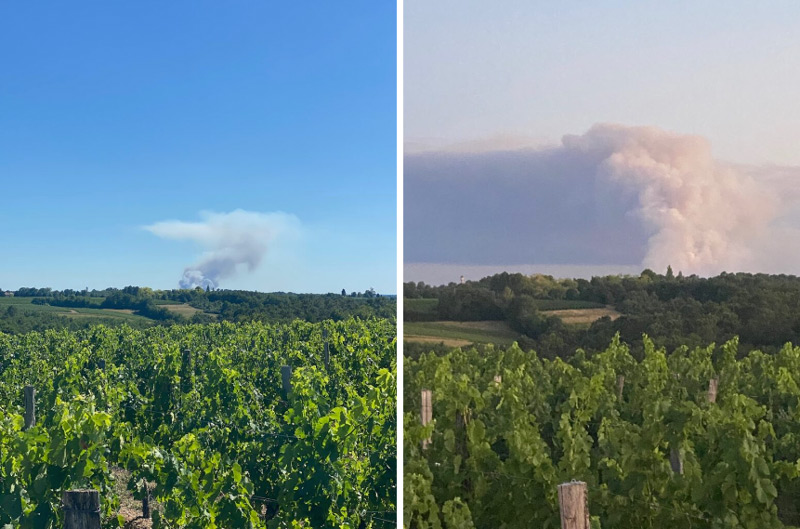 A friend a few miles away had texted to ask if the fire on the horizon was anywhere near us. The first photo, which I took in our vines, was from 5pm on 12 July, the second at 10pm.
At first I thought the fire was closer but it turned out to be the other side of the Garonne river, and was roughly 25kms (15 miles) away near Landiras.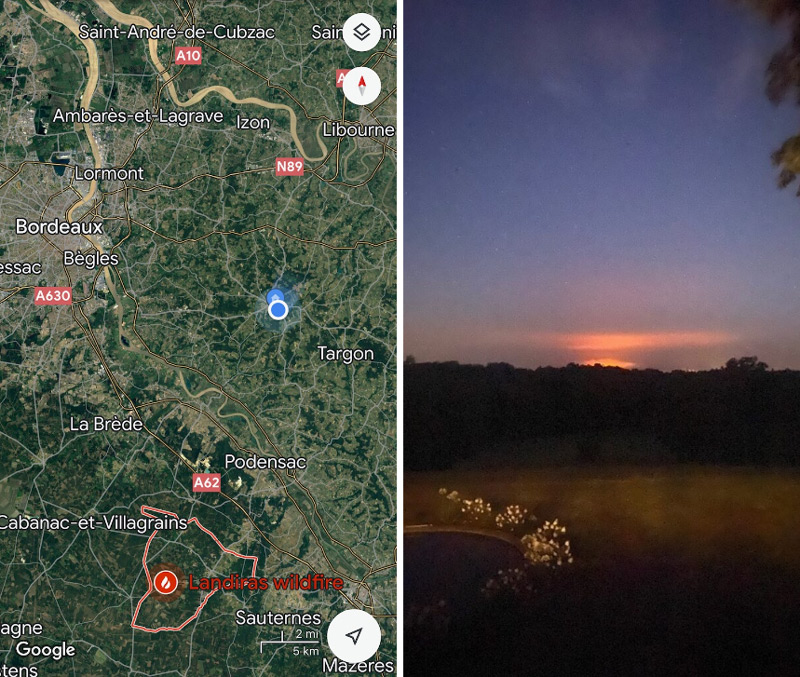 We're the blue dot. In the evenings, there was a glow in the distance.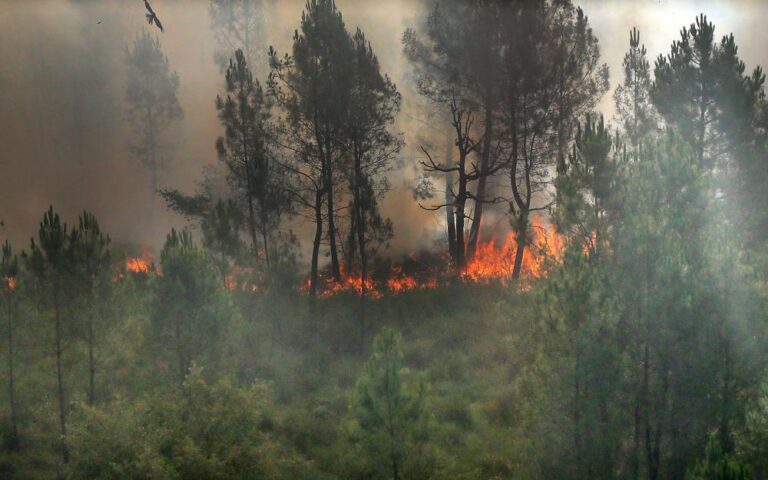 incendie feu de forets à Landiras. Landiras le 13 juillet 2022. photo Laurent Theillet / Sud Ouest
None of the following pictures of the forest fires in the southern Gironde are mine, of course, but I hope it's ok to share them. Many people I've spoken to haven't known about these fires.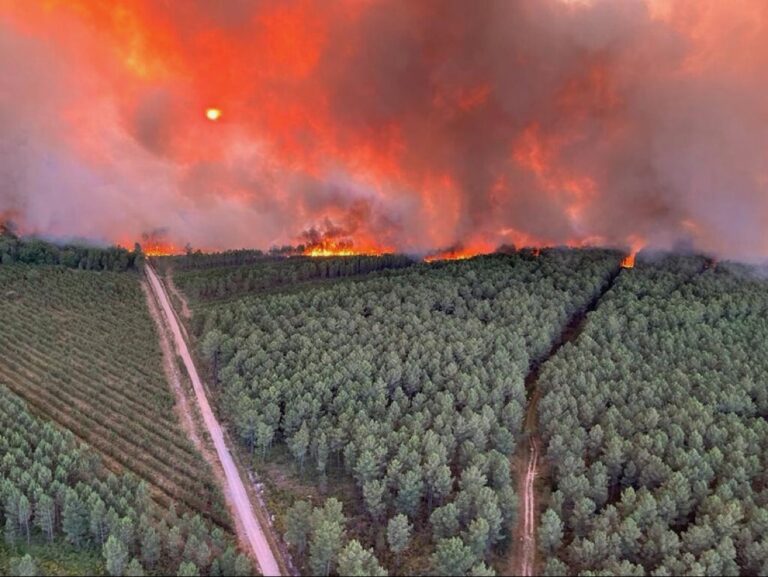 Photo credit SDIS33 @meteovilles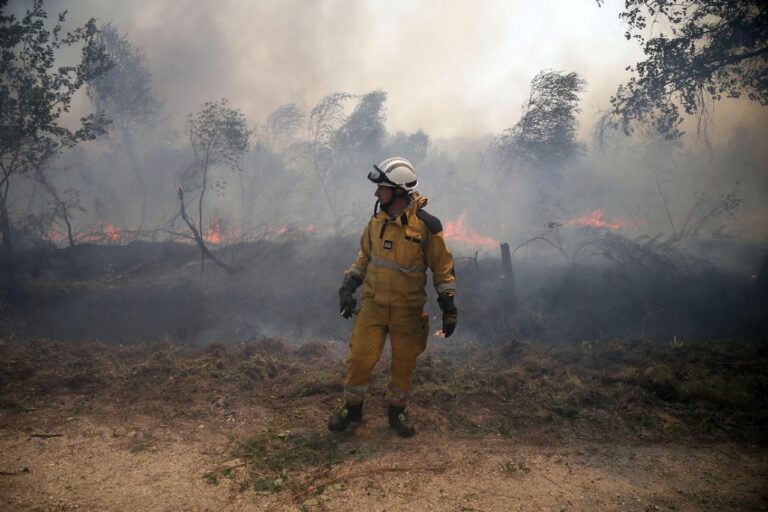 Photo credit Sud Ouest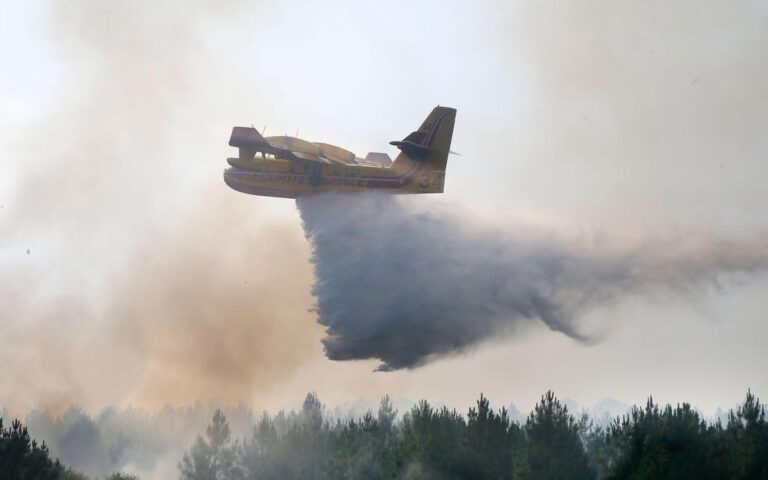 incendie feu de forets à Landiras. Landiras le 13 juillet 2022. photo Laurent Theillet / Sud Ouest
incendie feu de forets à Landiras. Landiras le 13 juillet 2022. photo Laurent Theillet / Sud Ouest
Photo credit Sud Ouest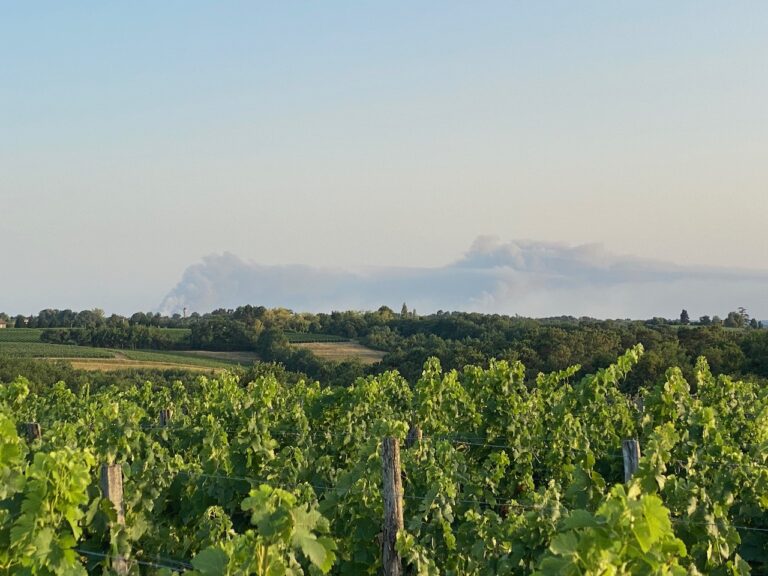 On the 16 July the forest fires were still burning near Landiras, and beyond. (Taken from Bauduc.)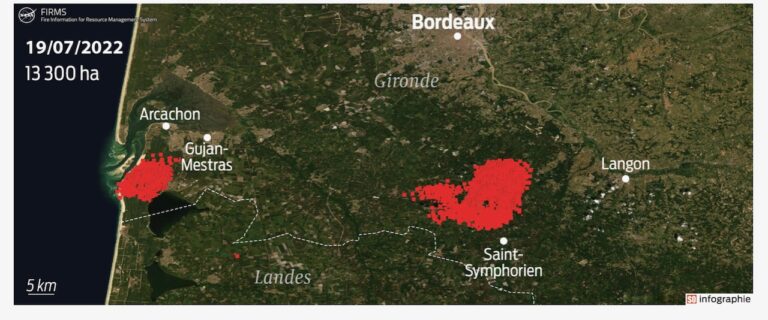 As of 21 July, over 20,000 hectares (50,000 acres) of forest have been burnt. More than 36,000 people have been evacuated. 13,600 hectares have burned in the Landiras area, and 7,000 hectares near La Teste-de-Buch on the Arcachon basin. These figures may now be out of date. According to the Sud-Ouest newspaper and website, the Landiras fire was 15km long by 15km wide, while the fire at La Test was 11km by 7km.
Too awful for words. Kudos to the firefighters, and we send our best wishes and thanks to everyone involved in dealing with this catastrophe.
Throwback 20 years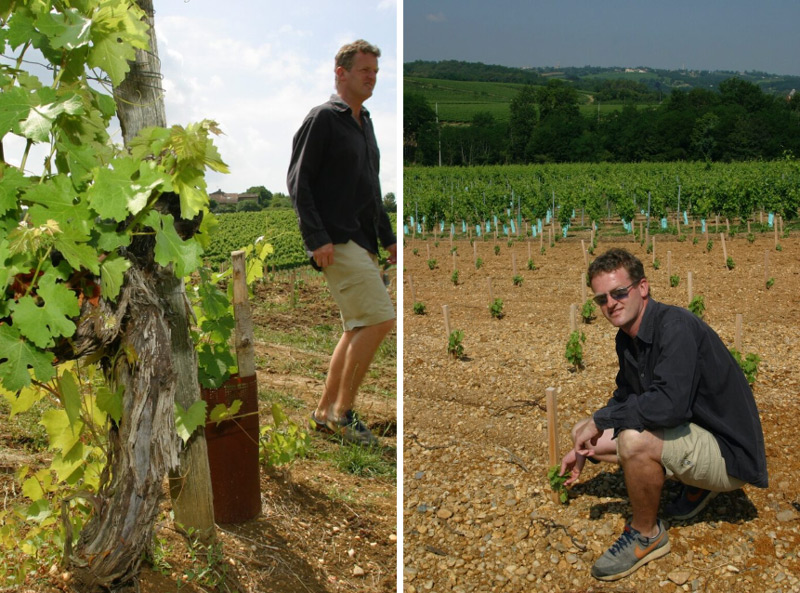 So as not to finish on too gloomy a note, here are a few more images from July 2002. Unconnected to planting more vines, my hair would soon turn grey.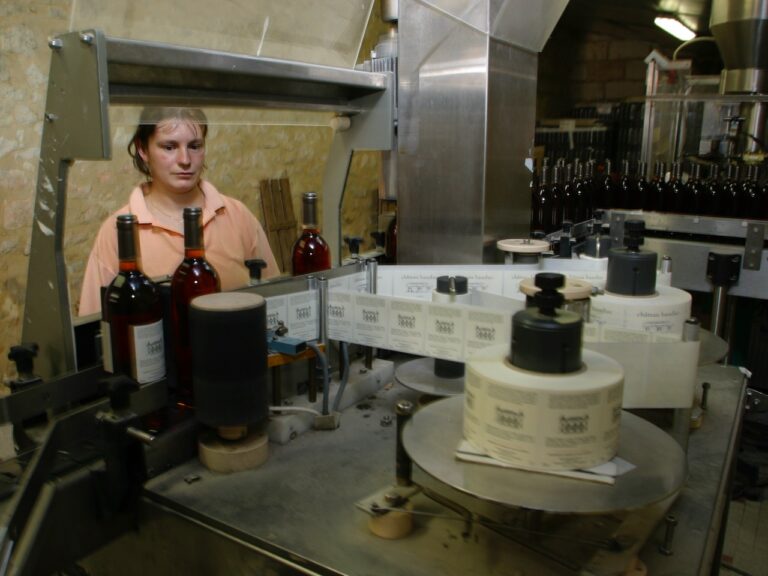 Nelly, who was loading the rosé on the forklift into the lorry up above, on the labelling machine, July 2002.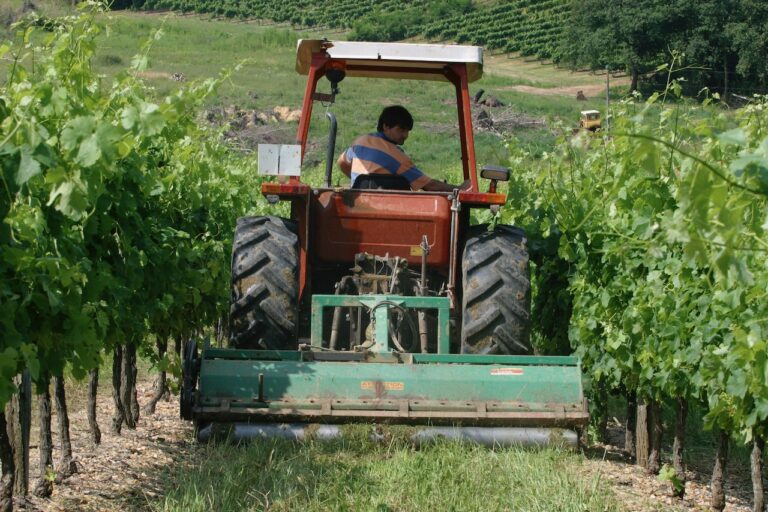 Daniel still likes mowing between the vines. But he preferred the old, wider tractor – again, July 2002.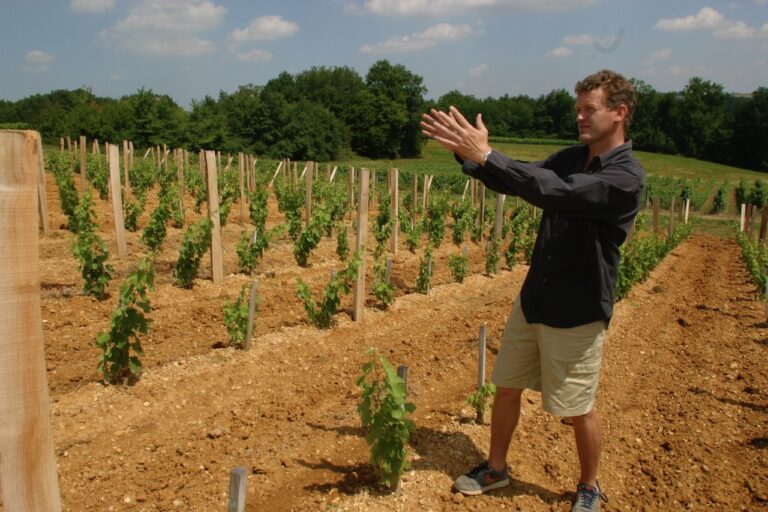 'Maybe we should have planted the rows in this direction?' July 2002.
Onwards and upwards.