Posted by Gavin Quinney on 30th Jun 2022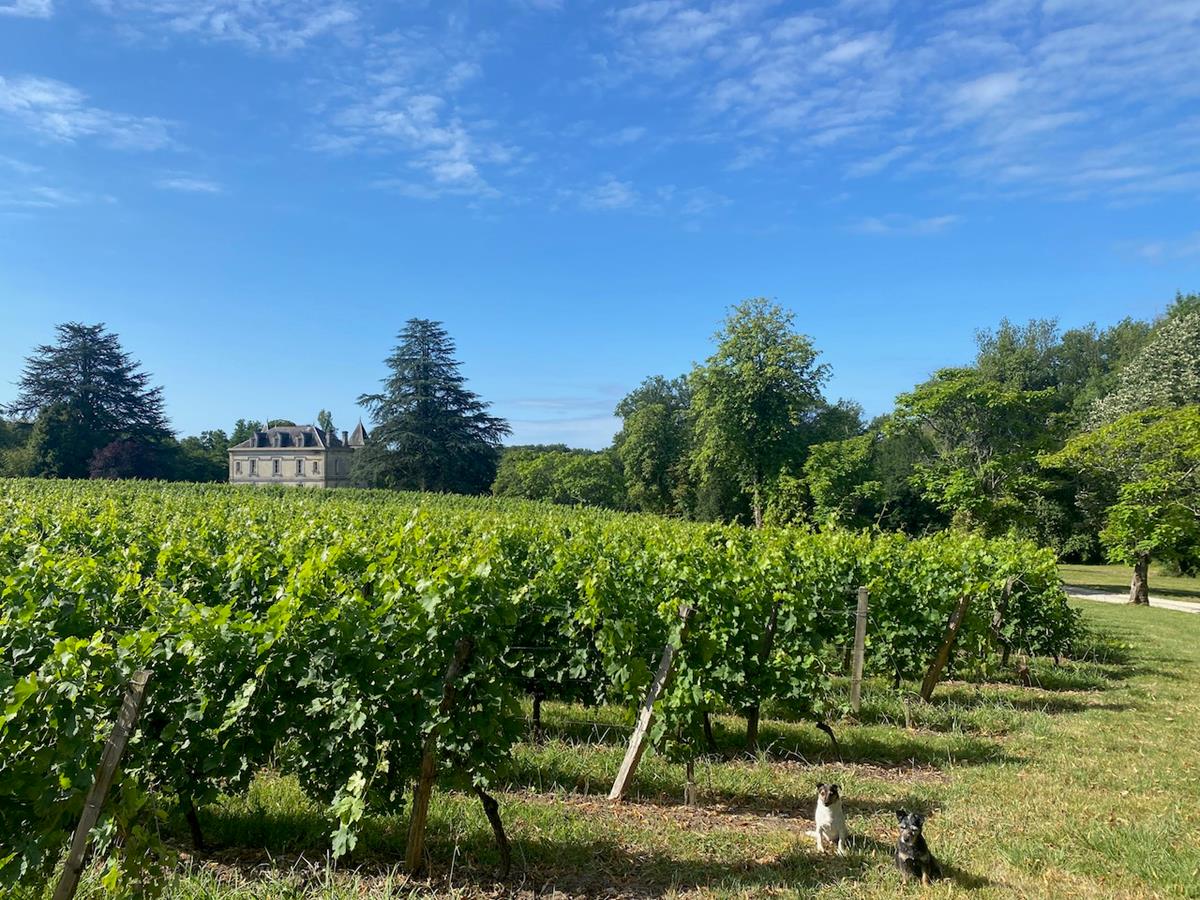 We're half way through the year already. Crikey. And half way through the growing season in the vineyard too, though we never know what could be just around the corner.
There were hail storms at the start of last week that ravaged some (really unlucky) vineyards in Bordeaux. Look out for what is effectively Part II of our June review to follow in the next day or so - 'the Bordeaux hail trail'.
Before that, here's a photo journal of a few of the things that have been happening at Bauduc this month.
All the best
Gavin & Angela Quinney
---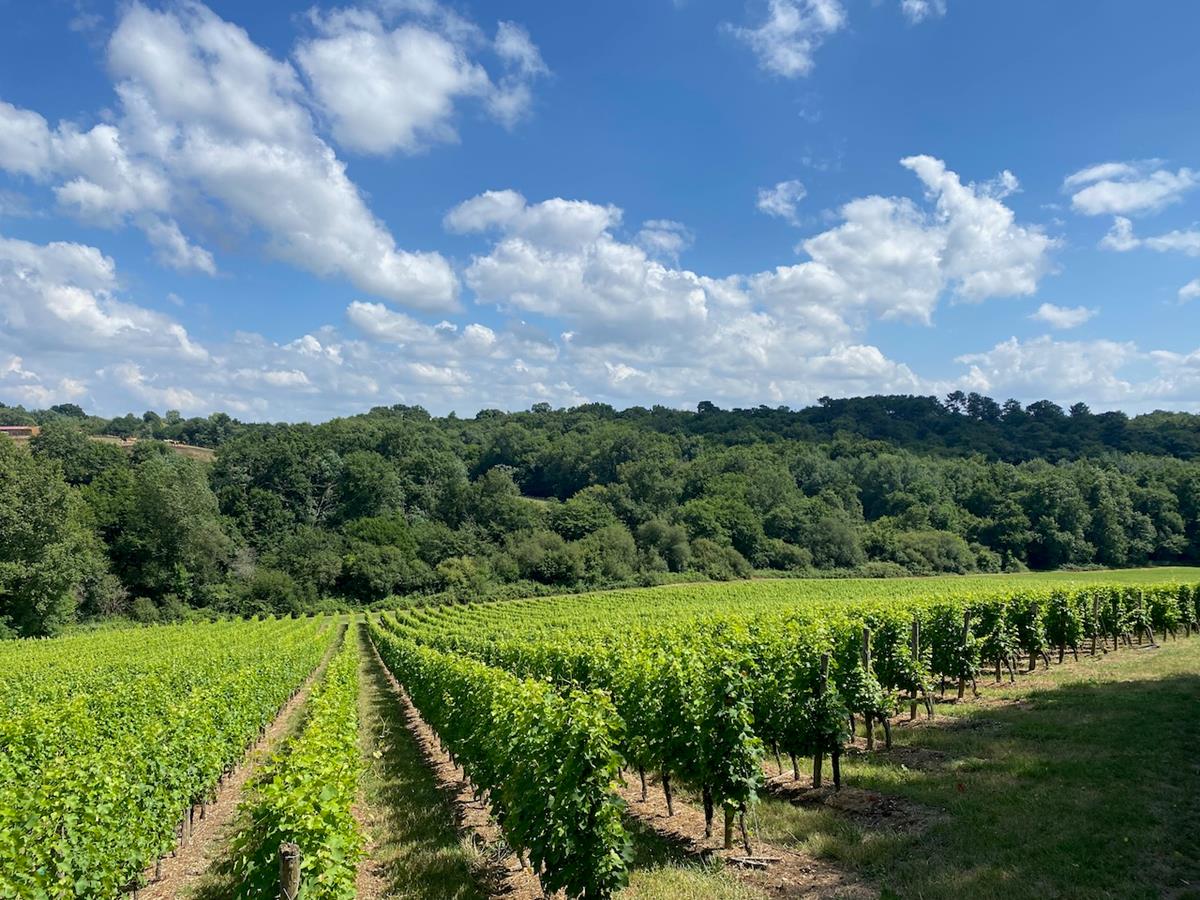 Hailstorms aside, it's a vintage full of promise. Touch wood. This is Sauvignon Blanc, 24 June.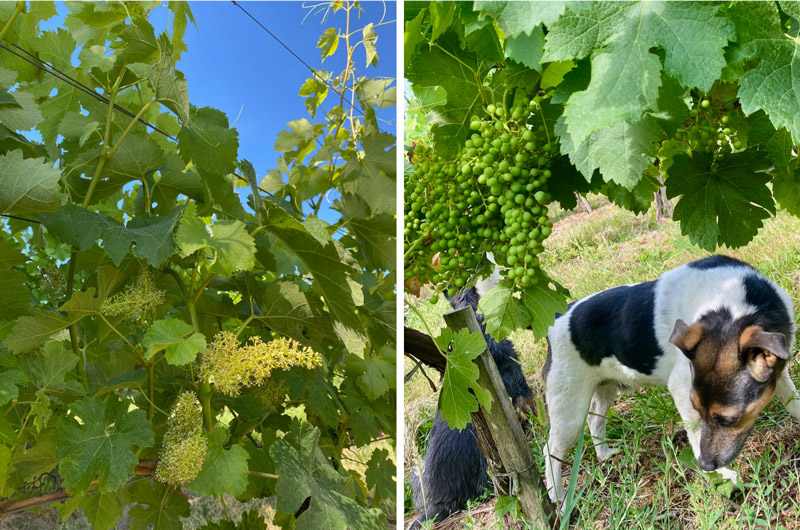 The pic on the left, of Merlot flowering, was taken on 30 May. On the right, just three weeks later.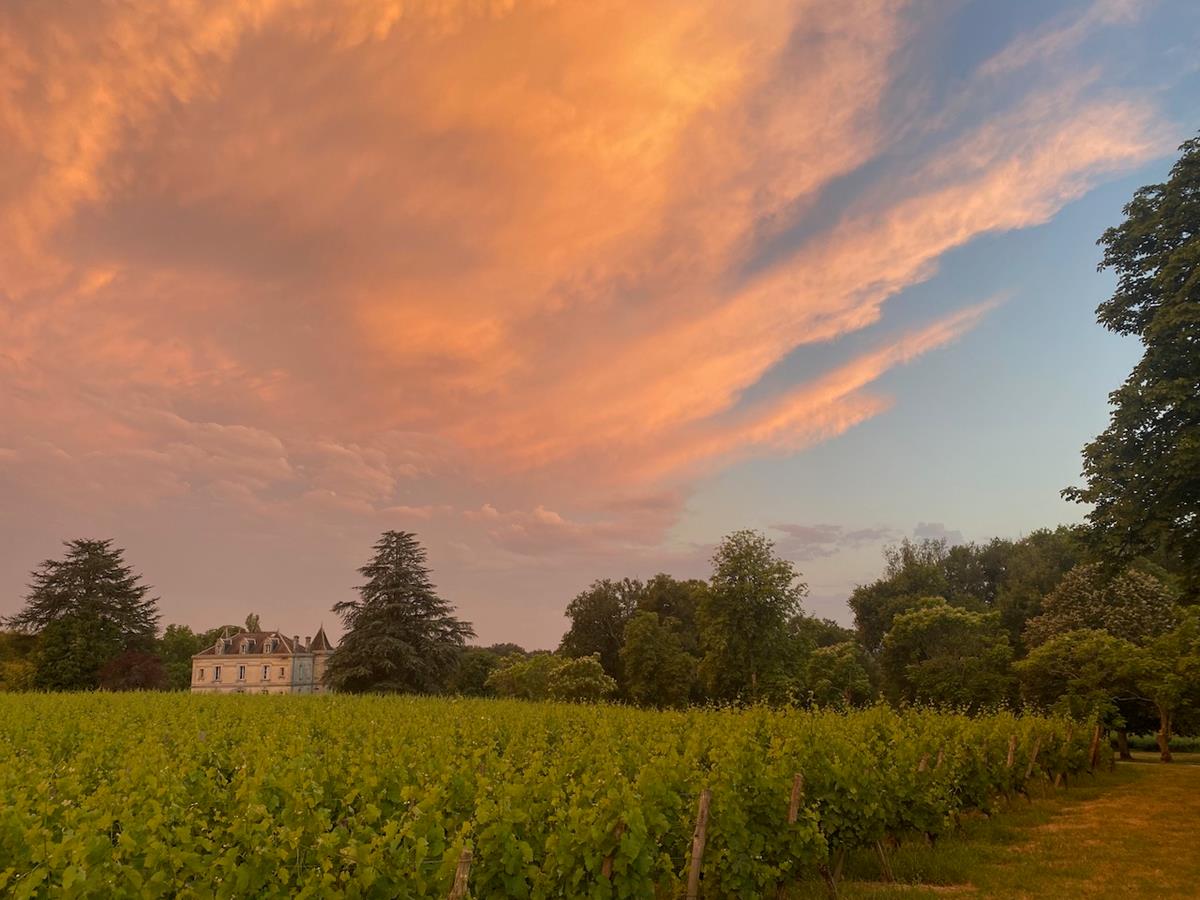 Warm, dry, then hot and occasionally stormy, with just a hint of drizzle on the finish. That's a sort of tasting note for the June weather.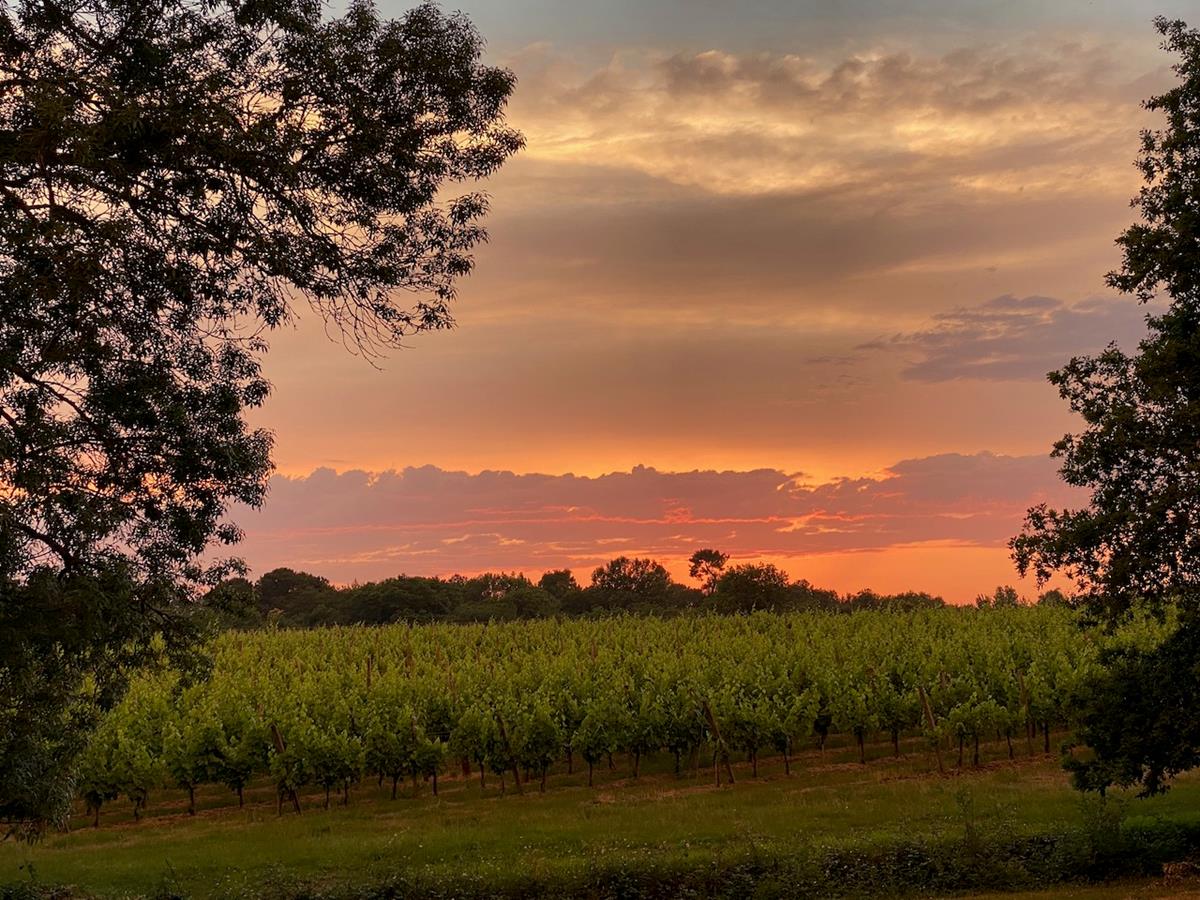 Merlot on 3 June, 9 o'clock at night.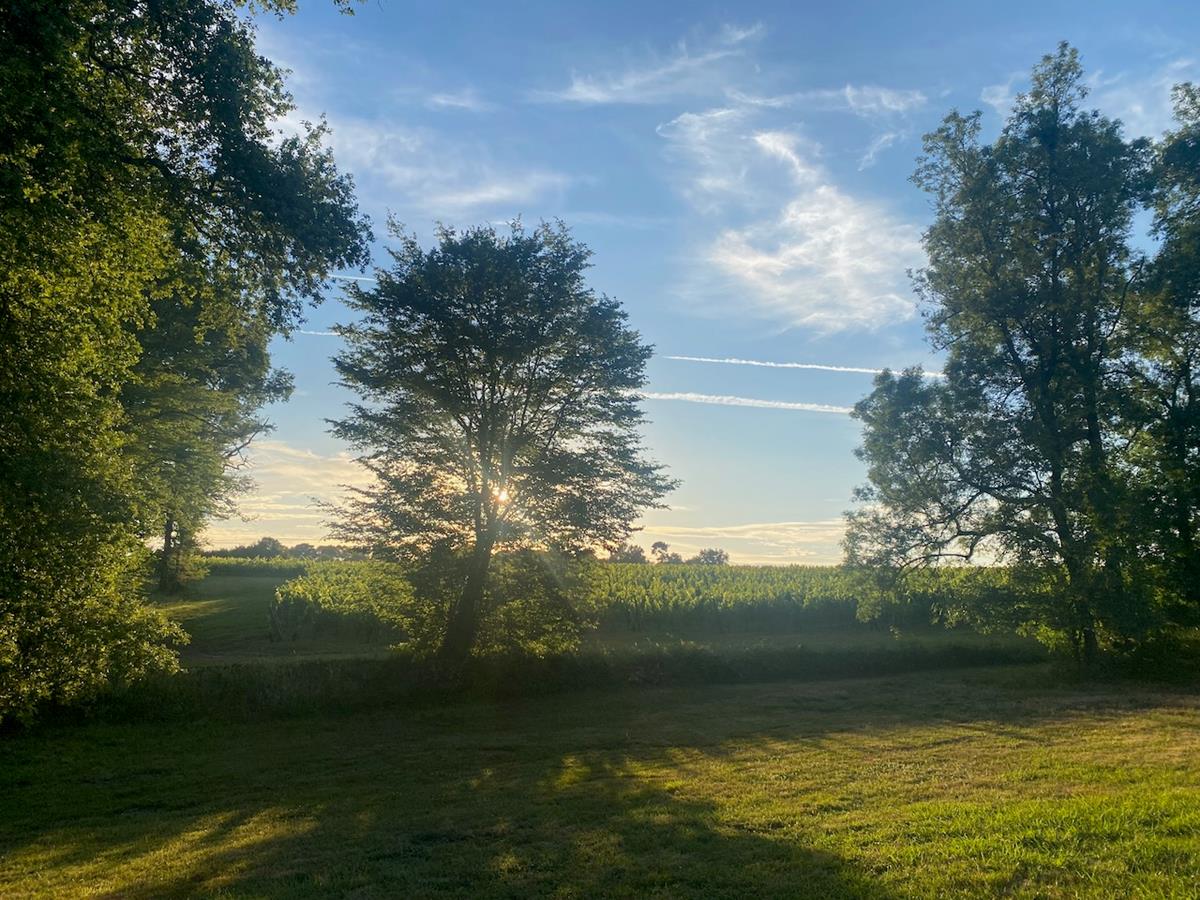 Exactly three weeks later, at the same time. It may not look much but we're extremely grateful that the vines are fully intact.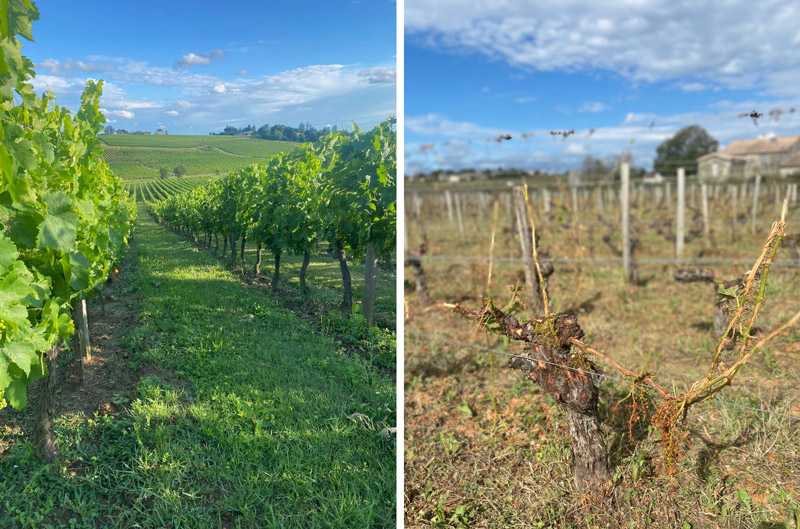 Here's a photo of some pristine rows of vines in the Côtes de Bourg last week. And on the left a vineyard just up the road from there, following the storms last Monday evening. More images of the localised hail damage in Part II to follow.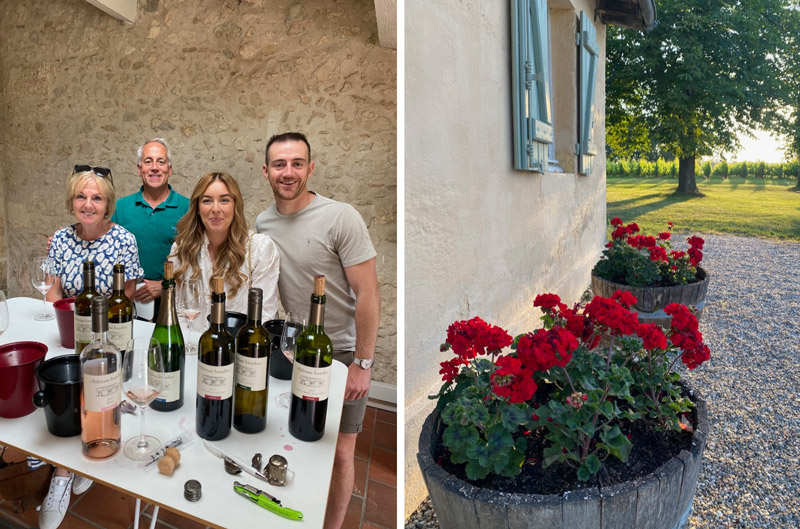 Before that, a quick look at what we've been up to at Bauduc. We host tastings as and when we can, for a small fee, and are most certainly open for 'cellar door' sales. More on this on our website here, but do get in touch first: https://www.bauduc.com/visit-the-chateau/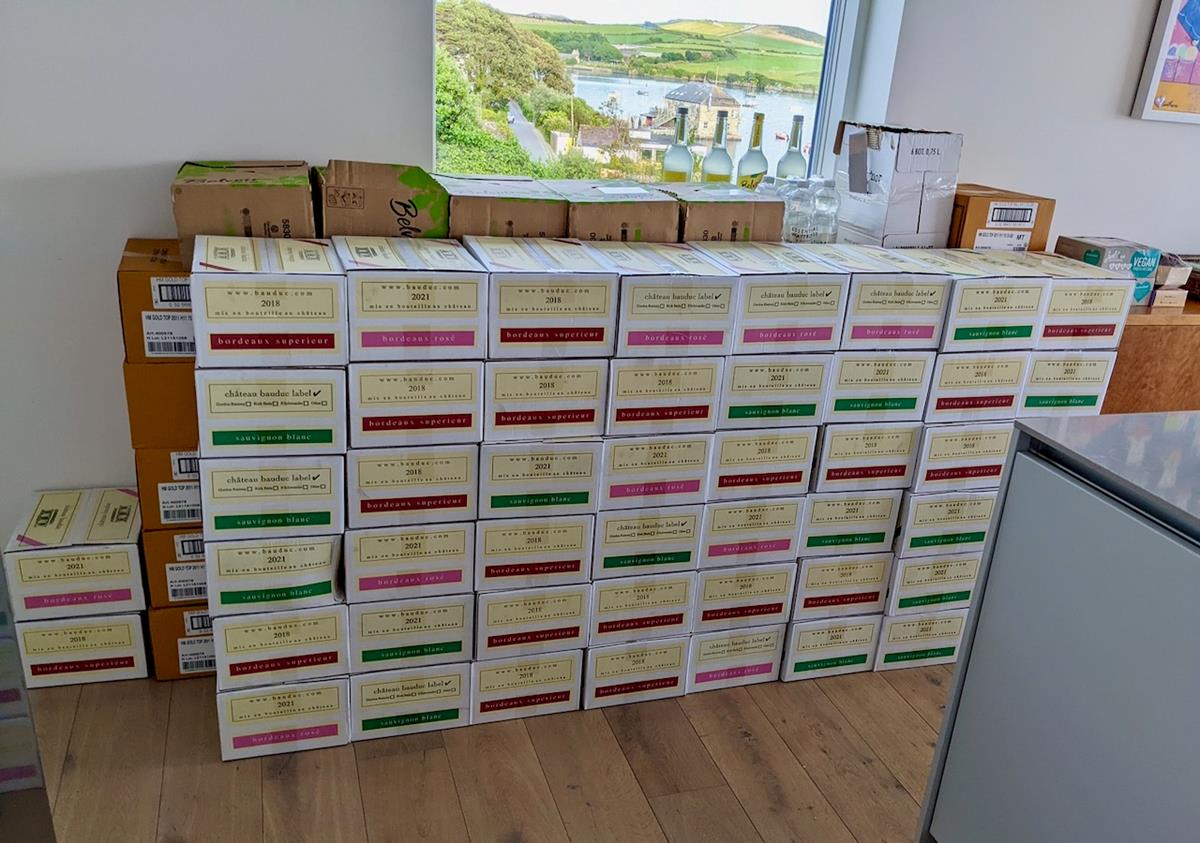 It's been a busy month for weddings, obviously enough. This is not the shot that would make it into Hello Magazine but the photo with an email or WhatsApp saying 'all delivered safe and sound, on time – many thanks' is the one we really like.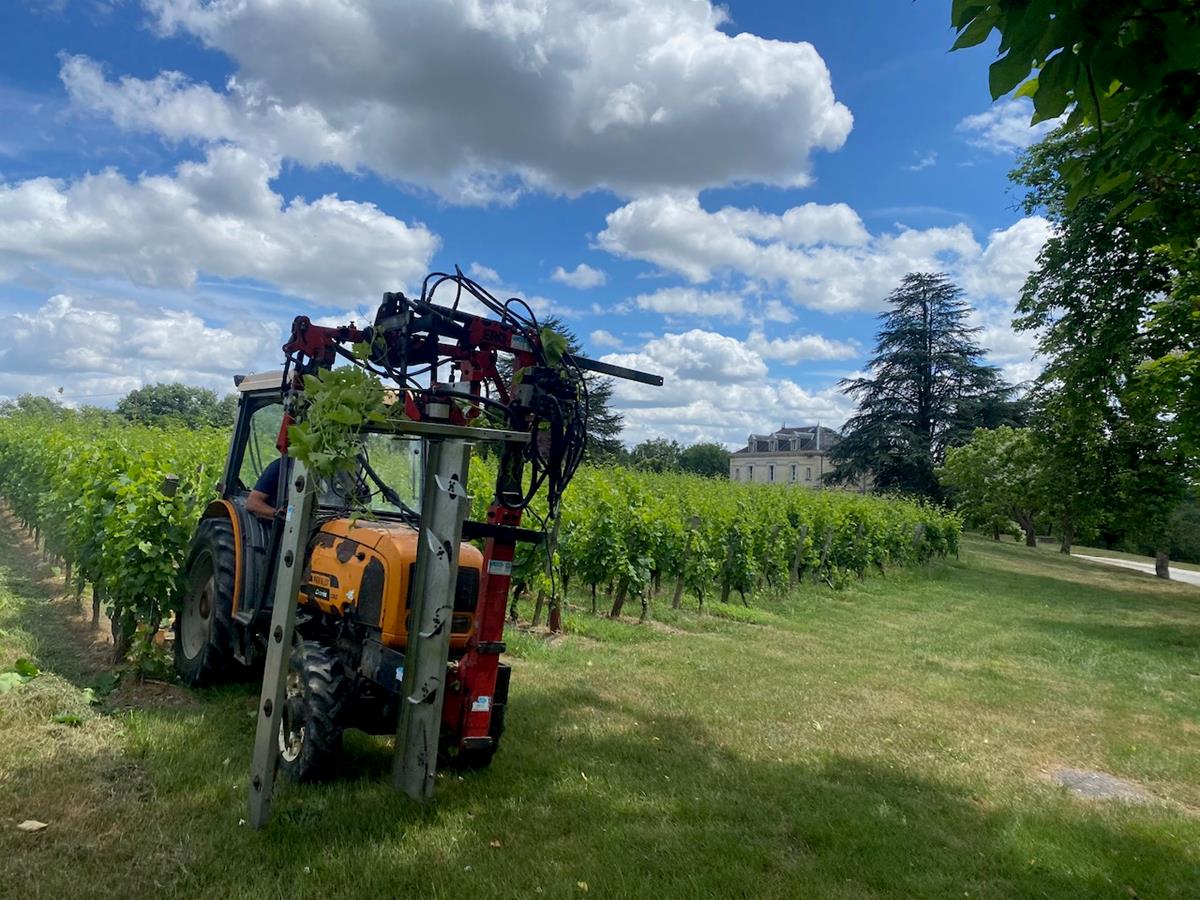 June is one of the busiest months in the vineyard. Trimming…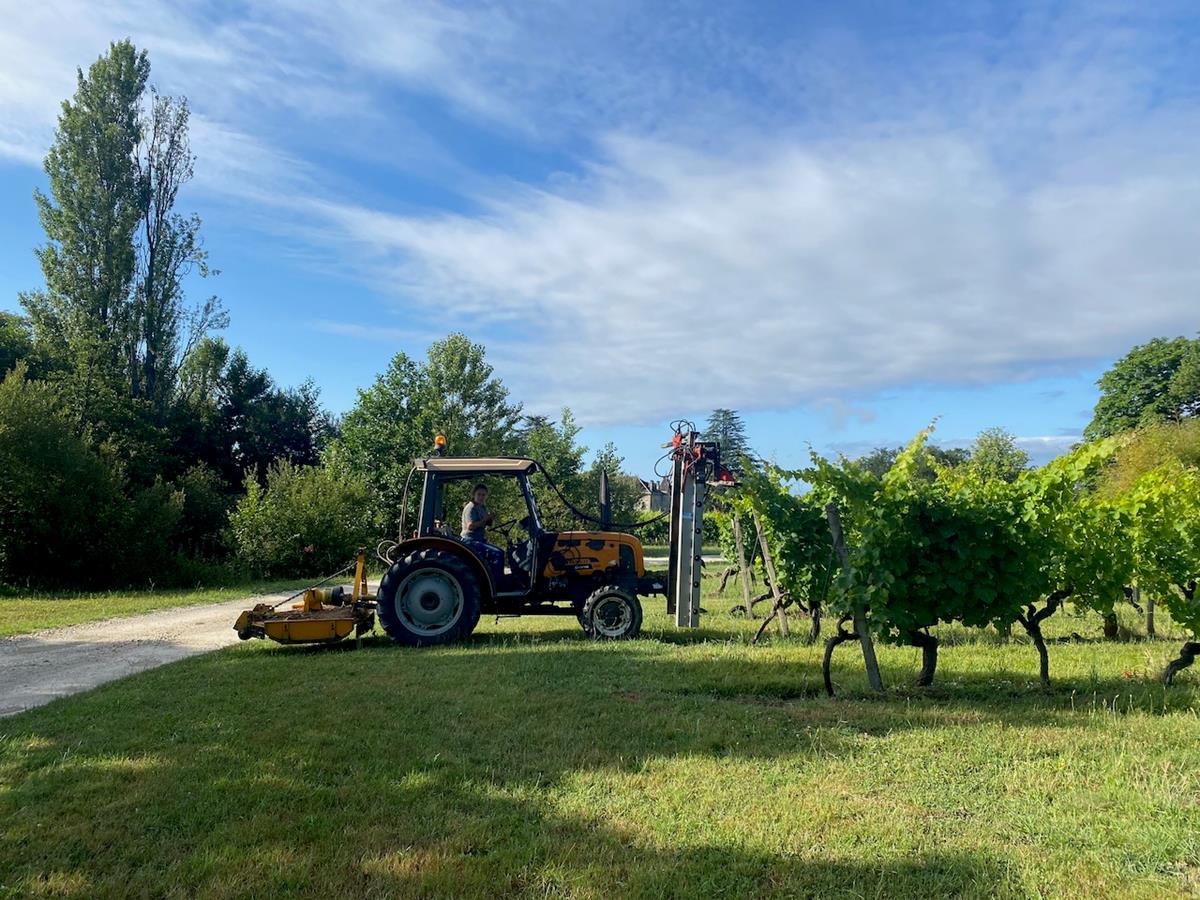 Mowing between the rows…
Treating the vines against the threat of mildew…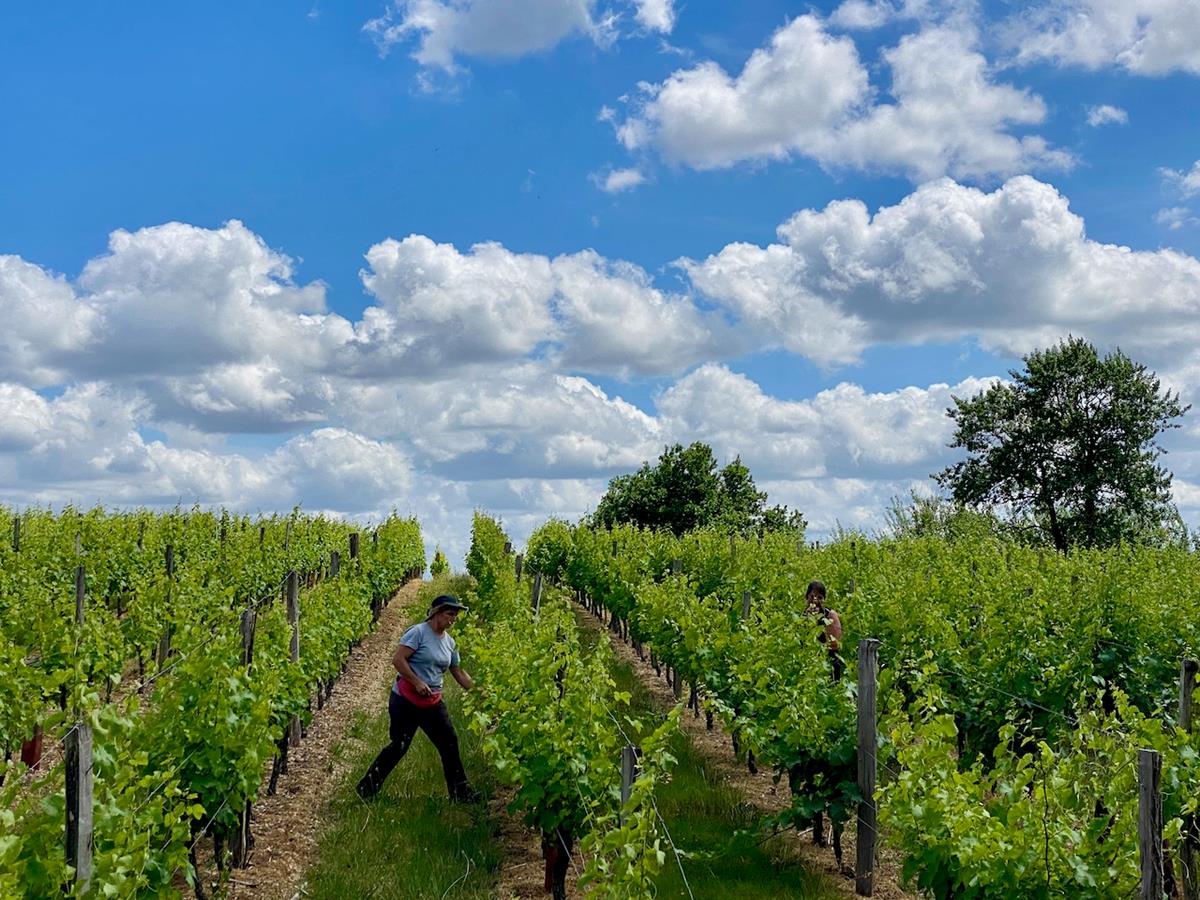 Lifting the vines between the training wires…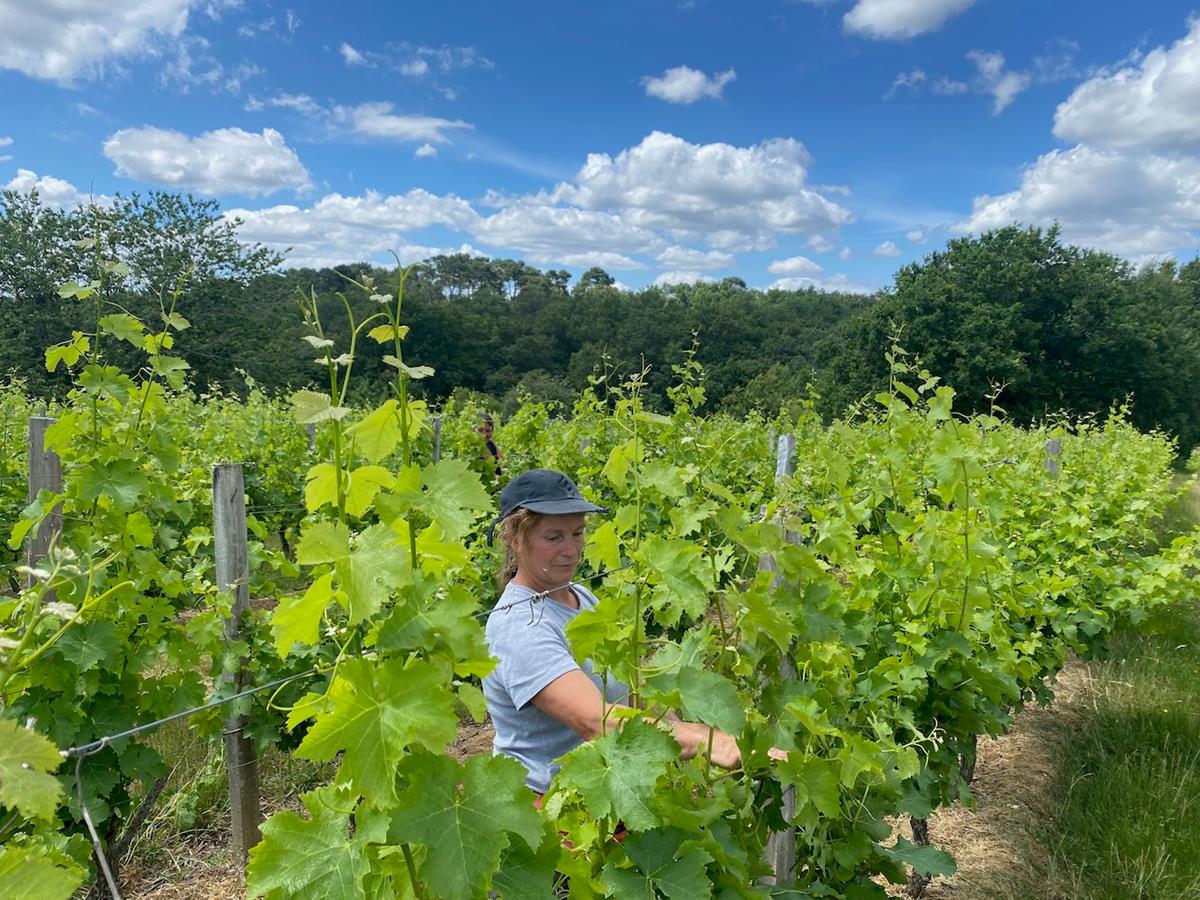 Nelly and Sandra in the Sauvignon Blanc.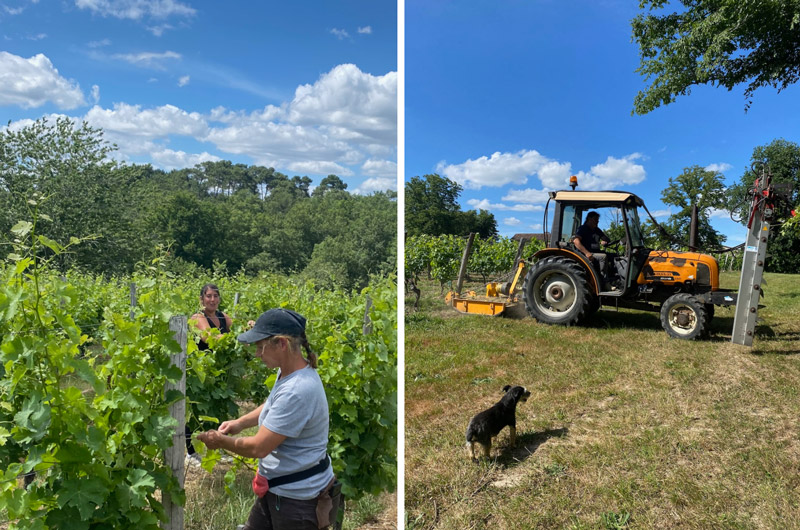 Margaux likes to watch the action.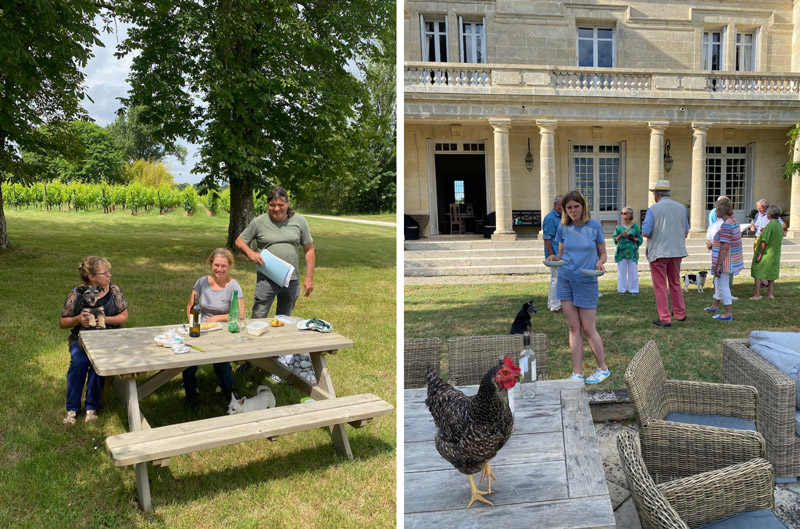 And she's the team's favourite. And the guests', despite the best efforts of the chickens.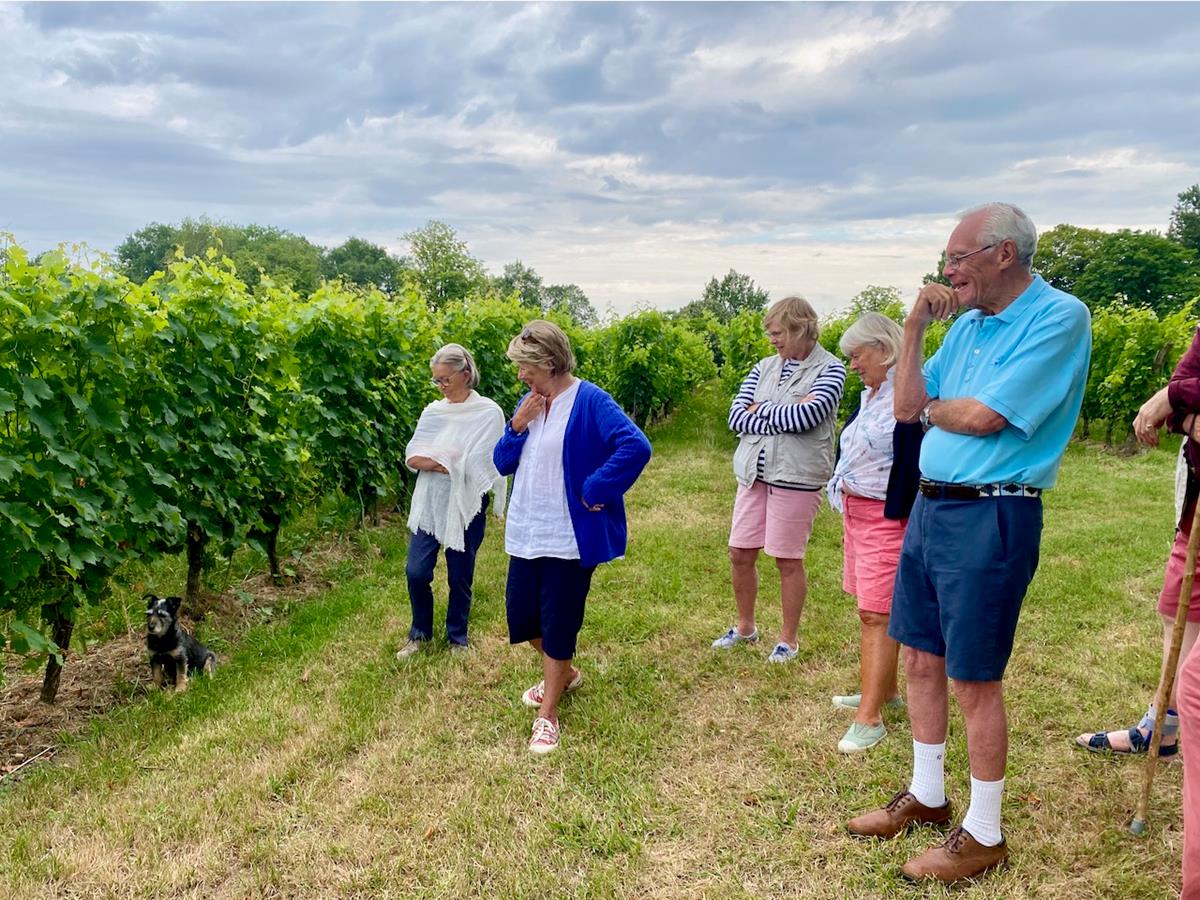 It will be Margaux's 15th harvest this year.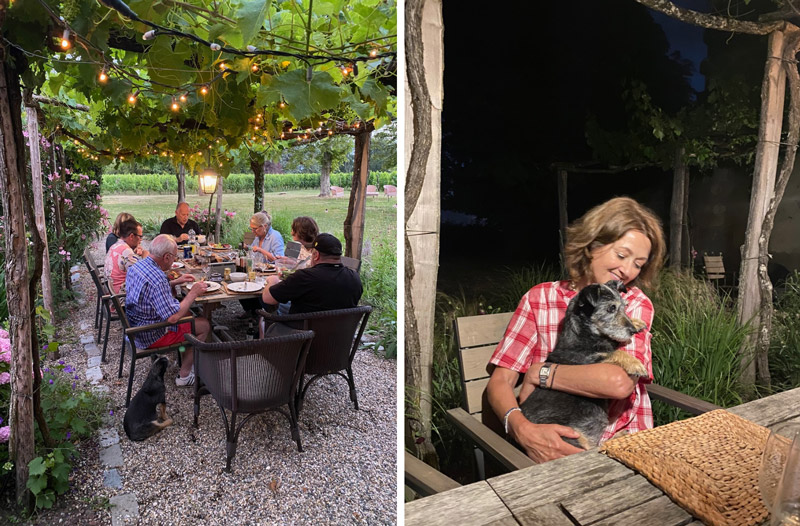 When she's not helping with a vineyard tour, she can normally be found at the farmhouse. Can't think why. Right, a love-in with our friend Miranda.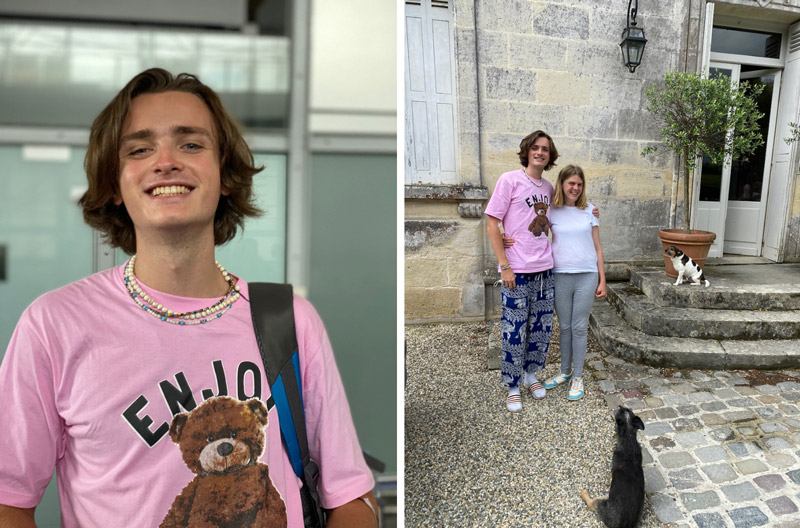 Tom, 18, returned from his three month tour of Thailand and Vietnam. He'd gone on his own during his gap yah, so we were relieved that he got back safe and sound.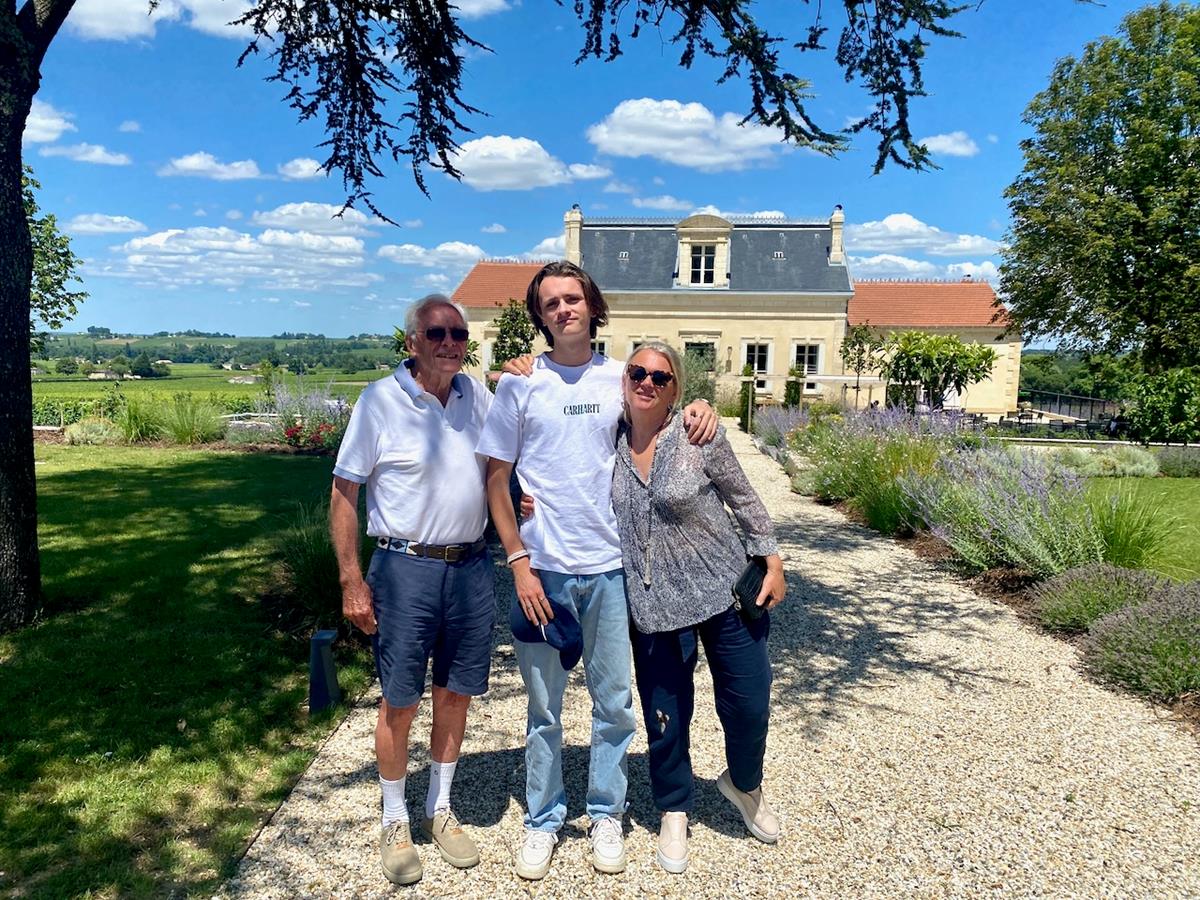 Ange with her father, David, and Tom. David treated us to lunch at the newish restaurant outside Saint-Émilion called Le Jardin this week.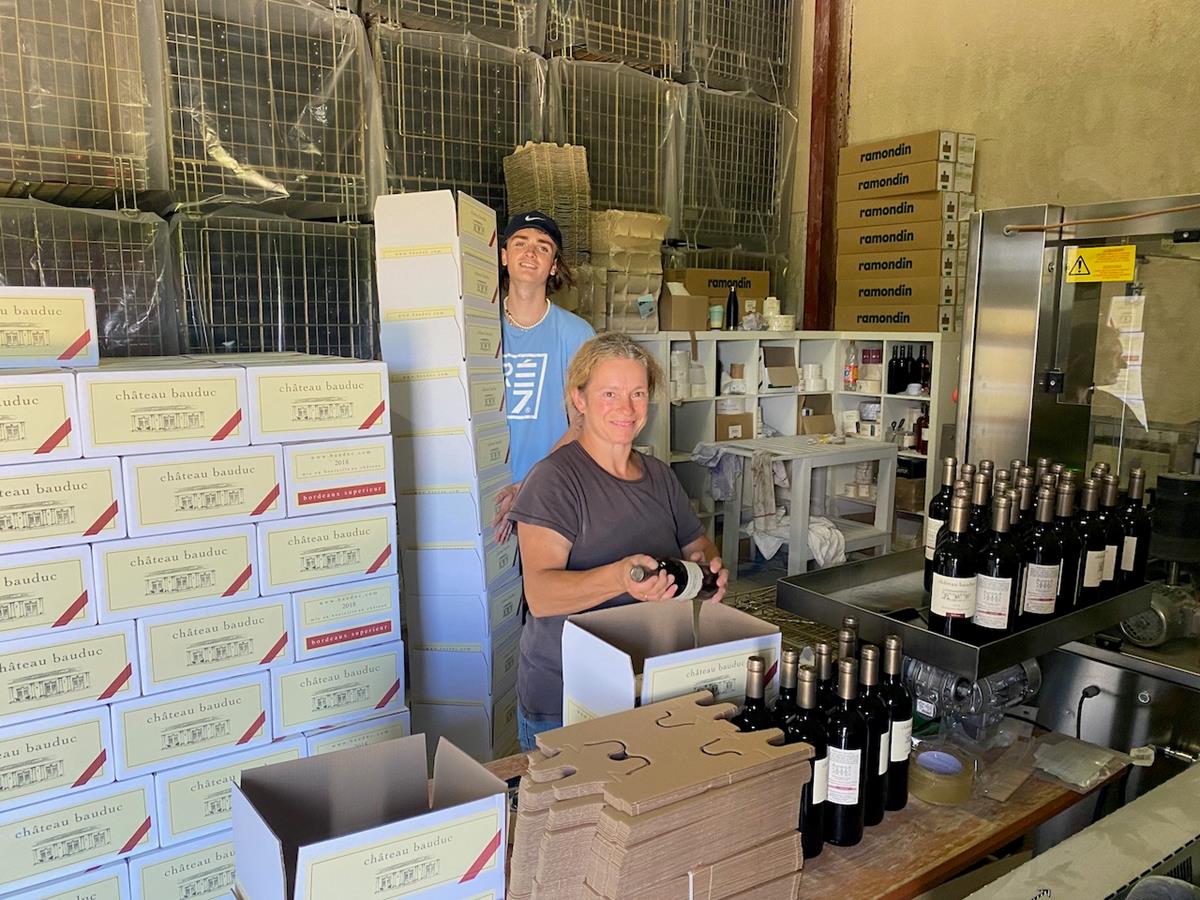 Tom helping Nelly with labelling up some 2018 red for a large order for Switzerland.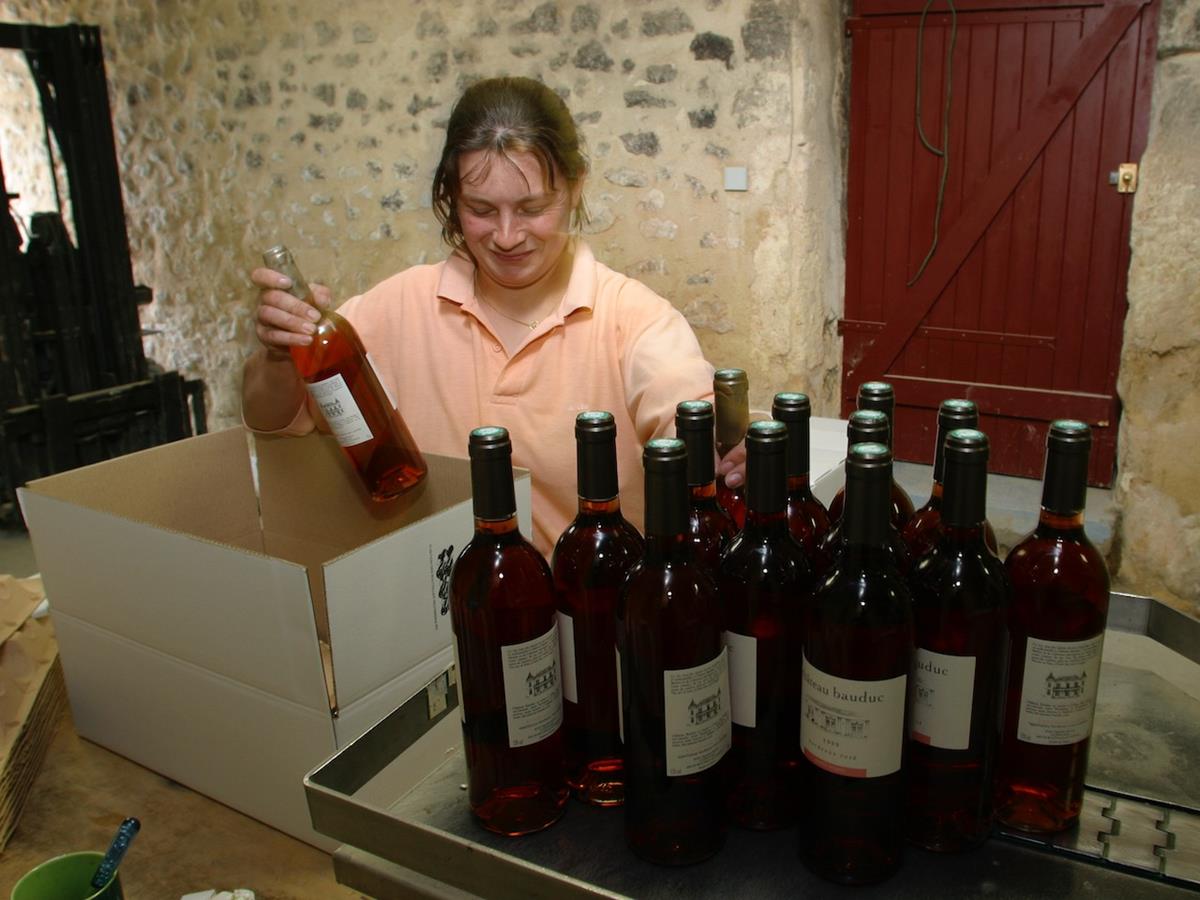 Throwback Thursday and this was Nelly at the end of June 2002 – exactly twenty years ago. A far cry from the colour of rosé we make today.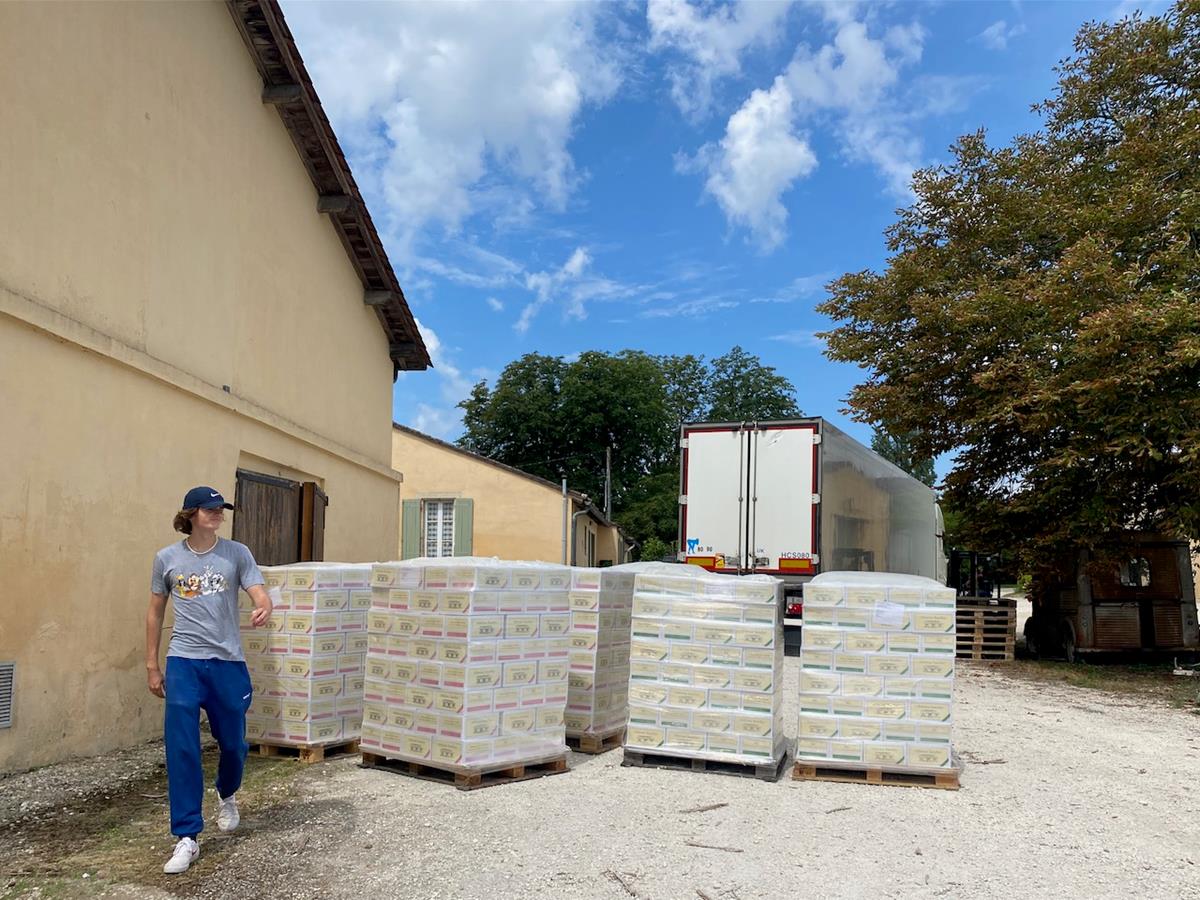 More rosé and white bound for London City Bond, our warehouse and delivery people in Britain.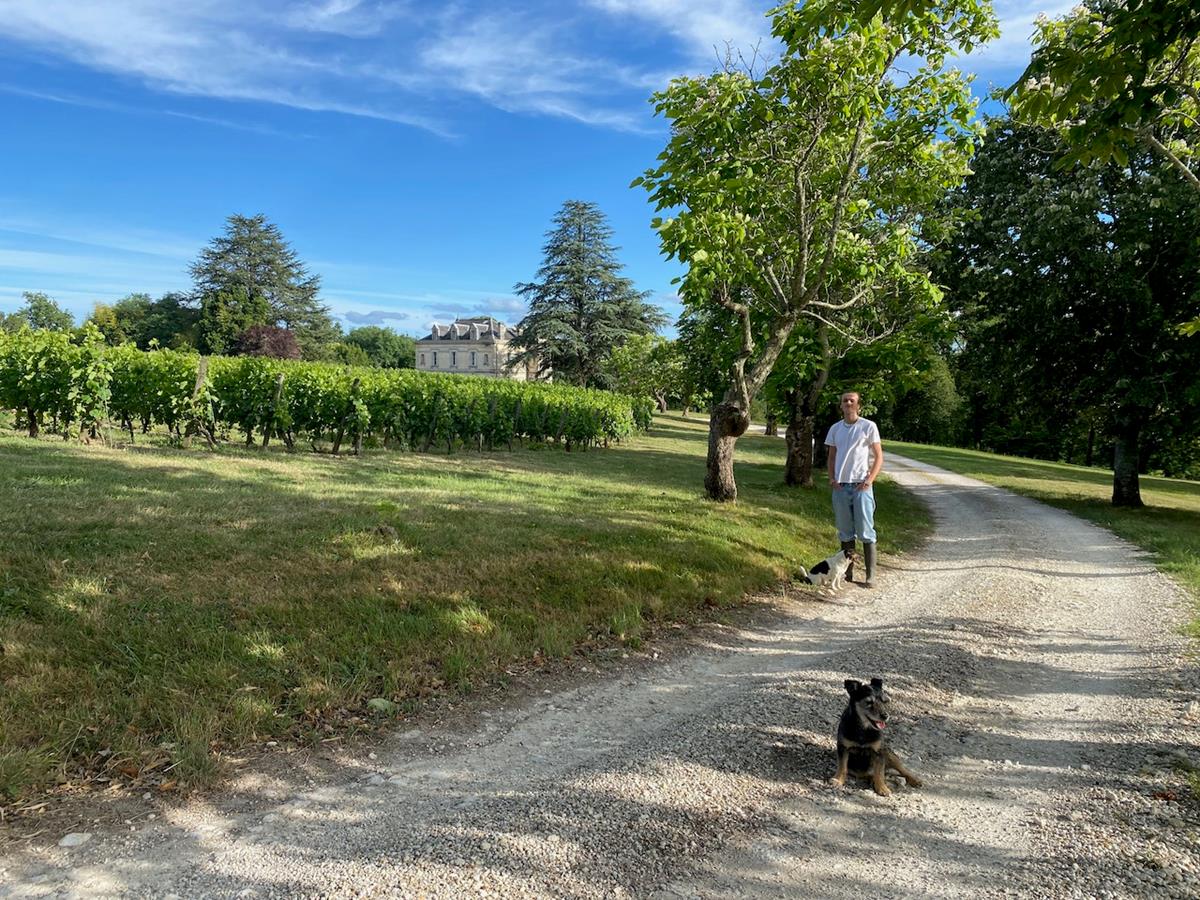 As Margaux isn't quite as young as she was, we have to be careful that she doesn't push on too much when she goes for a walk.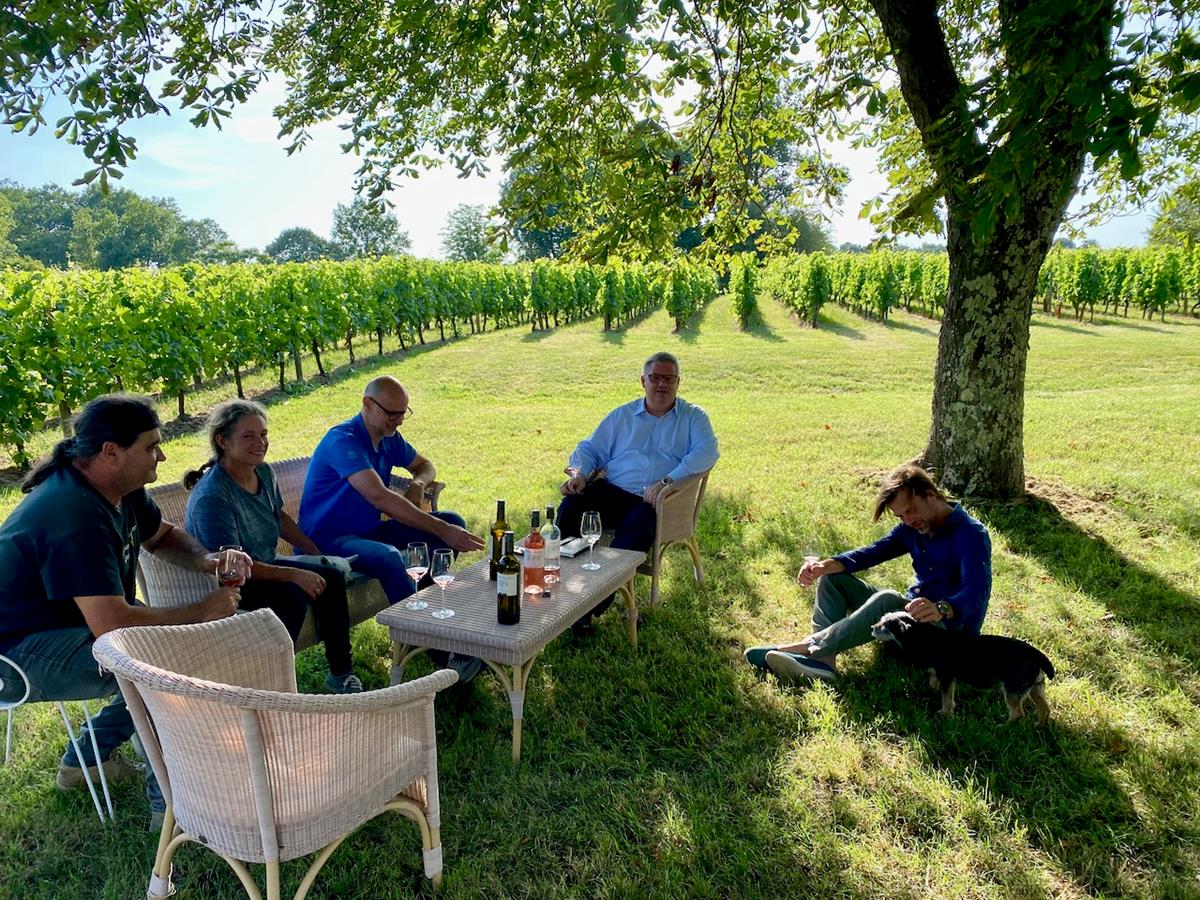 Margaux has a knack of being cute with important customers and friends. This was the second trip in six weeks to Bordeaux – and Bauduc – for our importer from Switzerland, Philipp Schwander MW (pictured in the middle).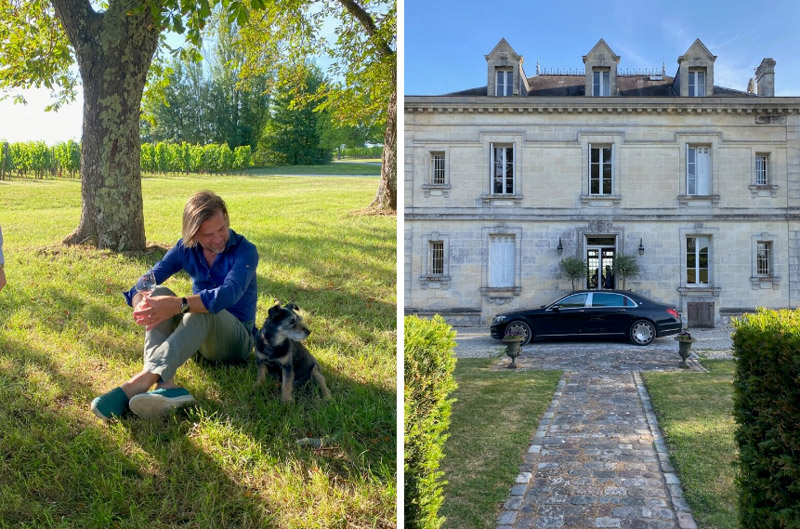 'Nice motor'.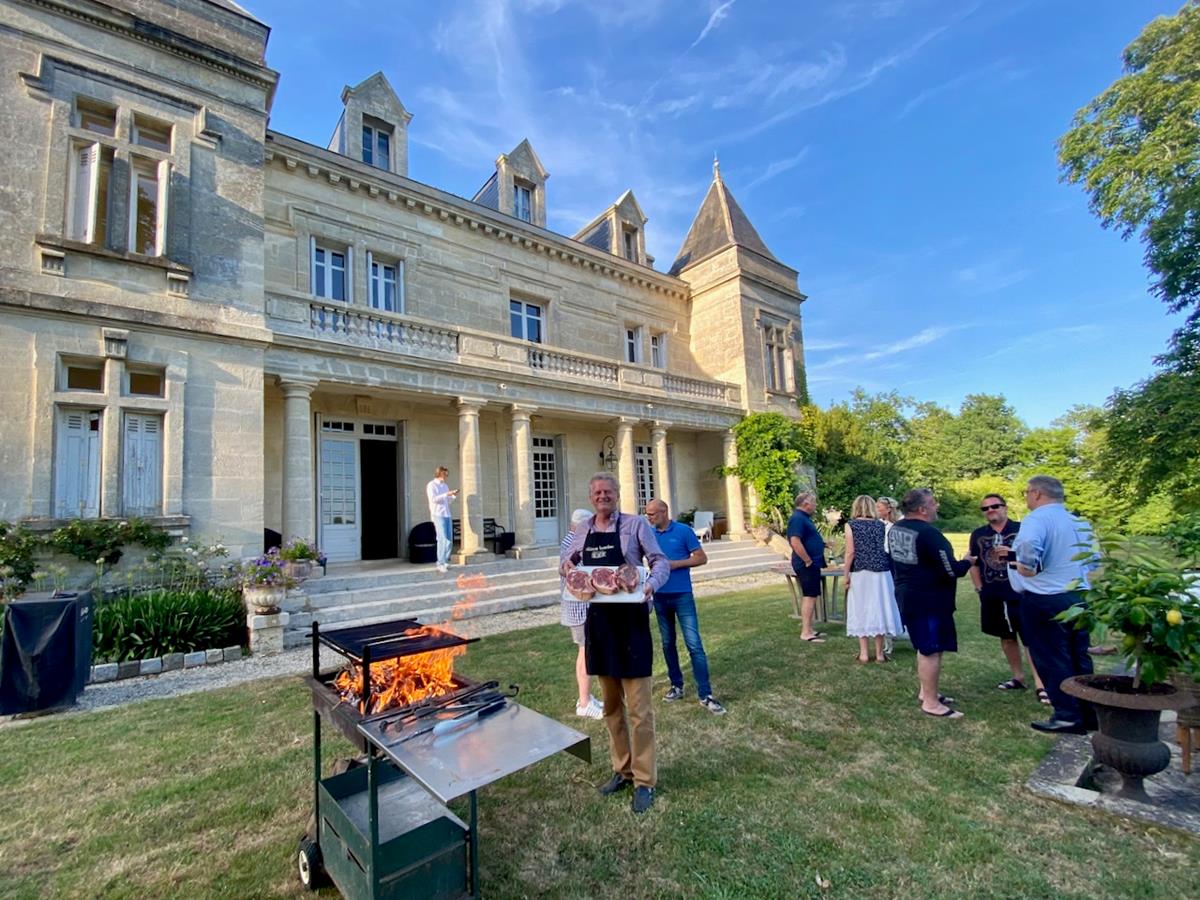 Steak cooked on the vines is our signature dish. (No, not Pauillac lamb, à la Rick Stein's 'Long weekend' in Bordeaux a few years back.)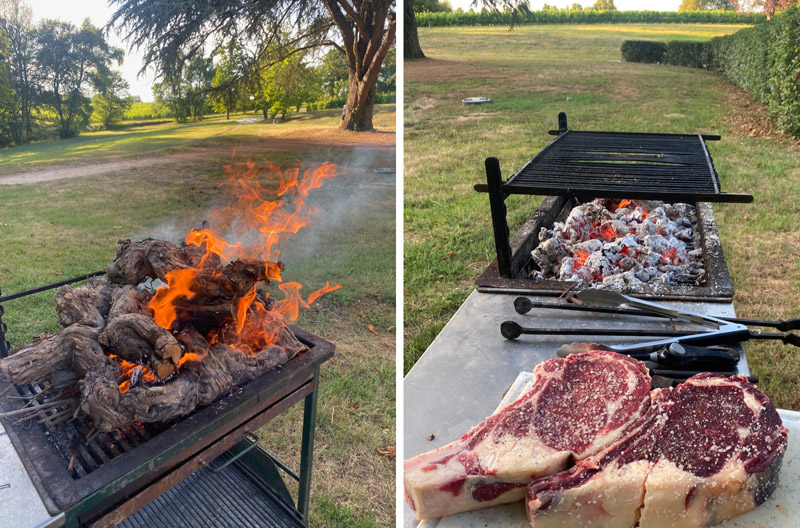 It takes a while for the old vines to burn down to just the right level.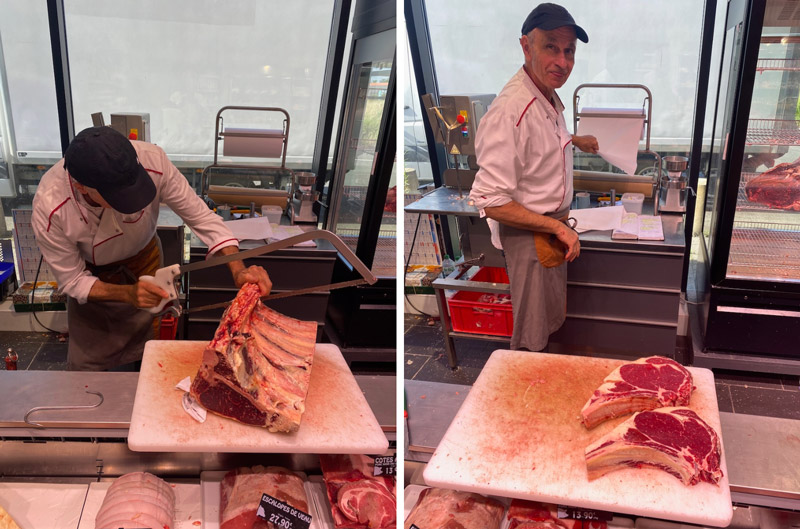 Monsieur Salinier is our local butcher at his retail emporium nearby called 'Tout le mode s'y retrouve'. (We call it 'The Man's'.) He has outstanding beef. His son Julien speaks fairly good English, by the way.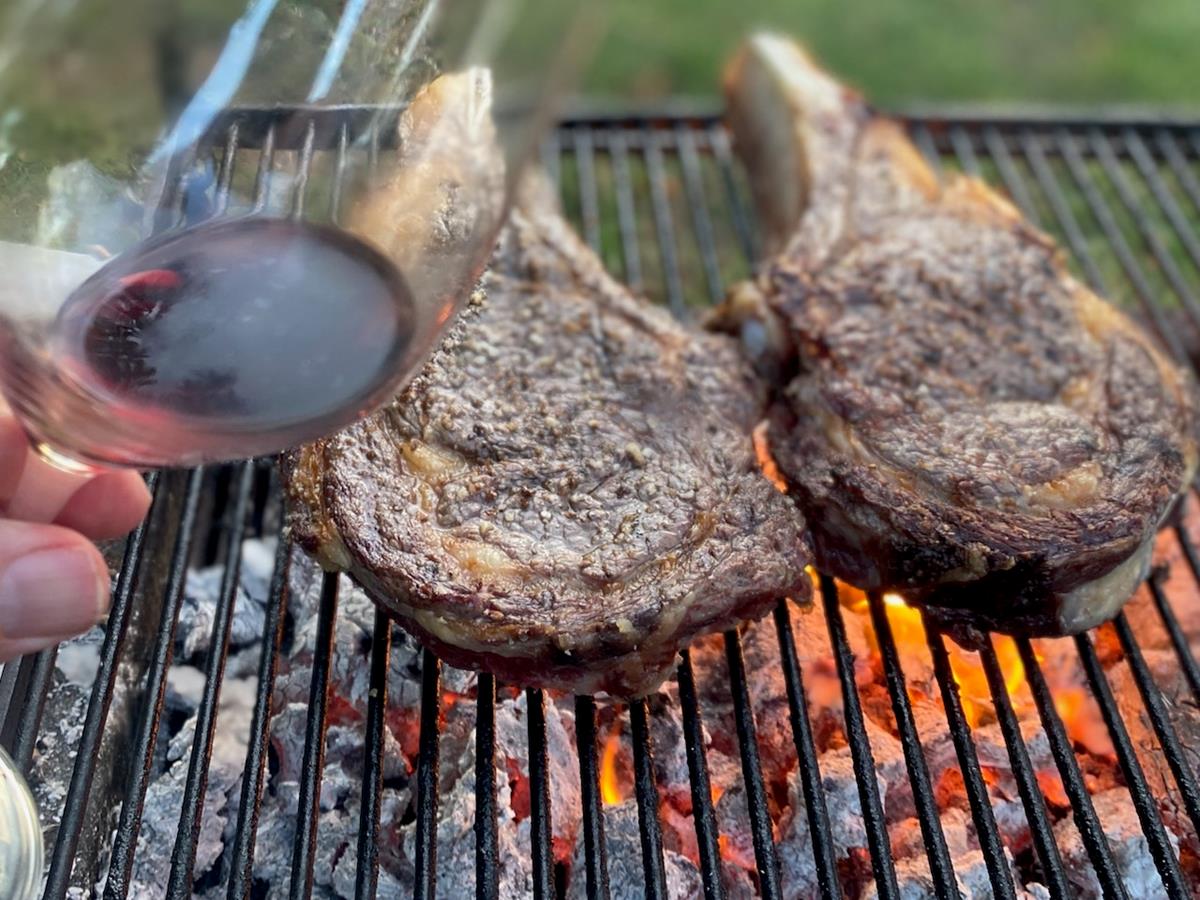 Best cooked saignant or à point (rare/medium rare). Never bien cuit.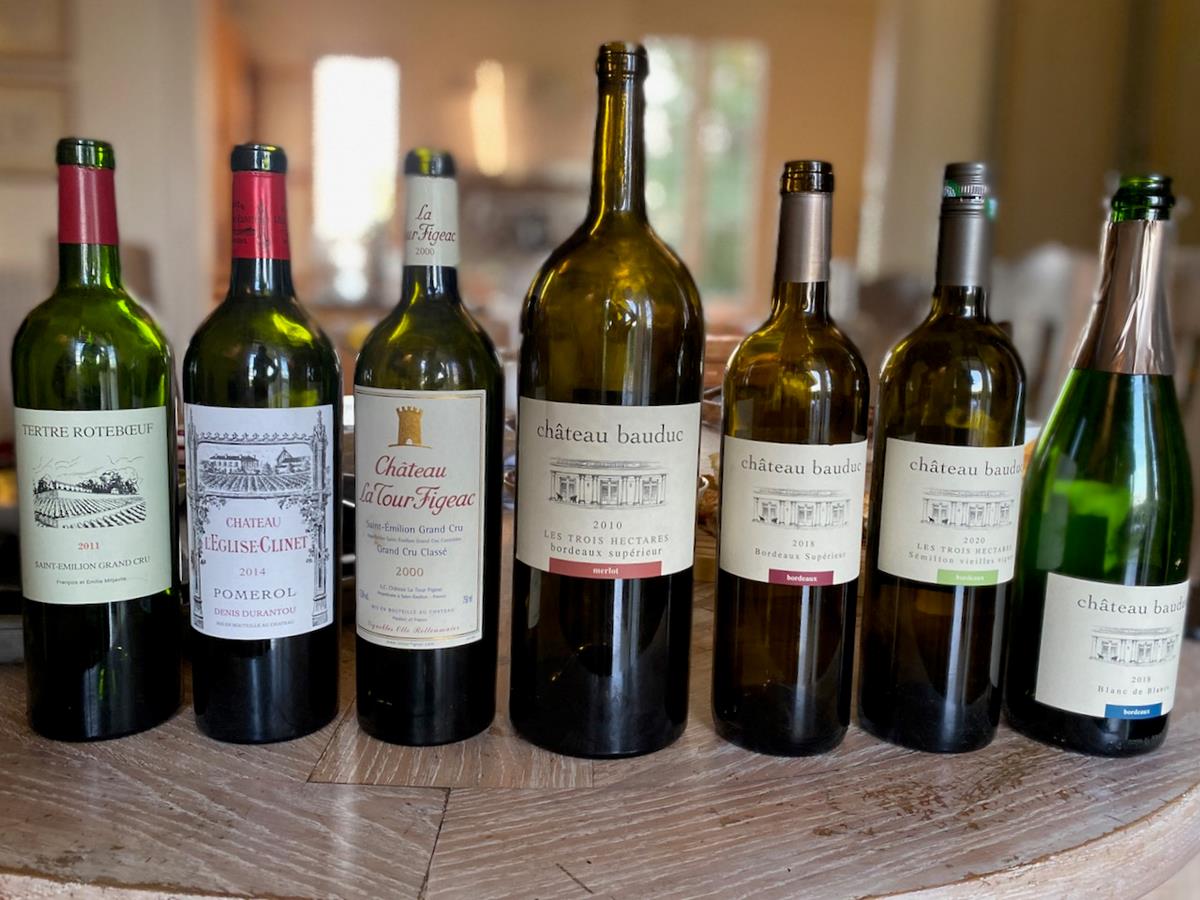 Washed down with some fine Bordeaux (right bank on this occasion) and the home brew. The Bauducs actually held their own.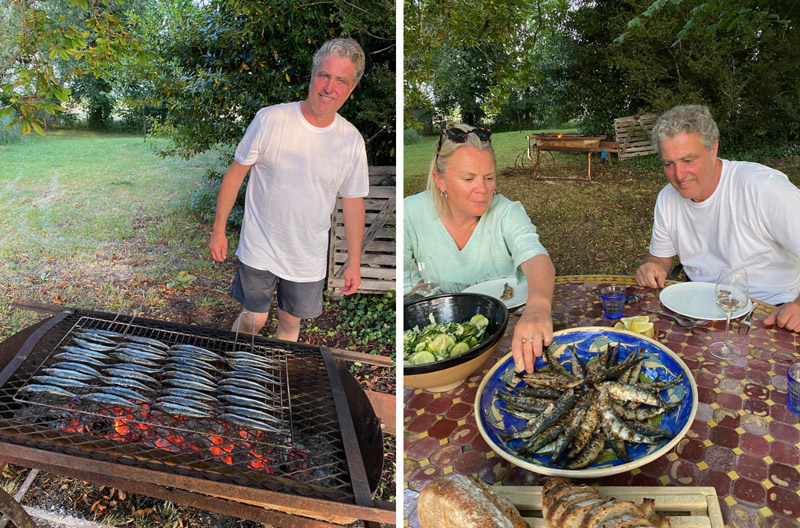 For thicker cuts of meat which take longer we use the winter vine cuttings, called sarments, as kindling and the old pieds des vignes as the main bbq wood. But many people use the sarments on their own. Our neighbour Stéphane Defraine of Château Fontenile kindly invited us round for supper and grilled sardines (from 'The Man') on the sarments. Delicious.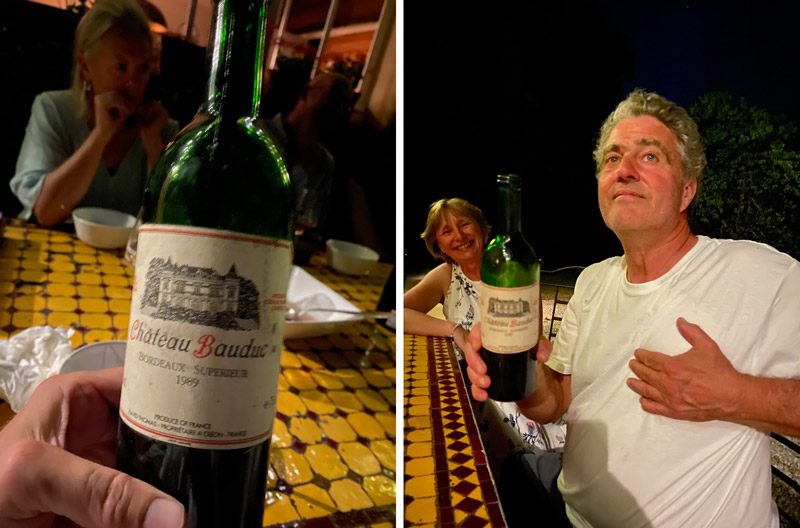 Stéphane was the manager and winemaker at Château Bauduc before our time, in the 80s and 90s. It was a treat to taste his only bottle of 1989 – a rarity – declaring part of his heart will always remain at Bauduc (or something).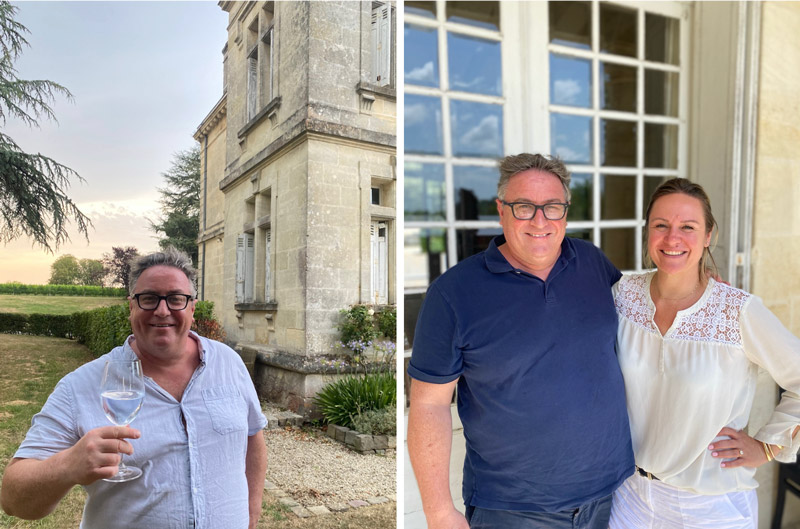 The friday supper at Château Fontenile was on the eve of the hottest day of the year so far. Our good friends Richard 'the chief' Siddle and his fiancé Erin came to stay for the weekend. Although Richard is co-founder and editor of The Buyer, the wine trade online journal, water was probably the order of the day.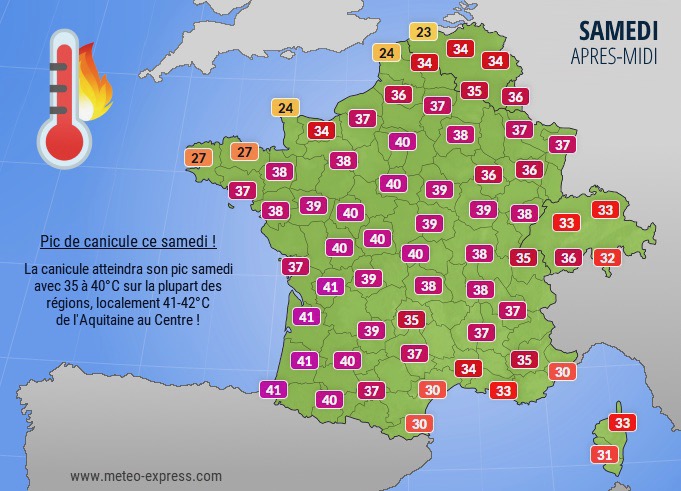 Phew, it's a scorcher! Saturday 18 June and 35˚C to 42˚C in the south west of France.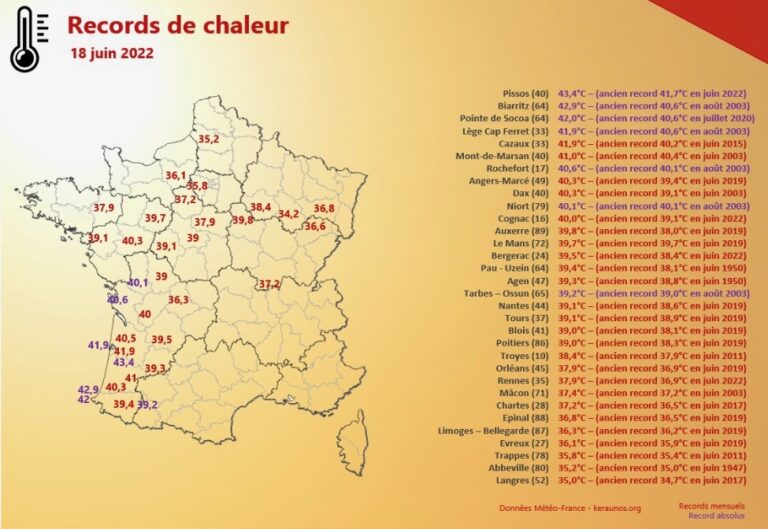 41.9˚C recorded at Cap Ferret, on the coast near us. 42.9˚C momentarily at Biarritz, further down.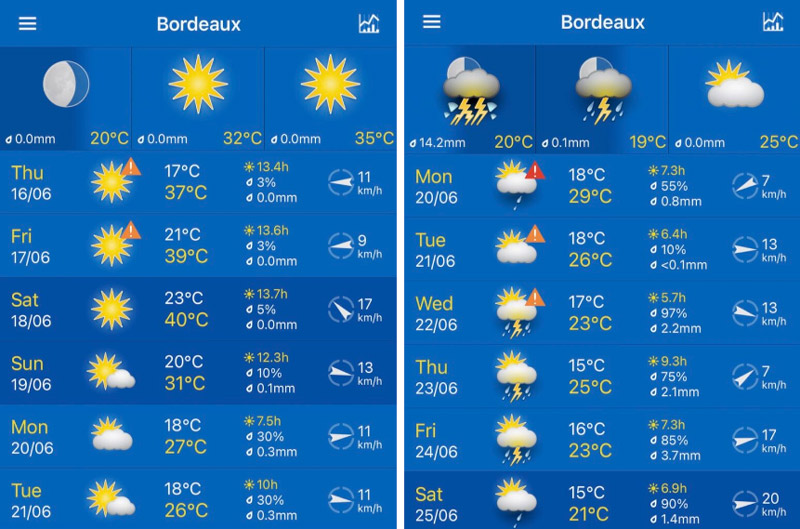 But what comes up must come down. And in the case of a Bordeaux summer heatwave, that can often mean storms.
So we had to wait and see just what would happen on Monday evening. The dreaded G-word (Grêle, or Hail). More to follow…