Posted by Gavin Quinney on 31st Jul 2020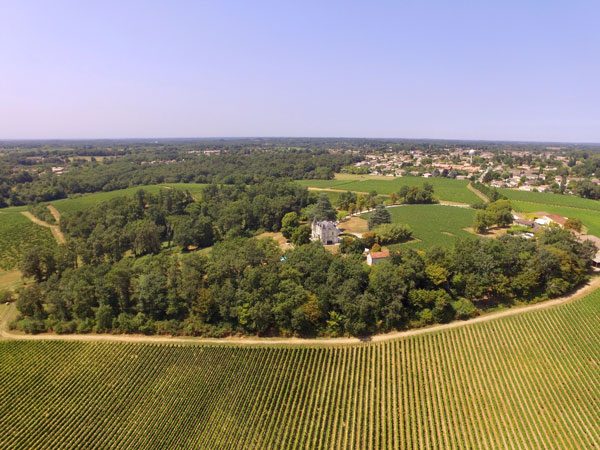 We trust you are well and that a summer holiday isn't proving too much of a challenge. Here it's another scorcher - at the time of writing on the afternoon of Thursday 30th it's just hit 40ºC, though just for one day with any luck.
In the piece below entitled 'a day in the life of Bauduc', all the images are from this Wednesday. As is the shot of the vineyard above.
Should you need any vinous refreshment, delivery in England and Wales is still free for 12 or 24+ bottles. A mixed case or two?
All the best for August
Gavin & Angela Quinney
Dry old party in July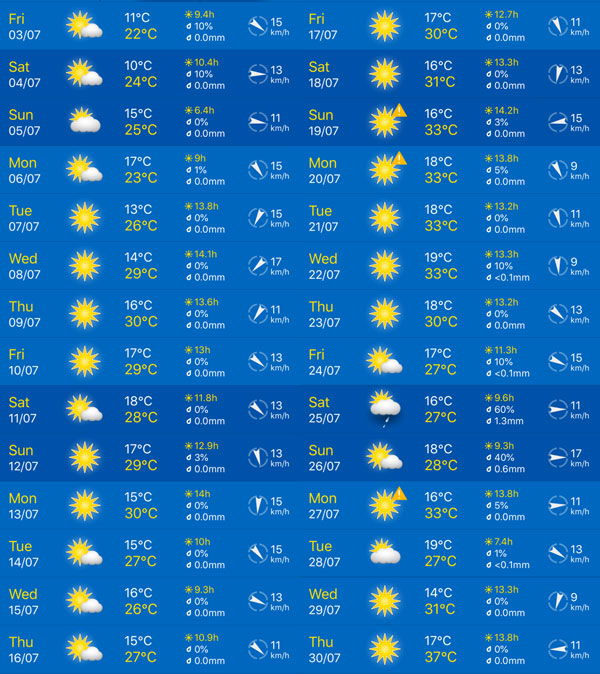 Once again July has been a dry and sunny month and here's a montage of screenshots of the weekly weather forecasts for the month for Bordeaux. We'll report back with the actual weather stats in a future vintage update, so these figures should be taken with a pinch of salt. They do, however, give a flavour of just what a lovely month it's been: there may have been fewer tourists but they, and the vines, have had a pretty good time.
We had more than average rainfall in March, April and May - though with welcome sunshine during the May flowering - and rainfall in June was in line with the average. So the water reserves ahead of a dry July have been mighty useful.
The vines are perhaps 10-15 days ahead of the norm, and there are definite similarities with 2018.
DQ leaves lockdown at Bauduc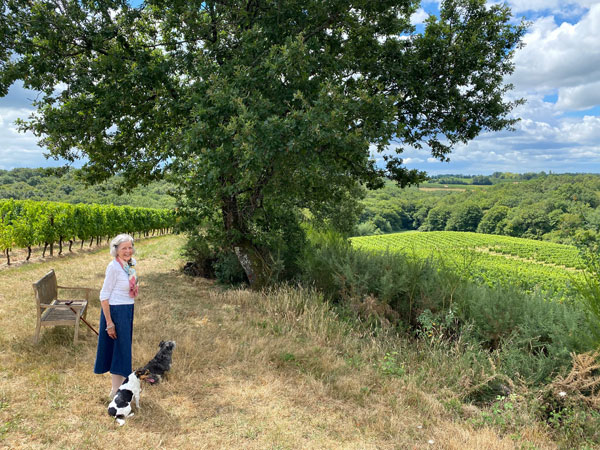 My mother Diana came for two weeks at the beginning of March and had to stay for 20. She was able to go home to Malvern last Sunday, ably assisted by two of her more sensible grandchildren, Harriet and Rory. The last ten days were spent with many of her close family around her, so she went off with a bang.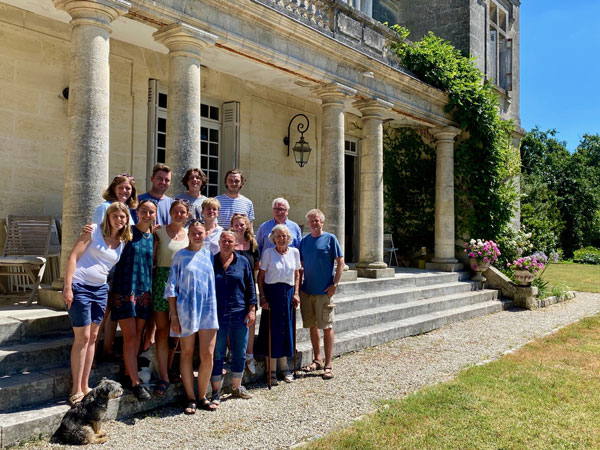 We'd walk past the same vine with the dogs during the growing season quite regularly: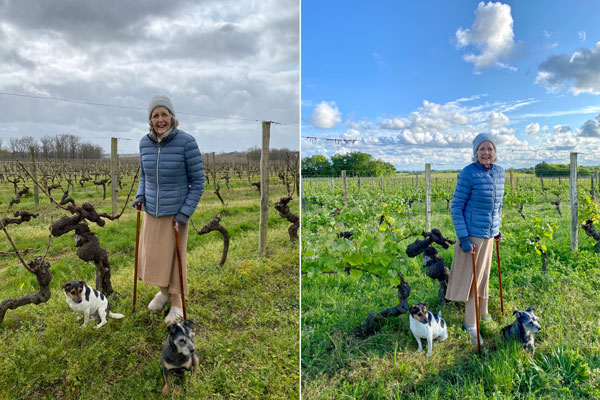 10 March, before the season (and lockdown) began, then 27 April.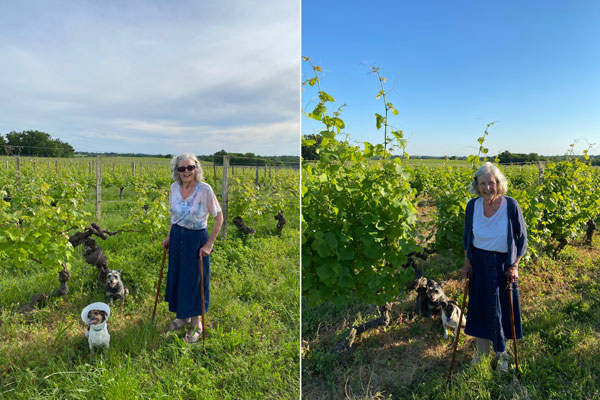 From 7 May to 29 May. Growth.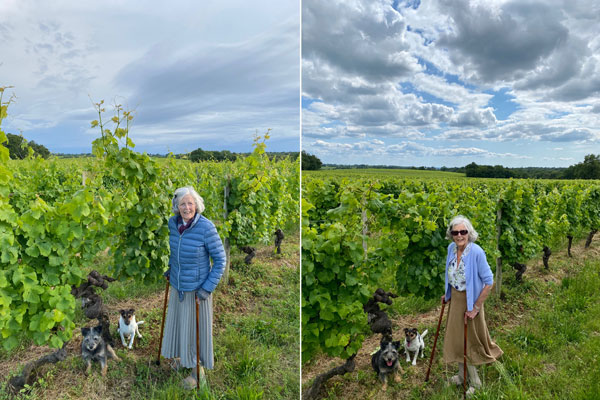 12 June and 21 June. Trimmed.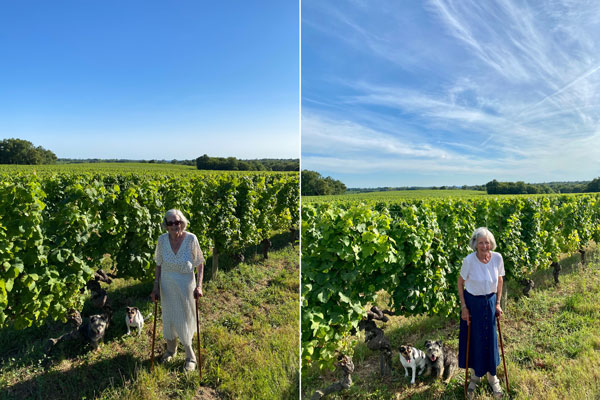 8 July and 25 July. Ripening.
A day in the life of Bauduc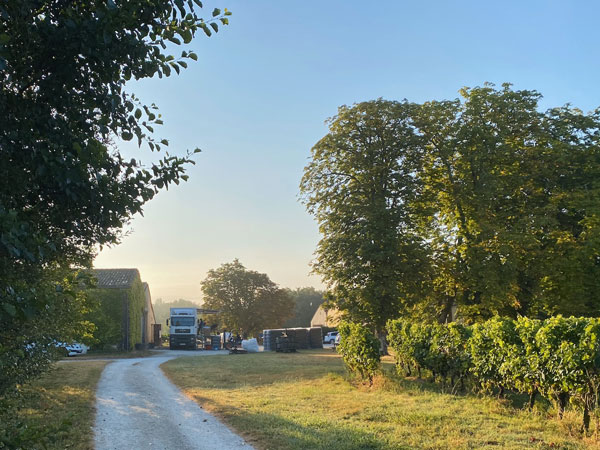 Never mind a month's review - here are some images from just one day. Wednesday 29th July was a hot day, though not as boiling as the following one.
We were bottling some of our 2018 red, and the hire of the machine had been a little delayed due to Covid.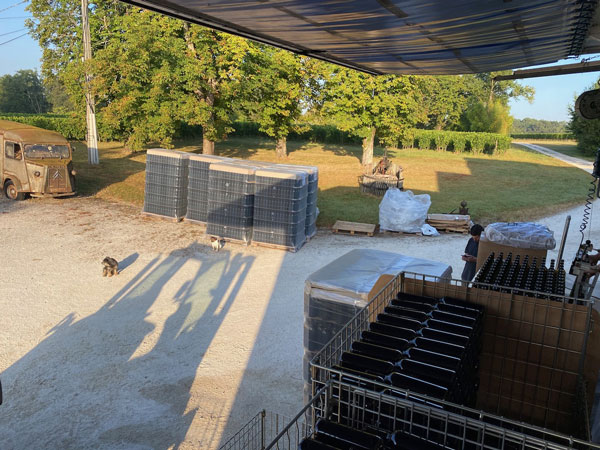 Because of the heat, the team were working from 5am to midday, thus avoiding the scorching afternoon - as much for the wine as the workers. Mis en bouteille au Château often means bottling right next to the vines. And, in our case, the old van.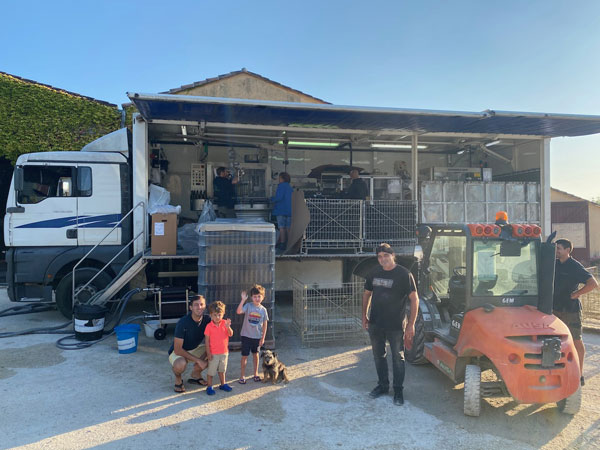 Bottling machines are good entertainment for dads and small boys staying in our farmhouse.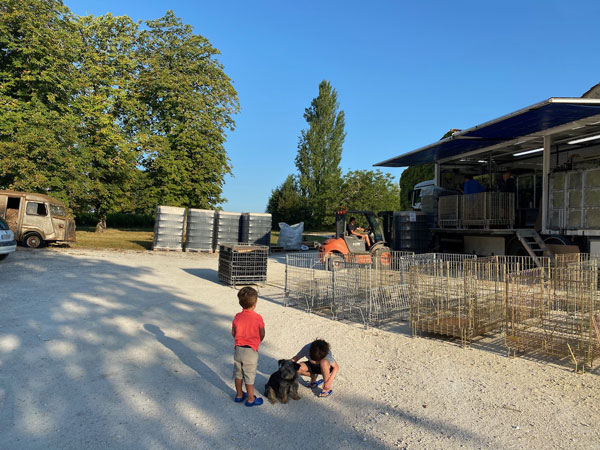 Even Margaux has some competition for being the centre of attention.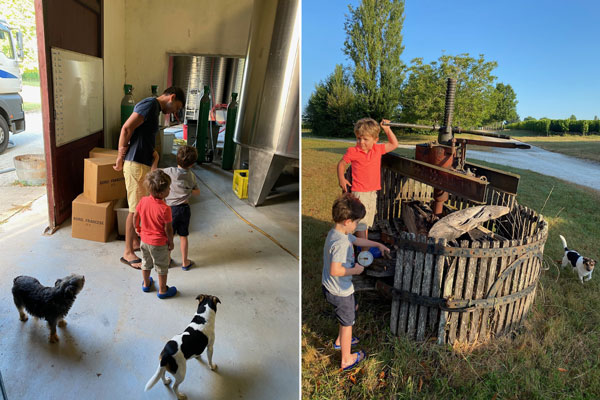 The old press, a garden museum piece, doesn't measure up to health and safety standards for small boys, especially as they call it the helicopter. Nor does the winery for that matter. Mummy is the MD of a London wine merchant, so no doubt she'll understand if anything goes wrong.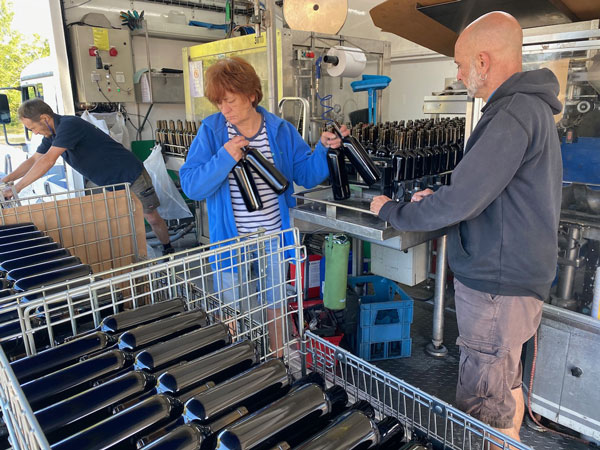 With the reds, we're just bottling and laying down the bottles in metal box pallets for storage and ageing, called 'tiré bouché', not labelling or boxing up like we do for the whites and rosé (screwcaps don't like metal box pallets as they can be dented). It's how most châteaux in Bordeaux bottle their reds - 85% of production being red: labelling, capsules and packing into cases comes later, often to order, or prior to despatch.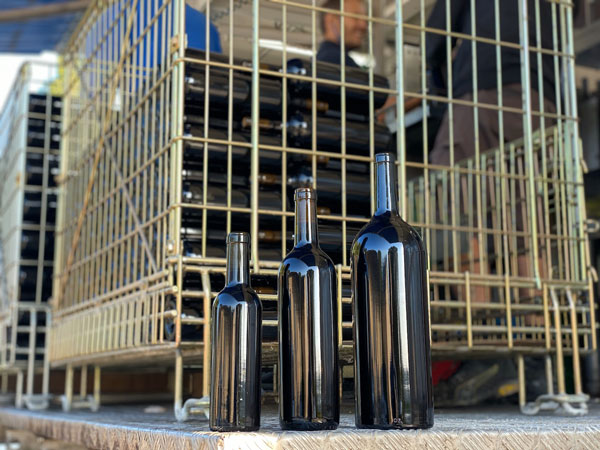 Halves, bottles and magnums. It's rare for us to bottle using half-bottles but we feel it's worth having a go. We think they'll make sense for hosting online wine tastings (see below, at the end), or for sending to wine critics, or for wine lovers with non-drinking partners. Whether customers will buy them in any volume is another matter.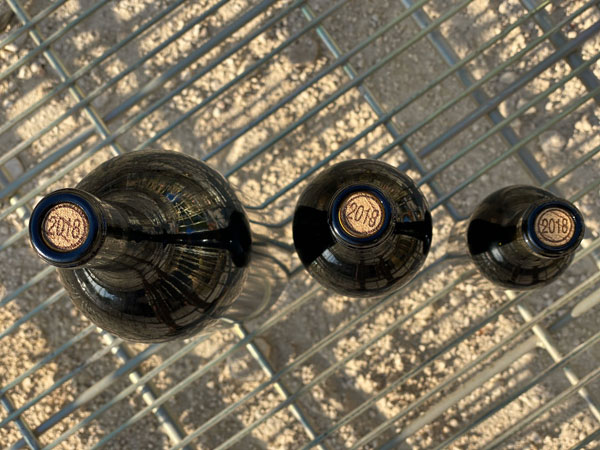 Producers often don't bother with halves because the actual glass half bottle costs exactly the same as a regular 75cl bottle, as does the (same) cork.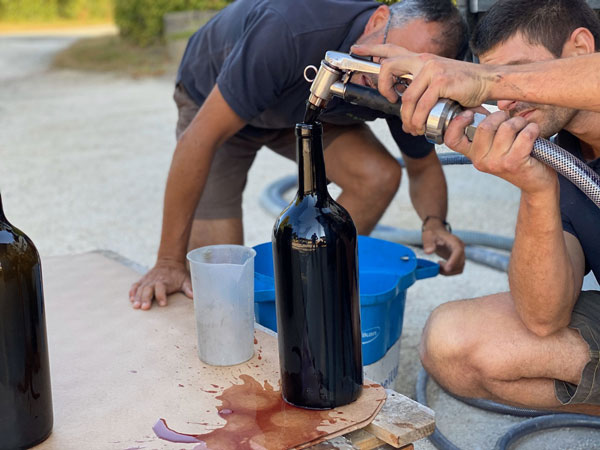 We take a laboratory approach to filling double magnums.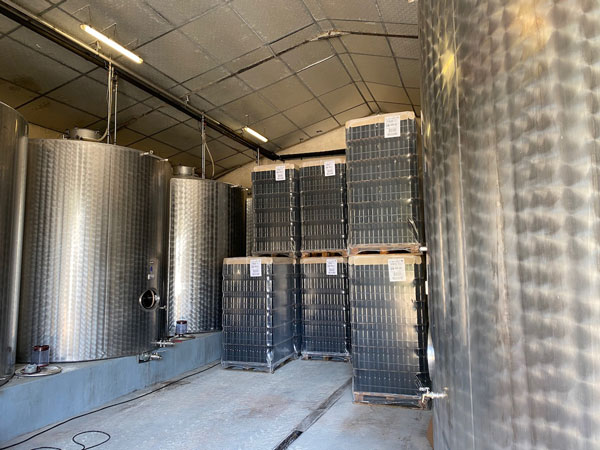 The bigger stainless steel tanks are useful for assembling the final blends.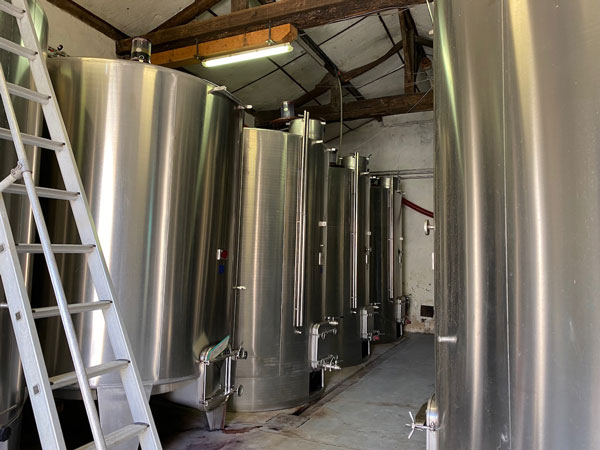 The reds were actually made in smaller stainless steel tanks, before being assembled later. They're still big though.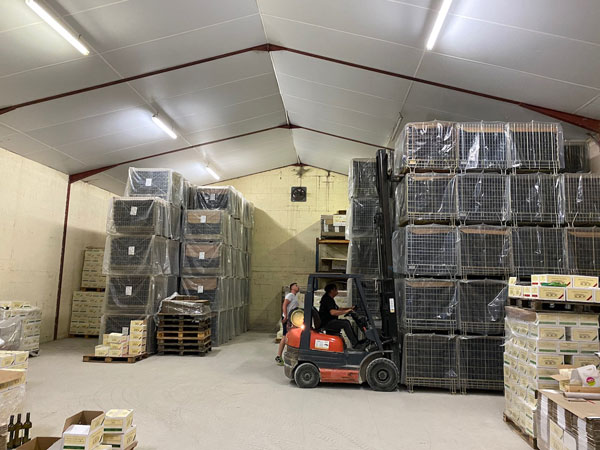 Box pallets can be stacked high, which saves space. Made-up pallets of wine should only be stacked two high, unless stored in racks of course. Two barrels contain the same as one box pallet, by the way: 600 bottles.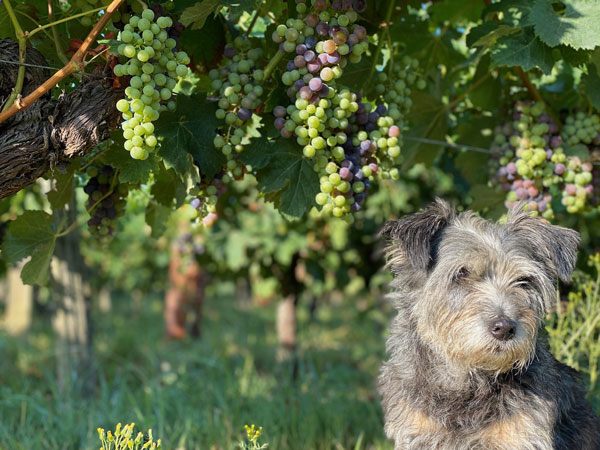 Out in the vineyard, colour change or veraison is relatively early. This is Merlot, destined for our 2020 rosé with any luck.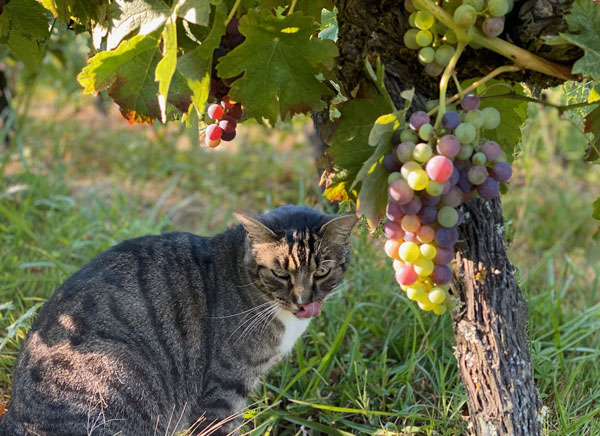 The cat, Goose, doesn't usually pose for pictures like Margaux does.
Pavie meanwhile is waiting for the man to come and repair a tractor, so he can bark at him.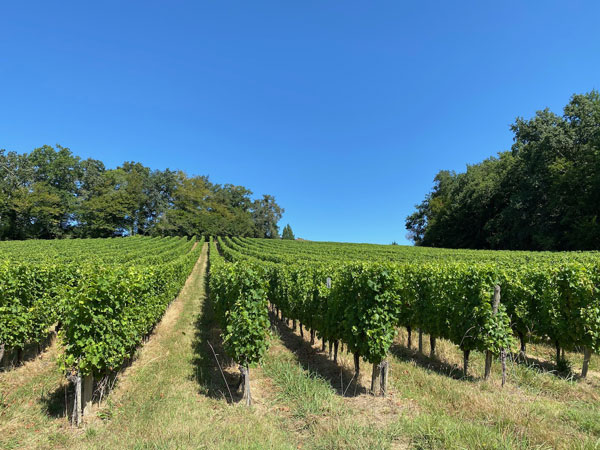 The Sauvignon blanc is coping well in the heat.
Most of the bunches are protected by being well covered by the leaves and trellis.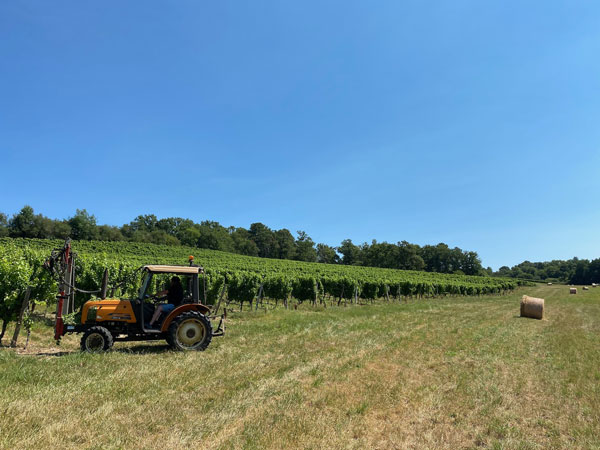 Here's Daniel trimming the vines.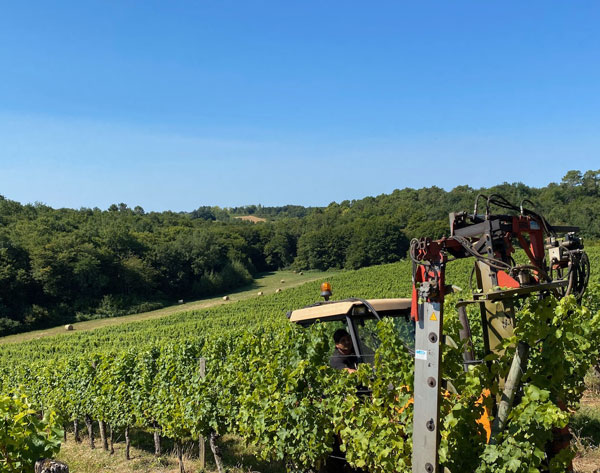 The rogneuse, for hedging, is otherwise known as scissorhands. Selfies are not advisable.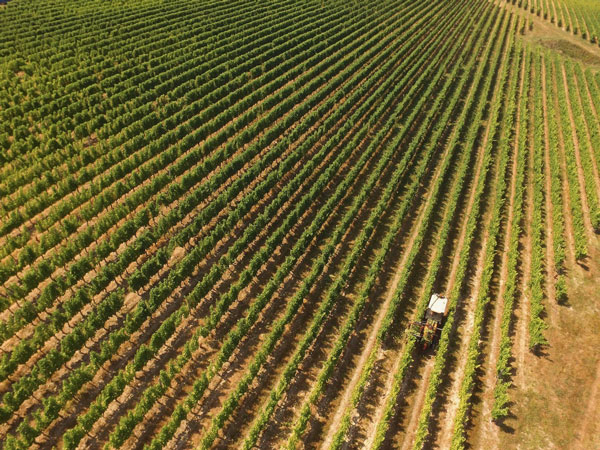 An aerial view.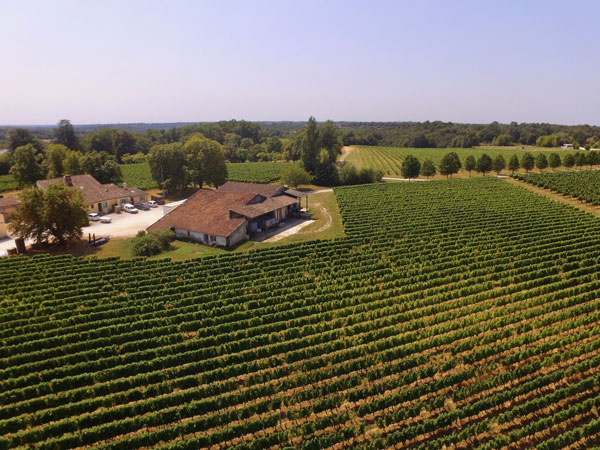 The winery as seen with a drone, with Sauvignon Blanc in the foreground.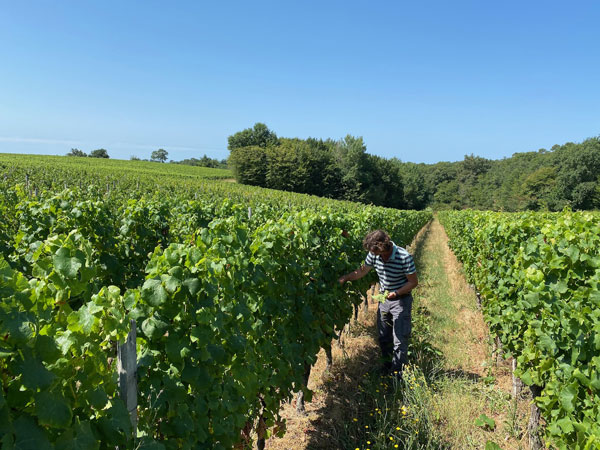 Patrick Delmarre, our viticultural consultant, thinks we've done a great job keeping the mildew at bay. Or rather, Daniel has. 2020 is another high-risk mildew year, like 2018.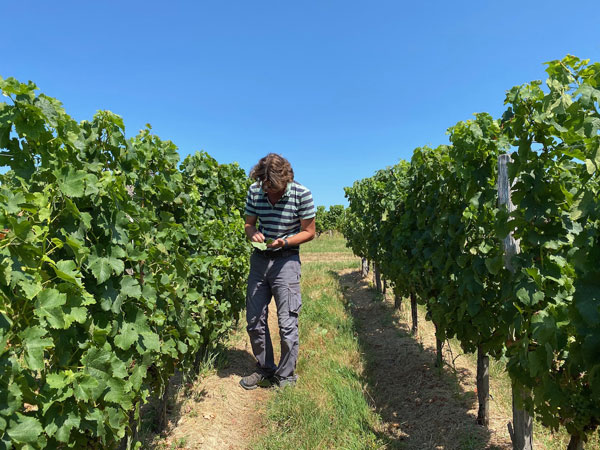 Now Patrick has discovered that we have some microscopic larvae from 'cicadelles vertes' on some leaves and he's assessing the potential risk. Google 'em for fun but basically the little sods can damage the leaves, reducing a vine's ability to ripen the grapes. Thankfully not too catastrophic, and anyway, we like to make as natural wine and clean as possible, without any pesticides. ;)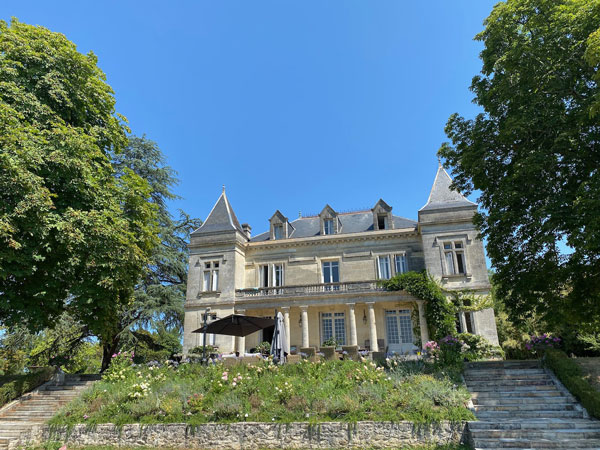 There is no one at the château because we're all too busy for some reason. This seems a waste.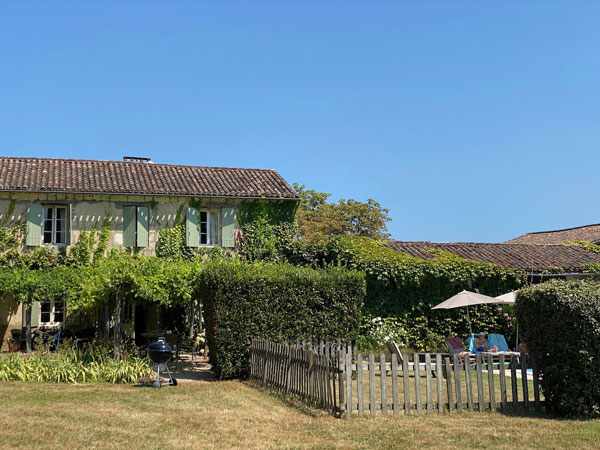 Our guests are loving the shade under the vines and various brollies, and the pool, at the farmhouse. Farmhouse fans will spot the newly painted shutters and windows.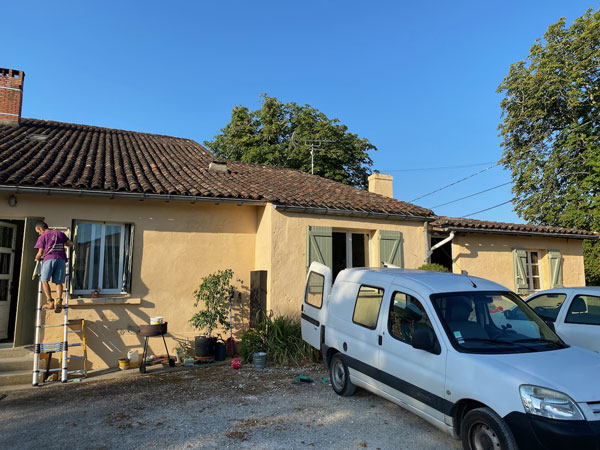 The windows, shutters and doors in the winery and tasting room area are being given the full Farrow and Ball lichen and lime white treatment. This, coupled with the Covid risk of sharing spittoons, prevents us from offering tastings at the moment.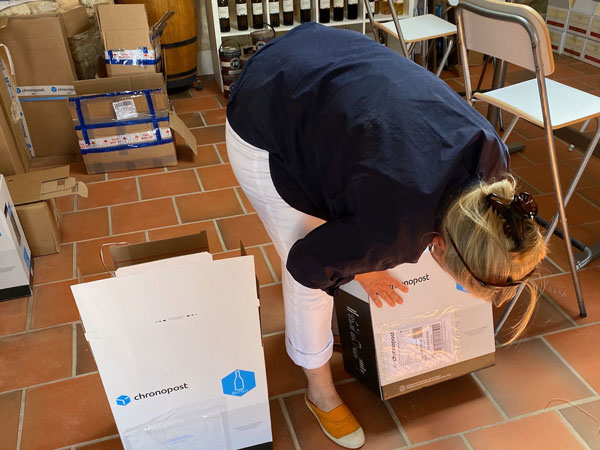 The tasting room now serves as Chronopost central for urgent courier despatches across continental Europe. This is not to be encouraged.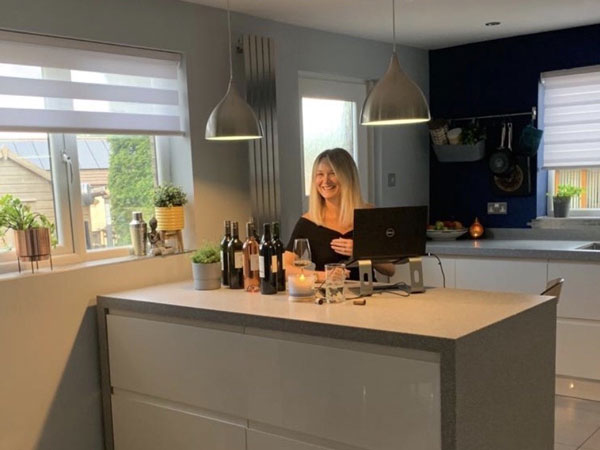 We hosted an online tasting in the evening for a UK-based club - not wine connected - with all the guests having bought one of our Collection cases in time for the event. Here's Helen in Glasgow, who emailed saying "Ohhh… hubby just came home from footy… how do you explain this? Answers on a postcard pls."
It was actually a lot of fun.