Posted by Gavin Quinney on 31st Jul 2021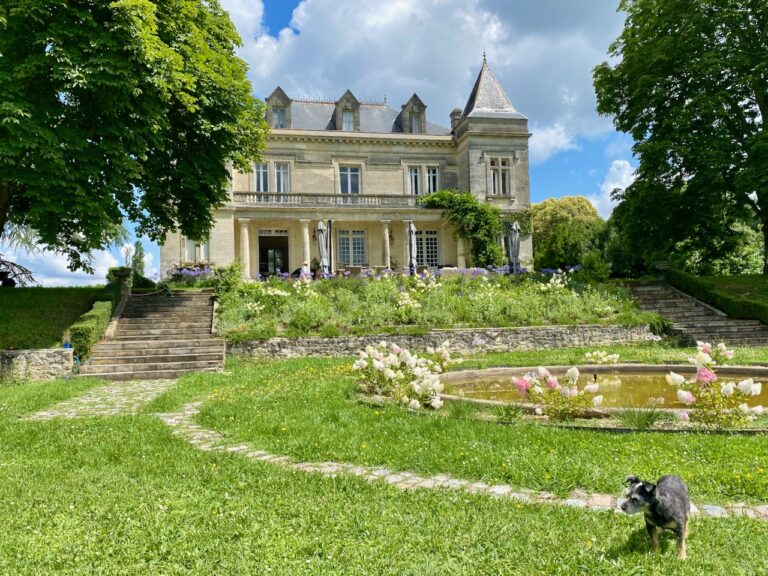 The summer holidays have arrived. Or rather, all four children have, as of later today when Bugs flies in from Montreal. We're among the lucky ones: Georgie flew in this week from London and her ladyship (granny) is here for what appears to be a six-week stint. Though you never can tell with travel to and from the UK these days.
It's been a busy month as ever, and this series of photos only scratches the surface. We touch on the visit of our fabulous Swiss importer earlier in July, so we thought it only fair to show the offer he subsequently sent out to his discerning customers at the foot of this missive. With the help of google translate, naturally enough.
All the best
Gavin & Angela Quinney
PS To view just the images in 'photo albums', click here.'
---
Tour de France passes Bauduc, 16 July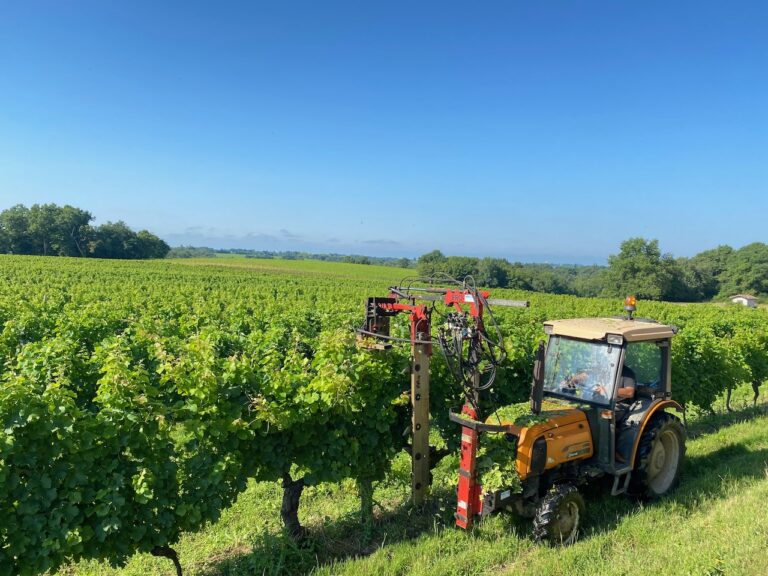 The image at the top, and the one above, was taken on the day the Tour de France went by. More on this anon.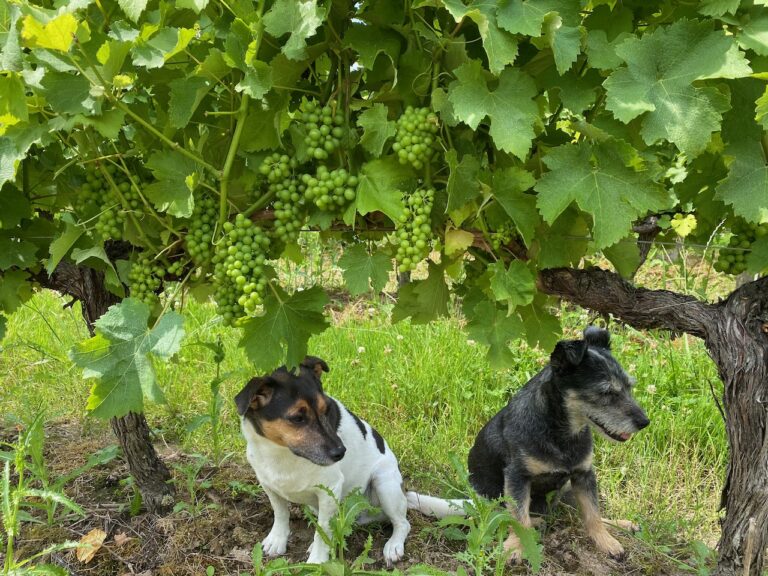 In fact, we began the month with a quick holiday abroad, once we were safe in the knowledge that the grapes, and the dogs, were being looked after. Like so many people, we hadn't had a break from work for what seemed like years. In fact, it was years.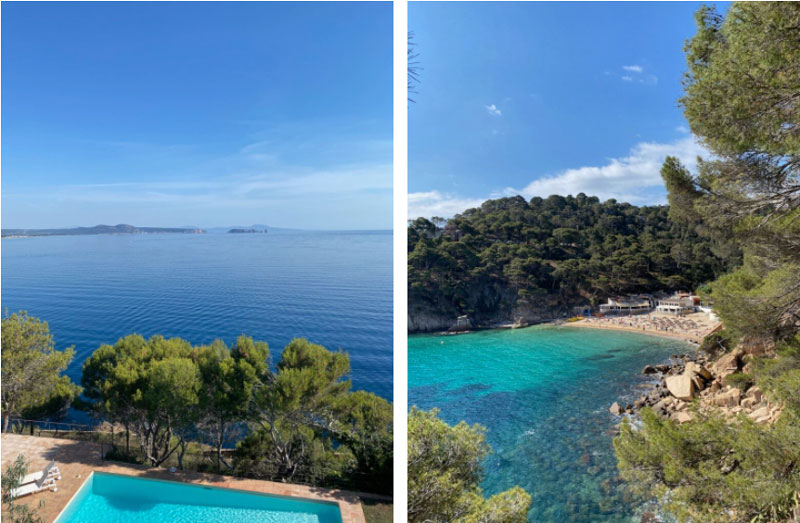 Some good friends had invited us to come and stay in the villa they'd rented on the Costa Brava, near Begur, for a few days. We were their guests but it was incredibly good value for such an idyllic location, all the same. We had lunch at the beach restaurant on the right. The lobster paella (or something like Paella) was for four, not just Angela.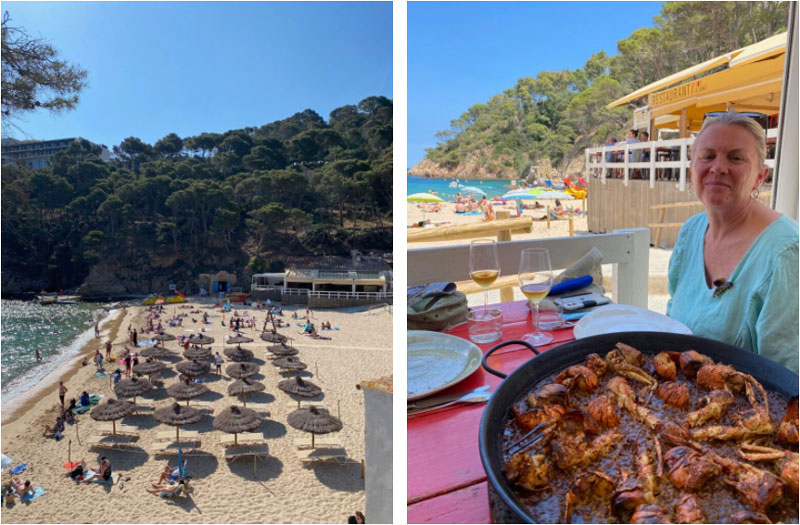 It was wonderfully uncrowded, even for the first week of July. It's a six hour drive, and we went with our double jab app and paper back-up all ready, but we needn't have worried as we sped through the border on the motorway. In both directions, as it turned out.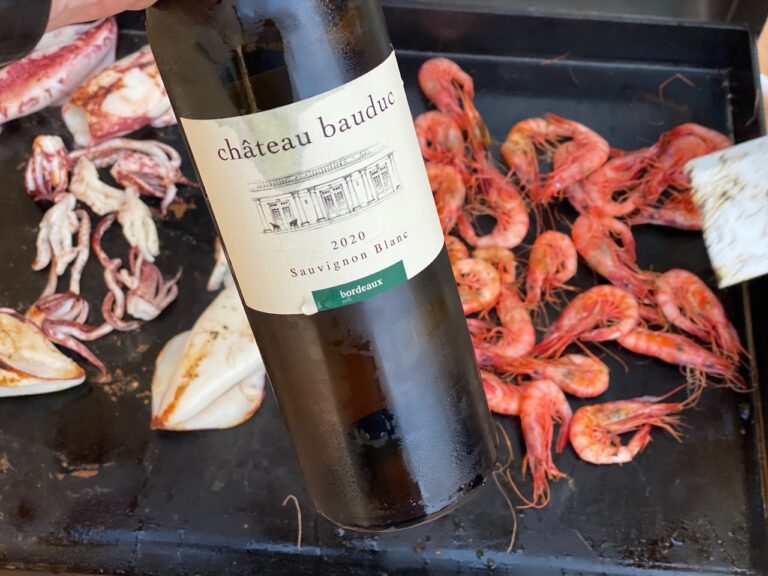 We drank the local wine, mostly, though we couldn't resist trying some home brew with the seafood on the plancha. We were so taken by it, we've bought a plancha.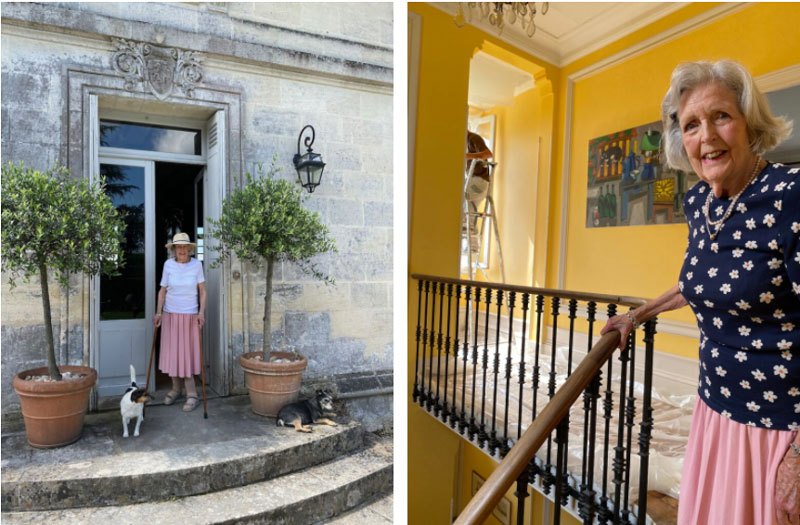 We got back in time to welcome granny back to Bauduc. She'd been desperate to come over for ages. It wasn't really in the plan that the extensive and long overdue 'updating' work on the château was still carrying on.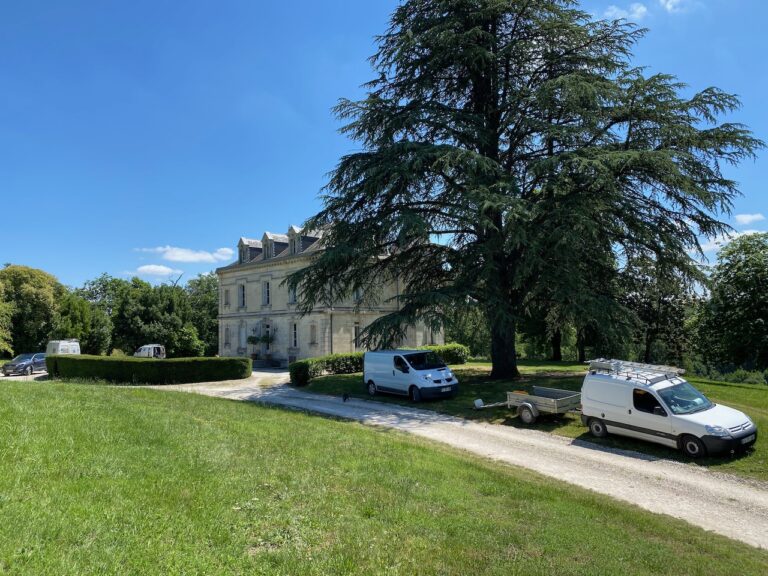 It's been Van Blanc at the château for many months now.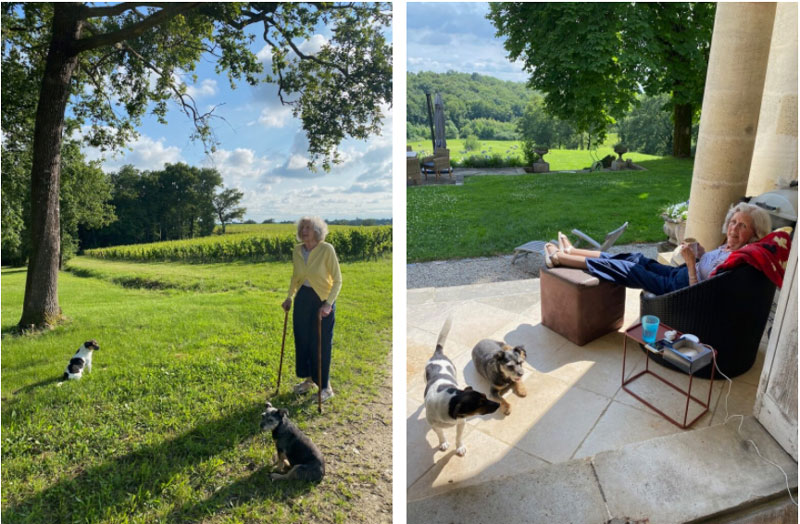 The dogs are under strict instructions to make sure nothing untoward happens to granny.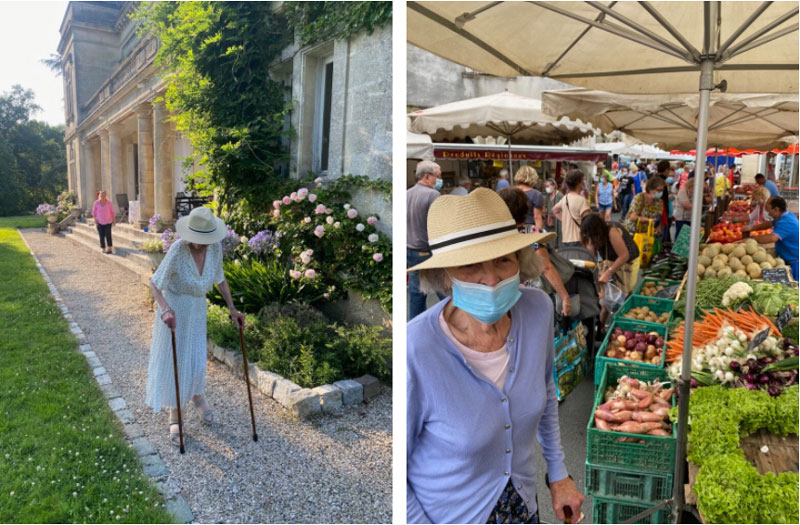 DQ is never happier than having a stroll around, albeit slowly. And more so if it's market day. (Wednesday in Créon.)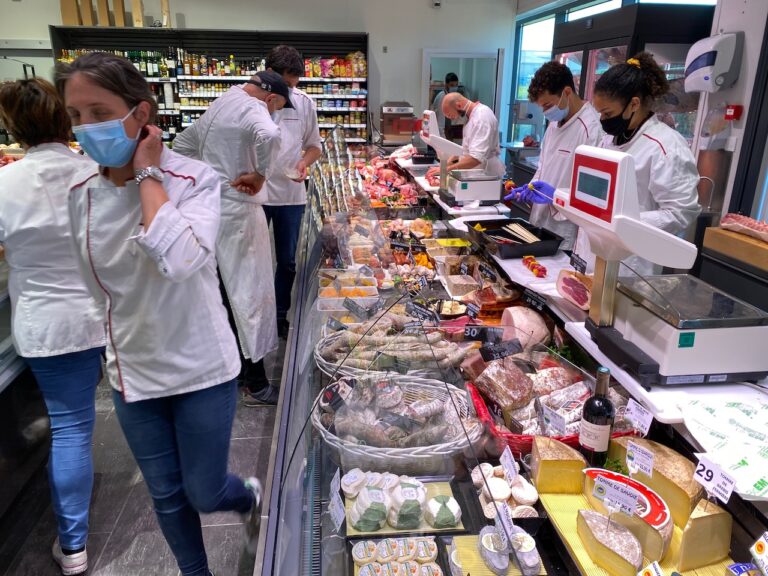 Our local food shops come in mighty handy when it comes to entertaining. Note the craftily placed bottle at 'Tout le Monde' nearby.
Our good friend Philipp Schwander MW came to Bordeaux in the second week of July for a tour of his suppliers. This photo by his colleague Felix was used for Philipp's offer on our wines, which you can see at the end of this photo journal.
Philipp was Switzerland's first Master of Wine and has built up such a terrific business that for some years now we've been able to drive around in some style. Only this time his Mercedes suffered two flat tyres and the Mercedes garage in Bordeaux took four days to replace them. So we went about in our Hyundai Tucson instead.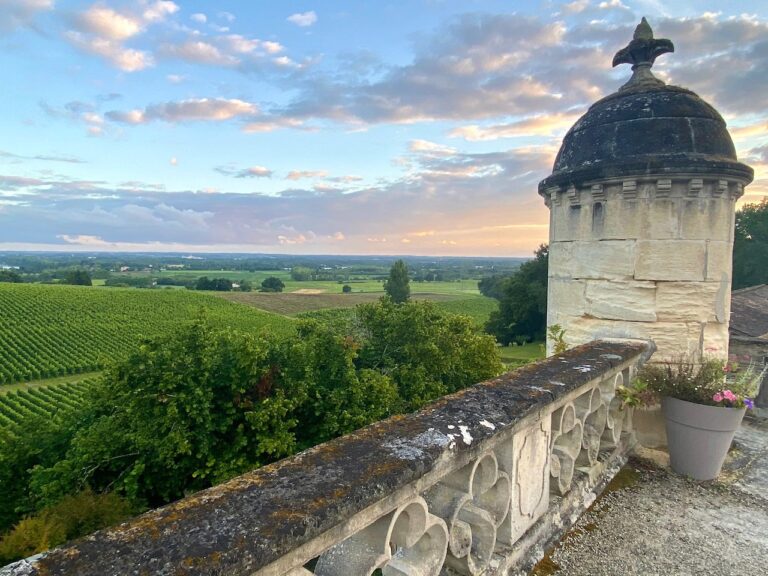 We had introduced Philipp to most of his suppliers in Bordeaux, and we visited several estates across the region, including Château de La Rivière in Fronsac.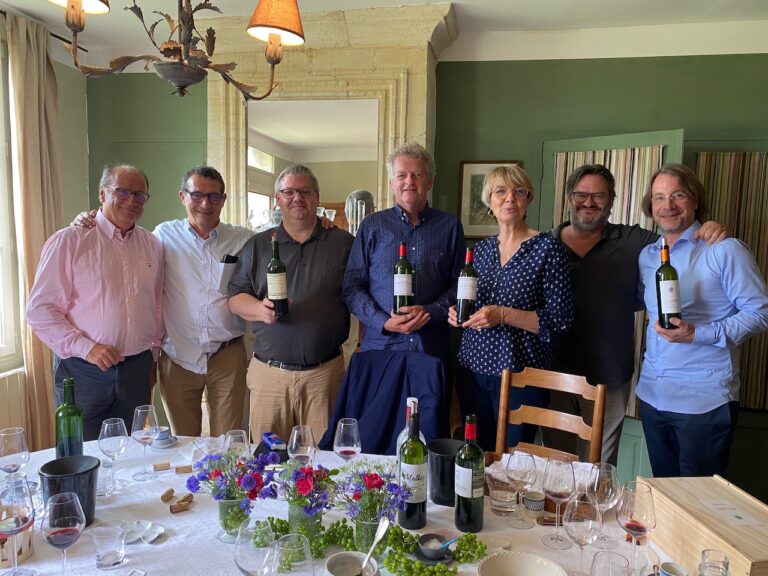 And Château Martinat in the Côtes de Bourg, run by Stéphane and Sylvie Donze. It looks like I'm wearing a skirt but that's a jacket on the back of a chair.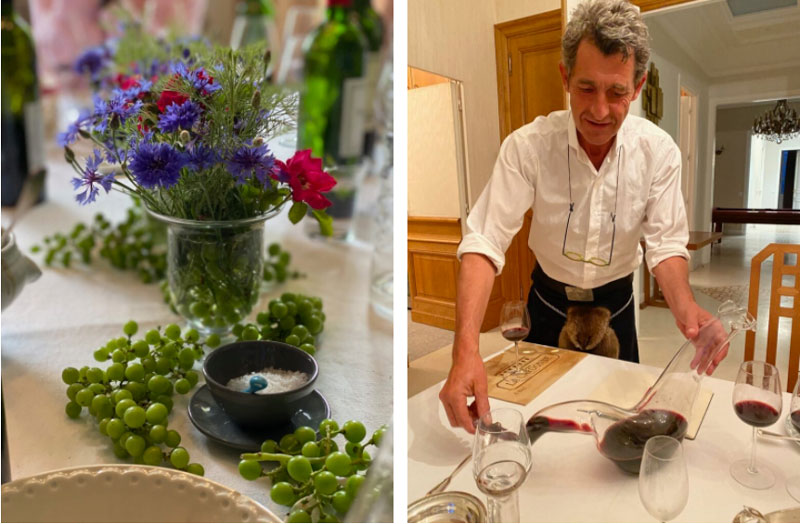 A skirt was though being worn by Andrew McInnes of Domaines CGR, when we visited him in the Médoc.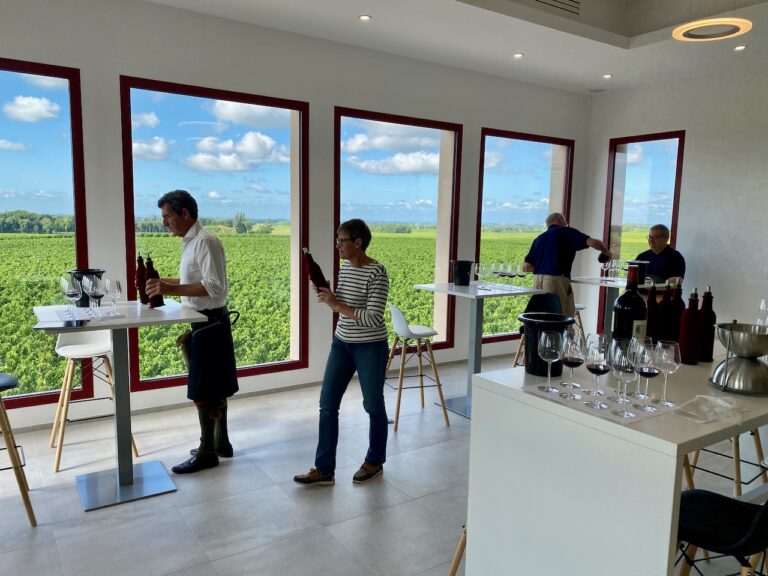 Andrew's tasting room does have a spectacular view, even if we did have to work hard with a blind tasting of so many vintages.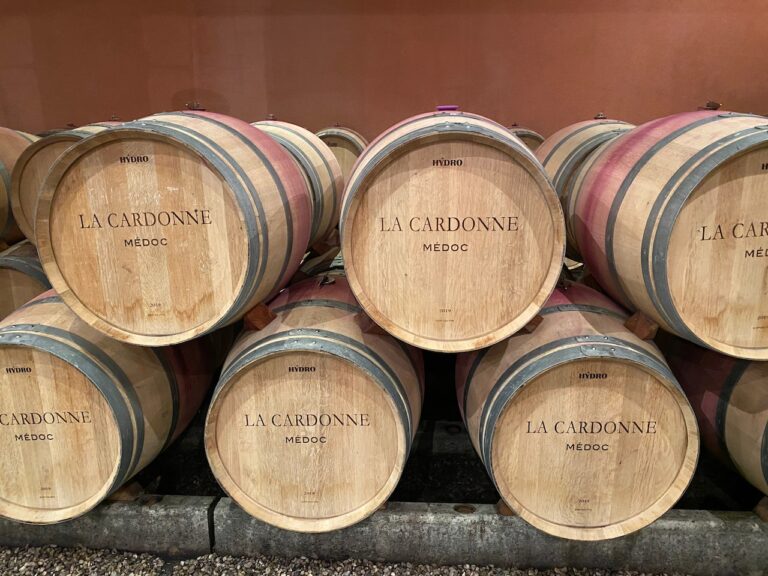 (We sell a few bottles of Andrew's Château La Cardonne on our website. the 2012 is particularly good.)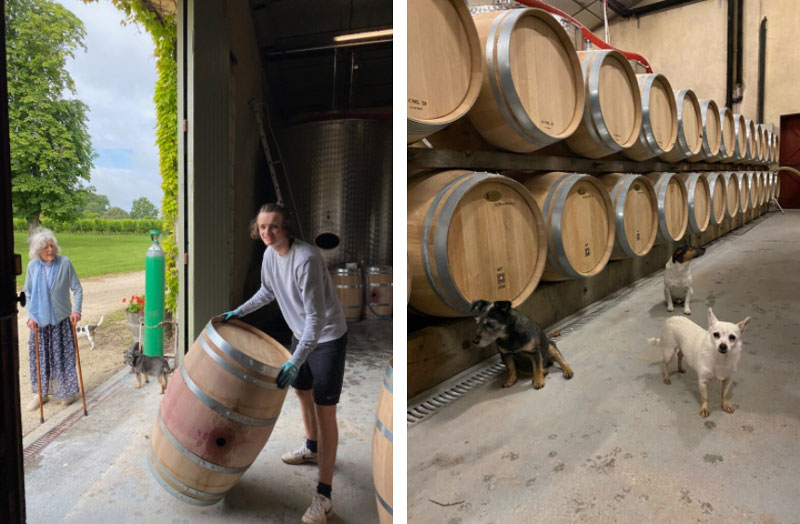 Talking of barrels, it was soon back to Bauduc to sort the racking. Here's Tom, 17, helping out under some watchful eyes.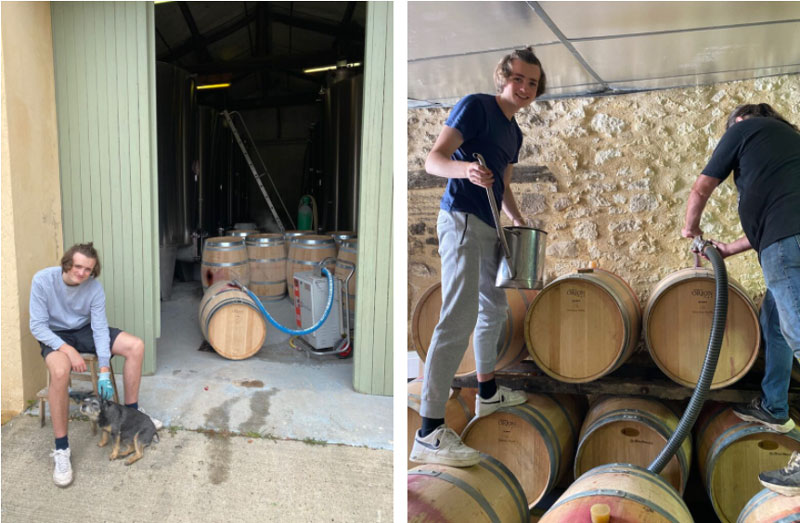 Tom was assisting Daniel with the barrels of our 2020 red. Every few months they have to be emptied and the sediment removed, the barrels steam-cleaned, and the wine gently pumped back into the barrels. This is just one aspect of the élevage that has to be done right.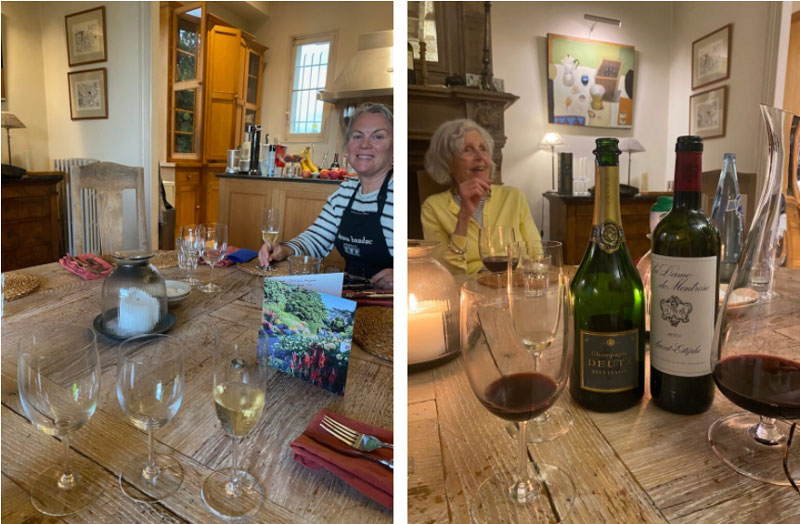 We celebrated our wedding anniversary on 14 July, little knowing that when we got married in 1990 (the Saturday after Italia '90 ended – Nessun dorma and all that) we'd have the day off each year as it's the French national holiday. Still, a chance to bring out the last few glasses which have survived from our wedding list.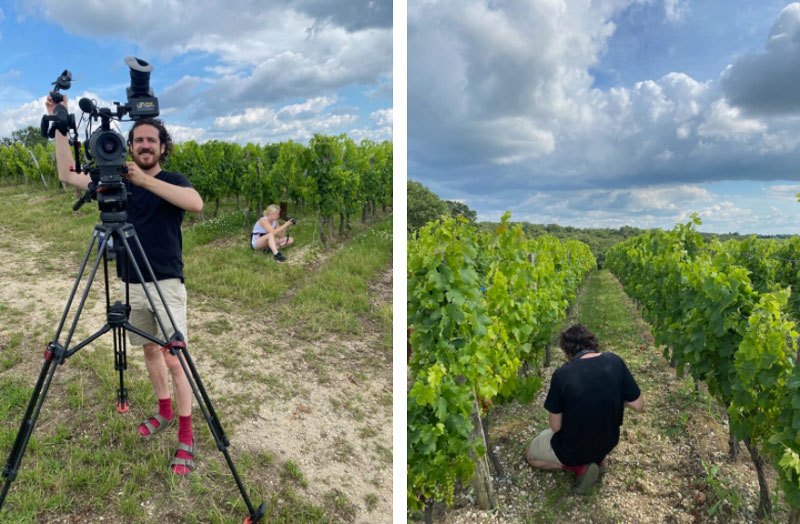 The following day we had a UK film crew come over as planned. Lovely people. Something about Brits who've made the move to France.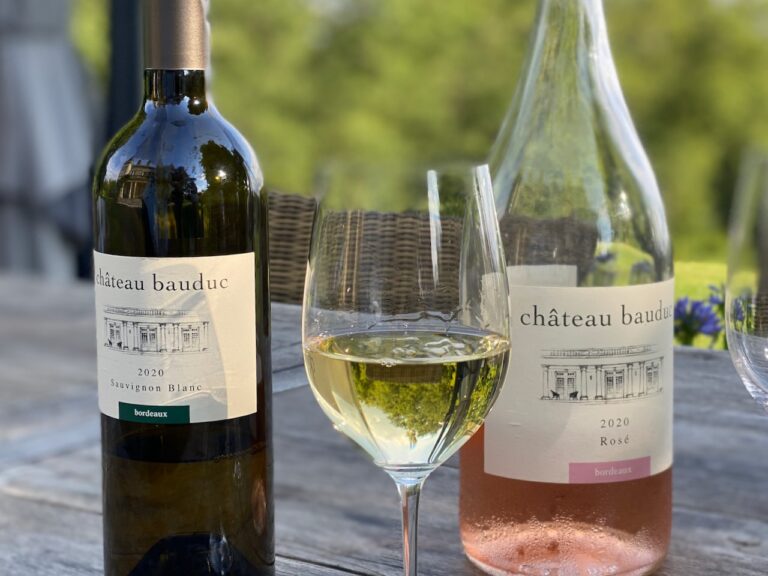 At the end of the day, Nicky, Poppy and Chris enjoyed a little refreshment on the terrace. The blatant product placement usually hits the cutting room floor.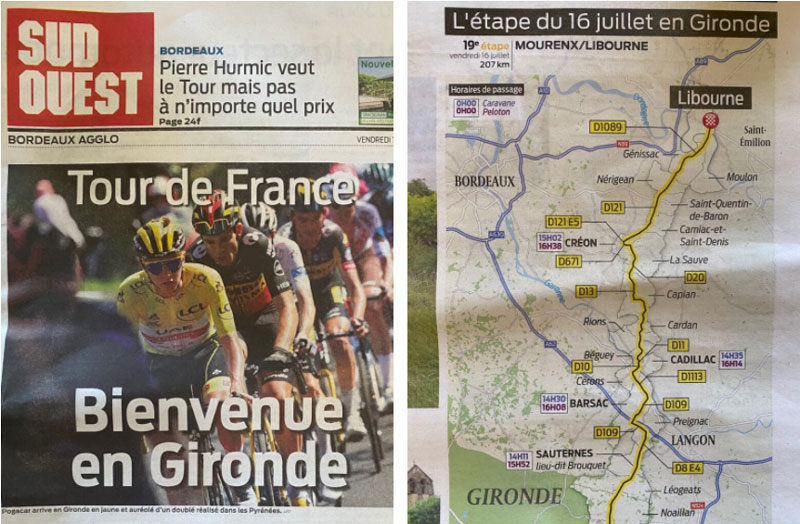 The Tour de France came by on Friday 16 July.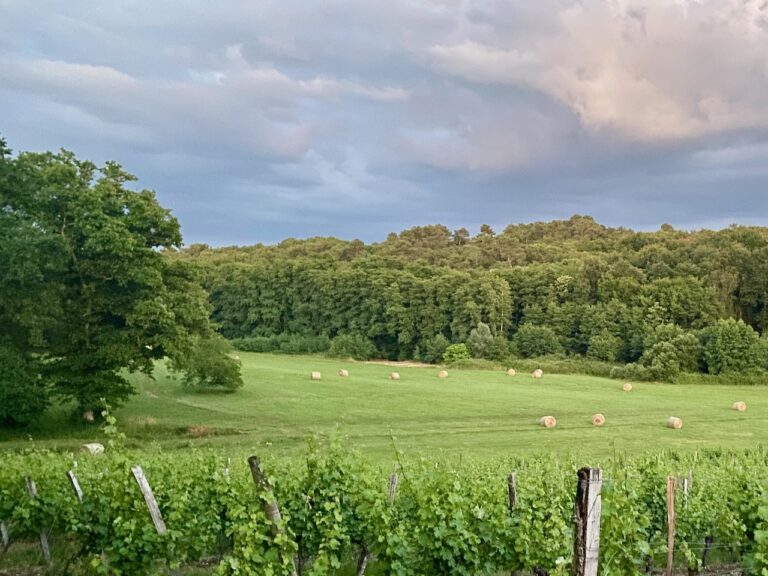 Now in our last newsletter we said we'd arrange our hay bales to spell 'Bauduc' for the aerial cameras.
The trouble was we had a rainy week in the run-up to the big day, so the bales were wet and heavy, as was the lower ground.
But everything looked lovely and green.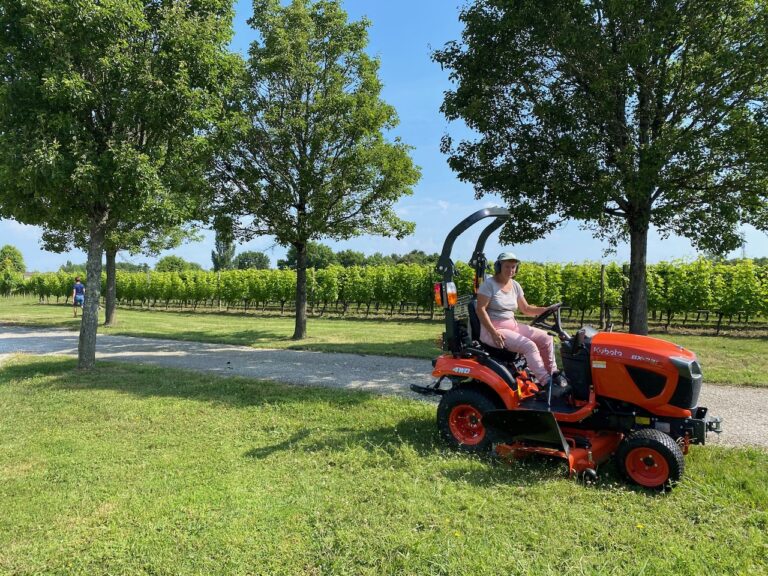 And we'd made sure everything looked the business.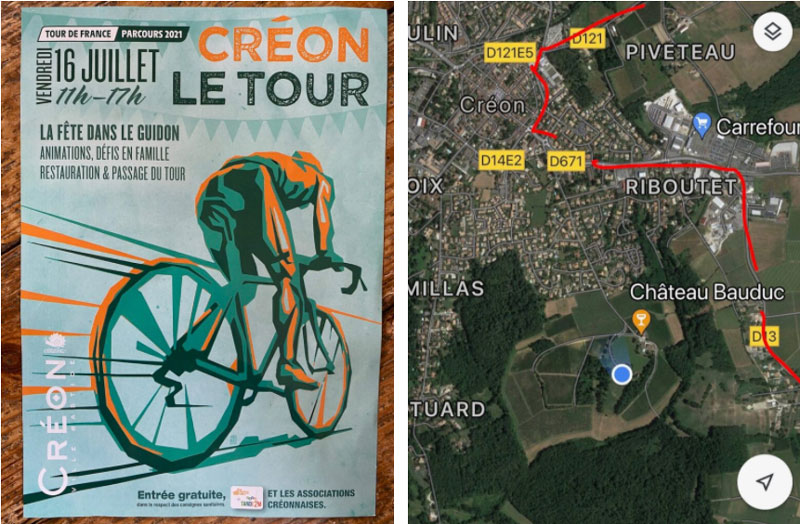 There were few overhead shots as it happened. The tour passed right by us.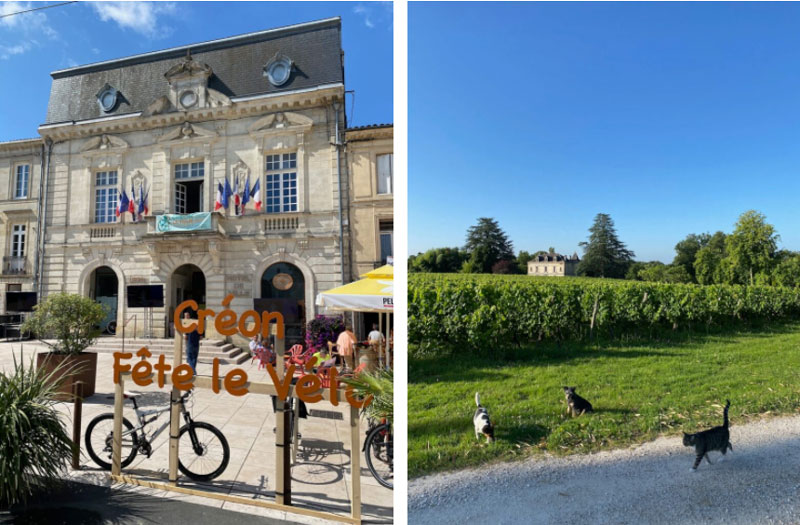 There was considerable excitement on the big day.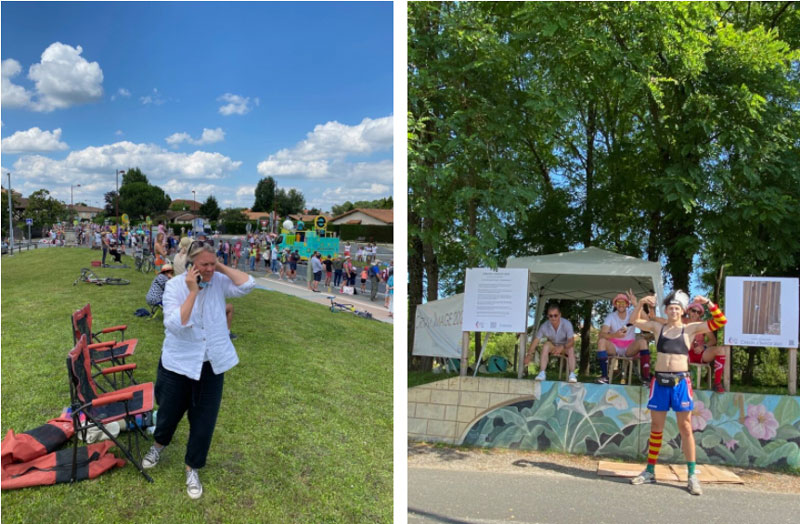 Ange reserved some space on the grassy knoll at the end of Rue Bauduc some hours beforehand. (She was still taking orders over the phone: 'I'll call you back after the Tour de France has gone by'.) Other Créonnaises made an even bigger effort.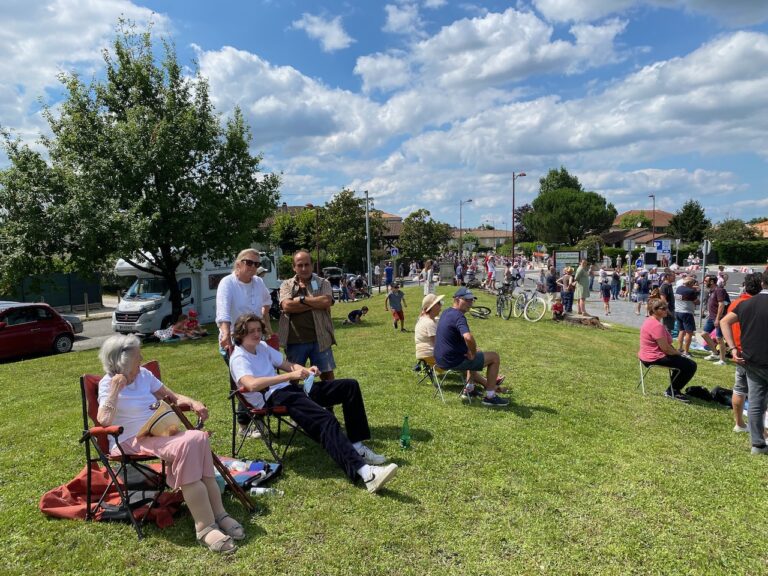 DQ, Ange, Tom and Luigi, our (British) gardener and handyman who comes on Fridays, await the tour.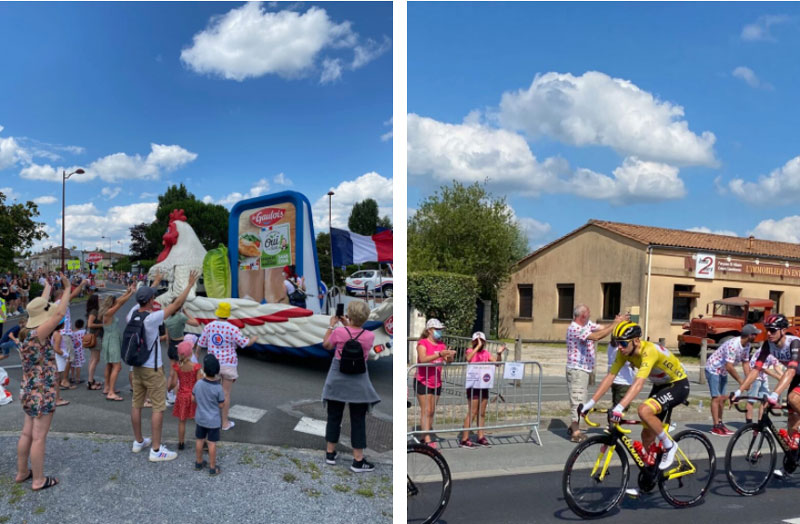 The advance 'caravan', left, came past well ahead of the competitors. The fellow wearing the yellow jersey was travelling a lot more quickly than my photo would suggest.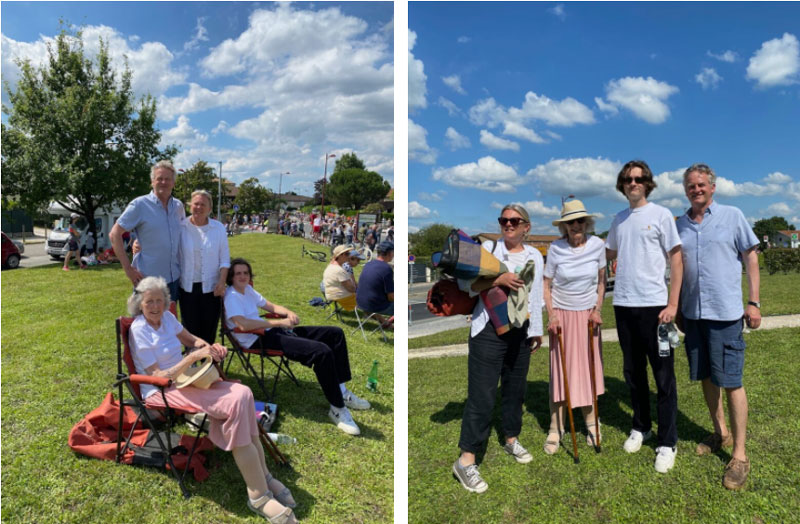 Team Quinney on the grassy knoll by our roundabout.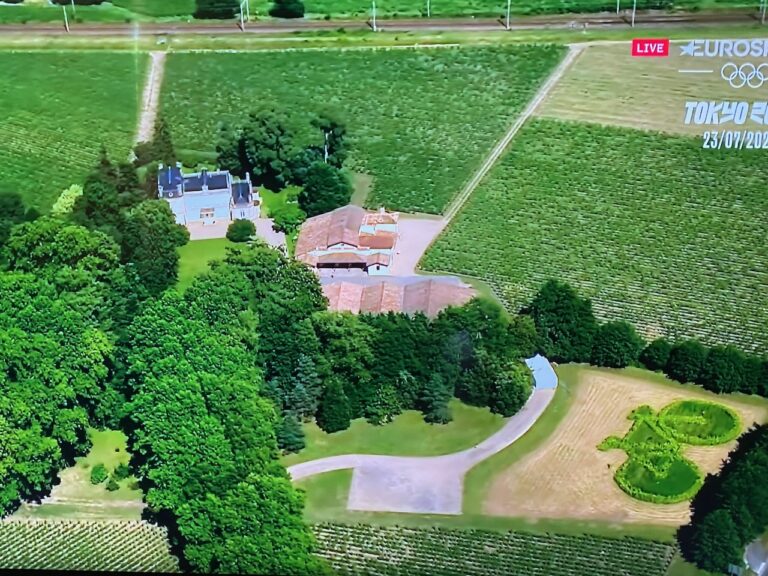 The prize for the best publicity shot goes to Château Mazeyres in Pomerol. How brilliant to have vines in Pomerol. To have a trainline running through the vineyard, not so much.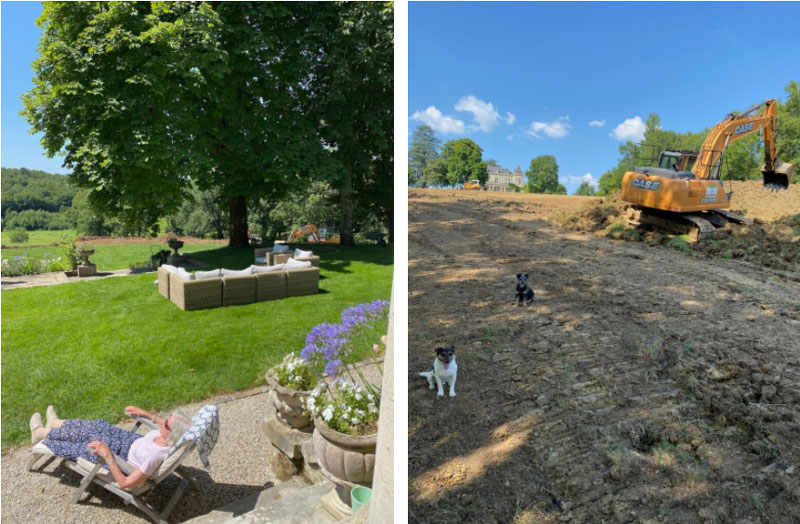 After the excitement of the Tour, a return to the peace and tranquillity of Château Bauduc for granny. Only it didn't last long. You'll notice the bulldozer and the tractopelle at work, beyond the garden furniture.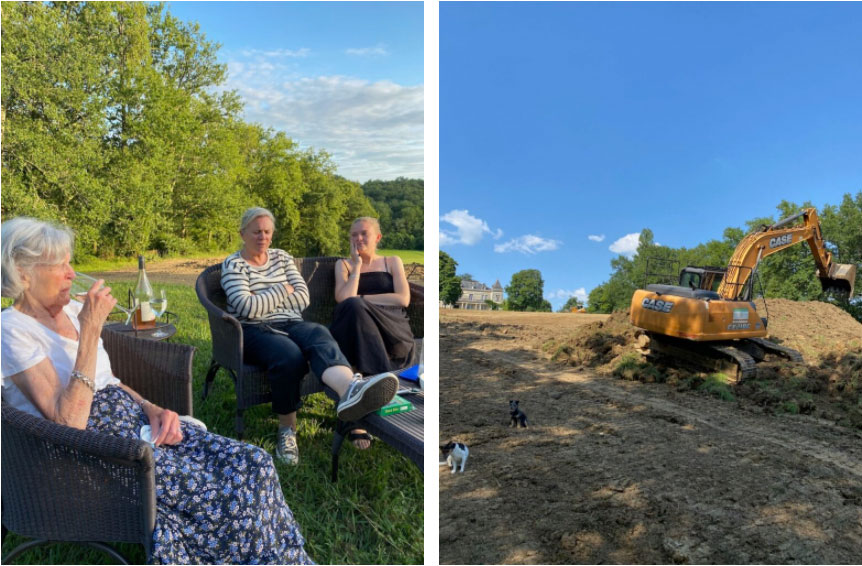 A little excavation work and gentle re-shaping of the slope for planting a few vines can't detract from a refreshing glass of rosé before supper. Georgie, our eldest, has flown over from London.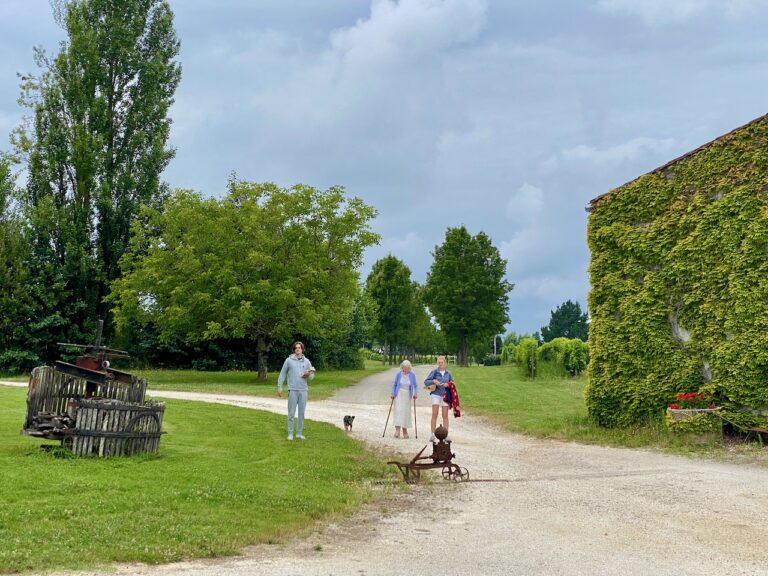 om and Georgie helping granny with walking the dogs. Well, Margaux at least.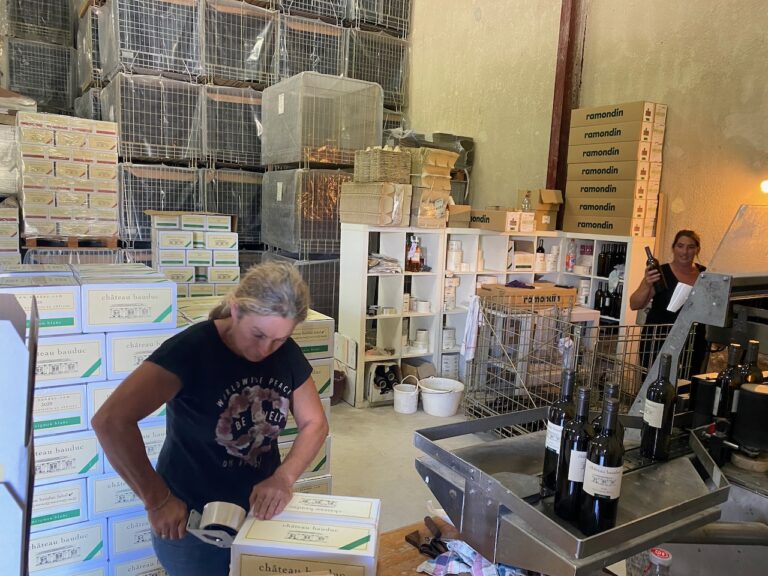 Behind the scenes, getting the orders ready for export is a non-stop business at the moment. Nelly and Sandra hard at it.
Here's Dom, our brilliant driver who ferries our wine to London City Bond for our wines on Bauduc.com, ready to leave at the crack of dawn. He'd loaded up the night before after staying over. Thank the Lord for his refrigerated lorry, as we had well over 30˚C that day on 22 July.
---
Selection Schwander, July 2021
After Philipp Schwander visited us earlier this month – see above – we thought we'd include his brochure that he's just sent to his German-speaking customers in Switzerland, along with a few words in English courtesy of google translate. The rosé offer is from earlier this year, but we didn't want you to think that he doesn't buy our rosé. We've linked to our website rather than his as most of our readers are in the UK, or at least speak English. Philipp's website is www.selection-schwander.ch.
(A Swiss franc is slightly less than a euro, for reference.)
"This July we visited Gavin and Angela Quinney on our trip to France. The popularity that Gavin's Sauvignon Blanc enjoys with our customers is unparalleled, but also well deserved. A tour of the vineyard and cellar shows that Gavin pays great attention to even the most trivial details. This unusual care and his great love for excellent wines are certainly the secret of his success. His red wines have also developed very positively, which is why we are planning a special bottling for the 2020 vintage. Even the 2017 is an exemplary success. Once again Gavin's sparkling wine turned out to be delicious, fortunately we were able to import much of the (very small) production of it."

"The grapes for this red wine all come from a plot of land surrounding the château. Since it was bottled in May 2019, I have followed the development of this wine… the bouquet is temptingly fruity and yet distinctive, the taste is powerful and, with its extremely attractive, uncomplicated character, is an ideal accompaniment to food. If you are looking for a tasty Bordeaux for every day, you will hardly find anything better at this price."
"Our sales forecast for the whole of 2021 was around 80,000 bottles, but our customers already ordered 70,000 bottles of this fruity, extremely tempting Sauvignon Blanc in the first half of the year. The 2020 has developed splendidly, has a crystal clear, wonderfully aromatic taste, is pure and as refreshing as spring water! Best before the end of 2023, 12.7% alcohol."
"Unfortunately, this sparkling wine made like champagne is only produced in very small quantities. Gavin explained to me that he owned a parcel that is particularly suitable for sparkling wine due to its lower and cooler location. In 2017 there were no grapes due to the spring frost, but in 2018 the grapes, carefully handpicked in small boxes, produced a first-class Crémant. The second fermentation took place in the bottle, after which the sparkling wine matured on the lees for two years. Bauduc Blanc de Blancs tastes gorgeous: rich in finesse, elegant, pleasantly dry – every sip calls for another. Limited availability!"
"The white Château Bauduc is the absolute bestseller among our white wines. The excellent Bauduc Rosé, which we imported for the first time last year, also has what it takes to become a public favourite. The 2020 was an excellent success and, like the 2019, was pressed from the classic red Bordelais grape varieties that complement each other. The juice was drawn off prematurely and this free-running juice is of first-class quality and the end result is accordingly excellent: fresh, with wonderful fruit and exceptionally seductive."