Posted by Gavin Quinney on 31st Jan 2018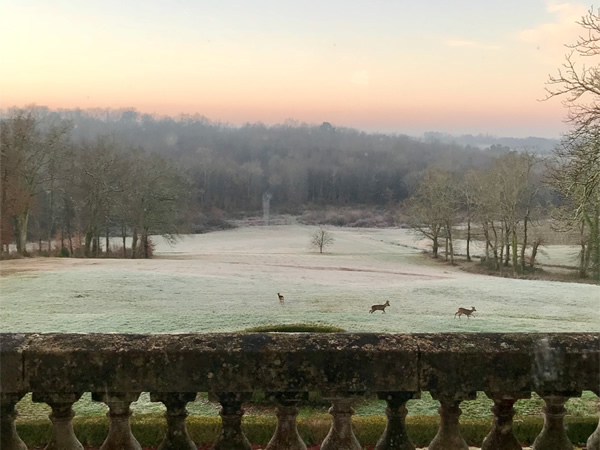 January has been anything but dry in the vineyard, and fairly miserable for the four who are out there pruning and the others who follow behind, pulling out and removing last year's branches by hand. A rain-free, chilly fortnight ahead (since Sunday, above) will be most welcome for the vines to have a proper winter break.
Angela has just completed a (largely) wine-free month, as is her wont at this time of year, so we thought we'd share a tip, based on experience, on one way to 'drink less but better' - potentially all year round.
Raising money for charity has been headline news this month for the wrong reasons, so, on the flip side, we report on how the son of some long standing customers has just completed a quite extraordinary challenge in support of two great causes. We were only too happy to be roped into donating the wine for their fundraising ball in London. We also pontificate with some random thoughts on 'how to source wine for charity events'.
Finally, we've had a few positive mentions in the press. Toot toot!
All the best
Gavin & Angela
Jane MacQuitty's 'Best Buy' in The Times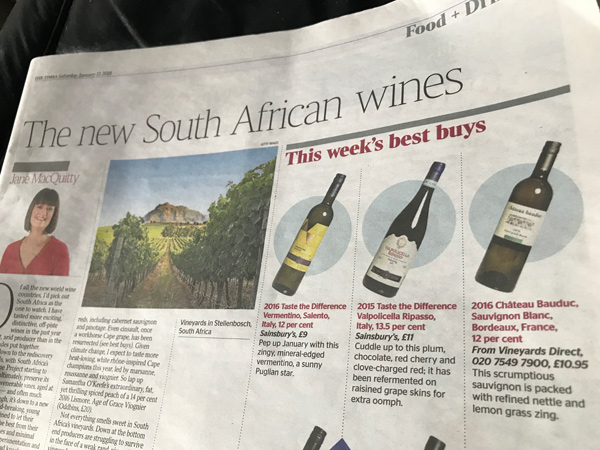 We were chuffed that our white wine was included, at £10.95, in Jane MacQuitty's Best Buys in The Times on 13 January.
"This scrumptious Sauvignon is packed with refined nettle and lemon grass zing", she wrote.
Having featured in Victoria Moore's '60 Best Wines for Christmas' in The Telegraph in December, a mention in The Times the following month is a bit of a result. There are a few cases left in our London warehouse for UK delivery, and a handful more for collection from our Calais depot, but precious few now at the château.
Decanter: Jane Anson's top 10 'affordable' Bordeaux wines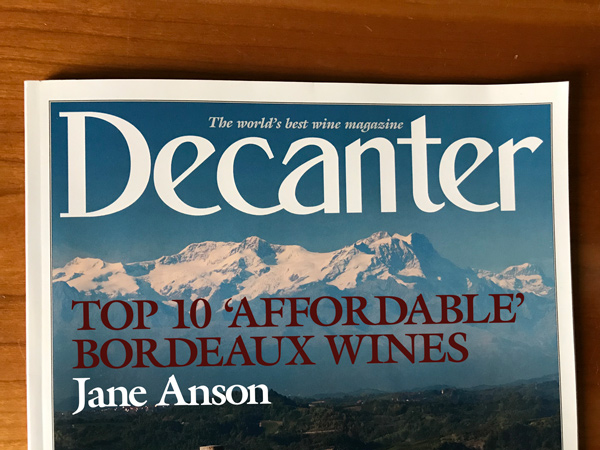 "The question I get pretty much more than any other is how to find reliable value in Bordeaux," writes Jane Anson, Decanter's Bordeaux critic. "This is a region with 110,000 hectares, with 6,568 producers declaring a harvest in 2016.
"The sheer bewildering choice is one of the reasons for paying a little bit more for a bottle of wine when looking for assurance over quality, but there are plenty of producers who manage to deliver it at lower price points.
"I taste through thousands of wines each year… and there are certain names that surface again and again – and cost no more than £30 a bottle and often under half that.
"This is a selection of the wines that make it into my fridge or on to the table regularly.
Chateau Bauduc, Bordeaux Blanc
"The classic unoaked Bordeaux white. Always difficult to suggest bottles from people that you know well, but the British Quinney family has lived in the Créon region of Entre deux Mers since 1999, and make a fresh, understated and extremely juicy white wine that matches well with food.
"This is a classic Sauvignon Blanc that has been the house wine for the Hotel du Vin, Gordon Ramsay and Rick Stein for many years.
"A quick walk through the vineyards here also tells you these steep slopes are perfectly exposed for maximizing the ripening sun."
Click below for the rest of the article, including the other nine châteaux that are worth seeking out.
Dry January and 'the other half'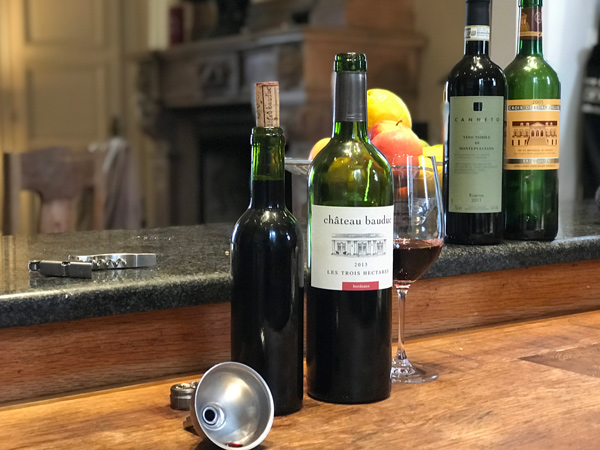 Here's a suggestion if your other half is off the booze, or if you're on your own at home and you want to enjoy a bottle of decent wine over two nights. Most of us don't keep a supply of wine in half bottles, and that's if you can find them. So you simply pour half the contents of a full bottle into a half bottle and seal the latter with the cork you've just pulled - at the start of the evening, not at the end. That's the important bit.
I've had plenty of practice at this during January over several years. This works primarily for full bottles sealed with a cork - there's no need to do this with our screw-capped white, for example, as that will stay pretty fresh in the fridge for a few days once opened, with the cap back on.
You need an empty half bottle, and a small funnel preferably...
Wine for "the world's toughest triathlon"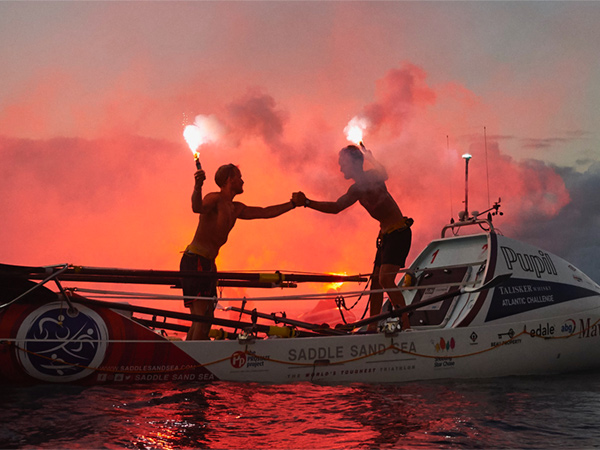 We all receive requests, from time to time, to support someone we know who's putting themselves out to raise money for charity. Yet when some long standing customers, Bruce and Bridget Montgomery, asked us to support their son by donating the wine for a charity ball in London, we were blown away by what he'd set out to do. And now Paddy Montgomery, with his accomplice Seamus Crawford, has just completed the world's toughest 'triathlon' by rowing across the Atlantic - 3000 miles from the Canaries to Antigua - braving waves of 40-50 feet and winds of over 40 knots. The 'really brutal and horrible' journey, according to Paddy, took 38 days, 22 hours, which was 2 days below the previous world record.
This Talisker Whisky Atlantic Challenge was the final element of their gruesome 'Saddle, Sand, Sea' triathlon and followed on from the Marathon des Sables in 2016, running 6 marathons in 6 days across the Sahara, including back-to-back marathons on one day. Before then, in 2015, they cycled almost 3000 miles non-stop over 12 days from Calais to Gibraltar via Slovenia, crossing the Alps twice and the Pyrenees, finishing in a record time.
How to source wine for a UK charity event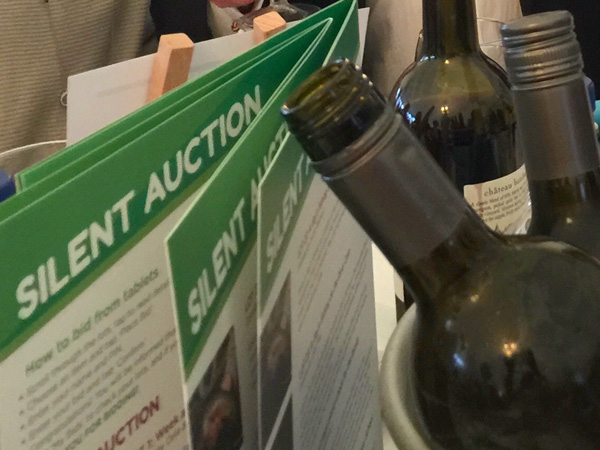 Some thoughts on sourcing wine for charity, and this is by no means a definitive guide. Over the years, we've donated the wine for gala dinners, concert receptions, race evenings, lavish lunches, auction prizes - all sorts of things. Equally, we've had to turn down a lot of requests, and one of the main reasons (other than giving away precious stock) is the additional cost on top of the wine.
As we'll see, a single case of 12 bottles of wine, with UK duty, shipping and delivery - and VAT on all those - costs £50, before counting the cost of the wine itself. Sparkling wine costs £8 a case more in extra duty. The donor therefore has to be pretty generous to stump up for the wine, with duty and delivery included, so it can make sense to split the bill: find a benefactor who will pay for the add-on part, and someone else to donate the wine.
| | |
| --- | --- |
| This was sent to friends on our mailing list | |