Posted by Gavin Quinney on 31st Jul 2018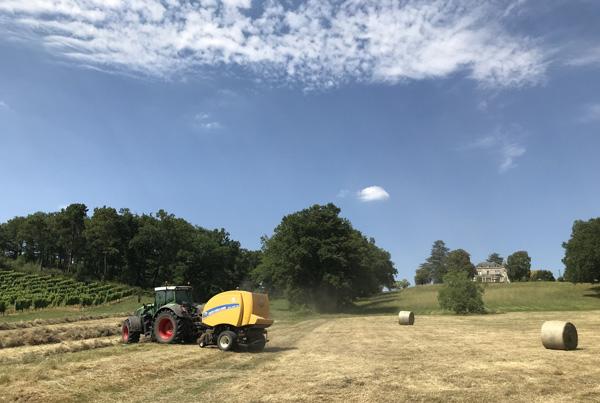 A memorable month with friends, family, football and glorious weather. And, for some of us, Love Island. We've also had a record number of visitors to the château to taste and even to buy our wine, and there seems to have been no let-up in the number of online orders in the UK, which is great.
Out in the vineyard, fair play to our team who've been toiling away in the heat for some weeks now. It's been boiling out there. Most of the hands-on labour in the vines has just been completed for the summer holidays, so all that remains is a bit of tractor work (that's not ours above, sadly) and a lunch today for everyone to toast France winning the World Cup - no really, we're pleased for them. It's the first week during the second half of July when all the crew are here.
Fingers crossed for the right sort of weather - sunshine and just enough rain - over the next two months.
All the best
Gavin & Angela
'Must be something in the wine'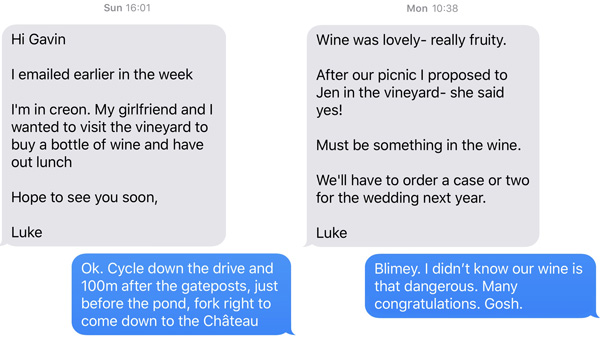 Talking of tastings at the Château, we don't normally welcome visitors on a Sunday but we had a polite request from a couple to pop in and have a picnic at the vineyard with a bottle of our wine. Can't do any harm, we thought. Luke and Jen had, in fact, flown in from London and were on a cycling trip, passing near to Bauduc as we are halfway along the 50km cycle track that runs from Bordeaux to Sauveterre. Many congratulations to them both - and it's always good to have a connection with the wine at your wedding.
Tours and tastings at the Château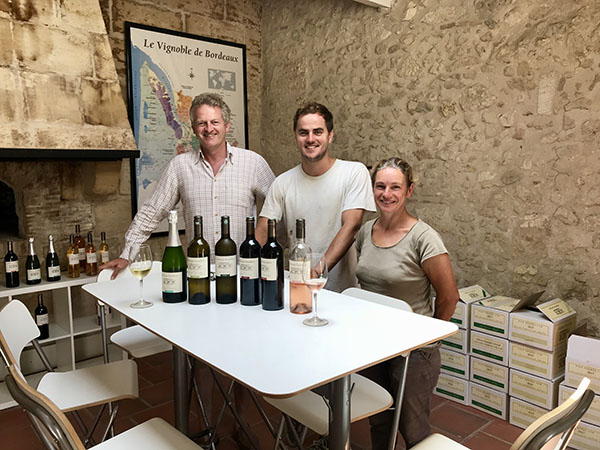 Most weekdays we host a vineyard tour and a tasting of six wines at 11am for visitors who reserve a slot in advance. The fee is €15 per person. Please refer to our 'Visit the Chateau' page on our website for details of how to book (especially during August) and either Gavin or our colleague Ed will host the tour and a taste of our sparkling wine, two dry whites, two reds and a rosé. Ed has been working with us in the vineyard since the start of the year and has proved to be an excellent guide and is covering while we're away for a week later in August. Equally, if you'd like to pop in and simply buy some wine, from Monday to Friday 8.30am to 6pm, let us know what time suits. Nelly, Ed or Gavin can certainly be made available to fill a boot.
Bordeaux 2018 - a game of two halves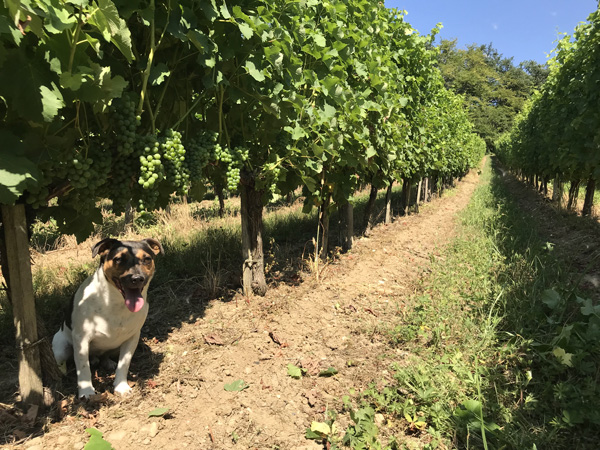 I'll keep the football analogies to a minimum, but the end of the month in which France won the World Cup seems an appropriate moment to reflect on the pluses and minuses of the season so far. For wine growers, or viticulteurs, the business end of the season will soon be upon us.
Following on from a wet winter and a thoroughly damp spring, the start of the summer has been dry and hot. In fact, of the last 44 days, 22 have seen temperatures over 30°C, with another 14 over 28°C. In the last six weeks we had some useful rain at the very end of June and start of July, and since then it's been dry, although some areas had a mid-month downpour. This arid, warm patch has been great for the vines, as hydric stress has a way of convincing the vines to concentrate on fruit production rather than on vegetative growth. Relatively cool nights have been good for bunches of young grapes and holiday makers alike.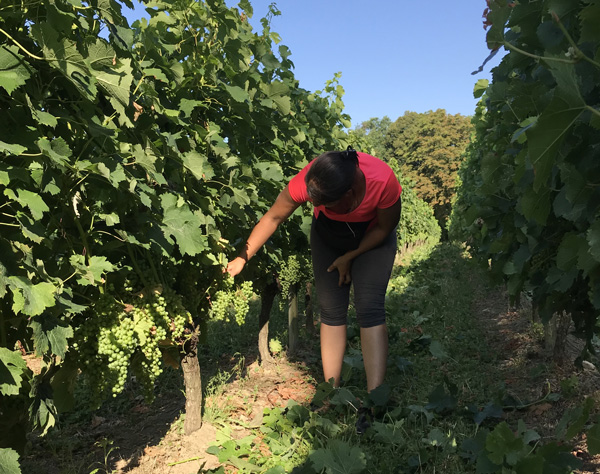 The hot weather looks set to continue and we are likely to see some vines start to suffer with the thirtysomething heat and no water, especially those on drier ground. Yet we have a long way to go to the September and October harvest, and the grapes haven't even changed colour yet, so there's little to be alarmed about for now. The colour change or veraison is about take place in August, before the ripening period proper in the run up to the harvest. Too much heat and the vines can effectively switch off at this stage, so we have to hope for the right mix.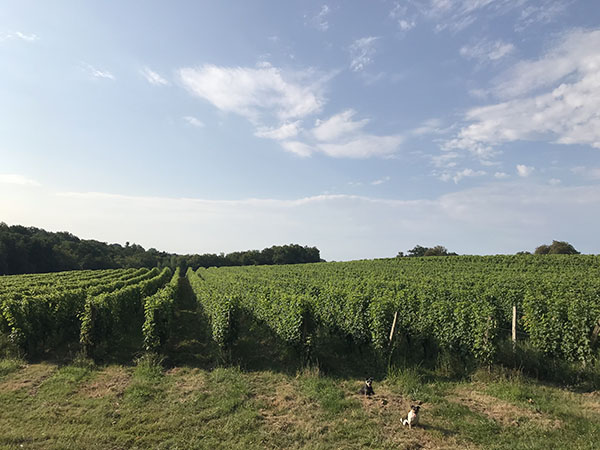 Looking further back to understand the water levels, and for a more complete picture than that provided by my local weather station, I've taken the figures from the same six stations I normally use as these are dotted around the main vineyard regions of Bordeaux.
Last Autumn was quite dry with October and November 2017 registering 18mm and 70mm of rain against a 30-year average of 93mm and 110mm respectively. Then it fairly poured down in the winter. In December 2017, 156mm v 106mm average, and 155mm in January 2018, almost double the average of 87mm. February rainfall was about average, with 66mm v 72mm average.
March rain was well above average, so, on top of the winter rain, we might have had plenty of water in reserve but we also had soggy vineyards that were hard to access by tractor for maintenance work and for spraying when the time came. April, May and June saw rainfall at slightly higher levels than the average, but nothing untoward once a proper summer kicked in post mid-June. Just look at the comparable months of 2016, and we'd all be happy in Bordeaux if we ended up with results like that. (Here at Bauduc we've had 360mm of rain from March to July in 2018, with almost a third of that handily back in March, compared to the Bordeaux 2016 figure in the grid of 342mm, so it's so far so good.)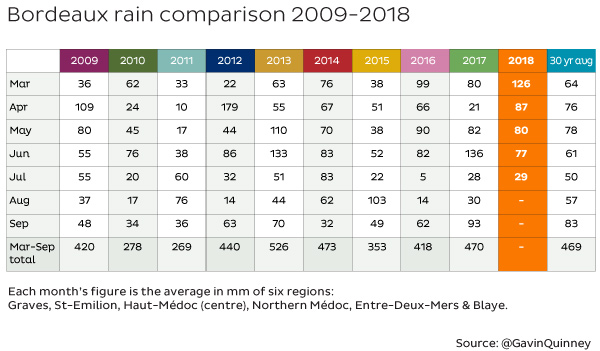 This has been the fourth dry July on the trot, though the difference with 2018 is that it's been much hotter - over 1.5°C warmer than the average and almost 2°C above the 2017 average temperature. June too was warmer at 20.5°C compared to the average of 19.3°C, May was on a par with the average and April much warmer. These elements were good for vine growth and for the flowering in June, but also for the increased threat of mildew in the humid conditions.
Every week we'd be sent a mildew risk assessment as 'favorable', meaning, somewhat conversely, that conditions were favourable for the mildew but not for the grower. We've had the toughest test against mildew since the dodgy 2013 season and some vineyards have really struggled to keep this fungal 'maladie' at bay - it can impact bunches as well as leaves. Our team have done a great job and we've had only minimal impact on the red and no mildew at all on the white, but I have been fairly surprised to see some pretty well-managed properties really struggle, with mildew clearly evident in the vineyards. The vast majority of tip châteaux though have coped well in this regard and the vines look verdant and healthy, but mildew has indeed been an issue.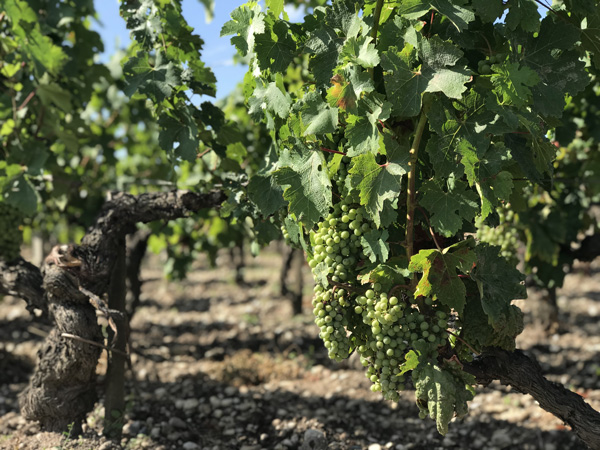 Yields meanwhile look very promising, despite some rain in the first half of June during the flowering.
Others have not been so lucky, because in 2018 there have been several storms, often accompanied by hail warnings. Whereas in 2017 a widespread frost at the end of April resulted in a substantial loss for the region as a whole, hailstorms have reeked havoc on vineyards in a number of really unlucky appellations this year. On 26 May, the most devastating storm took out thousands of hectares in Bourg and Blaye and in the southern end of the Haut-Médoc. It had begun in the northern Graves and ripped through parts of the city of Bordeaux on its journey north towards Cognac. (I covered this in a post at the end of May.)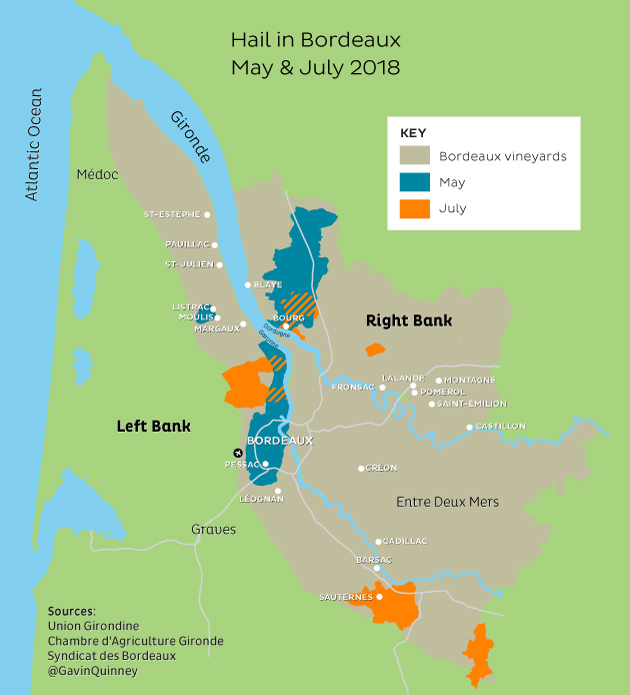 This month, on Sunday 15th July - the very day that France won the football World Cup - hailstorms battered vineyards in Sauternes, the Haut-Médoc (again), the Côtes de Bourg (again) and to a lesser extent near Fronsac. The vines at châteaux like de Fargues in Sauternes and La Lagune in the Haut-Médoc took a hell of a beating. For some, it was the second season in a row that disaster struck, after being hit by the late spring frost in 2017.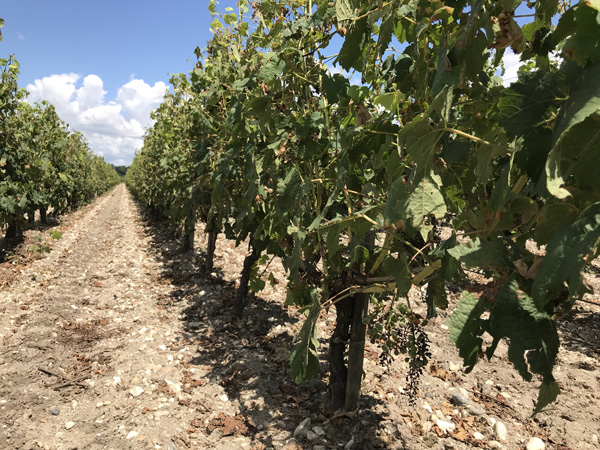 Losing your crop to hail is the stuff of nightmares and the recent sight of rows upon rows of damaged vines, once again, never fails to fill me with a sense of shock and, of course, pity for the grower.
Let's hope that's the end of it for this year. Allez les bleus.
Hail nets get the nod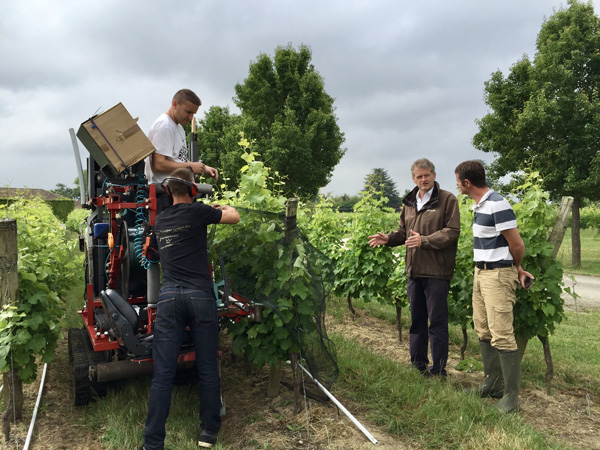 The INAO, the body that controls viticulture and wine production in the protected Appellations of France, have given approval for the use of anti-hail nets following some extensive tests in Burgundy. Until now, growers in Appellation Contrôlée vineyards have not been allowed to install nets against hail because the effect on the grapes and on the vines hasn't been properly understood and they can alter the nature of the terroir. Or something like that.
In the big picture of things, this may not seem to be especially significant news but it's an interesting development for us and for any wine growers who have to live through the fairly regular stress of hail storm alerts. And, from time to time, the real losses from hail damage.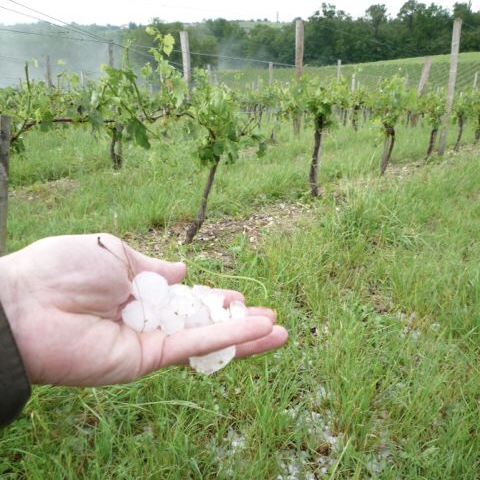 The successful Burgundy tests have taken three years and this coincides with the experimental nets that we installed at Bauduc in June 2015. Our trials were not so much to see if they work against hail (we think they would, though mercifully they've not been put to the test) but to assess how long they might last, and what impact there is on the vines, the labour, and the grapes. Now that we've been given the feu vert, in effect, we will spend more time and effort really understanding how the grapes behind the nets perform and how they taste during this harvest, compared to the neighbouring rows.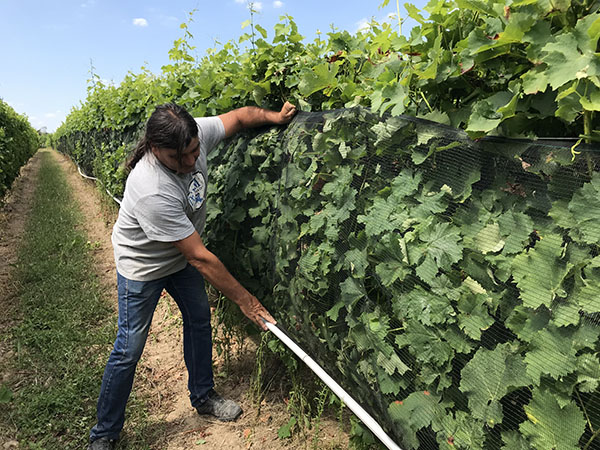 There are numerous considerations. The first being the cost of installation being around €20,000 per hectare, depending on the number of vines, and the width and height of the rows. We have 25 hectares of vines, so the projected lifespan of ten years is a pretty key element. One also imagines that there will be a significant demand on what is currently a tiny service industry in France, for obvious reasons. The supplier who jumped at the chance of installing the test nets at Bauduc may be a little bit more in demand from hail-prone zones. (A decent business opportunity, I'd say.)
Since we've been here, and to my knowledge, hail has struck different regions in Bordeaux in (our first month of) September 1999, June 2003, July 2007, May 2008, May 2009 (twice), September 2011, July and August 2013, August 2017, May 2018 and July 2018.
We ourselves were hit in June 2003, May 2009 (twice) and August 2013. In those last two, we lost over 50% of the crop. Is it getting worse? People often ask. Possibly, and there are certainly more storm alerts. Perhaps, though, that's down to easier communication.
Wink Lorch wrote this piece for Wine-searcher here, quoting yours truly.
| | |
| --- | --- |
| This was sent to friends on our mailing list | |