Posted by Gavin Quinney on 2nd Mar 2023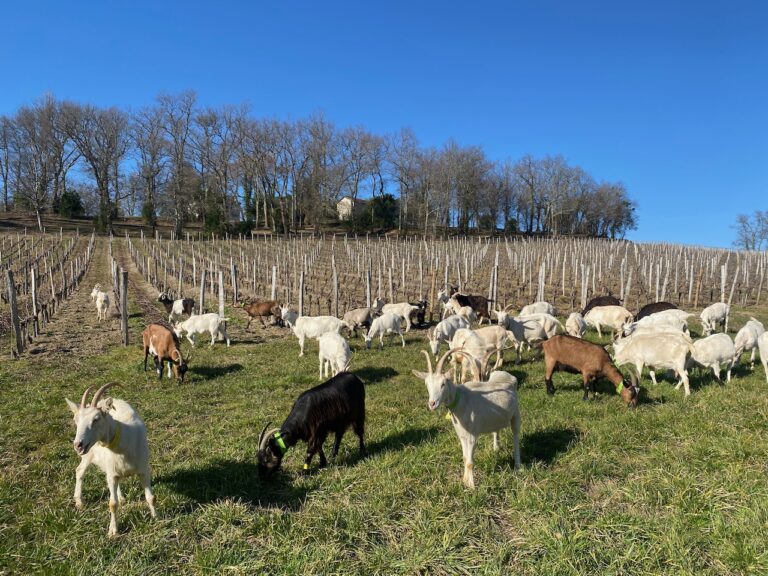 Last month we pictured the goats in front of the château, so it seems only fair that we should show them near the vines under the glorious winter sky last week. We promise not to have them headlining in every photo journal this year but they are rather lovely.
There are more than a few images of blue skies in our photo journal that follows, balanced by some of the challenges of the month. We hope you enjoy it - feel free to scroll swiftly and do let us know if you have any comments.
All the best
Gavin & Angela Quinney
---
February 2023 photo journal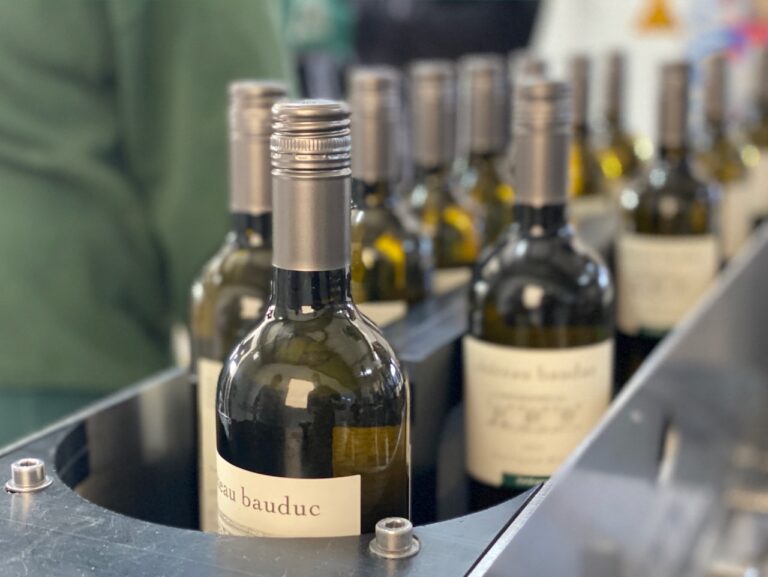 More often than not we're usually bottling in February – either the dry whites or rosé, or both. But this is a shot from last year when bottles and personalised Stelvin screwcaps were a little easier to get hold of. Fortunately, we had a good crop in 2021 so we still have good supplies of the Sauvignon Blanc and Rosé.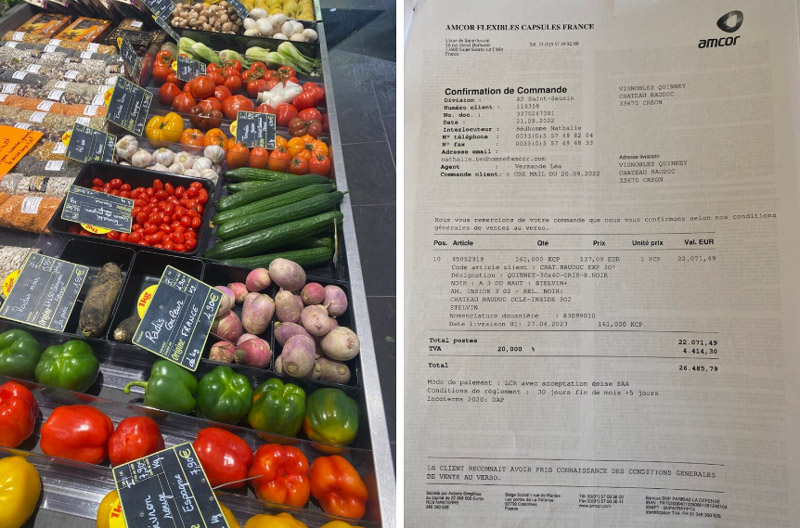 We have no shortage of tomatoes but, yes, we have no screwcaps. The pic on the left is from last Friday at our local store, while the one on the right is of the order we placed for our regular Château Bauduc Stelvin screwcaps last September, during the harvest. We had heard that supplies of screwcaps were constrained but it came as a nasty surprise that the manufacturer's usual turnaround for an order of 4 to 5 weeks had stretched to well over 6 months.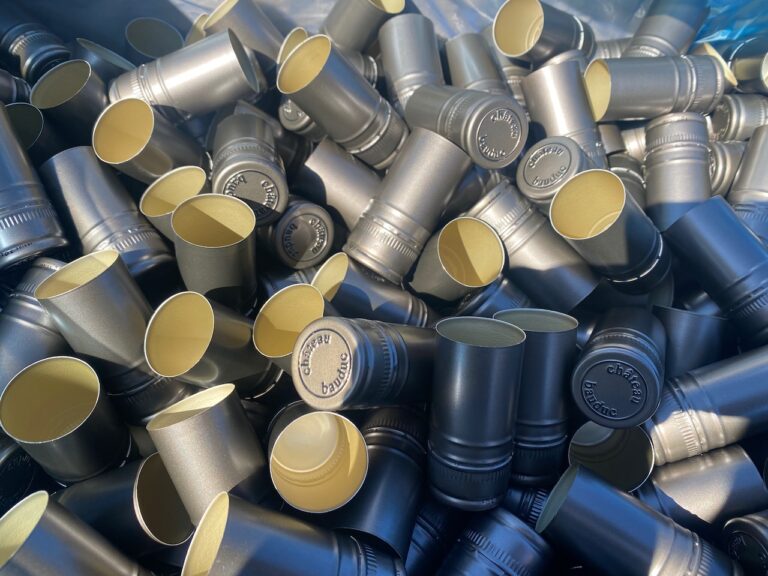 We've now been told that our September order for 161,000 of the little blighters won't be delivered until May. (Amcor are the manufacturer of Stelvin, the leading screwcap brand.) We have, naturally enough, been looking for alternatives to our Stelvin+ babies though it's not easy. And can you believe they cost 14 centimes (12p) each? And that's when bought in considerable volume.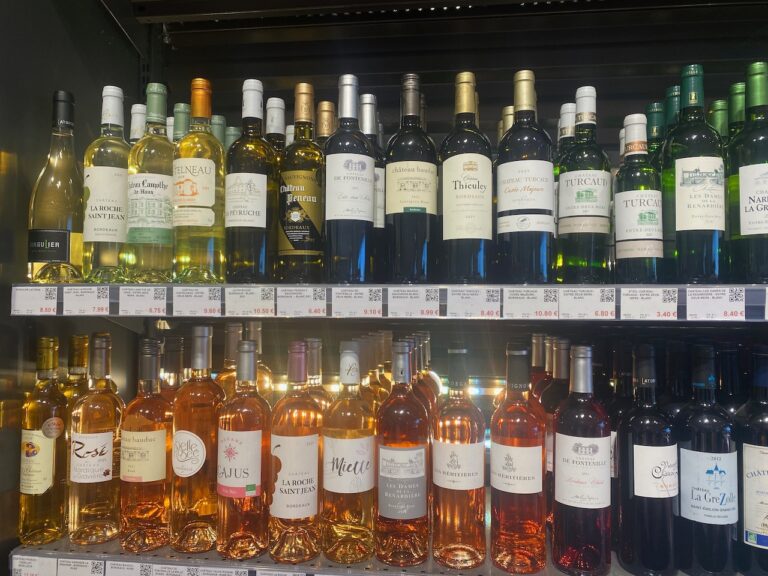 Screwcaps on bottles of wine might be two-a-penny in the UK but, as you can see from this photo, taken at the same shop as the 'tomato' pic above, we stand alone locally in coping with the issue of a shortage of bespoke Stelvins.
They are just not a thing in France. Many of the growers around us now use Diam corks, which have had the risk of cork taint eliminated. We too use them for our Bordeaux Supérieur reds but made the move to Stelvin over a decade ago for our whites and rosé. Blimey, it's over 12 years since our survey of customers on 'corks v screwcaps'.
The great wine writer Hugh Johnson tweeted at the end of last year 'Who will join a campaign to abandon corks (and corkscrews) for 90%+ of wines? Screwcaps (even crown corks) are adequate for everyday wines.'
However, in such uncertain times, the old 'eggs in the same basket' proverb might apply: il ne faut pas mettre tous ses œufs dans le même panier.
We will find a solution and, while looking for a silver lining, at least for this year's harvest we'll have plenty of stock to use next February, touch wood. We'll just have to get accustomed to the idea that we need to keep a year's worth of supplies in the store room.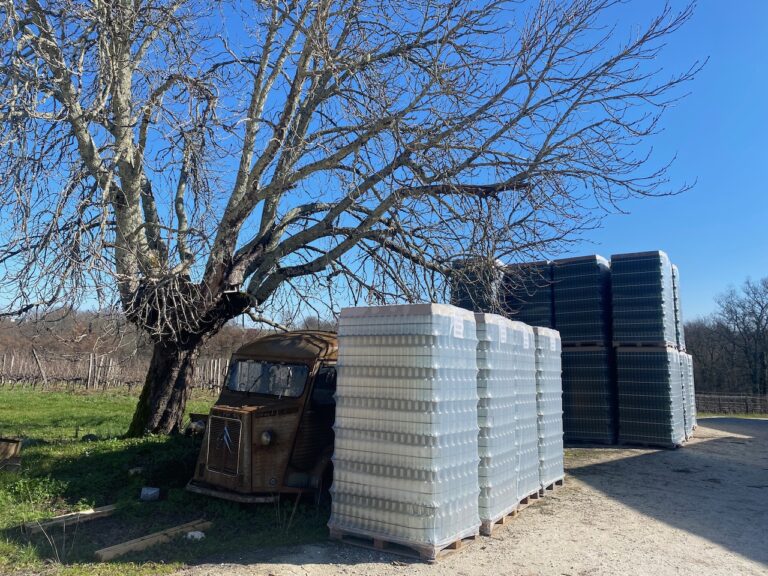 Some bottle types are also, as they say, like rocking horse droppings at the moment. Clear rosé bottles in the Bordeaux shape with a screwcap fitting being one of them. But we have sourced enough for now, just about.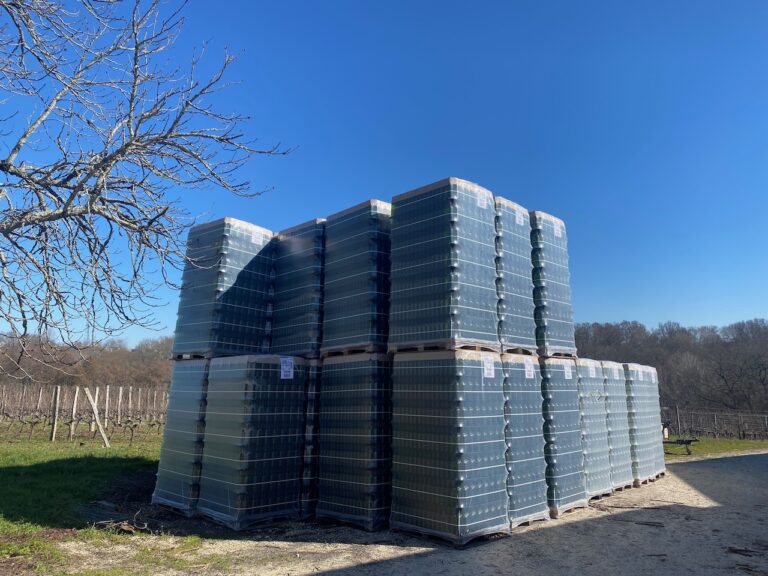 We are relieved to have scraped together enough bottles, even if not all immediately. We held off to try and source our normal bottles that we've used for many years. They are not the classic darker green but the 'antique' tint, again with a screwcap fitting. It's not the end of the world but we've now had to order the darker green for this year as our type just aren't being manufactured at the moment, allegedly.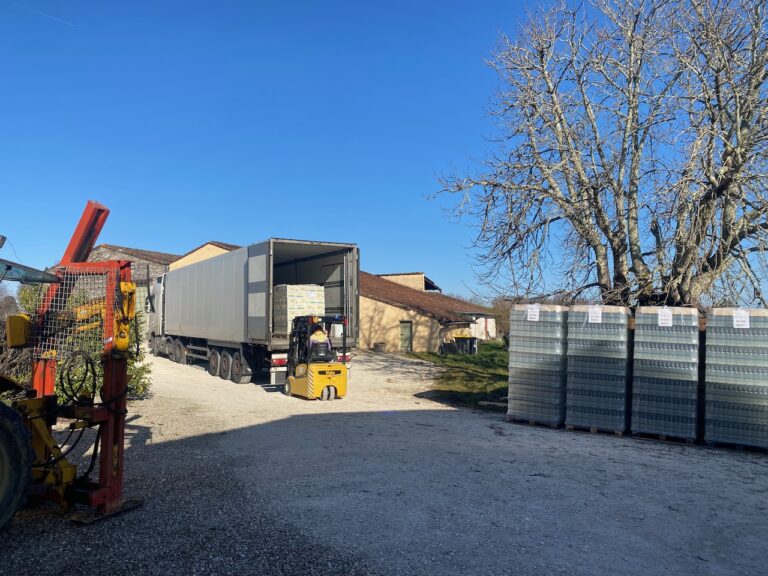 We do have good stocks of our current wines, as here with Nelly loading another pallet. Les Trois Hectares blanc 2021 sold out at the beginning of the year so the delicious 2023 will certainly be among the first wines to be bottled in March, and shipped soon after.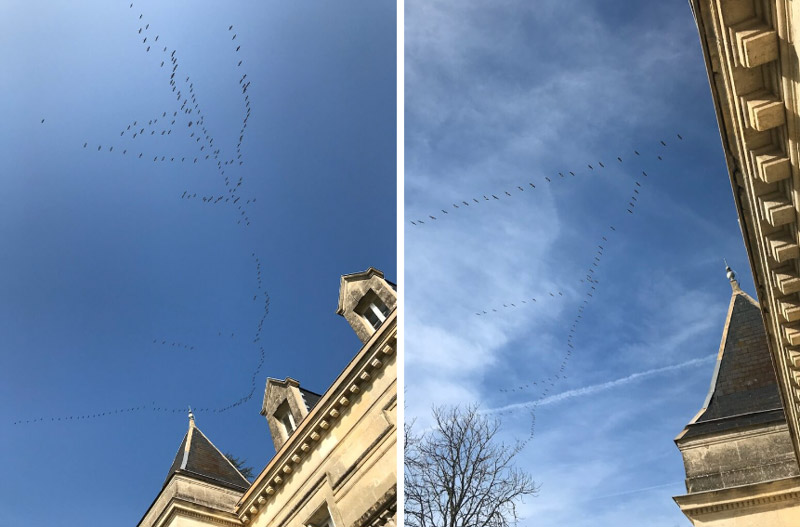 One of the sights and sounds we love in February – other than that of wine being loaded onto a truck – is the wonderful spectacle of les grues, or cranes, migrating north after winter. They make you feel that spring is on the way.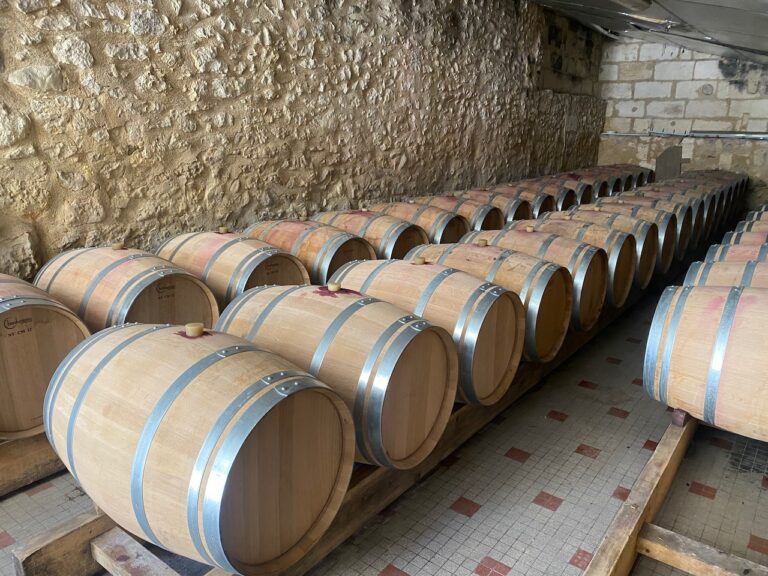 Below the blue skies, and tucked away, our better reds are maturing quietly in new and 'second-fill' French oak barrels. If you visit a vineyard, by the way, and want to feel informed, you may like to know that a classic Bordeaux barrel holds 225 litres, or 300 bottles, and a new French oak barrel costs around €750 plus VAT. American oak, which works much better for wines like Rioja than for Bordeaux, in our opinion, costs much less.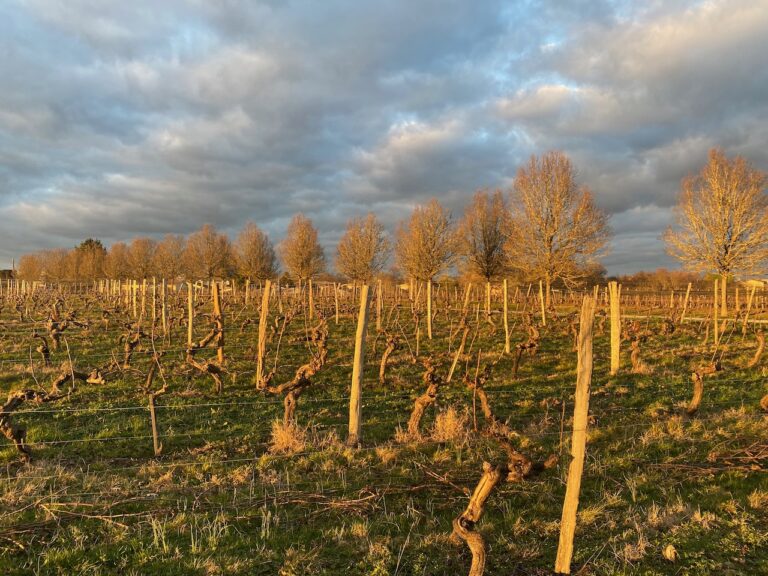 It's winter pruning time. These are the old Sémillon vines of Les Trois Hectares.
As we're already in French proverb mode (see eggs and basket above), here's another. Si tu tailles en février, tu mets ton raisin dans ton panier.
We think it implies that February is the optimum month to prune your vines for best results come the harvest. The one drawback being that if you can't prune all your vines in the space of one, short month – given the people and resources you have available – you could be in trouble by the time the buds burst into life.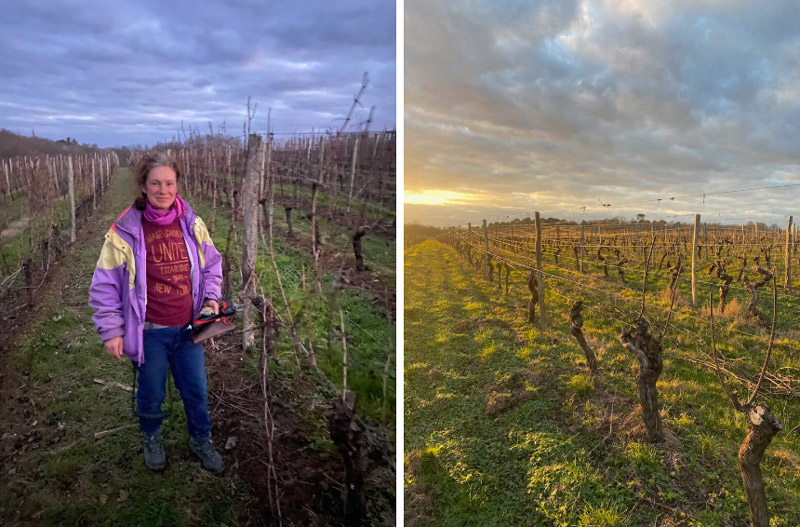 Nelly pruning through until dusk. Younger Sauvignon Blanc vines on the left, Sémillon on the right.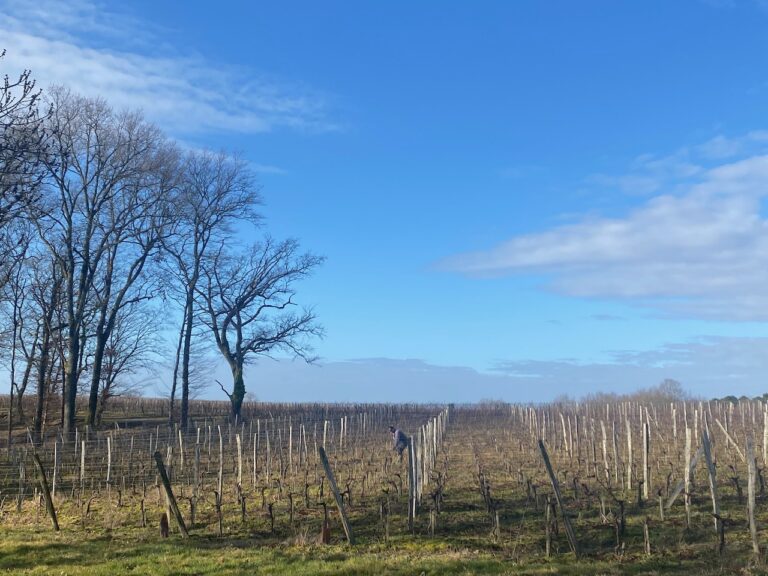 There's also the tirage des bois – the pulling away of the old branches after pruning. This is Sandra in the young Merlot.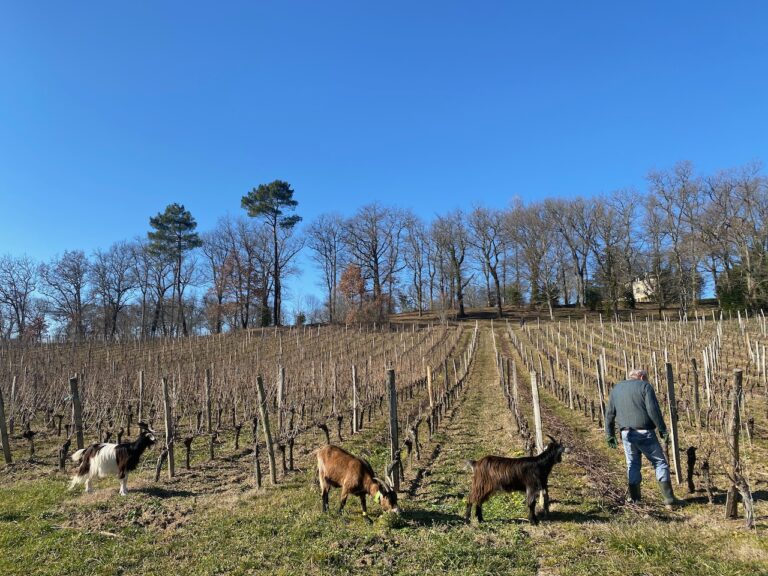 Patrick also pulls away a lot of last year's branches. Here is he being checked out by the goats last week, in the Sauvignon Blanc. It seems like yesterday when we planted these vines back in 2007, yet now they're in their mid teens.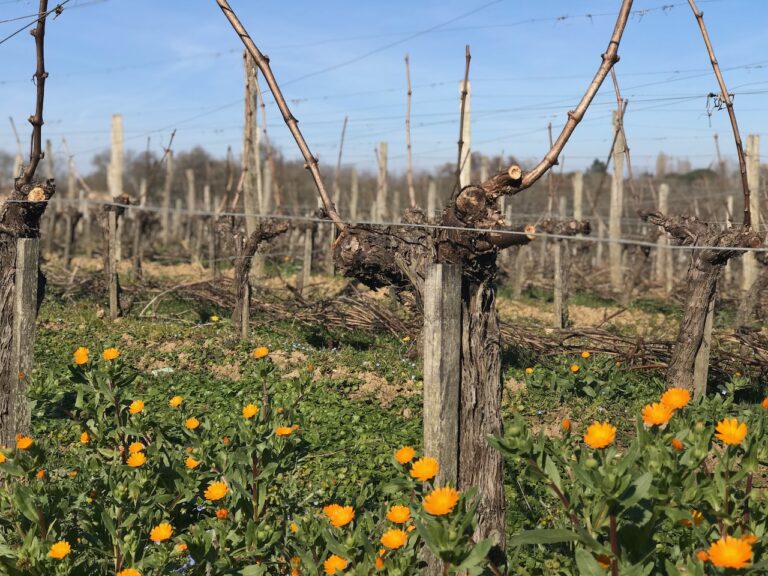 Many of the vines appear to be Y-shaped, before the two exposed branches are tied down to form a T. We have to way for milder or damper weather to do this with the Sauvignon, as it's quite fragile and can snap if it's been cold.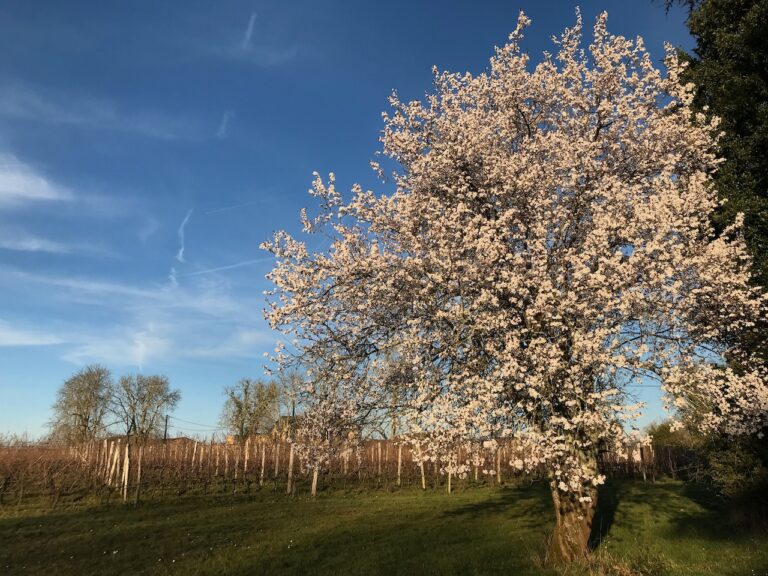 The end of Feb is blossom time.
Beyond the vineyard, and to business. Goose guarding precious samples in the suitcase, while Pavie ponders why cats always sit in strange places.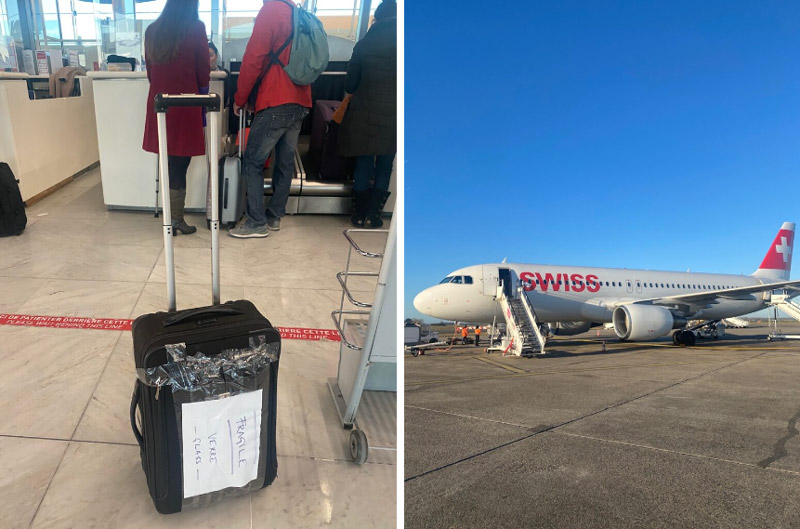 The samples are booked into the hold on the Swiss Air flight. Possibly not the most professional 'fragile' warning note but it'll be whipped off at the other end.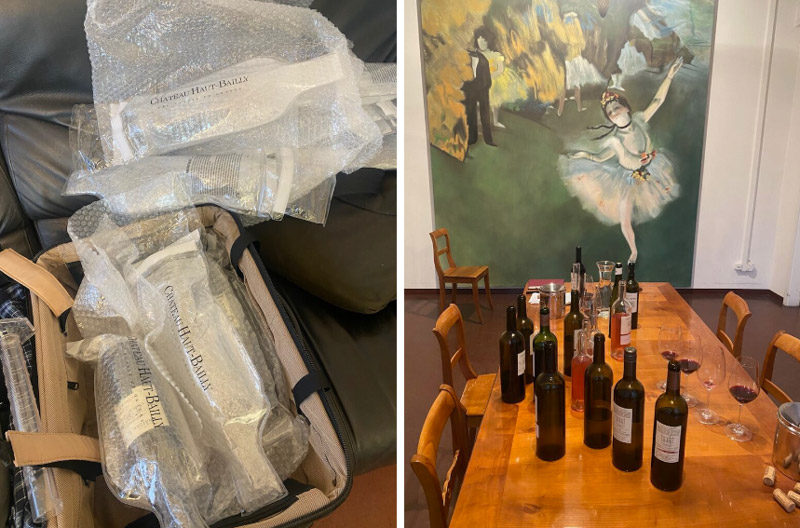 I actually bought these 'wine skins' from the boutique at Château Haut Bailly. They are simple to use, reusable all being well, and if a bottle breaks the liquid and broken glass stay inside the sealed pouch. Allegedly, that is, though I've yet to break a bottle this way.
More importantly, the samples – our finished blends from our stainless steel vats – all met with the approval of Philipp Schwander MW, our importer in Switzerland. Philipp really is like those 'man from Del Monte' ads from many years ago. His upfront order each year gives us the cashflow we need to bring all the wines to the market.
It's a bit like the en primeur system for the fine wines of Bordeaux, which are sold via a network of Bordeaux brokers and negociants to importers all around the world, while the wines are still in barrel. Only without the bit in the middle.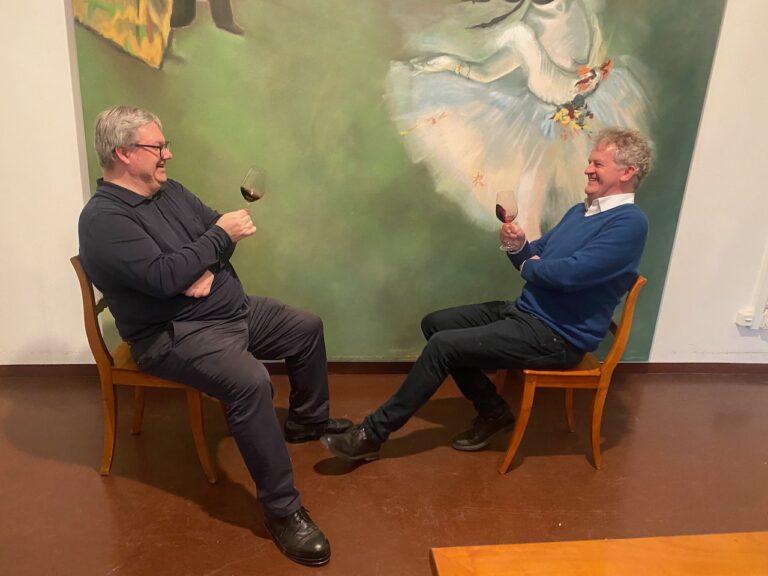 Now we don't normally taste the wines like this, above. Philipp's wine company, however, celebrates 20 years in business this year so together we thought we'd modify our Bauduc label for the occasion, with the two of us posing for a photo. From this my talented sister Anabelle sketched us sitting on the terrace in place of the empty chairs. It was Anabelle who did the original drawings of the terrace and the château for the front and back labels respectively.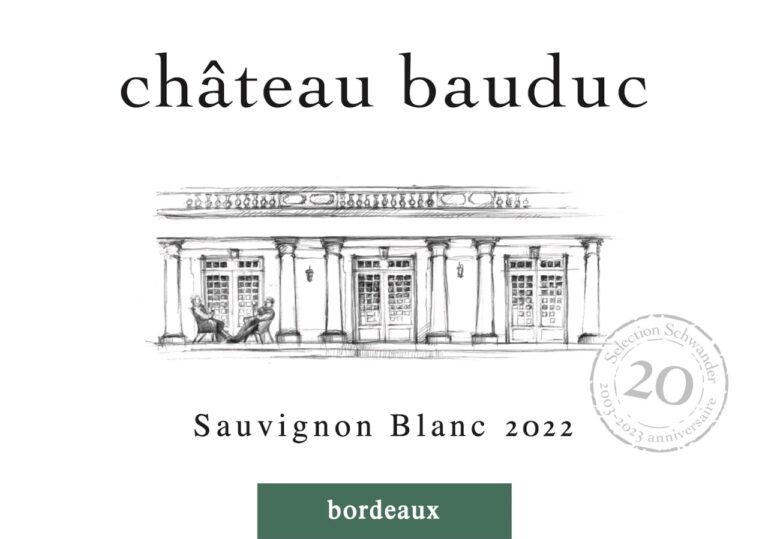 A bit of fun. The idea for the '20' years stamp came from our 2019 wines – our 20th vintage.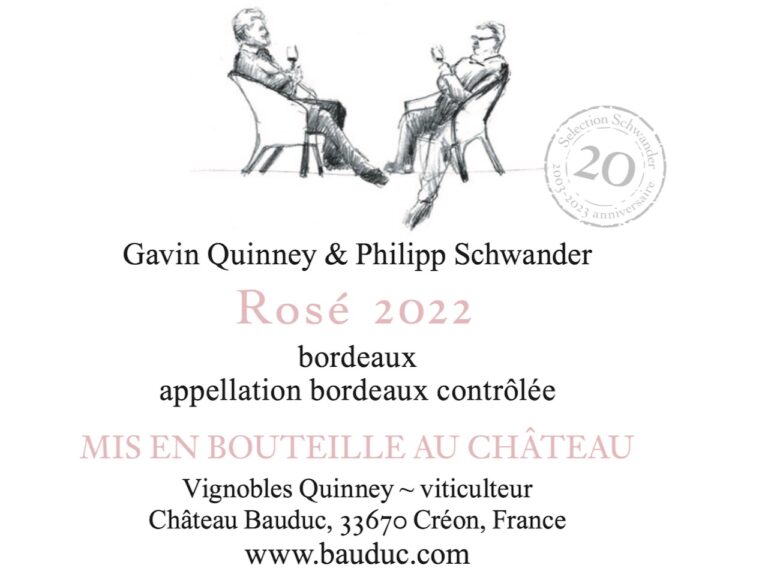 An extract from the back label with a couple of old soaks replacing the image of the château. Taken from a selection of sketches by Anabelle. Now, all we have to do is to get the labels printed in time.
In passing, if you look back at that September order for Stelvins with Amcor, the sales rep was a charming and efficient lady called Léa. It just so happens that she moved on from Amcor and joined a label-printing company called Berjon, one of the foremost printers for the top wines of Bordeaux. She must have rolled her eyes when she found out that she had taken over the Château Bauduc account. Most châteaux are sensible enough to stick with just the one label – and, more often than not, just one or two wines. Anyway, Léa and her assistant Léa (strange but true) are doing a fantastic job for us.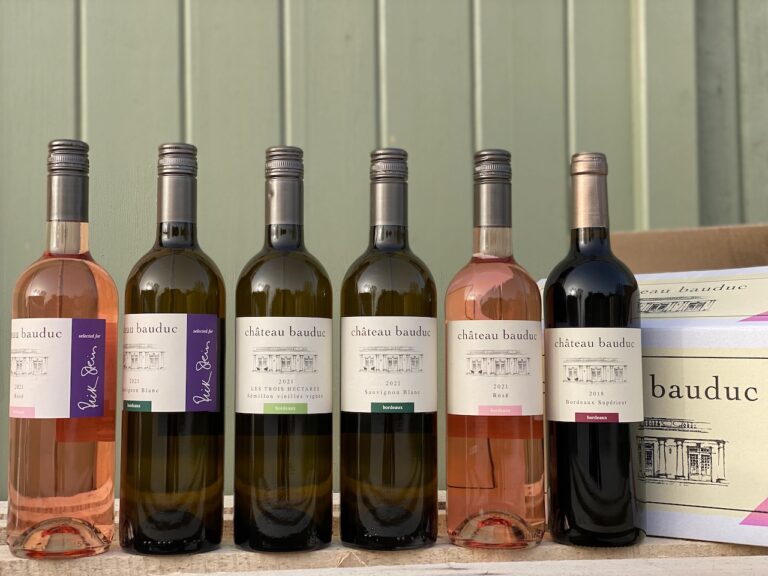 The classic Château Bauduc label, including the Rick Stein signature label.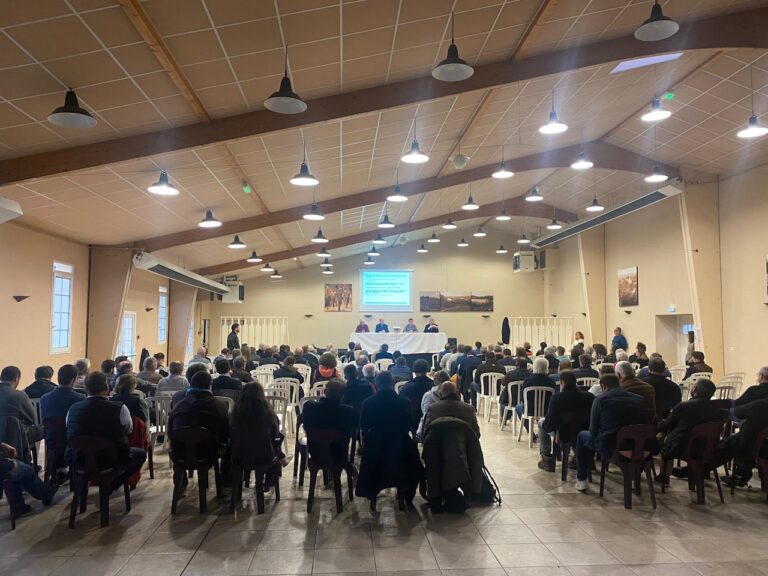 In other news this month, Daniel our vineyard manager and I attended a Bordeaux growers' meeting at the Maison des Vins de Cadillac, hosted by the Bordeaux wine bureau (the CIVB) and the Bordeaux Syndicat.
There have been demonstrations in Bordeaux by growers seeking government support, and the wine authorities here have also made demands for growers to be given grants to rip up vines. There is simply too much red wine being made for what the market can bear.
More than half the production of Bordeaux wines has always been destined for the domestic market, which has been in steady decline, and the explosion of export sales to China has become a damp squib.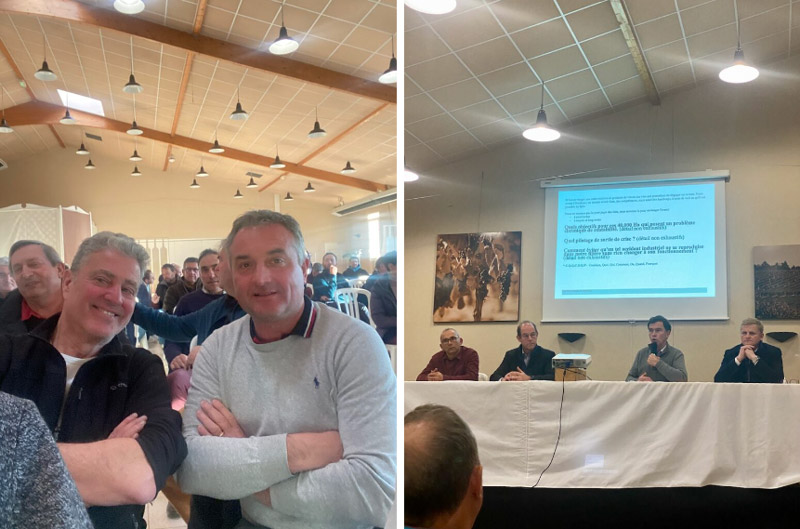 Our friend and neighbour Stéphane Defraine of Château de Fontenille and David Labat of Château Vermont, in Targon nearby, also came. None of us has plans to rip up vines but we all want the best for Bordeaux and for our corner of this enormous region.
That was a fairly gloomy slide on display, by the way, above the panel's heads: 40,000 hectares (100,000 acres) of Bordeaux vineyards are not sustainable financially. That's more than a third (111,000ha in all).
As an outsider on the inside, sort of, it's almost easier to see where it's all going wrong, and how potentially to rectify some of it. I ought to go and see the powers that be – or at least make the effort. (Though, to be fair, absolutely none of my ideas would ever, ever come to pass.) More on this anon.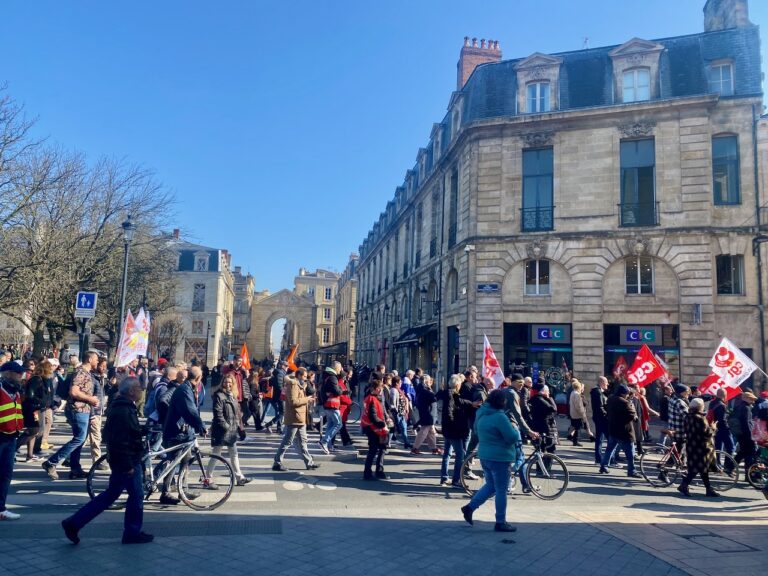 The French are, of course, good at protesting. Of more significance than vine growers making a splash, there have been widespread demonstrations about President Macron's plans to increase the age of retirement. (I was actually on the way, as it happens, to fetch a pot of paint for Ange for one of the bedrooms in the farmhouse.)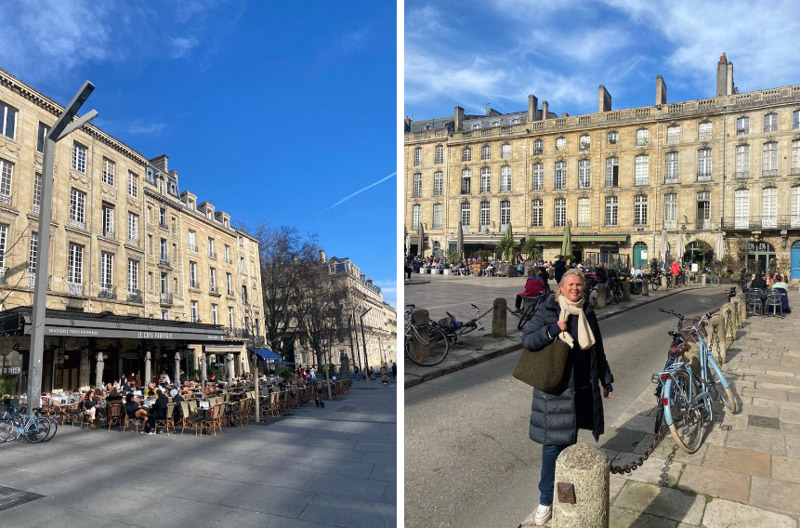 Angela and I did make it into Bordeaux for an impromptu, alfresco lunch on Valentine's day. It's such a great city, marches or not.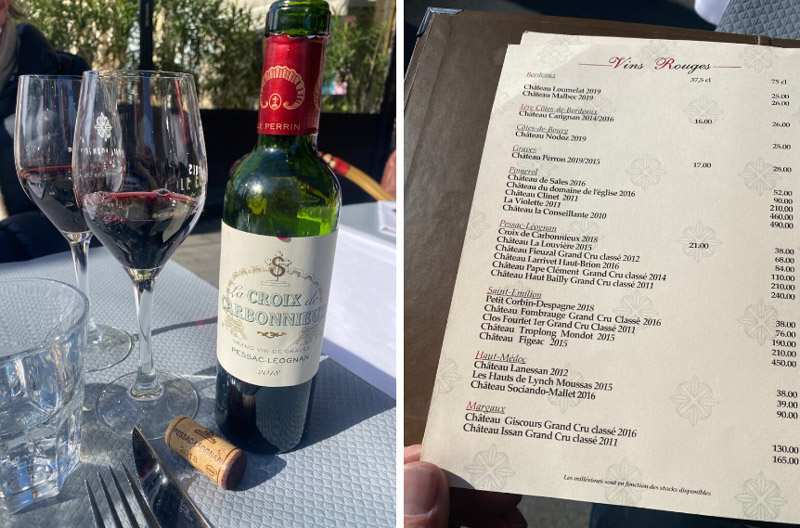 A reminder once again of just how good Bordeaux wines can be without breaking the bank. A half bottle of the second wine of a top Bordeaux estate. (Spot the aforementioned Diam logo on the cork – no risk of cork taint.)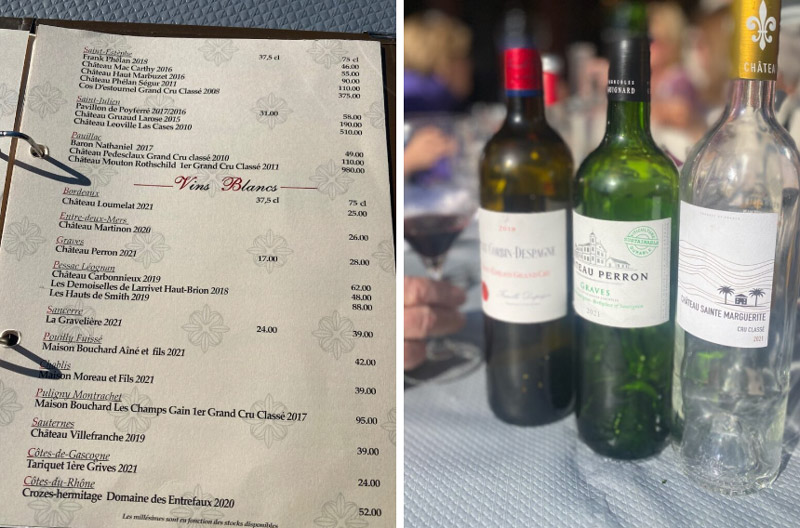 Many 2018 reds are in a good place right now, for what it's worth. The second wine of Château Grand Corbin Despagne in Saint-Émilion – Petit Corbin Despagne 2018 – was delicious for little more than 30 quid, in a restaurant, and probably delivered a lot more pleasure than some grander wines that maybe aren't ready yet. A good dry white Graves too for €28. Sorry, went for the Provence rosé because, unusually, it's a Château wine from a place, while the Bordeaux rosé on the list is a 'bulk wine' brand.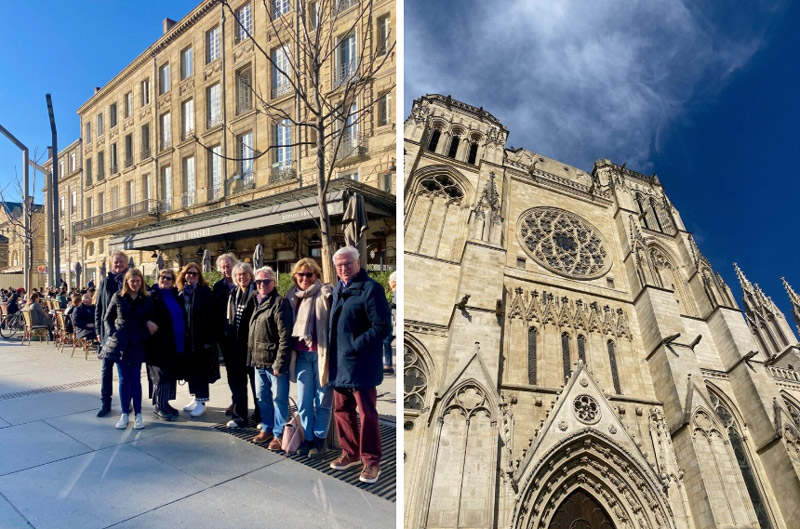 I should mention that Ange and I had the half bottle only. The three bottles were shared with friends for my sister Rosanagh's birthday weekend here.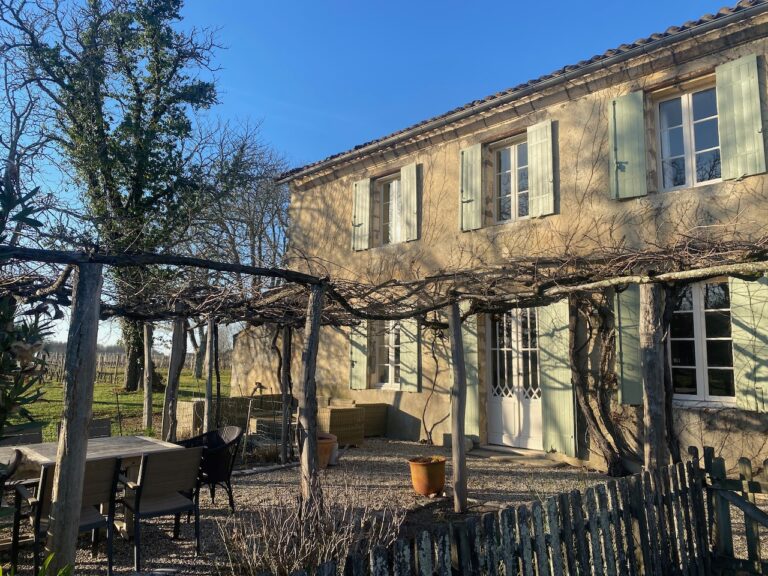 It was sunny enough for everyone to stay and sit outside at the farmhouse.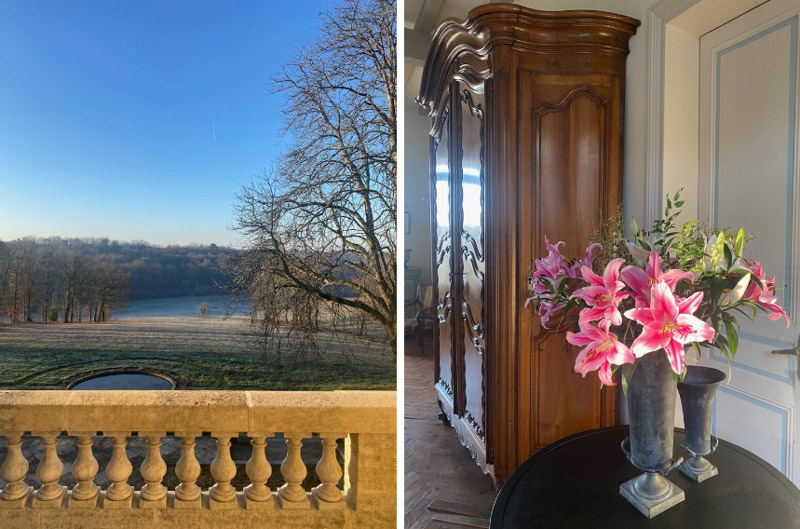 Who knew that Bordeaux could be a sunny destination for a long weekend in February?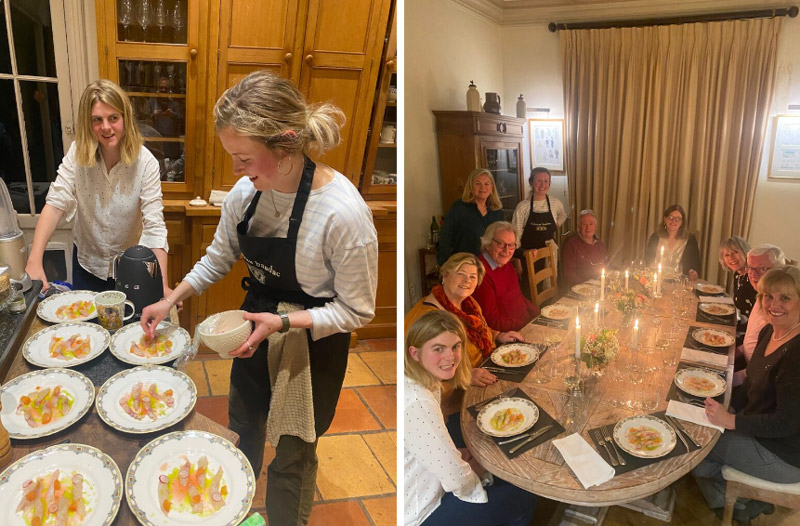 Super chef Immy Mucklow flew out to cook for the troops. Our Sophie looks on admiringly.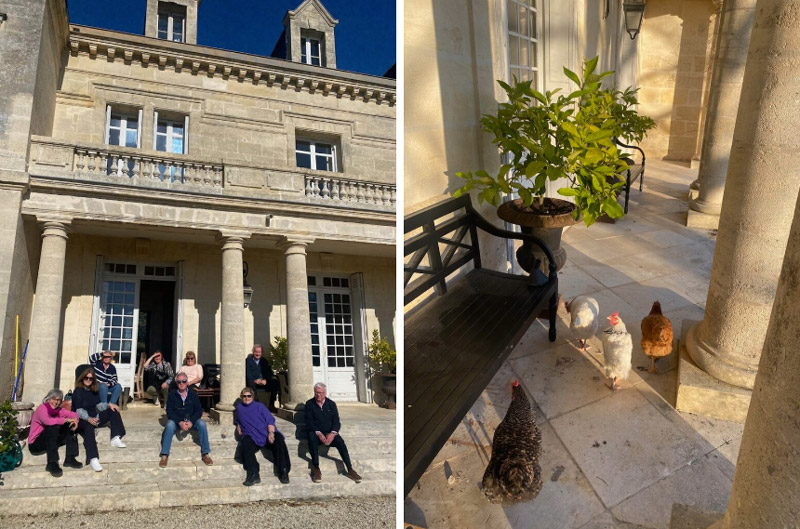 The sun-drenched terrace. You just have to watch out for the chickens' occasional mess.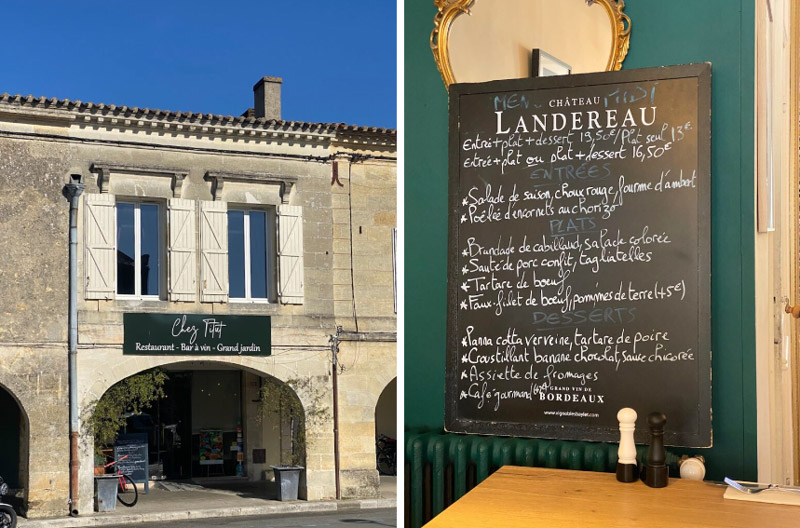 For fans of our local restaurant in Créon, La Table, for a while now it's been called Chez Titut and based on two February visits they serve an excellent lunch for the money. In the summer there's a large garden at the back. Recommended if you're visiting us first for a tasting on our chicken terrace, or to simply collect some wine.
For more on local restaurants see https://www.bauduc.com/local-restaurants/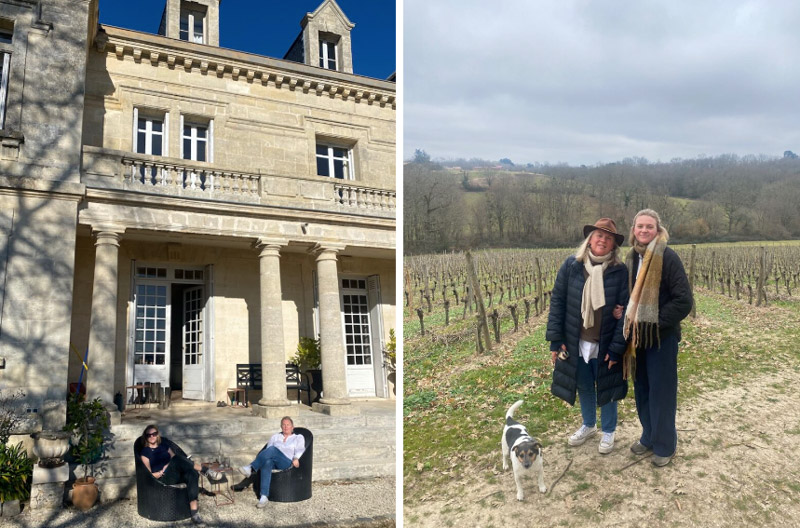 Great to have Georgie here for a few days, followed soon after by Bugs. (Photo of Bugs in the next journal. For some reason I didn't take one.)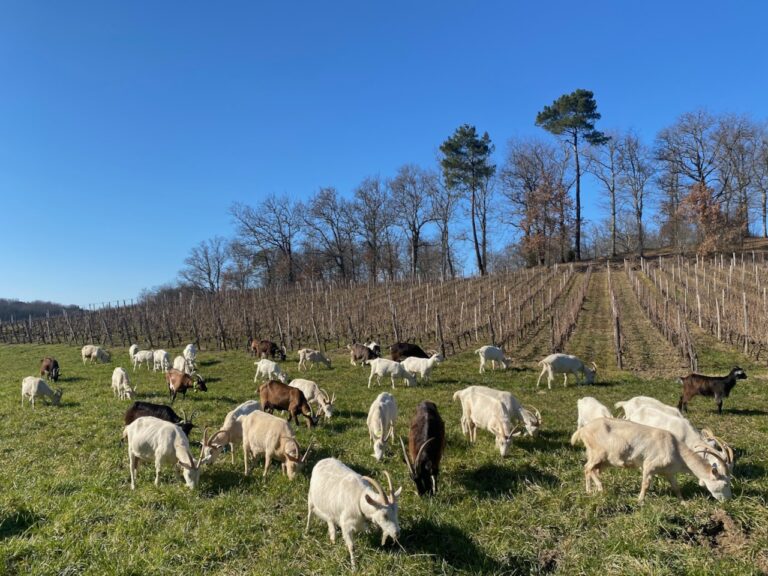 Before we go, more essential viewing of the goats below the vines.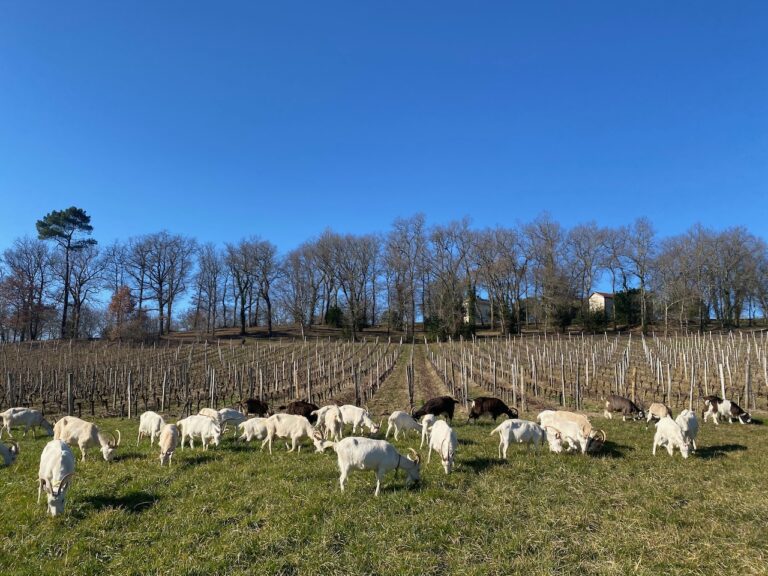 Such beautiful creatures. And productive too.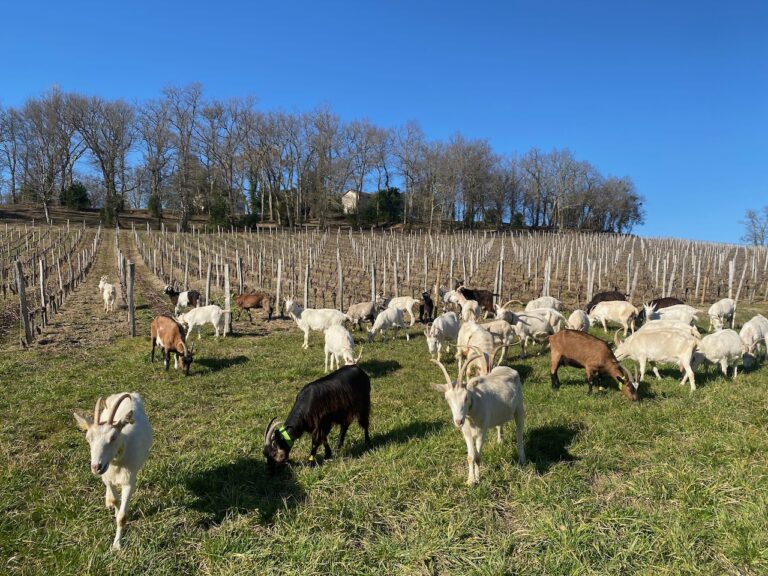 Onwards and upwards. Roll on the spring.