Posted by Gavin Quinney on 1st May 2019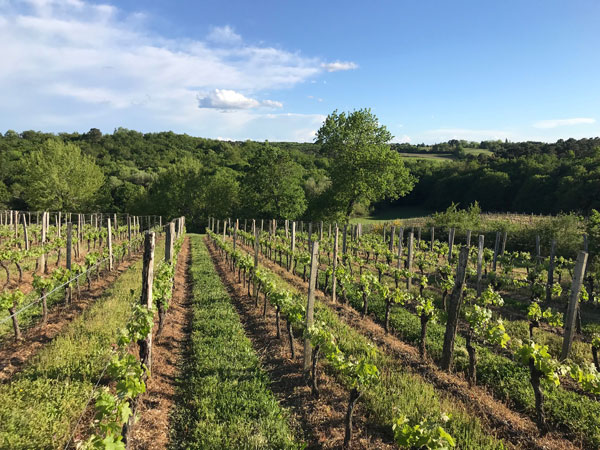 It's Bordeaux en primeur time and 2018 is actually a vintage to get quite enthusiastic about. There hasn't been such a great year since, erm, 2016.
The fine wine world descended on the region earlier in April and, along with thousands from the global trade and scores of journalists and critics, Gavin tasted hundreds of barrel samples. So here are some of his findings. His scores are listed along with other critics on Liv-ex here.
Shortly we'll be concentrating on our own 2018s as the whites and rosé are perfect for summer.
All the best
Gavin & Angela
Stop press 1 - Farmhouse free for Vinexpo week, 10-17 May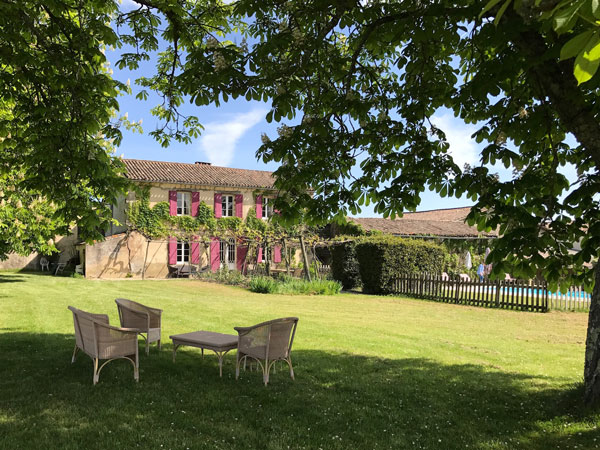 Our farmhouse is booked solid from 17 May to 4 October but it is still available for the week of Vinexpo from 10-17 May. Hang out at this impressive trade fair at the Bordeaux exhibition centre, or just come and eat, drink and lie by the pool. Various forms of exercise available too, such as swimming, cycling, walking or strolling around the market. 4 bedrooms, private pool and garden, satellite TV…
Stop press 2 - Stein wine tour, two slots left, 8-10 June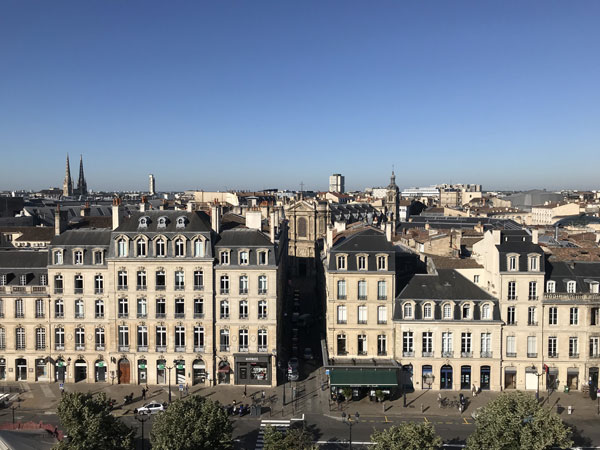 There are two places left for a Bordeaux weekend based at our farmhouse, hosted by Rick Stein's wine-nut son, Charlie Stein, for a fantastic Friday AM to Sunday PM extravaganza of château visits and dinners, with help from us. Dinner at Bauduc plus luxury travel to Saint-Emilion, Bordeaux and a top château in Pauillac included. Would suit a couple or two sharing - or single occupancy with a small surcharge. Do get in touch with us or email amywalters@rickstein.com directly, or call Amy on +44 1841 550289.
Bordeaux 2018 en primeur buying guide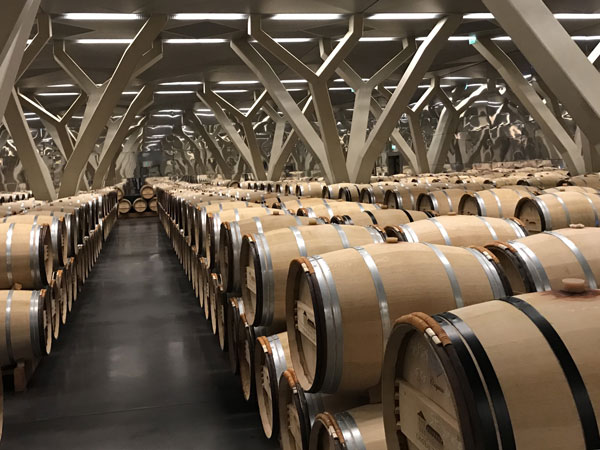 I do think 2018 is a Bordeaux vintage to consider buying into - given the right wines at the right price. Here are my 'en primeur' scores out of 100 for most of the leading wines, with scores close to 90 or above, from the top appellations. The rating for 2018 is on the left, 2016 on the right. Although the vintages are not the same in style, the wines are often not far apart, quality-wise, and the châteaux will price their new 2018 wines with 2016 in mind.
The first EP price is the opening en primeur price of the wine in the UK in May or June 2017, and the '£ now' is the average list price you'd find, according to Liv-ex.
These tables are a simple guide to relative values: if my score for the 2018 is the same or higher than the 2016, and the price is the same or cheaper, then it's worth a look. (And vice versa.)
The 2016s were bottled in 2018 and are physically available. Many have a long life ahead of them but some are already approachable, such is the purity and freshness of the fruit and silkiness of the tannins.
In general, the 2018s will require patience, despite the opulence and hedonistic appeal of the wines. I'd reckon on drinking windows of 2028-2043 (10-25+ years) and beyond for many of the top estates. Good Christening and Wedding presents, mind.
See my comments below each appellation. At the foot, there's also 50+ 'Bordeaux on a budget' 2018 reds en primeur.
Please note we don't sell these wines.
Bordeaux 2018 en primeur and vintage report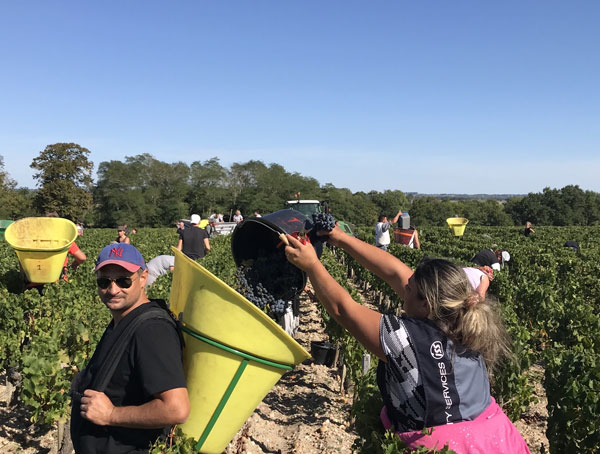 2018 is an exceptional vintage for Bordeaux. One of the most challenging starts to the growing season in living memory was followed by three glorious months, with record levels of sunshine, precious little rain and an unflustered harvest, resulting in red wines - at the top end - of extraordinary depth, opulence and intensity.
On show around Bordeaux during the en primeur tastings in late March and early April were hundreds of rich, lush and powerful barrel samples that fully expressed the overt ripeness of the vintage. It was far from plain sailing, however, with many leading châteaux having much lower yields than their neighbours, and there's a fine line in 2018 between getting the balance just right in such a ripe vintage, with its naturally high alcohol and forceful tannins, and stepping a little too far towards the dark side. And, to be fair, such a full-on vintage might not be to every Bordeaux lover's taste.
In this report, I'll try and cover the ups and downs of an extraordinary year. This was my 20th harvest in Bordeaux and my 19th consecutive vintage of tasting the top wines from the region en primeur. A version of this article appears in the May 2019 issue of Harpers Wine & Spirit, the UK trade magazine, for whom I've written the Bordeaux en primeur report and compiled a list of my Top 100 Wines each year since the 2005 vintage.
My scores for 100 of the best known wines are listed on the handy Critic Scores page for Bordeaux 2018 on Liv-ex insights.
18 things to know about Bordeaux 2018
Three warm and dry months from early July through to the September and October harvest, with record hours of sunshine, made for a very ripe vintage.
The first half of the year was one of the most challenging, with a wet winter and a wet, humid spring leading to mildew being a huge threat.
(It was always going to be a 'game of two halves' once France won the football World Cup in July.)
Production overall in 2018 was the same as the average of the previous 10 years, following on from the small, frost-affected crop in 2017.
2018 is an excellent vintage for red Bordeaux, with powerful, rich and opulent wines across most appellations.
2018 was a good to very good year for dry whites, with some soft and attractive sweet whites from a prolonged, dry harvest that didn't lend itself to noble rot.
Alcohol levels for reds are relatively high, with 14% the norm for the Cabernet Sauvignon-Merlot based wines of the Left Bank, and often higher still for Merlots and the Merlot-Cabernet Francs of the Right Bank.
Although the red wines are deep, lush and seductive, this can mask the tannic core and many of the top wines are built for the long haul. Think 10+ to 30+ years for the best wines.
2018 is the fifth fine vintage in a row for the important northern Médoc appellations of Pauillac, Saint-Julien and Saint-Estèphe.
2018 is not as consistently excellent a year as 2016, but it is right up there alongside 2005, 2009, 2010 and 2016 for quality - and, for Margaux and Saint Emilion, with 2015.
Eric Boissenot, the consultant oenologist for most of the leading châteaux in the Médoc, told me that 2018 is like a blend of 2009 and 2016. Few château owners on the Left Bank are going to argue with Eric.
2018 is unique among the top vintages this century for having such a huge variation of yields among the top châteaux. This is mostly down to the impact of mildew up until mid-July.
To bio or not to bio. 2018 is the vintage that really asked the question of growers following an organic ('bio' in French) or biodynamic approach in the humid climate of Bordeaux.
An untroubled harvest, with the opportunity to pick and choose dates, gave winemakers a range of options. On the whole, we're seeing a move to more refined styles, rather than blockbusters.
2018 might have been an easy harvest but it wasn't a straightforward vintage for winemakers. Three months of sun and drought meant less juice, higher alcohol, powerful tannins, concentration, lower acidity - and therefore careful extraction.
The extraordinary investment in new cellars, new wineries and new kit continues unabated. Hundreds of châteaux have been transformed this century - many in the last decade alone - and we're seeing this in the wines, with greater selection and far more precision.
Good terroir has a huge impact with a drought. Coupled with the full-on nature of the vintage, and the huge threat of mildew earlier on, high quality wine is not a given further down the price pyramid.
There are, though, hundreds of great wines from dedicated growers at all price points in 2018. But I would say that.