Posted by Gavin Quinney on 31st Oct 2023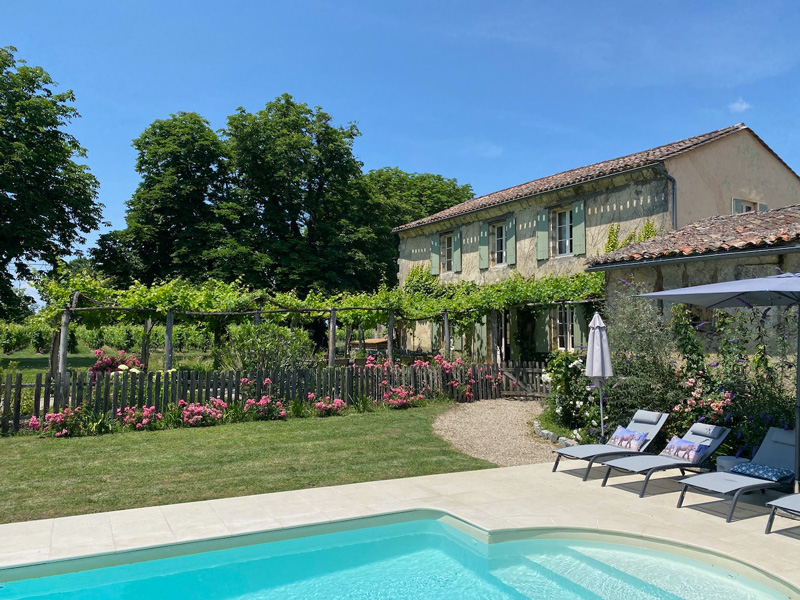 This month's missive is devoted to our Bauduc farmhouse, as we do our best to make our guests feel welcome and the 'price and availability' page for 2024 is now live on our website. This terrific holiday home is let out by the week from April to October and, as most of the slots were taken up this year, it's best to book early.
If you're interested in a week or two, please email angela@bauduc.com and gavin@bauduc.com with Farmhouse 2024 in the subject line. Once confirmed on all sides, a third of the fee is charged as a non-refundable deposit, with the balance 90 days before the start of your stay. See the availability page for the essential Ts and Cs.
A few weeks have gone but there's still good availability. The changeover day is Friday and prices are quoted in sterling as most of our guests come from the UK and their payments go to our UK bank account.
Don't just take our word for it – see below for some comments from our guests in 2023, all taken from our visitors' book.
The Bauduc Farmhouse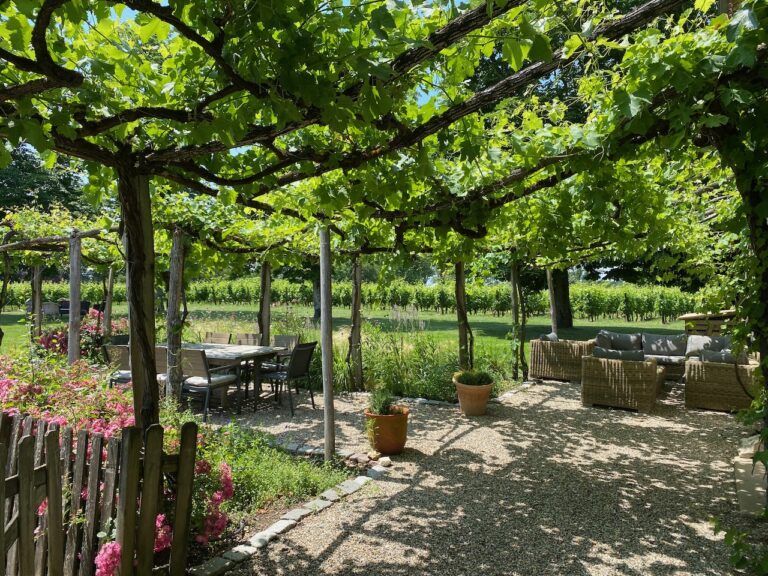 Our farmhouse is in the heart of the vineyard at Château Bauduc and is a lovely place in which to relax and, if you so choose, to do not very much at all. The eighteenth-century stone house sleeps eight comfortably. There's a big, open plan ground floor and upstairs there are four double bedrooms, two of which can be set up as twins – all the beds are pocket sprung – and there are showers in the three bathrooms.
In the south-facing garden there's a dining table under the vine-covered trellis, with plenty of comfortable outdoor furniture nearby. Alongside, there's a private, heated swimming pool that we refurbished in 2022, and no shortage of sun loungers and parasols. Old vines are provided as fuel for the barbecues – and wood and vine cuttings for the fireplace in front of the three large sofas inside.
To complement the tasty setting and the well-equipped kitchen, we're just a short drive or longish walk from many local purveyors of fine food. Créon, our town next door that was founded by the English incidentally, has become a culinary magnet of late, with outstanding bakeries and patisseries, an excellent butcher and fishmonger, fresh fruit, veg and cheese stores and delis all springing up over the last few years. (It's not all new: the popular weekly food market has been held every Wednesday since 1315, allegedly.)

There are a few good restaurants within walking distance, plus some new cafés and bars, though few can match the setting of the farmhouse garden if the weather's good. We can steer you as well in the direction of several brilliant restaurants which are worth a detour both in and around Bordeaux, and near Saint-Émilion and Pomerol – depending on your mood and budget.
Thankfully there's plenty of space to walk it all off, as we have almost 75 hectares (190 acres) of woods, fields and vineyards. For the more adventurous, there's an excellent cycle and jogging track nearby that was converted from an old railway line. From Créon the 'piste' runs some 25kms (16 miles) towards Bordeaux in one direction and, further inland, to Sauveterre about 25kms in the other. You can hire the bikes next to the track in Créon.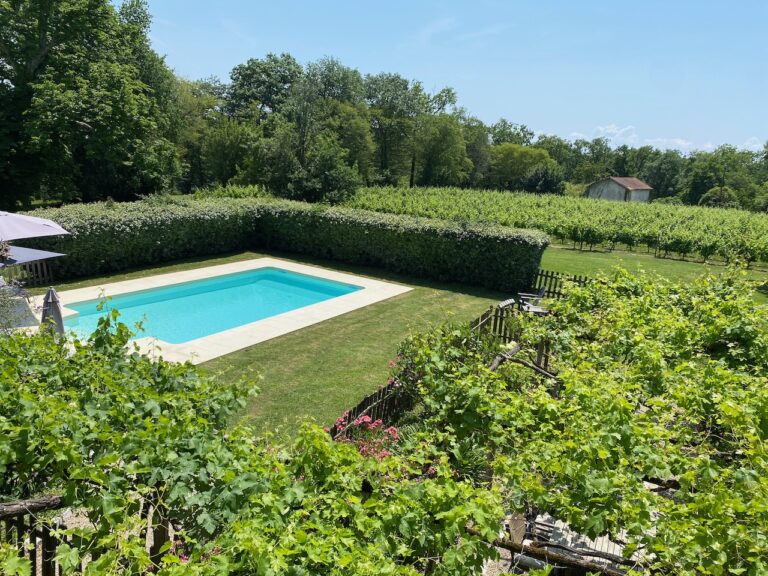 For those that want to travel around a bit, the farmhouse is a great base from which to explore the region as it's just a half-hour drive to the splendid city of Bordeaux and likewise to the archetypal, medieval wine village of Saint-Émilion and to Pomerol next door. The fast, weekday bus service to Bordeaux, which takes 40 minutes to the centre of the city from the end of Rue Bauduc, runs every hour from 7am to 10pm and is a snip at €4 return.

Margaux in the Médoc is an hour away (Saint-Julien 75 minutes), and Sauternes and Pessac-Léognan, both south of the city, about 40 minutes. The Atlantic coast can also be worth a day-trip, if you avoid any dodgy traffic. There are beaches we like to go to near Arcachon and Cap Ferret which are an hour and 20 minutes away.
Bordeaux airport is a 40-minute drive from us, if avoiding the rush hour. From April onwards, Easyjet fly to Bordeaux on Fridays (our changeover day) from Gatwick, Luton, Bristol and Manchester, and from Glasgow in July and August. There are also regular flights with BA from Gatwick and Ryanair from Stansted (and less frequently from Birmingham).
And of course there's Eurostar and the high speed train – Bordeaux is just two hours from Paris – and there are flights from multiple destinations in mainland Europe.
We are usually on site to point you in the right direction and, as long as we're here to host a walking tour of the vines and the winery.
All the best
Gavin & Angela Quinney
---
Links to our website
Farmhouse introduction
Price and availability
Getting here
The local area
Things to do
Local restaurants
Guest comments
Farmhouse gallery
Guest comments from 2023
From our visitors' book
April 2023: 'We were so lucky with some great weather and we enjoyed a wonderful Easter here. Great trips to Bordeaux, St Emilion and Les Sources de Caudalie and a great tour of the vineyard from Gavin. Enjoyed lots of the local food and the delicious Bauduc wines!'
May 2023: 'How wonderful to finally come to Chateau Bauduc after all the years of sampling your wines. Such a fabulous place, thank you Gavin & Angela for making us all feel so welcome.'
June 2023: 'A wonderful week in Bordeaux! Wonderful sunshine, delicious wines, relaxing by the swimming pool and playing hide & seek in the vines! Thank you to Angela for organising pony rides for the children. Second visit for us and no doubt we will be back!'
'Our 2nd trip to this idyllic home of the Quinney family – we've had an amazing time & have no doubt that we'll be back again. There's simply too much to love at Chateau Bauduc!'
July 2023: 'As ever, a fantastic stay. Thanks to Gavin and Angela for being relaxed and helpful hosts. Chez Titut in Créon Square is great food and great value. Go on a sunny day and sit in the garden! The creperie in the same square is also delicious…'
'It really doesn't get more French than this! What an absolutely stunning spot. First trip to Bordeaux and Chateau Bauduc but hopefully not the last. Just magical.' 'We've had the most fabulous week… absolutely wonderful to return after so many years.'
August 2023: 'Throw those windows wide open and drink in the restorative air of Bauduc – one week like this will set you right. It's a perfect place to be busy (bike hire) or not (chilling on the terrace). Thanks Gavin for the tour & tasting.'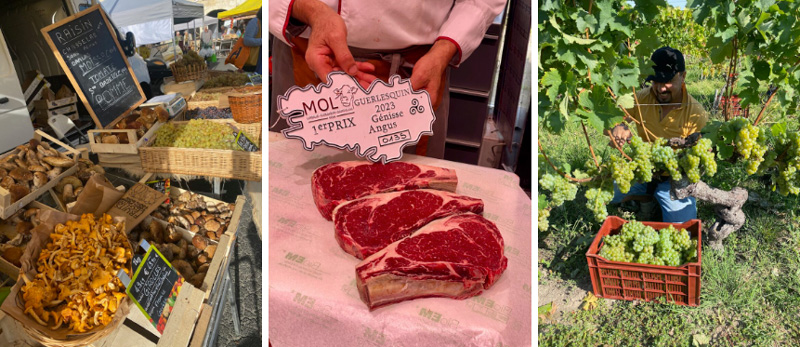 'To have a week here with all the family is just very special. The children's swimming improved so much which is lovely & forever. Copious quantities of delicious Bauduc slipped down every evening and the wonderful food shopping was great. The Créon market was fun and lots of purchases!
Thank you, Gavin & Angela, – a very special place to celebrate Will's 40th birthday! Would love to return!'
'A truly fabulous time was had by all. Parfait! The farmhouse is the best ever for us – encircled by vines; so well equipped; a never ending supply of wine (subsidised); many an evening walk around the vineyards.'
September 2023: 'What a beautiful and relaxing part of the world – thank you for making us feel so welcome! Great wine, beautiful scenery and very comfortable farmhouse. Loved the tour. Many thanks. We followed some previous recommendations (from the book) that all worked out well… We had perfect weather and were made very welcome by Gavin. The farmhouse and pool suited us all very well. Big thanks!'
October 2023: 'What a discovery! We knew the wines but know to stay on the vineyard is magical. Terrific house and pool – first holiday house I know that comes with an oyster shucker!'
'A wonderful restorative week with the best of friends. Loved the farmhouse – magical, gathered around the table under the vines. Walked and talked, shared delicious house wine, scrabble to end the night! Visited St Emilion, Bordeaux, Dune du Pilat, Cap Ferret, La Sauve & Libourne – fabulous meals everywhere!
Many, many thanks Angela & Gavin for all your recommendations!'
'Wonderful! Such a warm & welcoming guest house and the perfect 'home base' for exploring the Bordeaux region. Terrific wines too!'
'Thank you for a marvellous week. We enjoyed our trips to the Médoc and Pessac-Léognan. Excellent lunch at the St.James and fun drink at the Hotel de Pavie in St. Emilion.'
Overview of features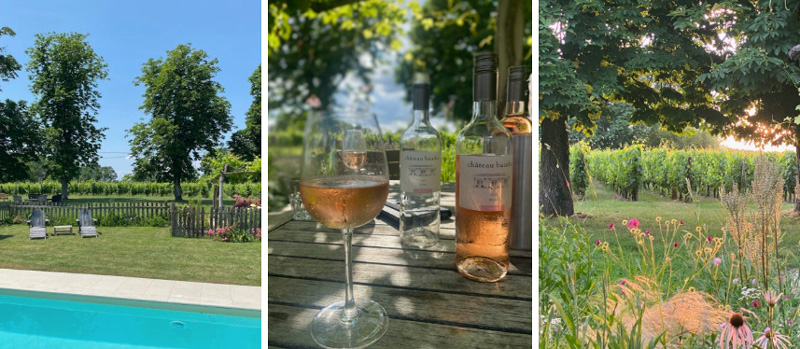 Restored 18th century stone house
Overlooks the vineyard
200 acres of vines, fields and woods
Large south facing garden
Private, heated swimming pool, late April to early Oct
Vine-covered outdoor eating area
Vine-fueled barbecues
Extensive, really comfortable outdoor furniture
Private tour of the vineyard on request
Upstairs

4 double bedrooms, two of which can be twins
1 spare single bed on landing
3 bathrooms, incl one en suite, all with shower
Pocket-sprung beds
Full size cot
Electric radiators
Twin hot water tanks
Downstairs

Spacious open plan living
Handmade oak kitchen
Fully equipped kitchen
Comfy sofas and chairs
Open fireplace
Satellite UK TV
Free Wifi
Bose speaker – Bluetooth
Dining table and 8 chairs
Washing machine, dryer
Downstairs loo
Freezer under stairs
Hallway, coat rack
Included for up to 8 guests
Bed linen Bath towels Pool towels Starter 6-pack of wine
The area
Great food shops within a 5/10-minute drive
Large supermarket a 5-minute drive
Top bakery, deli and café/bar a 10-minute walk
Excellent food market every Wednesday morning
40 minutes from Bordeaux airport
Bus every hour to Bordeaux centre, M-F, 7am-10pm
30 mins by car to Bordeaux and St-Emilion
40 minutes to Sauternes or Léognan
An hour to Margaux, 75 mins to St-Julien