Posted by Gavin Quinney on 27th Nov 2020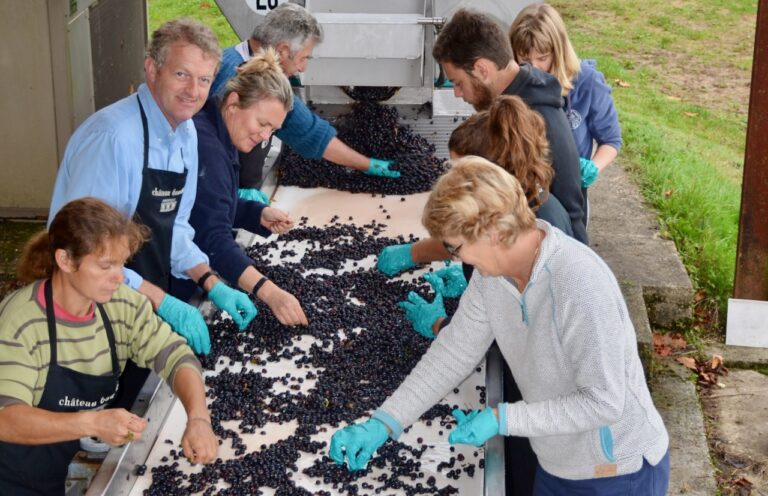 This week's photo journal is part Throwback Thursday, part Black Friday offer.
We sold out of our popular 2014 red in the UK over a year ago, though we still had some stock in our Calais depot. It may not surprise you that collections from there have been a little slow in 2020.
So we've shipped the last of the 2014 Merlot Cabernet over to London City Bond, paying UK duty in the process, and are keeping it to the same price as its launch price in early 2016, while stocks last. That's just £9.95 a bottle, in cases of 6. Delivery is free for any 12 or 24+ bottles in England and Wales, and £10 for 6, or £8 delivery for 18 bottles (free in Greater London).
This wine may be a 'bin end', and the exchange rate isn't what it was, yet every year is different and for each vintage we have some fond memories. Here are just a few from the 2014 red harvest here, and around Bordeaux.
All the best
Gavin & Angela Quinney
PS All the images are from 2014, except the bottle shots at the end.
---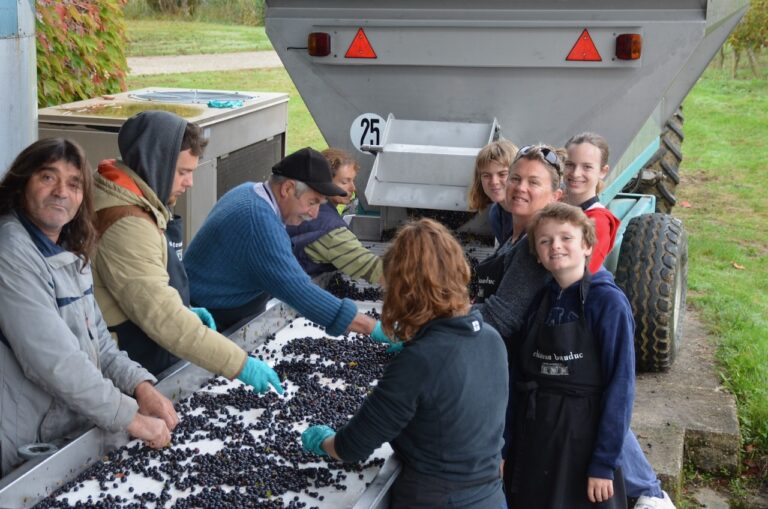 Top picture: the sorting table at Bauduc, Friday 10 October 2014 after an early start. This was Saturday, 11 October, with the children home from school.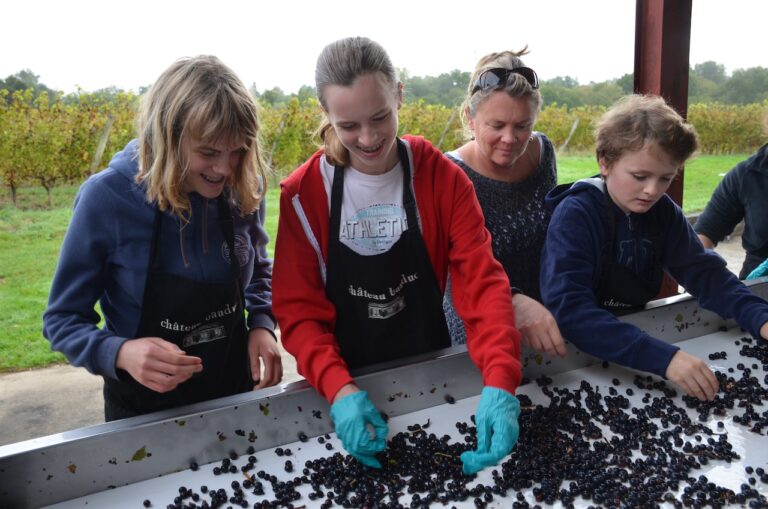 Sophie, 17, Amelia, 13, and Tom, 11 years old that day.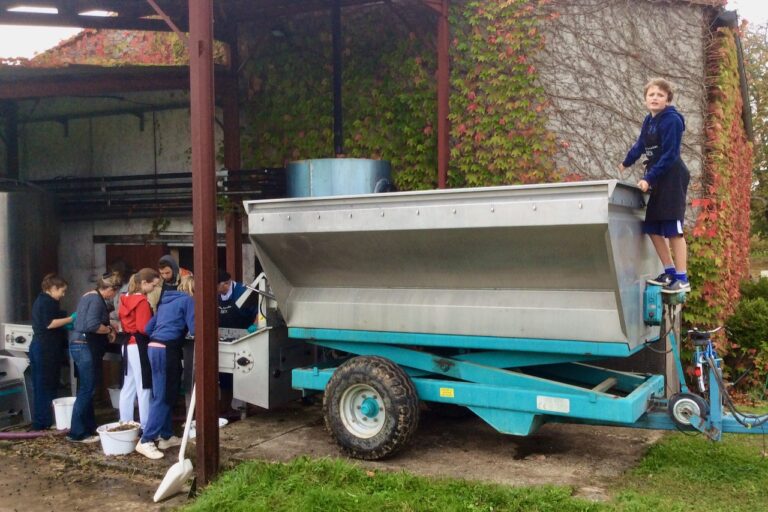 After the novelty wore off, Tom asking why we had to harvest on his birthday, and a Saturday at that.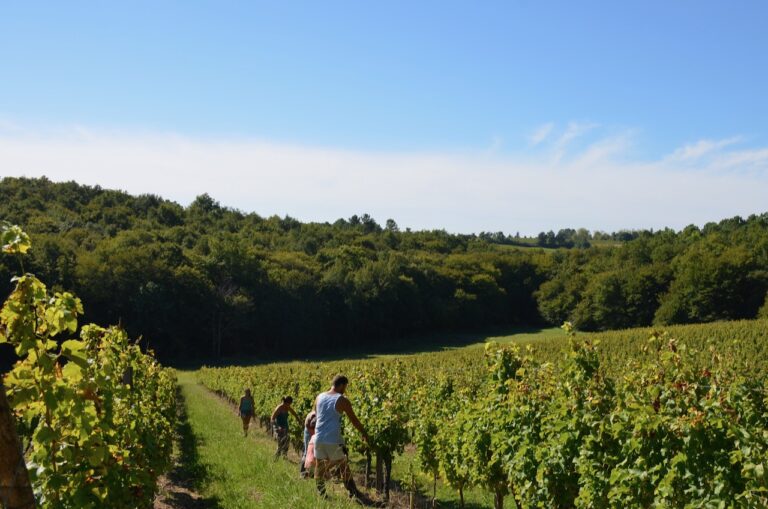 In fact, we'd had a gorgeous September and early October after a mixed summer.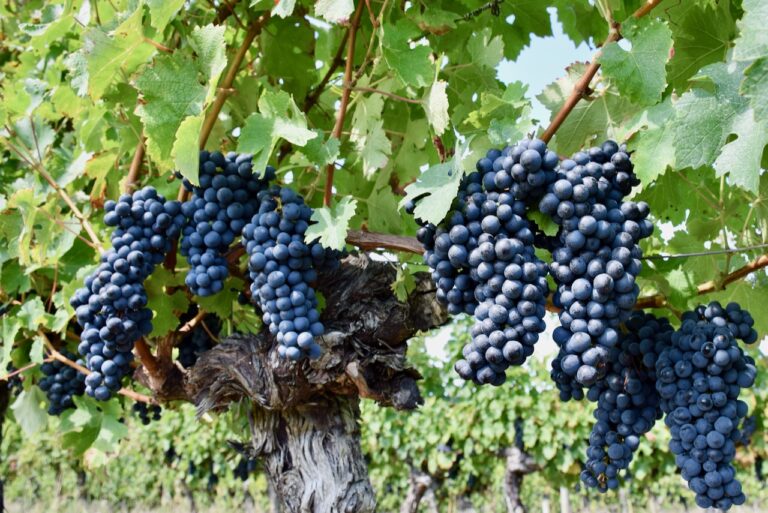 The Merlot was still holding up well as we waited for the bunches to ripen. We had to be patient.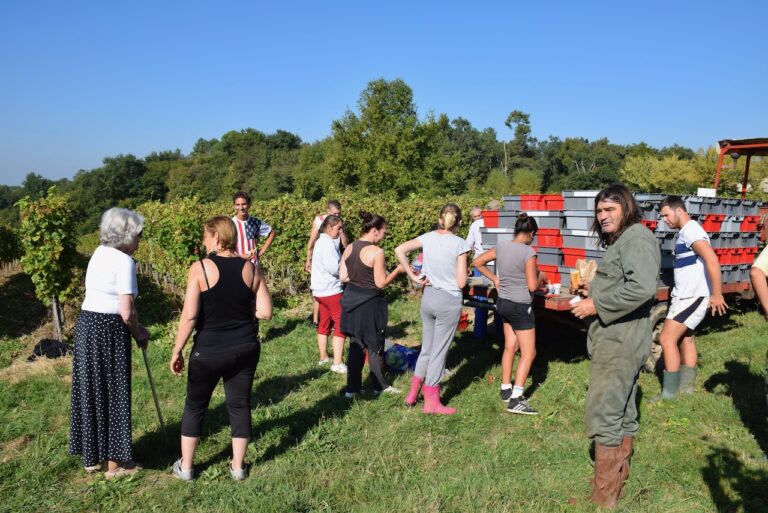 The 2014 harvest had begun well, with my mother in attendance.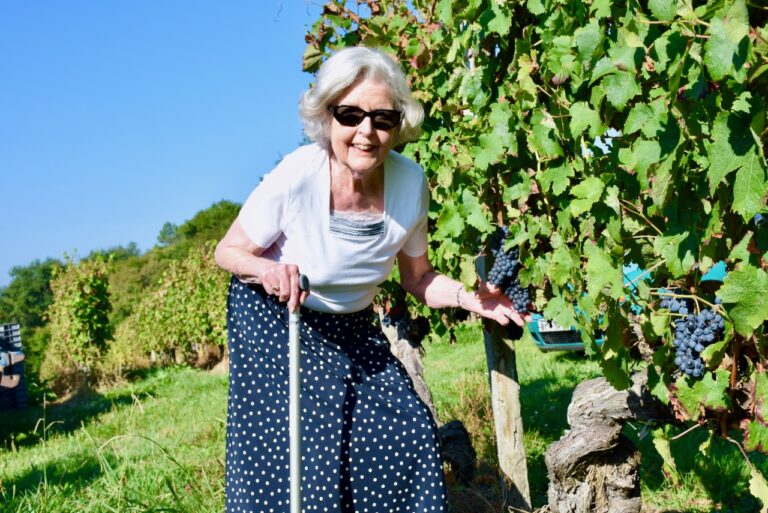 This vine was not quite as old as my mum but not a long way off.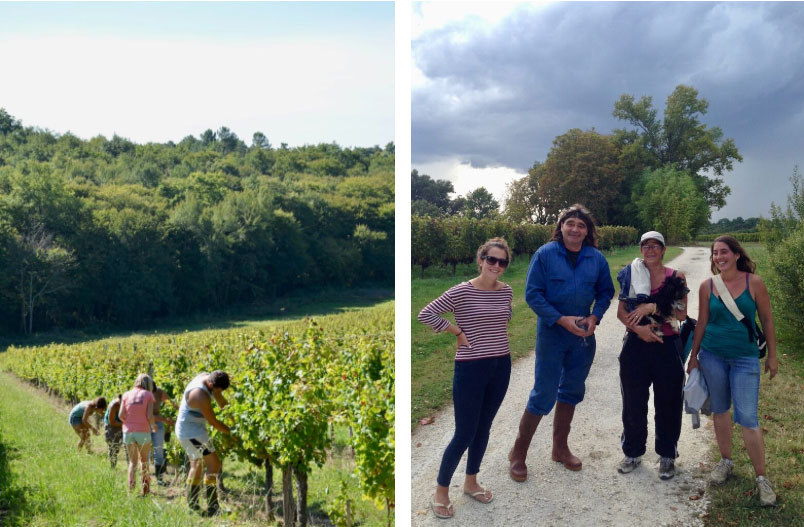 September and early October saved the vintage, really. Sandra and Catty, right, had worked with Daniel in the vineyard for the whole season.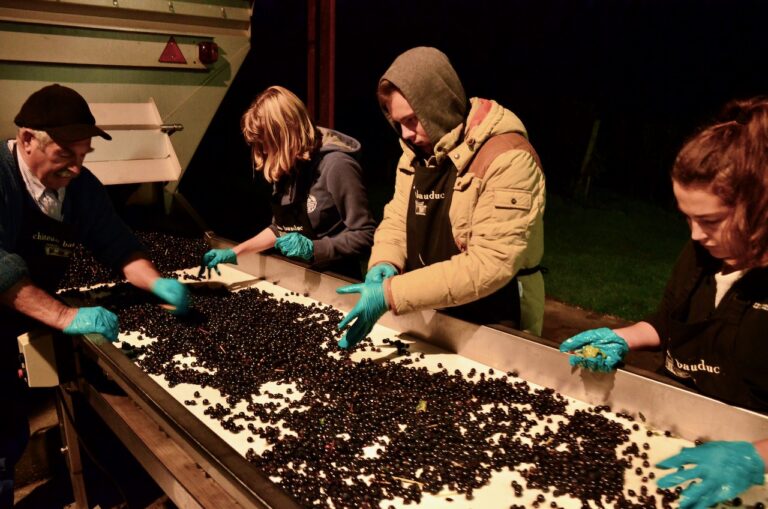 Michel, known as Papi, and Sophie with aspiring winemaker Hugo and our autumn intern Sarah. (Sarah's mother, Jill Chittock, joined her on the sorting table in the top picture.)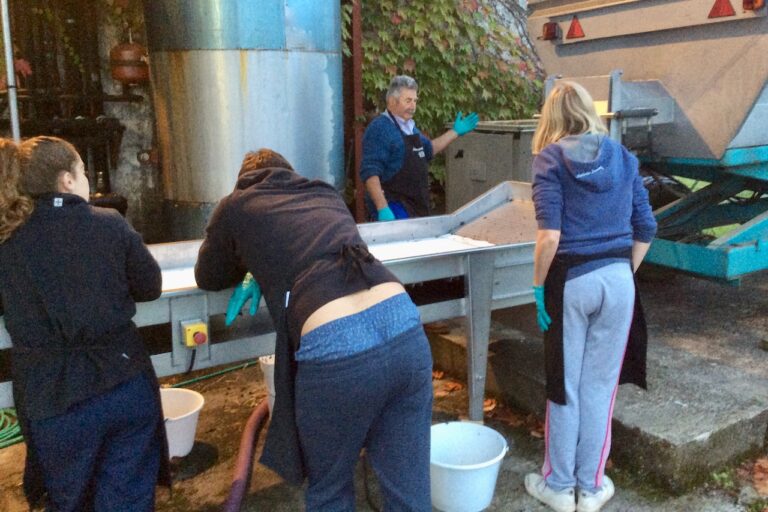 It's sensible to wear layers during the harvest. Hugo brought this approach to new levels.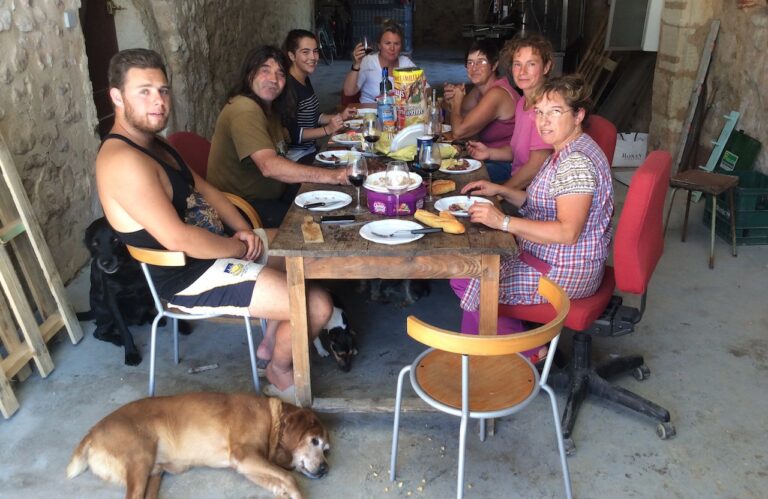 The team of 2014 on a mid harvest break.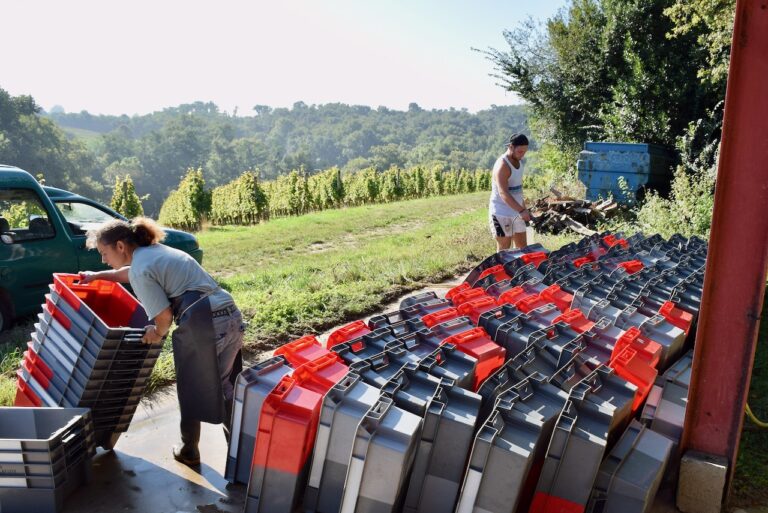 Nelly and Hugo washing down the harvest baskets. Hugo was here for the autumn to learn about making wine.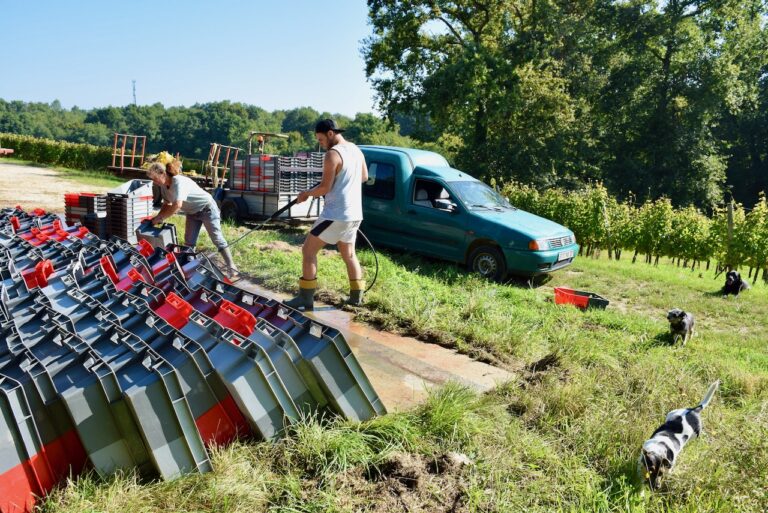 The dogs are never far away.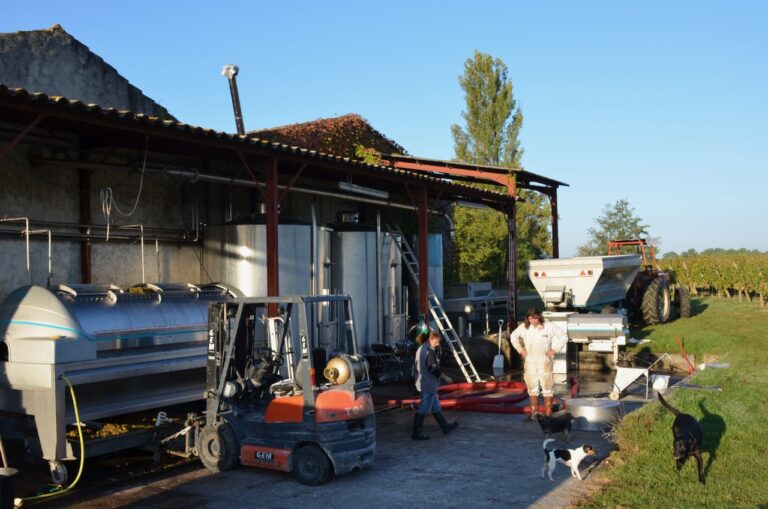 Daniel occasionally sported an all-white jumpsuit that year.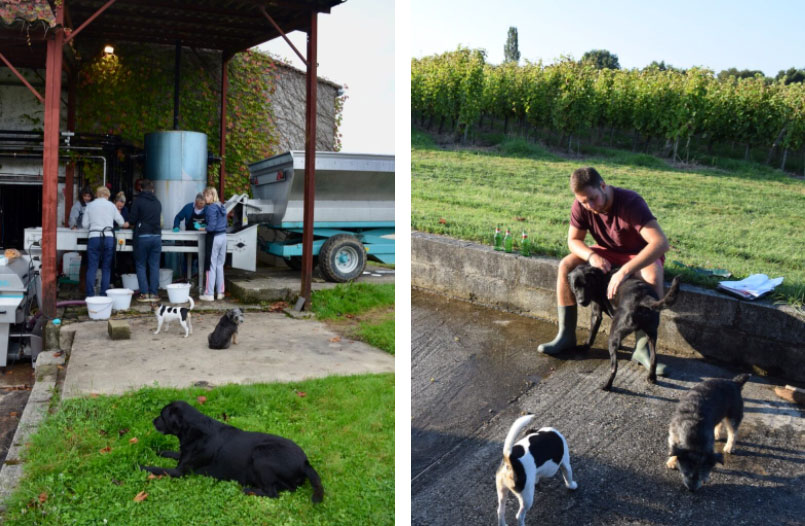 Back then we had our much-loved black lab, Palmer.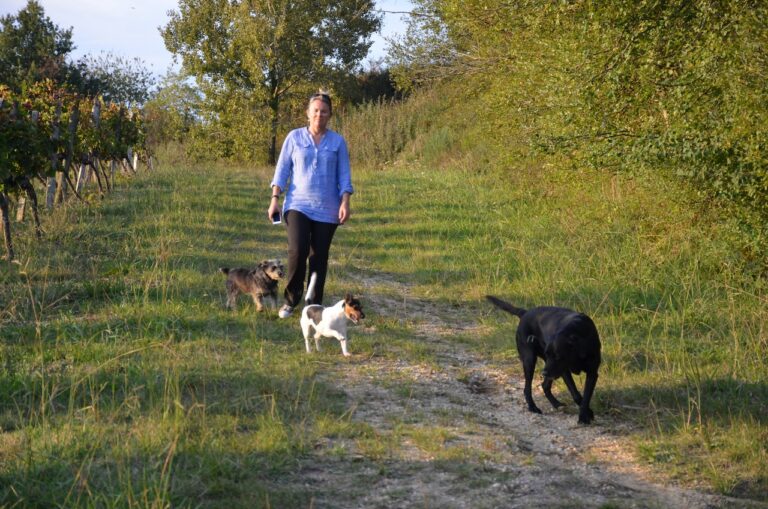 Where Palmer went, Pavie and Margaux followed, and they looked after him.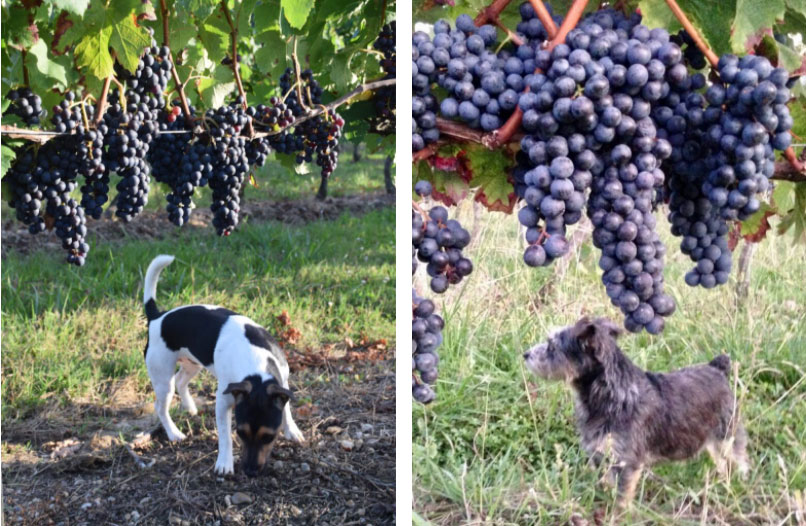 They are most certainly vineyard dogs.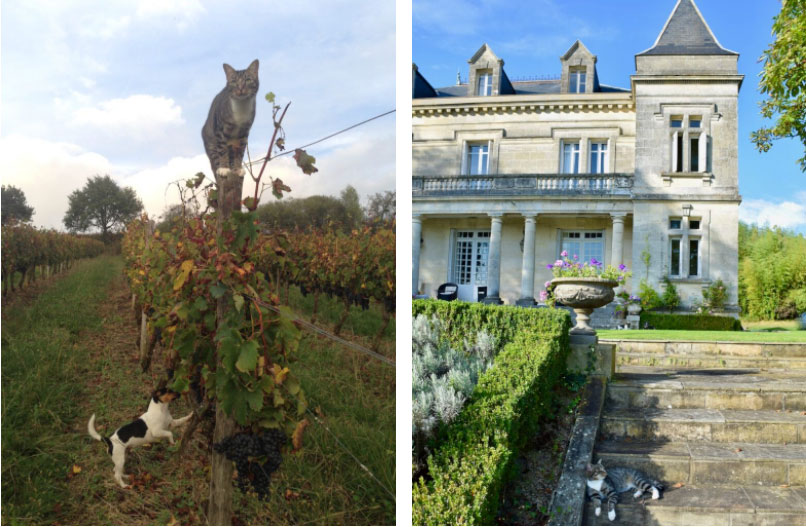 And of course we had Goose the cat. Georgie, our eldest, who was at Bristol Uni for the 2014 red harvest, had insisted that just because the dogs were named after châteaux, an exception could be made for the cat.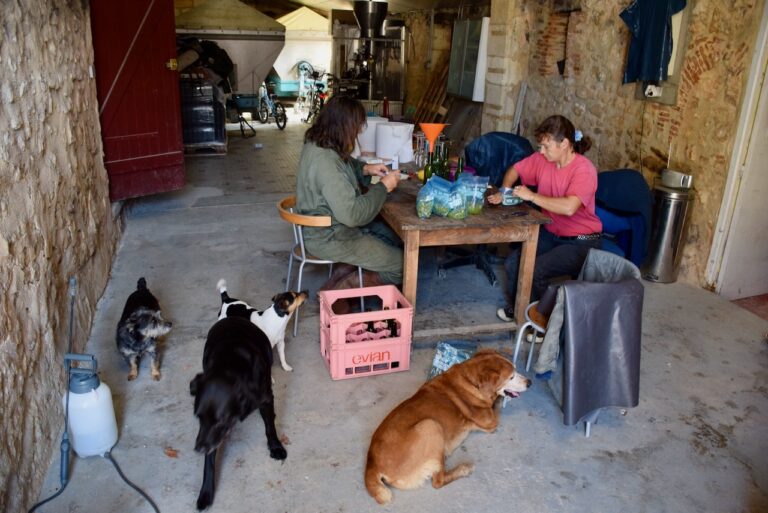 As well as our dogs, Nelly's Caramel was usually on site. Neither Palmer nor Caramel are with us anymore but they lived good lives.
Here Daniel and Nelly were pressing grapes for the juice to be analysed for potential alcohol, acidity, PH and so on.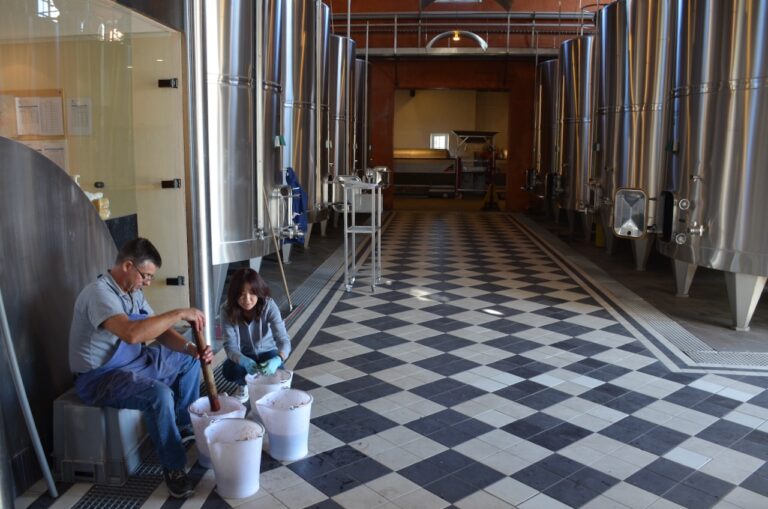 They're doing much the same thing here at Château Léoville-Poyferré in Saint-Julien. The floor looks a little smarter.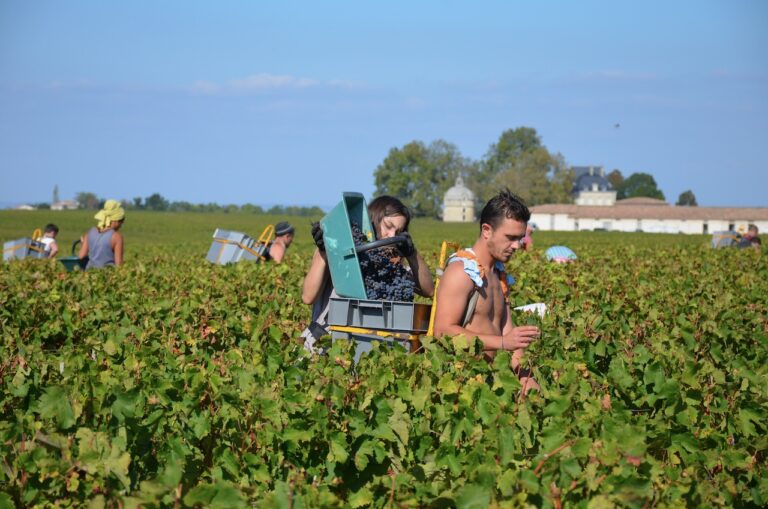 Meanwhile, here's the 2014 harvest at Léoville Poyferré, with Château Latour in the background.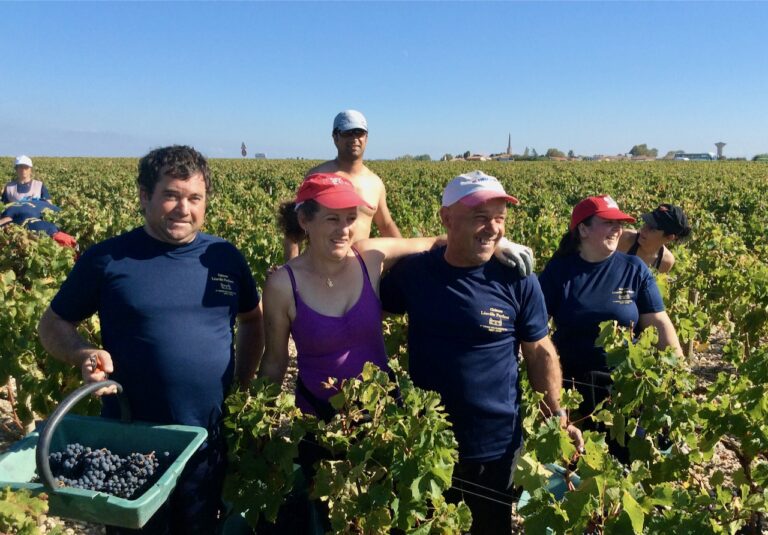 A commemorative t-shirt is definitely a good call. Helpful for vineyard-spotters too, so we don't have to ask daft questions.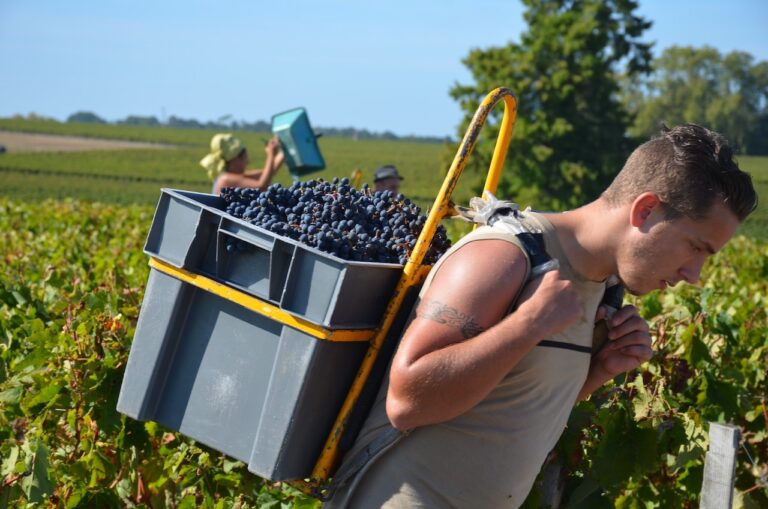 I may have said it before but being a harvest porter is no walk in the park.
Working on the sorting table might look easier but scanning the grapes or bunches on a vibrating conveyor all day can make you squiffy.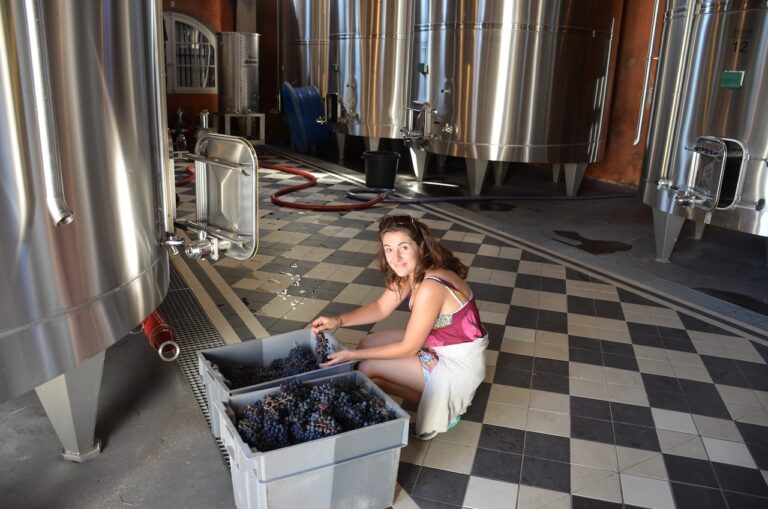 Also staying during the red harvest was our former summer au pair Lucy, who by now was working in sales for a good friend of ours in the wine trade in London.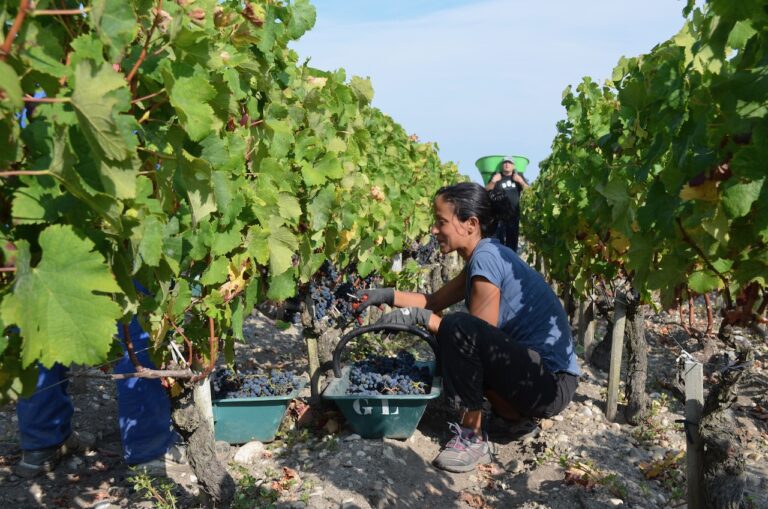 This was also in Saint-Julien, at Château Gruaud Larose.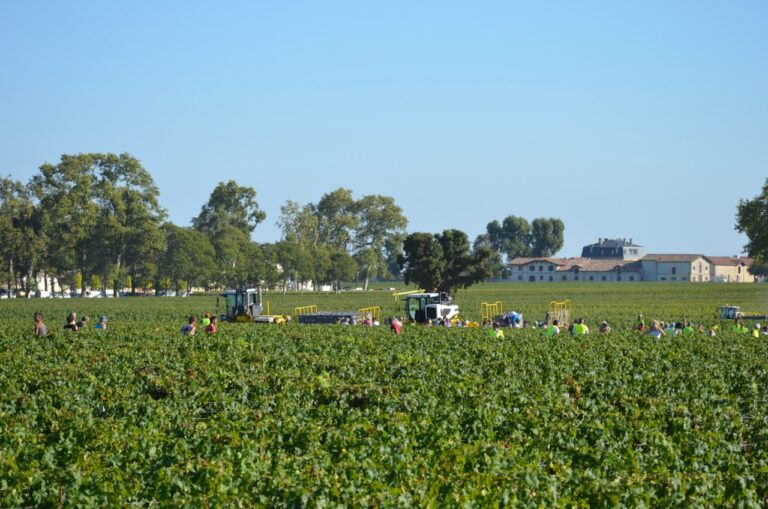 In Pauillac nearby, here are the pickers at Château Mouton Rothschild, with Château Pontet Canet beyond.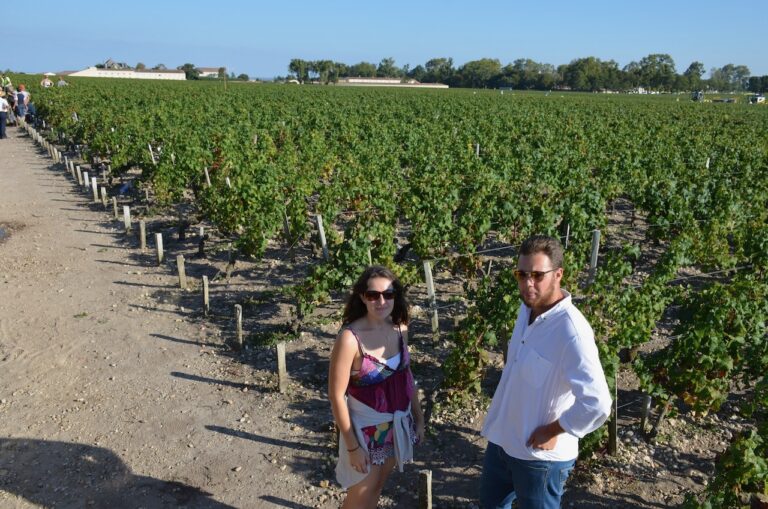 Miss Lucy Rutledge and Mr Hugo Barkshire thinking it's a bit odd that I've climbed up onto a trailer. (Always ask permission before doing so.)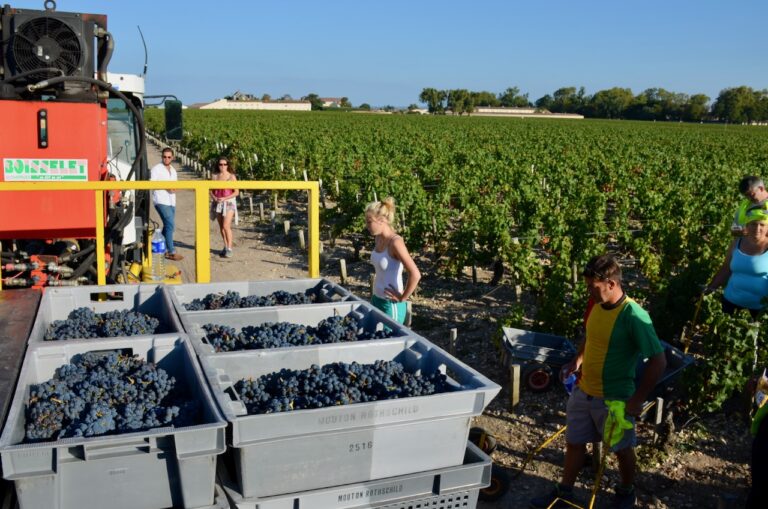 Every château has its own way of collecting the grapes.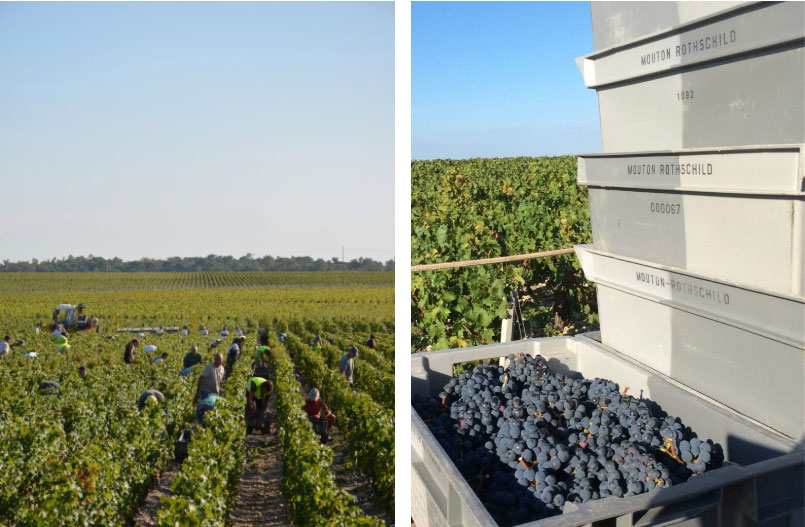 2014 is one of those underrated vintages, I think. It was especially good in Pauillac, Saint-Julien and Saint-Estèphe, but there's quality to be found across Bordeaux.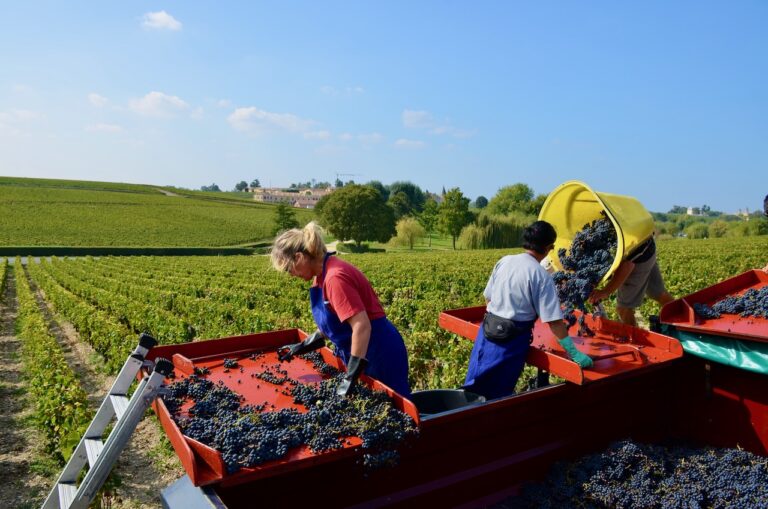 Château Lafite Rothschild 2014.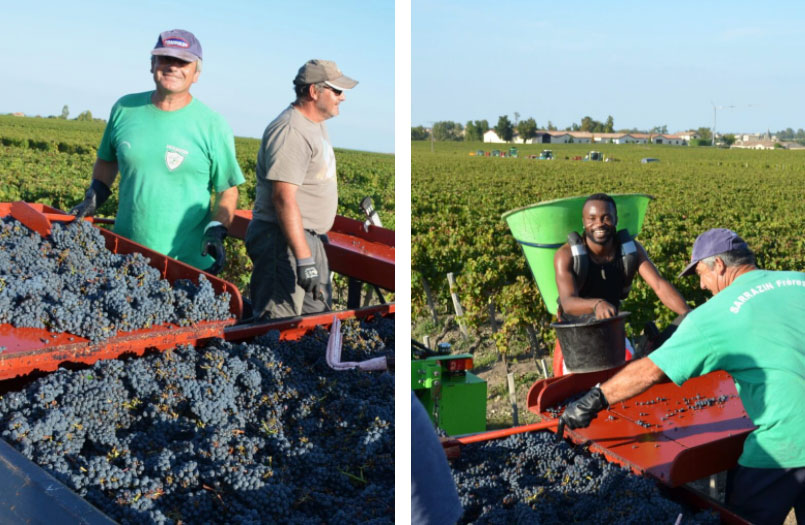 Sunshine isn't just good for the grapes. Everyone's happier.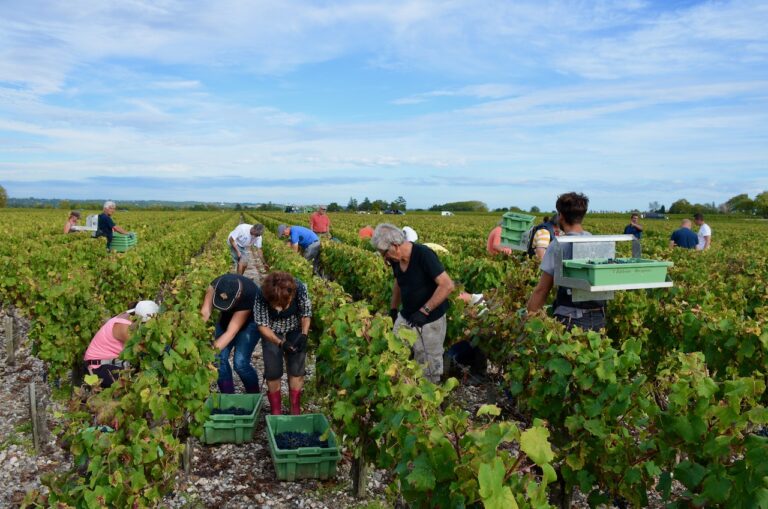 While we're on the First Growths, this is Château Margaux. The name of the château is printed in gold on the side of the basket crate, or cagette. As you do.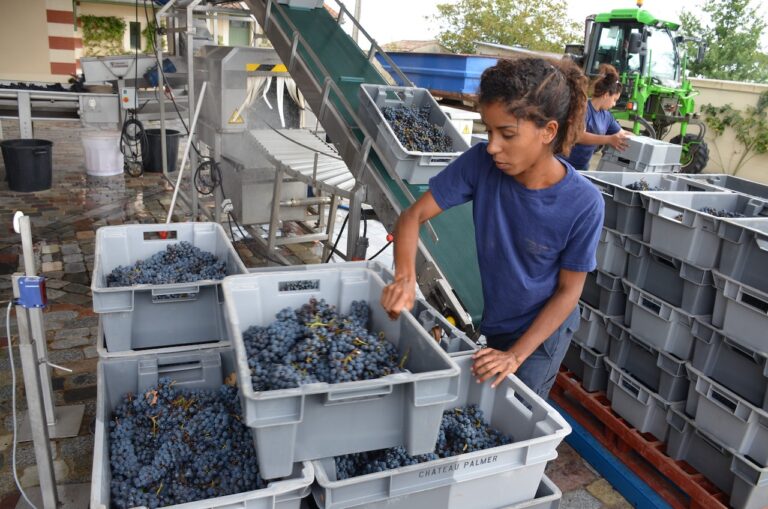 Next door at Château Palmer.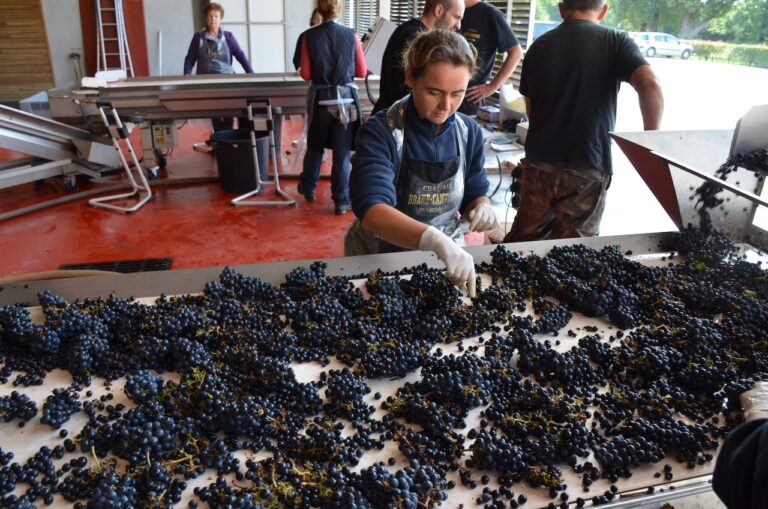 Just down the road, and also one of the leading wines in the Margaux appellation, is Château Brane Cantenac.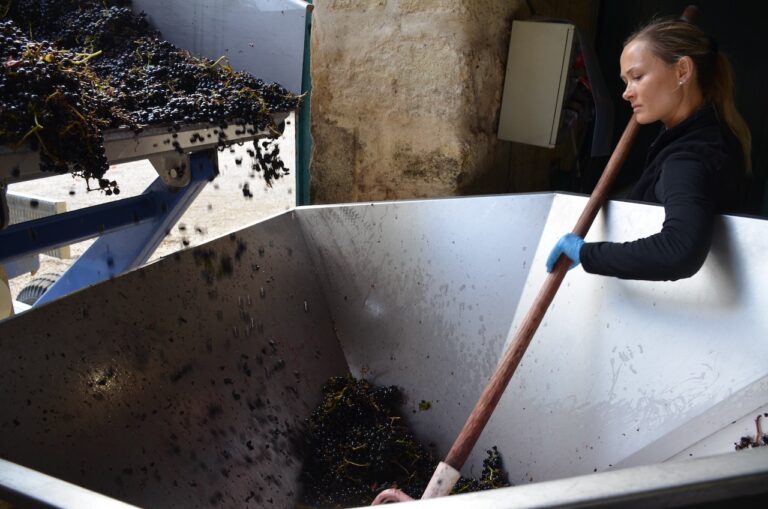 Lovely wines too at Château Kirwan. (Especially now they've built a new winery since this picture was taken.)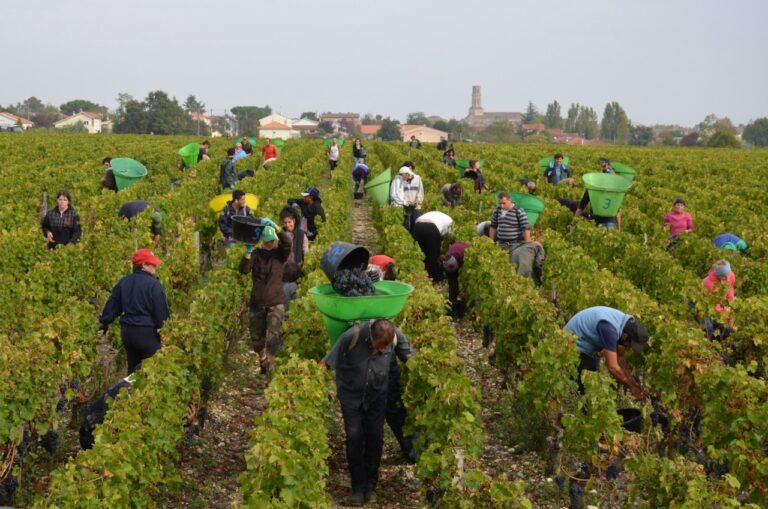 On a gloomier October day, this is the harvest at Château Lynch Bages in Pauillac.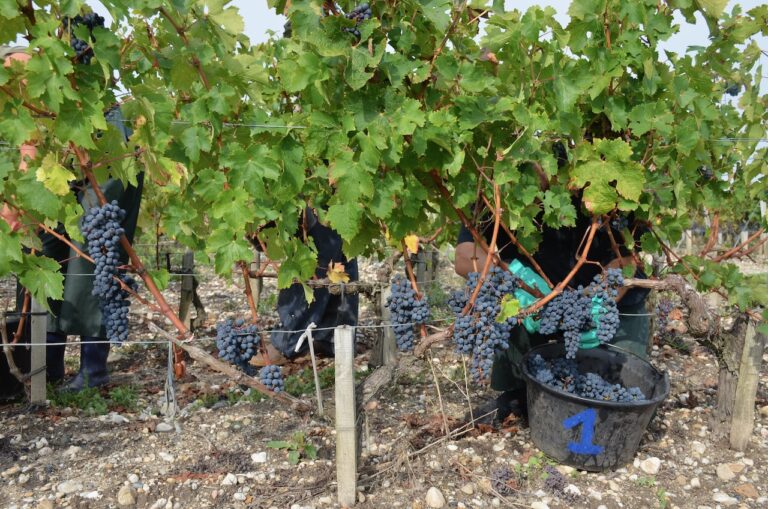 Cabernet Sauvignon grapes in fine shape on some very decent terroir.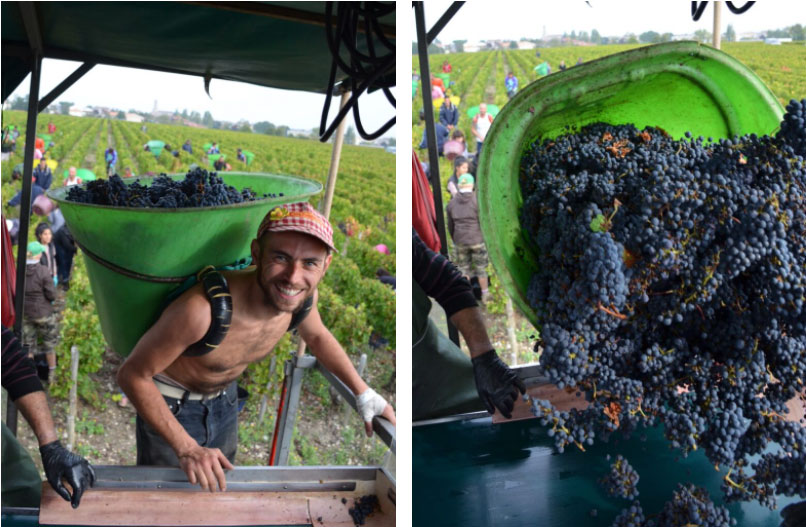 Warm work, even if, to be honest, most of us would be more comfortable in a t-shirt. It also takes skill and technique to tip a full load properly, time after time.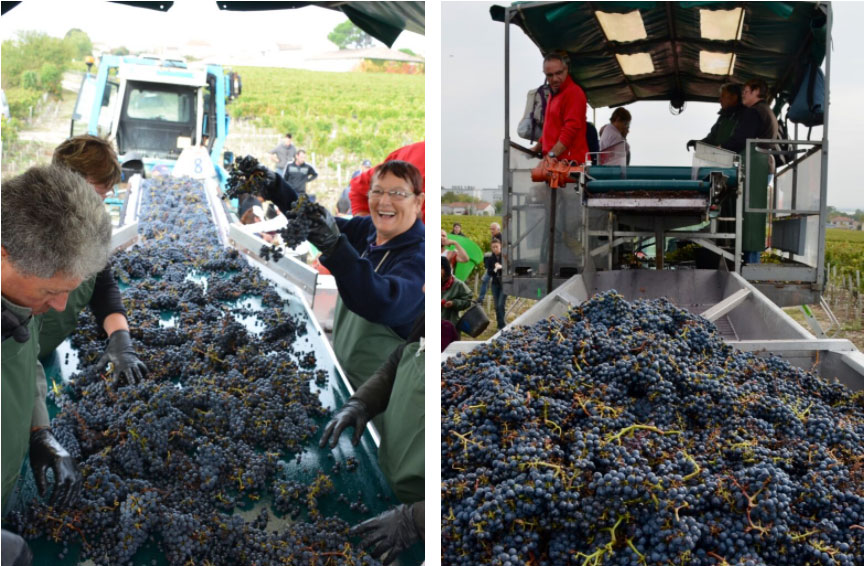 Like Lafite (and Léoville Las Cases) they use a mobile outside sorting table for the bunches at Lynch Bages. After that, an optical scanner in the winery after de-stemming. A new winery should be ready soon, by the way.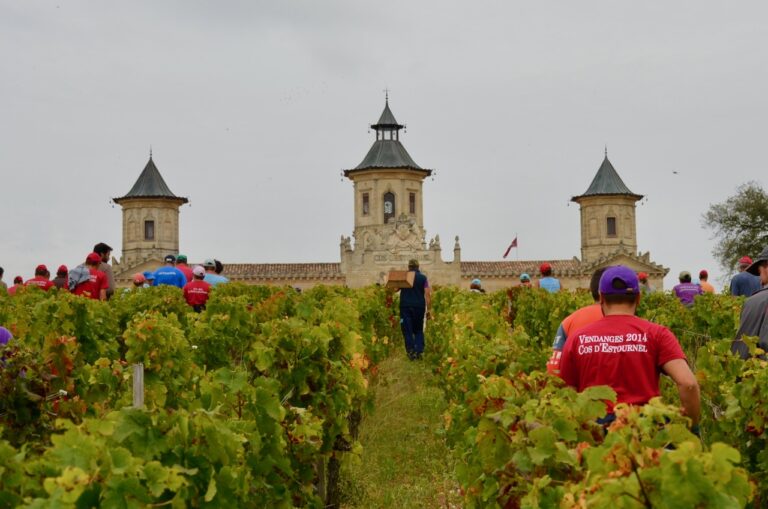 The main reason for the trip on this Friday in October (after we'd finished up at Bauduc) was to go to Château Cos d'Estournel. It was the last day of their harvest.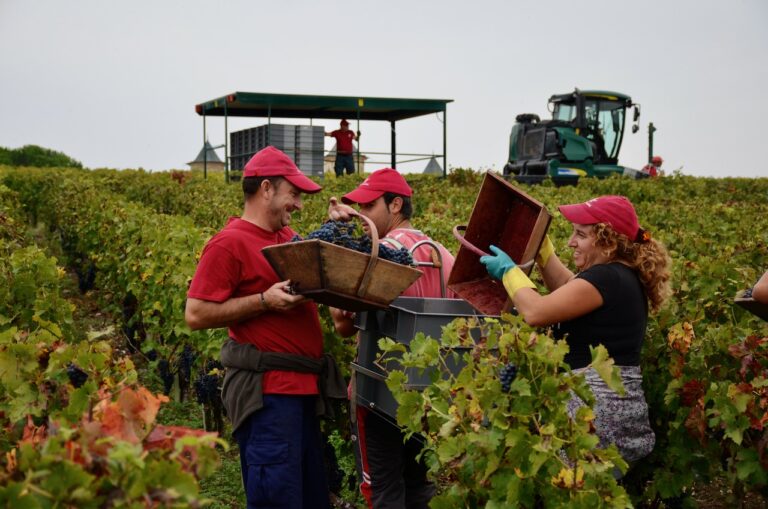 I'd actually arranged for a BBC television crew to go and film there for a programme by Robert Peston, who was the economics editor for the BBC back then. The working title was 'France with Robert Peston'.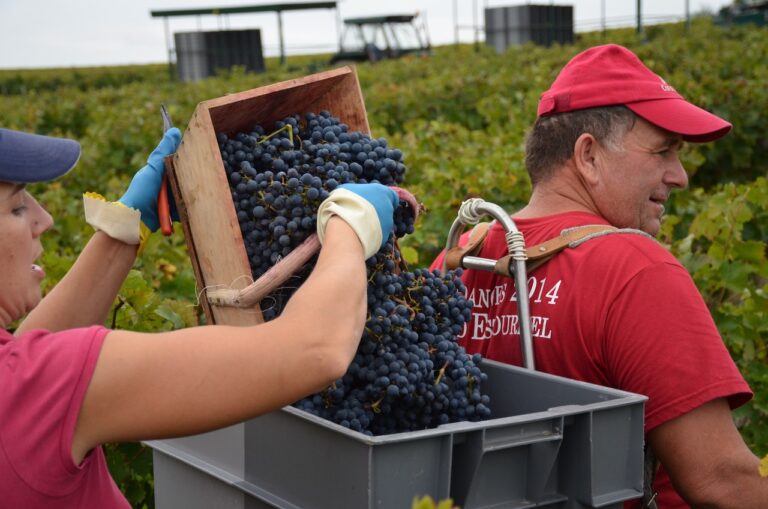 The producer had got in touch and come to Bauduc a few weeks earlier to plan this phase of the trip.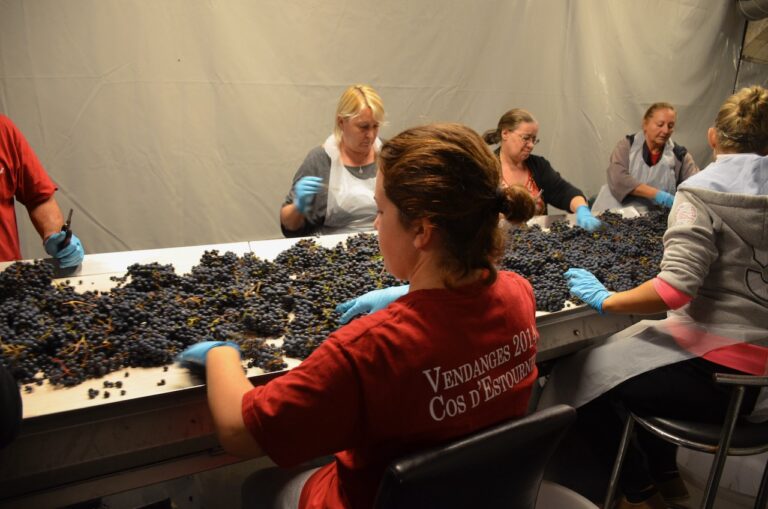 The château's owner, Michel Reybier, and his MD, the wonderfully named Aymeric de Gironde, had kindly agreed. Although it might seem obvious that a Bordeaux château would want the publicity, it's by no means always the case. The sorting tables at Cos, for example, are rarely seen by any outsiders.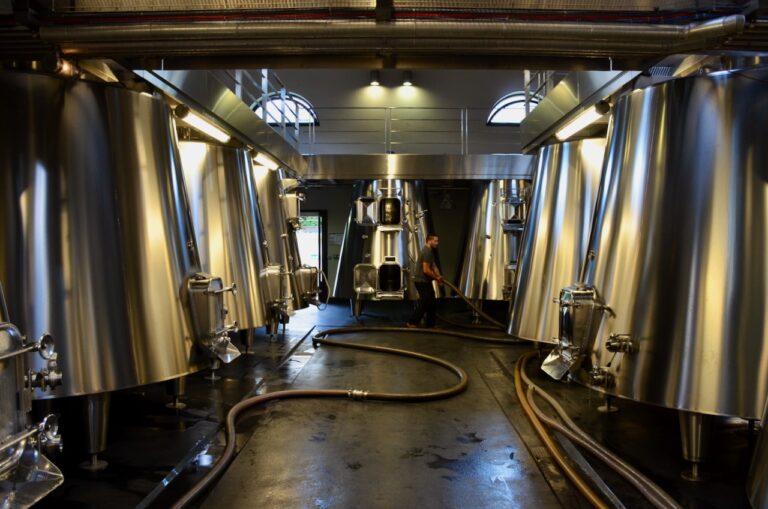 The kind people at Cos had agreed to let us film the harvest. It would have made good television but, unfortunately, the producer cancelled the day before.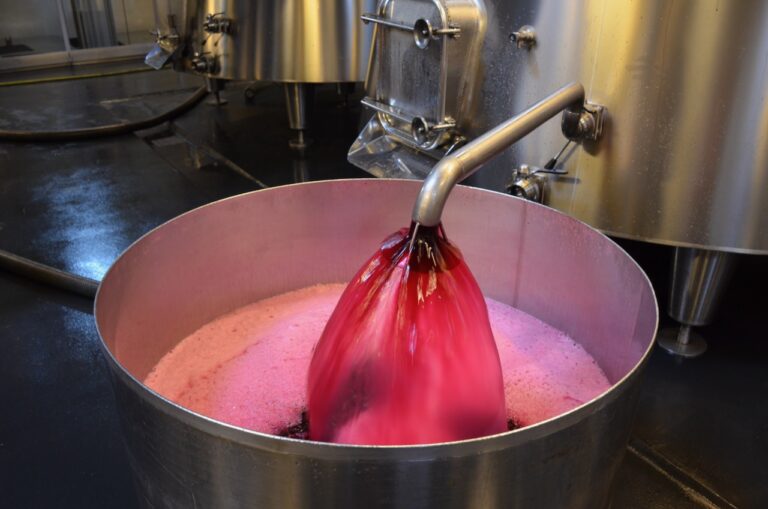 'Pity the project fell apart at the last minute but not to worry' I texted. 'Bit miffed that we spent quite a bit of time on it and used my best contacts. Still, that's life in the media I guess.'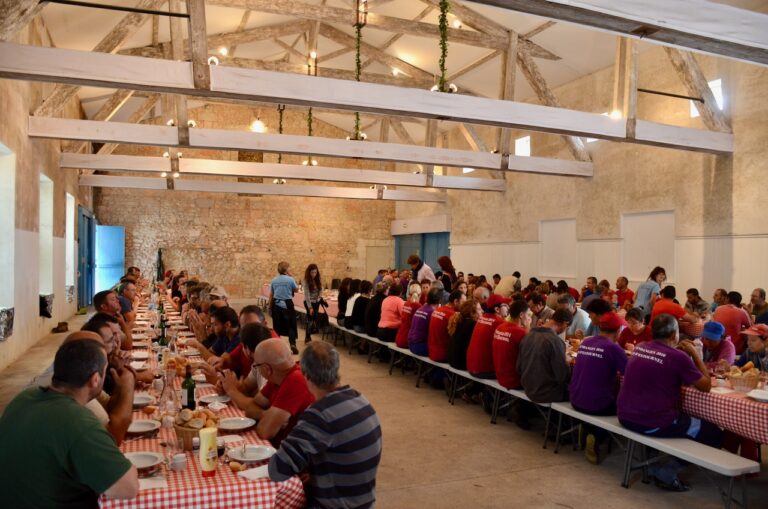 'Very sorry' came the reply. 'But a couple of key sequences have fallen away and need to keep budget for replacements… Thanks again for all your help and apologies it didn't work out.'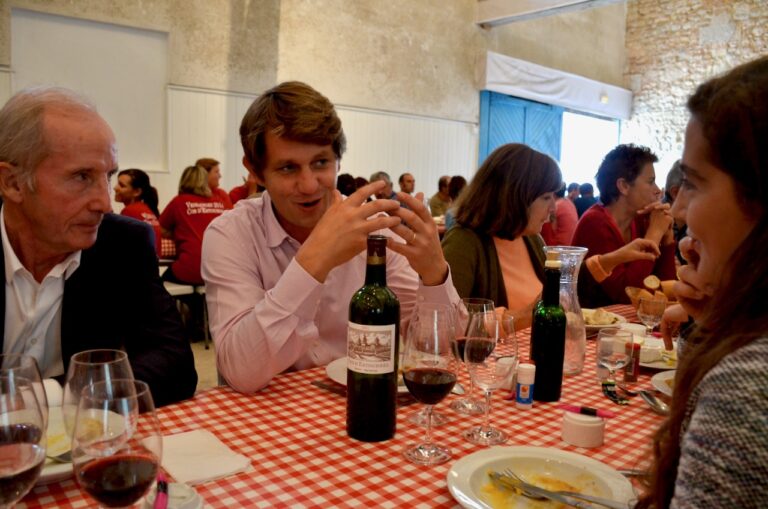 Monsieur Reybier, left, and Aymeric, centre, brushed it aside. 'Of course you should still come and join us' Aymeric said, and they couldn't have been more welcoming. Our Erasmus intern Sarah, right, took Peston's place at the harvest lunch.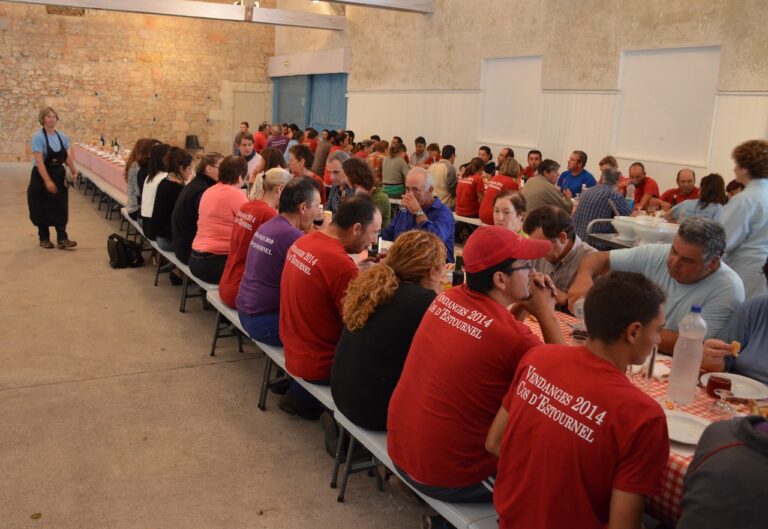 In the end, it was the best thing to have happened. The programme, which was shown on BBC2 the following March in 2015, had a new prefix. It was called, quite literally, 'Quelle catastrophe! France with Robert Peston.'
That might not have gone down too well in Saint-Estèphe.
As an aside, here's the link to Peston's article on the show and, my word, how things haven't turned out the way he imagined: 'Watch my BBC Two documentary on perhaps the most important manifestation of popular discontent within the EU and eurozone, namely the rise and rise of the Front National in France (the film is called "Quelle Catastrophe! France with Robert Peston").
'The film does two things – it examines why the French economy has been in the doldrums for so long, in spite of having first class infrastructure and some great businesses; and it shines a light on the phenomenon known as Marine le Pen.
'Arguably, she is the most important opposition politician in Europe, who has the potential to affect the way of life of all of us.'
Arguably indeed.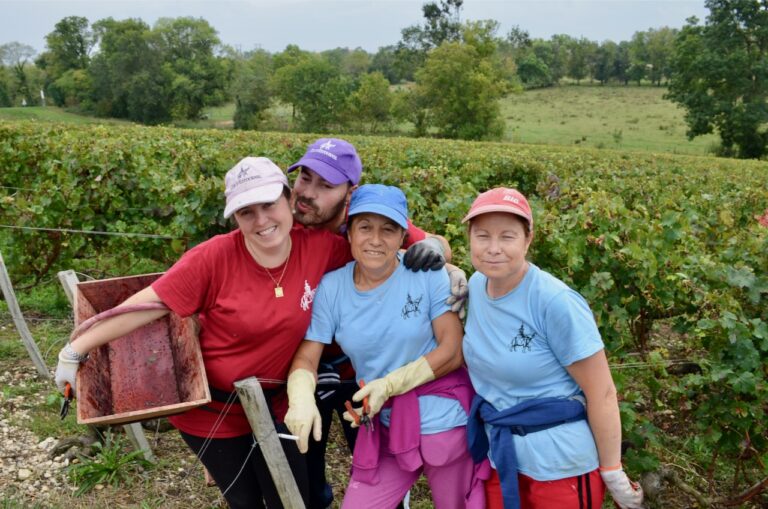 The lunch went down well.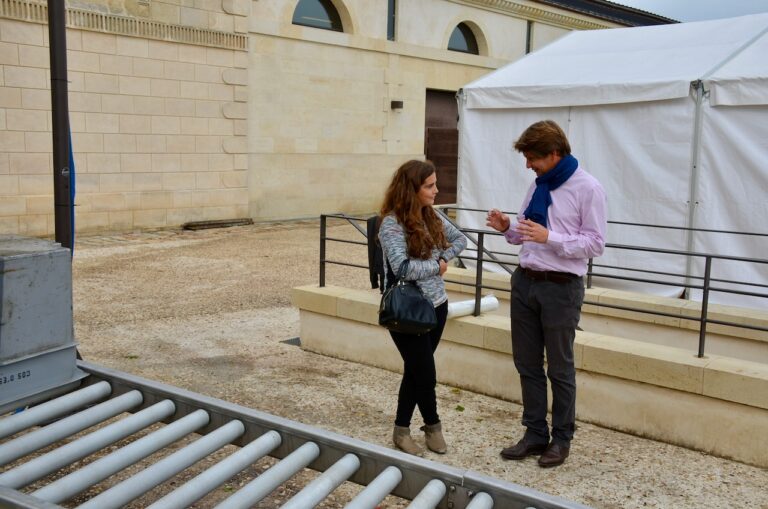 Aymeric chatting with Sarah. He's now head honcho at Château Troplong Mondot in Saint-Émilion, where he's managing a huge renovation project, as well as the day job of running the place.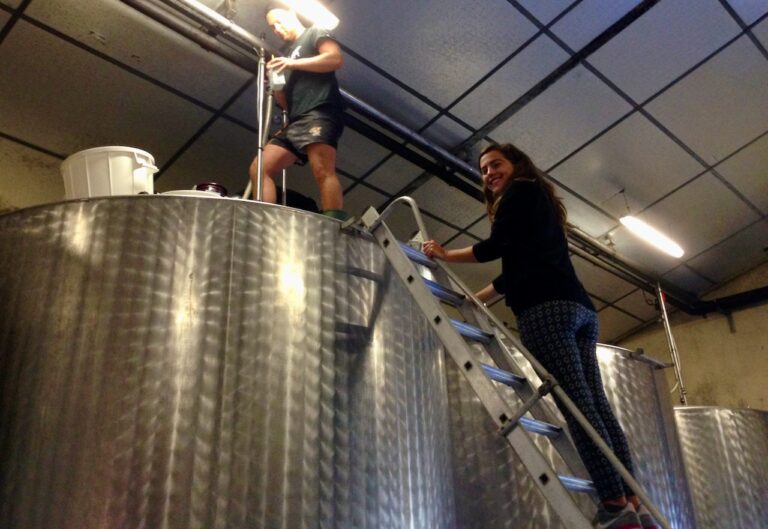 Back to Bauduc for Sarah before another harvest excursion. Sarah was studying French at Oxford and she came to Bordeaux, and Bauduc, for her Erasmus year abroad.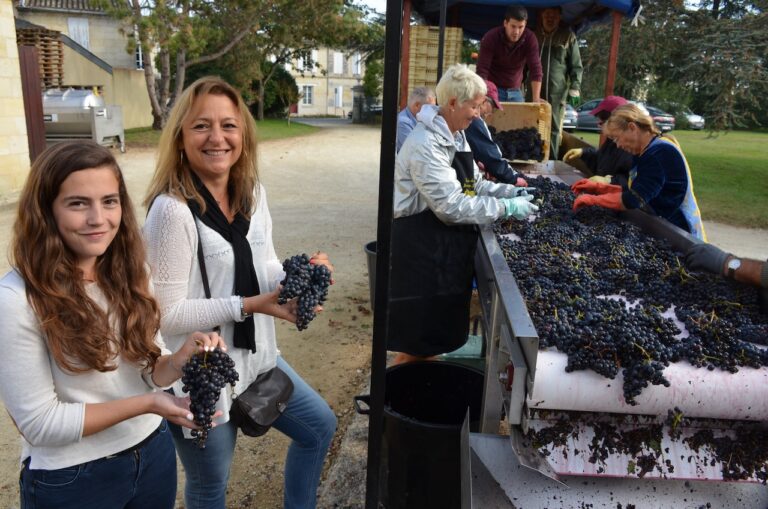 Sarah and Dominique, who also worked at Bauduc during the summer of 2014 as part of a course. This was at Château La Croix in Catusseau, Pomerol.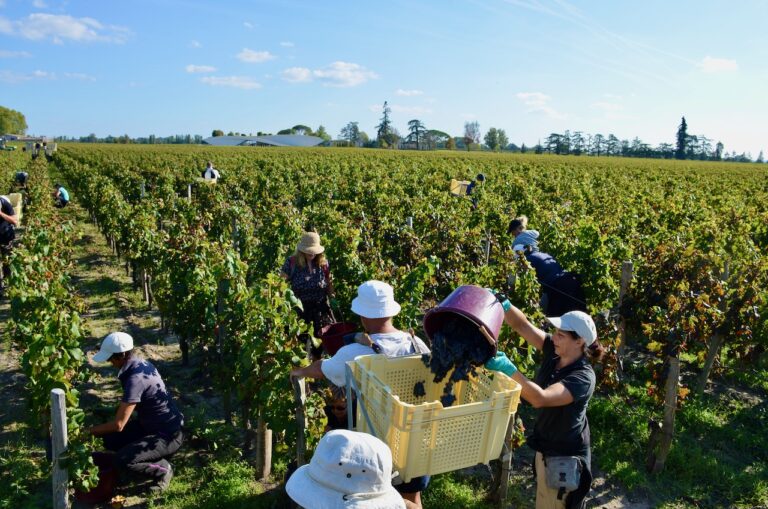 Just over the road they were harvesting at Château Cheval Blanc. The spectacular modern winery is the background.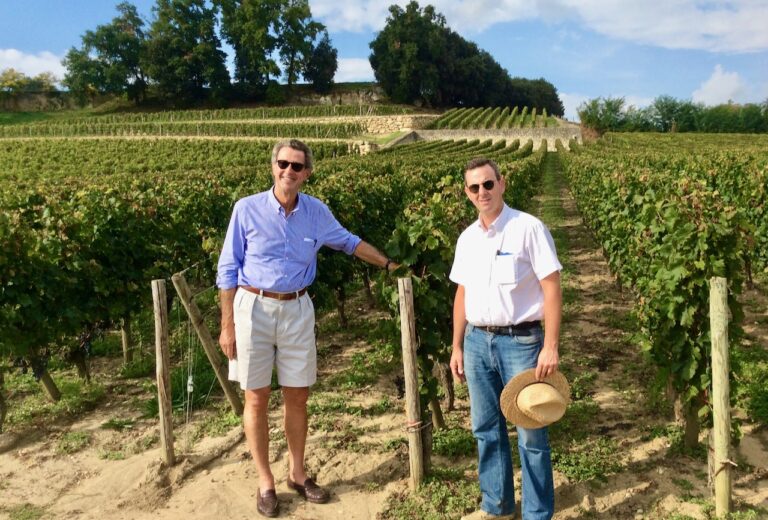 Also in Saint-Émilion, I bumped into Christian Moueix, left, at Château Belair Monange, with his vineyard manager in early October. "It's a good vintage – very good in fact" he said, speaking mainly of his Pomerols at the time. "And a miracle compared to what we thought at the end of August."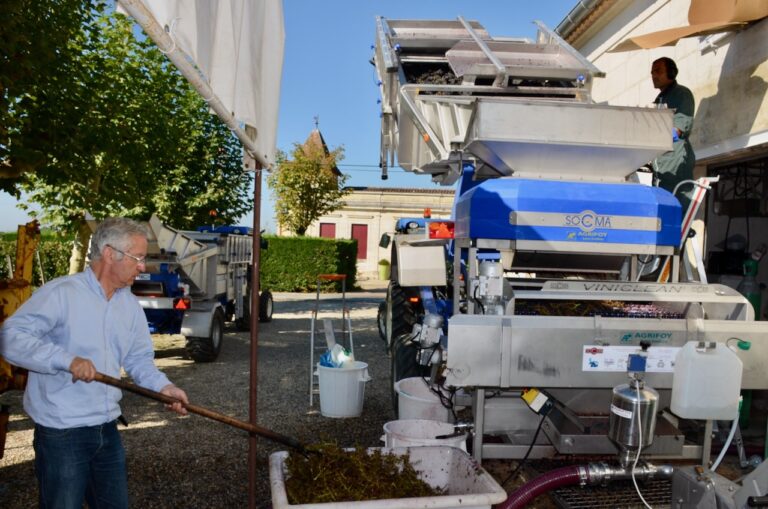 Yields were pretty good. 'Les cuves sont pleines' said Denis Durantou at l'Eglise Clinet.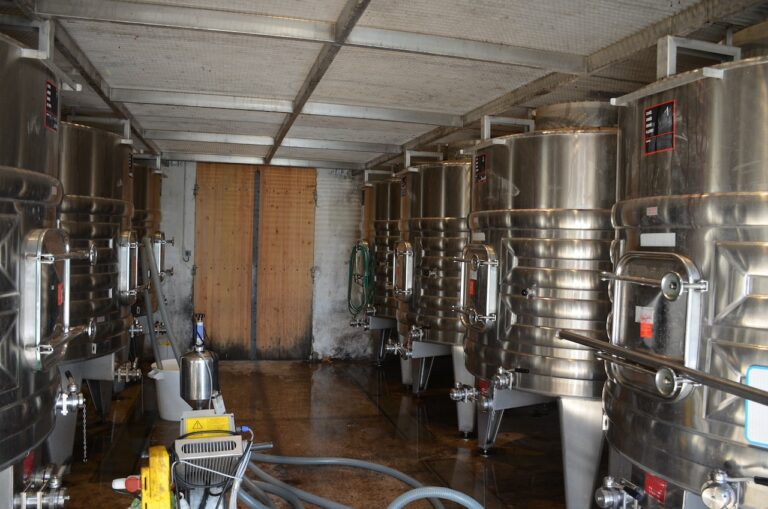 'The tanks are full.' They're not big tanks there, mind.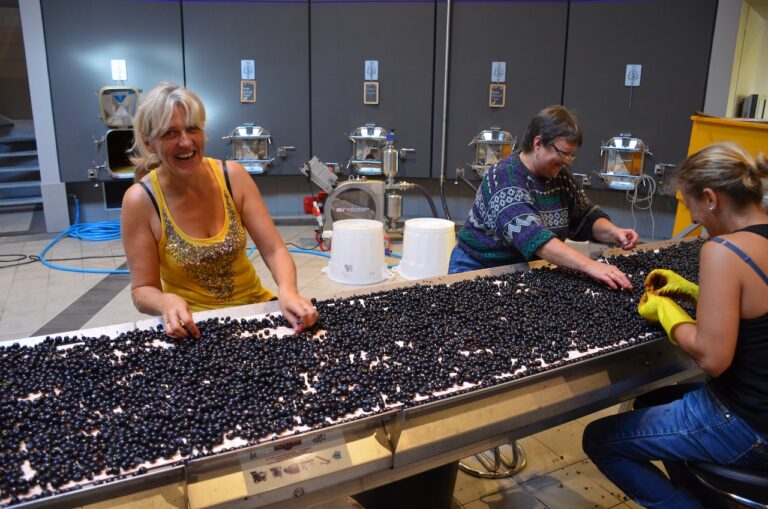 The sorting table – after the de-stemmer – inside the winery at Château La Conseillante, Pomerol.
Things you don't often see. A harvest lady at Château Rouget in Pomerol, balancing a bucket of grapes on her head. And the wine being made at Petrus.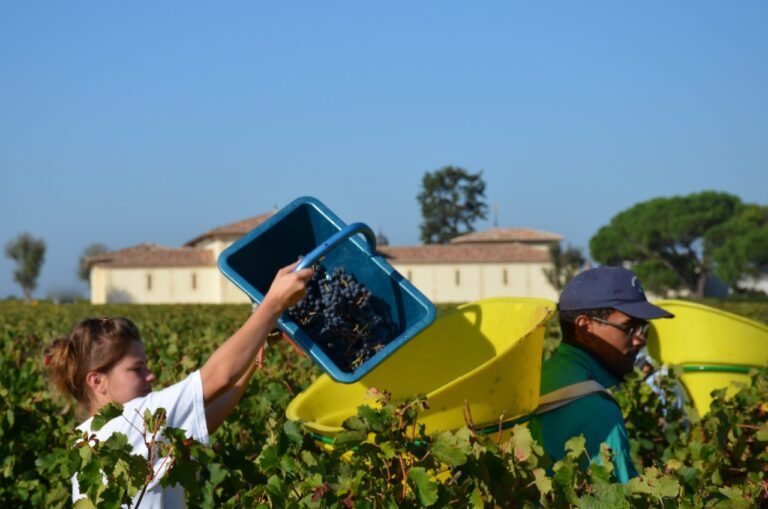 The harvest at Petrus, 3 October 2014.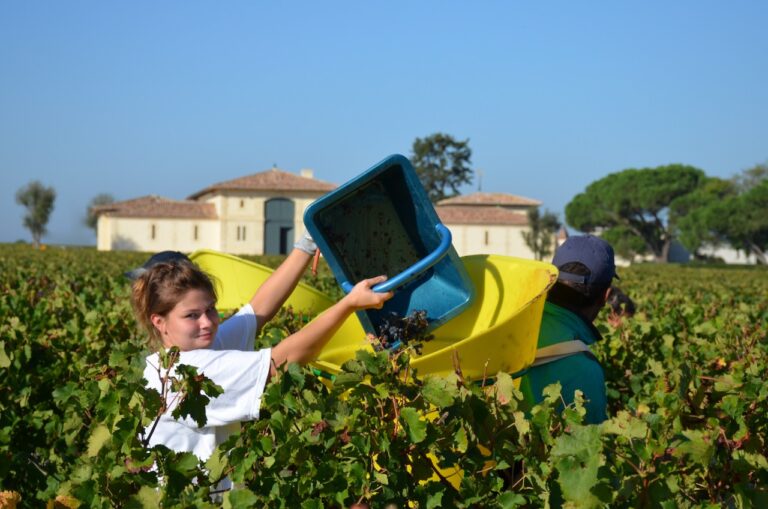 I couldn't decide which photo is best.
The 2014 Merlot crop at Petrus. The value of this lot doesn't bear thinking about.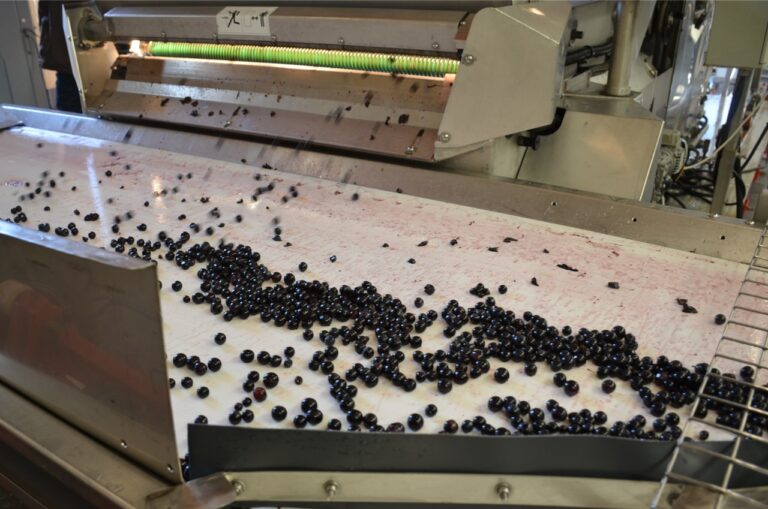 The grapes after the de-stemmer and optical sorter.
It was a rare treat for Lucy to meet Jean-Claude Berrouet, who had been the winemaker at Petrus for 44 vintages, starting with 1964. 'Every year has been different. No two years have been the same but I do think this year will produce elegant, classical wines. They should suit the British.'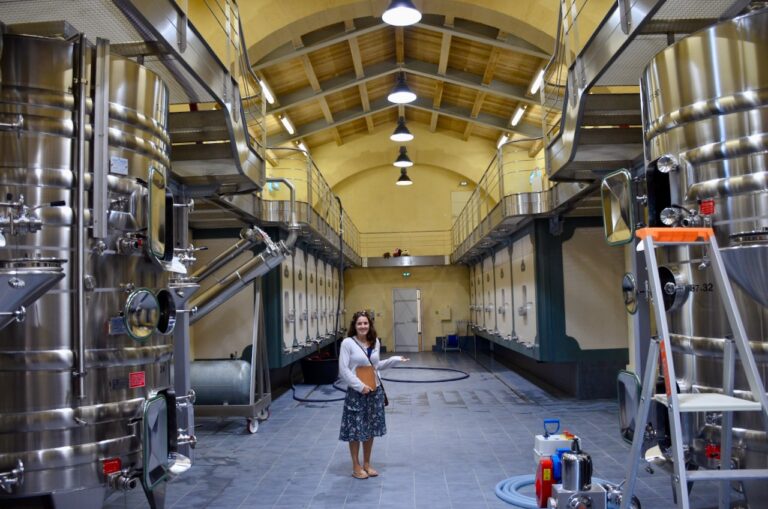 Lucy inside the winery at Petrus.
A 3-bottle case of the 2014 is on sale at Wilkinson Vintners in London for £5,350 plus duty and VAT. Contact Paul Bowker there if interested (Paul's been buying our red at home for years, especially in magnums).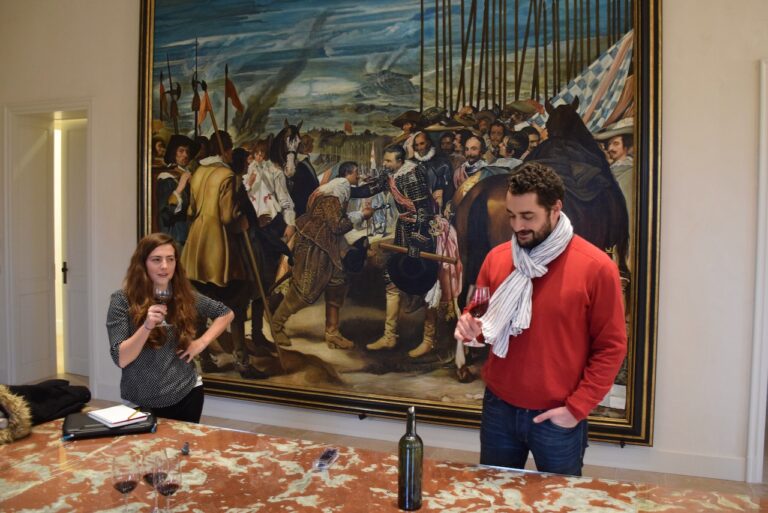 Sarah wasn't to miss out as we returned to Petrus after the harvest. Jean-Claude Berrouet had joked that he is better known these days, since his retirement, for being the father of the current winemaker, Olivier (above).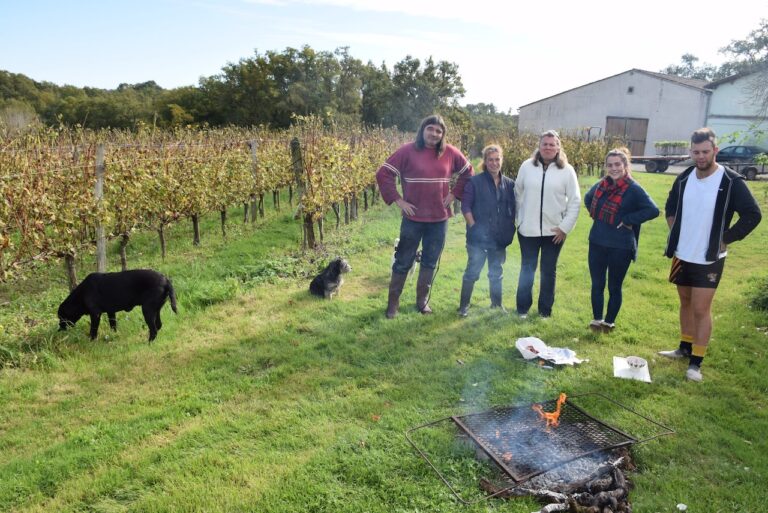 Back in the real world and pushing the boat out for Hugo's birthday lunch at the start of November. Entrecôte cooked on the vines.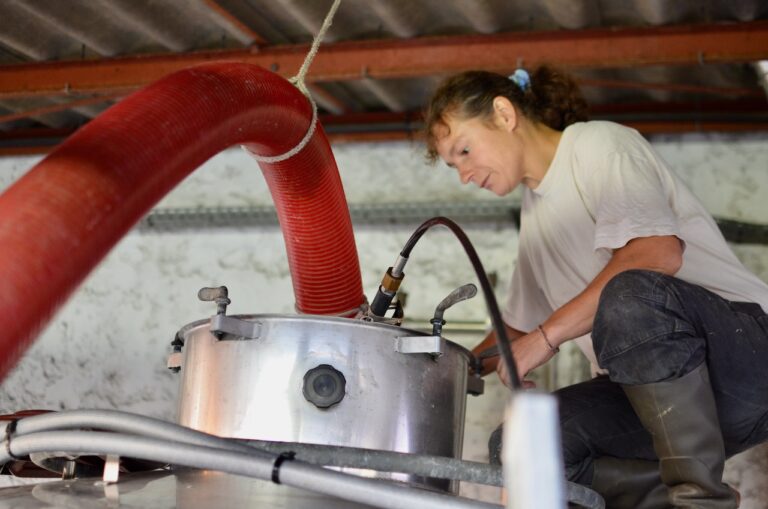 And the wine? All that remained was to make the stuff. Nelly on a tank.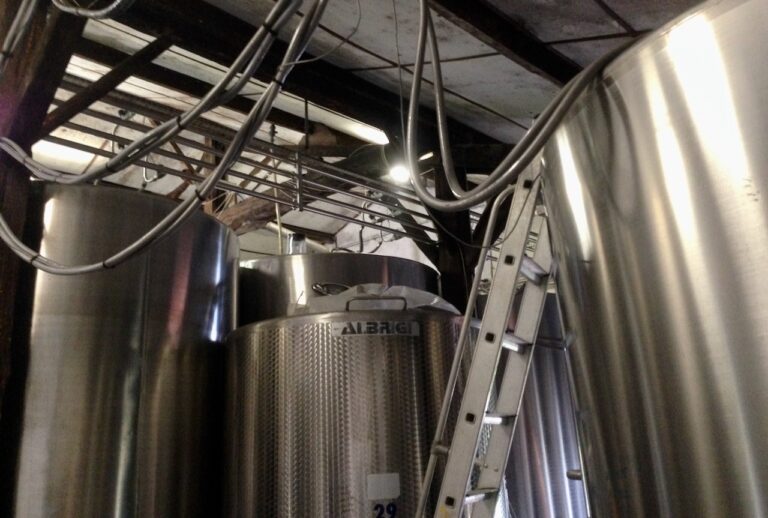 We have 30 stainless steel cuves at Bauduc. Having managed a long post on Bordeaux without showing a single oak barrel, I'll keep it that way.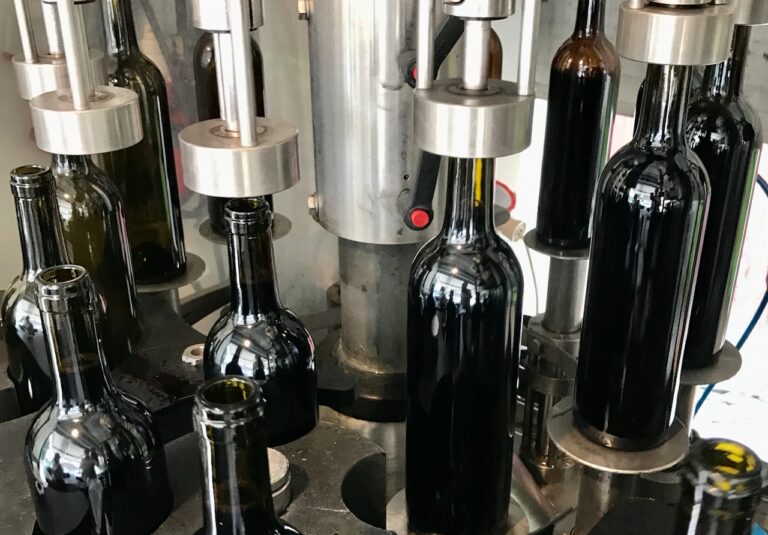 And later comes the 'mis en bouteille au château'.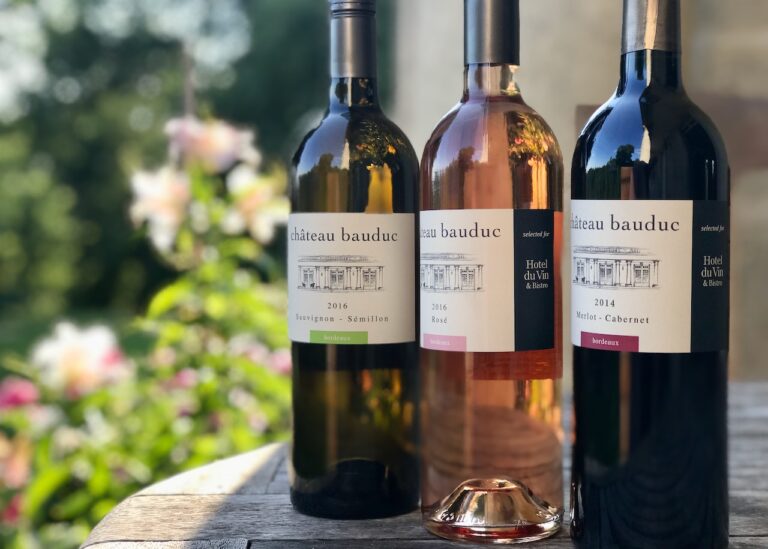 And the labelling. The 2014 was the premium house red at Hotel du Vin in the UK for several years, partly as there'd been so little of the 2013.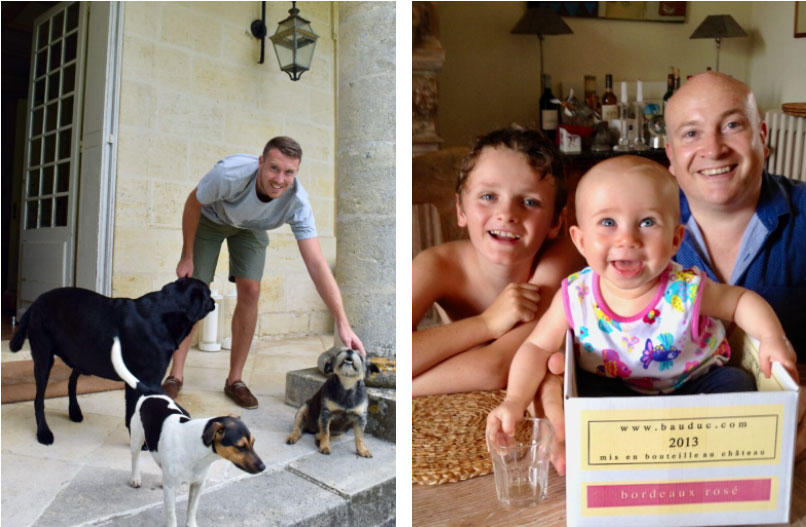 And then we have to sell the stuff. Phil Sharman, who's looked after our website for over a decade, came over from Surrey with his wife Hannah in 2014. They'll be back with their two small children soon, we hope. And our friend Ronan Sayburn MS, king of the on-trade, with his little girl, Maria, and our Tom in 2014.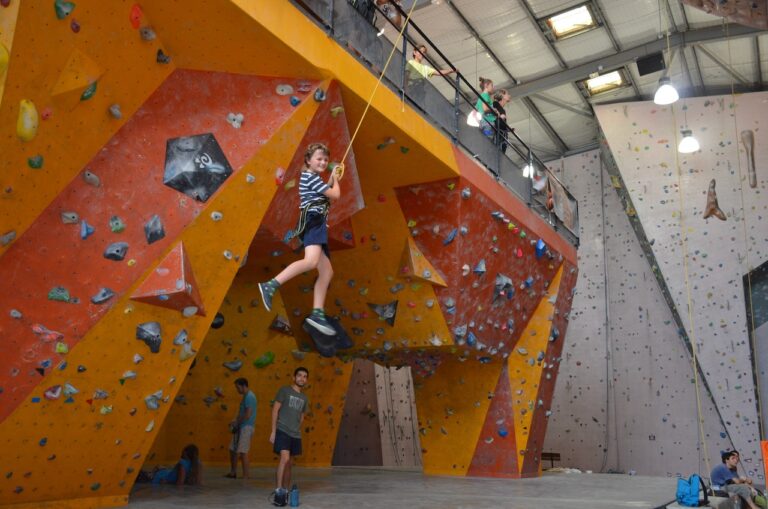 And Tom did have his birthday outing with some friends after all, even if it was postponed for a week due to the harvest.
Thanks to his mum.
---
All our harvest updates and newsletters are on Gavin's blog.
You can see pics of this harvest and more in our Bauduc photo albums.