Posted by Gavin Quinney on 23rd Sep 2020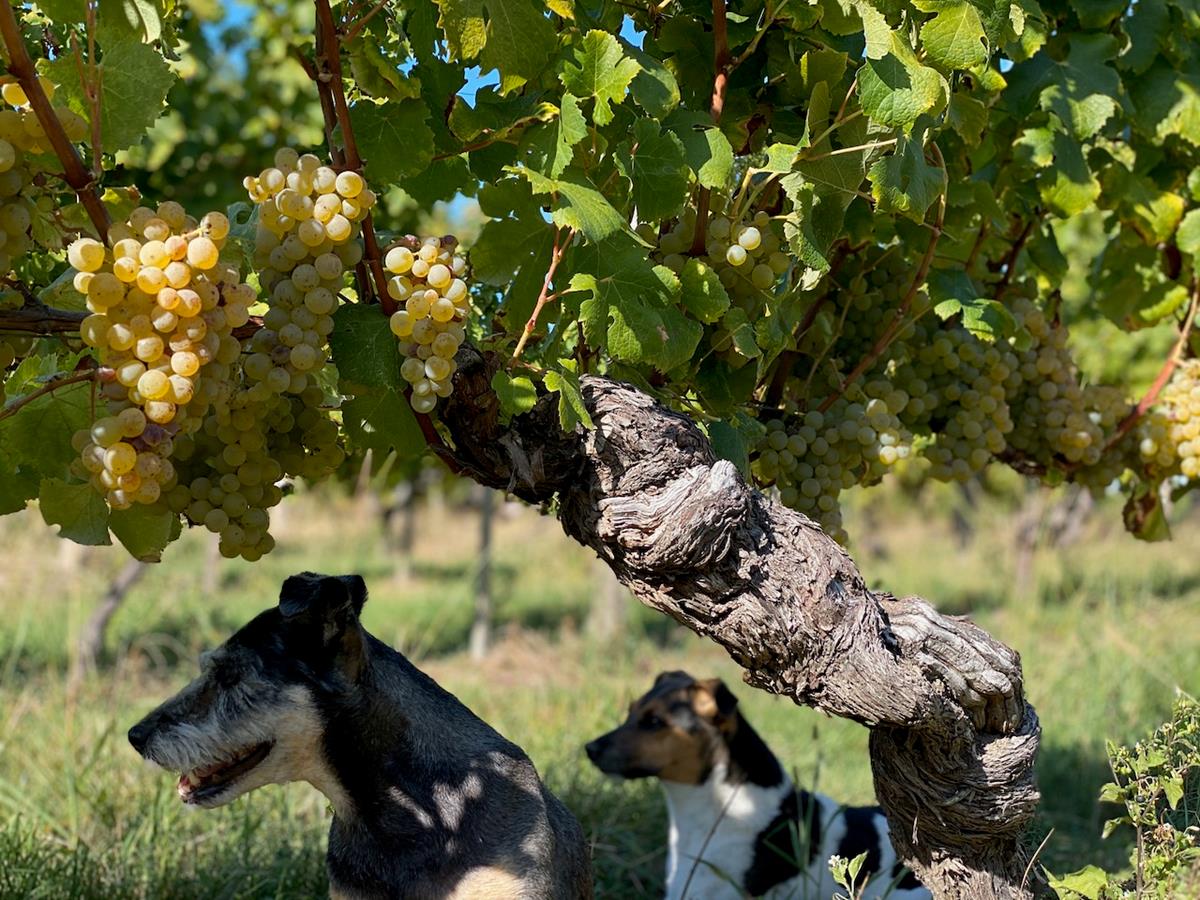 We're onto our red harvest now - for making red - having completed the whites, and the reds for the rosé. Those wines, née juices, are all fermenting away in our stainless steel cuves.
Before we get onto the red both here at home and across Bordeaux - we'll save all that for next week - we didn't want to overlook our venerable old white vines in Les Trois Hectares. You may not have seen them before.
Les Trois Hectares blanc 2019 is available in the UK (and from the château), though the 2018 has now sold out. The 2019 is a delicious drop and do try it with its excellent 2017 red counterpart. Two fine six-packs, and delivery is free in England and Wales for 12 or 24+ bottles.
All the best
Gavin & Angela Quinney
PS There's a photo album of just the pics - click here.
Here's the photo journal of our harvest of the old Sémillon vines in Les Trois Hectares, accompanied by the usual smattering of domestic animals and the occasional family member.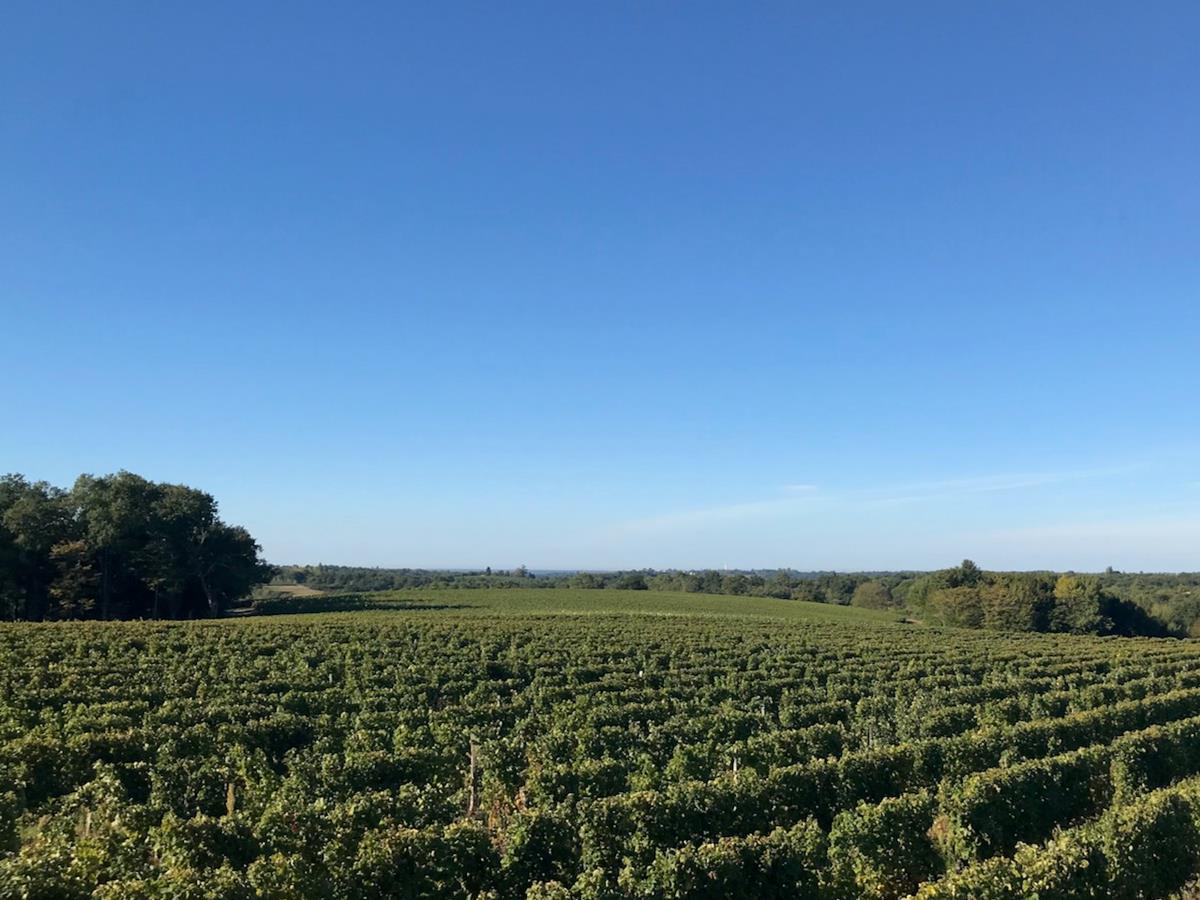 Our old friend Ronan Sayburn MS, Chief Executive of the Court of Master Sommeliers, once brought a team of staff over from Restaurant Gordon Ramsay in London and, to the general merriment of the mainly French group, famously asked how big was Les Trois Hectares. Three hectares is seven and a half acres, although, in truth, Ronan was right: Les Trois Hectares is actually about 10% smaller than the name implies.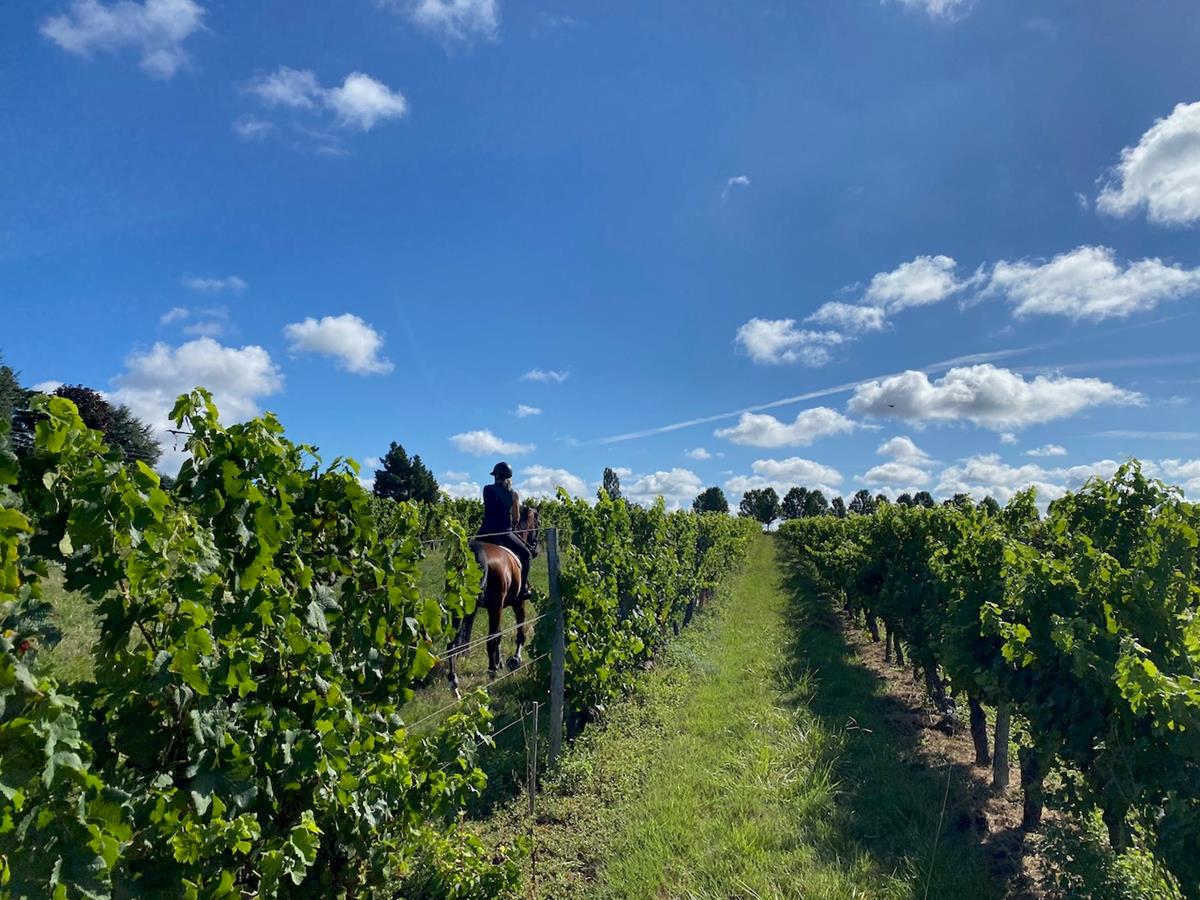 Still big though, with long, wide rows. It's next to the tree-lined drive into the Château. It's uncommonly high up for a vineyard in Bordeaux – a whopping 110 metres above sea level.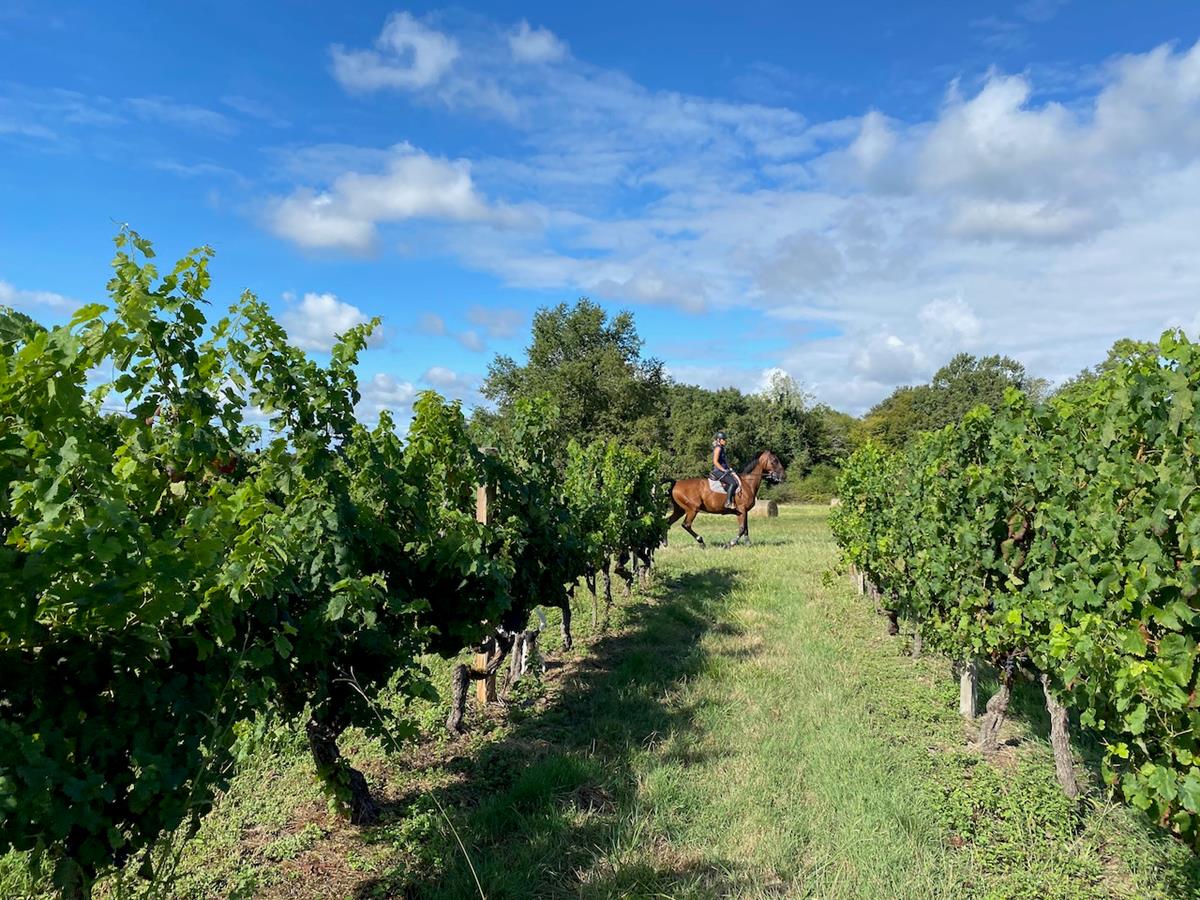 It's often frequented by local people out walking their dogs, and sometimes by those out for a ride.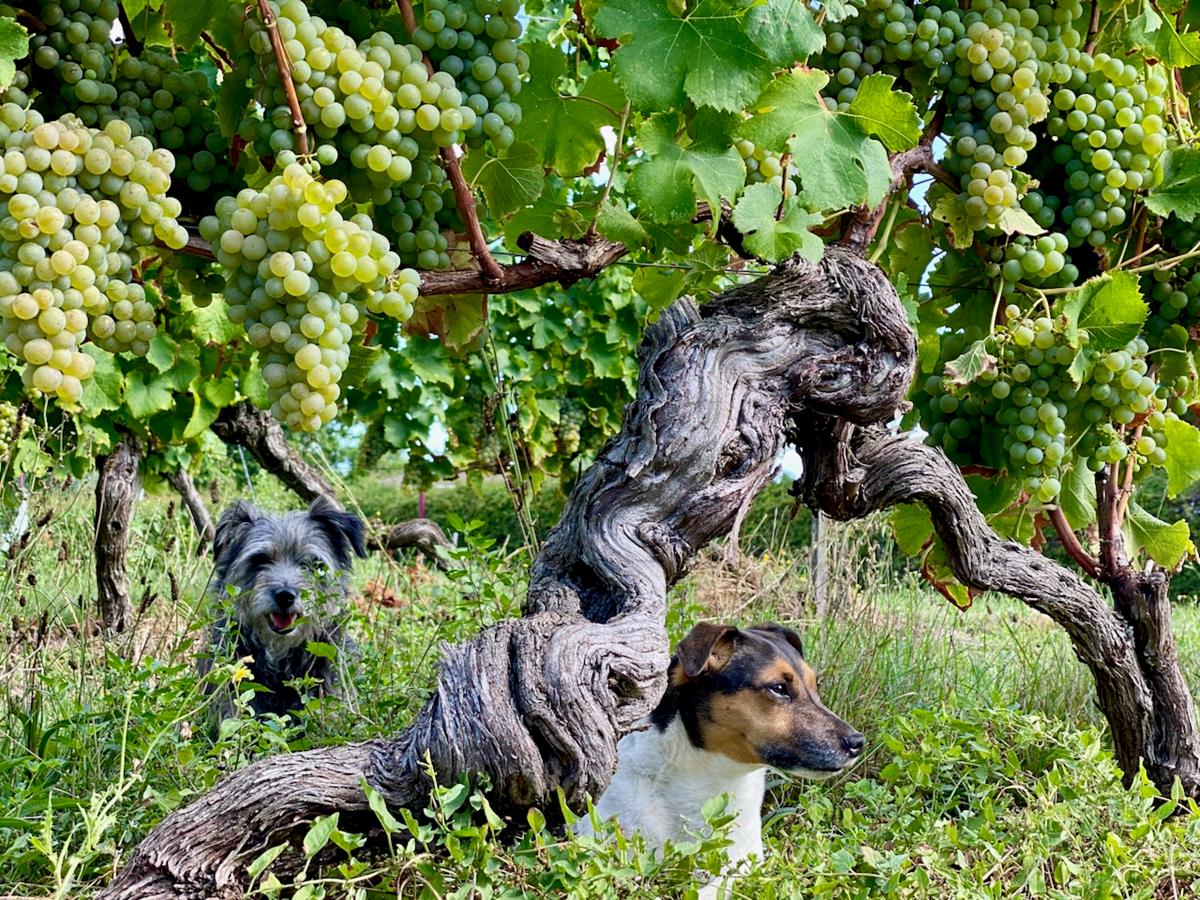 Victoria Moore, the wine critic of the Telegraph, described Les Trois Hectares once as 'meadowy'. She was talking about the wine but it probably does take after the vineyard.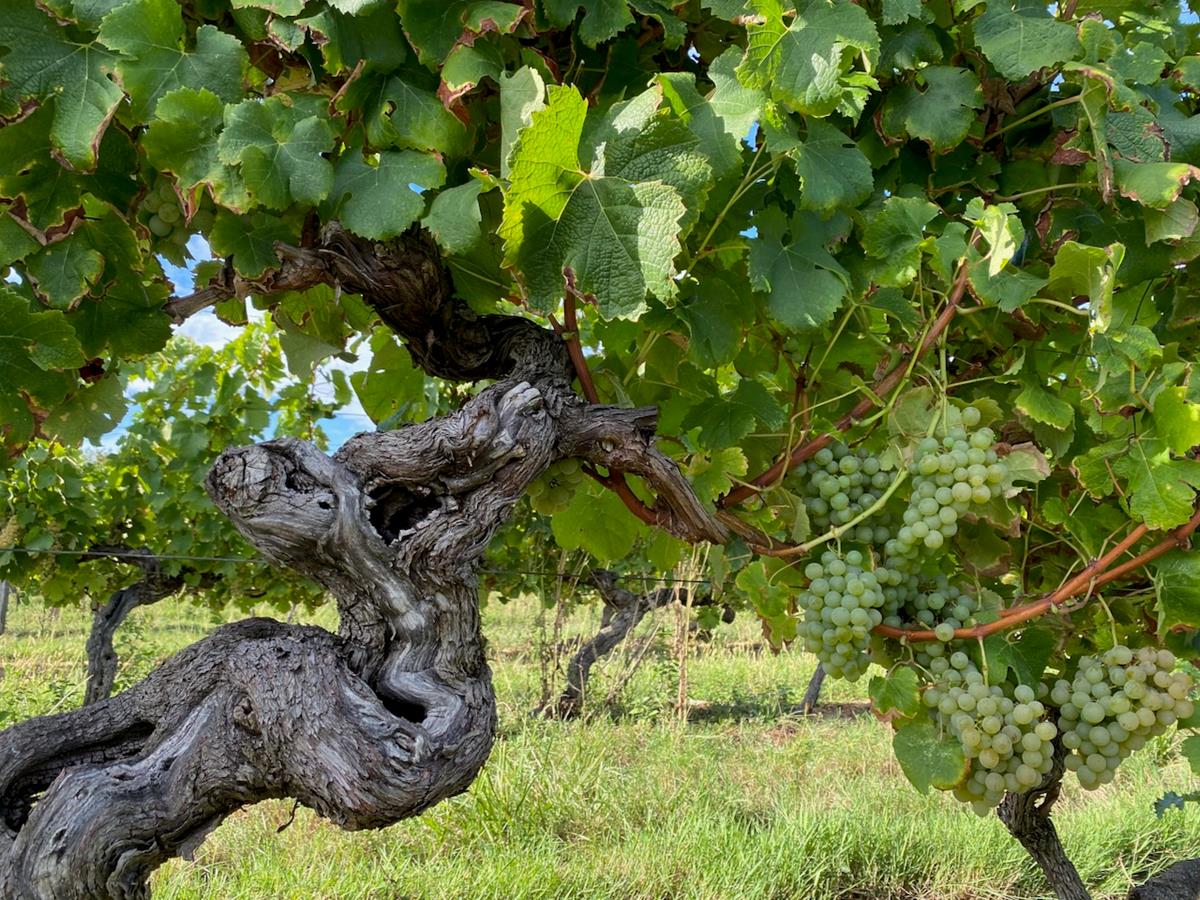 A key element of the block, and one we take for granted perhaps, is the age of the vines.
The vines were planted in 1947 and, although some are no longer with us and have been replaced, many of the old ones have survived.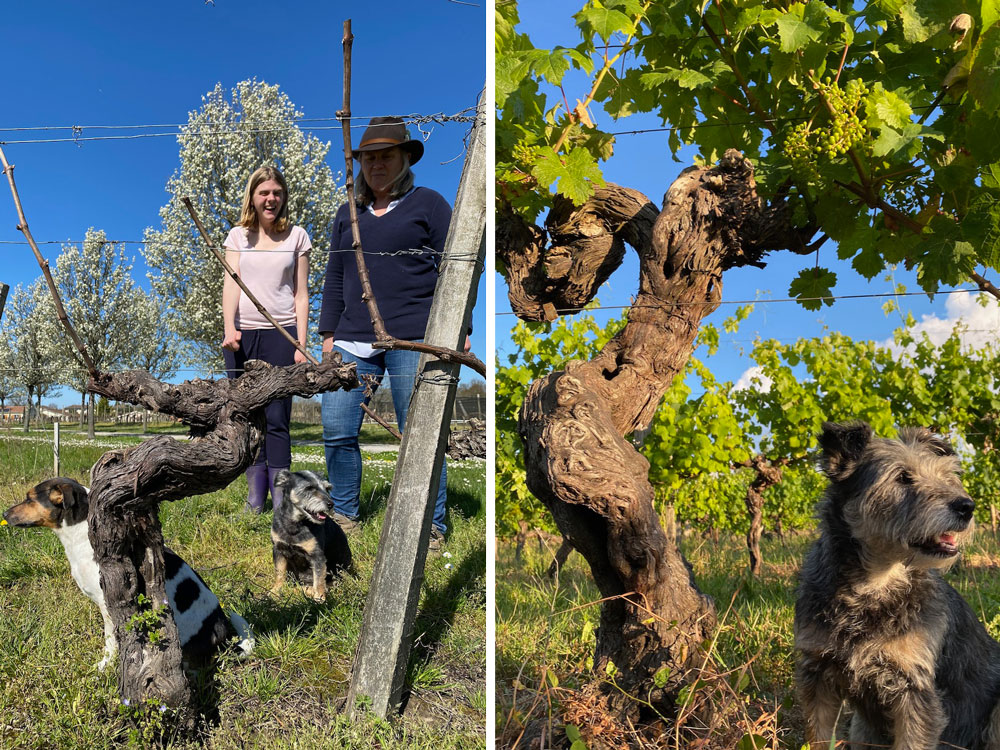 They have great character, whether it's just after the winter pruning, like here with Sophie and Ange just before lockdown in mid-March this year, or soon after the grapes were formed in early June, after flowering in May.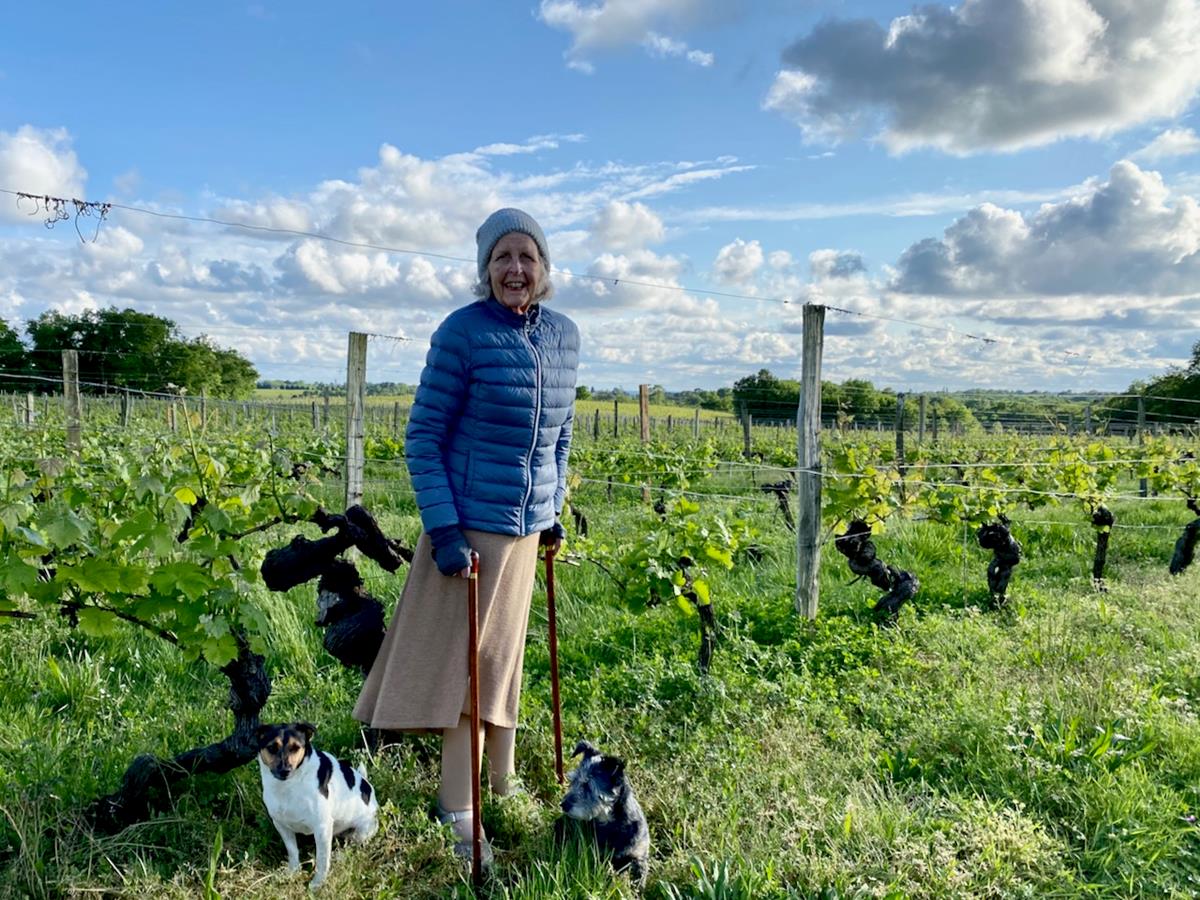 This was just before my Mum's 87th birthday at the end of April. The vines had burst into life about a month before. This, by the way, was one of a series of photos showing DQ with the same vine throughout the growing season and her five months with us, shown in our July review. All these reports can be seen in the news section at the foot of Bauduc.com or on GavinQuinney.com.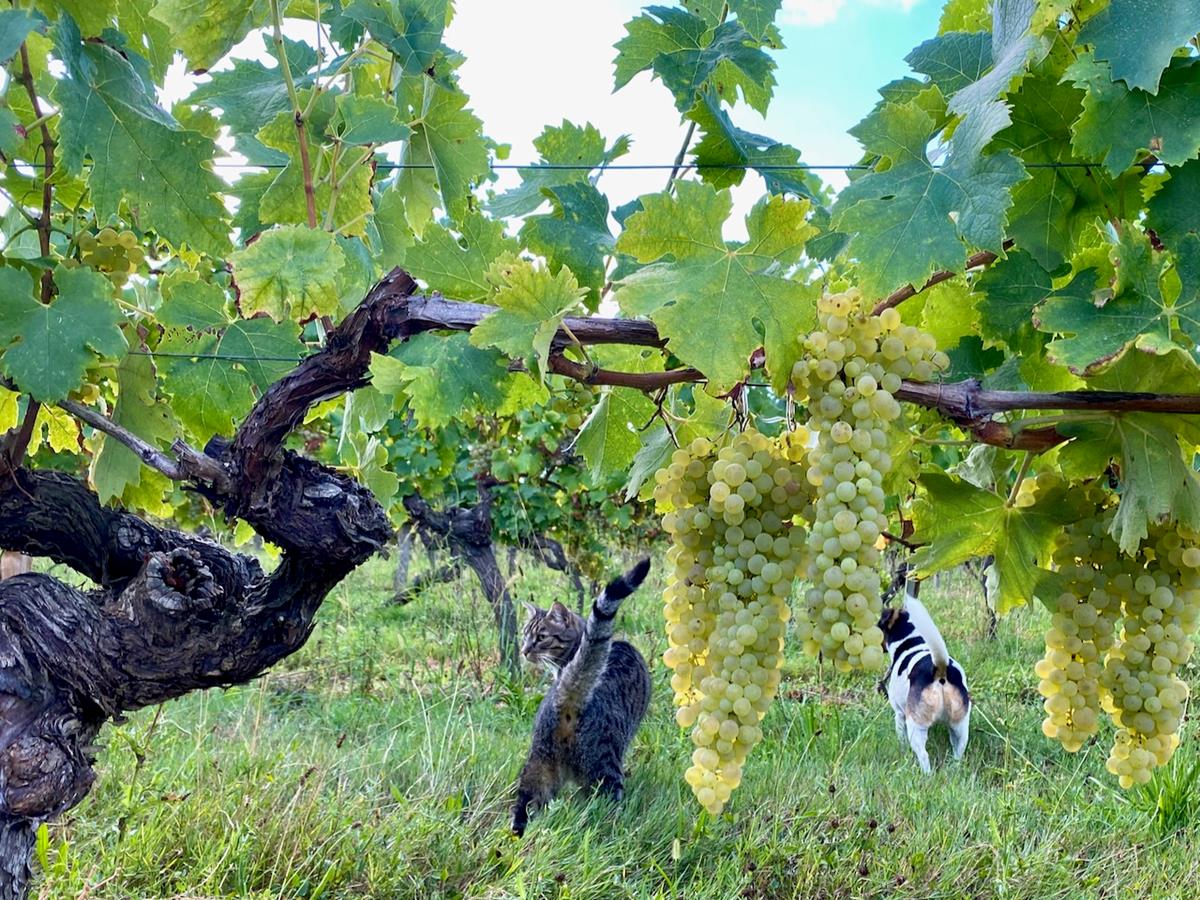 Most of the vines are Sémillon, though it is what we call a field blend because in the years shortly after the war they were probably not too concerned if another variety was planted here and there. This is Ugni Blanc, I think – a white variety that's permitted in Bordeaux as a cépage accessoire, meaning it can be used, reluctantly, in small measures. There is only a handful of these here – it's commonly found in the Charente for making wine that's distilled into Cognac, or in parts of Italy as Trebbiano. (If you've had a chance to go to, say, Perugia in Umbria, you might have come across this grape.)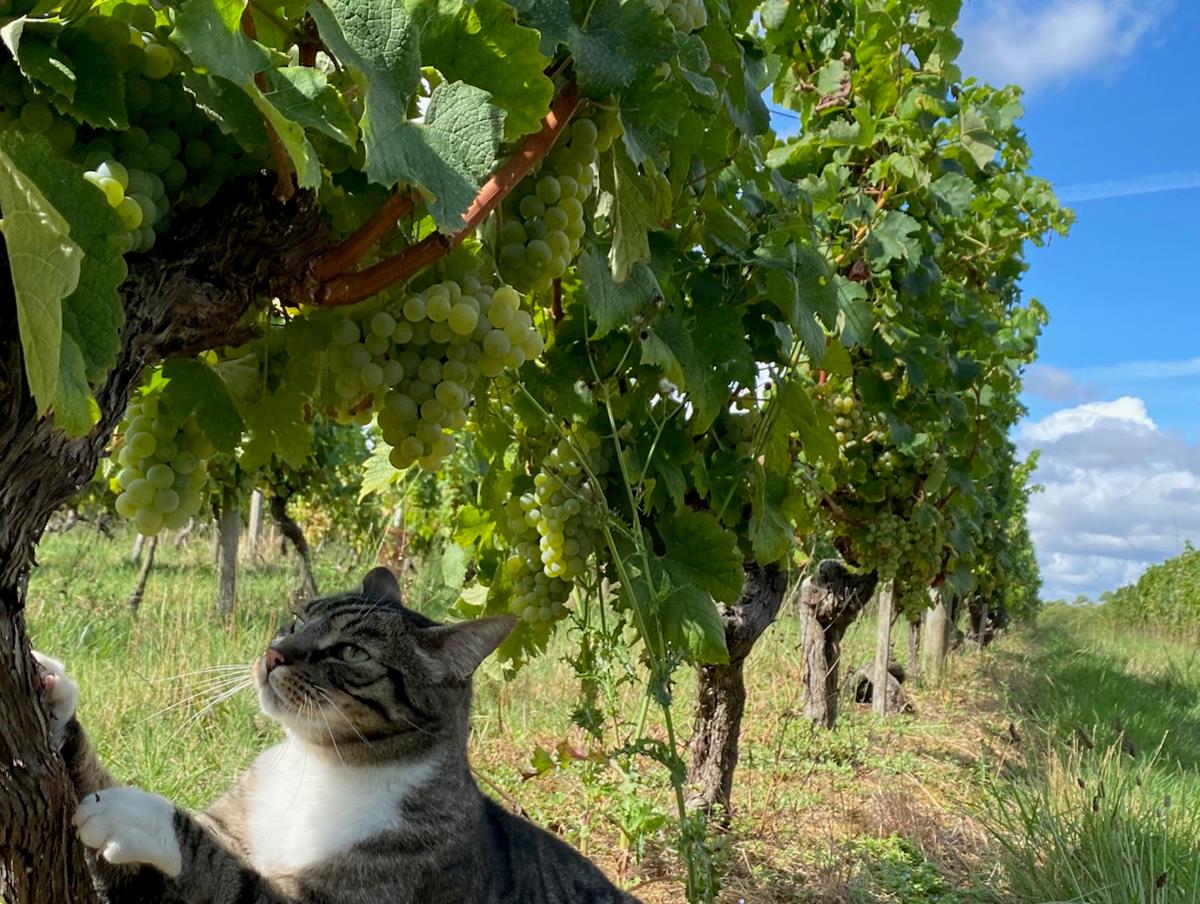 There are also some old Sauvignon Blanc in Les Trois Hectares, and other grapes like Merlot blanc. Goose the cat would rather turn his back on stuff like Ugni Blanc but he's quite happy to be seen with noble varieties.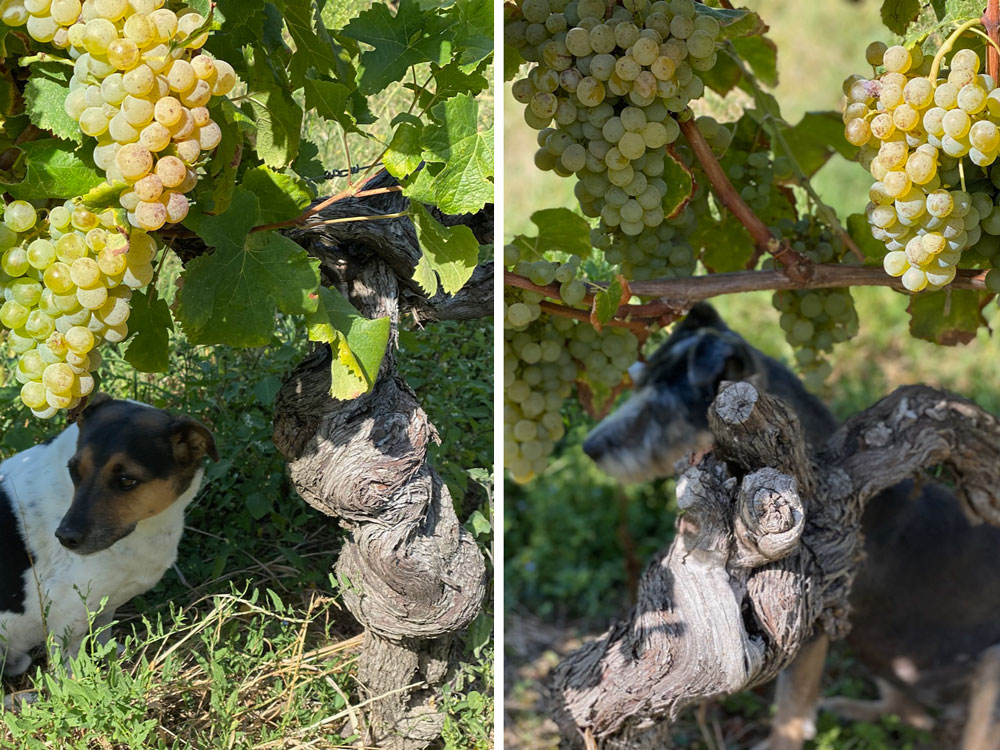 And Sémillon is a noble variety, albeit lesser known and often underrated. Great dry wines from Sémillon can be found in Australia – notably the Hunter Valley – South Africa, and Chile.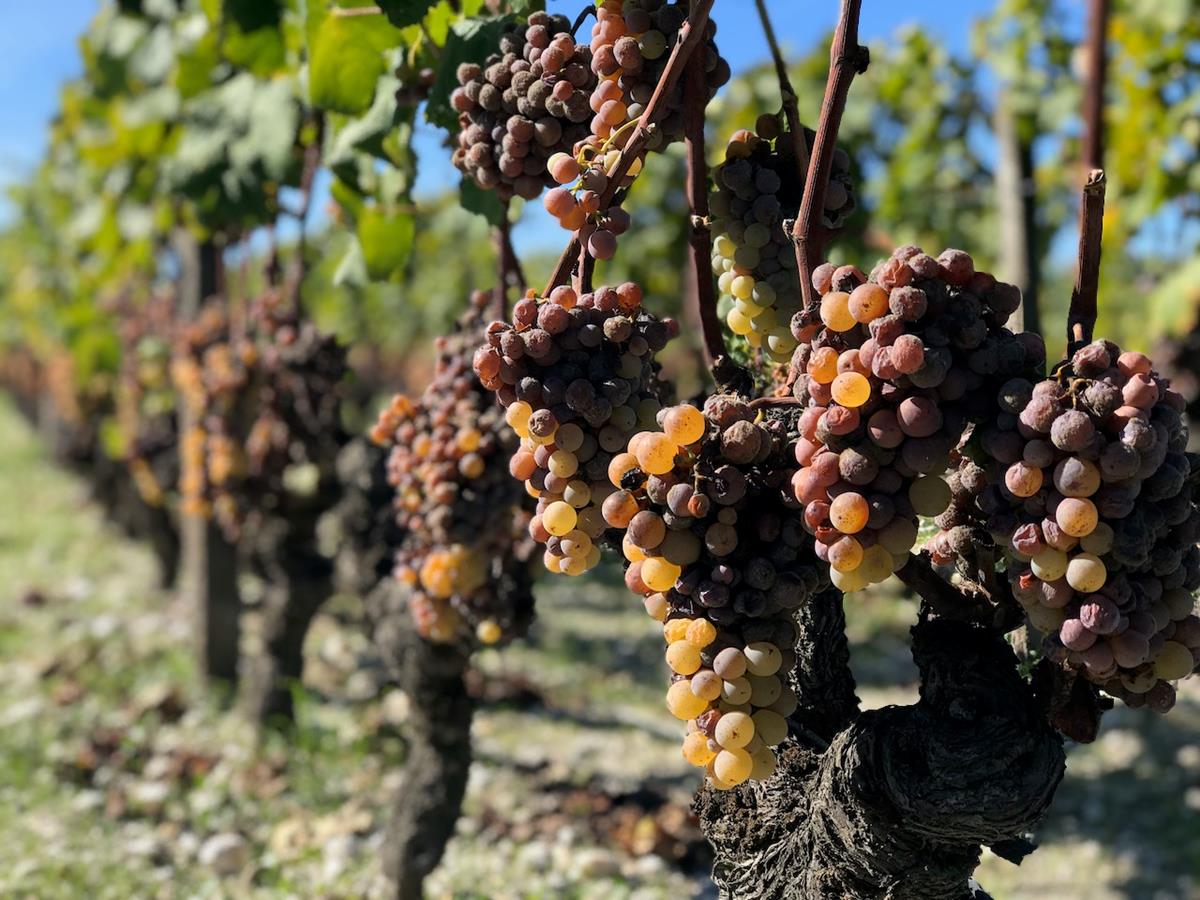 Of course, Sémillon is best known in Bordeaux for making sweet wine in Sauternes and Barsac, and especially at famous names like Château d'Yquem, after the noble rot or pourriture noble has set in. These bunches were at Château Suduiraut last October.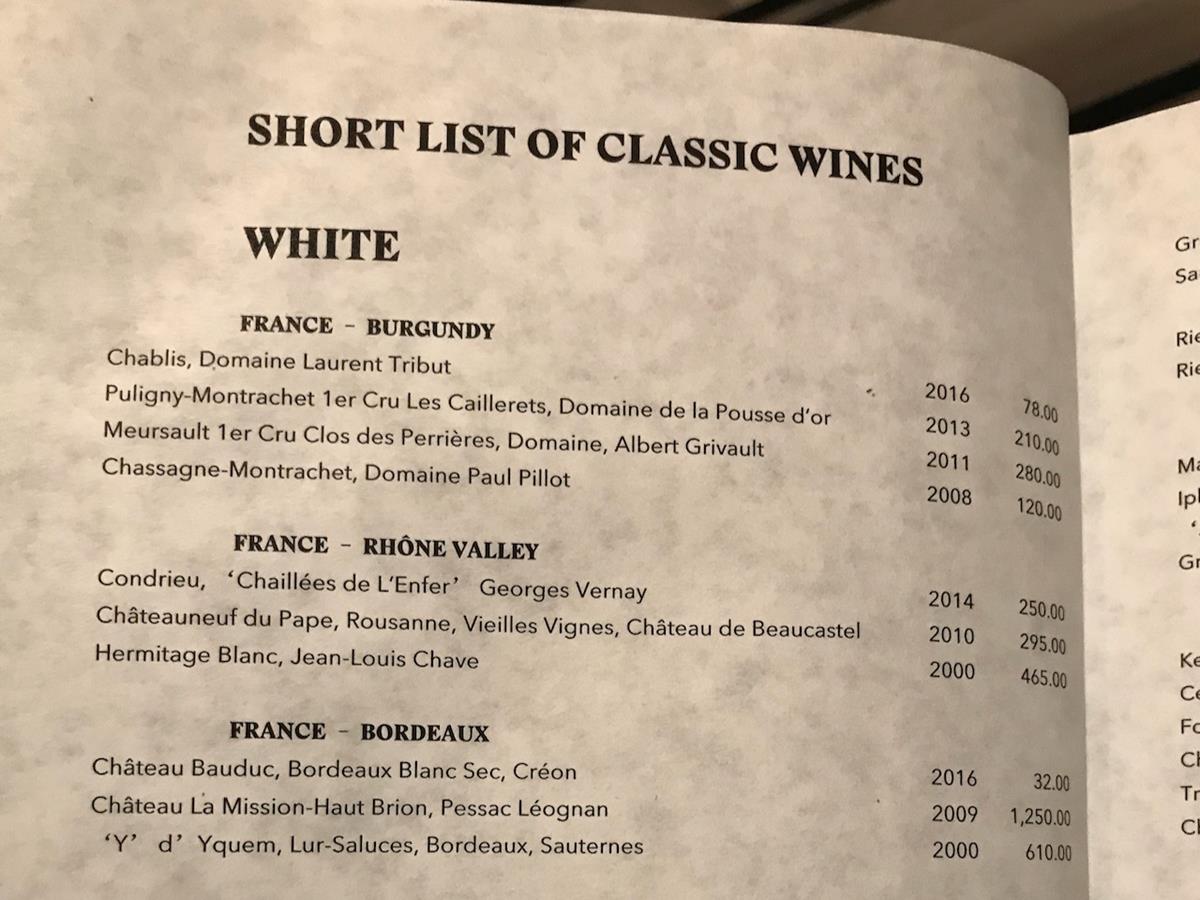 Château d'Yquem makes a dry white too, called 'Y' (Ygrec). Several great dry whites from Bordeaux have a goodly dollop of Sémillon in the mix, blended with the more renowned Sauvignon Blanc. This was the wine list at Restaurant Gordon Ramsay in Chelsea not long ago, one of the few places with three Michelin stars. Along with Y d'Yquem there's Château La Mission Haut-Brion blanc. You wouldn't know it – hey, this is France – but that wine is 84% Sémillon and 16% Sauvignon Blanc. The more modestly priced wine from Créon also comes highly recommended.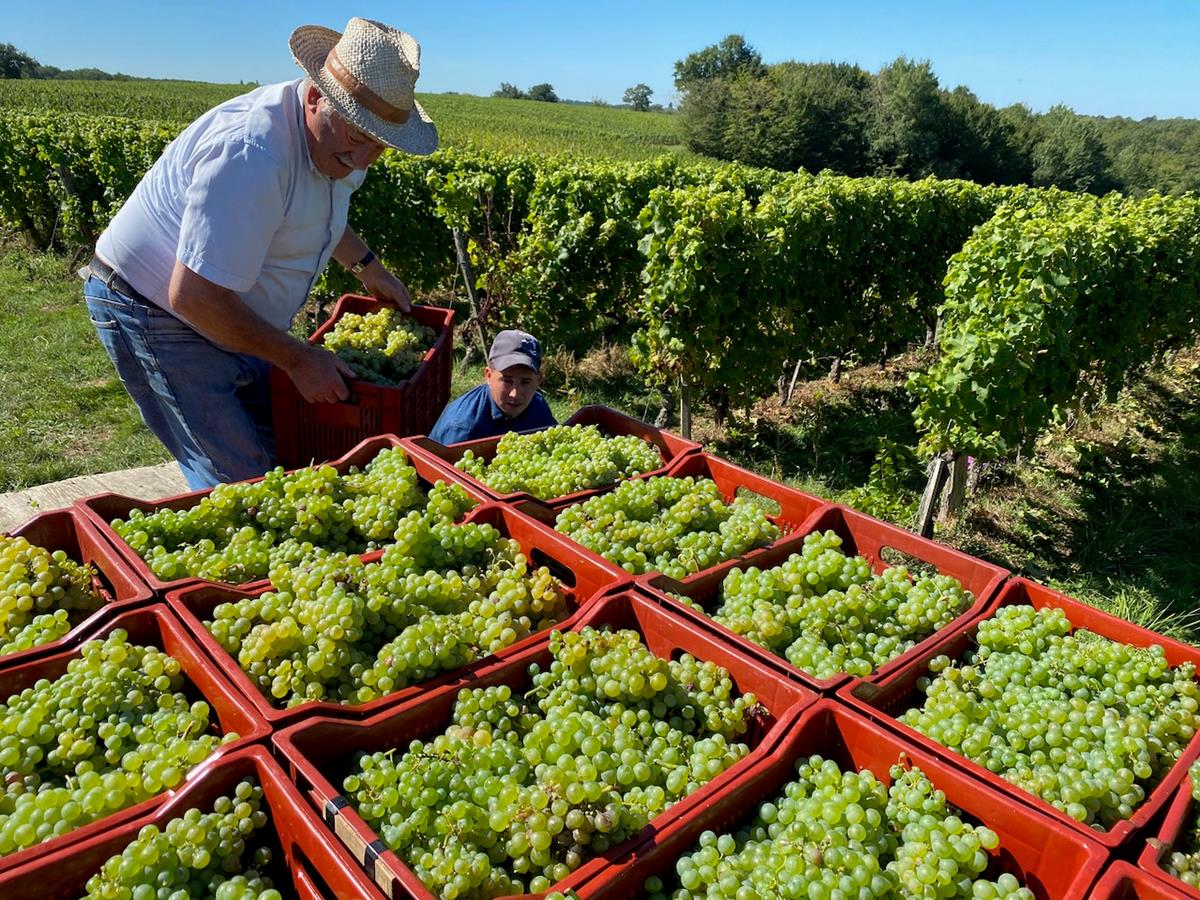 And so to the harvest. We hand picked our Sémillon for our Crémant, above, and you can see our 2020 white harvest by hand here. (And likewise in Bauduc.com news here.) This parcel of younger vines is right next door to Les Trois Hectares.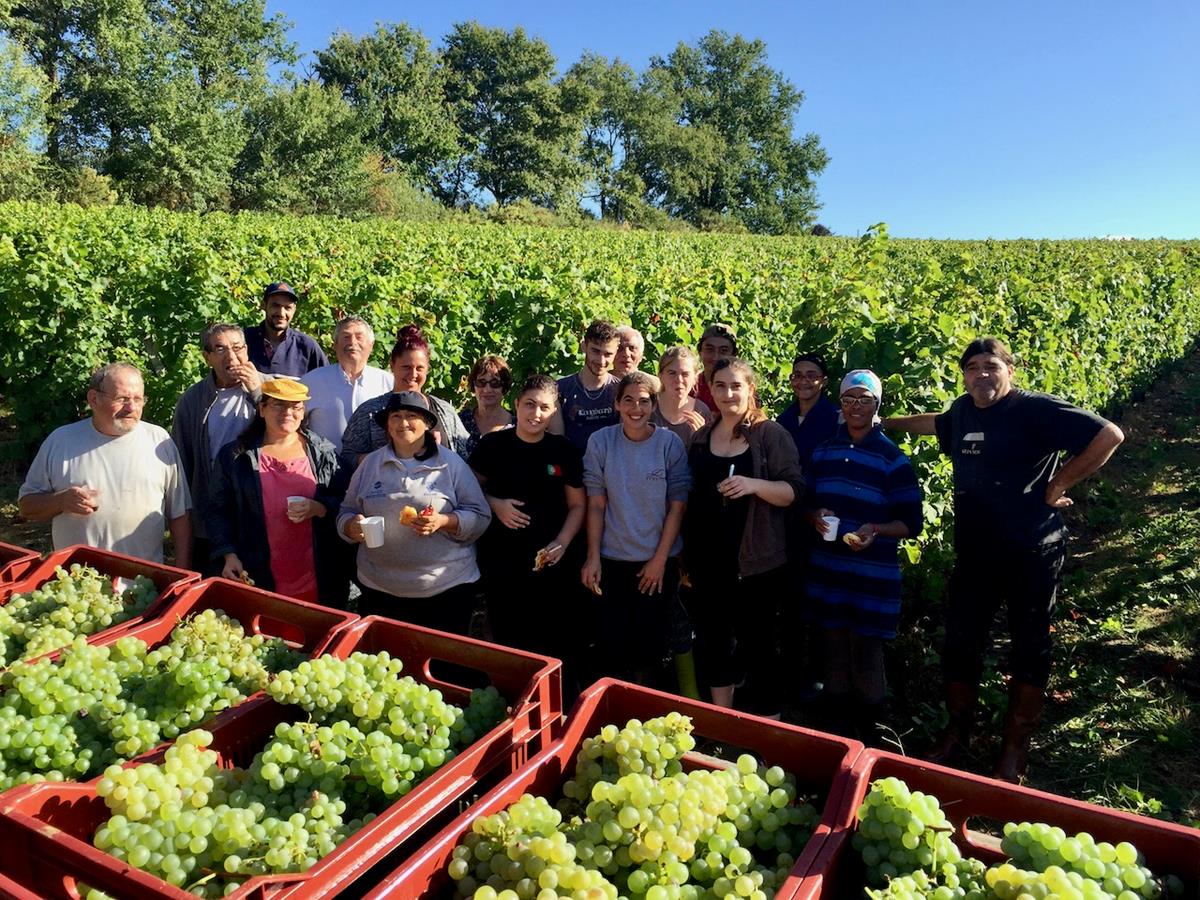 The grapes look the same but this was the 2016 team, or some of them, who picked the grapes for our Crémant and Blanc de Blancs (almost sold out now). These days we have to think about social distancing of course, if only to make sure Daniel, right, steers clear of any risk.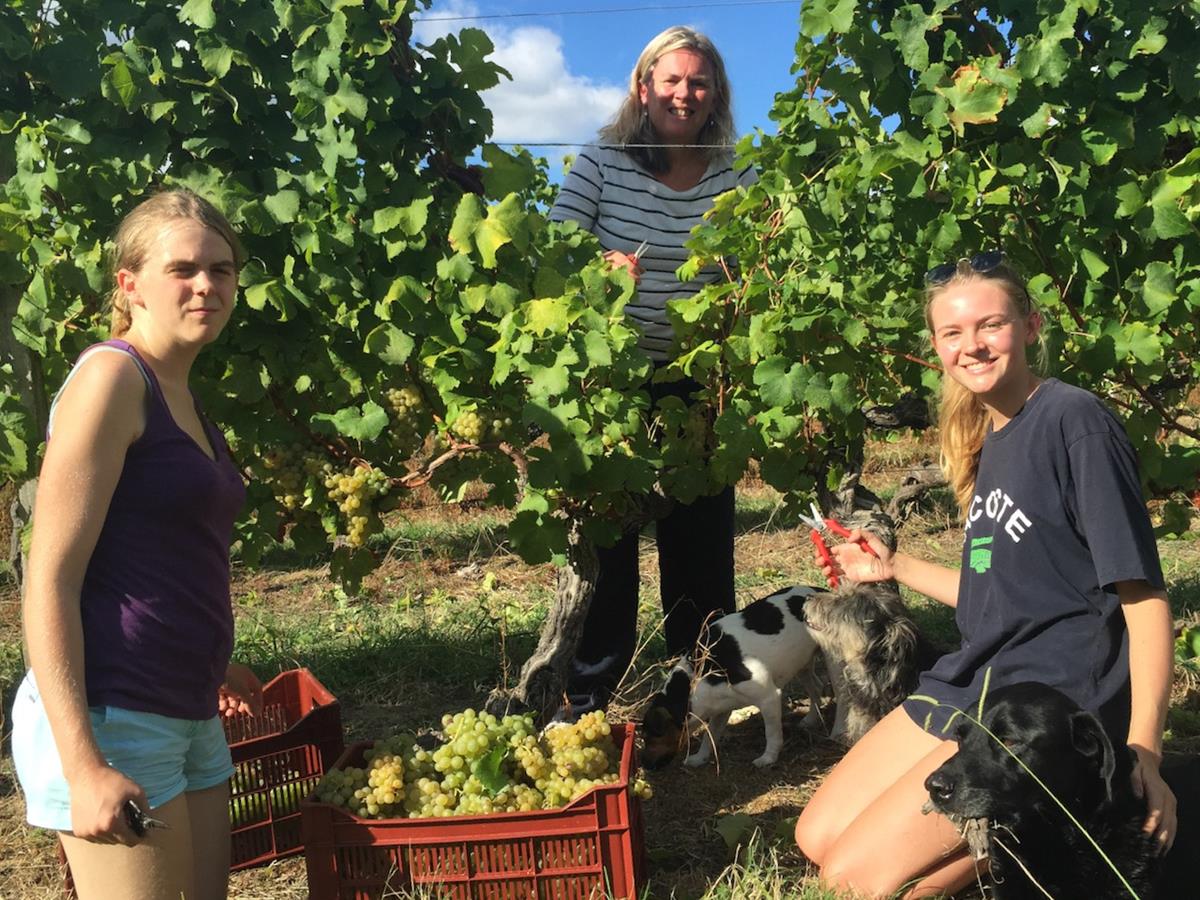 We also picked part of the Les Trois Hectares in 2016 by hand. Sophie, Angela and Georgie being assisted by the hounds.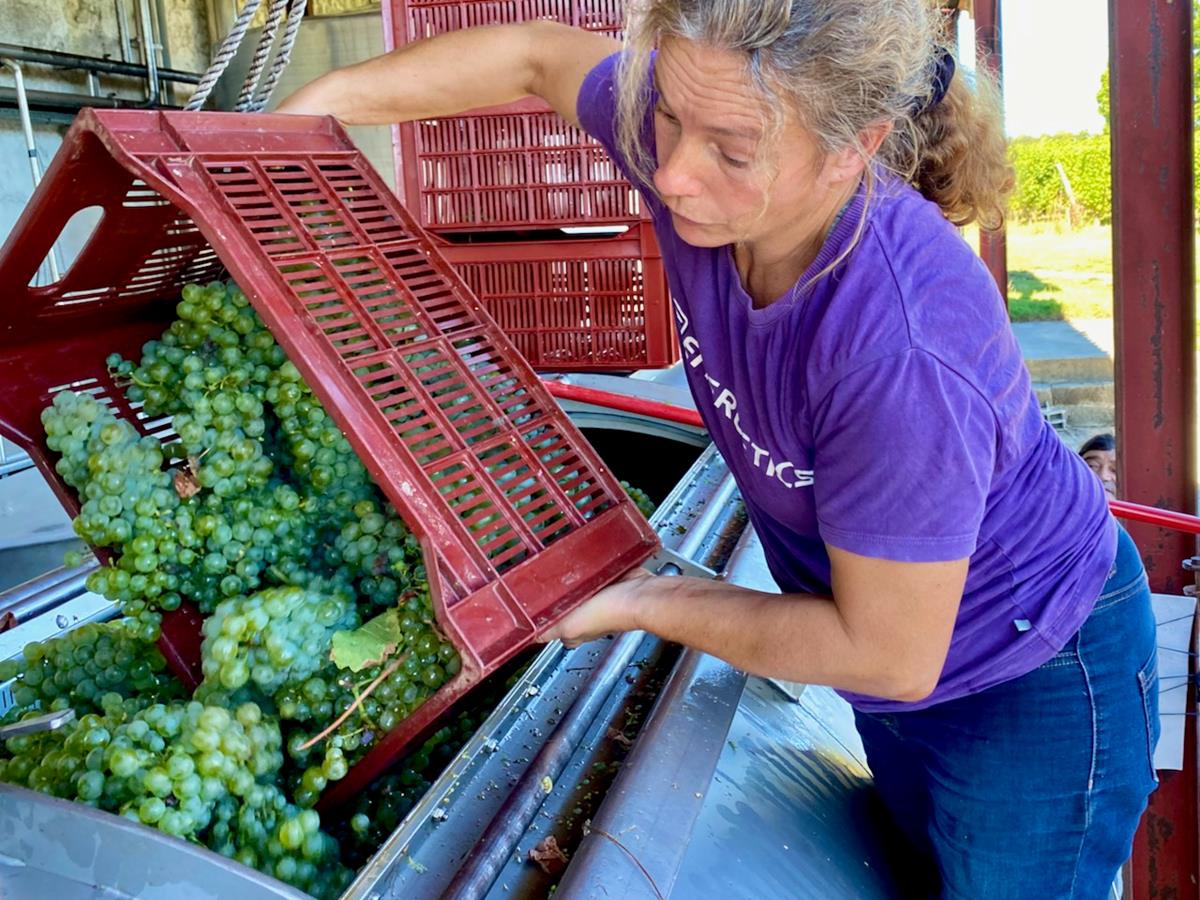 For the Crémant, we put whole bunches in the press, so there's no minimal contact between the juice and the skins. Or rather, Nelly puts the bunches into the press. (These Sémillon were picked two weeks earlier.) Crisp, less sugar and fairly acidic is what we need for the base wine for the sparkling.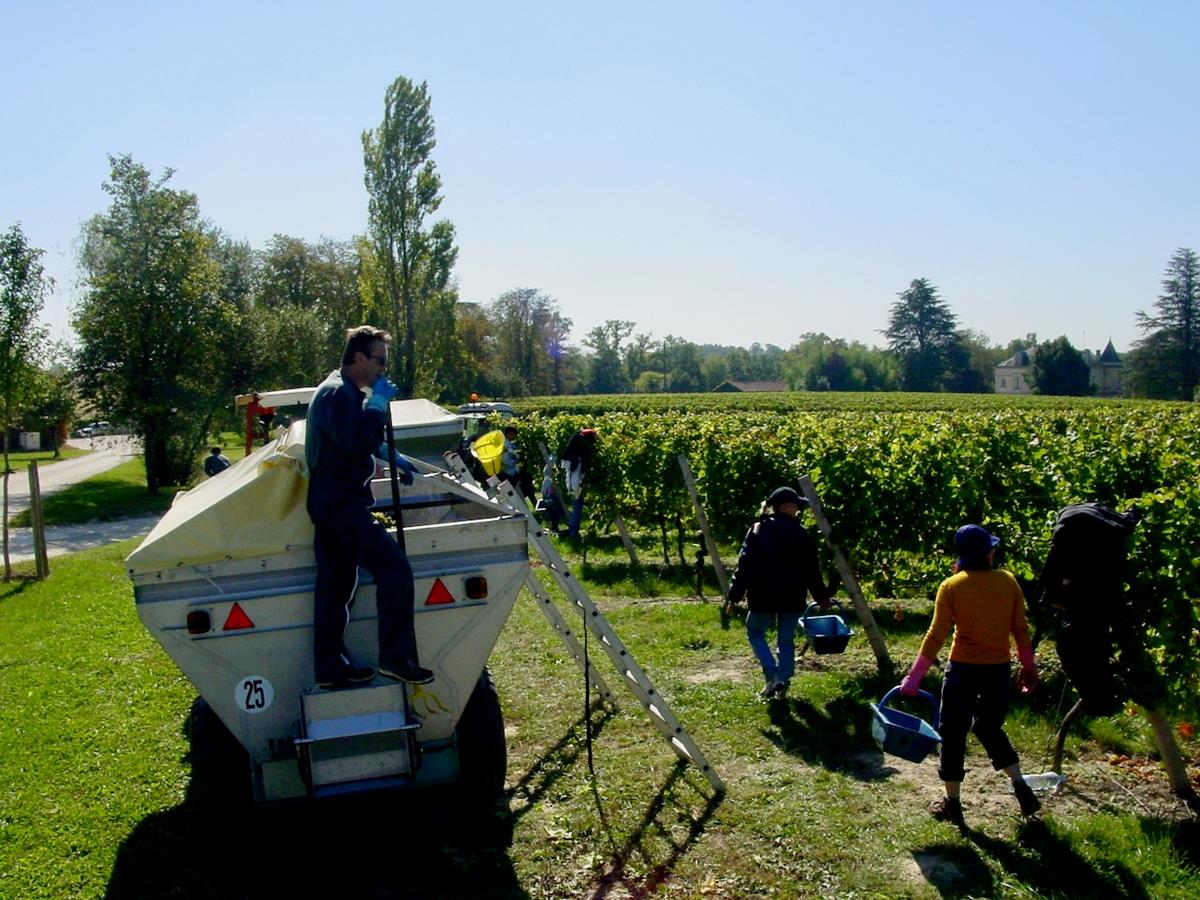 We used to pick the white grapes in Les Trois Hectares by hand. The picture above and the two below were not taken in 2020 but in 2002. Oh my.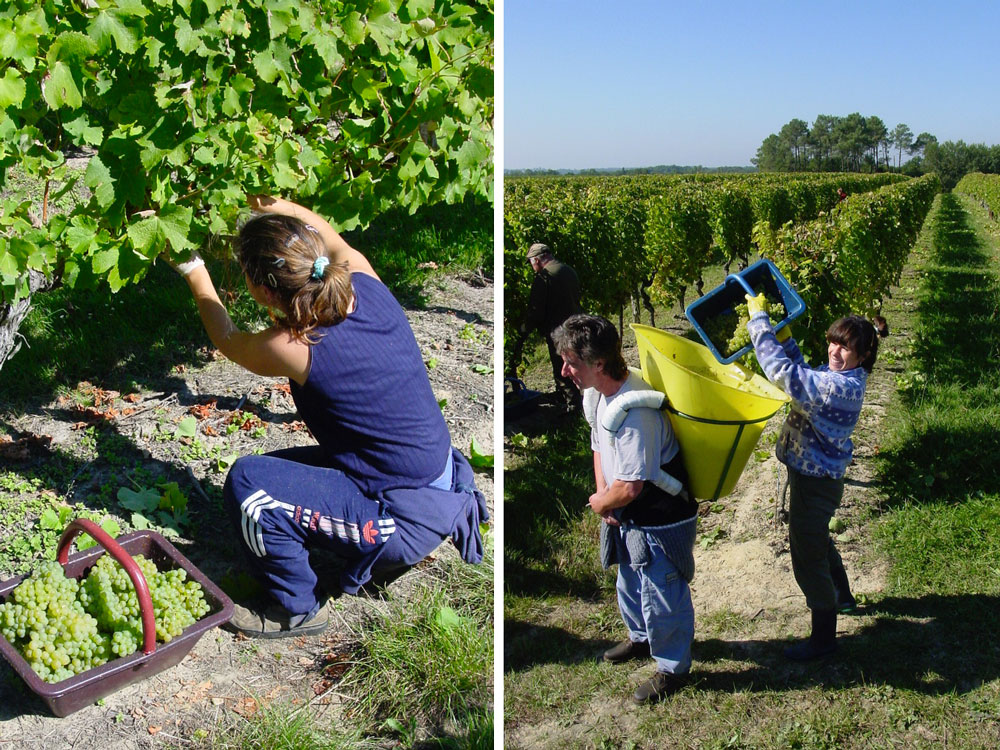 Tipping bunches of white grapes into the trailer is just too risky in the heat nowadays. We could use stackable crates, like we do for making the crémant, but it seems a little unnecessary as we want to de-stem the grapes and crush 'em, and then leave the juice with the skins in a stainless steel tank to macerate for a few hours.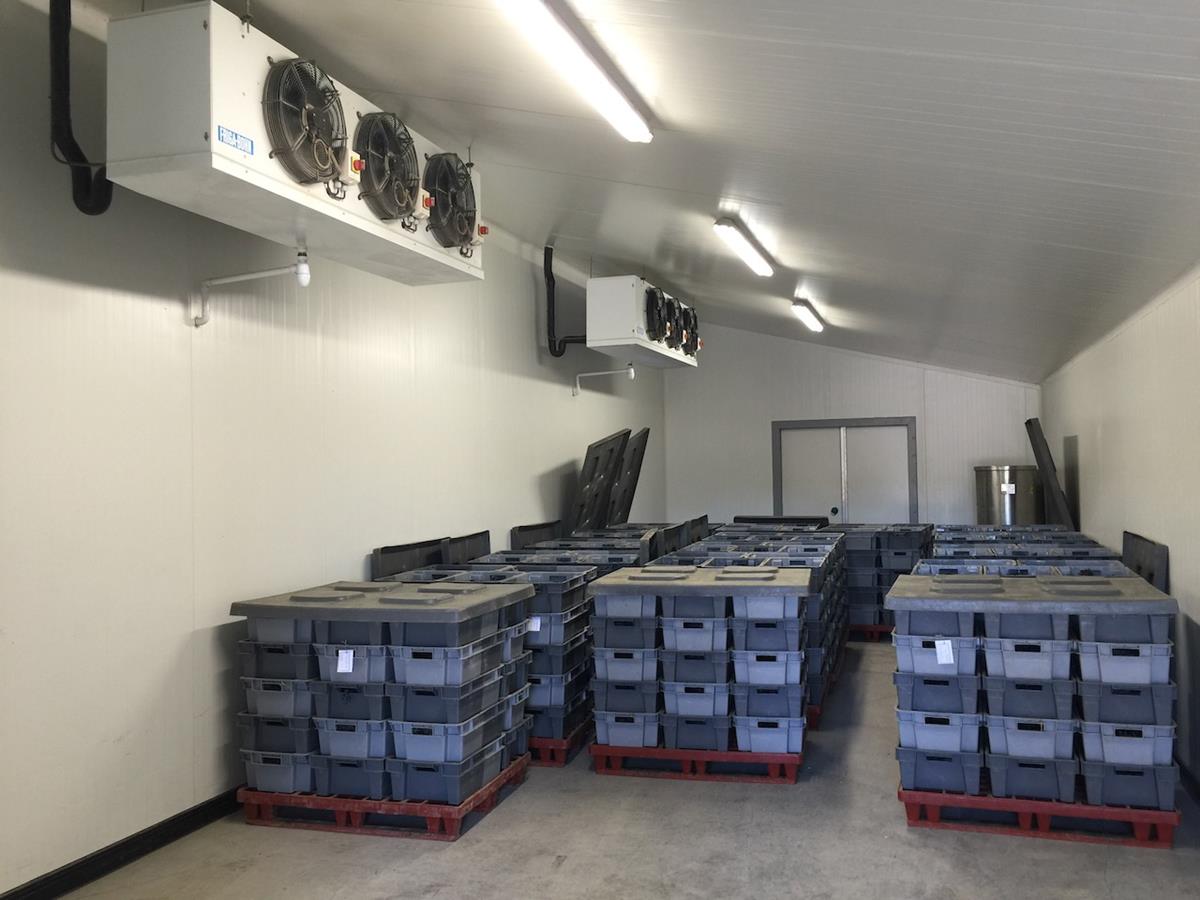 The grapes and juice have to be quite cold for this, so we want to bring the grapes in as cool as possible. One way around this would be to construct a massive fridge unit or hire a chiller container where you can cool the grapes overnight for processing later or the next day. A number of top estates do this, as above (red grapes at Château Smith Haut Lafitte). It's not an inexpensive option, however.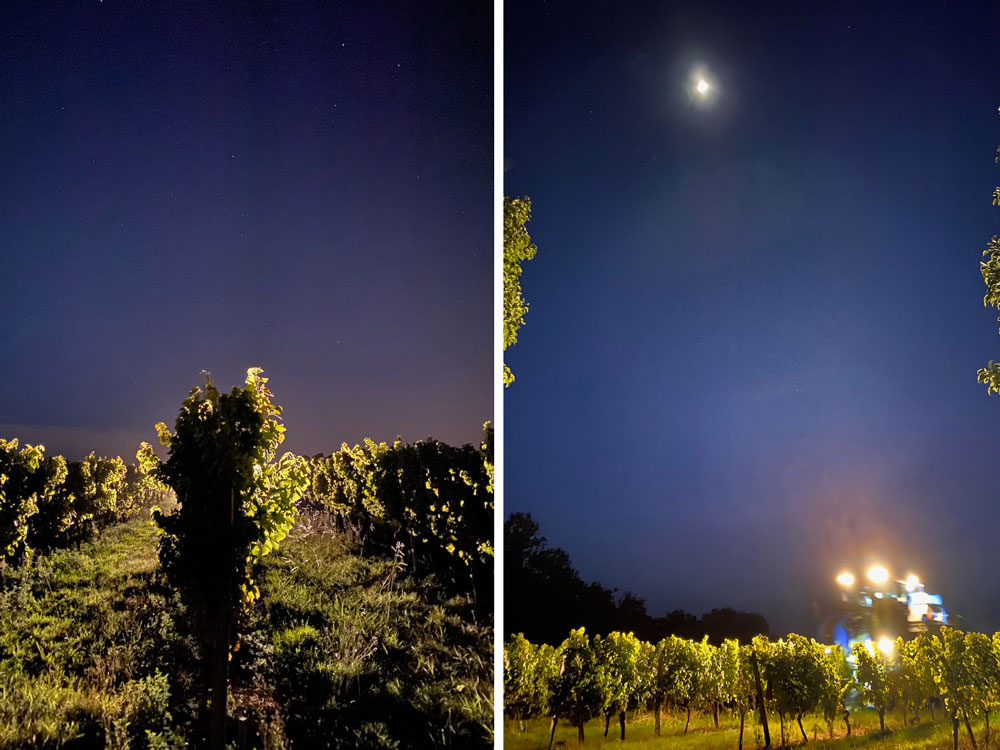 With daytime temperatures sometimes in the 30s, we decided to harvest Les Trois Hectares by machine in the early hours, once again. It had been a full moon a few days before, just like in 2019 incidentally, though this year the morning of the harvest was two weeks earlier than in 2019.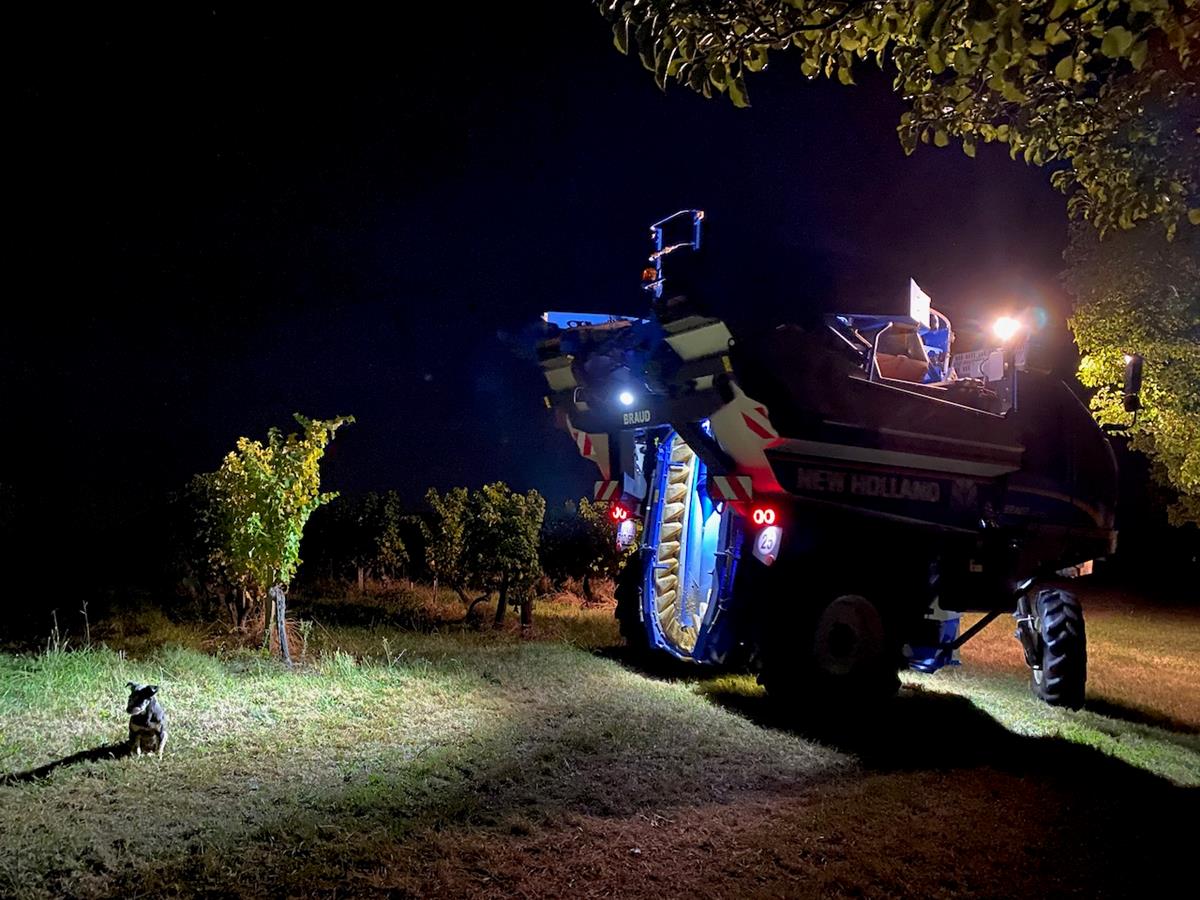 Margaux was up and about, as ever.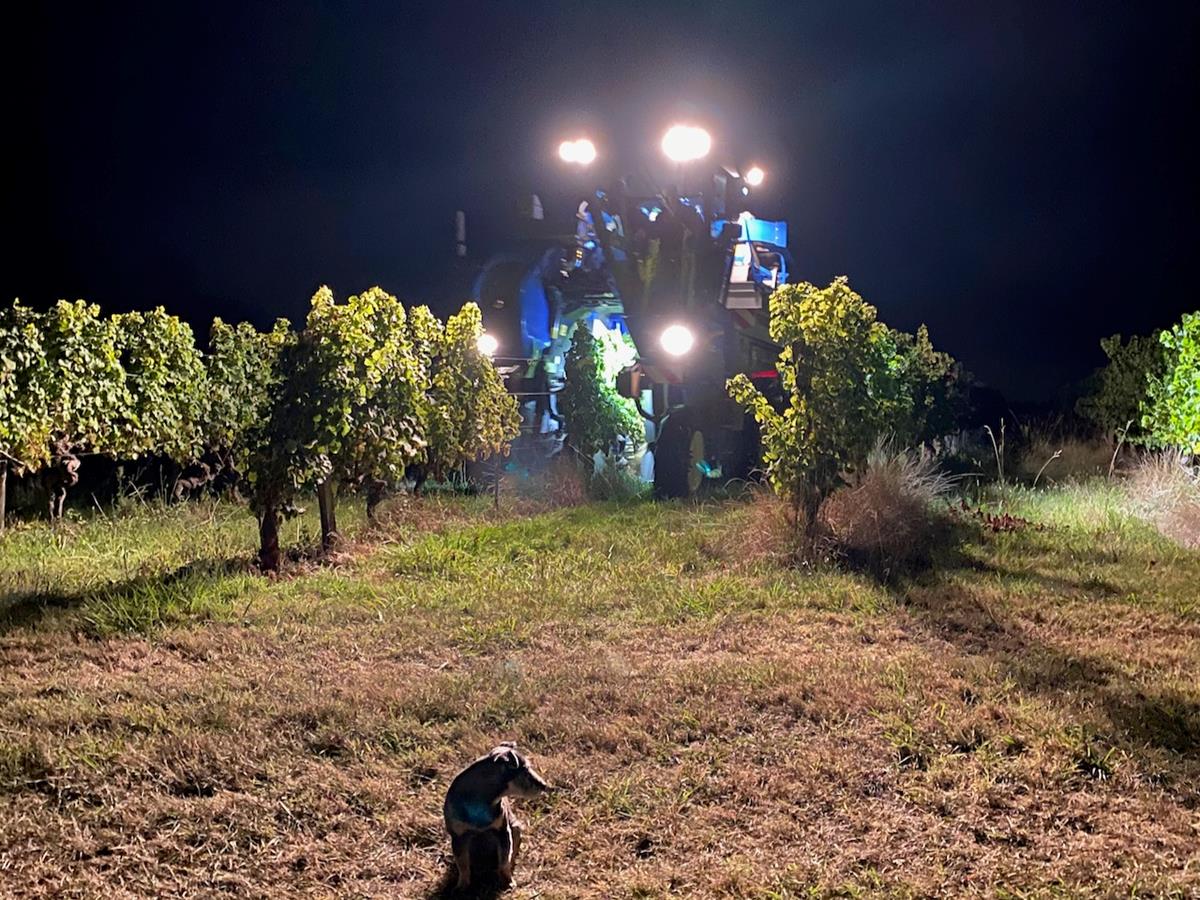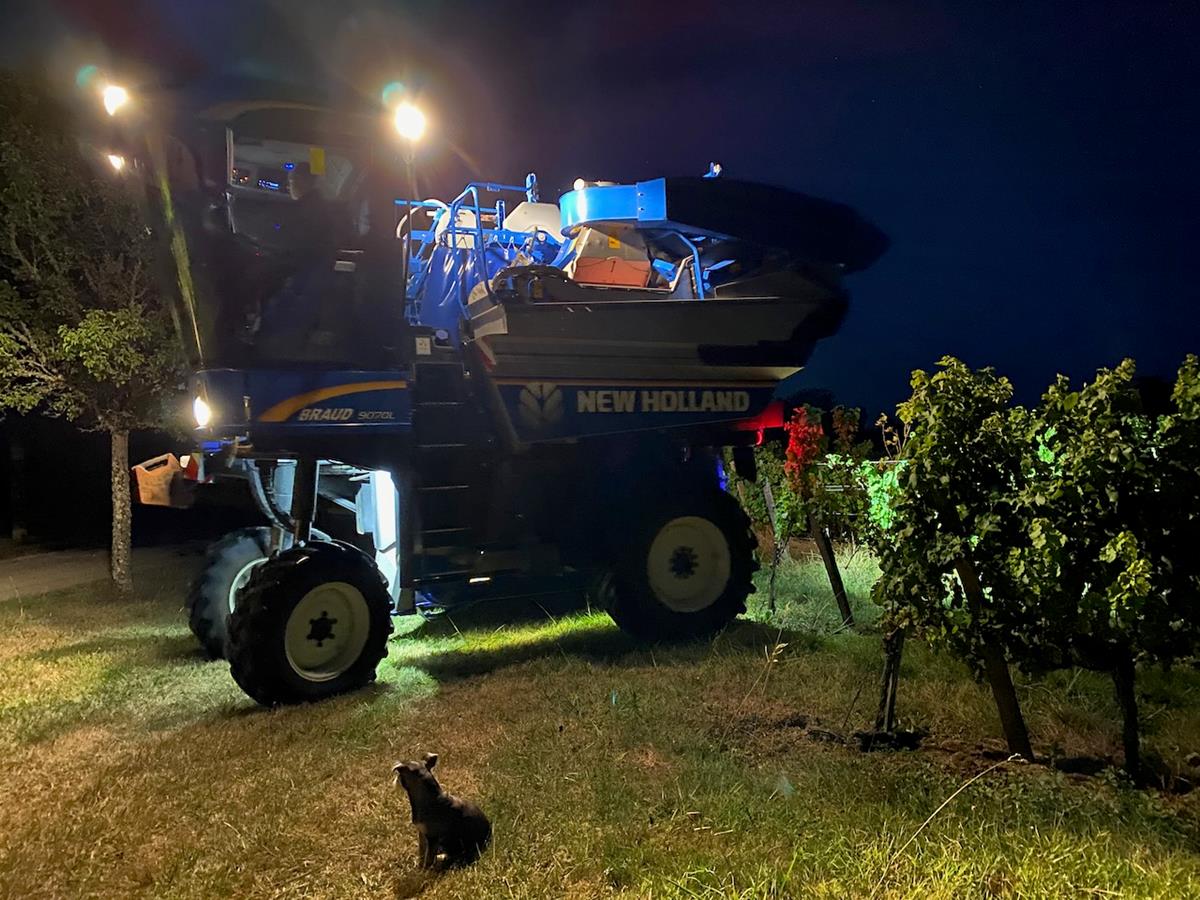 We're not really sure why Margaux likes to watch the machine at close quarters. Or she might be getting a little deaf.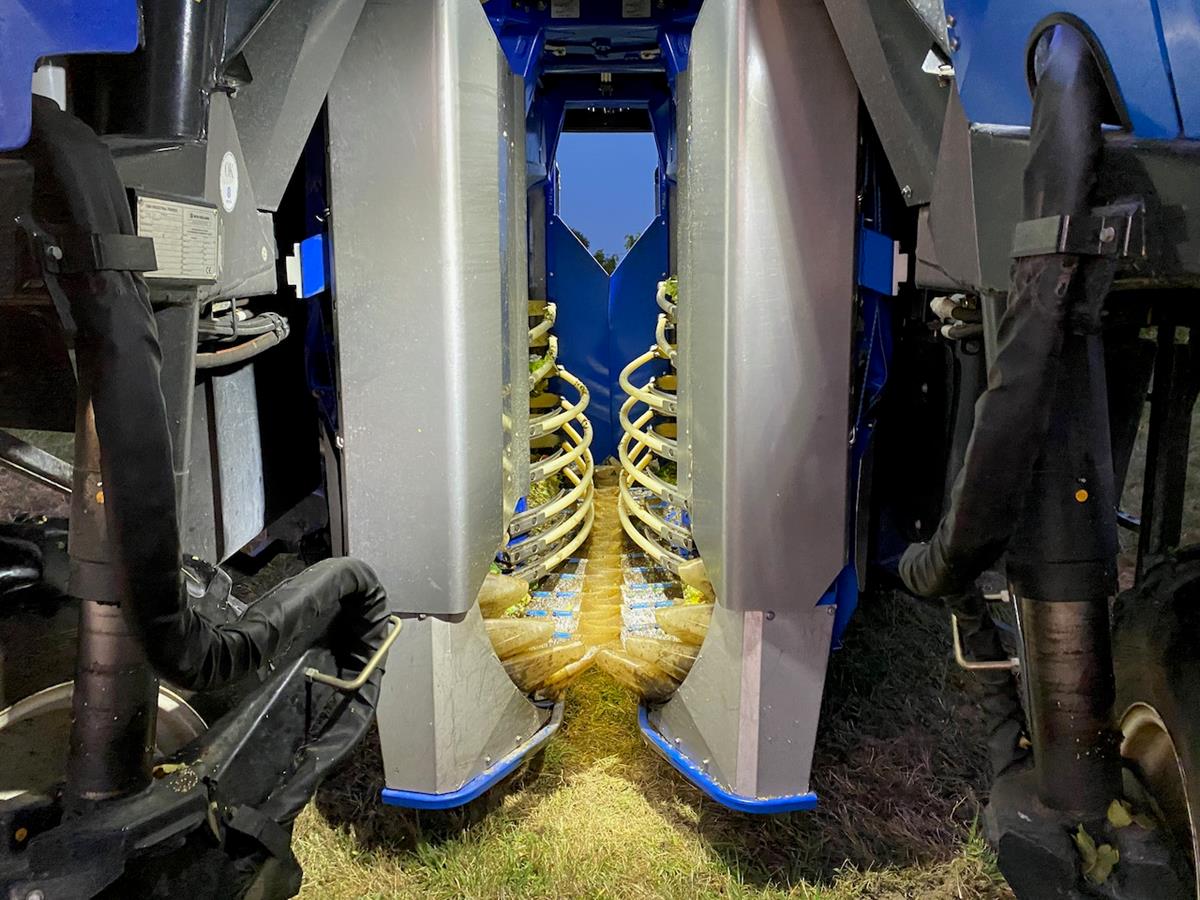 it's the batons or booms that vibrate the vines and shake the grapes off. We set it to a gentle tap for the old vines. Actually, we set it for a gentle tap of young vines too as we don't want to upset any of them.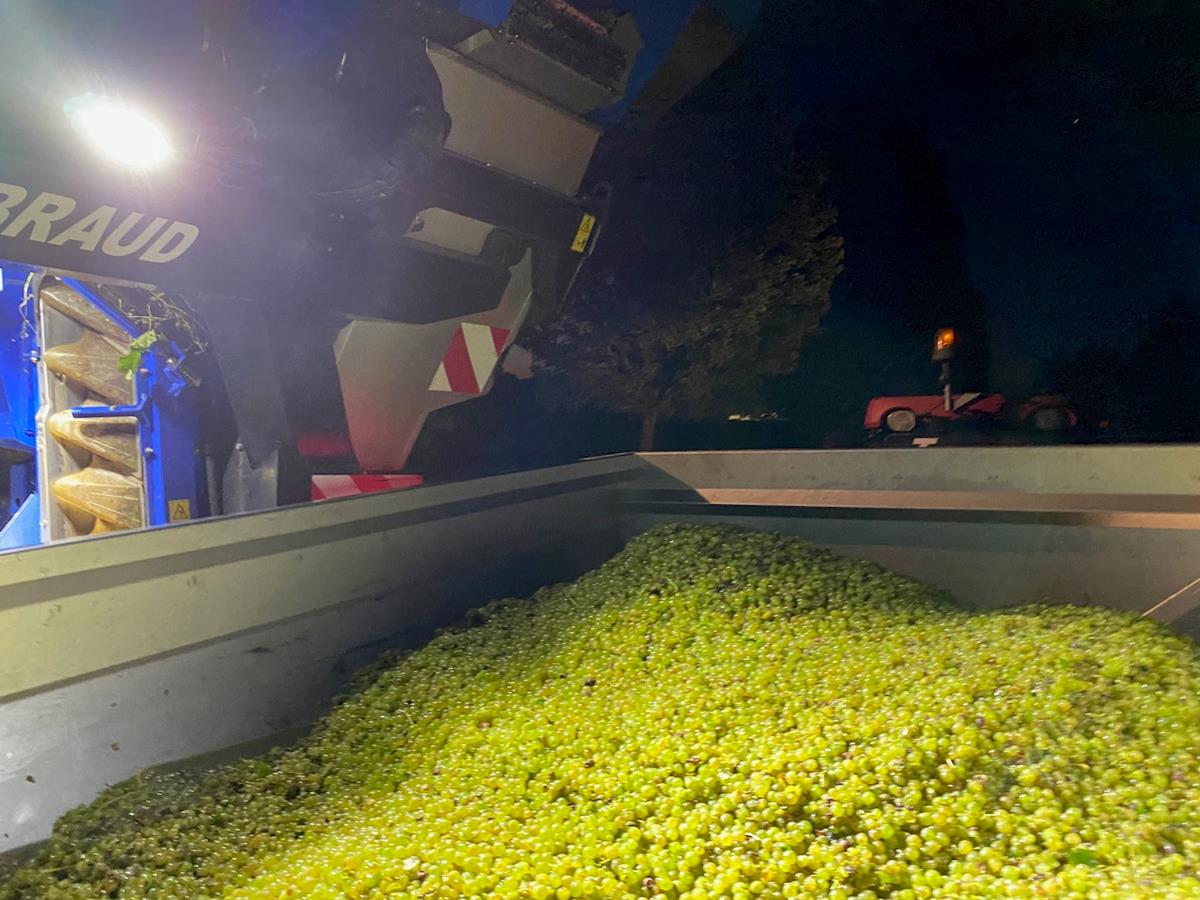 Lovely, juicy Sémillon. And the odd Trebbiano. (0.001%.)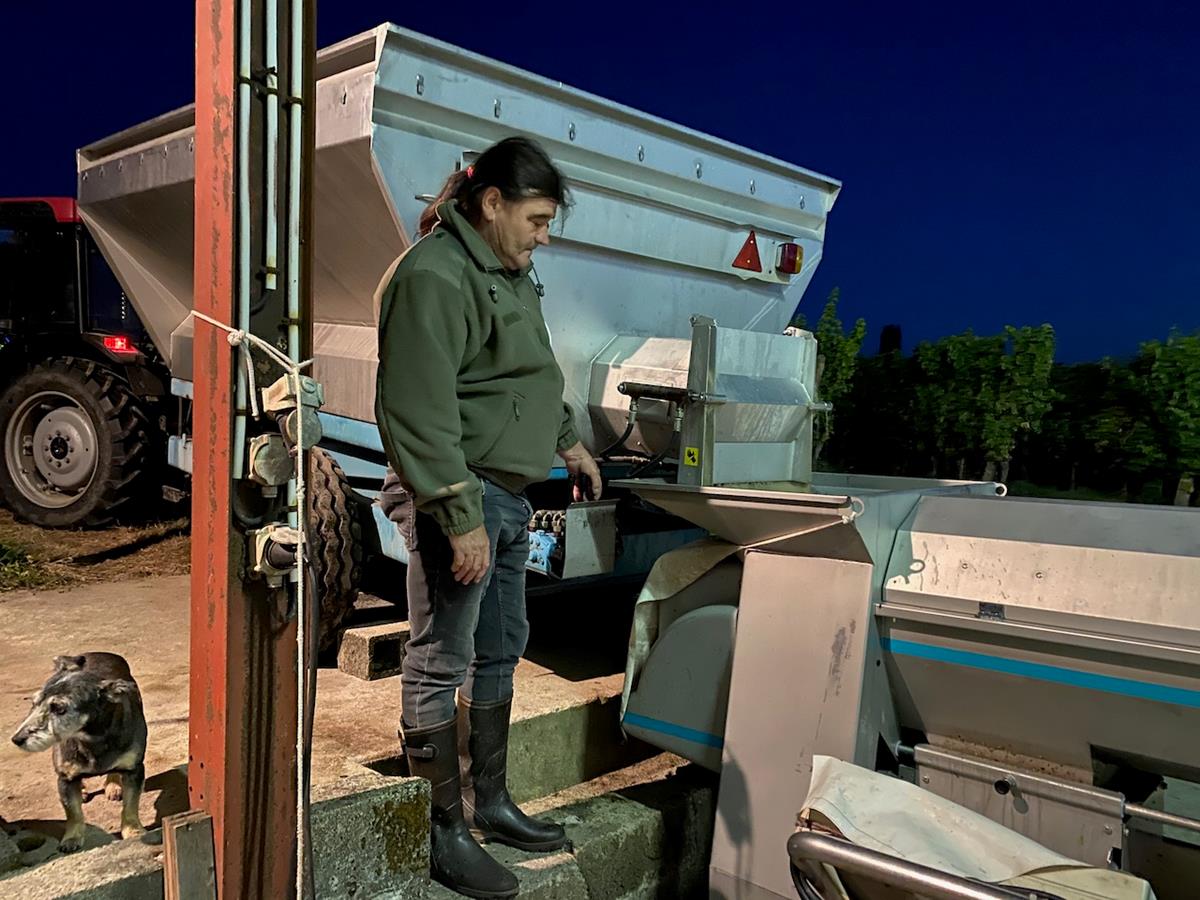 Daniel and Margaux looking sharp on a Monday morning. On the Friday it had been 34ºC in the afternoon.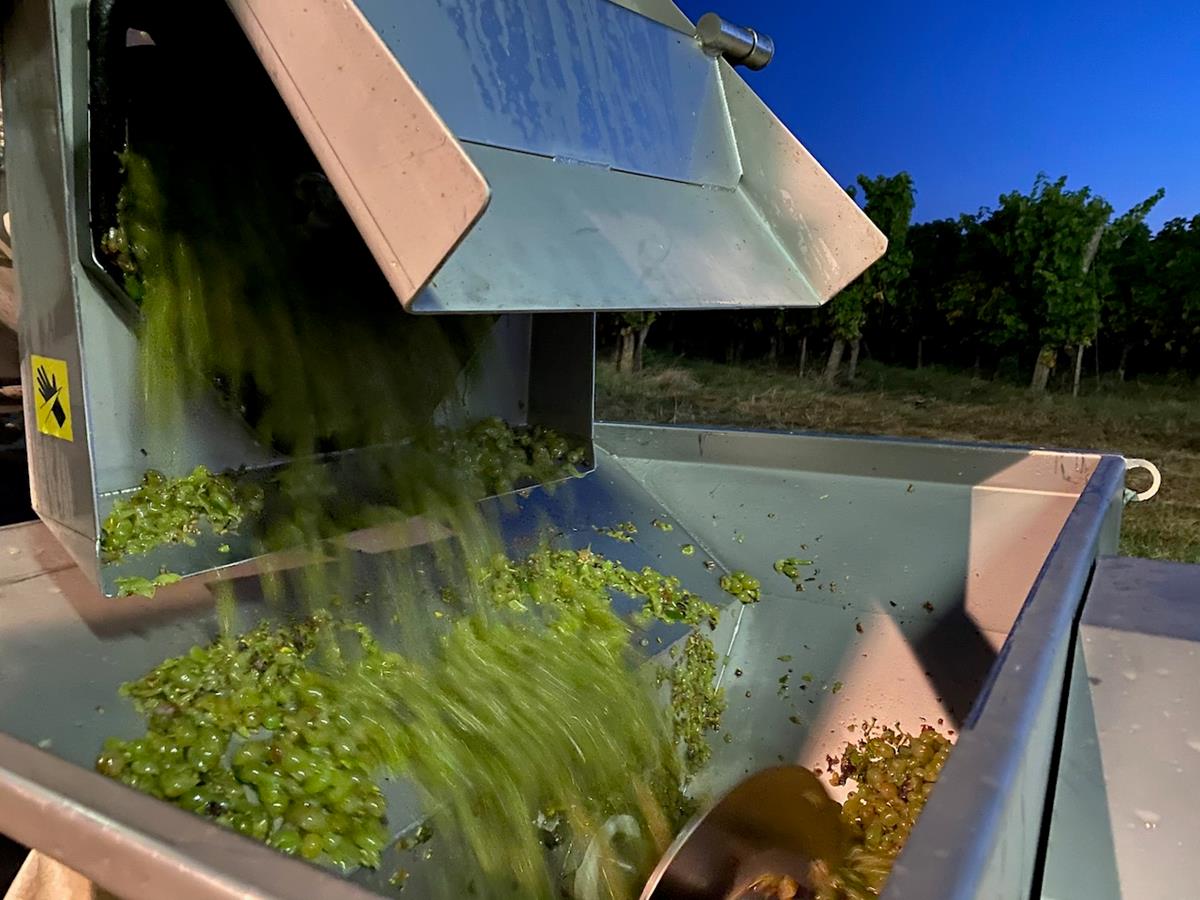 It's all pretty swift. And dangerous.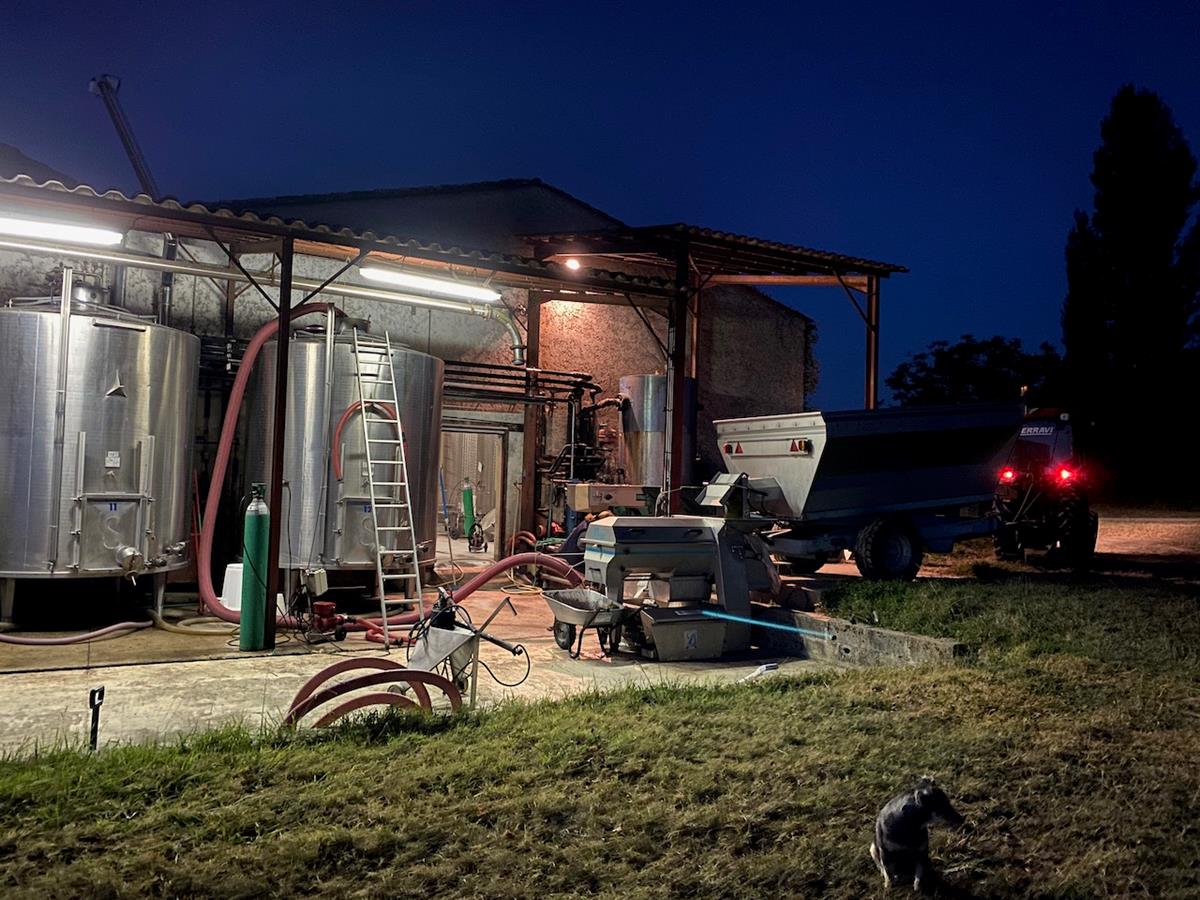 The grapes and the juice go into one of the skin maceration tanks shown, and kept cold for the day. La macération pelliculaire sounds more charming.
Two trailers always on the go.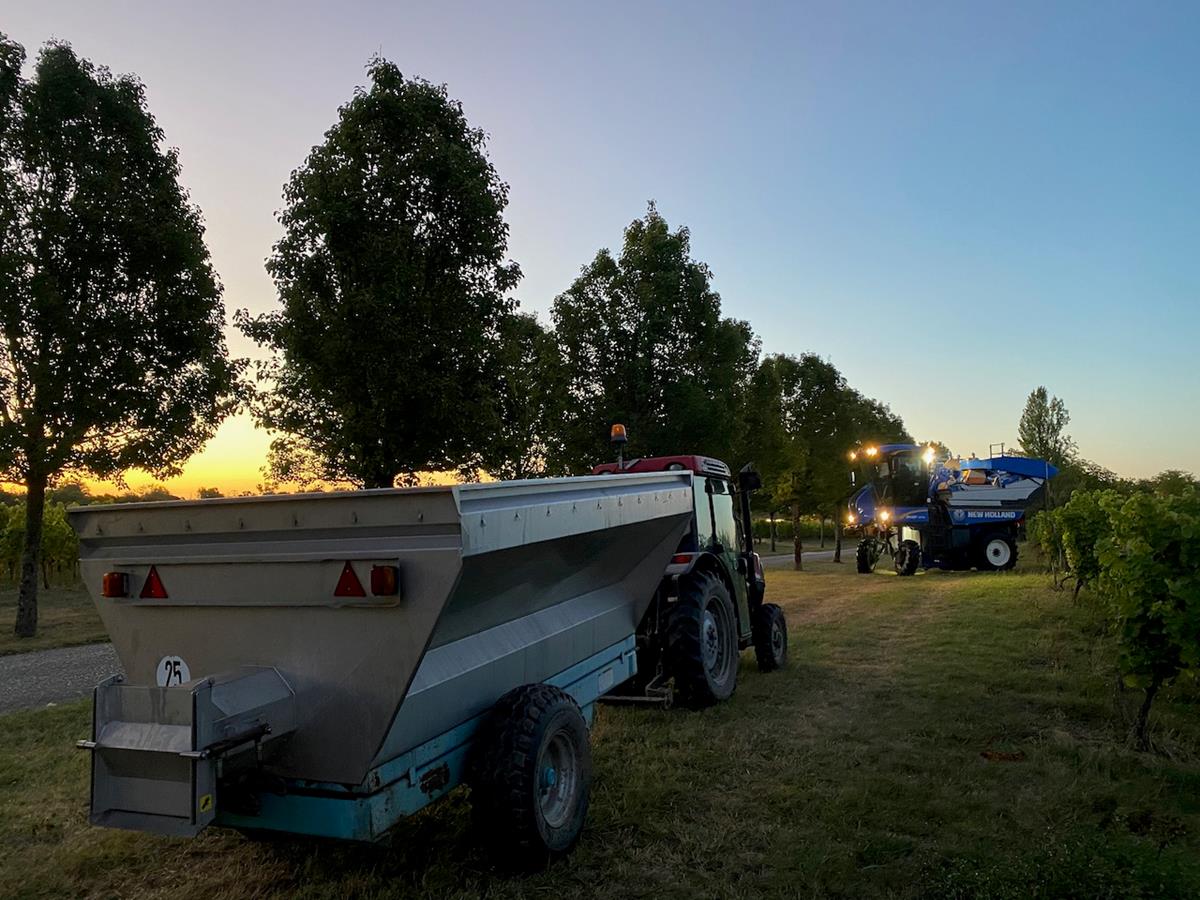 To be fair, it's a little early for the neighbours. 5am is the earliest we're allowed to kick off, which seems fair.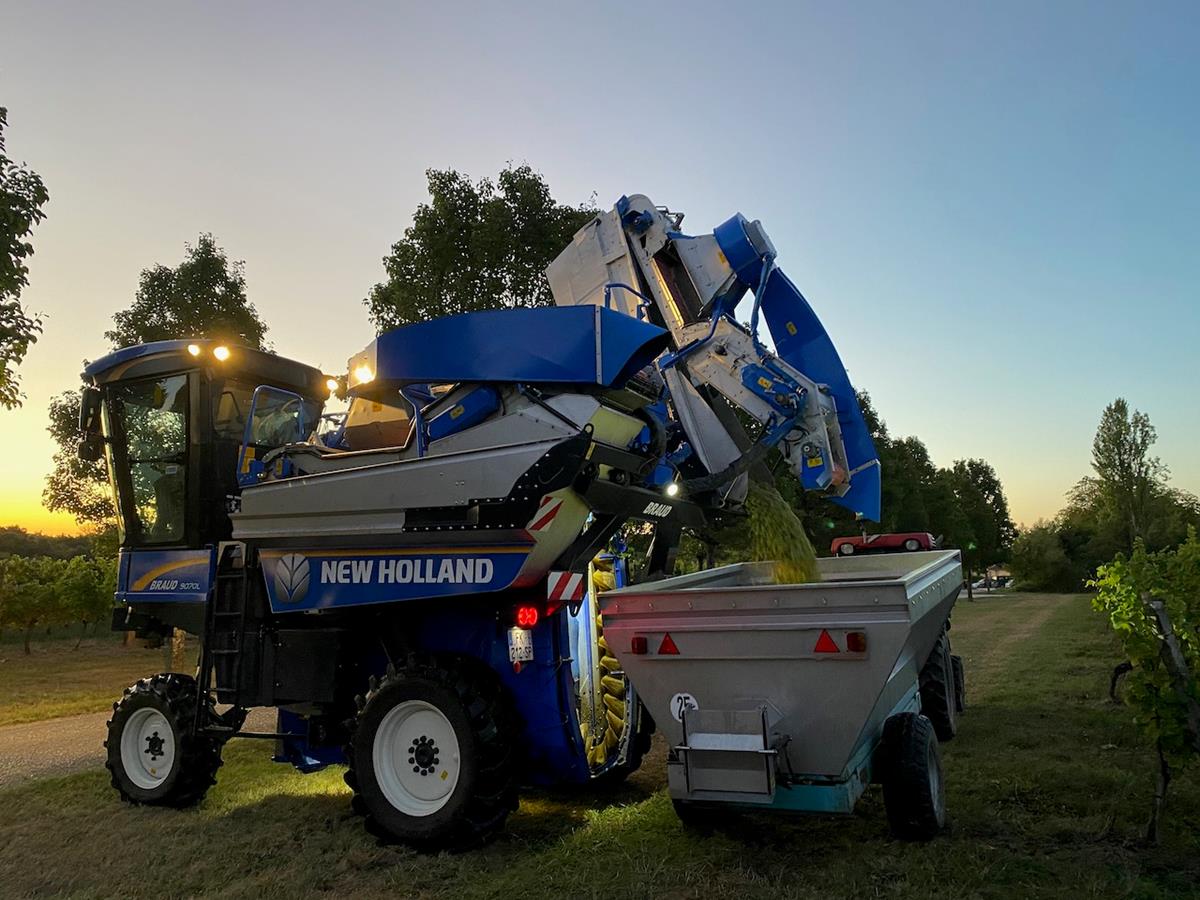 Another stash.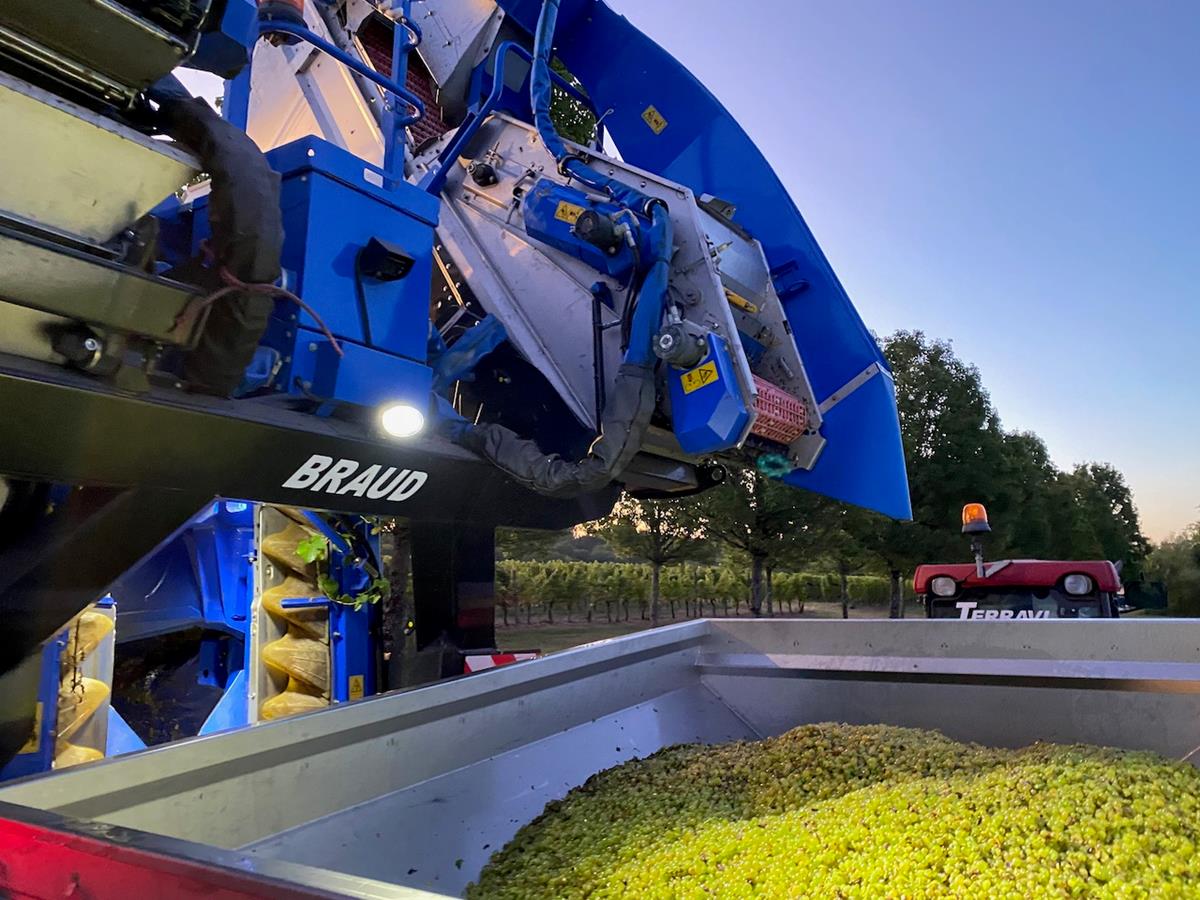 This year we harvested the more Sauvignon corner of Les Trois Hectares separately. The entrée, by the gates, has more of a mix (field blend) of old Sauvignon and Sémillon.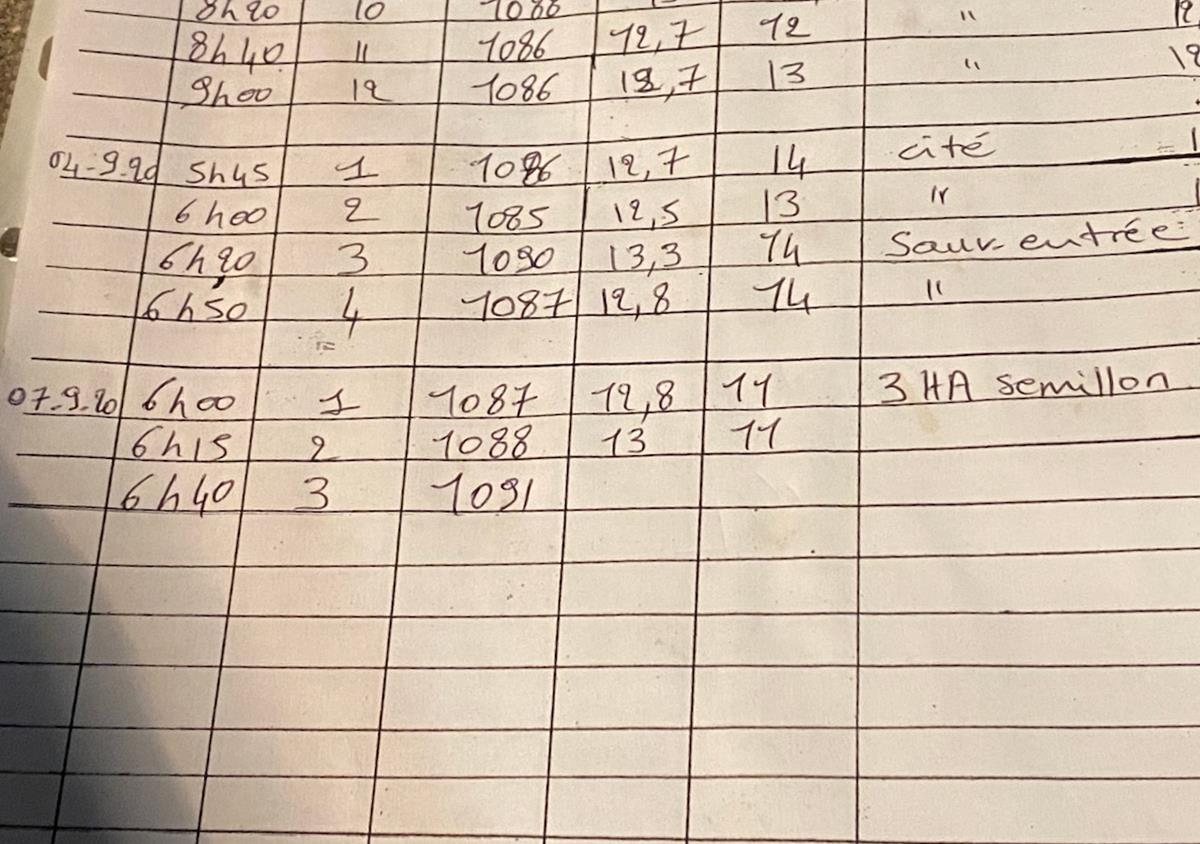 Not ridiculously early and at 11ºC way colder than later on in the day.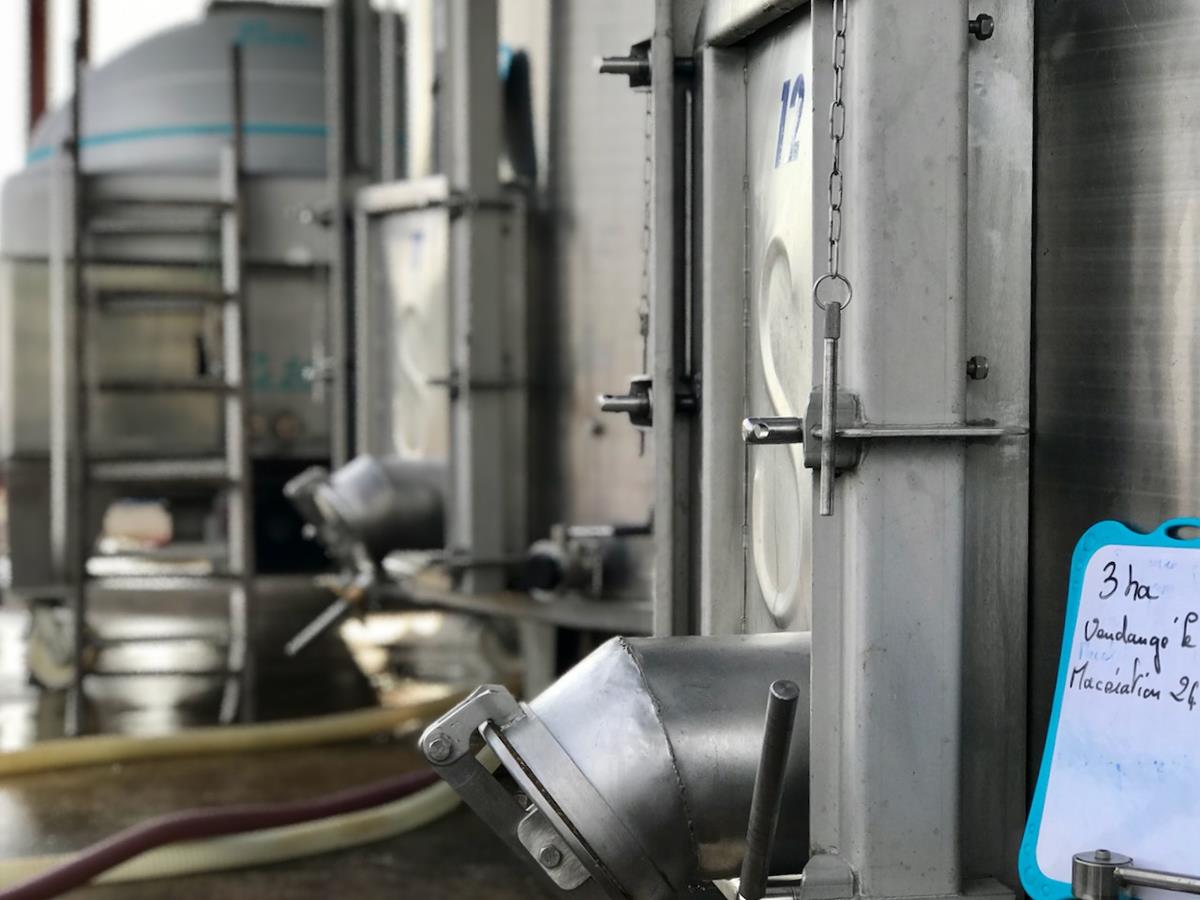 After the cold maceration of the juice with the skins, we run off the juice, then press the gubbins.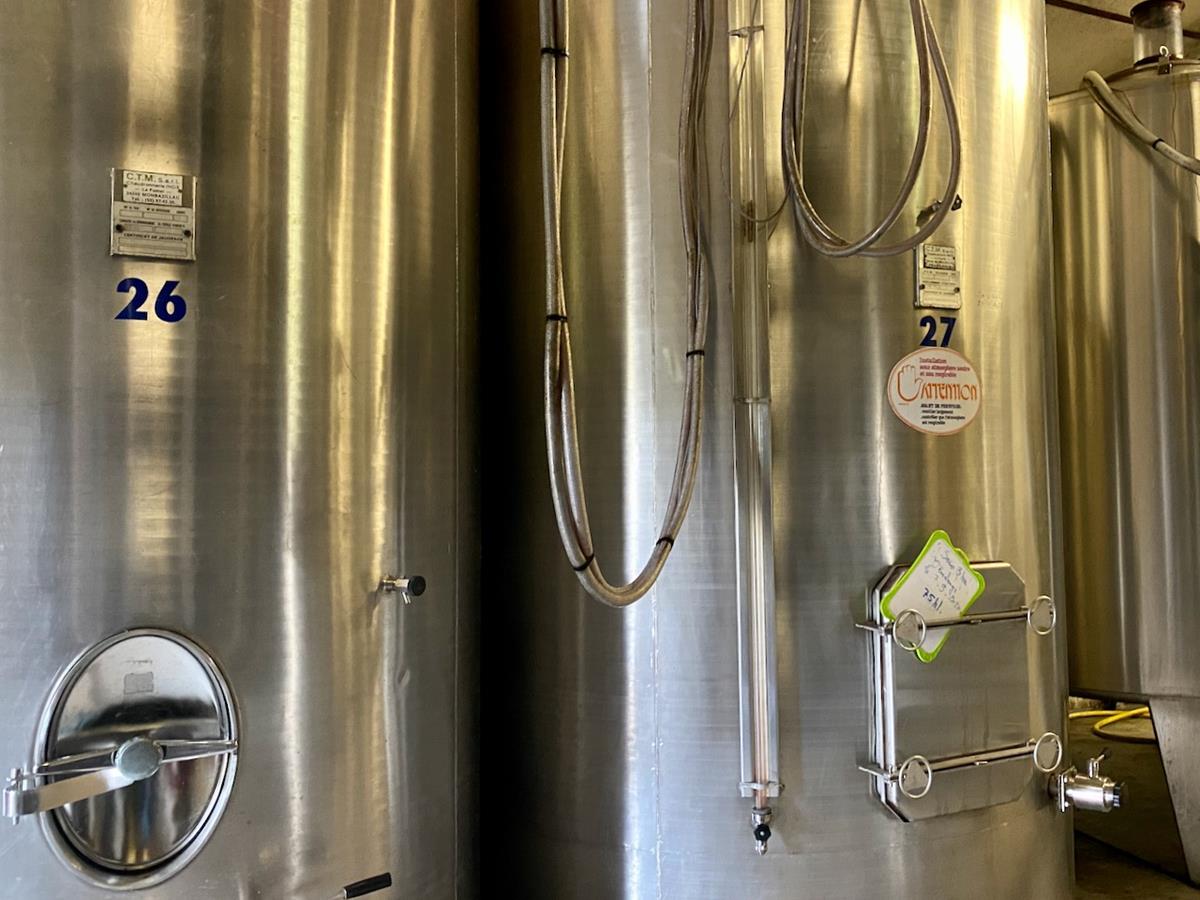 And here is where the juice ends up, still fermenting slowly away. Tastes great but there's always a chance of messing things up. Still, onwards and upwards.
---