Posted by Gavin Quinney on 31st May 2023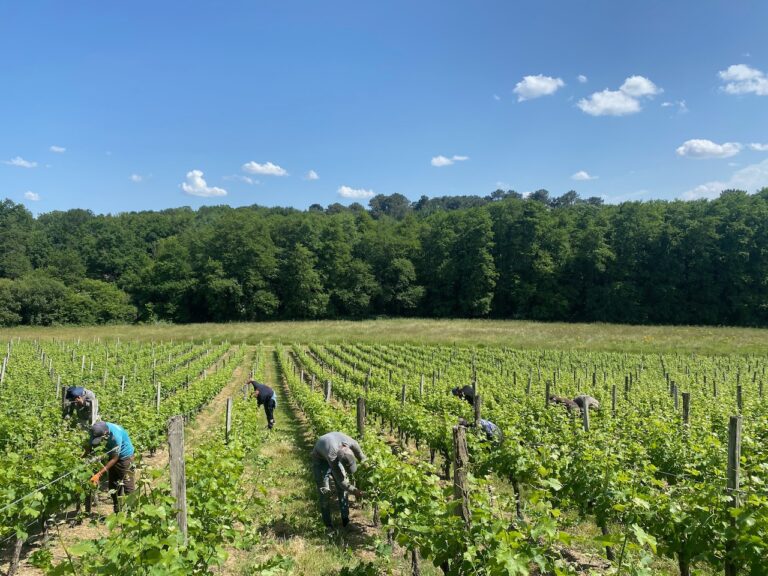 As ever, rather a lot to cover this month. Perhaps we should add a mid-month newsletter to break up the end-of-month drivel?
The vines are pushing on in the vineyard and it's a hectic time for the team to keep up. The photo above is from last Saturday when we had a 10-strong group of seasonal workers removing excess, energy-sapping shoots in the sauvignon blanc.
That's not really something you need to know about, as with so much with wine. But we think the UK duty increase in August will soon be worthy of your attention as, at over 50p a bottle, it'll be the biggest rise in 50 years. Can you believe that 50% of an £8 bottle from 1 August will be UK tax? More on that in due course.
The thrilling items in this month's missive:
The Bauduc Fantasy Premier League results
Mo(o)re on hooking up with the Stein family
My Bordeaux 2022 articles in Harpers
A quiet lunch with the Swiss
Comparing the same vines on the same day over several years
DQ at 90
All the best
Gavin & Angela Quinney
---
The Bauduc Fantasy Premier League results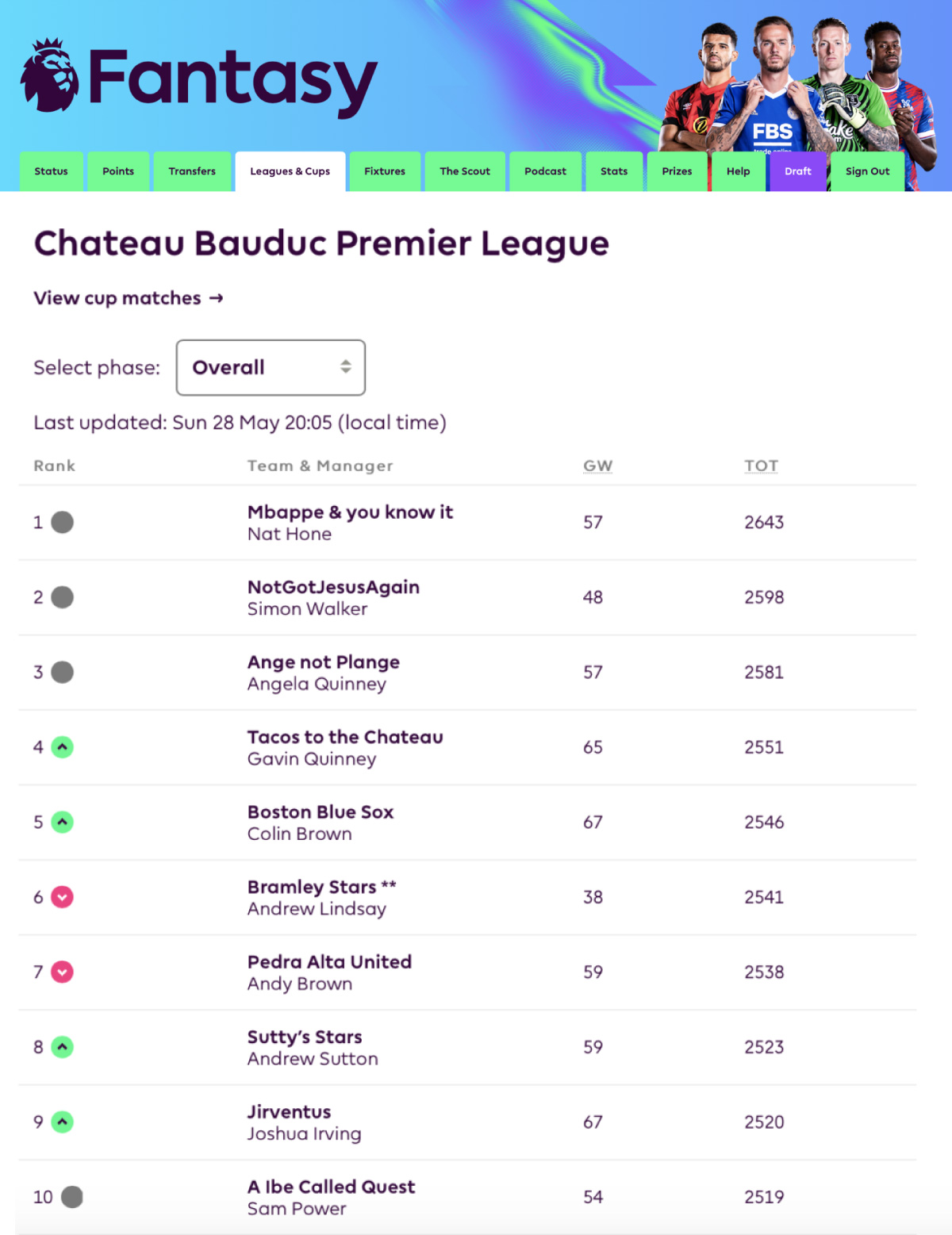 The Premier League football season has ended, and with it the Château Bauduc Fantasy Premier League for 2022-2023. And what a season it's been, all the way from last August to the final day last weekend.
Congratulations to Nat Hone for claiming the crown from Charlie Stein – who'd won it for the two previous years – and to Simon Walker, our runner-up. The full standings of the Bauduc mini-league are listed here.
Naturally, Nat and Simon both win cases of our wine. We should point out that it's family hold back, so the fact that we both got lucky with 3rd and 4th places respectively (toot toot) means that the number of places eligible for a 6-pack of wine has been widened to include 7th and 8th, as well as 5th and 6th as promised. So well done to Colin Brown in 5th and the three Andrews in 6th, 7th and 8th respectively: Andrew Lindsay, Andy Brown and Andrew Sutton. Some 'andy cases (sorry) will be on their way once you've decided which wine you'd like.
Of the 157 managers in all, about 80% remained actively engaged in this highly competitive mini-league. The top 95 players in the Bauduc league finished in the top 20% of the 11.45 million participants worldwide – and over 50 in the top 10%, with the rest of that hall of fame below.
Well played to all. Time for a summer break...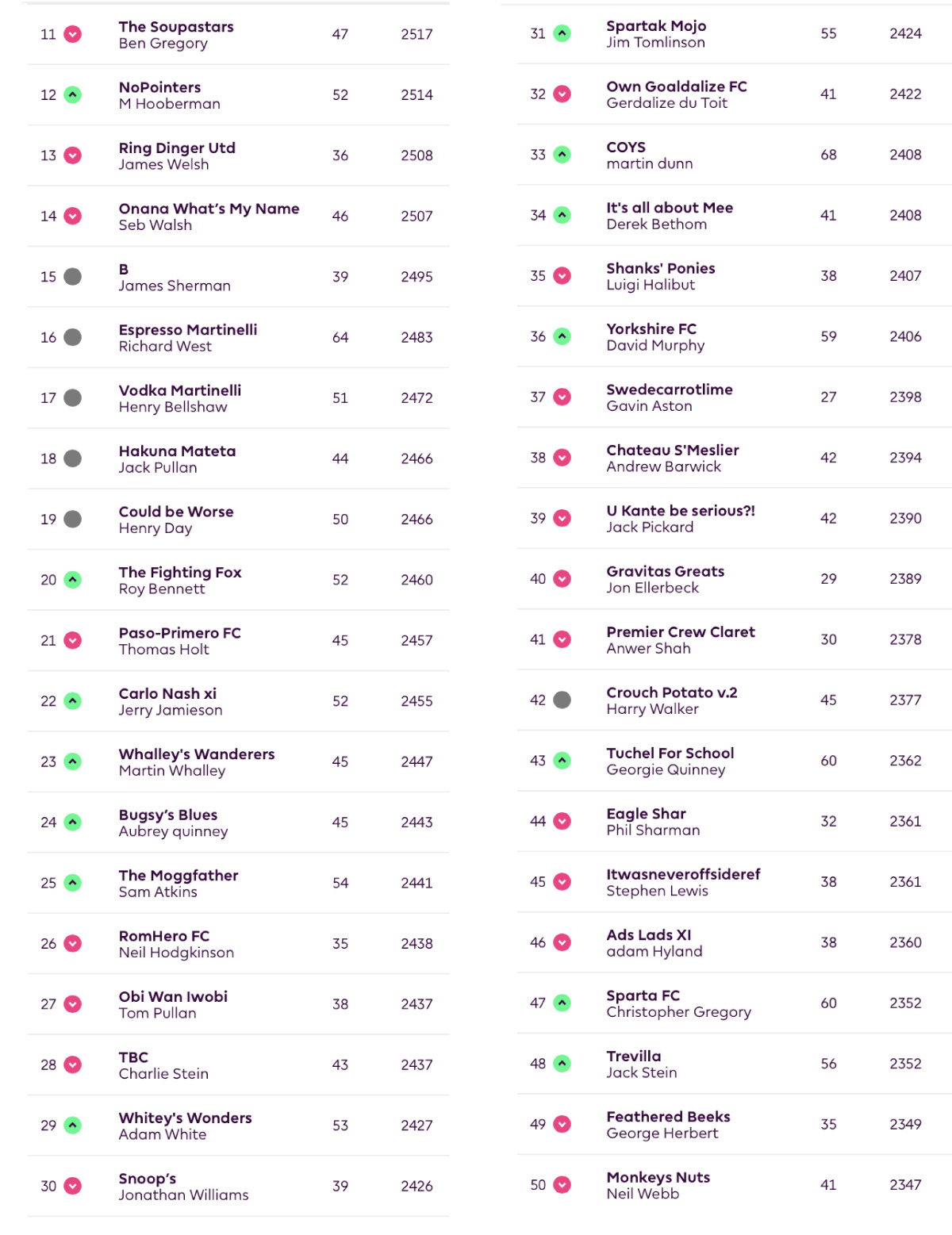 ---
Mo(o)re on hooking up with the Stein family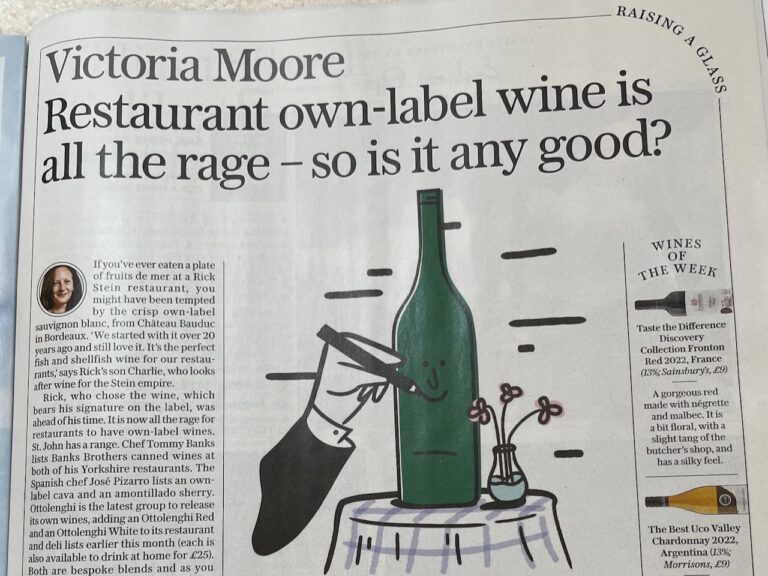 It's always good to see our wine get a mention, especially by writers like Victoria Moore, the Telegraph's hugely respected wine critic. 'If you've ever eaten a plate of fruits de mer at a Rick Stein restaurant, you might have been tempted by the crisp own-label sauvignon blanc, from Château Bauduc in Bordeaux. "We started with it over 20 years ago and still love it. It's the perfect fish and shellfish wine for our restaurants," says Rick's son Charlie, who looks after wine for the Stein empire.
'Rick, who chose the wine, which bears his signature on the label, was ahead of his time. It is now all the rage for restaurants to have own-label wines.'
Thanks to Ange's father David for sending us the photo of the article last Saturday.
Now it just so happens that Rick's business partner and ex-wife Jill (on the right in the photo) was staying in our farmhouse a couple of weeks ago, along with her sister Roni (left), Roni's husband Chris and their friends Teri and Johnny Walter, whom we've also known for ages.
Roni was the sommelier when we used to go down to the Seafood restaurant in Padstow in north Cornwall, as customers when we lived in London in the nineties. She still does a couple of evenings a week to keep her hand in. We talked about how we got our wine listed originally because, in truth, I'd almost forgotten what happened, other than going down there and subtly pitching for the business over lunch. 'Oh,' said Roni, 'you gave me one bottle of the white and another for Rick to taste. We both loved it and that was that.'
To be fair I think there was a little more sales expertise on my part – not least with designing the label with Rick's signature on – but there it is.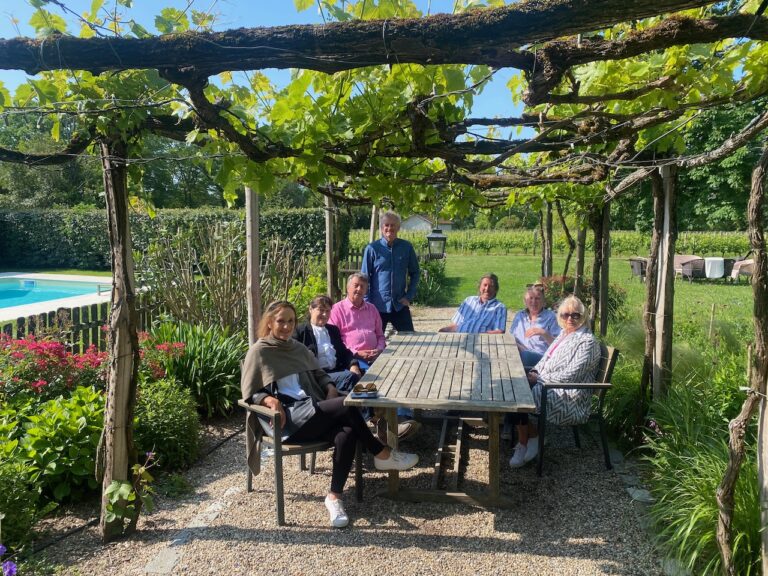 ---
My Bordeaux 2022 articles in Harpers
The top wines from Bordeaux 2022 are being sold 'en primeur' by merchants during May and June, as soon as they are released by the châteaux and on through the Bordeaux trade. I wrote two articles on Bordeaux 2022 for the UK trade magazine, Harpers Wine & Spirit. The first was on how the weather shaped the vintage, the second on the wines themselves, along with some production stats.
The pieces are probably easiest to view by downloading the two pdfs below.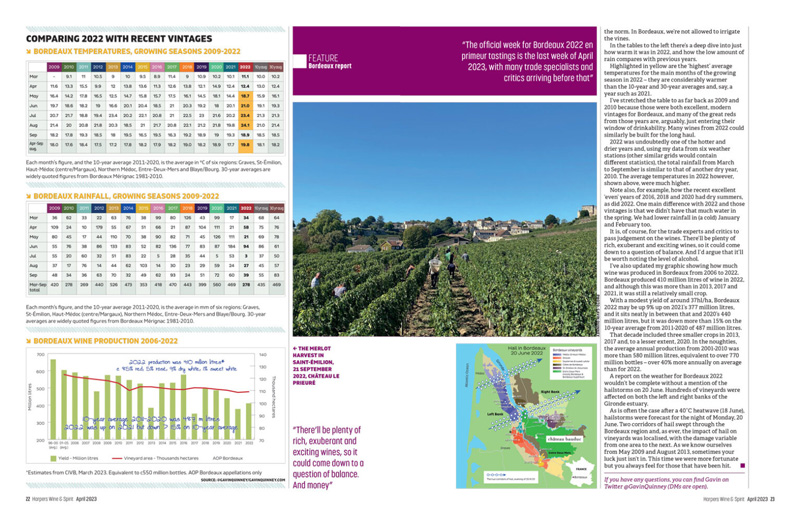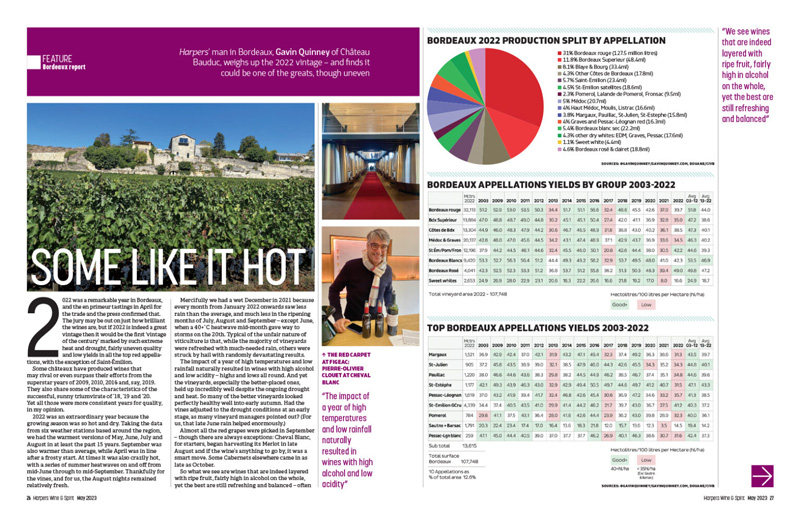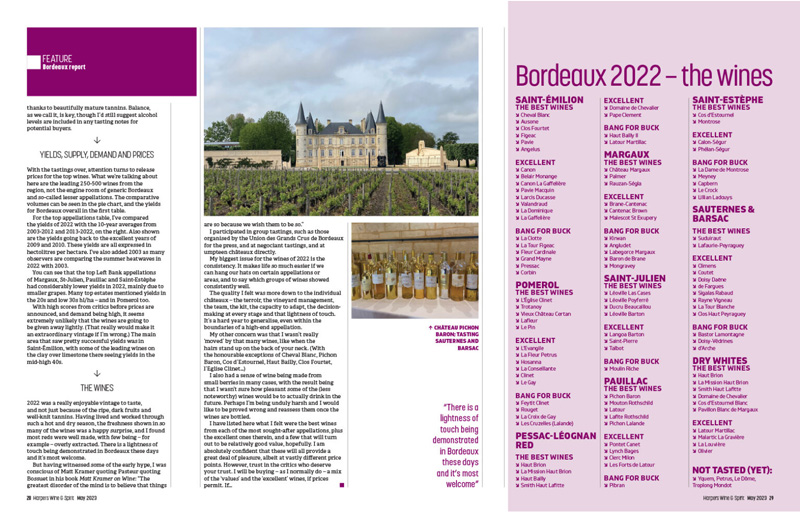 ---
A quiet lunch with the Swiss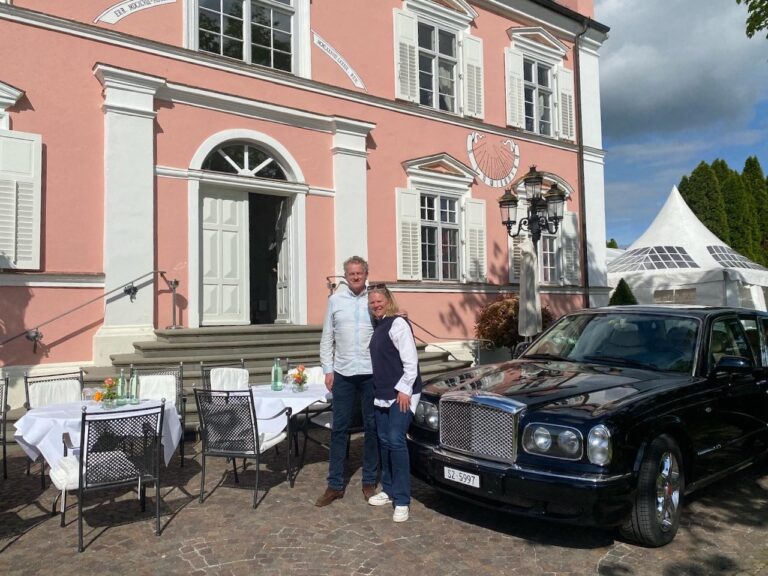 Just before meeting up with Jill Stein and friends, we spent a weekend with our Swiss importer at his Schloss near Lake Constance in Germany. We did though have to sing for our supper as we poured our wine for scores of his guests who came to lunch on the Saturday.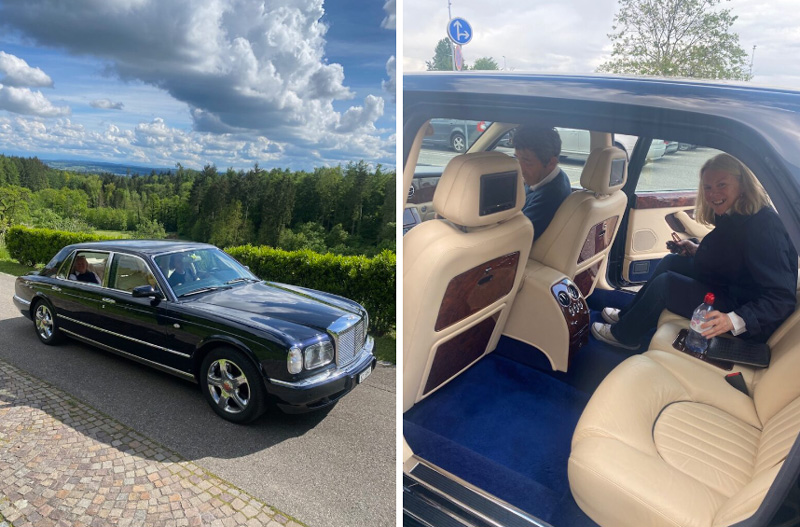 A sure way to tempt us to come and do a tasting (other than buying many thousands of bottles a year) is to offer to pick us up from the airport in a luxurious Bentley.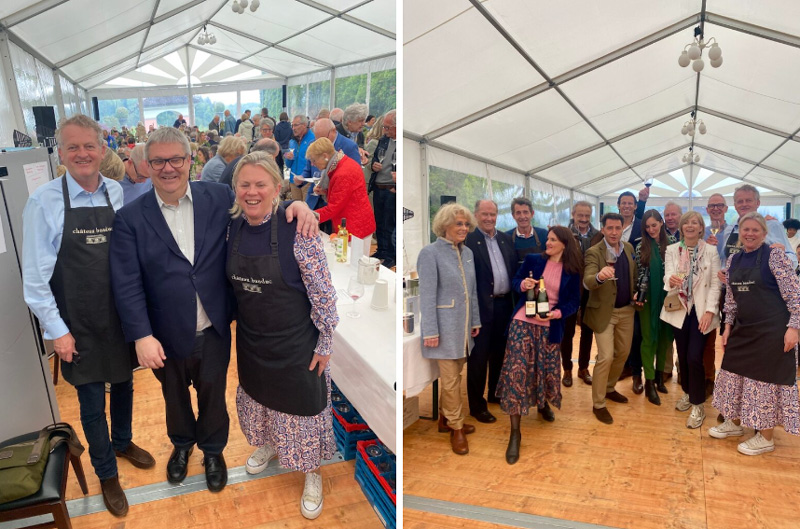 The occasion was to mark Selection Schwander's 20 years in business – here we are in our Bauduc pinnies with Philipp Schwander MW. We managed to get our fellow wine suppliers together for a team photo.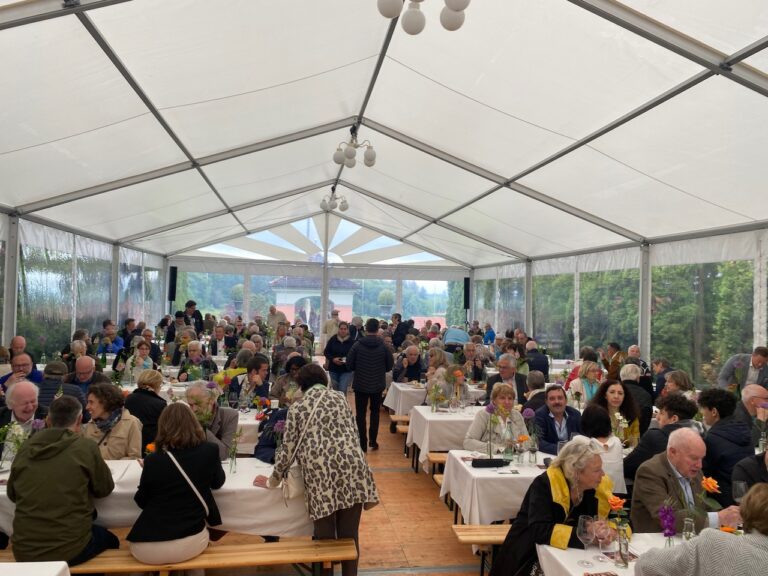 The tasting and lunch went on throughout the day with hundreds of Philipp's private customers making the trip to the Schloss.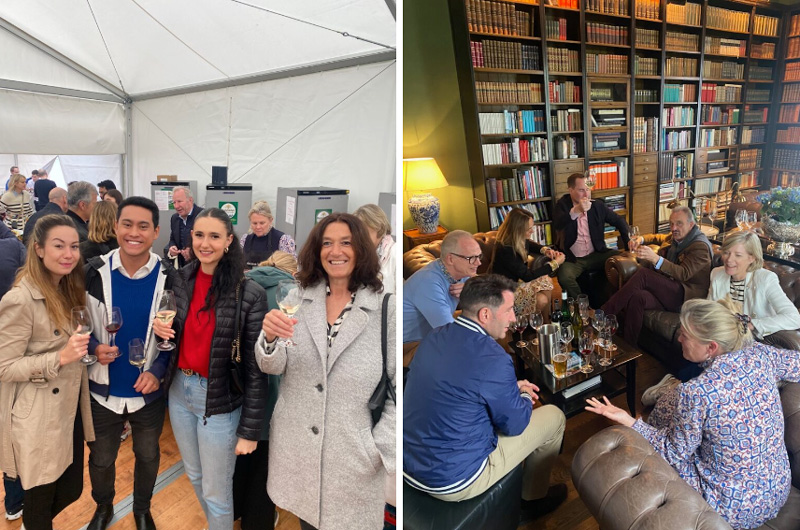 It was a happy occasion for the guests and it's always good if a family say that they love your stuff. And it's always fun to spend time with fellow wine producers.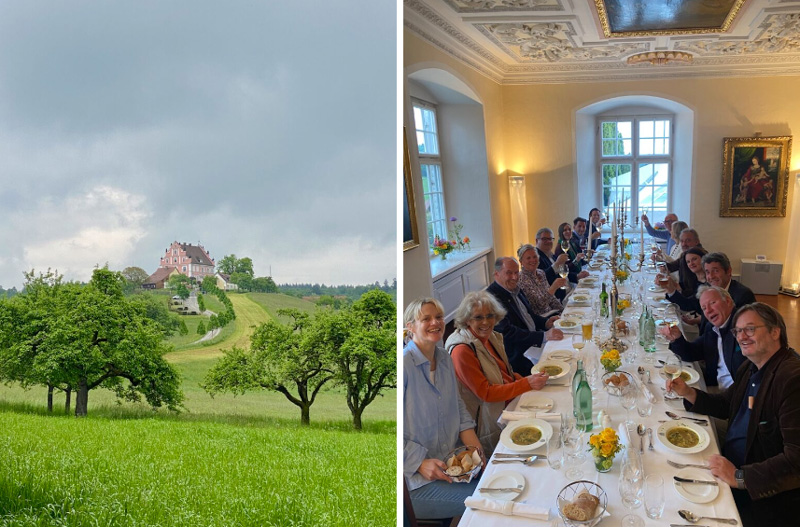 Schloss Freudental, up on the hill. Viewed from our healthy walk on the Sunday.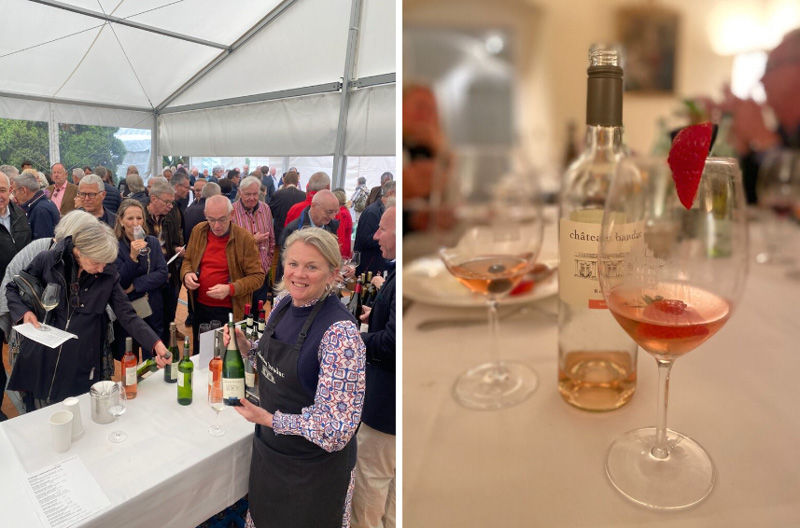 Ange doing the honours with our Crémant and the Rosé. It was the first time she had been to the Schloss.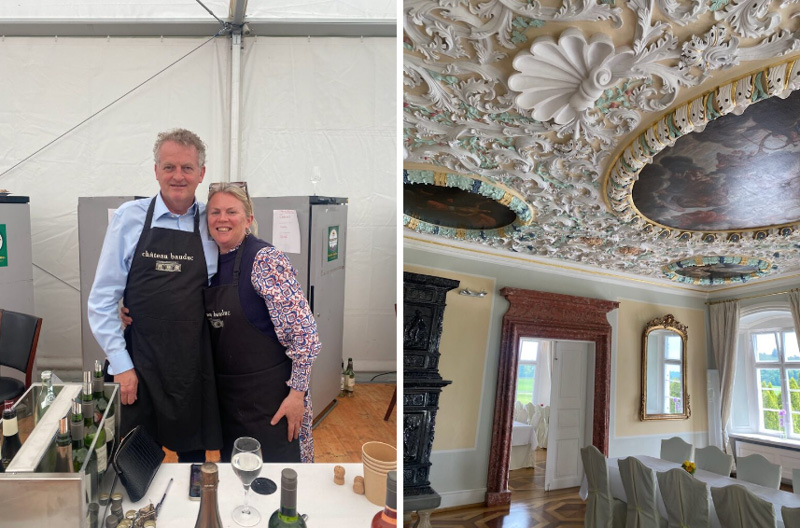 We also served our Sauvignon Blanc, Philipp's biggest selling white wine. The Schloss, which is often let out for weddings, is magnificently decorated.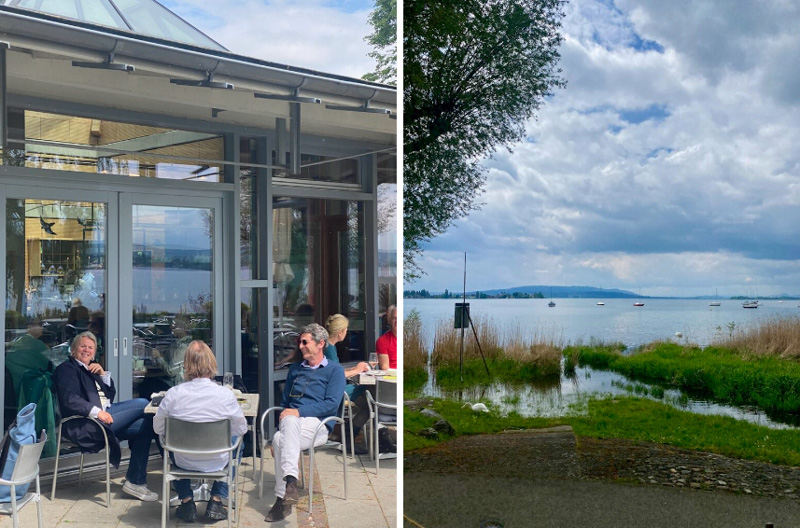 On the Sunday we had enough time to enjoy a lunch by the lake with our friend and fellow Bordeaux winemaker, Andrew McIness, whom we introduced to Philipp because he makes tasty and reasonably priced Médoc reds, and our friend and chauffeur Arsene.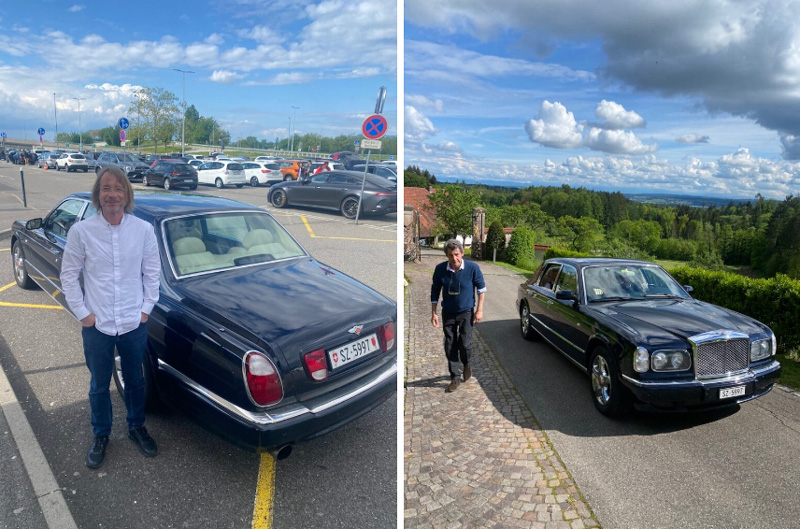 And as Basel airport was 170kms away, the three of us will always be grateful to Arsene for making the trip that much more pleasurable.
---
Comparing the same vines on the same day over several years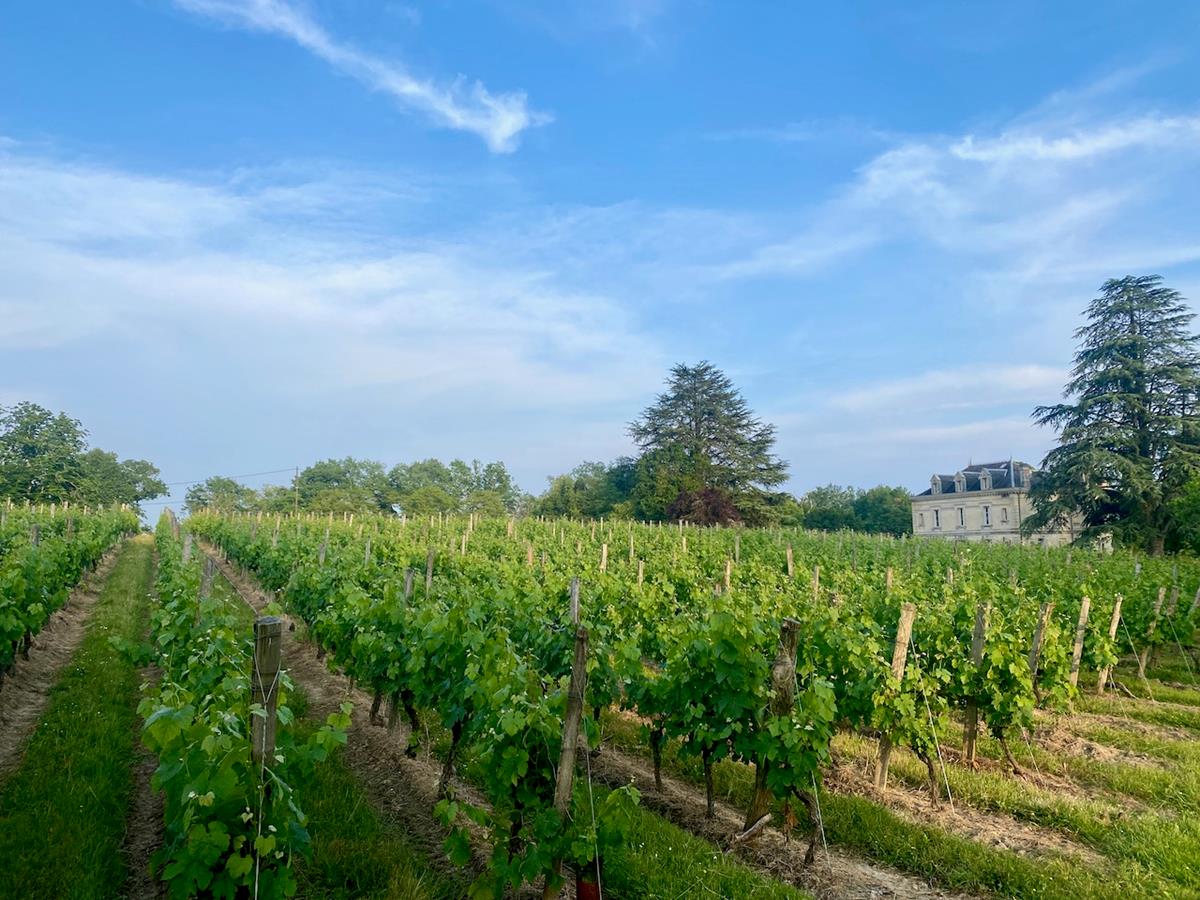 23 May 2023
Over the years I've taken a photo of the same plot of Merlot vines by the château. You may have seen some of these before (last posted in 2019) so here's an update. Here are the vines as of last week.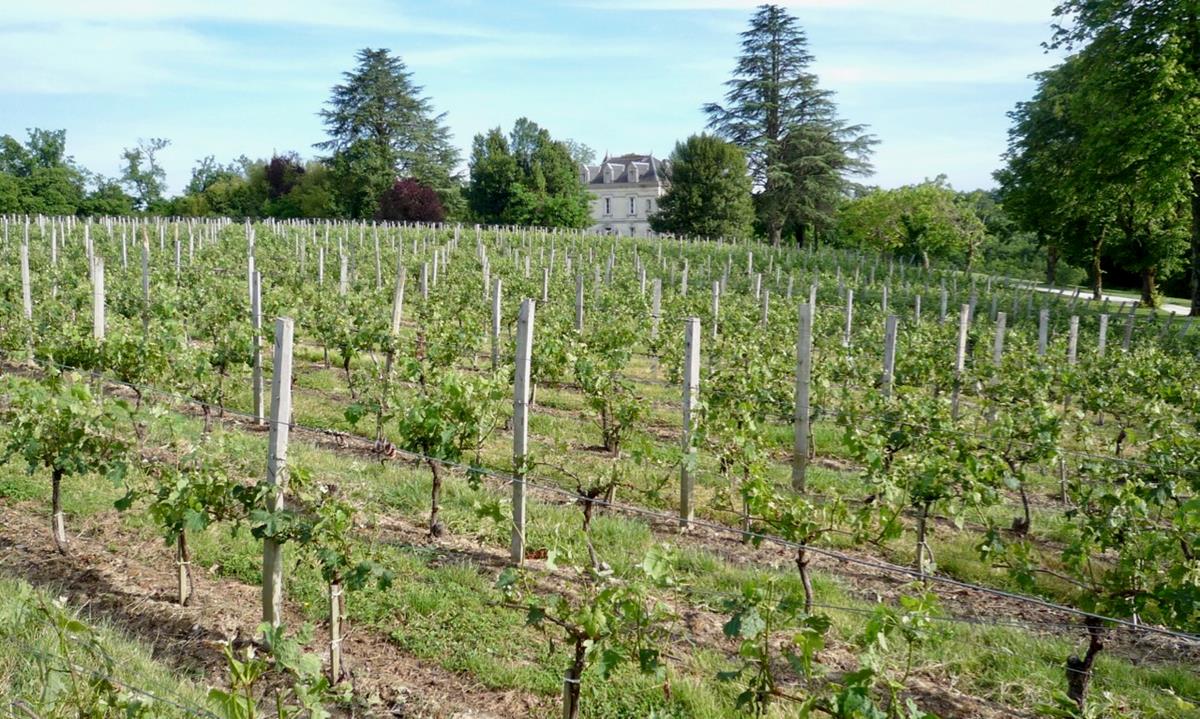 23 May 2009
Way back when in May 2009, we had two hailstorms which proved pretty catastrophic for our crop that year. 2009 turned out to be a great vintage for most of Bordeaux, in fact, so it was doubly disappointing. We did though manage a 'Wine of the week' for Jancis Robinson MW for our Bordeaux dry white, which was partially sourced from a vineyard we subsequently leased after the hail had struck.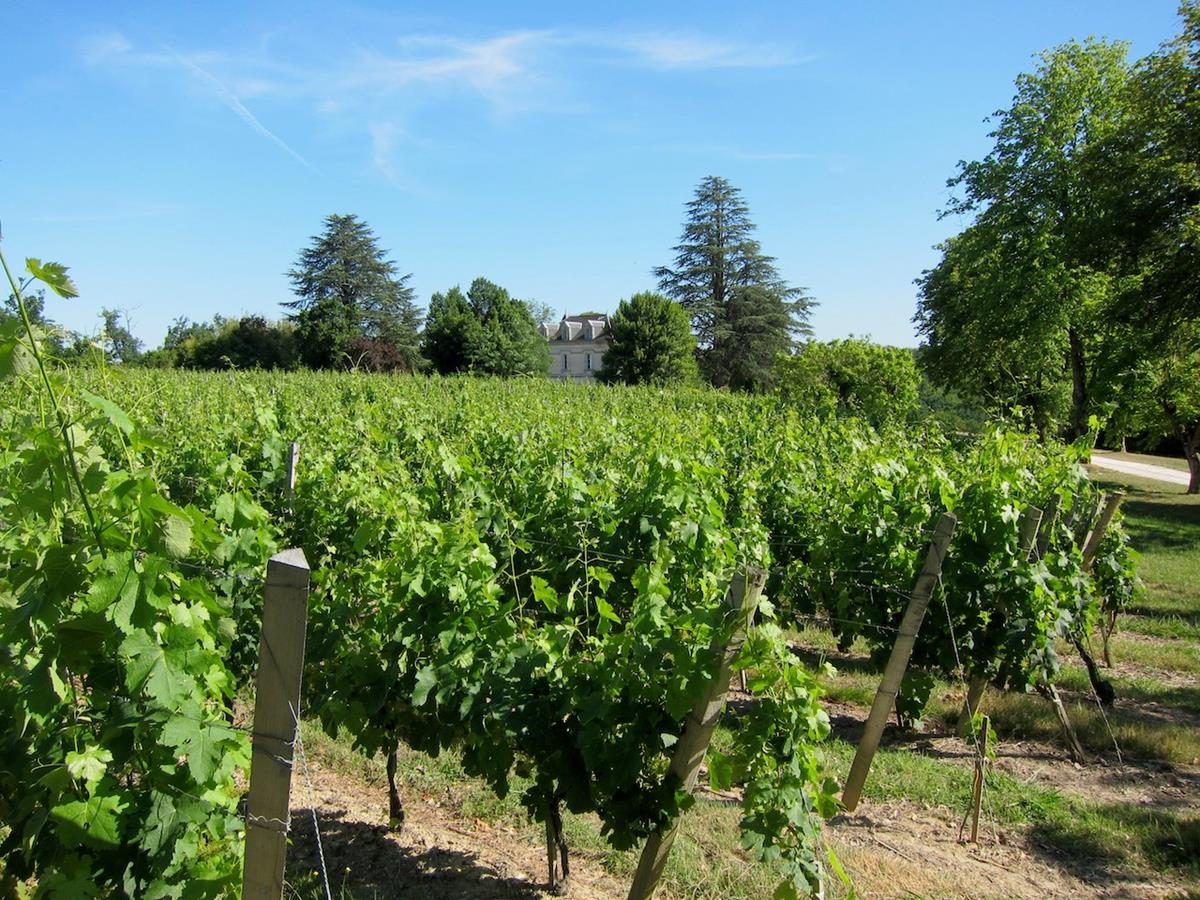 23 May 2011
2011 sits in complete contrast to the images of 2009 and 2013 above and below. It was one of the most precocious growing seasons when the vines shot out of the blocks. It was, naturally enough, an early harvest and the reds gripped with quite abrupt tannins across Bordeaux. Many of the top wines are just beginning to open up nicely and are a pleasure to drink. Our Trois Hectares 2011 red, which we sold out of about five years ago, is drinking well now. Oh, and 2011 was a brilliant vintage for Sauternes and Barsac. Do try some.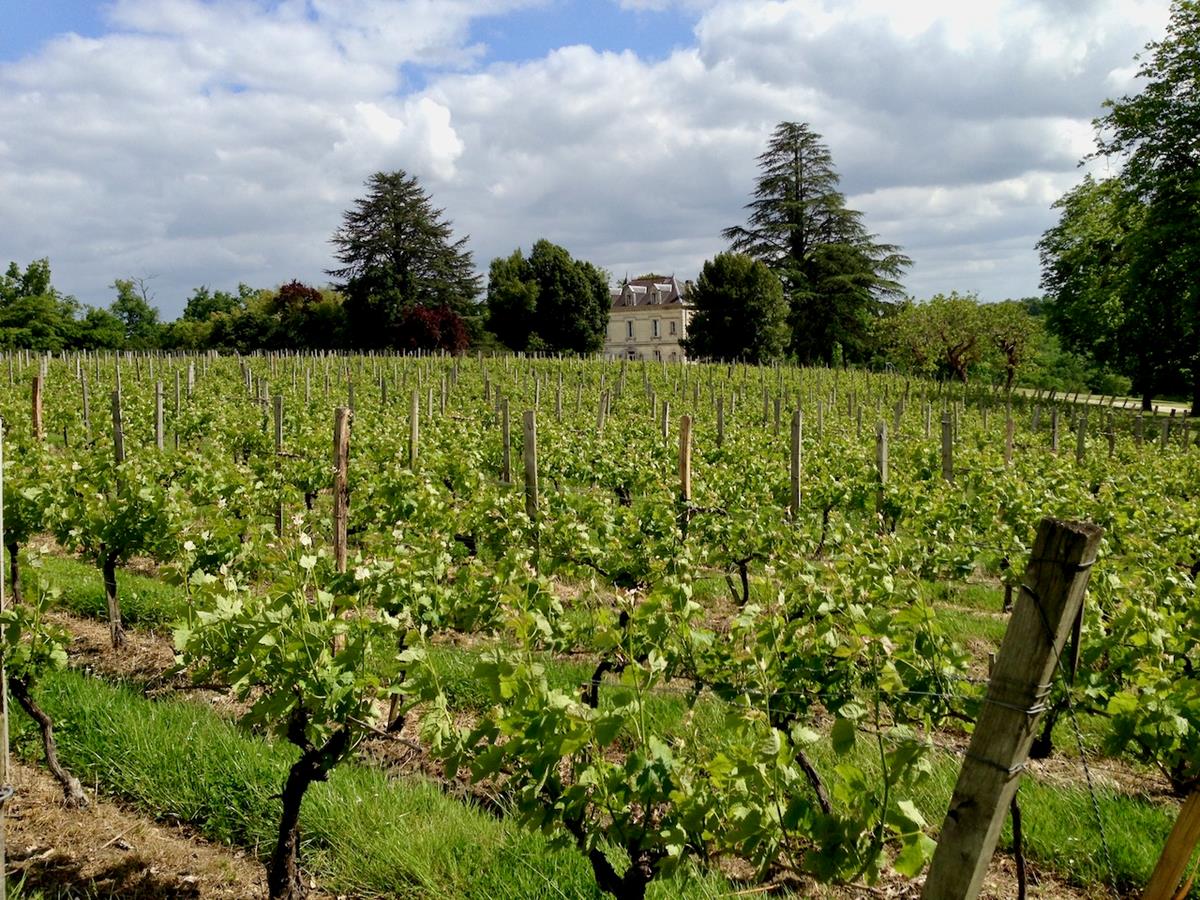 23 May 2013
2013 and, as a vintage, it never really recovered from a weak start to the growing season. Our Sauvignon Blanc was pretty good in 2013 but a hailstorm on 2 August 2013 wiped out about half our crop. I wrote several posts about the Aug 2013 hailstorms, along with before and after images.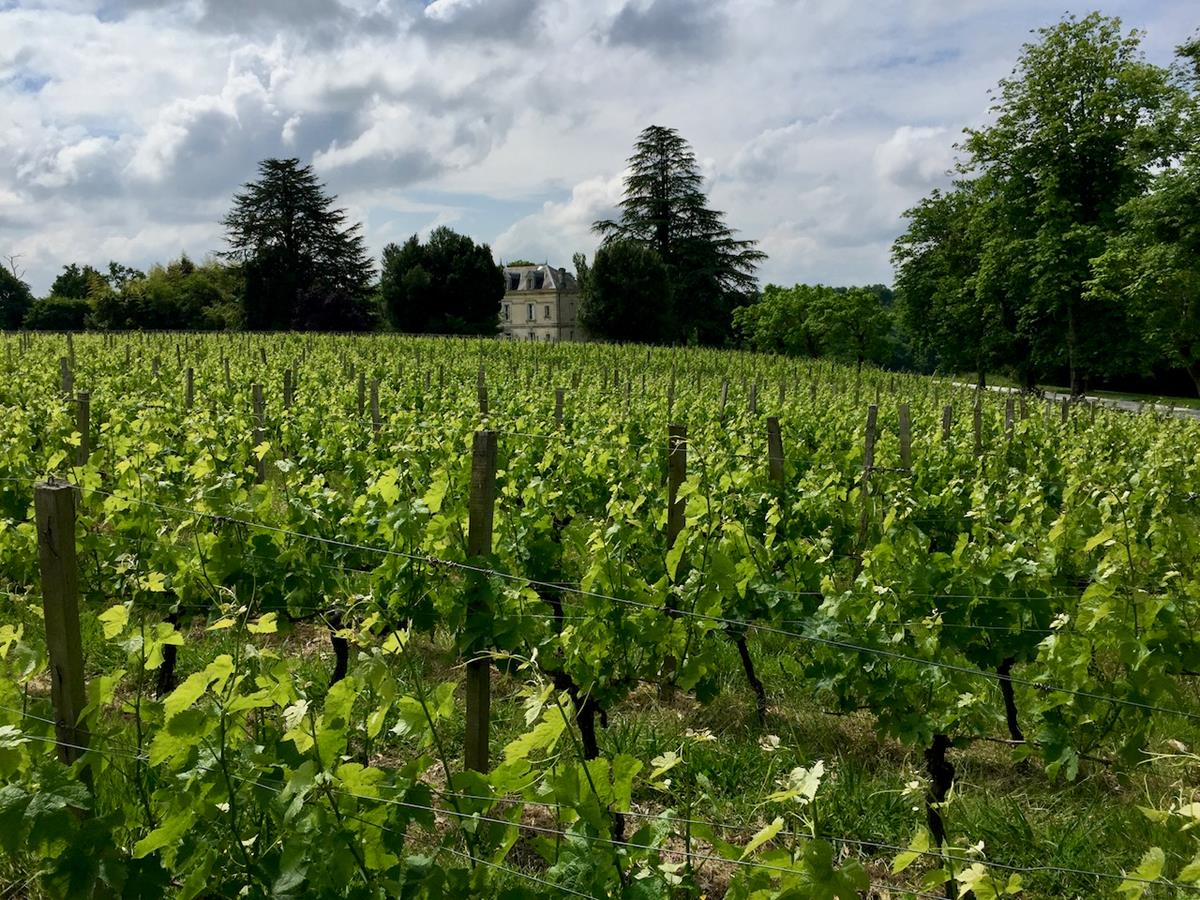 23 May 2015
Sticking to the odd years and 2015 was a pretty good one. Great things were expected of 2015 because 1990, 1995, 2000, 2005 and 2010 had all been terrific. It turned out to be a great vintage in Saint-Émilion and Margaux, for what it's worth. The 2015 Sauvignon Blanc was the first vintage we sold to Philipp Schwander in Switzerland - something to do with stressing about too many eggs in one basket after a warning shot in June the following year.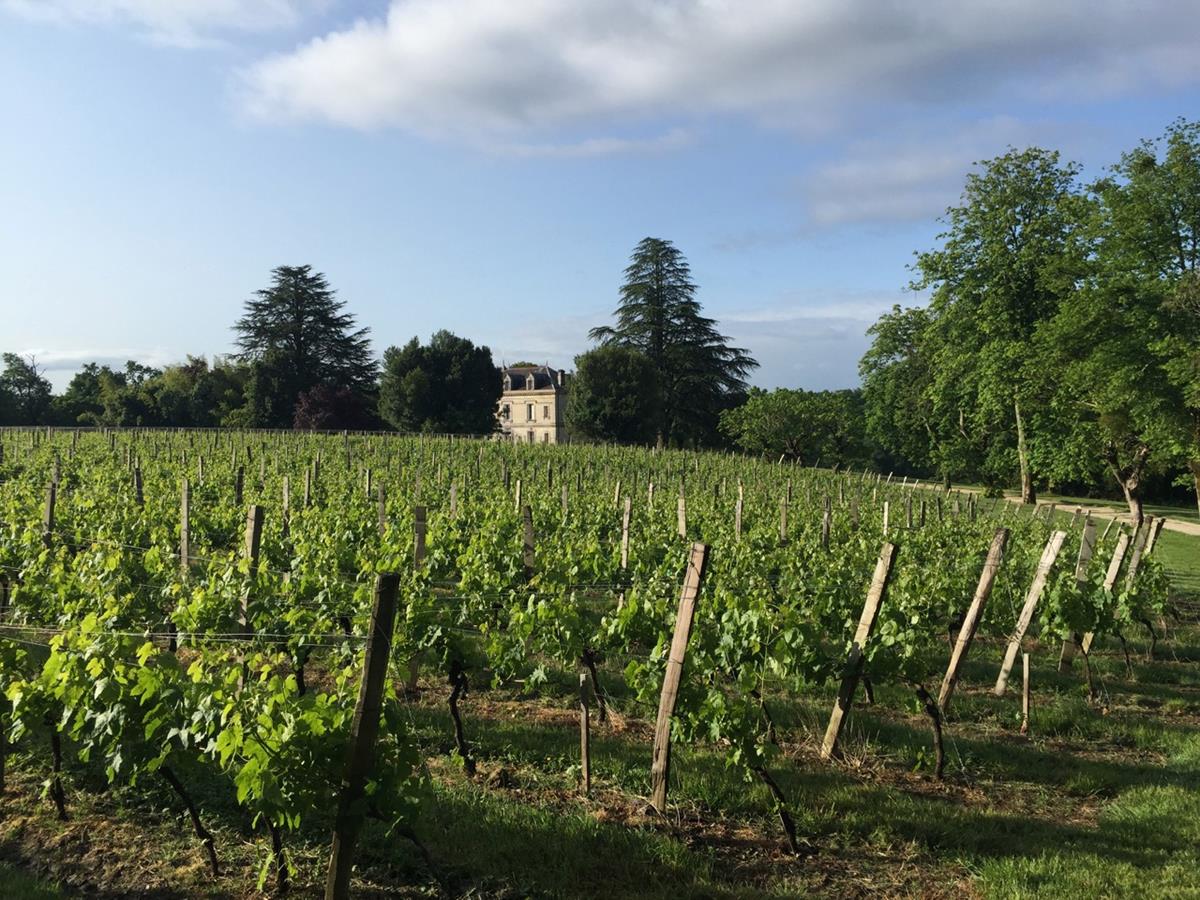 3 May 2016
The first even year in this series because 2016 was pretty classic all round. Neither too early nor too late as a growing season, and as a harvest, and thoroughly well behaved. Les Trois Hectares 2016 red is just now beginning to drink really well, if you have some, as we discovered with the Stein mob. Sadly sold out yonks ago.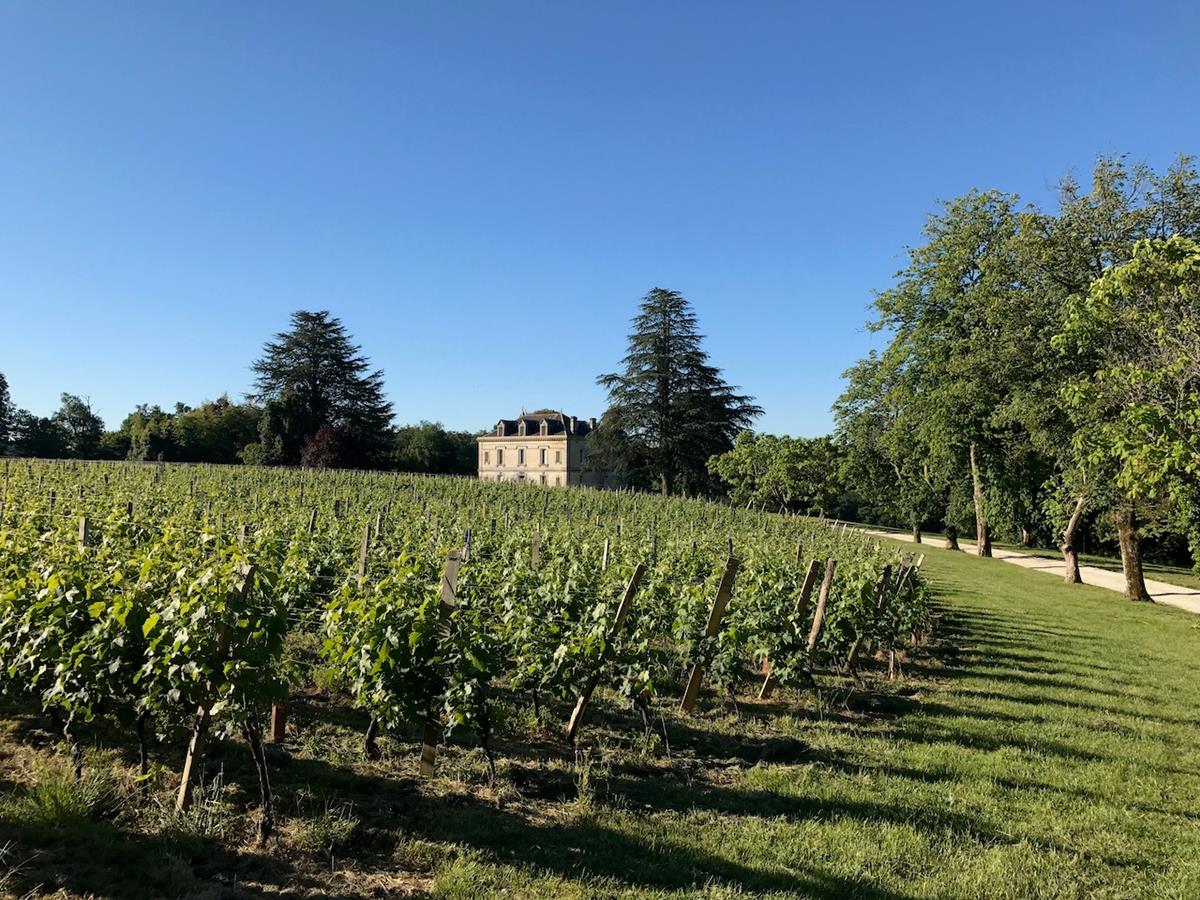 23 May 2017
We'd dug up the large shrub in front of the château in 2016. What's interesting about 2017 was that this was the year of the great frost, in late April, when so much of Bordeaux's crop in general, and especially on the right bank, was devastated. (Search 'frost' or 'hail' on gavinquinney.com and you'll find all the gore you need.
We too had been hit in late April on the lower slopes around the estate but these vines on 'the plateau by the château' are 100m above sea level. Doesn't sound much but it made all the difference. Our 2017 Bordeaux Supérieur red is still available and drinking very well.
23 May 2018
2018 was another early harvest and a very good one. We managed to steer clear of the nasty mildew that made a mess of what was otherwise a good year – but it had been rainy in the spring before the warm and dry summer so many top châteaux had smaller yields.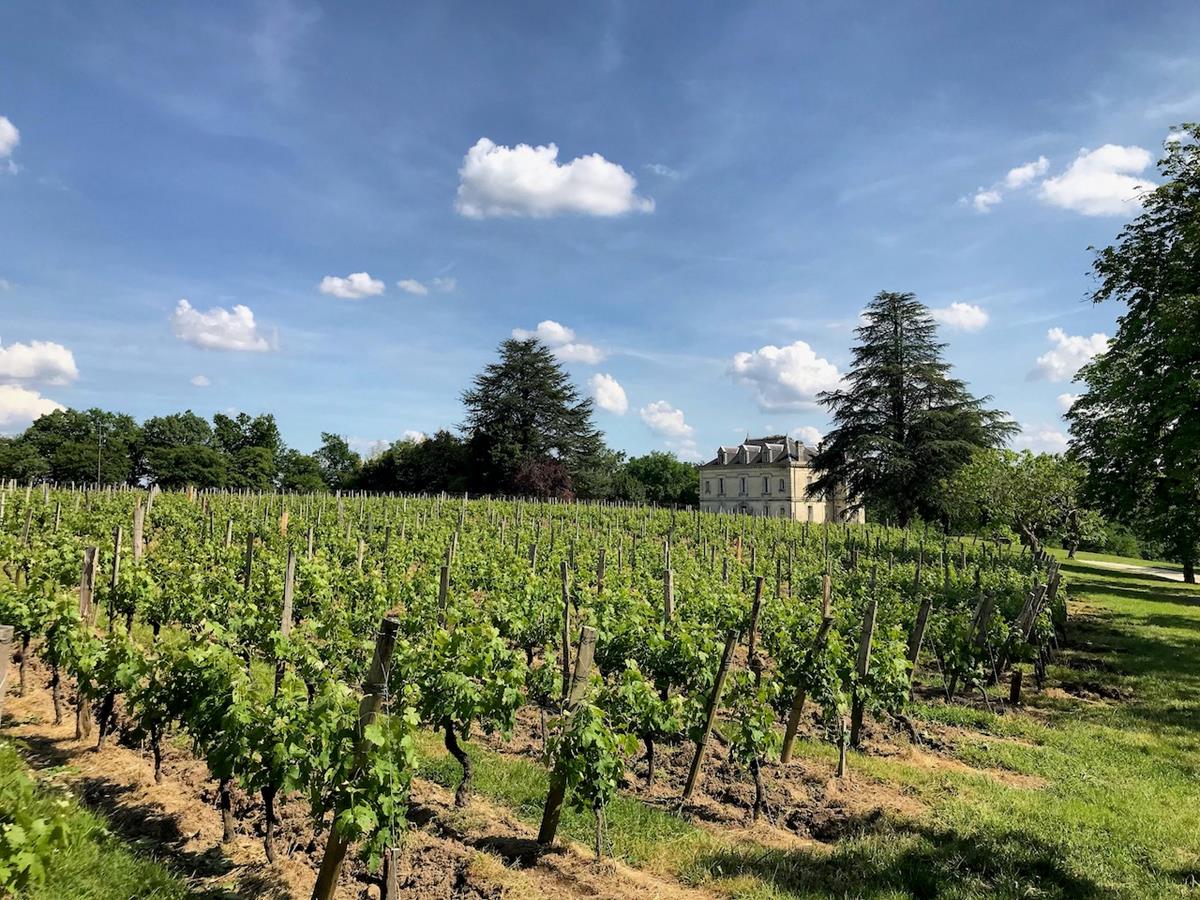 23 May 2019
2019 wasn't that fast out of the blocks and it was a useful reminder that it doesn't have to be an early vintage to be a very fine one.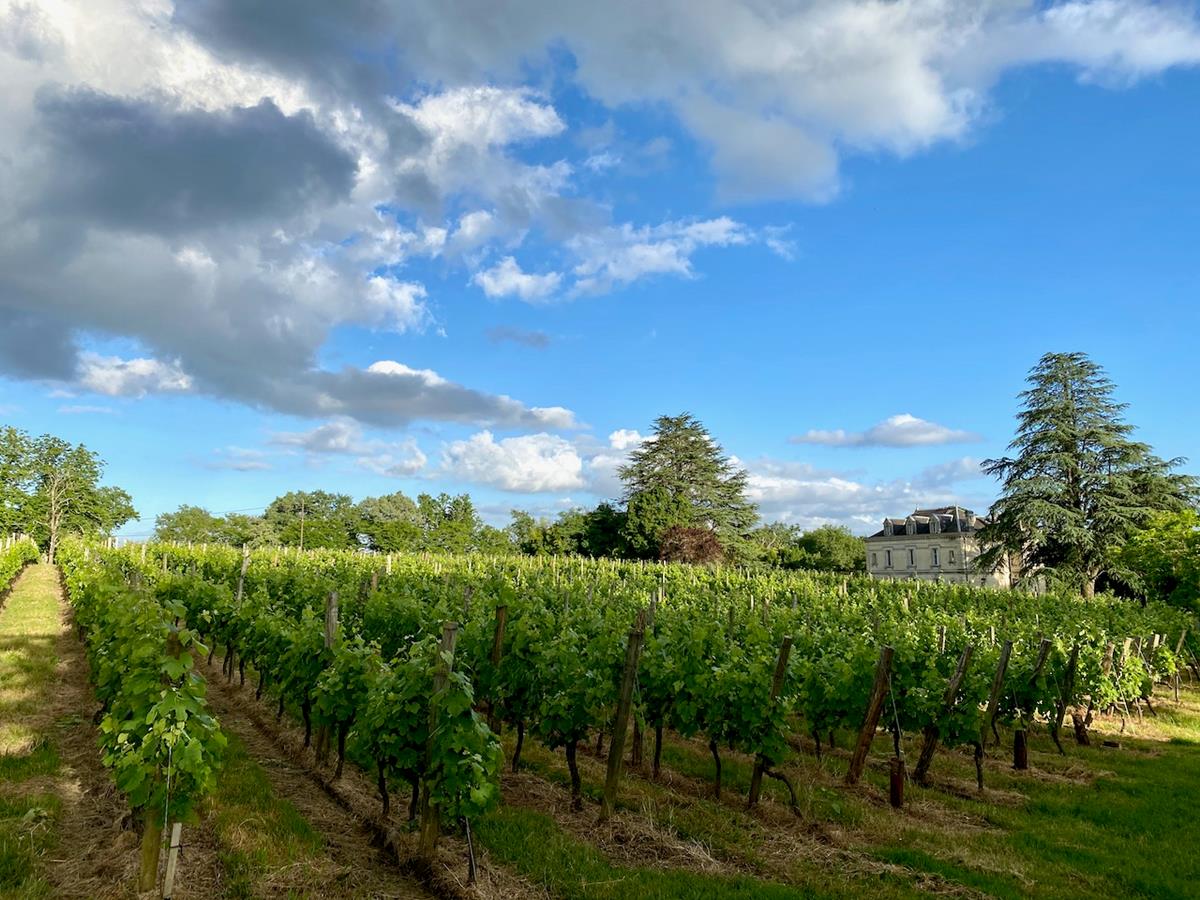 23 May 2020
An early bird was 2020. And a good 'un.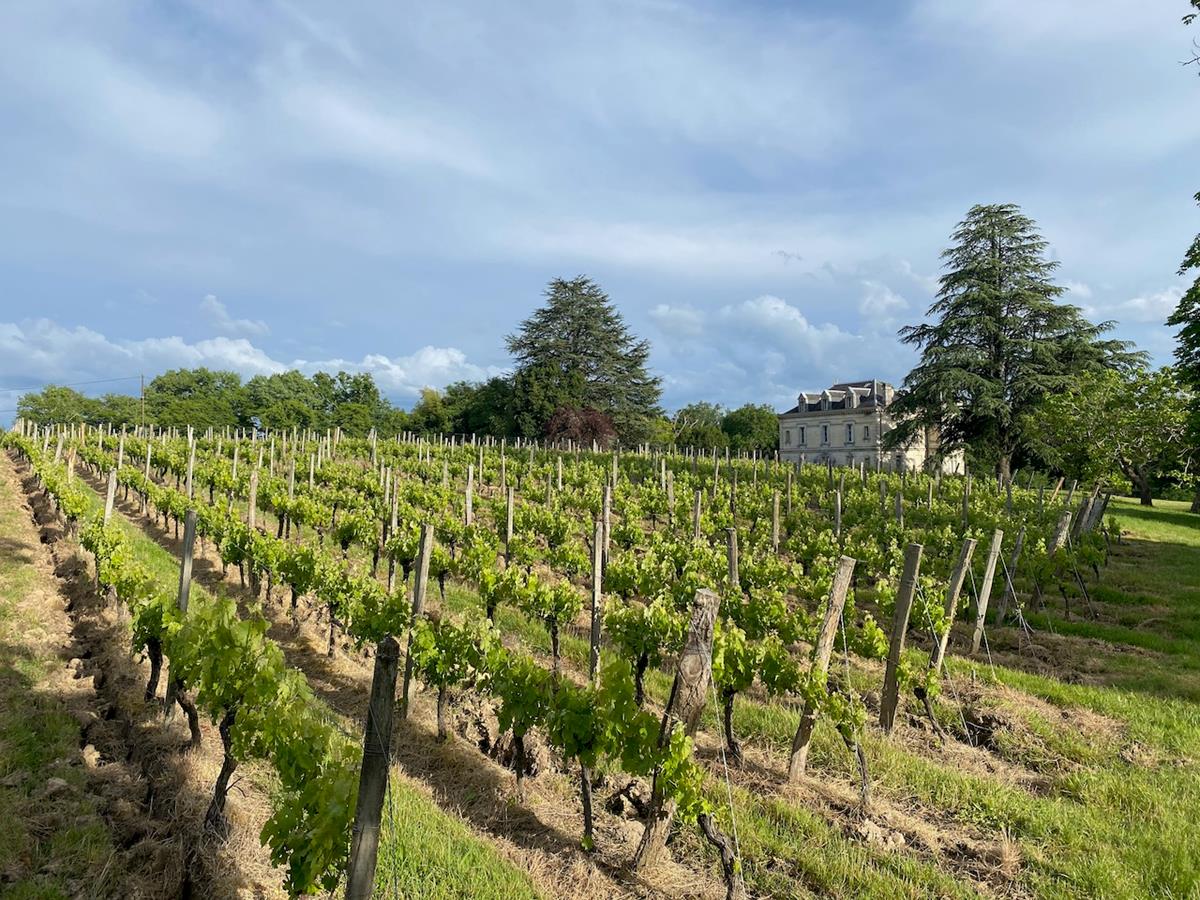 23 May 2021
I remember 2021 (well, it wasn't long ago) was slow to come around but not this slow. In fact, this Merlot went into our rosé, and we harvest earlier for rosé compared to the same vines for making red. Harvested at the end of September.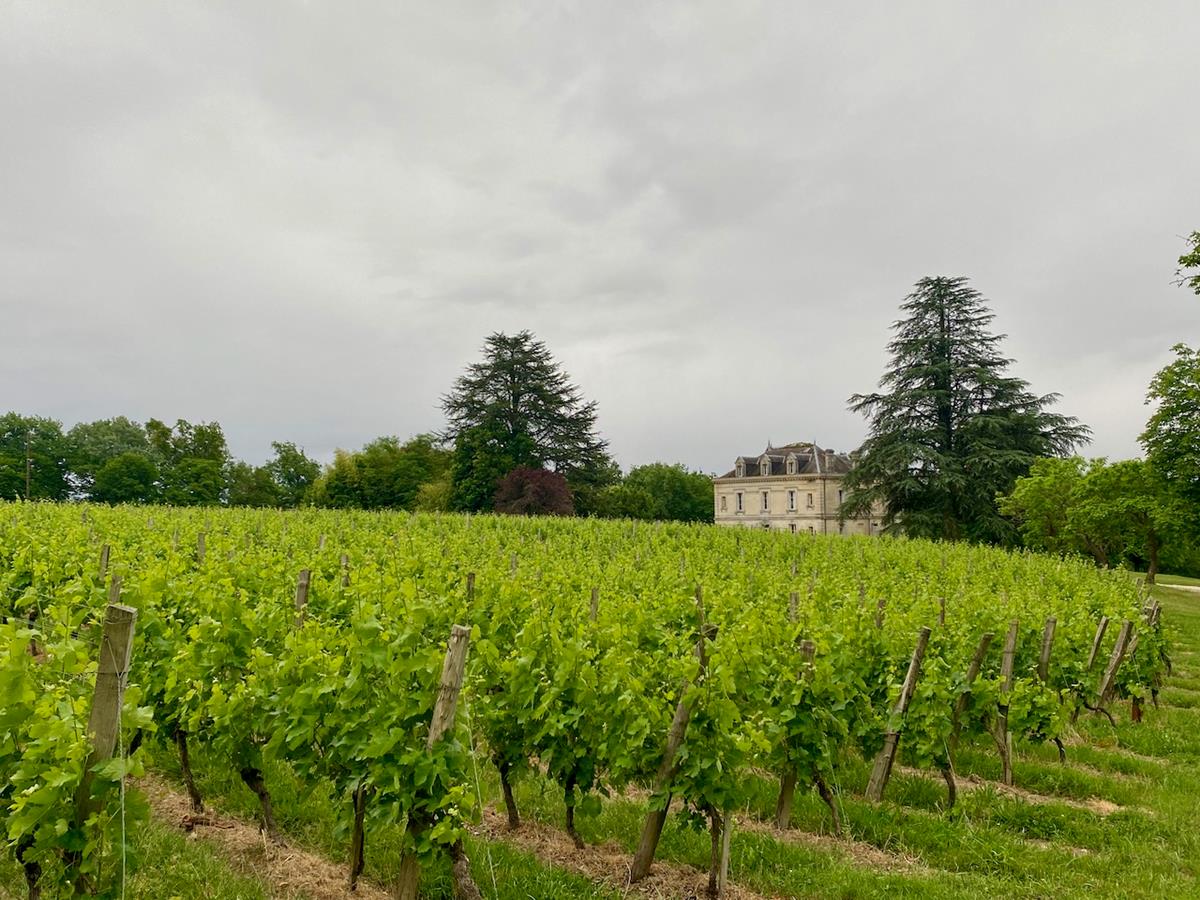 23 May 2022
Another early one. Harvested for the rosé exactly three weeks earlier than in 2021.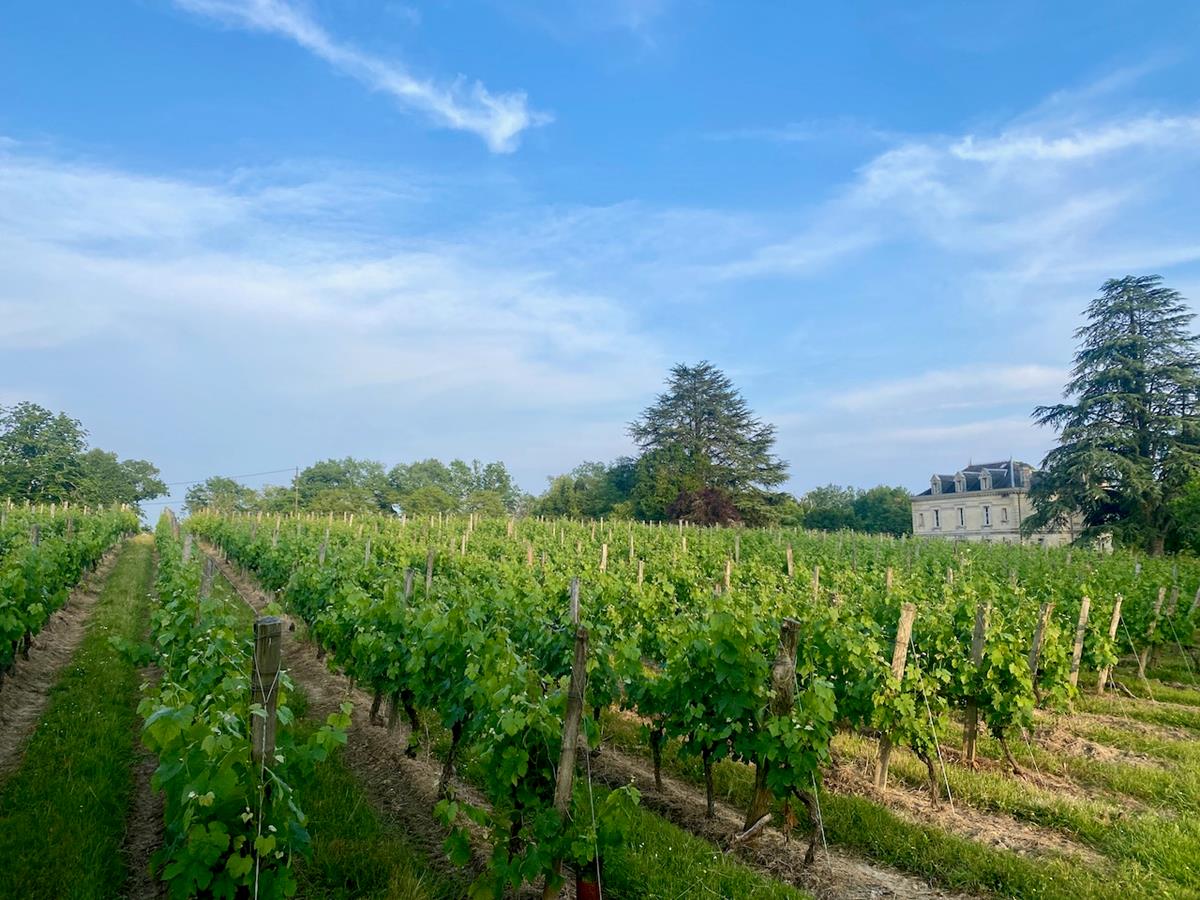 23 May 2023
That's a relief – normal. (Whatever that means.)
---
DQ at 90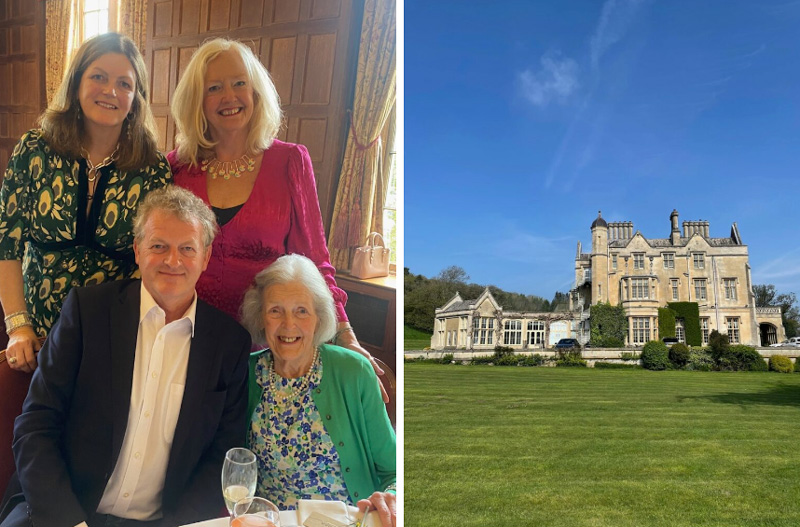 Mum had a lovely party to celebrate her 90th birthday. It was on the day itself, conveniently on a Saturday so that just about everyone we invited could come. It was close to my sister Rosanagh's house in Dumbleton on the Gloucestershire- Worcestershire border. Lucinda made it down from the Lake District and we got the Friday afternoon flight from Bordeaux to Bristol. (In fact, I finished off the April newsletter in Bordeaux airport.)
As well as mum's three children, most of the grandchildren and great grandchildren made it too. As well as other family and friends.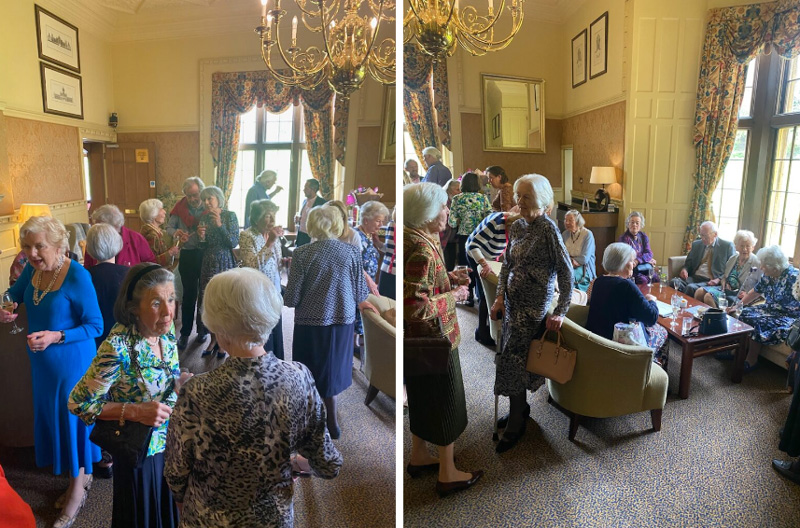 We had invited about 30 of mum's friends, many of whom she's known for 70 years or more. Indeed, she went to London for the Queen's Coronation 70 years ago with Gill Curtis, who's standing next to the chair on the right.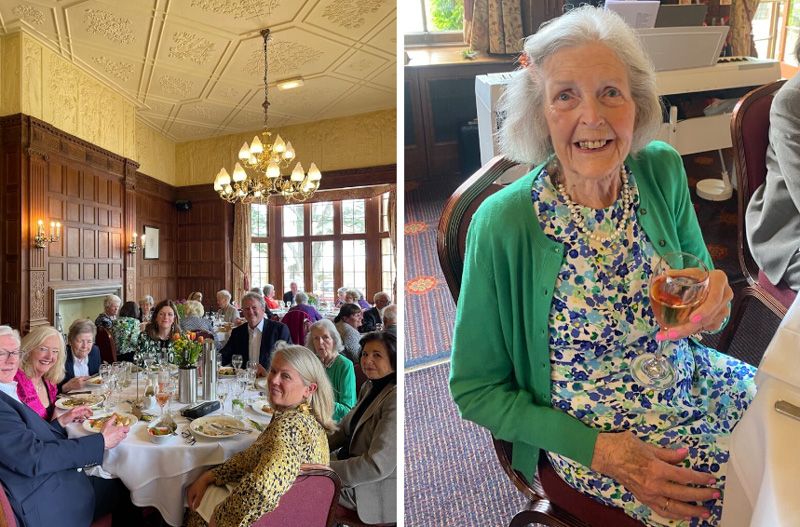 DQ with her obligatory glass of Bauduc rosé.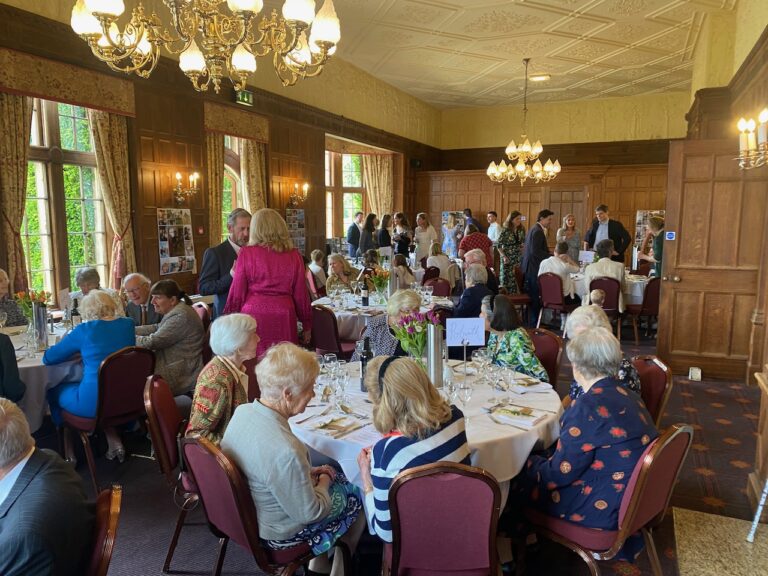 Lunch was a sit-down affair for more than 60 of us.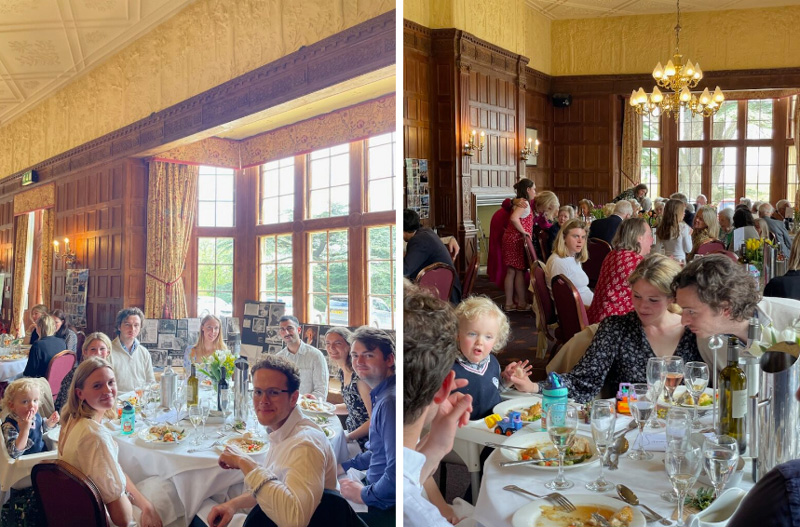 It was a lovely blend of all ages.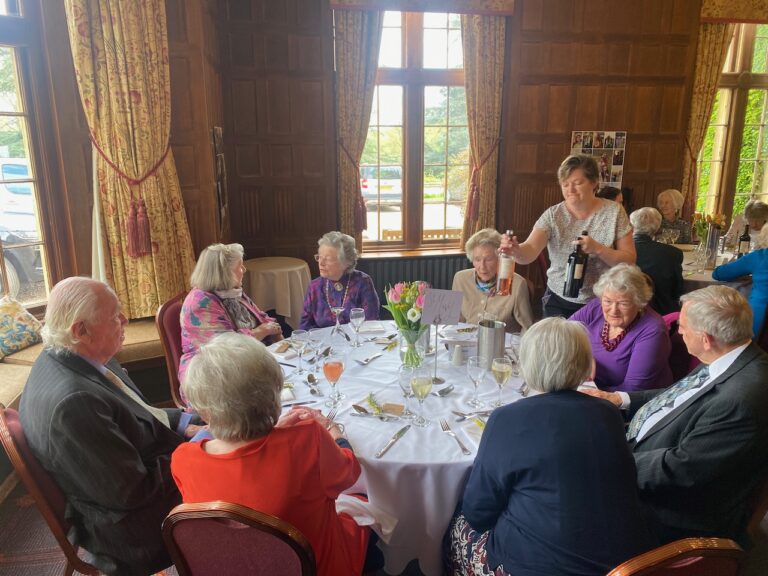 Dumbleton Hall Hotel doesn't normally offer corkage, allegedly, but we managed to persuade them gently.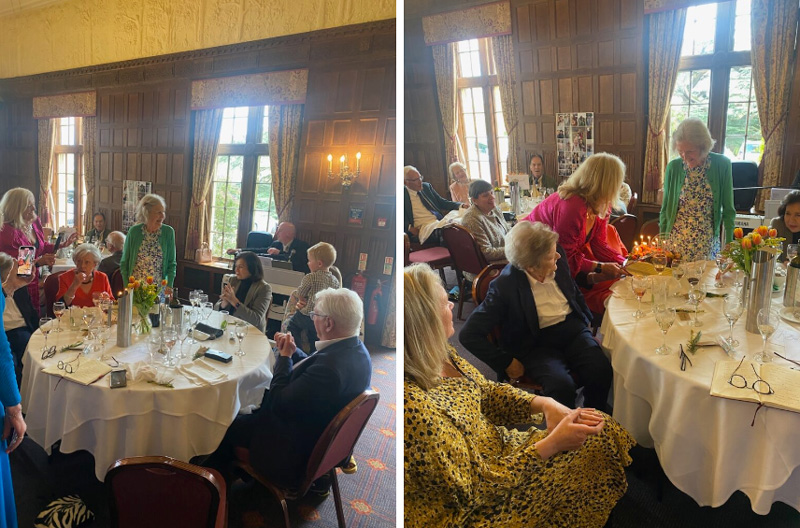 I gave a speech and mum did too.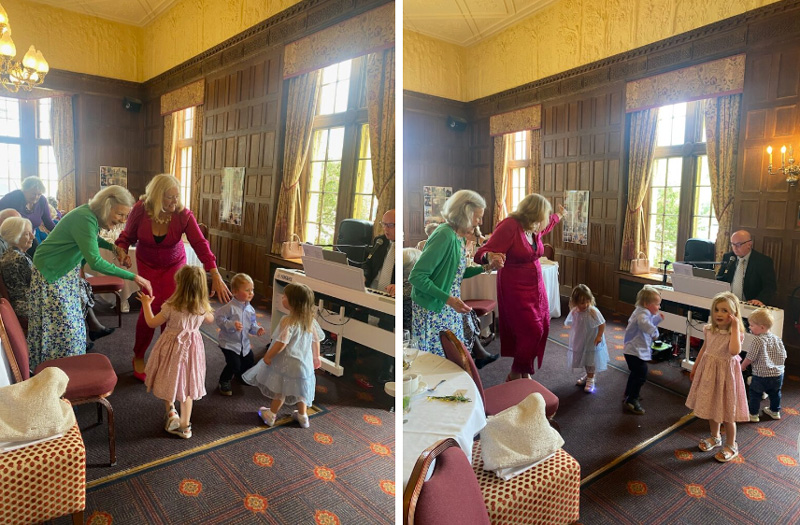 Some of the great grandchildren loved the dancing. Rob, the pianist who we'd enlisted for the event, did a super job. (Why he's called Piano Hedgehog I'm not sure but he comes highly recommended.)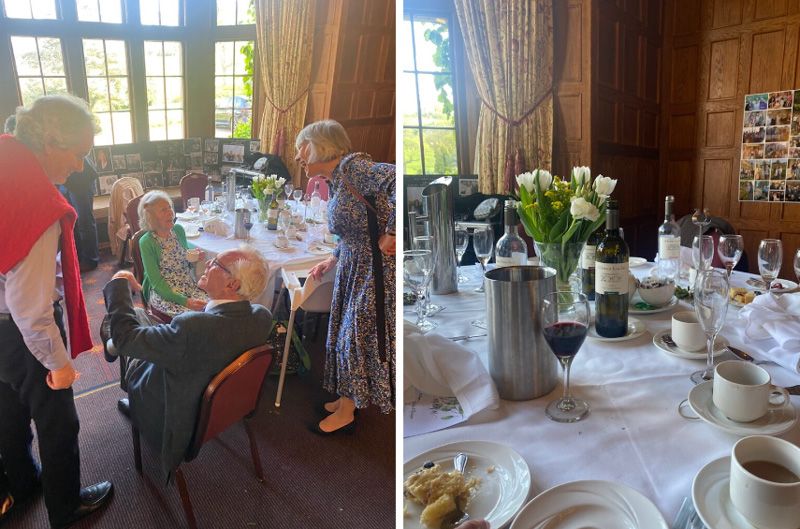 A fair amount of Bauduc was consumed.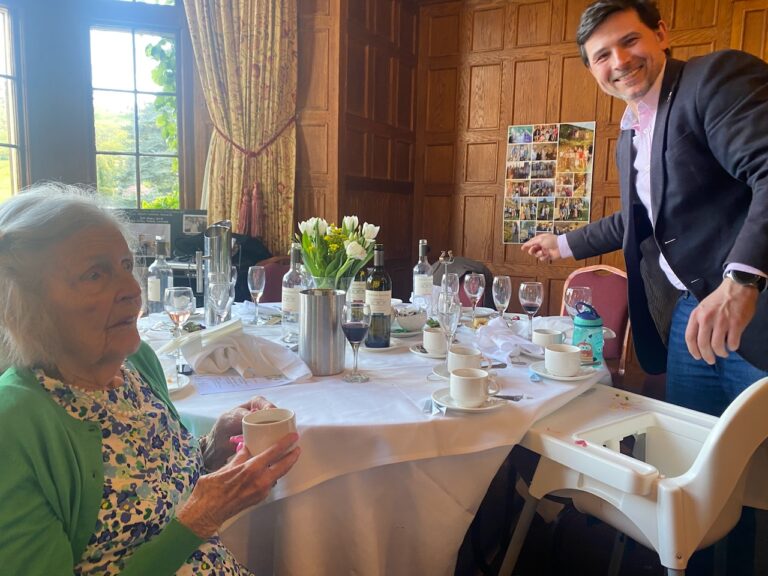 Then a nice cup of tea.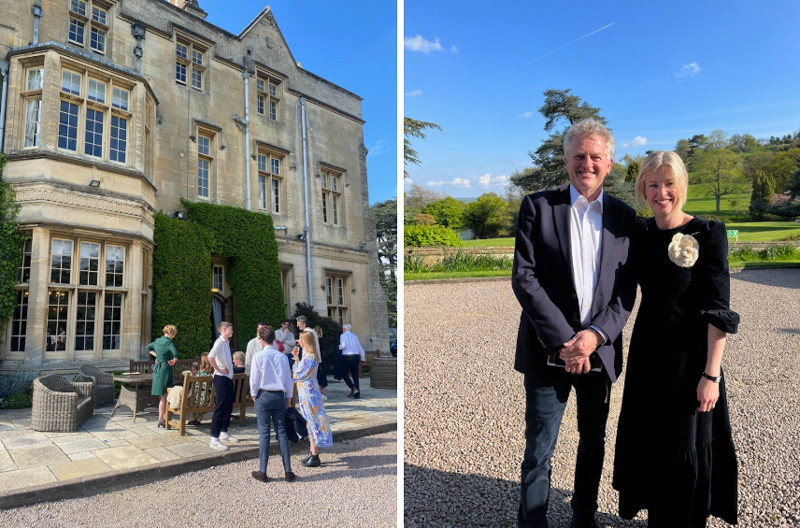 The forecast was mixed but it turned into a lovely afternoon.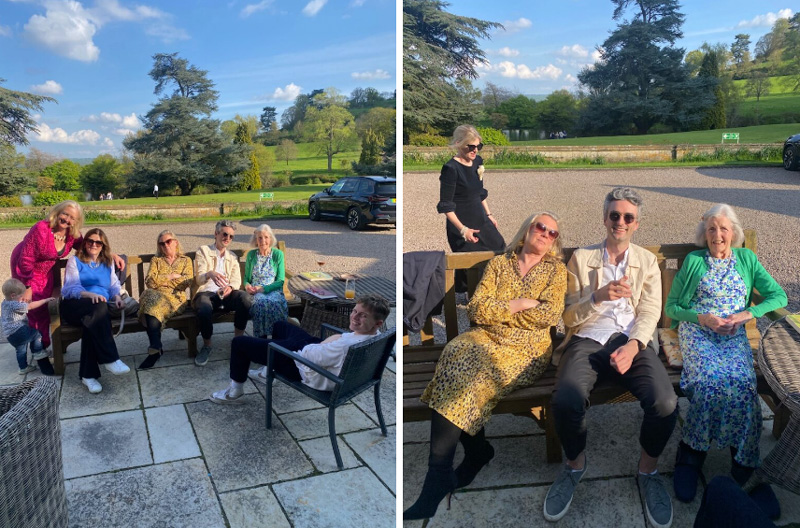 The prize for the longest distance travelled went to grandson Ed, right, who flew from Sweden.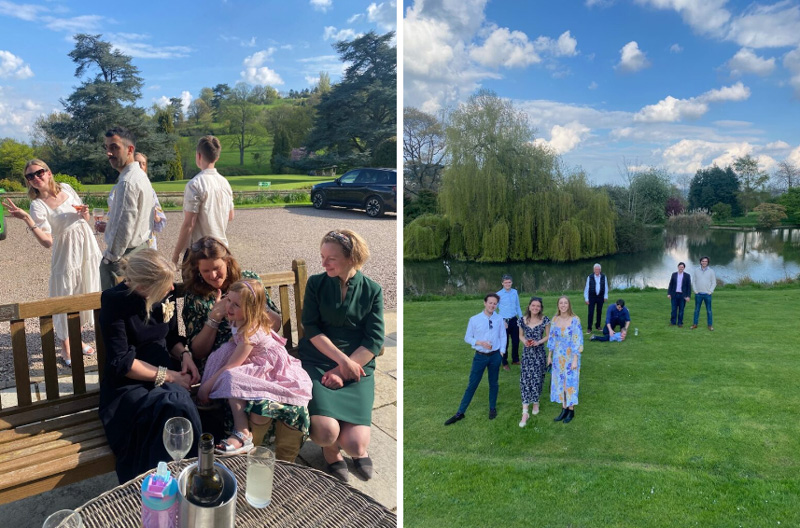 It was a lovely setting and a super day.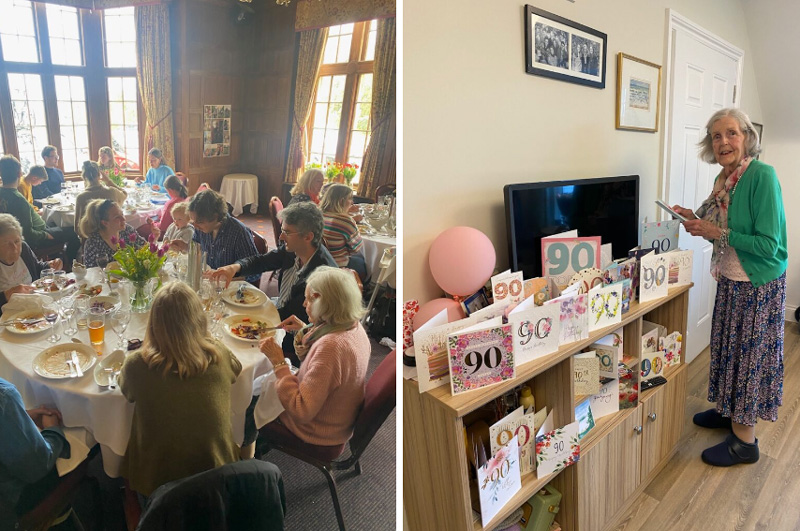 The party spilt over to Sunday lunch, and many of us stayed at the hotel overnight. Mum has always received loads of cards every birthday and this was obviously no exception.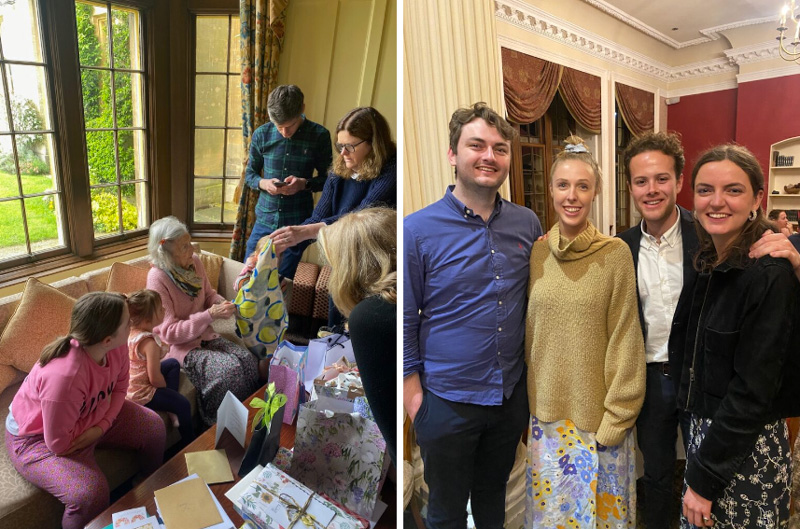 And a stash of presents to be opened on the Sunday. (Grandson Freddie making notes of who gave what on his phone.)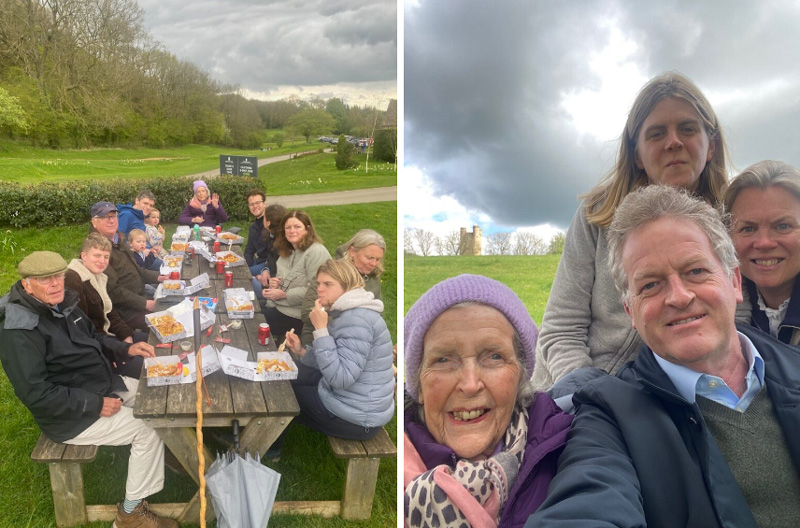 On the Bank Holiday Monday, we had takeaway fish and chips at Broadway Tower, as you do.
On the Wednesday, we went to an excellent concert near Evesham by the ESO wind quartet, where mum was given yet another birthday cake. Thanks to Kim from Cavendish Park care home for fixing all that.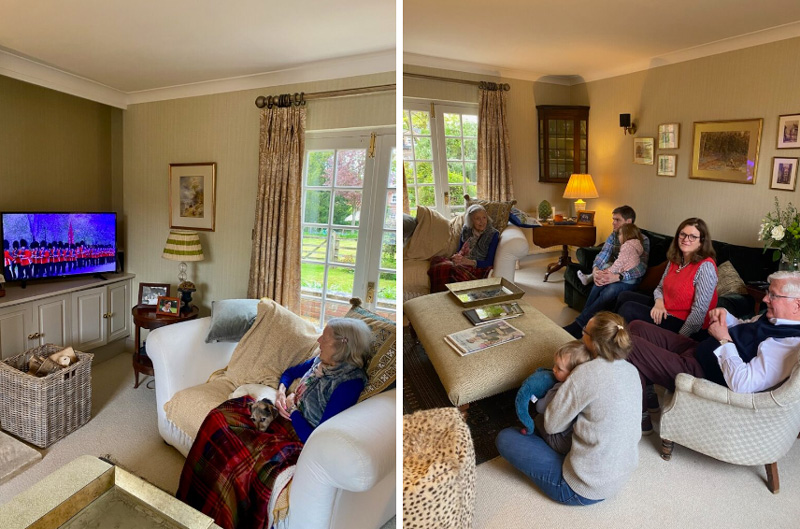 Mum in poll position for the Coronation at Sannah and Dominic's house.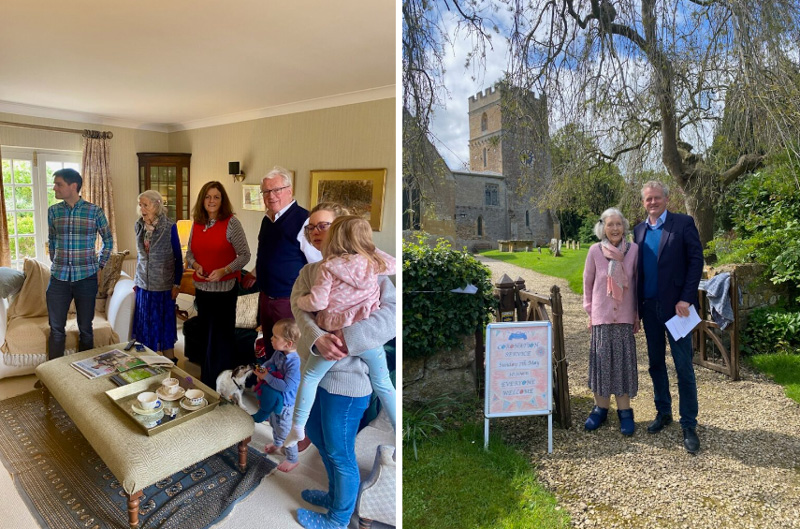 Obviously, we all stood for the national anthem. Just as we did at the special service in Dumbleton on the Sunday morning. A member of the congregation kindly took this picture of us.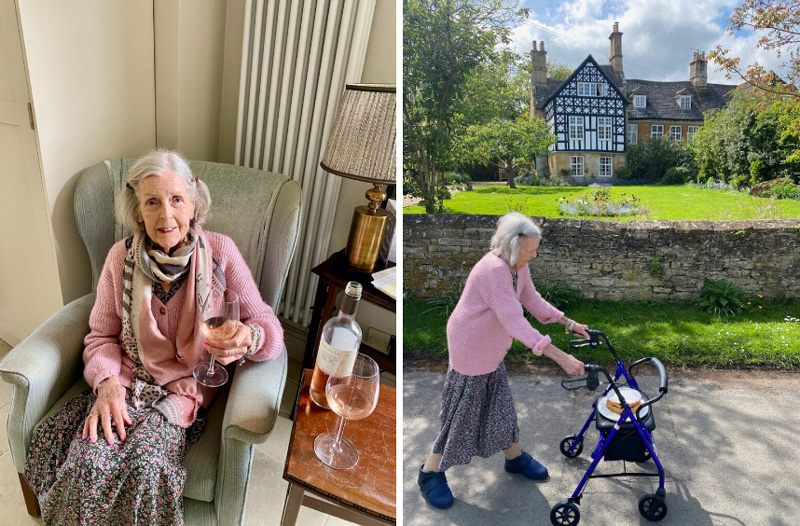 After a glass of rosé, we put mum's wheelie to good use by ferrying the cake that Sannah had made to the Coronation tea party at the local village hall.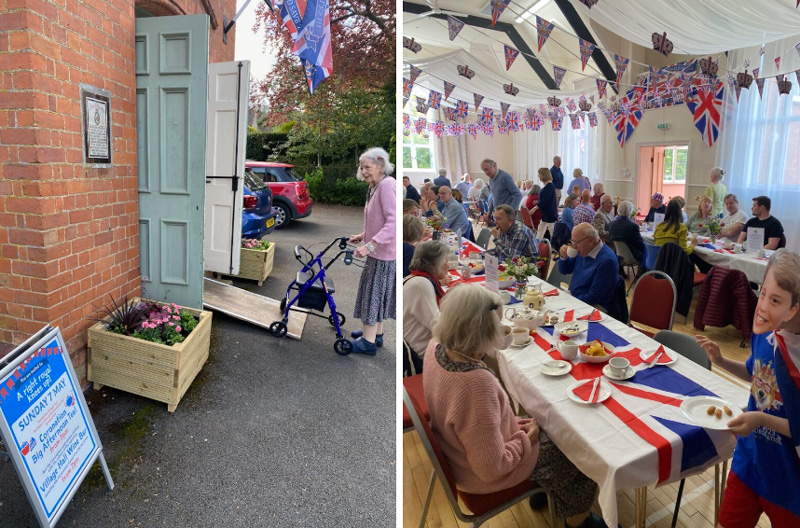 Everyone had made a big effort and the tea was well received.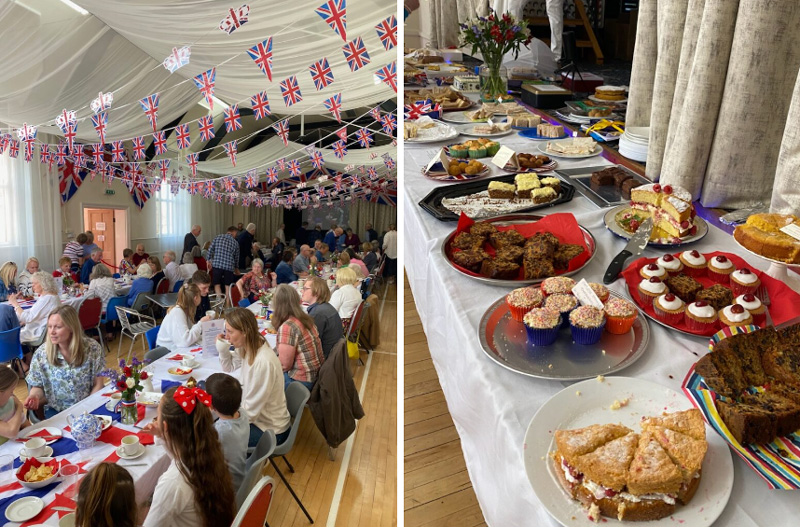 It was quite a gathering. By the end, I think we'd eaten enough cake.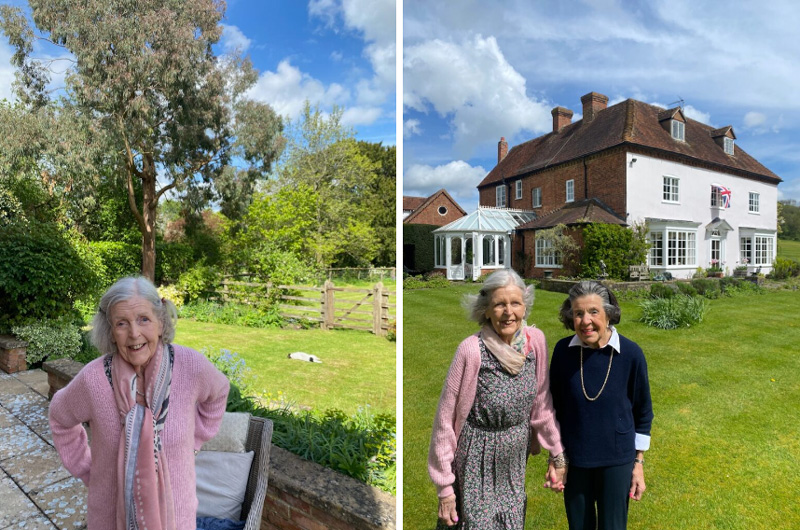 So as well as a lovely time in Dumbleton, we explored the countryside and also had a super lunch in Warwickshire with Mary, one of mum's oldest friends. And well done Mary for serving our rosé (and placing an order for more).
Well done, all. Onwards and upwards.