Posted by Gavin Quinney on 9th Apr 2021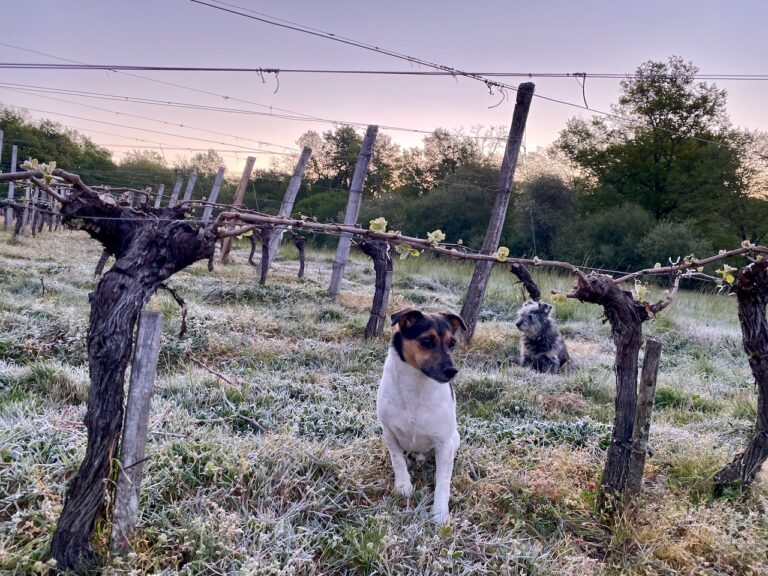 There have been some devastating frosts across France this week, in Bordeaux, Burgundy and beyond. Here's a photo journal of what's been happening at Château Bauduc, preceded by a look at some of the preparations being made nearby in Pomerol and Saint-Emilion at the start of the week, as of Easter Monday. I'll be taking a look at the damage across Bordeaux in the near future – it's significant, I'm afraid – but here is an update from our home patch.
All the best
Gavin & Angela Quinney
PS To view just the images in 'photo albums', click here.'
---
The frost at Bauduc 2021 – a photo journal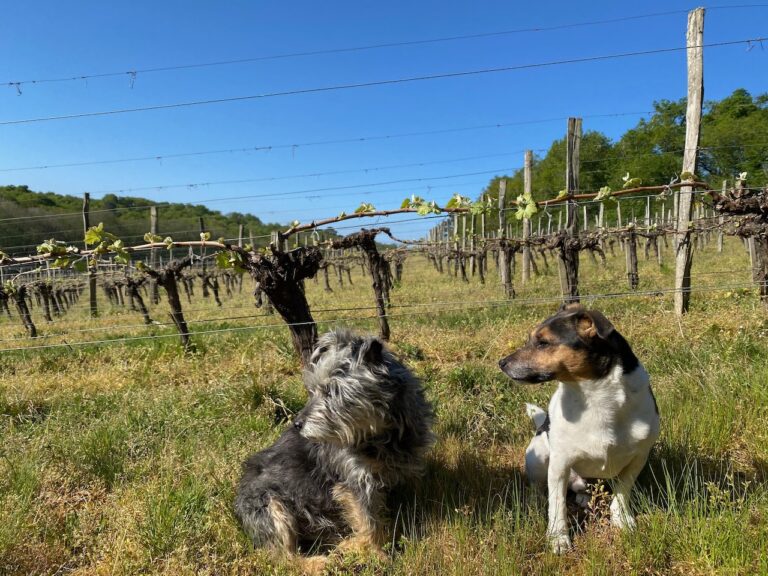 In last week's missive, we wrote "Phew, it's a scorcher here too, and it's only the end of March. Record temperatures were felt across France yesterday afternoon, including on the coast here at Cap Ferret apparently, which is a tempting thought. An average max of 23.6ºC across France is the highest since at least 1947. The previous record was 23.2ºC on 30 March 2017 – but within a month much of the Bordeaux vineyard was devastated by one morning's biting frost, so you never can tell. (And it looks to be pretty chilly one morning here next week.)"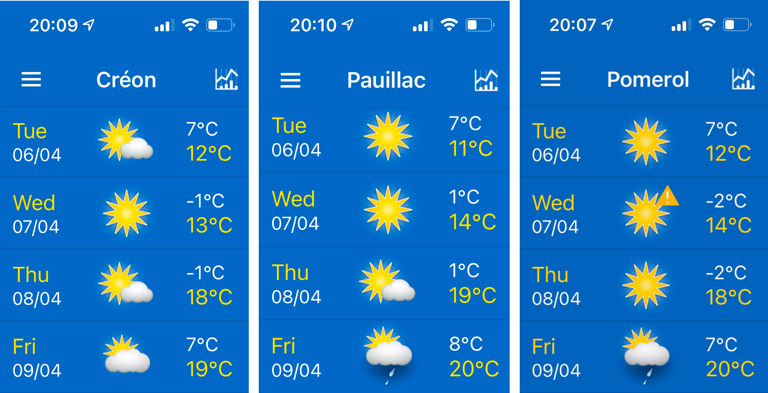 The forecast was for a frost in different parts of Bordeaux for Wednesday and Thursday morning. We're on the edge of Créon, and Pomerol is a short drive.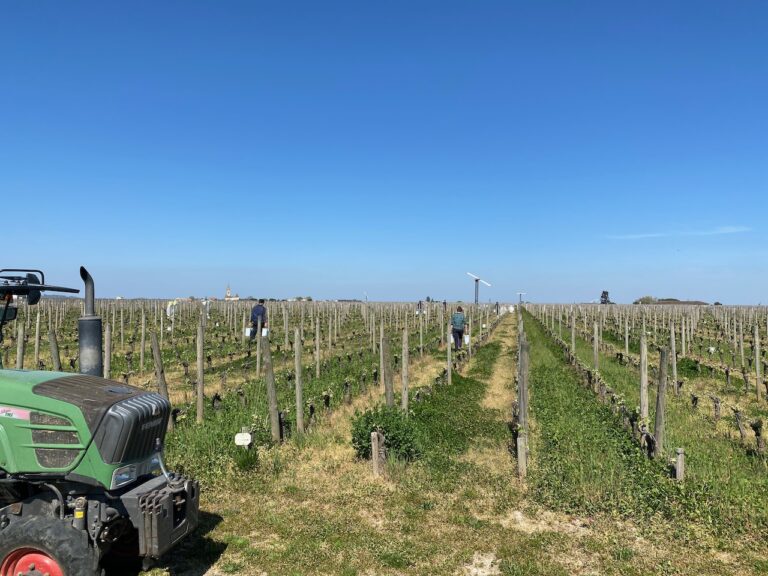 The plateau of Pomerol is home to some of the most sought after wines in the world. At Château l'Evangile, above, Juliette and Jerome and their team were putting out the last of the anti-frost pots.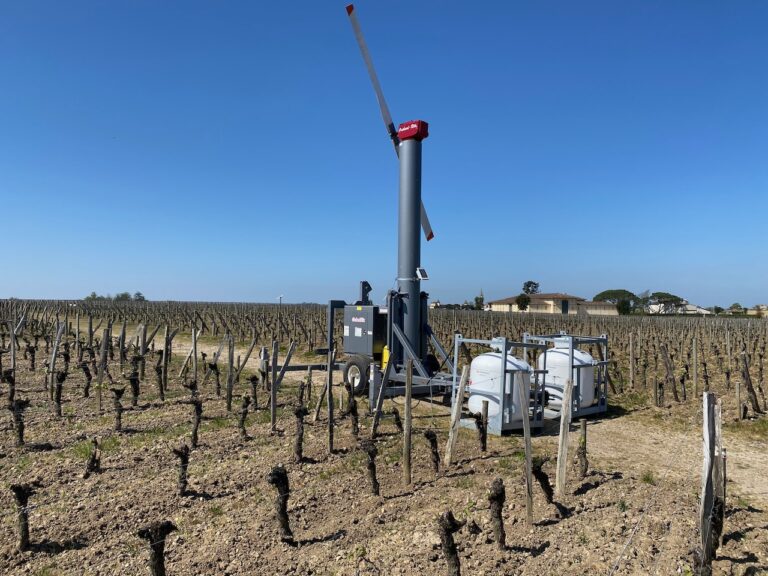 They have anti-frost wind machines as well. Like this one nearby at Château Gazin, with Petrus just behind. (It's a brand called Orchard-Rite, and there are some videos on their website if you're interested.)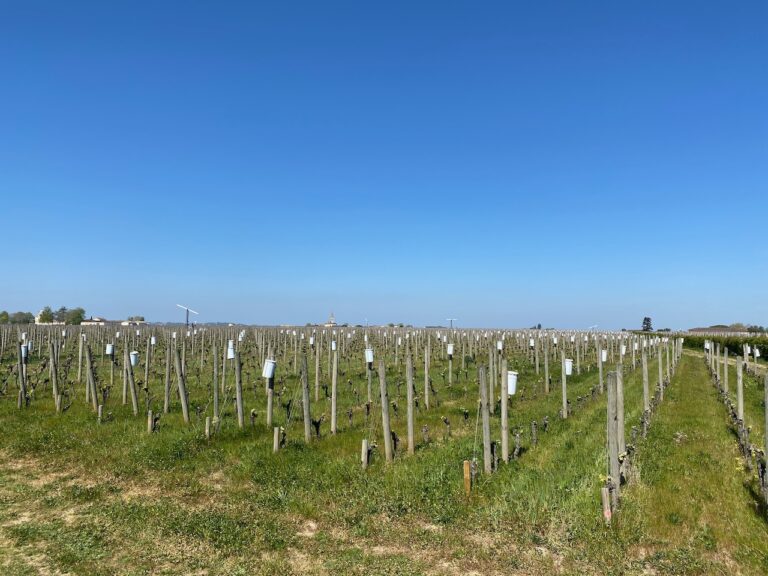 At l'Evangile, they have over 6,500 anti-frost pots for just over 20 hectares (50 acres).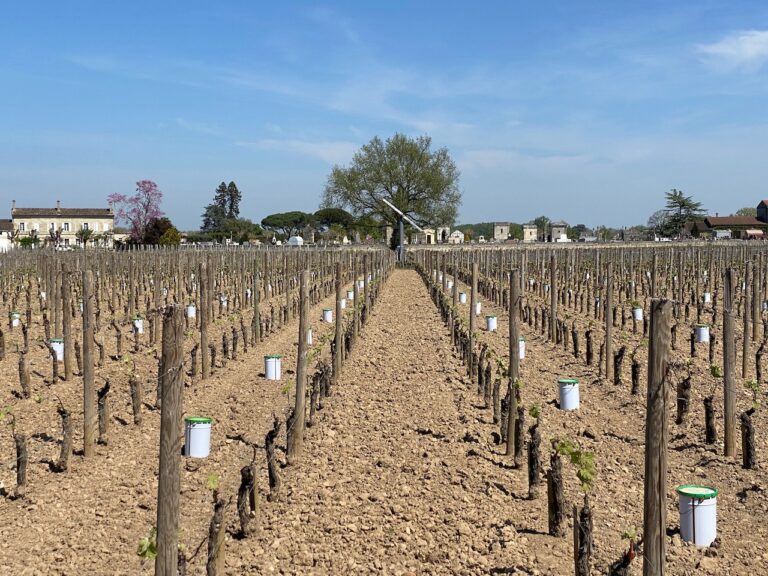 Near the village of Pomerol, hundreds more pots, or bougies, and wind machines. That's Château l'Eglise Clinet on the left. In fact, while I was taking this picture a chap pulled up in his car and asked politely why I was taking photos. He'd been employed by various growers to make sure none of these pots were being stolen. I see their point.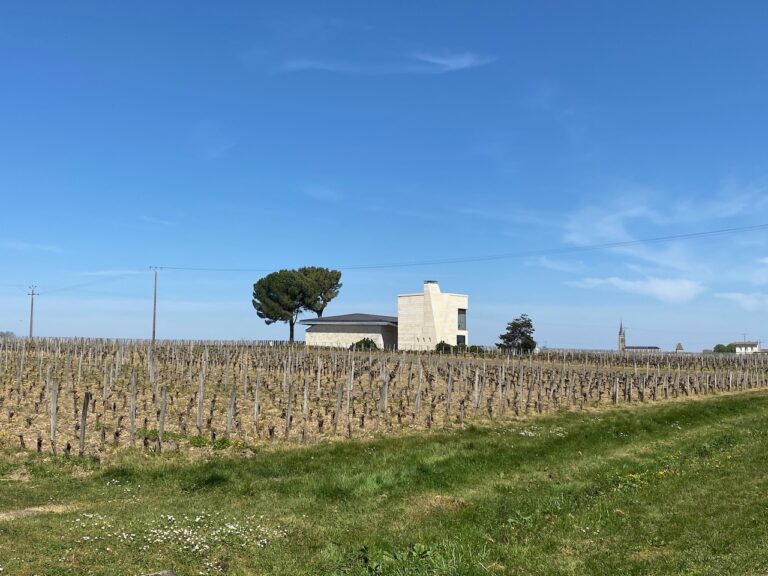 Knowing that anti-frost pots were all out of stock, I was relieved to see that they hadn't put any out at Château Le Pin. Nor wind machines. At over £3,000 a bottle for recent vintages, that's quite something. (There was still the Tuesday to do so, so perhaps they did put some out.)
Anti-frost bougies (they're pots aren't they, not candles?) at Petrus.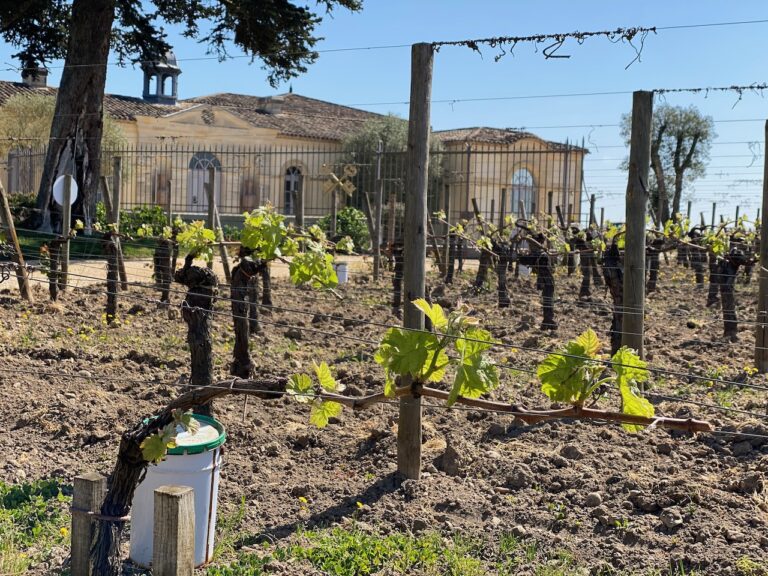 This is what the world's most expensive Merlot looks like at this stage, at Petrus. Protected by anti-frost pots and wind machines.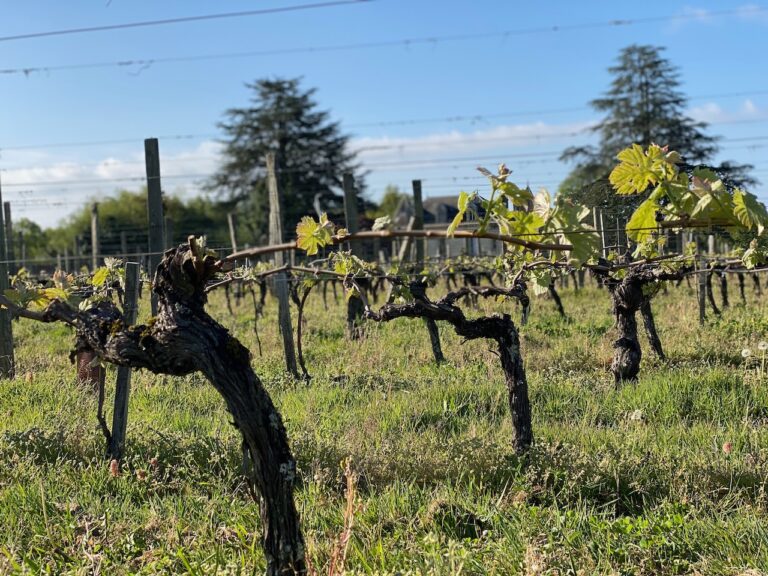 (Merlot in front of the house at Bauduc.)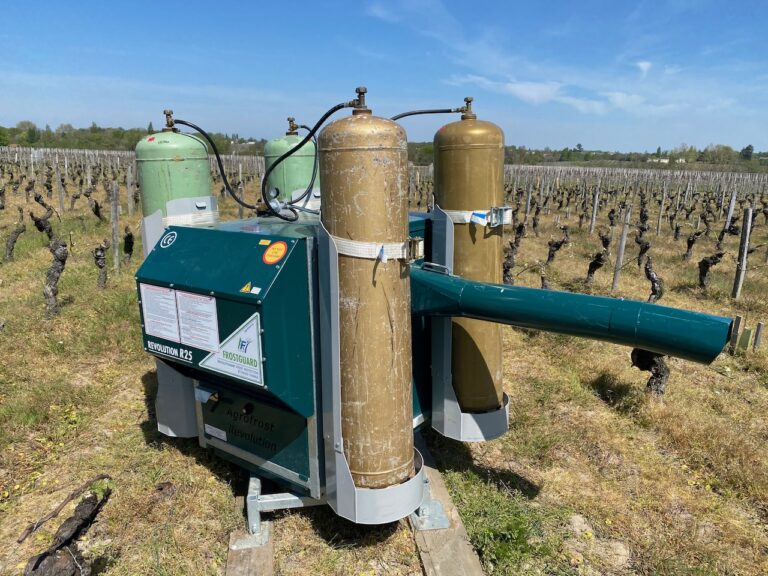 Heat blowers in the vineyards at Château Corbin, just up the road in Saint-Emilion.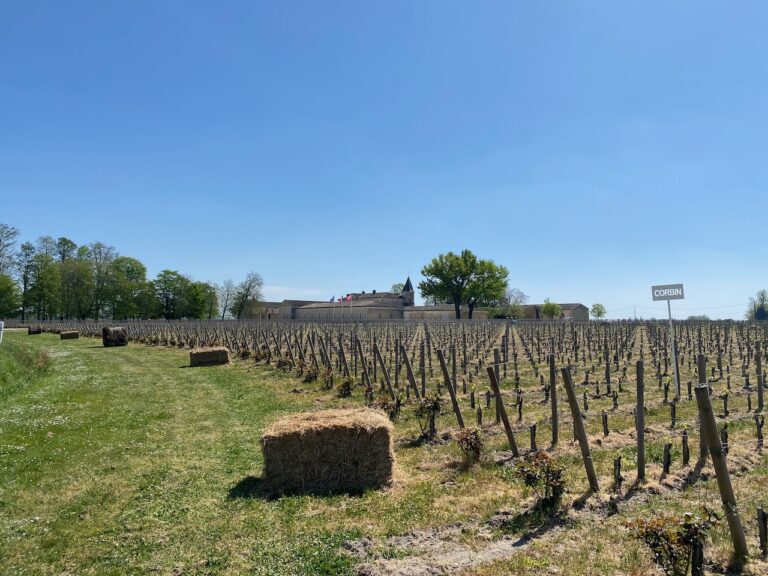 They also had hay bales at the ready. This was the most widely used tactic against the frost across Bordeaux.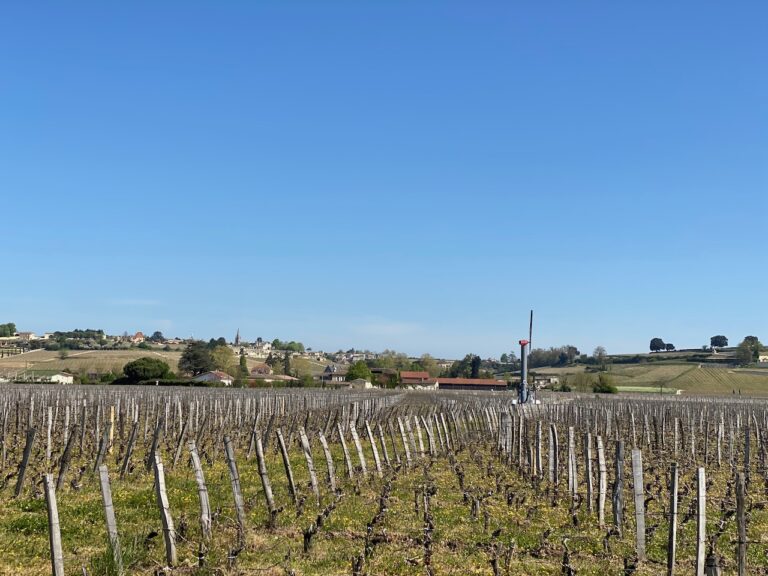 A wind machine in the valley below the village of Saint-Emilion.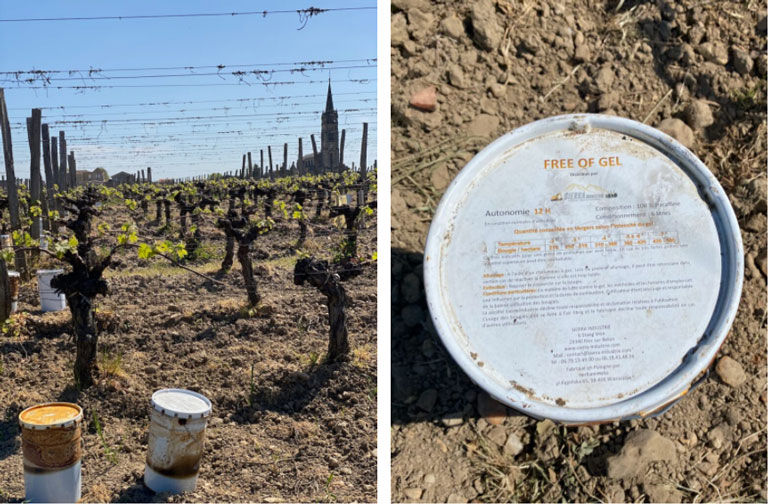 There are several brands of anti-frost pots, or candles. They cost around €8-€10 each.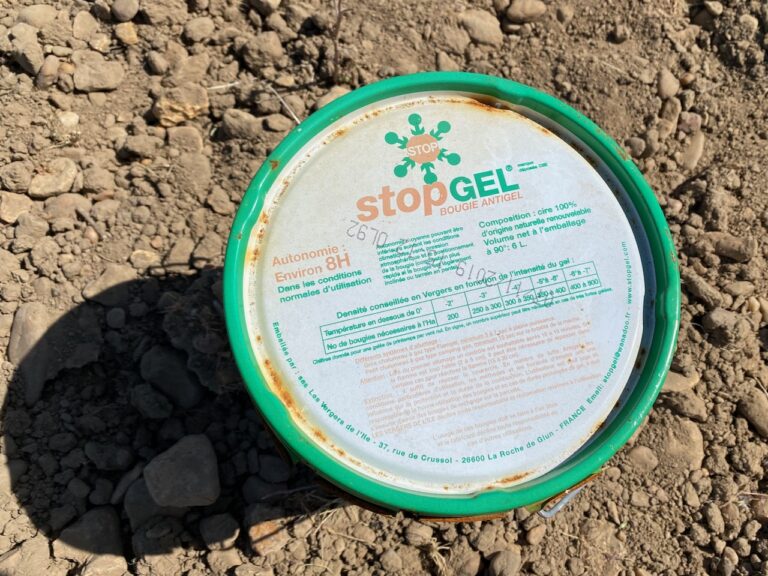 You need several hundred per hectare. The more the merrier in the event of -3ºC to -5ºC (see the instructions on the lid).
And here are probably the most spectacular images of the pots, or bougies, in action. This was Chassagne Montrachet in Burgundy on Tuesday – I've taken these from grower Vincent Dancer's Instagram post. Well worth a follow.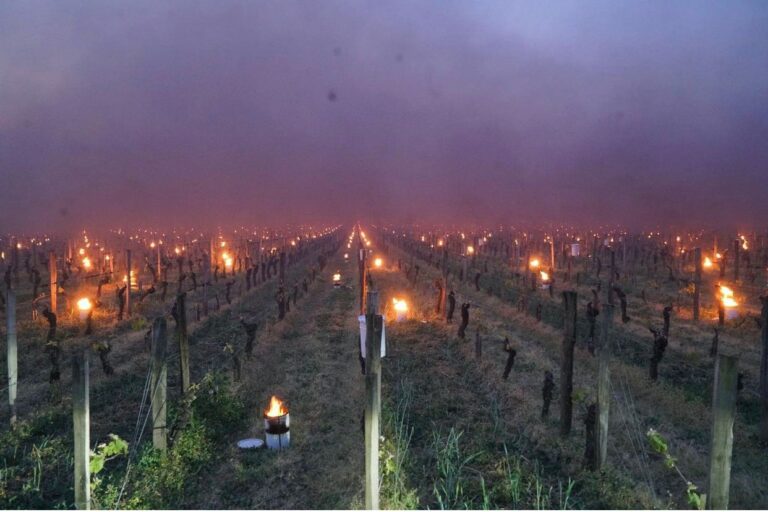 This is from Jonathan Ducourt's Instagram – he's a Bordeaux grower up the road from us, with several vineyards in the Entre Deux Mers and Saint-Emilion.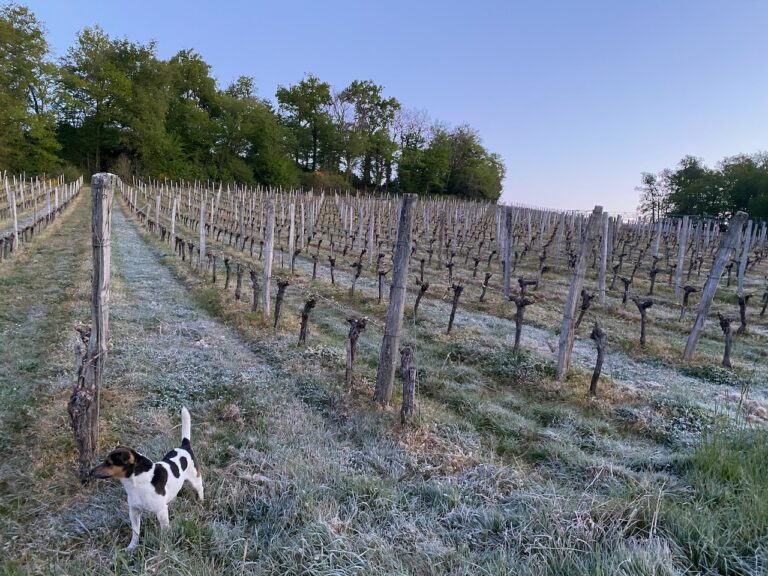 Château Bauduc on Wednesday morning. A vulnerable parcel of Sauvignon Blanc.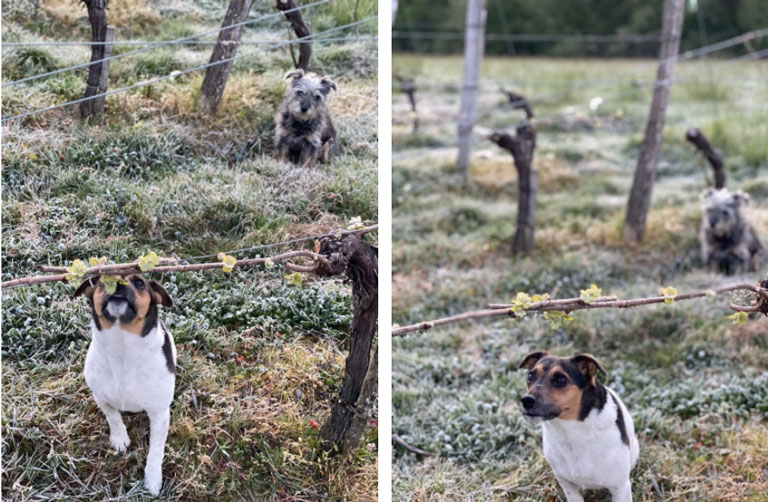 Squeaky bum time.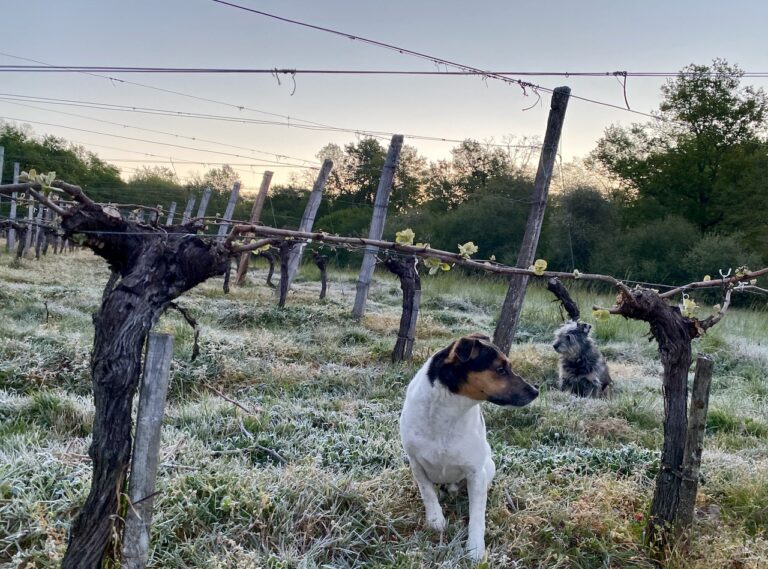 The Sauvignon Blanc is later budding, so perhaps a small advantage.
A degree colder and these would have been toast. Many vineyards were hit with -5ºC, I understand.
Fragile leaves, but these just made it.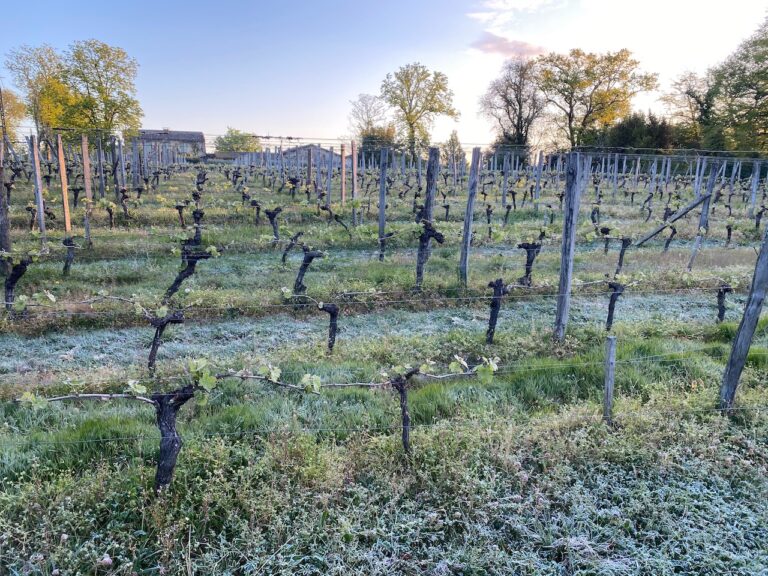 The Merlot by the farmhouse is higher up the hill and, though a risk with the new growth so recently formed, these were fine.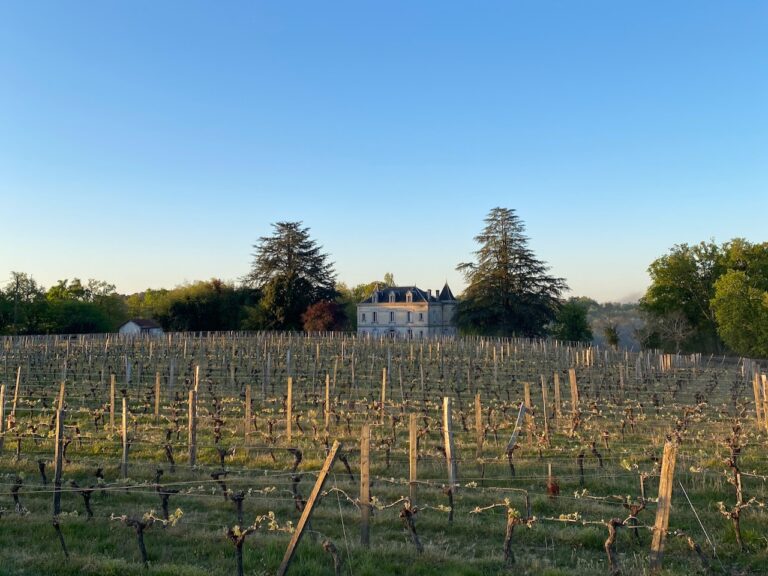 Likewise the Merlot by the Château. A degree or two colder and we'd be in real trouble.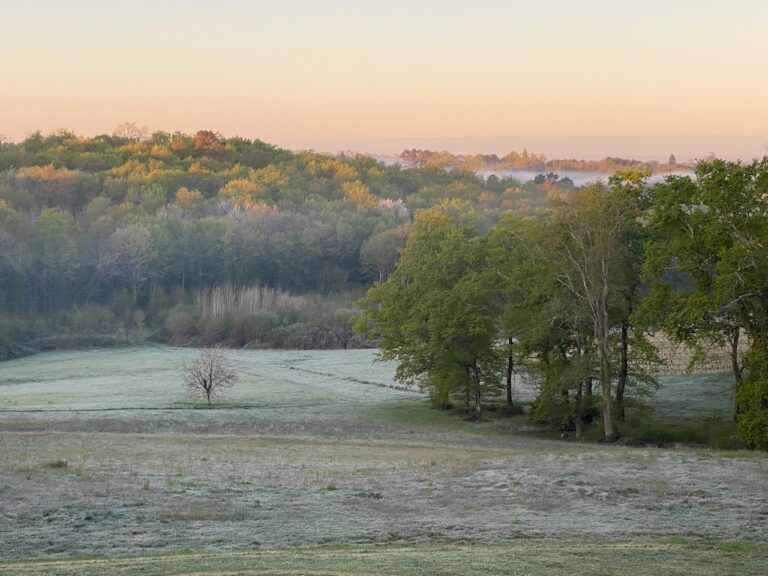 Smoke was filling the air from neighbouring vineyards – that's not mist on the horizon.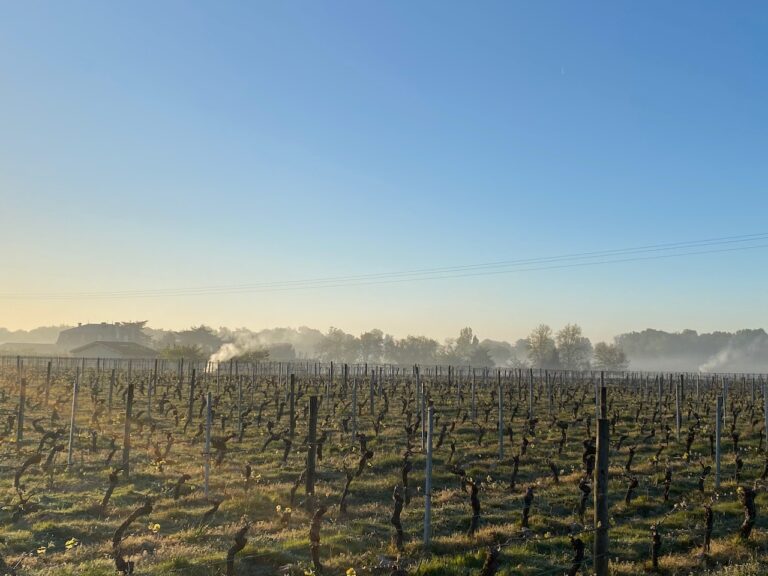 I went round to the neighbours to see their fires in action.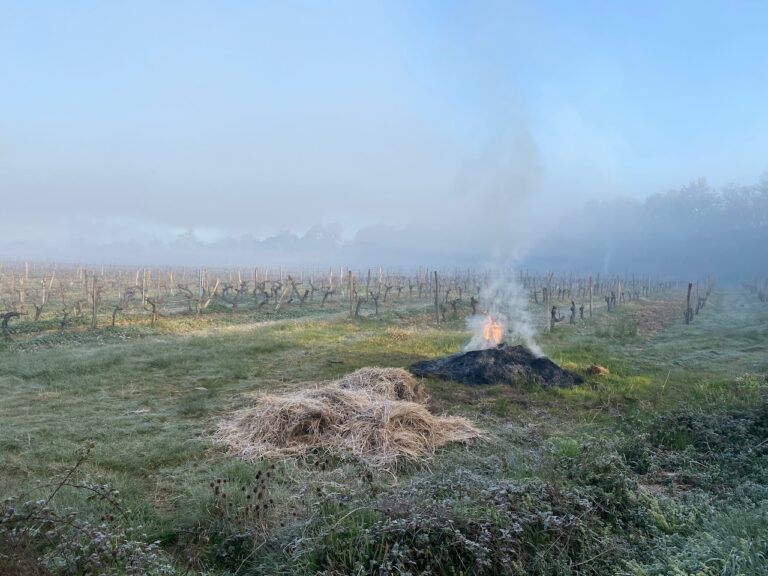 A little further away and you could hardly move for the smoke in lower lying areas.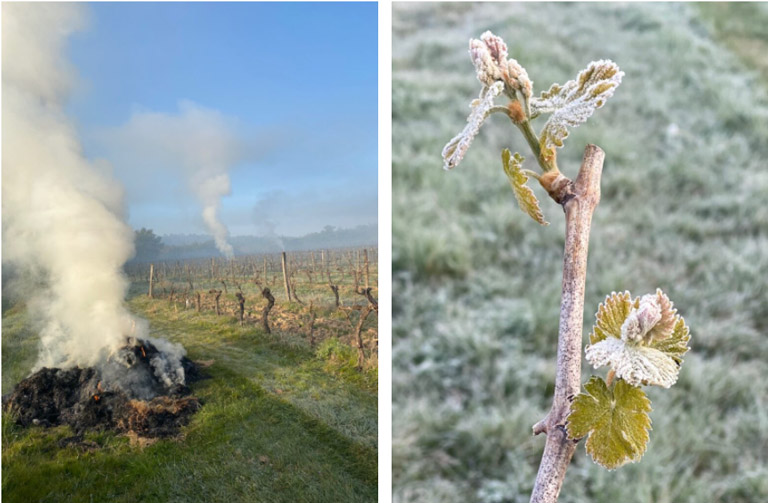 As far as I could see, the smoke didn't prevent the leaves being frozen.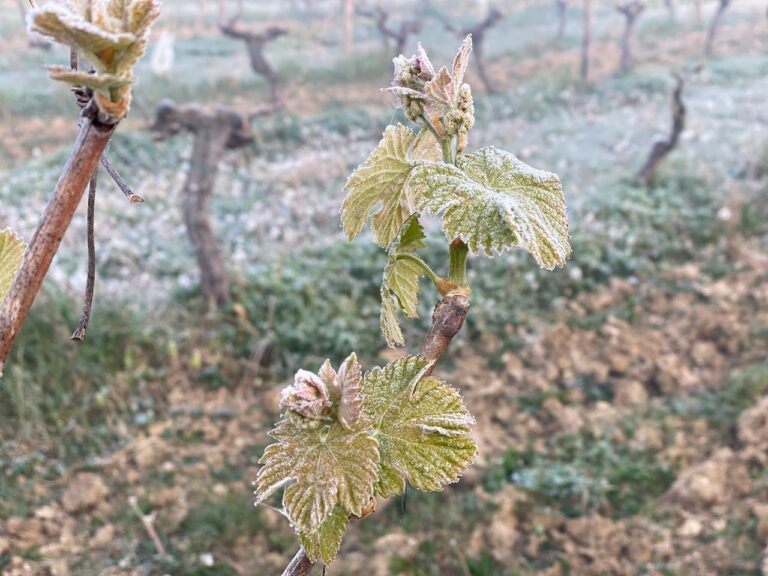 It was too cold. Merlot, and I'm afraid this won't make it.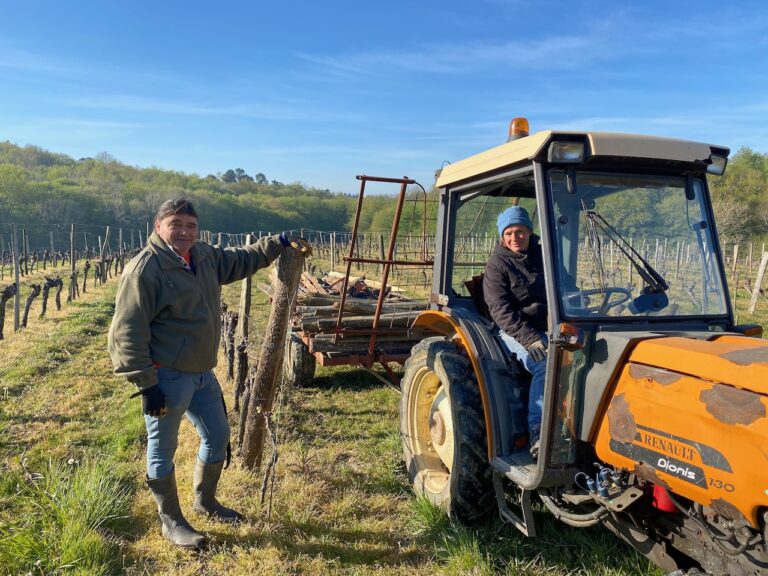 Back at Bauduc, Nelly confirmed why we fared reasonably well. She lives 15 kms away, to the east of us. When she left home, it was -4ºC, and by the time she got to us at Créon, it was 0ºC.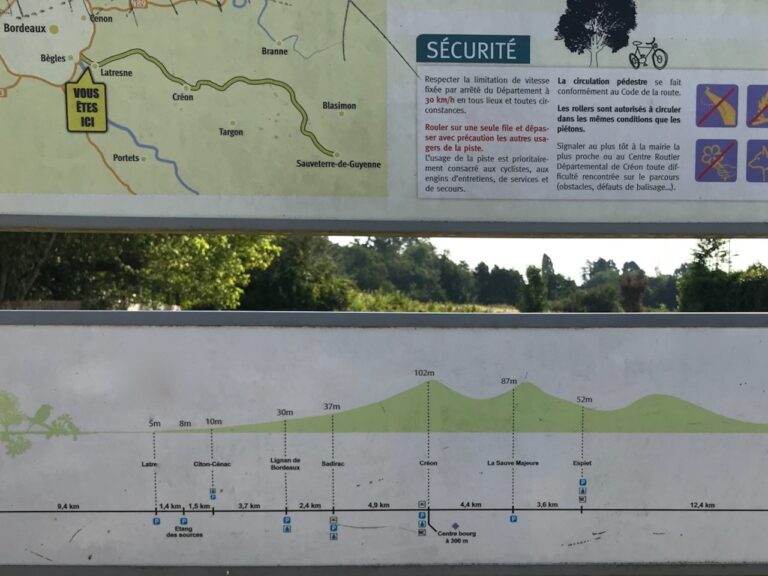 Anyone who has been on the 50km cycle and jogging track near here will be aware that Créon is at one of the highest points in the region, at 100 metres altitude. Sadirac is only a few kilometres away but it's at 37 metres above sea level.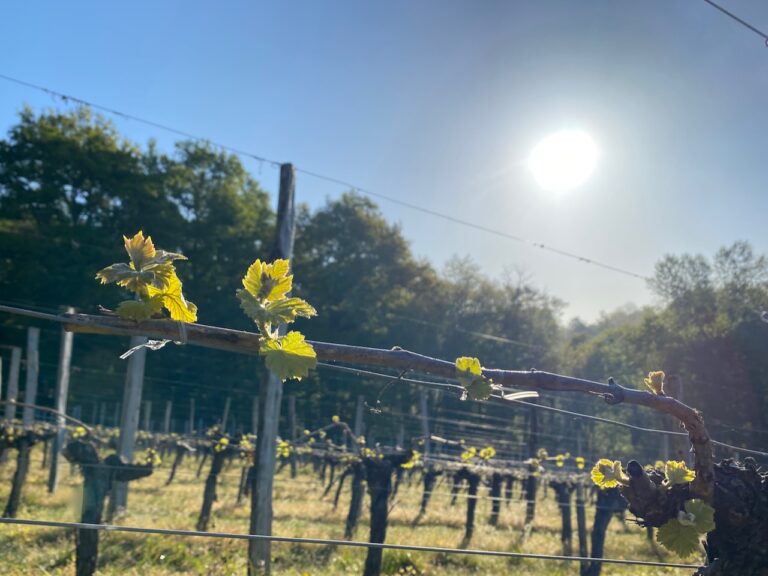 So most of our vineyard was spared. Most. This is Sauvignon Blanc.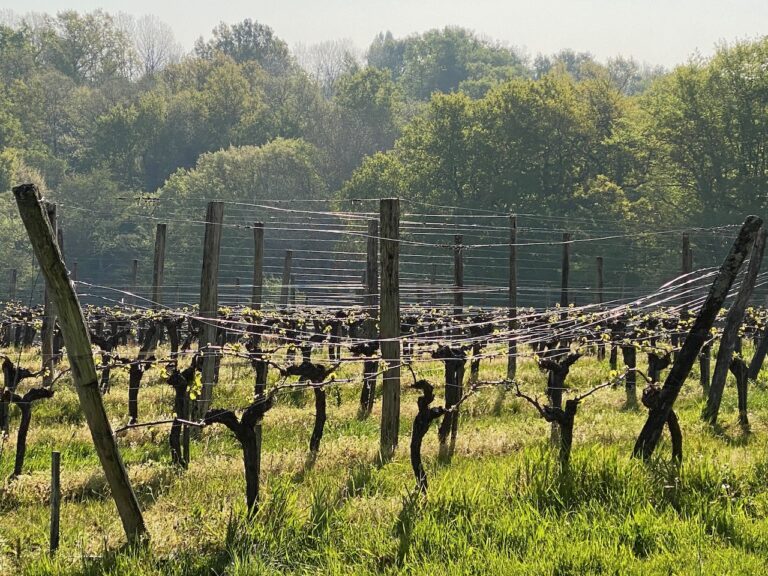 A welcome sight after the frost.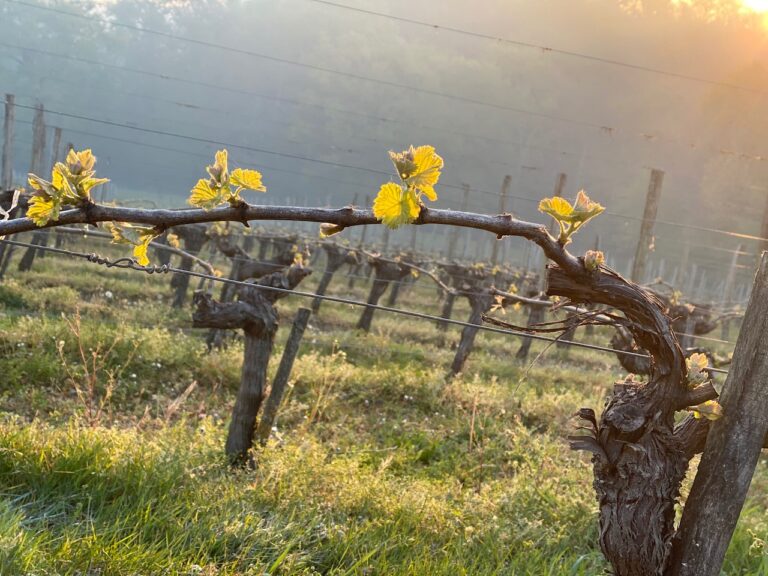 Sauvignon Blanc. We had much lower yields in 2017 after the late April frost. Each one of these should grow to include two or three bunches. A joy.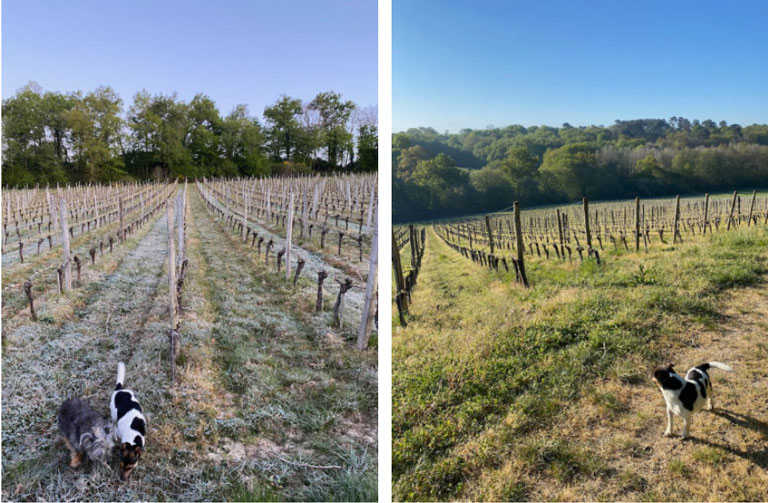 It was too cold and too long a walk for Margaux to accompany Pavie and me on the assessment tour yesterday, Thursday.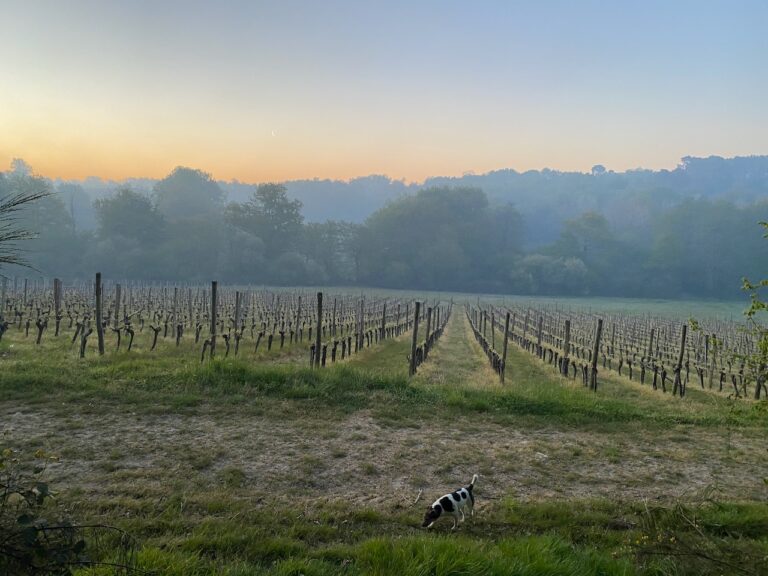 We had a frost again on Thursday 8th. But again, we were mostly spared.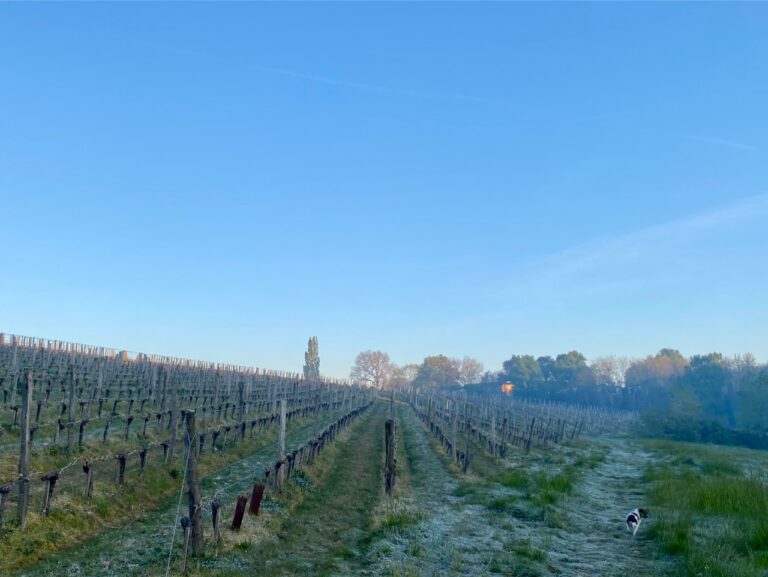 There was some damage on the lower part of the vineyard.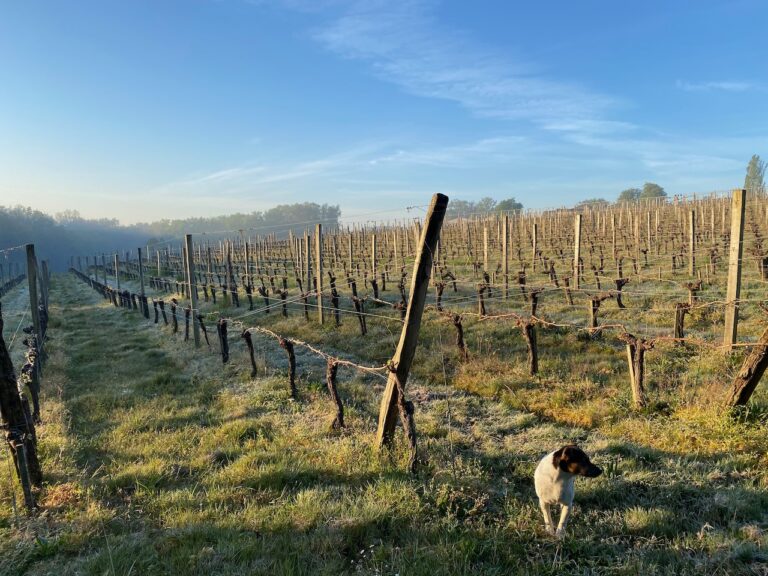 Sauvignon Blanc that we planted in 2008.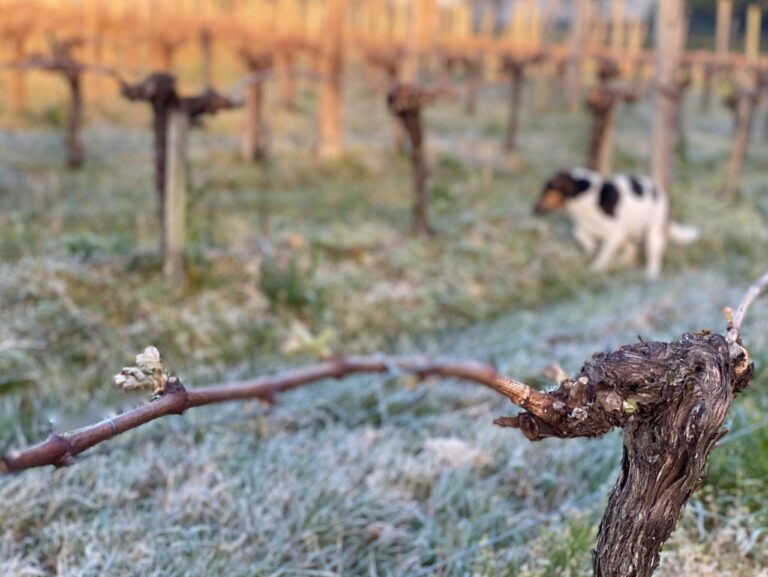 Some buds, like this one, were taken out by the frost.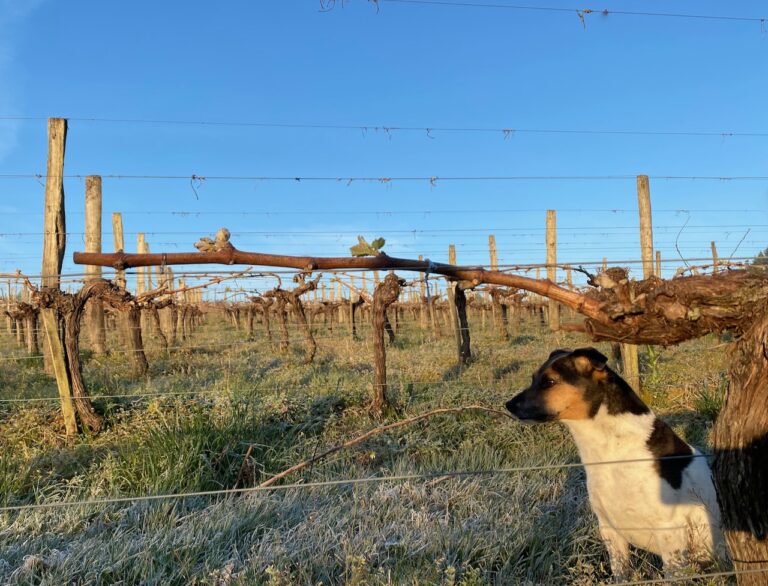 The one on the left won't make it, the one in the middle will.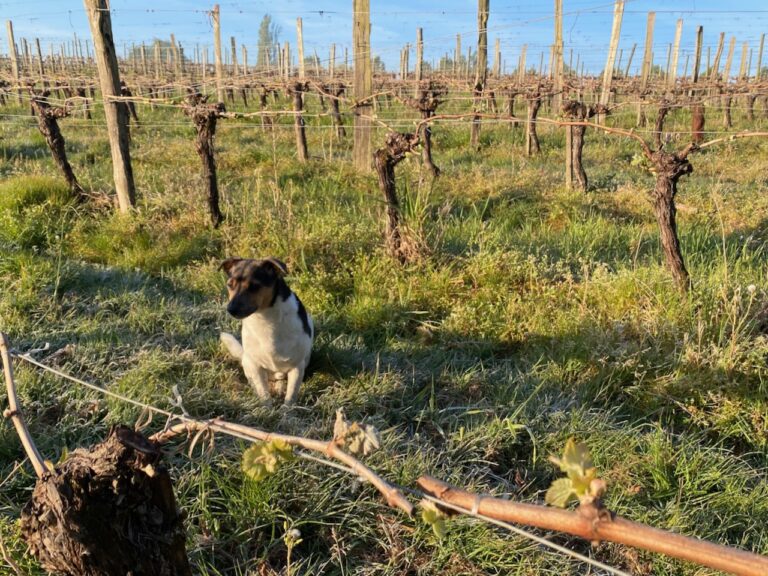 So close to a wipe-out. The tiny shoot in the middle has been hit but not the two either side.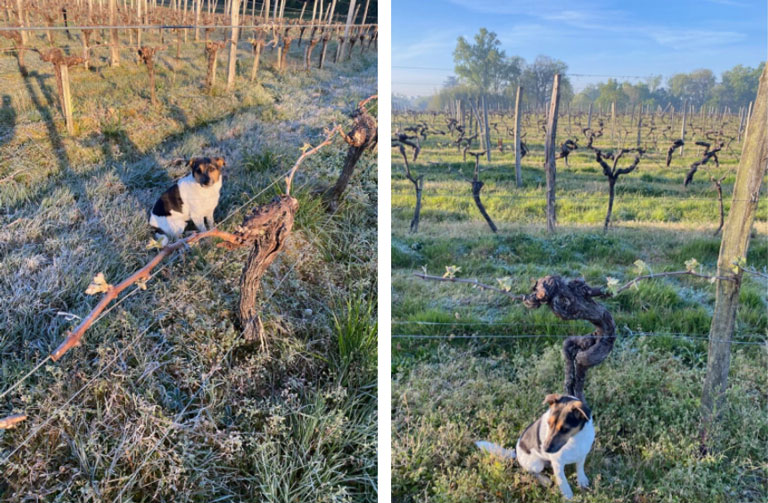 We've probably lost about 10% of the Sauvignon Blanc. The old Sémillon vines in Les Trois Hectares were spared.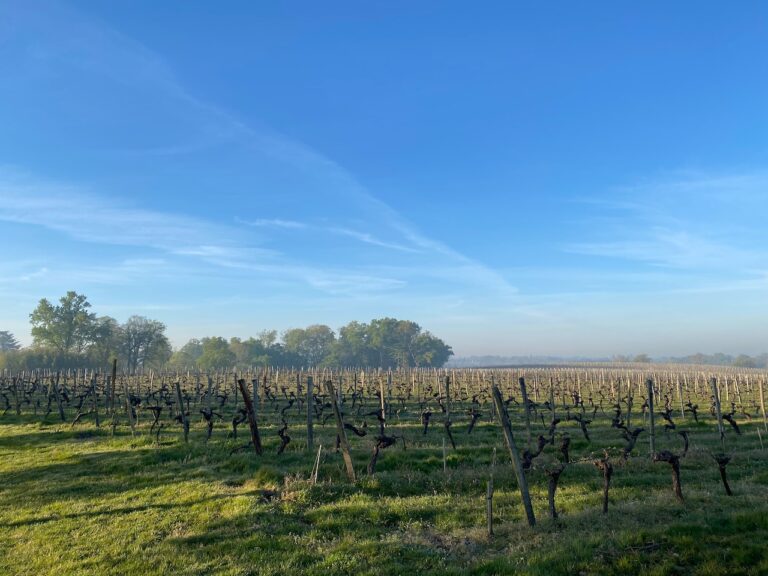 For those not in wine, both Wednesday and Thursday were beautiful, sunny days after the morning frost.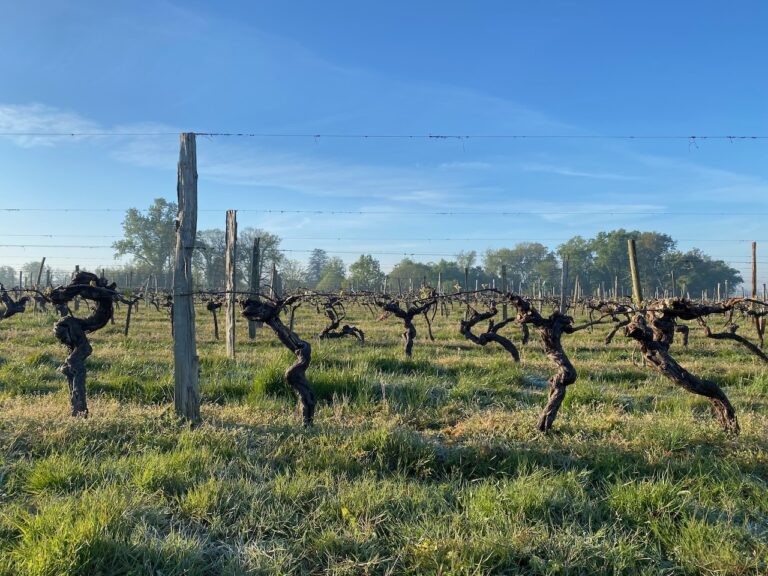 Old Sémillon. No worries here.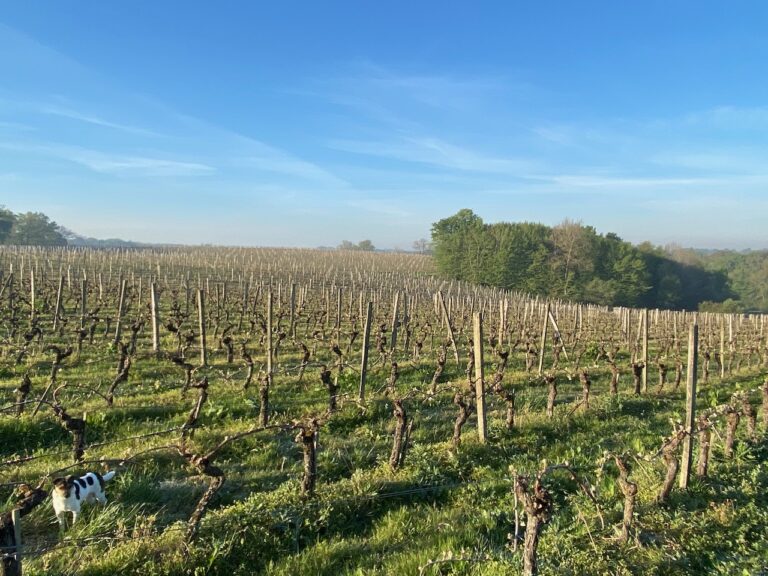 We lost this whole parcel of younger Sémillon to frost on 27 April 2017. Such a relief not to lose it this time.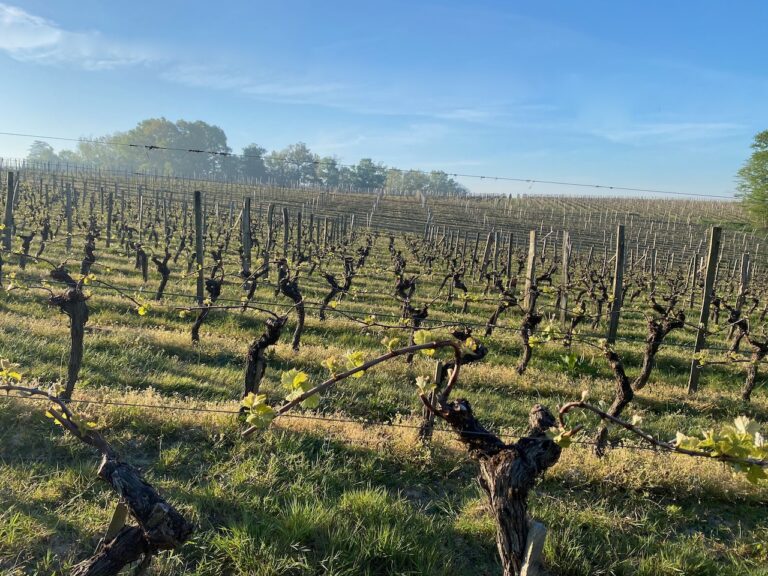 This whole block goes into our Crémant.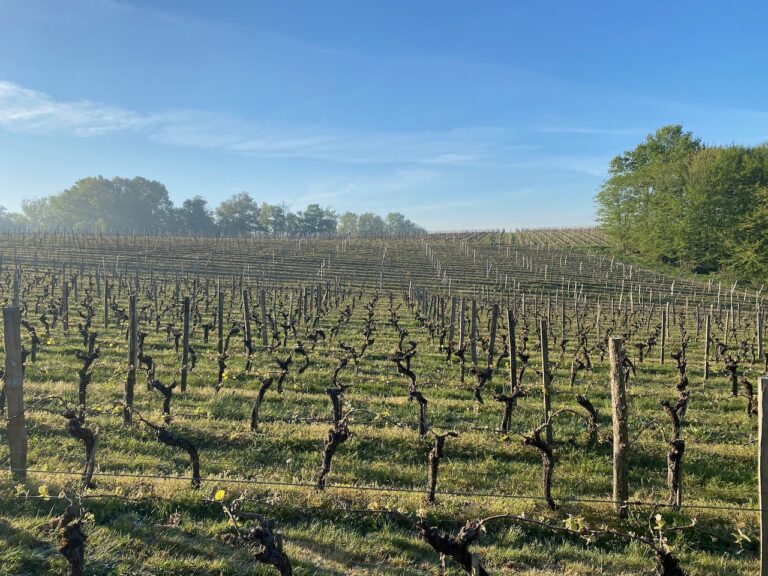 When we say young Sémillon, we mean teenage. We planted this lot in 2004.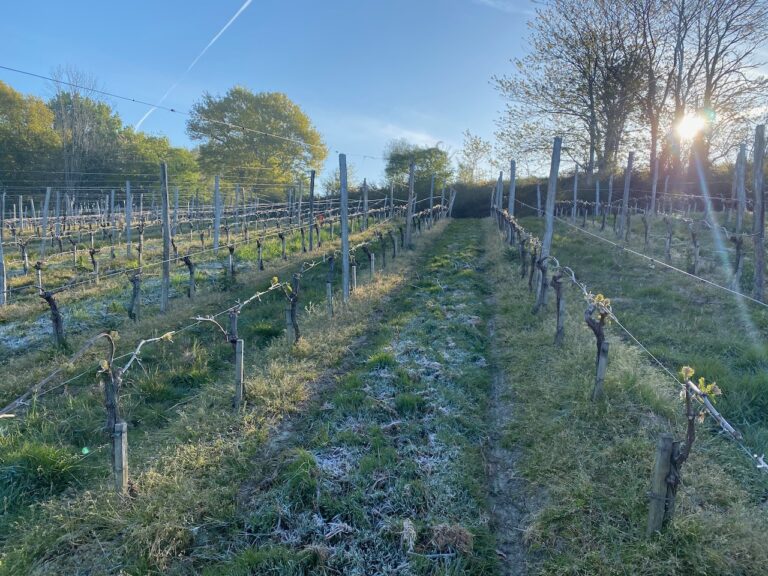 This Cabernet Franc, planted in 2015, was largely untouched.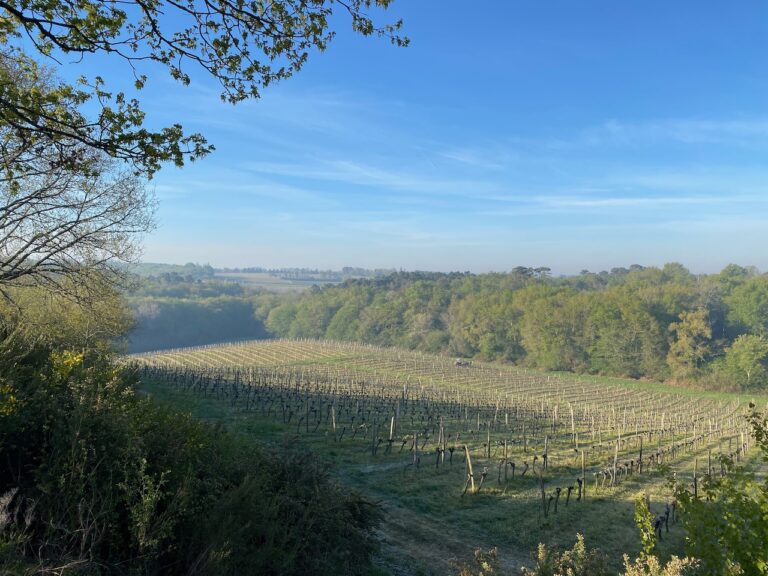 We lost some Merlot in the middle of this valley. There must have been a freezing cold chill that ran through it.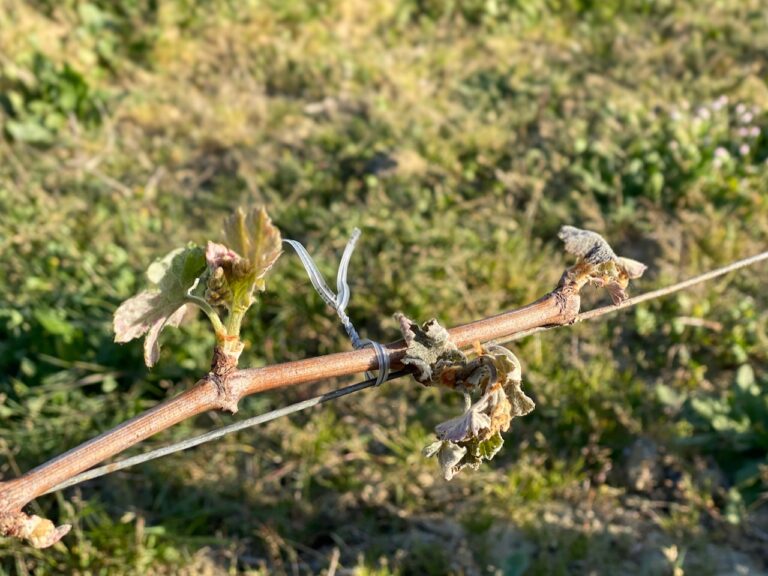 Again, some buds were lost. This is Merlot, with some untouched, while the next little growth was damaged.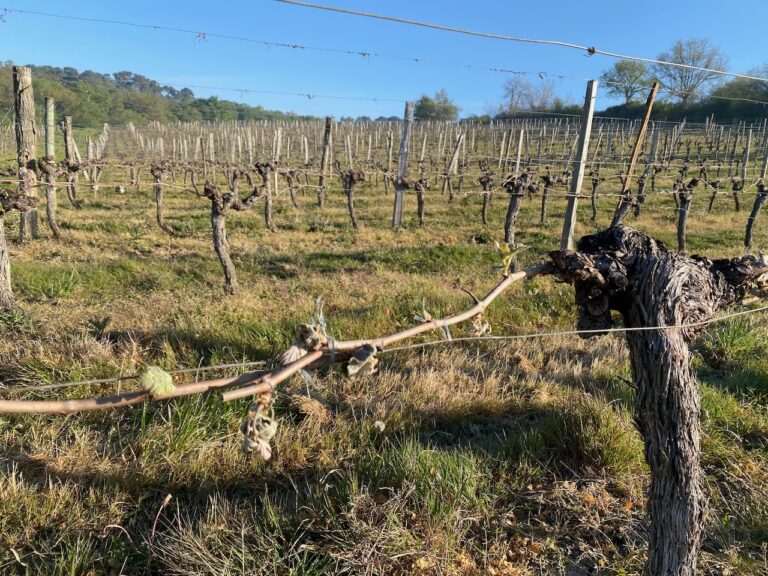 These Merlot go into our Rosé. Some rows were hit but we'll be ok.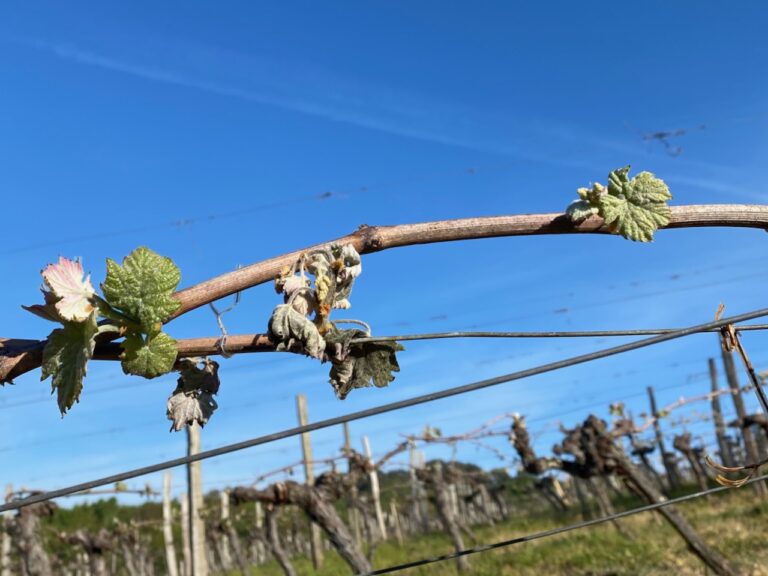 Win some, lose some. We'll soon be able to make a fuller assessment. 'Optimiste? 10%' says Daniel. That's the loss. Possibly more like 15%, but given what others are facing, we'll settle for that.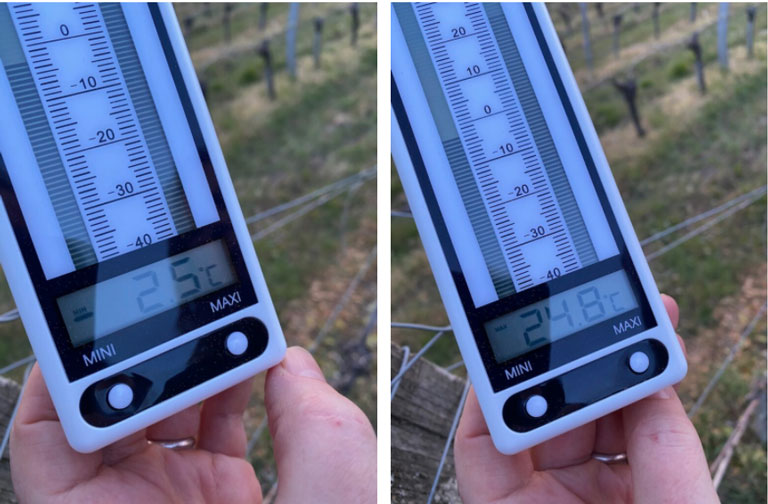 Extraordinary, really. Angela showing the minimum temperature (in the Sauvignon Château, down below the house) as -2.5ºC in the morning, and 24.8ºC in the afternoon.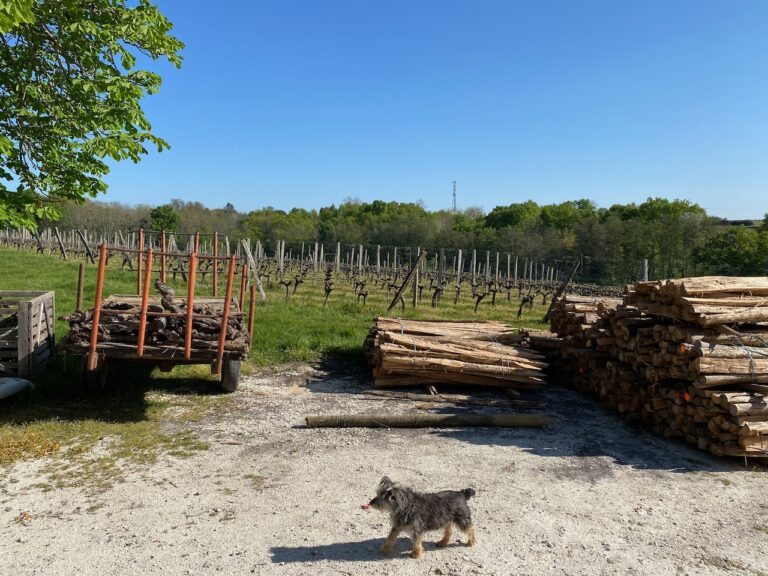 Back to work.