Posted by Gavin Quinney on 31st Jan 2019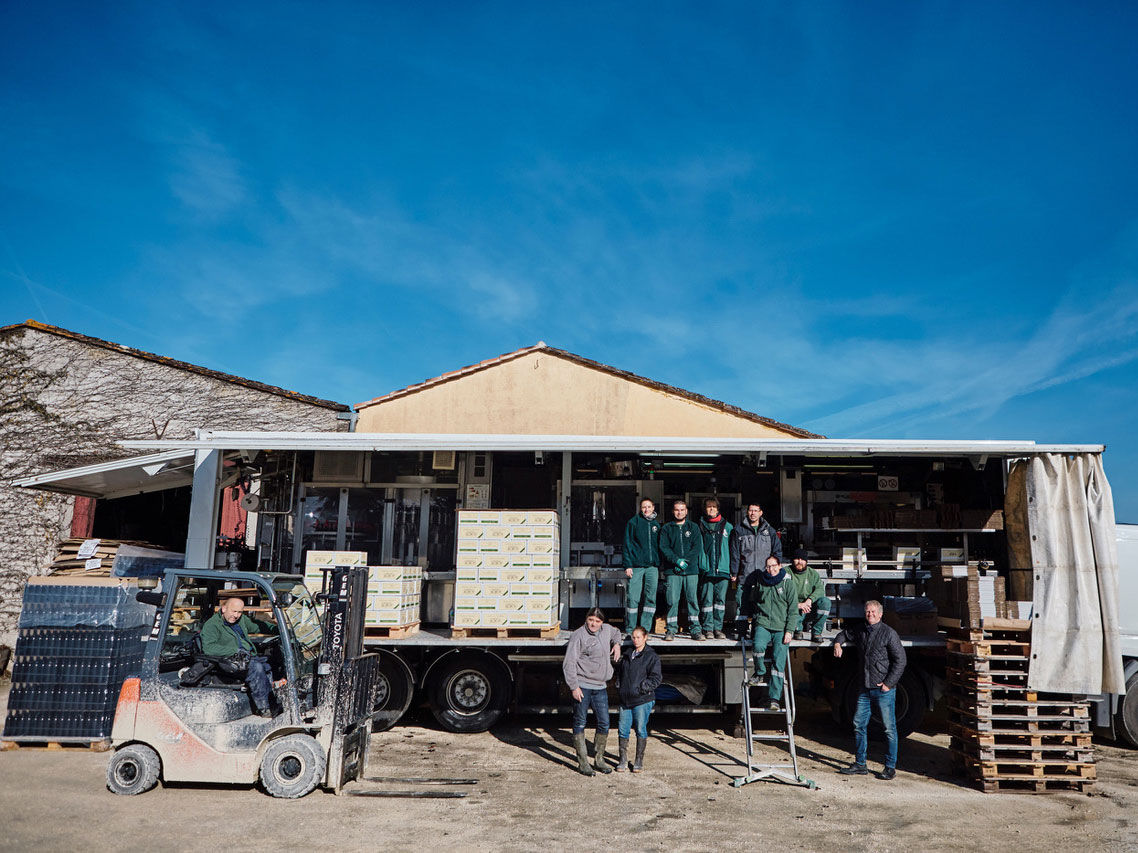 The Bauduc backstop
Sorry to use the ugly b-word in the subject line but we thought we should let you know that we have a plan B and, all being well, this one is deliverable.
'They are bottling early this year at Château Bauduc' writes Jon Henley in the Guardian early next week, so our plan isn't quite so cunning that we have to keep it a secret. We simply aim to get as much of our new wine over to our bonded warehouse near London before the Ides of March, and a considerable stash to our collection point near Calais much sooner.
Duty on wine in the UK goes up tomorrow, 1 February. More on that below but it's one reason our new season offer will include the option of UK delivery or Calais collection - for those that want to swerve the new UK duty rate of £32 for 12, or more than £40 for a dozen sparkling.
Everything could turn out fine but, just to be sure, we're getting a wiggle on.
In this month's missive:
Bauduc Plan B in The Guardian
An album of bottle shots
Instagram and Twitter #our20thvintage
19 unpalatable truths about UK wine duty
A chat with Wetherspoon's Tim Martin on LBC
All the best
Gavin & Angela
Bauduc Plan B in The Guardian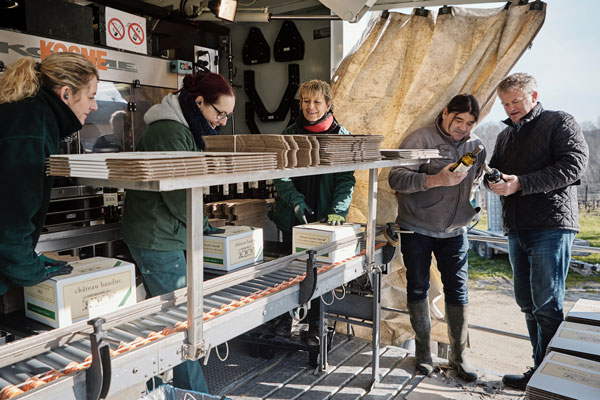 It was a pleasure to welcome Jon Henley, The Guardian's European affairs correspondent, to Bauduc last week. He was on a mission to find out more about the impact of a possible no-deal Brexit on the wine producers and merchants of Bordeaux, and his piece is scheduled to be in the paper early next week. Do look out for it - we'll mention it on Twitter, Instagram and Facebook - and we'll link to the online version from this brief blog post when it's available.
Jon caught up with us during the bottling (above, with Daniel and Gavin trying to read the labels). "Last year," we said, "we didn't bottle till March. This year, we've brought it forward. We have to get enough stock - at least six months' worth - into the UK well before the end of March. It would be foolish not to."
We also talked about our 'deal' - offering private customers a UK duty-free collection from a Calais warehouse before Brexit day. "Our bottom line is: buy your wine now," we said. "Fill the garage and the spare room. Because, frankly, nobody has the faintest clue what happens next."
An album of bottle shots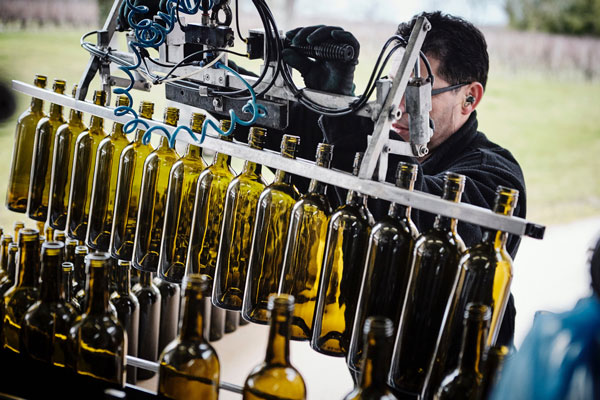 We're usually a little wary of bottling in late January or February because of the cold. When you hire a machine to sit outside overnight, you can have nightmares along the lines of the wintry scene at the start of Gladiator, with Russell Crowe saying 'the frost - sometimes it makes the blade stick.' (Not quite, but you get the drift.)
Anyway, all was fine. Young Ed Findlay has been working for us in the vineyard and winery for a year. He was a junior school teacher and then photographer in England, before setting off to Bordeaux to live the dream of tending vines. Much as we think his pruning skills are improving, we've made use of his creative talents of late, such as with this album of the bottling of our 2018 dry whites and rosé.
Instagram, Facebook and Twitter
#our20thvintage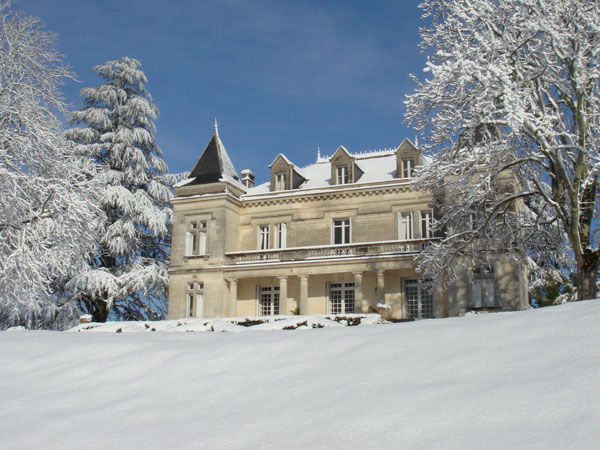 Talking of photos, we've got into the habit of posting a picture every day on Instagram and Twitter @chateaubauduc and on our Facebook page. It's #our20thvintage and #bauduc20years so there are plenty of old snaps, like this one from January 2007, to go with a #yearinthevineyard #margauxterrier #paviethedog and #goosebauduc. (Goose is our cat. A fox got our real goose, a while back.) #soddinghashtags
Château Bauduc on Instagram and on Twitter.
19 unpalatable truths about UK wine duty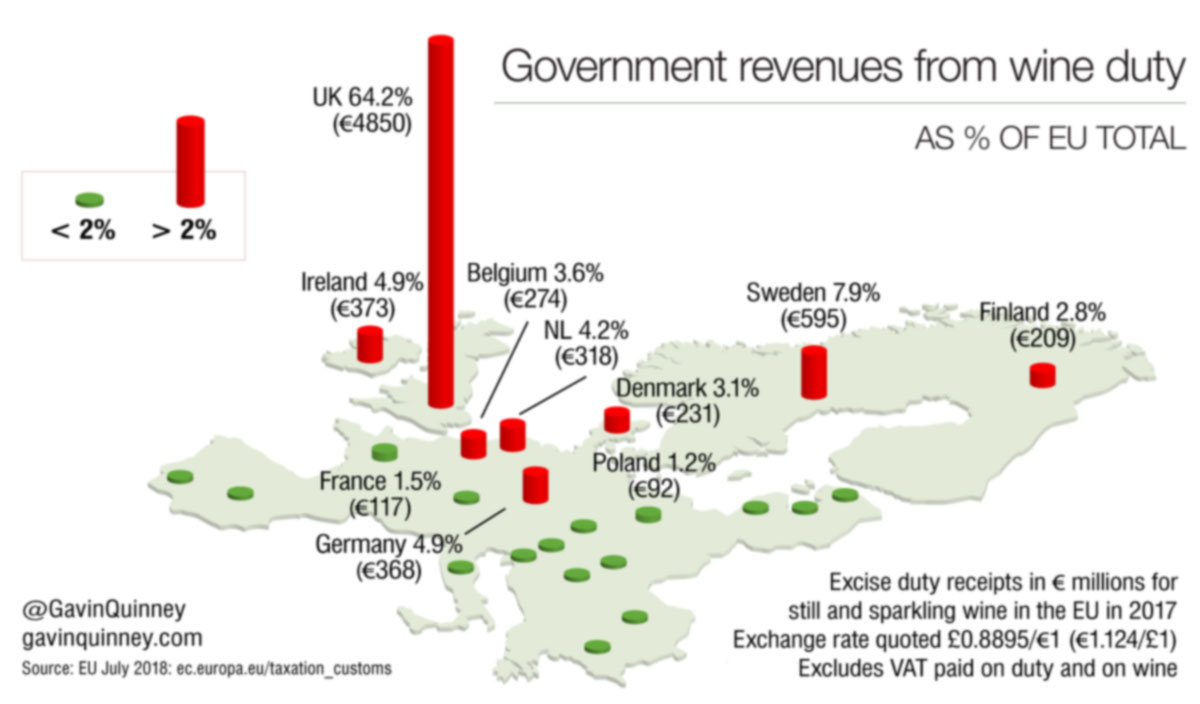 With new duty rates on wine in the UK from 1 February 2019, I've updated my statistics and thrilling graphics, and added some new tables for a fairly comprehensive guide to UK wine duty. A rant it may be but, if nothing else, it should help you make better-informed decisions when buying wine in the UK - and on the continent.
(As well as on GavinQuinney.com, there's a Twitter thread on @GavinQuinney)
1. Wine was singled out for a duty increase in the autumn budget, effective 1 February 2019, while excise duties on spirits and beer were frozen.
2. The UK duty on still wine is £2.23 a bottle plus VAT (£2.68) from 1/2/19, up from £2.16 (£2.60 inc VAT). Sparkling wine duty is up from £2.77 to £2.86 (£3.43 inc VAT).
3. 61% of a £5 bottle of wine is tax (£2.23 duty plus 83p VAT = £3.06). The average price of a bottle of wine in the UK was last reported by the WSTA (source: Nielsen) in late Sept 2018 as just £5.68 (56% tax).
4. £6.70 is the price above which you're paying less in tax than on the wine - which includes all the other elements in the bottle like shipping, packaging and sales margins. When you see a bottle on the shelf for £6.70, equate it - value-wise - to a food product costing £3.35.
5. 58% of a £7 bottle of sparkling wine is tax (£2.86 duty plus £1.17 VAT = £4.03). £8.60 is the price above which you're paying less in tax than on the wine (and other stuff in the bottle like packaging, shipping and margins).
6. Higher rates of duty have compounded the weaker pound, slightly higher production costs and rising fuel bills. The 'wine' element below includes bottling and packaging of 40p-90p, and the producer's margin.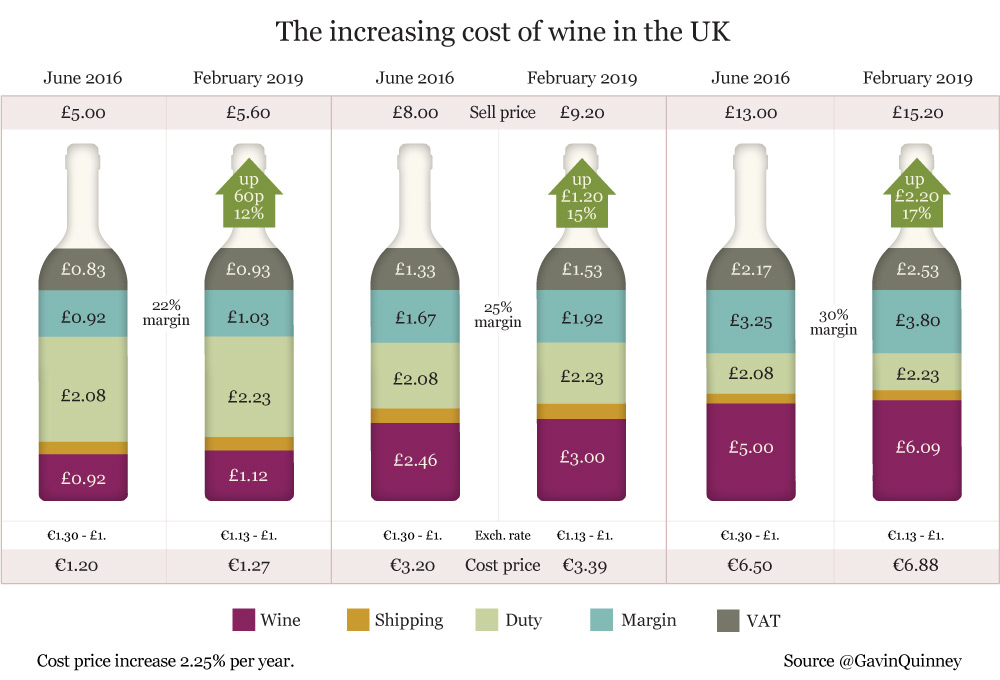 7. Unlike VAT, duty has to be paid once the wine leaves customs or a customs-controlled warehouse. It's usually treated as part of the upfront cost of the wine, and not only has a huge impact in retail but also in pubs and restaurants, where gross margins have to be far higher.
8. This century, UK wine duty has gone up 72% over the last 10 years, compared to 15% in the 8 years before that.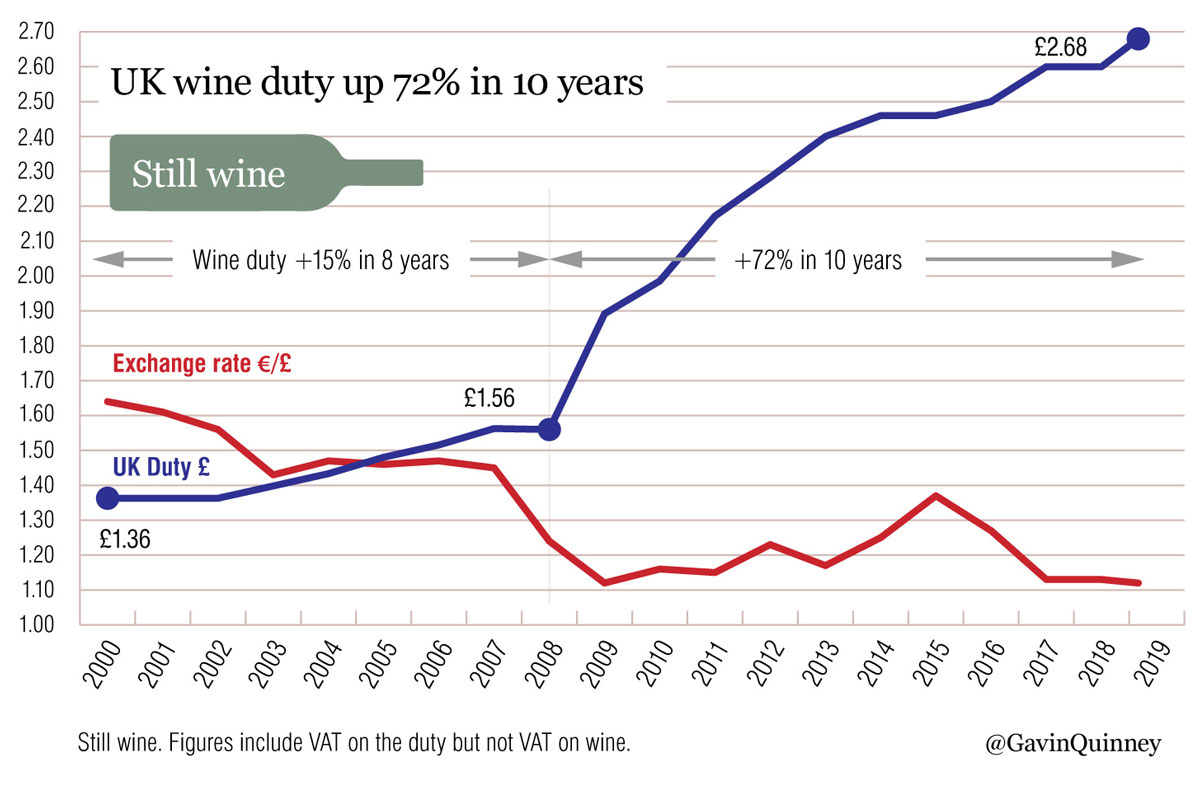 9. UK duty on sparkling wine went up by just 4% in 8 years from 2000, before going up 70% in the last 10.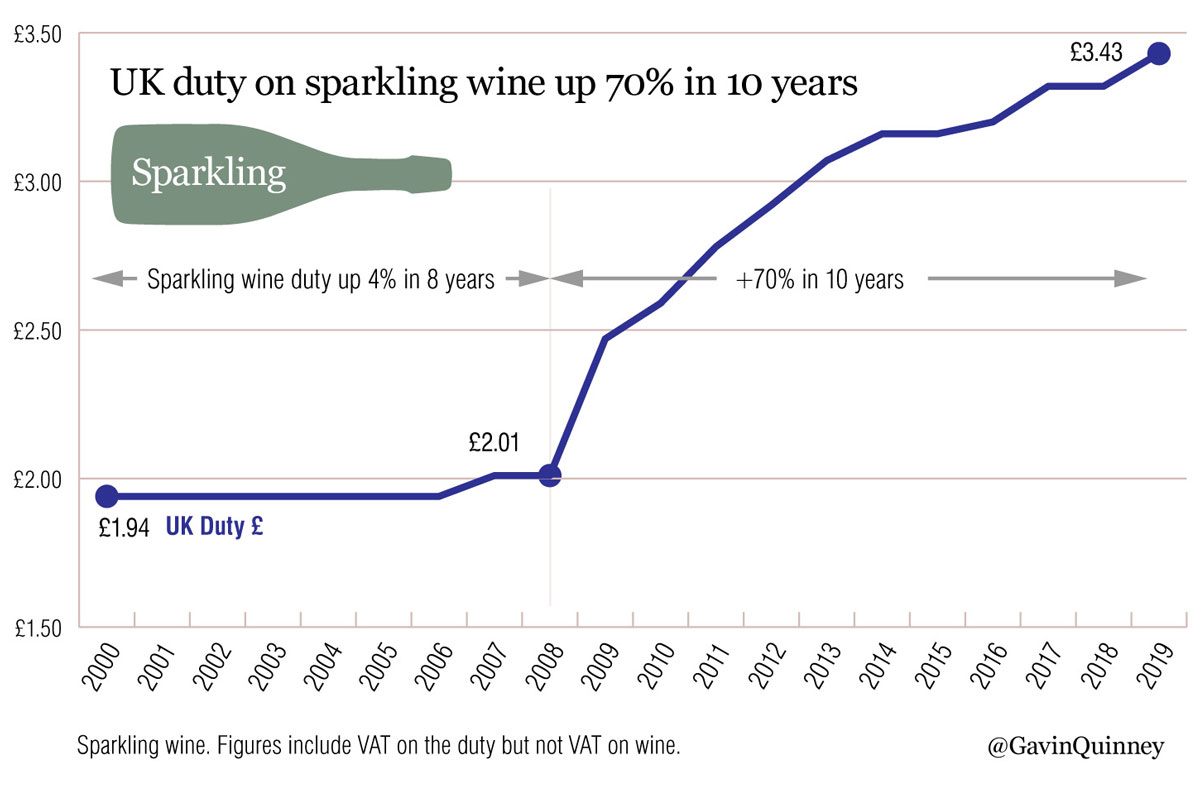 10. For the Treasury, UK wine consumers contribute more than half as much again in duty compared to 10 years ago - for the same amount of wine. Duty receipts have increased year on year while volumes have been remarkably consistent. Sparkling wine duty receipts have tripled in less than 10 years, thanks to the boom in sales since 2011.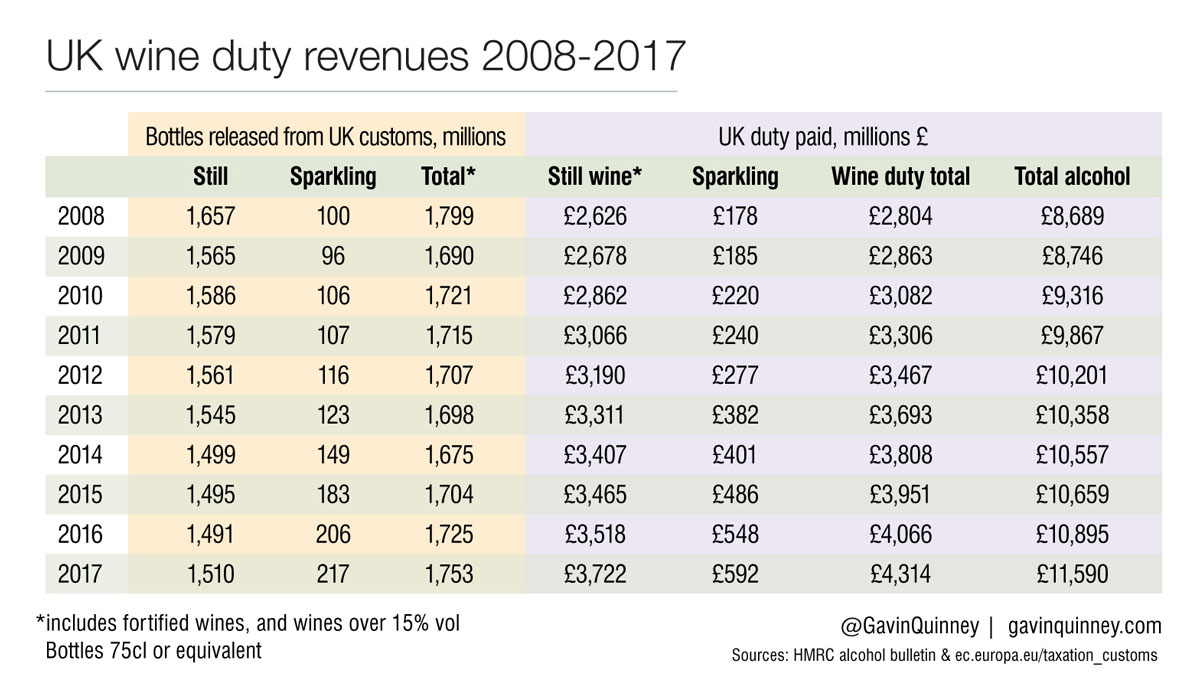 11. A detailed table - on the blog post - shows the duty rates on alcohol over the last 25 years, excluding VAT on duty as well as the wine. Since 2000, duty on wine has doubled - still wine up 100% and sparkling wine 73%, whereas spirits duty has gone up 47% and beer 59%.
12. Wine contributes the most UK duty, with £4.3 billion collected out of £11.6 billion in total alcohol duty, ahead of spirits and beer. Wine duty receipts are 54% up in 10 years, in stark contrast to beer on 9.5%.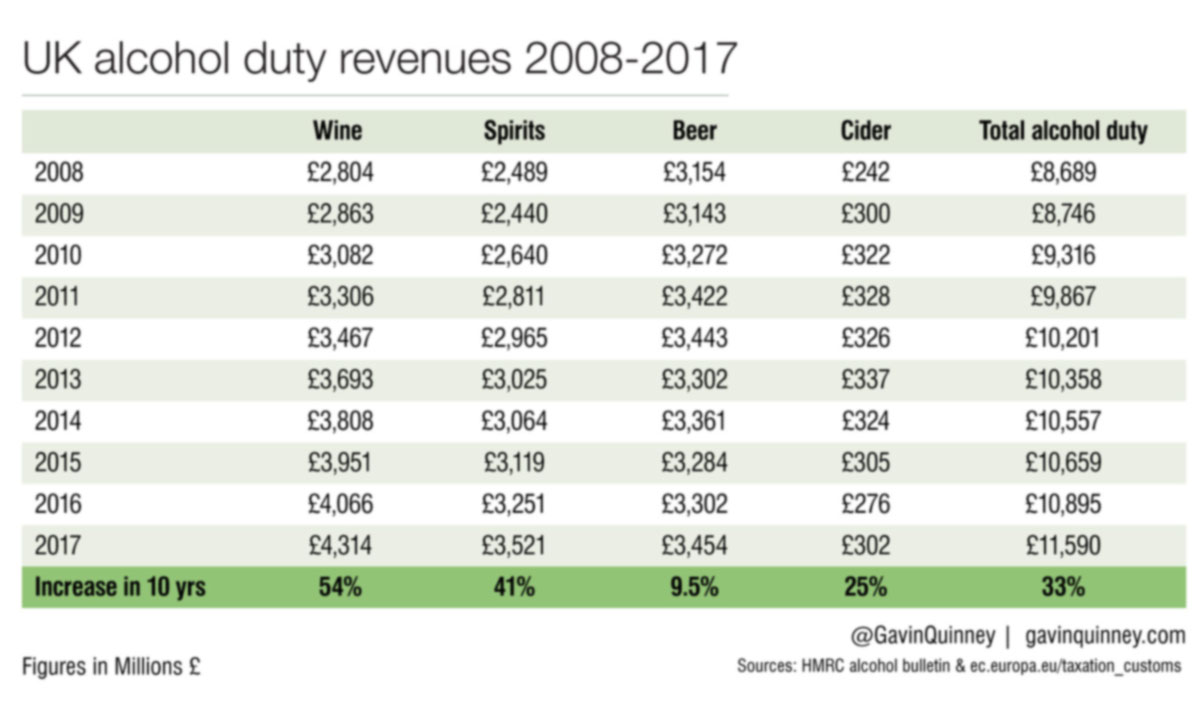 13. Here's how duty on wine looks across the EU. Each country is free to choose to charge what it likes.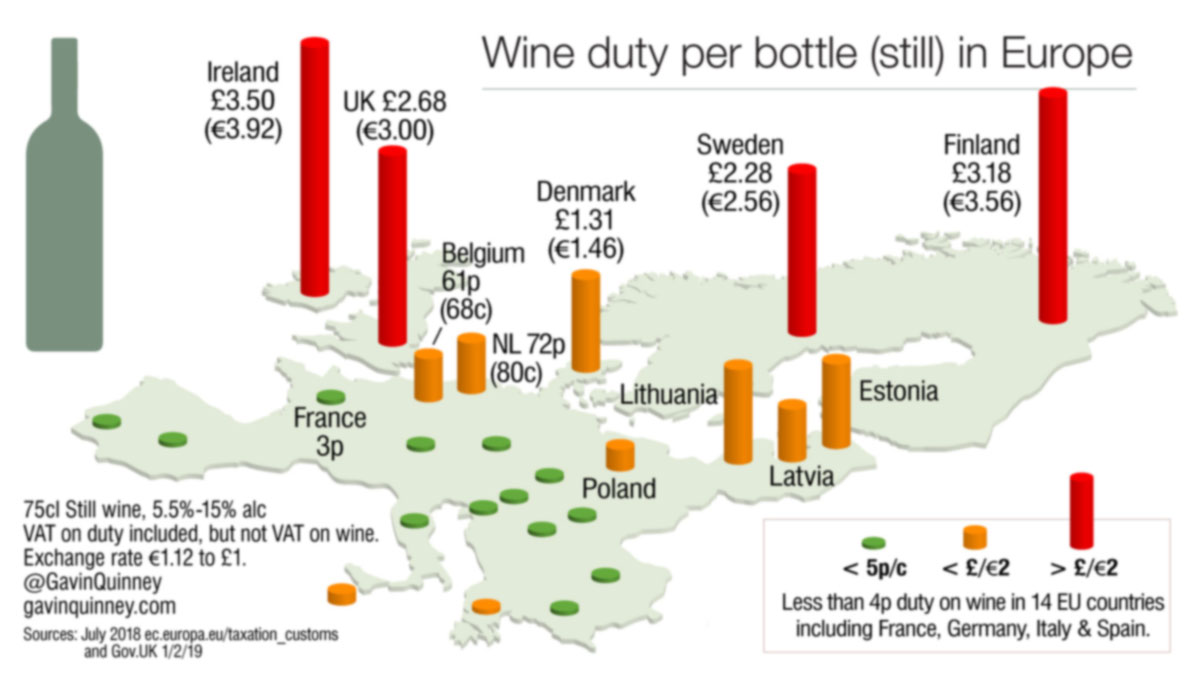 14. Most wine-producing countries only tax wine through VAT, though the duty on wine in Belgium (61p inc VAT) and Holland (72p) is around a quarter of the UK rate (£2.68 inc VAT). Sweden and Finland control wine sales through a monopoly of state-owned stores, so consumers there do get something in return. (See the blog post for the table of duty rates.)
15. Several EU countries charge much higher rates of duty on sparkling wine. At £3.43 a bottle v 8p, duty in the UK is £40 more per dozen than in France.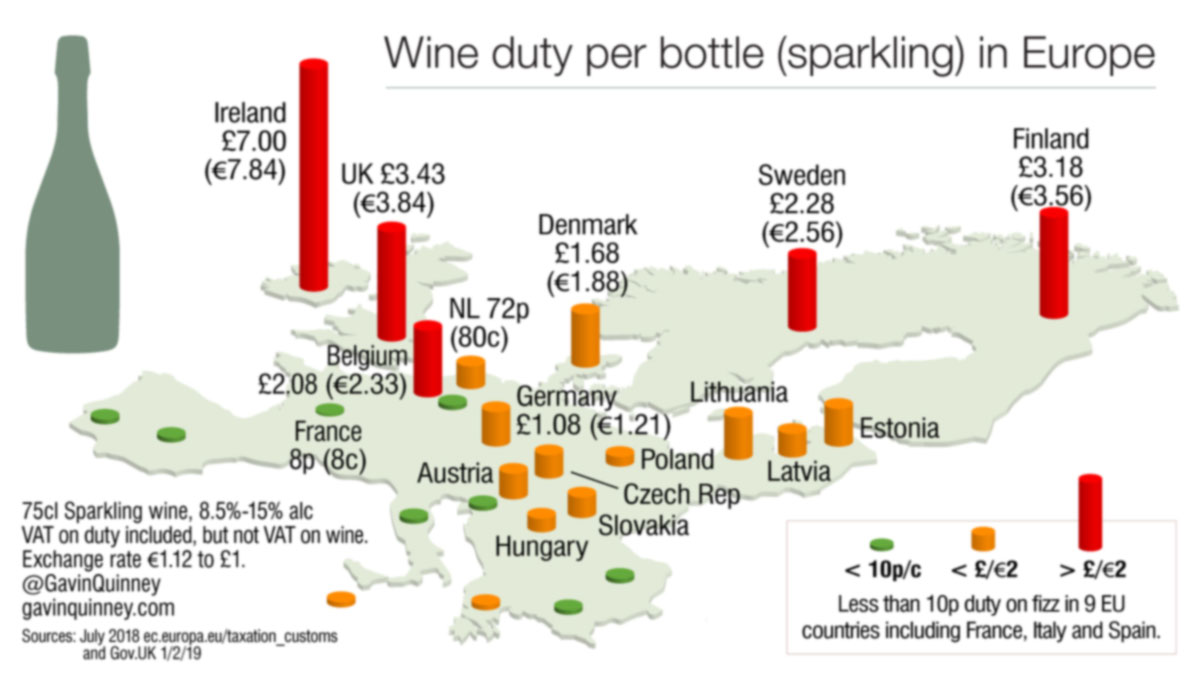 16. The UK Government takes nearly two thirds - 64% - of all the wine duty collected in the EU. (The UK population is around 13% of the EU.)
A chat with Wetherspoon's Tim Martin on LBC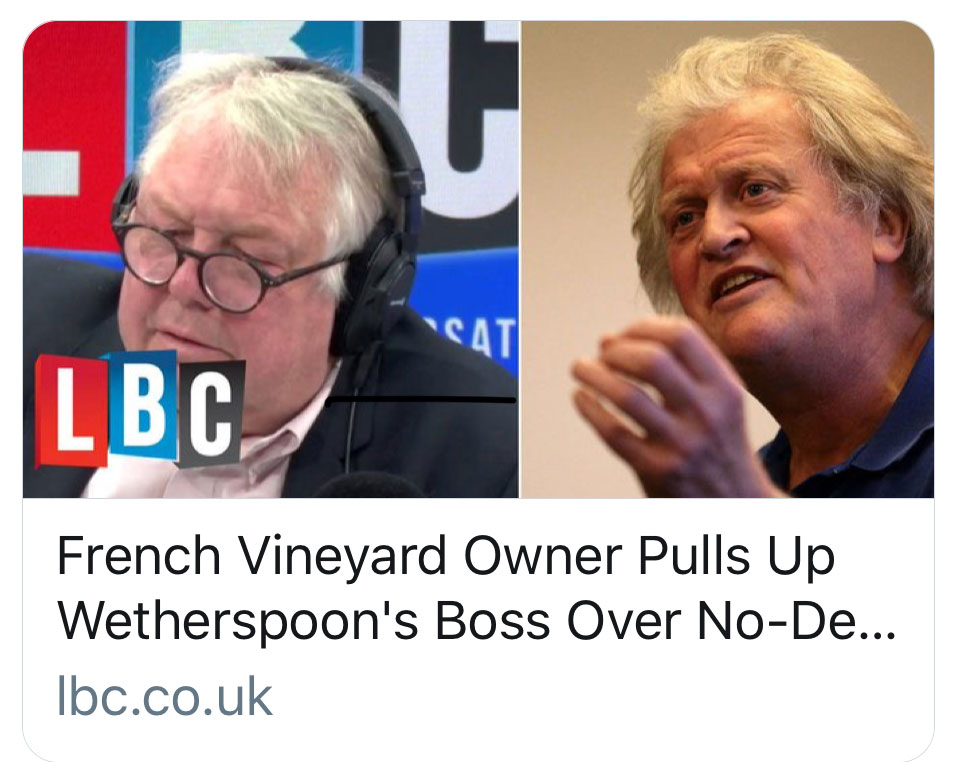 'A French vineyard owner pulled up the chairman of JD Wetherspoon when he said wine would be cheaper after Brexit' ran the headline on LBC.co.uk after our brief chat. I'd been asked if I'd like to take part in a brief debate with Tim Martin on air on Nick Ferrari's show, and they duly called. Gulp. (Please note that the image above is of Nick Ferrari and Tim Martin, not the vineyard owner.)
Tim Martin, who founded the popular pub chain, is a leading Brexiteer and insisted the UK has nothing to fear from a no-deal Brexit.
He told Nick Ferrari no-deal is better than Theresa May's deal and talked of scrapping tariffs on New World wines.
He said: "If we leave the EU, one of the advantages is that we can scrap tariffs. So Gavin's wine will continue to come into the country tariff-free, but the difference will be you'll save 8-12p per bottle on wine from the rest of the world.
"But you save 17% on children's clothes, you save x% on bananas, so much on oranges and all the rest of it."
However, Gavin Quinney, who runs a 63-acre vineyard near Bordeaux, pointed out: "Tim, you're not selling children's clothes and bananas in Wetherspoons, you're selling wine.
"The most you're going to reduce a bottle of Australian wine is 8p and if the EU finishes the negotiation with Australia and removes that tariff, 8p we're talking about on a bottle of wine, compared with the UK duty from 1st February will be £2.23 - 28-times more.
"The UK collects 63% of all excise duty on wine in the EU. It's massive, whereas the tariff is tiny."
| | |
| --- | --- |
| This was sent to friends on our mailing list | |