Posted by Gavin Quinney on 30th Nov 2018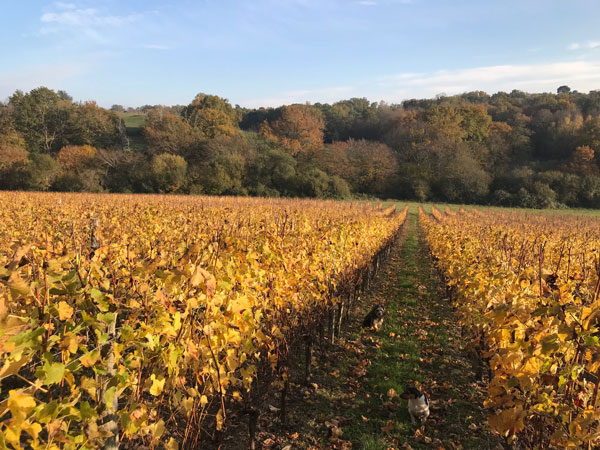 November has been a hectic month, though less so in the vineyard itself. We sometimes forget how beautiful it can be at this time of year, with the golden rows of vines set against the autumn backdrop of the woods.
We've been pretty busy in the winery, finishing off the wine making process for the 2018 whites and rosé and gathering together the final blends, ready for bottling in mid-January. At the same time, we've been stocking up in London with delicious, current stuff for festive drinking in the vague hope of a Christmas rush of orders.
Thank you to everyone in the UK who has succumbed to offers of free books and corkscrews so far. In this month's review, we've dispensed with the idea of talking about backstops (hey, it's Friday) and indulged ourselves by taking a look at our wines on the list at Gordon Ramsay's instead, following a recent visit.
All the best
Gavin & Angela
Three stars, four wines at Gordon Ramsay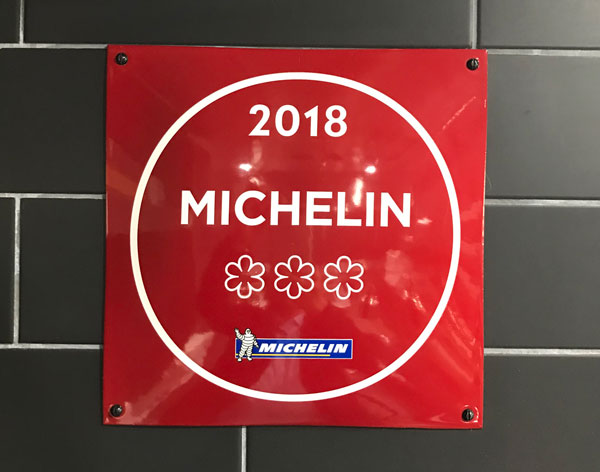 Congratulations to the team at Restaurant Gordon Ramsay who retained their three Michelin stars in the new Michelin Guide 2019 for Great Britain and Ireland. There are just five restaurants with three Michelin stars in the UK, three of which are in London, and this was the 17th year running that Gordon Ramsay has held three stars at his eponymous restaurant in Chelsea. Château Bauduc Blanc has been the house wine there throughout those years and, as I was lucky enough to be invited to dinner there recently, we thought an update on the Bauduc listings wouldn't go amiss.
Many thanks to the team who looked after us so well, especially Head Sommelier James Lloyd, who can be found showing off smart bottles of wine on Instagram @jamespeterlloyd, and to the wonderful Maitre d', Jean Claude, who was there when I turned up for lunch one day in 2000 and who introduced me to their new sommelier all those years ago at 68 Royal Hospital Road. 'This is Gavin who used to come and eat at Aubergine restaurant, where I worked with Gordon, and he's now moved to Bordeaux where he's making wine on a vineyard he bought…'. Or something like that.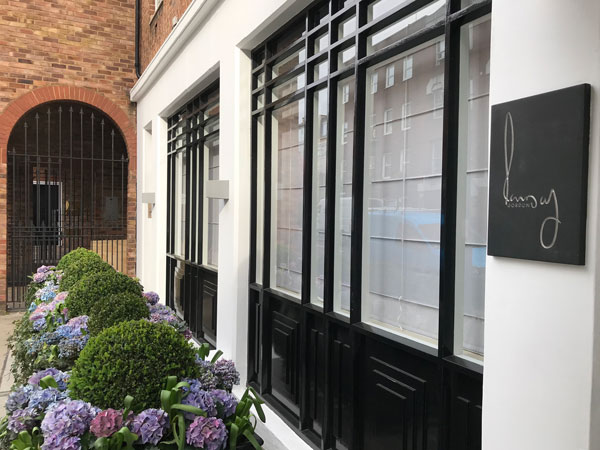 Anyway, back to plugging the wine.
These days Bauduc is well represented on the beautifully presented wine list, with a sparkling wine, a dry white, a red and a sweet white to assist you all the way through a wonderful lunch or dinner. Prices are £50, £32, £45 and £50 a bottle respectively, so you'd have a wine bill of less than £7.50 a glass if you ordered all four wines, which is pretty reasonable for such an amazing restaurant. I took some pictures of the list when I returned the morning after the dinner, as doing so at the time felt a little vulgar. Here are our highlights, starting with our white by the glass.
Château Bauduc Sauvignon Blanc: £7 for a glass of a delicious dry white in a three Michelin star restaurant is excellent value. You'd pay this for a glass of industrial gloop in an unremarkable high street chain.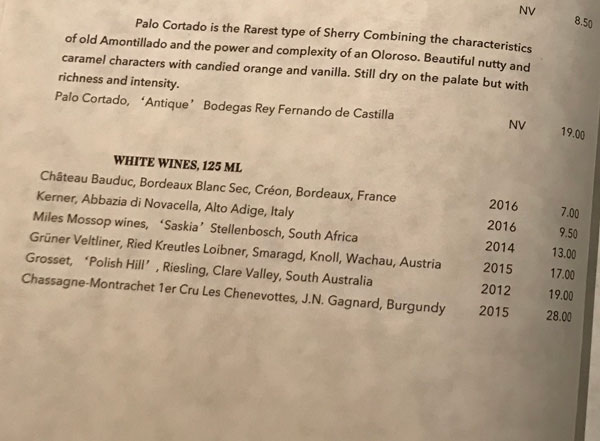 Here are the dry whites from Bordeaux and South West France. Our local town, Créon, doesn't actually have its own 'appellation' but we're rather proud that we've put it on the map. We must tell monsieur le Maire, by the way. He'd be chuffed.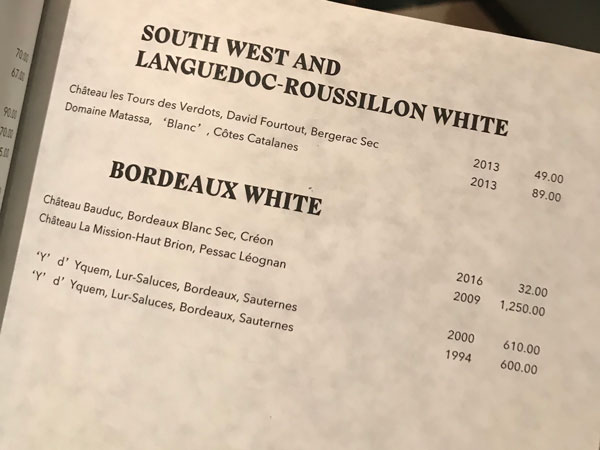 We especially like this short list of classic wines, below, with the Bauduc blanc listed at £32 and an alternative white from Bordeaux, La Mission Haut Brion, for a mere £1250. The latter would have been delicious too, though my friends must have been relieved, in one way at least, that they had invited me and not Prince Robert of Luxembourg, the owner of Château La Mission Haut Brion.
As an aside, a few years ago I was invited to a formidable dinner at Château Haut-Brion, one of my favourite Bordeaux estates. It was a large, black tie affair and as we went through to the huge dining room after drinks, Prince Robert and others were in a receiving line, greeting each guest as they passed by. He shook my hand warmly and said in a deep voice 'Robert of Luxembourg'. For some extraordinary reason, I replied 'Gavin of Créon'.
Moving on, our Sauvignon Blanc is available, toot toot, for drinking at home here.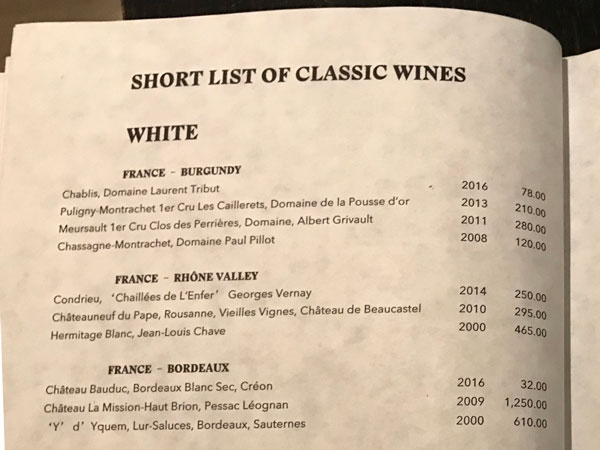 Château Bauduc Crémant de Bordeaux
Our sparkling dry white wine is the only Crémant on the wine list at Restaurant Gordon Ramsay. Crémants are often overlooked and can be super value, given that they're made in the traditional method with a second fermentation in bottle, as in Champagne, but come from other wine regions of France, such as Burgundy, the Loire or Alsace.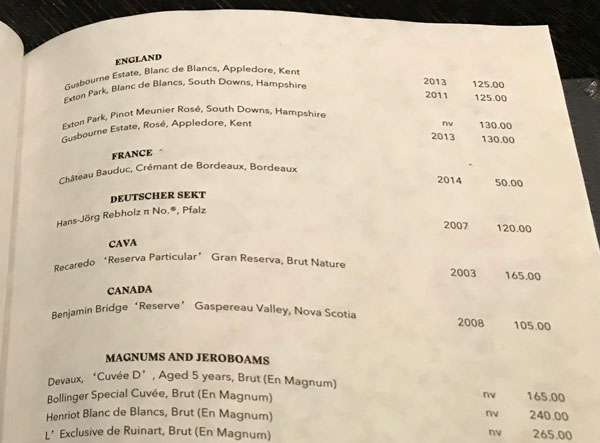 Our Château Bauduc Crémant, which we harvested by hand and whole bunch pressed and all that, is less than half the price of all bar one of the sparkling wines and Champagnes on the list. An excellent aperitif, we'd respectfully suggest, for a table of three to six people.
Les Trois Hectares Rouge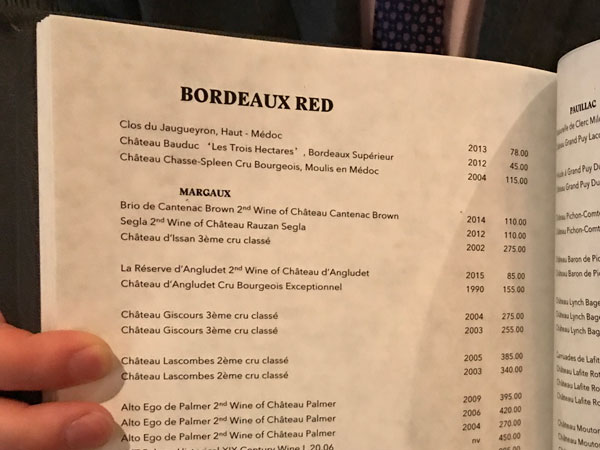 Our first vintage of Les Trois Hectares, a fairly full bodied claret, for Ramsay's was the 2003, and they're now on the 2012. Terrific value on the list at under £45 a bottle and best decanted, of course. £7.50 a glass, in other words - the same price as many ordinary red wines in a bog standard restaurant.
You can find our 2013 here and the 2014 here.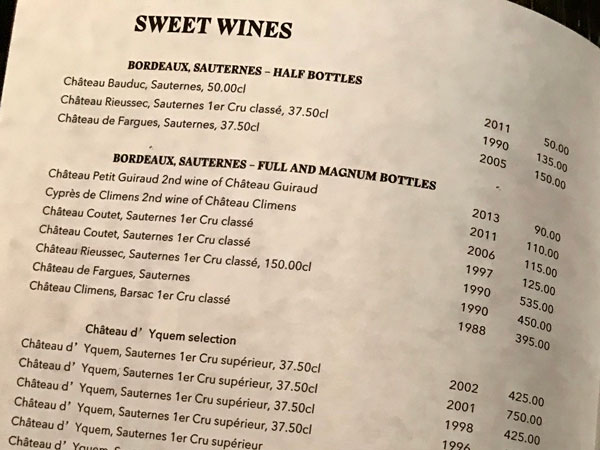 Bauduc Sauternes
A 50cl bottle is the perfect size for four to six people. More than just a dessert wine, a fine Sauternes goes brilliantly with many cheeses, and foie gras of courses (if that's your thing). The cheese trolley at Ramsay's is something to behold.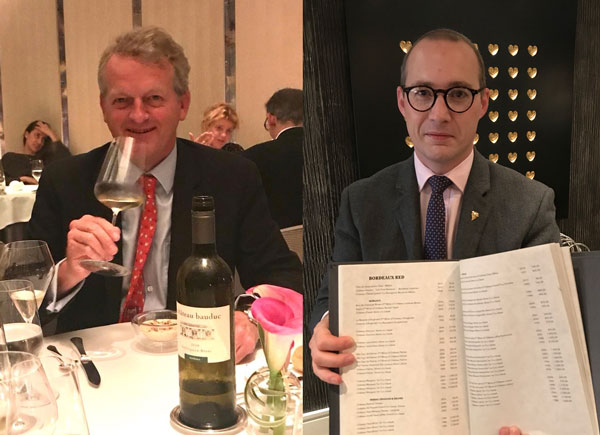 Dodgy vigneron and his wine, Head Sommelier James Lloyd
This is clearly not a restaurant review (I'm hardly likely to be too critical after all) but we thoroughly enjoyed the signature ravioli with lobster and langoustine, Cornish turbot with ceps, Herdwick lamb with autumn vegetables, and fabulous cheeses. I think there was also a lemonade parfait to finish. And, guess what, no hangover whatsoever.
You can find these wines on our new 'Restaurant listings' page on bauduc.com
Restaurant Gordon Ramsay is open from Tuesday to Saturday for both lunch and dinner.
Bookings are essential.
68 Royal Hospital Road
London SW3 4HP
0044 207 352 4441
| | |
| --- | --- |
| This was sent to friends on our mailing list | |