Posted by Gavin Quinney on 30th Jan 2021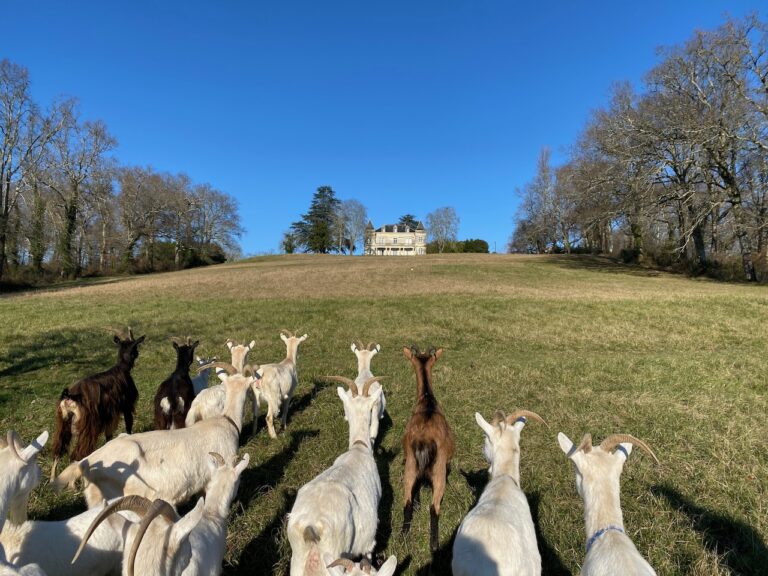 And now for some good news. We'll be releasing the new vintages of our whites, reds, sparkling and rosé on Friday 5th February, with keen prices and UK delivery within a few working days from our London warehouse.
These include our 2020 Sauvignon Blanc, 2020 Les Trois Hectares blanc and our 2020 Rosé. All fresh off the bottling line at the château but now thoroughly rested and ready to roll. Bottled last summer and fit to burst out of the blocks as well are our red Bordeaux Supérieur and Les Trois Hectares rouge 2018. Young and bright, and both delicious already – really. Also from 2018, our bubbly Crémant de Bordeaux.
We'll let you know how we escaped the shackles of the post-Brexit channel crossing shortly, even if it is only a brief reprieve.
For those looking for availability outside the UK, do get in touch.
All the best
Gavin & Angela Quinney
---
Just what the Doctor ordered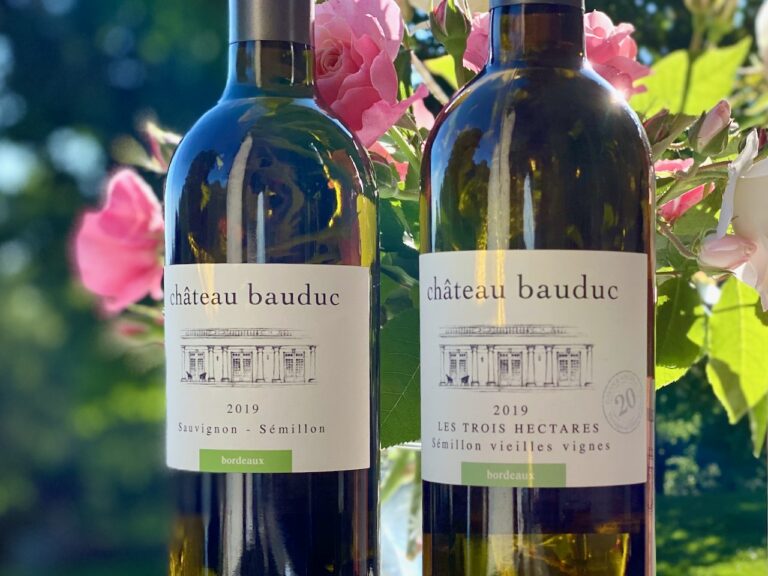 With Dry January drawing to a close, you don't have to wait for our new vintages. With impeccable timing, The Wine Doctor has just issued a January 2021 health update on Château Bauduc and our wines, and several of these are still available.
Now the Wine Doctor is, in fact, a Brit called Chris Kissack, who, in addition to his day job, has been writing about the wines of Bordeaux and the Loire for two decades. "I'm a Consultant Neonatologist" he replied when we asked what he actually did. "If that sounds a bit obscure I provide intensive care for sick and preterm babies. I've been running Winedoctor for longer though (21 years this May)." And we thought we had our hands full.
With Chris's permission, we're putting his notes on the wines on our website. Here are just three that are a pleasure to read, with or without a glass to hand. He's a clever fellow and his comprehensive website costs just £4.50 a month to join, or £45 a year. Highly recommended if you like the wines of Bordeaux and/or the Loire, or simply enjoy reading stories, producer profiles and notes on wine. See thewinedoctor.com
Château Bauduc Sauvignon Semillon 2019
The varietal Sauvignon Blanc and Les Trois Hectares Semillon are made solely from free-run juice, while the pressed juice goes into this blended cuvée. You could regard it as the second wine, therefore, but to be frank the quality is barely a whisker behind. Pale in the glass, it nevertheless impresses with an expressive nose of grassy citrus fruits, in a vigorous and fresh style. The palate is supple, with notes of creamed lime, white pepper, lemon curd and crushed white peach. It's a delightful, fruit-rich style. Bottled under Stelvin screwcap. 91/100 (From the January 2021 update.)
Château Bauduc Les Trois Hectares Semillon Vieilles Vignes 2019
A blend of 80% Semillon and 20% Sauvignon Blanc, reflecting the mix of interplanted varieties in the vineyard, all vinified in stainless steel to keep the focus on the fruit, and then bottled under Stelvin screwcap. In the glass it has a relaxed straw-coloured hue, but it is on the nose that things really get going, with a striking freshness and energy despite the evident richness, the aromatic profile filled with the scents of pithy orange zest and chalk, which to me feels very true to the youthful Semillon. Later on, though, the generosity of this ripe vintage is revealed, as the nose progresses through notes of fruit salad, grilled pear and quince. While still expressive, the palate is more correct and reserved, the sweet citrus fruits here wrapped up in chalky minerals, its gentle acidity reflecting the warmth of the season, but a rich phenolic grip proving some frame. It is wonderfully expressive Semillon for its age, and one which will drink well for several years. The message is clear; dry white Bordeaux isn't all about Sauvignon Blanc. 92/100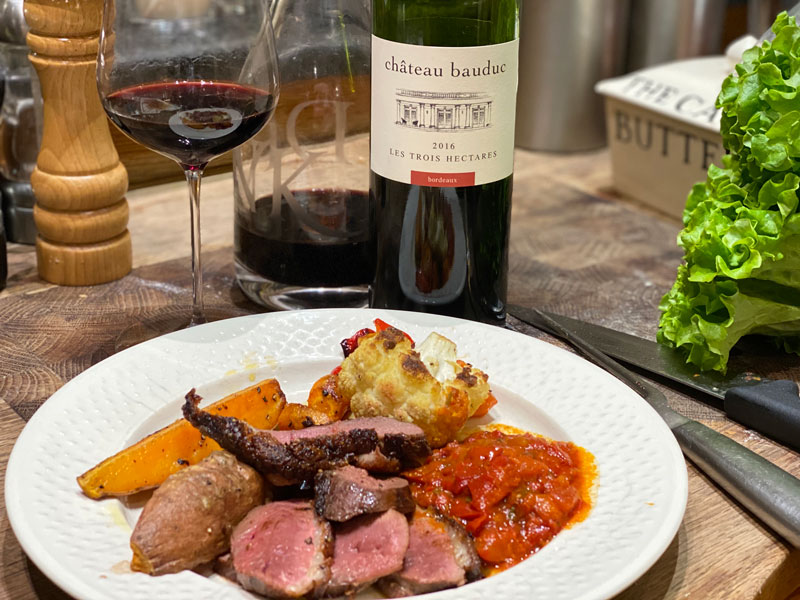 Château Bauduc Les Trois Hectares (Bordeaux Supérieur) 2016
The blend is, as always, 75% Merlot and 25% Cabernet Sauvignon. A lovely evolution on the nose here, showing the benefit of keeping red Bordeaux back a few years, whatever the appellation and status. It offers smoked and toasted fruit, with nuances of liquorice, dried black olive and sweet leathery notes. A beautifully balanced palate, fresh and tense, sinewy in structure but with a really finely poised balance, savoury and full of energy. Really convincing, and giving plenty of pleasure now with a decant, although there is a ripe and tightly grained structure here which suggests there is five or ten years in this yet. Very well done. From a 2021 Update. 92/100
---
January photo journal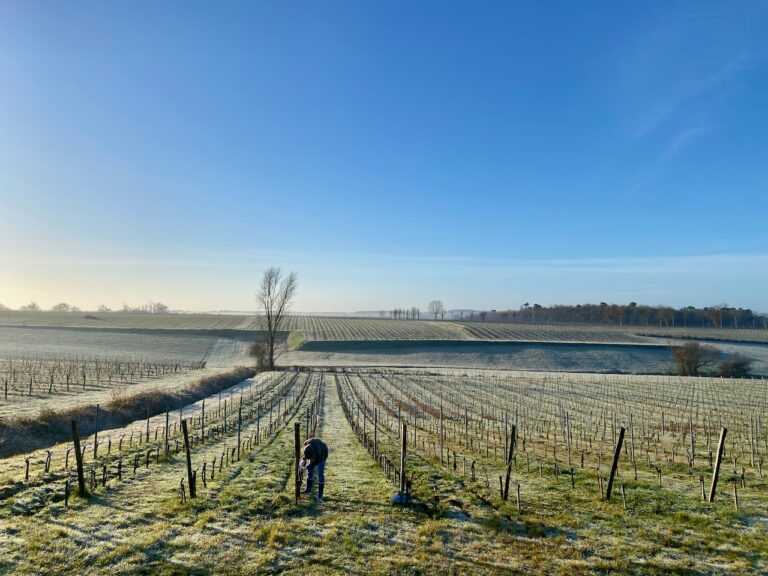 Winter in the vineyards can be rather beautiful. But hard, often lonely work. 18 Jan.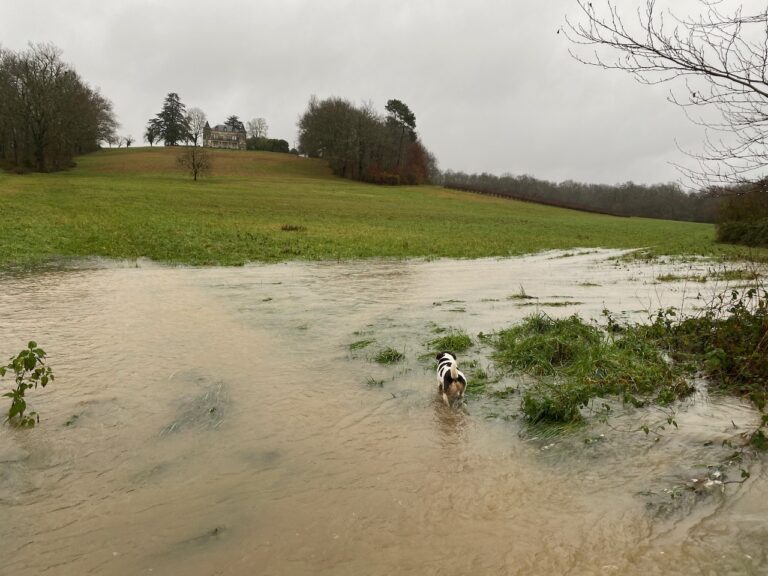 We actually started the year with flooding, and a reminder of why we're fortunate that we have sloping vineyards. New Year's Eve.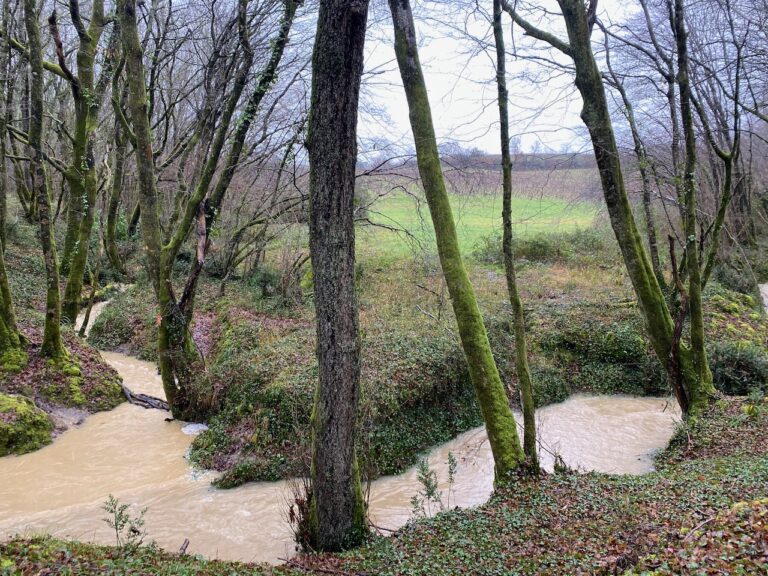 The flooding soon drained away, down our network of streams below the vineyards, towards the river Garonne – which in turn meets up with the Dordogne river to form the Gironde. And then out to sea.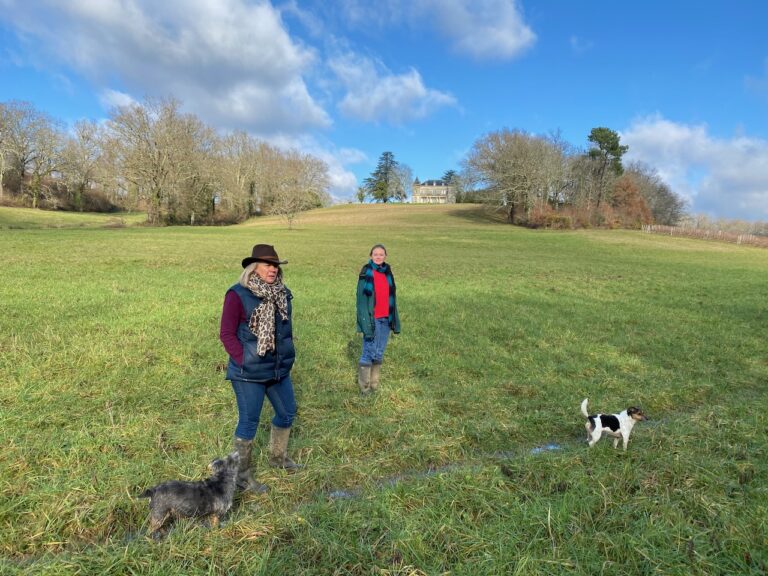 Georgie had to go back to London soon after, but it was great to have her here for Christmas.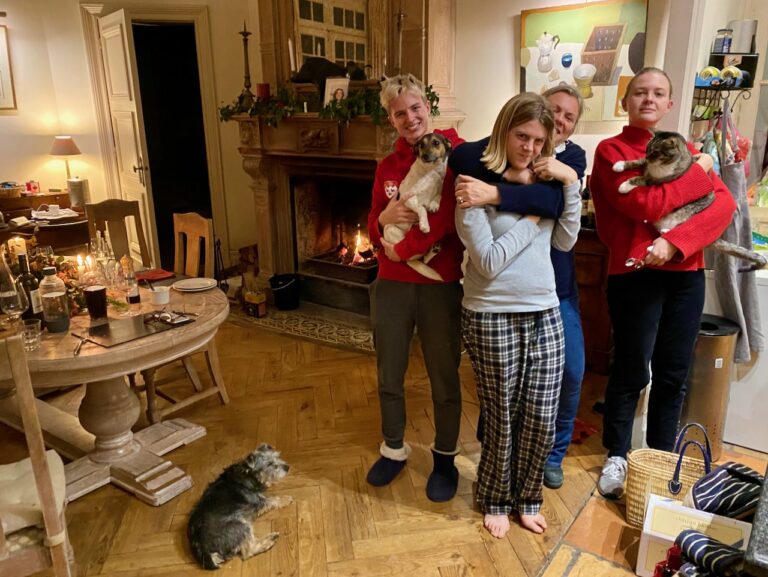 Georgie briefly overlapped with Amelia, who came back from university in Montreal, to team up with mum and Sophie.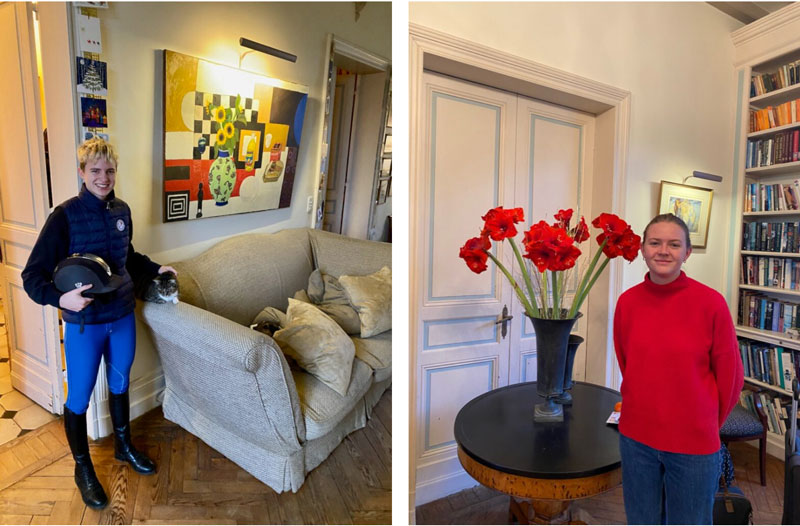 Amelia keeping up with her horse riding at the local stables. She and Georgie were at home all too briefly. We might have mentioned before that Georgie places our website orders with the UK warehouse, as well as being a schoolteacher in London.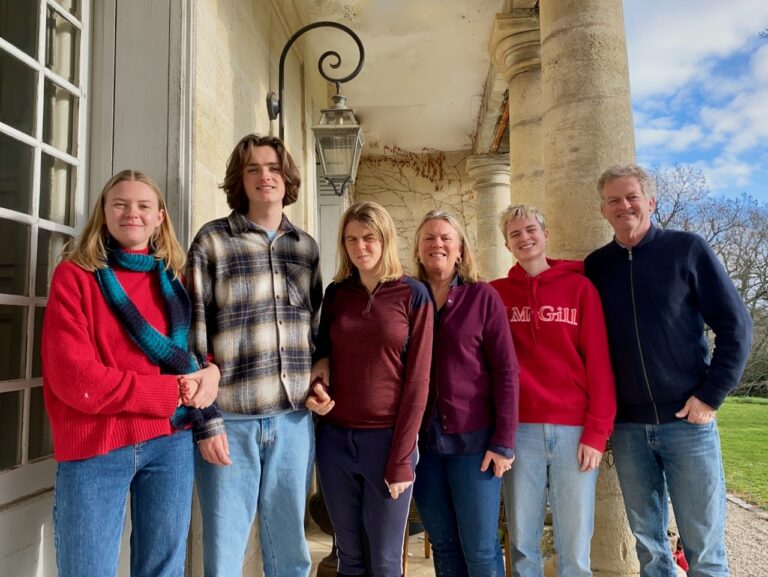 They say you only borrow your children. The Quinney family gathering – once in summer, once in winter.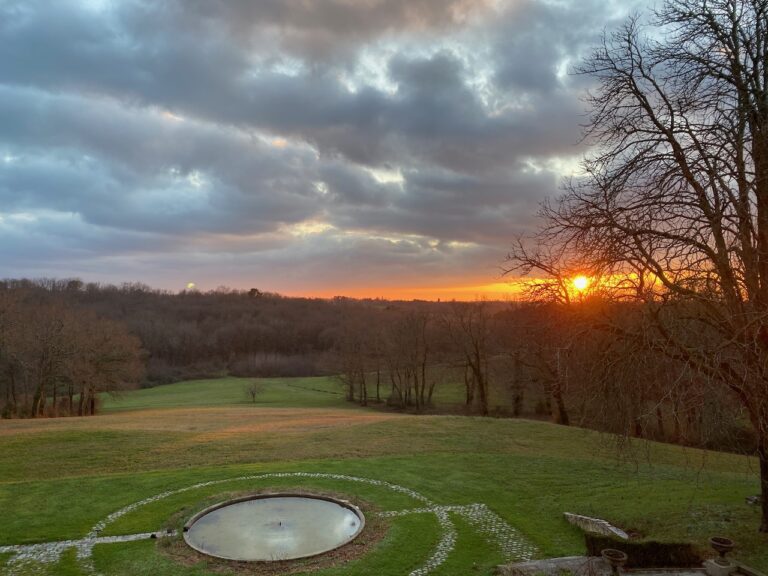 You never know what the weather holds and January is no exception.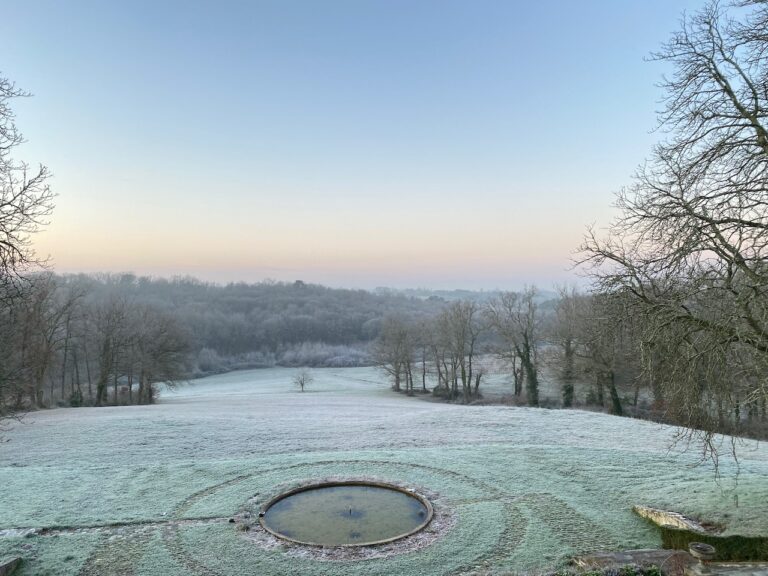 A cold, frosty snap is good for the vines, as they need their winter break.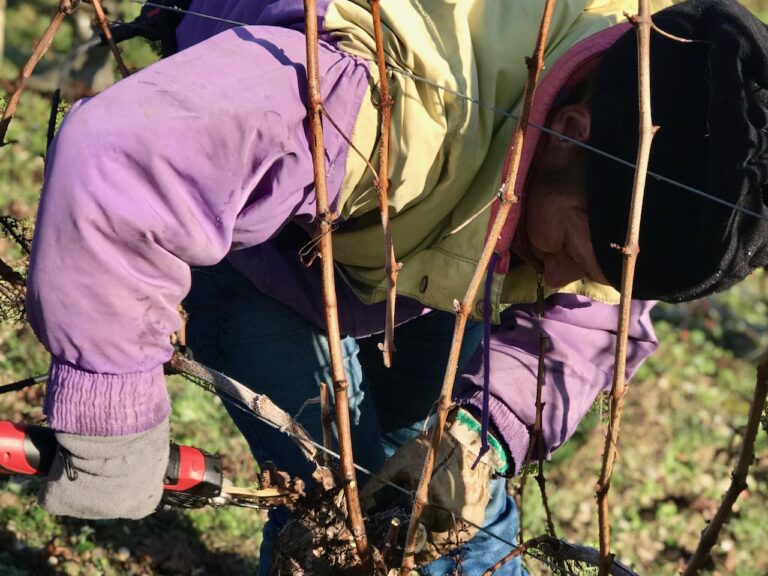 The pruning takes place from late November to early March.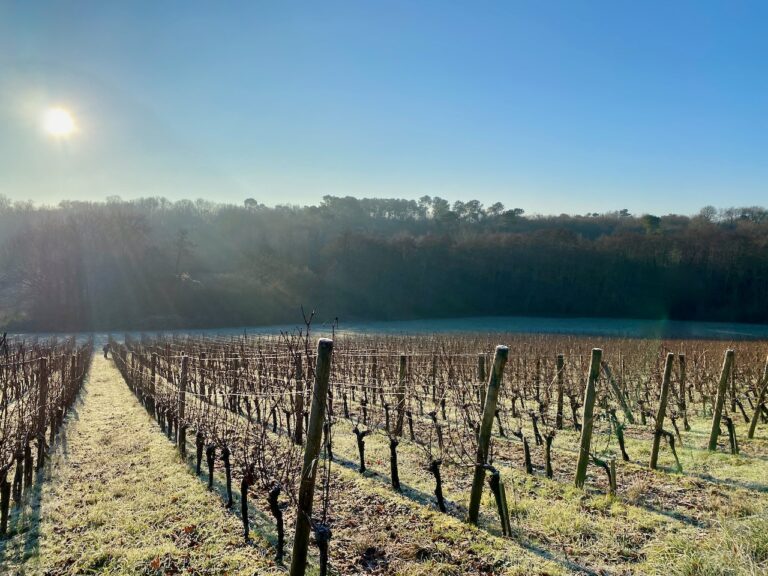 A gorgeous morning for pruning. We have a thousand rows, mind. This is Sauvignon Blanc.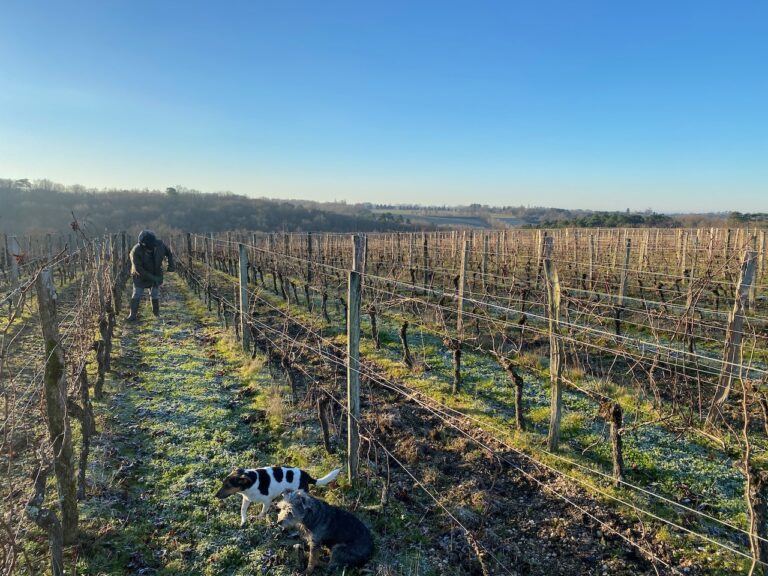 Margaux and Pavie in the Merlot, with Patrick pulling away the cut branches. Le tirage de bois.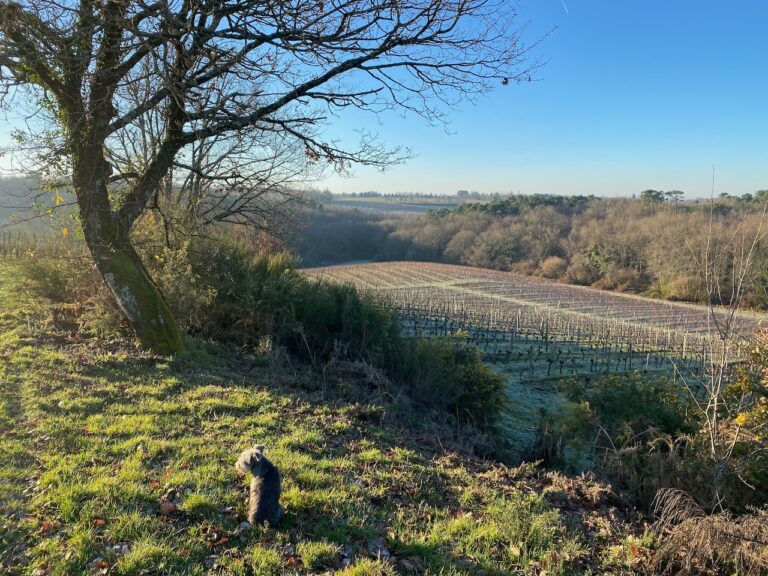 Margaux above the Merlot and the Cabernet.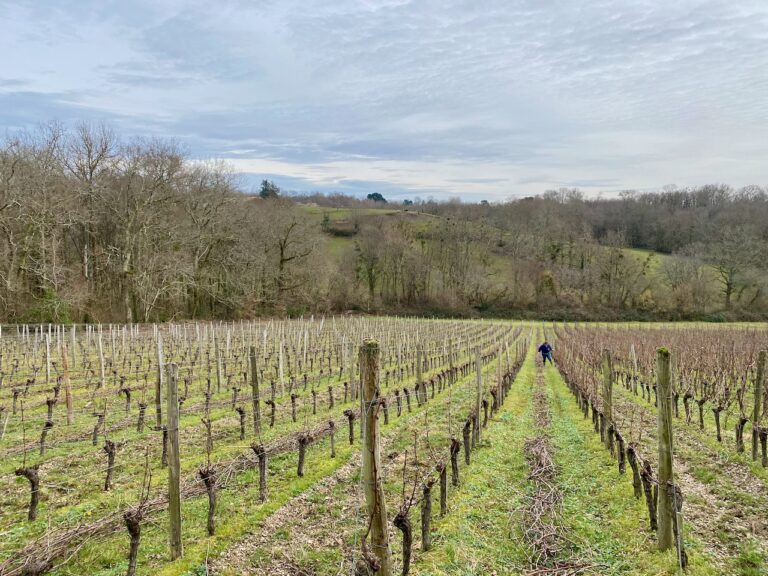 Sandra pulling last year's Sauvignon Blanc branches away. She's done the rows on the left.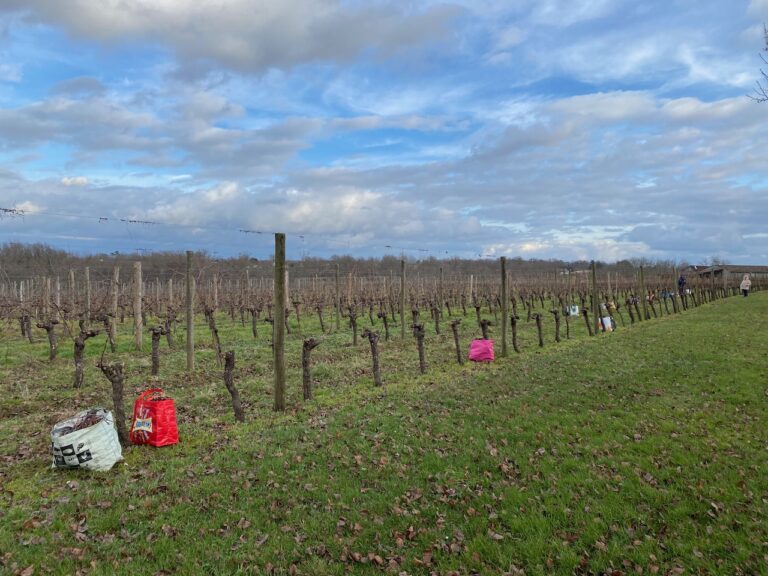 Some of the locals take a break from staying at home by pulling the vine branches off after we've pruned them, and cutting up the 'sarments' so they fit in their shopping bags. They take them home for use as fuel for the BBQ later this year.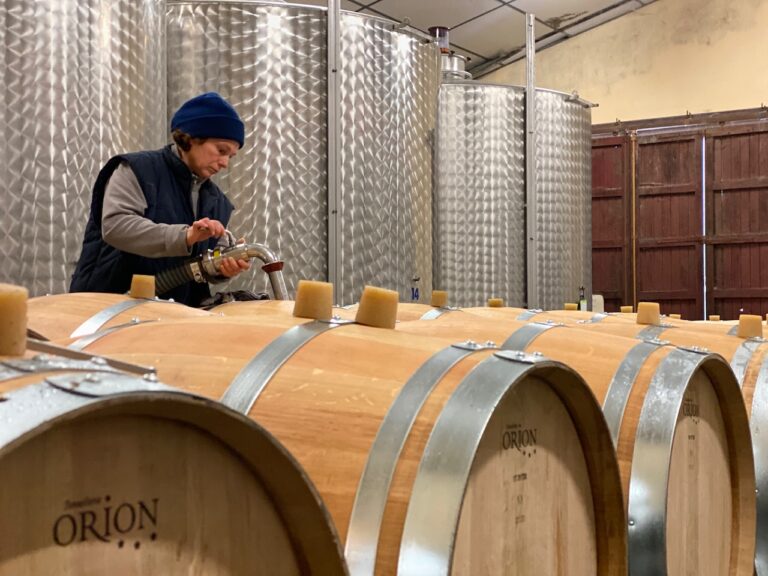 The barrel cellar is so full of pallets of newly bottled wine, we've had to put the new intake of French oak barrels, for ageing the 2020, in the main cuvier.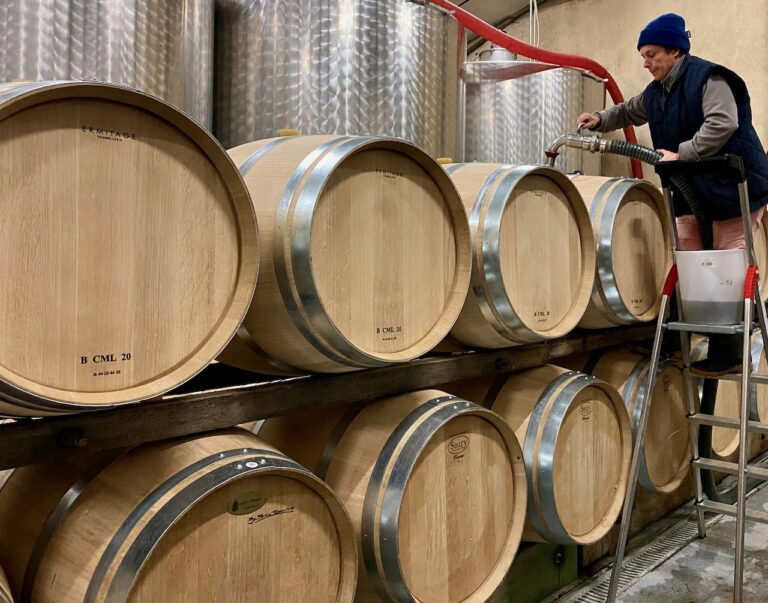 New and one year-old oak from several coopers, including Berthomieu, Ermitage, Orion and others. The new ones cost €625 to €750 each, plus VAT.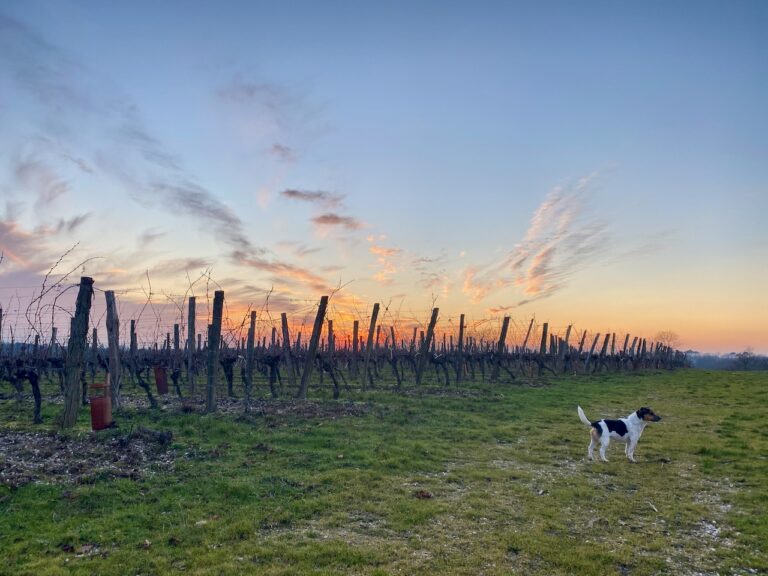 Pavie by the Merlot.
Beware of the dogs.
Goose on the hunt.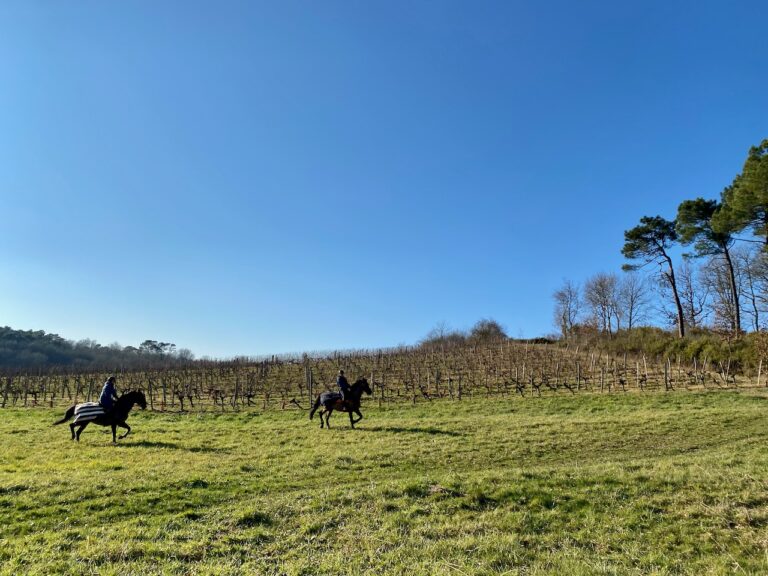 It seems we have as many regulars coming through on horseback these days as those out walking their dogs.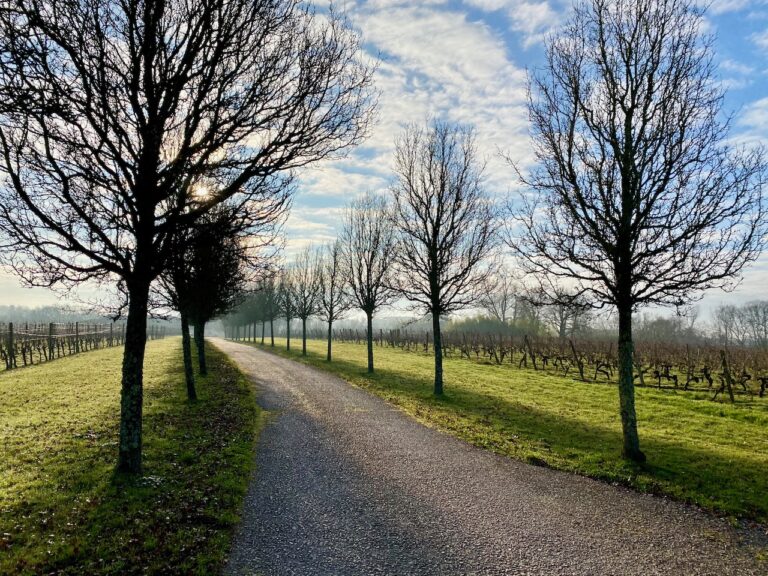 The entrance to the vineyard. Few visitors in winter, except locals out for a walk, although a lot of trucks at the start of the year.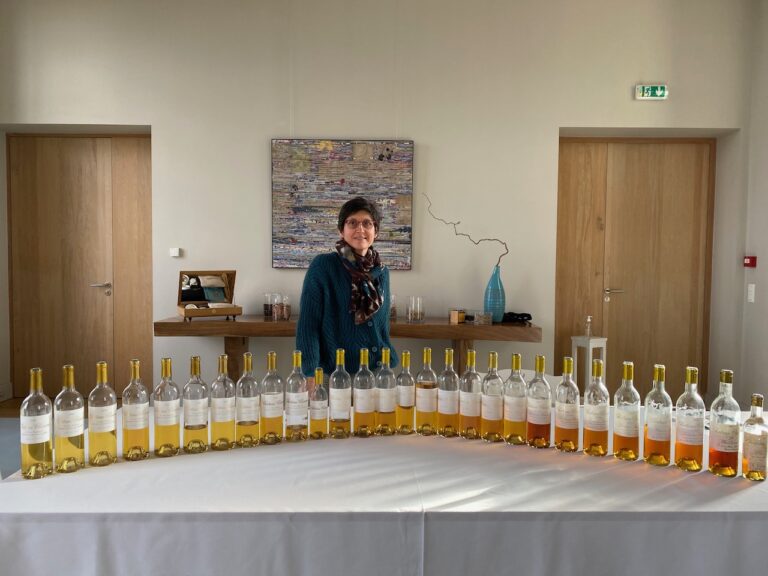 We're half an hour from Barsac, near Sauternes. So when Bérénice Lurton, the owner of Château Climens, invites you to taste a 'vertical' of vintages, it's quite hard to refuse. So many stunning wines but at ten years old now, the 2011 has always been a great wine, and with years of life ahead.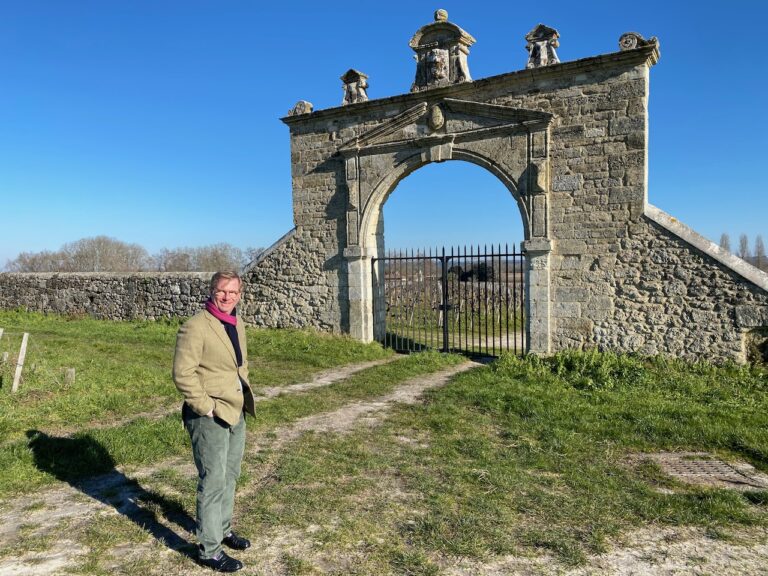 I was asked by Grant Ashton, the CEO of 67 Pall Mall (the private members' club that specialises in fine wine) if I could help to make a video at Château d'Issan in Margaux. Emmanuel Cruse's grandfather bought the property in 1945. The famous gate to the 'Clos', or walled vineyard, was built 300 years before, in 1644.
Being paid to taste great wine, especially with the estate's owner, is what you might call a double whammy.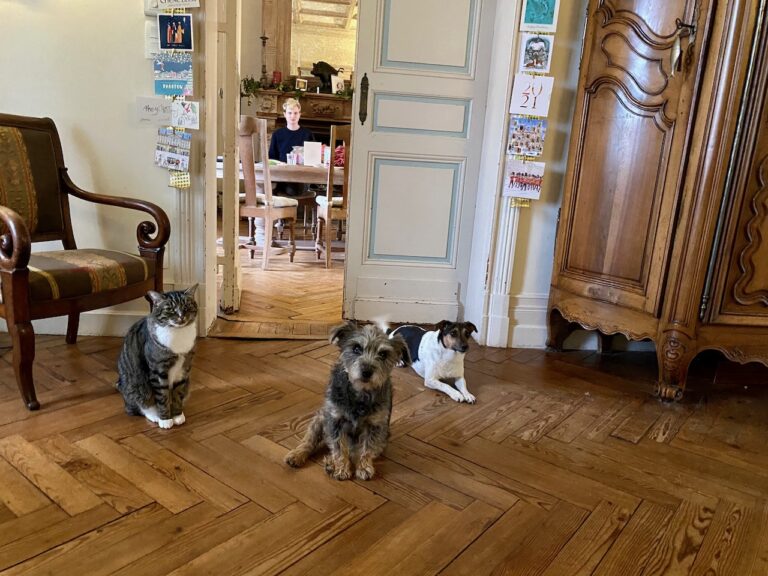 'Where have you been? We need a walk.'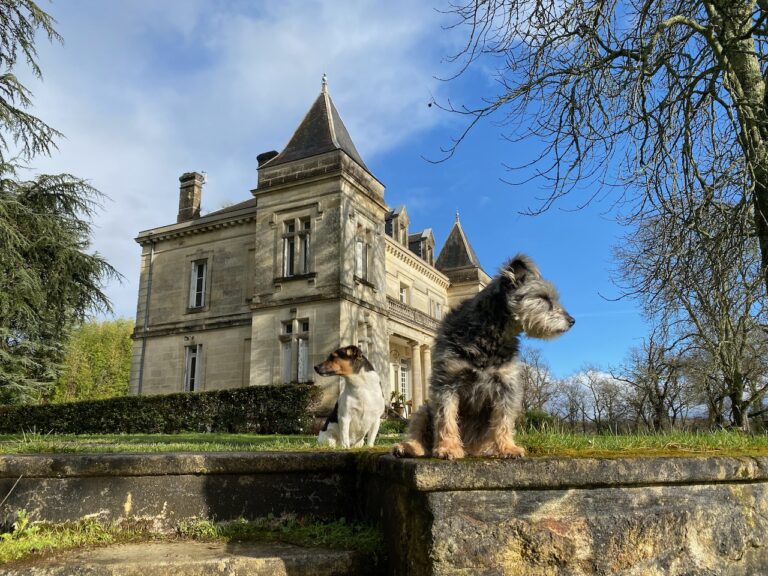 On the lookout for wild boar and other intruders.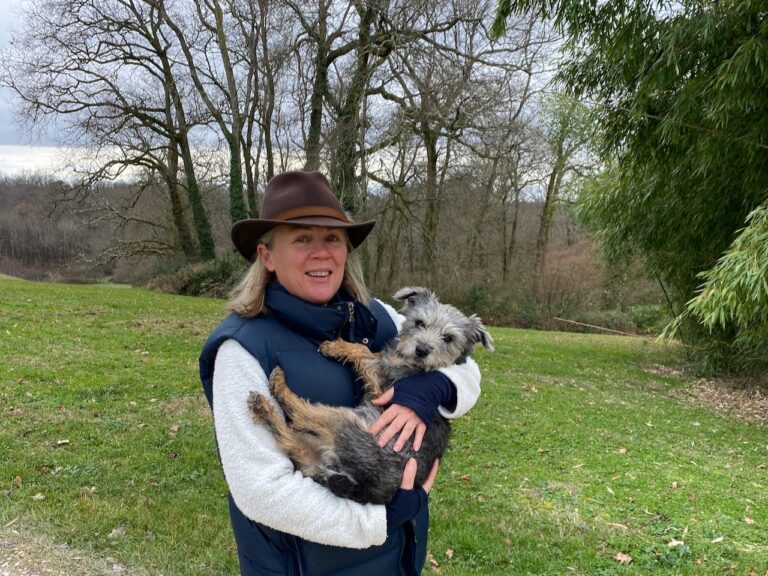 Margaux picked up a muscle injury while barking at some other, much larger dogs so she can't make the long walk all the way round the vineyard sometimes.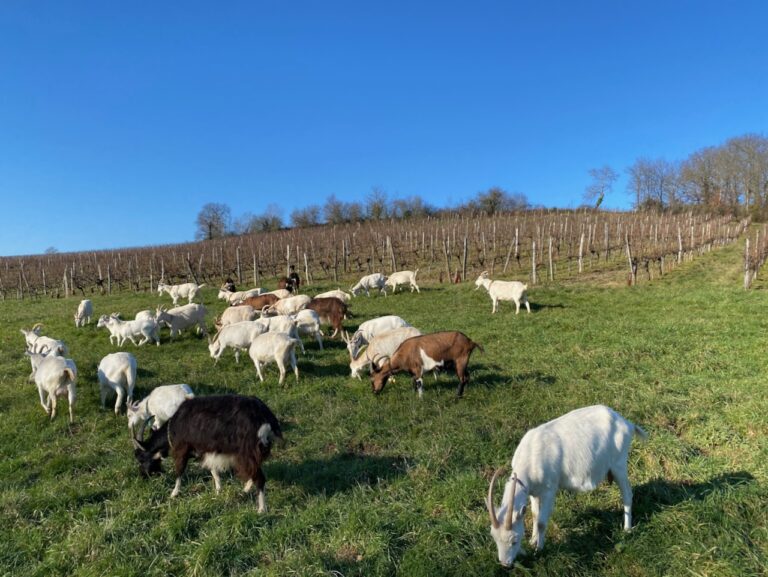 Chèvres. They often come through the vineyard with their owner Jean-Pierre.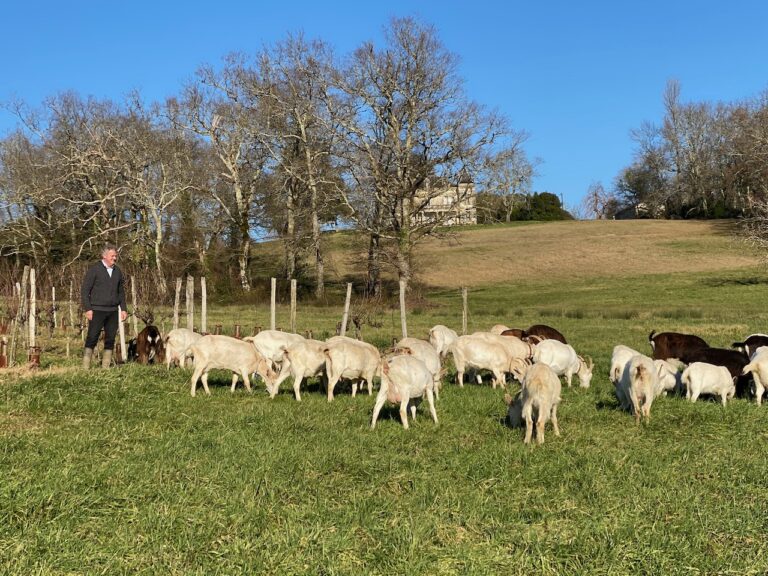 The trial to get these beautiful animals to eat the grass between the rows of vines hasn't been too successful.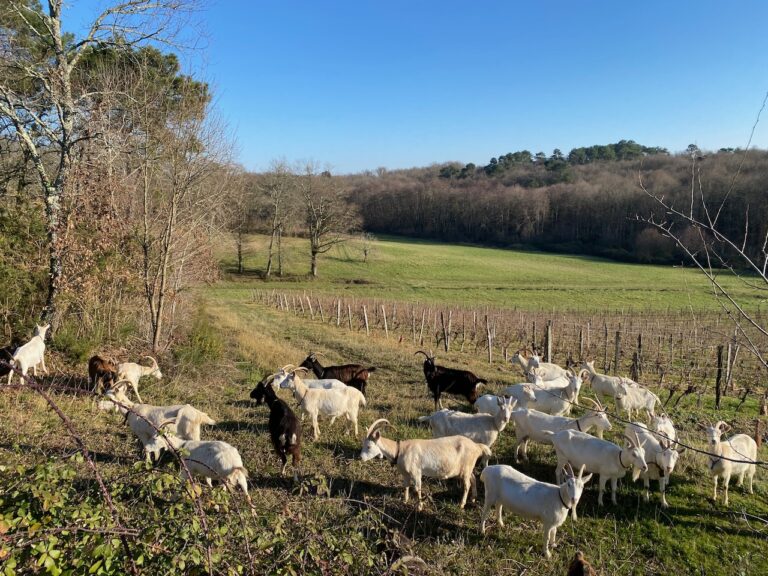 They usually find more interesting things to eat at the edge of the rows.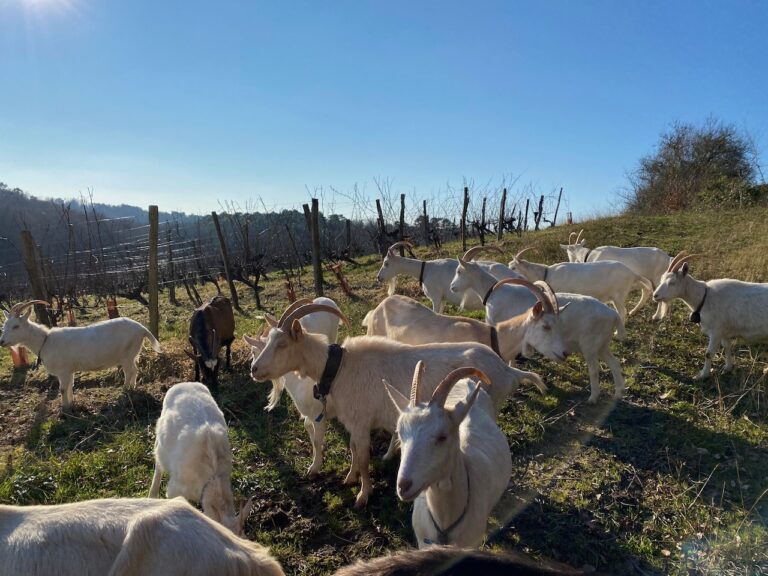 These are Saanen, a Swiss breed, with a few Poitou and Alpine breeds of goat.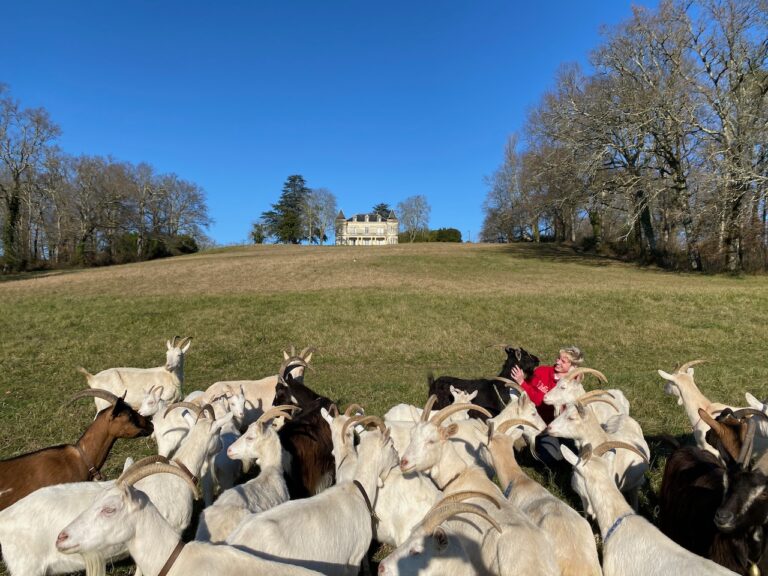 The most extraordinary thing is that they respond to their name being called. As for the milk and cheese, we'll report back. By the way, chèvre, or goat's cheese, goes really well with the white wines mentioned above. Or with the new Sauvignon Blanc 2020 just as soon as it's available.