Posted by Gavin Quinney on 30th Mar 2018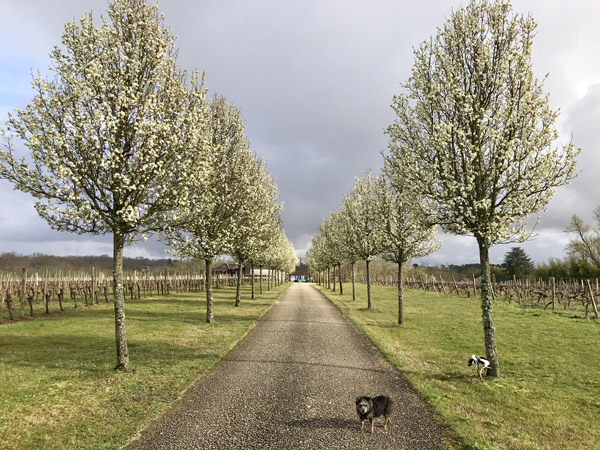 March has been a bit mad. Our spirits have been tested in this last, thoroughly sodden week, but no doubt the Easter bunny will bring us all good cheer as spring approaches. Funnily enough, Good Friday is not a public holiday in France.
Enjoy the Easter break.
All the best
Gavin & Angela
Bottling 2017s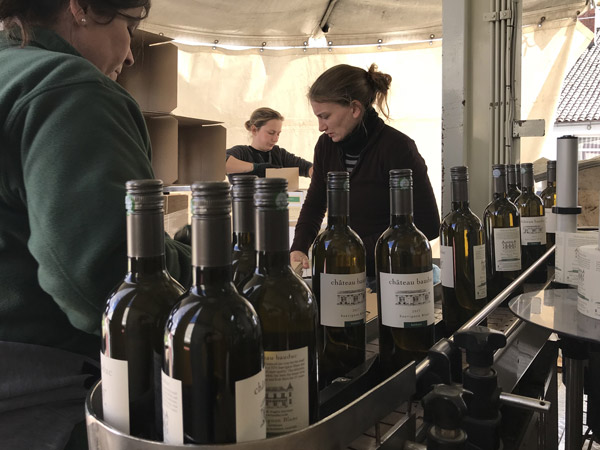 We were quietly relieved that we delayed the bottling of our dry whites this year by a few weeks. February turned out to be bitterly cold during our usual bottling period, and as we use a contractor's machine that's parked outside the winery, it can sometimes play up if the mornings are too cold. As a result of the late spring frost last April, we only made half the amount of white in 2017 compared to 2016. So, as the wine will be in fairly short supply, and it needs a short rest after bottling, there isn't really a rush to whizz it out the door. A lorry load is literally on its way to our Bonded warehouse near London so an introductory offer will be out soon.
First Royal Warrant for an English sparkling wine
By Royal Appointment. Many congratulations to Bob and Annie Lindo, and their winemaker son Sam, for achieving the first Royal Warrant for an English sparkling wine. Bob and I have been friends for many years and we've met up at their Camel Valley vineyard near Bodmin in Cornwall and when Bob and Sam have come to wine-tech fairs in Bordeaux (as shown above). We share a mutual client as Rick Stein's and Jill Stein's Seafood Restaurant is a (long) bike ride away along the Camel Trail.
"When Annie and I were digging holes in the side of a hill to plant vines in 1989, we could never have dreamed of one day having a Royal Warrant" Bob told me this week. "In fact, I don't think 'English Sparkling wine' had ever been produced."
Leading UK wine supplier heads into administration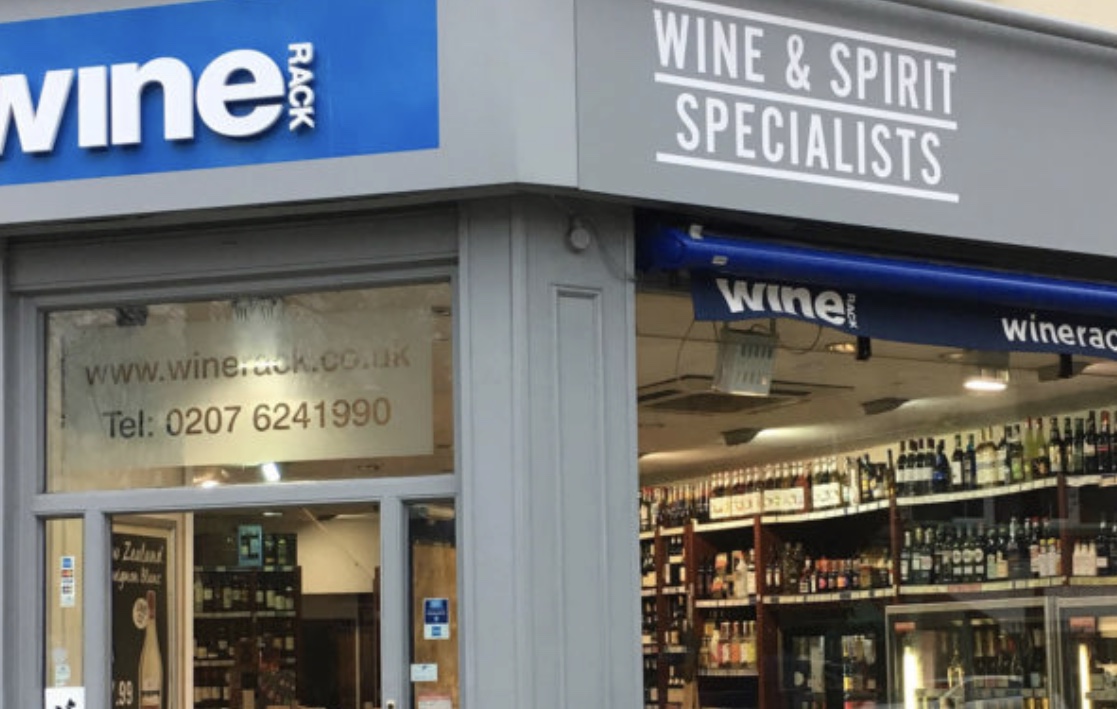 If you eat out in the UK, it's more than likely that you've bought their wines. Conviviality plc, which owns the substantial 'ontrade' suppliers Matthew Clarke and Bibendum, wine retailer Wine Rack and the off licence chain Bargain Booze, intends to appoint administrators in the next few days after failing to raise the necessary funds to save the business. This is serious news for the UK wine trade, and for many suppliers of course. Conviviality employs over 2600 staff and supplies a staggering 23,000 pubs and restaurants in the UK. The administrators are expected to seek out potential buyers for all or parts of the business.
Prowein: the world of wine in rude health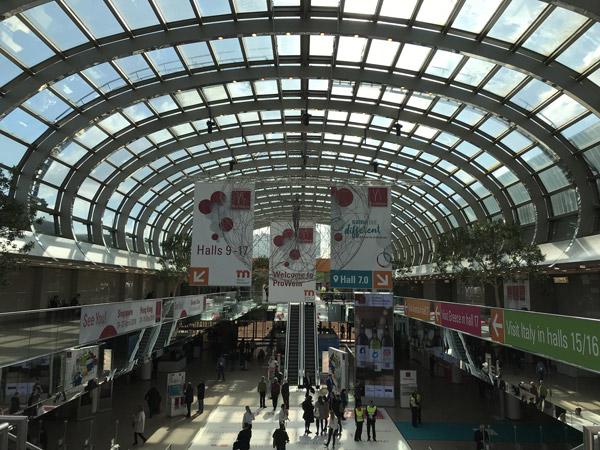 There's the London Wine Fair and there's Vinexpo Bordeaux, but ProWein takes some beating as the most important international trade fair. Held every March in Düsseldorf, Germany, over 60,000 trade visitors attended the three-day show this year, mixing with 6,870 exhibitors from 133 countries. Once again, I came away hugely impressed. Granted, the show is off-the-scale vast, yet it's well organised and easy to find your way around. Suffice to say that I met up with lots of old friends, and made several new ones, and many were kind enough to point me in the direction of scores of excellent producers. There may be a current shortage of bulk wine (for own label brands and so on), but having tasted my way through hundreds of wines, my impression is that the quality on offer from individual growers and smaller wineries - across the globe - has never been better.
Double decanted in Zürich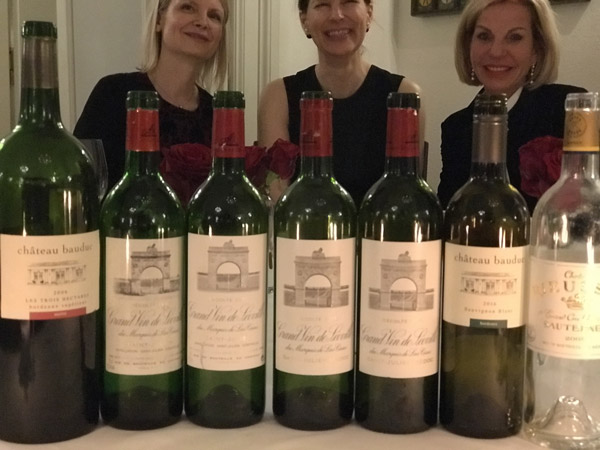 I was kindly asked to present our wines, and the wines of another château, at a dinner for the Commanderie de Bordeaux in Zurich, Switzerland. (We sell a lot of Bauduc in that part of Switzerland.) The other vineyard in question was Château Léoville Las Cases, one of the most celebrated wines of Bordeaux. My host, Bruno, from the Commanderie (which is like a group of 80-odd Bordeaux fan clubs dotted around the world) and I arrived early at the restaurant to taste the wines, and not unsurprisingly we found that three of the four vintages of this wonderful St-Julien (2000, 2006 and 2009, plus the 1996) were quite 'tight' or firm and in need of air.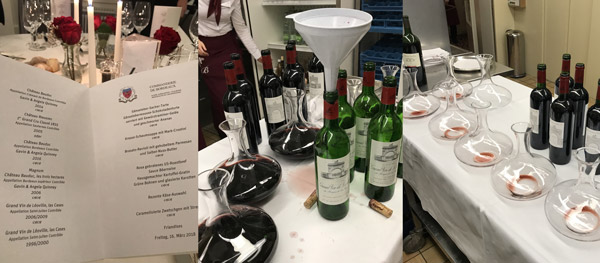 Incidentally, one of the Bauduc reds (2006) was corked as was one Léoville Las Cases 2000 (at £250+ a bottle), so you always need to check. With just six decanters available, I double decanted all 36 bottles one vintage at a time - to do this, you smell and taste the wine to check, pour the contents from the bottle gently into a decanter and leave any sediment in the bottle, rinse the bottle and briefly dry it, and pour the wine back into the bottle. You need a funnel for the last bit. All part of the fun… and the wines did open up beautifully.
Article 50: One year on, one year left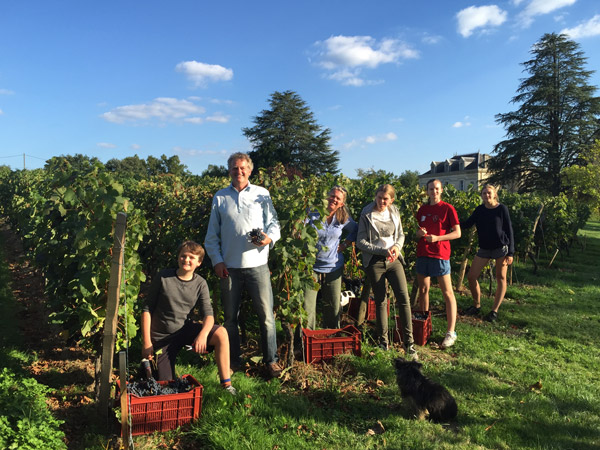 I was asked by Sky News online if I would write an opinion piece to be published on 29 March, to coincide with the anniversary of the triggering of Article 50 and a year before the UK's departure from the EU. My details had been given to them by the 'British in Europe' group, who are campaigning to secure the rights of Brits who live in the EU27. I was given just 24 hours and 500 words to put something together ('if I'd had more time, I'd have written something shorter') but at least I managed to keep some stronger emotions in check.
Read the article on the Sky News site here.
If you'd like to comment, I've posted the link on Facebook here and Twitter or email me (gavin@bauduc.com). Best not to look at the comments on the Sky News Facebook page: ouch.
By Gavin Quinney, Château Bauduc
My wife and I sold our house in SW London, and some shares in a UK computer company that I'd worked at for many years, and moved with our two small children to a 60-acre vineyard near Bordeaux in 1999. Of all the concerns we had - the language, viticulture, the harvest, winemaking, updating a winery, restoring a chateau and the gite to rent out, bureaucracy, staff, schools, leaving family and friends behind, money, selling the stuff and so on - we never gave a moment's thought to our right to move here. We simply took freedom of movement for granted.
We put our eldest, who was four, into the local 'maternelle' at very short notice with minimal paperwork. We've since had two more children and all have been educated in France.
Meanwhile, we've built up the business and the wine has been the house wine at Gordon Ramsay, Rick Stein and Hotel du Vin in the UK for many years now. We also have over 2000 private customers in Britain, with whom we also deal direct. Since the Brexit vote, the exchange rate has made life pretty tough as our prices have gone up in sterling terms, but of equal concern will be the customs arrangements after the proposed transition period at the end of 2020. We currently ship our wine to a UK bonded warehouse using an EU-wide online system, which took years to develop, which allows for duty and VAT to be charged at the point of delivery in member states. The prospect of a hard border at Dover and Calais, with over 4 million lorries a year passing through and no new structures or new systems in place, is a shuddering thought for (legitimate) exporters and importers on both sides of the channel.
As for freedom of movement, we couldn't have imagined that, 20 years after moving here, that would be that for future generations. For Brits currently living in the EU27, the majority feel hugely let down by HM Government and Parliament - especially those, like us, who were not allowed to vote (under the 15 year rule) in a referendum that could impact our futures the most.
After Brexit, we will no longer have freedom of movement - we will be free to stay where we live, but not to move on. If, for example, we wanted to move to Spain or Italy in a few years (don't tell my wife), the surest way to do that, ironically, would be to apply for French citizenship now. Our two youngest children, who were both born here, have been given French (dual) citizenship by right this year. We too will apply but like for all Brits who qualify by having lived in France for five years or more, applying for French citizenship can be gruelling and usually takes two years. It's being viewed by many Brits as a last resort. Most of us feel very at home in our host nation, and are immensely grateful, but we feel fundamentally British and European, and not really French, British and European. But at least this way - however tough it many be - we can remain both British and EU citizens, so we should be grateful for that opportunity.
| | |
| --- | --- |
| This was sent to friends on our mailing list | |