Posted by Gavin Quinney on 31st Mar 2020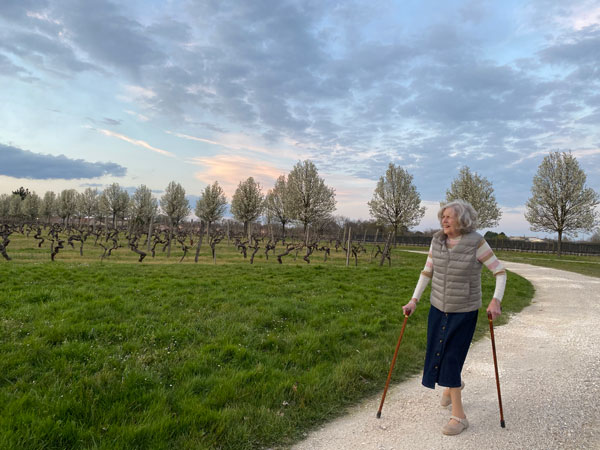 We were going to call this 'a message from our CEO' but we couldn't agree which one of us is the boss. ('You!' 'No you!' might suggest that neither of us should apply.)
Anyway, rather a lot has happened since our last monthly news review on 29 February. We'll try to cover some of the things you might like to know about - none of which are vitally important, of course, but we like to keep you informed.
All the best, keep safe and enjoy wine
Gavin & Angela Quinney
A big thank you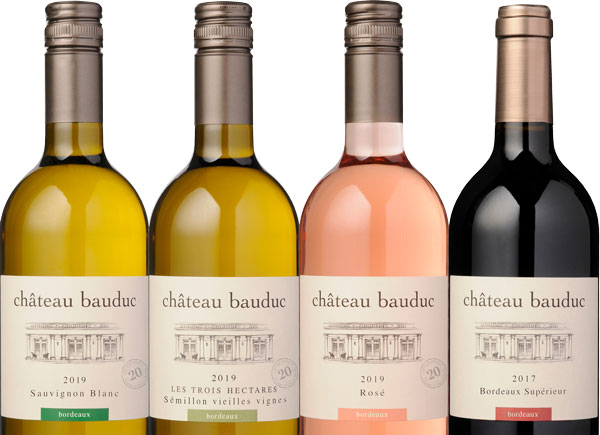 A huge thanks to everyone who has ordered wine from us this month. Or rather, in the last fortnight. We can't tell you how welcome this is and we are really grateful for the support. This terrible crisis has, of course, put so many companies at risk - let alone individuals and families - but life goes on at the vineyard. The vines aren't taking a break any time soon and, put simply, we need the cash to pay the team to look after them.
Leave the vineyards fallow and furlough the staff? It doesn't bear thinking about.
Don't forget your Loyalty code in your basket.
Wine and socially distant selling
As most of our readers know, we have had the honour of our wines being served by the glass at Rick Stein's, Gordon Ramsay's, Hotel du Vin and others for donkeys' years. We are gutted for everyone involved during the shutdown - and for all those in the hospitality industry who have been badly hit - and wish them all the best for a speedy return to normality.
We are not alone in the wine game, however, in seeing a whopping demand for home deliveries, and for obvious reasons. Thankfully, we have hundreds of loyal (and some new) private customers in the UK, and many more who are supplied by our fabulous friends elsewhere that import our stuff.
This month's 'Where do we leave the wine if you're not in?' award was a close-fought affair.
We liked "Oh, we will be…", which Peter Pharos and another customer put, but the winner was Sean Jones QC: "Just follow the sound of my shouting at the kids."
Sean wins a case of Lafite 1982. (Only kidding: a Bauduc Crémant twin-pack is on its way.)
England and Wales delivery update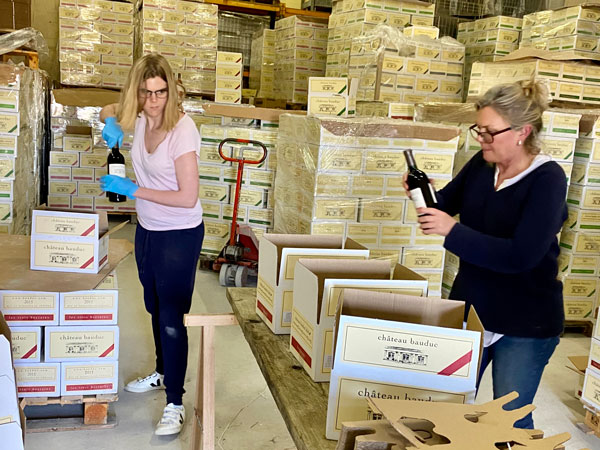 We have used London City Bond for our UK warehousing and delivery service for many years and they've been consistently reliable and, as most of our customers would agree, speedy and efficient. Breakages are extremely rare, and this is key as they deliver 95% of our wines in the original Bauduc cases, not sensible 'mail-safe' packaging. Angela and Sophie are pictured above on mixed case duty earlier this month.
From this week, LCB are introducing a revised delivery service to all postcodes in England & Wales which may mean that some orders take a little longer than normal. They are committed to getting the wine to you as soon as is practicably possible.
"To promote customer safety, and adhere to Government guidelines, customers will have an option… our driver will deliver the goods and then take a photograph of these which will be uploaded to our system as your proof of delivery. A paper copy will also be left with your customer. Should any of your customers be unhappy with these revised arrangements, then do please let us know."
As one customer wrote, politely, 'could the driver please step away from the front door after they've rung the bell?'
To be or not to be... essential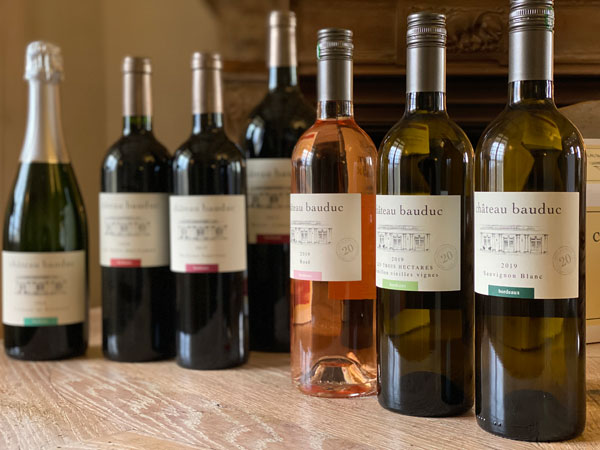 Should we deliver wine to customers at home in the UK? We think so, or at least for now.
There have certainly been some mixed messages from the UK trade. We were fairly shocked when the CEO of The Wine Society, Britain's highly respected home delivery specialist, took "the decision to stop taking new orders and to stop making deliveries with immediate effect" hours after PM Boris Johnson's 'stay at home' speech on 23 March, on account of staff safety. It was in the middle of one of their busiest periods.
Majestic, meanwhile, responded by closing their stores but keeping up with deliveries. "The government is asking home delivery services to continue… we are described by government guidelines as 'essential', but more importantly we recognise this is a critical service for many right now. Therefore, we not only have a responsibility to our customers to continue, but also to our people to continue, whilst also keeping them as safe as possible."
Miles Beale, our friend and the CEO of the Wine and Spirit Trade Association, issued a statement on 26 March. "Off-licences have been added to the list of retail outlets that are permitted to open.
"In order for alcohol retailers and online businesses to trade then the supply chain for those businesses needs to remain functional. For businesses like bottling plants and distilleries it is simply not possible to work from home. Provided businesses are content that staff can respect social distancing rules while at work and when travelling to work and that staff are happy to continue to work; then businesses can stay open.
"We take further comfort from the fact that Michael Gove has said publicly that online trade in non-essential items can continue. We are therefore advising our members who trade online that if they wish to continue to offer online sales then, provided staff are able to work safely, then activity can continue."
Phew.
Social distancing in the vines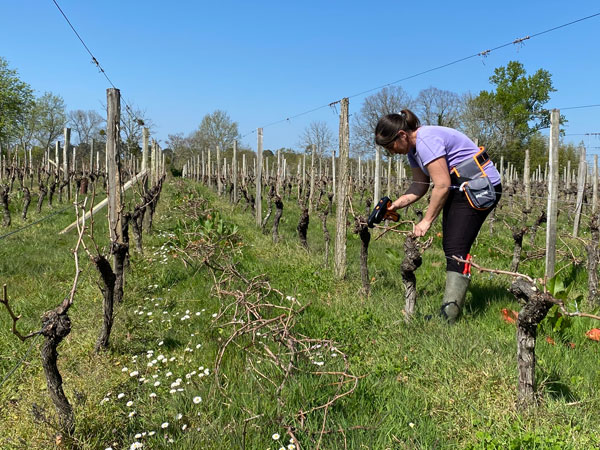 You'd imagine that keeping everyone who works in the vineyard well away from each other - for now - is not too much of a challenge. But we have to be vigilant as it's difficult to change habits, especially when we down tools. After the winter pruning and the pulling away of last year's branches, the team of Daniel, Nelly, Sandra, Sandrine and Patrick are now tying down this year's branches to the training wires. With over 120,000 vines and two branches per vine, that's a lot of tying down. The ties are like those little twisty things you get on some packets of food. Follow #yearinthevineyard on Insta and Twitta.
Frost scare last Friday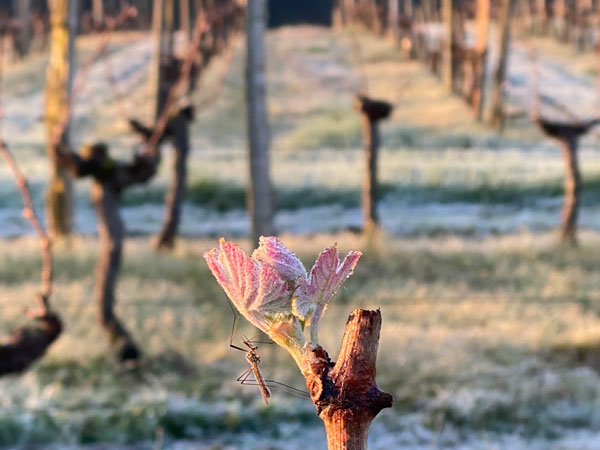 Every year we have weather conditions that bring on a little anxiety, or worse. There was a frost at the end of last week and, as the vines are a fortnight ahead of the norm, it could have been bad news indeed if it had been a couple of degrees colder than the ground frost we had. Budbreak was early and there's still a chance that the vines will be nipped in the bud. Thankfully the freezing forecast has eased off by a notch this week. Same hashtag as above.
Quinneys in quarantine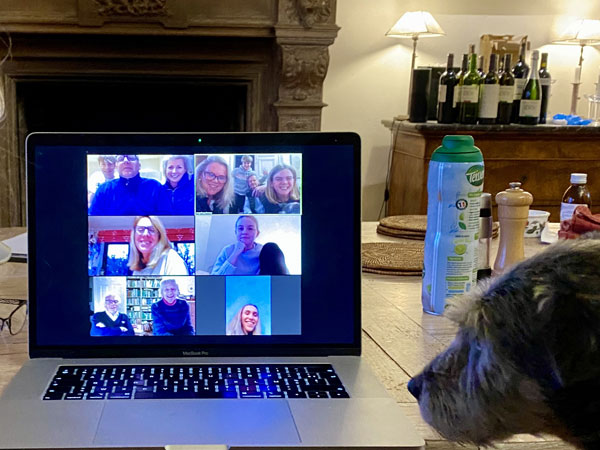 My mother Diana - in the photo at the top of this newsletter - has unsurprisingly extended her stay from earlier in the month, a week before France went into lockdown, which, in turn, was a week before the UK did the same. There's every chance she may be here for her 87th birthday on the 29th April. DQ's presence does make us even more vigilant when we go out to get supplies and Angela has had to temporarily drop one of her sayings, that of 'risk it for a biscuit'. Amelia, 19, is back from University in Montreal, Sophie, 22, is confined to home, as is 16-year old Tom. Our eldest, Georgie - a teacher - is working in London.
Meanwhile, here's a picture of Margaux taking part in just one of our ways of keeping in touch with family and friends, via Zoom.
Bordeaux en primeur on hold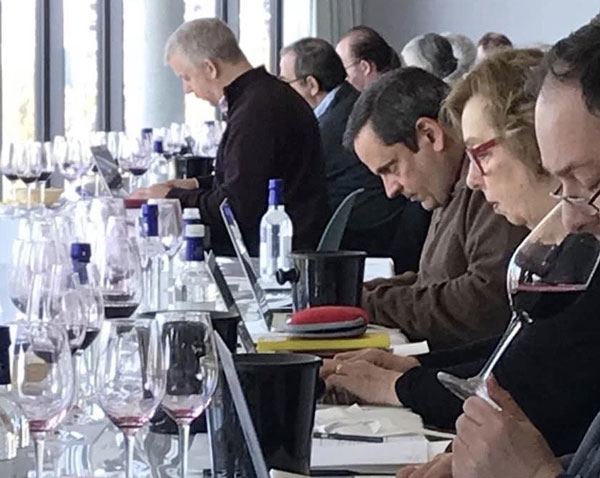 'Heaven forbid that the Bordeaux en primeur tastings are postponed a year, when the red wines have been aged in barrel and are about to be bottled' I tweeted earlier this month. It was a glib comment, but who knows. It's a shame that the fine wine world of merchants, critics and commentators from around the planet can't come to the region - this very week - to taste the wines from last year's harvest, but the outstanding reds of the 2019 vintage are not like a Spring fashion collection that must be launched now. They'll keep, and will no doubt improve.
Keep safe, and enjoy your wine - in moderation