Posted by Gavin Quinney on 30th Jun 2018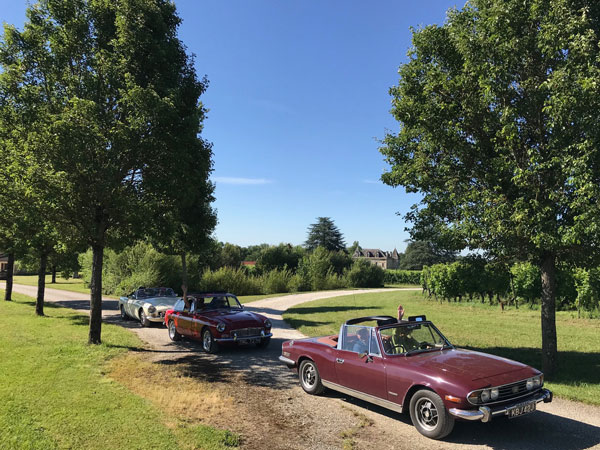 We hope you're enjoying the sunshine. As we've discovered of late, it is most definitely rosé weather.
Here it's been hot and it's getting even hotter: 35°C tomorrow on Saturday 30th June, allegedly. The locals will no doubt enjoy a refreshing beer while watching France v Argentina. Mouth watering stuff in the build-up to England's game on Tuesday evening.
All the best
Gavin & Angela
The World Cup party Bauduc cocktail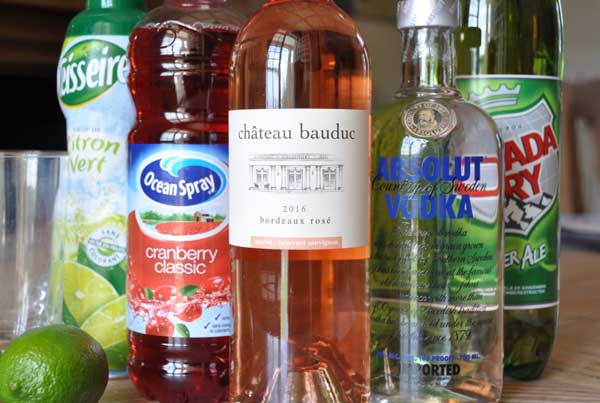 So England have to beat Colombia and then either Sweden or Switzerland to reach the Semi-Final of the World Cup. That hasn't happened since before we were married, on a swelteringly hot day a week after Italia 1990. It wasn't available to us then but this weather calls for the Bauduc Rosé cocktail.
For 25 long drinks, mix two bottles of Château Bauduc Rosé, 50cl cranberry juice, a dash of lime cordial, a good squeeze of fresh lime juice and a slug of vodka. Measures to taste. When guests arrive, add ice into tall glasses and pour in the mix to half way. Then fill with Canada Dry ginger ale (you'll need two litres of it for this amount). If you can, garnish with leaves of mint and a lime wedge, squeezing the wedge as you drop it in.
Below is a handy graphic from The Times showing the Route to the Final to help you plan your party.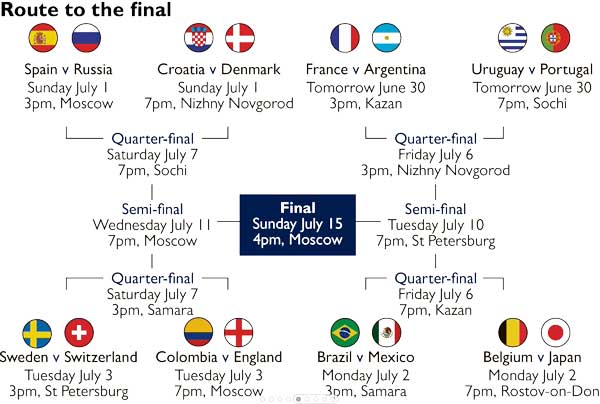 June in the vineyard - all go
If you drive through many of the famous French wine regions in the summer holidays, you might imagine that the perfectly lined up rows of vines simply grow like that and look after themselves.
That's not the case and it's in June that much of the action takes place. Above you can see the vines in a before-and-after shot: Ed and Sandra, along with several others, are lifting the branches between the training wires (this 'levage' is done twice) before Daniel comes and trims them.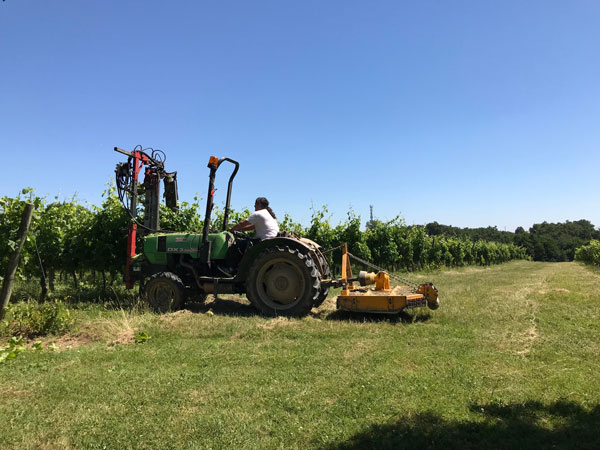 After a damp start to the month the sun came out for the second half of June. The all important flowering took place in rather mixed conditions but it looks like we got away with it after a gorgeous fortnight. Here are some bunches at the start of the flowering around the first week of the month, and the 'petit pois' stage in the last week, after flowering and fruit set.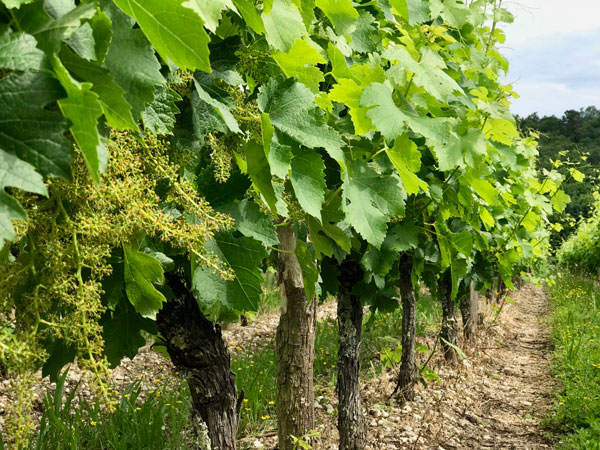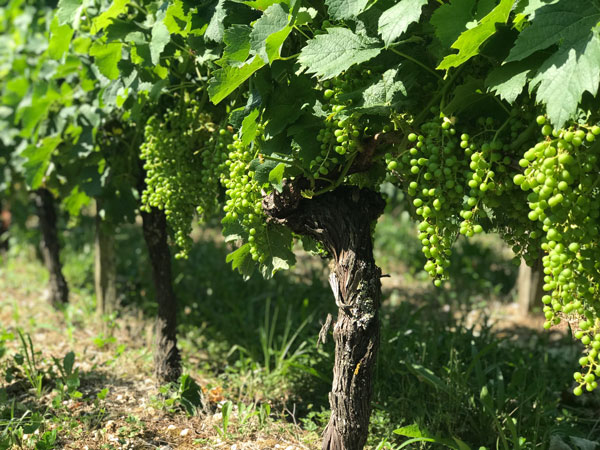 We now have a decent potential yield and avoided any threat of mildew - by spraying - and after the grim frost last year, and the hailstorms that passed us by this May, it's a relief to have plenty of bunches of newly formed grapes and healthy vines.
There's certainly been a surge of activity out there in the sunshine.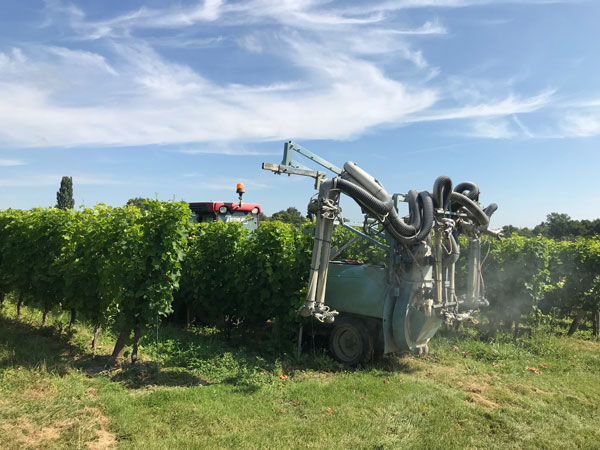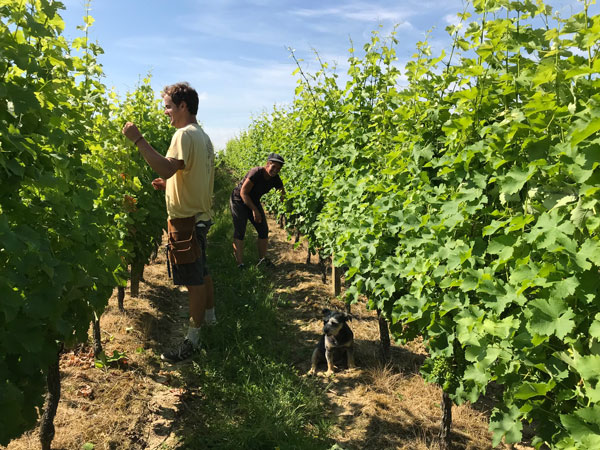 A trip to Rick Stein's in Padstow
It was great to put on a tasting with sommeliers Roni, Jason and the team at The Seafood Restaurant in Padstow this month. We often go over to taste the new vintages, and the Rosé and Sauvignon Blanc have been special selections of Rick Stein's for many years - as regular readers know. What also went down well were Les Trois Hectares Blanc 2015 and Les Trois Hectares Rouge 2013, and they'll be on the wine list at The Seafood shortly.
Decanter magazine: 30 top Bordeaux under £30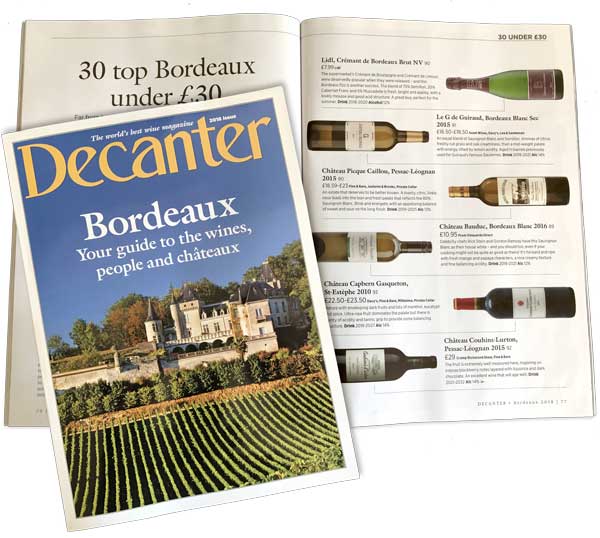 We are always pleased to be in any 'great value' list, and it was kind of Decanter's editor, John Stimpfig, to include our Bordeaux Blanc as one of three dry whites (July issue, available now). "Celebrity chefs Rick Stein and Gordon Ramsay have this Sauvignon Blanc as their House white - and you should too, even if your cooking might not be quite as good as theirs! It's forward and ripe with fresh mango and papaya characters, a nice creamy texture and fine balancing acidity. Drink 2018-2021 Alc 12%."
Taste your way around the world's most famous wines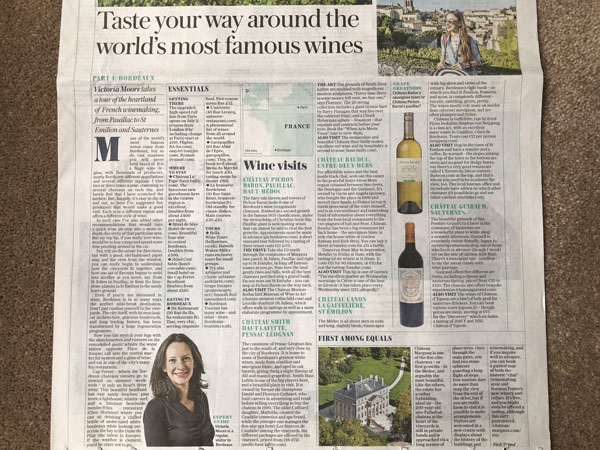 The Telegraph's Victoria Moore recommended Bauduc as a Château to visit if travelling to Bordeaux (2 June issue). "For affordable wines and the best inside chat, seek out this estate in the peaceful Entre Deux Mers region (situated between two rivers, the Dordogne and the Garonne). It's owned by Gavin and Angela Quinney, who bought the place in 1999 and moved their family to France to run it. Gavin gives most of the tours himself, and is an extraordinary and interesting find of information about everything from the best local restaurants to the two plagues of hail and frost. Château Bauduc has been a big restaurant hit back home - the sauvignon blanc is now the house white at Gordon Ramsay and Rick Stein. You can buy it direct at Bauduc.com for £11 a bottle. Tours run from May to September, Monday to Friday at 11am, with the tasting (of six wines) at 11.30am. It costs €15 for 90 minutes, or €10 just for the tasting (Bauduc.com).
Also visit: this tip is one of Gavin's. The excellent market on Wednesday mornings is one of the best in the Gironde; it has taken place every Wednesday since 1315, allegedly."
Why the Bordeaux 2017 en primeur campaign bombed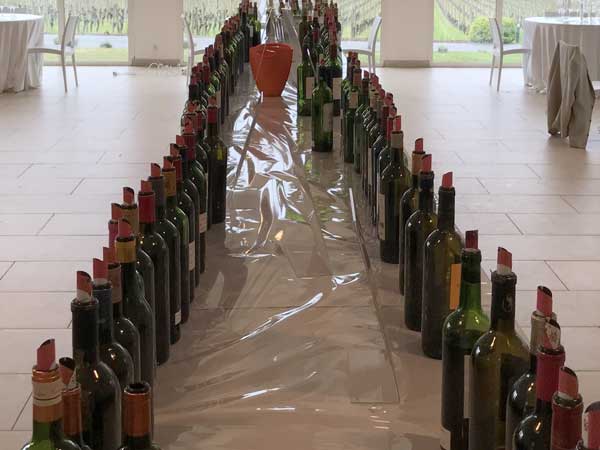 Now that all the leading Châteaux have released the opening prices, the 2017 en primeur campaign is all but done. Disappointingly though, the year of the frost has ended up as a damp squib.
There are many good to very good wines at the top end, but a sub-premium vintage won't sell at premium prices. The châteaux can charge whatever they like, of course, and no one is forced to buy (as far as I know). I agree though with the many UK merchants who reckon that the prices should be viewed alongside the 2014 vintage, as I said last month.
I'd also rather have 3 bottles of 2016 than 4 bottles of 2017 at this level, in most cases. My tables below, showing my en primeur scores for the leading wines from 2017, 2016 and 2014 and the opening and current market prices for each vintage, demonstrate, wine by wine, why the 2017s have failed to sell.
Debunking Brexit twaddle about EU wine tariffs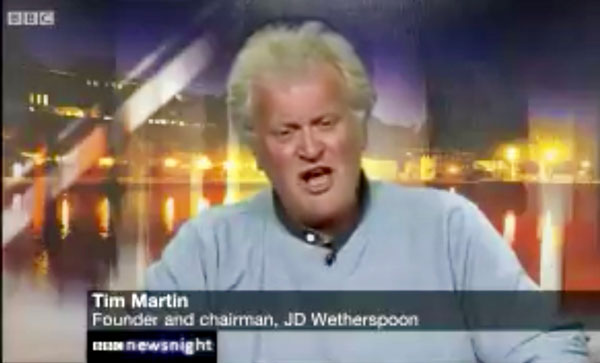 Tim Martin looks like the sort of bloke you could enjoy a beer with in one of his pubs, but he does talk a lot of nonsense about EU tariffs on wine. You may have seen Tim this month on the beeb on Question Time or Newsnight, or on Sky, or being widely quoted in the press. I responded to one of those articles on Twitter - in fact, to Nigel Farage proclaiming fellow Brexiter Tim's guff as a 'Brexit boom!'
It's quite rare for one of my tweets to be shared so widely (photos of dogs in the vines have limited appeal) but this Tim Martin tweet of mine was viewed 250,000 times, according to Twitter, and my little thread - a string of connected tweets, otherwise known as a rant - had over 1300 retweets.
You see, when Tim bangs on about the EU tariffs on non-EU wine and how we're all going to be so much better off without them, he forgets to mention that the EU tariff at 6.5p to 8p a bottle on the Australian wine he buys is 27 TIMES less than the UK duty of £2.16, plus VAT. (HM Government charges wine drinkers in Britain no less than 63% of all the wine duty levied in the EU.)
Oh, and there's a free trade agreement between the EU and Chile (the 32% tariff claimed by the Brexiter MEP Dan Hannan a little while back was utter hogwash) and most South African wine carries no EU tariff.
8p? Tim's no fool: no one is going to ask, in a few years, why the wine isn't any cheaper. Or point out that the fall in the value of sterling following the Brexit vote has increased the cost of the product more than the EU tariff ever would.
Anyway, here's the thread.
| | |
| --- | --- |
| This was sent to friends on our mailing list | |