Posted by Gavin Quinney on 28th Jun 2019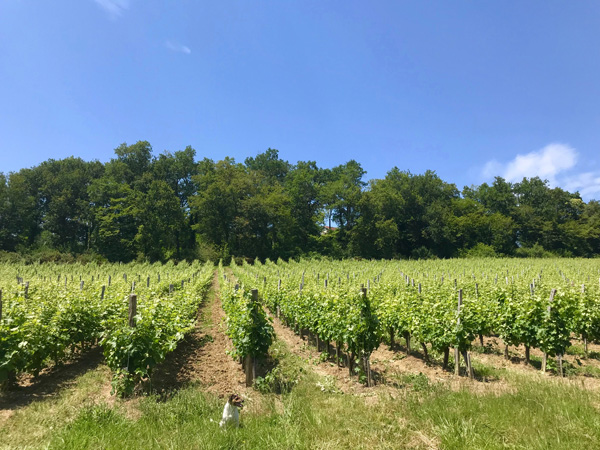 Phew, it's a scorcher. After yesterday, when it nudged 40˚C here, it's calming down to the low to mid thirties today and throughout next week.
Exactly a week ago, it barely reached 20˚C and rained most of the day, and that's been the pattern for June. Up, down and up again. Rather like our energy levels, as it's also been a month of entertaining. Roll on the summer hols - oh, hang on...
All the best
Gavin & Angela
Floraison: a word on the flowering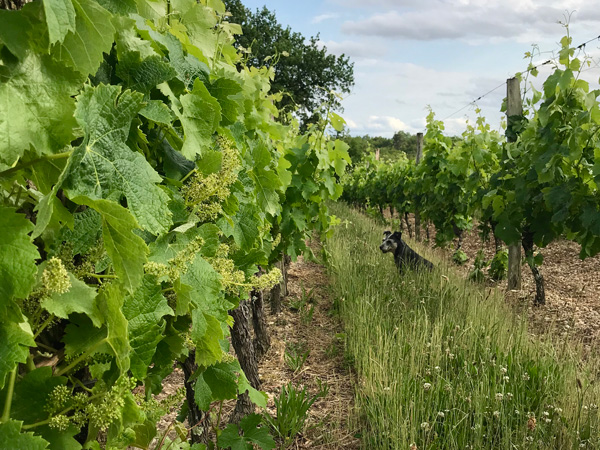 The weather in June matters a lot in the vineyard, and not just for the team who are labouring away, lifting the vines between the training wires. It is the month of the flowering, or floraison. This crucial yet unspectacular event goes a long way to determining quantity and, to a greater or lesser extent, the quality.
What we've experienced at Bauduc throughout the month is a reflection of what's occurred across Bordeaux as a whole. I'll report back with a detailed update on how it's looking, once I've learned the correct translation for higgledy-piggledy.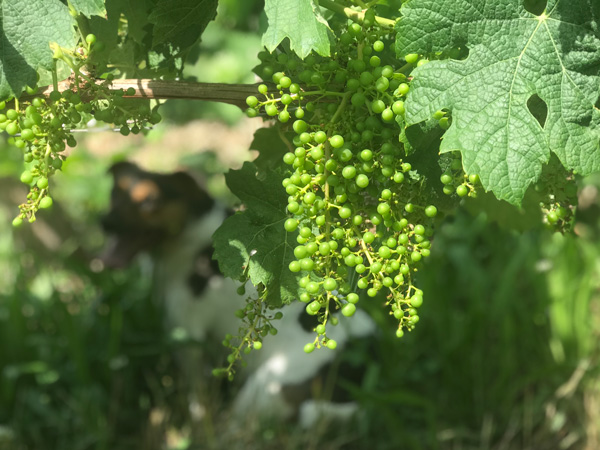 From Saint-Emilion, Pomerol and the rest of the right bank, to Margaux, Saint-Julien, Pauillac and Saint-Estèphe and others on the left, there are plenty of fine looking plots but 'mixed' fruit-set is a significant issue in many others. Once more, what the locals refer to as a 'heterogeneous' vintage is on the cards.
From our perspective, it makes the decision as to what parcels to choose for making red or rosé much easier. Which is just as well, because we need to make more rosé...
More Rosé please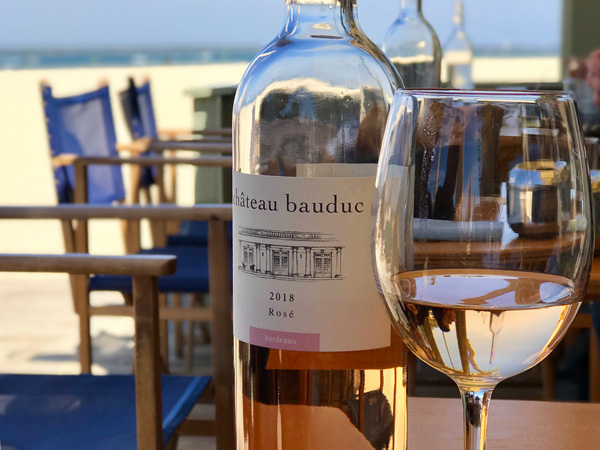 We have all but sold out of our latest Rosé, just as the summer arrives, despite making twice as much in 2018 than 2017. There are only a few cases in reserve at the château for visitors to buy and, of course, we keep enough back for our farmhouse guests. This is not clever or intentional, and we apologise to those customers who were holding back until the sun made an appearance, only to find we've been cleaned out. This is partly down to Rick Stein snaffling up a goodly chunk of our production as the house pink for all his restaurants. "I must say, Gavin" Rick said on the phone last Saturday, while claiming that a rugby crew including Matt Dawson were drinking them dry in Padstow, "your 2018 is really good."
UK customers can order a limited amount of these remaining cases (max 2 x six-packs per order), which will be shipped, by refrigerated truck, in mid-July.
Tricolore case offer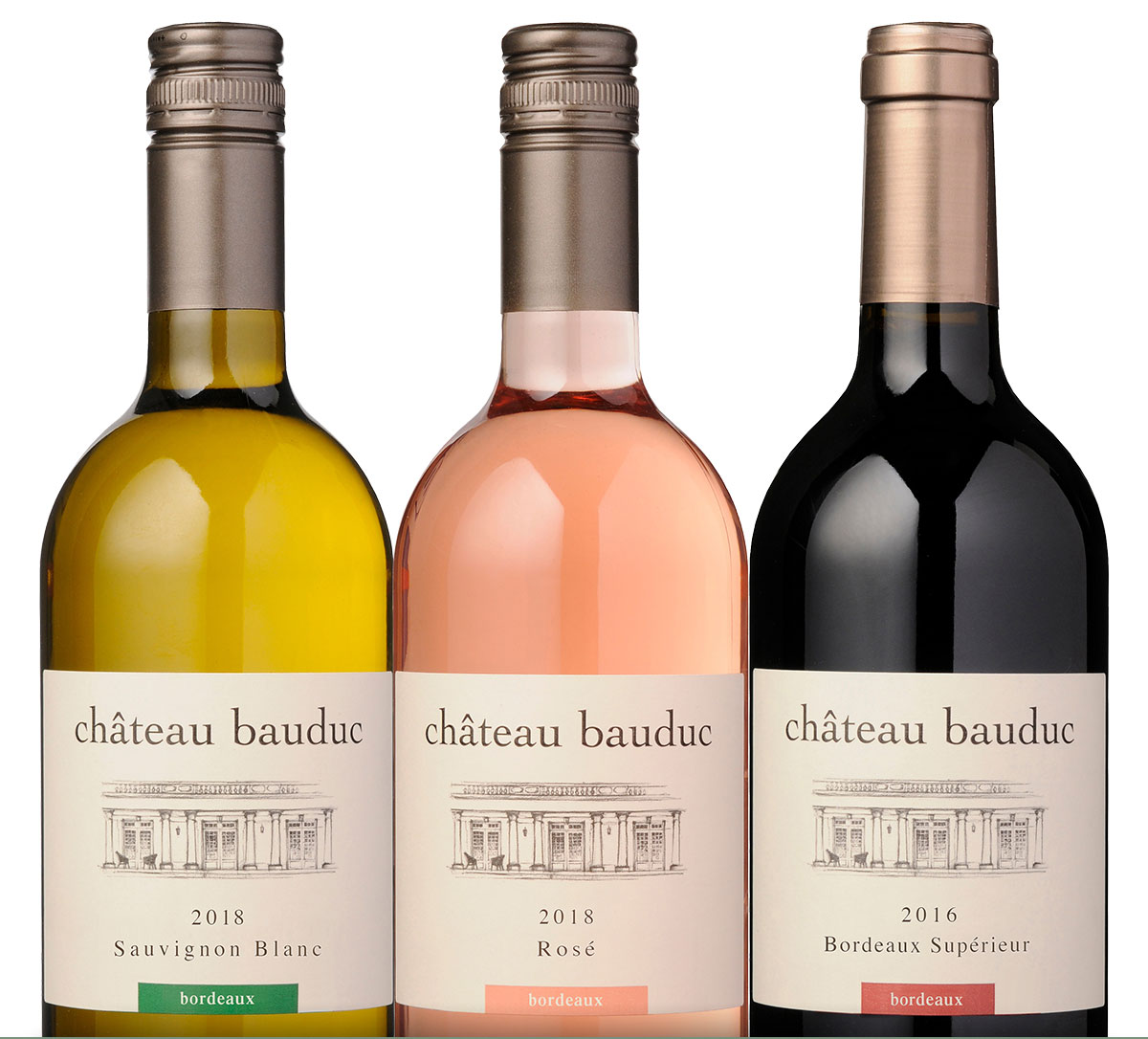 There are two bottles of 2018 Rosé in each Tricolore case of six bottles and the case is currently on offer in the UK. To be fair, it's only on offer in the UK. Two Sauvignon Blanc 2018, and one each of the red Bordeaux Supérieur 2015 and 2016 make up the case. At just £11 a bottle, down by a quid until 10 July, it's a snip. The Sauvignon Blanc is also a house wine chez Stein and at Gordon Ramsay's eponymous three Michelin star restaurant, and the rouge the prestige house red at Hotel du Vin.
Stein wine tour at Bauduc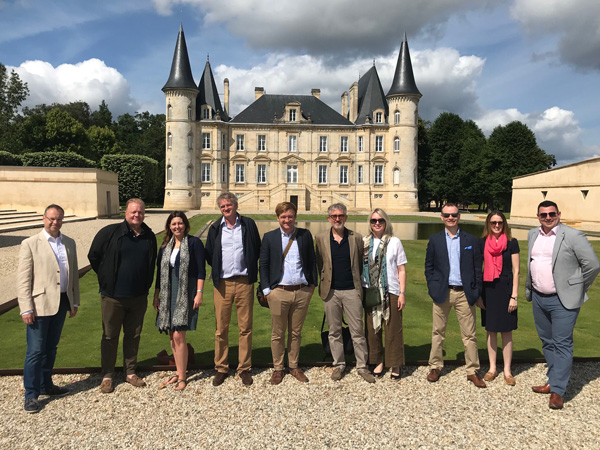 Just in case we haven't name-dropped King Cod enough, we hosted the first 'Stein wine tour' at Bauduc this month. An enthusiastic bunch of keen wine amateurs flew out with Rick's wine nut son Charlie and his colleague Sal from the restaurant group, and were royally entertained with a tour, tasting and lunch at Château Pichon Baron in Pauillac (above) and a visit and tasting at Château Canon La Gaffelière in Saint Emilion.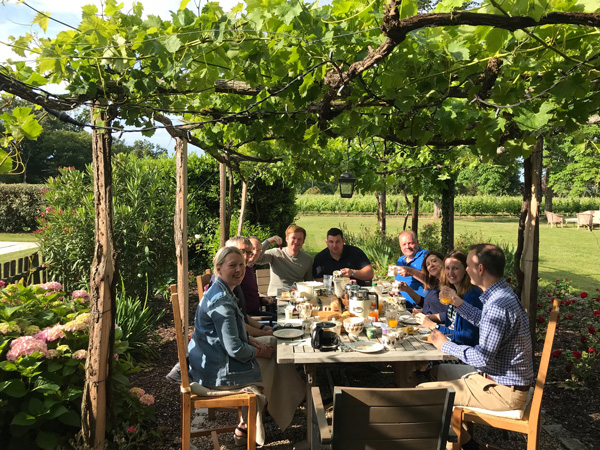 They were spared the overcooked Pauillac lamb for dinner at Château Bauduc, as shown on Rick's Long Weekend visit on the beeb, but the côte de boeuf cooked on the vines, and the oysters beforehand, stepped up to the plate. All swilled down with a full series of Bauduc sparkling, whites, reds and dessert wine. Breakfasts at the farmhouse were surprisingly animated affairs.
Not always in the kitchen for parties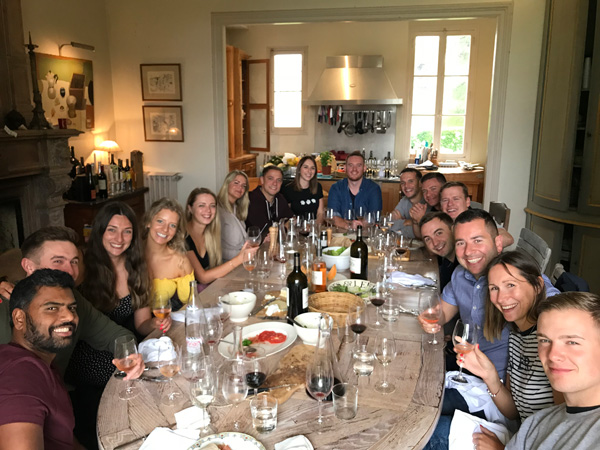 Sometimes a group of daytime visitors to the château can be too large for our tasting room and we've had to decamp to the kitchen - notably when it rains and we can't use the outdoor tables by the vines. It doesn't usually dampen anyone's enthusiasm.
The Bauduc tour and tasting of six wines at the winery here costs €15 per person and the standard start time is 11am, Tuesday to Friday - but you must book ahead as places are limited. We can occasionally accommodate groups at other times, again by prior arrangement. If you just want to pop by and buy some wine, let us know in advance and we'll make sure someone is on hand to help fill the boot, Monday to Friday, office hours.
Flights to Bordeaux from the UK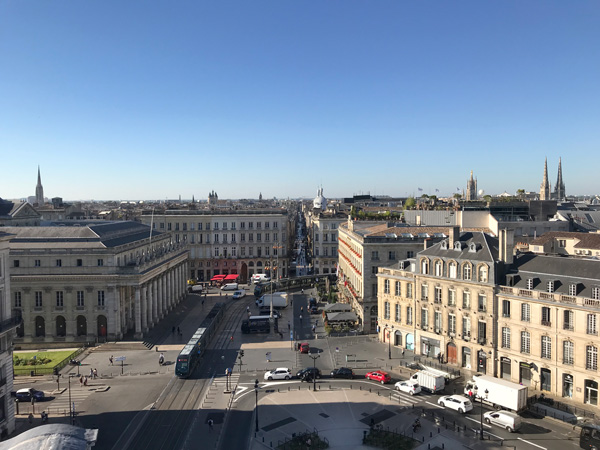 Regardless of whether you can visit us at Bauduc or not, there are a surprising number of flights from the UK to Bordeaux this summer. It is a great city, is home to some of the world's most prestigious vineyards (some will even let you in, but you must book ahead), and the airport is quite close to the Atlantic beaches of Cap Ferret and Arcachon.
Easyjet - Gatwick, Luton, Southend (don't rule this out if coming from London), Bristol, Manchester, Liverpool, Glasgow and Belfast
British Airways - Gatwick
Flybe - Birmingham, Southampton, Manchester, Newcastle, Edinburgh, Aberdeen, Belfast
Ryanair - Stansted, Manchester
And the fast train from Paris takes just over two hours. Pretty swift given it's a greater distance than London to Newcastle.