Posted by Gavin Quinney on 31st Jul 2023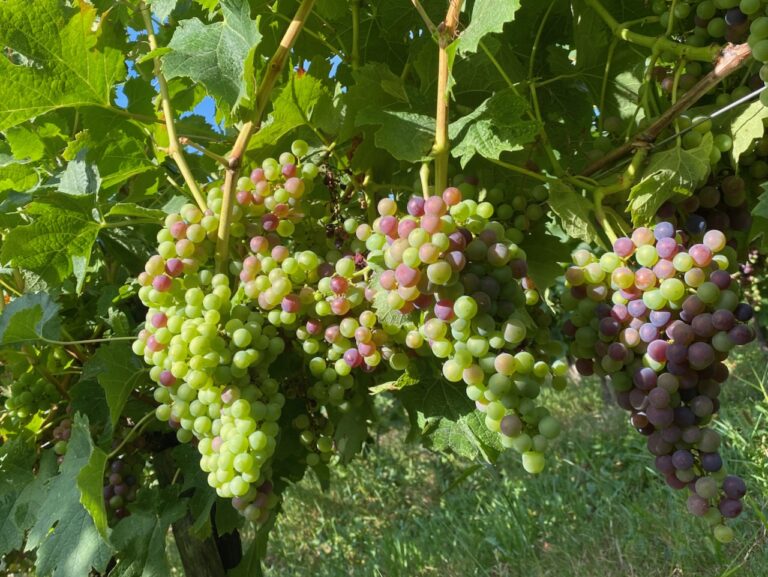 UK duty goes up on the 1st August and we've seen the worst outbreak of mildew across Bordeaux – but mercifully almost none at Bauduc – that anyone can remember. It's fun times at Château Fawlty.
And yet everything is fairly hunky dory. We've moved all our UK stock in our bonded warehouse into 'duty paid' (at vast expense) and we've just got back from a family holiday near Begur on the Costa Brava in Spain (not cheap either).
With so much going on it was a strange time to be away – we had booked it ages ago – and we didn't really switch off. But it was great to be with our four (grown up) children and, as one customer wrote on Friday afternoon, 'a change of scenery is as good as a break, as they say.'
Speaking of both change and scenery, the bunches turning from green to red in the vineyard, unblighted by the blight that is 'mildiou', was a welcome sight to come home to this weekend, so we'll post some pics at the end of this email.
As well as the threat of mildew, we are ever mindful of a potential disaster at any time, given that this Thursday, 3rd August is the 10th anniversary of the evening when we lost half our crop in a hailstorm in 2013.
Before the photos of the colour change or veraison, there's an update on our cunning plan to beat the duty rise, a whinge about the UK government's utter claptrap this month over the duty fandango, and something on the widely reported mildew and the 'catastrophe sur le vignoble' in South West France. Oh, and we actually got the Telegraph to print a correction to its headline 'Unusually hot weather has destroyed 90% of Bordeaux crop'.
Rumours of our demise have been greatly exaggerated.
All the best
Gavin & Angela Quinney
---
UK duty rise on 1 August – don't panic
UK duty goes up by 44p plus VAT (53p) on 1 August for all still wines labelled from 11.5%-14.5% abv, from £2.23 to £2.67. A tasty 20% increase.
So we've taken the step of moving all our stock in London City Bond – we've sent over a lot recently as the orders have been piling in – into 'duty paid' there, at the current rate.
Simply put, all our wines are showing at the old price on our website, until we run out of a particular wine and have to replace it with more at the new, higher rate of duty. It seems like the sensible and fair thing to do. See 'all wines' for everything in stock, and 'specials' for the bargains.
The new UK duty rates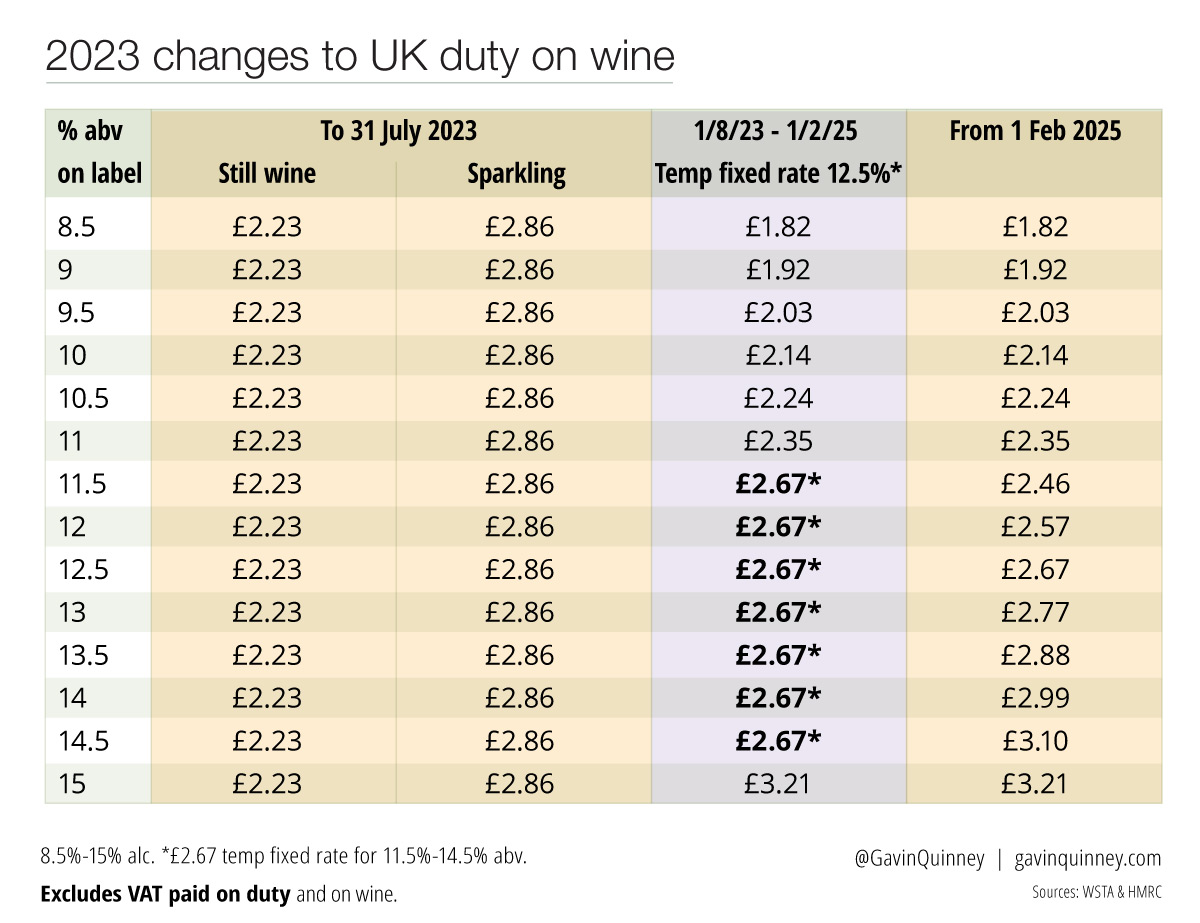 It's worth showing the new duty table again – from our 'Guide to UK Duty hikes on wine' at the end of June – as there's been a fair amount of inaccurate reporting by the media, not helped by the smoke and mirrors from the government. Jancis Robinson will be using our tables in a piece on her popular website tomorrow, and they've been widely used elsewhere.
On the bright side, UK duty on sparkling wine has come down from £2.86 a bottle to the same level as still. That's a wee drop of 19p to £2.67 (if 11.5%-14.5% abv) but a bigger fall if 11% abv.
(About 1 in 8 bottles of wine sold in the UK in 2022 were sparkling – 12.9% of wine released from customs. Source: HMRC.)
'Much simpler'?
The Government were indeed right to alert everyone at the start of July, with this press release echoing the 'much simpler' twaddle.
'On 1 August 2023, the Alcohol Duty system will become much simpler, taxing all alcoholic drinks based on their alcohol by volume (ABV)'
Hmm. Replacing just 3 bands (in beige), there are 27+ new duty bands for wine, with 7 of those, from 11.5% to 14.5% abv, on a temporary rate of £2.67 duty plus VAT until 1 Feb 2025: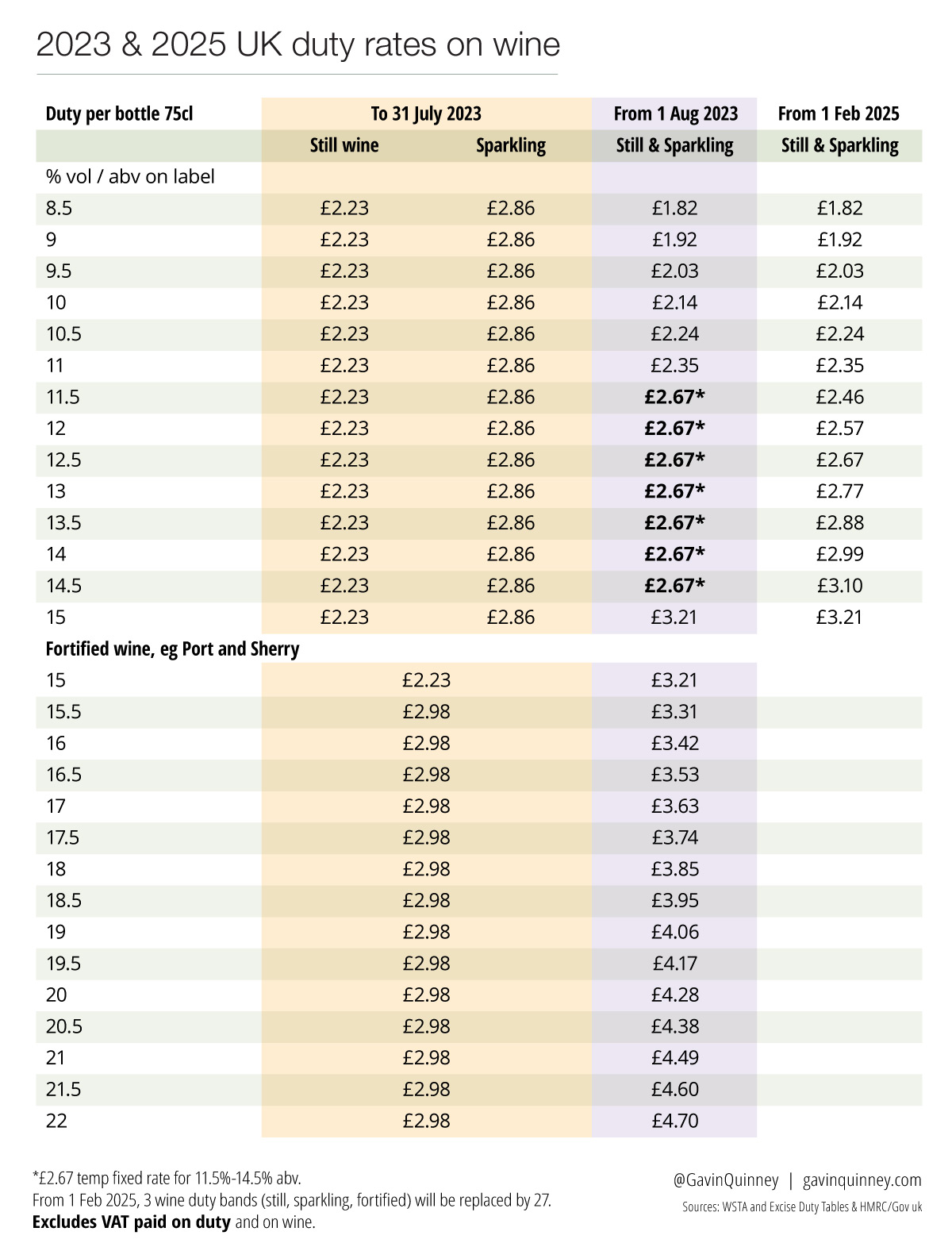 Here's new Government advice on calculating wine duty by the way.
That's not too complicated but from 1 Feb '25 there might be 7 wines in this example, each with different rates of duty due to varying levels of alcohol from 11.5% to 14.5%. And those alcohol levels might vary from one year to the next for each wine.
(Or it'll be £4,872 on 1,221 litres of wine 14% abv in Feb '25, up 34% on duty now.)
There's no temporary rate for wines of 15% abv: still wine labelled at 15% abv is up from £2.23 to £3.21 per bottle plus VAT now, ie £3.85 duty a bottle including VAT (£1.17 more per bottle). A 44% increase in UK duty.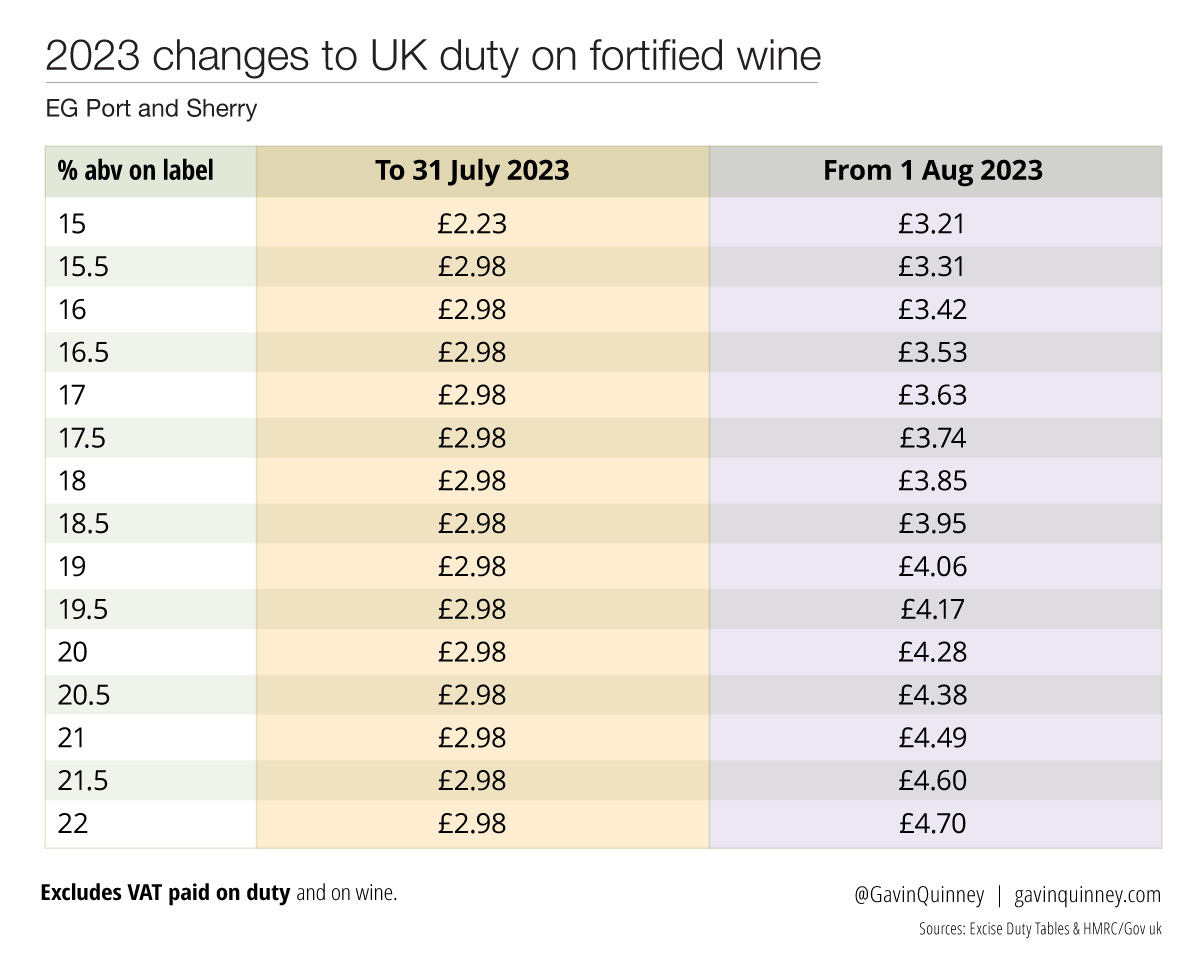 There's no temporary rate for fortified wines, as the new duty system for these kicks in on 1 August. Port and sherry are hit, with port of 20% abv up from £2.98 to £4.28 duty + VAT. Again, 44% higher duty.
The 'because we left the EU' klaxon
This line from the Government's presser just doesn't stand up to scrutiny.
'Exchequer Secretary to the Treasury said
'Because we left the EU we can make sure our alcohol duty system works for us. From next month the whole system will be simpler – the duty will reflect the strength of the drink.'
So here's a brand new table of the UK changes for wine duty and how they rank against countries across the EU – who decide their own duty rates.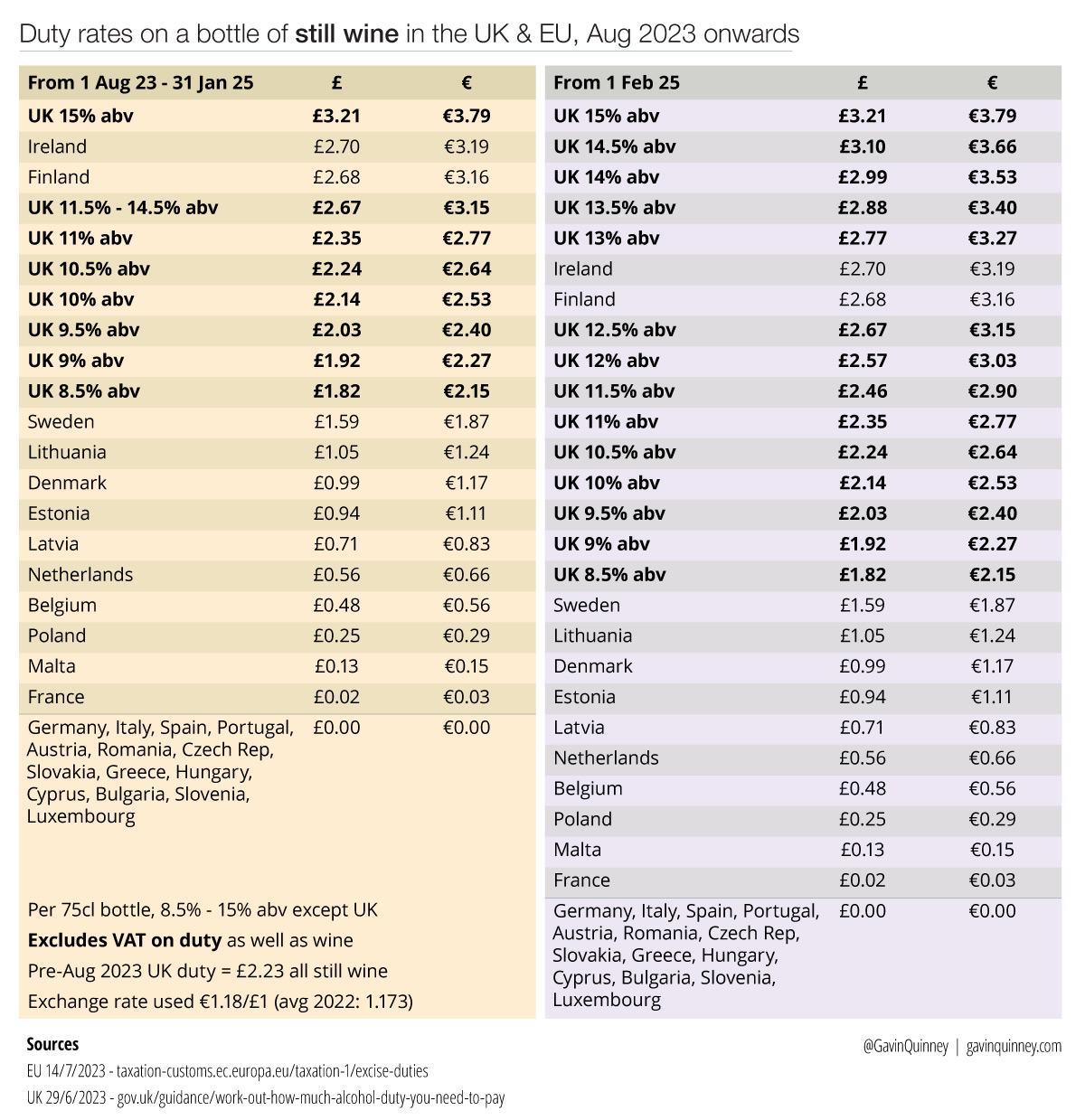 One to download and send to your MP to ask 'so by leaving the EU the UK duty on wine is now 'simpler'?
Sunak's 'spectacular failure'
As Mike Best, a Master of Wine who's a buyer at Boutinot Wines, put it succinctly last week: 'It is quite simply a ridiculous system. Extra cost, reduced choice, worse for the public and damaging to business. The Exchequer likely to suffer also. Who wins from this?'
I was chatting to our friend Miles Beale, the CEO of the Wine and Spirit Trade Association, because since Sunak, the then Chancellor, excitedly introduced the proposed changes to the way wine is taxed in the Budget of 2021, not one politician or civil servant who was involved in the review or the consultation with the trade has remained in the role.
'The biggest problem has always been that wine - which is fundamentally different because it cannot (really) alter its ABV - is a mystery to politicians. They utterly and completely fail to understand why a system that relies on ABV is a disaster for wine. Sunak never understood it and it's too small an issue for him to bother with now. What works on the spreadsheet does not work in practice - as literally anyone who buys and sells wine can explain. Sunak's review was aimed at three things: making duty simpler, fairer and less bureaucratic. He failed. Spectacularly in wine's case.'
Other pronouncements from the government this month seem ludicrous. For example, that page, which was updated on 7 July, claims:
"The measure is expected to have a negligible impact on up to 10,000 businesses that produce alcohol in the UK, import alcohol into the UK, or are involved in warehousing alcohol in duty suspense. Those businesses affected by the duty rate change will incur a negligible one-off cost."
What? Don't take my word for it – this was from Direct Wines, the parent company of Laithwaites, The Sunday Times Wine club and Avery's. And this was from early 2022, talking about the introduction of multiple bands of duty, long before the news of the actual duty increases:
"The UK's independent wine businesses face huge new red tape in administering 27 rates of duty across their ranges of 2,000+ wines. As an agricultural product, wine ABVs change annually (unlike beer & spirits). This would require major resource and investment in IT systems. The cost to administer ABV for 12 bottles of one wine is the same as for 1 million bottles of that wine. Ranges will likely shrink. For some small businesses, the administrative burden may be unworkable. Overall, consumers face higher prices, less choice and fewer wine merchants competing for their business."
As a footnote, I do think we'll see large, branded wine suppliers try to reduce the level of alcohol in their ranges for the UK market. More on the fallout of all this anon.
As this piece from the FT points out, it's already happening with beer. (Which is easier to do.)
---
Bordeaux 2023 and the dreaded mildew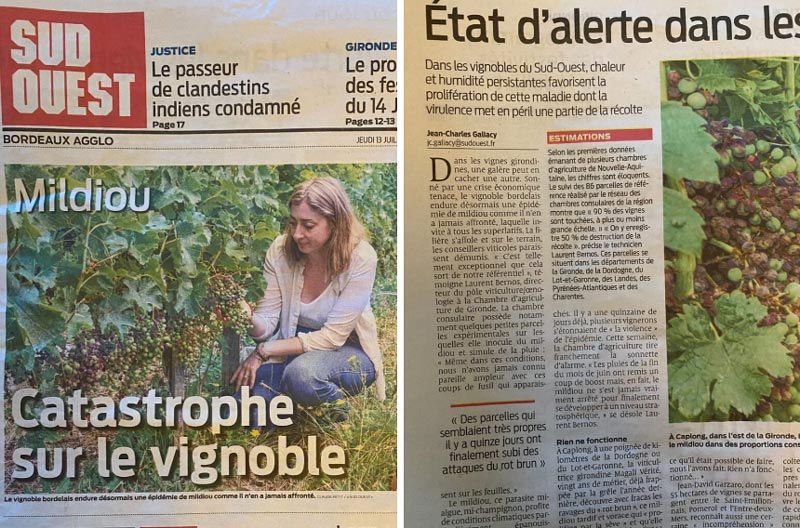 Hail and frost are probably the two things we fear the most, but it's against the threat of mildew that we have to be really vigilant and ready to treat the vines at short notice if the risk is acute.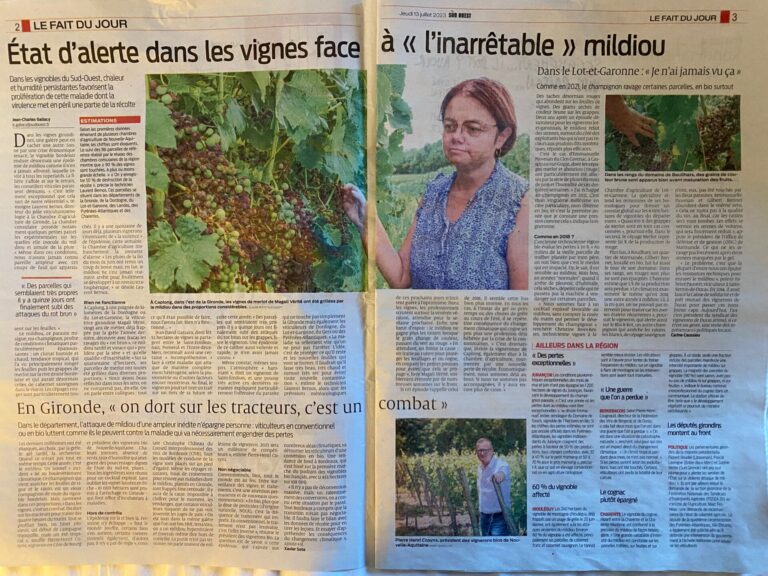 You don't want it on your vines and you certainly don't want it on your bunches.
There is a lot of mildew about this year in Bordeaux and it's hit a lot of vineyards badly. The impact has been widely reported throughout July after challenging conditions in June (and before that) – with storms and heavy rain as well as sun and warm weather.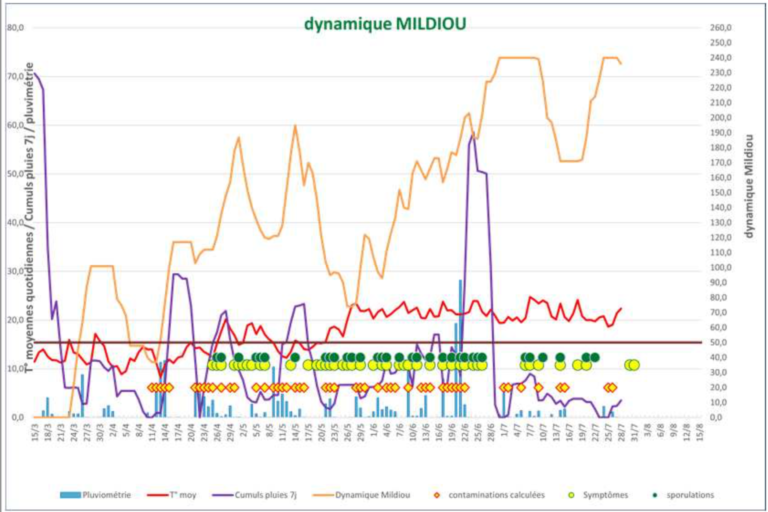 Mildew charts, UK duty rates, the cost of materials, dry goods… it's a cracker!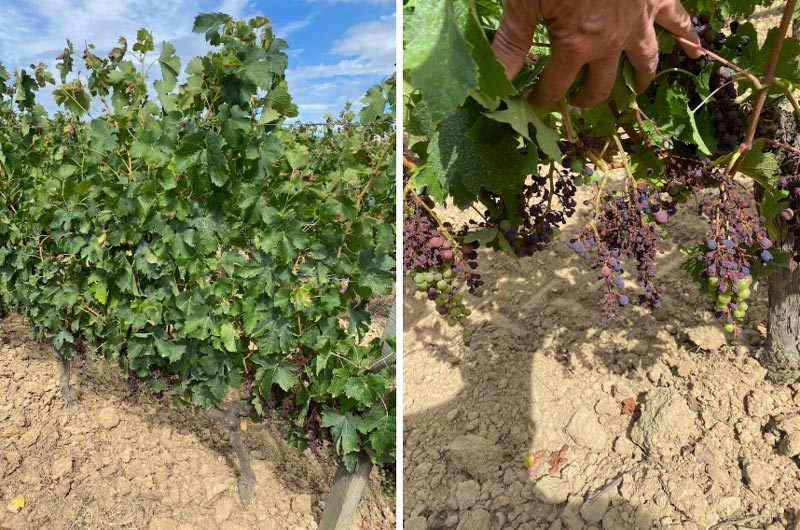 Mildew on the bunches isn't that easy to spot in all cases from a distance. These are a neighbour's vines and there's considerable loss to mildew on the bunches, though from the road it's harder to spot.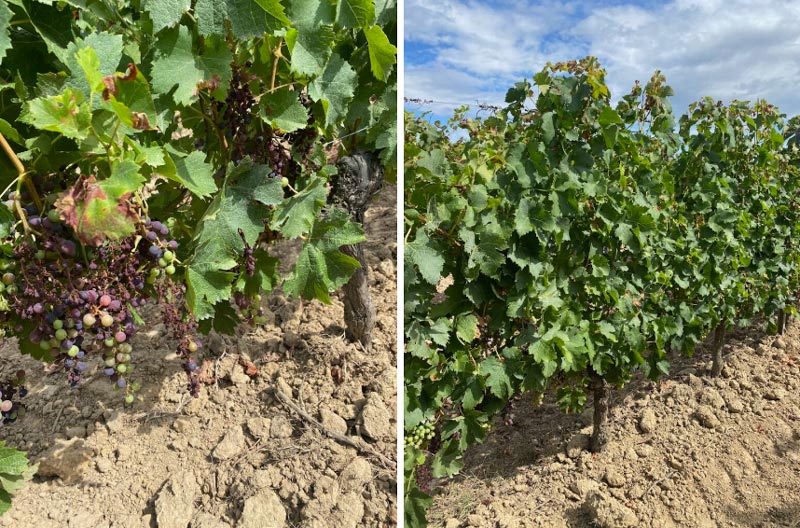 The vines look healthy enough from a distance. All these pictures were taken at the weekend.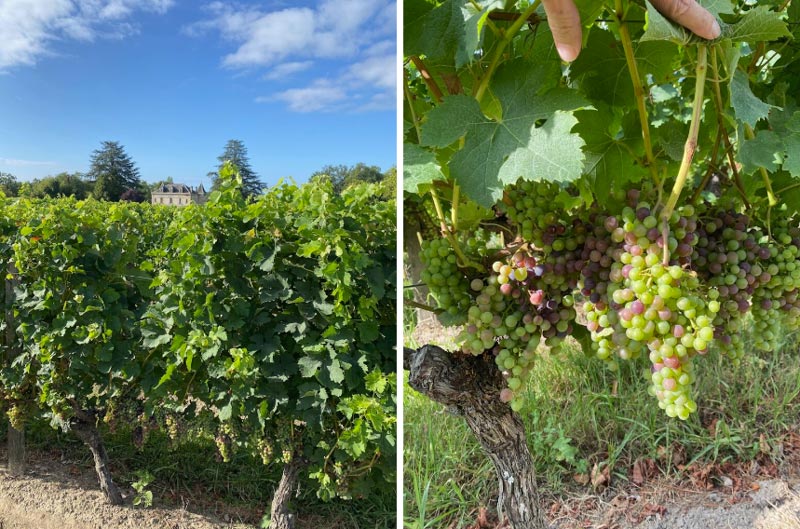 Daniel and Nelly, meanwhile, have done a fantastic job at keeping the evil fungus at bay at Bauduc, with spraying the vines at the right moment.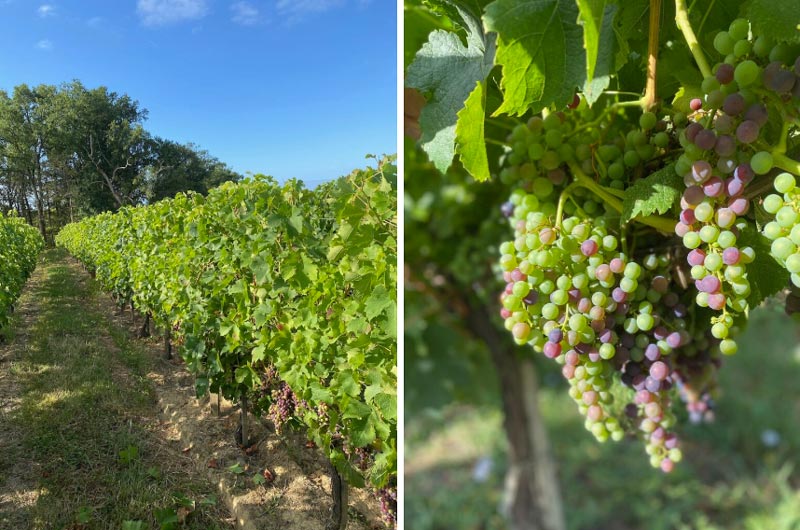 It's a huge relief that, touch wood, we have survived so far, with minimal impact from mildew – though it still remains a risk.
Lost in translation
Many thanks to everyone who wrote and asked if our vines were ok. We hadn't quite realised how things were being reported in the UK – after all, the Sud-Ouest here with 'Catastrophe sur le vignoble' as a headline was quite bad. Our thanks to Tony E and David R for the photos of the Telegraph pages.
'90% of Bordeaux vineyards affected by mildew' somehow ended up being '90% of the Bordeaux crop destroyed' in The Daily Telegraph.

So after getting in touch with the journalist in Paris, I wrote in. In their conditions they say they may not deal with a complaint if you're not directly affected, hence the laying it on with a trowel, slightly.
'The subheading for this article states 'Unusually hot weather has destroyed 90pc of Bordeaux crop'. This is a complete misinterpretation of French media reports stating that 90pc of Bordeaux vineyards have been 'touched' or impacted by mildew, to a lesser or greater extent. Our 30 hectare (75-acre) Bordeaux vineyard is our livelihood, and we have thousands of customers in the UK, including Rick Stein and Gordon Ramsay. We too have seen some mildew – it is indeed a serious issue – but we've lost perhaps 1pc of the crop, if that. Others similarly. We've worked really hard to keep the mildew and other vine diseases at bay. So the correction should read 'We stated …xx but it should have read 'unusual weather has impacted up to 90pc of the Bordeaux vineyards'.
'The proof will be in the harvest figures when they are released next February, when the Bordeaux crop size will be far, far closer to, say, the average of the last three years' crop than to just 10% of that figure. That three year average is 409 million hectolitres, the equivalent of 545 million bottles. The journalist, Vivian Song, has understood her error over the article after I notified her via Twitter – @gavinquinney @vivian_song – and she has kindly sent me this link for the correction to be printed. In passing, I am a subscriber to The Telegraph, by the way, partly for access to your excellent wine columns from Victoria Moore. Thank you.'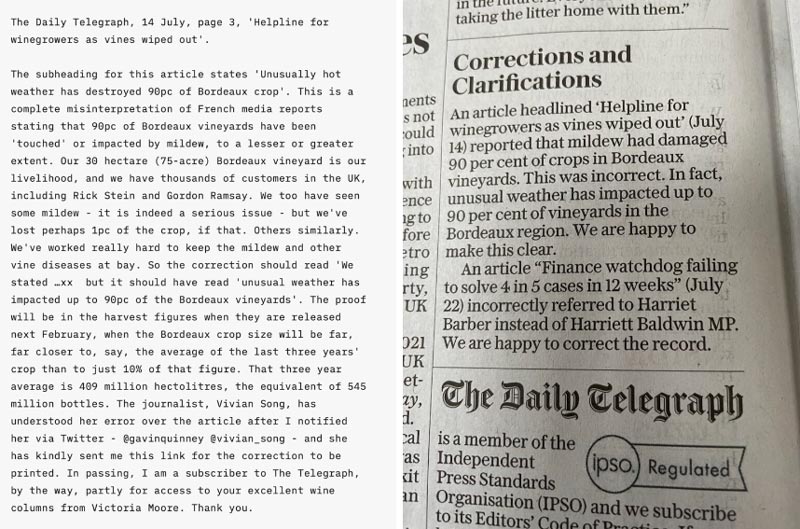 Result! No big deal but I wasn't going to stand for '90% of the crop destroyed'.
Not just yet, anyway.
---
Veraison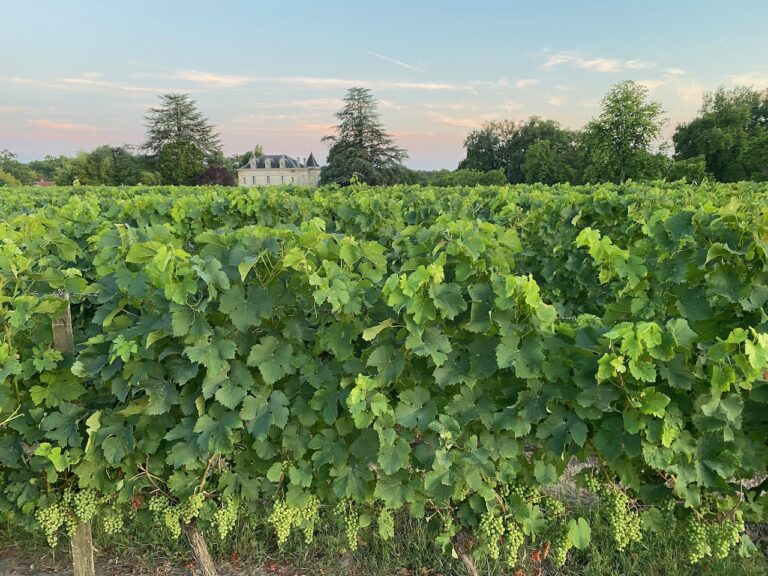 Mid-July and no sign of these Merlot bunches changing colour.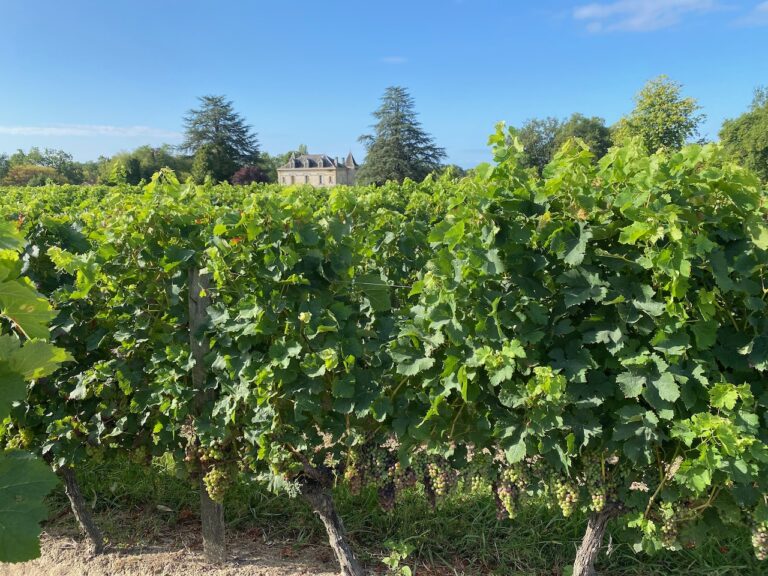 Two weeks later and they're well on the way. These go into our rosé.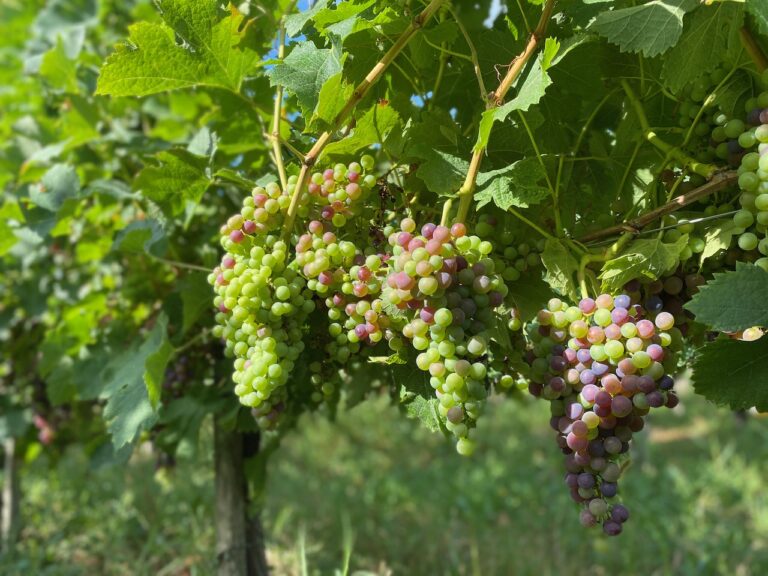 Veraison is a fine word that matches the actual, attractive event. Unlike, say, effeuillage - a pretty word too but which refers here in the vines to leaf-plucking or stripping off the leaves. (It also means stripping in another sense, allegedly.)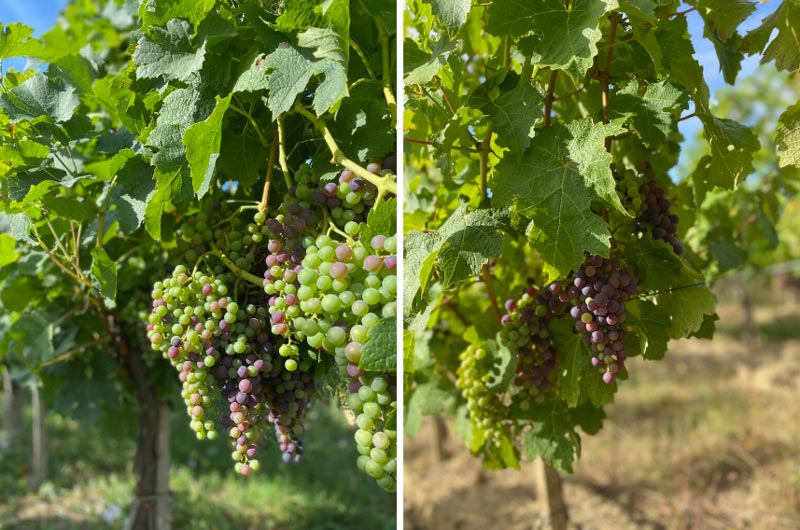 Young Merlot on the left, young Cabernet Sauvignon on the right.
Young and old Merlot.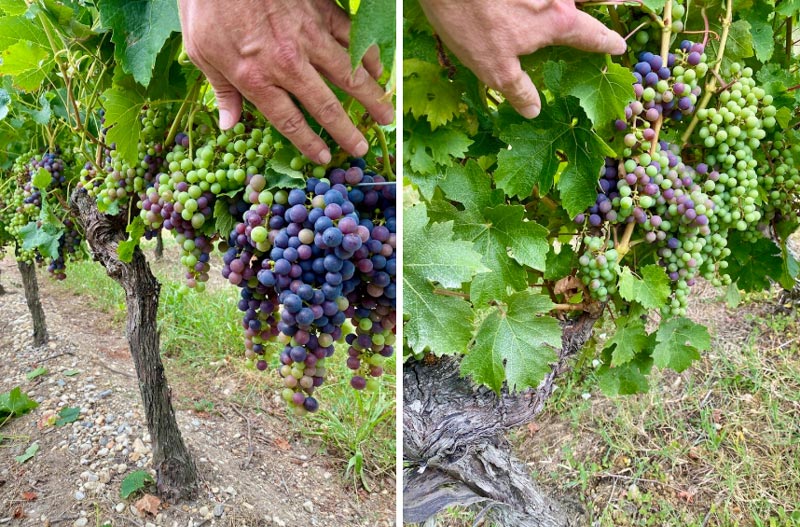 Youngish Merlot on the left, older Cabernet Sauvignon on the right.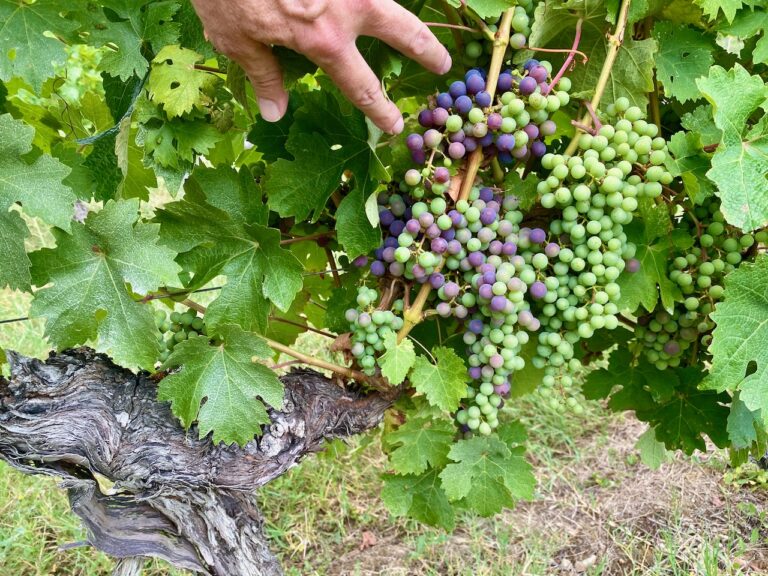 The Cabernet Sauvignon is usually a later ripener but it's not far behind the Merlot. Or some of it isn't.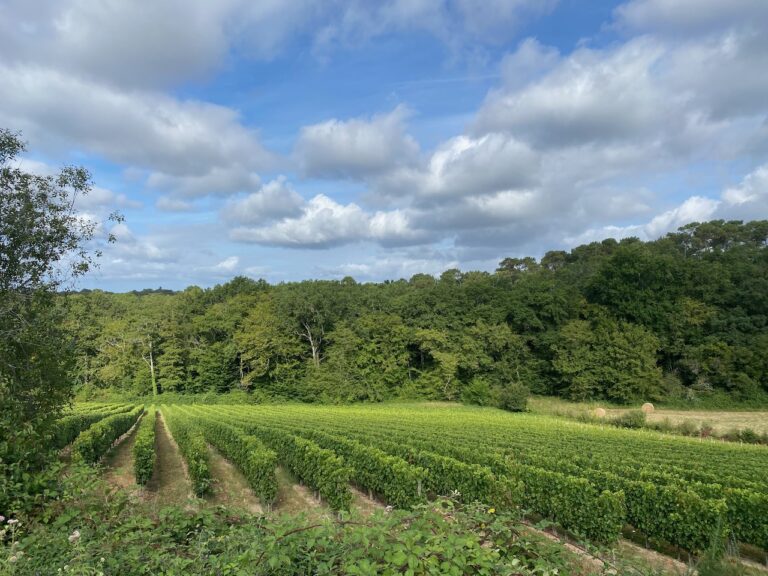 A field of Cabernet Franc, rosé bound.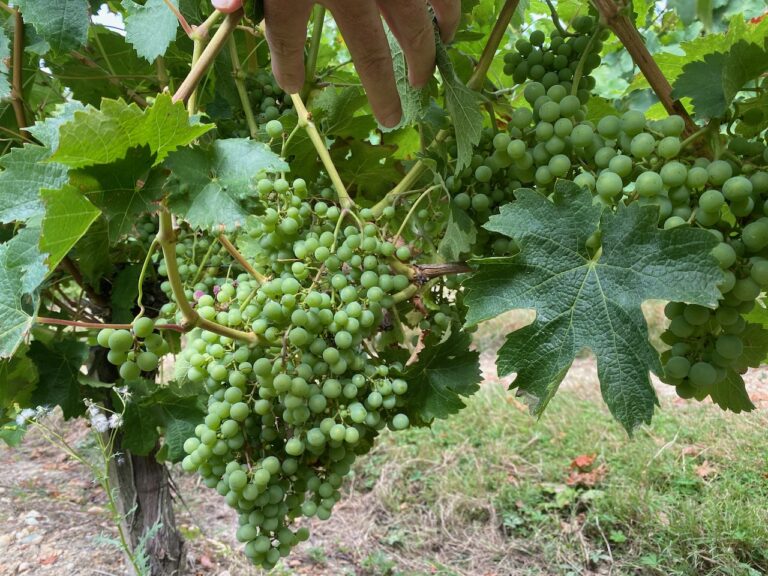 That Cabernet Franc isn't budging just yet.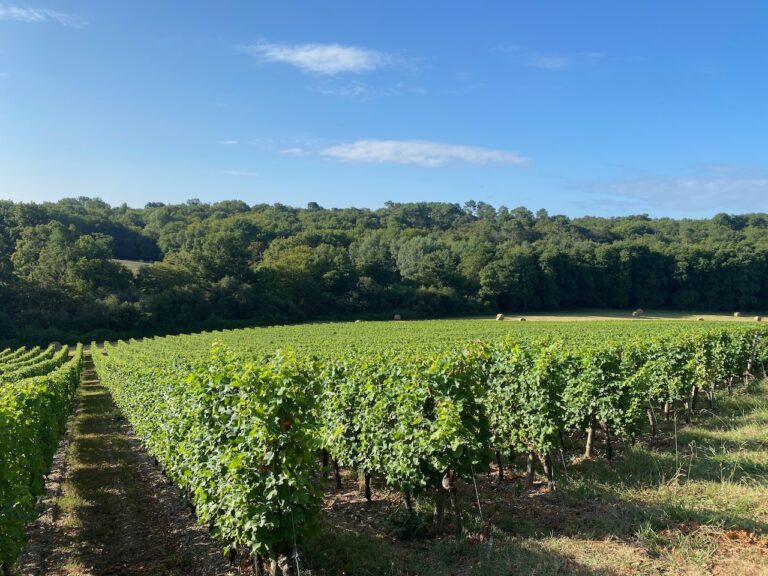 Sauvignon Blanc.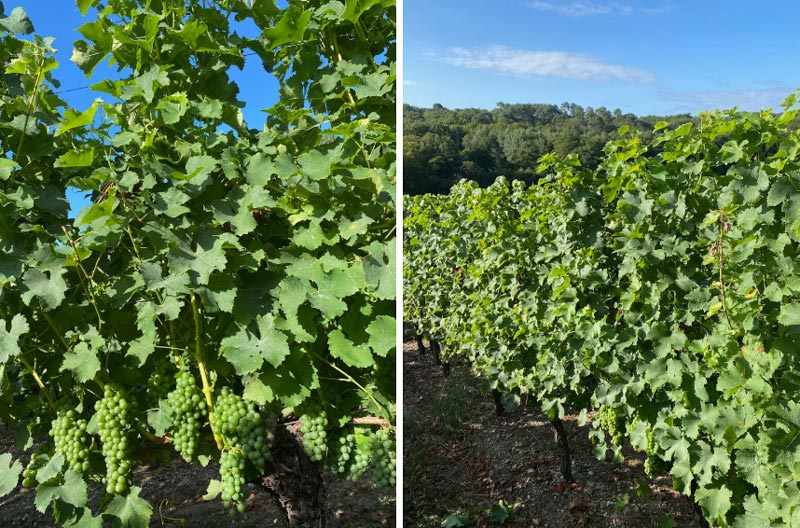 Looking good. We planted these in 2007.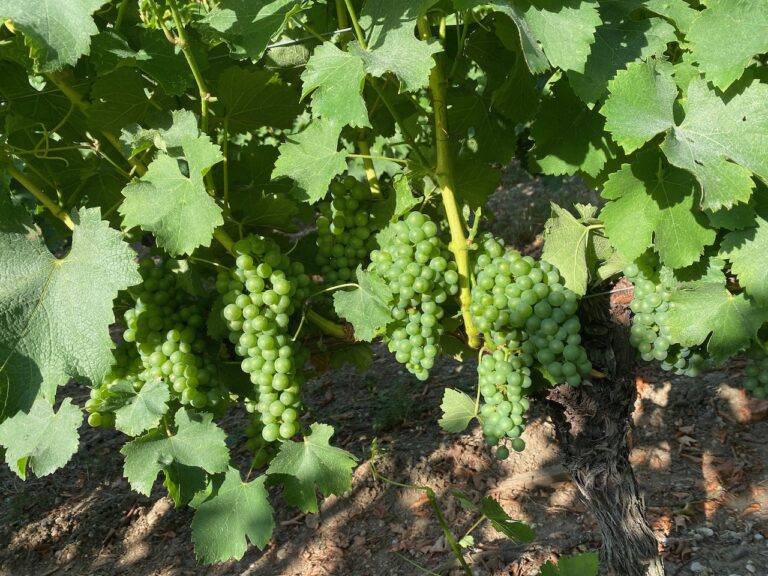 A month or so to go for the Sauvignon Blanc, touch wood.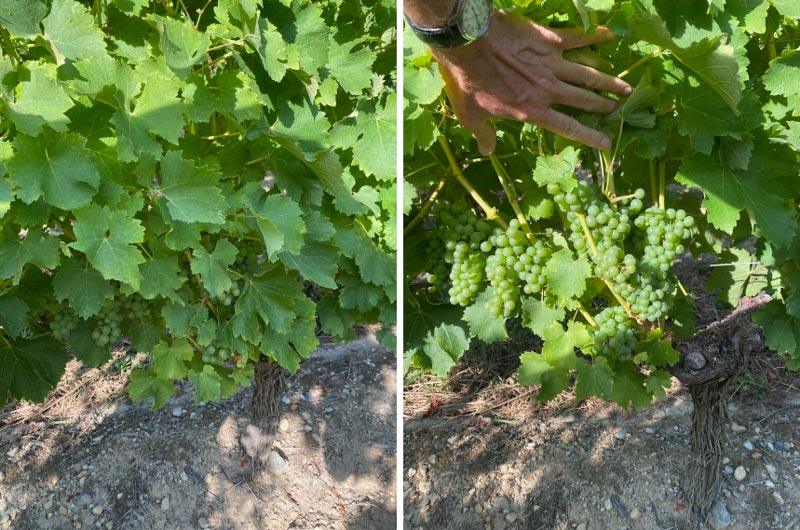 I don't normally strip away any of the leaves on Sauvignon Blanc. I think it's happiest inside the canopy, though it's just a theory: 'the big green'. Planted in 2008.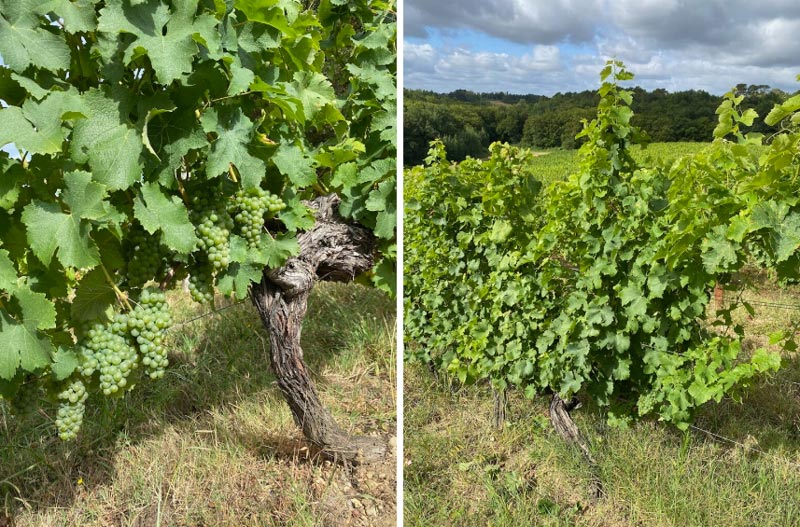 Older vine Sauvignon Blanc.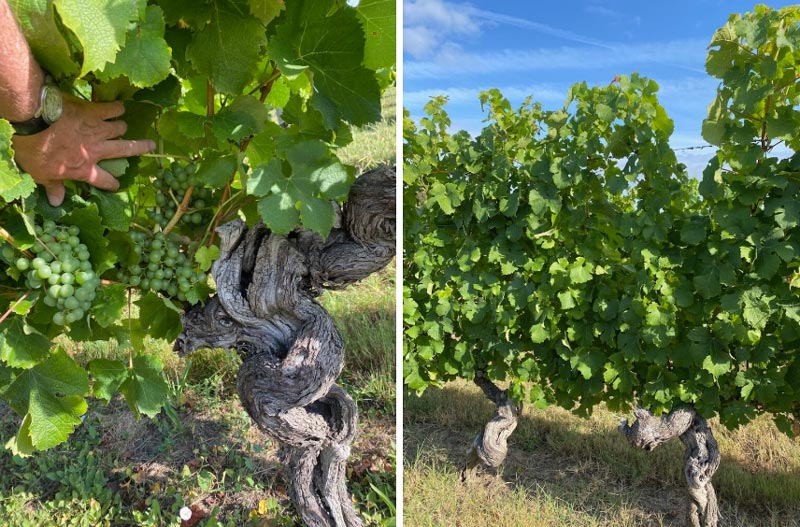 Old Sémillon in Les Trois Hectares. This vine was planted in 1947.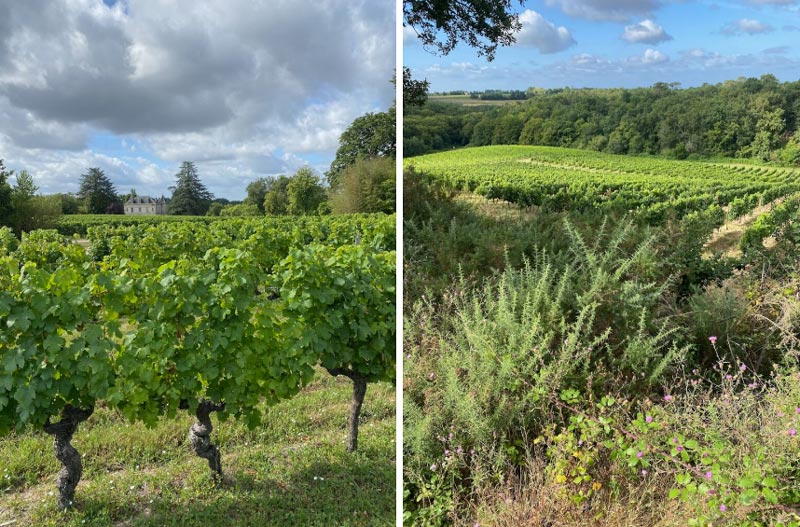 Les Trois Hectares Sémillon on the left. The hill, or slope, called Montuard on the right.
Onwards and upwards.
Have a great August and may the weather gods be with us all.