Posted by Gavin Quinney on 31st Jan 2023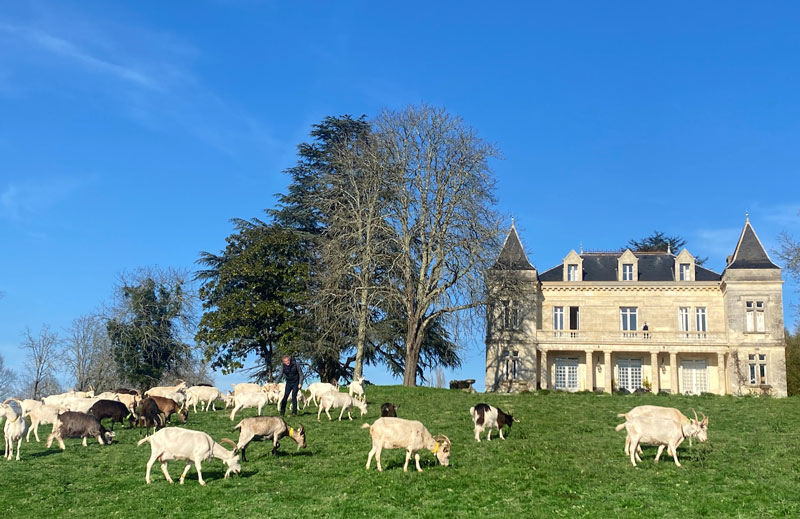 Ange may be asking, up on the balcony outside her office, just what have we got ourselves into now, but you should really taste the cheese.
Anyway, we hope you've had a good January and we just want to bring you up to date with our farmhouse availability for the year ahead, and some other stuff if you're thinking of visiting the Bordeaux region. More on this below.
Les Trois Hectares blanc 2021 has now sold out and the new vintage will be bottled in March. However, the Sauvignon Blanc 2021 is still available and, as is often the case with these things, it goes brilliantly with the local chèvre, so we'll be offering that as an option for tastings here at the château.
All the best
Gavin & Angela Quinney
---
Bauduc Farmhouse 2023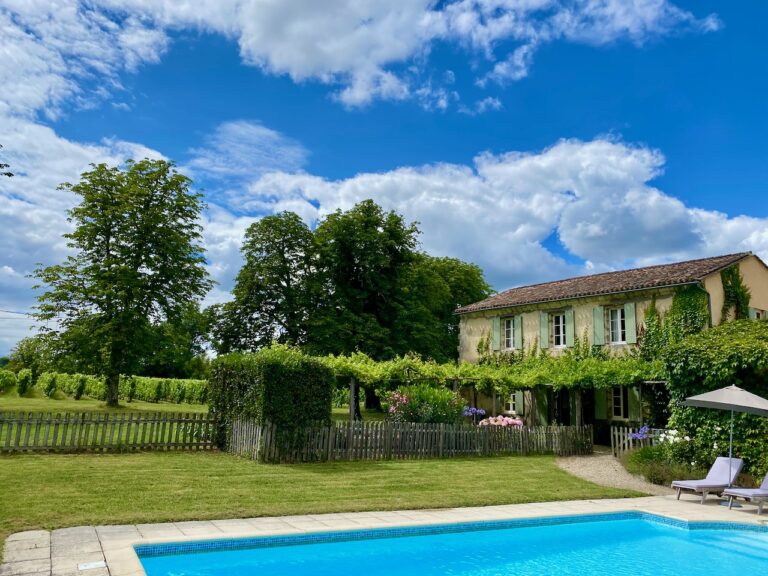 Our delightful farmhouse is sold out now for July, August and September but we do have some other lovely weeks that are still available. All weeks are Friday to Friday.
In order, there are two weeks left in April, the second of which is the Bordeaux 'primeurs' week when the global fine wine trade come to the region to taste barrel samples from the previous vintage. That's 21-28 April at £1,470 for the week. (This slot is fresh back on the market because a customer moved their booking on a week.)
In May, we've got the week of 5-12 May which includes the weekend of the King's Coronation. We do have satellite UK TV so you won't miss a thing on the beeb, or indeed you might want to avoid the whole shebang, for £1,680 for 7 nights. That works out to a mere £60 per double room per night for the week (there are four bedrooms).
There is one week left the following month, 9-16 June. We will accept a booking from Friday 9th for 5 or 6 nights, because the next guests would like to arrive a day to two earlier than Friday 16th if poss. £2,730 for the week, or pro-rata for £390 a night.
The next availability is for October:
6-13 October £1,470
13-20 October £1,365
Please note we now charge £150 as a contribution towards the laundry and cleaning bill. More details are included in the link below:
Farmhouse overview – and more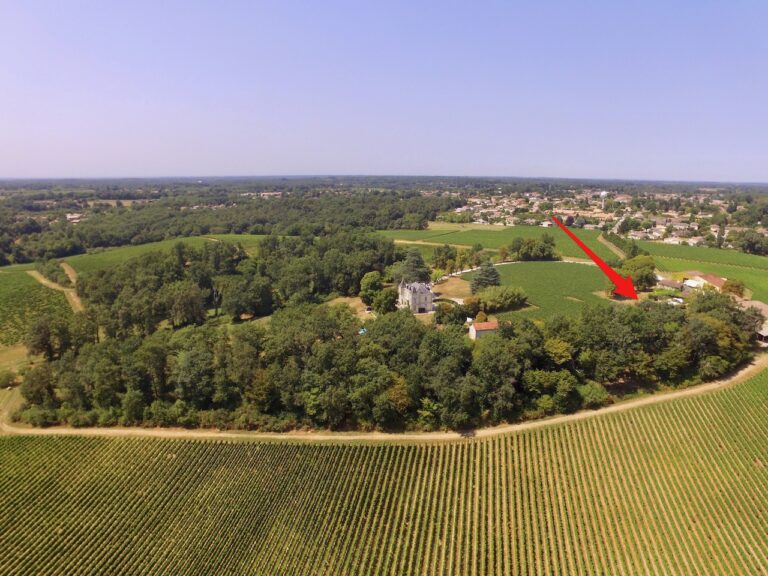 Below are the pages on our website for the Farmhouse.
We've restored this late 18th century stone house into a home-from-home. It overlooks the vineyard, with 200 acres of vines, fields and woods for walks beyond the south facing garden. There's a private, heated swimming pool with a new stone patio area by the pool which we installed last summer. Outside there's a vine-covered outdoor eating area, a vine-fueled barbecue and plenty of wooden outdoor furniture, four outdoor seating areas, and enough sun-loungers for all.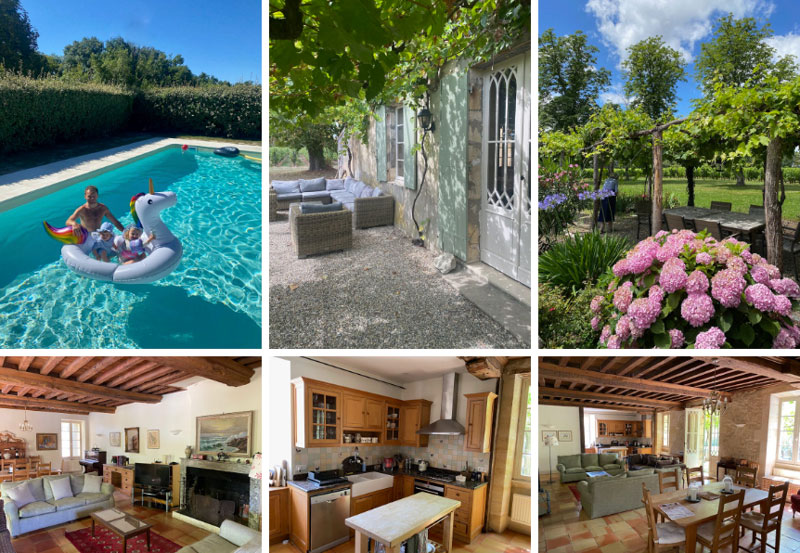 Downstairs, there's a large open plan living area with a fully equipped, oak kitchen, three large, comfy sofas around the fireplace and satellite UK TV, plus a dining table for eight. Upstairs there are 3 double bedrooms and 1 twin/double room, all with pocket-sprung beds. One of the rooms has an en suite bathroom, and there are two other bathrooms, all with showers. There's a full size cot if required.

The winery and farmyard are right next door and a tour of Bauduc can be laid on. The town and bakeries are a short walk away up the private drive, as are the shops – though we drive for a full shop – and the market is held every Wednesday. Créon is a busy town and has become a foodie destination of late for artisanal shops for meat, fish, cheese, fruit and veg. There are four bakeries, two of which are exceptional.
We are half an hour from the city of Bordeaux and, in the other direction, the archetypal wine village of Saint-Émilion. The new 407 express coach service runs into the centre of Bordeaux every hour, on the hour, from 7am to 10pm during the week – for the princely sum of €4.50 return.
Farmhouse introduction
Price and availability
Getting here
The local area
Things to do
Local restaurants
Guest comments
Farmhouse gallery
La Panneterie, Espiet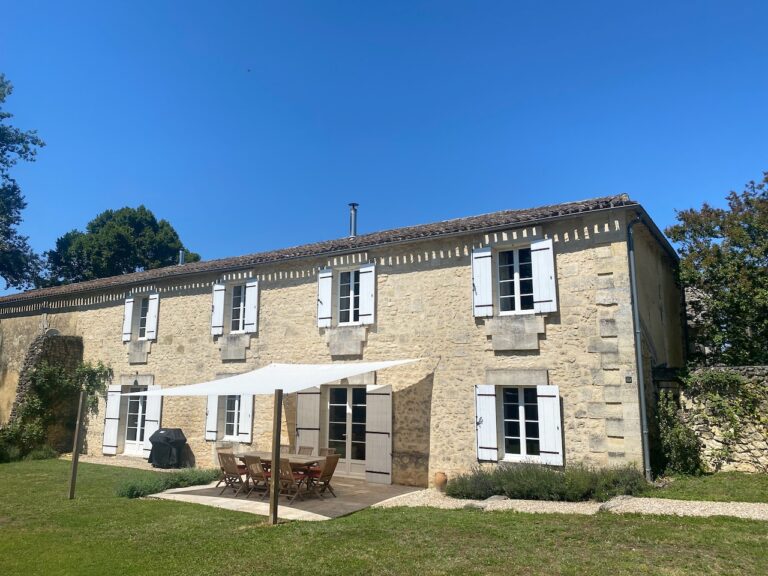 Our friends Alex and Emma Hall have a lovely four-bedroomed house that they let out by the week in high season just 10 minutes up the road from us, near La Sauve. Of particular interest this year is that they have a 6-night slot available which includes the crunch Rugby World Cup weekend – https://www.rugbyworldcup.com/2023/matches – when both Ireland and Wales play in Bordeaux on Saturday 9th and Sunday 10th September respectively. (That is going to be one busy weekend in Bordeaux, and just at the start of the harvest too.)
Unlike us, Emma and Alex make their house, La Panneterie, available on sites like AirBnB and others. We have gently persuaded them to put the availability chart on their website so that customers can have a look and book direct with them.
Like our Bauduc farmhouse, the owners live on the property and there are four double/twin bedrooms, the house sleeps 8 comfortably, there's a swimming pool (in their case, shared with the owners) and plenty of outdoor space.
Do have a look at their website – there are several weeks available in April, May, June and September, plus one at the start of July and another at the end of August. The price in high season is €400 per night (€100 per room, in effect) for 7 nights.
Their email address is contact@la-panneterie.com.
Call/WhatsApp/text Emma +33 6 85 18 12 46.
La Panneterie, 33420 Espiet, France.
*Alex and Emma met by chance over dinner at Château Bauduc and had their wedding reception here some 15 years ago. Soon after they bought and restored their new home nearby, where they now live with their two young sons.
Last week's photos
I got back from a quiet tour of Dublin and then Northern Ireland on Sunday. Our importer there had invited me over for a five-day stay, putting paid to any notion of a dry January.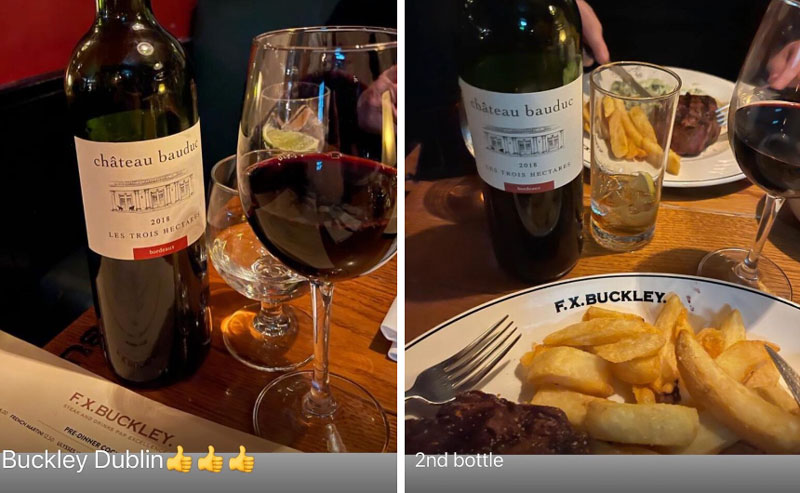 It began with a strange twist on Tuesday night when our good friend Sean Allison, from Château du Seuil here in the Graves region, sent me some pics on WhatsApp showing how he and his friends were enjoying our red in F.X. Buckley, Dublin's premier steak house.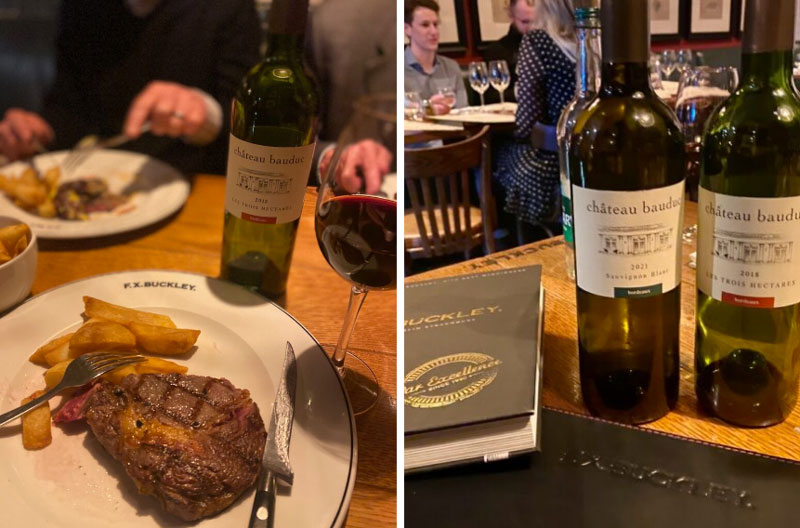 Turns out that I was taken to that exact same restaurant for lunch and we had the same wine the following day. Small world.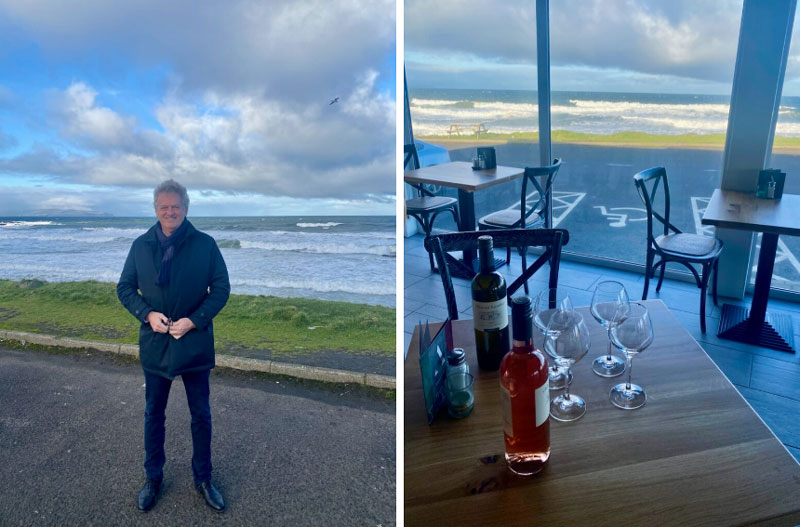 Then it was up to Northern Ireland and a whistle-stop tour of restaurants and retailers who list our wine. Great that our Sauvignon Blanc and Rosé will be served by the glass at a landmark seaside restaurant right up on the north coast at Portstewart.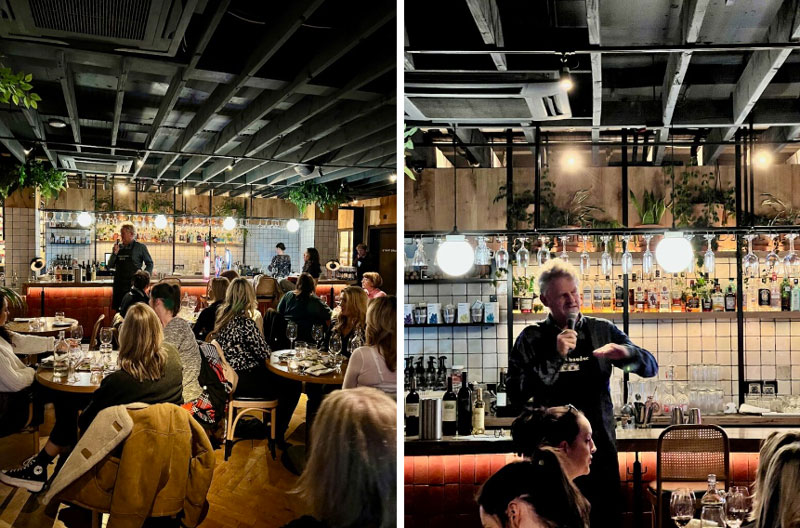 I had to sing for my supper at a 'tutored' wine tasting at The Crafty Vintner in Belfast. I asked beforehand why none of the guests had been offered a spittoon. 'No one has ever asked for one and I don't think we've ever provided any' said Richard, the general manager.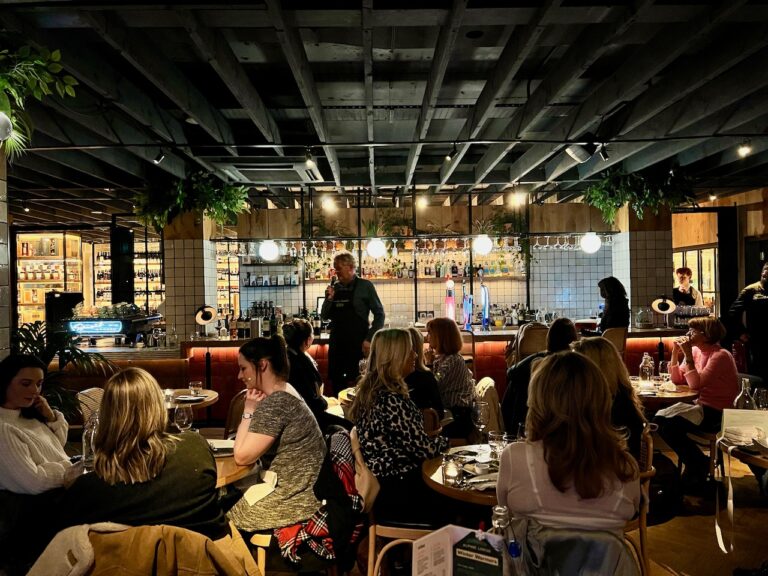 The event was a sell-out, and really well run by the Crafty Vintner team. The male guests were, quite rightly, put in the cheap seats at the back. I thought it was to keep any hecklers from getting carried away but everyone behaved impeccably – and enthusiastically.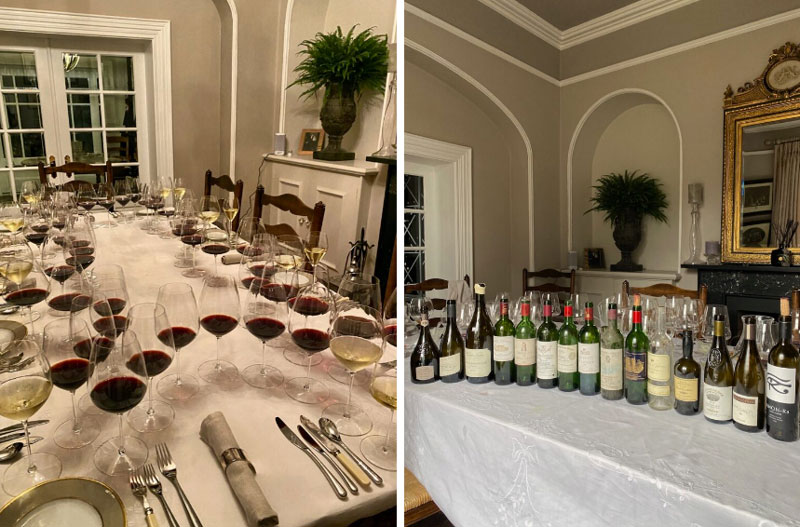 Then at a beautifully choreographed blind tasting and dinner for some serious winos the following night, you can't let the side down when there are several top-end Bordeaux wines on show. I scraped through, just about. (The star of the show was Cheval Blanc 1983.) My generous host and I spent most of Saturday morning washing the glasses. All quite therapeutic, in fact. And no hangover either.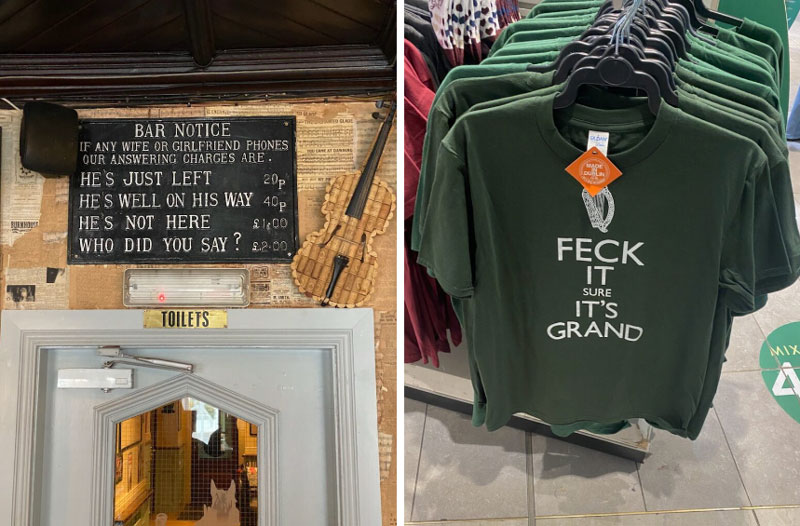 It was a fun trip and I shall miss the humour.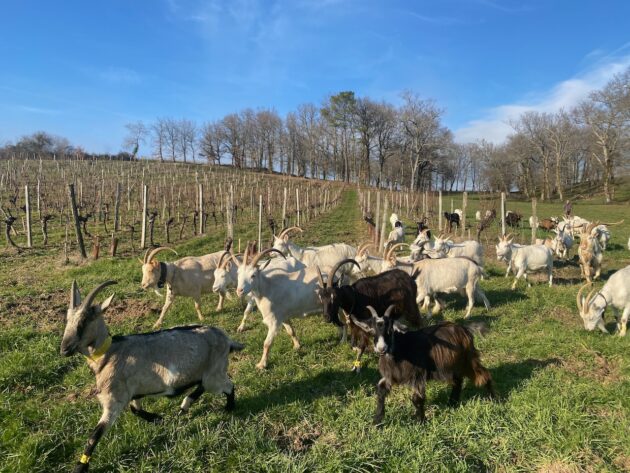 Then it was back to Bauduc, and the goats.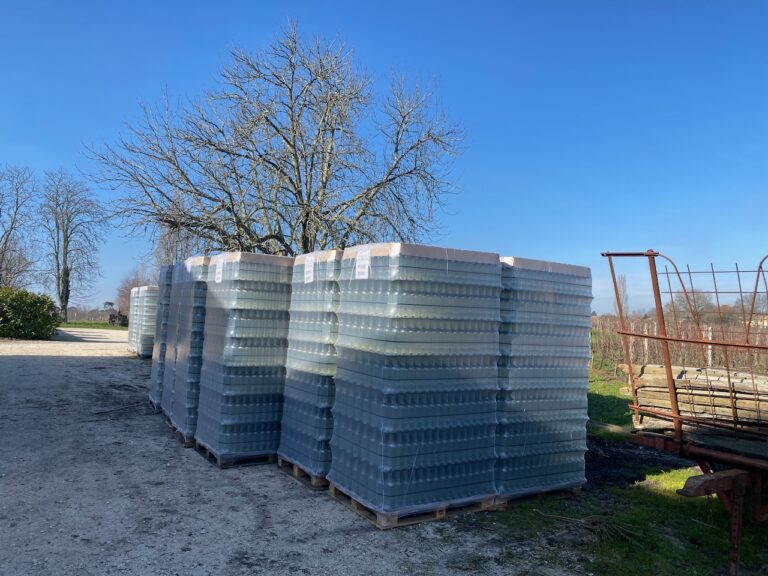 And to prepare for the bottling. At least the bottles have started to arrive. Clear bottles for Rosé are, as they say, like rocking-horse shit at the moment.
Onwards and upwards.