Posted by Gavin Quinney on 30th Nov 2017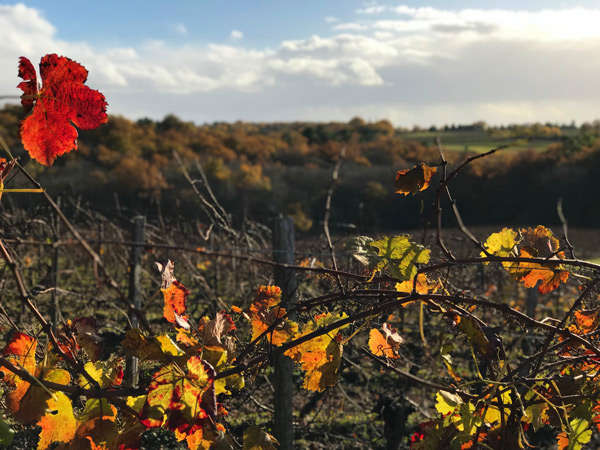 Some good news over the last week. The Chancellor froze the duty on wine in his Autumn Budget and Victoria Moore selected our Sauvignon Blanc 2016 for her 60 Best Wines for Christmas in the Telegraph.
Long term readers know we like to show the up-to-date duty stats in graphical form, so there's a mini rant at the foot of this newsletter, with a link to the full barrage and some exciting maps.
The wine Victoria picked is available both in cases of six and in plenty of mixed cases. Just the job for Christmas.
All the best
Gavin & Angela
Wooden gift cases for Christmas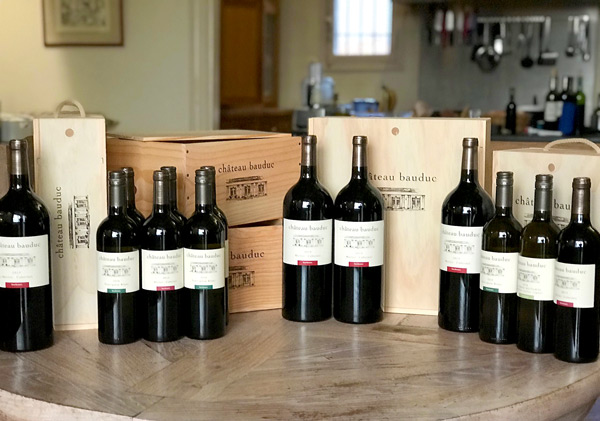 Our regular cartons - not least our Selection or Collection mixed cases - make more than acceptable presents. There's something rather special though about Bordeaux in wooden cases, even if our money-no-object promotional photograph above doesn't quite do them justice. A large consignment of wooden cases, including 3 or 6 bottle cases, and 1 or 3 magnum boxes, has just arrived in our Bonded warehouse near London and there's free delivery in England and Wales for the equivalent of 24 bottles or more (£9.50 for 12 bottles or fewer).
'60 Best Wines for Christmas'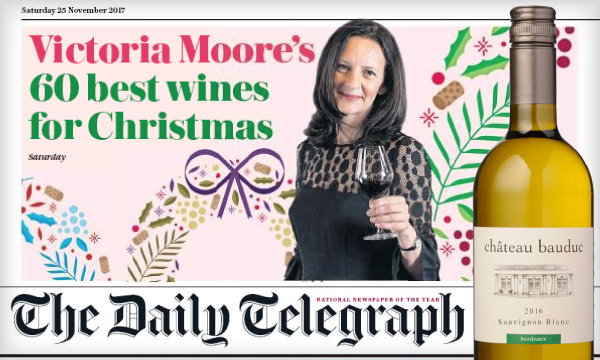 Toot toot. It's always nice when friends and family say that they've seen our wine in the press and it's even more rewarding when it turns out that a wine critic like Victoria Moore has included our stuff in the tough 'Whites above £10' category. 'A crisp, unoaked white. Unlike the wines of Marlborough, Bordeaux sauvignon blanc has gentlemanly understatement. Think unripe nectarines.' We think thanks very much.
Cooking up £250,000 for Children in Need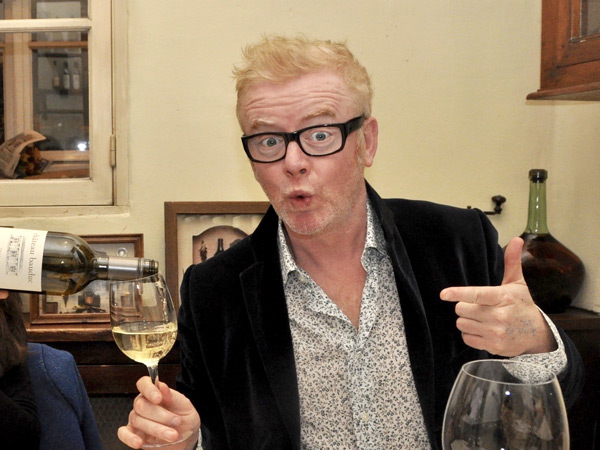 We also had lots of messages saying that Bauduc had been mentioned on Chris Evans's show on Radio 2. Chris auctioned off 12 tables of 6 for the 'ultimate Christmas office lunch' at Rick Stein's newish restaurant in Barnes, London, and they fetched a remarkable total of £250k for BBC's Children in Need. Joanna Lumley and Mary Berry will be assisting Rick with hosting the lunch on 18 December and we're delighted to donate our Sauvignon Blanc 2016, which Rick and his son Charlie have chosen for a few courses. (Remember them wine tasting with Gavin in Rick's Long Weekend in Bordeaux?)
The red we made with Rick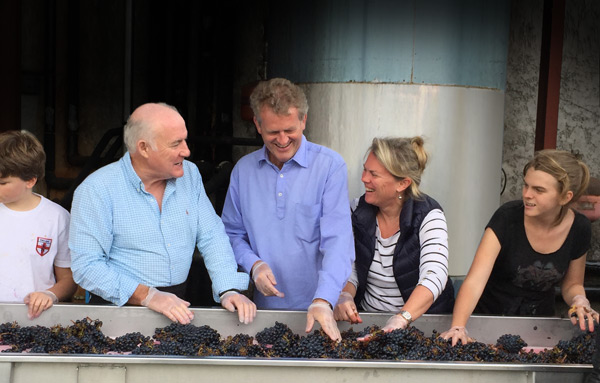 Enough about white. We recently launched our 2015 red which we were harvesting when Rick Stein came to film at Bauduc for his Long Weekend series. The quality of the grapes was that good that they didn't really need sorting, and it's already drinking well. We think a magnum for twenty quid (from a case of 6) makes a lovely and impressive present if you've been invited somewhere, and having a box in reserve could come in very handy over Christmas.
Bauduc Farmhouse availability 2018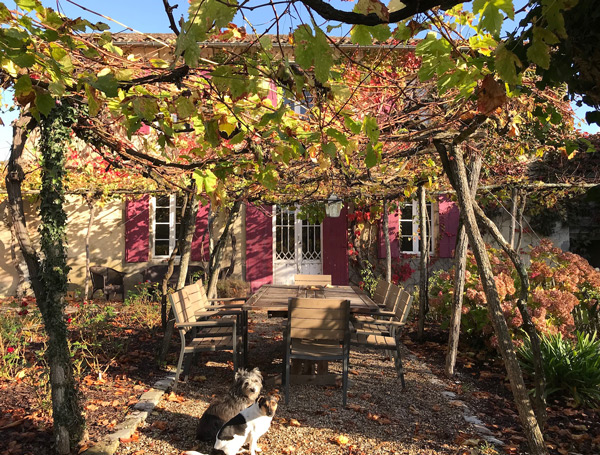 A week in our farmhouse seems as popular as ever and although we haven't pushed for 2018 bookings as yet, most of the summer slots have already been snapped up. However, the first two weeks in May, the first week in June, a week in late July and all but the first week of October are still free. All lovely times of year to visit this fabulous region and the city of Bordeaux.
As well as the availability for next year and some snaps, we've also added the comments from guests in 2017.
Duty frozen - and why wine drinkers in the UK are paying enough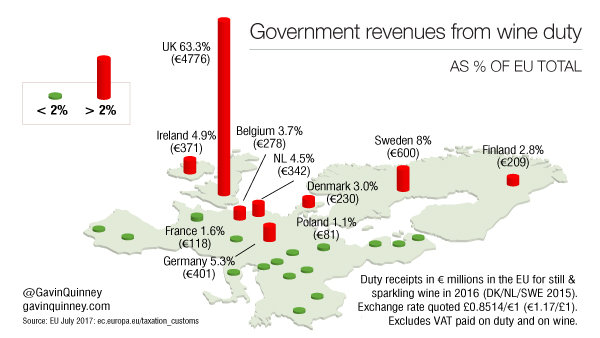 Within a week of the Budget we're usually wincing at the new, higher rates of duty being charged on our wine as it leaves our Bonded warehouse near London to be delivered to customers. With just one exception in the last 15 years (in 2015, just before, ahem, the 2015 General Election), duty on wine has always gone up. So it's a welcome relief that Philip Hammond decided to freeze the duty on wine in his Autumn Budget. Here are some insights and graphics as to why wine drinkers in the UK have been hit hard enough already.
We shouldn't forget that UK wine duty went up in the March Budget, from £2.08 to £2.16 a bottle + VAT (now £2.60 inc).
This century, wine duty is up 67% in the last 9 years compared to 15% in the 8 years before that. And cost prices have risen due to sterling's slide - 2 years ago £1 was worth €1.42, now €1.12.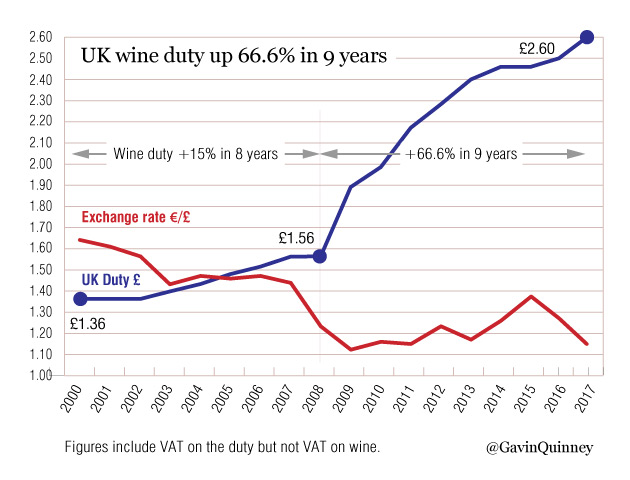 Wine drinkers contributed 45% more duty revenue in 2016 than in 2008, even though the volume consumed has remained fairly consistent. By comparison, duty revenues by HMRC for alcohol excluding wine - i.e. spirits and beer mostly - rose 16% from 2008 to 2016. Wine duty revenues (£4066m in 2016) are higher than spirits (£3251m) and beer (£3302m).
‪£3 of a £5 bottle is tax - £2.16 duty and 84p VAT…
| | |
| --- | --- |
| This was sent to friends on our mailing list | |