Posted by Gavin Quinney on 31st Aug 2018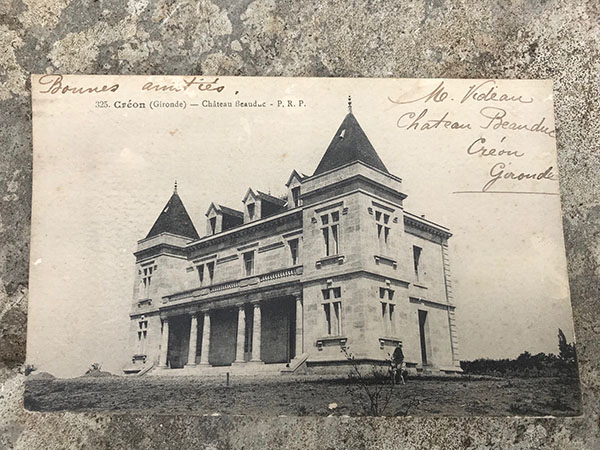 Another dry and unusually hot month, and the white harvest has already kicked off in the more precocious Bordeaux vineyards, namely to the south of the city in Pessac-Léognan. Most white vines, like ours, are sensibly holding back just long enough until the managers, oenologists and staff return from their holidays.
We'll be starting our harvest shortly - stay tuned on Twitter, Instagram and Facebook. We're also open for business at bauduc.com - Lord, we've got to pay the extended team somehow.
All the best
Gavin & Angela
PS The postcard above is from exactly 100 years ago. More on this at the end of the newsletter.
A contrast in the weather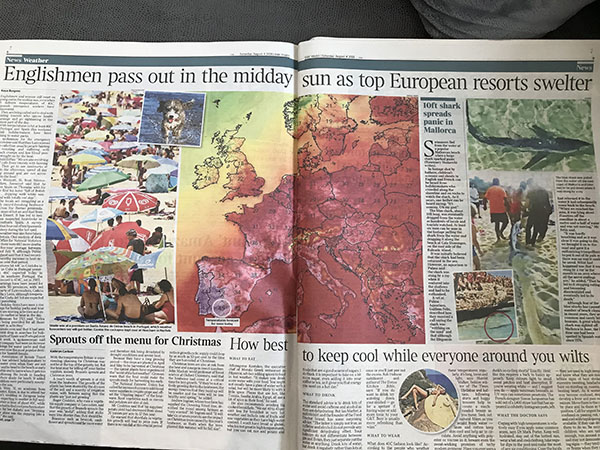 It's been the hottest year in Bordeaux since 2003. We'll cover the finer details in a future harvest missive but our 'game of two halves' analogy last month continues to hold good. Before the World Cup kicked off in mid-June it was generally pretty wet, and since then it's been dry and often steamingly hot.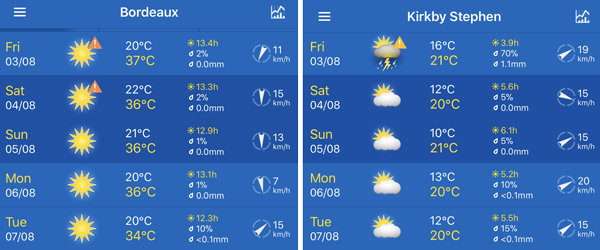 'Like it has been in England' friends have said. It's all relative though, or at least it was for us this month. Gavin went to a family wedding near the North Pennines. It was a pleasant 20°C, compared to 36°C in Bordeaux. (Five days of such intense heat here weren't too beneficial to the vines, by the way.)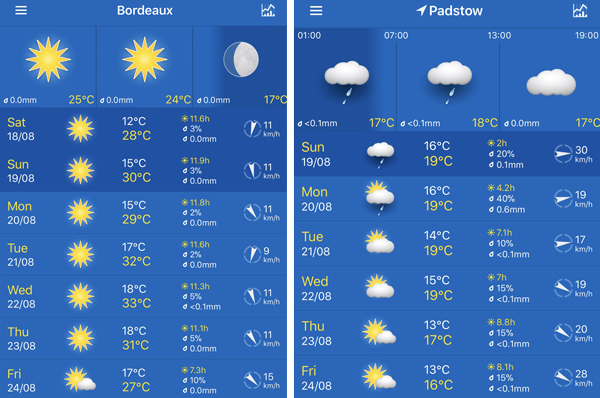 Then we all went to north Cornwall on a family holiday for a week from the 17th, down the road from Padstow. We loved it, but it certainly wasn't hot and dry. Good though to see our wine in Rick Stein's shop on the quays - see below.
Véraison - 15 grape varieties changing colour
Every stage of the grapes' development is fascinating to some of us but August is the month when most of the bunches change colour in Bordeaux, so you really get a visual perspective on how the different varieties perform.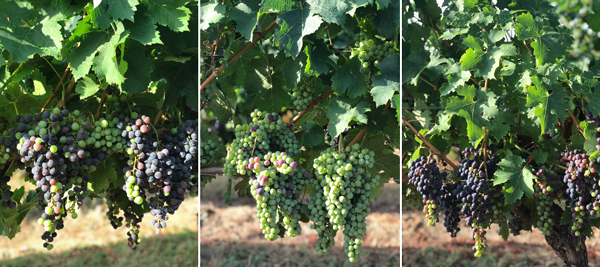 Above: Merlot, Cabernet Franc & Cabernet Sauvignon.
As well as the Bordeaux varieties, we have some non-Bordeaux grapes too, as an experiment. Most visitors have little idea that we're restricted to growing only certain types of grapes, but that's the same for all protected 'appellations' in France: should we wish to make wine with non-Bordeaux grapes, like Syrah or Chardonnay, this would have to be under the basic Vin de France label. (Only a tiny fraction of wine from the Gironde is Vin de France, the rest 'Bordeaux'.)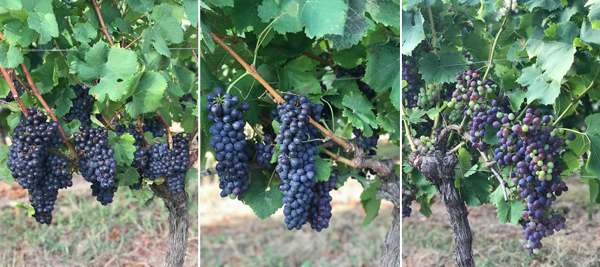 Above: Pinot Noir, Syrah & Grenache.
This is a long post below with several photos of each variety, and you certainly don't need to know all about this stuff to enjoy a glass or two of wine. However, to give you a picture of how different grapes ripen at different times, here are several reds in the same block, taken on the same mid-August day.
Bauduc in Switzerland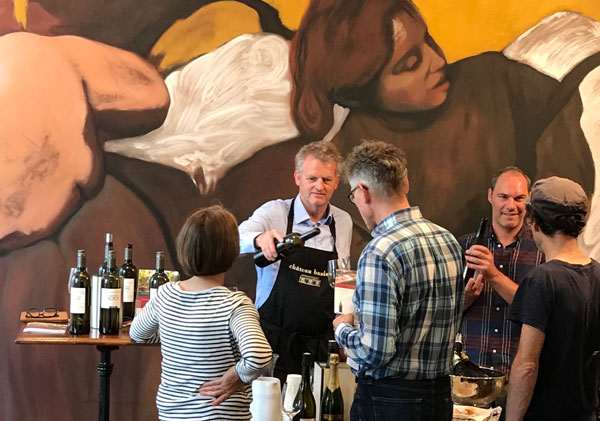 We're often asked how much of our wine goes to the UK. A lot, naturally enough, and our next biggest export market is Switzerland. That's down to our friend and importer Philipp Schwander MW, who was the first Master of Wine in Switzerland and who has established Bauduc as a really popular wine there. A tasting in Zürich this summer, followed by a dinner, was our third visit in six months. Loaning an impoverished winegrower a Rolls Royce Corniche (below) to get from one venue to another has absolutely no bearing on getting us to come over or in securing a favourable allocation. Meanwhile, I'll be flying the flag for Britain when I accompany Philipp on a short buying trip to England in September to taste some sparkling wines.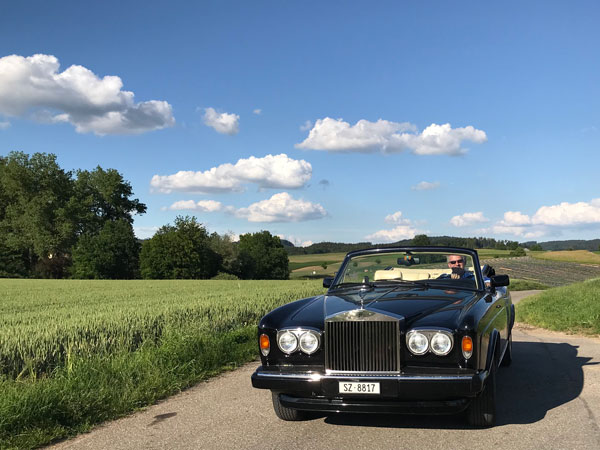 Ask Ronan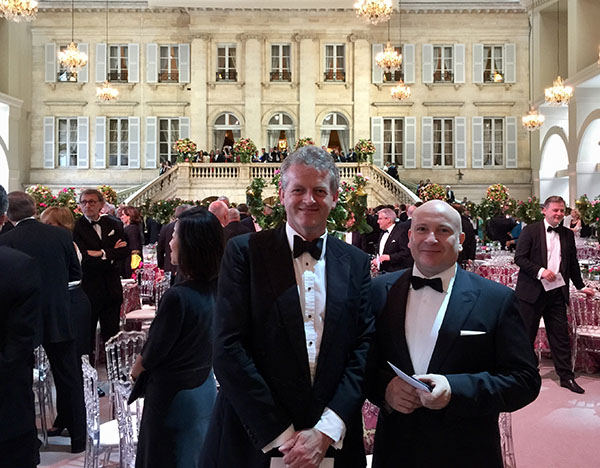 We were thrilled that our old friend Ronan Sayburn MS was recently appointed the CEO of the Court of Master Sommeliers Worldwide. We first met Ronan when he was the youthful head sommelier for restaurant Gordon Ramsay in Chelsea and he's now Director of Wine at 67 Pall Mall, London's leading wine destination. To boost his ego yet further, he recently topped the list of the Hot 50 - the most influential people in the UK on-trade (restaurants, bars and the like). As he has in previous years, Ronan will be staying with us for the Médoc marathon next weekend, so we thought we'd ask our customers if they have any questions for him. The questions don't have to be too serious but we do ask that they are vaguely on topic (wine from anywhere, service, restaurants, his travels…).
Email gavin@bauduc.com
Tweet @ChateauBauduc #AskRonan
Instagram @chateaubauduc #AskRonan
Facebook Chateau Bauduc
Rick Stein's shop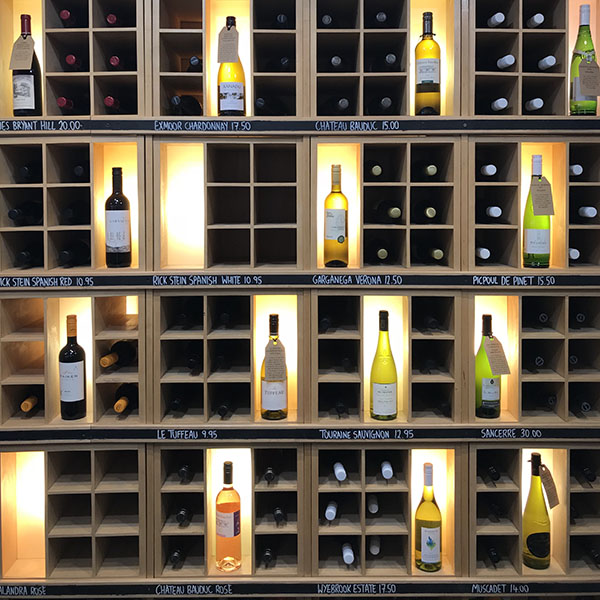 While we were in Cornwall it was good to see our 2017 Sauvignon Blanc and Rosé in the Rick Stein shop on the quayside. The bottles with the handsome signature label, naturally enough. You'll find both wines in his wonderful Seafood Restaurant too, and if Padstow is a little too far, on the Bauduc website. The 2017 Rosé, which is listed in all the Stein restaurants, is now in short supply after a brisk summer for the pink stuff.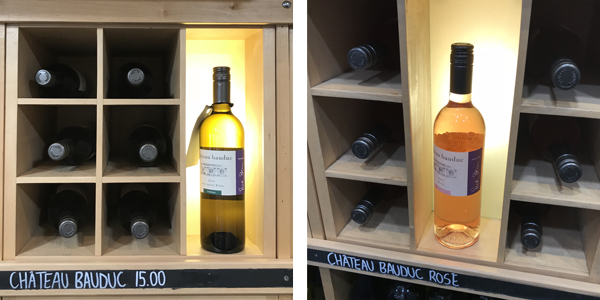 And finally - from 100 years ago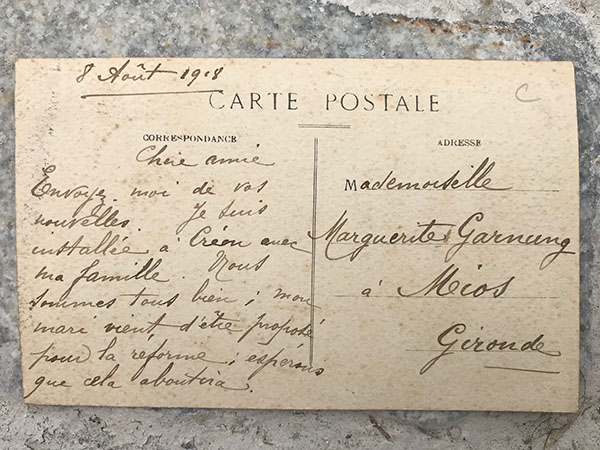 Many readers will remember our series of posts last August about the centenary commemoration for Noel Chavasse, double VC. Here is a postcard from August 1918, 100 years ago and before the end of the First World War: 'Château Beauduc'. Some ladies wandered down the drive recently and said they'd come across this old postcard, along with other old cards of Châteaux in the Gironde, and were delighted to find the building as is.
"Dear friend
Send me your news. I am living in Créon with my family. We are all well; my husband has been put forward for 'la réforme' (a return to civilian life) and we hope it ends that way."
| | |
| --- | --- |
| This was sent to friends on our mailing list | |